If you need new sensory bin ideas, you've found the motherload of inspiration! Here's 26 sensory bins, complete with pictures to help your creativity come to life!
Each of these sensory play ideas come from my blog. If you want further instruction on a particular idea or want to see more pictures of it, just click through to the article!
This list of fun sensory play ideas includes tons of preschool themes plus holiday and seasonal sensory play as well.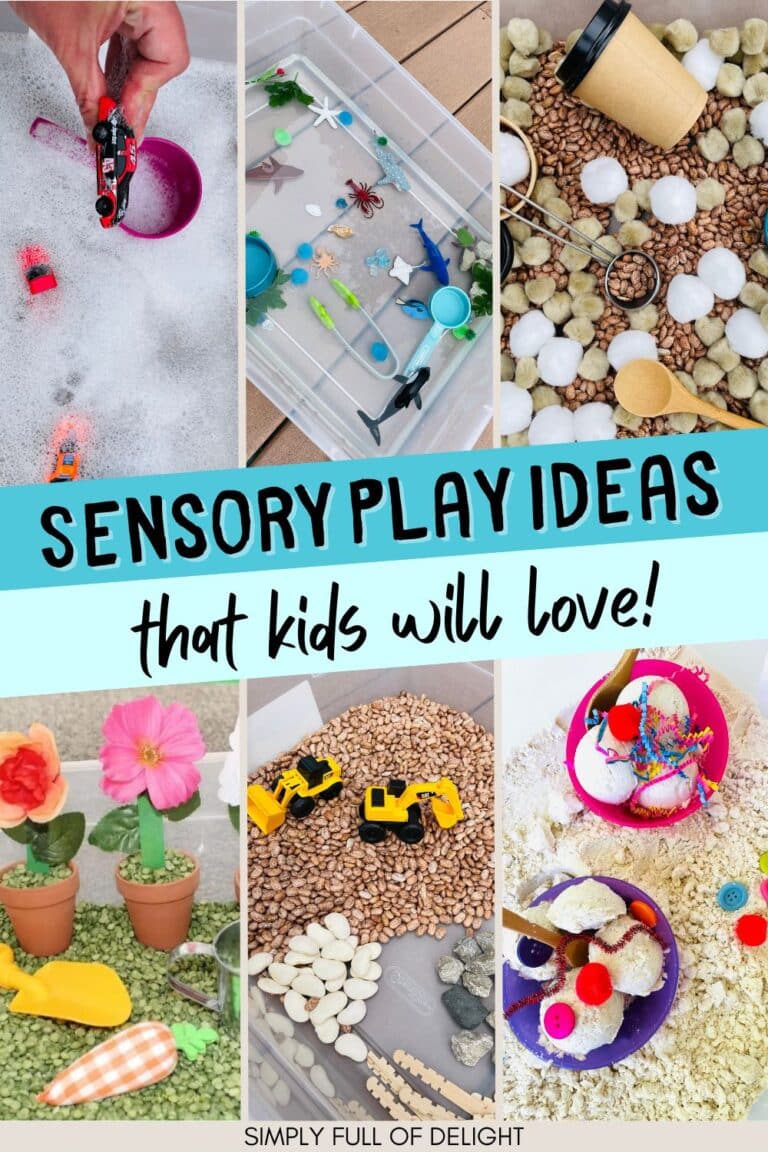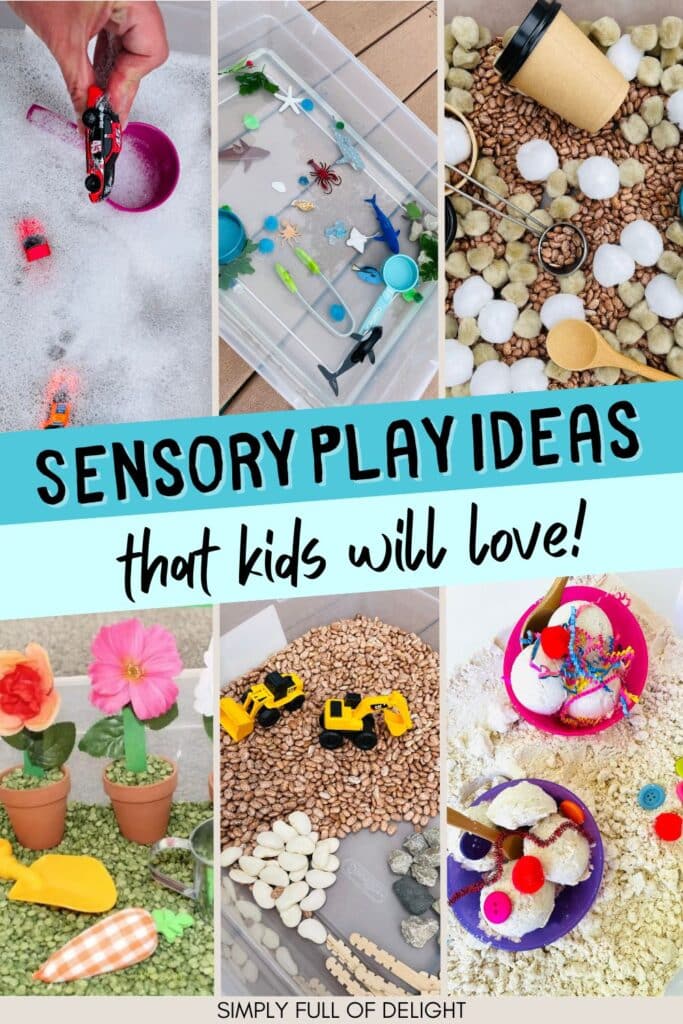 But first, if you are new to sensory play, you might like to know the benefits of sensory play.
Benefits of Sensory Bins
What are the benefits of sensory play? According to Good Start Learning:
Sensory play helps build brain connections.
It builds fine motor skills development and encourages language development and social skills.
Sensory play helps kids think logically and build problem solving skills.
And it helps kids regulate stress.
And of course the best part is that sensory materials spark imaginations and keep kids busy for long stretches!
That's a HUGE win for both preschool teachers and parents!
Alright, let's dive into our list of fun sensory bin ideas.
1) Construction Sensory Bin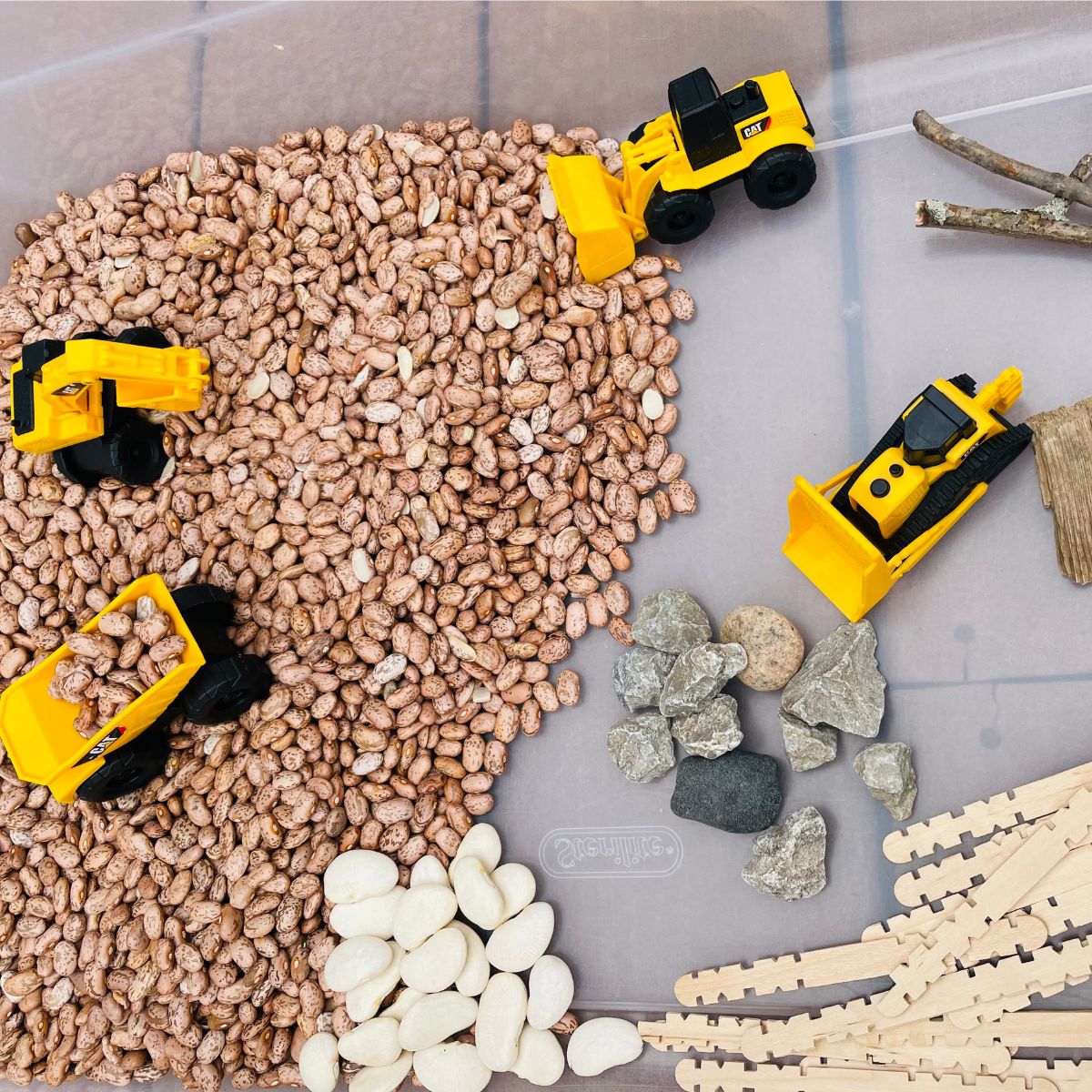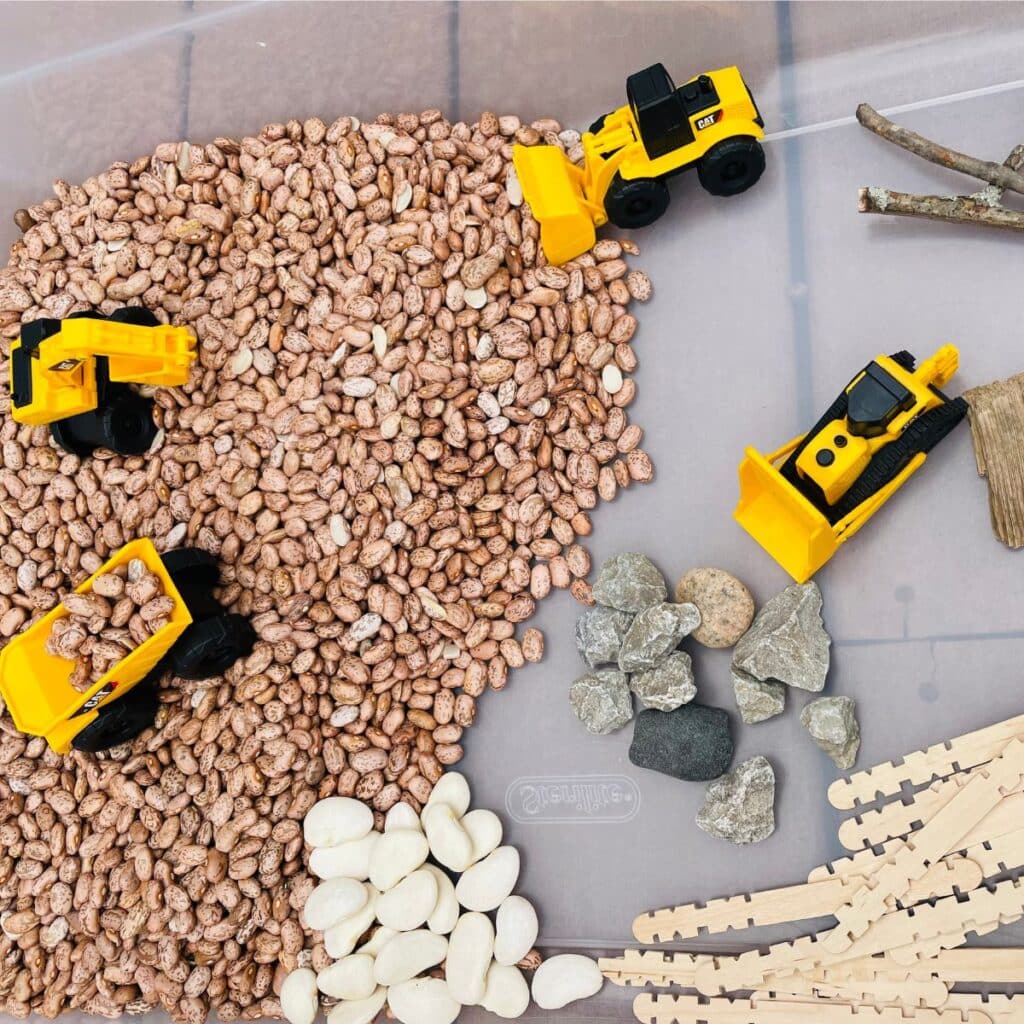 Starting off our list is this adorable Construction Sensory Bin.
Kids will enjoy building, scooping, and loading with this cool miniature construction site.
There's plenty to keep kids busy and engaged in play!
2) Farm Sensory Bin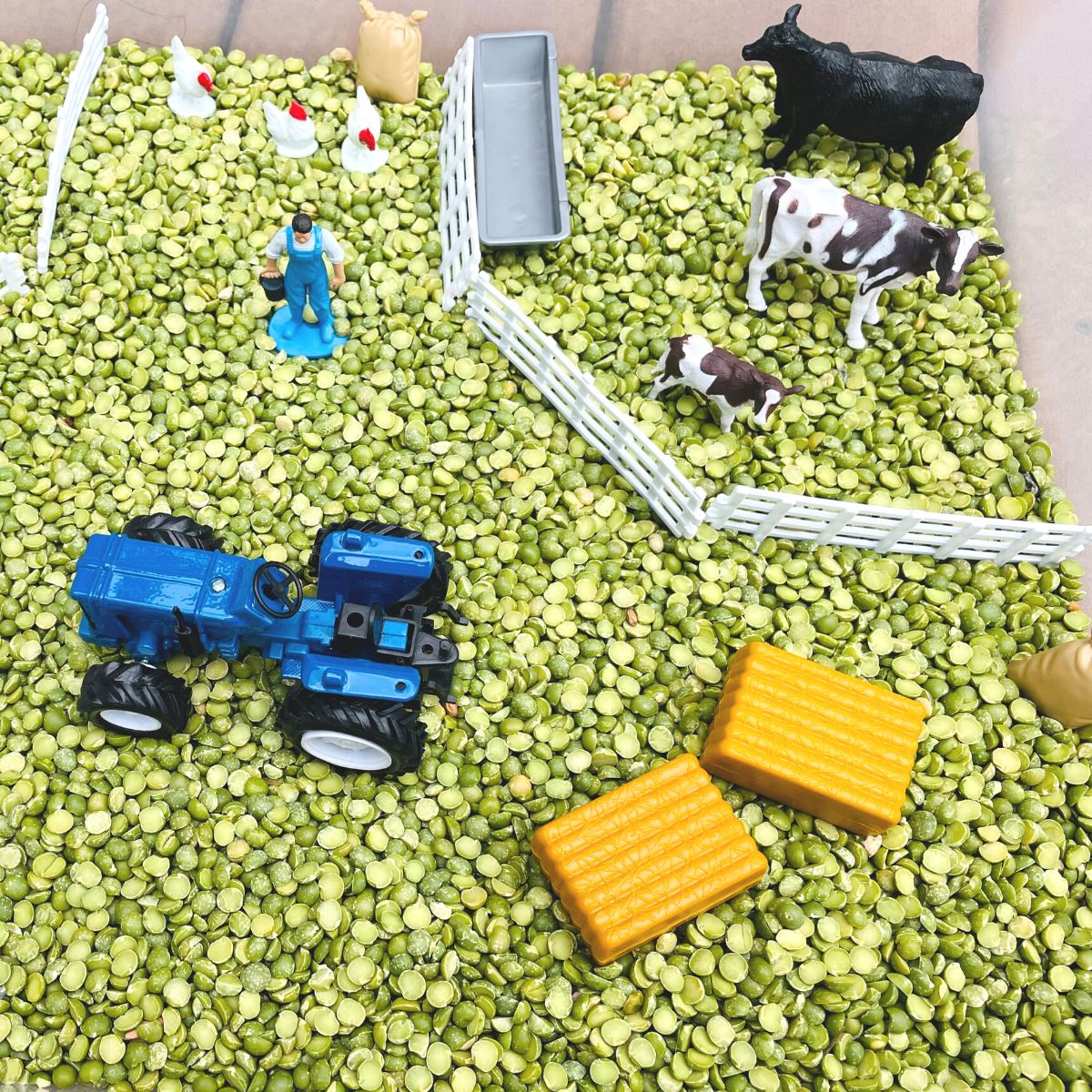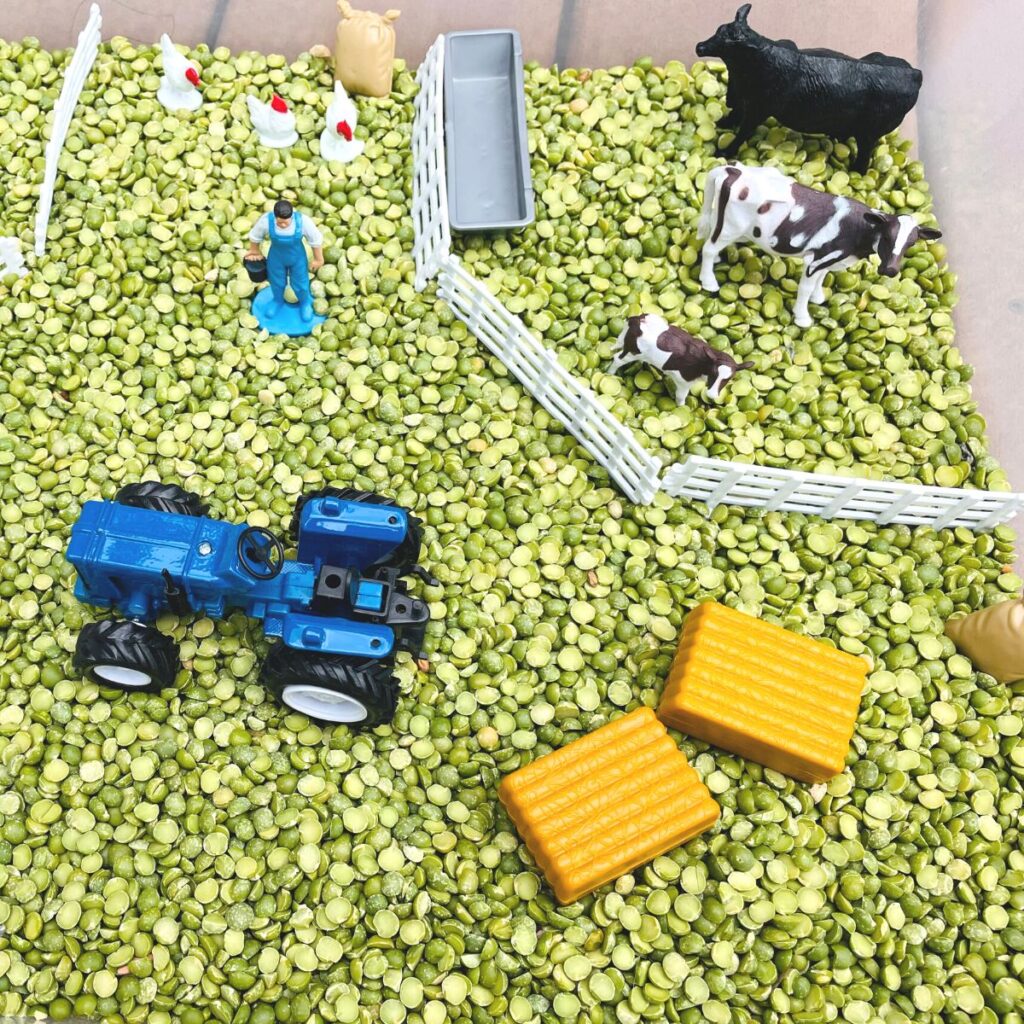 This Farm Sensory Bin is another crowd pleaser. It's sure to be a hit with your animal loving kids!
Little ones will enjoy pretending to take care of the farm animals, feeding them, and driving the tractor.
There's plenty of opportunities for imaginative play with this fun idea!
3) Dinosaur Sensory Bin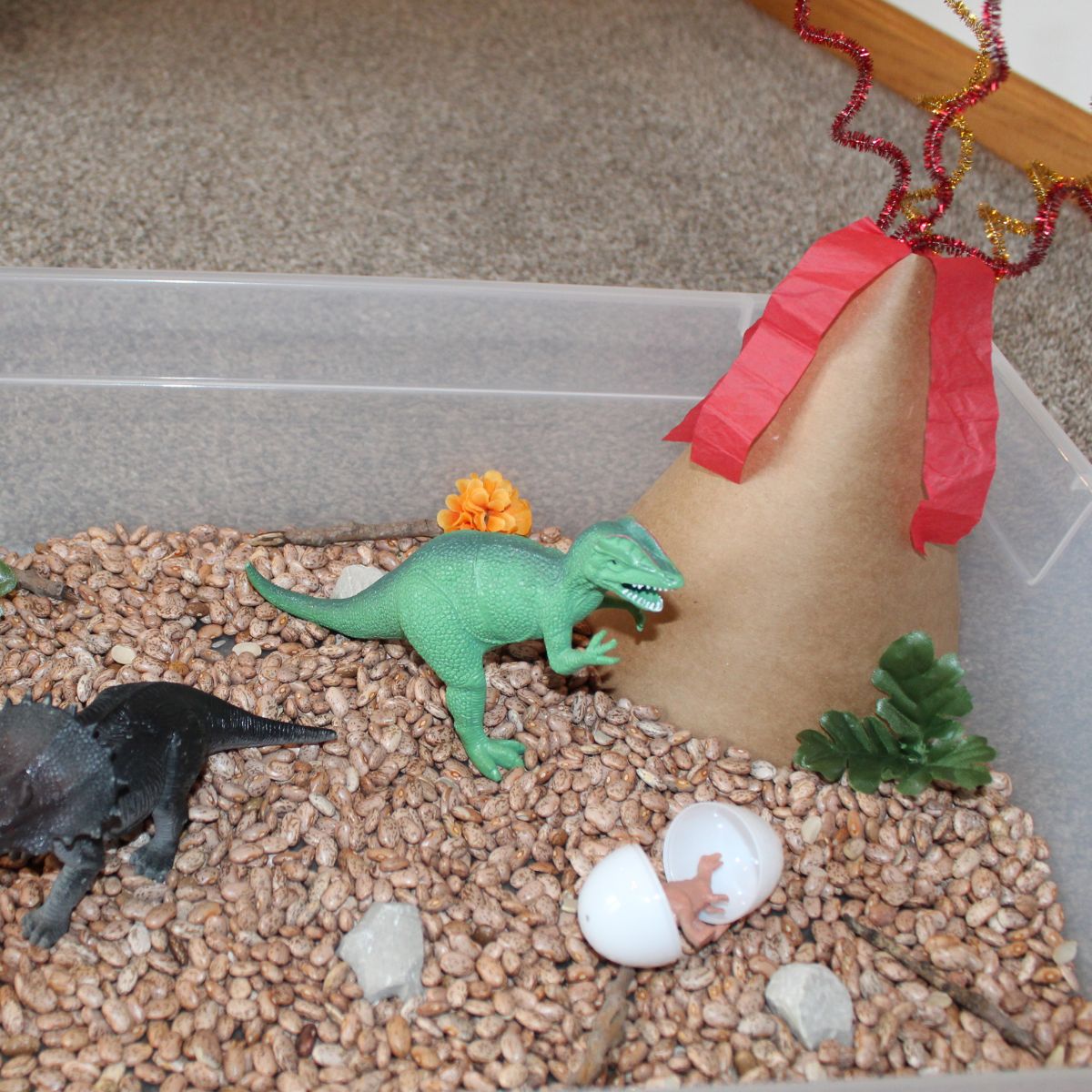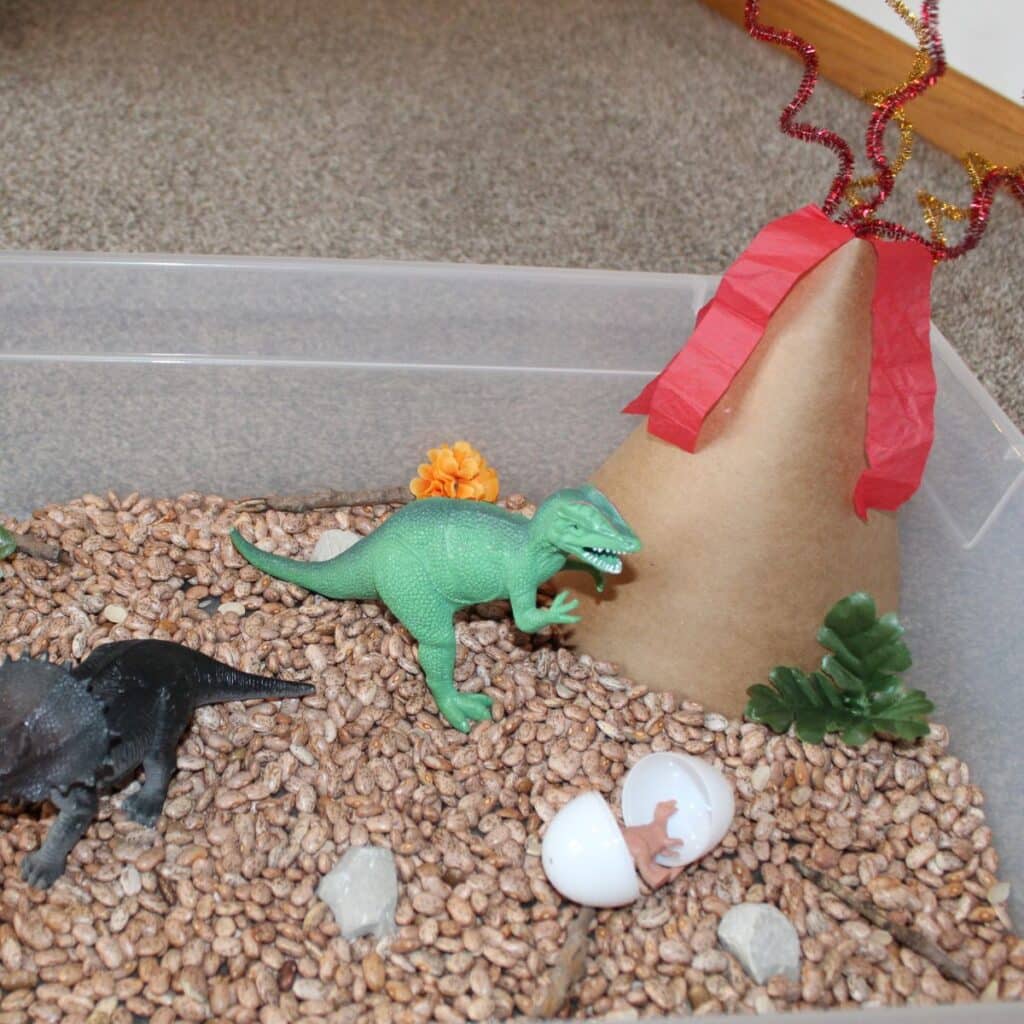 This incredible Dinosaur Sensory Bin is a roaring good time!
Kids will love hatching the baby dinosaurs, making the volcano explode, and stomping dinosaurs through the beans.
So much fun!
4) Fairy Sensory Bin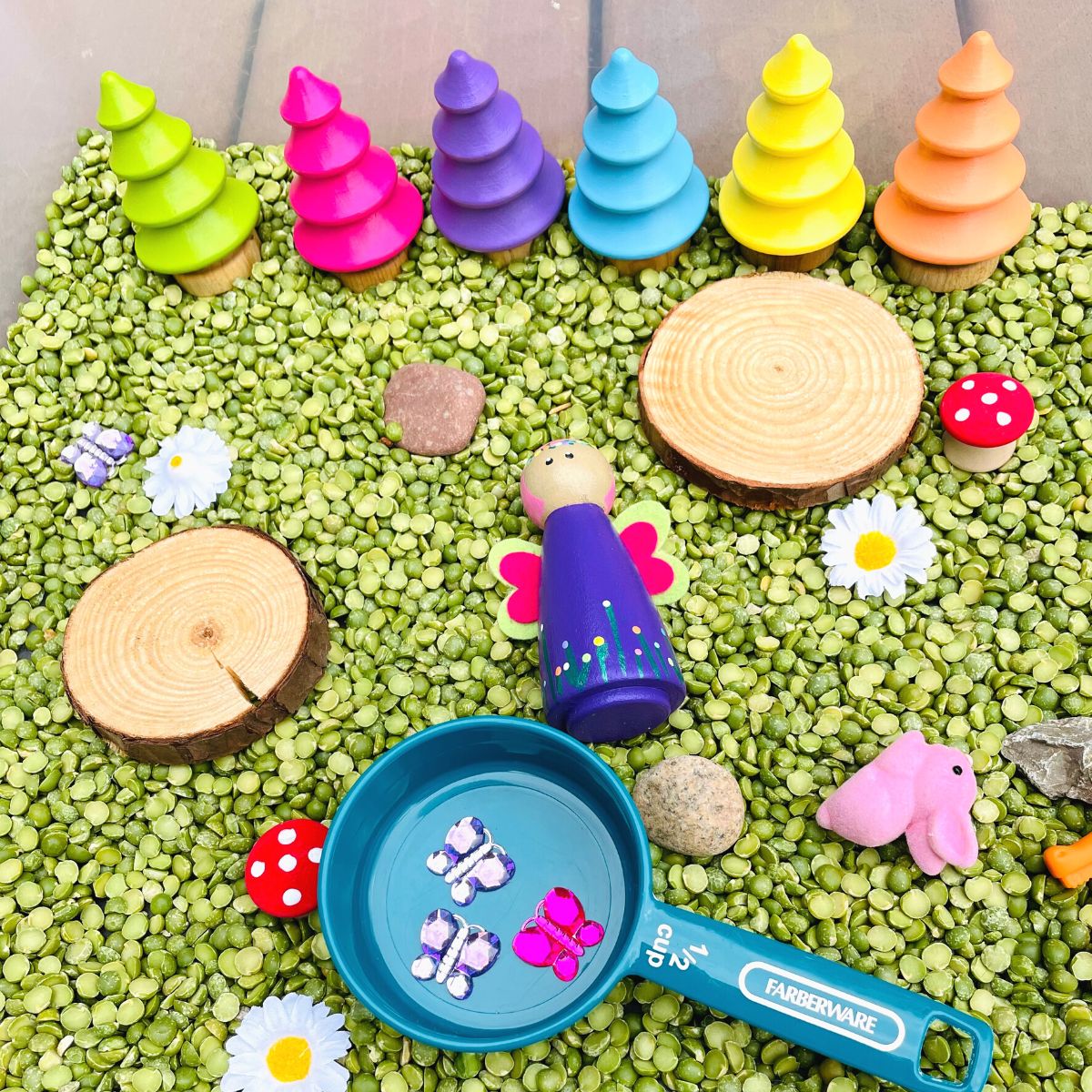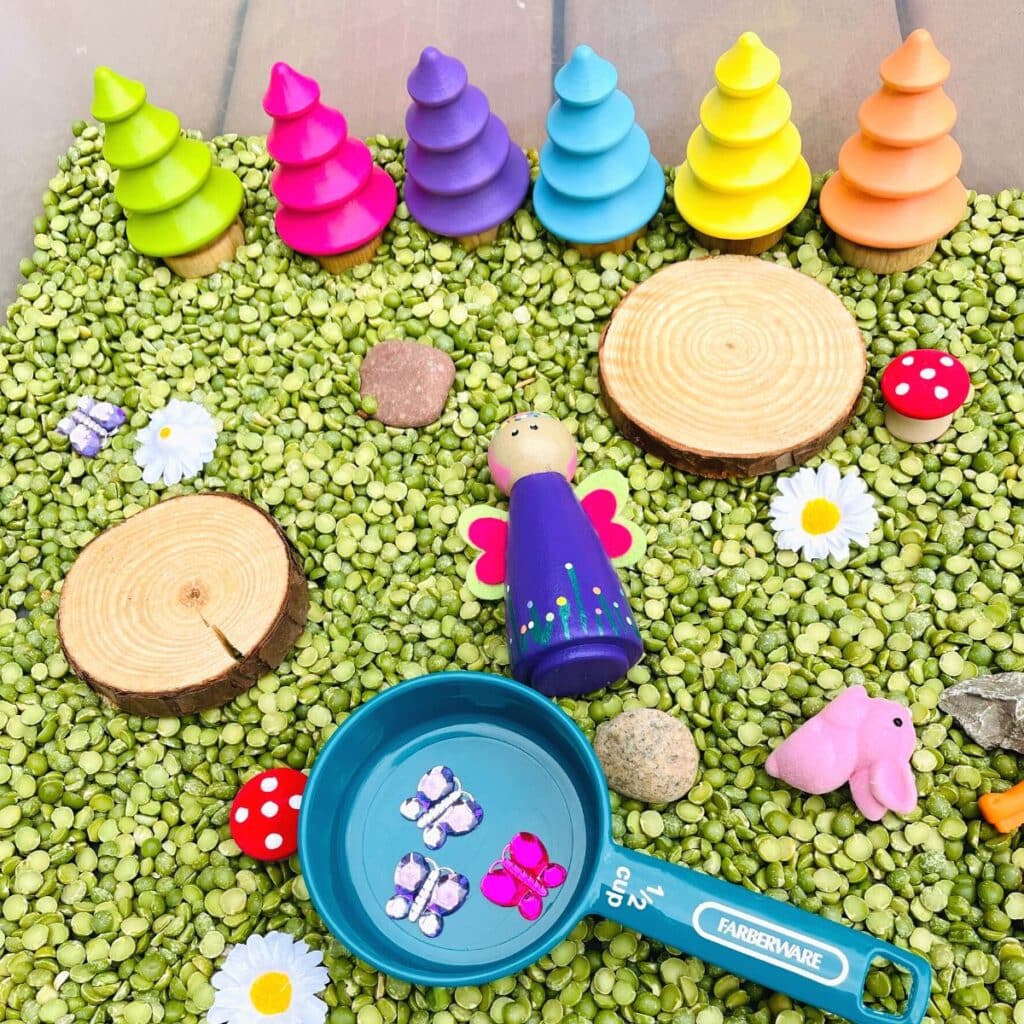 Have a child interested in fairies? This Fairy Sensory Bin is perfect!
Young children will enjoy plenty of imaginative play as they set up their very own fairy garden complete with little mushrooms, rocks, flowers, and creatures!
It's sure to be a hit!
5) Space Sensory Bin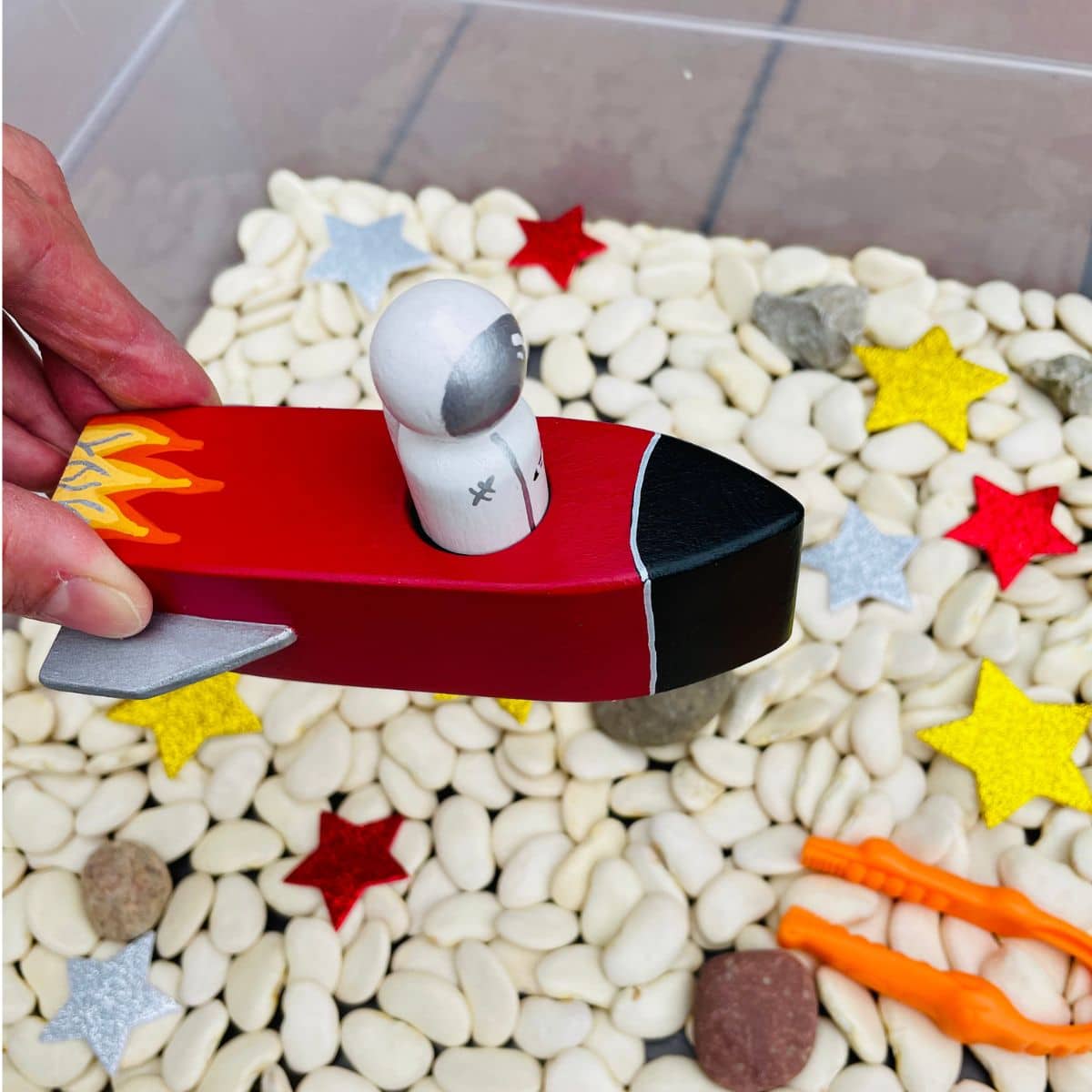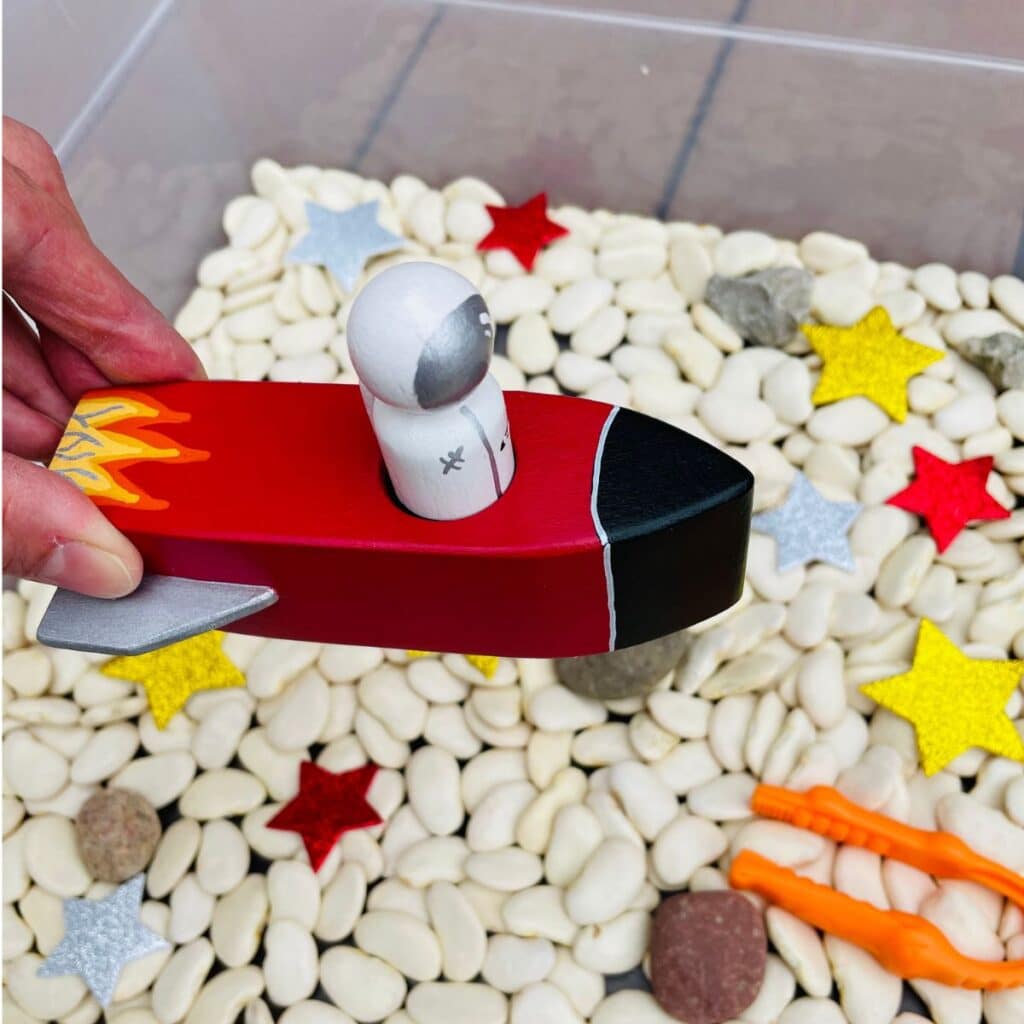 Get ready to launch into play with this fun Space Sensory Bin.
Kids will love playing with the astronaut and rocket, arranging the stars and rocks, and more.
Such a fun idea for your preschool Space theme!
6) Car Wash Sensory Bin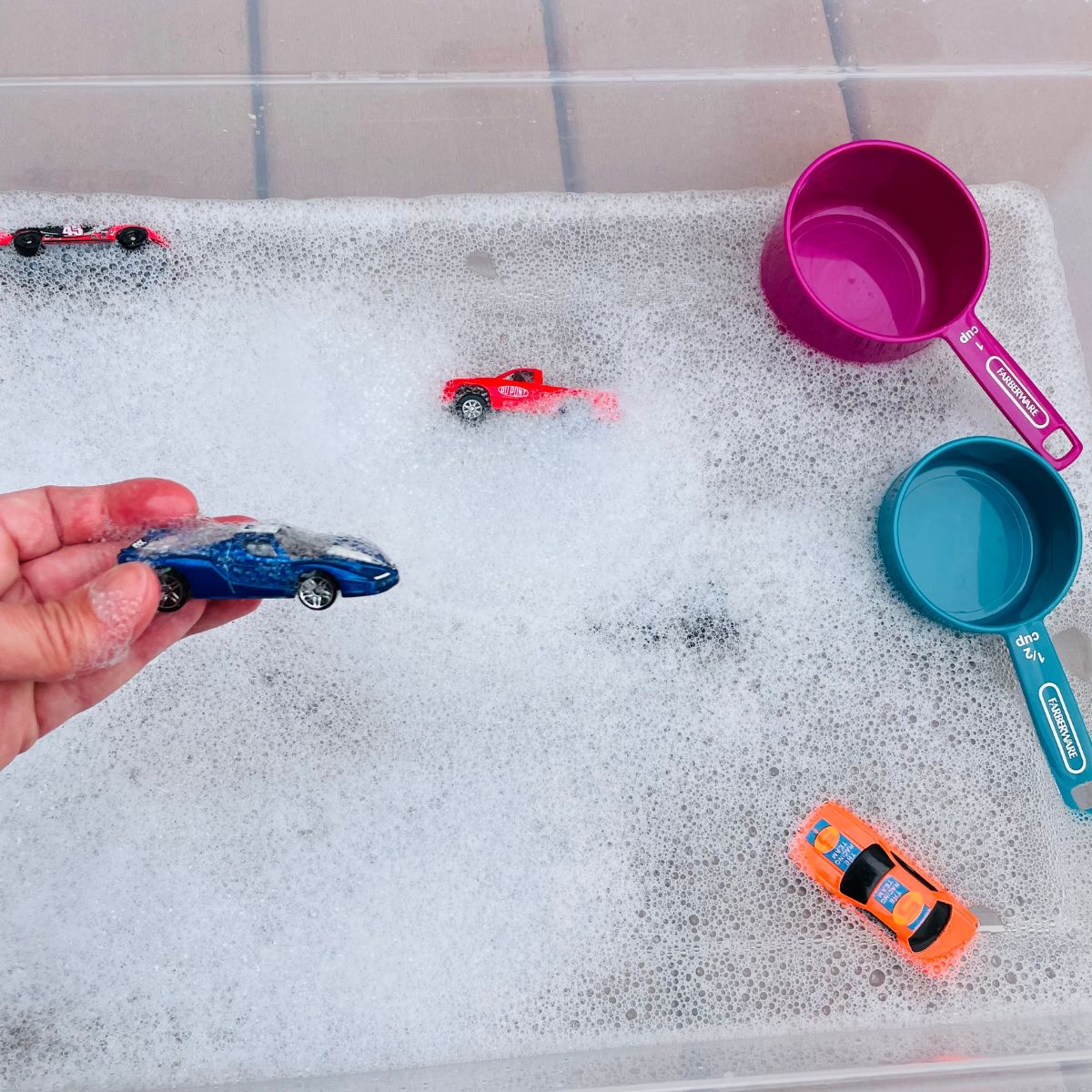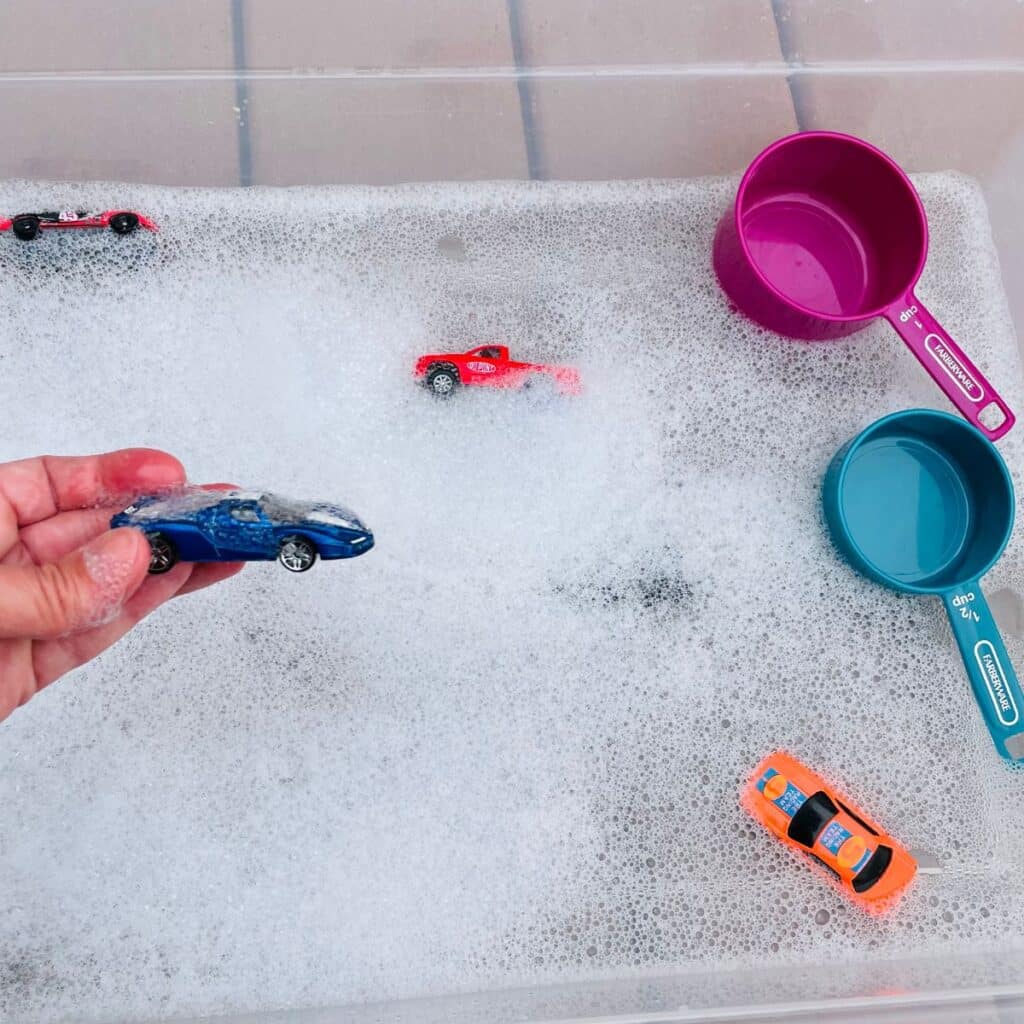 Looking for the easiest sensory play idea ever?
This Car Wash Sensory Bin is SO easy, you'll put it together in seconds!
This simple water play idea for younger children is my family's go-to sensory play idea when I need to keep little ones busy.
It's also a great way to bring the sensory fun outside to your water table!
7) Forest Sensory Bin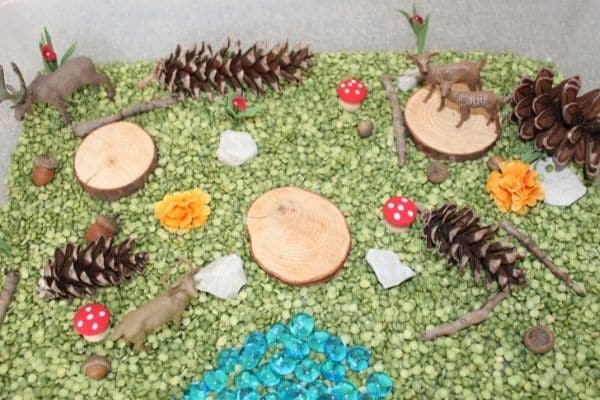 Simplify the sensory experience with natural items in this Forest Sensory Bin.
This sensory tub is full of nature with pinecones, sticks, rocks, acorns, and wood slices.
Plus there's some more items added to engage imaginations in woodland creature play!
8) Alphabet Soup Sensory Bin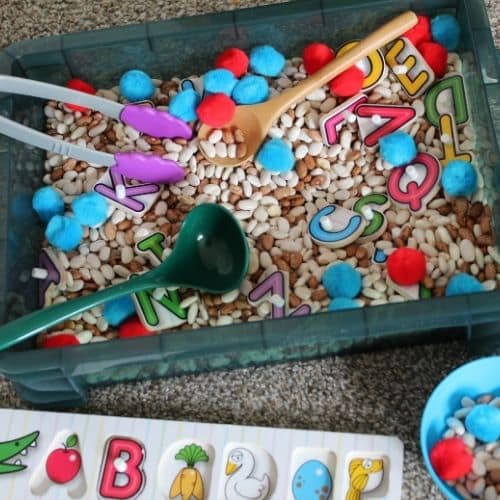 Mix learning with fun with this Alphabet Soup Sensory Bin!
Kids will love serving up bowls of the ABCs as they engage in this fun sensory play game!
9) Fake Snow Sensory Bin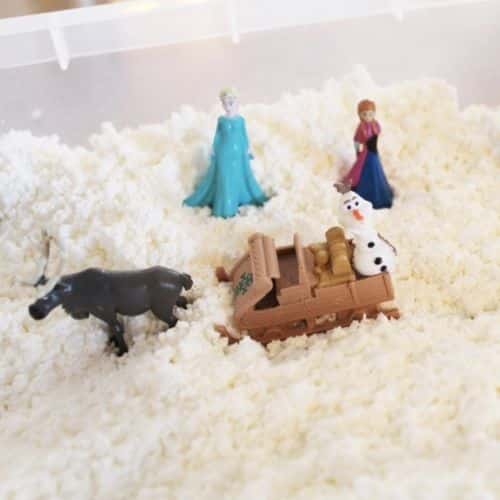 Bring the fun of winter snow indoors with this Fake Snow Sensory Bin.
Learn how to make this simple 2 ingredient Fake Snow and discover a couple of ideas for how to use it for sensory play!
10) Arctic Igloo Sensory Bin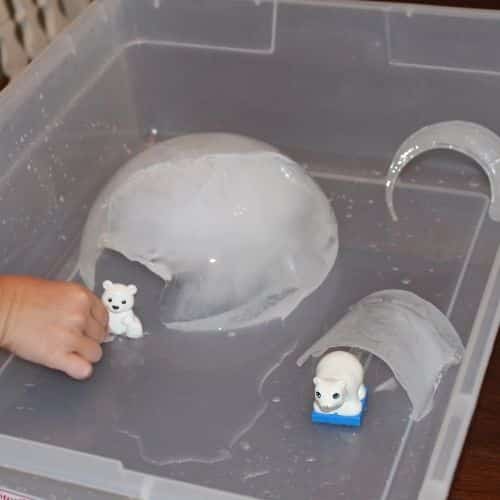 For a truly unique sensory play idea, check out this Arctic Ice Sensory Bin.
Kids will love creating the igloos and then using them for some cool Arctic imaginative play.
Such a great sensory bin for little hands!
11) Snowman Sensory Bin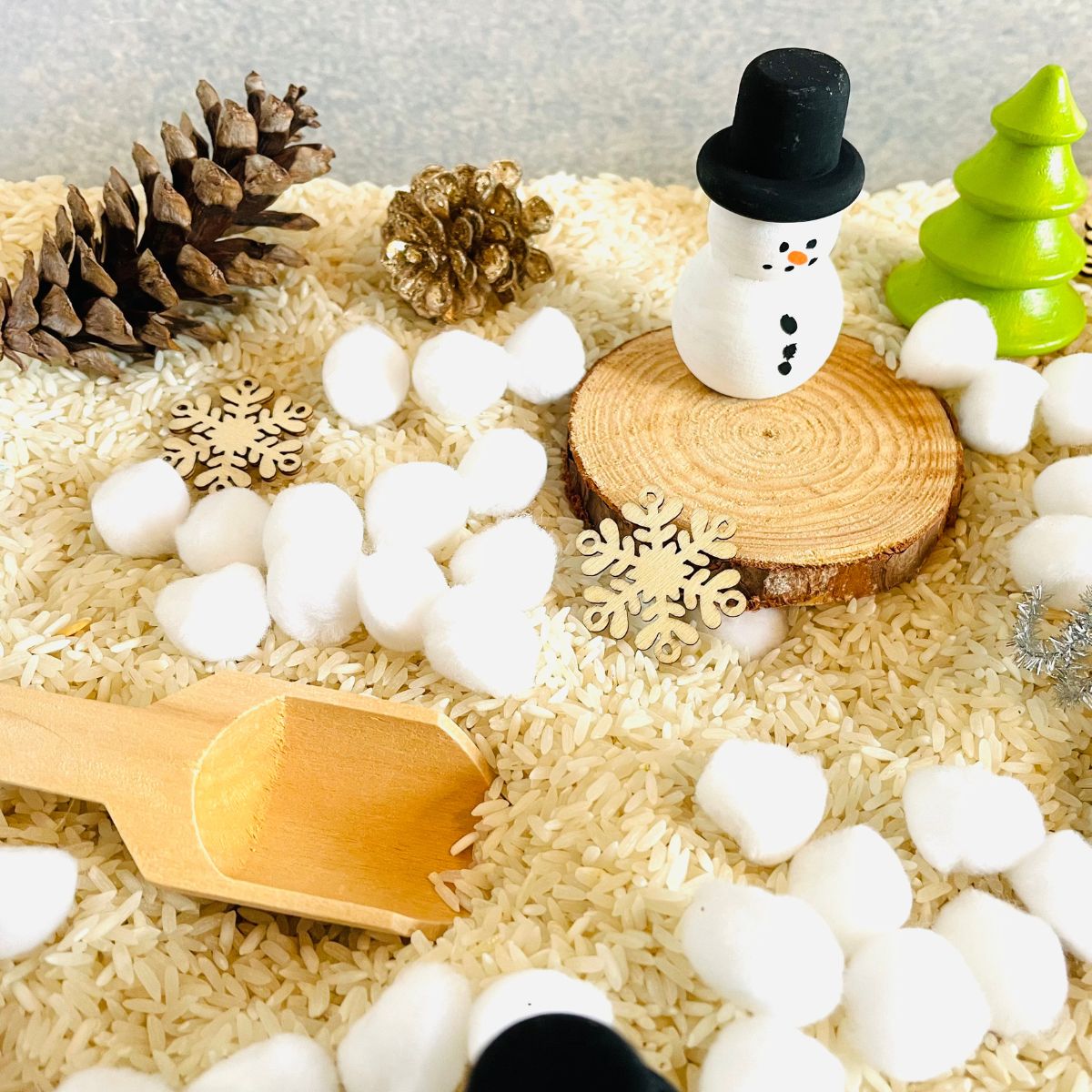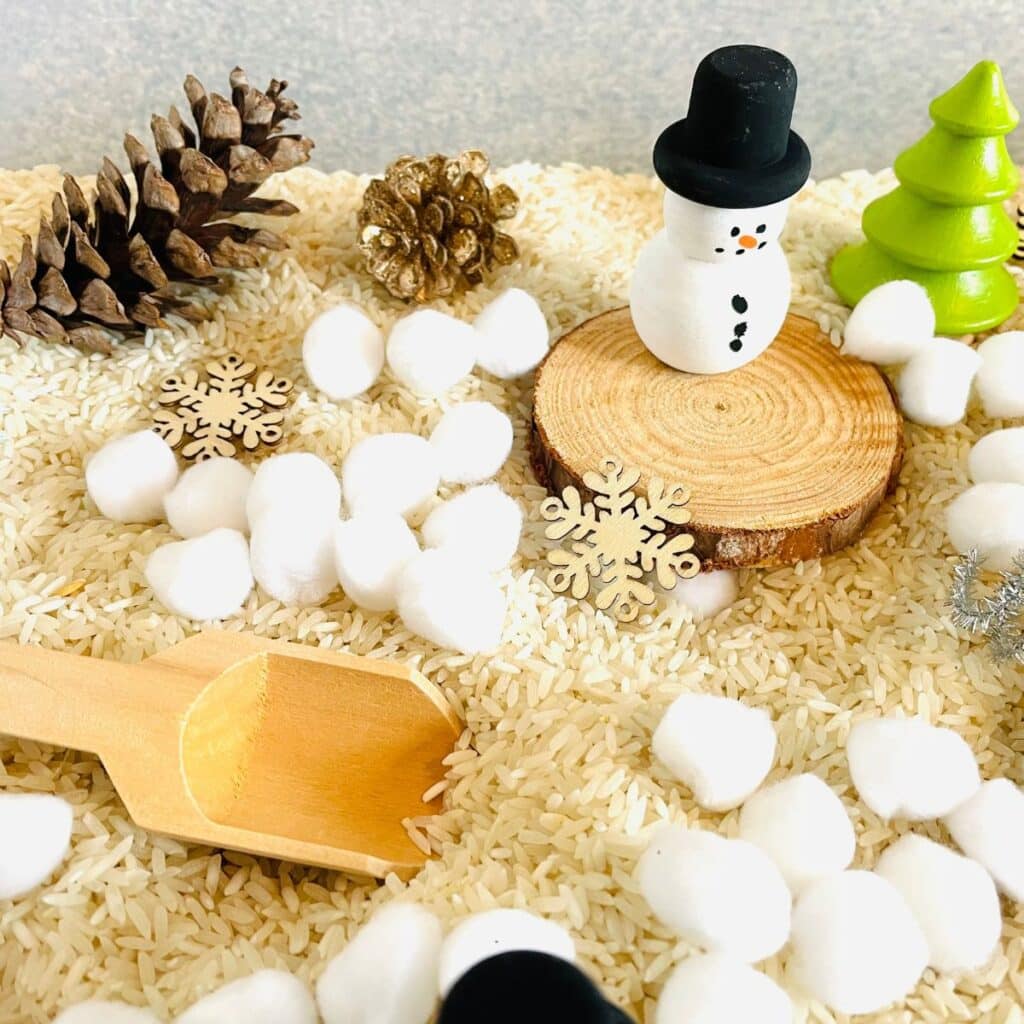 It's time to build a snowman! This cool Snowman Winter Sensory Bin is filled with everything your child needs to create a Winter Wonderland.
You'll find dry rice, cotton balls, ribbons, and more in this sensory bin table.
There's plenty of different textures, in this winter themed sensory bin and so many fun ways to play!
12) Hot Chocolate Sensory Bin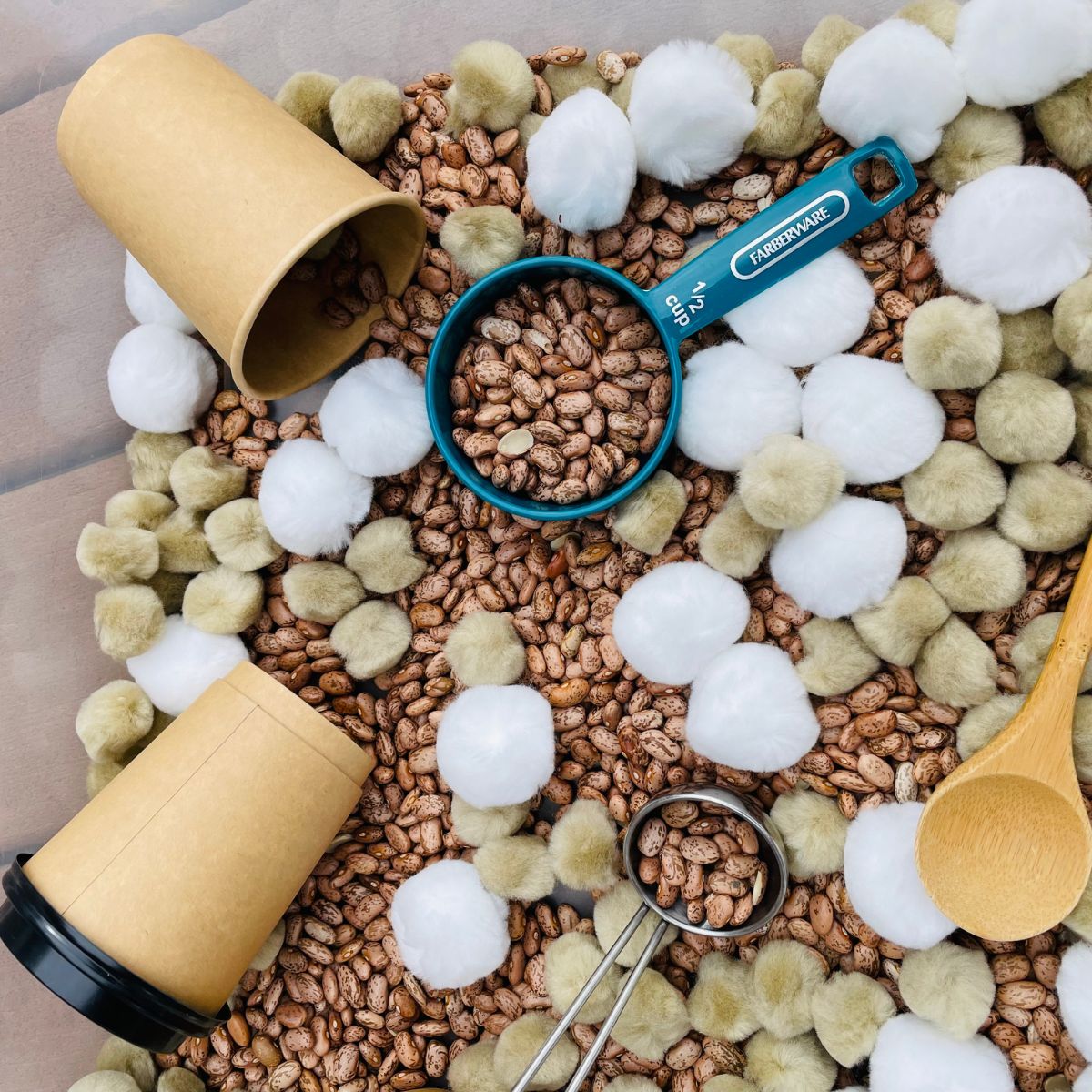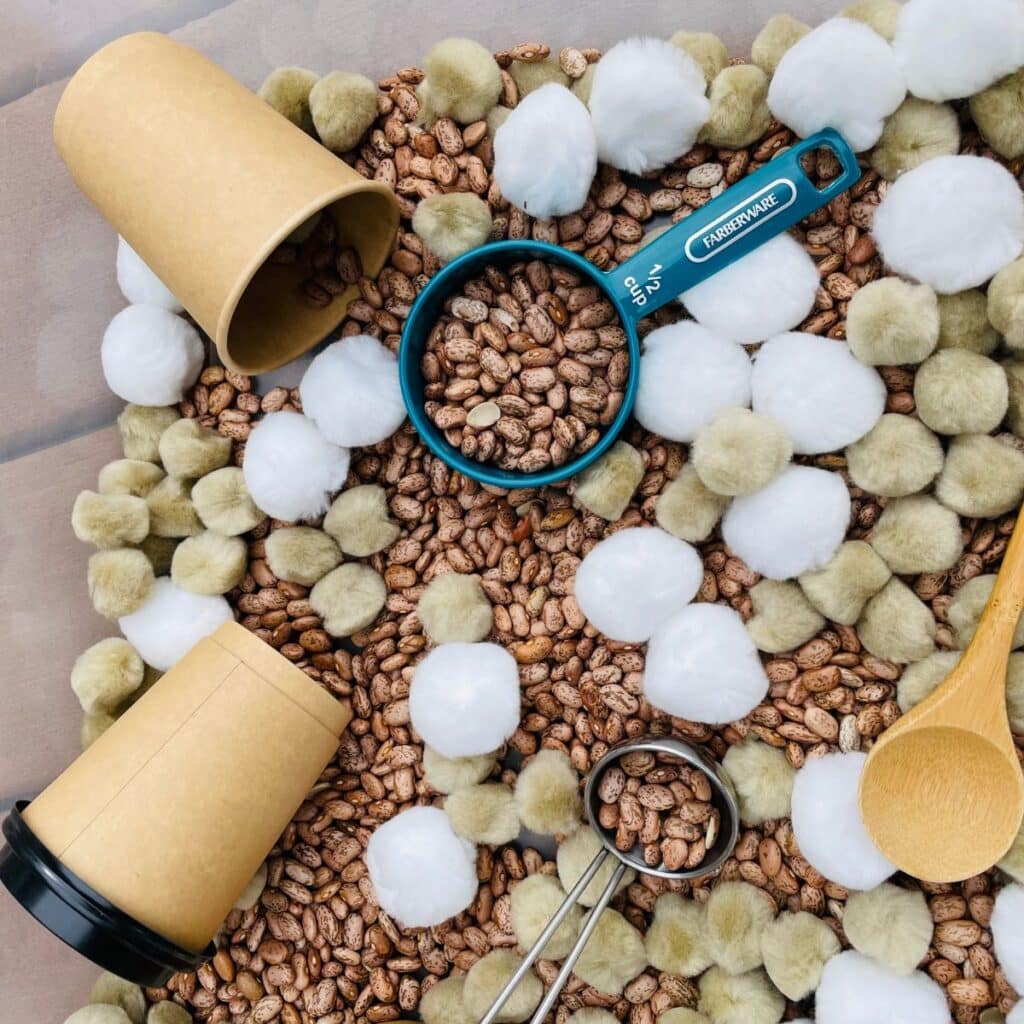 This Hot Chocolate Sensory Bin is sure to be a hit!
Kids will love serving up cup after cup of hot cocoa topped with pretend marshmallows.
This particular sensory bin is always a hit with my kids!
13) Valentine's Day Chocolate Box Sensory Bin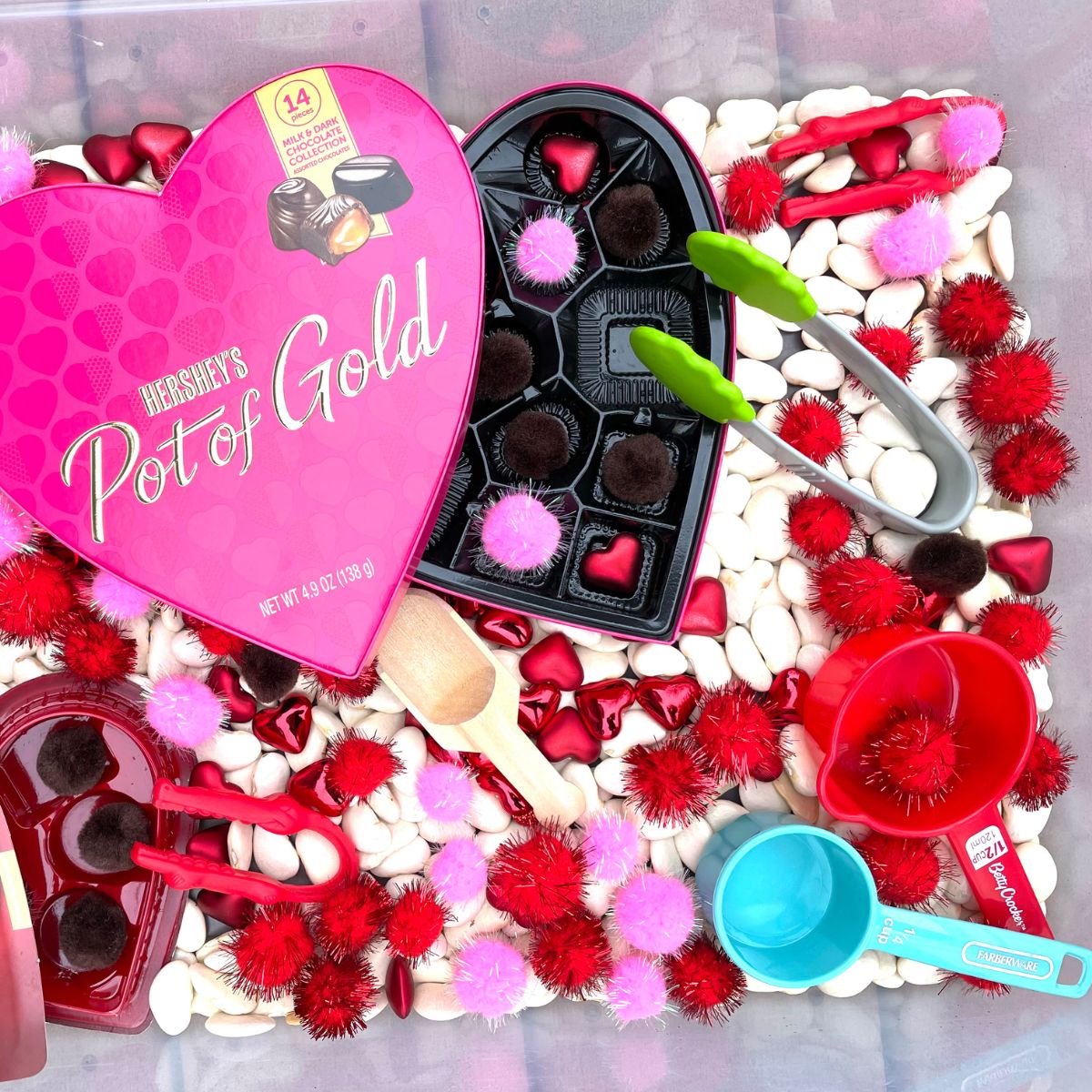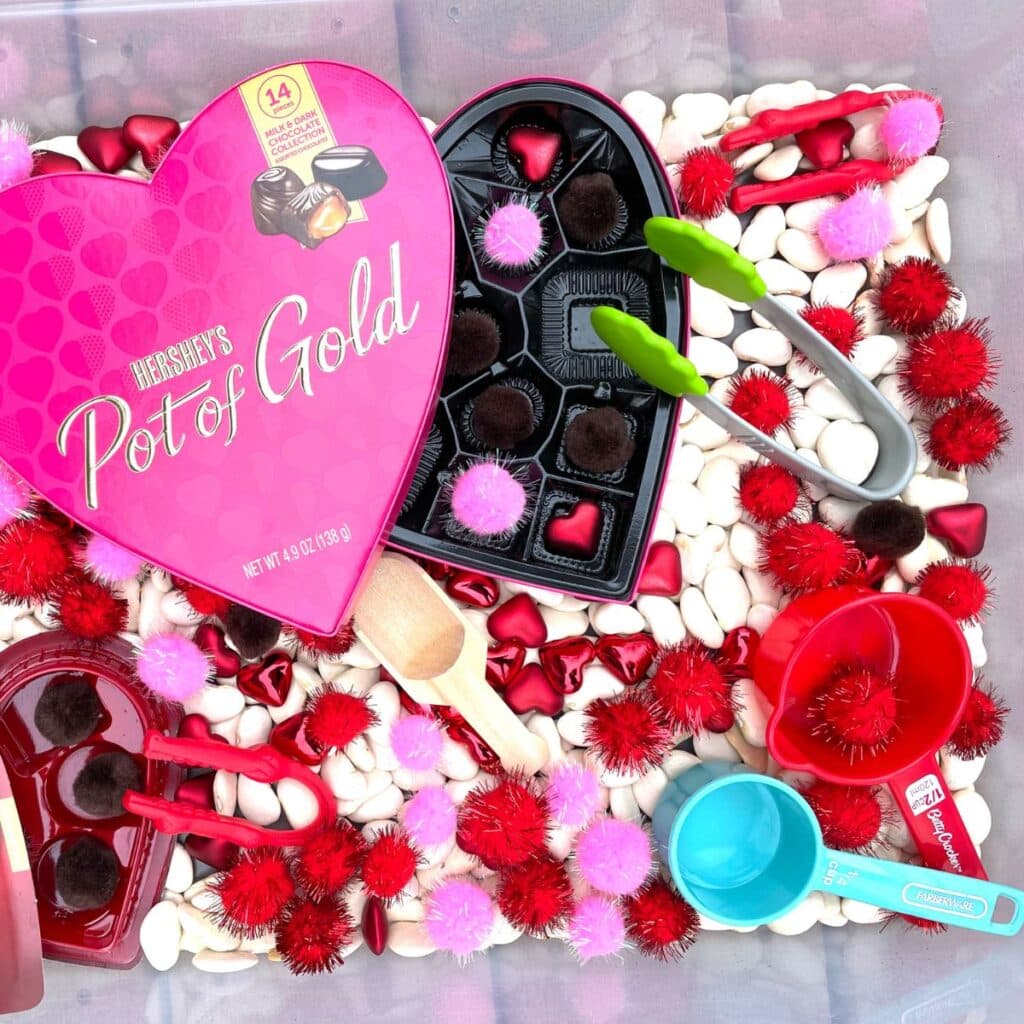 For a lovely February sensory play idea, try this Valentine's Day Chocolate Box Sensory Bin.
Kids will keep busy scooping and sorting the "chocolates."
This sensory table idea lends itself to plenty of pretend play and interaction between kids.
And of course it's a great excuse to eat a box of chocolates! LOL
14) St. Patrick's Day Color Sorting Sensory Bin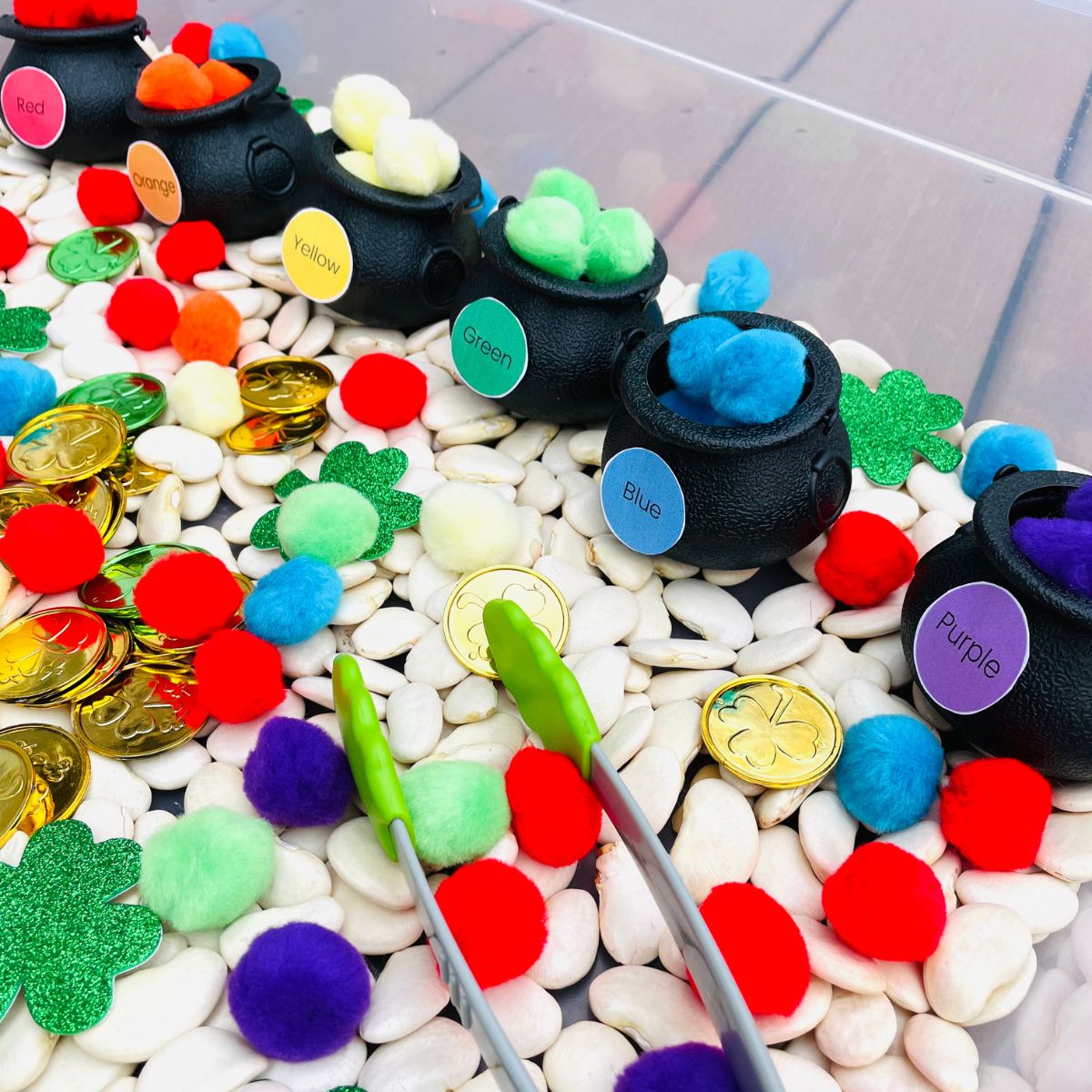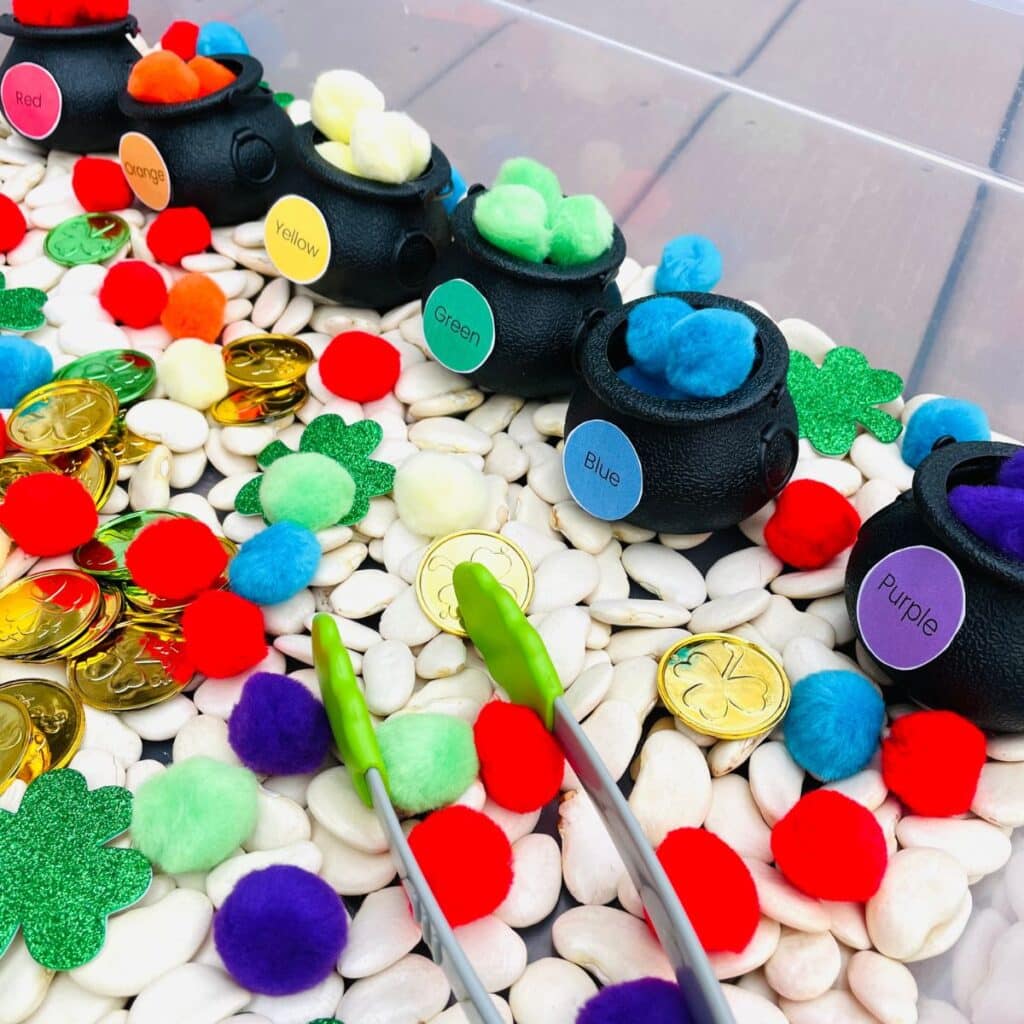 The vibrant colors of this St. Patrick's Day Color Sorting Sensory bin will delight and engage children in plenty of sensory play fun!
Kids will love filling the pots with gold, beans, and of course color sorting the rainbow pom poms.
Plus, there's a free printable to help you create your own rainbow color labels for your sensory bin!
15) Easter Color Sorting Sensory Bin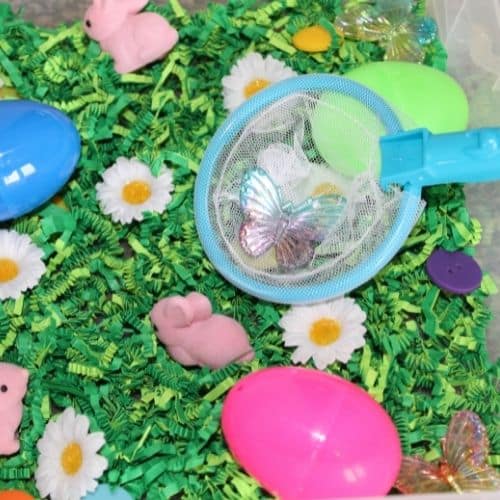 Bright colors, flowers, and plenty of Easter eggs are in this adorable Easter Sensory Bin.
Kids can sort by color the items within the bin as well as have fun hiding the various creatures in the grass.
16) Insects Sensory Bin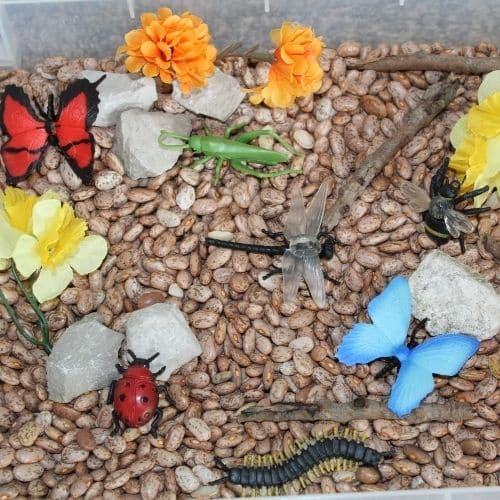 Need a fun idea to teach little ones about bugs?
Try this Insect Sensory Bin!
Kids will enjoy digging, hiding the bugs, and plenty of creative play.
17) Garden Sensory Bin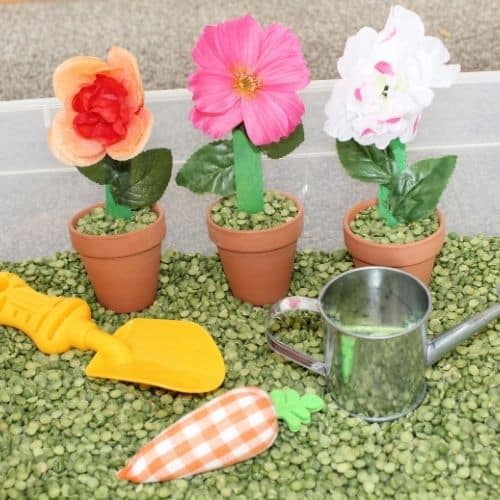 Dig into some fun with this Vegetable and Flower Garden Sensory Bin.
Kids can pretend to plant seeds, pot the flowers, water the garden and harvest the vegetables in this fun sensory play idea!
18) Ocean Sensory Bin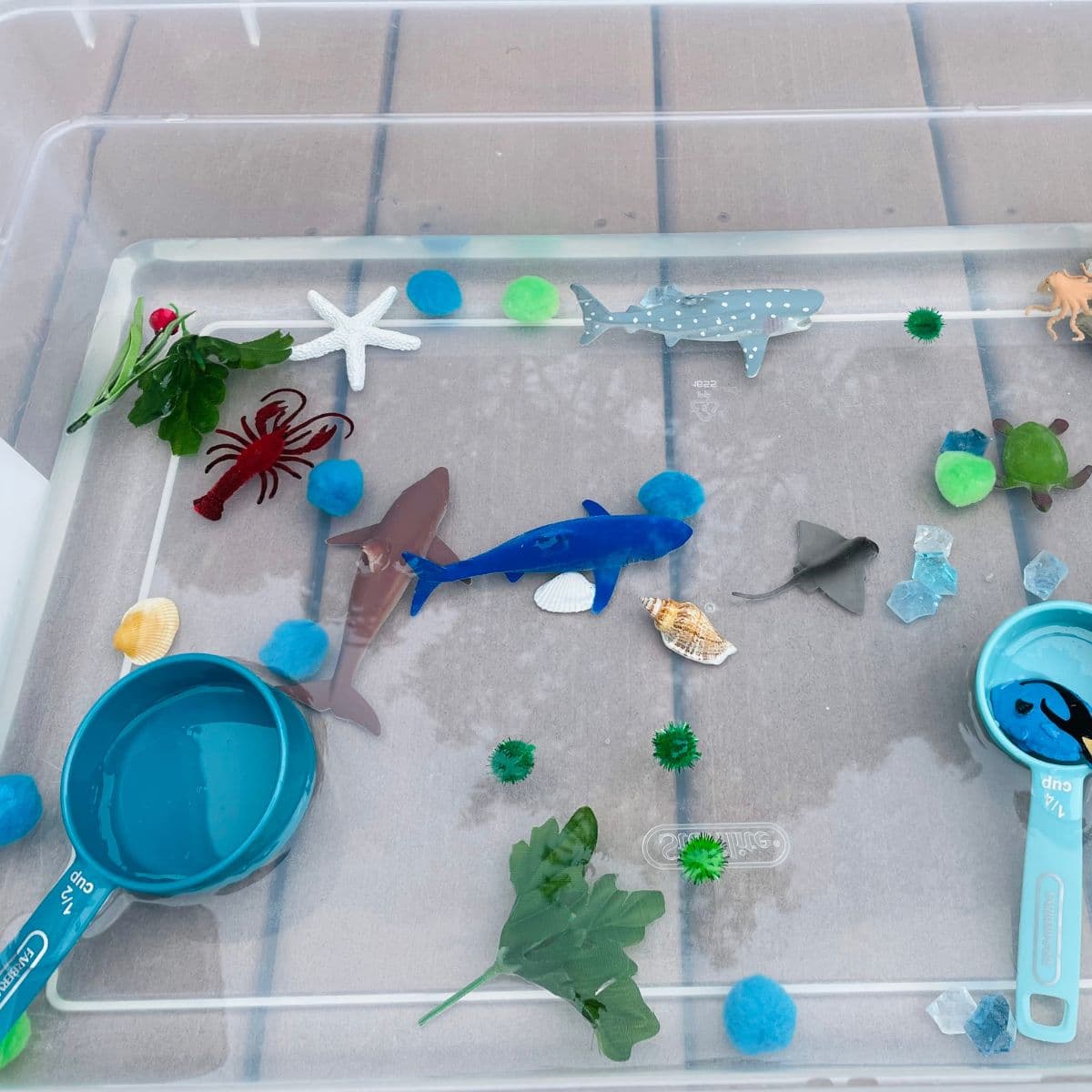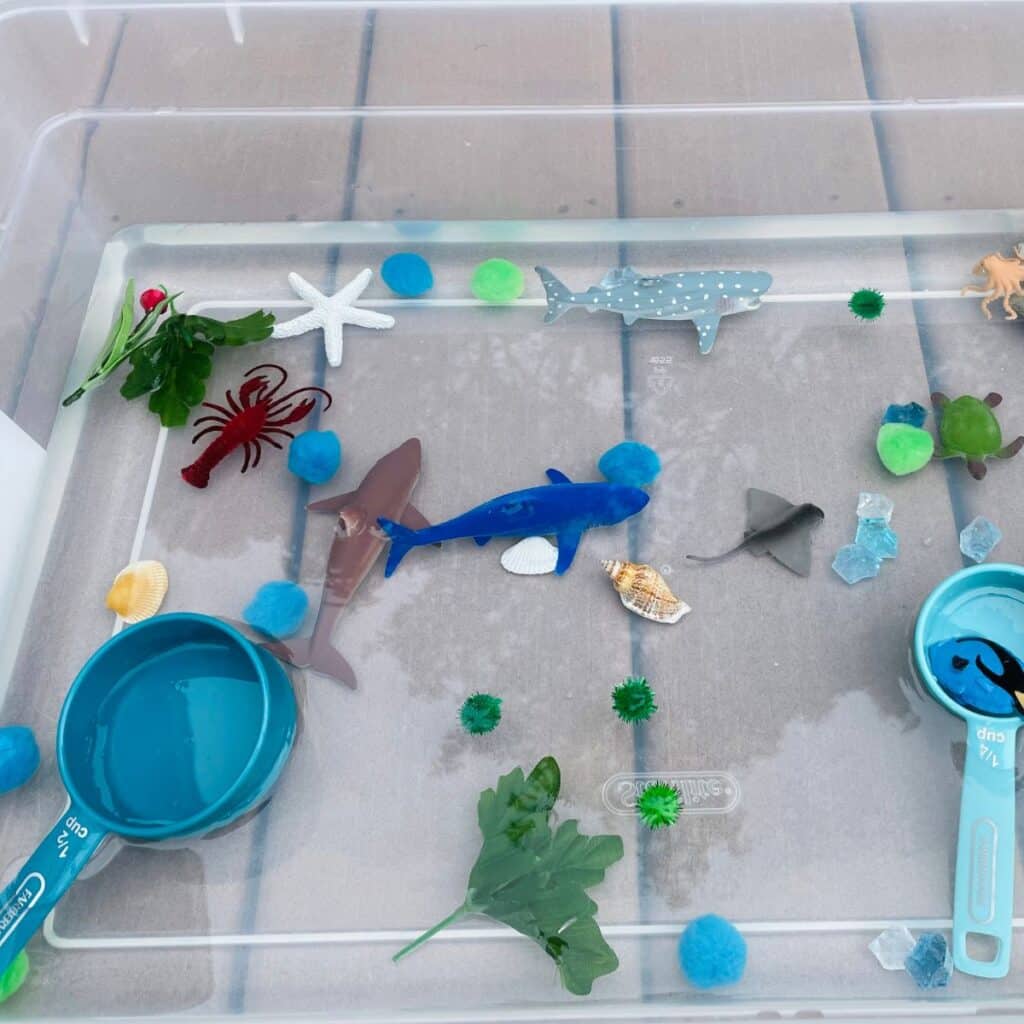 Dive under the sea with this fun Ocean Sensory Bin idea. You just need a few items to create your very own Ocean creature adventure.
Kids will love scooping, pouring and plucking items out of the water, plus plenty of imaginative play as well.
19) Beach Sensory Bin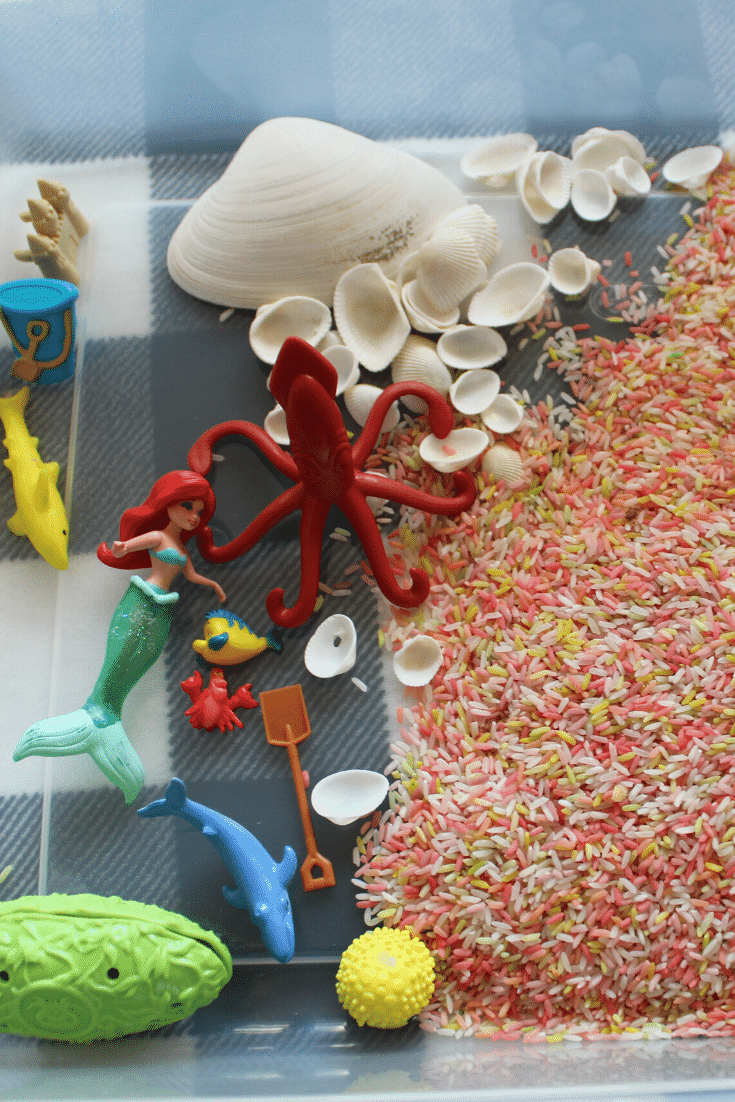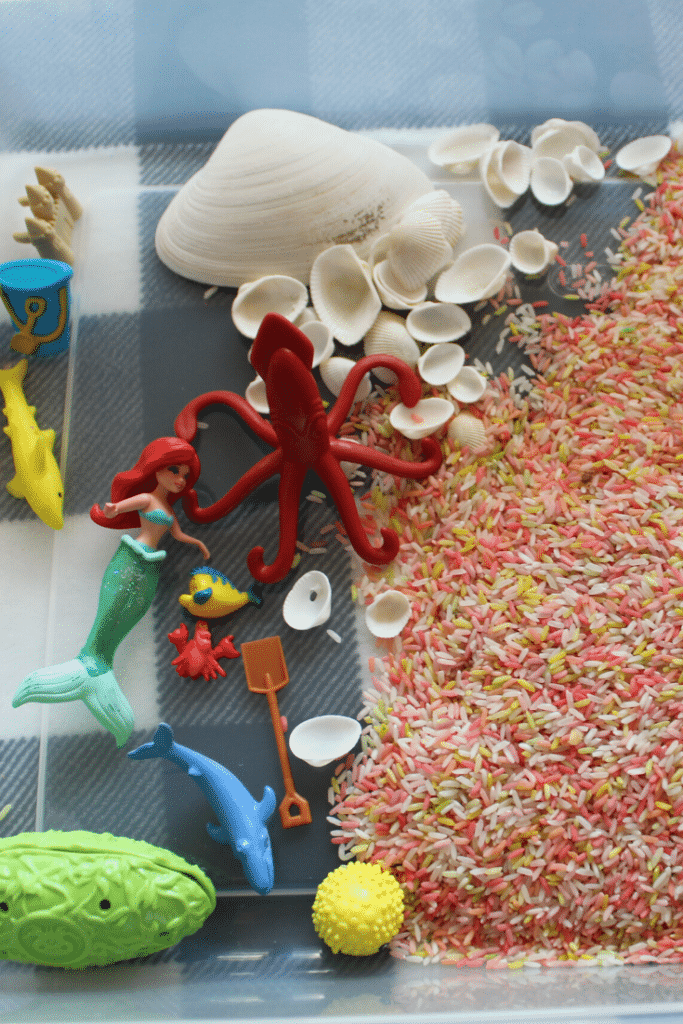 Proving that you don't need to go out and buy new things for sensory play, this Beach Sensory Bin is great inspiration.
Grab some of your child's favorite characters along with some sea shells and a sensory filler like colored rice…..and ta da! You've got a new sensory experience that's perfect for summer!
20) Moon Sand Sensory Bin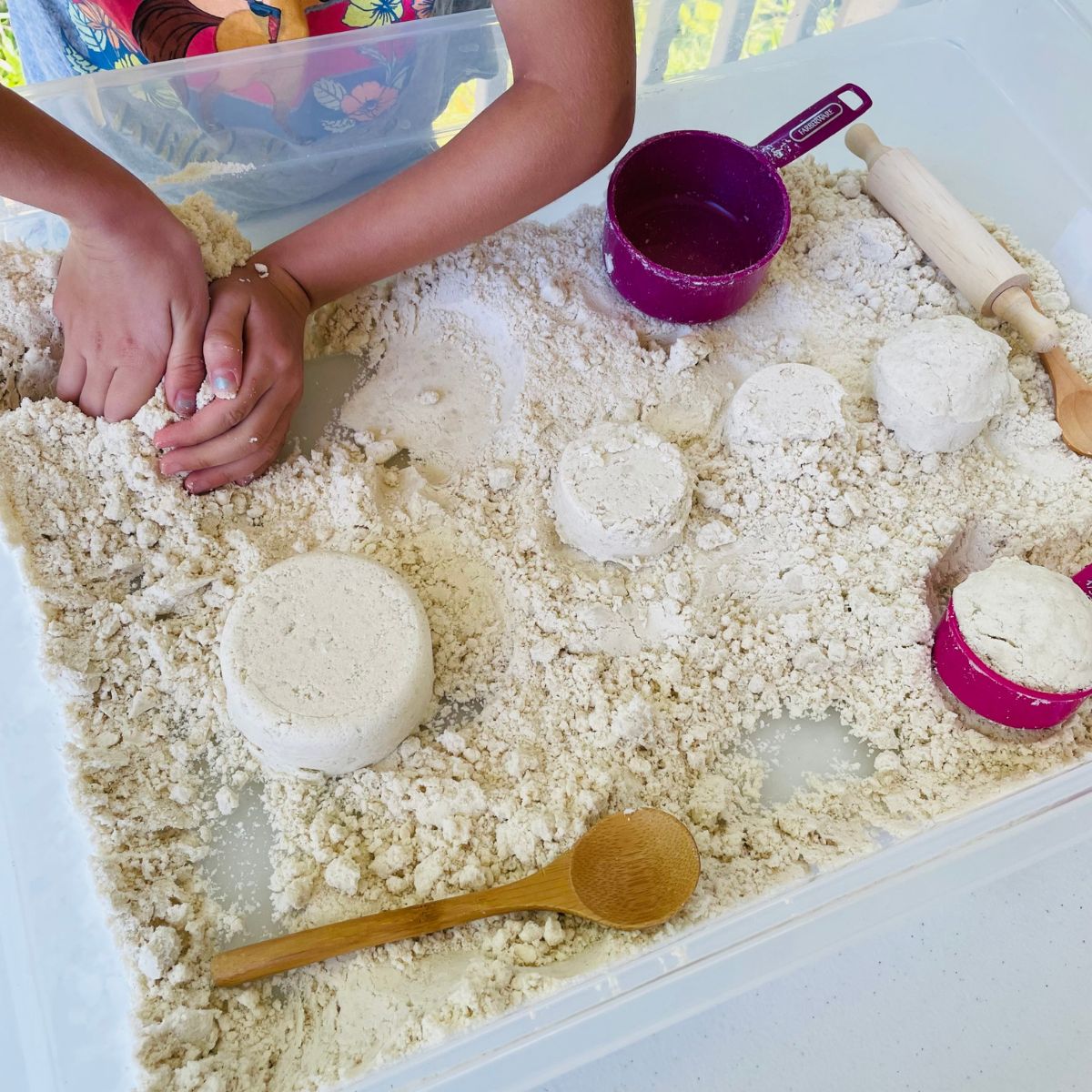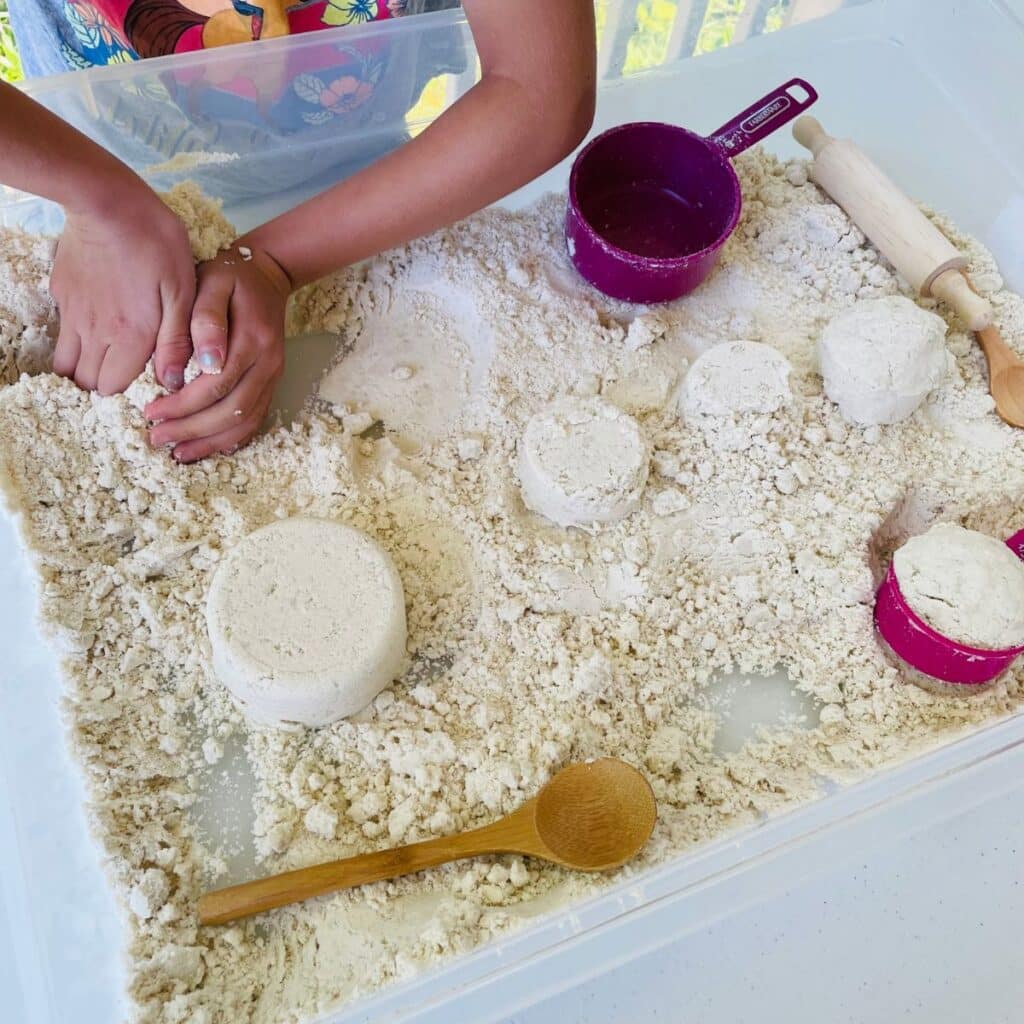 Here's a reminder that you can keep your sensory play simple – all you need is a fun sensory bin filler and something to scoop or stir with! This DIY Moon Sand Recipe (aka Cloud Dough) is the perfect sensory play filler.
It's just 2 ingredients…and it's gluten free for all those allergy families out there (mine included!)
21) Ice Cream Sensory Bin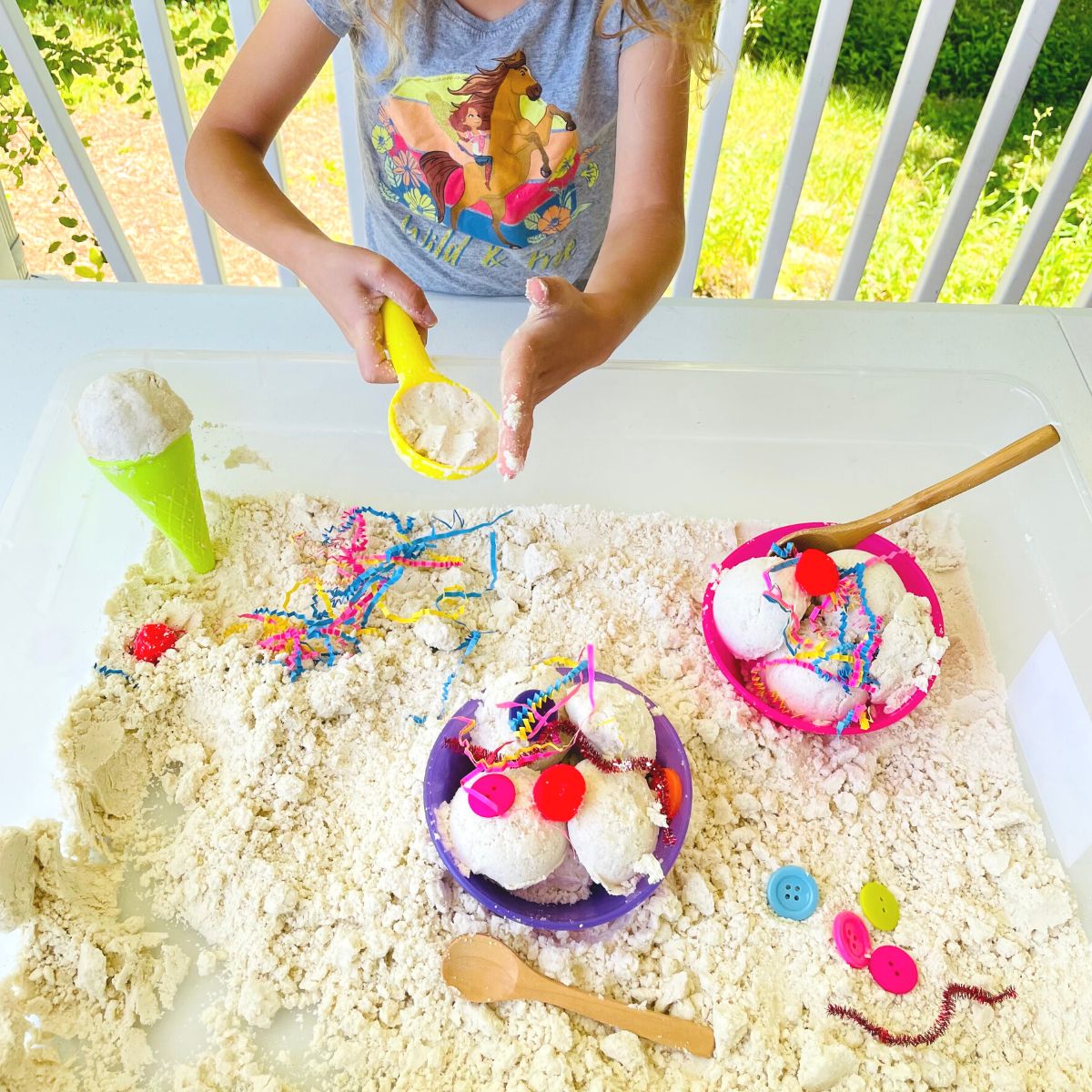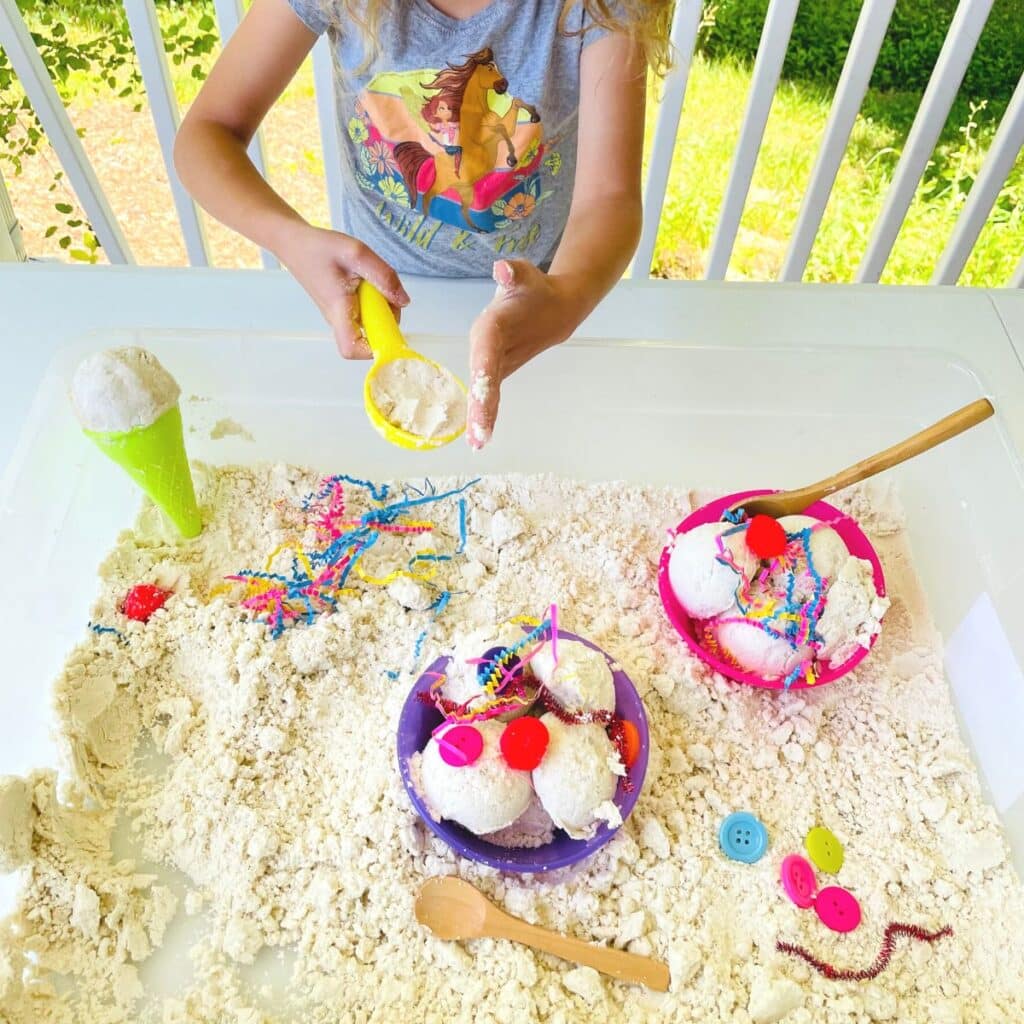 Kick it up a notch with this fun Ice Cream Summer Sensory Bin.
Showing just how easy it is to make a few tiny swaps to create a new sensory play experience, we added some fun items to our Moon Sand sensory bin, and changed it into a full service pretend Ice Cream Shop!
This messy play idea is so much fun for kids of all ages!
22) 4th of July Sensory Bin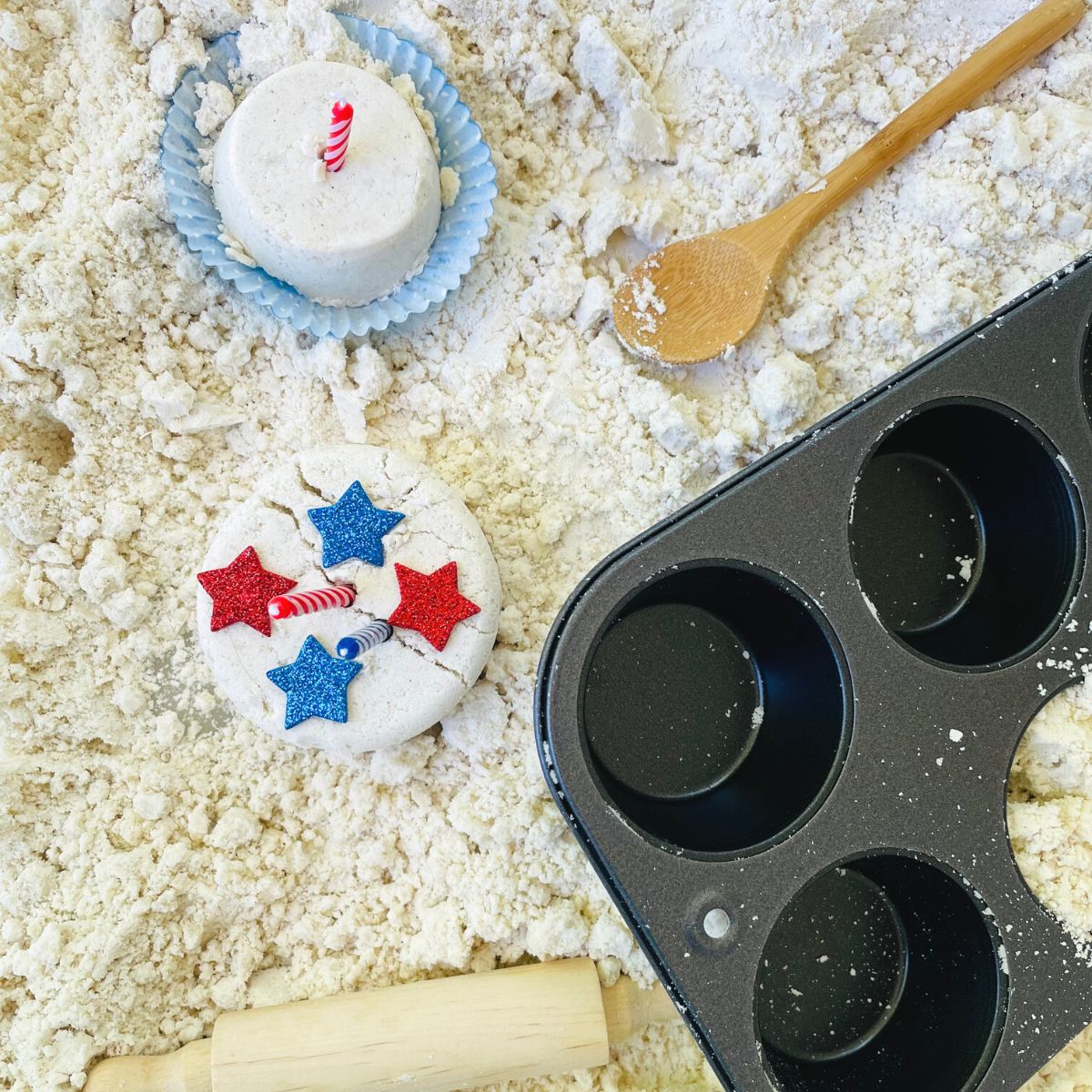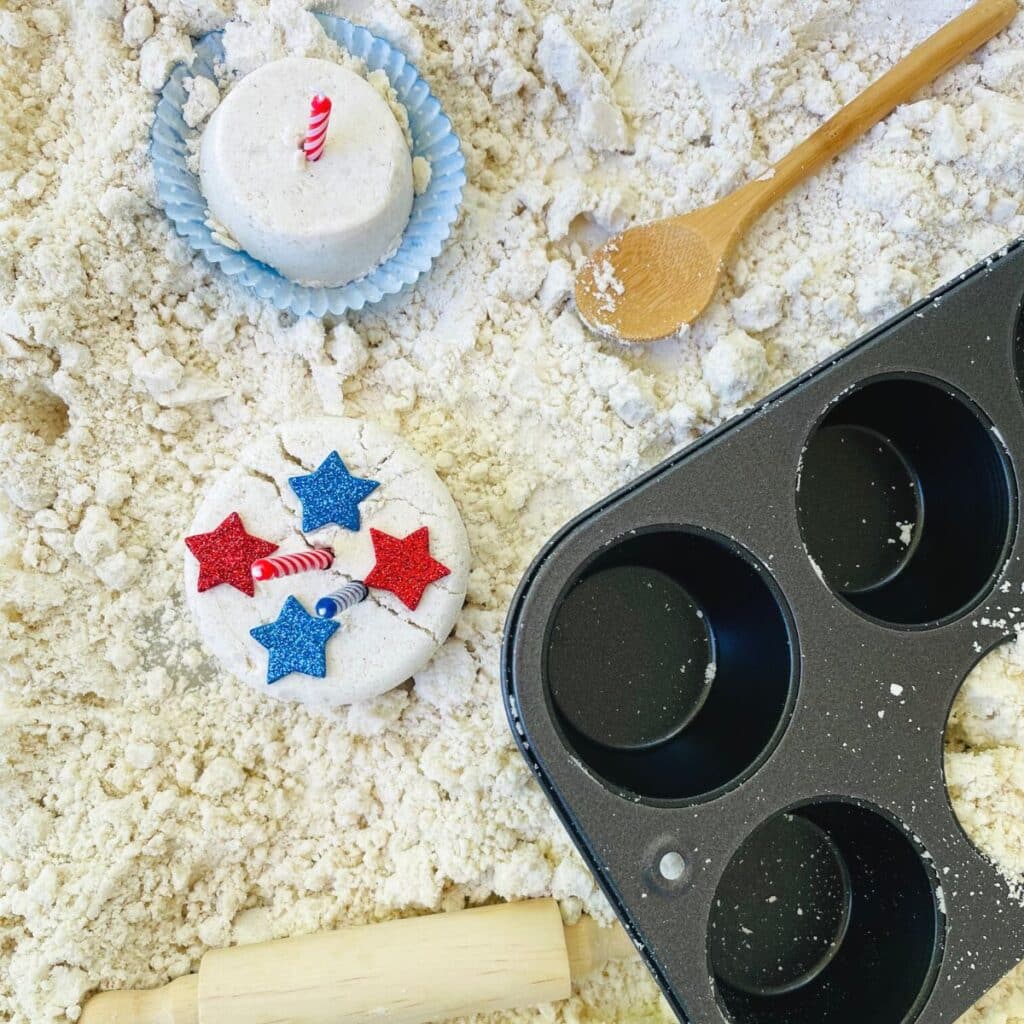 We swapped out our theming again with the Moon Sand bin to create this fun 4th of July Sensory Bin.
My kids loved making these patriotic cakes and cupcakes to celebrate America's birthday!
23) Colored Rice Sensory Play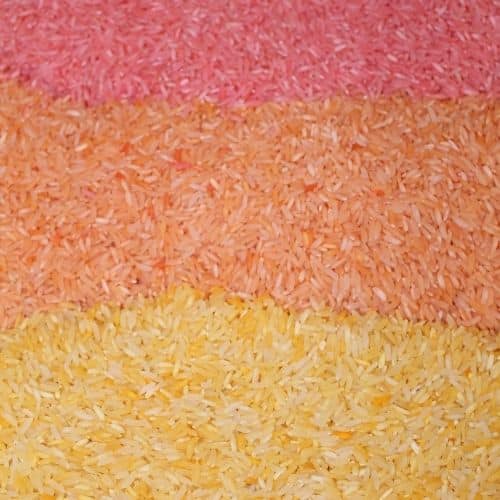 Some of my very first Sensory Bins used Colored Rice. This easy method to create DIY Colored Rice only requires 2 ingredients – plus your rice!
It's super simple to make and rainbow rice makes the perfect sensory bin filler when you want something vibrant.
24) Fall Sensory Bin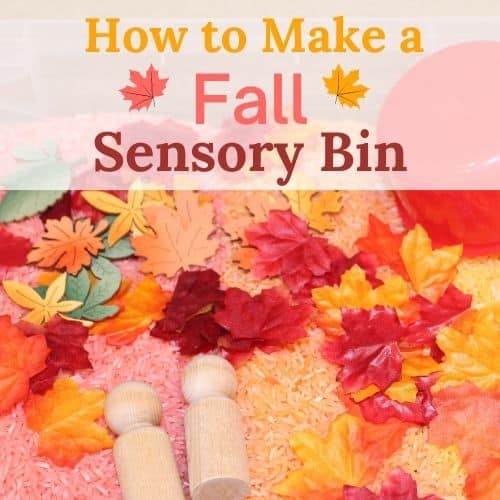 This Fall Sensory Bin is so simple and yet, so full of fun!
I love how it brings the colors of fall into a simple sensory experience.
In addition, I love adding wooden figures to sensory bins because my kids get to choose who the person is and imagine what they look like.
Activate those imaginations!
25) Halloween Sensory Bin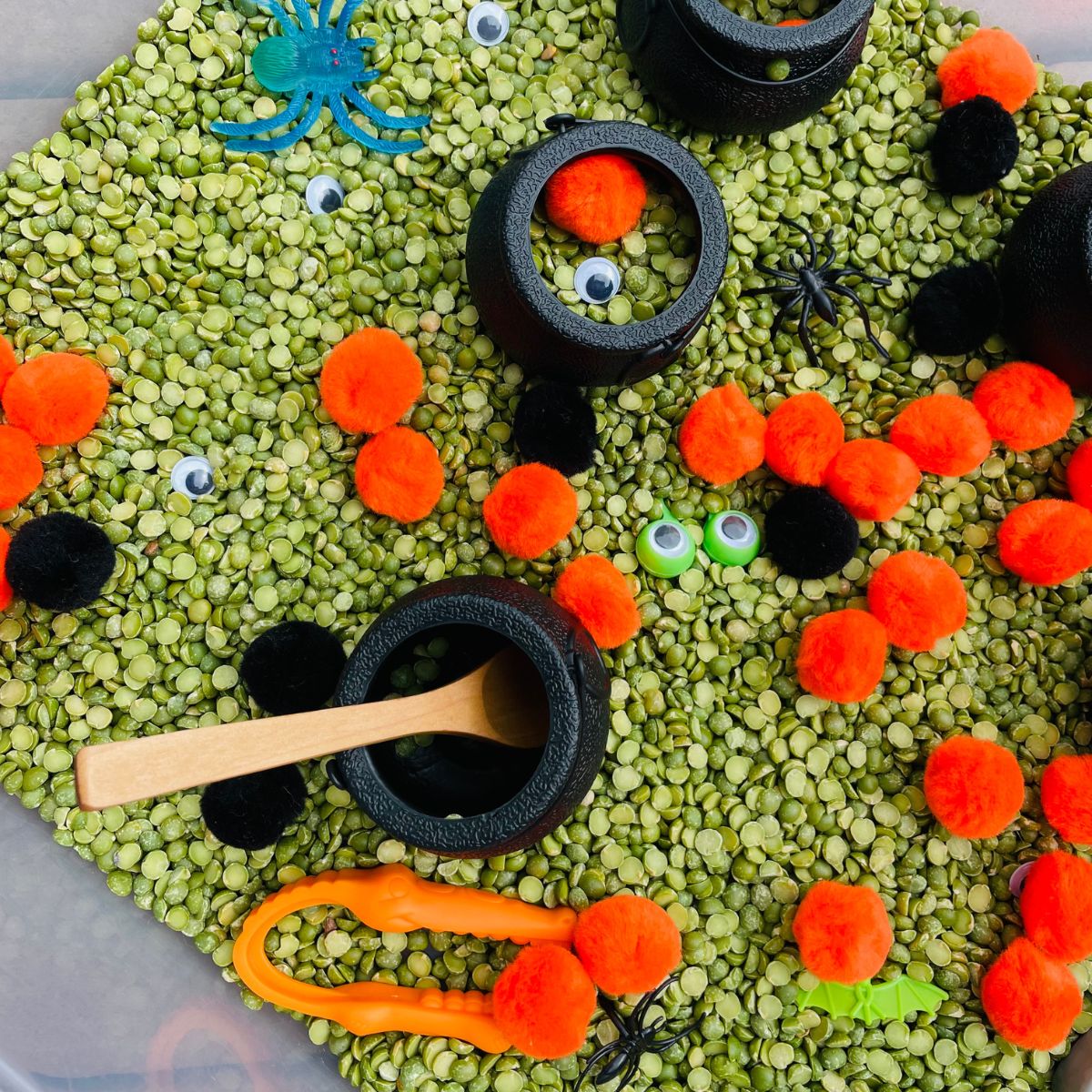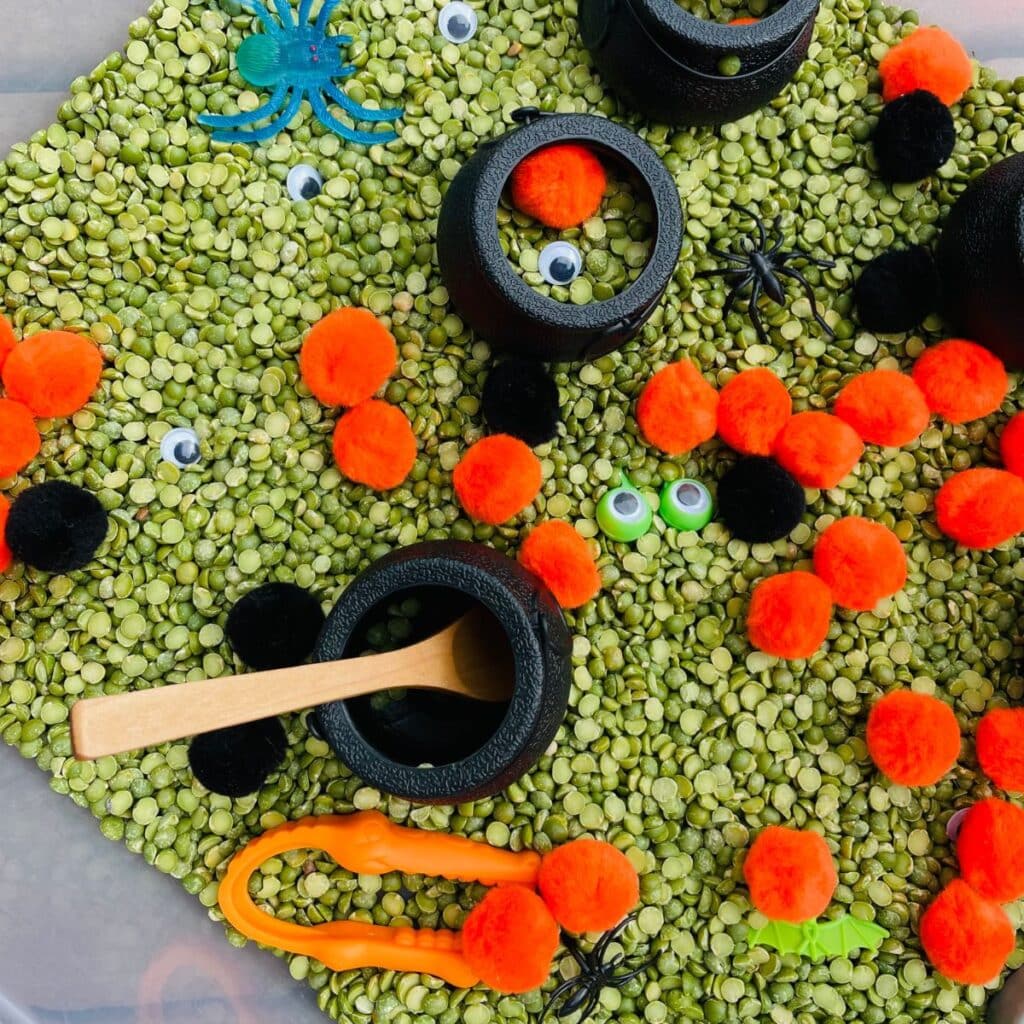 Get ready to make Monster Stew with this Halloween Sensory Bin idea. Kids will enjoy stirring up green concoctions in the cauldrons, adding spiders, bats, eyeballs and more! What spooky fun for Halloween!
26) Thanksgiving Pie Sensory Bin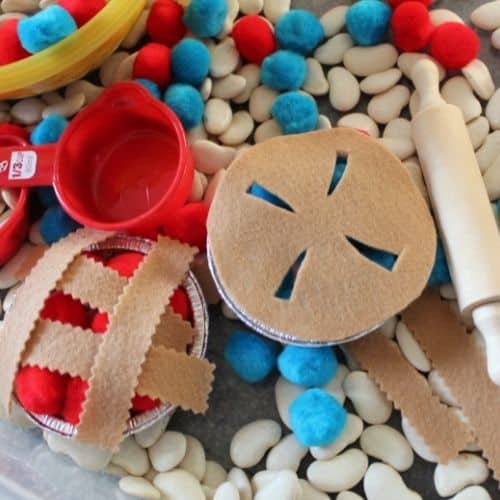 And quite possibly the cutest sensory play idea on the list is…this Thanksgiving Pie Sensory Bin.
Little kids will love pretending to bake their own pies!
They can roll the dough, stir the pie filling, and create their own mini pies.
It's too cute and such a good sensory bin for the Thanksgiving holiday season.
More Sensory Play Ideas
Looking for more sensory play ideas for young kids?
You can find some amazing Premade Sensory Kits here. Find tons of inspiration for building your own sensory kit or buy one premade on Etsy!
There's some great ideas for Extending the fun of Kinetic Sand here. Find all the best toys for kinetic sand play.
Don't miss these amazing free printable Play Dough Mats. They are a great addition to inspire creativity with playdough.
Want to save these Sensory Play ideas for later? Pin the image below to your Preschool Sensory Bins board on Pinterest.