Planning a farm theme for preschool? This Farm Sensory Bin is so adorable, it's sure to be an instant favorite!
This super easy sensory bin is great for teaching little ones about the farm!
Little ones will love taking care of the animals on their own farm. There's fences to be built, animals to feed, flowers to tend, and more! This farm sensory play idea can help kids to become more familiar with farm life, what animal noise each farm animal makes, and what farmers do.
It's perfect for your farm unit!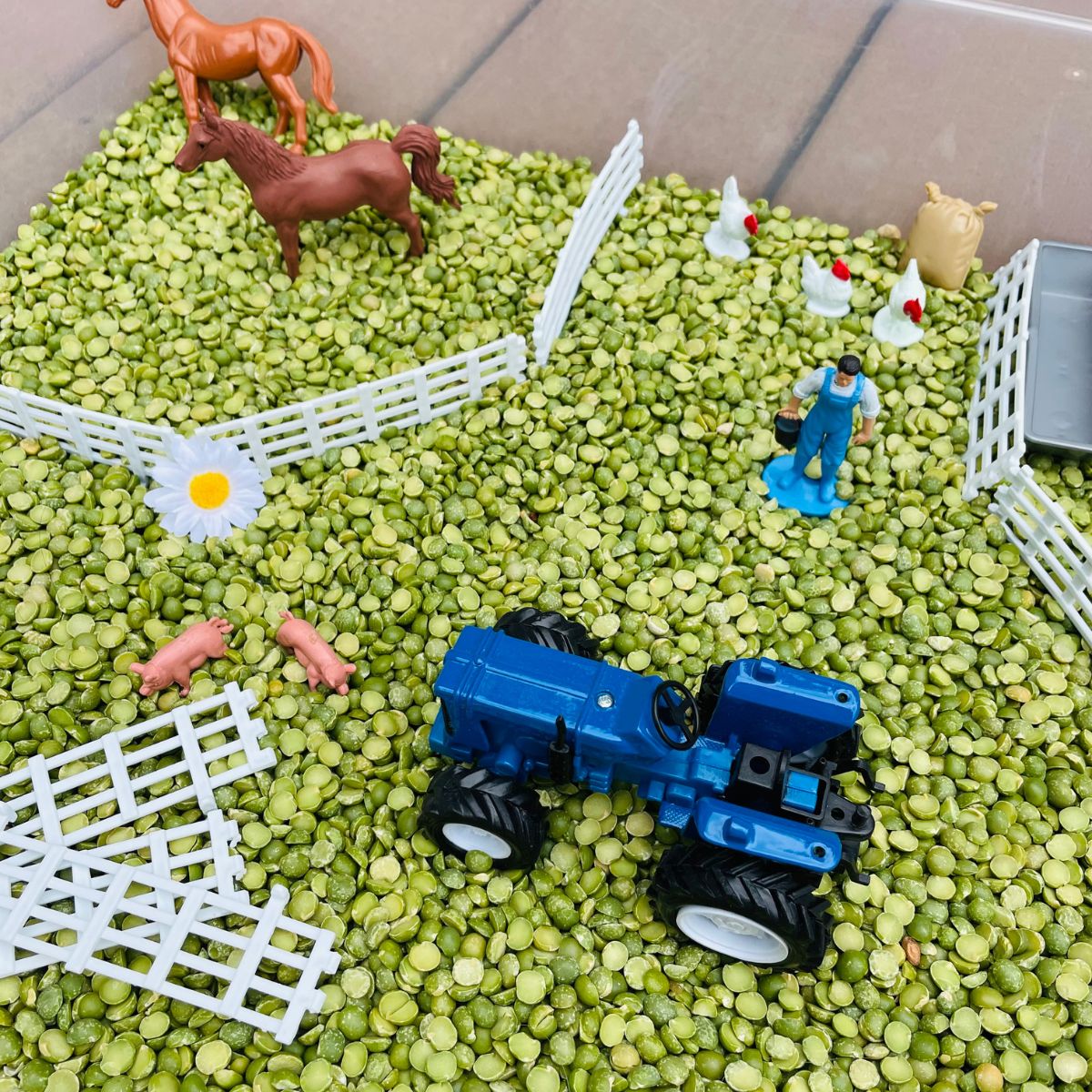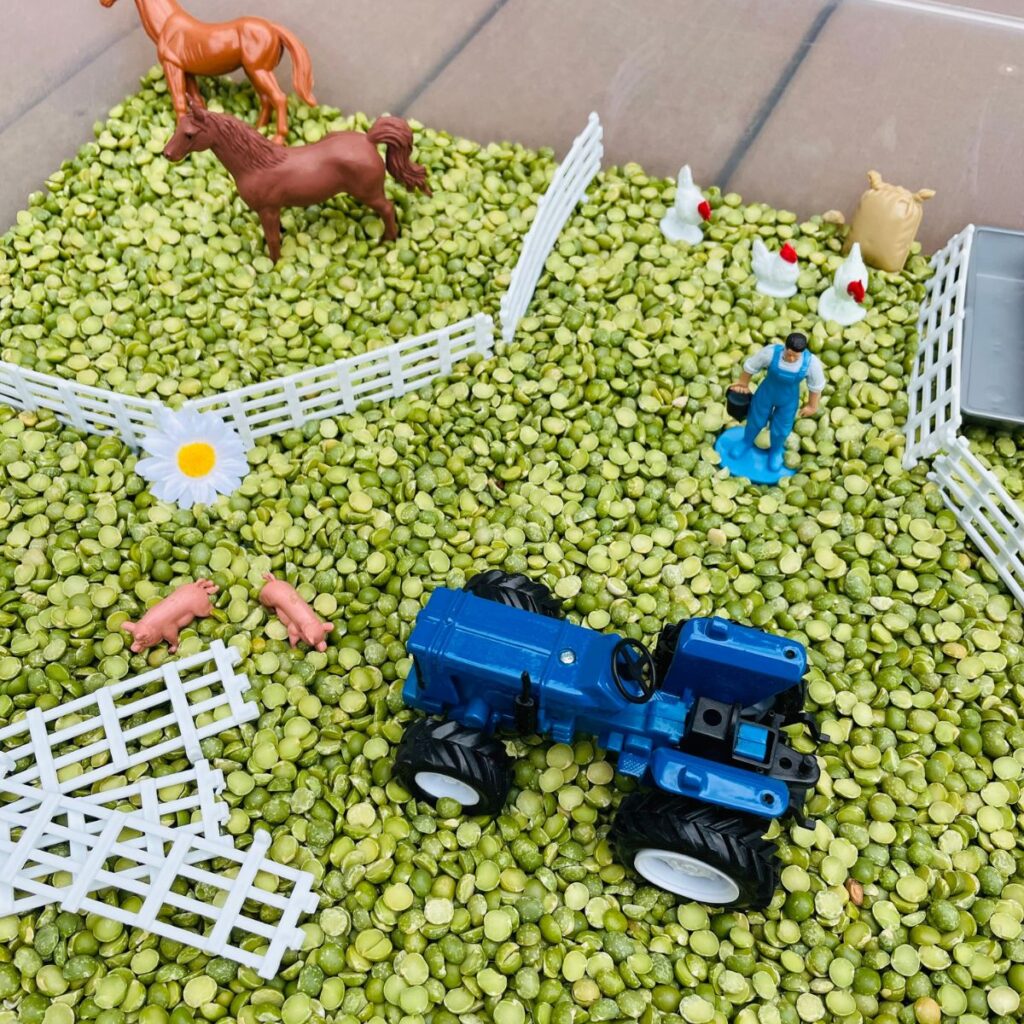 This farm sensory bin contains green split peas, farm toys, and a toy tractor as well. I hope your children enjoy this easy farm sensory bin for preschool!
What is a Sensory Bin?
A Sensory Bin is box or bin filled with items that spark imaginative play, engage a child's curiosity, and awaken the senses.
Many sensory kits are themed for a particular preschool unit, such as fall, dinosaur, Thanksgiving, garden, etc. You can find tons of sensory ideas here.
The bin has a basic sensory bin filler such as beans, dry corn, uncooked pasta, water, sand, or rice. There's tons of possibilities! Use your imagination and creativity!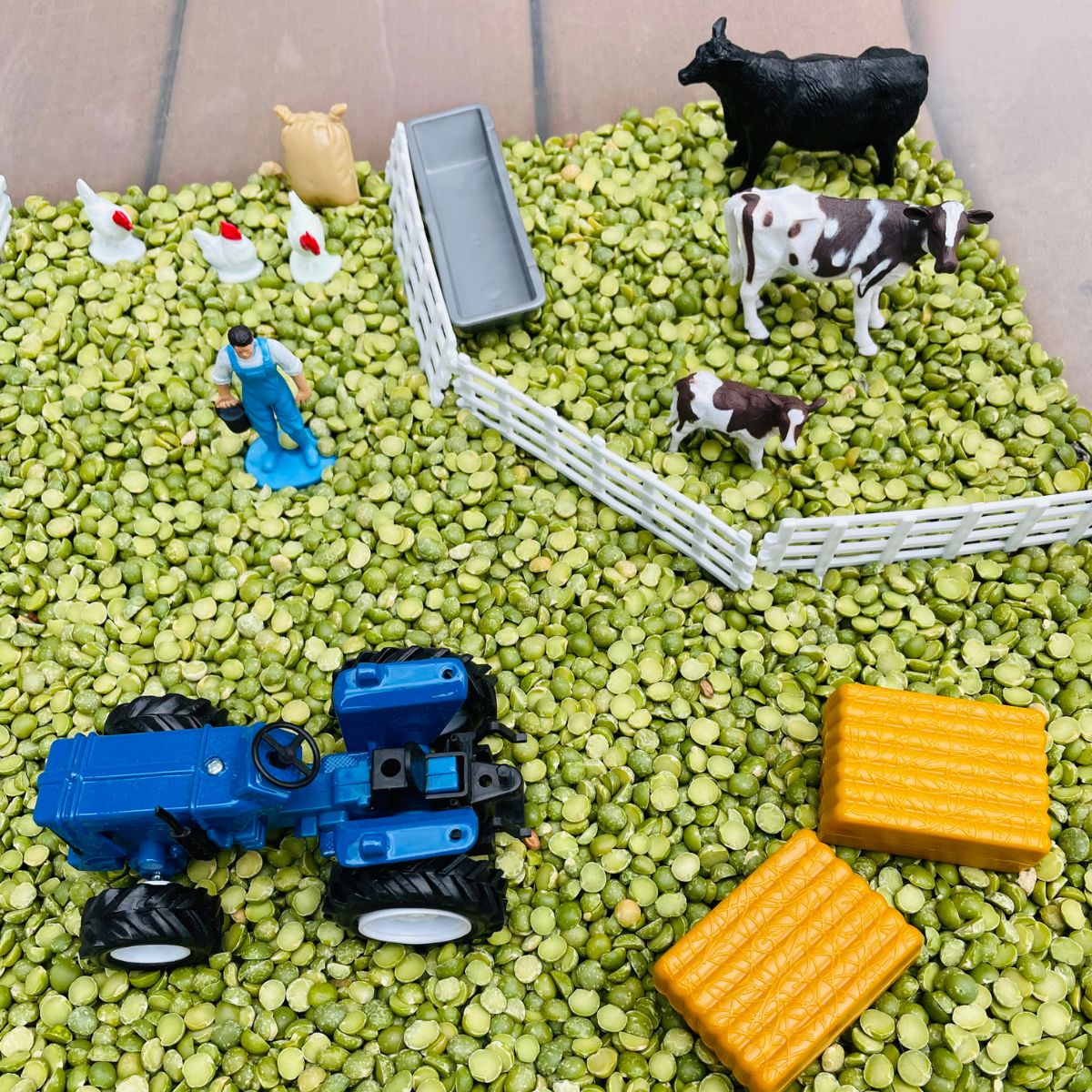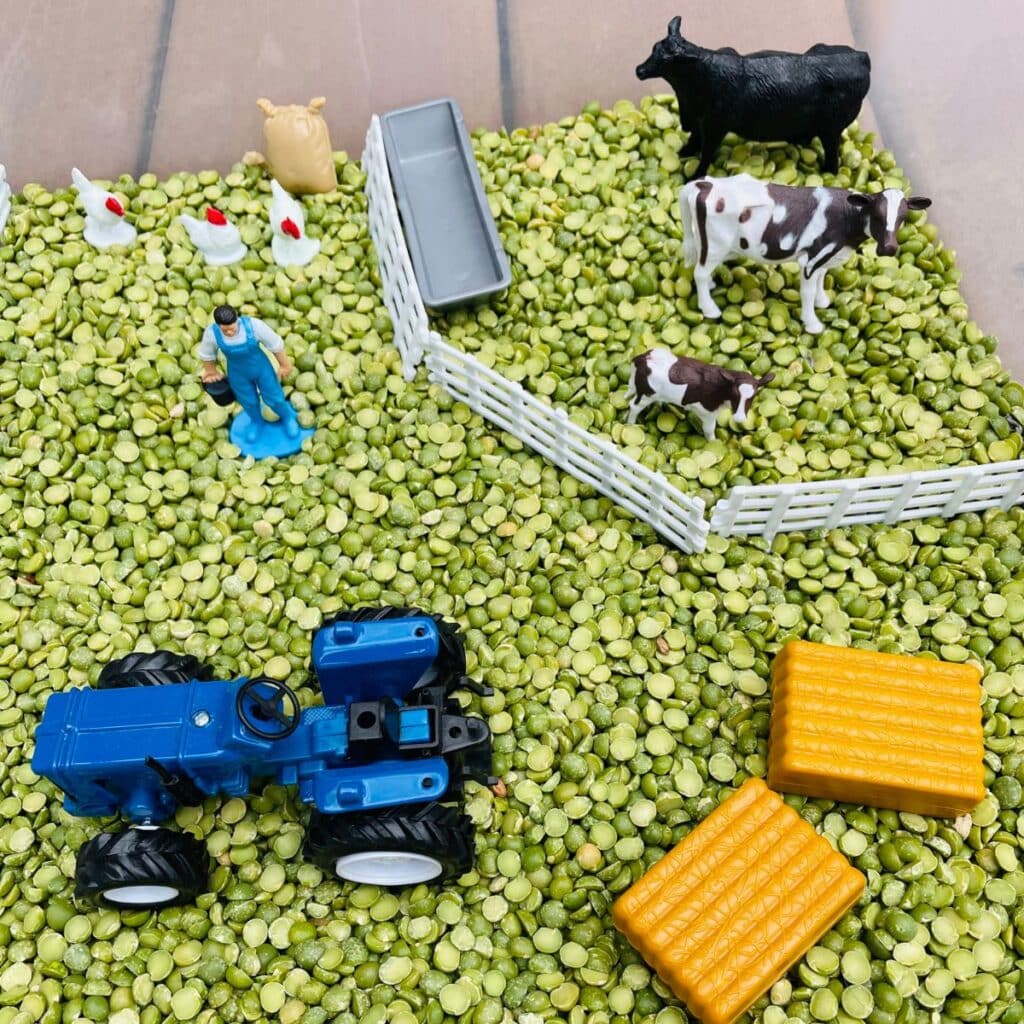 The Benefits of Sensory Play
According to Very Well Family, sensory play can:
– Support fine motor skill development
– Help build language skills
– Helps kids regulate and reduce anxiety
– Engage children in creativity and imaginative play
There's many more reasons to do sensory bins. You can read about the benefits here.
Supplies to make a Farm Sensory Bin
** Disclaimer: As an Etsy associate and as an Amazon.com Associate, I earn from qualifying purchases made by readers clicking my links at no extra cost to you.
You will need the following supplies to make this preschool farm sensory bin: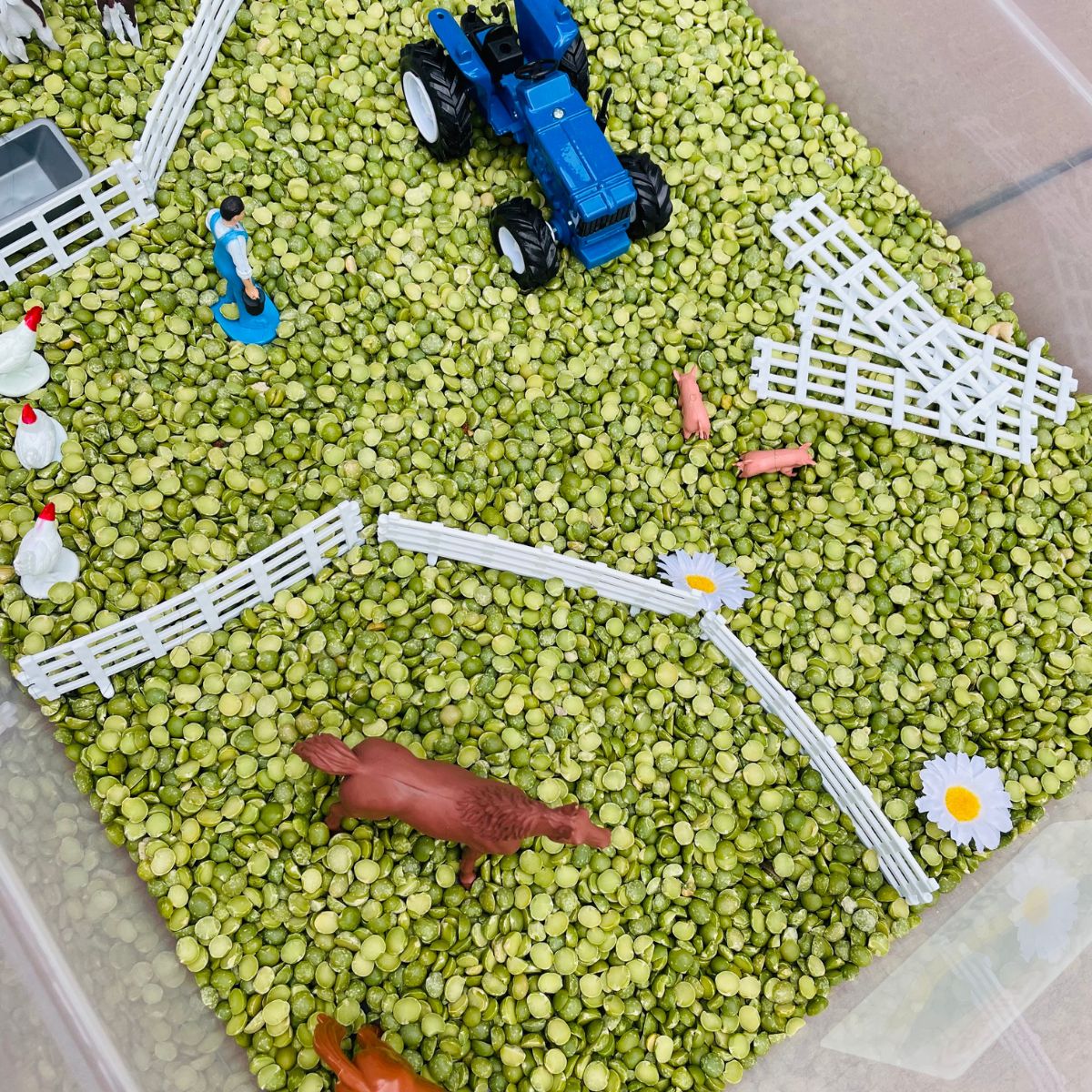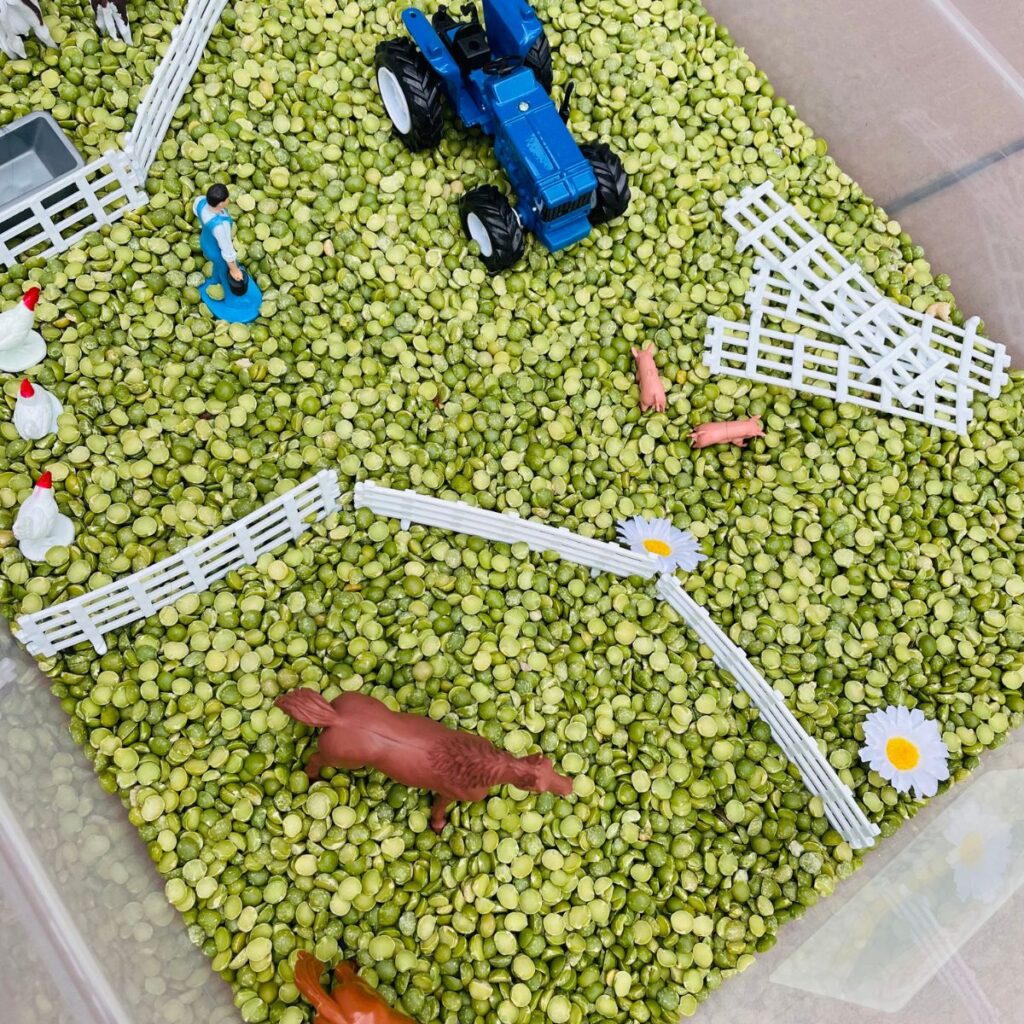 How to make a Farm Sensory Bin
Alright! Let's get started on this farm sensory play idea!
First, take your Sensory bin and fill it with Dried Green Split Peas. The amount of peas will depend on how large your sensory box is.
If you don't have the green split peas, or you want to try something different, you could definitely substitute other base fillers such as: dried corn kernels, unpopped popcorn, dried pinto beans, sand, etc.
Next, add your fences. I like to set up the farm, to give kids an idea of what they can do and spark their imagination.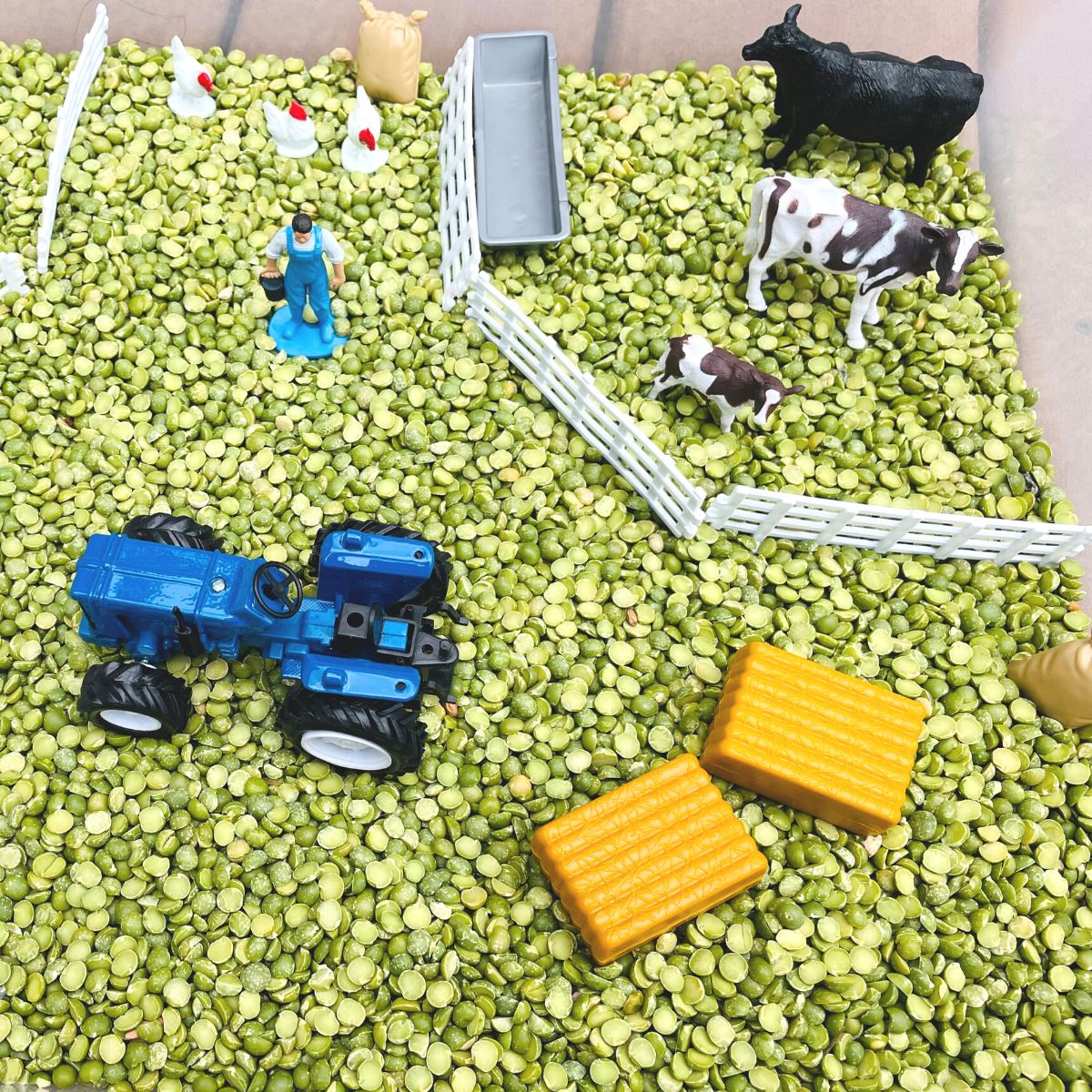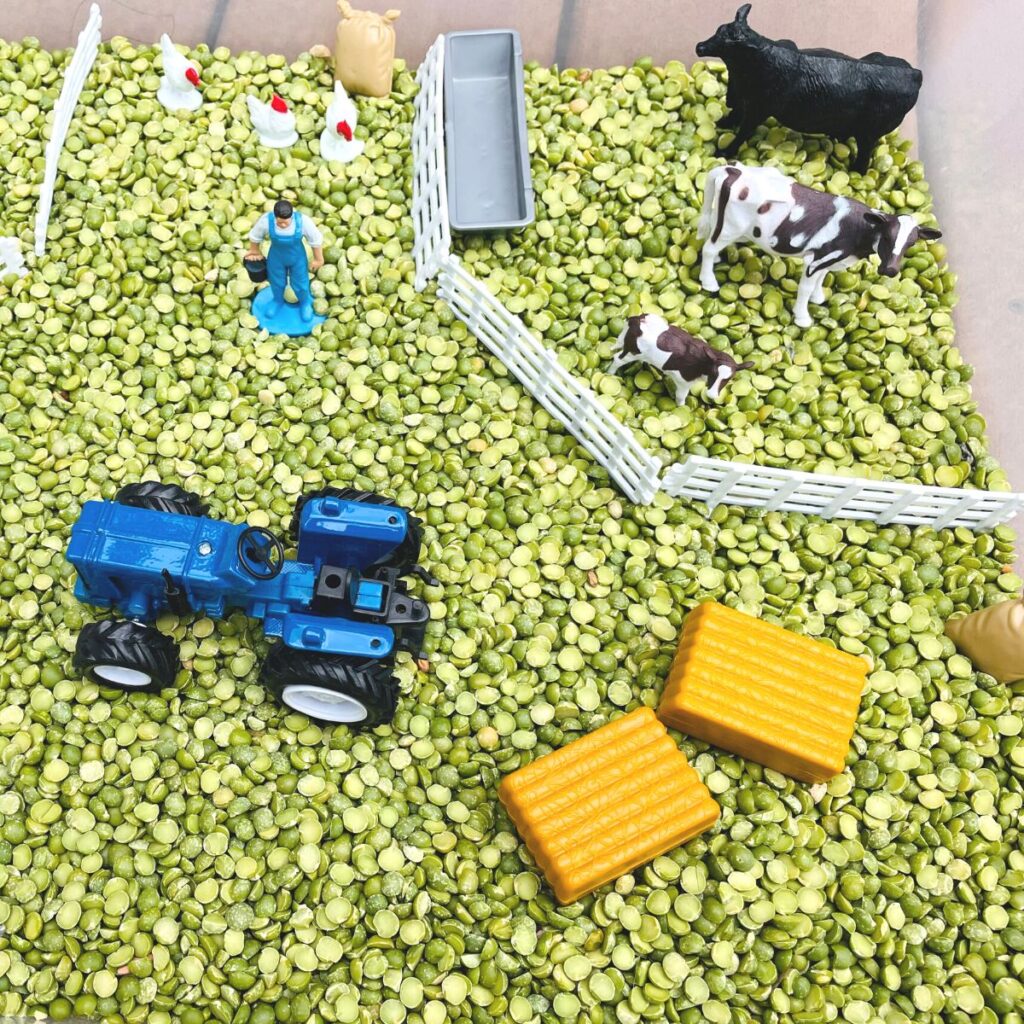 Now it's time to add the farm animals, tractor, hay bales, feed bags, farmer figurine, and any other farm items.
We used 2 horses, 3 small chickens, 3 cows, 2 pigs, 2 hay bales, 2 feed sacks, and some fake flowers. I just used what we already had.
We have quite the collection of farm toys as my son is really into farming (and my dad is a farmer! Yup, I grew up on a farm.)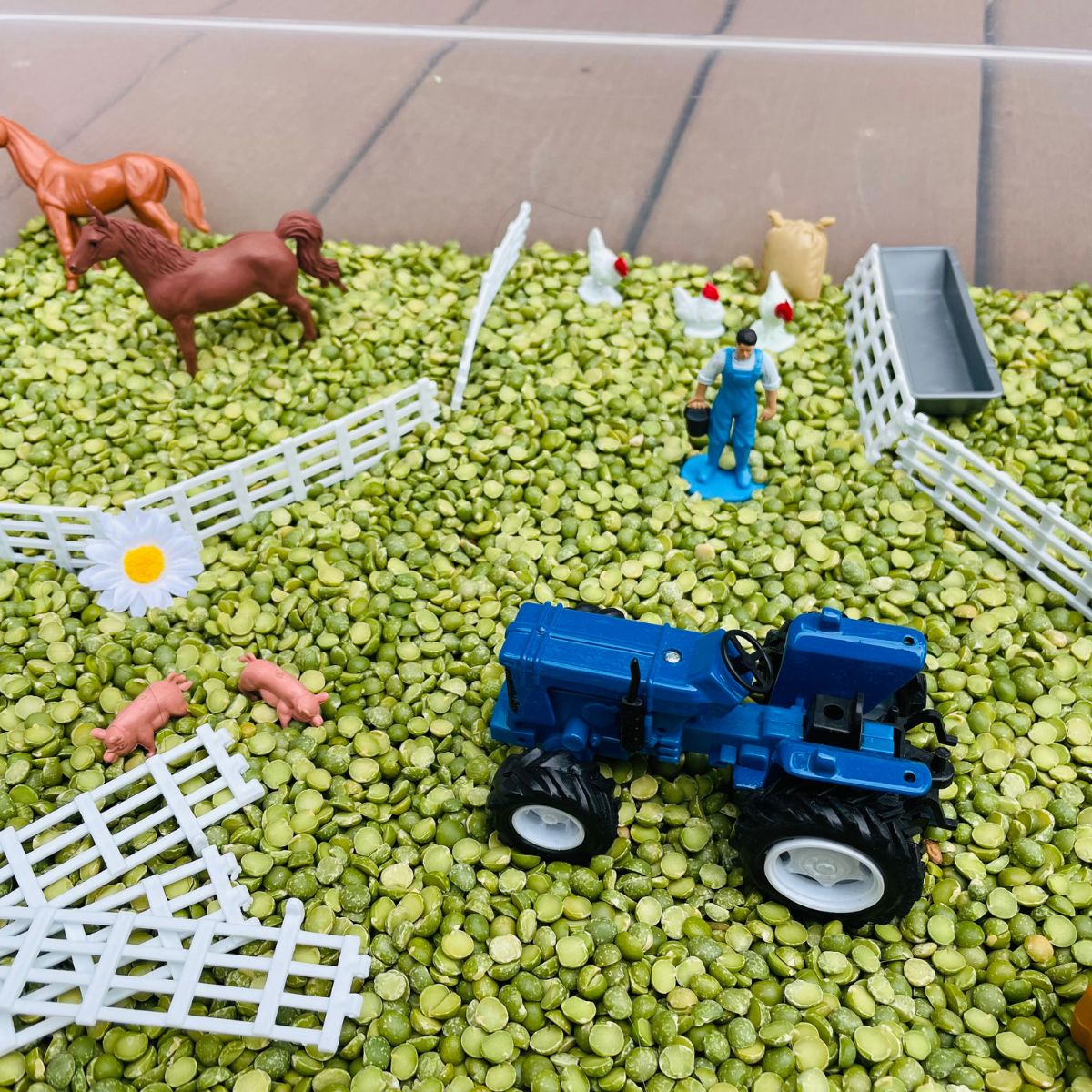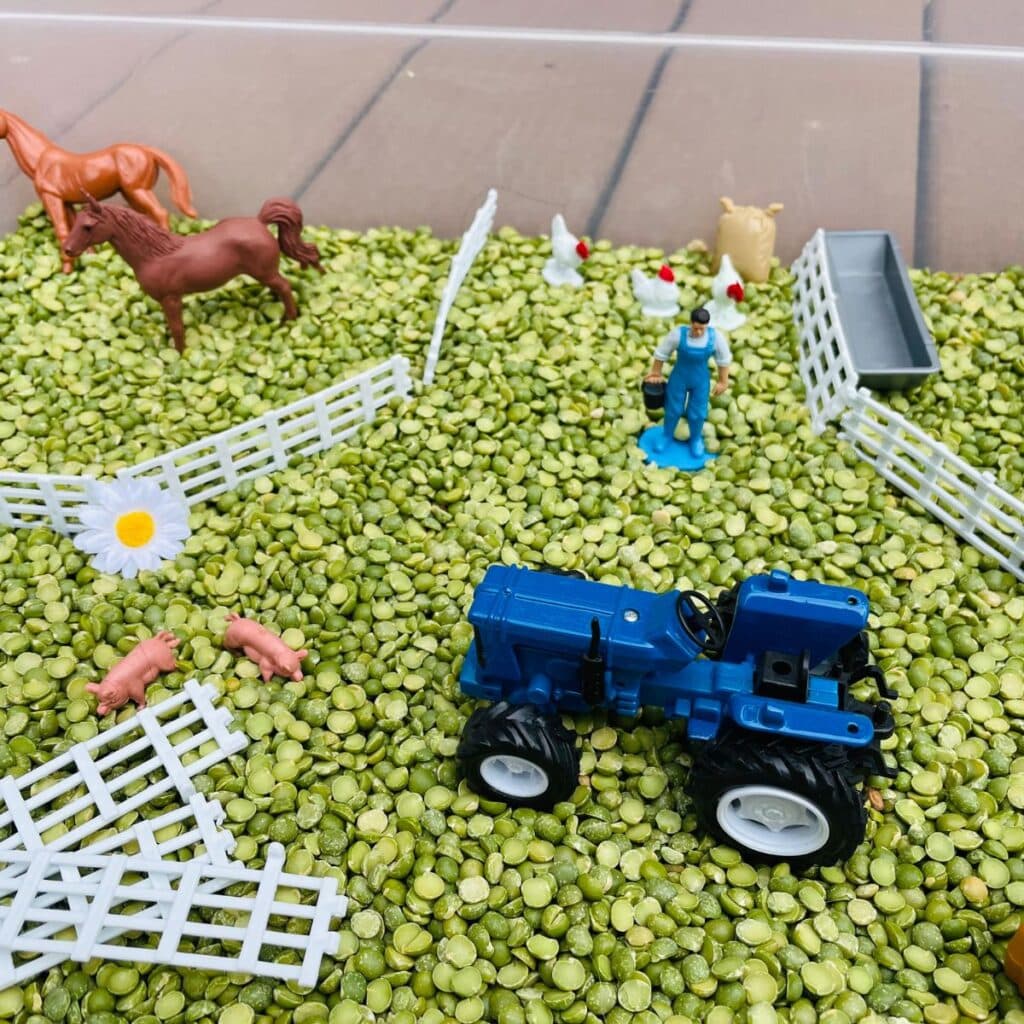 This is not pictured, but I like to include something to scoop with. I have found that one of best ways to ensure that a sensory bin is engaging for kids is to add a scoop.
My little ones enjoyed feeding the animals and hiding the pigs in the green split peas. As you can imagine, as soon as my kids started playing, the farm animals came to life and were quite active in the sensory bin.
There were lots of animal sounds coming from that corner of the room!
My kids loved driving the tractor too. Later, we added a wagon to the tractor for hauling around animals and green split peas. So much fun!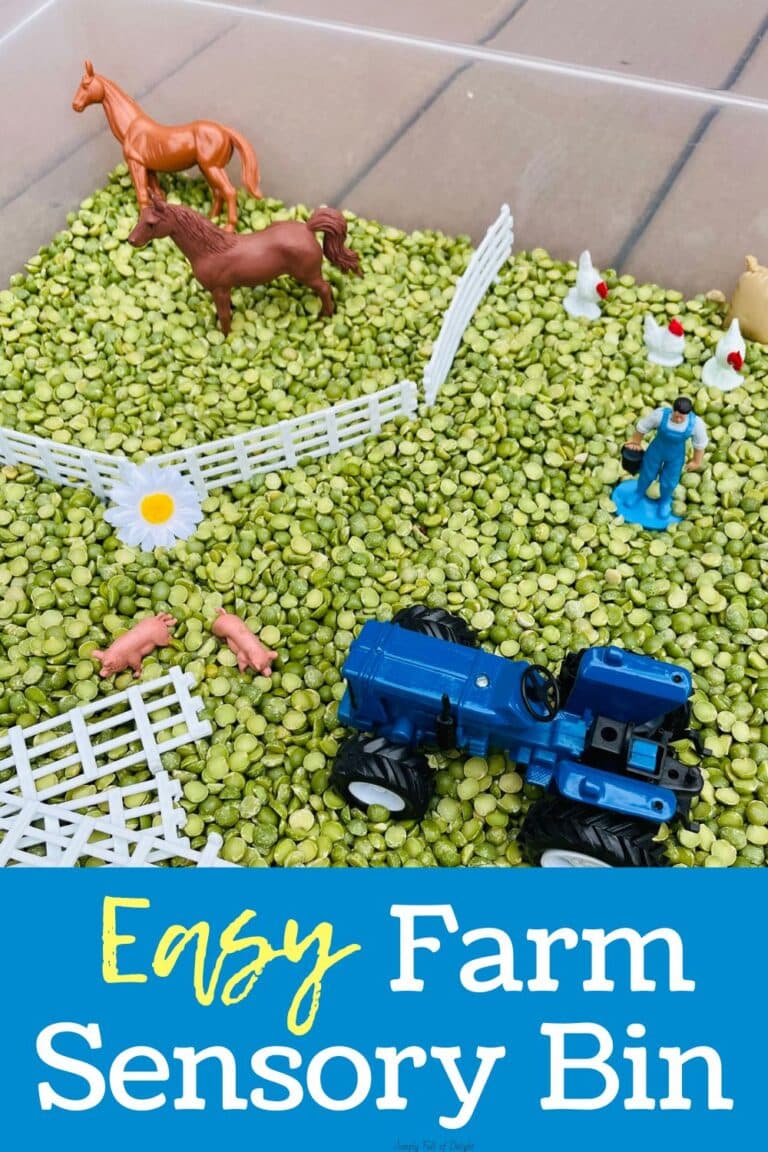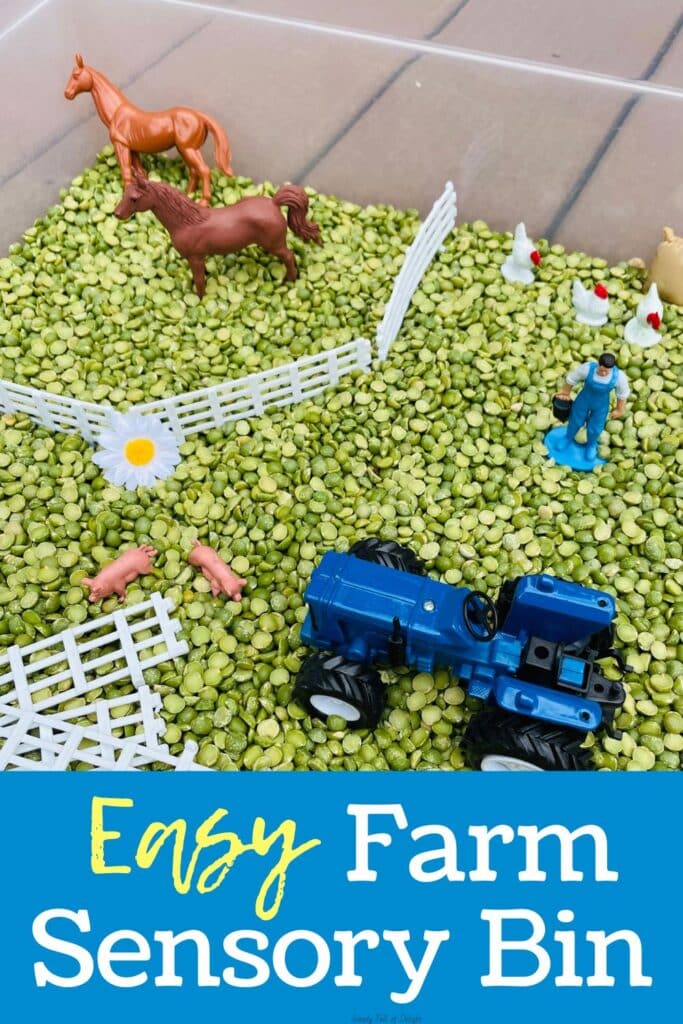 More Farm Activities for kids
If your kids loved this farm sensory bin idea, they might also enjoy this: Vegetable and Flower Garden Sensory Bin. In this spring sensory play idea kids can pretend to plant flower pots and work in a garden.
If you would like more sensory bin ideas, be sure to check out all of our pretend play sensory table and fun sensory activities here. So many fantastic ways to help little ones with language development, fine motor skills, and engage in sensory bin play!
Learning about Farms and want some more Farm Activities for kids?
If you need a fun farm book for young children, don't miss Peek Inside the Farm. It's a great way to introduce different animals and farming. My young kids loved lifting all the flaps to reveal farm scene activities.
If you want to teach kids about how farming used to look, be sure to read Ox-Cart Man. It's one of our favorite books!
Also, this Poke-a-Dot Old MacDonald's Farm book is interactive and loads of fun.
As part of our farm theme, we made these Paper Bag Pig Puppets – you can find them here. They are super easy with the free pig printable.
There's also a fun Cat Paper Bag Puppet as well. What's a farm without it's trusty barn cat?! Kids can create this easy puppet by simply coloring, cutting, and pasting. It's super easy with the free printable.
Also, if you'd like more farm preschool activities, be sure to check out this farm learning set in my Etsy shop. There's cut and paste activities, tracing, basic patterns, and more. So many fun farm activities!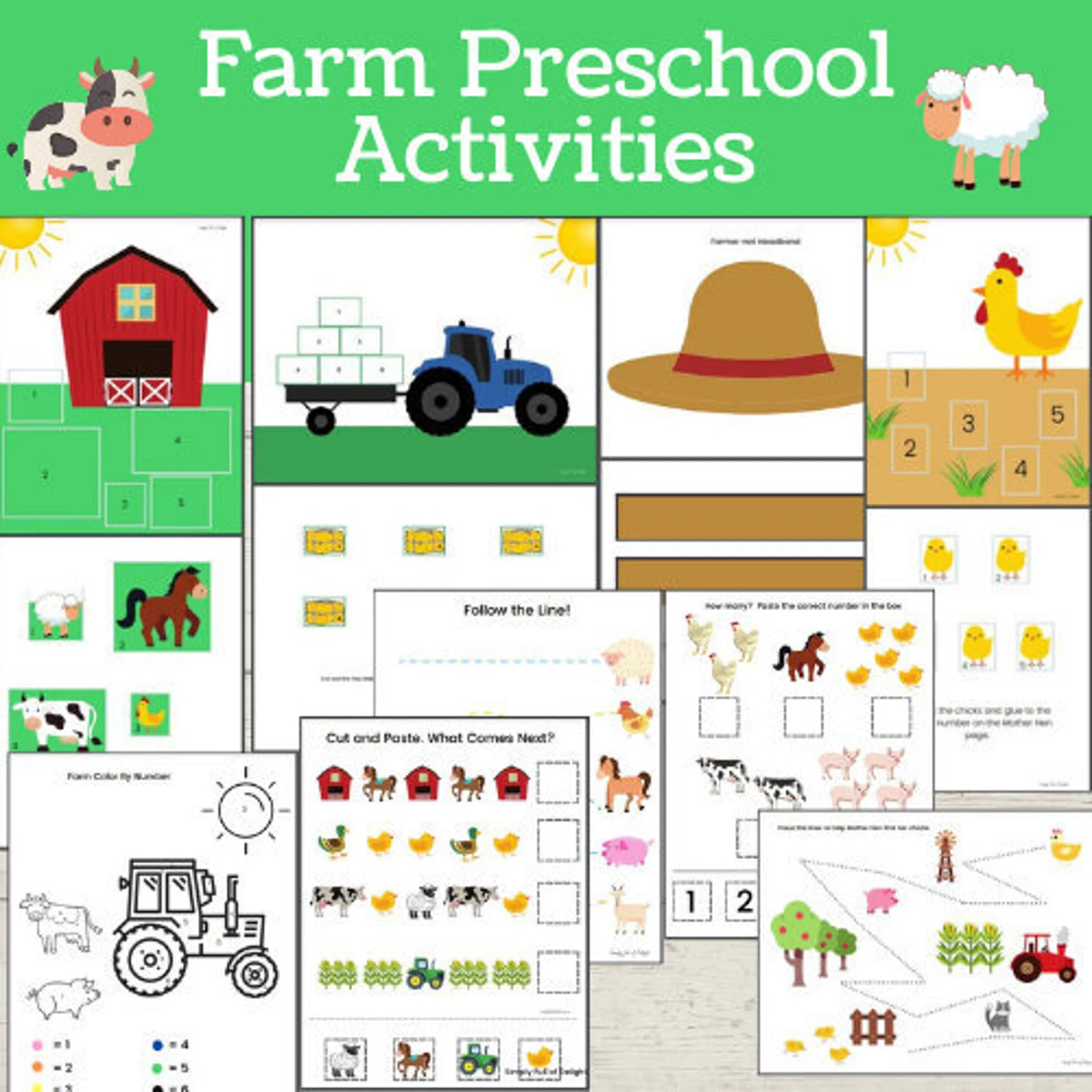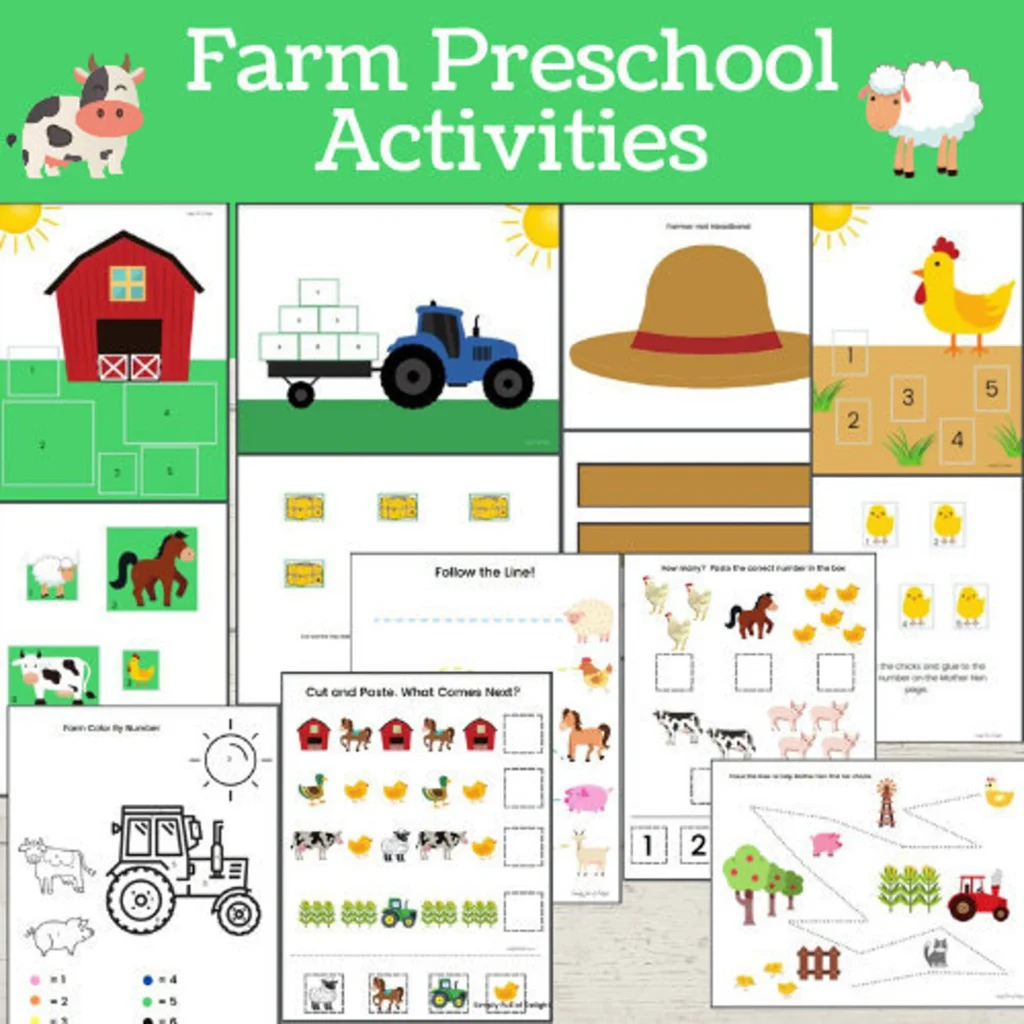 Plus you can use the coupon code FARMERDAN to get 20% off your Farm Preschool Learning Activities. (Shout-out to my favorite farmer – my dad!)
Plus you can use the coupon code on any other farm themed printable as well including these fun Farm Count & Clip cards and these awesome Farm Lunch Box Notes.
Happy farming!
Save this idea for later by pinning the image below to Pinterest!