Today I'm going to show you how to make fake snow for sensory play. You only need two ingredients for this project: cornstarch and hair conditioner!
There's a lot of different ways you can make pretend snow, but this is the method I prefer as it is gluten free and cheap. I also love the texture of this fake snow recipe and it's cool to the touch which makes it fun as well.
We also made snow play dough (or snow dough as my kids like to call it!) with the same ingredients. So, it's a two in one activity!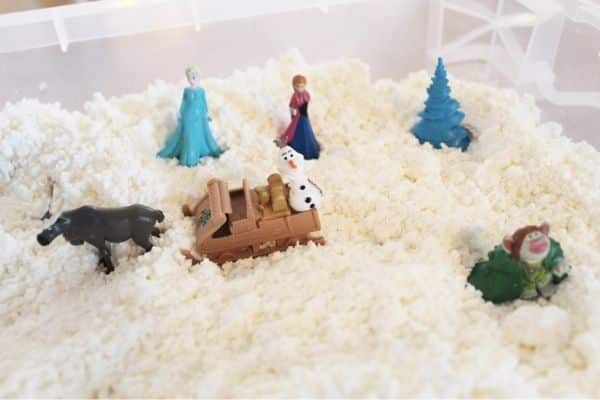 If you have a child with Celiac Disease in your family or classroom, you definitely want to avoid using flour or any other product with wheat in it for sensory activities.
Flour can get underneath fingernails or on clothing and accidentally be ingested by the child. You could use gluten free flour, but I prefer cornstarch as it is much more affordable for play snow.
You might be wondering what is a sensory bin and what are the benefits of sensory play?
** Disclaimer: As an Amazon.com Associate, I earn from qualifying purchases made by readers clicking my links at no extra cost to you.
What is a Sensory Bin?
A Sensory Bin is a container that is filled with items that encourage imaginative play, invoke curiosity, and wake up the senses.
Many times you will see teachers or parents fill a sensory bin with water, sand, beans, dry corn, uncooked pasta or rice. There are so many possibilities! For more ideas on creating sensory bins, see this article.
Many sensory bins have a theme such as construction, farm, winter, spring, etc.
Presenting a sensory activity to children helps them play creatively and use their imagination.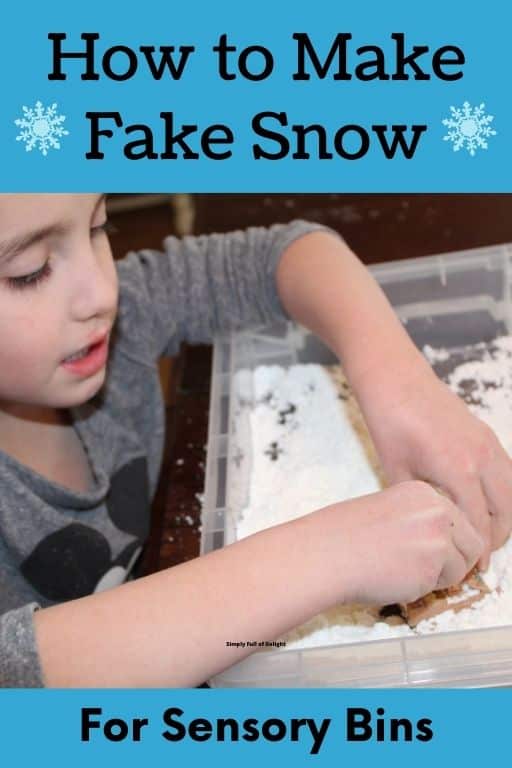 What are the Benefits of Sensory Play?
According to Very Well Family, sensory play is important to child development because:
– It helps build fine motor skills.
– Sensory play build language skills.
– It's calming. Sensory play helps kids regulate discomforts and agitations.
You can read about more of the benefits here. One of the best benefits to me as a parent is that my children are engaged in play for longer stretches of time and I love seeing their creativity and imagination come alive!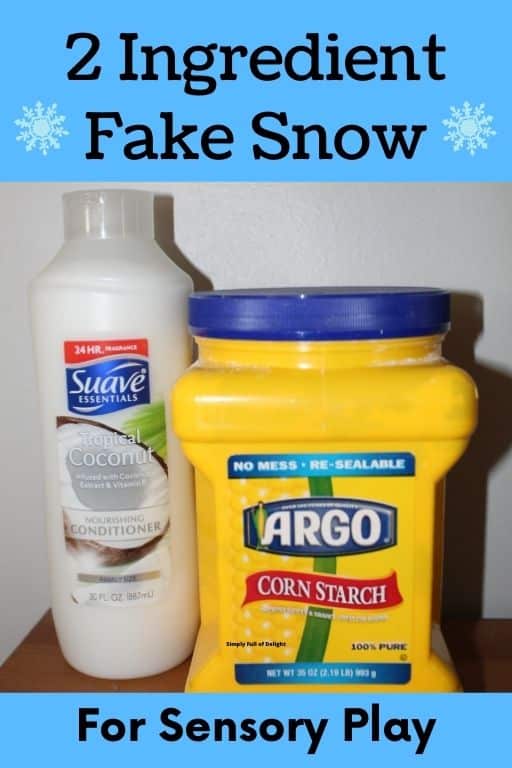 Ingredients for Artificial Snow for Sensory Play
Alright! Let's dive into how to make DIY fake snow at home!
The items you will need for this Winter Sensory Bin are:
– 2 Cups of Corn Starch
– 1/2 cup of White Hair Conditioner (I used the Suave Coconut Hair Conditioner)
– A Sensory Bin
– A mixing bowl
– Measuring cups
– Winter themed toys for pretend play (I used these Frozen figures.)
How to Make Fake Snow for Sensory Play
First, pour 2 cups of cornstarch into a mixing bowl. Next, add 1/2 cup of white conditioner. Mix thoroughly with your hands until you get the desired consistency and that's it! It's play time! You won't believe how much this is like the real stuff!
The fake snow will be cool to the touch, just like real snow, which makes this homemade snow a favorite among small children. Also, this instant snow molds a little bit in your hands, like the real thing, but not completely. My kids loved using it along with our miniature Frozen figures to create a winter wonderland.
You might like to add some toy penguins, small animals, a polar bear small world, or perhaps an arctic animals set to make an arctic sensory bin.
I had my kids take turns playing with our DIY snow, one at a time sitting at the kitchen table. They adored this fake snow sensory bin and I hope your little one will too!
Such a great activity for kids of all ages during the winter months.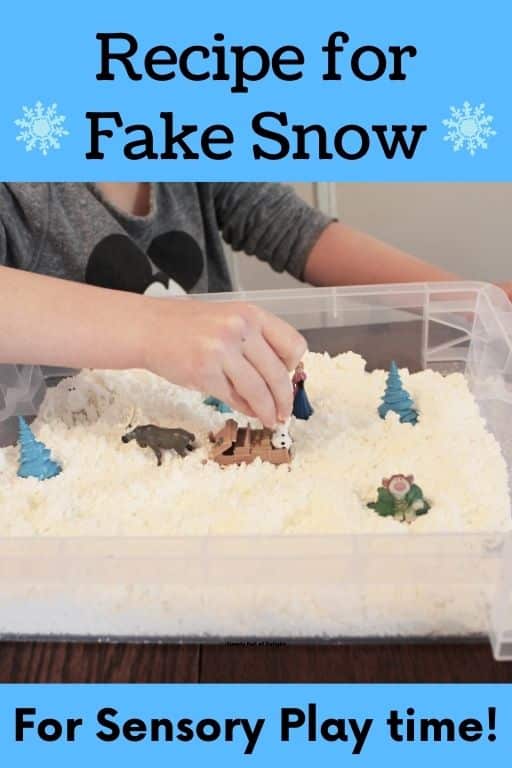 How to Make Snow Play Dough
While they were taking turns, I was curious what would happen if I added more conditioner.
So, since my kids love science experiments, we went ahead and added 1 cup of conditioner with another 2 cups of cornstarch and it formed a playdough substance!
So, my other 3 kids played with the white snow playdough substance while they waited for their turn with the fake snow.
We found that this white playdough substance reminded us of kinetic sand as it shifted its shape and flowed from our hands. It was also much like playdough as it kept its form on flat surfaces. We found that we couldn't build vertically, but it was fun to experiment with it and mold shapes.
We made this snowman using the homemade playdough, beads, and some paper snowman accessories from this winter printables set.
If you are wondering about how messy this project is, I would say that the white playdough substance was more messy than the "fake snow." I would definitely recommend a plastic tablecloth to help contain the mess. My kids enjoyed using our playdough mats with it.
Even though sensory play can be messy, it is worth it because my kids were happily playing for over an hour with it all! Such a great way to keep kids busy on those cold winter days! I'm always looking for easy ways to have screen free fun and these winter activities were a lot of fun for my little ones!
I hope you enjoyed this DIY snow recipe for sensory play! My kids were delighted to try this project out for you!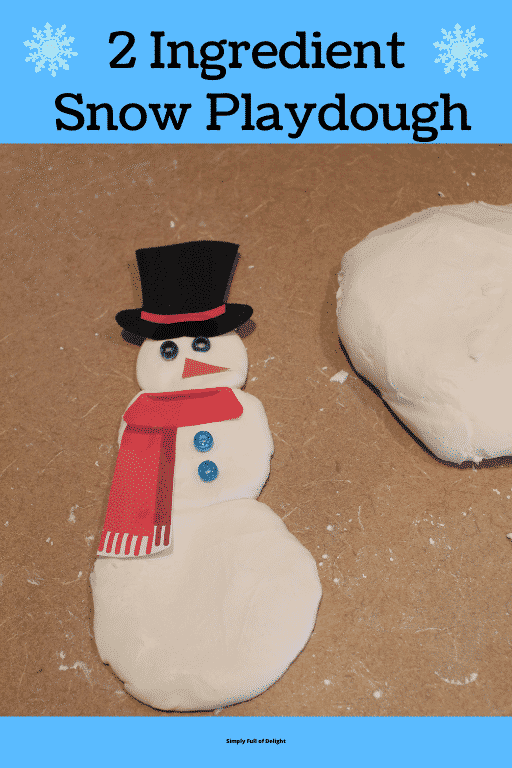 More Sensory Play Ideas
If you are interested in more simple ideas for winter sensory play or sensory bin ideas be sure to check out the related post below.
You can find an awesome Arctic Ice Sensory bin here. Learn a simple way to make mini igloos for kids to play with!
You can also learn How to Make Colored Rice for Sensory Play. This is a fast and easy diy to create engaging sensory bin filler with a few simple ingredients.
Looking for winter crafts? Check out this Mitten Craft. It's lots of fun and pairs wonderfully with this make your own fake snow sensory activity!
Also you can find some awesome Winter Clothes Activities for Preschoolers here. Great ways to introduce what winter is and how to dress for the weather!
Don't miss these awesome 4 Easy Sensory Bins for Preschoolers. There's a construction sensory bin, a ocean themed one and more. Find out how to create super easy sensory play experiences for your kids!