Looking for fun sensory bin ideas? Try this Easy Construction Sensory Bin for Preschoolers!
This simple construction site sensory bin is perfect for little ones who love construction site vehicles like dump trucks or bulldozers. Plus, it encourages creativity and imaginative play.
My kids love this construction sensory play idea. It's always a hit with my son, but my girls definitely love it too!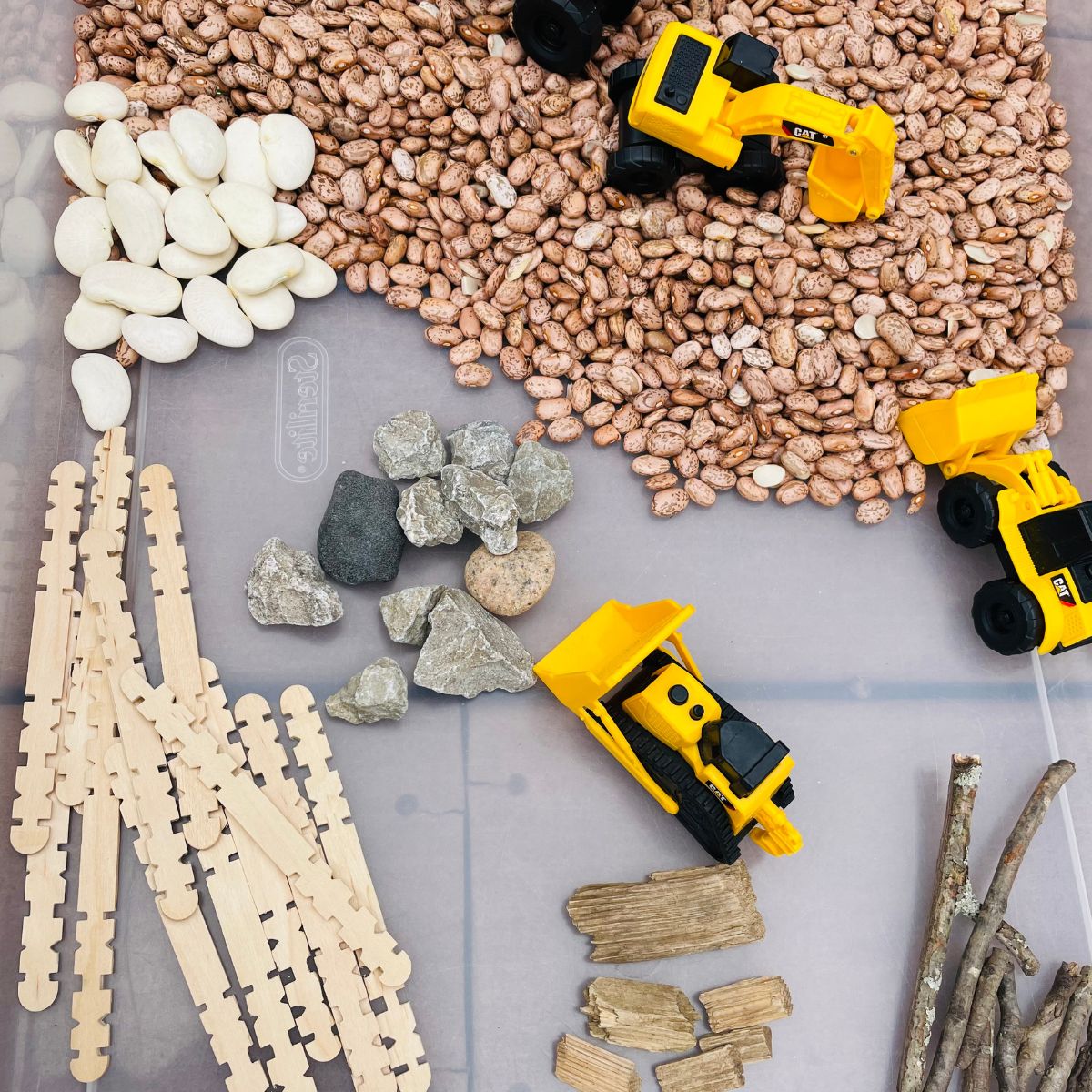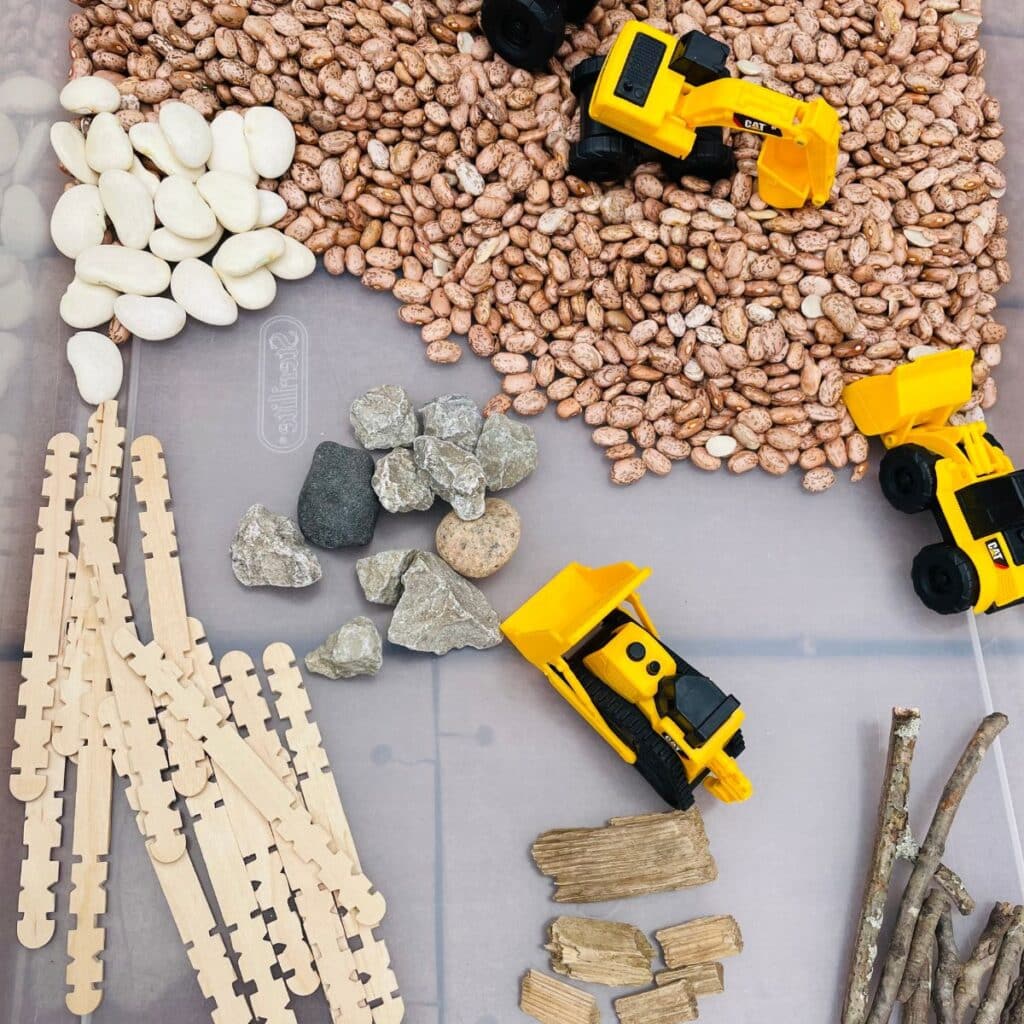 If you are new to sensory play you might like to know….
What is a Sensory Bin?
A Sensory Bin is a container that is filled with items that invoke curiosity and imaginative play, while at the same time, stimulating the senses.
Many sensory kits have a theme like farm, or dinosaur, a holiday, a season, etc. Or you can create one based on your child's interests.
Sensory bins have a main filler for kids to scoop or pour. This could be water, dry corn, sand, beans, uncooked pasta or rice. So many ideas!
There's more ideas for creating easy sensory bins for your child here.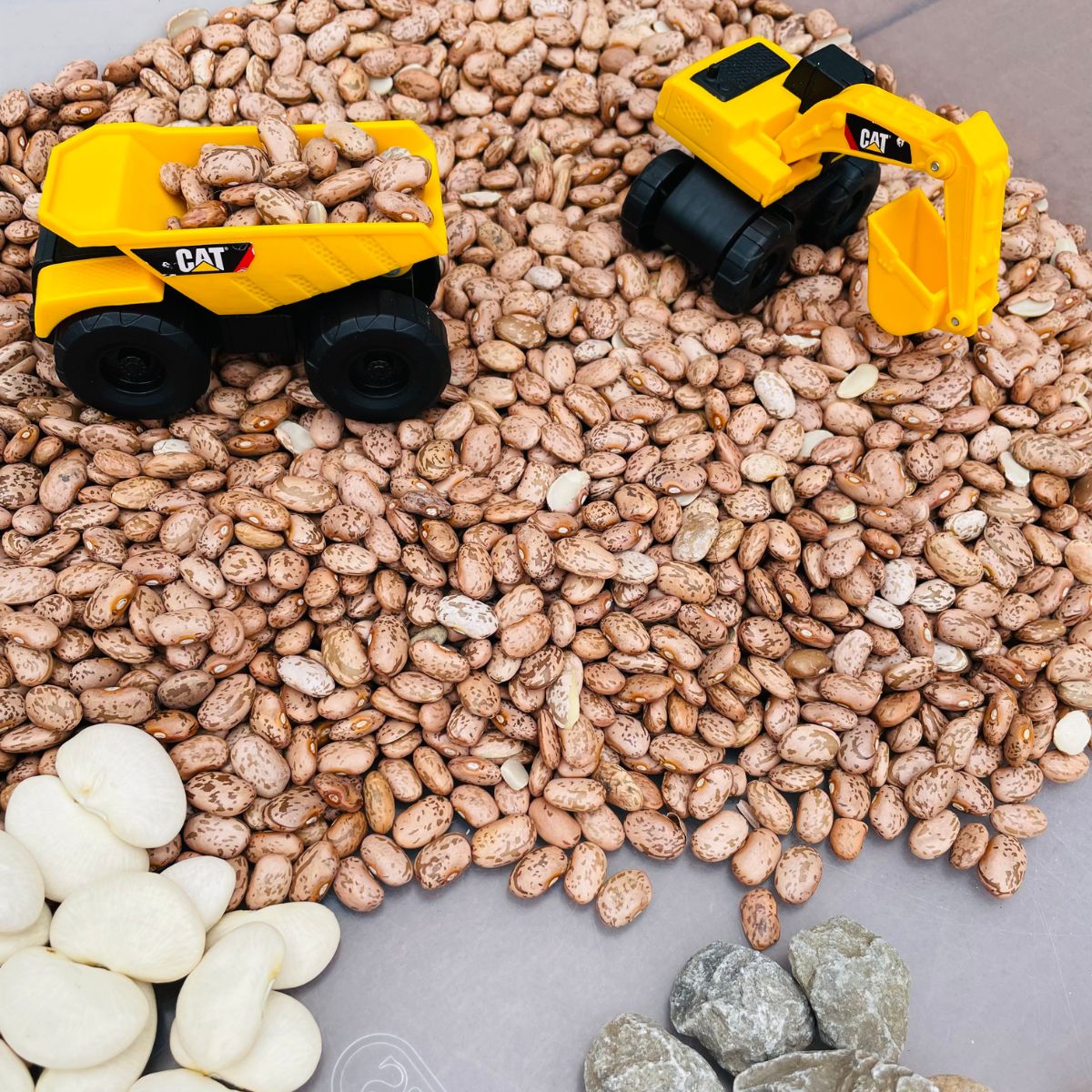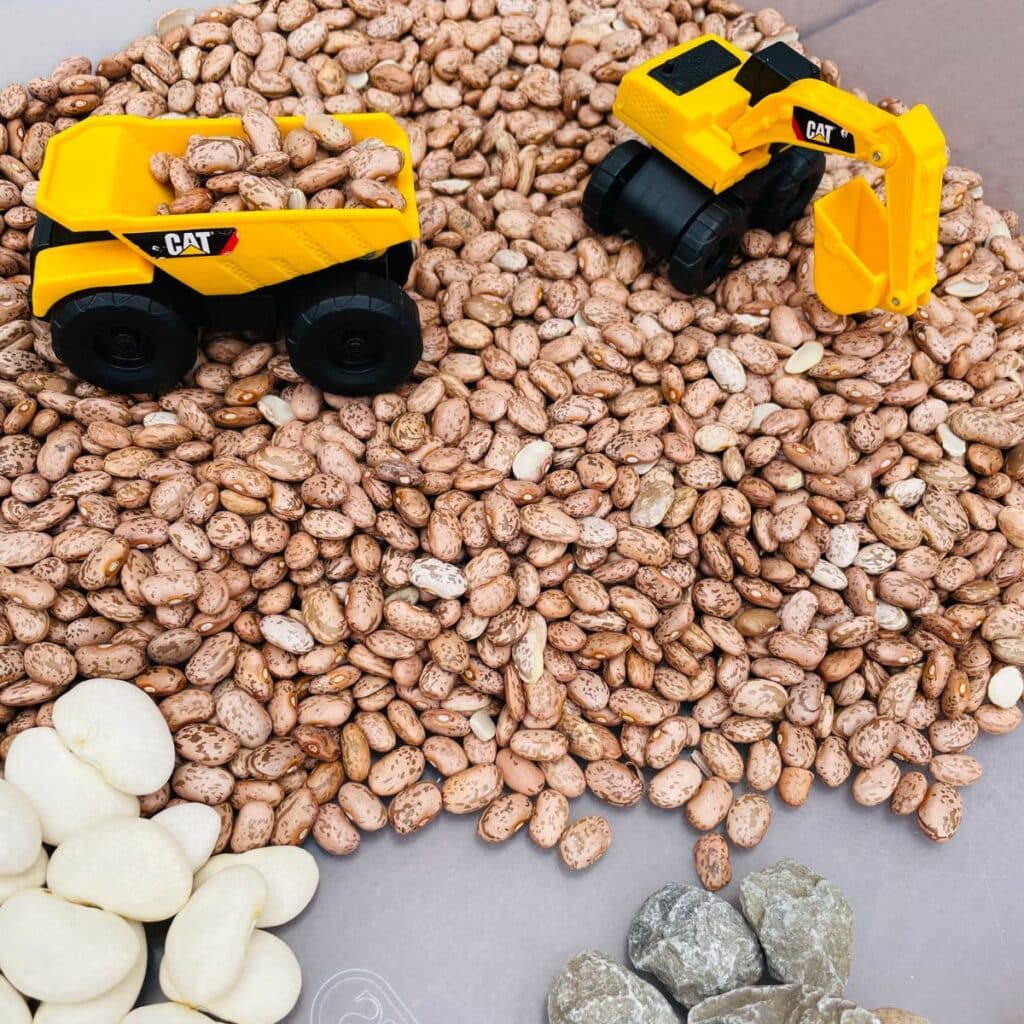 Benefits of Sensory Play
According to Good Start Learning, sensory play great for kids because:
It encourages the development of fine motor skills and language development.
It builds connections in the brain.
Sensory play helps kids develop problem solving skills.
It's a great opportunity to help little ones destress and regulate.
There's a lot of great reasons to do sensory activities. And of course, sensory play is lots of fun for kids!
Sensory experiences can provide hours of imaginative play for young children.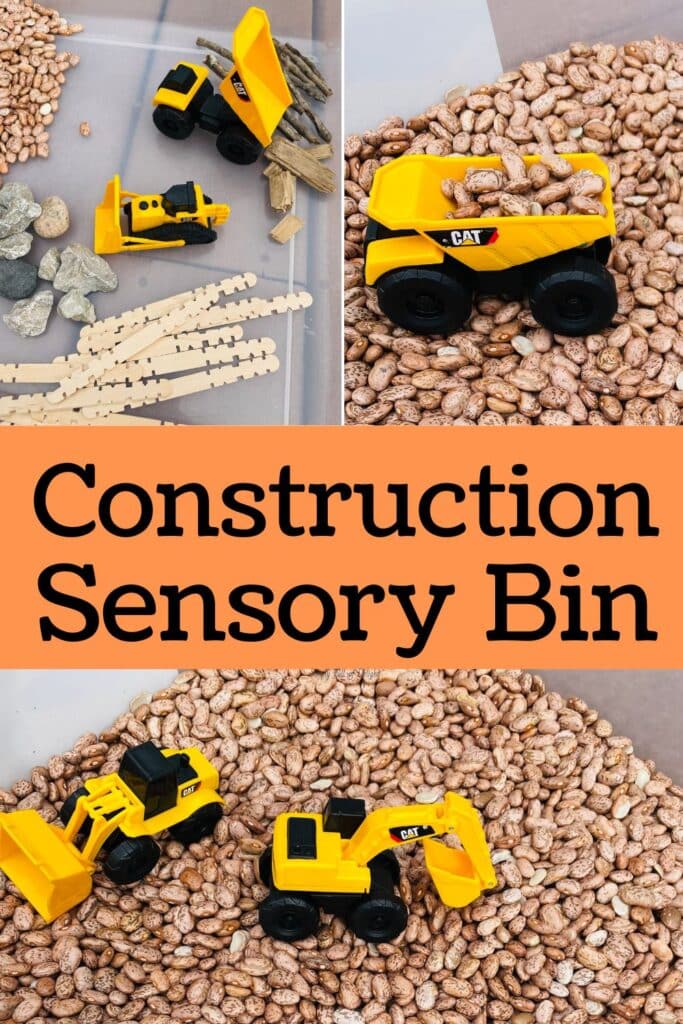 Supplies to make a Construction Sensory Bin
** Disclaimer: As an Amazon.com Associate, I earn from qualifying purchases made by readers clicking my links at no extra cost to you.
You will need the following items to make this construction zone sensory bin: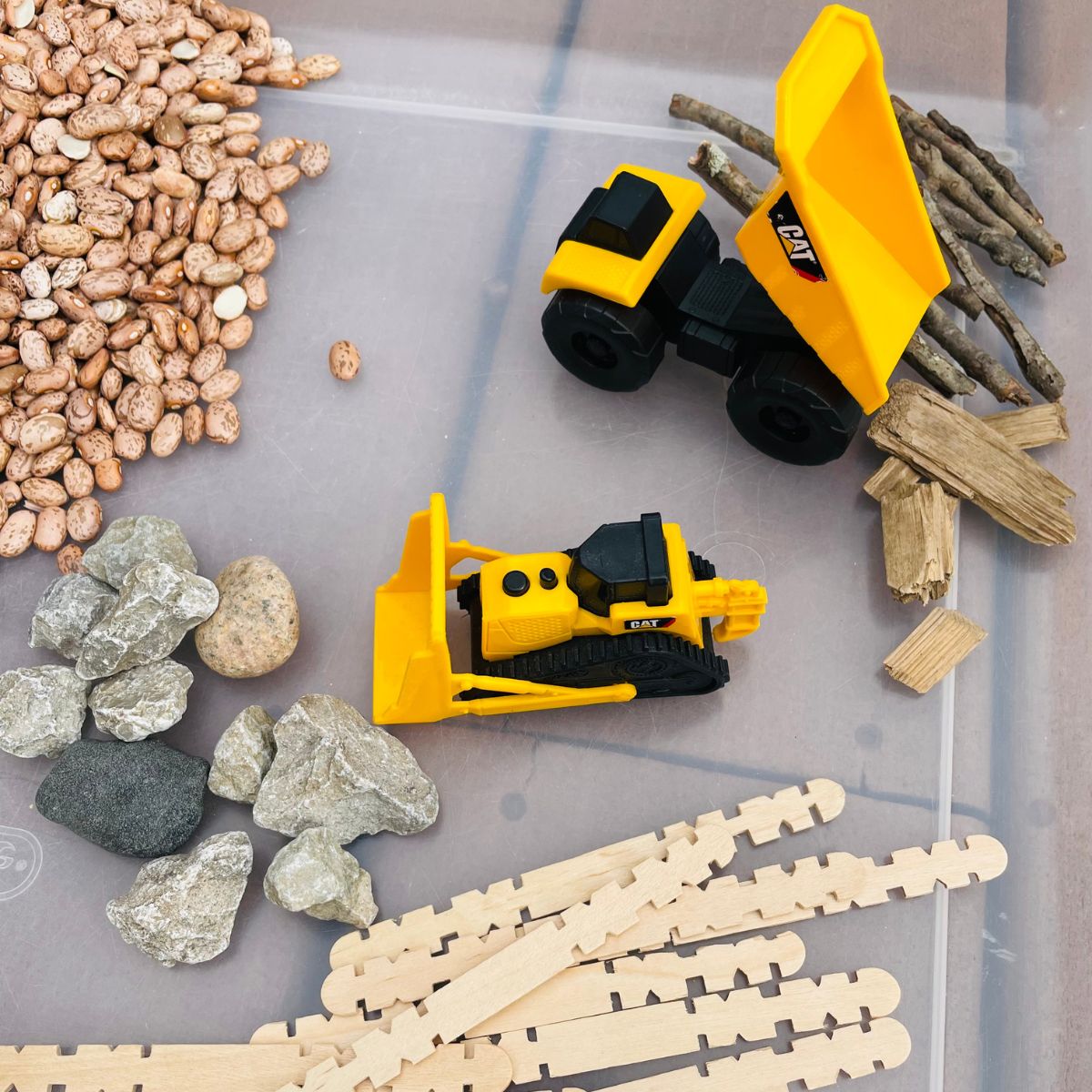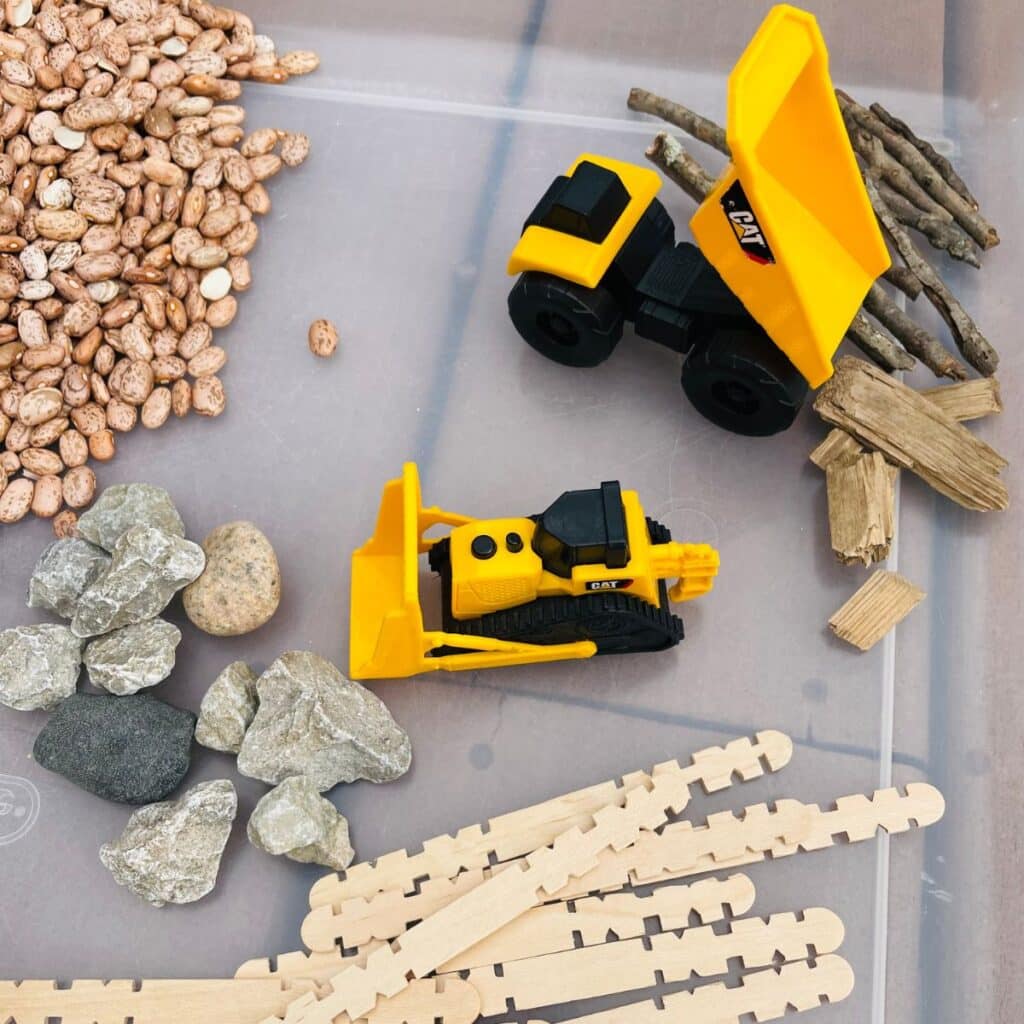 How to make a Construction Site Sensory Bin
Let's get starting making our construction sensory bin!
First, take your sensory bin and fill one side of the base with pinto beans. I like to make a pile on one side to encourage those construction vehicles to get to work moving beans!
Then, I added a small pile of lima beans. It's neat to add different sizes and textures to add to the fun of this sensory activity.
Next add a pile of rocks. We just used a few rocks from our driveway. I like to use rocks with different textures to add to the sensory experience.
Then, I included a few small wood chips from our flower bed.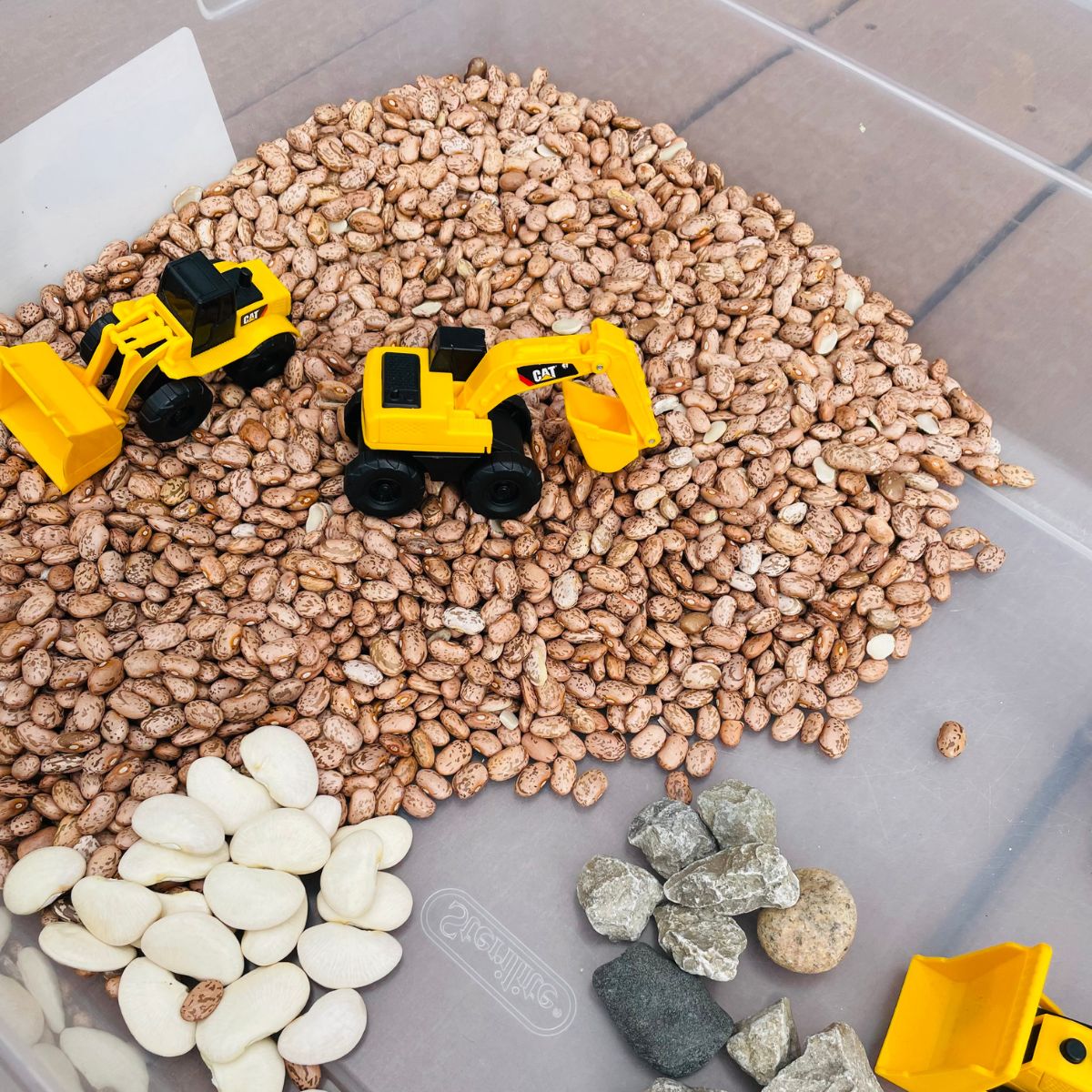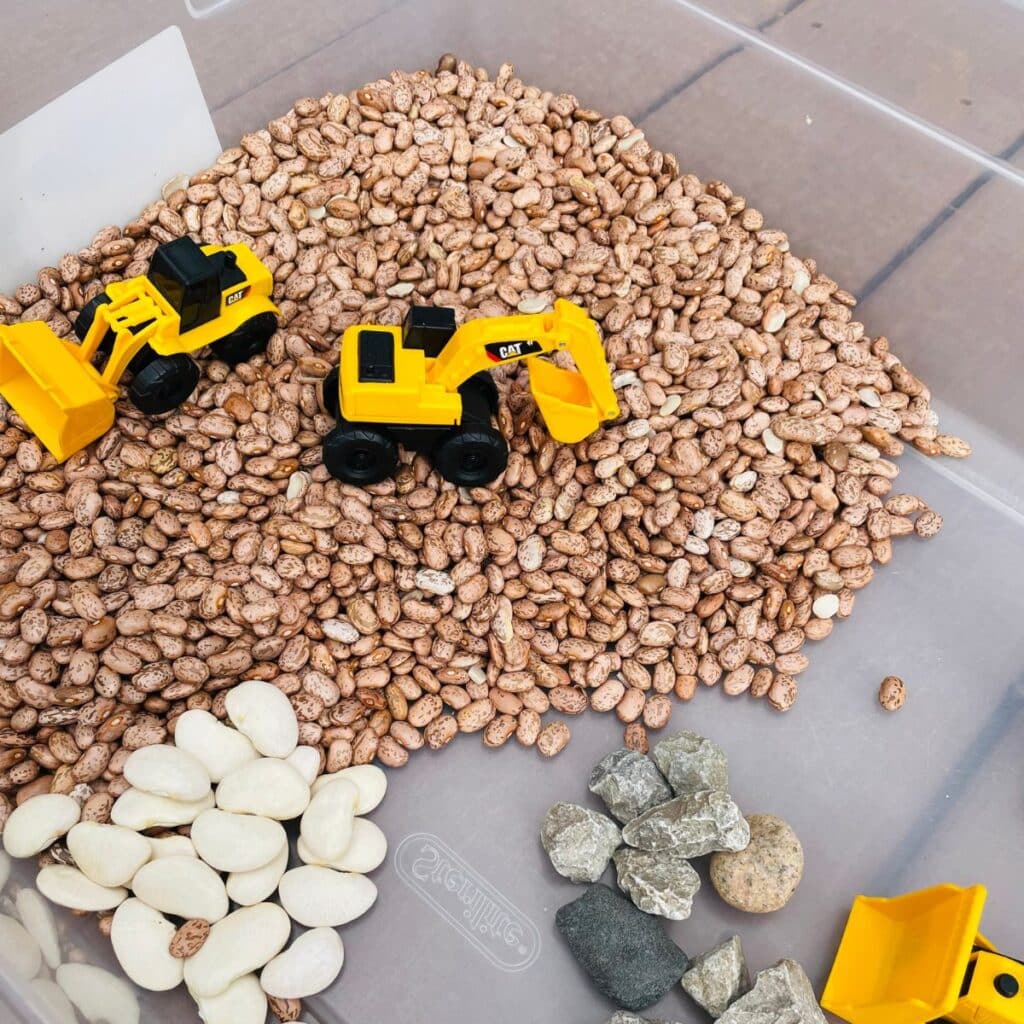 For more sensory fun, I also added a few sticks from our yard. Using one large stick, I broke it into pieces that were more manageable.
I love adding natural elements to my sensory bins as often as possible. I really think things from nature spark creativity and I love the sensory experience it provides.
Now, add a pile of popsicle sticks. You can use normal popsicle sticks if you like. I love these popsicle sticks with sawtooth ridges because kids can actually build with them and create items.
Last, I added my child's toy construction vehicles. Our construction trucks set included a dump truck, bulldozer, wheel loader, excavator and a backhoe.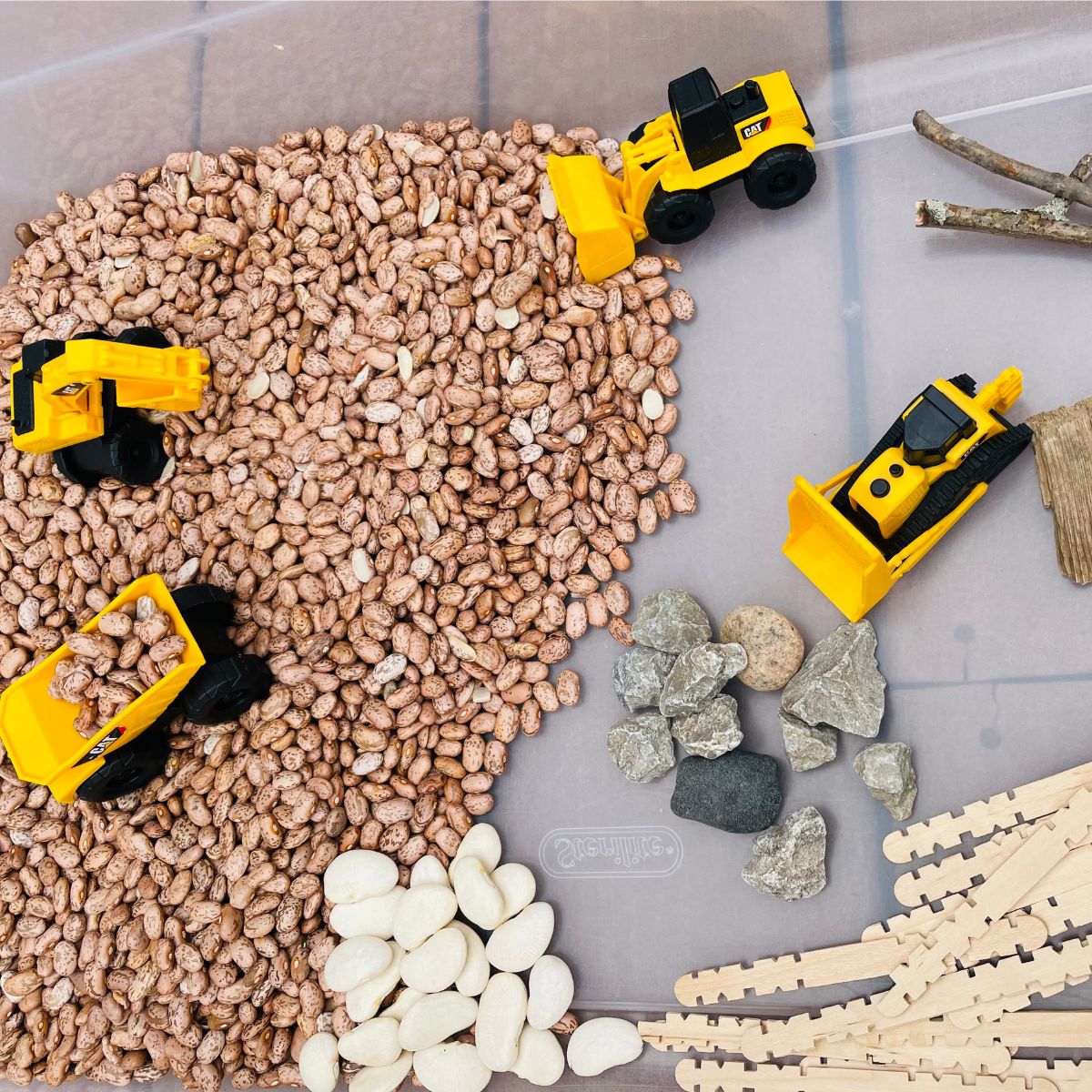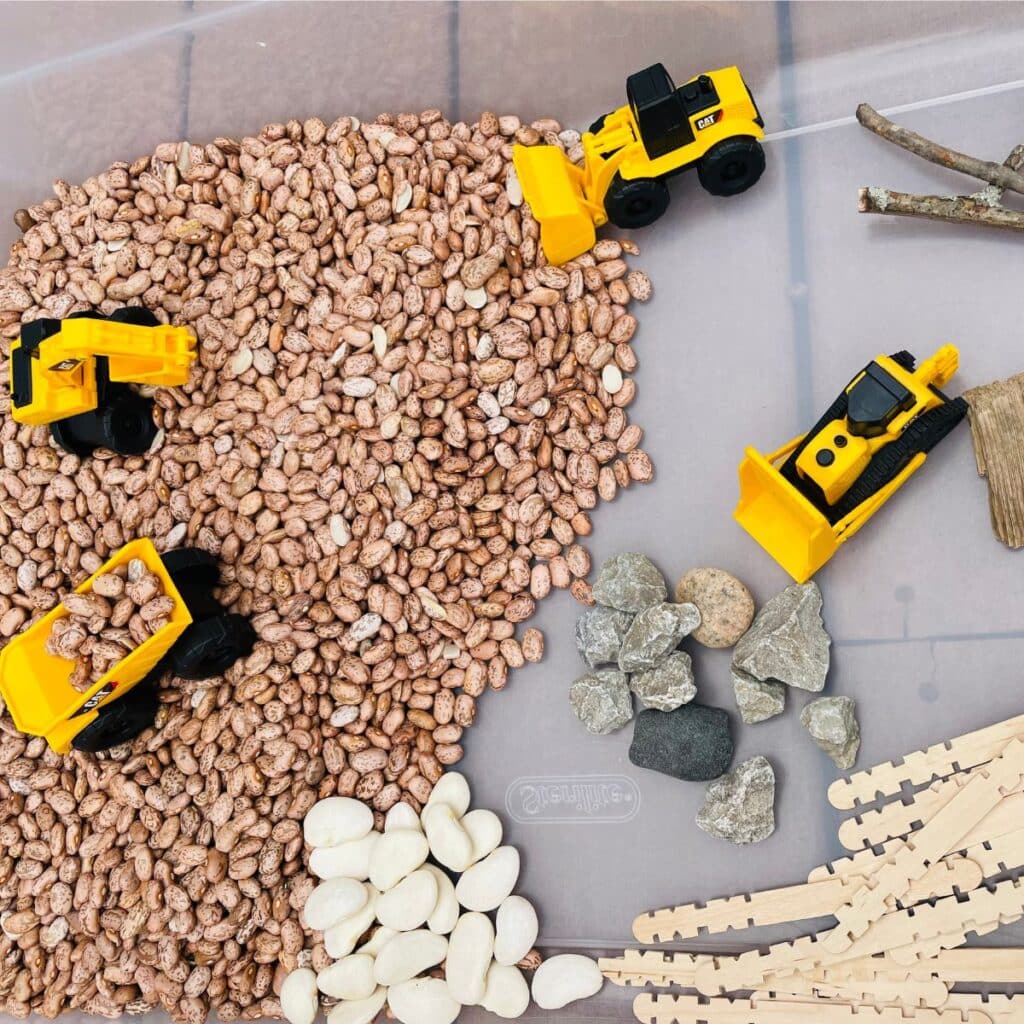 My little ones enjoyed digging, pushing, and scooping the beans and other sensory items around the construction site. The dump truck stayed very busy hauling rocks, beans, and sticks. They even created a fun house structure out of the sawtooth popsicle sticks
It was loads of fun. Literally. LOL
Add to the Fun
This construction themed sensory bin is definitely one of my kids' favorite activities. I love that we can easily change it up as well to make it different.
You can add different kinds of beans (like black beans or a mix of fun colored beans), kinetic sand , or moon sand. You might like to add some construction signs, road signs, construction workers, a sand roller, or other small toys to your building site.
I can rely on this fun construction site sensory bin to keep my little ones engaged in play for a long time.
It's a great way to keep kids busy on a rainy day, a cold winter day, or for a super hot day in the summer.
More Sensory Activities for Kids
Looking for more sensory play ideas? Here's some great hands-on play ideas that inspire creativity and foster imaginative play!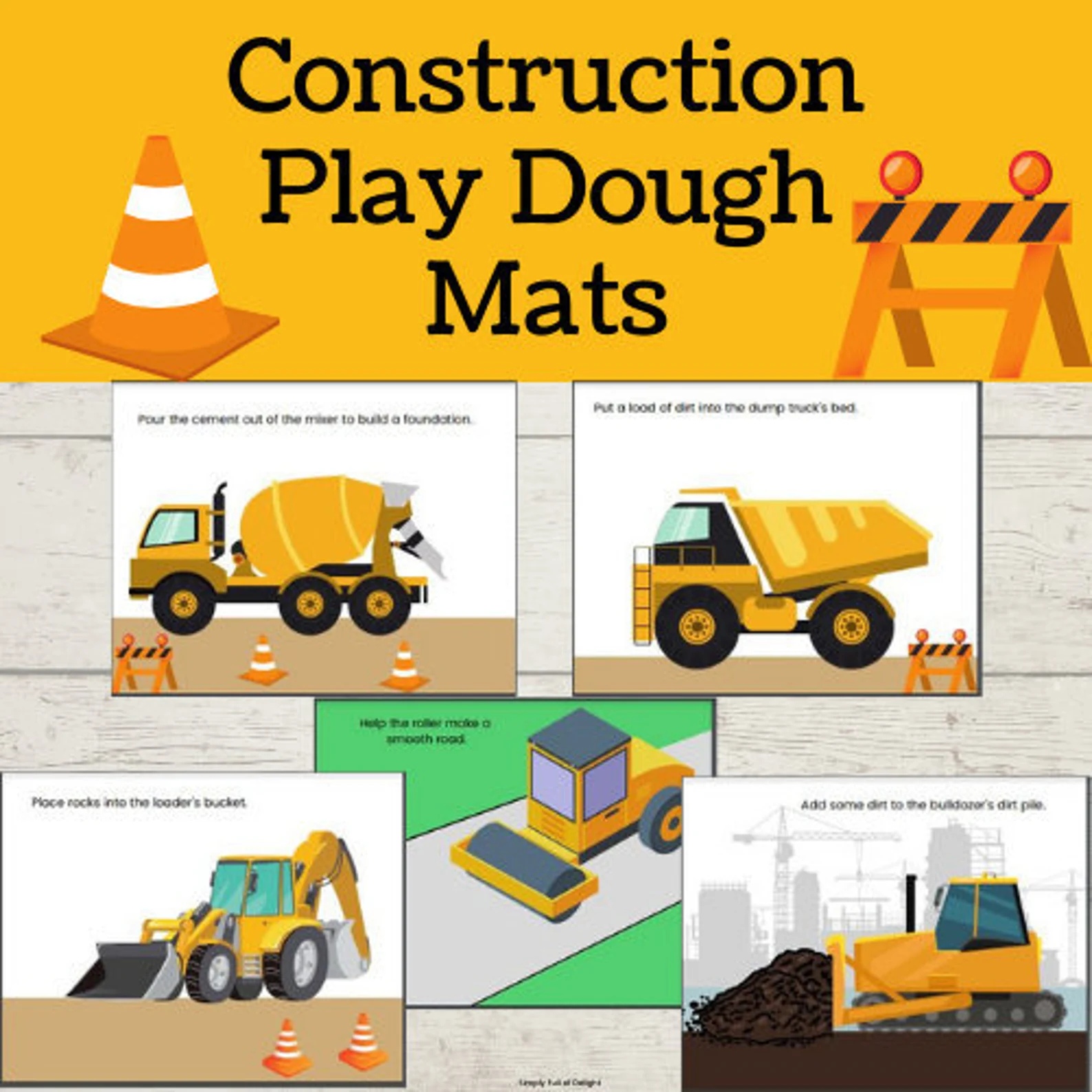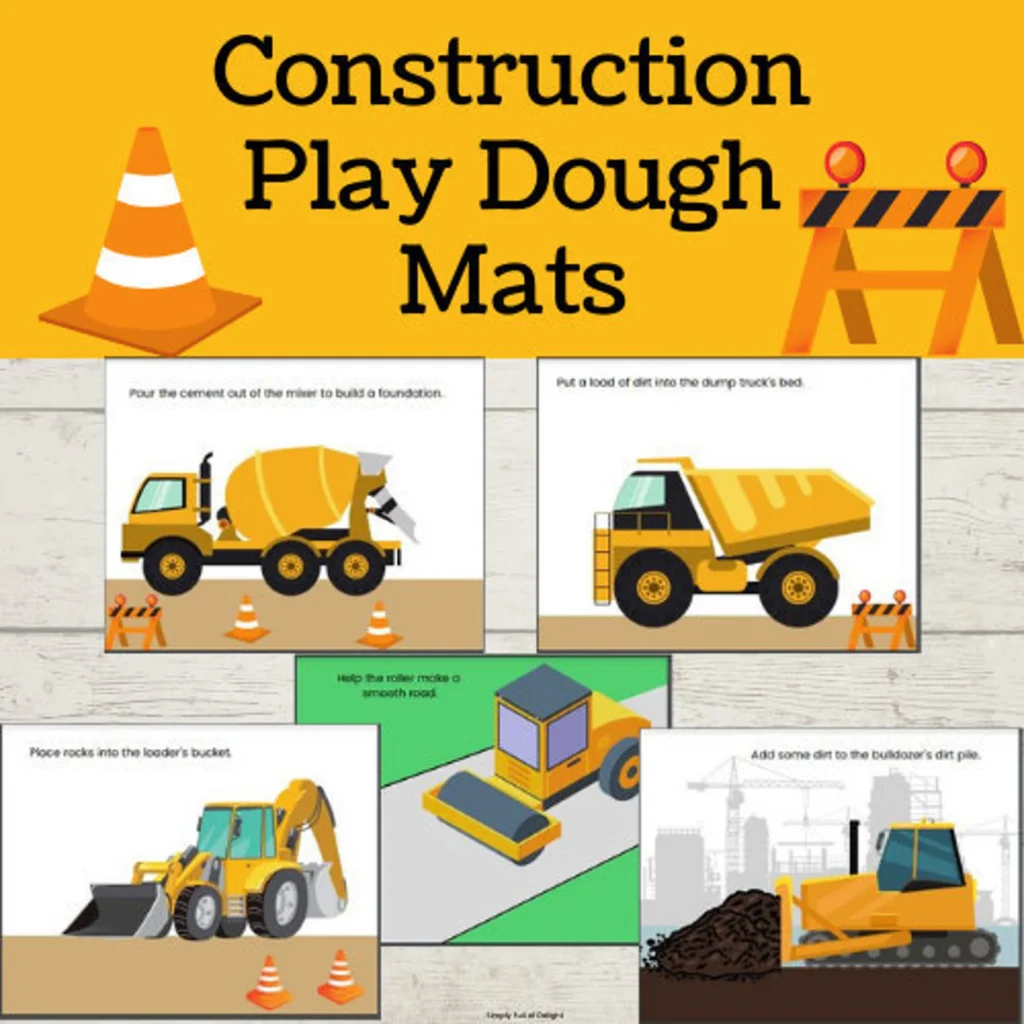 There's some fun Construction Play Dough Mats here in my Etsy shop. Kids will enjoy completing each construction themed prompt with dough.
My kids love this Arctic Ice Sensory play activity. Kids can help create igloos by freezing ice. Add some arctic animals and let the play begin!
For some water play fun – don't miss this Car Wash Sensory bin! It's seriously the easiest sensory play idea ever!
Does your child love animals? There's a cute Farm Sensory Bin here that brings the fun of the farm to your home!
There's a Hot Chocolate Sensory Bin here. Big kids and little ones alike will love creating and serving up hot cocoa topped with marshmallows. So much fun!
You can also find tons of ideas for sensory play here as well.
Want to save this construction sensory play idea for later? Pin the image below to your preschool activities board on Pinterest.