Need a cute summer sensory bin? Check out this easy ice cream shop sensory play idea!
Summer has arrived and we are all about finding fun summer activities for preschool!
Sensory play is a great way to keep kids busy in imaginative play, while helping them develop hand-eye coordination, fine motor skills and social skills!
My kids spent hours scooping and molding the moon sand into ice cream sundaes, ice cream cones, and more. They loved filling orders for each other and making interesting ice cream creations!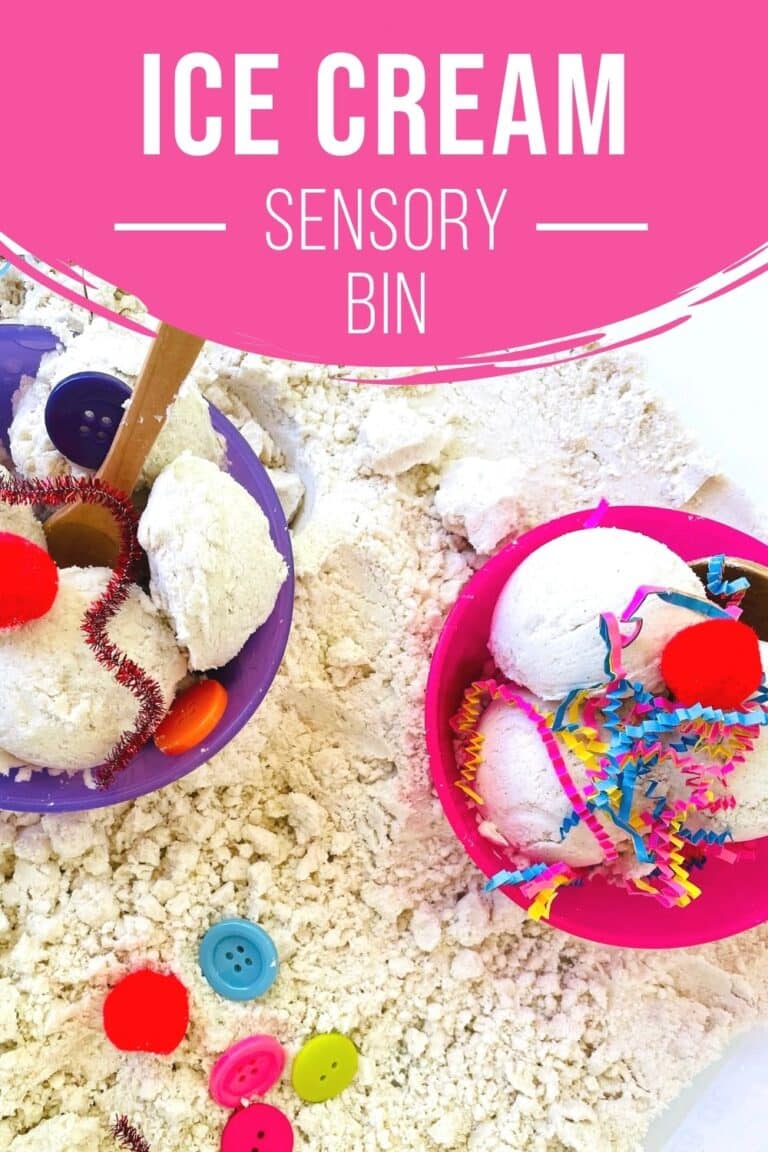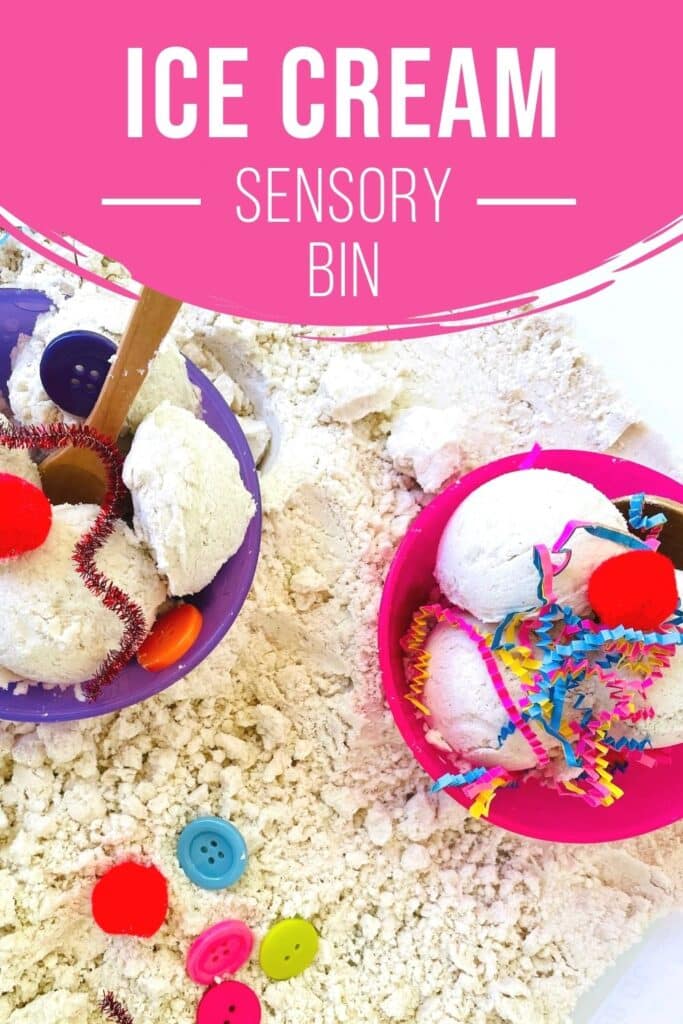 I've outlined everything we used for this fun ice cream themed sensory bin below, but first…in case you are wondering….
What is a Sensory Bin?
A sensory bin is a container or water table that is filled with supplies that spark imaginative play and stimulate a child's senses.
Many sensory experiences have a theme like ocean or farm, while others are holiday themed.
Sensory bins often have a base filler for kids to scoop or pour. You could use play sand, water, moon sand, beans, dry corn, uncooked pasta or rice.
We often like to use dry green split peas, dry lima beans, or colored rice for a sensory bin filler. Use your imagination! There's so many amazing fun sensory bins to create!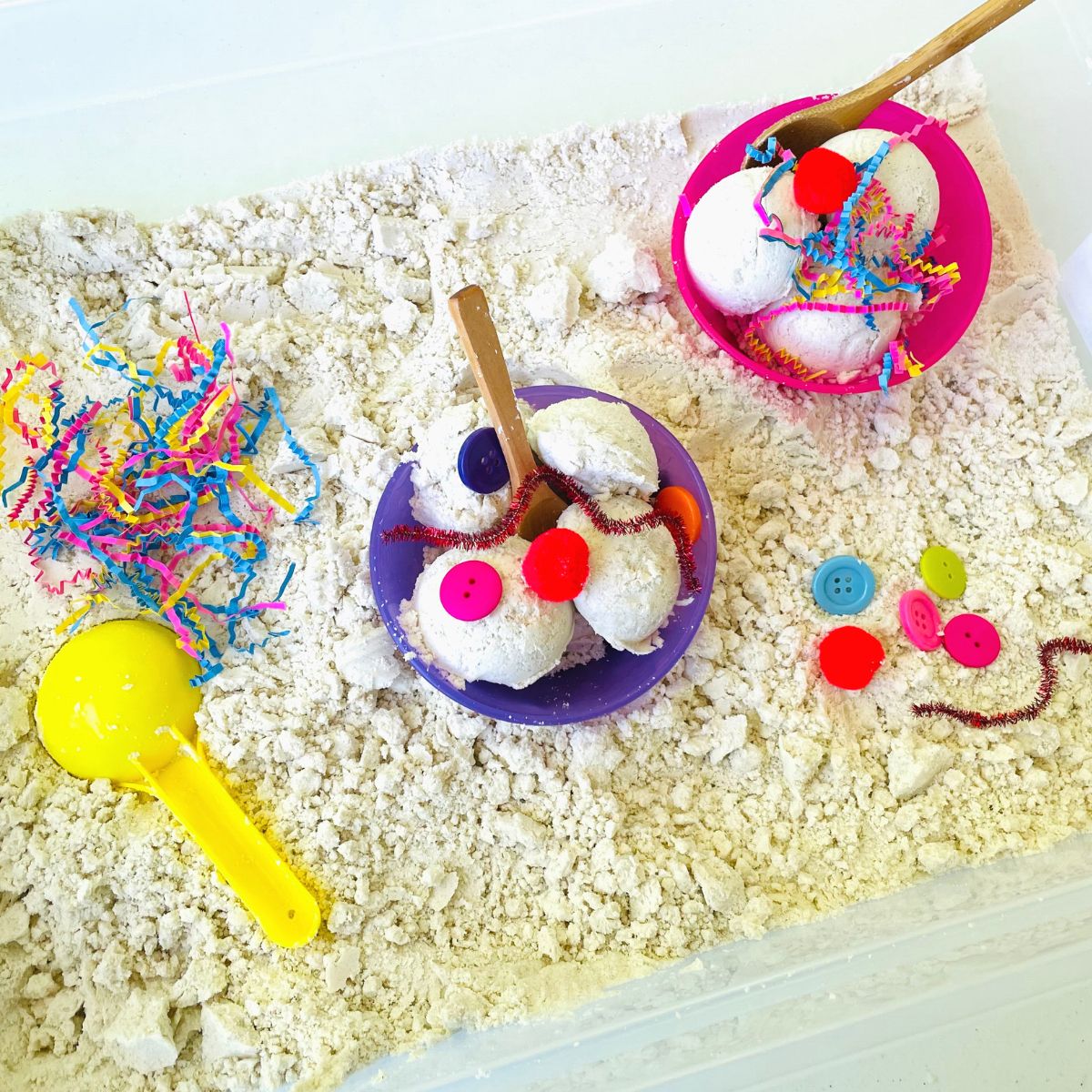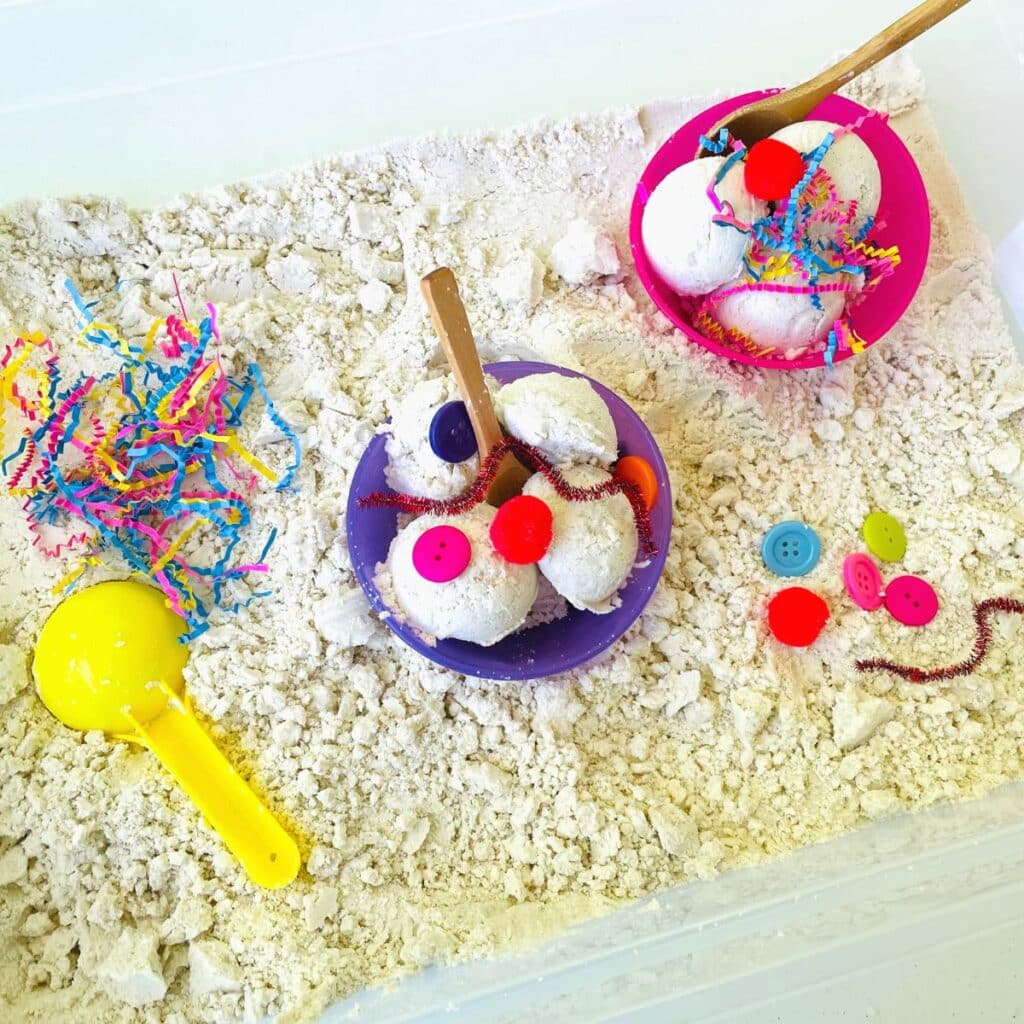 Benefits of Sensory Play
What are the benefits of sensory play for preschoolers? According to Good Start Learning:
Sensory play helps build brain connections.
It builds fine motor skills development and helps with language development.
Sensory play helps kids think logically and develop problem solving skills.
Plus, it helps kids regulate stress.
There's a lot of good reasons to do sensory activities.
And of course, sensory bins are so much fun!
Sensory bin activities have sparked hours of imaginative play for my kids. That's a HUGE win for me as a mom of 4!
Alright, now that you know how great sensory play is….let's dive into this fun ice cream sensory activity!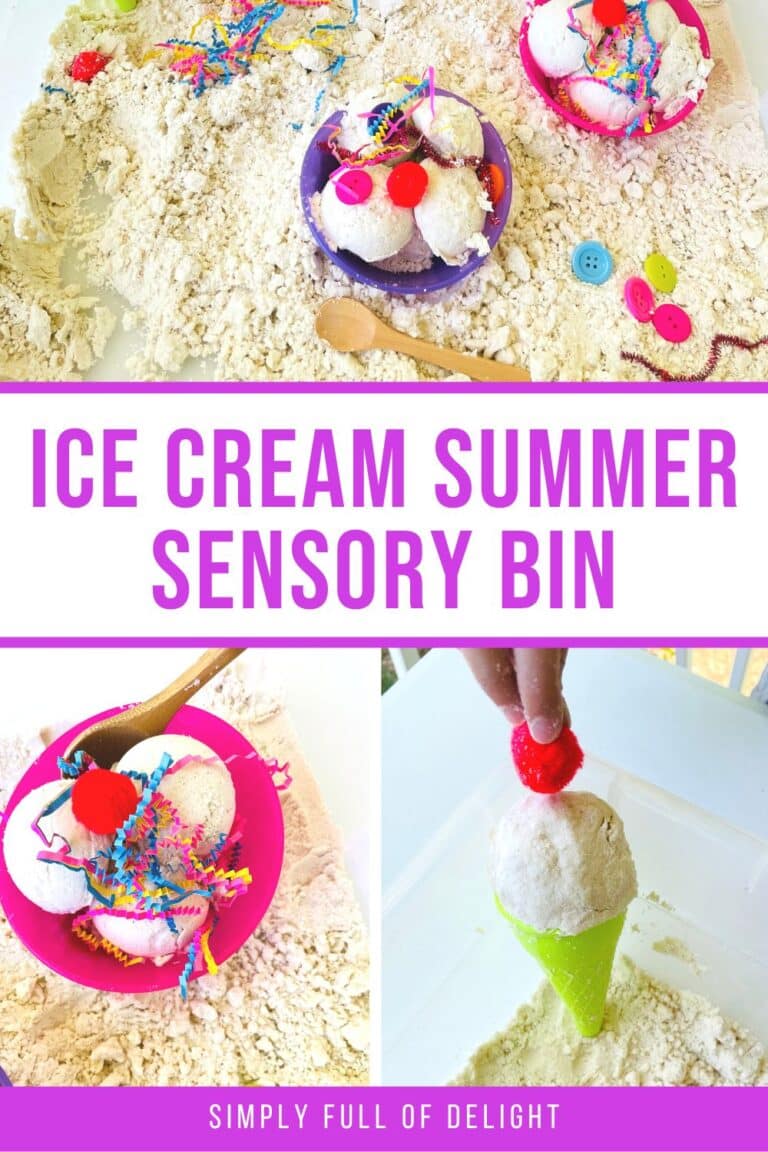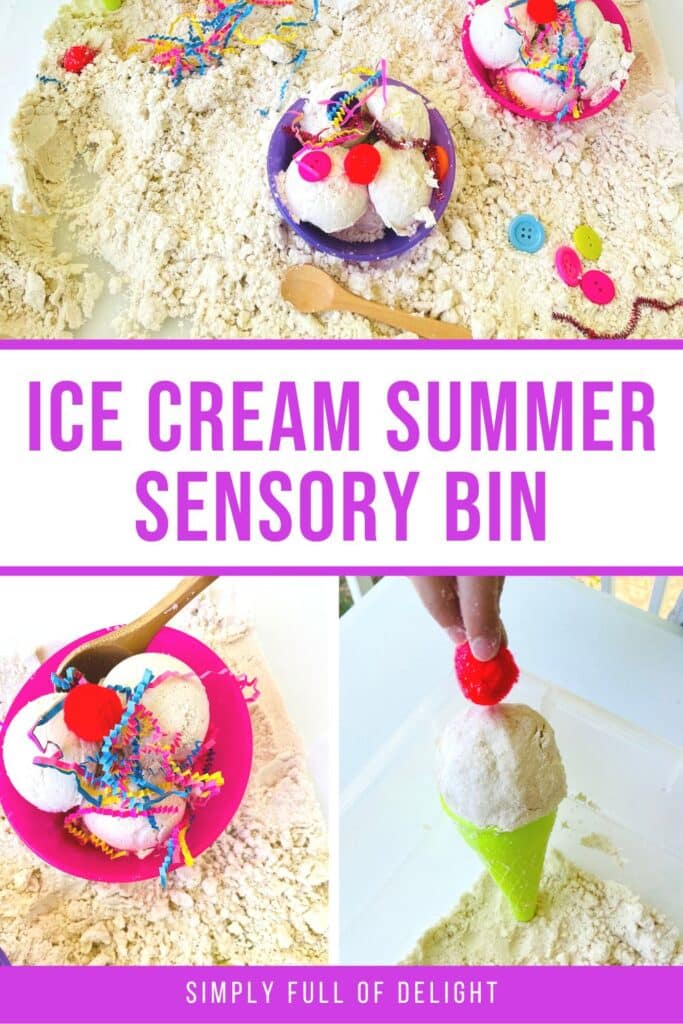 Supplies for Ice Cream Sensory Bin
​For this fun summer sensory bin you will need the following supplies:
** Disclaimer: As an Etsy associate and as an Amazon.com Associate, I may earn from qualifying purchases made by readers clicking my affiliate links at no extra cost to you.
– A large bin or plastic container
– Moon sand – we used this simple 2 ingredient recipe that consists of just oil and gf flour
– Plastic Bowls
– Ice Cream Scoop
– Pom Poms
– Chenille Stems (pipe cleaners)
​These are the items we used for our sensory bin, but you are welcome to add your own ideas!
Alright! Let's put together this fun sensory experience.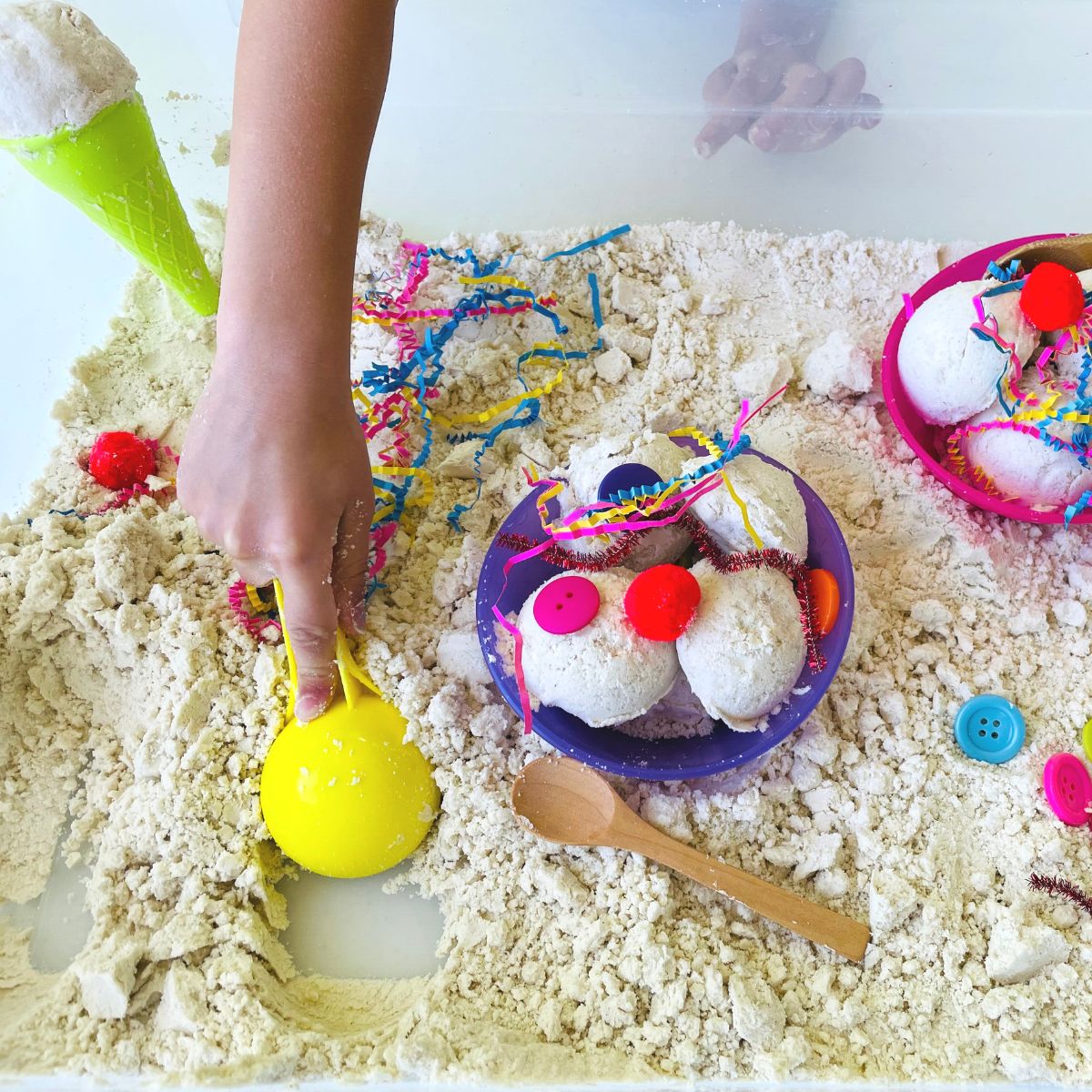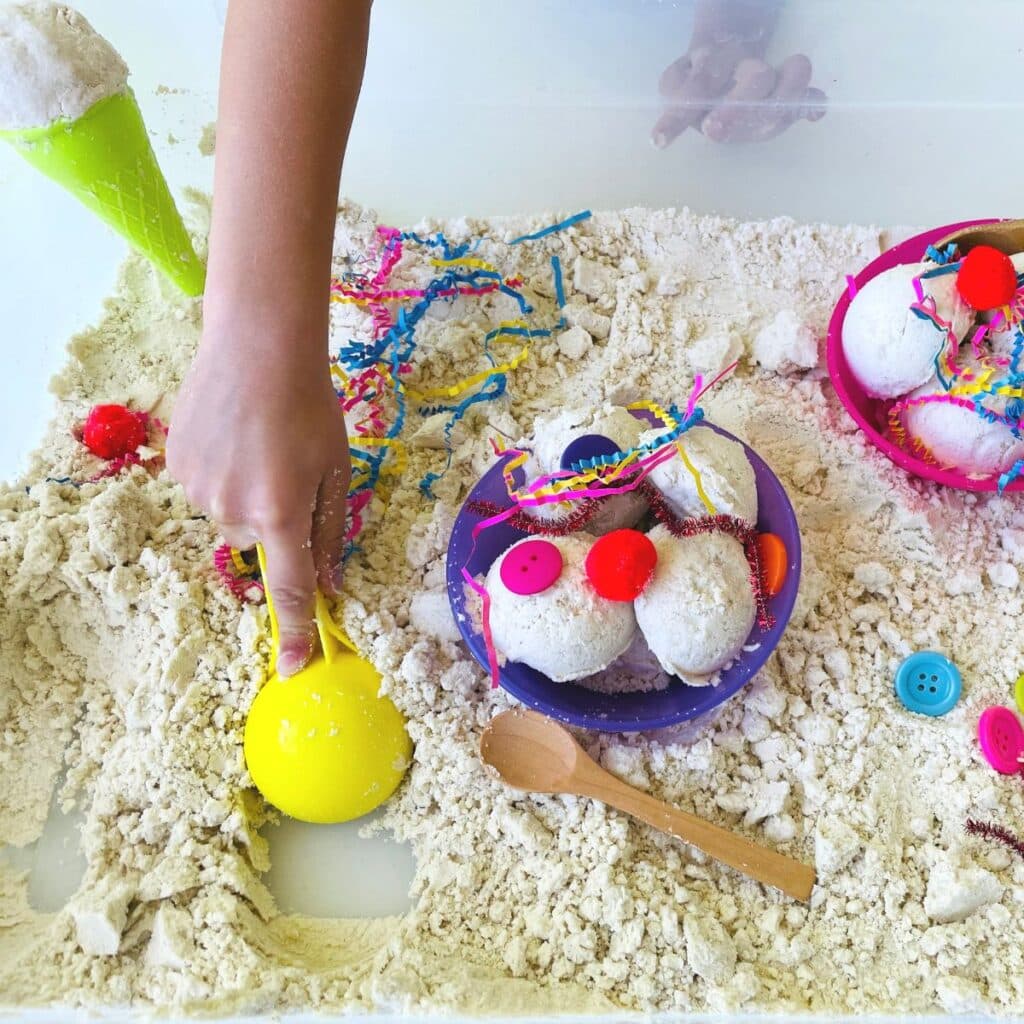 How to make an Ice Cream Summer Sensory Bin
First, you will want to make moon sand. We used this simple 2 ingredient recipe for Gluten Free Moon Sand. You can use the same recipe to make regular moon sand as well (if you don't need to be gluten free).
It just requires flour and oil!
Next, you will fill the base of your container with moon sand. I like to make sure the kids have plenty to play with so that they don't get competitive with limited supplies.
In case you are wondering, I have a double batch of moon sand in my large container in the pictures. There's 16 cups of moon sand in it.
Now you can add bowls and ice cream scoops. You can use a real ice cream scoop – or grab a toy one!
We added a toy ice cream cone (since we already had one) as well as pom poms to act as cherries on top of our sundaes.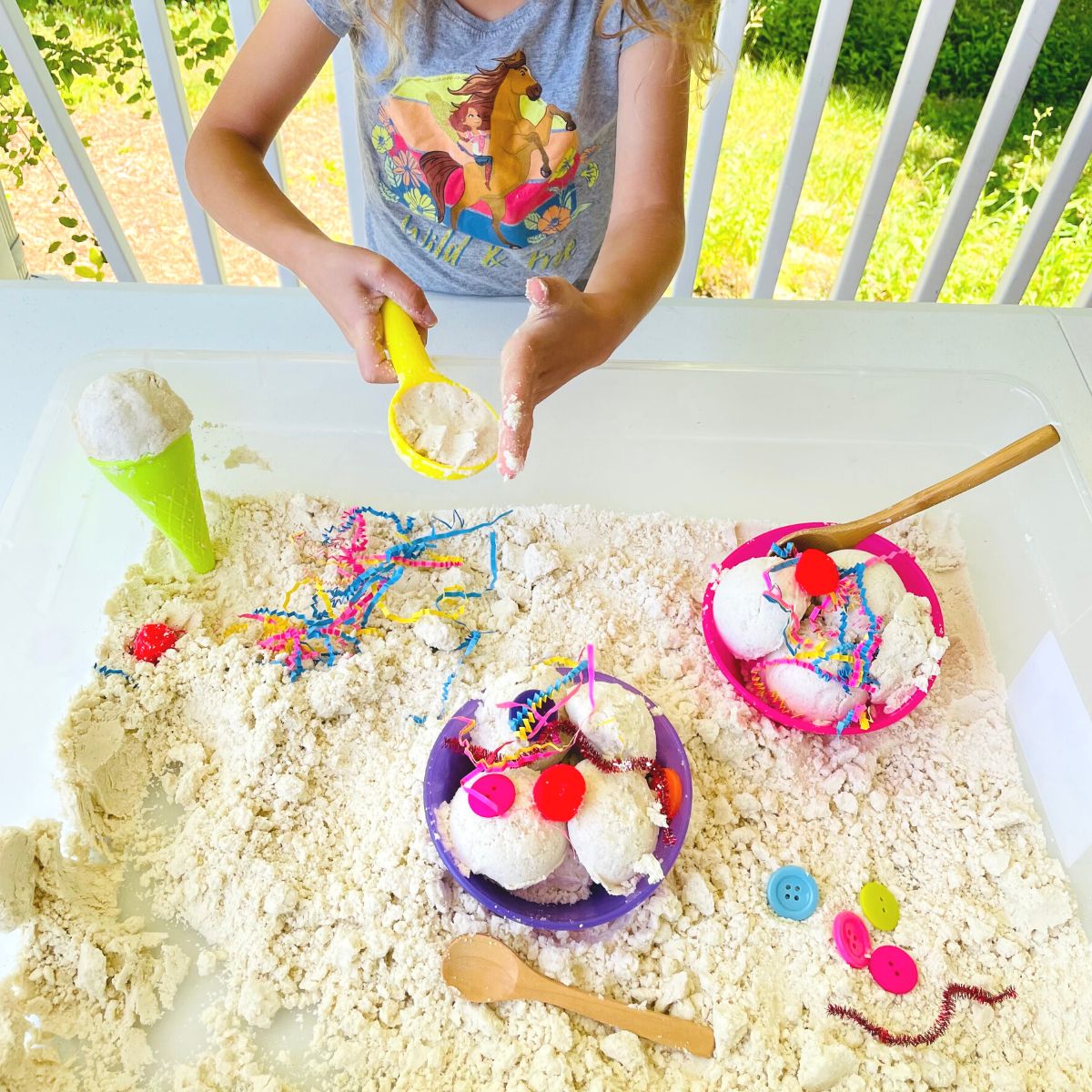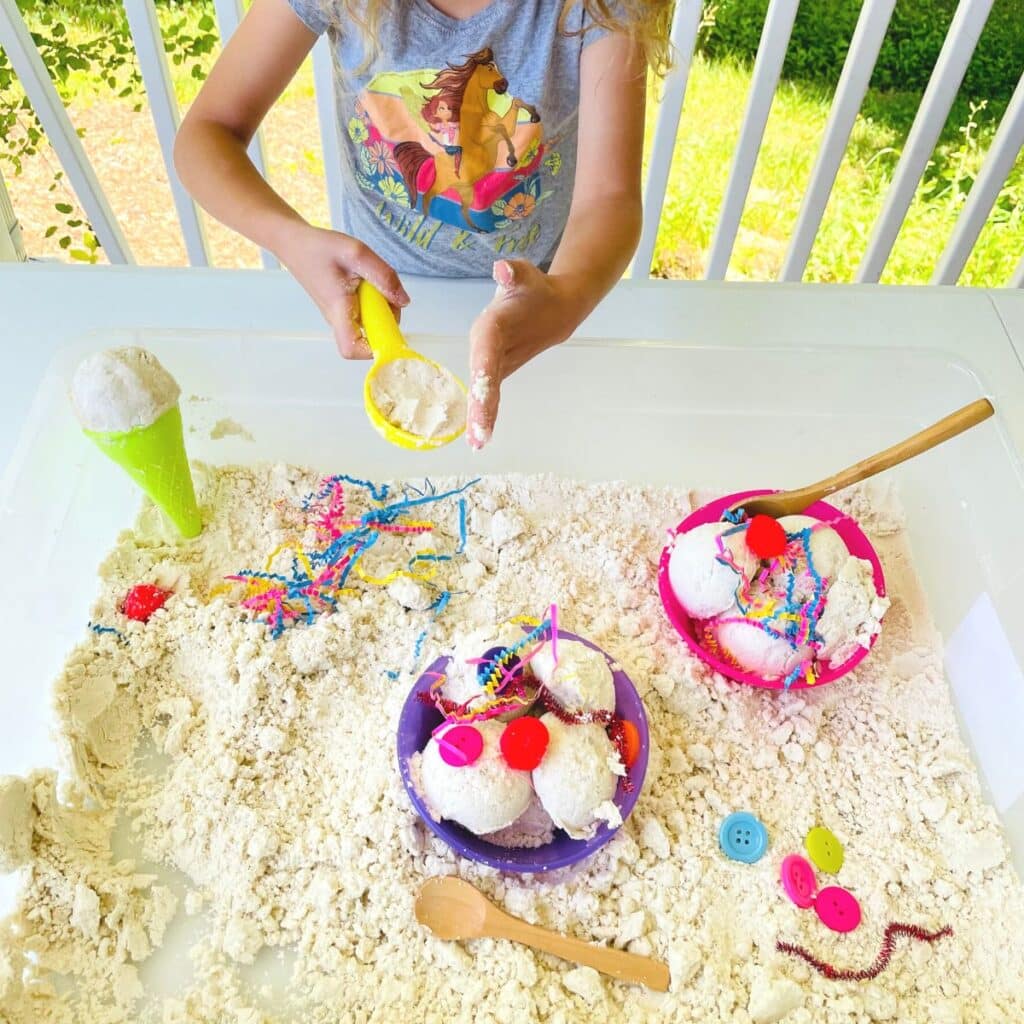 Next, you can add other "toppings" like buttons to be like candy or paper shred to act as sprinkles on top of the ice cream.
We also added chenille stems to look like caramel syrup or chocolate syrup!
​This ice cream sensory bin was a huge hit! My kids played for days making ice cream sundaes and ice cream cones for each other!
It was definitely one of their favorite activities for summer!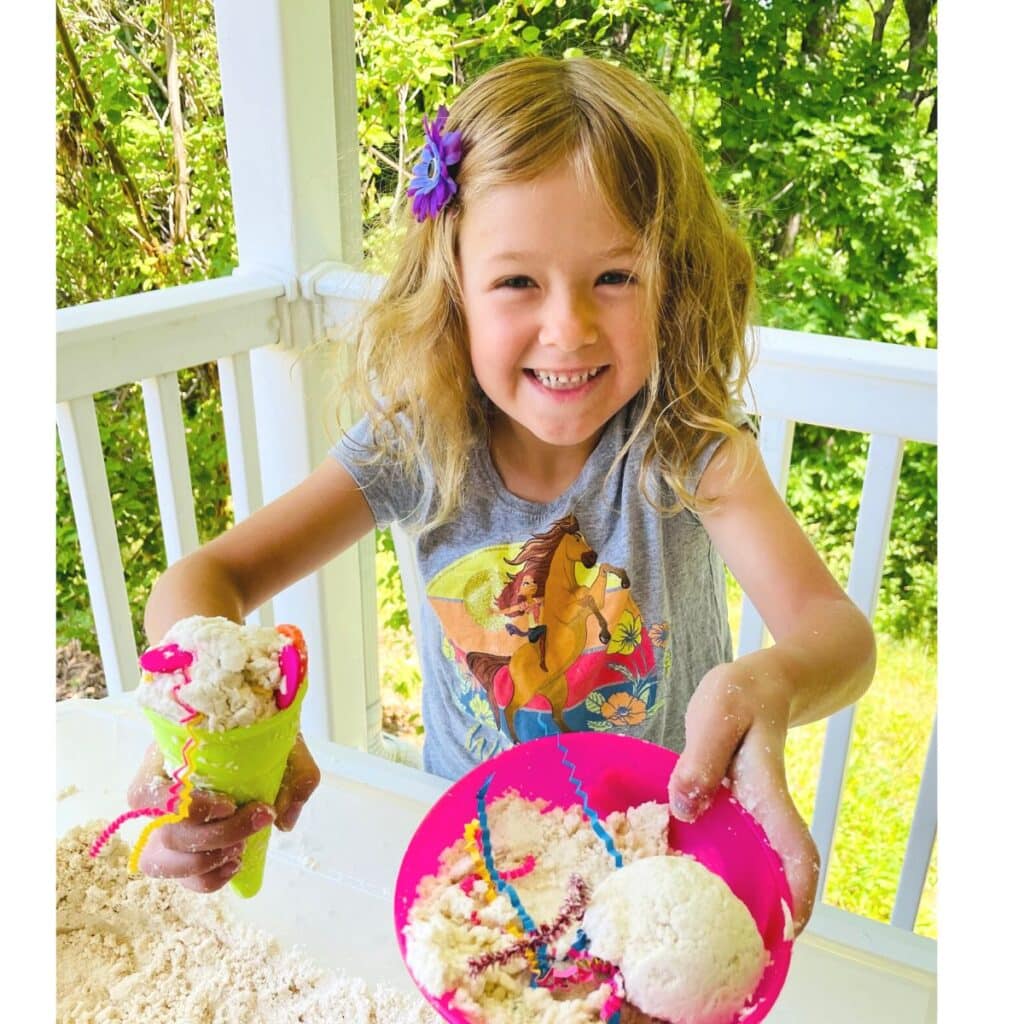 How to Keep Sensory Fillers in the Bin
I often hear from moms that they have trouble keeping sensory materials in the bins.
Here's some tips:
1) Place the sensory bin outside. If you have little ones, this is the easiest option as long as you have warm weather!
2) You can place your sensory bin on a plastic table cloth indoors (then shake it out afterwards).
3) Consider only allowing one child at a time to play – this cuts down the mess tremendously for our family.
4) If a child dumps the bin, take it away for the day, try again the next day. If it continues to happen, take a break from sensory play for a few weeks and try it again when your child is a little older.
5) Start with a simple "easy to clean" sensory bin filler – water is pretty easy to clean up as well as dry lima beans. (Always make sure your sensory bin filler is not a choking hazard for your child).
6) Supervise closely and if your child tends to dump the bin when they are done playing – make sure you transition your child to another activity before they reach the point of dumping the bin.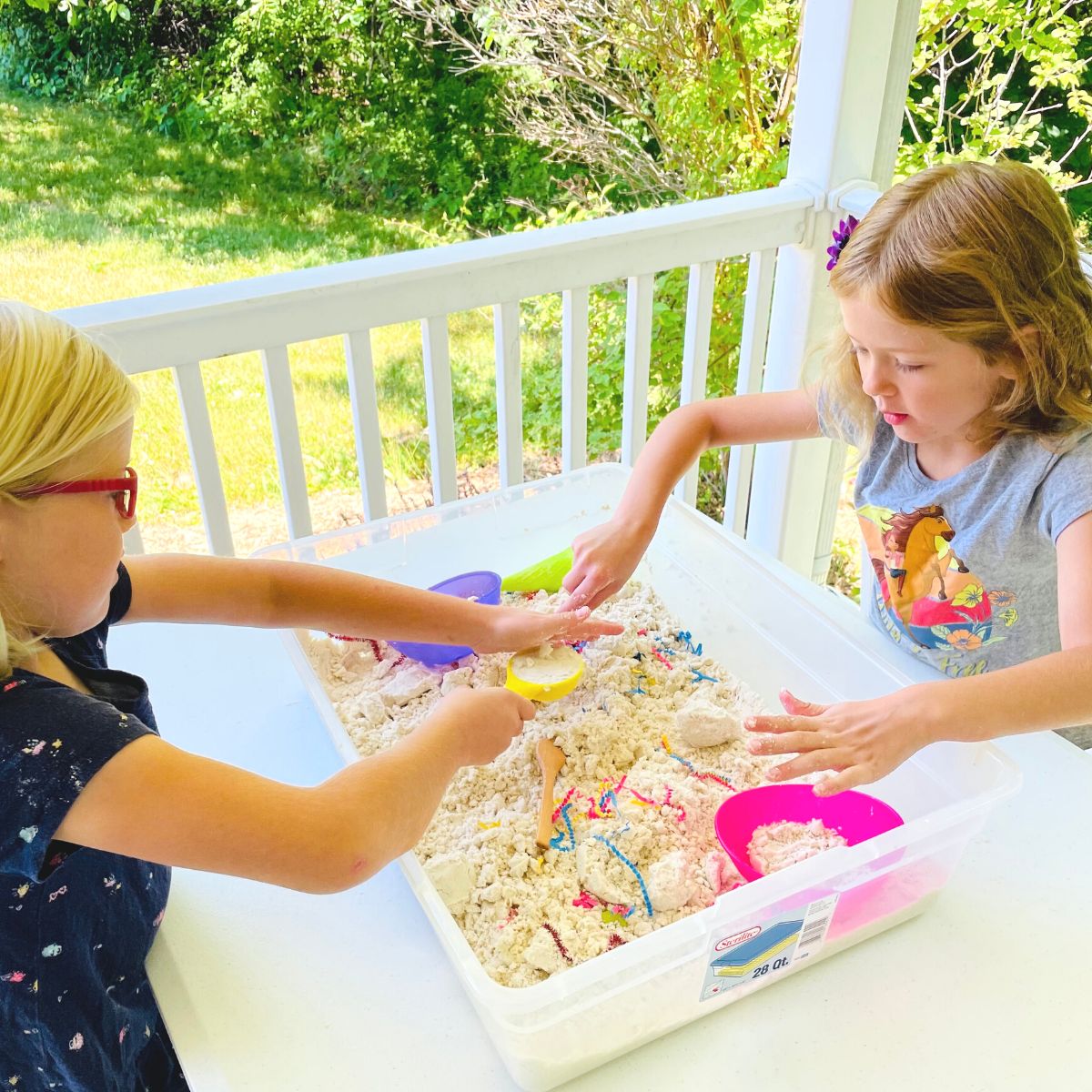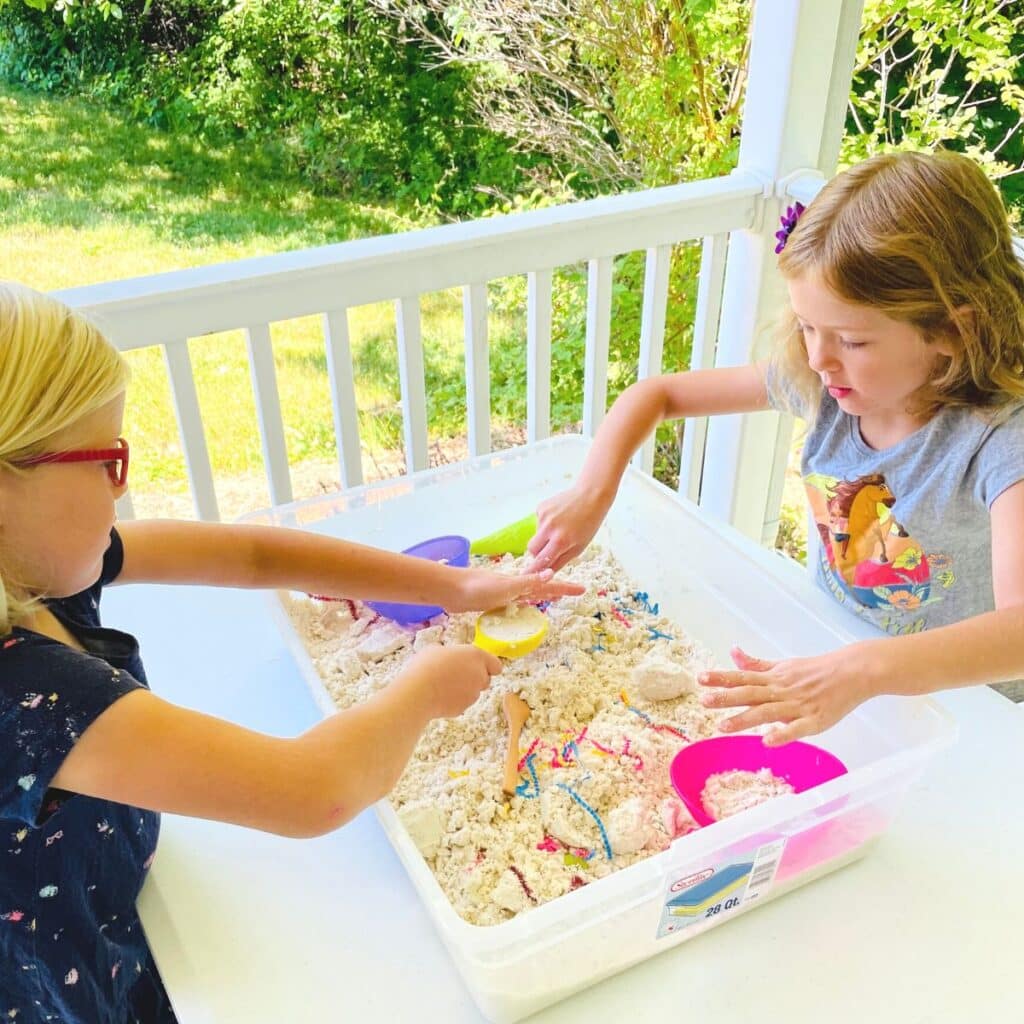 More Summer Sensory Bin Ideas
Looking for more summer sensory play fun for young kids? Here's some more sensory play ideas!
This Ocean Sensory Bin is a fun summer activity for little learners. This sensory play idea is a fun way to introduce little ones to ocean creatures.
There's a cool 4th of July Cupcake Sensory Bin here. Making moon sand cupcakes is the perfect way to celebrate America's birthday!
Looking for summer water play ideas for your sensory table? This Car Wash Sensory Bin is perfect for toddlers and preschoolers. If you like easy sensory activities – it doesn't get any easier than this!
Want to cool off? This Arctic Ice Sensory bin is a great activity for summer break! Kids will love creating their own igloo ice cubes. What a fun activity!
Summer is also the perfect time to talk about Insects!  This Insect Sensory bin is an awesome summer activity.  Little ones can hide the bugs, explore, and engage in imaginative play. 
Finally, don't miss this amazing List of 25 Sensory Bins! Tons of great sensory play ideas for each theme or season!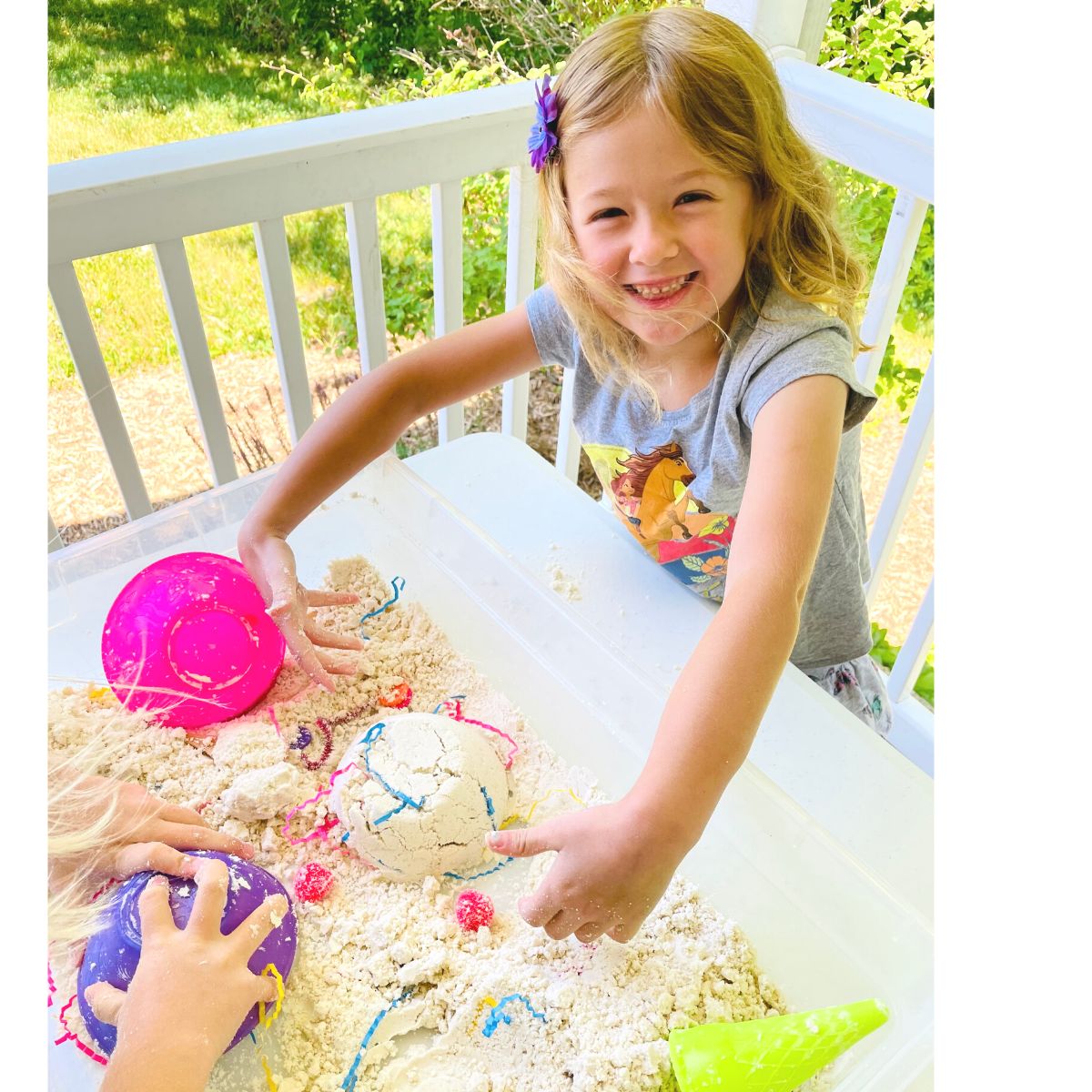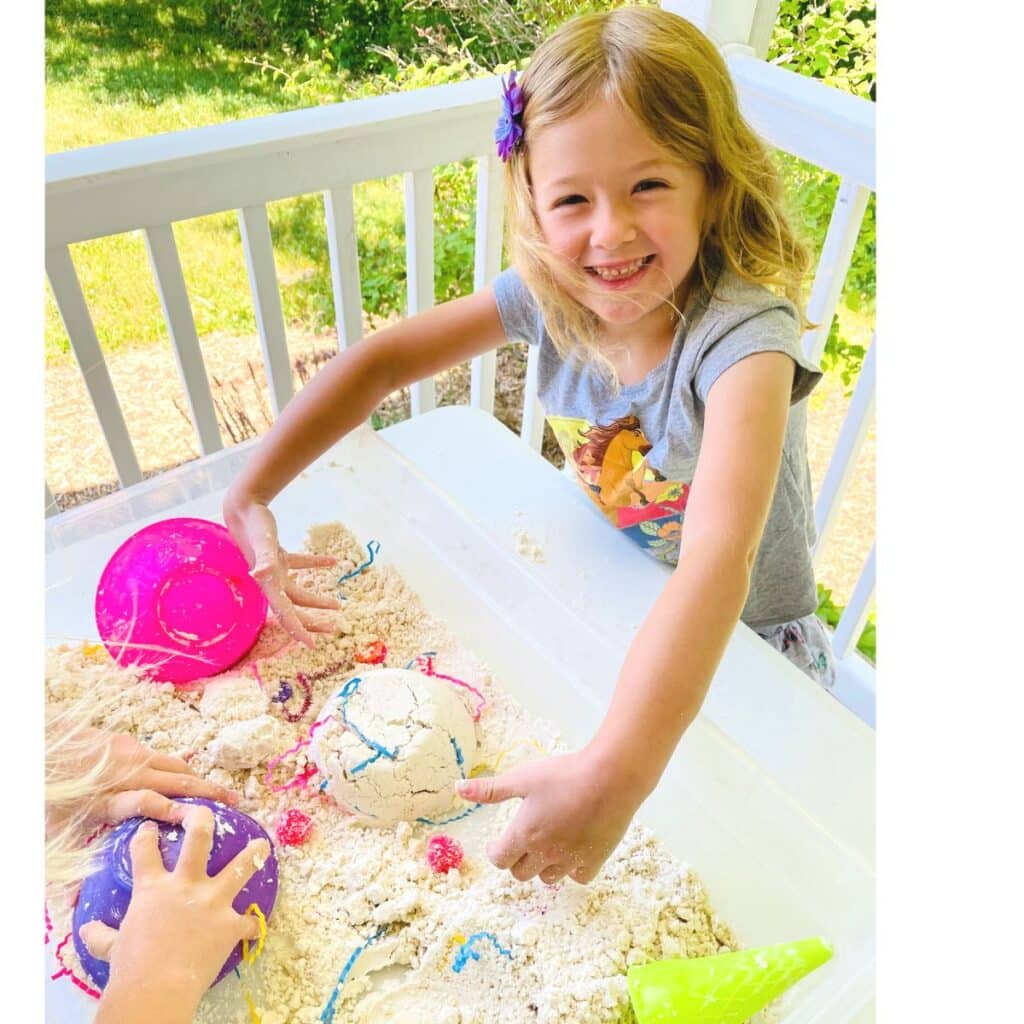 More Ice Cream Activities
Doing an Ice Cream Theme for preschool? Here's some more great ideas for your unit!
You can find some Free Printable Ice Cream Coloring Pages here. Perfect for painting or coloring!
There's also 20 Ice Cream Activity ideas here. You'll find printables, hands-on activities, sensory play and more. So many fun ideas for your Ice Cream theme!
Want to save this fun Summer Sensory Bin for Later? Pin the image below to your Summer Activities for Kids board on Pinterest.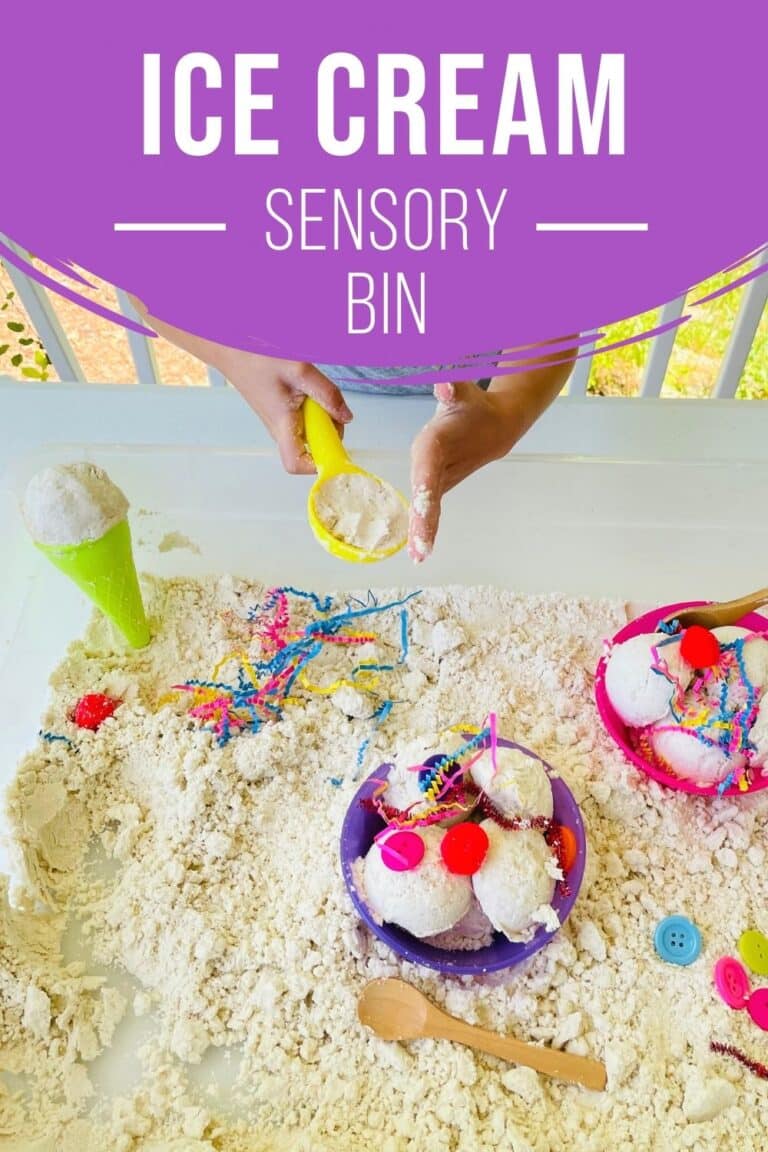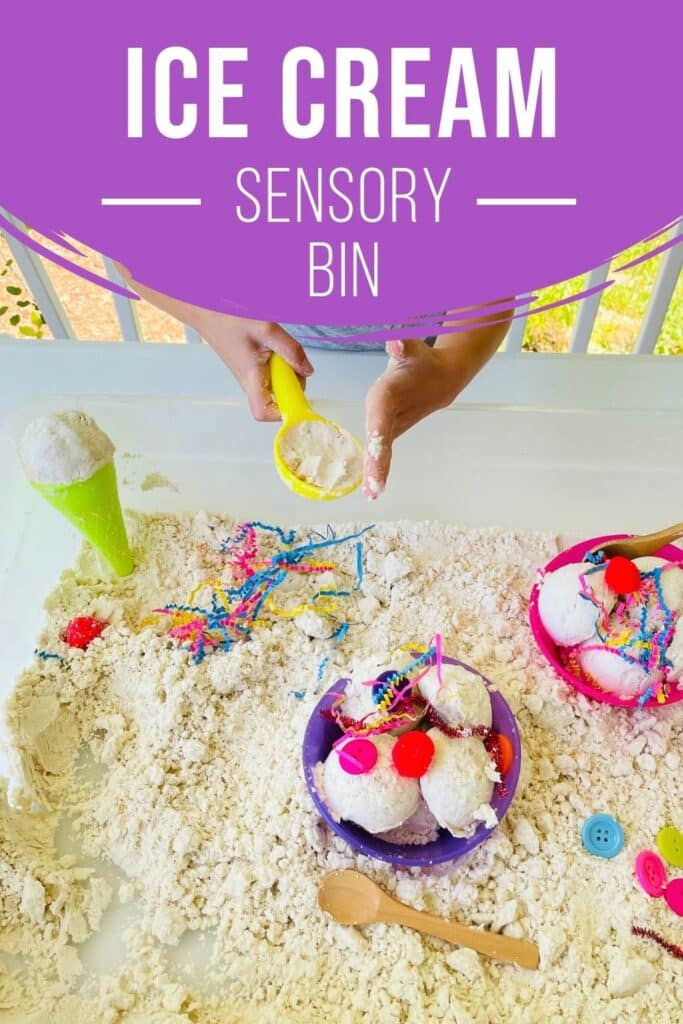 ​