Looking for an amazing Thanksgiving Sensory Bin? Try this pretend pie baking sensory idea for kids!
This pie themed sensory bin is great for Thanksgiving, but it also works well during apple picking season as well! Young children will love this sensory experience.
Little ones will enjoy digging in the sensory materials, scooping, stirring, rolling out the felt dough, and designing the pies. What a fun way to introduce kids to the classic Thanksgiving activity of making pies!
You'll love that this simple sensory bin with a Thanksgiving theme is pretty low maintenance and easy to clean up.
This may be our best sensory play activity yet! It's definitely the cutest! My kids were engaged for long periods of time for multiple days with this pie sensory bin.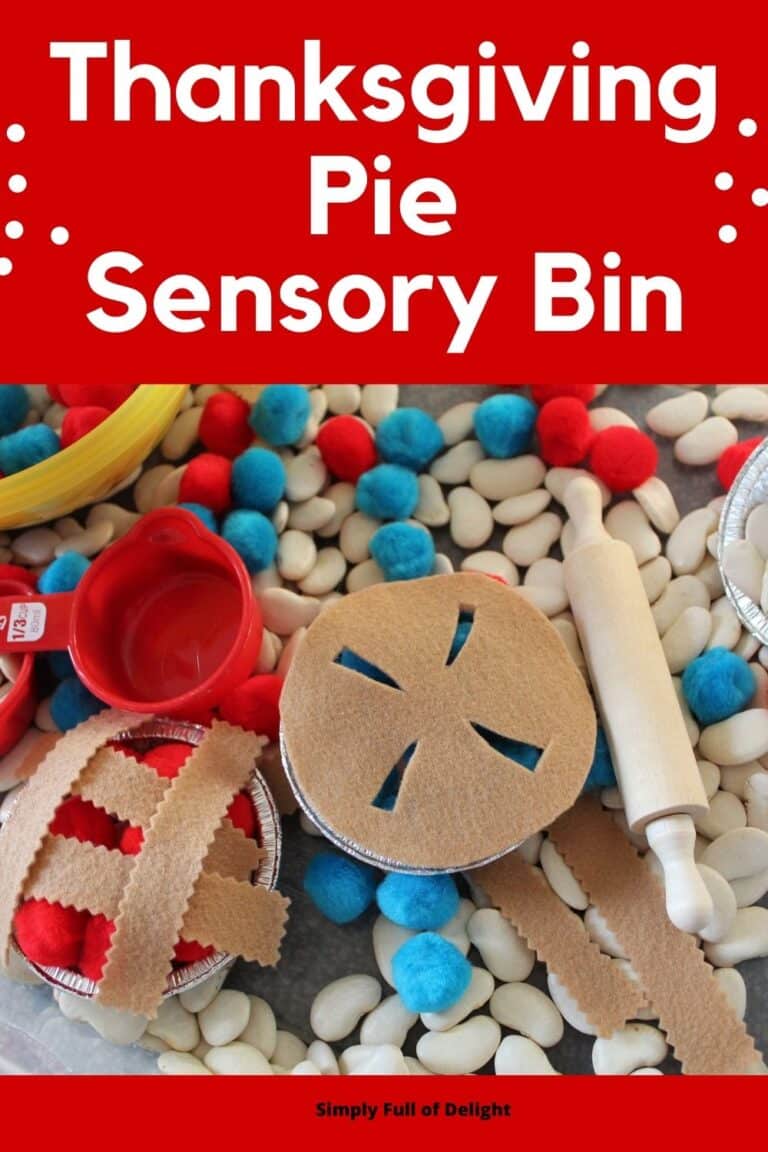 But before we dive in to the tutorial, you might be wondering….
What is a Sensory Bin?
A Sensory Bin is a container of items that prompt creativity and awaken the senses.
Items you might commonly see in a sensory bin include water, rice, uncooked pasta, pom-poms, sand, shredded paper, dry beans, and dry corn. There's different textures, small items for small world play, or items for scooping and mixing. The possibilities are endless.  Find more ideas on creating sensory bins here.
Many sensory bins have a theme that invoke imaginative play. Generally, you will see sensory bin play geared toward preschoolers and kindergarteners, but older children may enjoy it as well.
What are the benefits of sensory play?
There's so many benefits of sensory bins! According to Good Start Early Learning, sensory play encourages kids to investigate and explore.
Adding sensory table ideas to your lesson plans is always a good idea!
Sensory Activities:
– Build nerve connections in the brain
– Help support language development
– Are great for developing fine motor skills
– Encourage problem solving and scientific thinking
– Allows open-ended play
Plus, sensory play is just plain fun! It's the perfect way to engage children for long stretches of time and a great way to have some screen free fun.
Alright, let's dive into creating our Pie Thanksgiving Sensory Bin!
** Disclaimer: As an Amazon.com Associate, I earn from qualifying purchases made by readers clicking my links at no extra cost to you.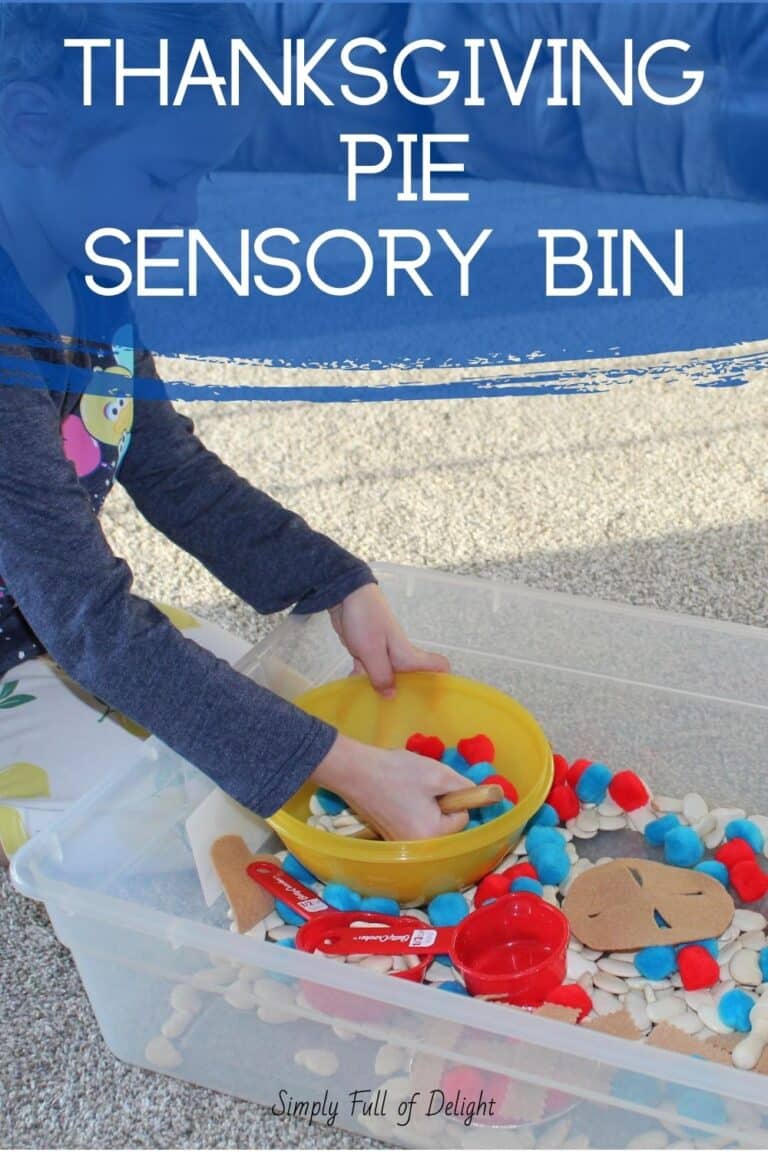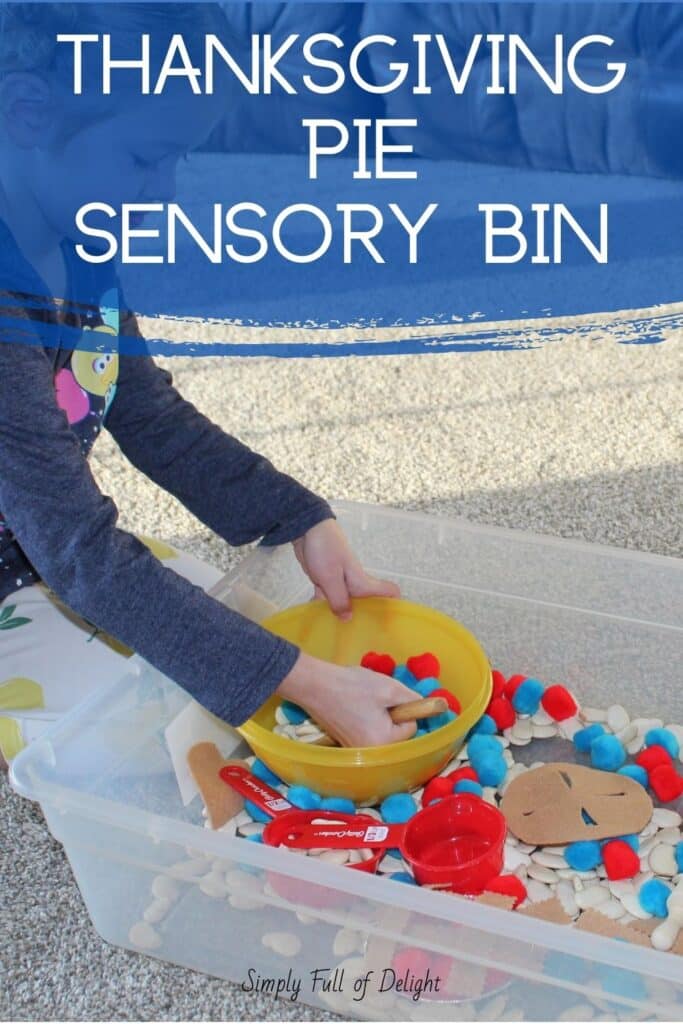 Supplies Needed for Pie Thanksgiving Sensory Bin
For this easy sensory bin you will need the following items:
– Sensory Bin Container (I use a large under the bed storage container)
– Mini Pie Dishes (You can use disposable ones or grab these adorable and more durable mini pie pans.)
– Dried Beans (I used these cool large white Lima Beans)
– Bowl – any unbreakable plastic bowl will do the trick!
– Wooden spoon – We already had one, but you can find some neat ones on Amazon.
– Measuring cups – You can find these on Amazon or at your local dollar store.
– Mini Rolling Pin – I got mine at Hobby Lobby, but you can find them online as well.
– Pom Poms (I used red and blue). Feel free to change up the colors to created different "flavors" of pie.
– 2 pieces of Tan Brown Felt – for the crust!
– Pinking Shears and Cloth scissors
– Pencil
– Scissors
– Cardstock (you can use regular paper if you like).
Once you have gathered your sensory bin materials, you are ready to start creating!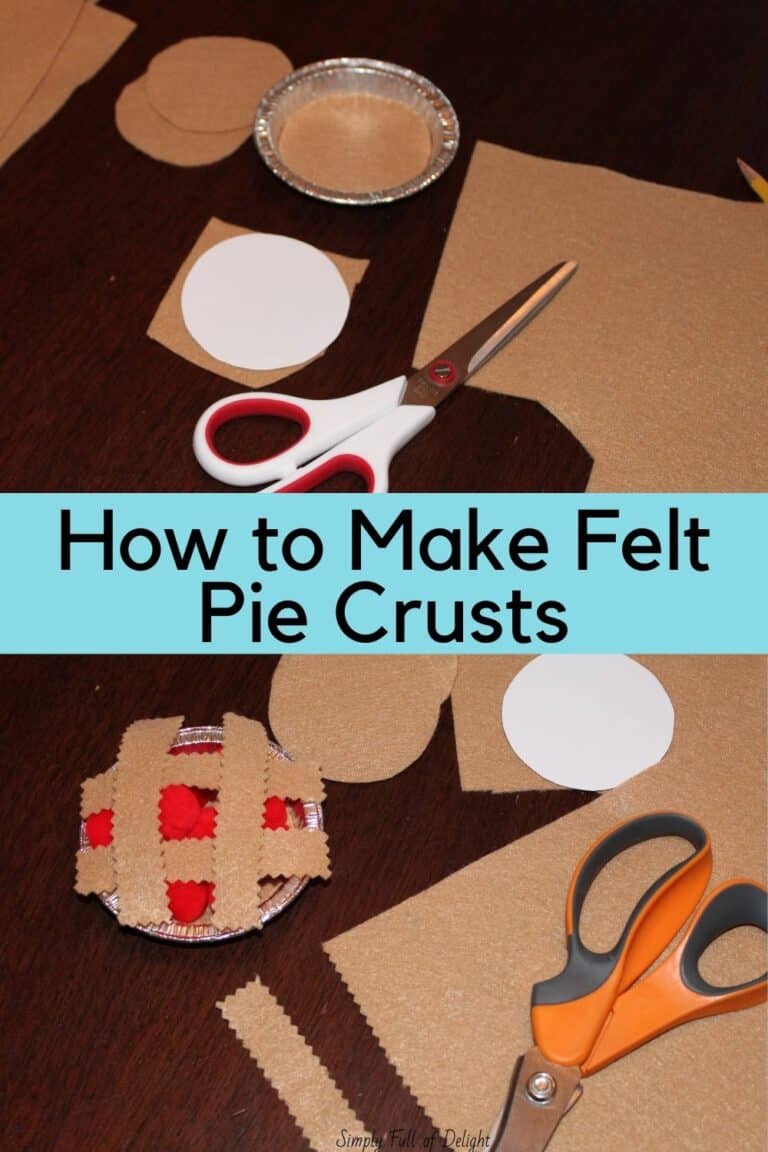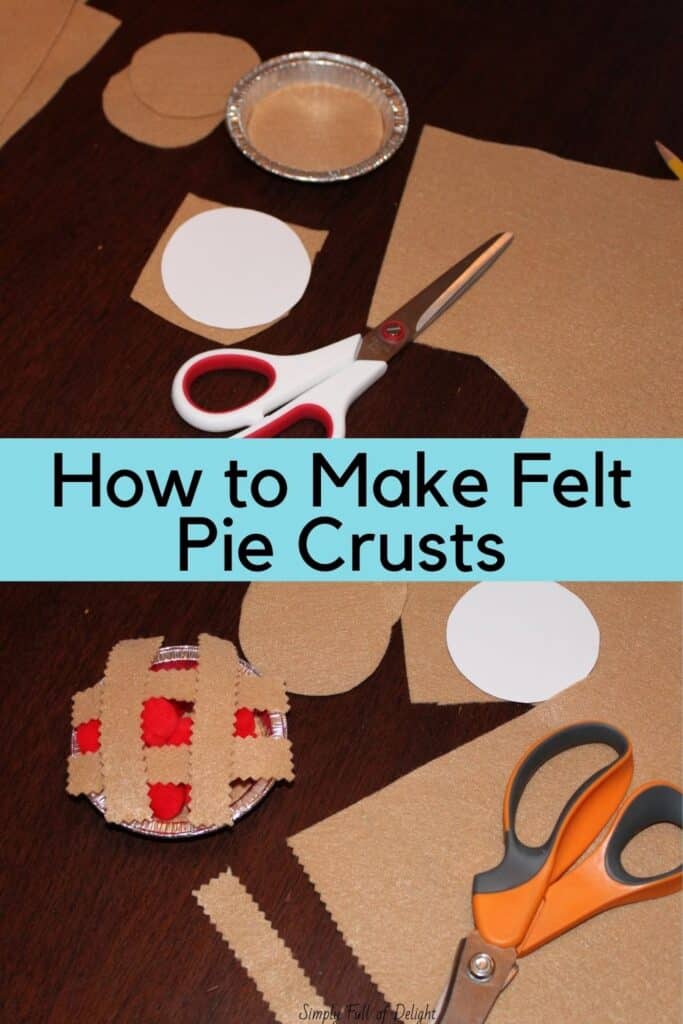 How to make the Felt Pie Crusts
First, take your mini pie pan and place it on a piece of cardstock. Using a pencil, trace the bottom of the pan onto the cardstock. Cut it out.
Now, using this pattern you've created, you can make the bottom pie crusts for each of your mini pie pans.
To do this, I first cut a small felt square from the larger felt portion and then placed the pattern circle on top and cut around the circle. I had 4 pie pans, so I made 4 brown circles to place in the bottom of each pan.
Now that you have the bottom crusts of each pie, it's time to make the top crusts. I used my pinking shears from my sewing basket to make the adorable zigzag crust strips. I made 4 strips for each pie.
The size of the crust strips will really depend on the size of your pan. I made all of my crusts the same length and I thought they turned out adorable!
I also made a "full crust cover" for the last pie. To do this I flipped one of my mini pie pans over and traced the circle onto cardstock. I cut out the pattern and used it to cut a circle out of the felt.
Next, I looked on google at various images of real pies to see what crust patterns I liked best. I decided to fold the circle inward and snip a few openings to make it look like an apple pie crust.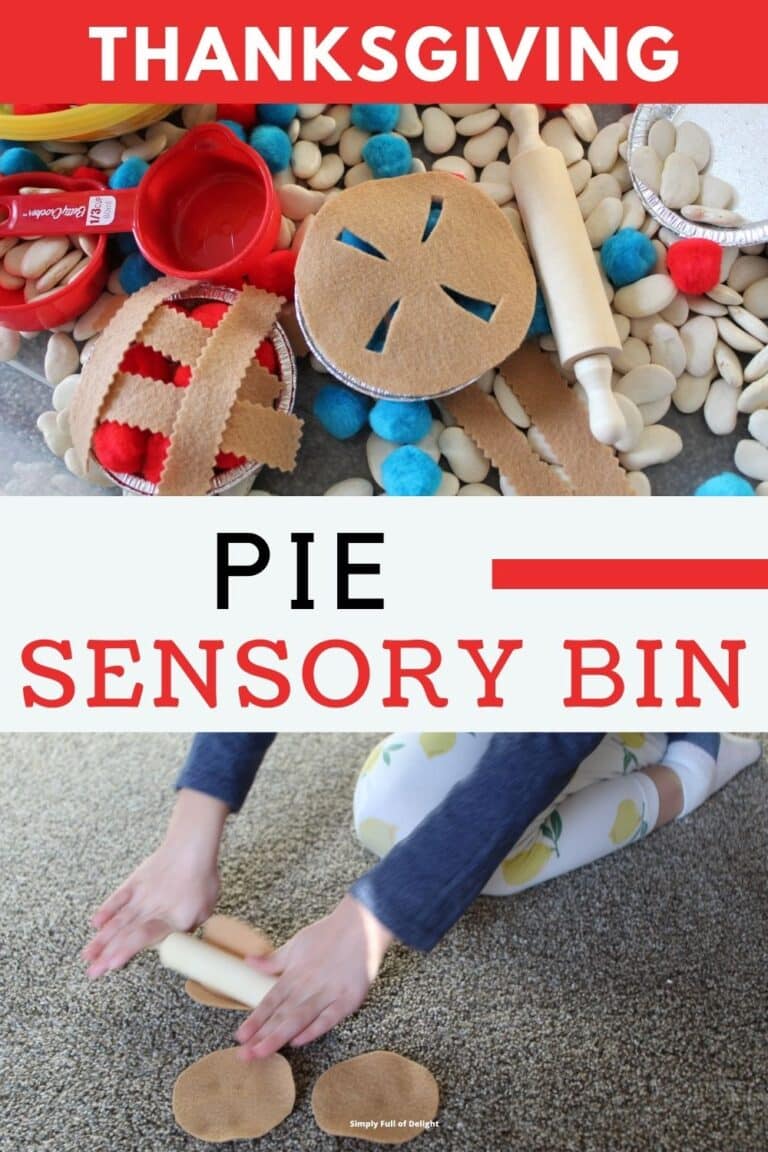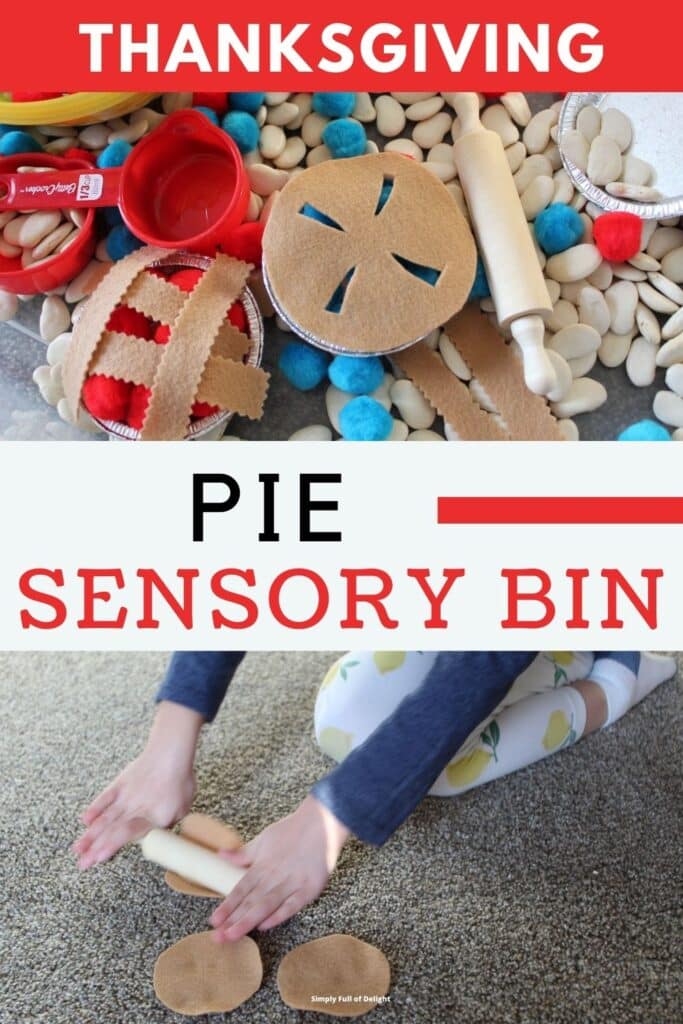 How to Make a Pie Thanksgiving Sensory Bin
Now that you have your pretend pie crusts ready, the rest is super fast and simple!
Pour the lima beans (or your choice of sensory bin filler) into the sensory bin container. I used a large under the bed storage container for this sensory bin, so I used 3 small bags of lima beans to fill it.
Next, add your pom poms. I chose blue to represent blueberries and red to look like cherries. But the possibilities are endless here!
Now, you're ready to add the pie crusts and pie pans. I also added a mini rolling pin, a bowl for mixing, a small wooden spoon, and measuring cups.
Kids love to have items to scoop, stir, and pour into. The mixing bowl was a huge hit (so definitely don't skip that!) They also enjoy pretending to roll out the dough, so don't forget that little miniature rolling pin!
My kids loved this sensory bin. It kept my 4 year old busy for most of the morning when we first made it. She loved making apple pies and berry pies for me and her dolls.
All of my school aged kids dove into it when they got home as well. It was such a fun activity that everyone had to have a turn!
Just a reminder: If you have small children who still put things in their mouths, you will want to stay away from lima beans and probably the pom poms as well. Both could be choking hazards for younger toddlers. You could improvise with real cereal as a sensory bin filler.
Be sure to check out other Sensory Play Ideas here.
Love this simple Thanksgiving sensory bin? Pin the image below to your Thanksgiving activity board on Pinterest.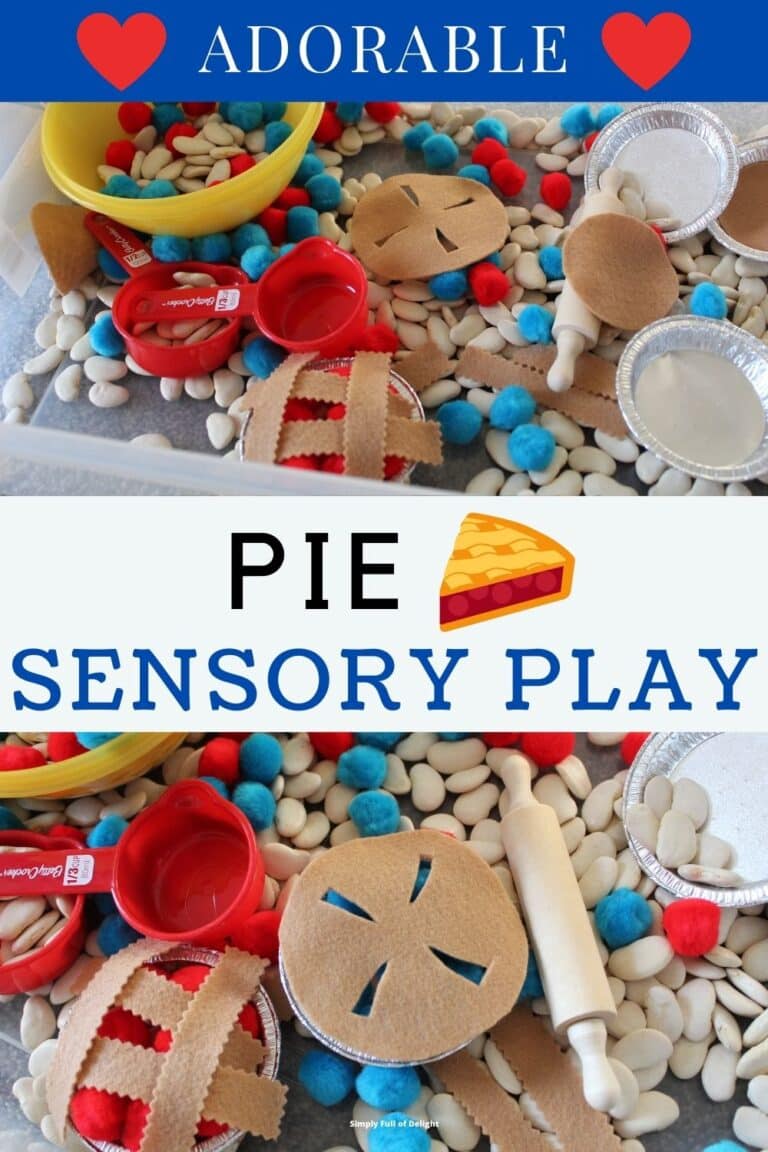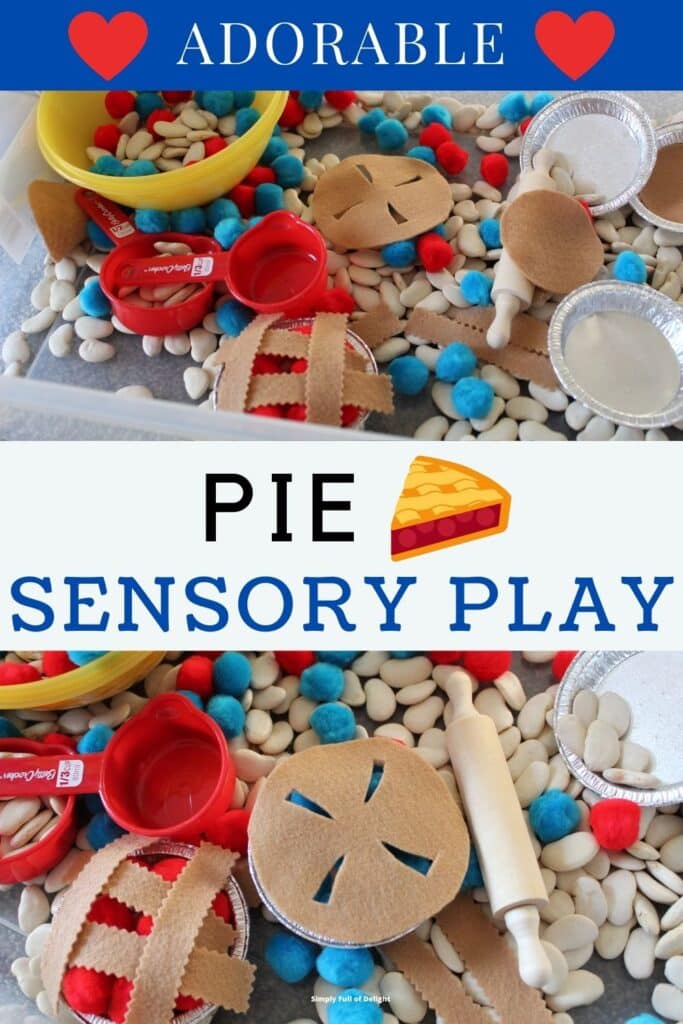 More Thanksgiving Preschool Activities
Looking for more fun Thanksgiving holiday activities for kids?
There's a super awesome printable Pilgrim Hat Headband here. Kids will enjoy wearing their little pilgrim hats to thanksgiving dinner!
You'll find a Thanksgiving Corn Craft that is great for preschoolers here. I love that this craft uses bubble wrap which gives it a cool 3D effect! So unique!
You can find tons of Free Thanksgiving Printables here including coloring pages, Thanksgiving placemats, activity pages, and crafts. So many amazing freebies!
There's a fall sensory bin activity here that is also full of fantastic fun for little learners. Kids will enjoy playing in the fall leaves in this harvest sensory bin.
You can find some harvest themed preschool worksheets in this post: Fall Activities for the Family (& Free Printables!)
Be sure to check out the Gratitude Scavenger Hunt here. Perfect for some Thanksgiving day family fun. Kids can learn about gratitude and thankfulness in a fun way!
Also, don't miss the preschool Thanksgiving activities set, in my Etsy shop! There's cut and paste activities, pattern work, tracing, and more!
Happy Thanksgiving!
Related Posts