Is your child obsessed with Kinetic Sand? Mine too! Here's 15 of the best kinetic sand activities to engage your child longer and inspire creative sensory play with kinetic sand.
I love finding new ways to play with kinetic sand! Ever since we bought our first package of kinetic sand, my kids were hooked.
If you've never experienced kinetic sand, it's a lot like playdough in the way that you can mold objects, but it is less messy than playdough because you can brush it off your child's clothing. Our family adores it!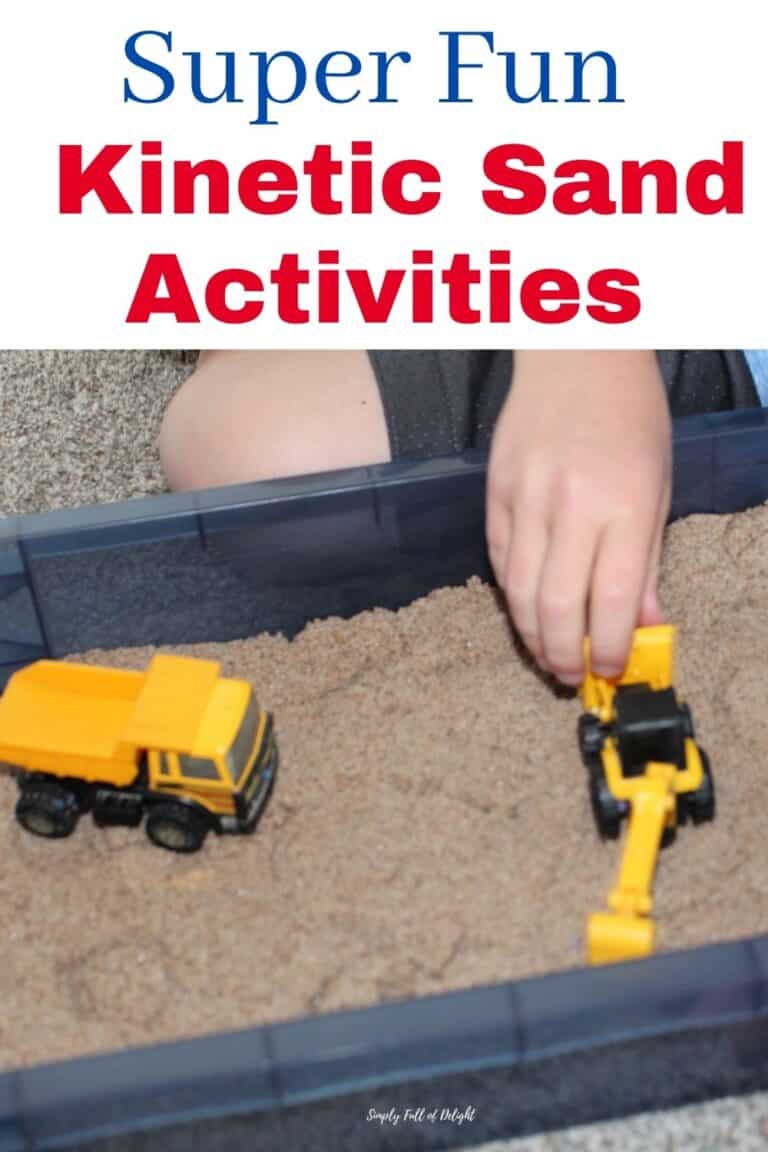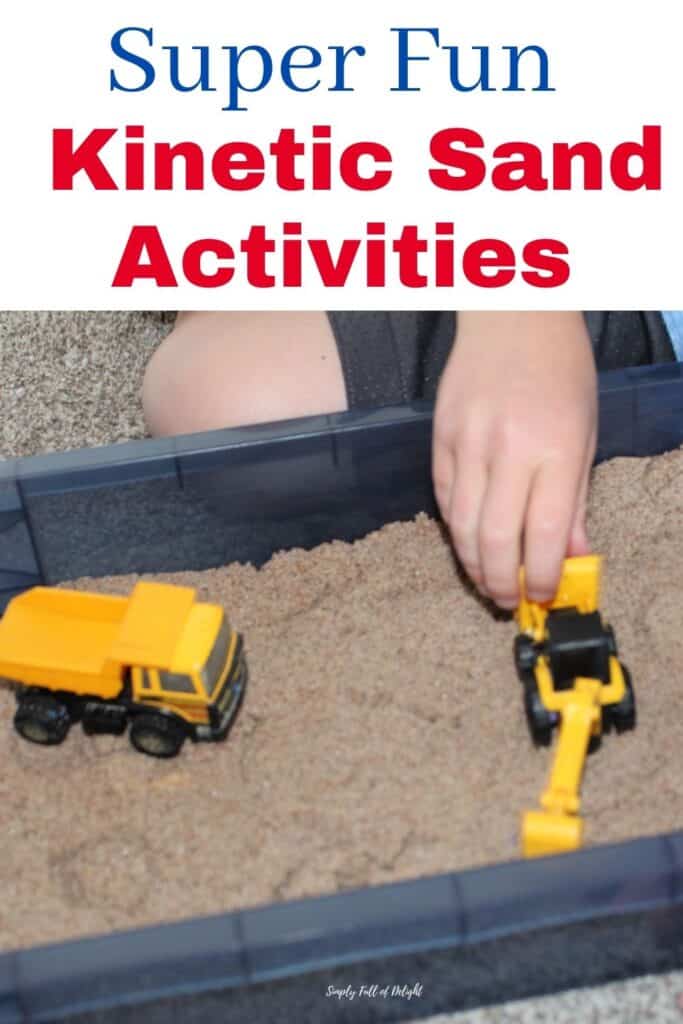 Kinetic sand is a great way to keep little ones busy. I love to use it on rainy days, during quiet time when another child is napping, or as a great quiet activity to keep my kids engaged while I get some work done.
** Disclaimer: As an Amazon.com Associate, I earn from qualifying purchases made by readers clicking my links at no extra cost to you.
What should you keep kinetic sand in?
Kinetic sand doesn't dry out, but it's nice to keep it in a storage container for practical purposes. We keep ours in a large under the bed type of storage box. It's big enough that my kids can keep the sand inside the bin as they play, which helps contain the mess.
You may like to place a plastic table cloth under the bin as the kids play because kinetic sand often leaves a residue that makes your floor slick (Read: super slippery!) Yes, we've slipped across the floor a few times due to kinetic sand. But it's an easy fix with placing a tablecloth underneath.
Alright! Let's dive in and talk about some amazing Kinetic Sand Toys and awesome kinetic sand activities!
1) Melissa & Doug Sand Cupcake Set
The Melissa & Doug Sand Cupcake Set is perfect for Kinetic Sand. Your child can create cupcakes and shape the tops to look like sea creatures. The cupcake molds are hinged to help your child get the perfect cupcake every time! What fun things to do with kinetic sand!
2) CAT Construction Little Machines
These CAT Construction Little Machines are the perfect size for a miniature construction site! My kids love to use these to dig, bulldoze, and haul the kinetic sand within their kinetic sand sensory bin. You can add items like popsicle sticks, real sticks, stones, and more to add to their construction creativity!
3) Ice Cream Sand Mold Set
This adorable Ice Cream Sand Mold set is a great kinetic sand toy! We have this set and my kids enjoy creating various ice cream treats and desserts with it. The lid that fits on top of the bucket has holes that help your child hold all of the ice cream cones they create. This is a great addition to any kinetic sand loving kid's toy box!
4) Astronaut and Space Toy Action Figures
Try these Astronaut and Space Toy Action Figures for some out of this world fun! This set contains over 60 astronauts, vehicles, and space equipment. Just add some simple tools or scoops for shaping the kinetic sand and you are on your way to a super fun space activity!
5) Melissa & Doug Baking Play Set
The Melissa & Doug Baking Play Set is a perfect kinetic sand toy! Your child can roll out the sand, use the cookie cutters to make "cookies" and make muffins in the pan. There's measuring spoons and cups, a pot, spatula, whisk and more.
Pretend cooking is a favorite among all of my kids! I love simple low preparation activities that engage my children!
6) Sand Toys for Kinetic Sand Activities
This 25 Piece Sand Toys pack is perfect for kinetic sand. Your child can create sand castles, beach themed objects, dinosaur bones, and more with all of these amazing sand molds and tools. With so many cool things included with this pack, it's sure to keep your child occupied for a long time.
7) Dinosaur Fossil Skeletons
These Dinosaur Fossil Skeletons are perfect for your little budding archaeologist. Provide your child with these fossil skeletons, some mini shovels and a paint brush for the detail work. Add a Dinosaur Bone Identification book and your little archaeologist will be learning a lot AND having fun!
8) Realistic Large Dinosaurs – Kinetic Sand Activity
If your little one is dinosaur obsessed, they will love these Large Realistic Dinosaurs. These are perfect for stomping around a kinetic sand bin. Your child will love burying them in the play sand, creating homes for them in the kinetic sand and more.
9) Fairy Village for Kinetic Sand Activities
Inspire your child's imagination and pretend play with these Fairy Figurines by Wild Republic. Pair these sweet fairies with kinetic sand, fake flowers, scoops, and castle molds to help your child create their very own fairy village.
10) Castle Kinetic Sand Activity
If you're looking for a set to keep your kids super busy, this Castle Sand Mold set is perfect. Kinetic sand is such an incredibly inviting sensory material so when you add 23 pieces of sand castle making fun, it's irresistible!
Your kids will come up with SO many things to make with kinetic sand. This set has 18 sand castle molds along with 5 sculpting tools for cutting, rolling, and shaping kinetic sand perfect for little hands.
11) Unicorn Kinetic Sand Idea
These Unicorn Figurines pair perfectly with Kinetic sand! Your unicorn fanatic can create their own little world with these beautiful unicorns, kinetic sand, and some castle molds. Add little items to inspire play like a small treasure chest, pretend flowers, or little dollhouse pieces.
12) Pirates – what to make with kinetic sand
This Pirate Toy set pairs perfectly with blue or brown kinetic sand. Your little buccaneer can have epic battles with the included cannon, be taken down to the depths of the sea by a giant octopus or discover treasure on a remote island. This pirate set is sure to inspire hours of swashbuckling good fun.
13) Ocean Themed Kinetic Sand Play
These Ocean Themed Toys are perfect for inspiring ocean creature sensory play. Pair these sea creatures with blue colored sand. Your child can create underwater adventures with this huge array of ocean sea creatures. For even more ocean learning fun, add a book like Ocean Animals for Kids: A Junior Scientist's Guide to Whales, Sharks, and Other Marine Life by Bethanie Hestermann.
14) Mermaid Sensory Play
These adorable Mermaid Figurines are perfect for inspiring underwater imaginative fun. Pair these sweet mermaids with blue kinetic sand, castle molds, and other fun sea creatures for some adventures under the sea. This is such a fun kinetic sand sensory play idea! If your child is a fan of The Little Mermaid, be sure to check out this set of Little Mermaid figurines.
15) Farm Kinetic Sand Play Set
This little Farm Sand Play Set has the perfect amount of animals and farm related items to keep your little farmer playing for hours. This set is an all in one set, so you get the container with a lid to keep the sand in, the farm toys, as well as sand. What a deal!
That's it! I hope you've been inspired by these kinetic sand activities.
As you can see, you can extend kinetic sand play time by adding a theme to the experience. All you really need are toys that can form or dig in the sand and of course, to stay away from toys that might not work well in sand.
If you'd like to make your own diy kinetic sand, I'll be linking a kinetic sand recipe soon. I know you'll love to make your own incredible homemade kinetic sand. I'm also perfecting my moon sand recipe to post soon as well! Exciting things to come!
If you are interested in finding premade sensory bins, you can find some of my favorite sensory bins from Etsy here.
If you enjoyed this article, be sure to check out these other sensory play activities. Sensory play is so great for inspiring creativity, developing fine motor skills, and of course keeping little ones busy.
This Ice Sensory Play idea is a real hit with kids. Learn how to make miniature igloos for your sensory bin.
Also, you can find more Screen Free Activities for Kids here.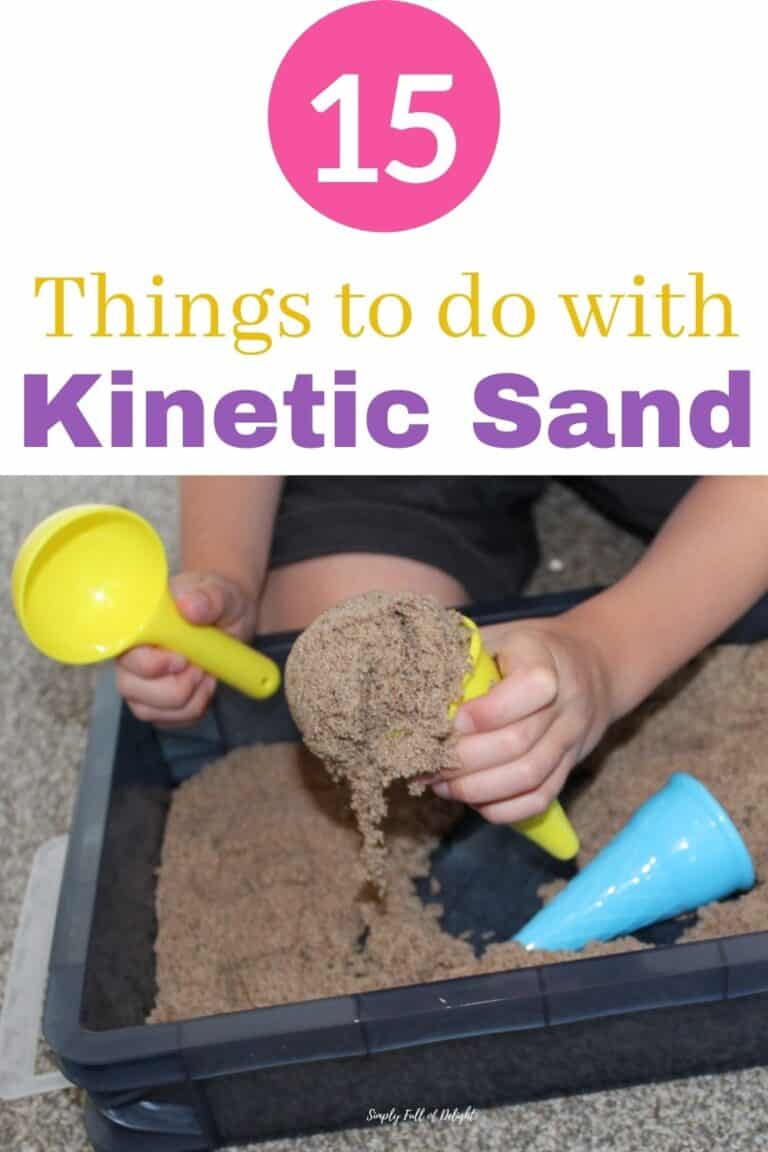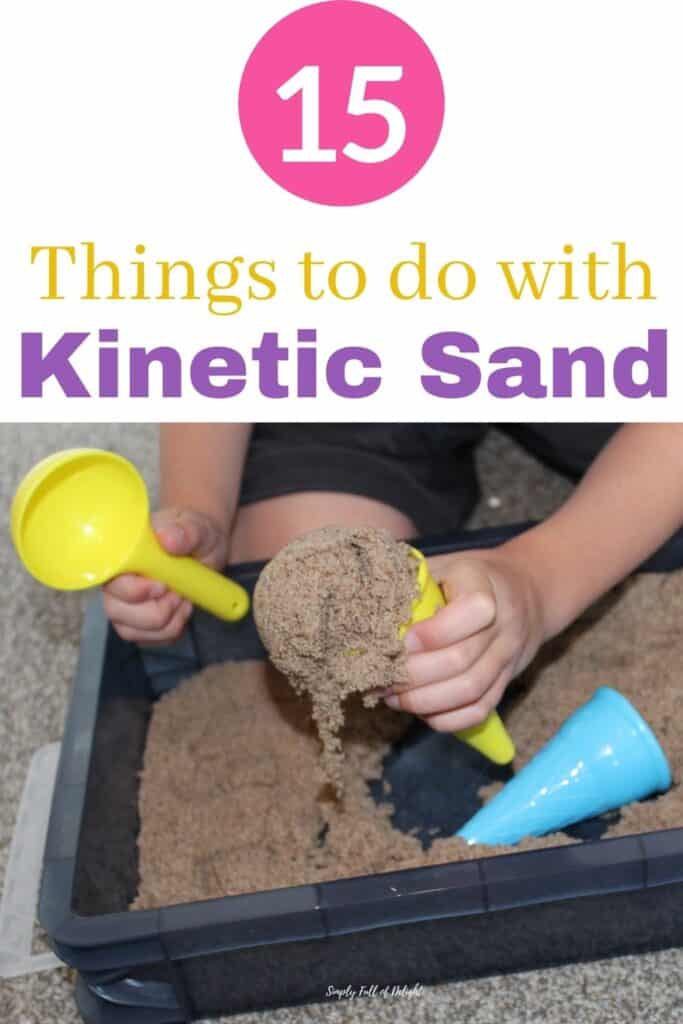 Related Posts