Looking for a fun winter sensory play idea? Try this Hot Chocolate Sensory Bin for Preschoolers!
Full of fun, this super easy sensory bin is a great way to engage little ones in imaginative play!
As we enter into the winter season, you might find yourself looking for some indoor play activities. This simple pom pom sensory bin is perfect for activating the imagination and bringing creativity into your child's play time.
This hot cocoa sensory bin contains pinto beans, scoops, cups, as well as 2 colors of pom poms.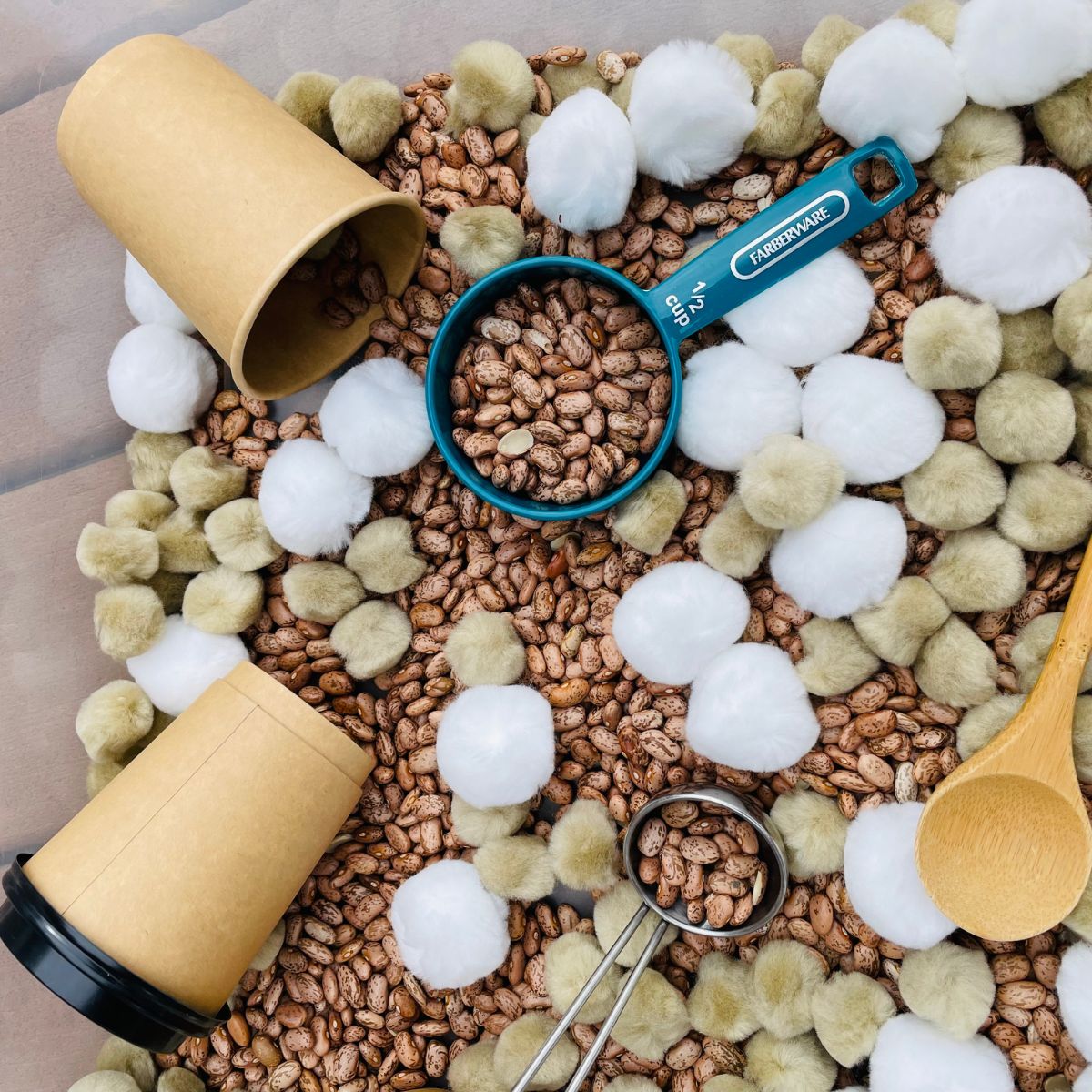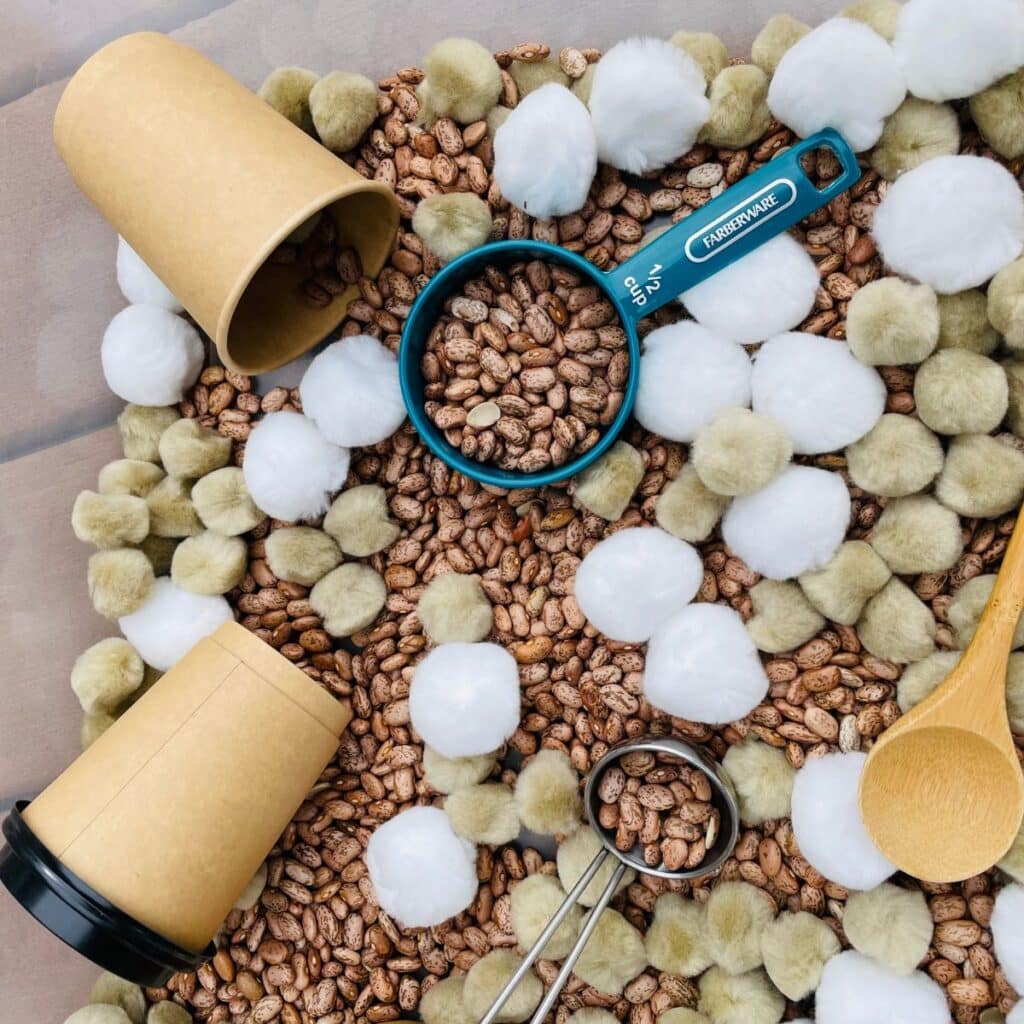 I hope your children enjoy this easy sensory play with pom poms!
What is a Sensory Bin?
A sensory bin is a container that is filled with objects that engage little ones in imaginative play. It awakens a child's curiosity and stimulates the senses.
Many sensory kits have a theme such as Dinosaur, Snow, Insects, etc.
Sensory bins have a base filler, which may be water, sand, beans, paper, pom poms, dry corn, uncooked pasta, or rice. Really, the possibilities go on and on!
Then other items are added to engage the child in play.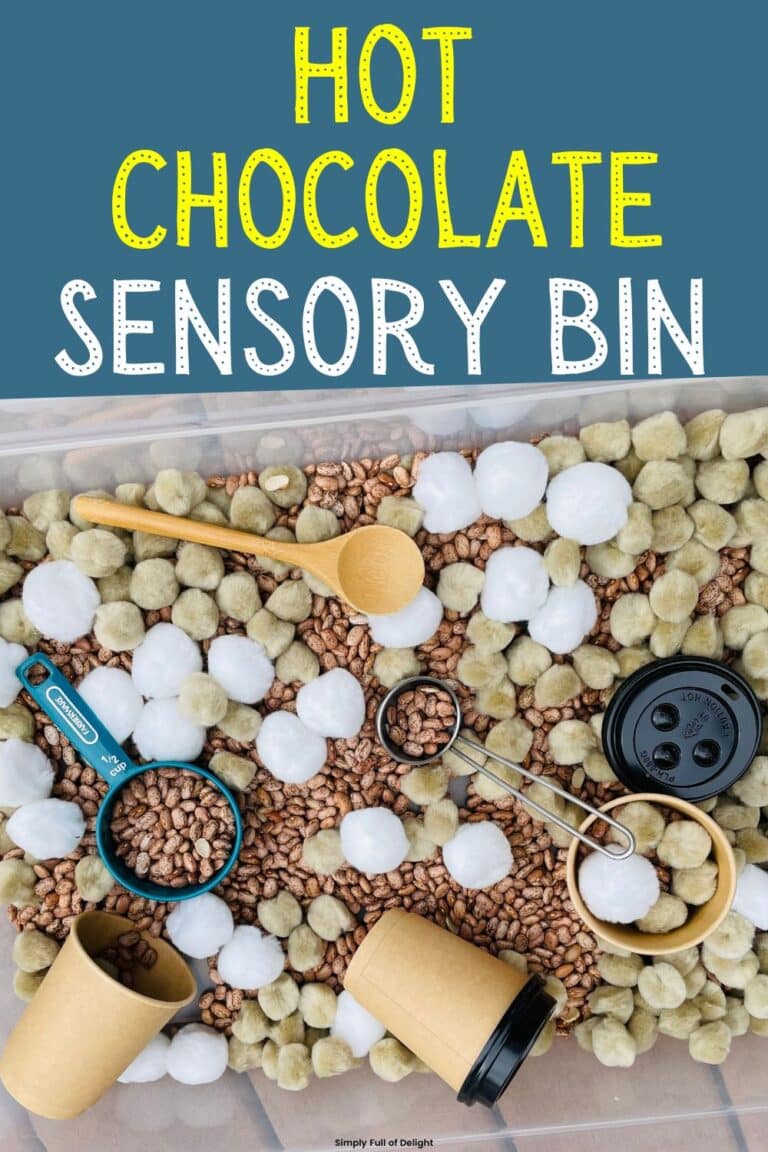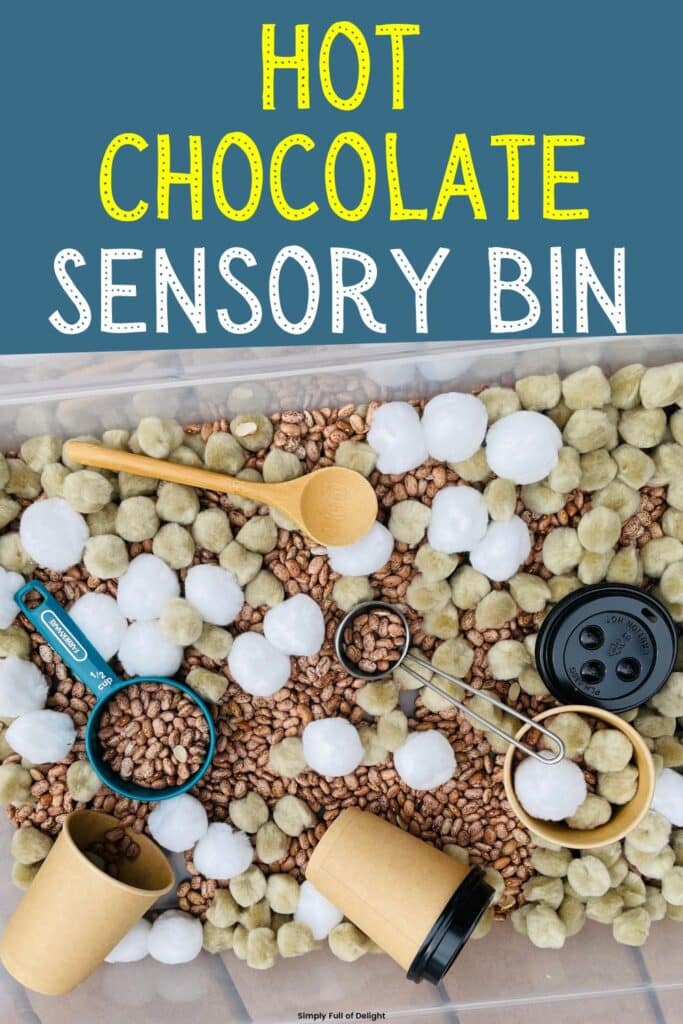 The Benefits of Sensory Play
According to Very Well Family, sensory play is important to preschoolers because:
– It builds fine motor skills.
– Builds language skills.
– Helps kids calm down, regulate and destress.
– Plus, sensory play is tons of fun!
There's many reasons to do sensory bins. You can read about more benefits here.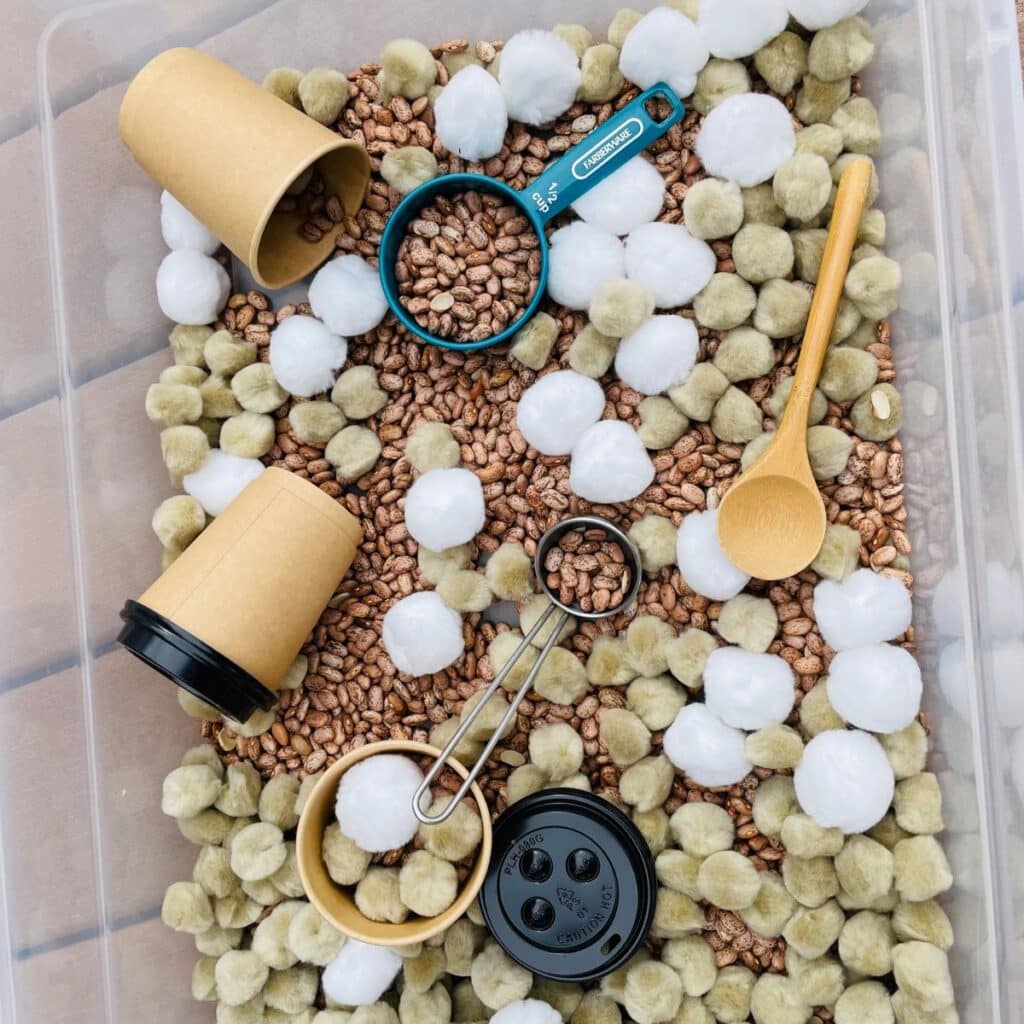 Supplies to make a Hot Chocolate Sensory Bin
** Disclaimer: As an Amazon.com Associate, I earn from qualifying purchases made by readers clicking my links at no extra cost to you.
You will need the following items to make this hot cocoa sensory bin:
Dried Pinto Beans
1 Inch Beige Brown Pom Poms
1.5 Inch White Pom Poms
Wooden Spoon
Measuring cup
Mini Ladle
Optional: Candy Canes during Christmas time, fake cookies, pretend money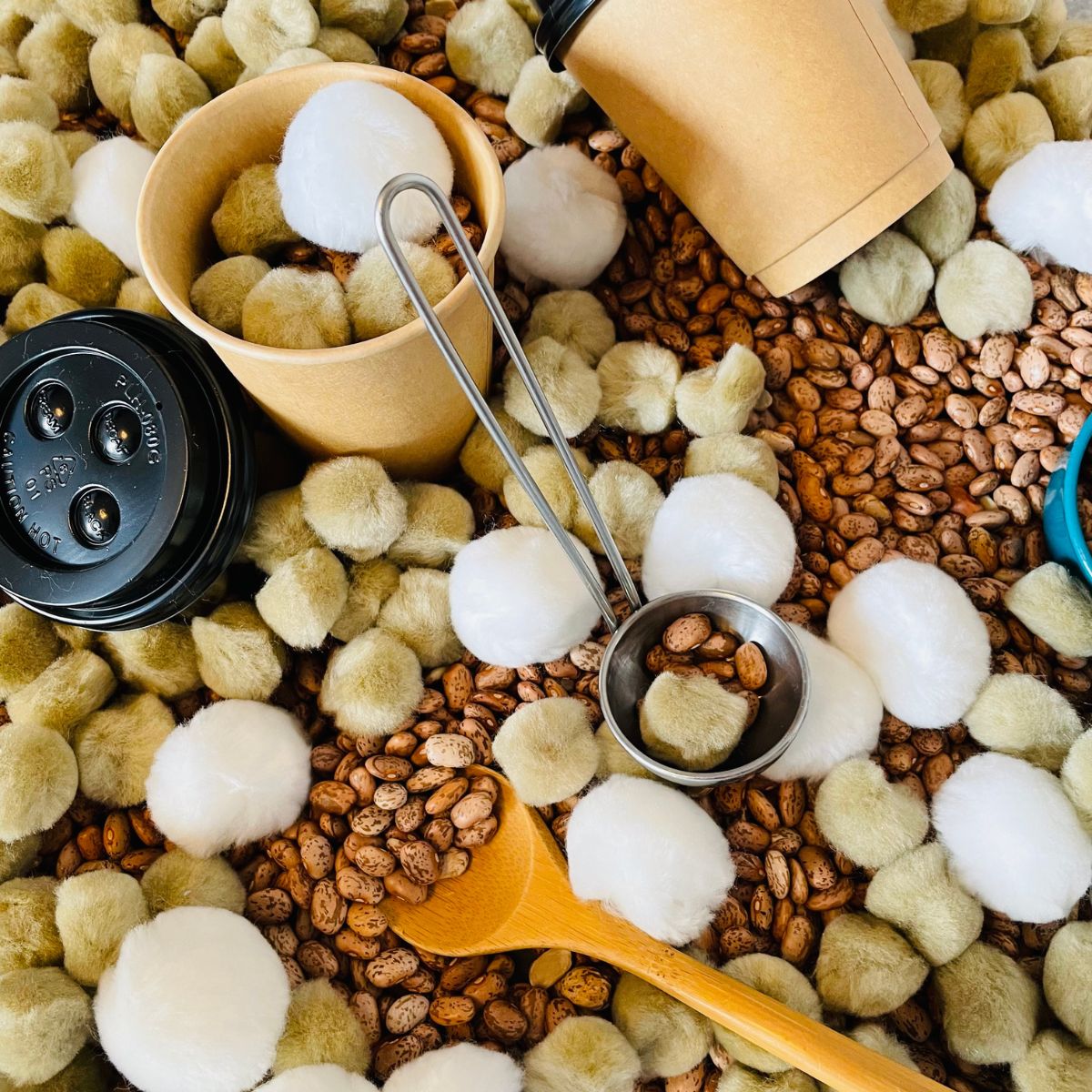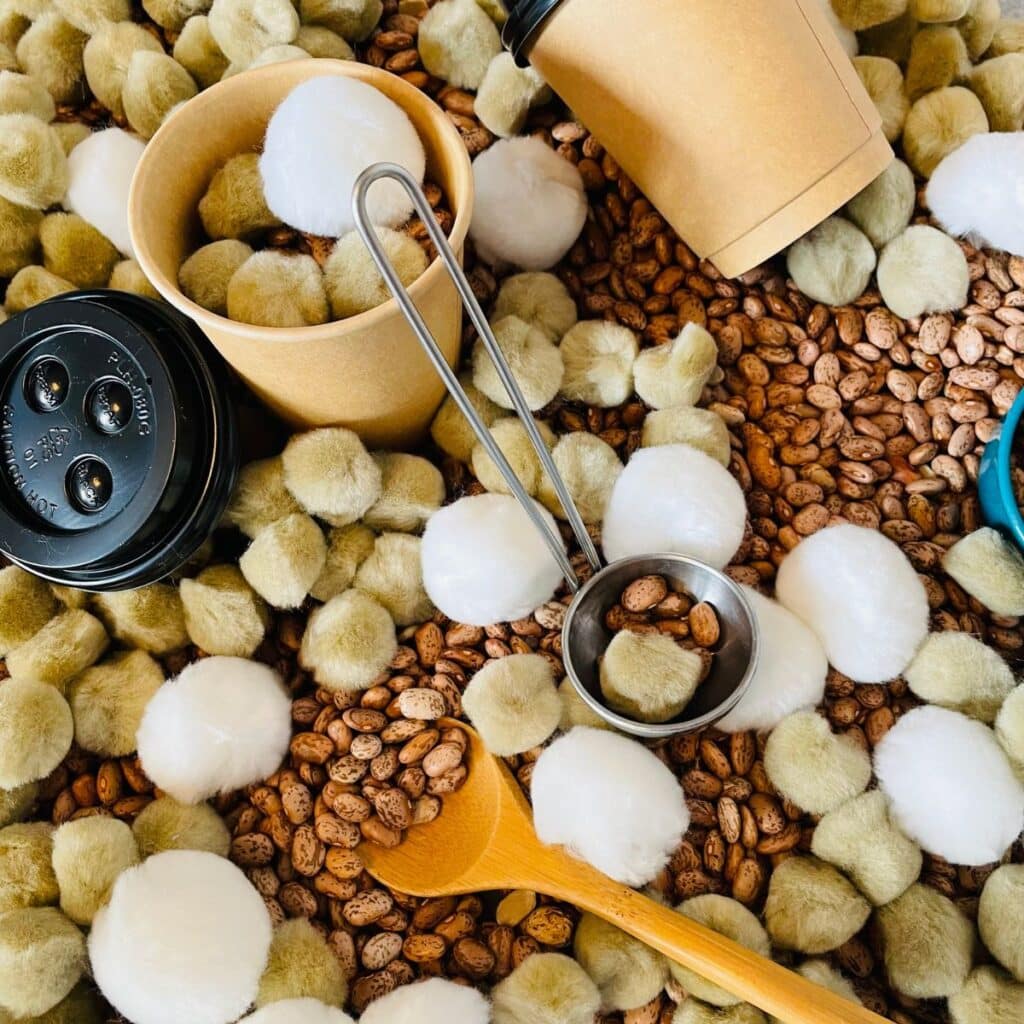 How to make a Hot Chocolate Sensory Bin
Alright! Let's get started on this hot chocolate sensory play idea!
First, take your sensory bin and fill it with Dried Pinto Beans. The amount of beans will depend on how large your sensory box is. I used a large under the bed storage container, so it took several bags of beans to fill it. The beans give the sensory bin a nice texture and are fun for kids to scoop.
Next, add your brown pom poms. I got mine from Hobby Lobby, but you can find them on Amazon as well. I used 1 inch beige pom poms to act as the hot cocoa.
Now it's time to add your pretend marshmallows! I used 1.5 inch white pom poms for this. I liked the larger size to make it look like large marshmallows.
Add your to-go cups. I used disposable kraft coffee cups with plastic lids as this lends itself to more fine motor skill building (taking off and on the lid). Alternatively you could use a plastic mug or tea cup.
Also, I always like to include something to scoop and stir with whenever possible because scooping always makes sensory play extra engaging. For this hot chocolate pom pom sensory bin, I added a miniature ladle, a plastic measuring cup, and a wooden spoon.
My little ones enjoyed serving up hot chocolate to each other and to me. They stayed busy for a good long stretch of time, scooping up the beans and pom poms into the coffee cups, and topping them off with the pom pom marshmallows.
To extend this play, you might like to add this pretend printable money to their sensory table play area. Perfect for playing hot cocoa stand, serving up a cup of hot chocolate to thirsty customers!!
You could also add candy canes during the holiday season, or even some pretend cookies to go along with the hot cocoa! So many creative ways to extend the fun!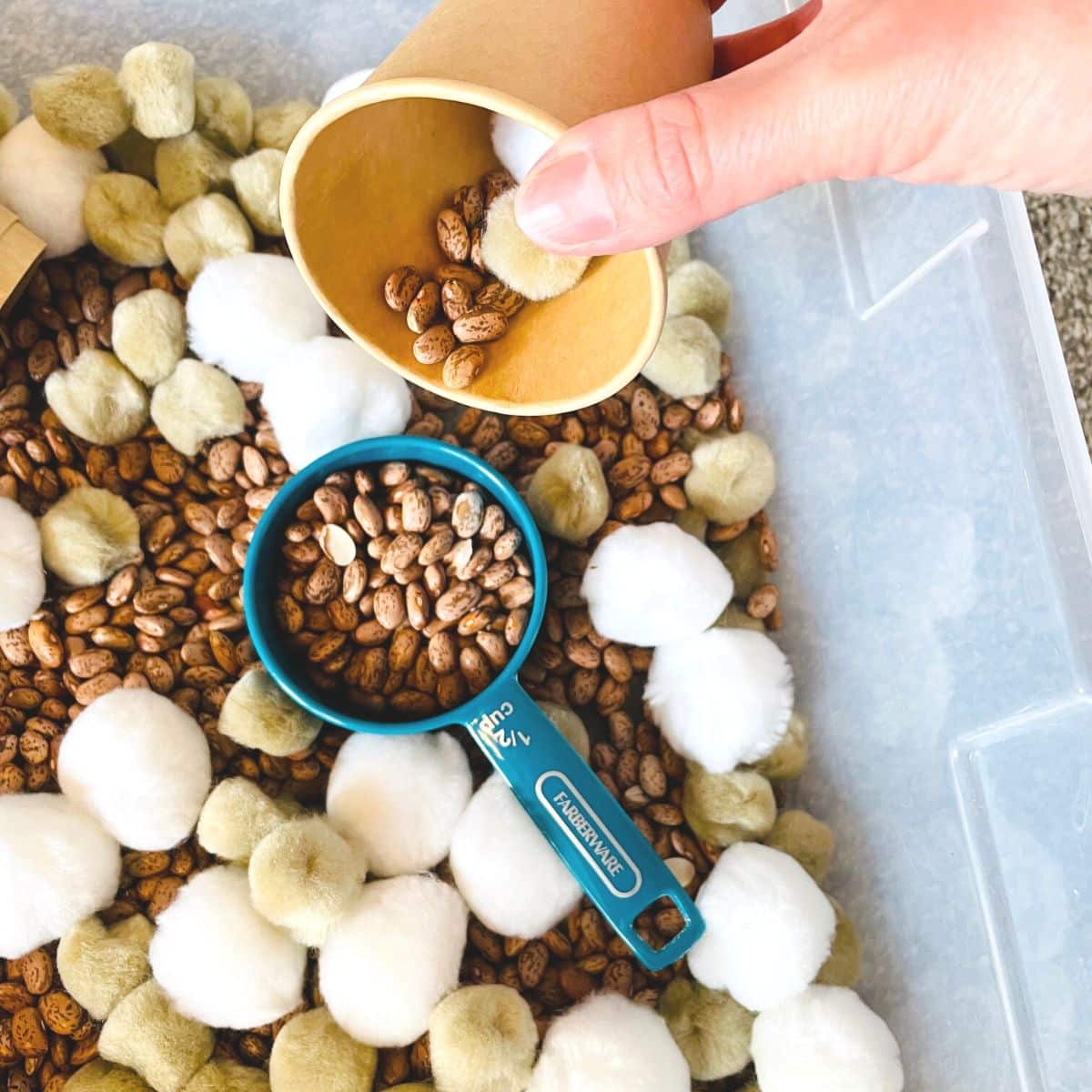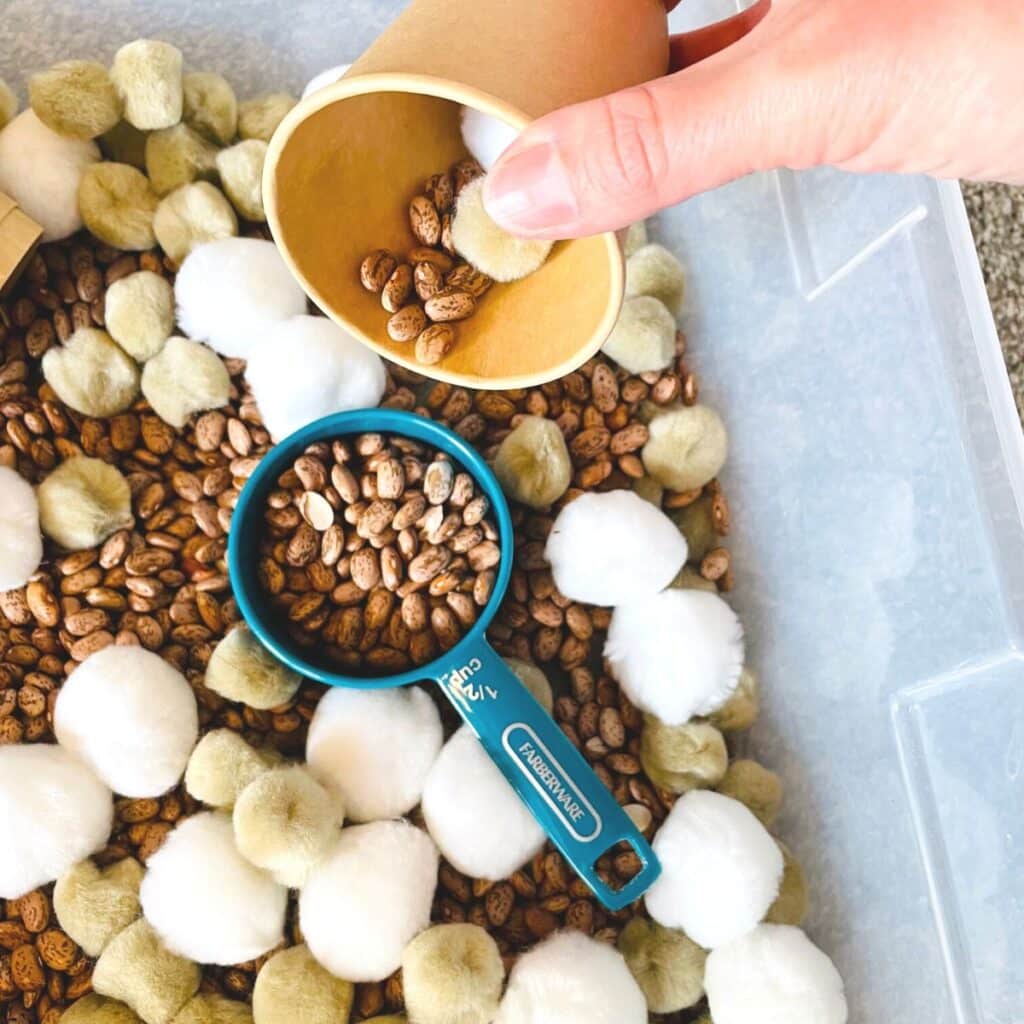 Premade Hot Cocoa Sensory Bins from Etsy
If you find that you don't have a lot of the materials needed for a hot chocolate sensory activity, don't forget that you can find amazing premade sensory bins on Etsy! Sometimes, it just makes sense to buy the sensory bin already made!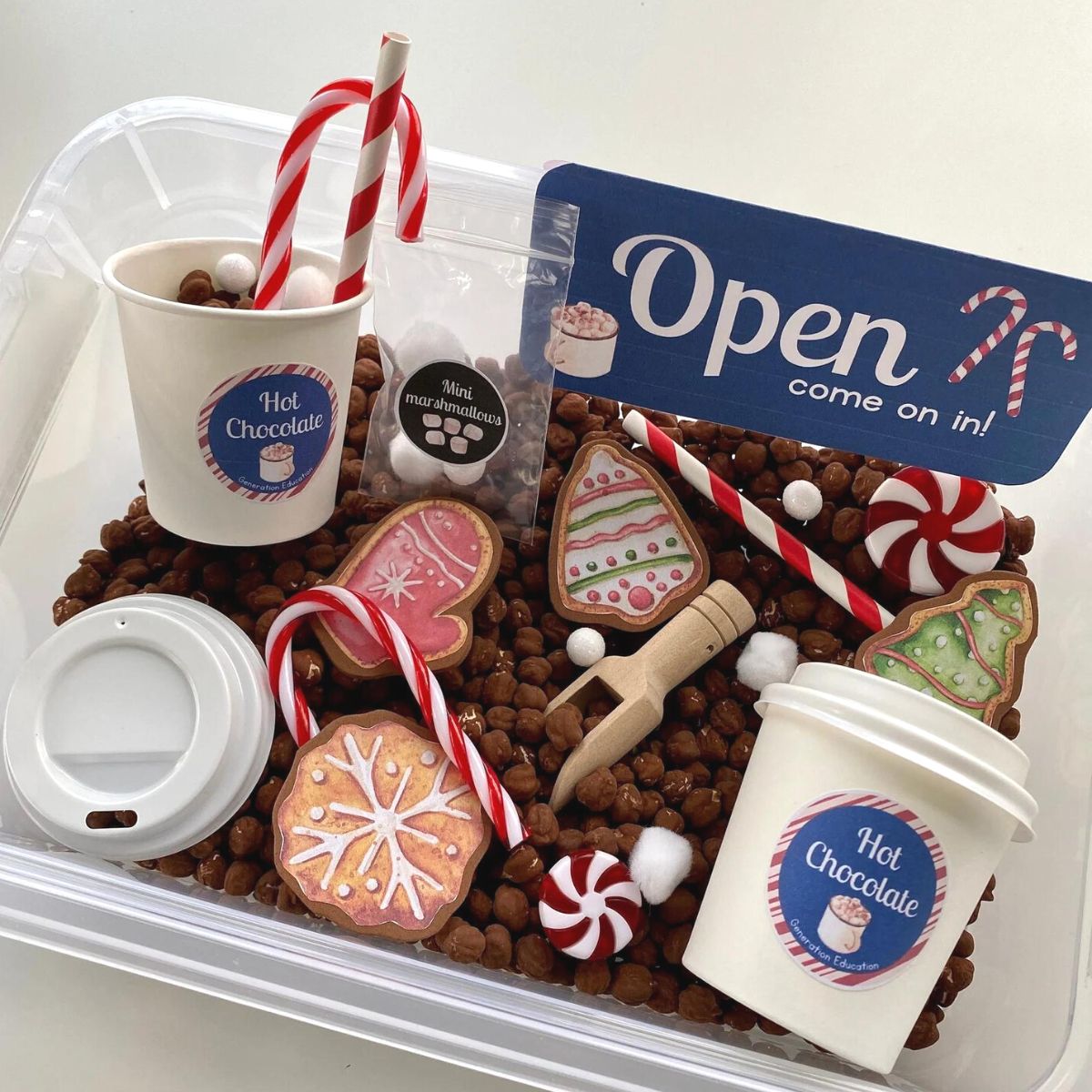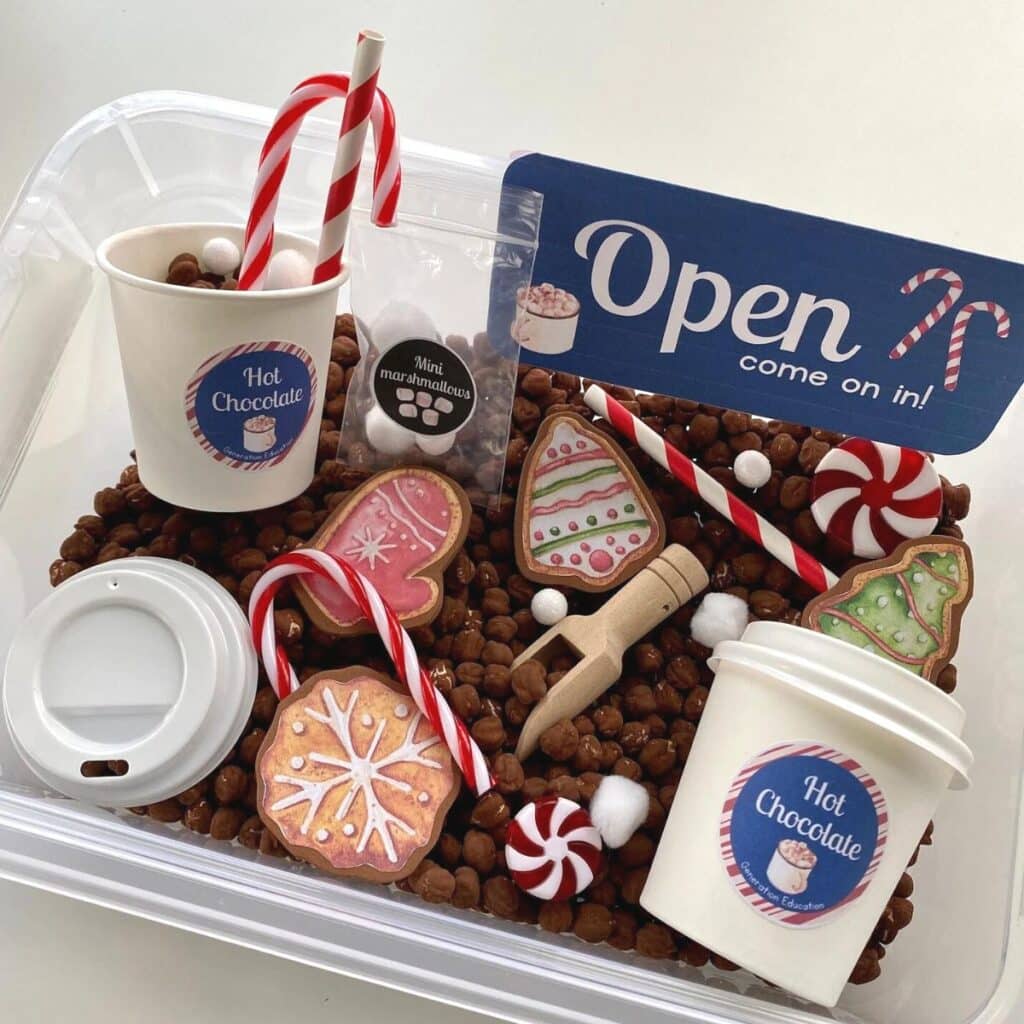 This Hot Chocolate sensory bin by Generation Education on Etsy is perfect for little hands. This Hot Cocoa Sensory Bin by includes: the storage bin, brown chickpeas, to-go cups with lids, wood scoop, foam cookies, plastic candy canes, round mints, paper straws, a Mini marshmallows bag with pom-poms and glitter foam balls, and a Open/Closed reversable sign printed on cardstock.
Such a great activity for little ones during the hot cocoa season!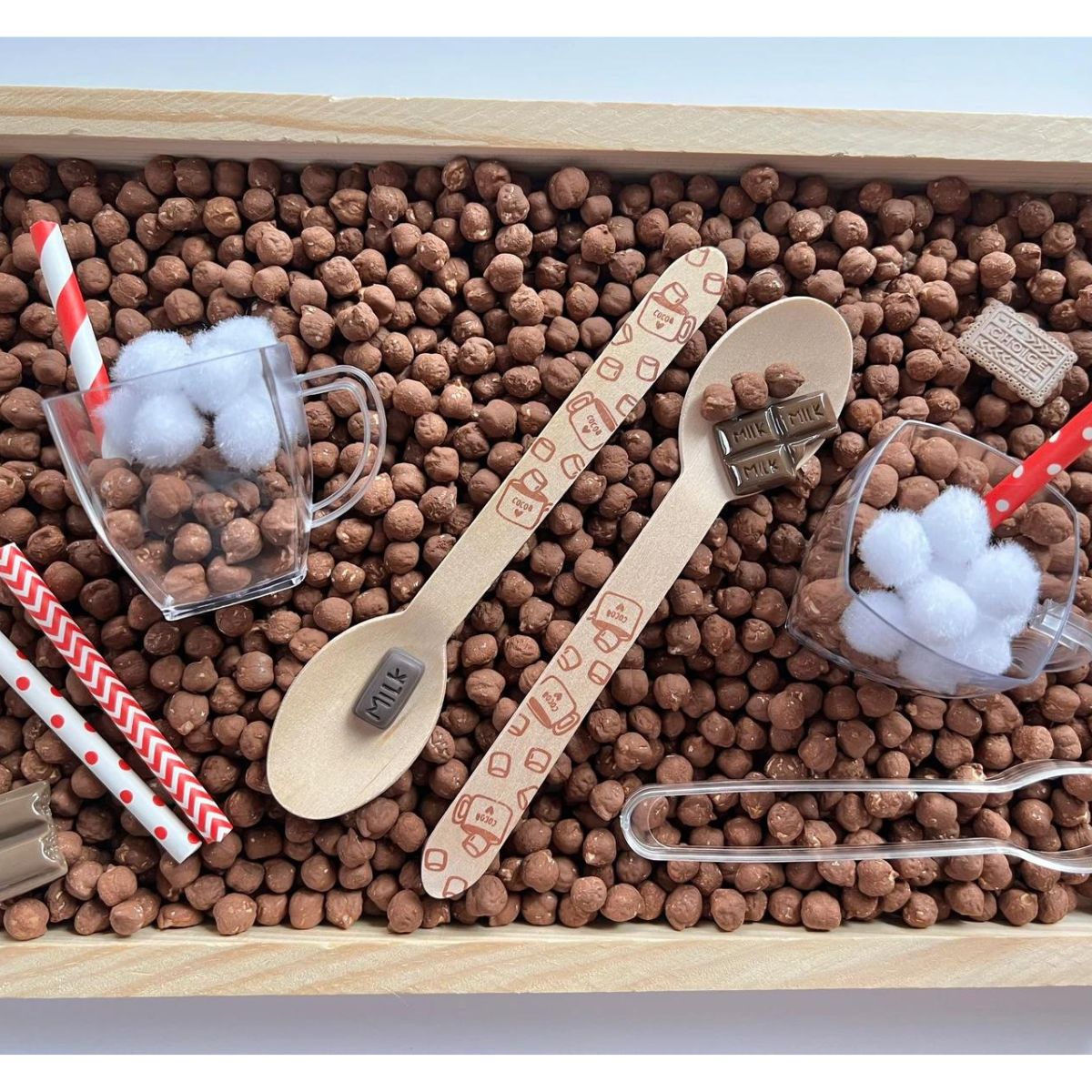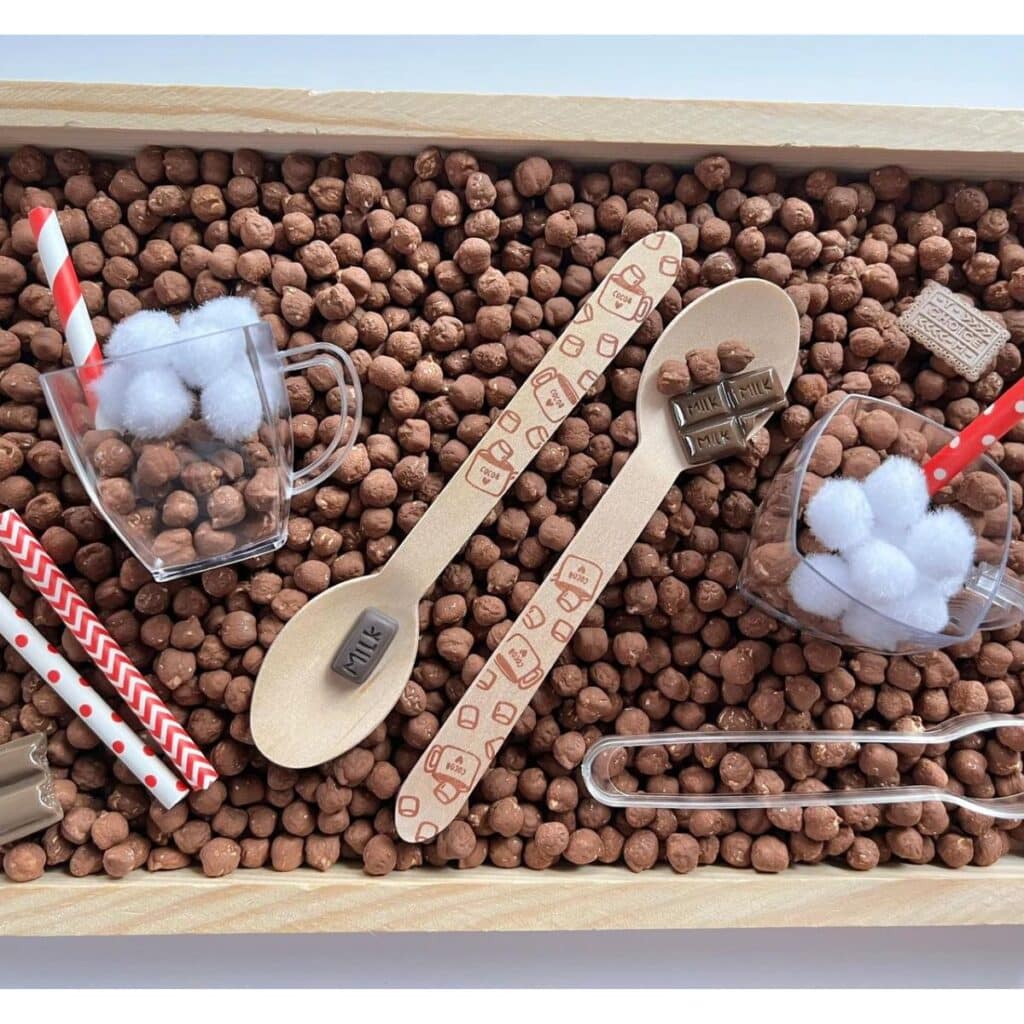 There's another Cute Hot Cocoa Sensory bin here by InstaPlay Sensory Play on Etsy. This sensory hot chocolate themed activity includes brown chickpeas as the sensory filler, 2 clear plastic cups, 2 spoons, 4 pieces of pretend chocolate, 4 straws, white pom poms and a pair of tongs.
Little ones will love making their own hot chocolate. Such a fun activity that offers great practice for fine motor skills. This sensory experience is sure to be a huge hit during those long winter days.
More Winter Sensory Bin Ideas
You can find more Winter Sensory Activities here on my blog!
There's a fun Fake Snow Sensory Bin here. Learn how to make DIY Fake Snow with just 2 ingredients. So easy and so much fun for little ones! Perfect for making a winter wonderland or Frozen themed sensory bin.
The Arctic Ice Sensory Bin is also a fun option for preschoolers and toddlers alike! Learn how to make your own adorable igloos for this indoor arctic experience! Perfect for winter themes for preschool!
There's a super fun Valentine's Day Chocolate box sensory bin here. Kids will love filling the chocolate boxes and pretending to run their very own candy shop!
You can find inspiration for more new sensory bins here: Premade Sensory Kits from Etsy. You'll find tons of creative ideas for sensory play. It's sure to spark your imagination and ingenuity.
Alright! That's it for this sensory play article!
If you need a fun winter craft be sure to check out the Winter Mitten Craft here. There's also a cute and super easy Snowman Craft here as well.
Want to save this hot cocoa sensory bin idea for later? Pin the image below to your Winter Preschool Activities board on Pinterest.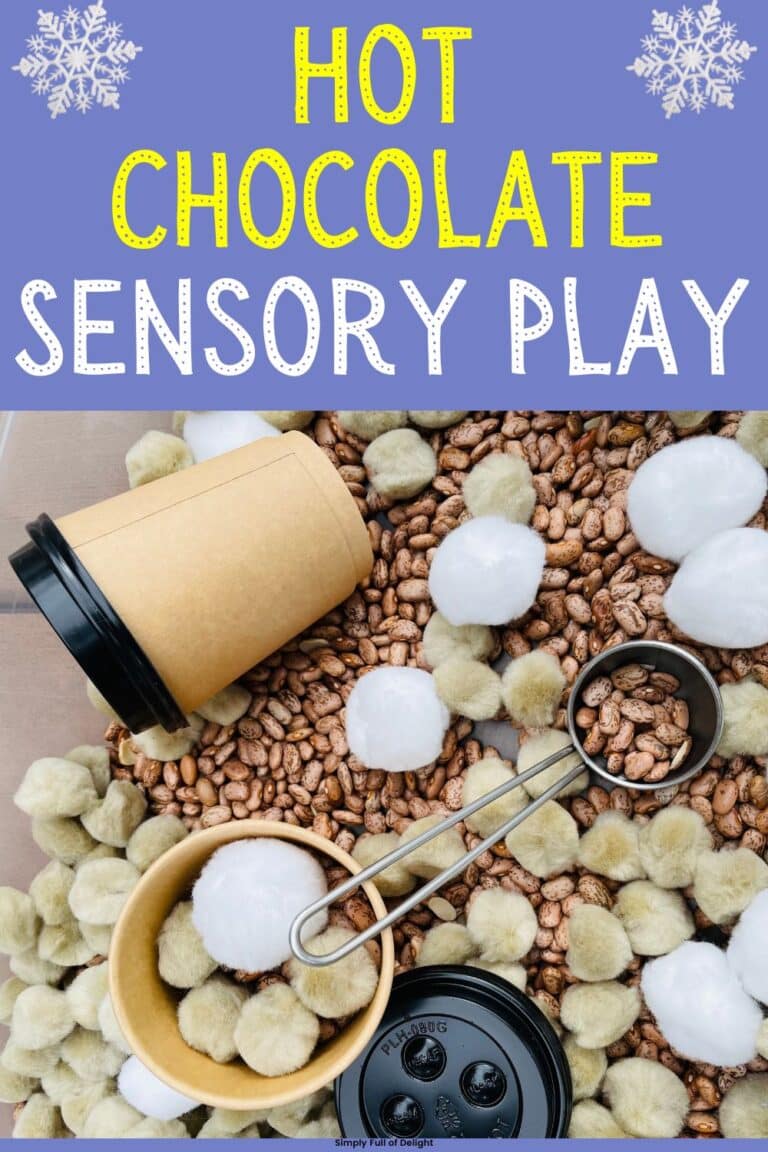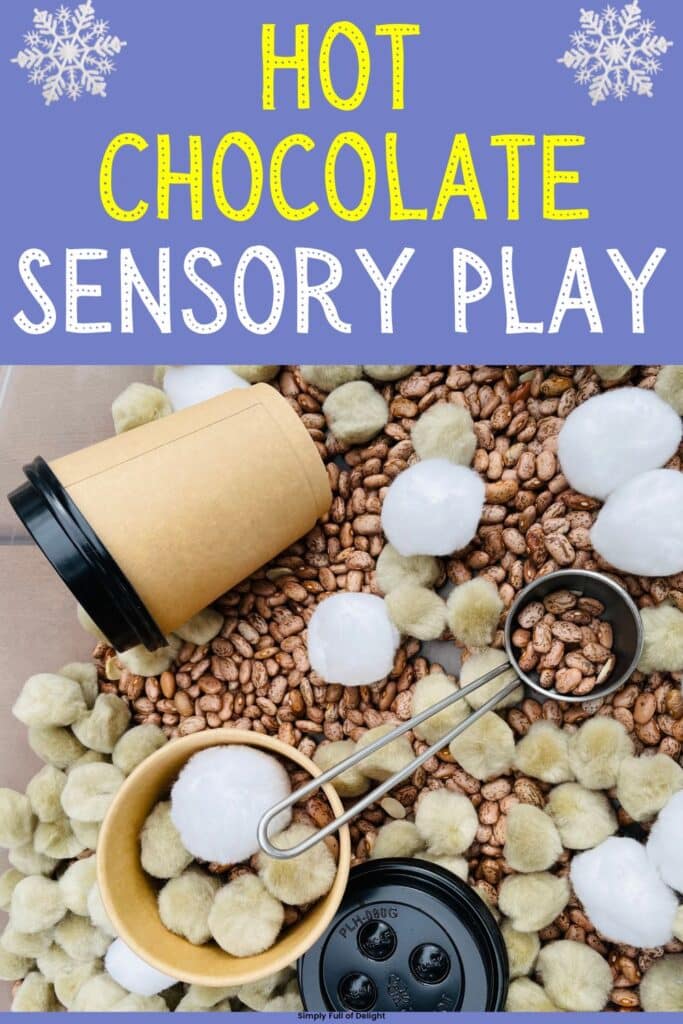 Related Posts