Looking for a fun Christmas Sensory Bin? Check out this Easy Decorate the Christmas Tree sensory play idea!
This simple Christmas sensory activity is perfect for little ones.
It encourages imaginative play, creativity, and of course it's a great way to help young children develop their fine motor skills!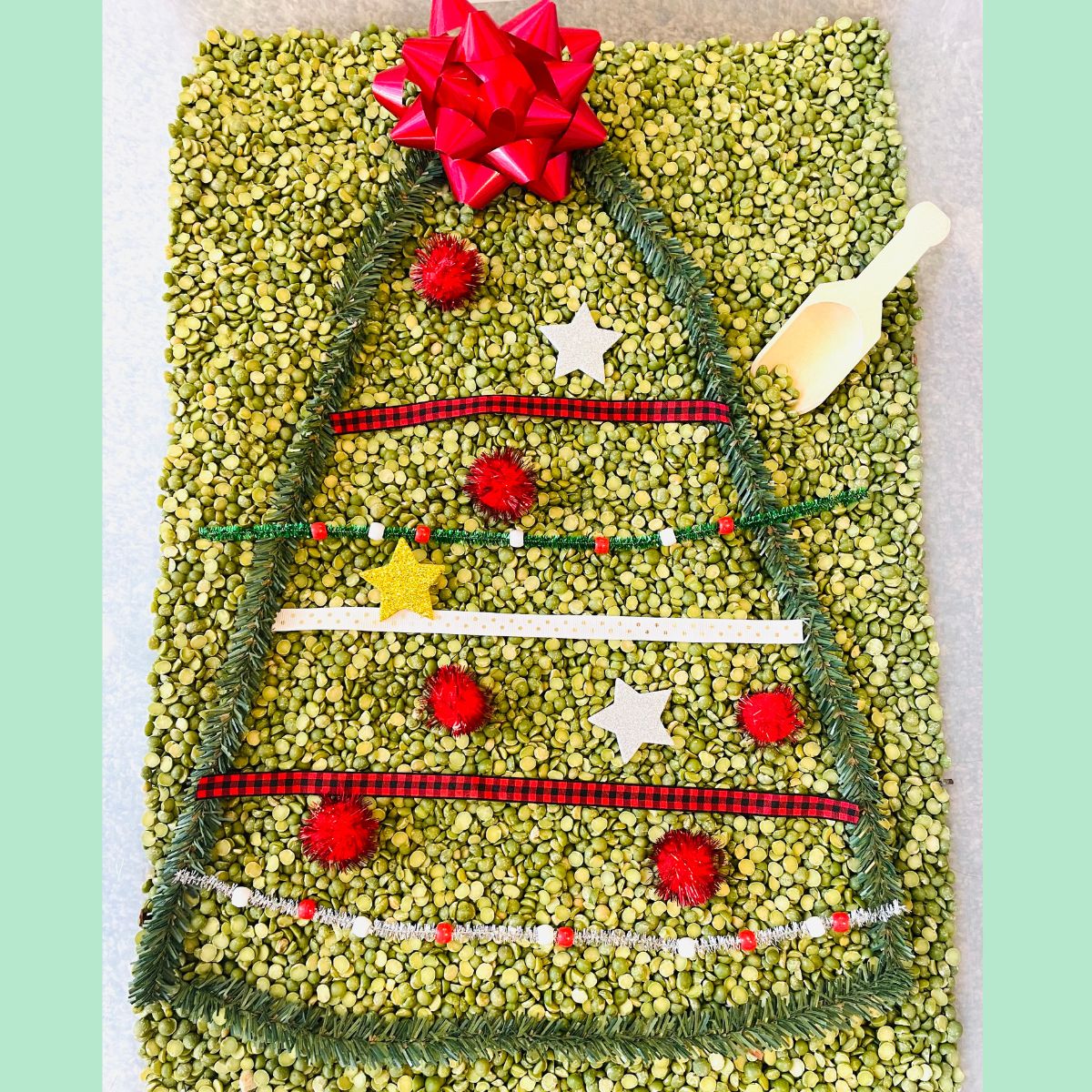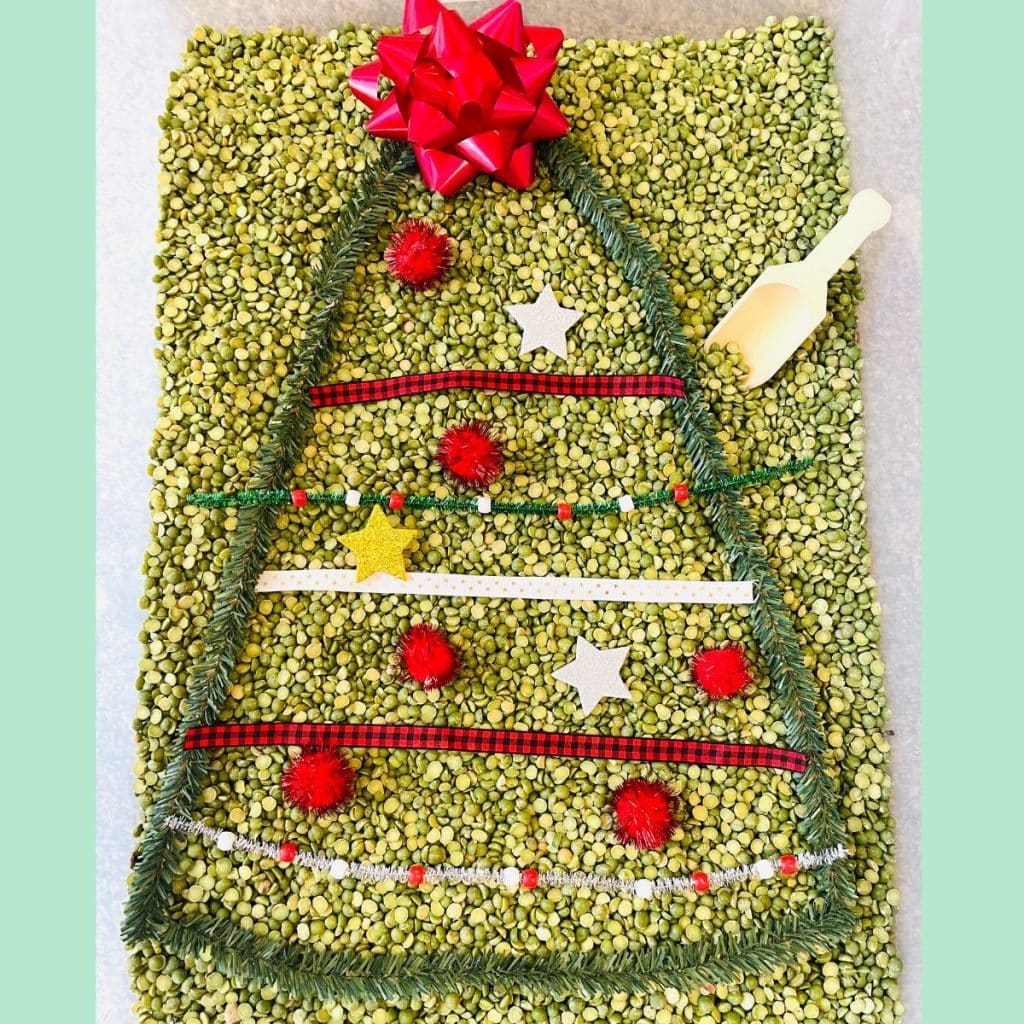 My kids loved this Christmas Tree sensory bin.
They had so much fun creating their own Christmas Trees and inventing ways to make it different and beautiful.
If you are new to sensory bins, you might like to know….
What is a Sensory Bin?
A Sensory Bin can be a plastic container, sensory table, or simple box that is filled items that stimulate the senses and encourage imaginative play.
Many sensory bins have a theme. I like to make them to go along with holidays or our learning theme such Farm, Space, Winter, etc.
Most sensory bins have a base filler to scoop, stir, or pour.
Some ideas for base fillers are play sand, dry beans, water, uncooked rice, green split peas, dry corn, etc. There's so many possibilities.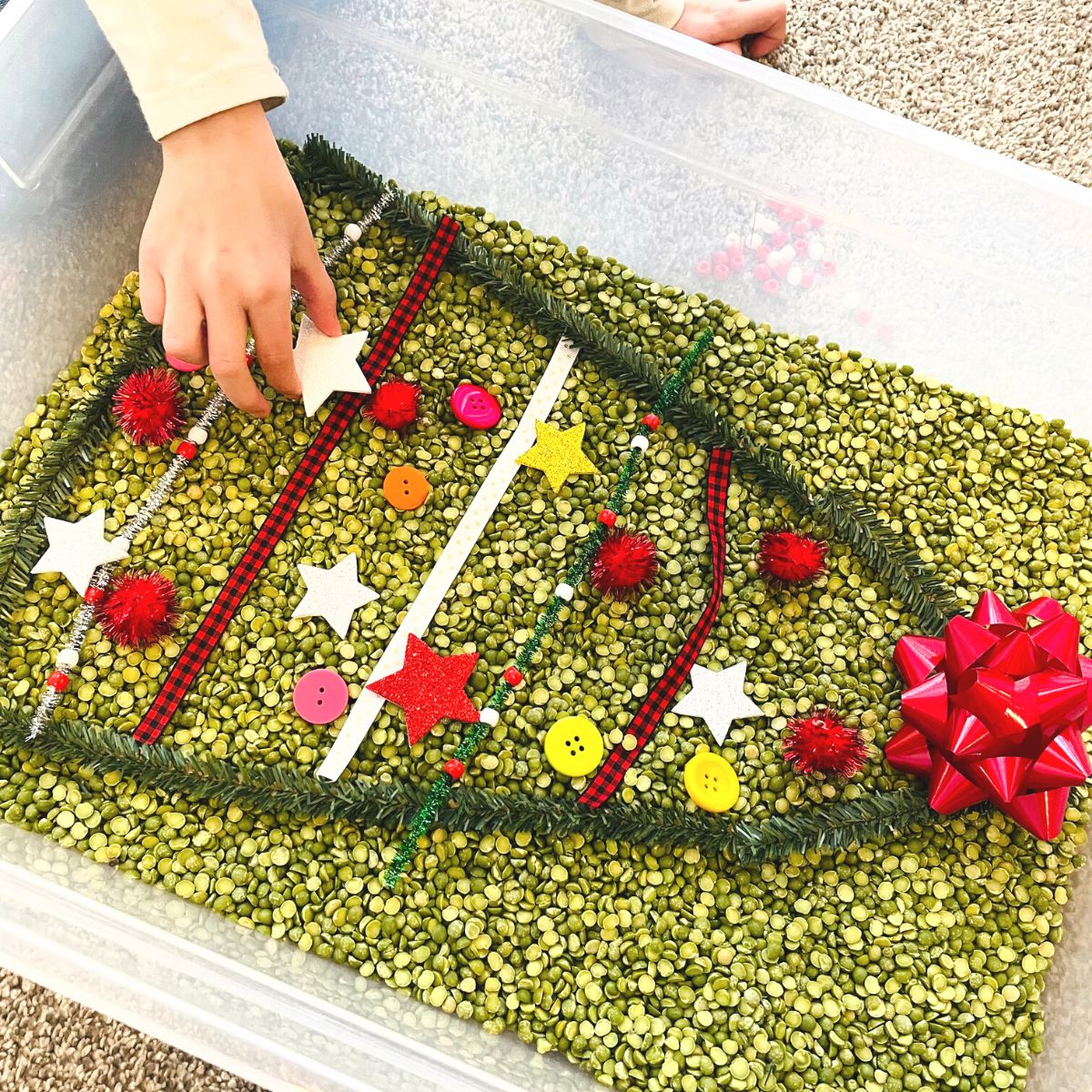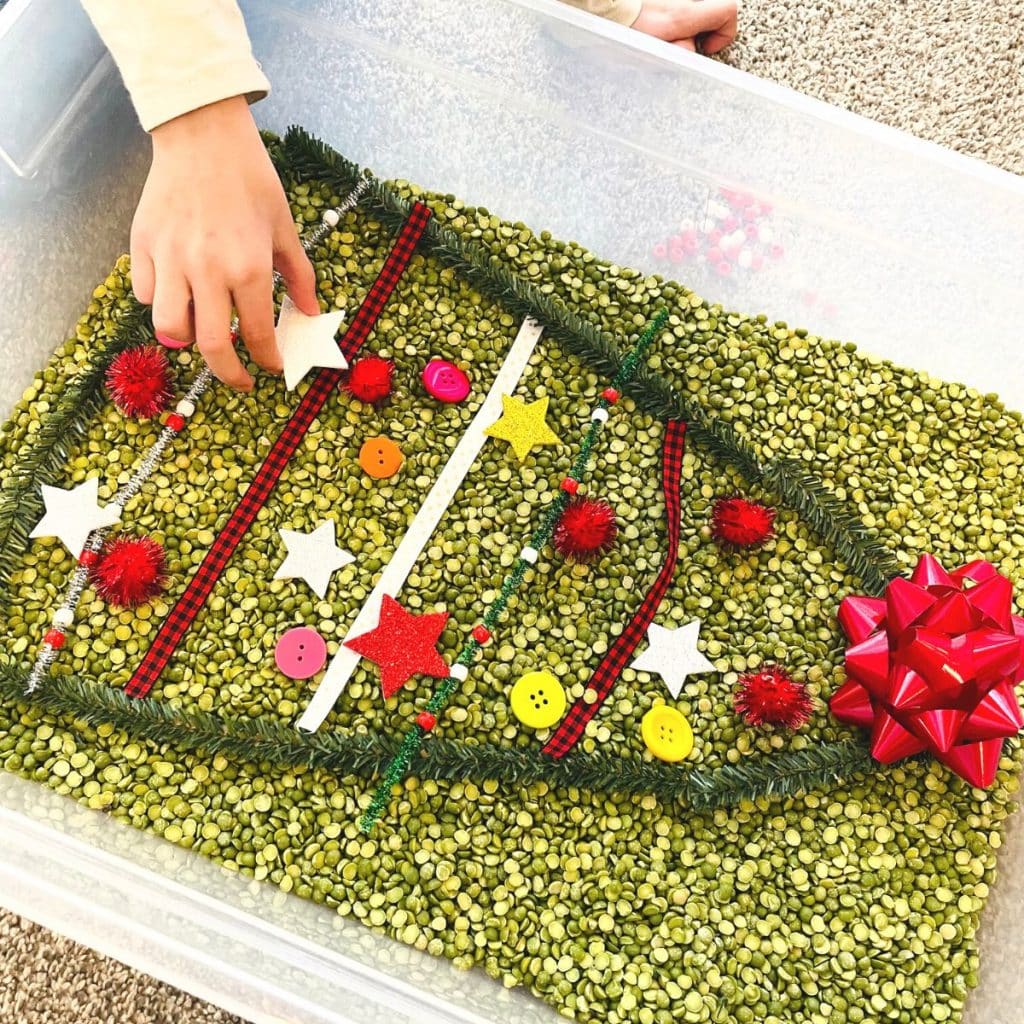 Benefits of Sensory Play
According to Good Start Learning, some of the great benefits of sensory bins are:
It helps with fine motor skill development and language skills.
Sensory play can help build brain connections.
Kids learn problem solving skills.
And this is incredible = it can help kids destress and regulate!
There's so many good reasons to do sensory activities. And quite possibly the best reason of all…. is that sensory play is LOTS of FUN!
Sensory bins have provided hours upon hours of focused, imaginative play for my kids!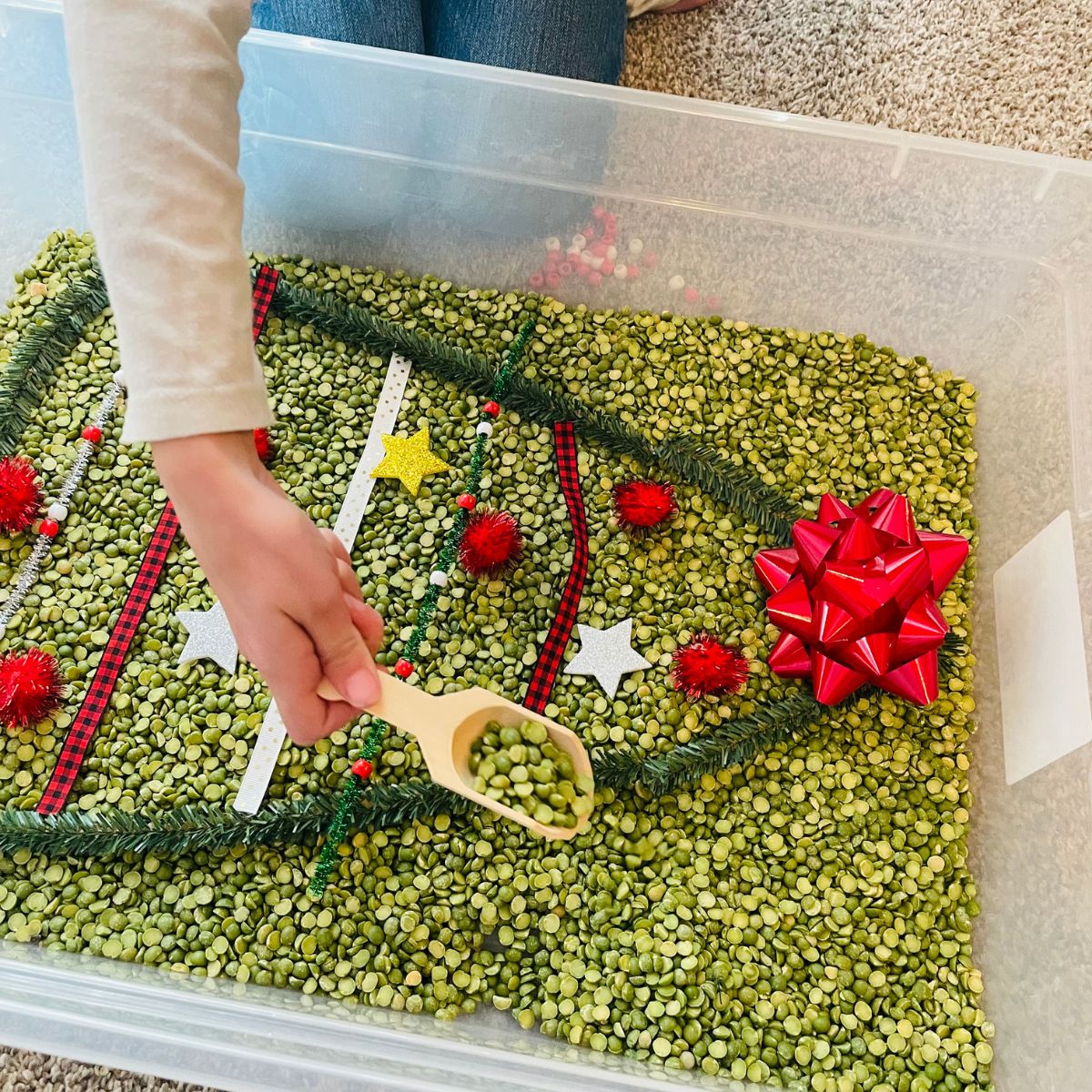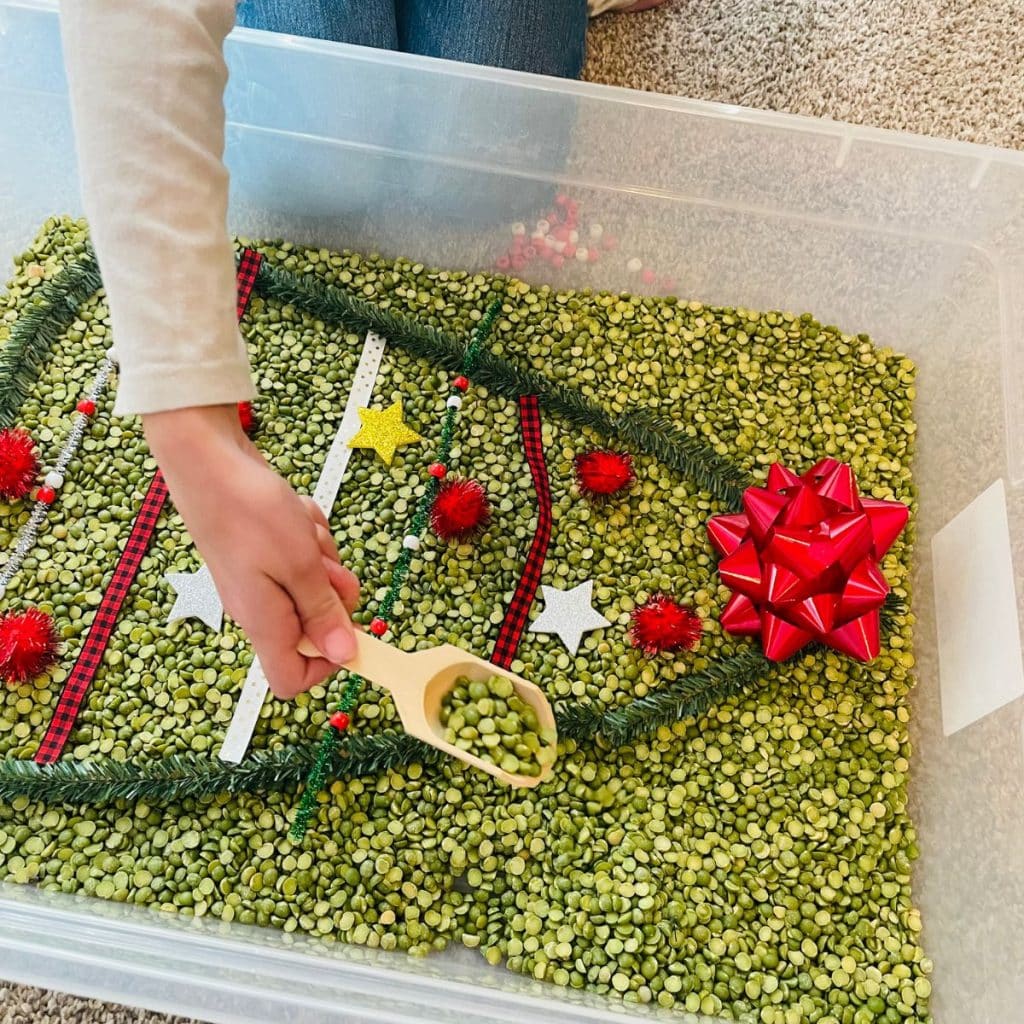 Supplies to make this Christmas Sensory Bin
** Disclaimer: As an Amazon.com Associate, I earn from qualifying purchases made by readers clicking my links at no extra cost to you.
You will need the following items to make this cute Christmas sensory bin:
Sensory bin or box – I like to use a large under the bed storage plastic container
Green Split Peas (we used several small bags to fill our large container)
Gift Bows (I used large ones)
Pipe Cleaners (Chenille Stems)
Pony Beads
Foam Stars (mine are stickers)
Pom Poms (lots of different colors!)
Wooden Scoops or Spoons
Christmas Tree Branches Greenery Stems (I found mine at Hobby Lobby, but these are similar)
Ribbon
Large Colorful buttons
How to make an Easy Christmas Sensory Bin
Let's get starting making our Christmas Tree sensory bin!
First, fill your large sensory bin with green split peas. Alternatively, you could use rice that is dyed green.
Next, add the Christmas Tree Greenery to form a simple Christmas Tree shape. I did a simple triangle by bending some of the greenery.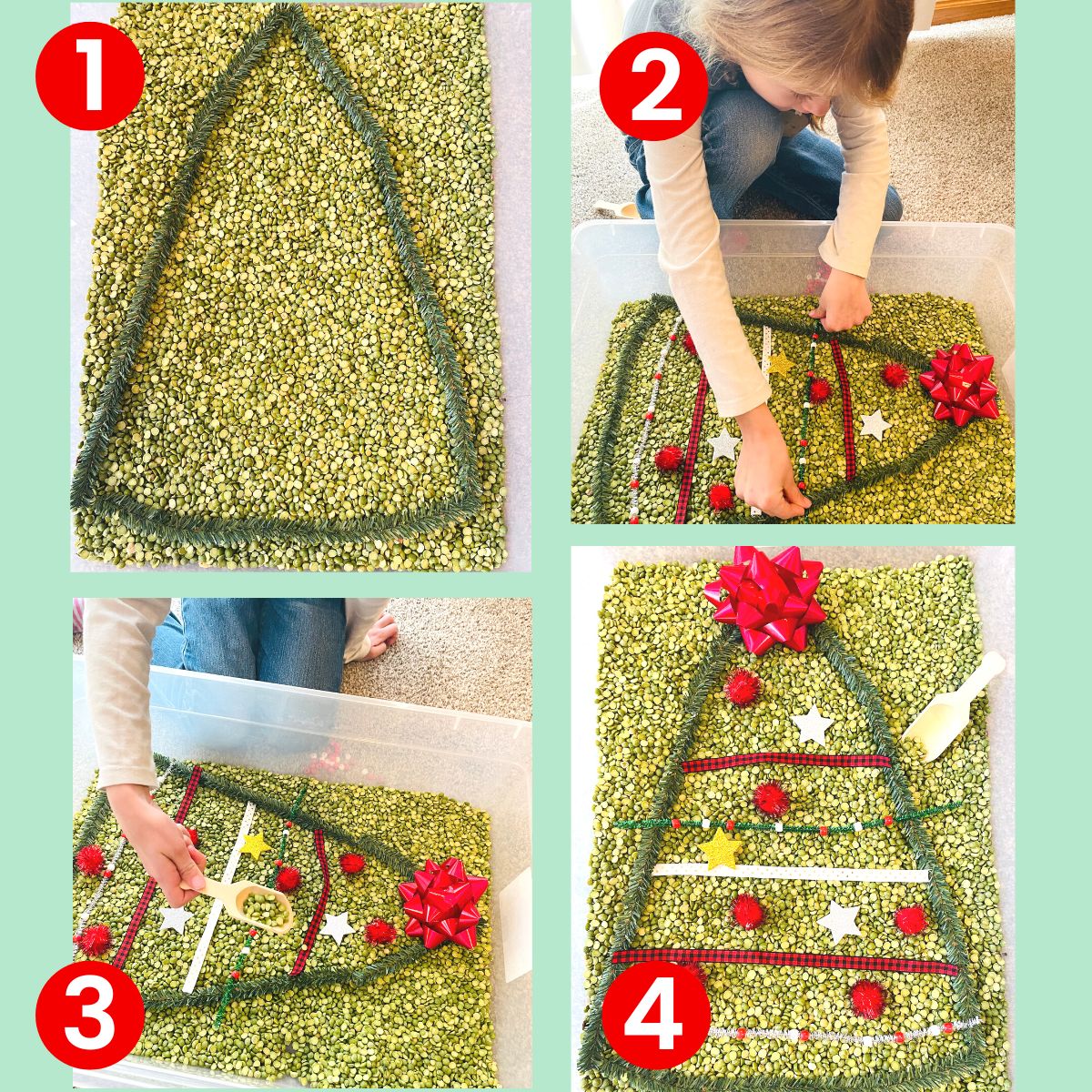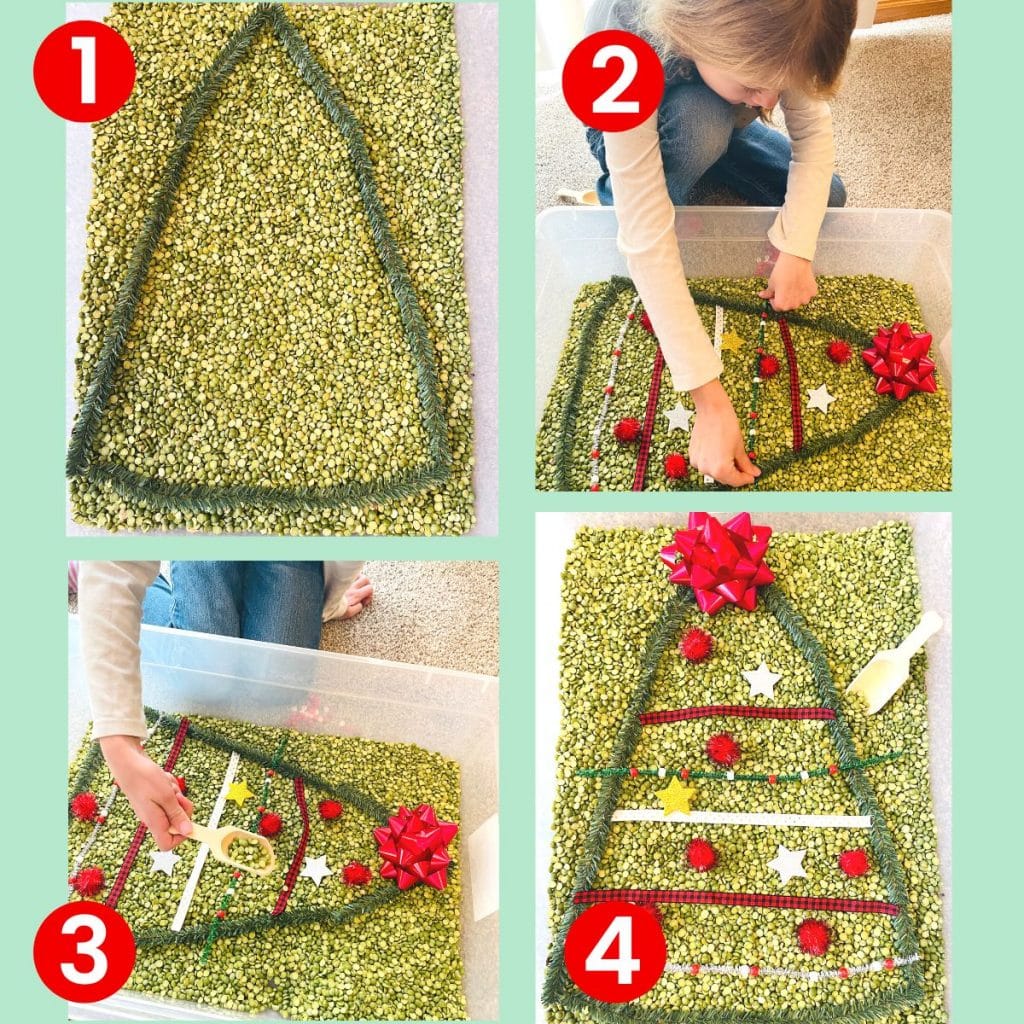 Then I added pom poms. You might like to get sparkly ones or use Christmas colors.
I also decided to add some sparkly foam star stickers that we had on hand.  I left the sticky back on them and told my kids not to take it off – but if you are doing this in a classroom, you might like to take the back off and let the sticker dry out ahead of time.
Next, I added some gift bows – these make a fun tree topper and it's fun to have choices. I also added some bits of ribbon to stretch across the tree, as well as some colorful buttons, and some pipe cleaners with pony beads (to look like a string of Christmas lights).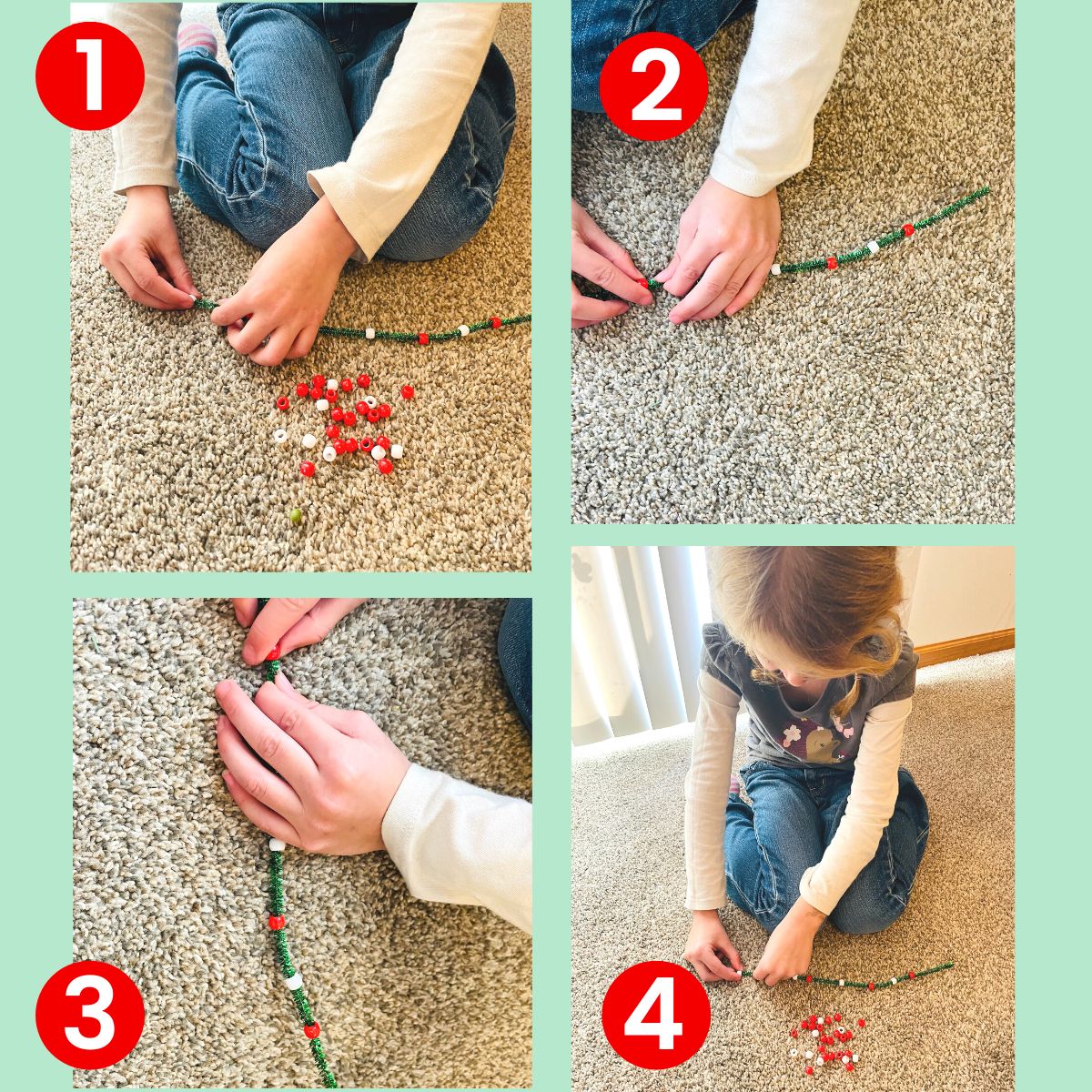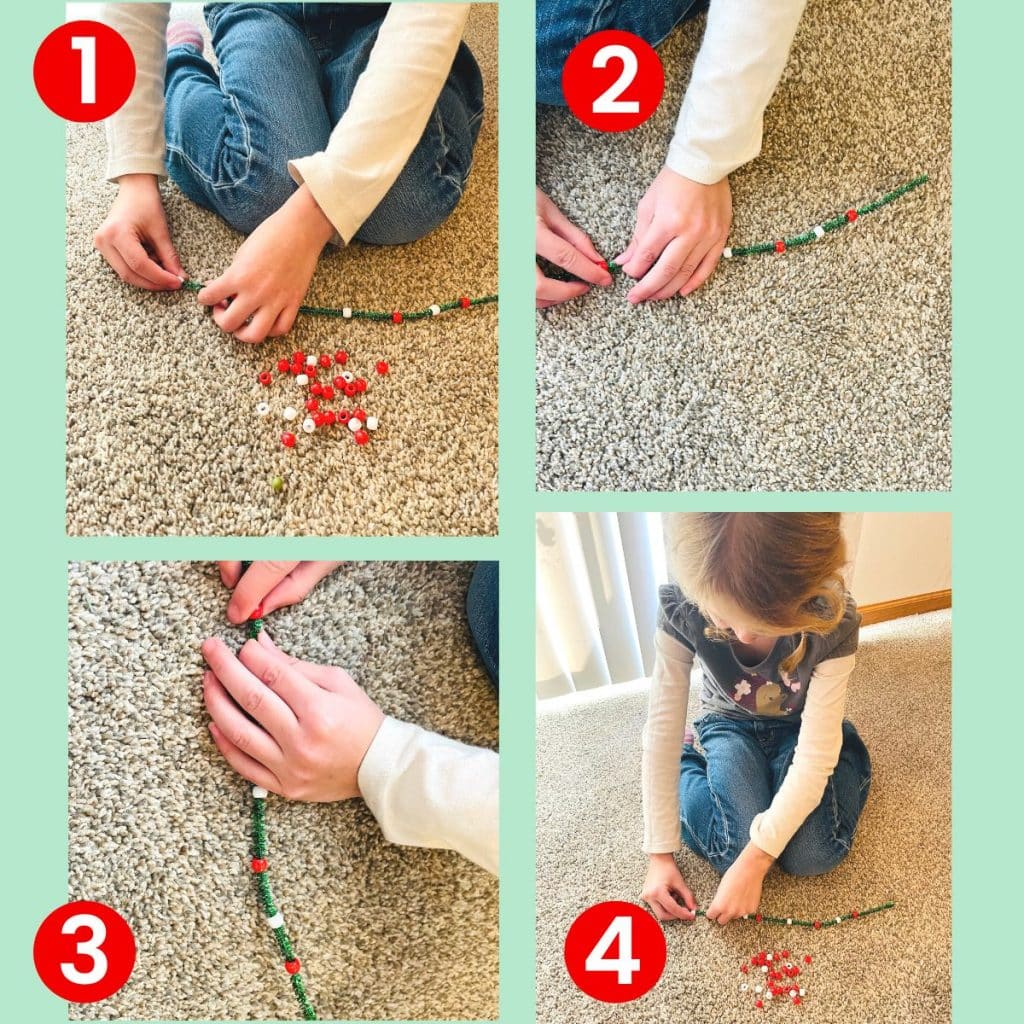 Last, I added some wooden scoops we always use for sensory play.
My kids LOVED this Christmas sensory bin – they loved stringing the lights (beads onto a pipe cleaner), and enjoyed coming up with their own decorated Christmas tree.
I think this sensory bin would be great paired with a sectioned tray alongside for all of the extra decoration choices.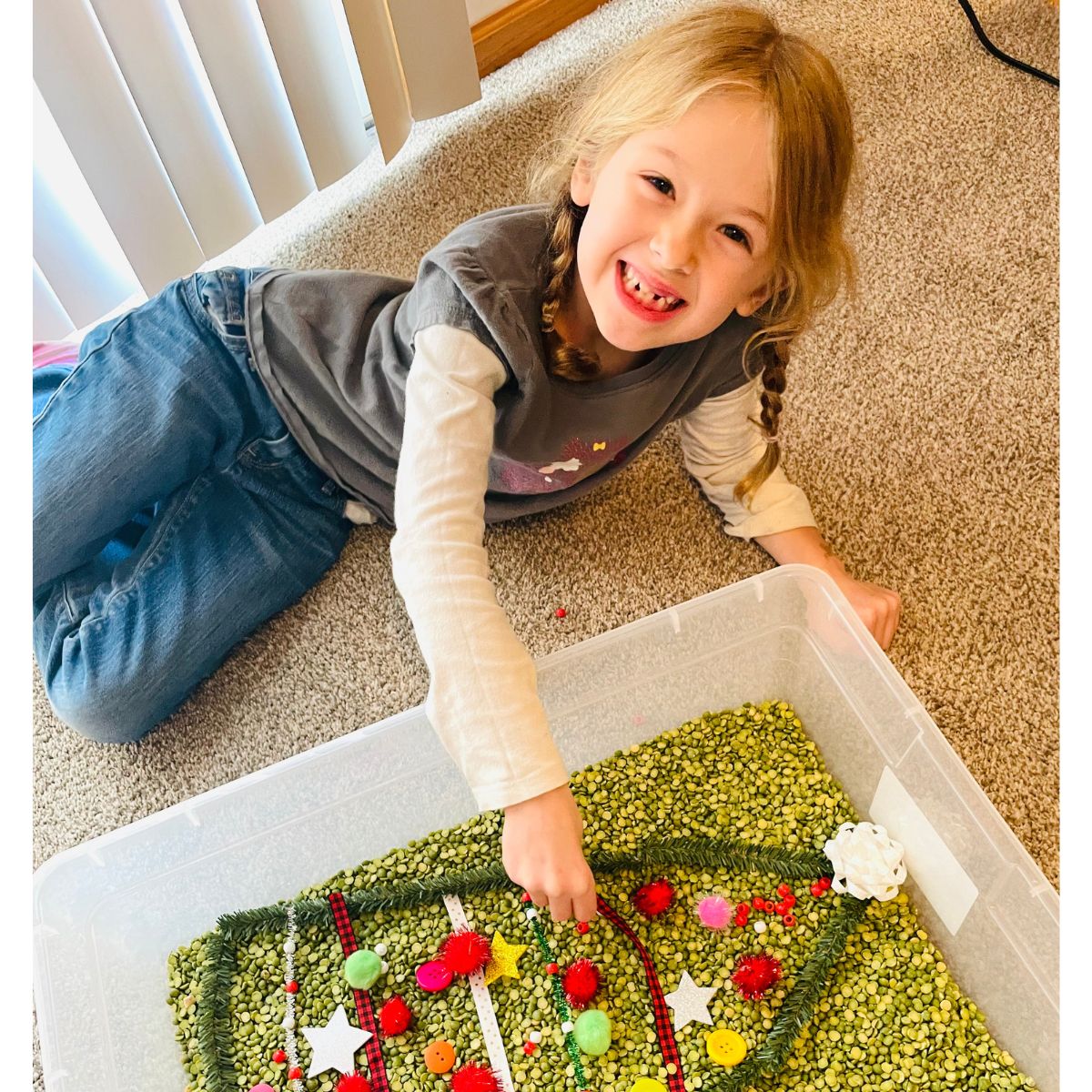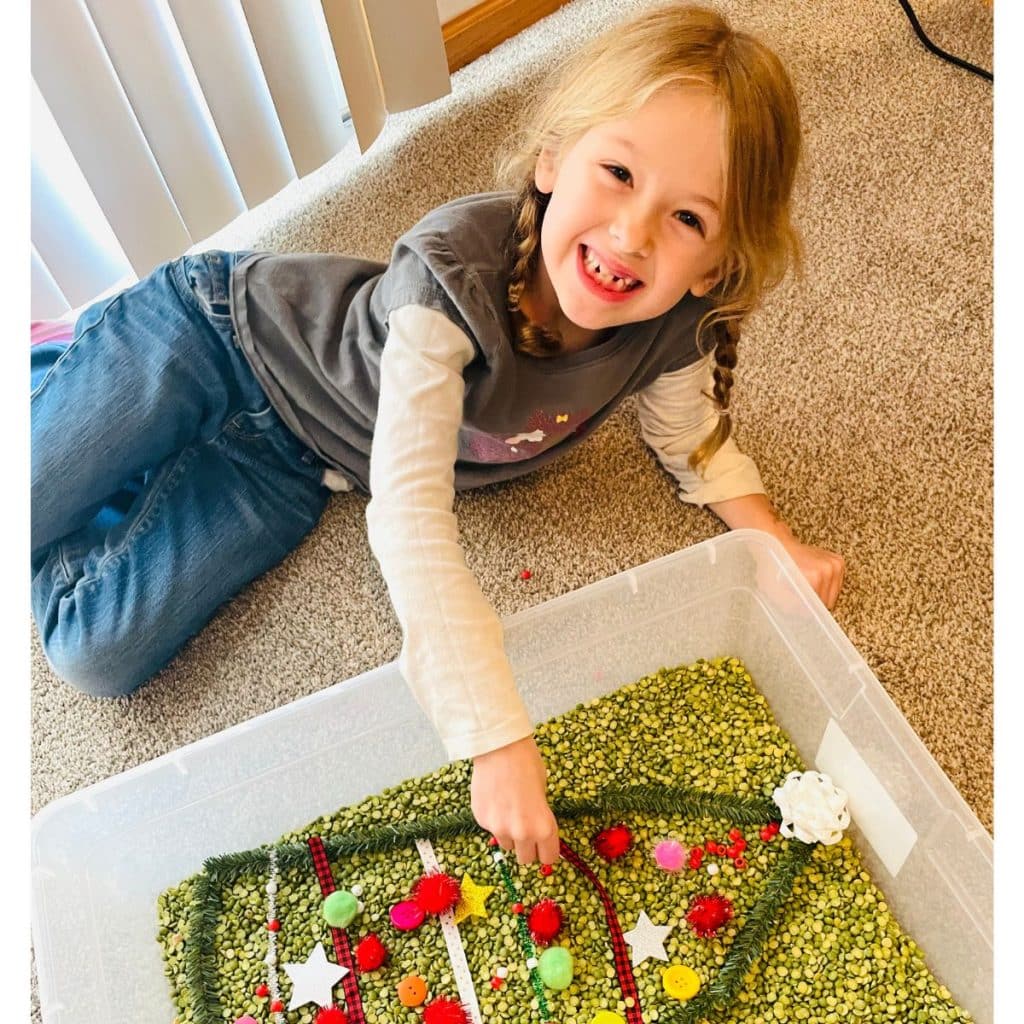 There a lots of different ways to create a Christmas tree with these supplies.
My children also tried to create a 3-D tree by standing the greenery branches up. It wasn't perfect, but I loved how they were using their creativity and imaginations!
Add to the Fun
Want to extend the fun?
Sometimes, to freshen up a sensory bin activity (and to add more interest as time goes on) you might want to add or swap out the elements in the sensory bin.
Here's a few ideas to change up this fun sensory bin for the holiday season.
You could add sequins, different beads, or gemstones.
Add different colors of pom poms, beads, bows, etc.
Try adding different sized bows to act as Christmas tree decorations.
Add some plastic kid-safe ornaments (without hooks)
Instead of green split peas, you might like to dye some white rice with food coloring to make green rice. Or add green shredded paper as a base filler.
Try adding jingle bells, candy cane colored ribbon or thread, or other holiday themed items or Christmas decorations.
You might like to make instruction cards for kids to follow (like: 6 pom poms, a red bow, and 3 ribbons)
There's so many fun ways to change up this Christmas sensory bin idea to keep kids engaged and having fun!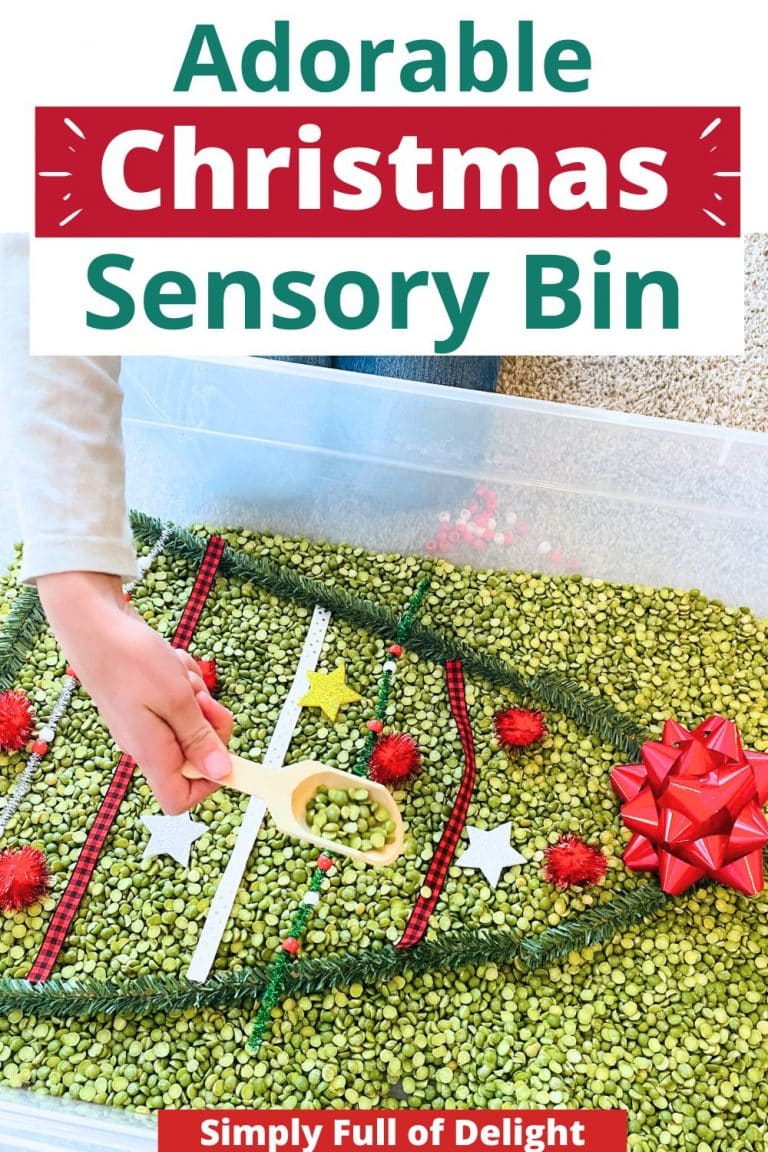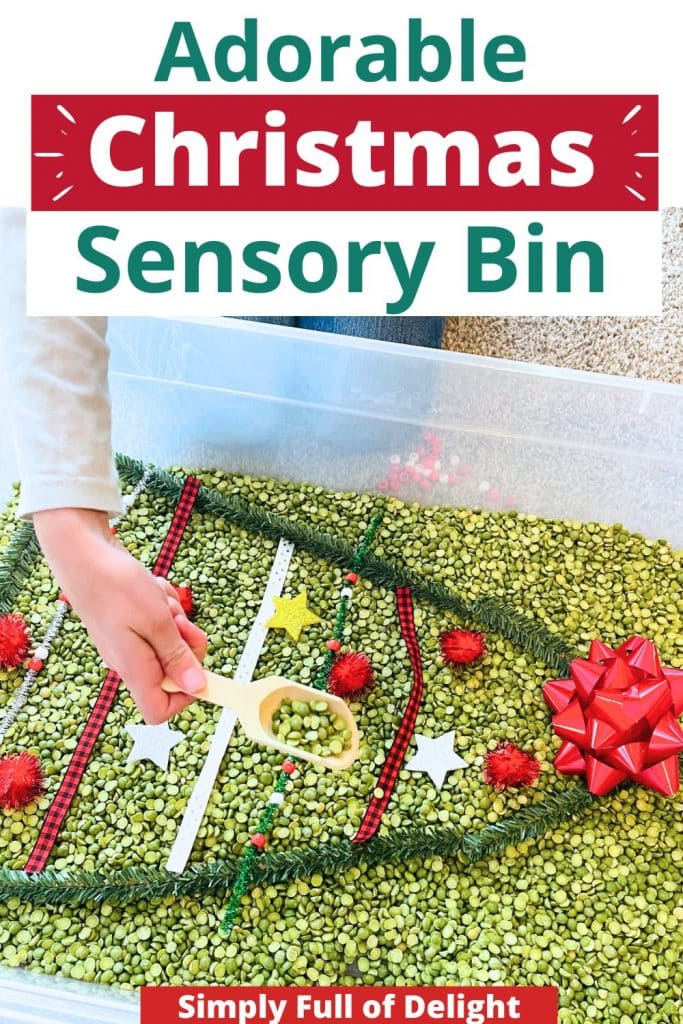 More Sensory Play Activities for Kids
Looking for more sensory bin activities?  Here's some great sensory table ideas that will inspire creativity and imaginative play!
My kids loved this Pie Sensory Bin. It kept them so busy rolling, stirring, and creating their own little pies!
This Hot Chocolate Sensory Bin is perfect for kids of all ages.  Children will have so much fun serving up cup after cup of hot cocoa.  
Don't miss this Snowman Winter Sensory Bin.  It's the perfect addition to your White Christmas theme.  I love that this winter wonderland sensory bin sparks imaginations and provides the opportunity for plenty of open-ended play.
If you are looking for something unique, check out this Arctic Igloo Sensory Bin.  It's made of Ice!  It's literally, so COOL.
This Car Wash Sensory Bin is the easiest sensory play set up ever! It's a fun way to keep those little ones busy.
Does your child love farm animals?  There's a fun Farm Sensory Bin here. Kids will enjoy plenty of imaginative play with this fun animal themed bin.
Plus, you can find all the sensory bins on my site here with this big list of Sensory Bin Ideas! There's over 27 Sensory play ideas for kids. So many fun sensory play ideas to choose from!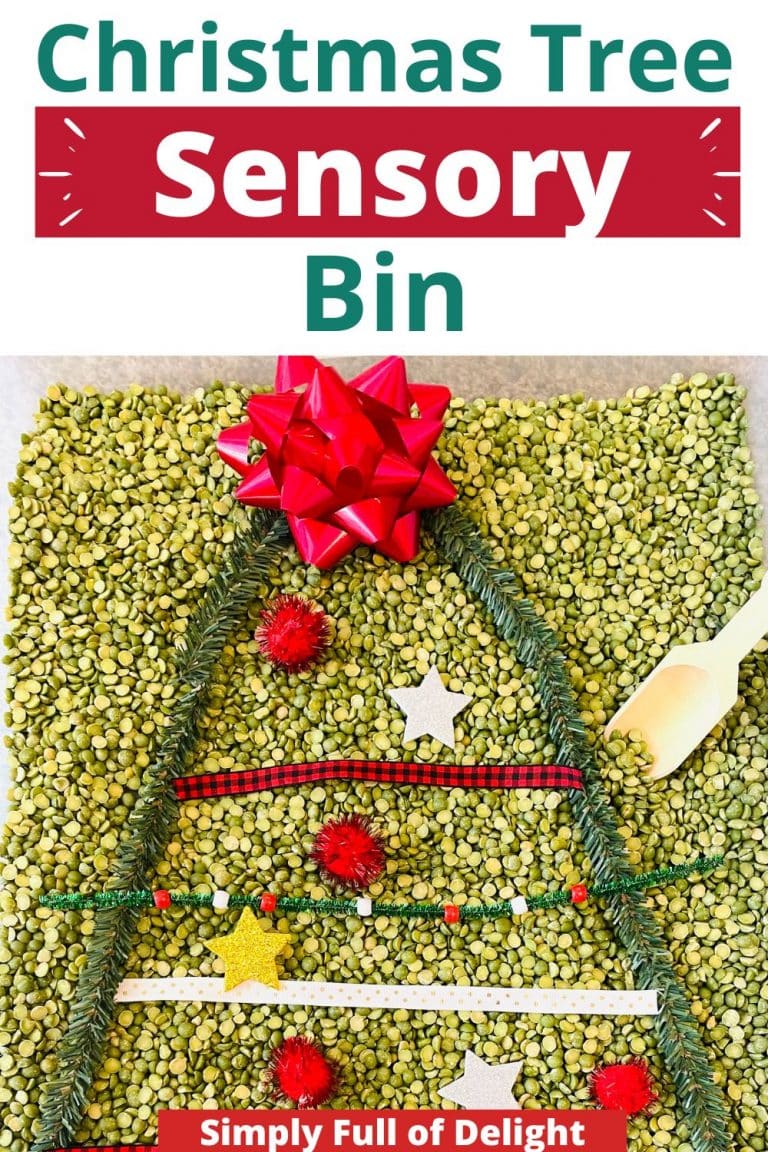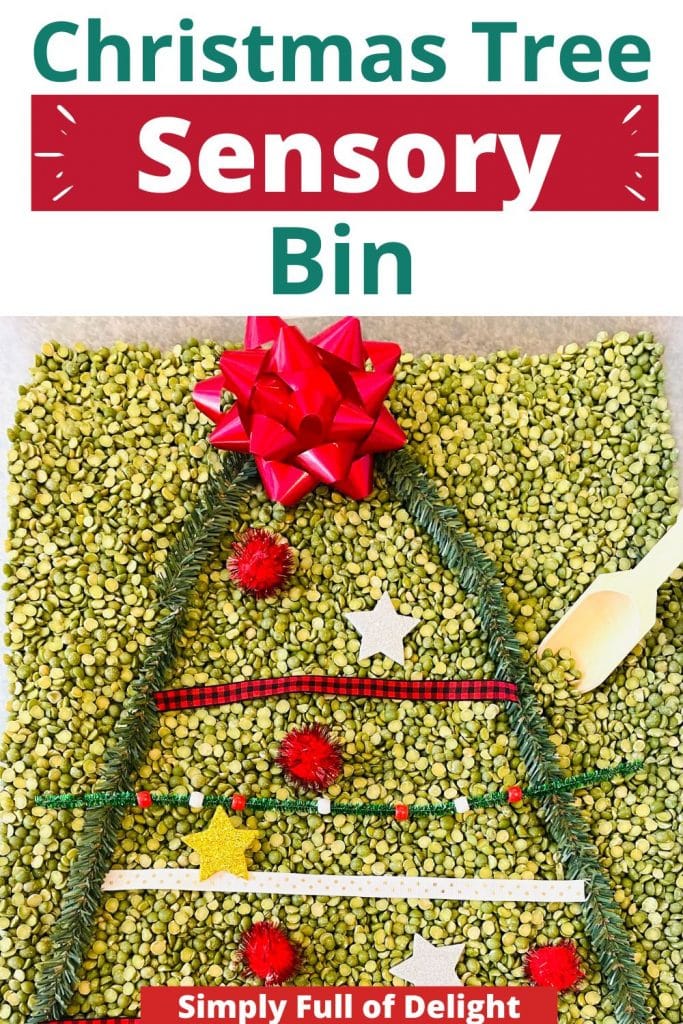 More Christmas Activities for Kids
Getting your lesson plans ready for Christmas?
Here's some fun activities that are perfect for Christmas season!
You can find an Easy Cotton Ball Santa Craft here. Perfect for preschoolers, young children will enjoy adding cotton balls to the Santa template to make a fluffy beard.
There's a set of free printable Christmas Color by Number pages here. Kids will enjoy following the color code with this fun holiday activity.
This set of Preschool Dot to Dots for Christmas is a great addition to your Christmas time activities.  These pre-k pages are great for number recognition and fine motor skills.  
There's tons Christmas Preschool Craft ideas here. You'll find easy DIY ornaments for kids, printable Christmas crafts, and more!
Want to save this simple Christmas sensory bin idea for later? Pin the image below to your Christmas preschool activities board on Pinterest.