Looking for an easy DIY Moon Sand Recipe? Here's an easy 2 ingredient Gluten Free Moon Sand that is perfect for sensory play!
We've been having so much fun this summer with sensory bins! I love how engaging they are for little hands and that they lead to tons of open-ended play.
​Several of our sensory bins call for moon sand, so today I wanted to share our moon sand recipe that only needs 2 simple ingredients!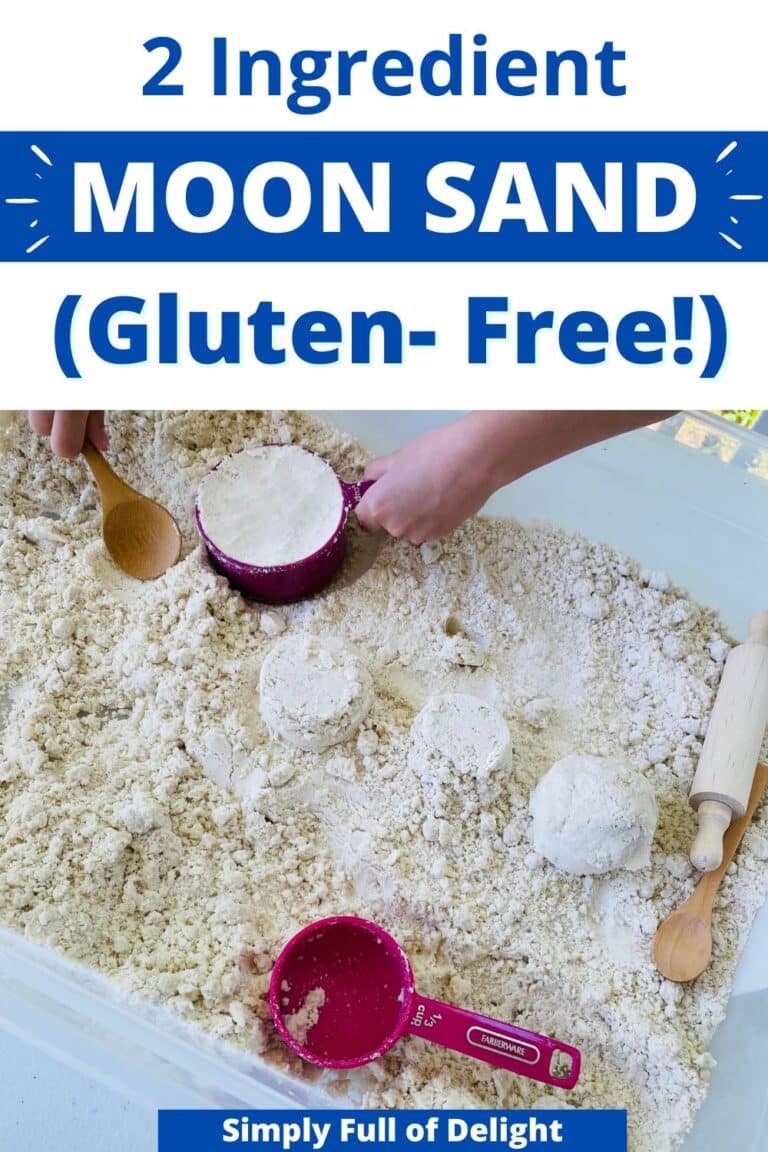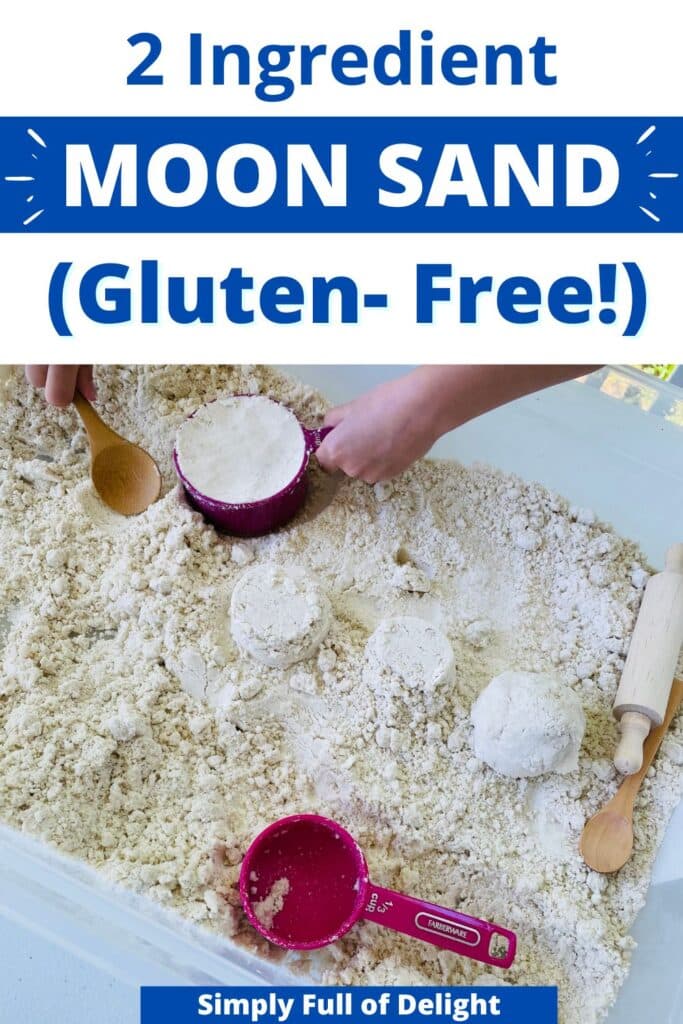 But first, if you don't know what moon sand is, you might be surprised that it's not really sand at all!
Kids can build and mold items as though they were using wet sand, but unlike real sand it's not gritty and it easily brushes off of clothing!
Some people also call this cloud dough. So….moon sand = cloud dough!
Let's dive in and get started!
Ingredients needed for DIY Moon Sand Recipe
​For this simple recipe, you will need 2 items: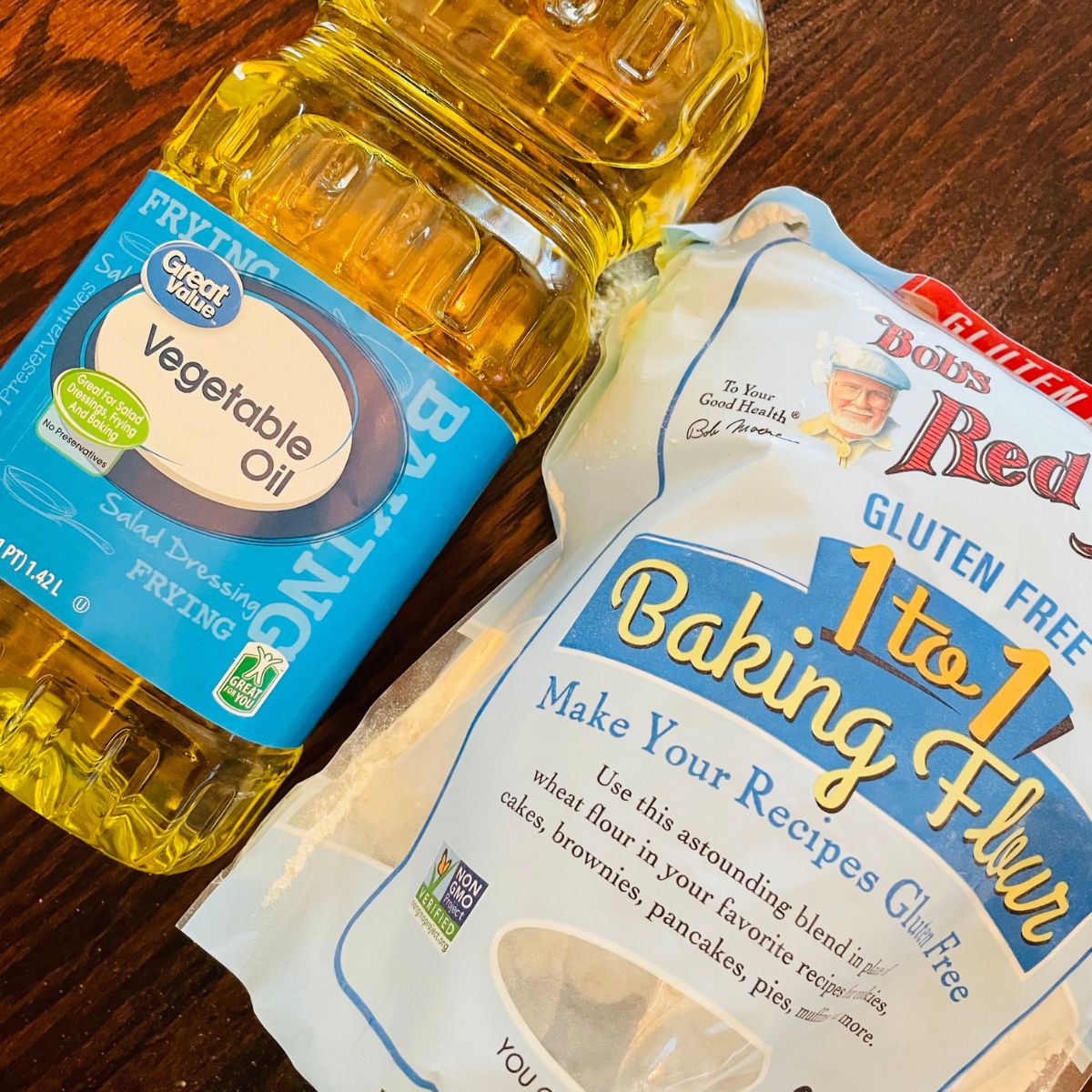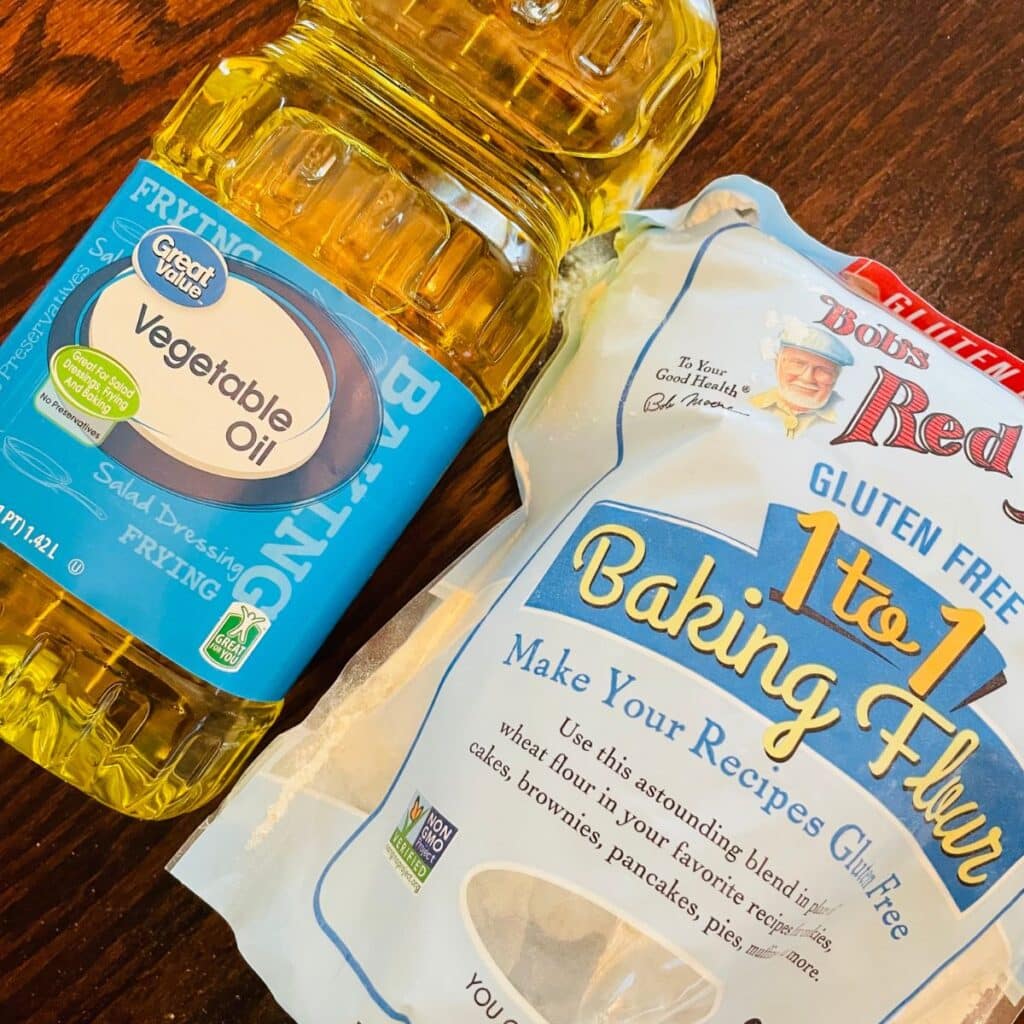 – 8 cups of Flour (We used gluten free flour, but you can also use normal flour if you don't need to be gluten free.)
– 1 Cup of Oil (we used Vegetable Oil)
Plus you will want a large container to place it in for sensory play along with fun items to mold the moon sand!
We used Bob's Red Mill Gluten Free 1 to 1 Baking Flour for this recipe to make it gluten free.
I have Celiac Disease, so it's really important for our family to keep gluten in our household to a minimum.
Even though our kids won't be eating this sensory bin filler, just a tiny speck of all purpose flour transferred onto a cooking surface could make me sick for days.
So, we made this sensory bin with gluten free flour. You don't need to use 1 to 1 flour, but anticipate that if you use other types of gluten free flour, you may need to add more or less oil because of the differences in absorbency.
If you don't need to be gluten free, you can use normal all purpose flour for this moon dough recipe.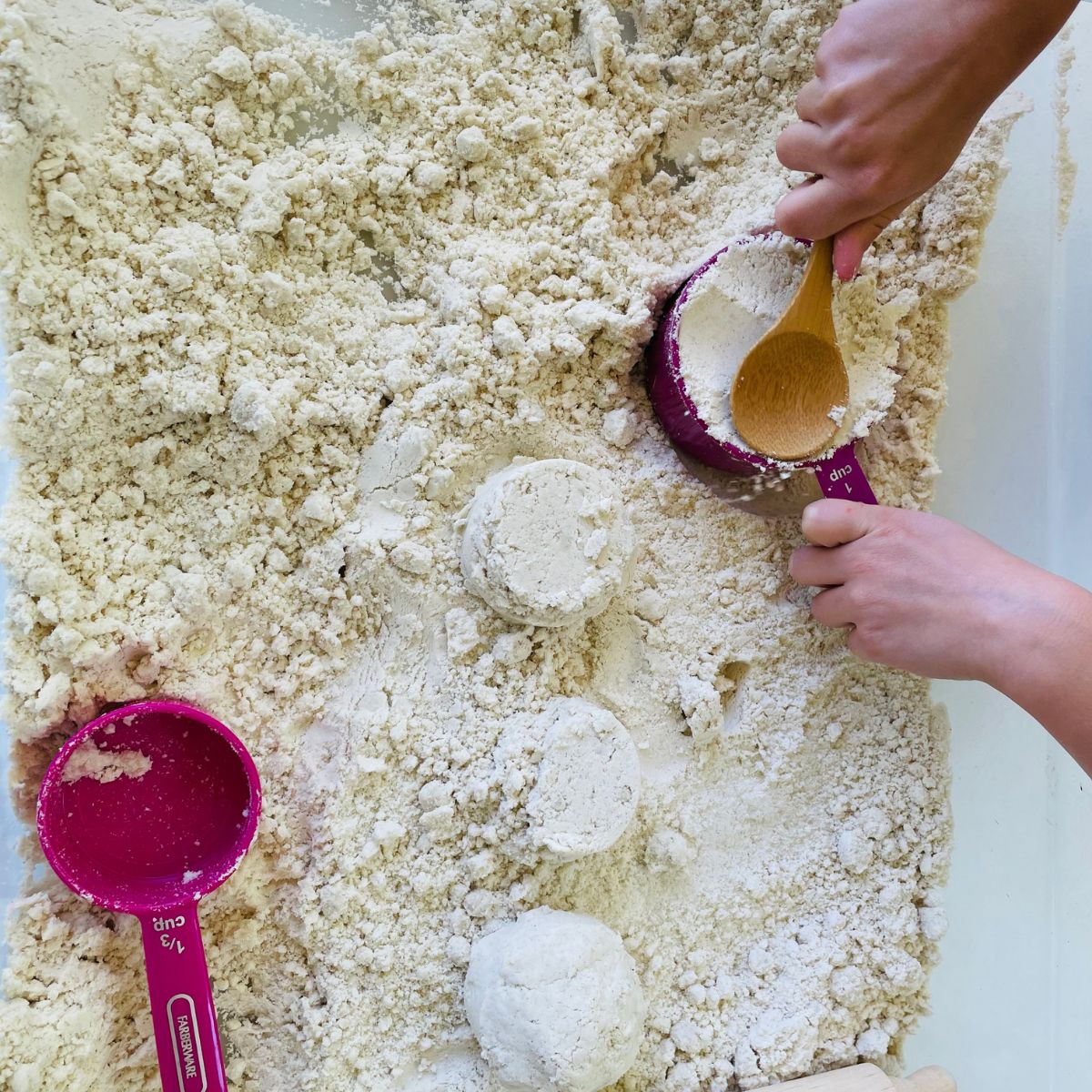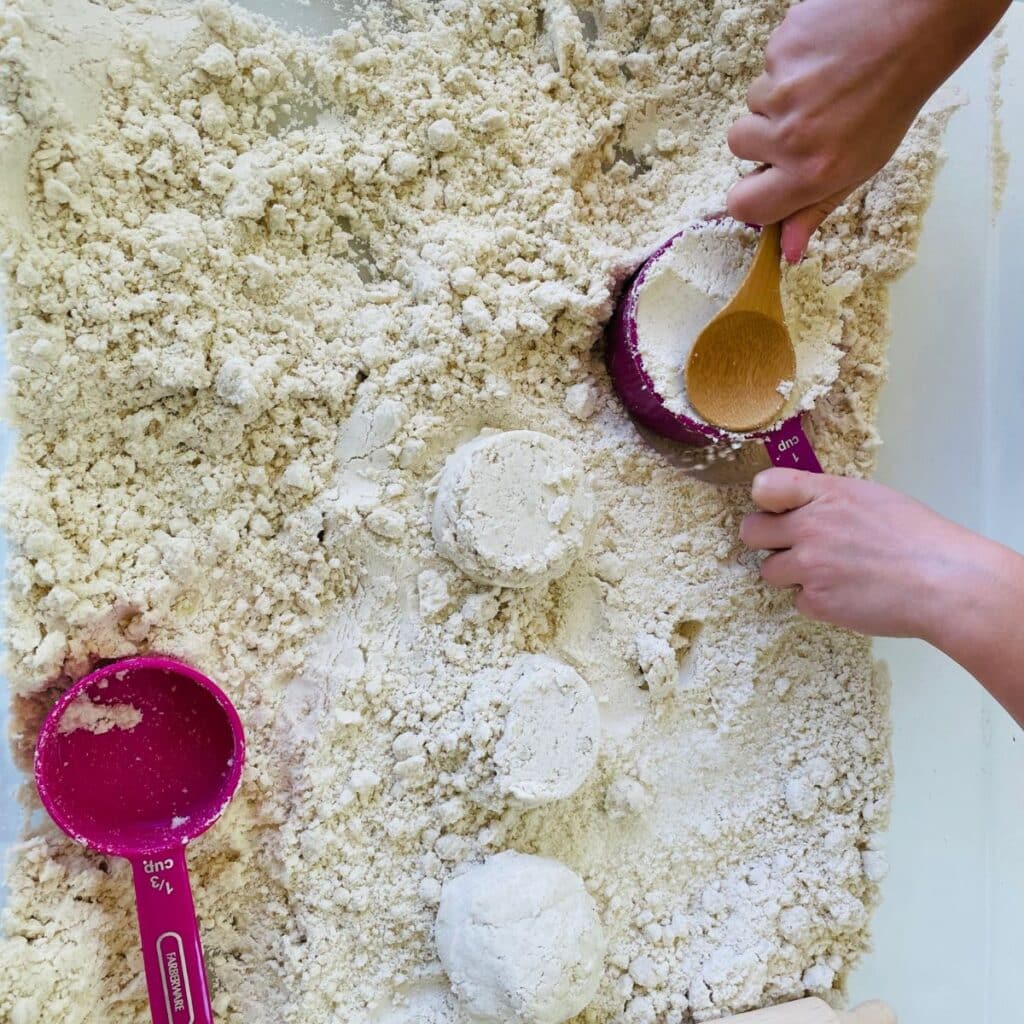 If you are familiar at all with the gluten free diet, you know how expensive gluten free flour is. This flour, which normally would cost around $12 for 8 cups, was actually free.
We very often order our gluten free flour and other grocery items online. And….very often a bag of flour will burst during shipping, so instead of throwing away the mess of flour, I save it for fun sensory recipes like this for my kids!
It's a great way to use up something that would otherwise be thrown away and my kids have a great time with the sensory play.
How to make DIY Moon Sand Gluten Free
To make our easy moon sand recipe, first you will need to measure out 8 cups of flour into a large bowl. Next, add one cup of oil. Stir until the oil is thoroughly mixed into the flour.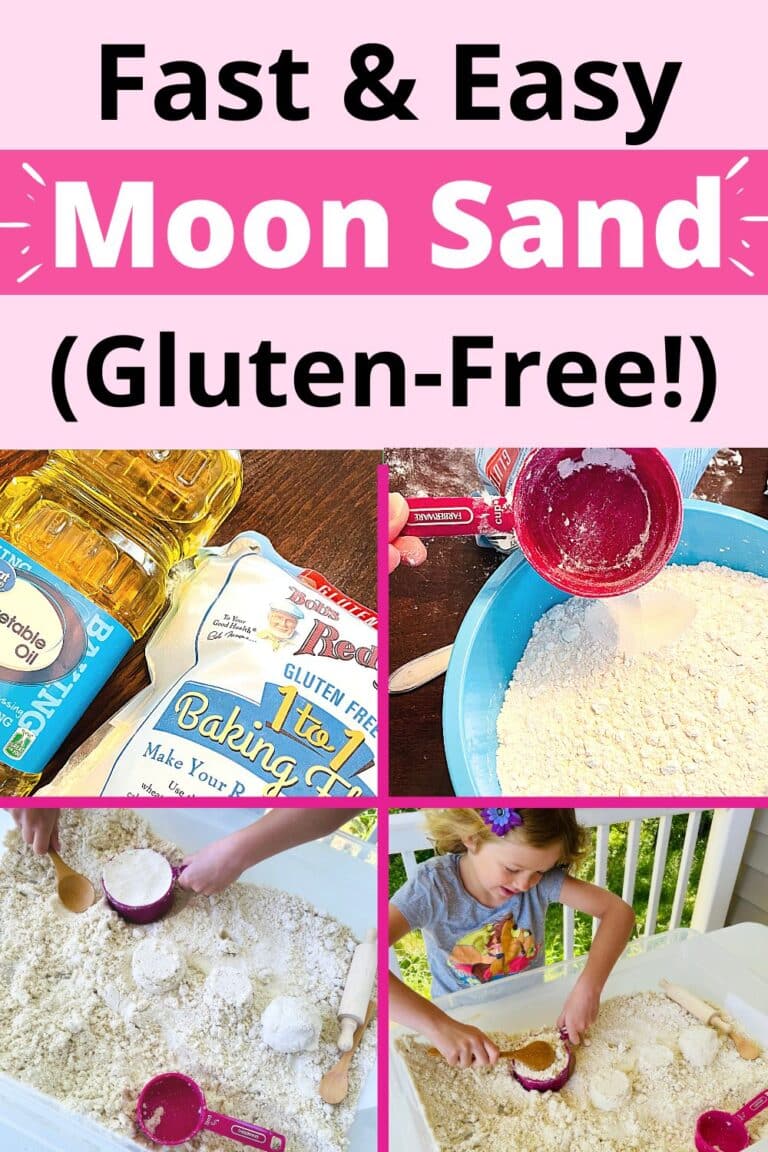 (In case you are wondering, I doubled this recipe for our large sensory bin. So, my bin has 16 cups of flour in it.)
And….now for the best part…. it's play time!
Kids of all ages will enjoy using cookie cutters, measuring cups, rolling pins, wooden spoons, and more to play in this moldable sand! The possibilities are endless!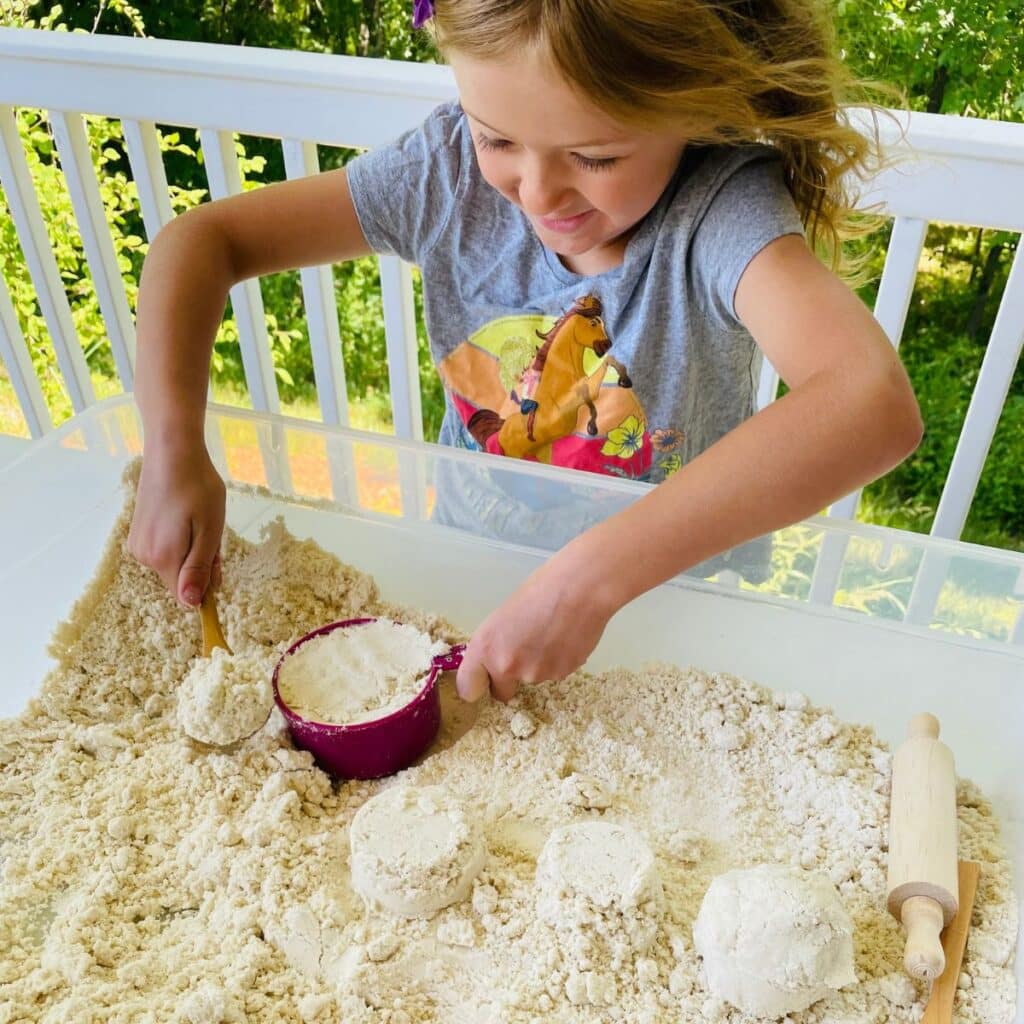 How do I make this recipe taste safe?
If you want to make sure this recipe is safe for little ones, be sure to bake your flour.
Simply bake your flour on a baking sheet for a few minutes.
Then let it cool and add the cooking oil to make the moon sand. If your kids are older, and you aren't worried about making it taste-safe you can skip this step.
Want a complete tutorial for making Taste Safe Moon Sand? Be sure to check out my friend Sacha's Colorful Taste-Safe Moon Sand here.
How can I keep the Mess to a Minimum?
​Sensory Play is often messy. I like to put a few measures in place to ensure that my house doesn't get covered in flour.
First, teach your child to keep the moon sand in the bin. If my kids get a little crazy with it, I will take it away and try again another day.
Another option is to recognize it will be messy and to take the mess outside. We often do sensory play on our porch outside. (One of my kids is naturally more messy than the others, so this is always the best option for her).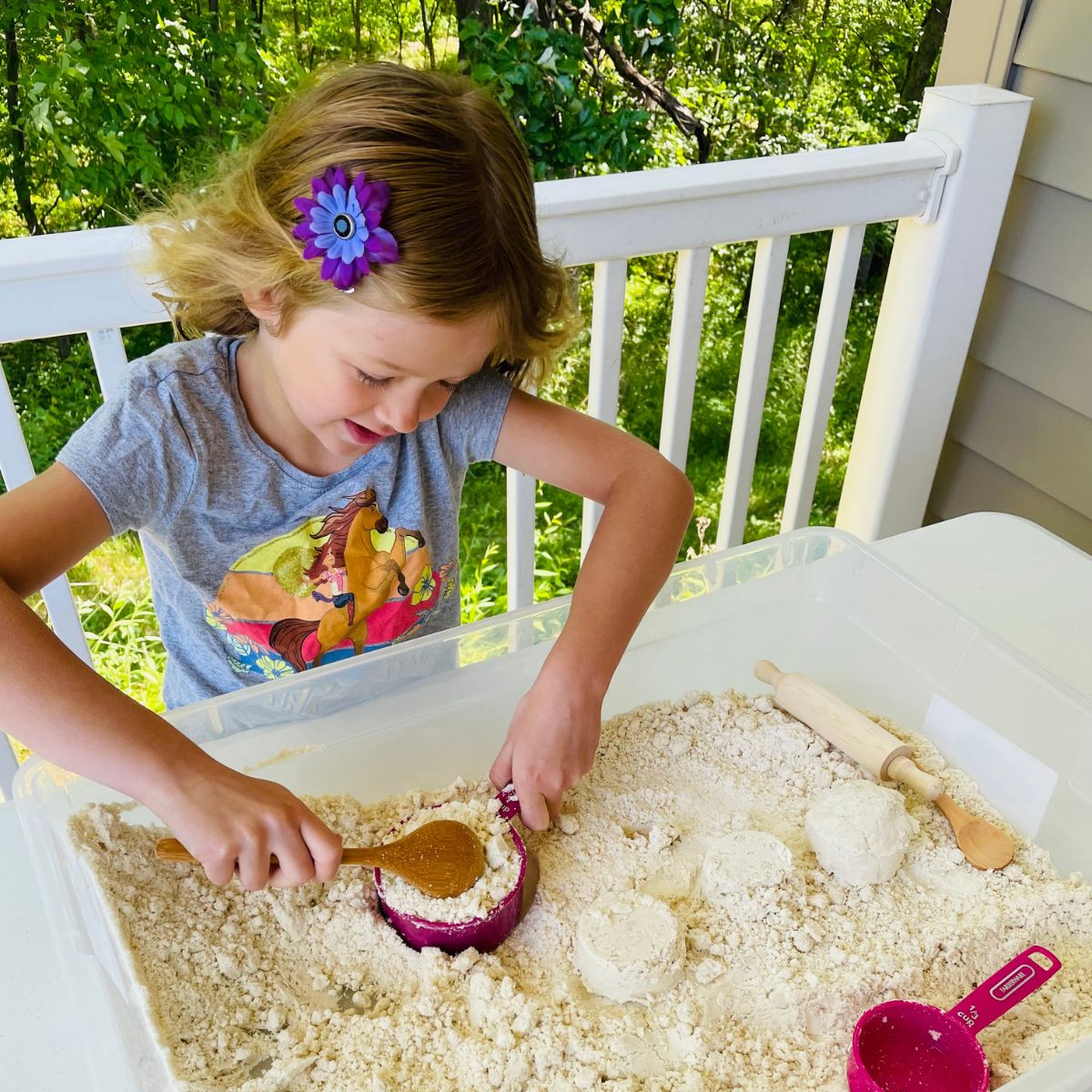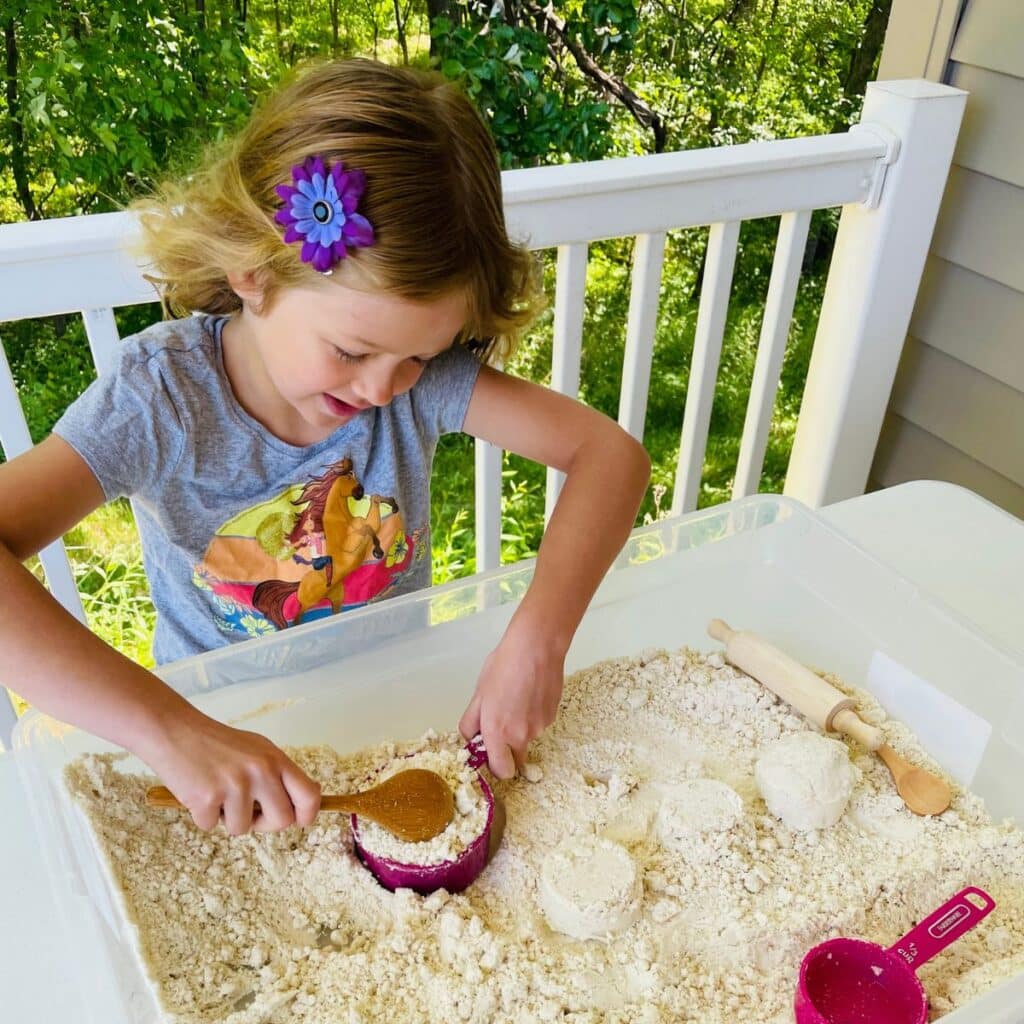 Last, sometimes I will lay down a plastic tablecloth, a large beach towel or an old sheet. Then I place our sensory bin on top of it.
After the kids are done playing I gather the tablecloth or sheet and dump the mess either into the bin or shake it outside.
I hope these tips help you get more comfortable with sensory play and make clean up a little easier!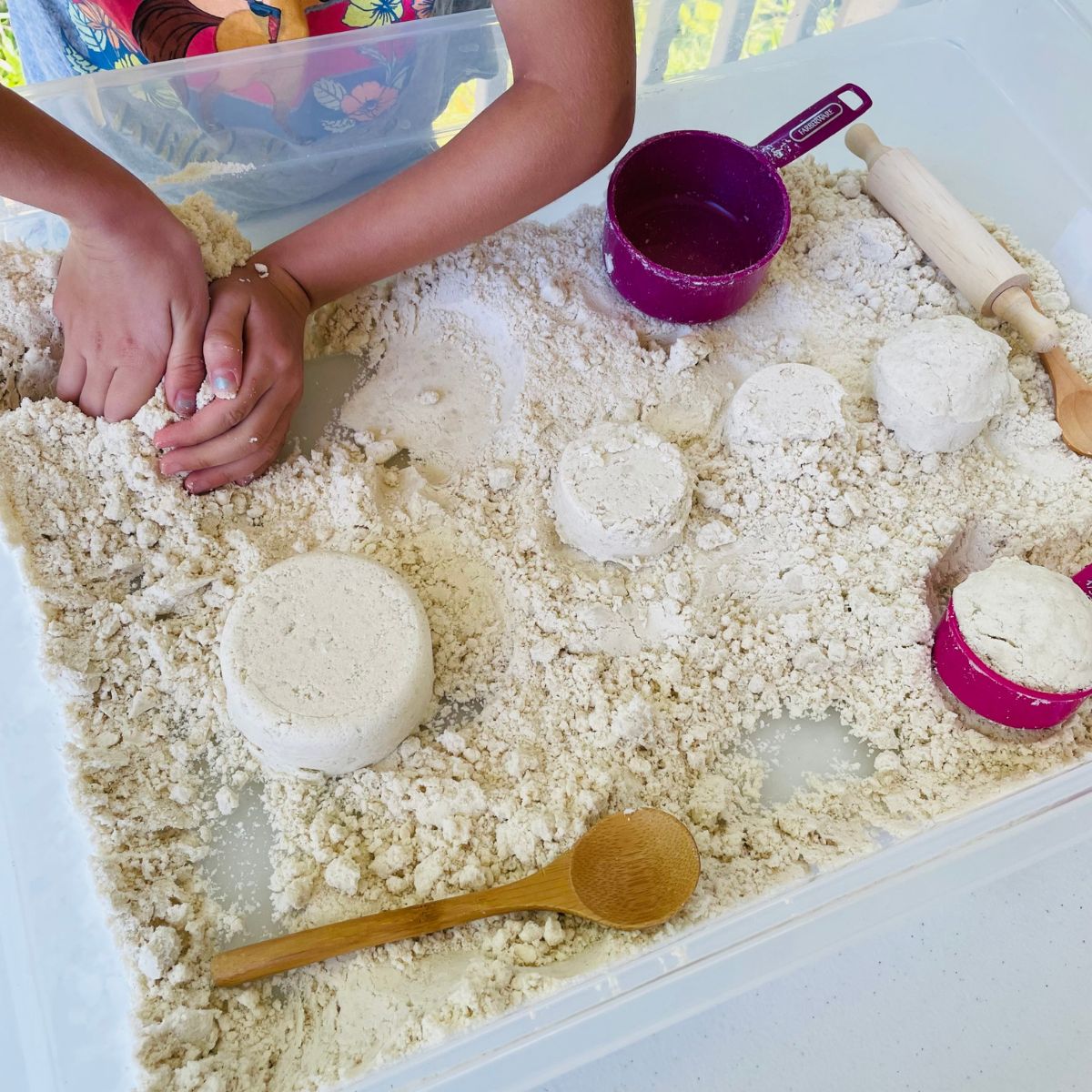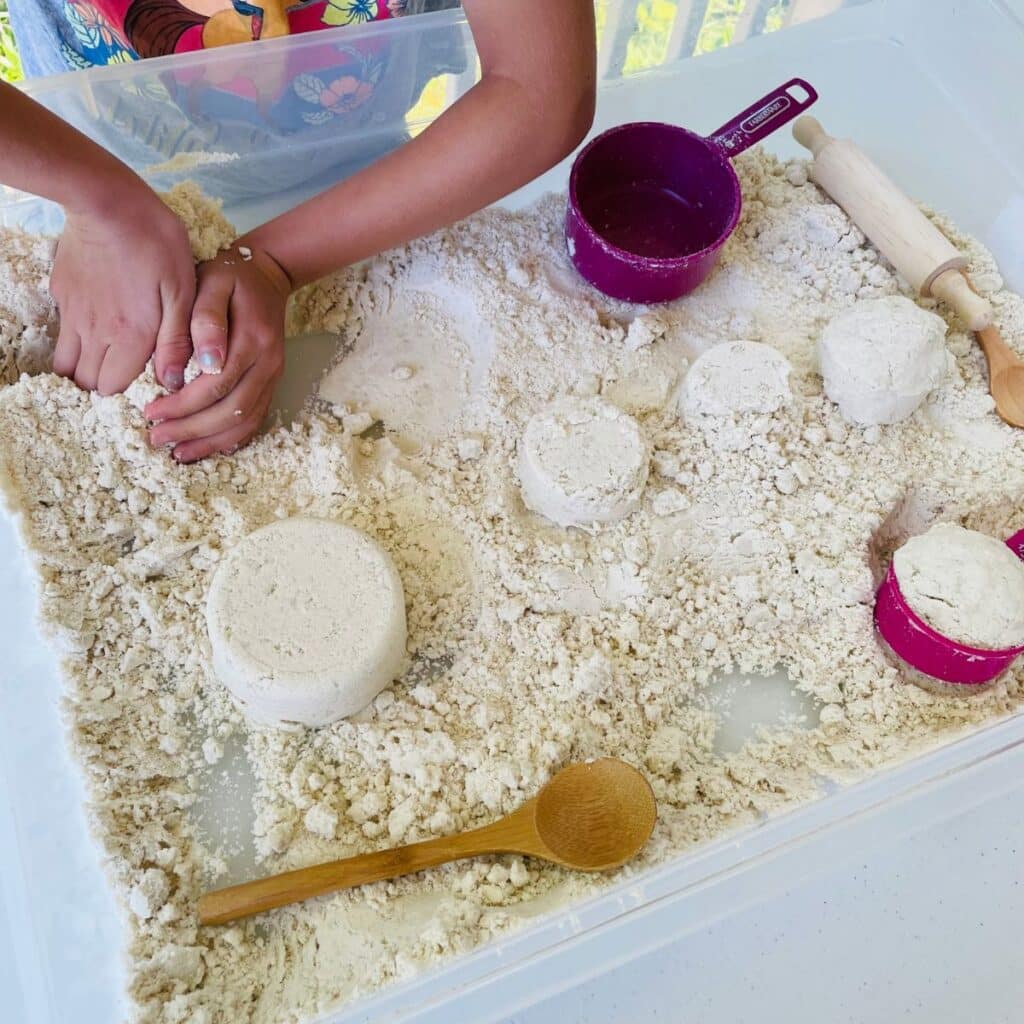 Moon Sand Sensory Bin Ideas
Want to find some fun activity ideas for your moon sand diy?
My kids had a lot of fun making cupcakes for America's birthday with this 4th of July Sensory Bin.
Simply use this easy recipe for DIY moon sand and add fun items to create cupcakes! What a fun sensory activity!
We also enjoyed a fun Ice Cream Summer Sensory Bin with our own moon sand too.
We simply used different bowls, ice cream sand toys, pom poms, wooden spoons, and more to create ice cream sundaes!
Such a fun idea to extend the fun of your homemade moon sand recipe.
More Sensory Activities for Kids
Looking for more easy Sensory Activities?
My son had hours of fun with this Construction Sensory Bin. Such a great idea for a rainy day – or take the fun outside to your sand table!
Want a Space theme sensory bin? Here's a fun idea that is perfect for a Space Unit. You could even substitute the bean filler for a few cups of moon sand!
My favorite toddler sensory play idea is this Car Wash Sensory Bin.  I've used this idea over and over when my kids were little for a moment of peace.  It's perfect for keeping kids busy while you cook a meal or do some housework.
Don't miss this giant list of Sensory Bins! You can find tons of fun sensory play ideas for every theme or season!
Want to save this Easy Gluten Free DIY Moon Sand Recipe for later? Pin the image below to your Sensory Bin board on Pinterest!