Spring is in the air! Here's a fantastic Vegetable and Flower Garden Sensory Bin that your kids are going to love!
This preschool spring sensory bin incorporates the fun of digging and playing in split green peas with gardening and planting flowers and vegetables.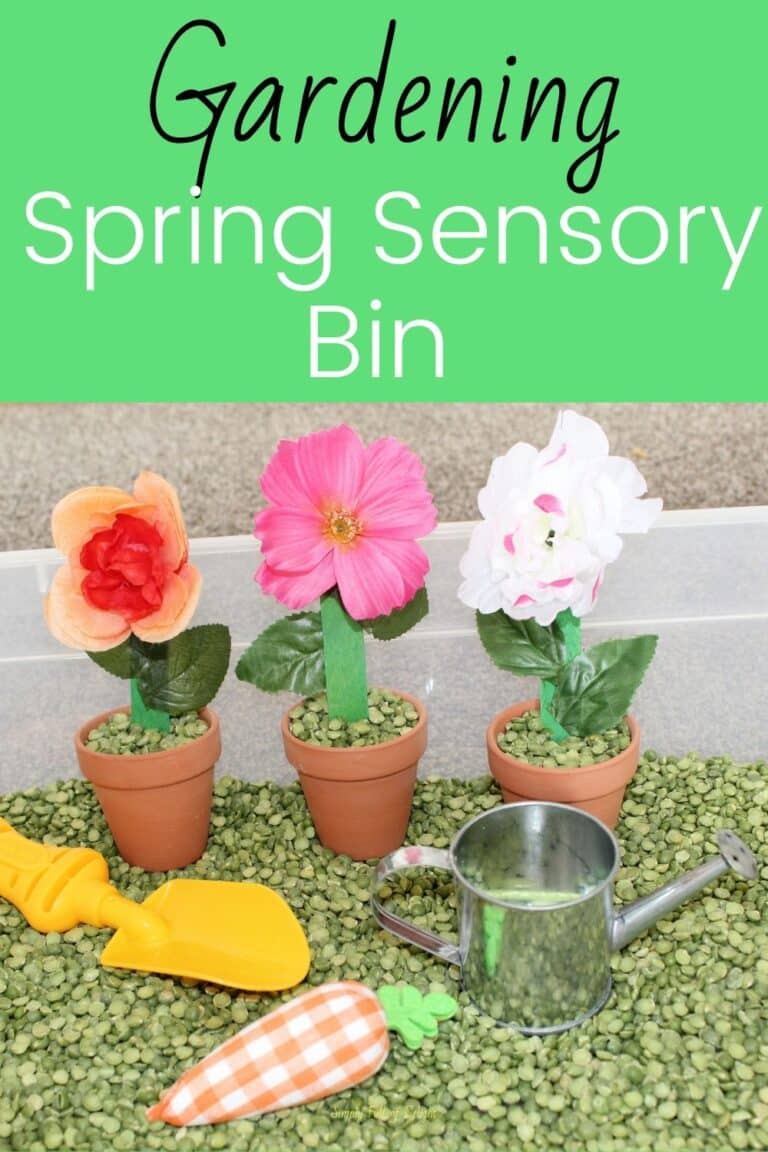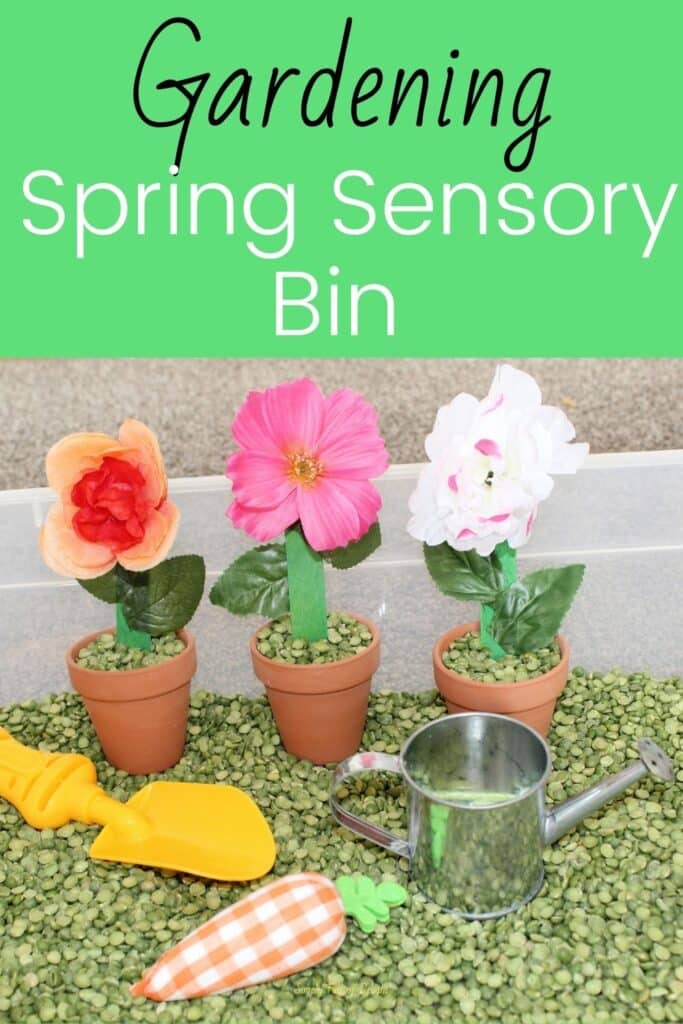 What are the benefits of Sensory Play?
I love to do sensory play with my kids because it really engages them in playtime and keeps them busy for long periods of time.
But did you know that sensory play is really educational and beneficial to child development as well?
Here's just a few of the benefits of sensory play (according to Petit Early Learning Journey)
– It supports cognitive development.
– Sensory play is great for developing fine and gross motor skills.
– It helps children develop problem solving skills and creativity.
– Sensory bins also encourage language development and social skills.
Alright! Now that we know the benefits, let's get started on this fun flower garden sensory bin!
Supplies needed for this Preschool Spring Sensory Bin
For this flower garden sensory bin, you will need:
– dried split green peas (I used 5 small bags to fill my sensory bin)
– large popsicle sticks (I used green popsicle sticks – alternately, you can paint yours green).
– hot glue gun and hot glue sticks
– artificial flowers
– small clay pots
– plastic shovels
– small watering can
– fake vegetables ( I used fabric carrots from an Easter clearance section)
– a few dried beans of different colors (for "seeds")
– a large tote or sensory bin
– Optional: gardening gloves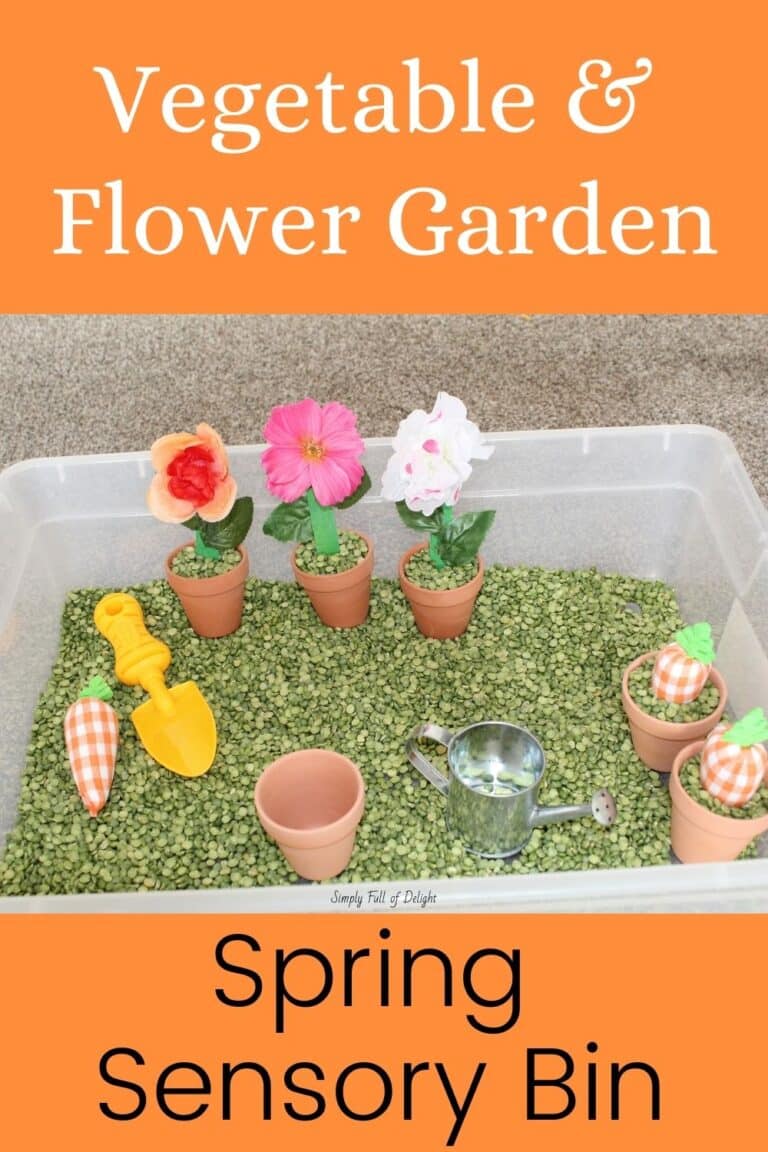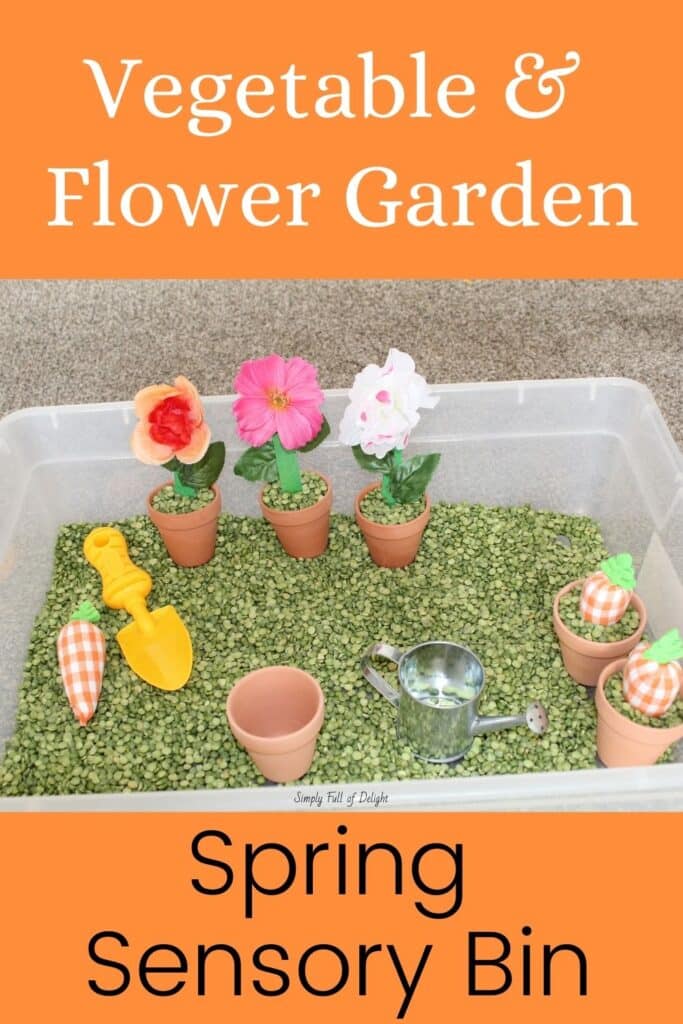 How to Make a Flower Garden Sensory Bin
First, let's prepare the flowers.
To make them more study and less frustrating for preschoolers, we are going to attach the flowers to popsicle sticks.
Take your artificial flowers and clip the stems off as closely as you can.
You will want to make the back of the flower as flat as possible.
Next, using the hot glue gun, glue the back of the flower to the top of a large green popsicle stick.
Clip a few leaves off of your artificial flowers and glue onto the front and back of the popsicle stick flower.
When you are satisfied with the way your flower looks, move on to making a few more.
I made 3 different flowers for my spring sensory bin.
(Pro-Tip: Artificial flowers can be found at the Dollar Tree for much less cash than other craft places.)
Now we are ready to build the sensory bin!
Grab your split green peas and pour them into your sensory bin container.
I used a very large "under the bed" type of container, so I needed 5 small bags of green split peas to fill it.
Next, you can add your shovels, watering can, clay pots, artificial vegetables, and your homemade flowers. I added a few dried beans of varying colors to act as "seeds."
If you'd like to take a closer look, check out the video below to see our sensory bin in action.
Introducing the Spring Flower Garden Sensory Bin
It's time to play! Invite your child over and show them how to "plant the seeds" and water the garden.
Use the shovel and demonstrate how to fill the pots with split green peas and "plant" the flowers.
Your child will come up with their own way of playing but sometimes it helps to show them what is available and how they can play.
As always, with sensory bins things can get out of hand quickly if you don't set expectations.
I always tell my little ones to keep the peas in the bin.
If they accidentally spill, they will need to pick them up. I tell my kids that peas stay at the bin and are not to be taken around the house, etc.
Ideas to Extend the Learning
Here's a few ideas to extend the spring sensory play learning!
If you like, you can change up your sensory bin each day to make it a little different and further engage your little learners.
1) If your little ones are working on numbers, you could number the pots and the popsicle stick flowers and have them plant the correct flower in the corresponding pot.
2) Add more flowers. Write the names of colors on the pots and on the popsicle stick flowers. Have the children sort by color.
3) Add more varieties of fake vegetables and signs with the name and picture of the vegetables.
Have the children plant the garden in rows with a sign showing what is planted in that row.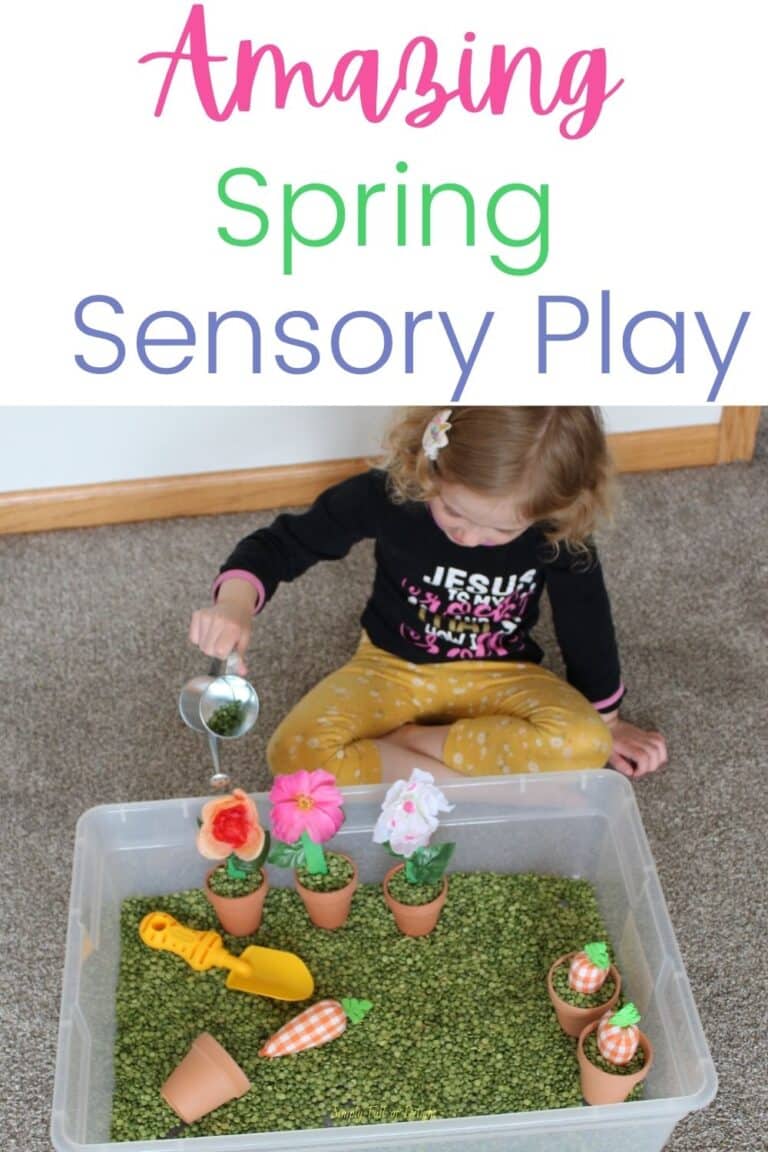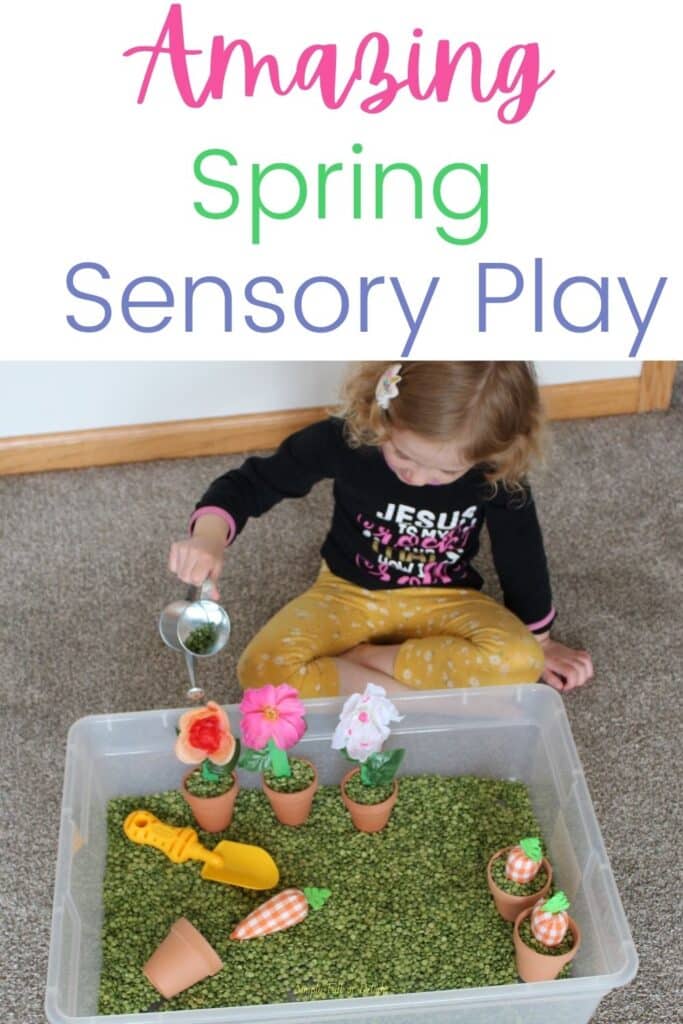 Kids Books about Gardening
Here's a few Children's Books about Gardening that you might like to read to your children to extend the learning!
1) Muncha! Muncha! Muncha!
Candace Fleming's Muncha! Muncha! Muncha! is one of our family's favorite books.
This hilarious book tells the story of a man who decides to plant a garden, but every morning when he wakes up, he sees that his plants have been eaten by bunnies.
Your child will laugh as the man builds bigger and better contraptions each day to try to stop those silly bunnies!
2) Harlem Grown: How One Big Idea Transformed a Neighborhood
Harlem Grown: How One Big Idea Transformed a Neighborhood by Tony Hillery is a beautiful story about a man and a school full of kids who transformed a vacant lot into an amazing garden for their community.
This book is based on a true story!
3) The Tiny Seed
The Tiny Seed by Eric Carle is the classic tale of the life cycle of a flower.
It tells how a seed travels through the seasons, is planted, and grows into a giant flower.
It then loses its petals and seeds and starts the cycle all over!
4) We are the Gardeners
We are the Gardeners by Joanna Gaines is the sweet story about how the Gaines family started their garden.
It goes into a lot of detail about how to plant a garden and care for it.
This book teaches about patience, persistence, and not giving up when things get tough.
More Sensory Play Ideas
If you enjoyed this Spring Garden Sensory Bin, here's some more ideas you might enjoy!
– You can find some inspiration and amazing premade sensory play sets here.
– You can find an Insect Sensory Bin that's great for spring here!
– There's a neat Forest Sensory Bin here that features woodland animals and natural elements.
– Be sure to check out my full list of Sensory Play articles!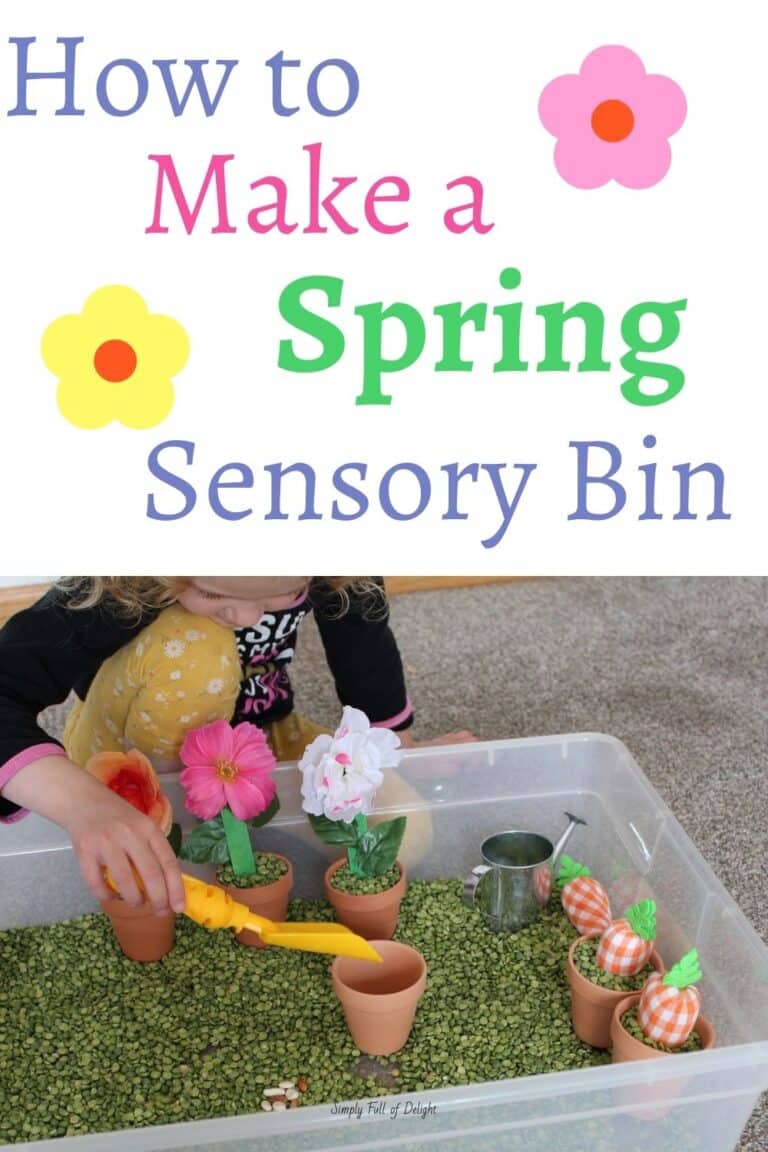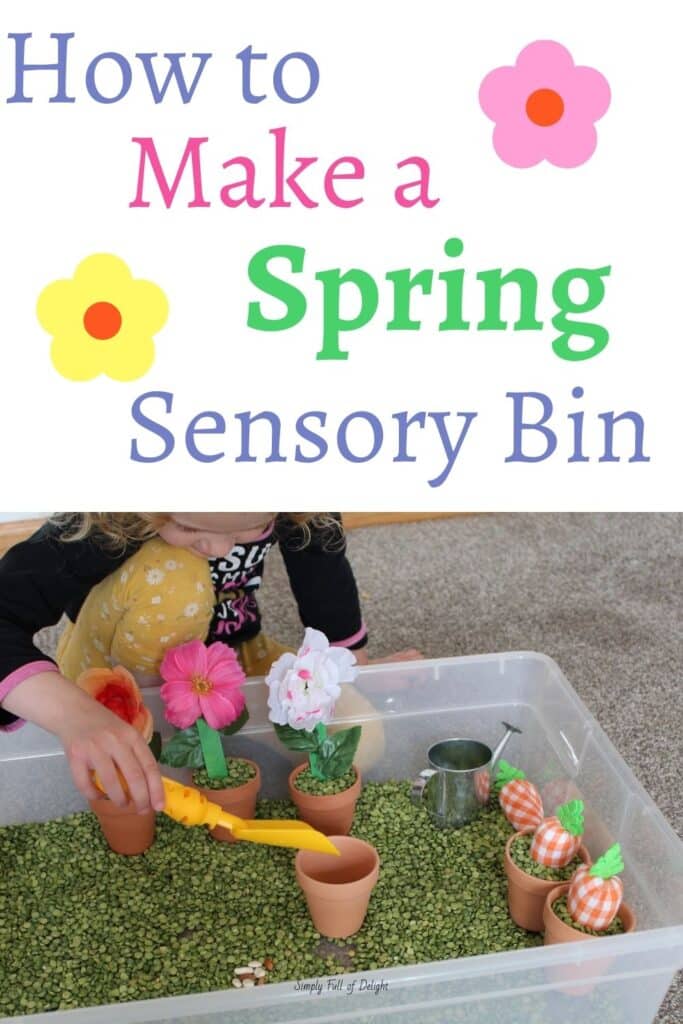 Related Posts