Looking for a winter sensory play idea? Here's a Snowman Winter Sensory Bin for Preschoolers!
With the winter season upon us, it's a great time to try some new indoor play activities.
Sensory play is always a hit with my kids. I love how it encourages creativity and of course how engaging it is for them! A good sensory bin or sensory table idea can keep them busy for hours!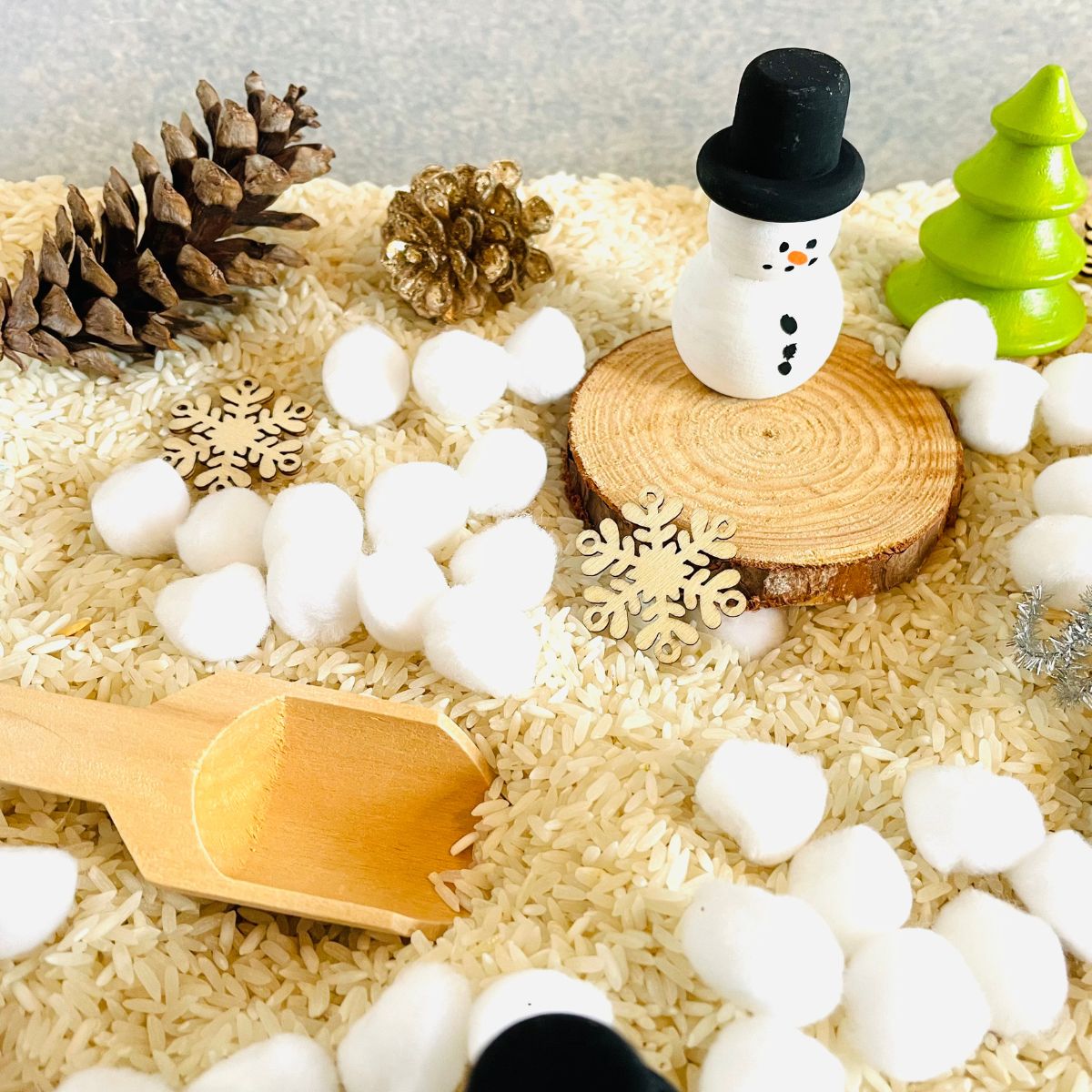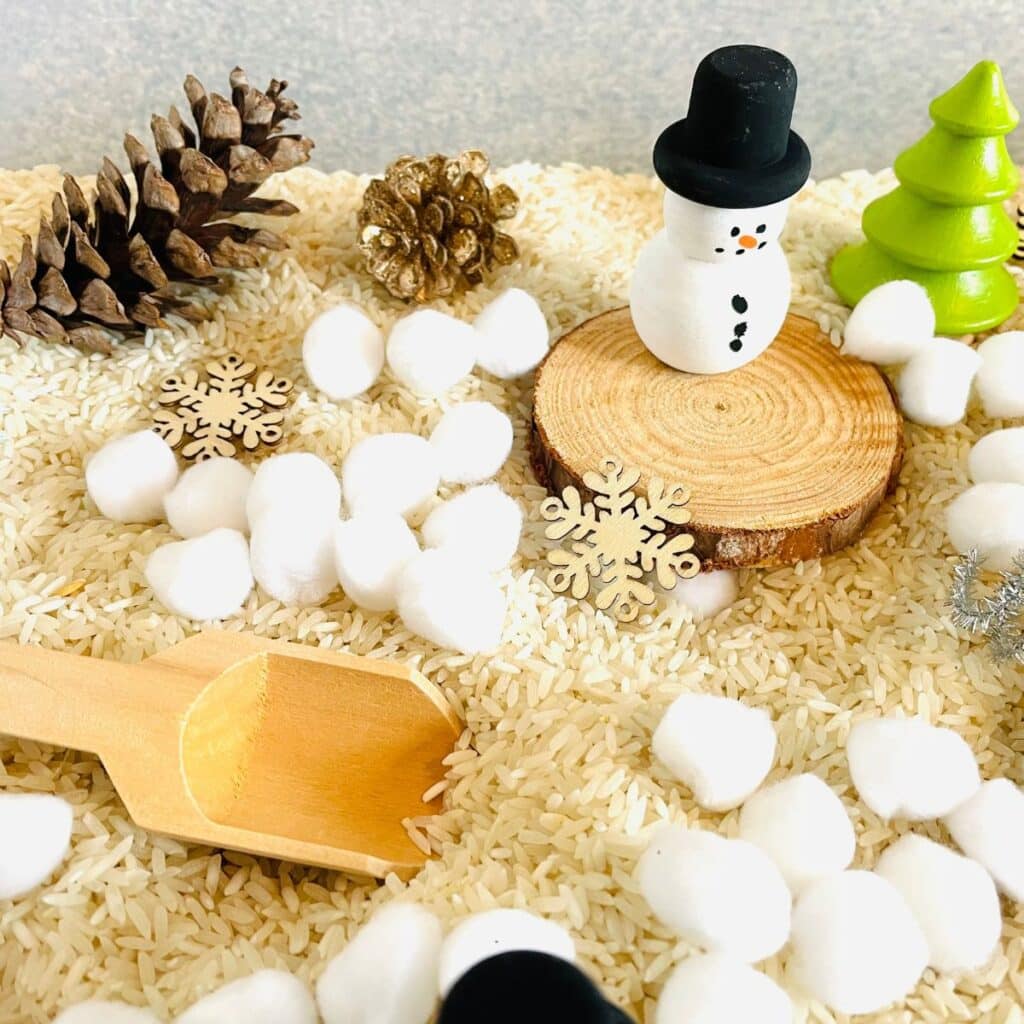 My little ones loved playing with this winter wonderland themed sensory bin. There's items to scoop, sort, and plenty of things to spark imaginative play!
Before we dive into this easy winter sensory bin idea, you might be wondering….
What is a Sensory Bin?
A sensory bin is a container that is filled with items that help little ones jump into imaginative play. Sensory play can engage a child's curiosity and activates the senses.
Most of the time sensory kits have a theme. Example: Dinosaur, Arctic, Space, Insects, etc.
Sensory bins have a base filler, which may be beans, paper, pom poms, water, sand, dry corn, uncooked pasta, or rice. There's so many possibilities!
Then, other themed items are added to engage the child in play.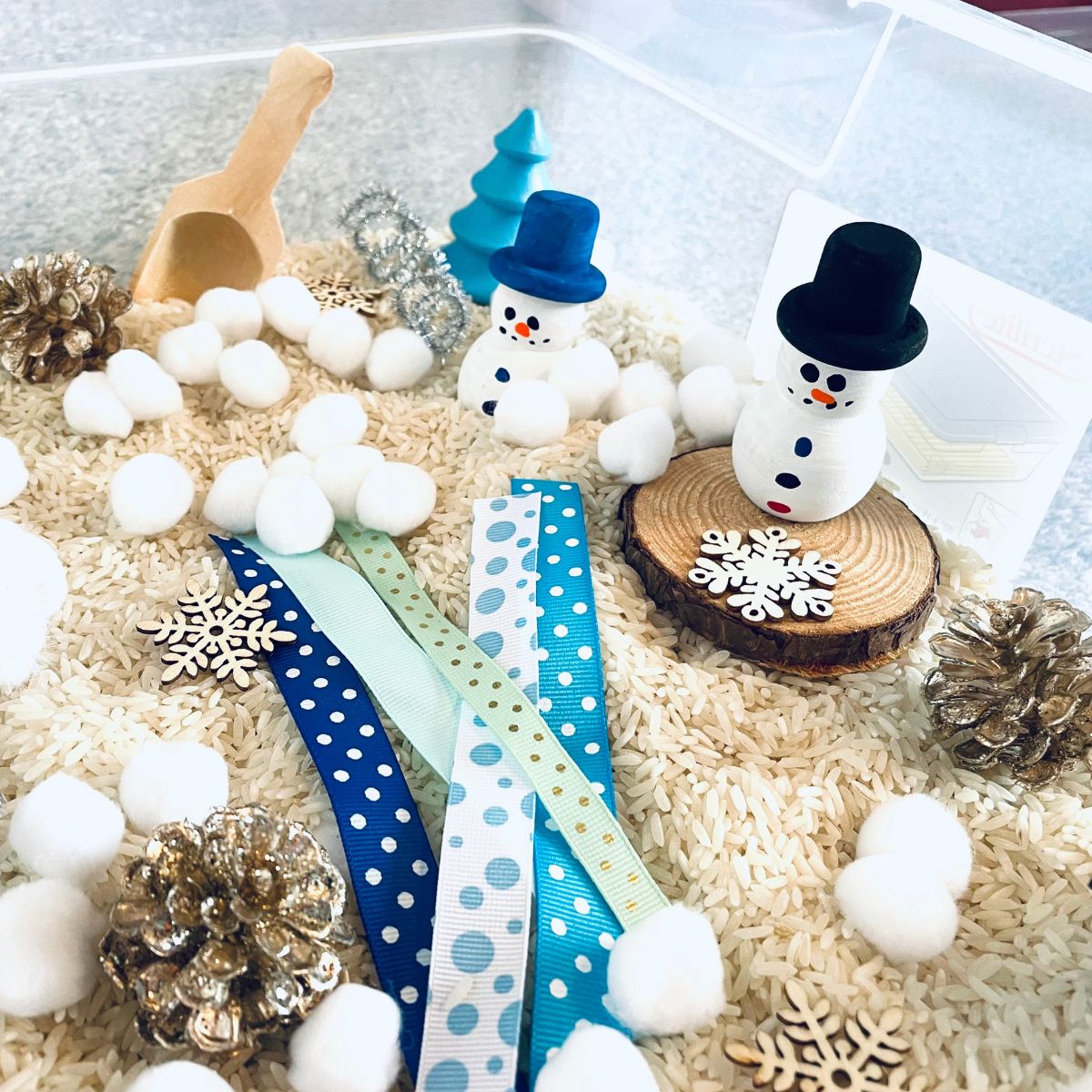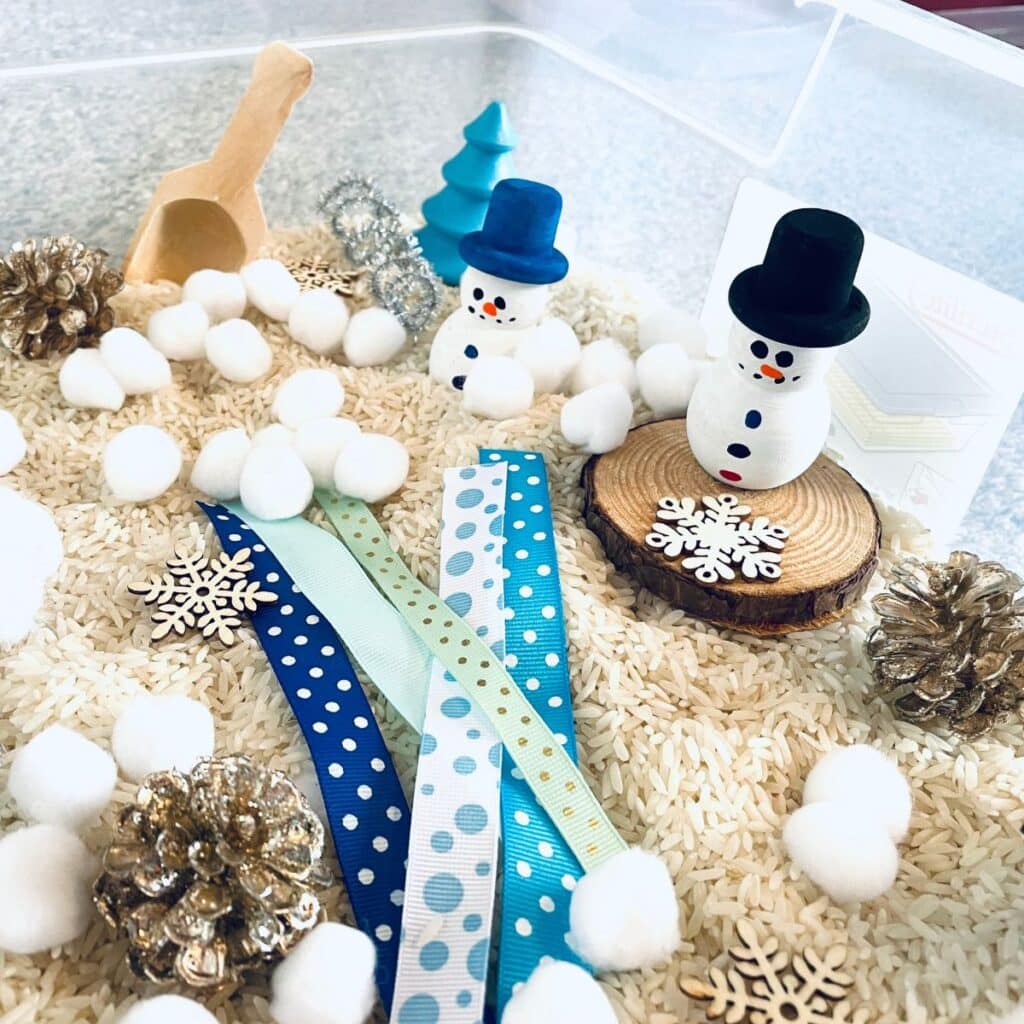 The Benefits of Sensory Play
According to Very Well Family, sensory play is beneficial to preschoolers because:
– It helps little ones develop fine motor skills.
– Encourages language skill development.
– It helps kids calm down, regulate and destress.
– Sensory play is a great idea for young children because it's super engaging and fun.
There's tons of reasons to do sensory bins. You can read about more benefits here.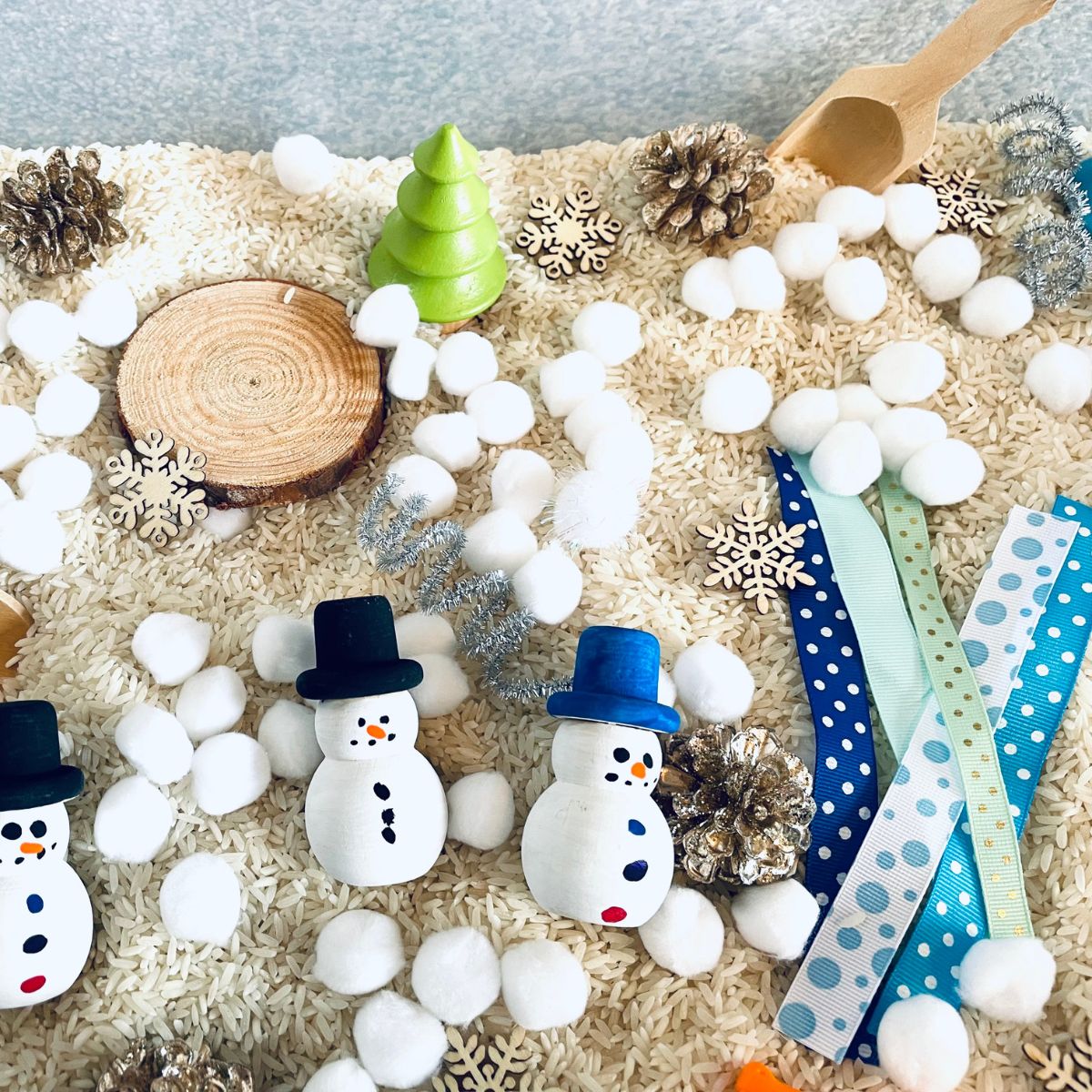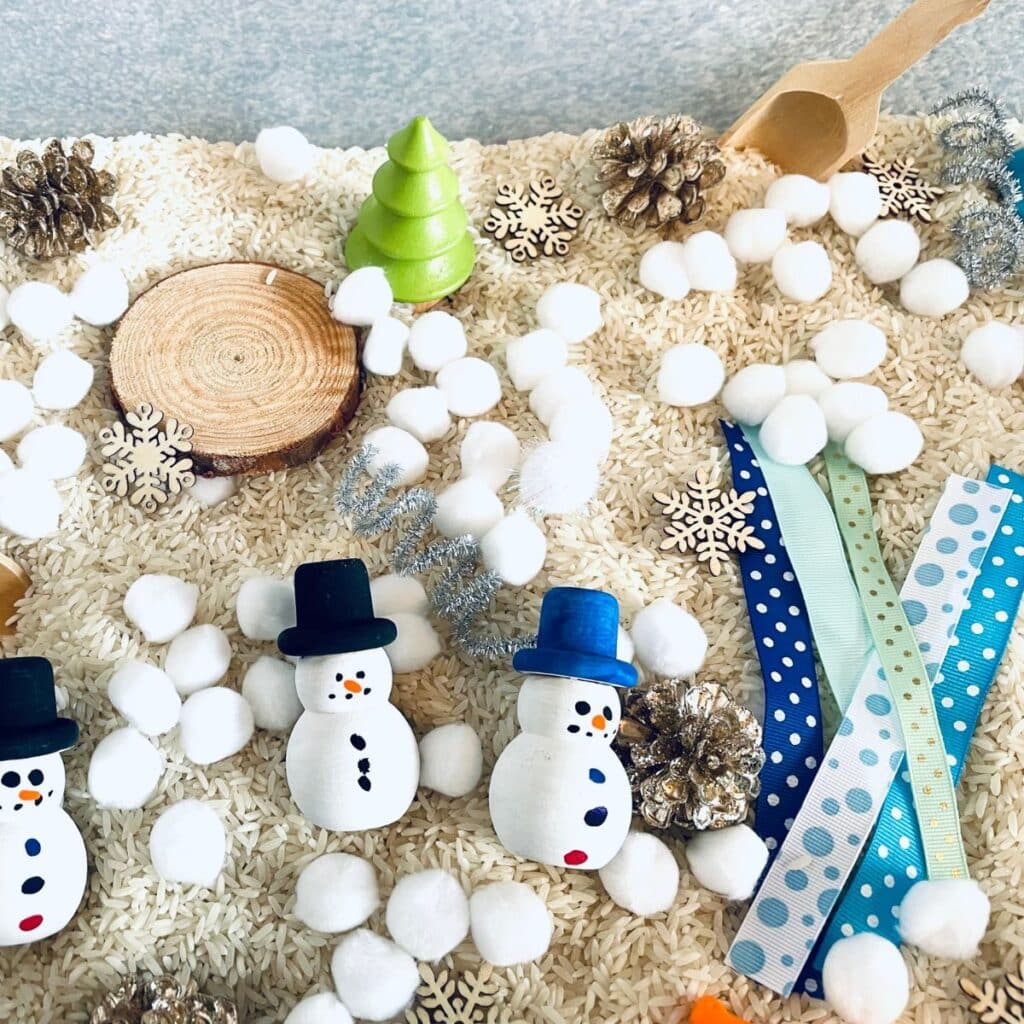 Supplies to make a Snowy Winter Sensory Bin
** Disclaimer: As an Etsy and as an Amazon.com Associate, I earn from qualifying purchases made by readers clicking my links at no extra cost to you.
You will need the following items to make this snowman winter sensory bin:
– Uncooked White Rice – enough to cover the base of your sensory bin
– White Pom Poms – Mine are 0.75 inches.
– Wooden Snowman – We chose to paint our own wooden snowman figures with acrylic paint. You can grab an already painted wooden snowman here.
– Wooden Trees (Mine are from Just Add Imagination on Etsy.)
– Wood Slices
– Wooden Snowflakes – We got ours at Hobby Lobby
– Silver Chenille stems (also known as pipe cleaners)
– Gold Pinecones – we found ours at Hobby Lobby
– Ribbon – to make scarves for the snowmen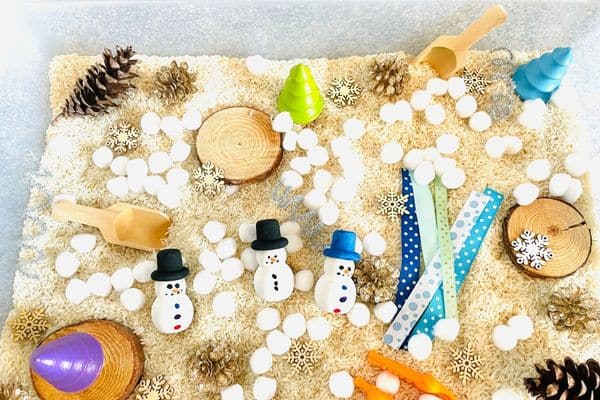 How to make a Snowman Winter Sensory Bin
Ok! Let's get started on this snowman winter sensory play idea!
First, take your sensory bin and fill it with uncooked white rice.
The amount of rice needed will depend on how large your sensory box is. I used a large under the bed storage container, so it took lots of rice to fill it.
The uncooked rice gives the sensory bin a nice texture and is fun for kids to scoop.
Next, add your white pom poms. I got mine from Hobby Lobby, but you can find them on Amazon as well. I had a few white sparkly ones, so I added those as well!
Now it's time to add your wooden snowman. We found these adorable unfinished wooden snowmen at Hobby Lobby.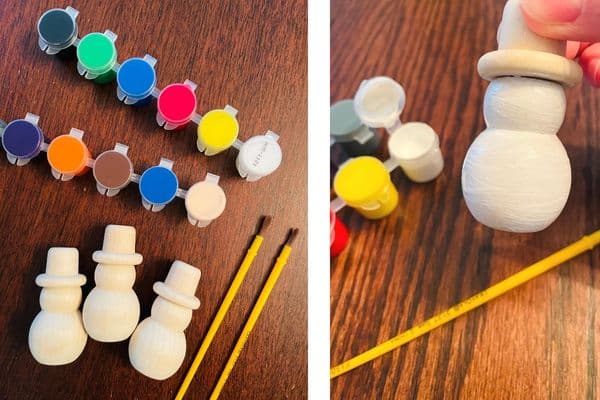 My son and I used acrylic paint to decorate them. We used a couple of coats of white and let that dry. Then we painted the hats. Once that was dry, we painted on the face and buttons. I think they turned out really cute!
After you add your snowmen, it's time to add some wooden trees, wood slices, and wooden snowflakes. I bought my colored wooden trees from Just Add Imagination on Etsy. We use them in lots of our sensory bins! The wood slices and wooden snowflakes are from Hobby Lobby.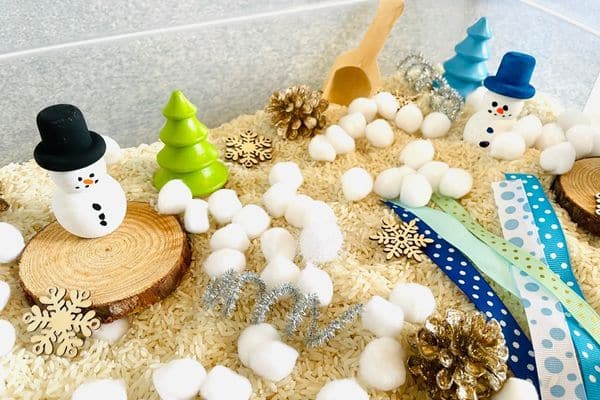 Next, add pinecones. We added both natural colored pine cones and these amazing gold ones! They really added some sparkle (and some fun!) to the snowflake sensory bin.
Next, add your ribbons and wrap one around your snowman's neck so that they kids see one idea for the ribbon (I'm sure they will come up with more ideas as they go!)
I always like to include something to scoop with, whenever it is possible. Scooping always makes sensory play more engaging. I found these adorable wooden scoops at Hobby Lobby.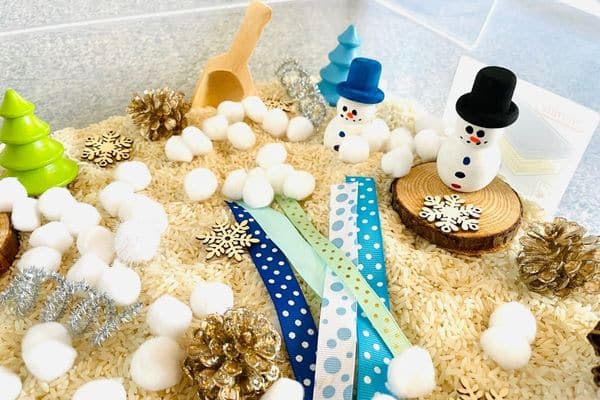 My little ones enjoyed pretending to have snowman snow ball fights, build a snowman, hide the snowmen, and more. The ribbons became scarves, picnic blankets, beds and more. Kids are so creative!
More Easy Winter Sensory Bin Ideas
You can find more fun ideas for Winter Sensory Activities here on my blog!
There's a neat Fake Snow Sensory Bin here. This DIY Fake Snow Recipe requires just 2 simple ingredients. It's very similar to real snow and so much fun for kids of all ages! This pretend snow is the perfect way to create a winter wonderland or Frozen themed sensory bin. It's guaranteed to be a huge hit!
You can find a Hot Chocolate Sensory Bin here that is perfect for winter time! Little ones will love serving up cup after cup of hot cocoa topped with marshmallows. What a fun sensory activity!!
There's an easy winter sensory bin idea here that your Frozen fans will love. It's a great way to take just a few simple items like cotton balls, figurines, etc to make easy sensory tubs.
This Arctic Sensory Bin is a great winter sensory activity. Make your own adorable mini igloos for an indoor arctic experience. This is perfect for teaching little ones about arctic animals like polar bears and great for a winter preschool theme.
Don't miss this adorable Valentine's Day Chocolate Box themed sensory idea. Kids will enjoy filling chocolate boxes and pretending to run a candy shop!
Plus, there's tons of inspiration for sensory bins and small world play here: Premade Sensory Kits from Etsy. Spark your imagination and creativity with these amazing sensory kit ideas!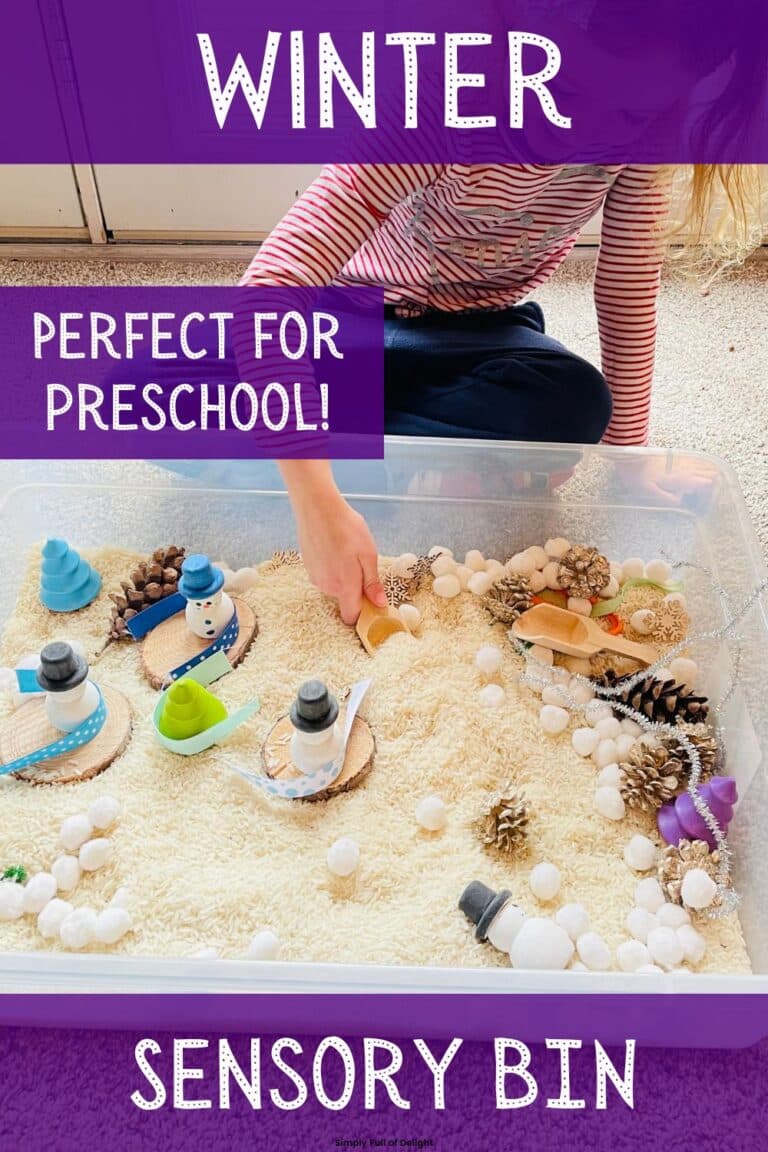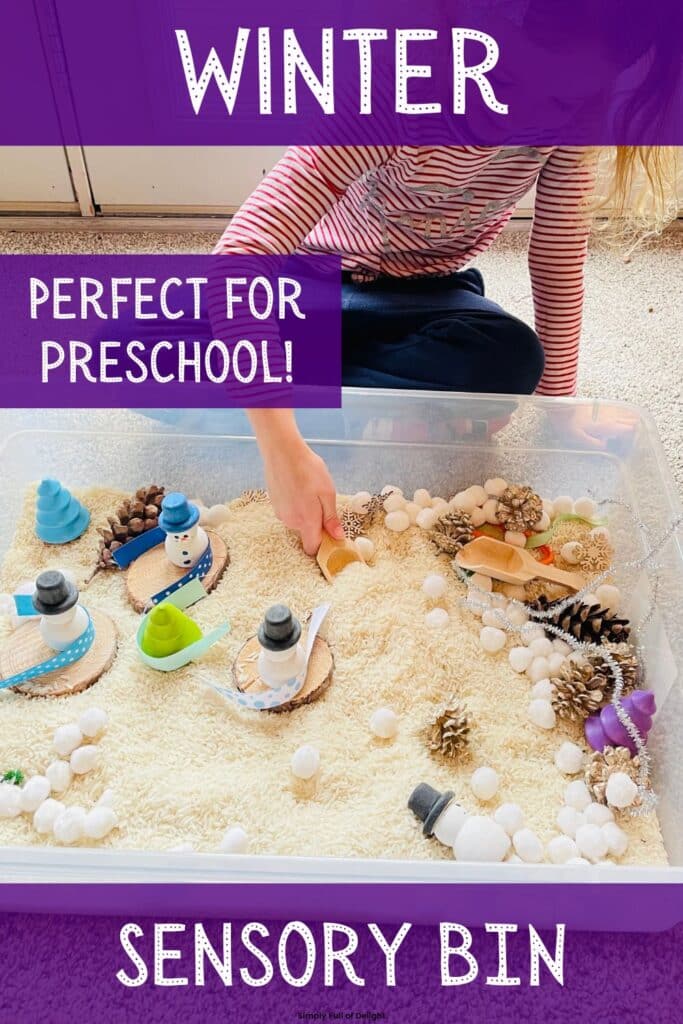 Winter Preschool Activities
Looking for more preschool winter activities? Here's some awesome ideas for winter fun for kids!
This Winter Mitten Craft is great for little ones. Kids paint (or color) the printable mitten, then add fun details with various craft supplies. SO cute!
There's a super easy Snowman Craft here. Preschoolers stamp circles onto a page to create a snowman and then decorate it!
You can find a free Cut out and Build a Snowman printable here. It's perfect for little hands that are working on scissor skills and of course, working on your child's fine motor skills. Kids cut out the simple snowman pieces and glue it together to build a fun snowman!
Little learners will love these Winter Clothes Activities! There's printables, games, crafts and more – you'll find the perfect activity for teaching little ones about winter clothing.
Plus, there's a fun Marble Paint Winter Tree craft here that is a lot of fun! Little kids will enjoy painting winter trees – and there's a free printable to make it super easy to set up!
Want to save this this simple snowman sensory bin idea for later? Pin the image below to your Winter Preschool Activities board on Pinterest.