Looking for a quiet activity that keeps your kids engaged for more than 20 minutes? Check out these free printable playdough mats and print yours today!
They are literally magical.
I have 4 young children, so as you can imagine, our house gets a little crazy sometimes.
It's nice to have an activity I can pull out on those rainy days that stops the craziness for a while.
Every time I get out these playdough mats for my kids they play happily for about 1.5 hours.
It's rather shocking.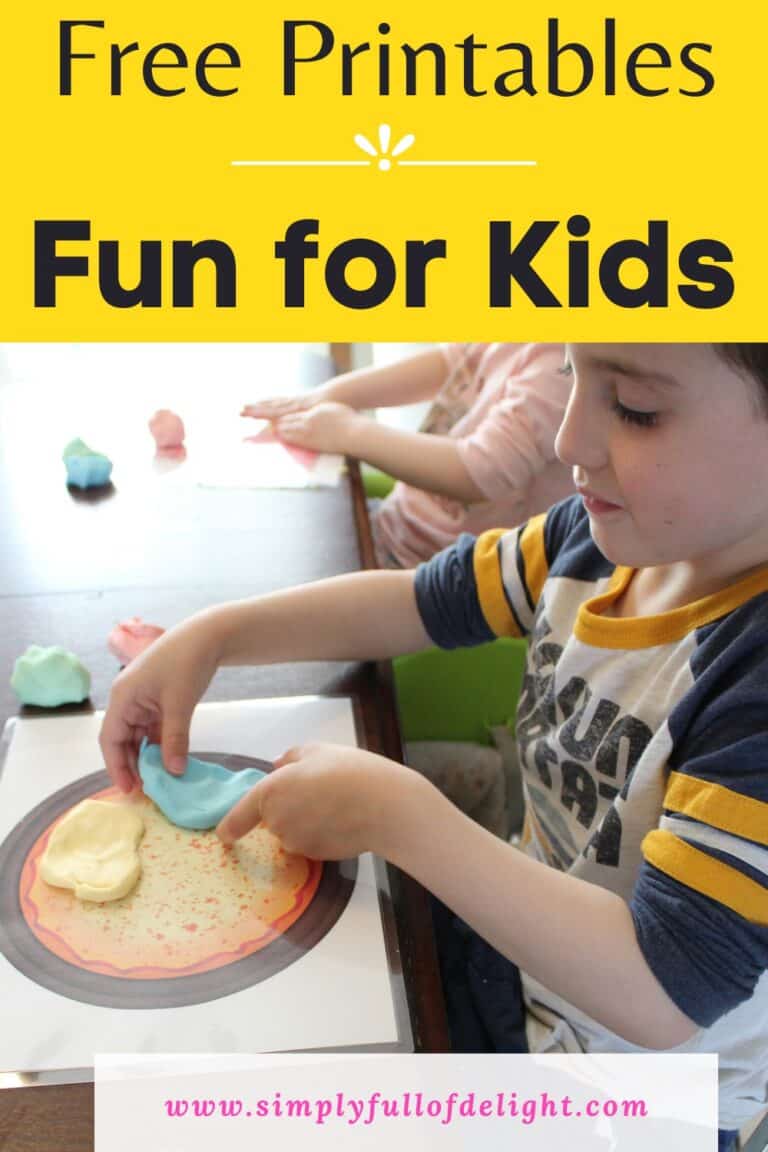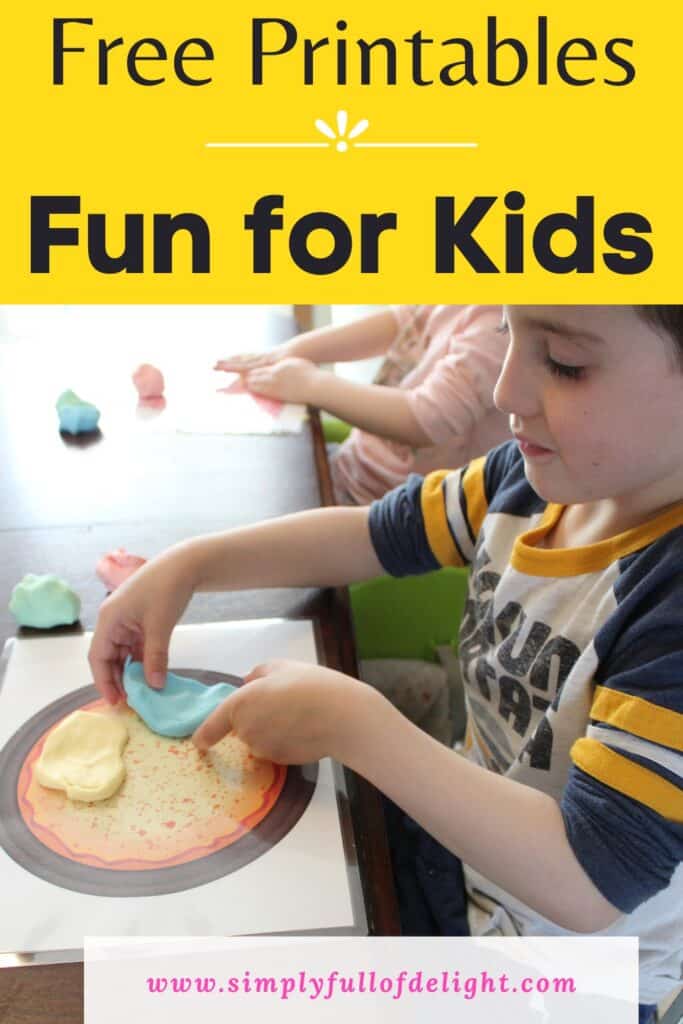 It is really truly amazing to have them engaged, happy, and playing together for such an extended time period.
The only complaint that arises is that they want the mat that another child has, but that is easily fixed by printing out multiple copies of their favorites.
Playdough activities are a great way to engage kids of all ages in fun!
What is a Play Dough Mat?
If you've never seen a playdough mat, it's basically a plastic placemat that you use with play dough.
The point is to extend the creativity and learning of playing with dough.
Each mat gives your child a starting point to spark their imagination or it asks a question that they can answer with dough.
For example, the pizza playdough mat below can be topped with pepperoni, cheese, or veggies, or whatever your child creates!
Yes, it's so much fun!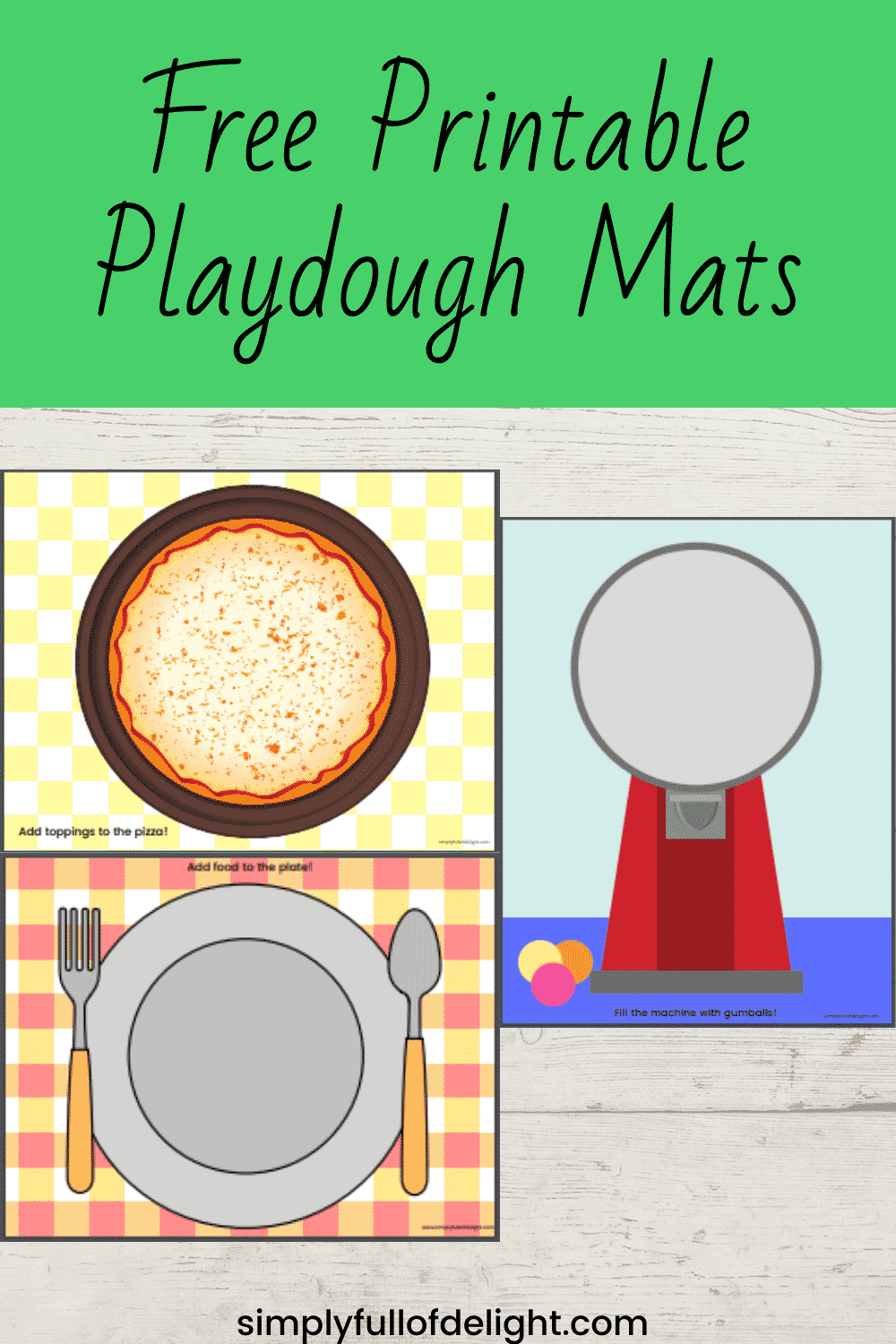 *** Disclaimer: As an Amazon Associate I earn from qualifying purchases, at no additional cost to you. Thanks for supporting this blog!***
Or your child can create a meal on the empty dinner plate.
I love seeing what meals they create!
This dinner plate playdough mat is perfect for teaching nutrition to kids as well!
It's fun to see the different ways young kids use the plate laminated playdough mat.
Next, they can fill the gumball machine mat with colorful gumballs!
This is always a favorite and quite easy for even the youngest child as all they need to do is make balls of dough.
I've included all 3 of these free playdough mats in my Resource library!
Printing Your Free Printable Play Dough Mats
After you download the fun playdough mats from my Resource Library, you can print them out at home or at an Office Store like Staples, Office Depot or a local print shop.
I recommend that you print on cardstock for durability.
They will keep a long time if you laminate them.
(I have this laminator and love it! It's so simple to use.)
Or you can place them inside a plastic page protector.
A sheet protector is not as durable as laminating, but it is a functional and fast way to preserve your printable mats.
Choosing the Playdough
Next, you will want to decide which kind of dough you want.
My kids have always used the Play-Doh brand and it's great.
I love that it always stays moist, so long as my kids remember to place the lids on top of the containers. LOL
If you want to make an easy homemade playdough recipe, all you need are a few simple ingredients that you might already have in your home!
There are a TON of playdough recipes out there, but this is the absolute simplest one I know.
And for families with Celiac Disease, this recipe is gluten-free.
Not that we eat our playdough, but it does tend to get under our fingernails during sensory play, and can accidentally be ingested, which can lead to serious problems if you have Celiac disease.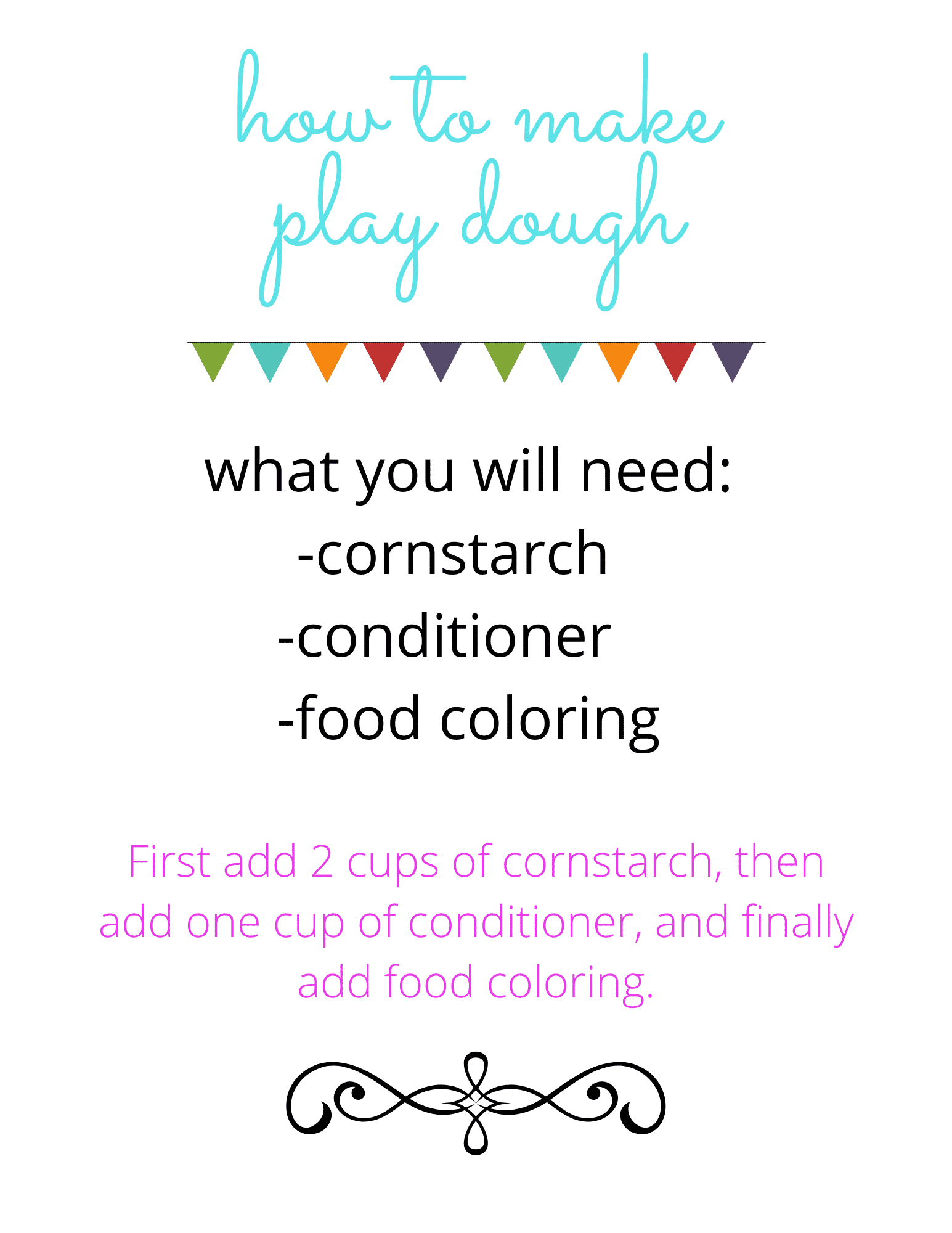 How to Make Gluten Free Playdough
You will need:
– 2 Cups of Cornstarch
– 1 Cup of Hair Conditioner
– Food Coloring
– Mixing Bowl
– a Measuring Cup
Start by adding the 2 cups of cornstarch to your mixing bowl.
I use my hands to mix the 1 cup of conditioner into the cornstarch.
Next add your food coloring, be sure to not touch the dye directly, or your hands will turn colors!
My kids love mixing the dough and of course, picking out which colors to make! It smells good too (because of the conditioner!)
This dough has a different texture than the Playdoh you would buy, but it is Celiac safe and fun to make!
My kids like to use play dough they've made themselves with these printable play mats.
They especially love choosing different colors like neon or pastels.
If you like, you can even use some essential oils to your homemade play dough to add to the sensory experience.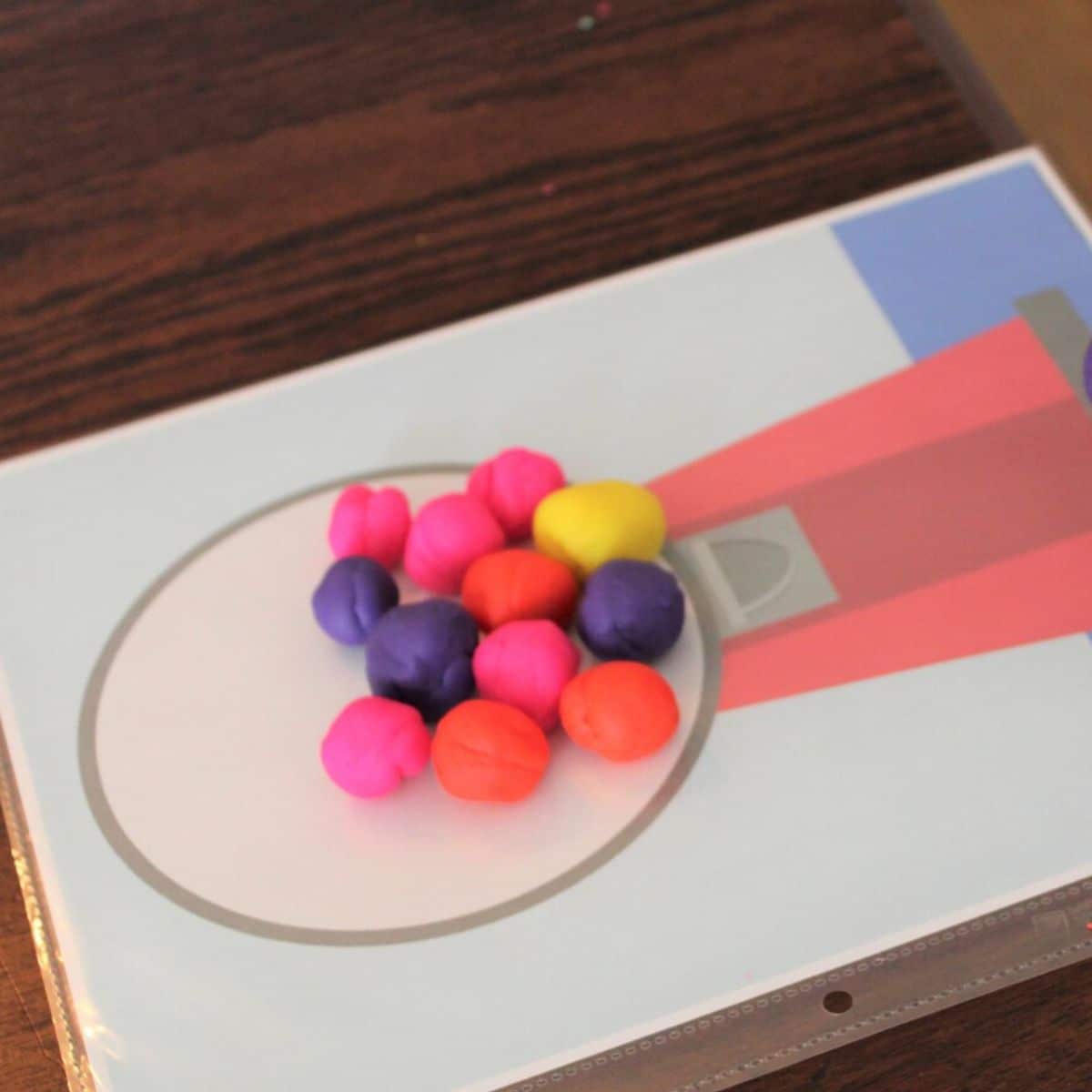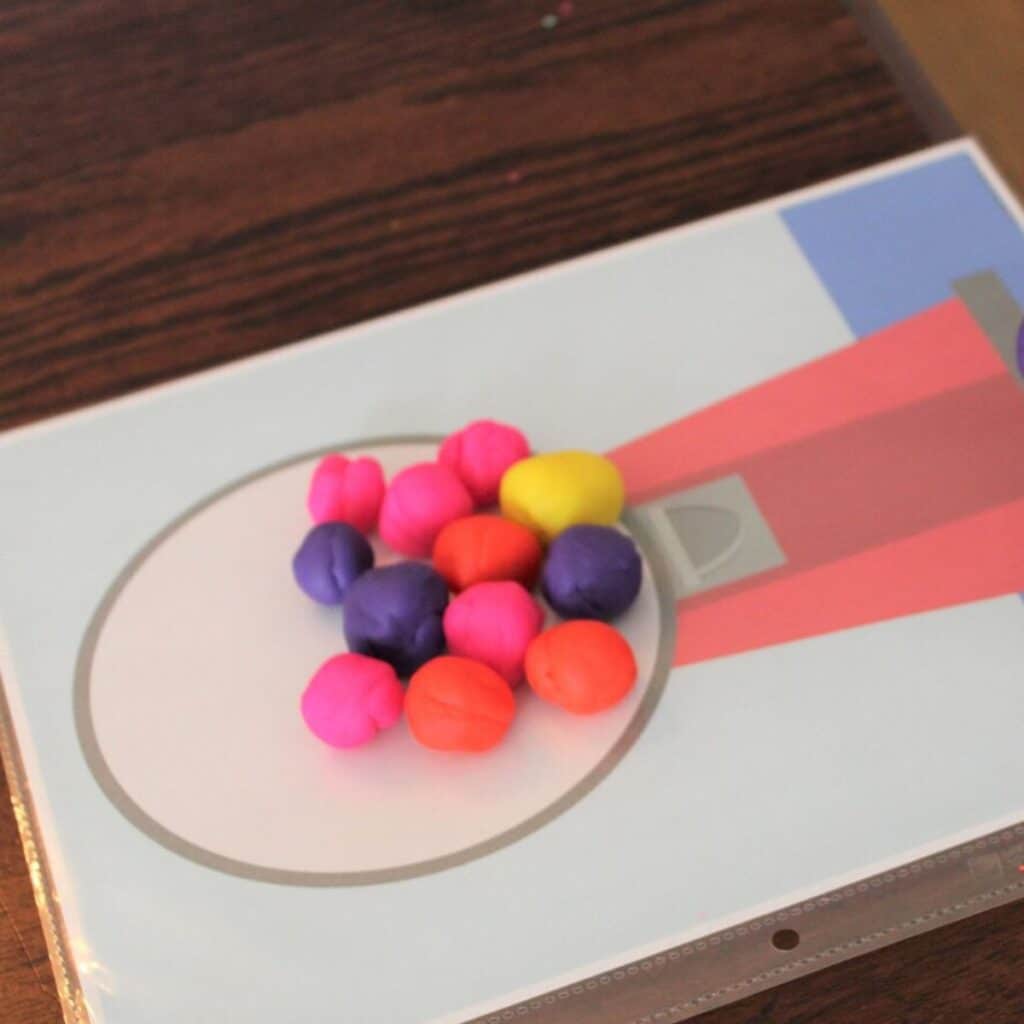 Introduce the Playdough Mats
Once the dough is ready, introduce your playdough mats.
Be sure to show your kids how to use the mats.
Explain each mat and give younger children some guidance on what to do.
I usually place a plastic tablecloth on the table to catch the mess. Then I shake it outside when we are done.
Also, parenting pro tip: invest in a tiny broom/dust pan so that your kids can learn to help clean up the mess.
***Shocker: most kids love to help clean up!***
And that's it! Sit back and enjoy some quiet time!
Get the Free Printable Playdough Mats
I have the pizza, dinner plate, and bubblegum machine playdough mats FREE that you can print out in my Resource Library which is free to all of my email subscribers!
It's full of free printables for kids.
You can join my email list below!
If your kids LOVE these free mats, I also have several other fun play dough mats available in my Etsy shop that you can instantly download.
Currently in my Etsy shop, I have food play dough mats, a set that teaches numbers, a unicorn themed playdough mat set, construction and transportation themed mats, Christmas tree mats, and some other holiday play dough mats.
You can check out all of the different themes here.
Laminated play dough mats with some dough would make an excellent play dough Christmas gift for any child!
There's even smaller mats that can be given as Christmas gifts to students or classmates here.
What a great way to engage little hands and inspire a young mind.
I hope your kids have a great time with these free printable playdough mats.
Plus, I hope you enjoy some amazing quiet time in the coming weeks while your kids are busy with these play dough activities.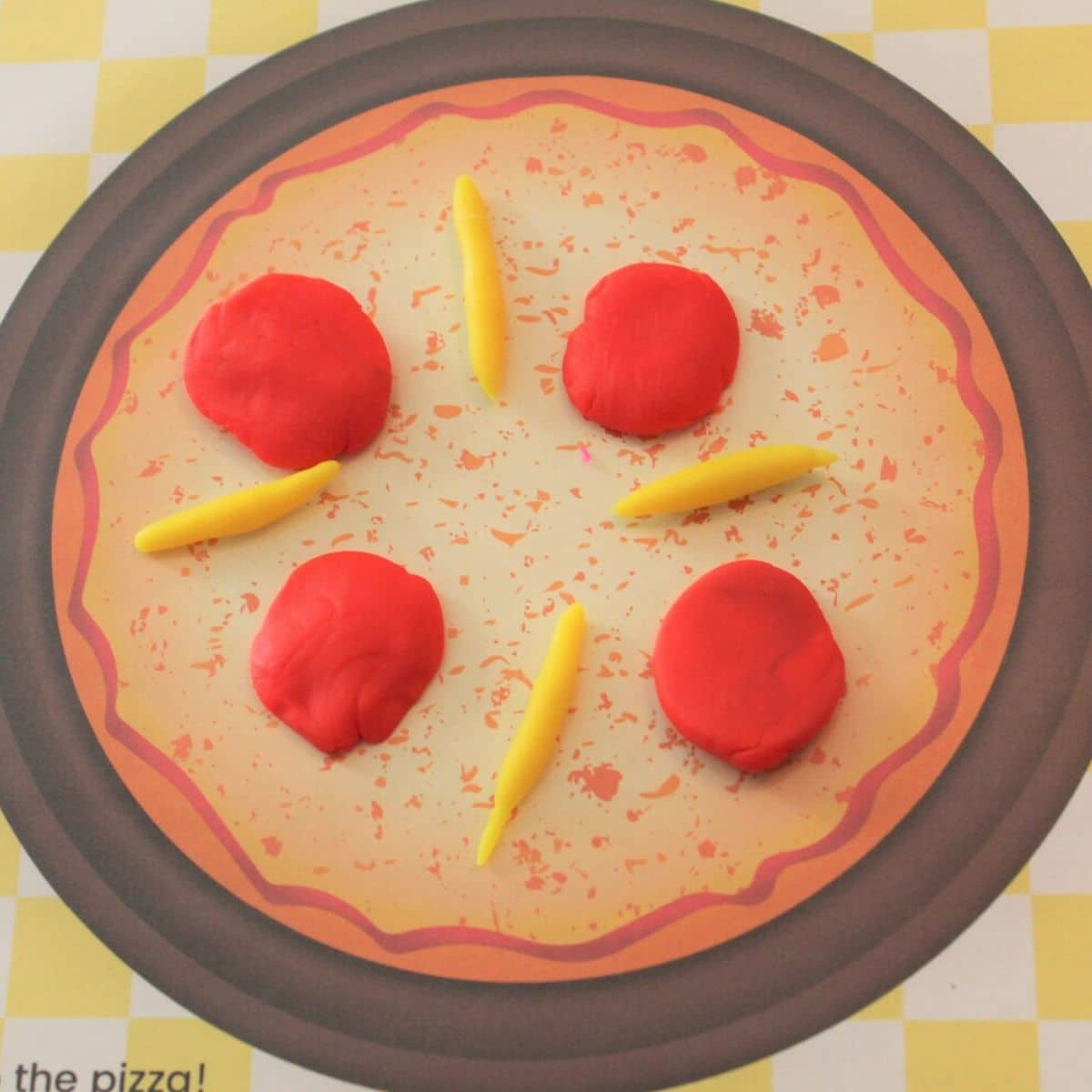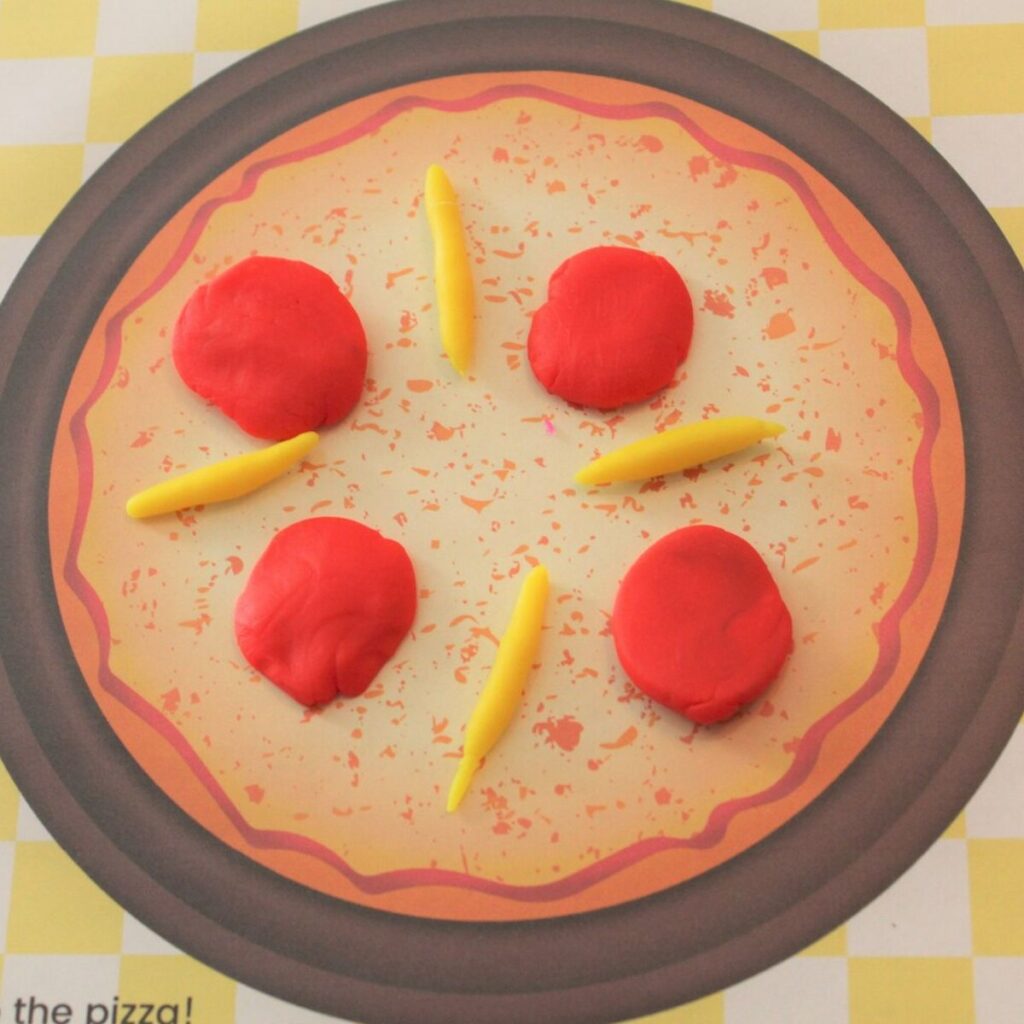 More Learning Fun for Kids
Looking for more fun activity ideas? This ABC Soup Sensory Bin is the perfect way to practice letter sounds and ABC identification.
This Farm Sensory Bin is the perfect addition to your Farm unit. What a fun way for kids to develop those important fine motor skills and encourage young minds to use their imagination.
For your truck loving kids, don't miss this awesome Construction Sensory Bin.
Little ones can scoop the beans, haul rocks and wood chips, build with sticks, and more.
So much fun for preschoolers and older kids as well.
Need an easy sensory bin? This Car Wash Sensory Play idea is our easiest sensory bin yet!
Little ones will enjoy washing the cars, playing in the bubbles, and enjoying their very own DIY car wash.
I used this sensory bin all the time when my kids were in the toddler years!
For more fun activities for kids be sure to check out the amazing Sensory Bins in this post.
There's amazing ideas to inspire you and help you build your own sensory experiences for your children.
Or try this fun nostalgic Dirt Pudding Cup recipe. What a great activity to do together with your child!
But definitely don't miss out on these Freebies for Kids – so many amazing free things online and in the mail
More Food Playdough Mats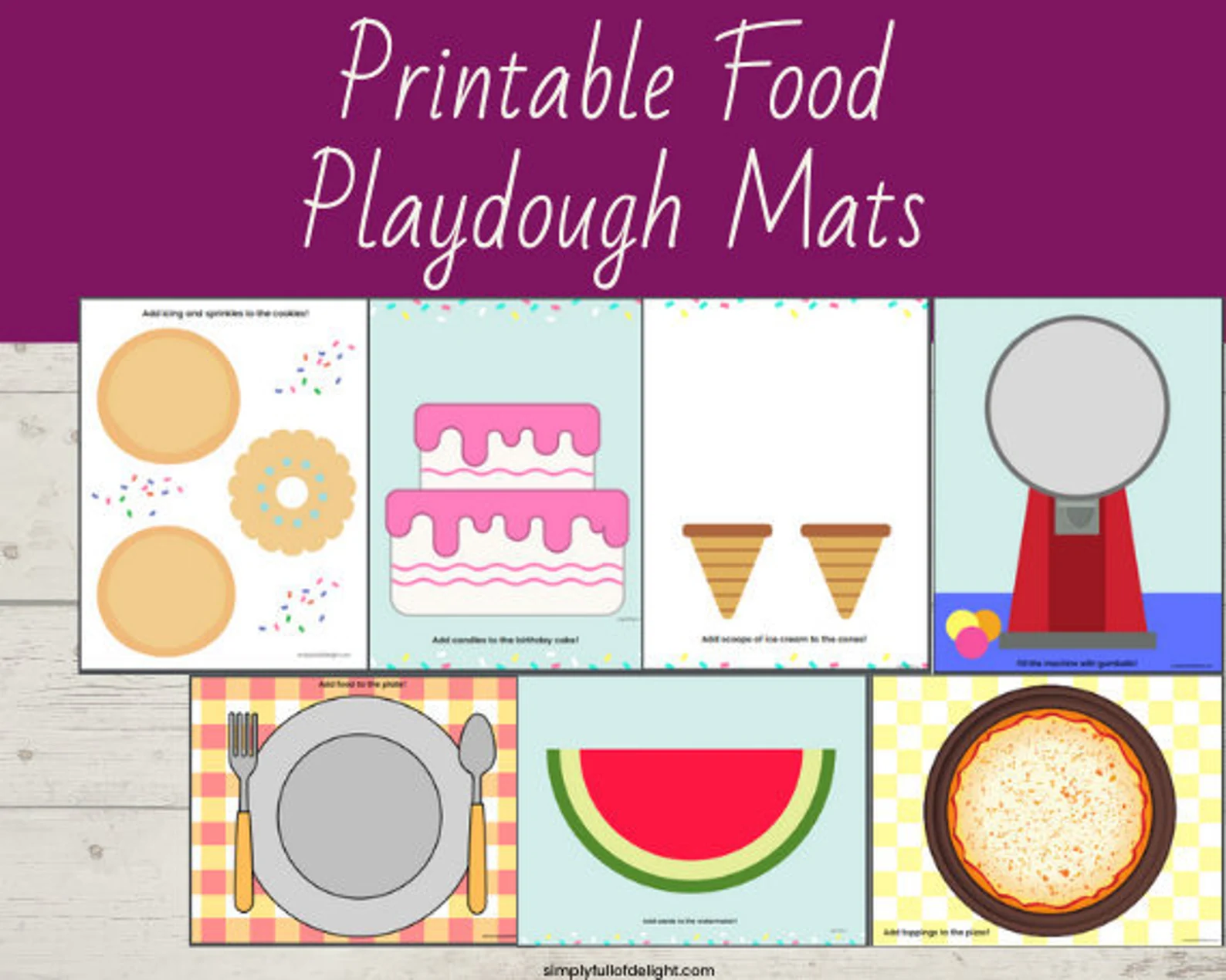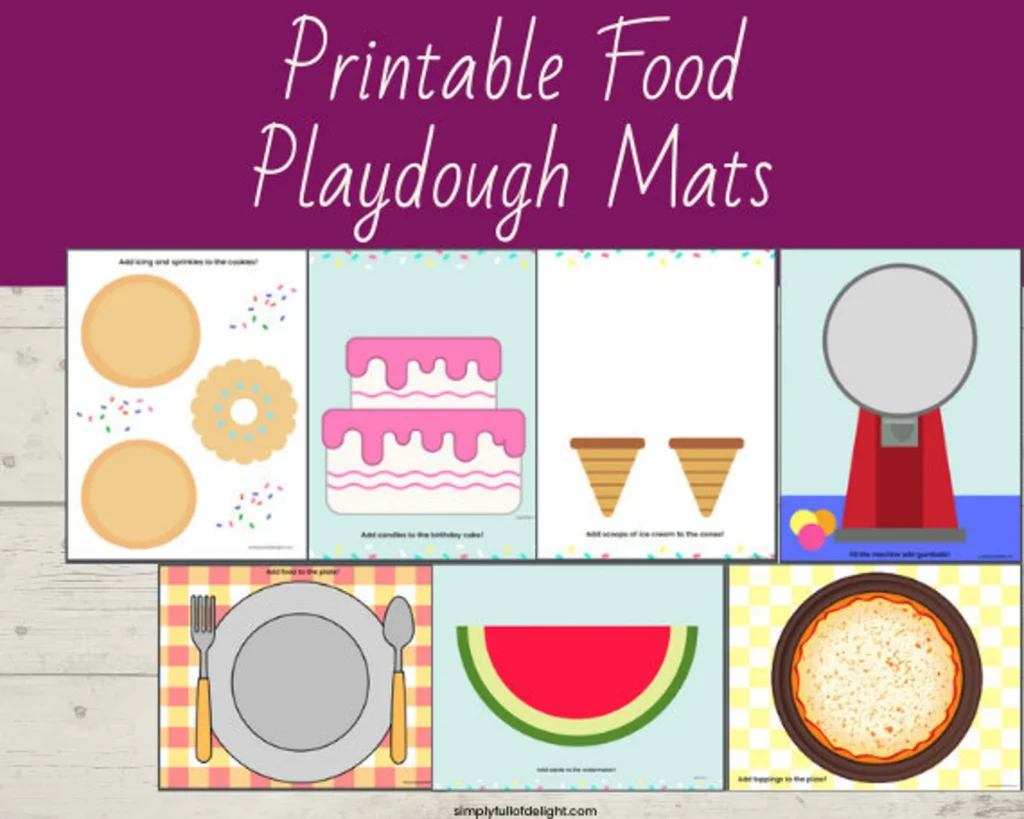 Want the complete set of Food Playdough Mats?
You can find all 7 in my Etsy shop here.
There's sugar cookies to decorate, a birthday cake, ice cream cones, and more! Plus to sweeten the deal, use coupon code FOOD20 to get 20% off.