In the heat of summer, what sounds better than an ice sensory bin?! This Arctic Ice Sensory Play for Toddlers and Preschoolers will engage all of your kids in some good cool fun!
This Arctic sensory bin experience is great for kids of all ages. Ice makes a nice sensory play experience for little ones with little adult supervision.
Preschoolers can play independently and even older kids will enjoy the science of this activity! My 10 year old daughter loved the experimentation and creation of making mini igloos.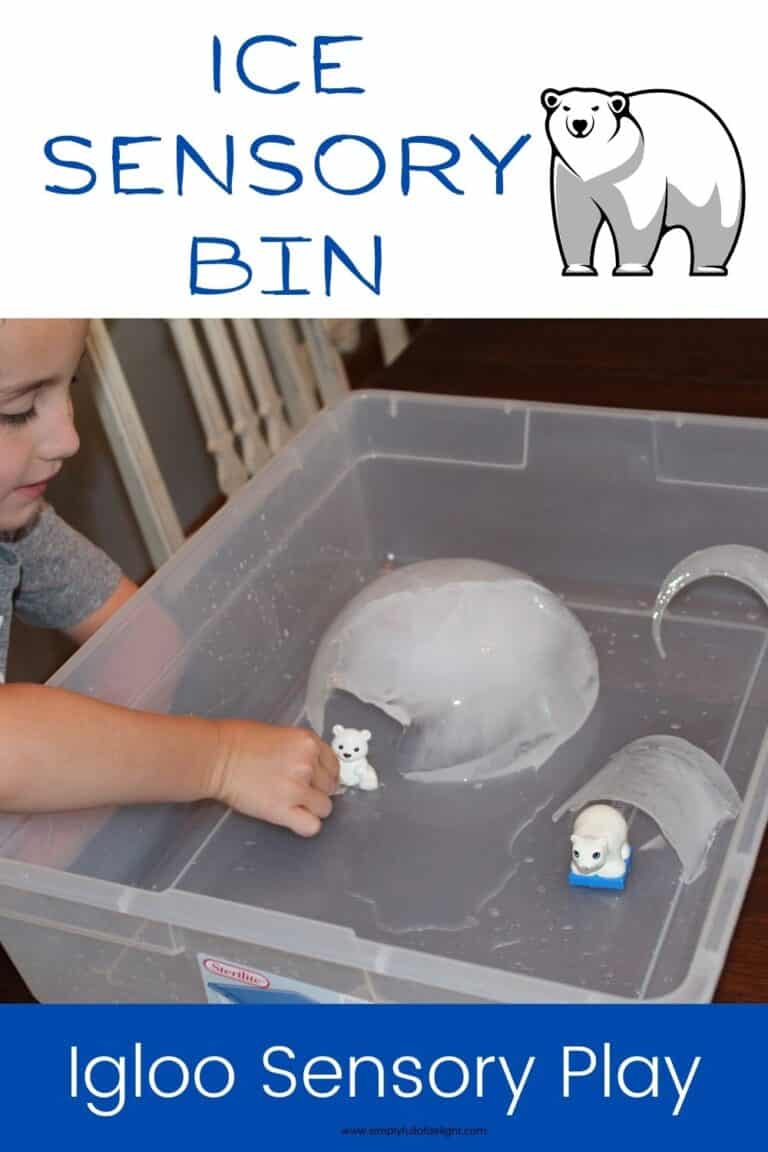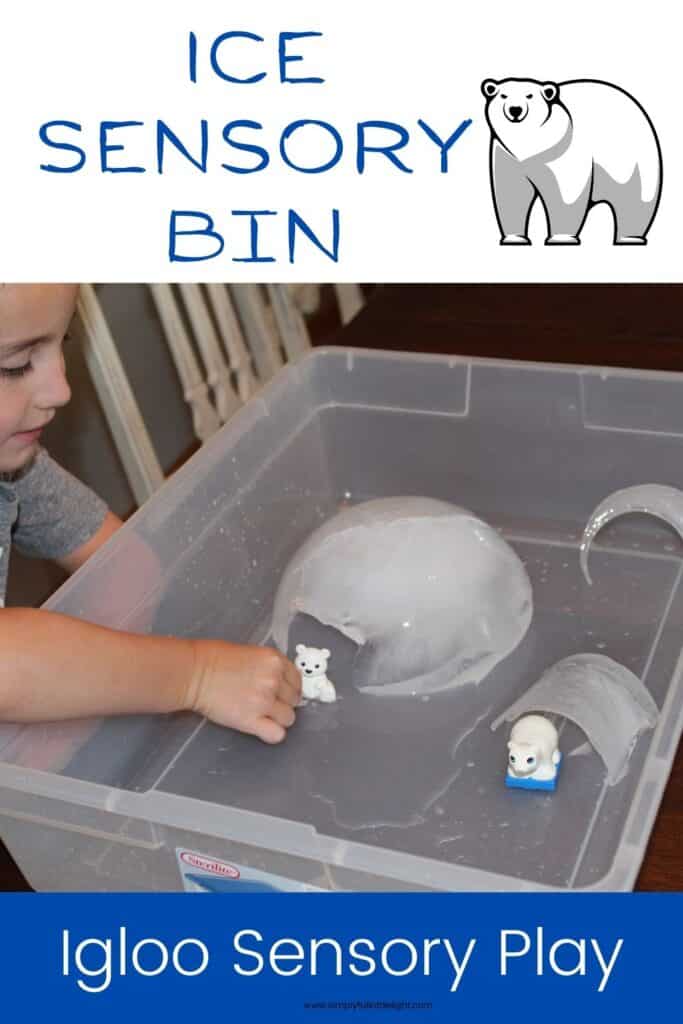 The fun thing about sensory play and creating a sensory bin is that there are so many ways to do it. I hope this article helps inspire you to create your own Arctic Ice Sensory Bin and that you and you child have fun creating it together!
** Disclaimer: As an Amazon.com Associate, I earn from qualifying purchases made by readers clicking my links at no extra cost to you.
Ice Sensory Bin Materials:
For this Arctic Ice Sensory Bin you will need:
– A sensory bin or tote
-Toy Arctic animals (We used Lego Duplo Polar Bears from this set and an older set.).
– A variety of containers to shape your "igloos"
– Washcloths
– Water
– Wooden Hammers (for breaking ice outside afterwards!) – We use these hammers by Melissa and Doug.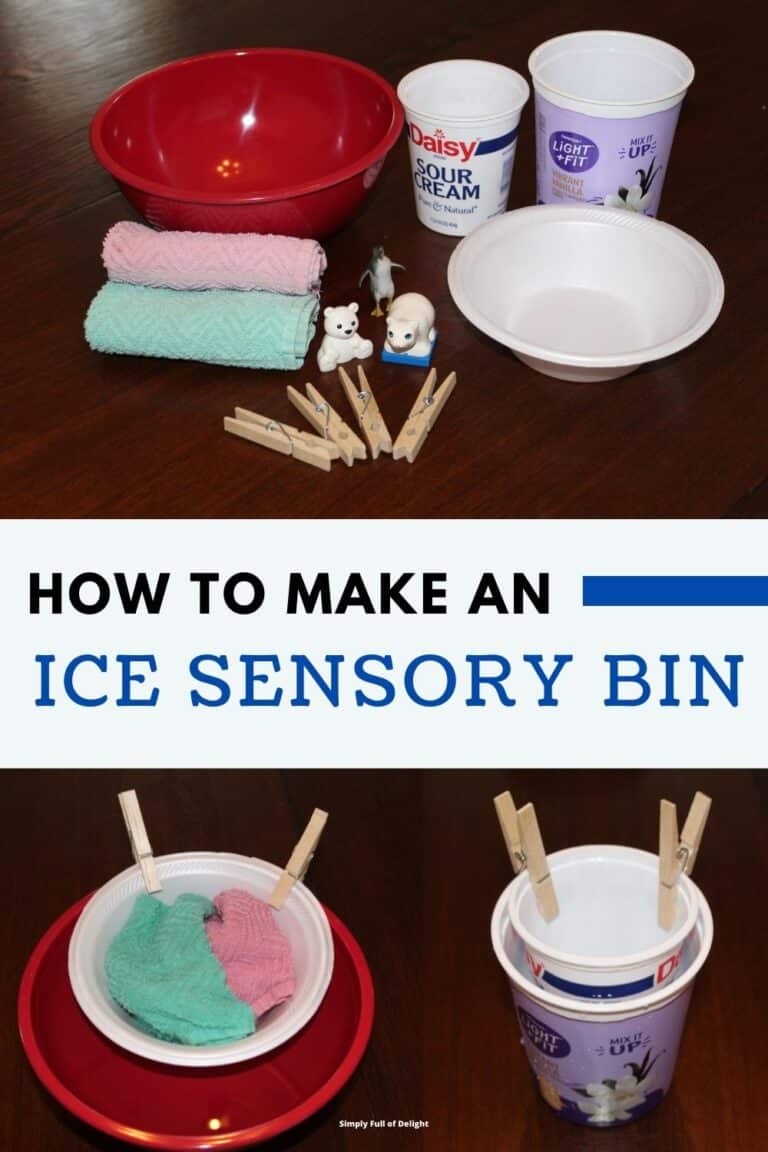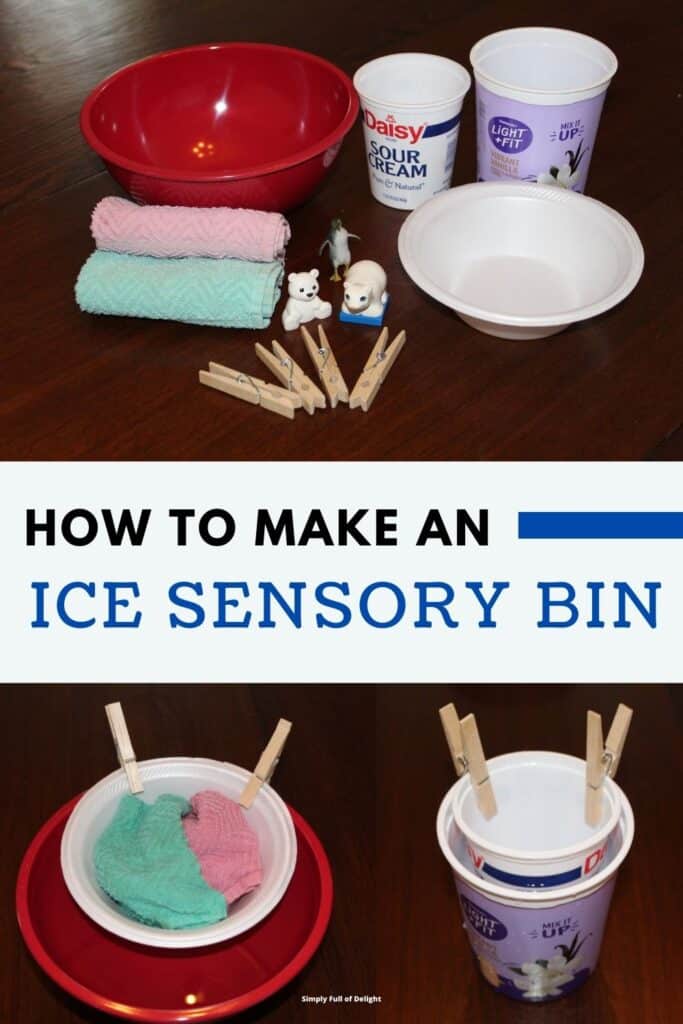 How to Create an Ice Igloo for Sensory Play
First, we need to create the Ice Igloos. I recommend doing this step the day before to ensure they are properly frozen.
This step takes a bit of trial and error. First, you need to find bowls or containers that will have the curvature of an igloo. If you want the igloos to be able to hold toys inside, they will need to have a hollow opening.
To create a hollow opening, place a smaller container inside a larger one. Using clothespins clip the smaller container to the inside of the larger container. Make sure it is to one side, to create an opening.
To add some weight to the smaller container (to keep it in place), place some wet washcloths inside the smaller container.
Last, add water to the larger container. Then freeze overnight.
My 10 year old helped me with this project. There was a lot of trial and error, but we discovered two ways that looked a lot like an igloo.
The first was a larger plastic yogurt container with a smaller sour cream container placed inside. This made the smaller ice arcs you see in the pictures.
The largest igloo was made using a medium size bowl with a disposable foam bowl inside of it.
Once your ice is completely frozen, you'll want to gather all of the rest of your supplies. Don't remove your ice from the freezer until it's time to play!
We paired Arctic animals with this ice sensory play activity. We used the polar bears and white bunnies (Arctic hares!) from our Duplo Lego sets. Also, we added a penguin from another animal set as well.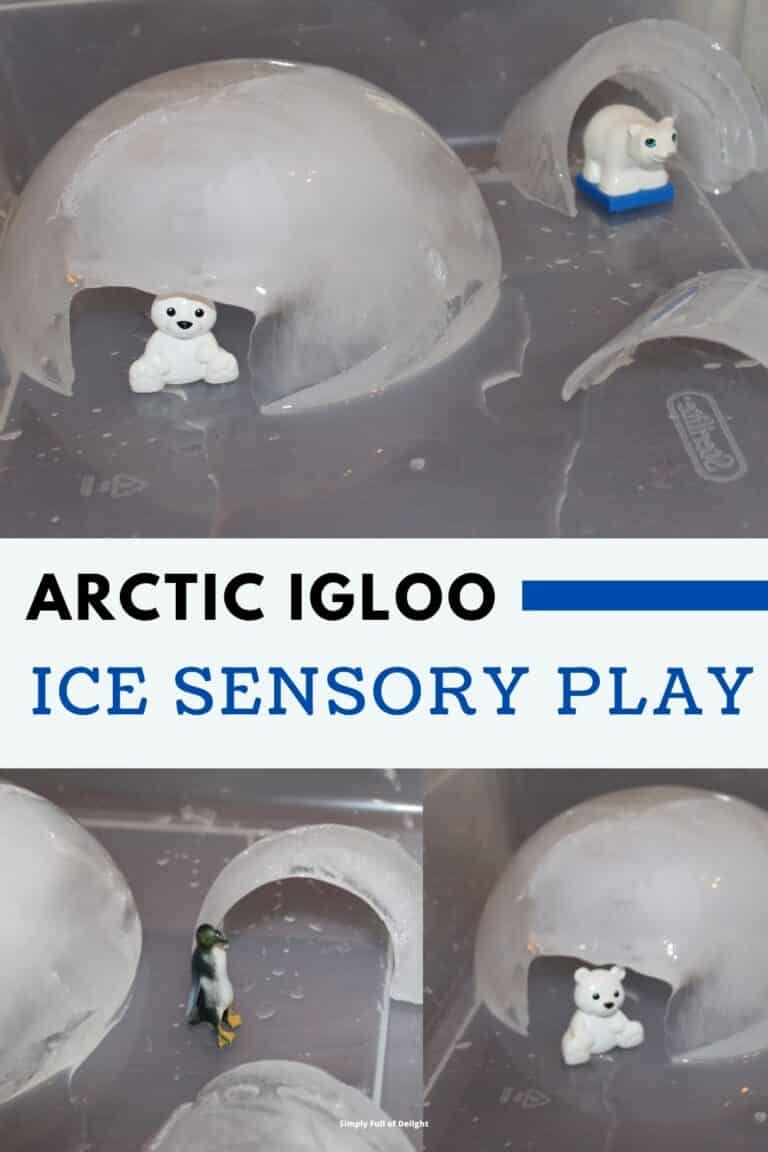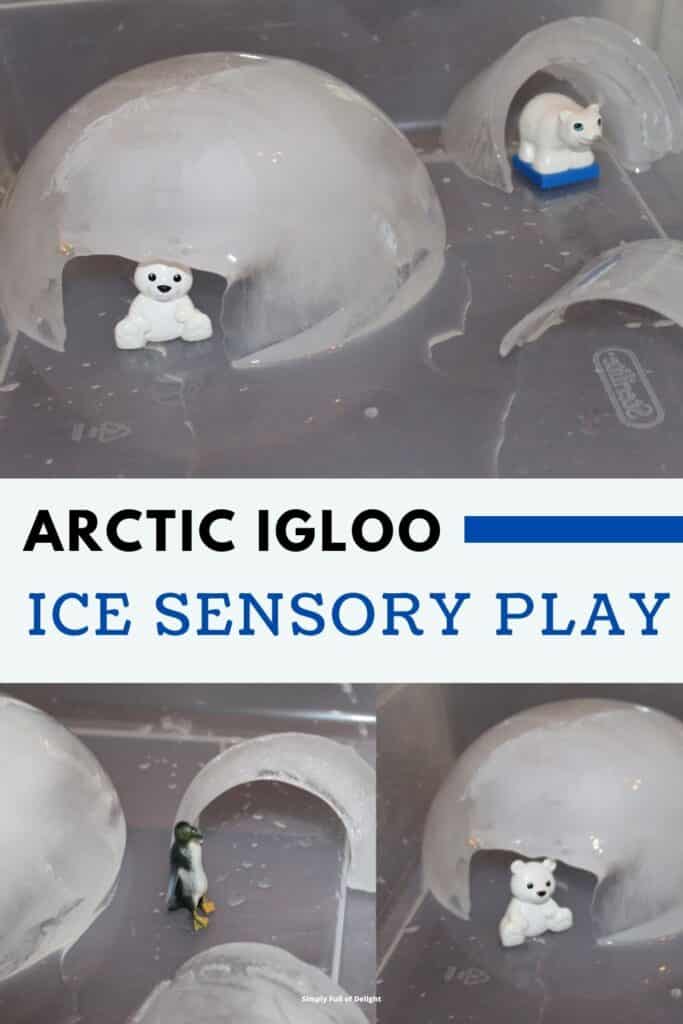 Removing the Ice for Sensory Play
You will want to keep the ice in the freezer until it's play time, as it does melt! Ours lasted as long as my kids wanted to play, but it does definitely melt over the course of time, as you'd expect.
To remove it from the containers, place the outside of the container under running hot water for a few seconds. Try to remove from the container. If you have trouble, run it under the hot water again.
If your containers moved slightly during freezing, you may have a slight icy covering over your igloo's doorway. Simply run that area under hot water. It melts fast, so work quickly and carefully to create the igloo doorway you desire.
Time for Arctic Ice Sensory Play!
When it's finished, call the kids in to play! My kids loved moving the animals from igloo to igloo! They spent a good amount of time in imaginative play.
When they were finished, we took the ice outside to our sidewalk and they enjoyed using wooden toy hammers to break apart the remaining ice.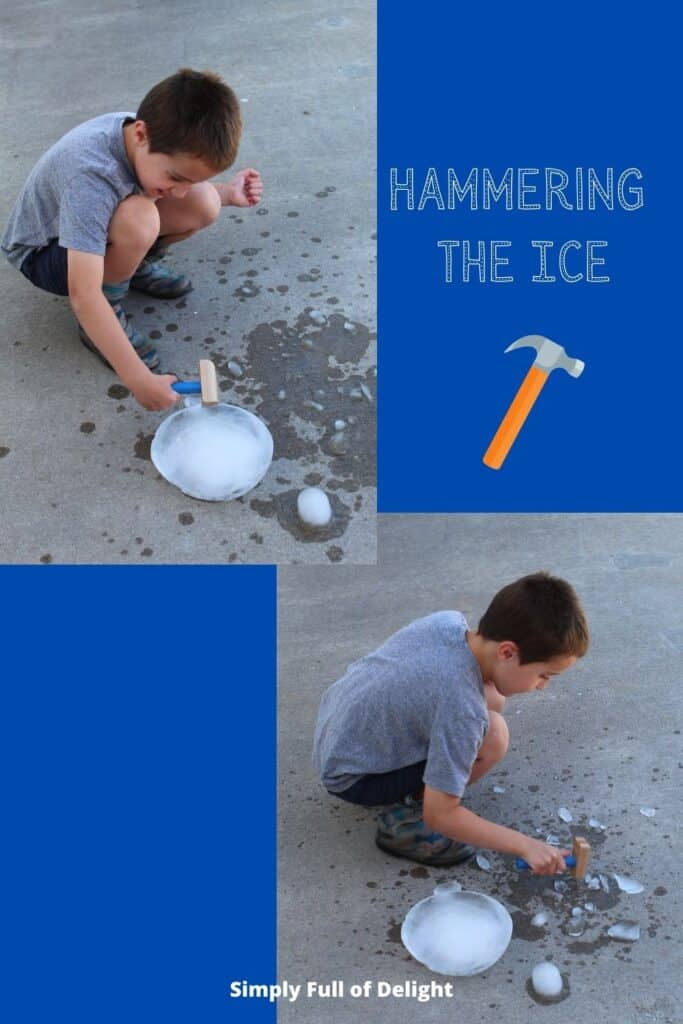 Some Cool Things your Kids will Learn:
– Ice is COLD! My youngest was surprised by how cold ice is! Her hands got very cold after playing. She learned to wait a few minutes to warm up her hands in between touching the ice block.
– Fine Motor Skill development – Playing with sensory bins is a great way to develop those skills! This activity provides lots of pinching and slippery ice to hold and touch!
– Arctic Animals – This is a fun way to introduce Arctic animals to your child and talk about why these animals can live in such a cold place. Be sure to check out this Easy Polar Bear Craft for preschool!
– Geography – This ice sensory bin leads to natural curiosity about where the Arctic is located.
– Spatial Reasoning & Experimentation – If you have an older child, this is a great way to build those spatial reasoning skills. Planning out what containers to use to create an igloo takes thought and experimentation. (My 10 year old helped me with this and she loved it so much, she immediately made more igloos the next day.)
– If you'd like to make a literature connection, be sure to check out these Arctic Animal books!
More Ideas for Ice Sensory Play
Looking for more ice sensory play ideas? Here's a few:
Make colored ice cubes! Simply add some food coloring to your ice cube tray. Little ones will enjoy seeing the colors mix as they watch the ice melt.
Do Ice Cube painting – provide kids with colored ice cubes and paper to make some fun summer art!
Freeze items in ice – you can freeze toys for kids to hammer out as a fun interactive sensory activity. (Think cold paleontologist).
Alternatively, you can give kids an eye dropper with warm water and let them melt the ice to free the frozen items. (So many fun ideas for water play in your water table!)
Make frozen flowers to see what happens when you try to preserve a flower in ice.
Don't forget that making homemade ice cream is always a favorite activity with kids.
You can also simply add ice to a water sensory play bin for the super quick ice play activity.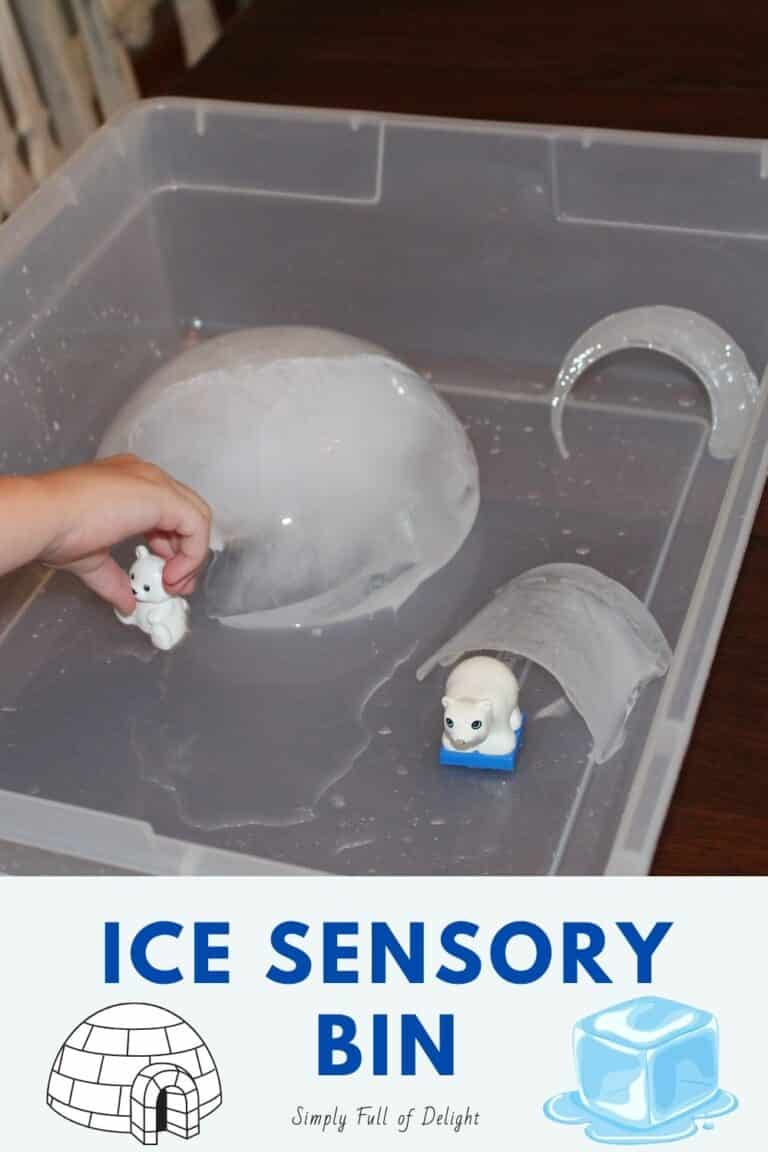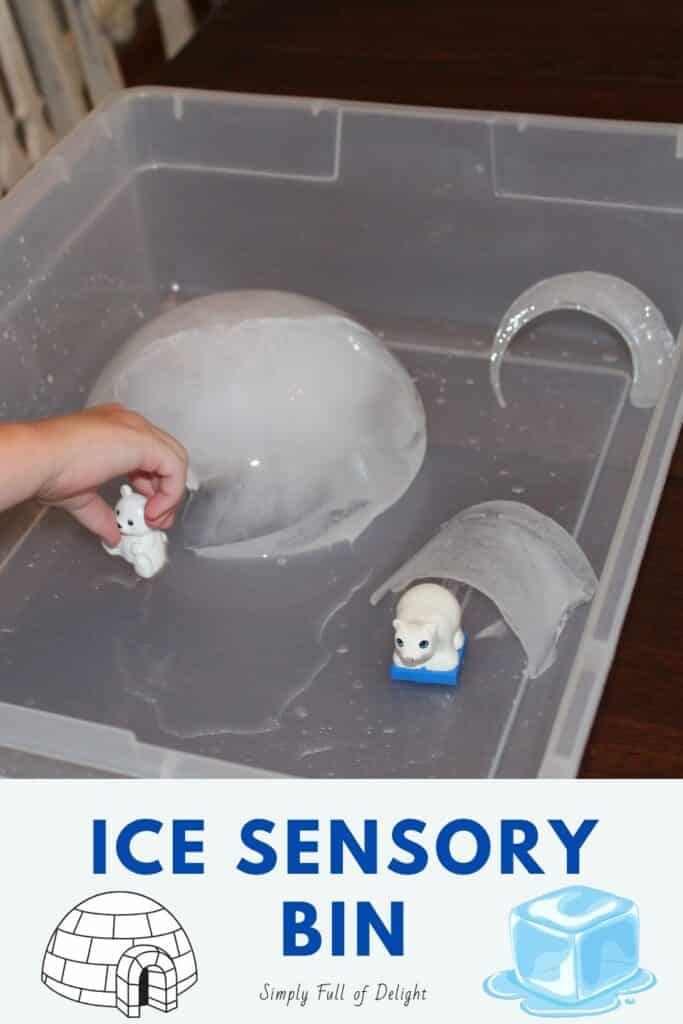 More Sensory Play Ideas
If your child loves sensory play (and you love how engaged they are in play), then check out some of these other sensory play ideas.
– How to Make Fake Snow – All you need are a few simple ingredients to make this fun fake snow! Perfect for continuing your adventures in learning about the Arctic!
– 4 Easy Sensory Bins – Here's some easy ideas to put together sensory bins for your preschoolers. My kids loved the construction bin the best!
– How to Make Colored Rice for Sensory Play – Learn how to make dyed rice for sensory bins. The great thing about using rice in sensory bins is that you can use it again and again!
– Vegetable and Flower Garden Sensory Bin – This adorable sensory bin will be a favorite! Using dried green split peas as the base, your child can dig, plant, and harvest from their own little garden.
– Free Printable Play Dough Mats – Grab these 3 free play dough mats to extend your child's imagination and creativity. I find that my kids play longer and are more engaged in dough with play dough mats!
Alright! That's it from me! I hope you have fun creating your own Igloos from ice and that your kids enjoy this ice sensory play activity! If you have any questions or comments, drop them in the comments section below!