Looking to keep your kids engaged in play for longer than 10 minutes? Try this Fall Sensory Bin!
It's so simple to make and your kids will play for a good long stretch. That's right! This is an activity that allows you to drink your coffee before it gets cold. I'm always in favor of activities that keep those kiddos happy and busy!
To create this fall sensory bin, you will need colored rice, leaves, fall themed bits and pieces, and wooden peg dolls.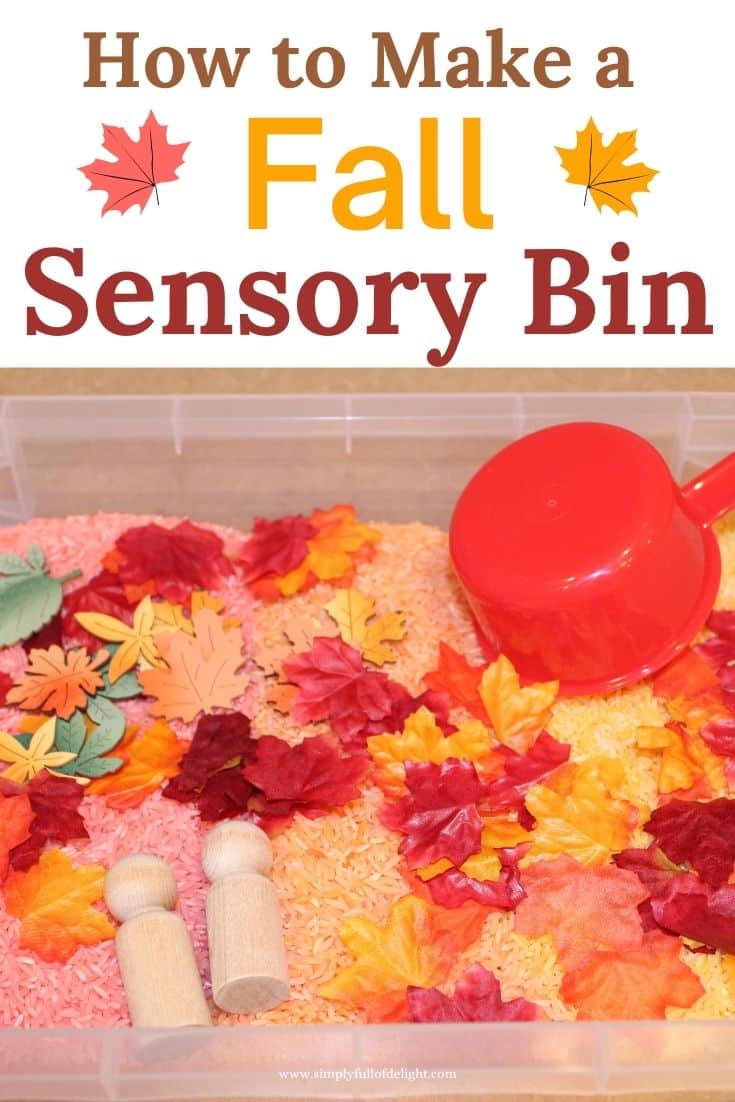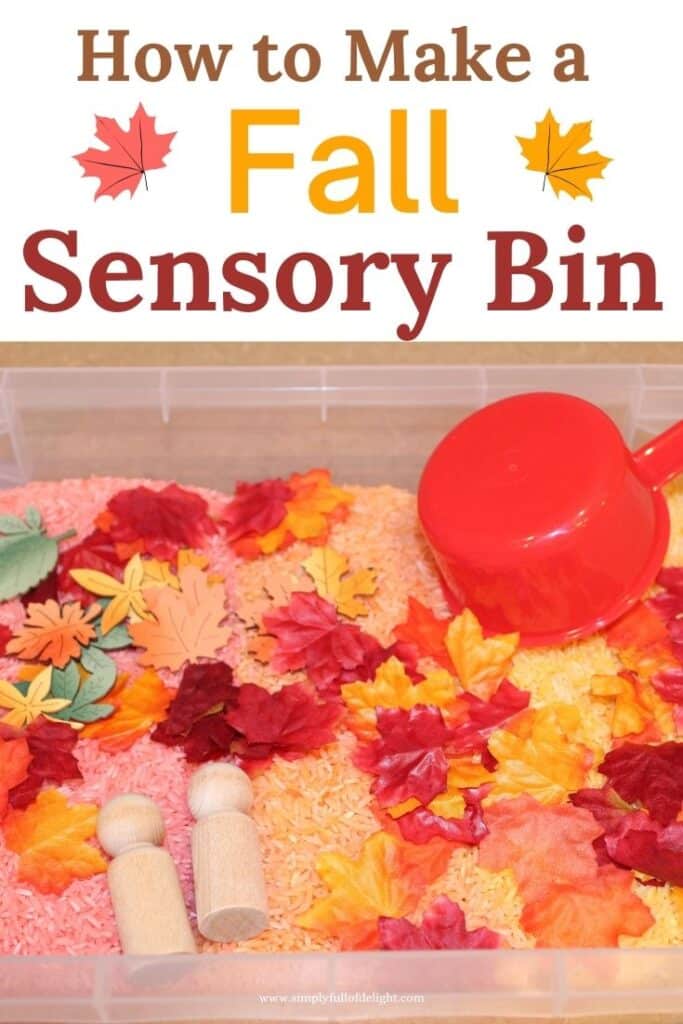 Before we dive into how to make a Fall Sensory Bin, let's talk about what is a sensory bin?
What is a Sensory Bin?
A Sensory Bin is a container filled with items that awaken the senses and trigger the imagination. The possibilities are absolutely endless.
Items you might commonly see in a sensory bin include sand, water, rice, uncooked pasta, water beads, pom-poms, shredded paper, beans, and dry corn. Of course, the list goes on and on. See this post for more ideas on creating sensory bins.
Most sensory bins have a theme and lead to creative and imaginative play. So, that leads us to… what are the benefits of sensory play?
Why are sensory bins important?
According to Petit Early Learning Journey, Sensory play is important because:
– It helps with cognitive development.
– Sensory play helps develop fine and gross motor skills.
– This type of activity encourages problem solving and creativity.
– It helps language development and social skills.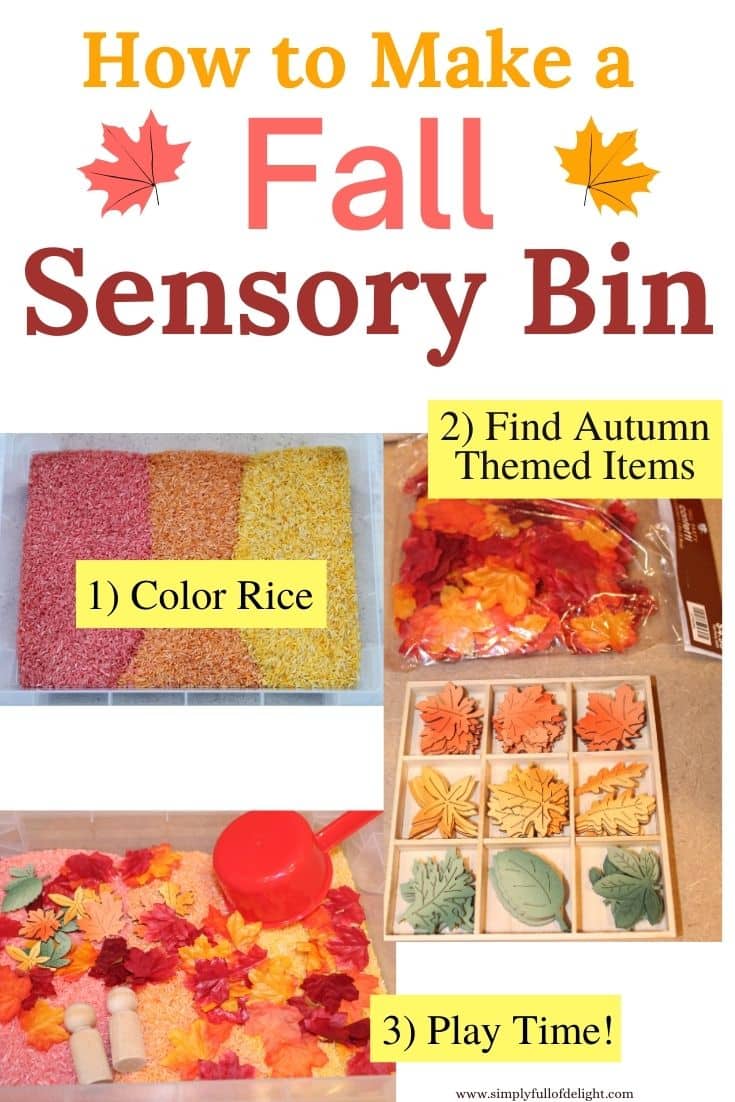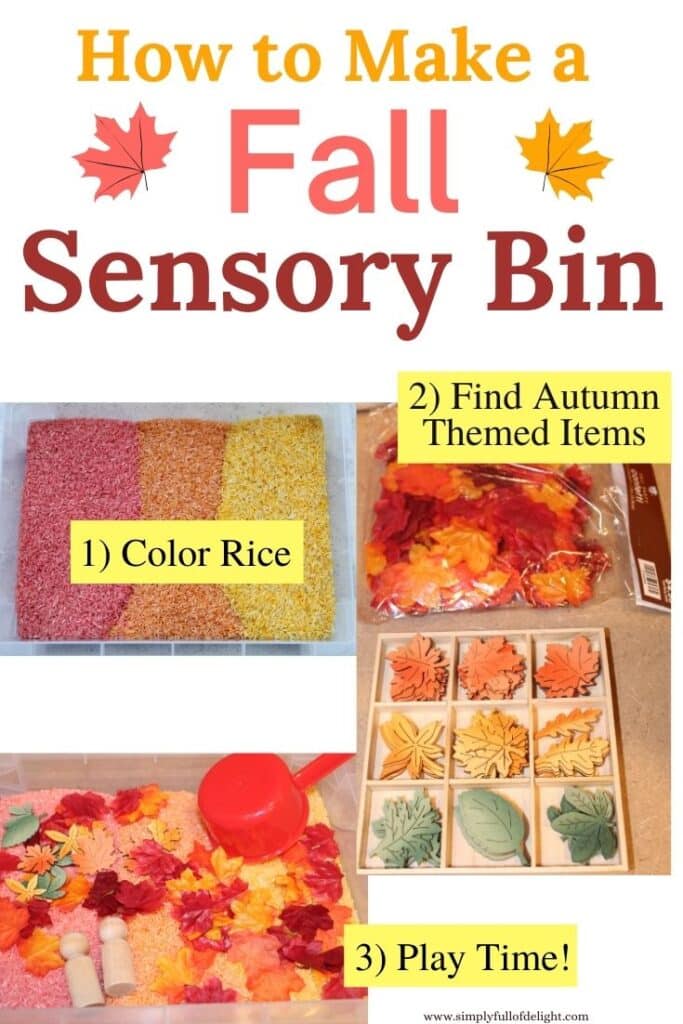 Let's make a Fall Sensory Bin
** Disclaimer: As an Amazon.com Associate, I earn from qualifying purchases made by readers clicking my links at no extra cost to you.
Alright! Let's get started!
You will need:
-Colored Rice – You can find instructions to dye rice here.
– Leaves – You can use real leaves or fake. I wouldn't recommend dried leaves as they may leave a big mess as they crumble. I found fake mini leaves at Hobby Lobby!
– Fall themed bits and pieces – I found adorable miniature wooden leaves at Hobby Lobby as well!
– Wooden peg dolls – I love these because they allow so much versatility. You can use them in literally any themed box to represent any person.
– A Scoop – I like to use measuring cups because they are easy for kids to handle and they are plentiful in my kitchen!
Simply add your items to a container and let your children have fun!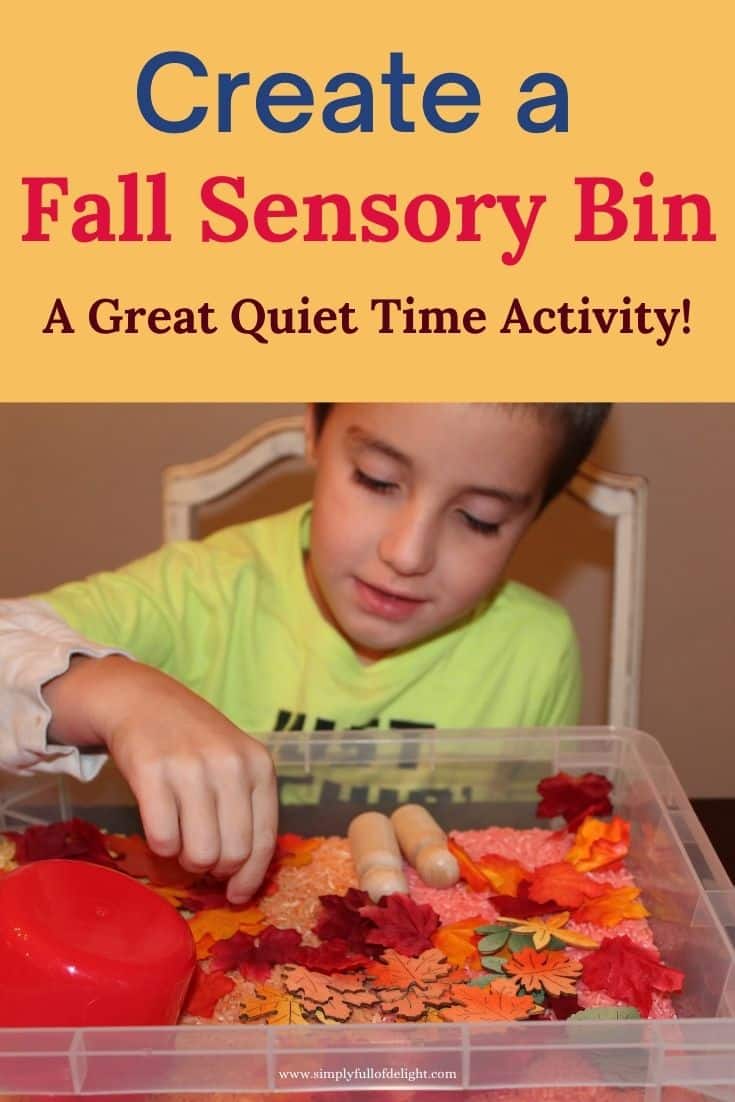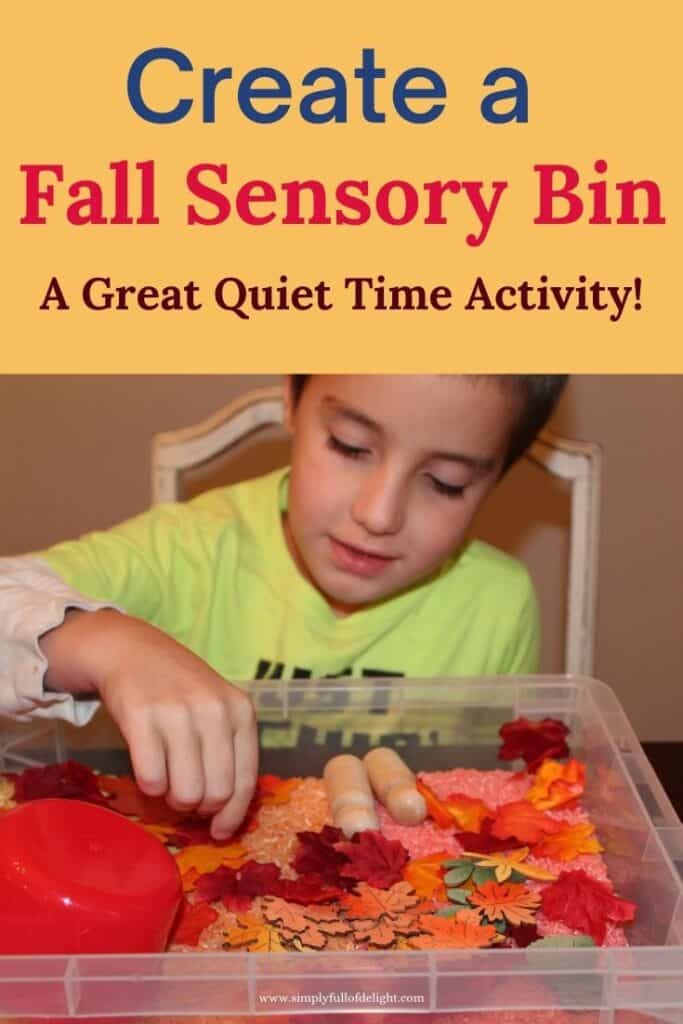 Sensory Bin Tips
If you are looking for a sensory bin container, anything goes really! I typically use an "under the bed" storage container, but you can use a water table or any other type of bin that your child can easily play in. I've used pie carrier containers or office organization bins in the past!
That's it! Of course, you can extend the play time by slowly adding more items to the bin for your child. I often add bowls, spoons, or a tractor with a wagon.
Adding new items over time can both engage your child longer and can spark their imagination in a new way. For example, adding bowls and spoons may lead them to think about cooking. Or, adding the tractor and wagon leads them to think of harvest time.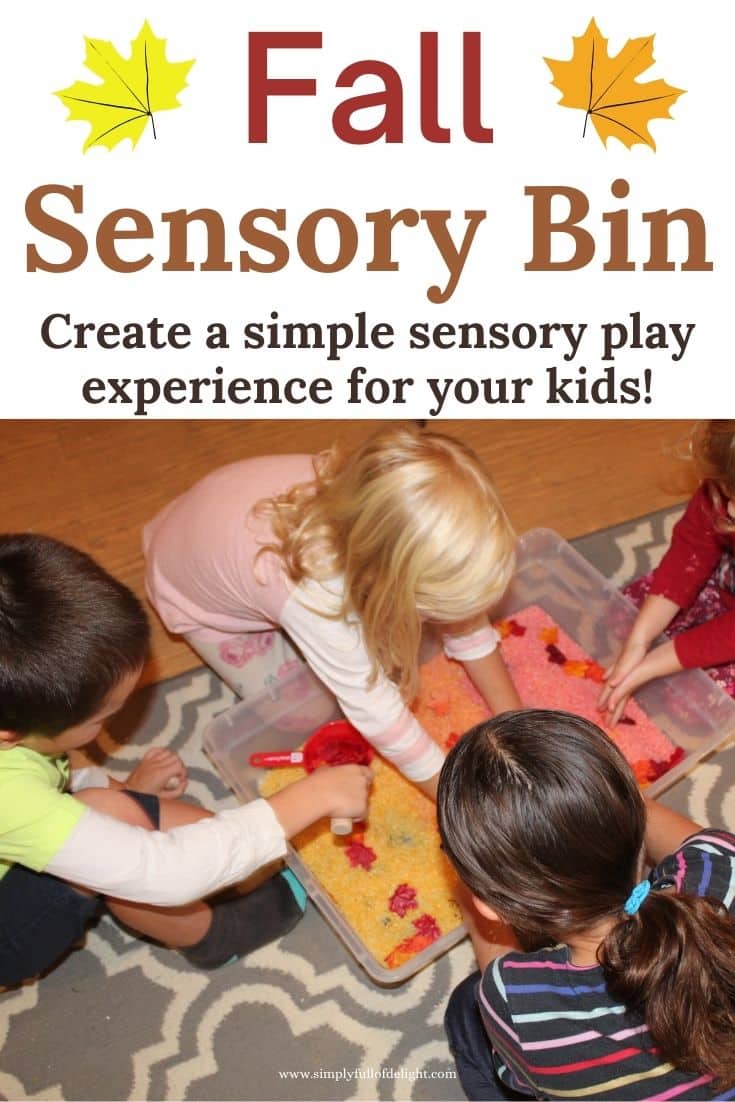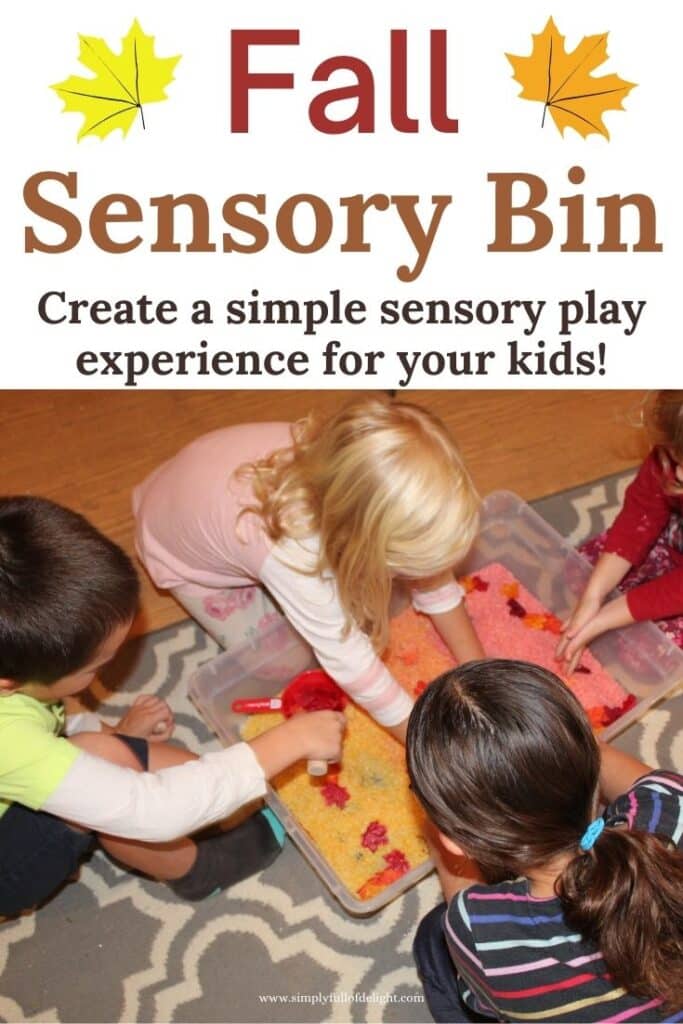 Be sure to add things slowly so that you don't overwhelm them. A good rule of thumb is that if they are playing happily, let them continue. When your kids show signs of needing inspiration, add a new item.
If you are worried about the mess, I have some tips for keeping sensory play mess to a minimum here. Happy Fall Y'all!
Other Related Articles:
How to Make Colored Rice for Sensory Play