Does your child love fairies? Check out this DIY Fairy Sensory Bin. It's so easy and cute!
This simple fairy sensory bin is perfect for little ones who love fairies and magical worlds. Kids will enjoy playing with the fairy, hiding the butterflies and bunnies, scooping the green split peas, and plenty of imaginative play.
My kids always enjoy their fairy garden in the summer time. They love making fairy houses and adding to their own enchanted forest. This week, as the weather is a bit colder, we decided it was time to take the fairy tale fun indoors!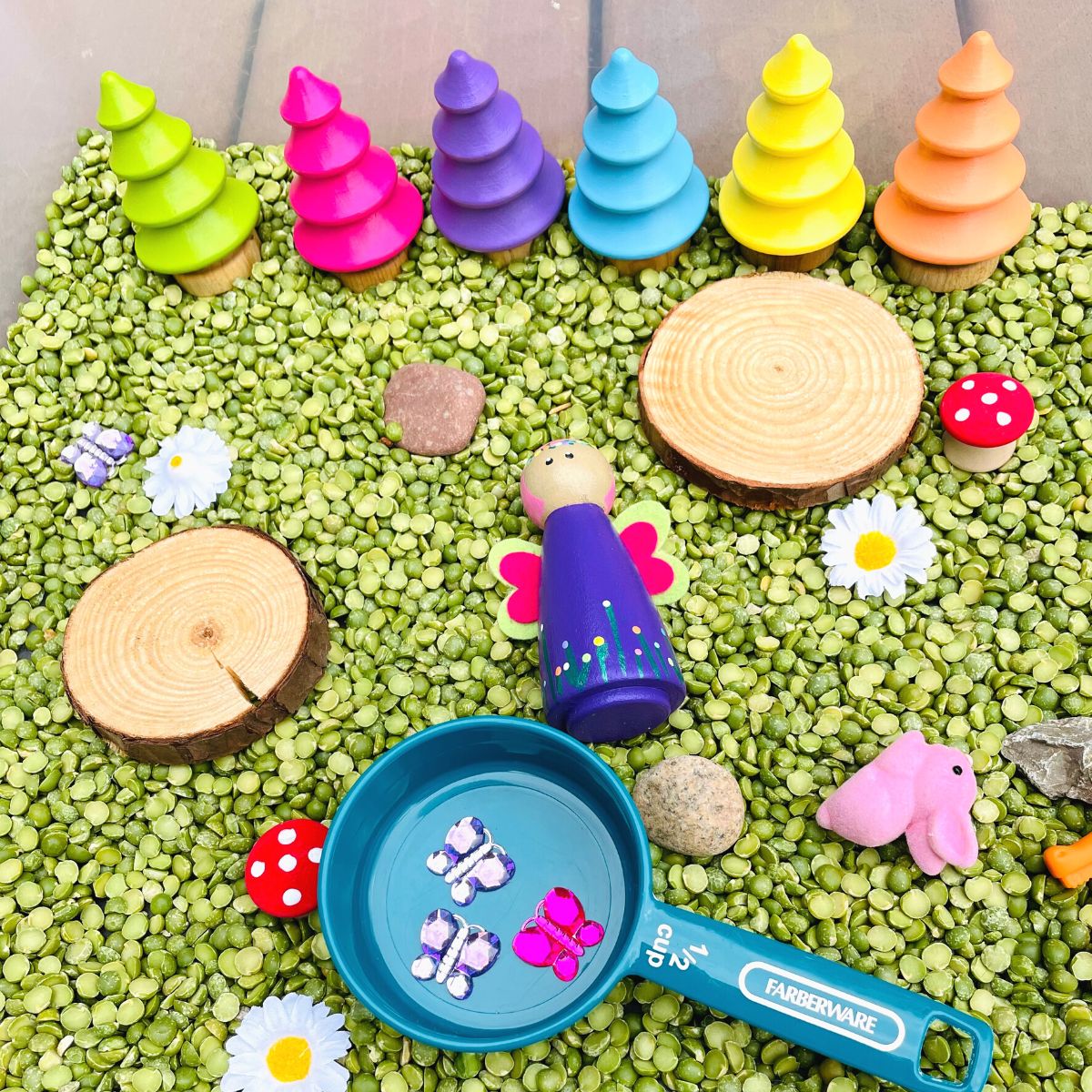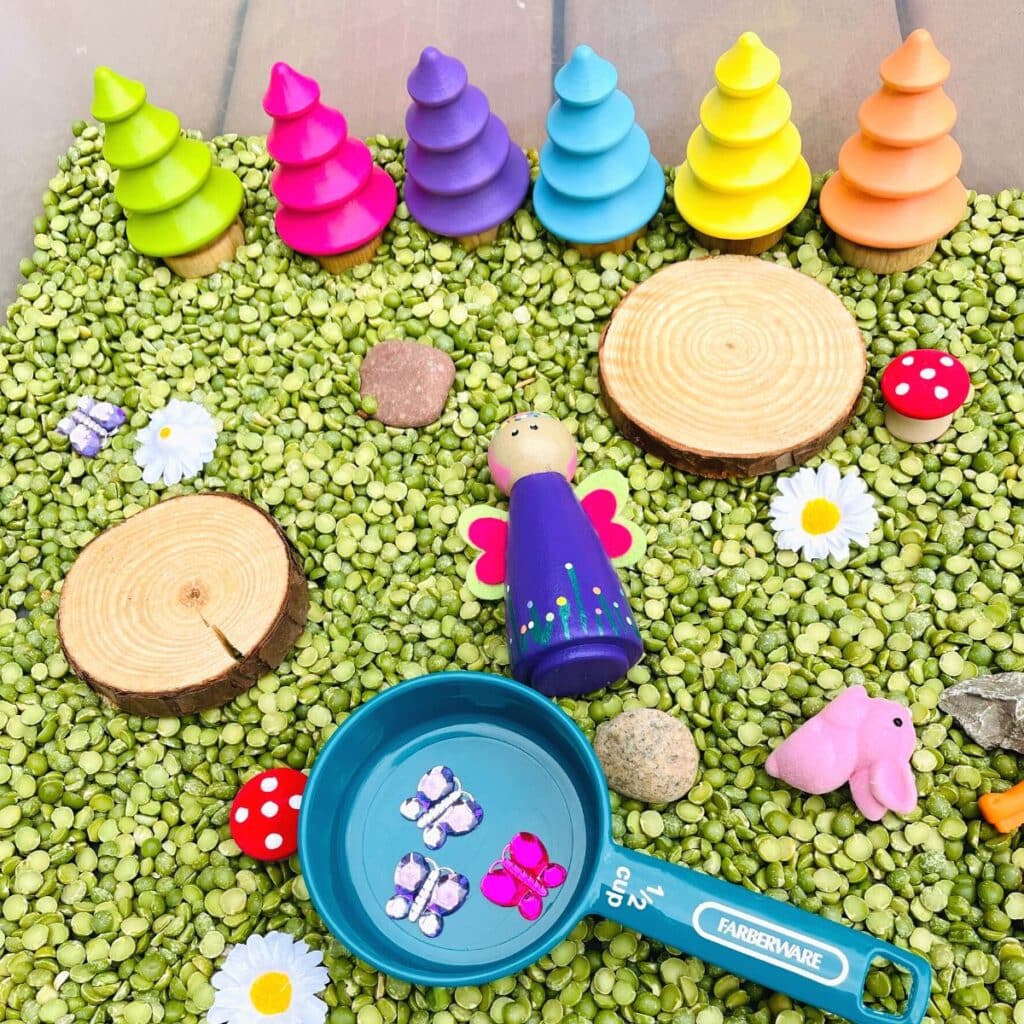 If sensory play is new to you, you might like to know….
What is a Sensory Bin?
A Sensory Bin is a container that is filled with items that spark curiosity and imaginative play, and activate the senses.
Many sensory play kits have a theme like construction, dinosaurs, winter, etc. Or you can definitely create one based on your child's interests.
Sensory bins have a main base material for kids to scoop or pour. This could be water, dry corn, green split peas, sand, beans, dry pasta or rice, etc.
You can find tons of inspiration for creating easy sensory bins for your child here.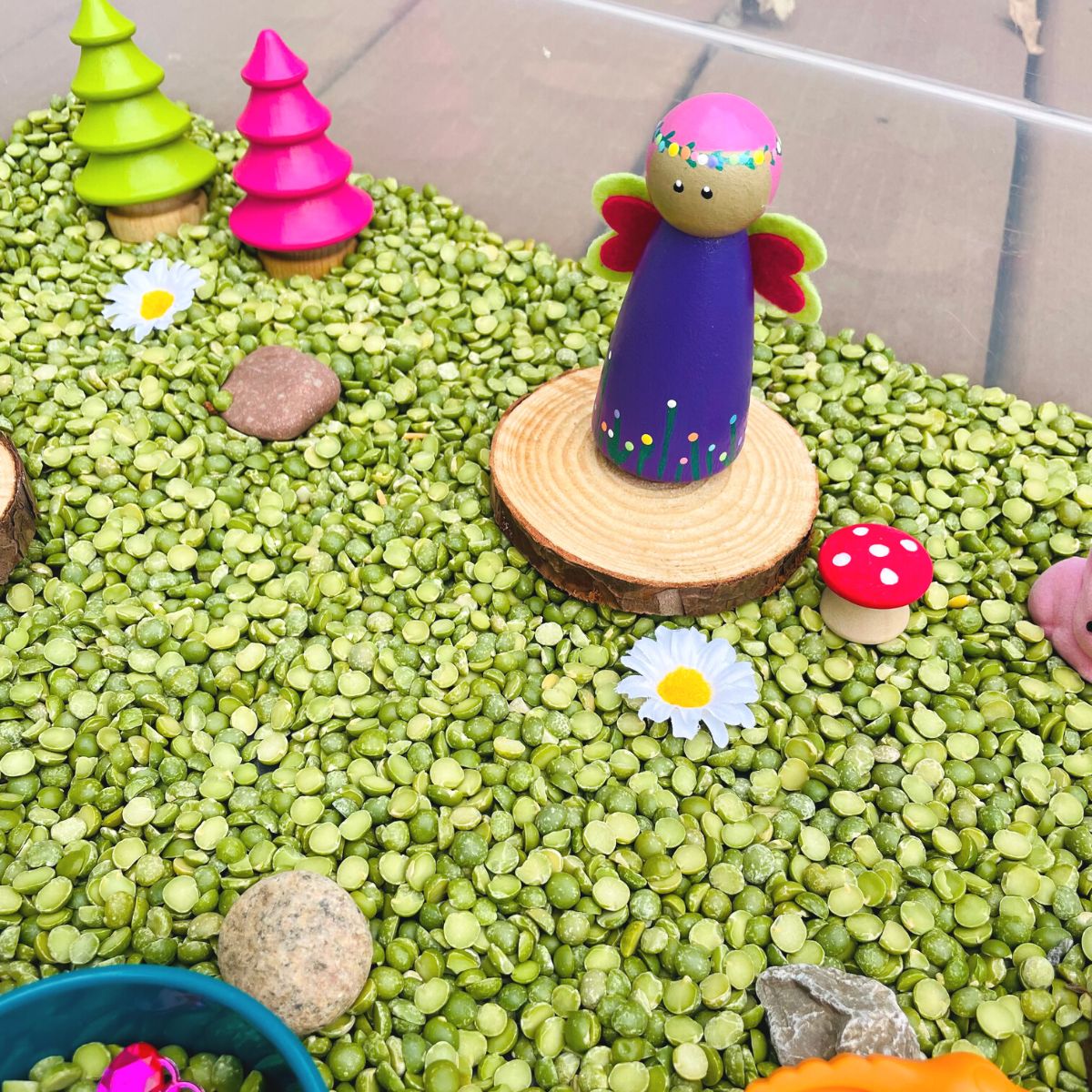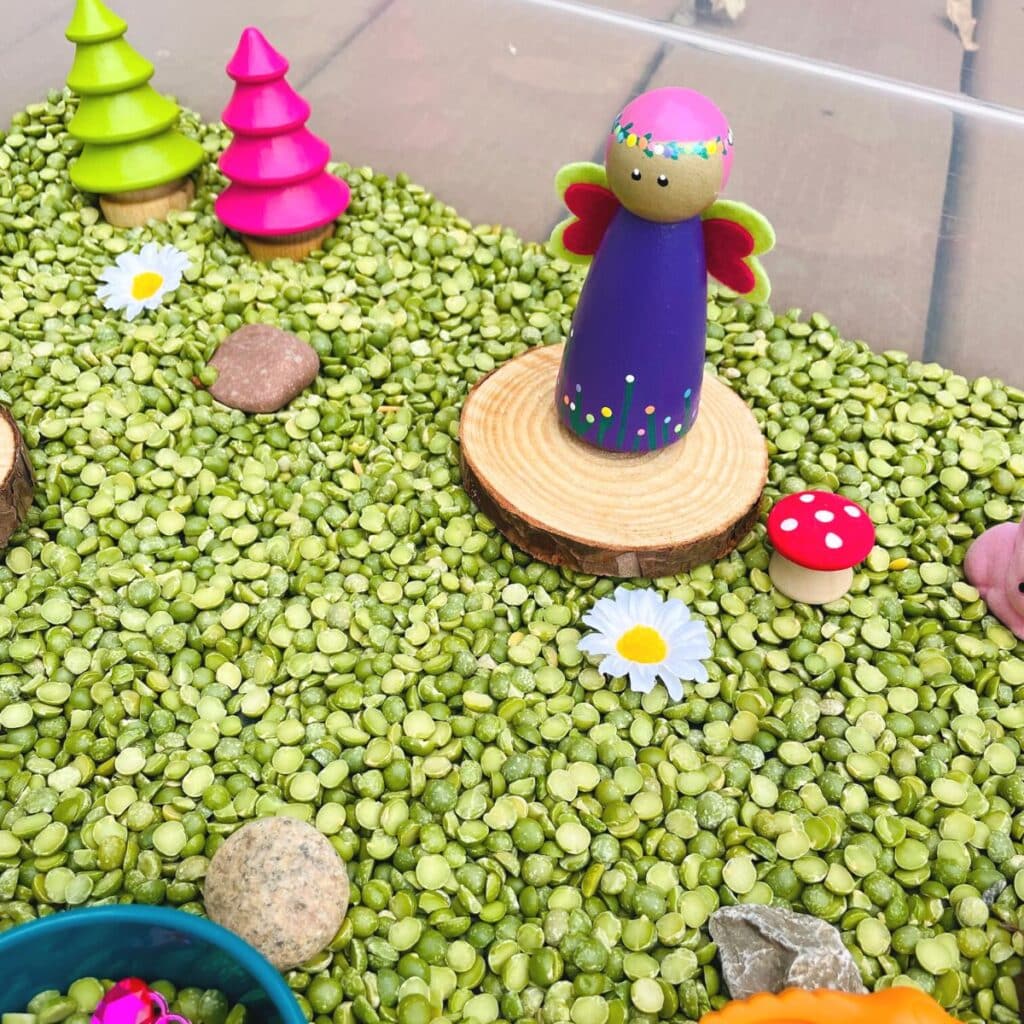 Benefits of Sensory Play
According to Good Start Learning, sensory play is beneficial because:
It encourages the development of fine motor skills
Helps with language development
It builds connections in the brain
Builds problem solving skills
It's a great opportunity to help little ones destress and regulate.
As you can see, there's lots of great reasons to do sensory activities. And don't forget…. sensory play is lots of fun too!
Sensory experiences can provide hours of creative imaginative play for young children.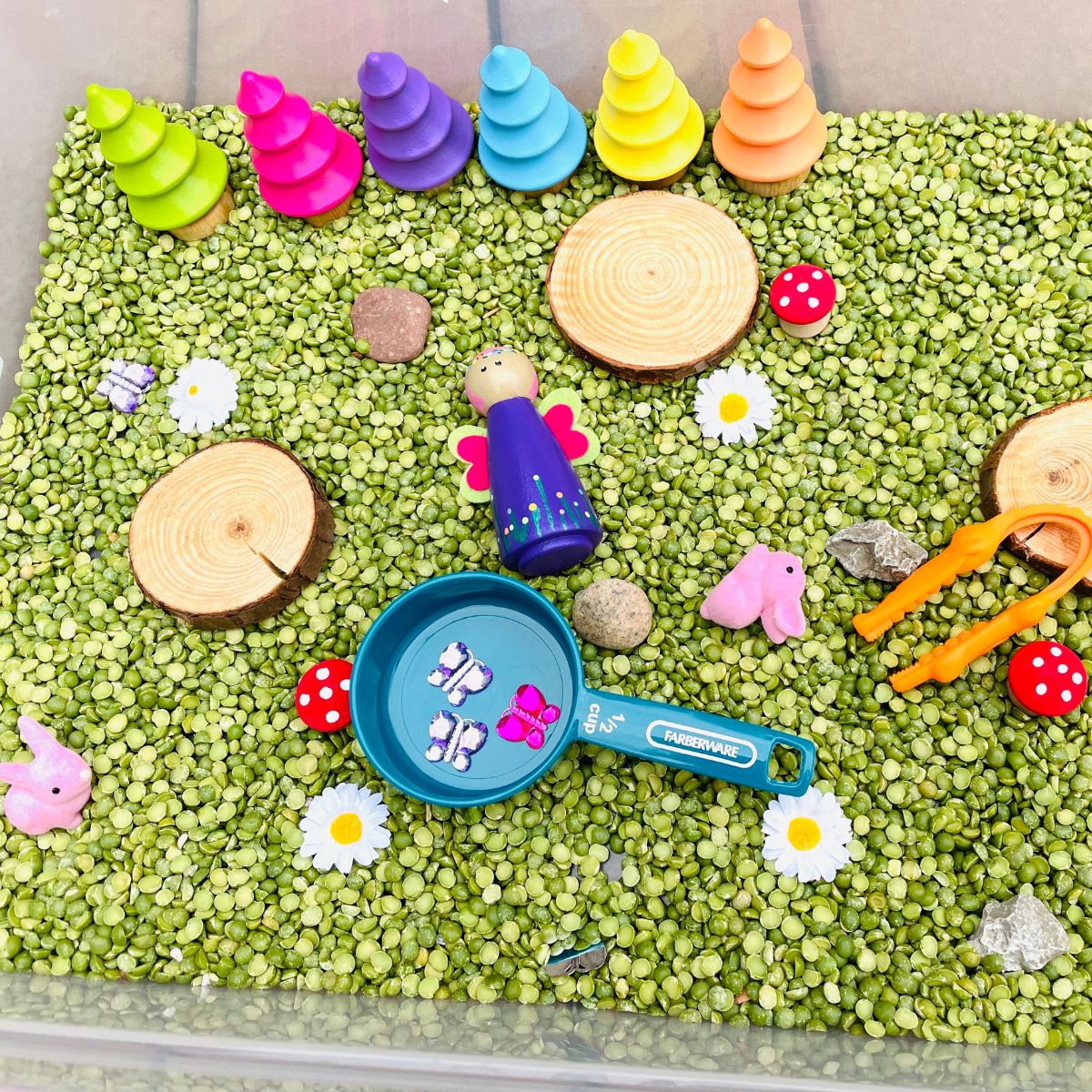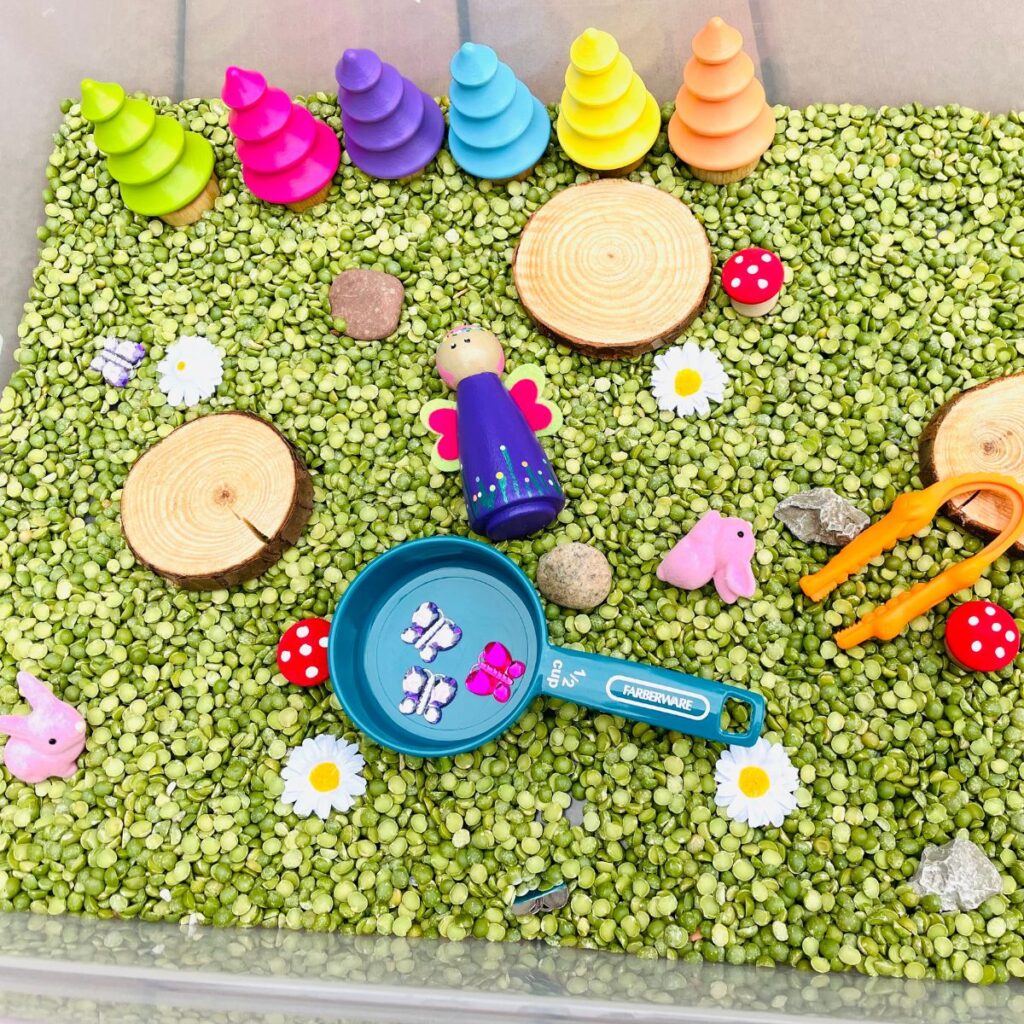 Supplies to make a Fairy Garden Sensory Bin
** Disclaimer: As an Etsy associate and as an Amazon.com Associate, I earn from qualifying purchases made by readers clicking my links at no extra cost to you.
You will need the following items to make this fairy garden sensory bin:
Sensory bin or box – I like to use a large under the bed storage plastic container
Scoop – I used a measuring cup
Tongs – I like these kid tongs from Learning Resources
Wooden Fairy – I bought my magical fairy from Just Add Imagination Co. on Etsy
Rainbow Wooden Trees – I bought my trees from Just Add Imagination Co. on Etsy.
Little Bunnies – from Hobby Lobby
Butterfly Gems
Wooden Mushrooms
Fake Flowers
As always, always sensory play should be done with adult supervision. This sensory play idea is not for children who still put things in their mouths. But, you may be able to modify it to meet the needs of your child!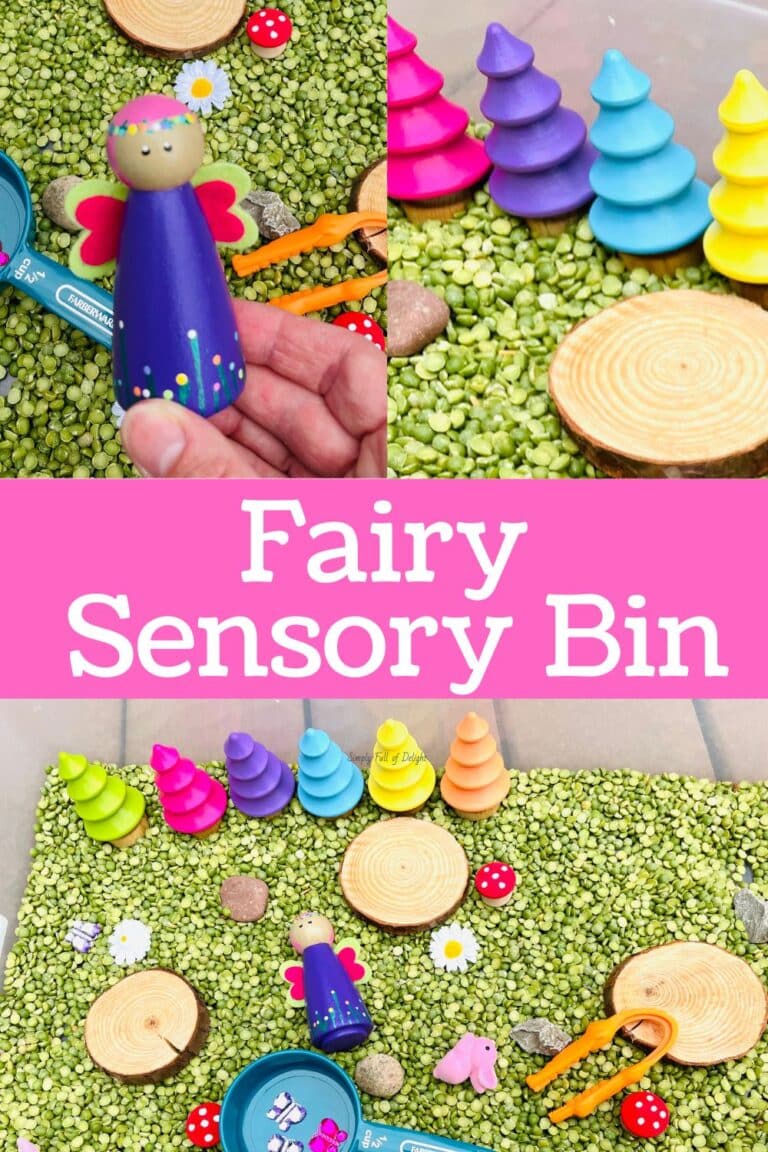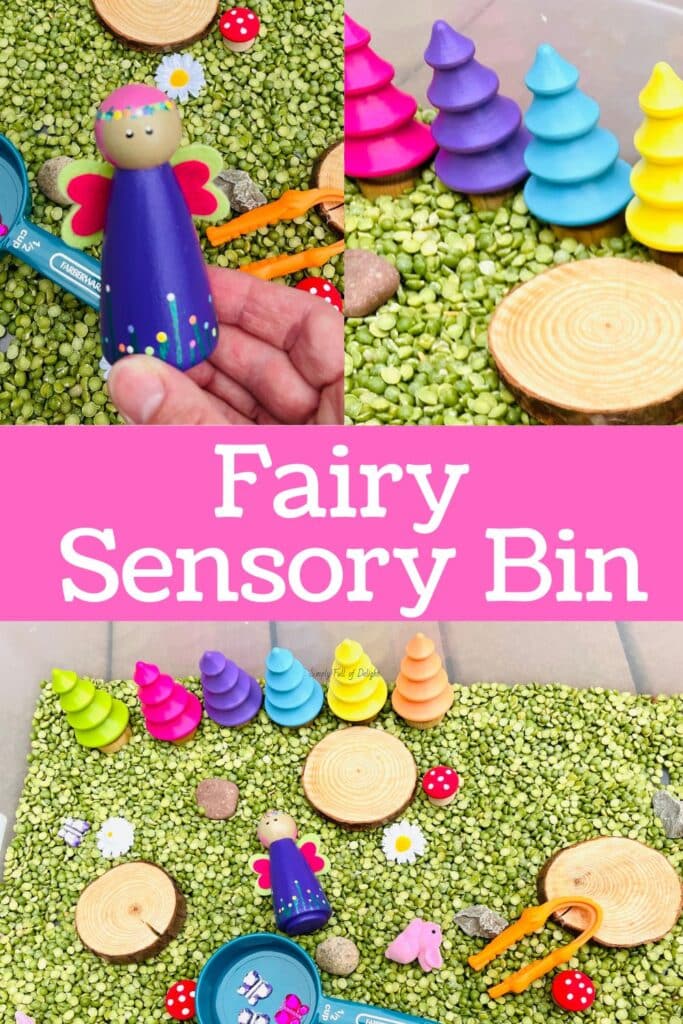 How to make a Fairy Sensory Bin
Let's make our fairy sensory bin!
First, take your sensory bin and fill the base with green split peas. You could definitely use another base, like sand or pinto beans. I like the vibrant color of the green split peas.
Next I added my rainbow trees and the wooden fairy. I bought these from the Just Add Imagination Co. shop on Etsy. This shop is full of cool items for sensory play. So much inspiration and amazing items to encourage play time!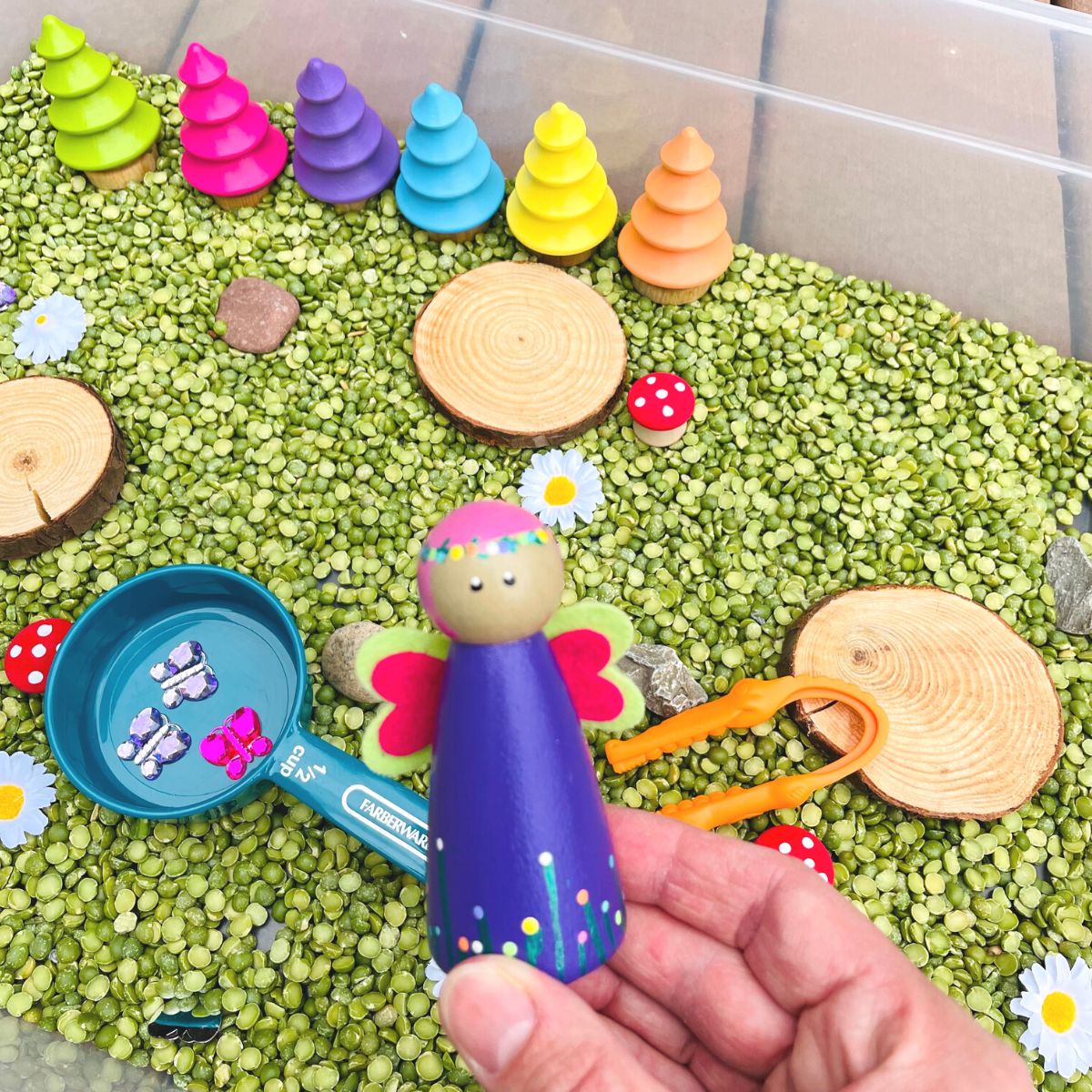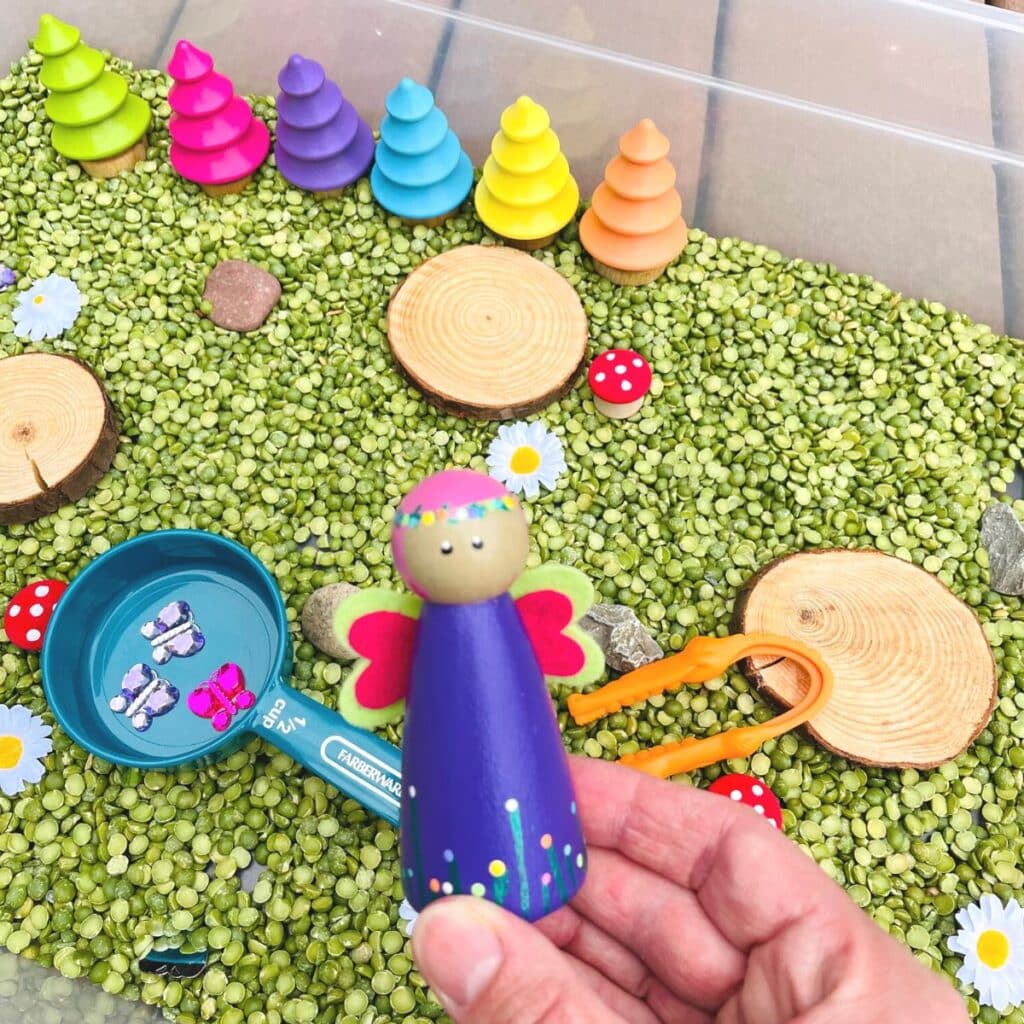 Then, I added the wood slices. I love how these create a platform for the fairy to sit on. My kids sometimes use them as a stage, a bed, or a "home." I love incorporating natural items into sensory play.
Next, I added some rocks. We just used a few rocks from our driveway. I like to use rocks with different textures and colors to add to the sensory experience.
For more sensory fun, I added some small bunnies – from an Easter sensory bin, as well as some cool butterfly gemstones and fake daisy flowers.
I also added the fun painted red mushrooms from my Woodland themed sensory bin. There's a tutorial for how to make them in that article.
Finally, I added tools for scooping and pinching. We chose to use our kid tongs and a measuring cup.
My little ones enjoyed digging and scooping the green split peas. The bunnies were very busy hiding in the peas.
Butterflies were collected, sorted, and arranged over and over. Of course, the fairy was very active moving around the rainbow trees. This sensory bin provided plenty of imaginative play!
Add to the Fun
Something I love about sensory play is that you can use items you already have, or add just a few new items to make the sensory bin feel new. Also, as I mentioned, you can grab items from other sensory bins you've made in the past, to make a new idea or theme for your sensory table.
You can add different kinds of beans (like black beans or a mix of fun colored beans), kinetic sand, or moon sand. You might like to add some more fairies, wands, unicorns, woodland creatures or other small toys to your fairy sensory play kit.
I love that this fairy sensory bin keeps my little ones engaged in play for a long time.
Sensory play is a great way to keep kids busy on a rainy day, a cold winter day, or during summer break.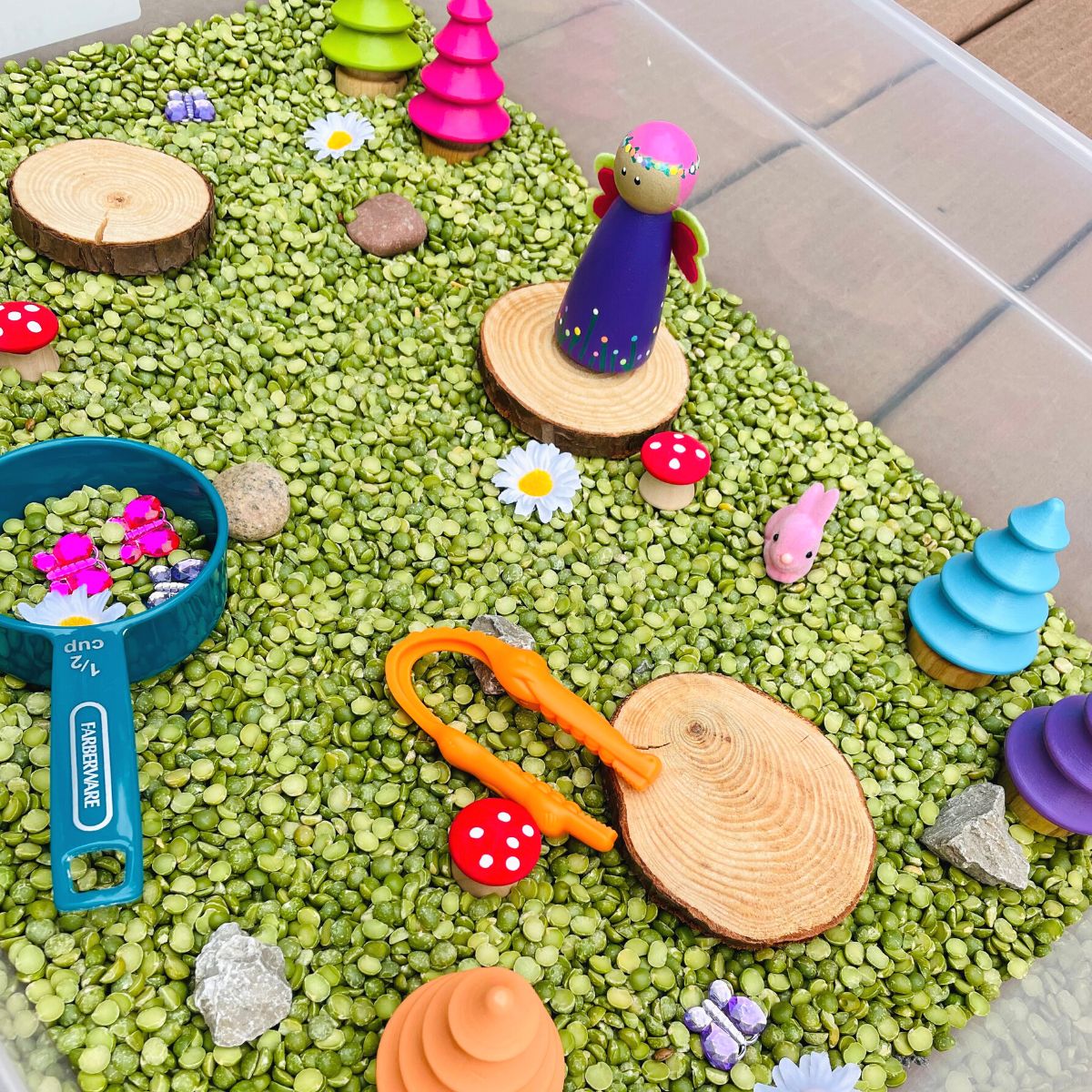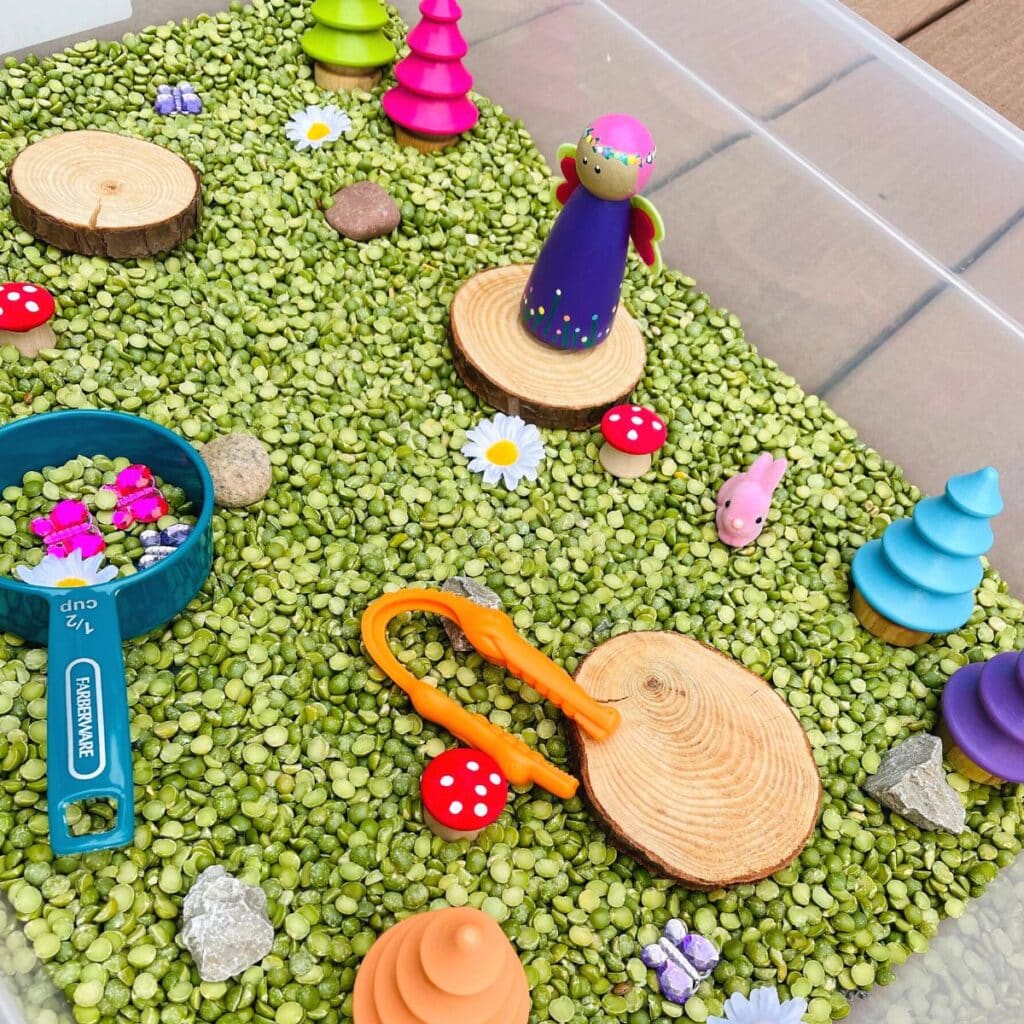 More Sensory Bin Ideas for Kids
Looking for more sensory play ideas?
Don't miss this Forest Sensory Bin. It's full of Woodland Creatures and plenty of imaginative fun. Plus it reuses lots of the same materials that are in this fairy sensory bin.
My children love this Arctic Ice Sensory Bin. Kids will love playing with the ice igloos and arctic animals. So much fun!
Have an animal lover? Here's a cute Farm Sensory Bin little ones will adore!
You can find a neat Hot Chocolate Sensory Bin here. Kids of all ages will enjoy serving up hot cocoa topped with marshmallows.
You can also find tons of ideas for sensory play here as well. Adding a new sensory box is the perfect gift to engage your child in pretend play!
Want to save this fairy sensory play idea for later? Pin the image directly below to your preschool activities board on Pinterest.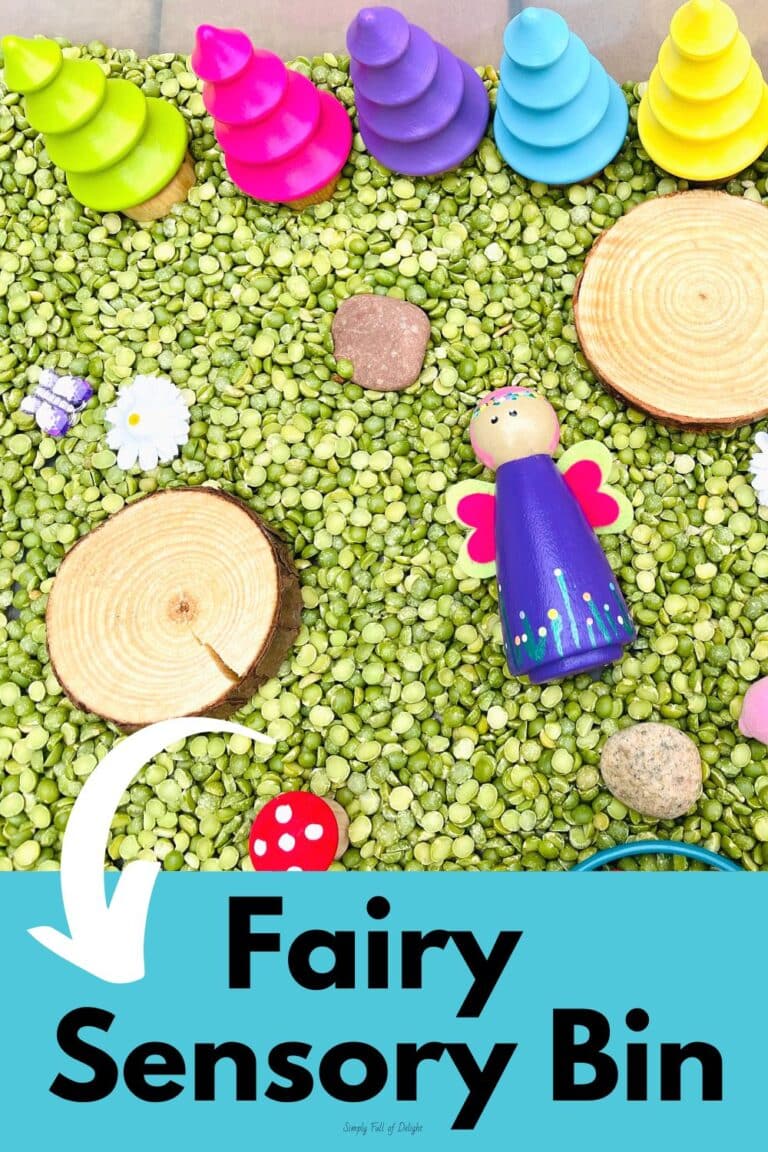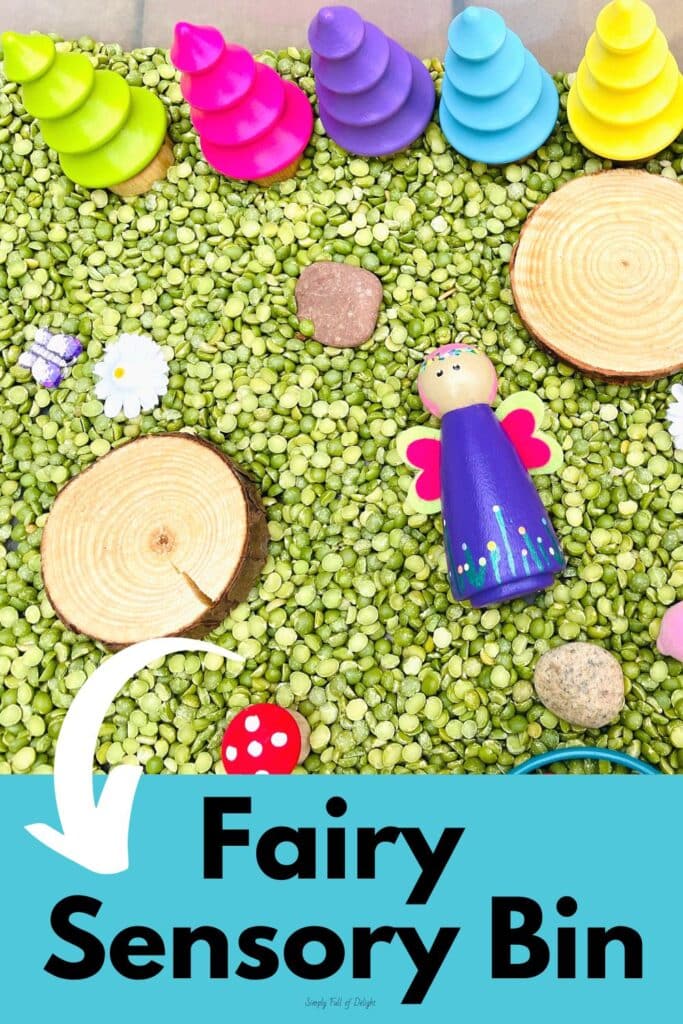 Related Posts