If you've got a dinosaur loving kid in the house, you're going to love this fun Dinosaur Sensory Bin for Preschool!
This low-mess dino sensory bin is great for teaching little ones about dinosaurs in a super fun way!
Dinosaurs are great for imaginative play and of course, sensory play is great for building those fine motor skills. So, put the two together and you've got the perfect combination!
And of course, dinosaur sensory play is pretty fun too!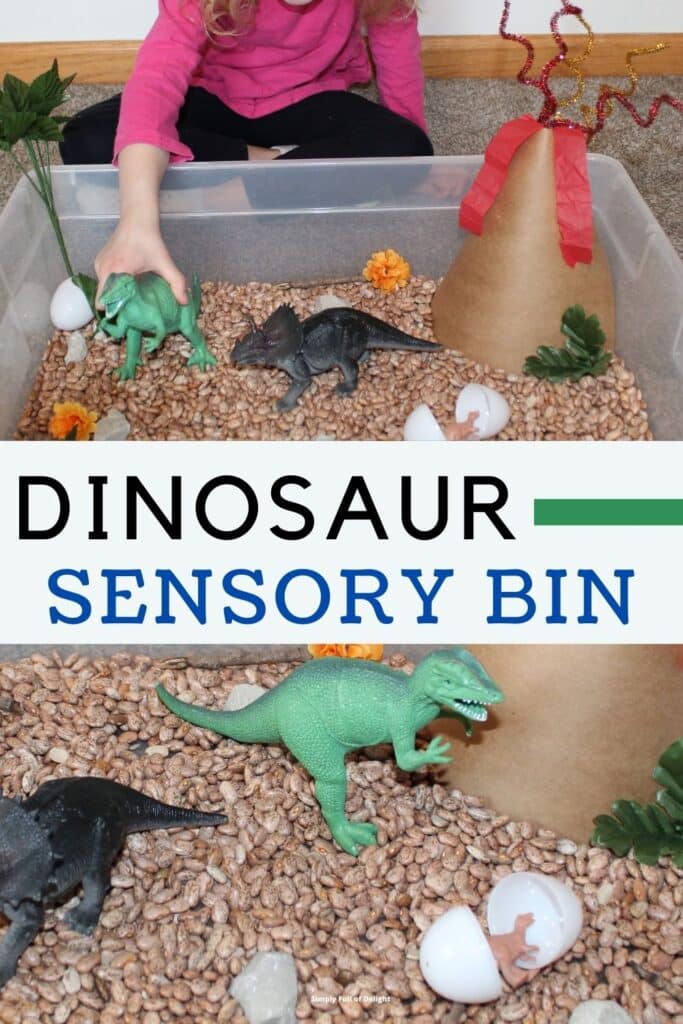 This dinosaur sensory bin contains beans, plastic eggs, dinosaur toys, items from nature, and more.
I hope your dino loving children enjoy this simple dinosaur themed sensory bin!
Mine have enjoyed hours of imaginative play with this dinosaur small world. (Even the ones who aren't dinosaur crazed!)
What is Sensory Bin?
According to Pre-K Pages, a Sensory Bin is a plastic tub or container filled with carefully chosen materials to stimulate the senses.
A sensory bin (or water table) may be filled with sensory sand, beans, water, dry corn, uncooked pasta or rice. Or, you can use sensory materials like paper grass, pom poms, or water beads. There are so many possibilities!
There's more ideas for creating a simple sensory bin for your child here.
The benefits of Sensory Play are tremendous. Sensory bins are a great way to help little ones develop fine motor skills, build language skills, and help kids regulate and destress. Plus, they are super fun too and keep kids engaged!
You can read about more benefits here.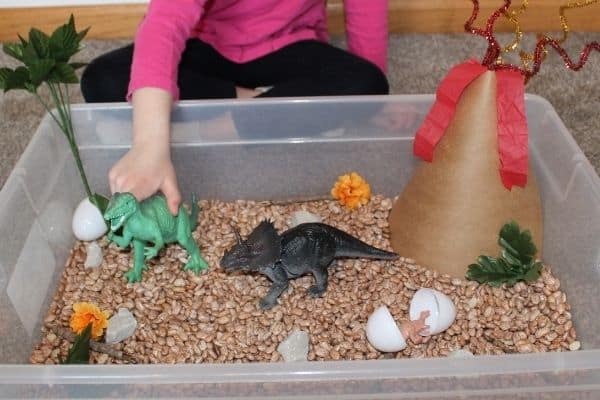 Supplies to make a Dino Sensory Bin
** Disclaimer: As an Amazon.com Associate, I earn from qualifying purchases made by readers clicking my links at no extra cost to you.
You will need the following items to make this dinosaurs sensory bin:
Toy Dinosaurs (We used large ones for adults and small ones for babies)
Fake flowers and leaves from the stem, or faux plant (check the dollar store, or craft stores)
Trimmers – to cut your fake flowers/stems
Small Rocks
Sticks
Stapler
How to make a Dinosaur Sensory Bin
Let's get started on this dinosaur sensory play idea!
First, fill your Sensory bin with Dried Pinto Beans. The amount of beans will depend on how large your sensory box is. You should have enough to cover the base of your container.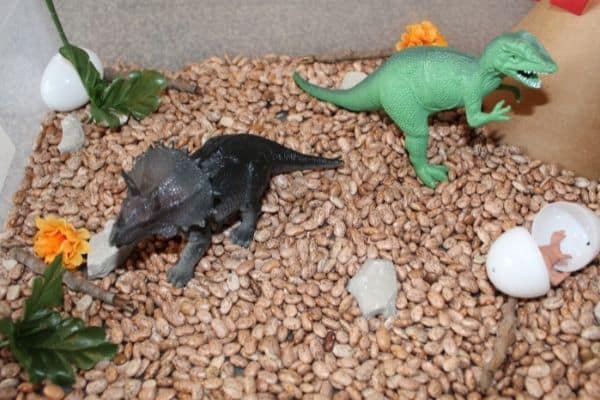 Next, prepare your plants and flowers. I found my inexpensive fake flowers at Dollar Tree, but you can find them easily at any crafting store.
Use your wire trimmers to cut your stems. (The inside of fake flowers is usually wire, so it can be difficult to cut with scissors.)
I cut the stems down low to create "bushes" with the leaves. I also left one stem tall, to look like a tropical tree. (Save those flowers! You'll want a few for the sensory bin, and you can save the rest for a different project.)
Arrange your leaf bushes and flowers in the sensory bin.
Place your large dinosaurs in the bin. (I found the large dinosaurs at Target and small ones at Dollar Tree).
Add a few white plastic eggs to be dinosaur eggs. I put some tiny dinosaurs inside mine, so kids could pretend they are hatching.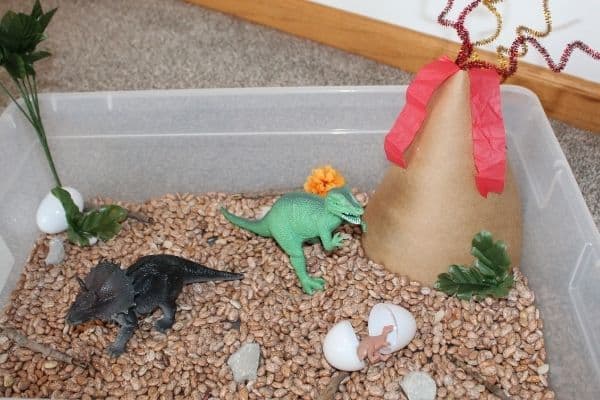 How to make the No-Mess Volcano
I wanted to create a Volcano for our dinosaur adventure, but I didn't want to spend a lot of time or money on it. So here's my easy no-mess volcano!
First, take your brown cardstock and bend it longwise. Create a cone shape with a sizable opening at the top. It won't go all the way around (mine didn't). Staple the ends together.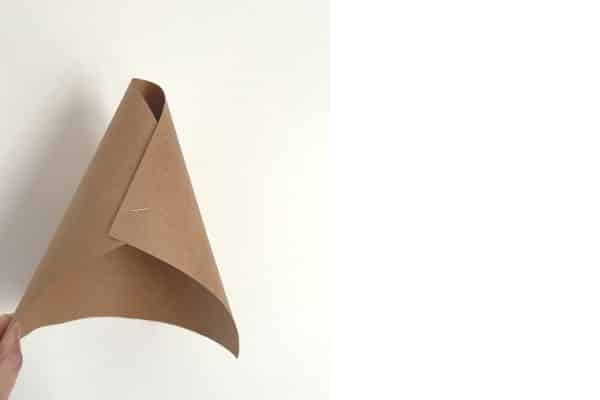 I trimmed the bottom of the cone with scissors to help it stand up. Then I placed the unfinished corner to the back of the sensory bin so that the nice side faces outwards.
Twist red pipe cleaners around your finger to curl them slightly. Then, place the pipe cleaners inside the top of the Volcano. Add a few gold pipe cleaners as well.
If you like, add some small strips of red tissue paper hanging off of the top to look like lava.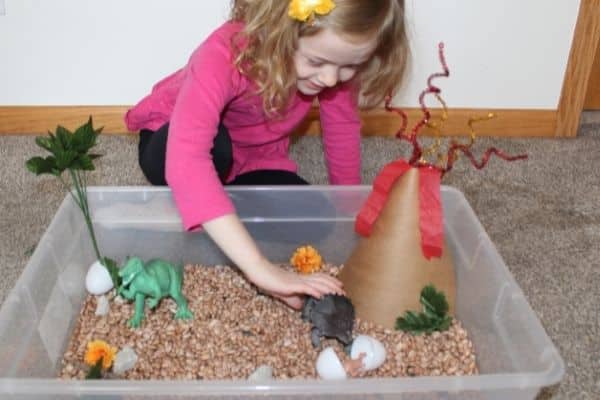 This volcano is simple but my kids LOVED it!
My little ones have enjoyed hours of imaginary play in this dinosaur world kids sensory bin. They loved making the volcano explode, hatching the dino eggs, and of course playing with the dinosaurs.
To add to the fun, you might like to include a dinosaur identification book for kids.
If you don't have time to make a paper volcano you can grab a foam volcano off of Amazon.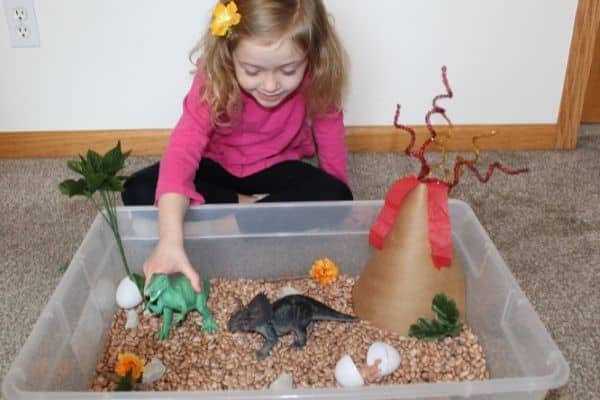 Premade Dinosaur Sensory Bins from Etsy
If you are finding that you don't have a lot of the materials (or time!) needed for this dinosaur sensory bin, don't forget that you can find incredible premade sensory bins on Etsy!
I find that sometimes, it just makes sense to buy the sensory bin already made!
Here's 2 of my favorite dinosaur sensory kits from Etsy: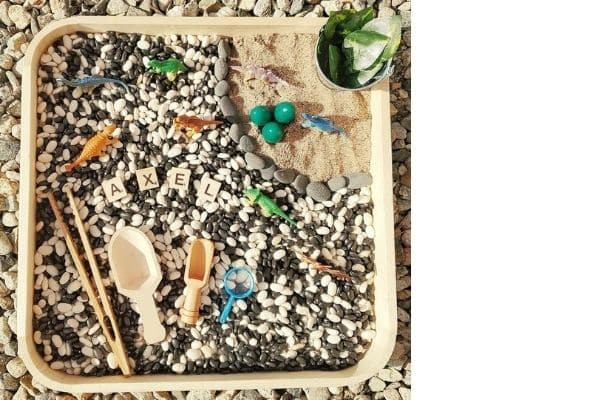 This Dinosaur Sensory Kit is by Little Bee Sensory. This amazing set includes beans, 2 wooden scoops, wooden tongs, 8 dinosaurs, stones, leaves, dinosaur eggs, a mini magnifying glass, a metal tin and your child's name in scrabble tiles.
I love that this premade dino sensory kit takes the work out of sensory bins and allows you to dive straight into the dinosaur activities. What an amazing pretend play kit!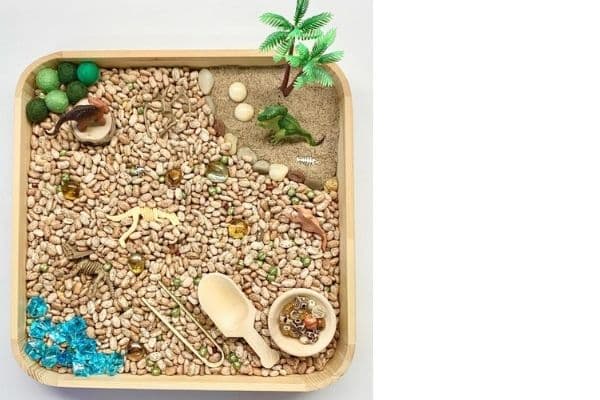 This Dinosaur Dig Sensory Bin Kit is by Play at Home Mom Co. on Etsy. This sensory bin activity kit contains the bean and seed filler base, kinetic sand, a mini wooden bowl, bamboo tongs, wooden scoop, 3 mini dinosaurs, 3 mini dino skeletons, a mini tree, a variety of small parts and embellishments for your prehistoric adventure.
Little paleontologists will have so much fun pretending to uncover dinosaur fossils with this kit!
More Sensory Play Activities for kids
Looking for more sensory bin ideas your little one will love? Try this Vegetable and Flower Garden Sensory Bin. This sensory play idea will have little ones busy planting flower pots and watering their garden.
If you just want to dive into the fun, without all of the work, you can find some amazing Premade Sensory Bins from Etsy here. So many inspiring ideas for sensory play!
Lastly, be sure to check out this Insect Sensory Bin. It reuses some of the same materials as this Dinosaur Sensory Bin, but with bug theme! I love finding different ways to recycle sensory activity materials into a new theme.
Dinosaur Activities for Kids
Looking for more Dinosaur Activities for kids? Here's a fun paper dinosaur craft. The head and tail move with the help of brads/paper fasteners! So cute!
Save this dinosaur sensory bin idea for later by pinning the image below to your Preschool Learning Board!