Looking for a cute and easy sensory play idea for apple season? This Apple Pie Sensory Bin for Kids is perfect!
Kids will enjoy scooping, rolling, stirring, and creating pies with this awesome fall sensory play idea.
Apple season is the perfect time to teach little ones about apples.
Whether you take your children to an orchard, grow your own apples, or buy some apples at your local store – there's tons of fun learning opportunities at this time of year!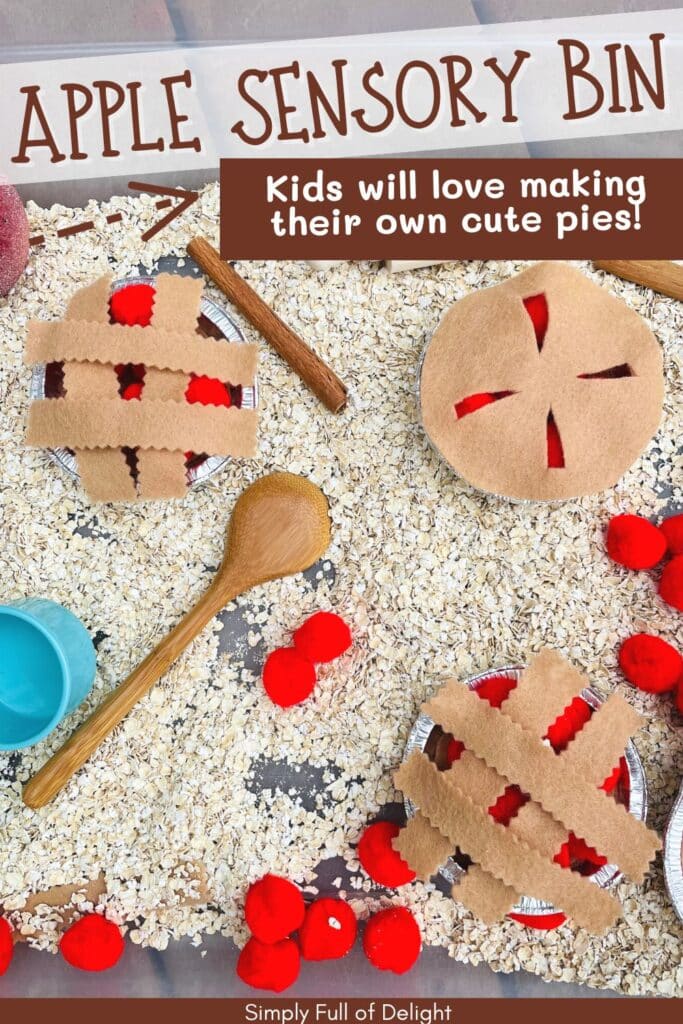 We've been busy apple stamping, marble painting apples, and apple tasting. It only seemed natural to add to the apple season fun with an apple sensory bin!
This apple pie sensory bin is a great way for kids to work on their fine motor skills. There's plenty of opportunities for pinching, grasping, stirring, scooping, and more.
Let's go ahead and dive into the long list of reasons we love sensory play.
Incredible Benefits of Sensory Play
You've probably heard me say this 20 times but….some of the amazing benefits of sensory play are:
Fine motor skill development
Language development
Brain connections are built
Problem solving skills advancement
And my favorite: it helps kids destress and regulate
There's so many incredible reasons to do sensory activities. And don't forget: sensory play is a LOT of fun too. It will keep your kids VERY busy – which might very well be the reason I started doing it regularly with my kids! LOL
My kids have spent hours and hours in imaginative play with sensory bins. That a parenting win!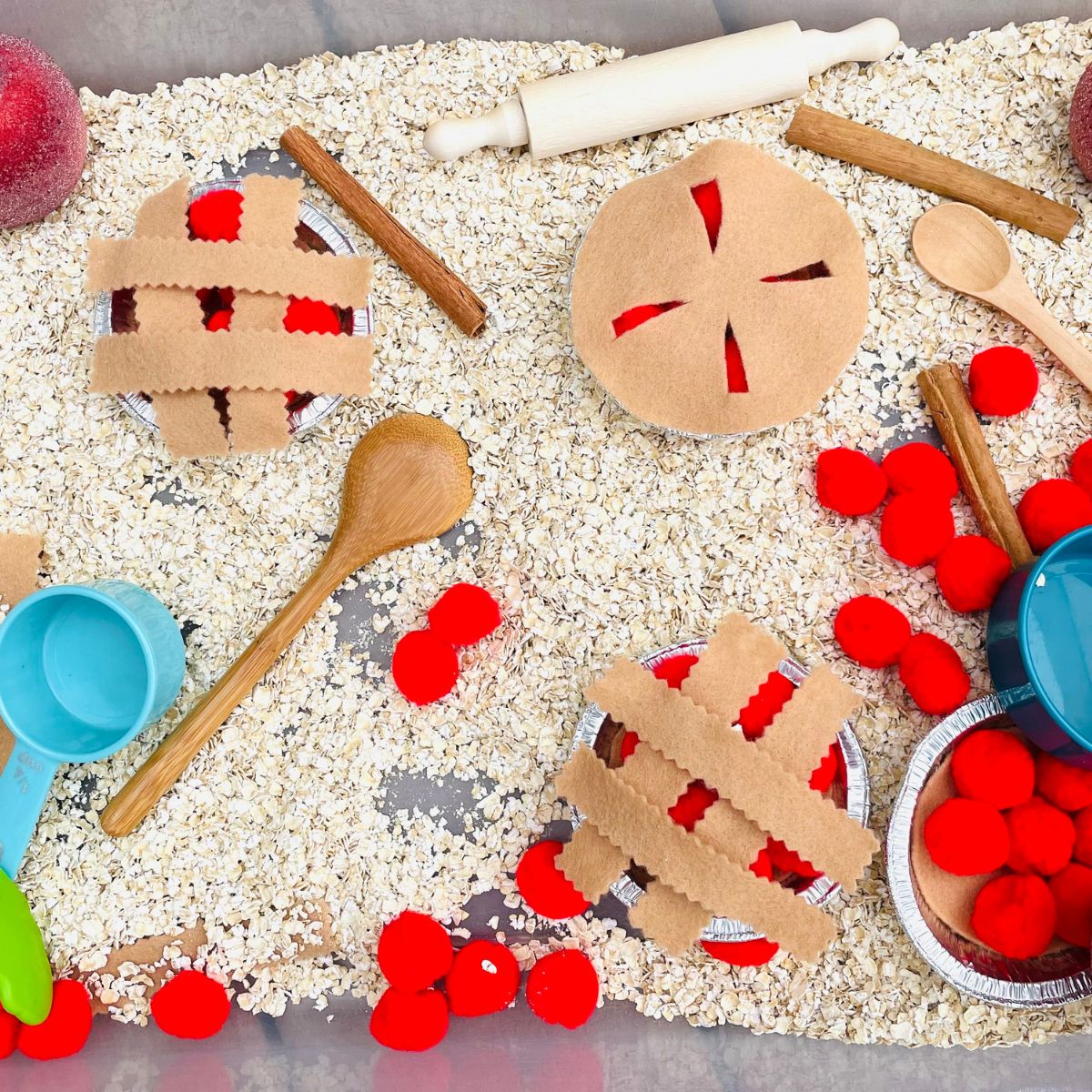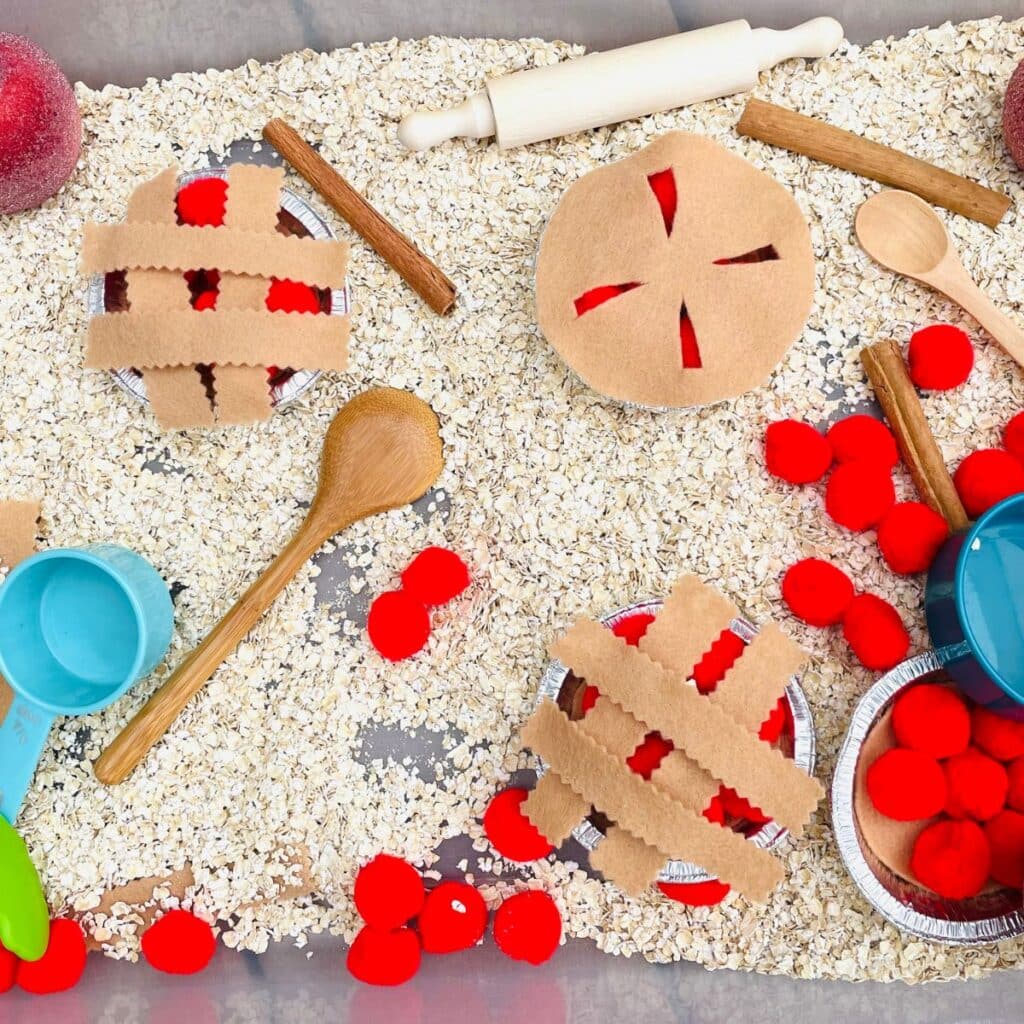 Supplies for Apple Pie Sensory Bin
For this easy apple sensory bin you will need the following items:
– Sensory Bin Container (I use a large under the bed storage container)
– Mini Pie Dishes – You can use disposable ones or grab these durable mini pie pans. (Admittedly, we bought ours with real pie in them at a local store. My kids ate the pie and we washed the pie tins out!)
– Oats – we used just regular breakfast oats.
– Wooden spoon – We already had one, but you can find some on Amazon.
– Fake Apples – I found ours at Target, but you can find some pretend apples here.
– Measuring cups – You can find these on Amazon or at your local dollar store.
– Cinnamon Sticks – to add a bit of sensory smell fun!
– Pom Poms – I used red to represent apples
– Mini Rolling Pin – I found ours at Hobby Lobby, but you can find them online as well.
– 2 pieces of Tan Brown Felt – for the crust!
– Pencil
– Pinking Shears and Cloth scissors
– Cardstock (you can use regular paper if you like, but cardstock makes the process easier).
– Scissors
– Small Mixing Bowl
Once you have gathered your sensory bin supplies, you are ready to start creating this cute apple pie sensory bin!
How to make Felt Pie Crusts
First, using your mini pie pan as as template, trace the bottom of the pan onto the cardstock. Then cut out the circle.
Using this pattern you've created, you can easily make the bottom pie crusts for each of the mini pie pans.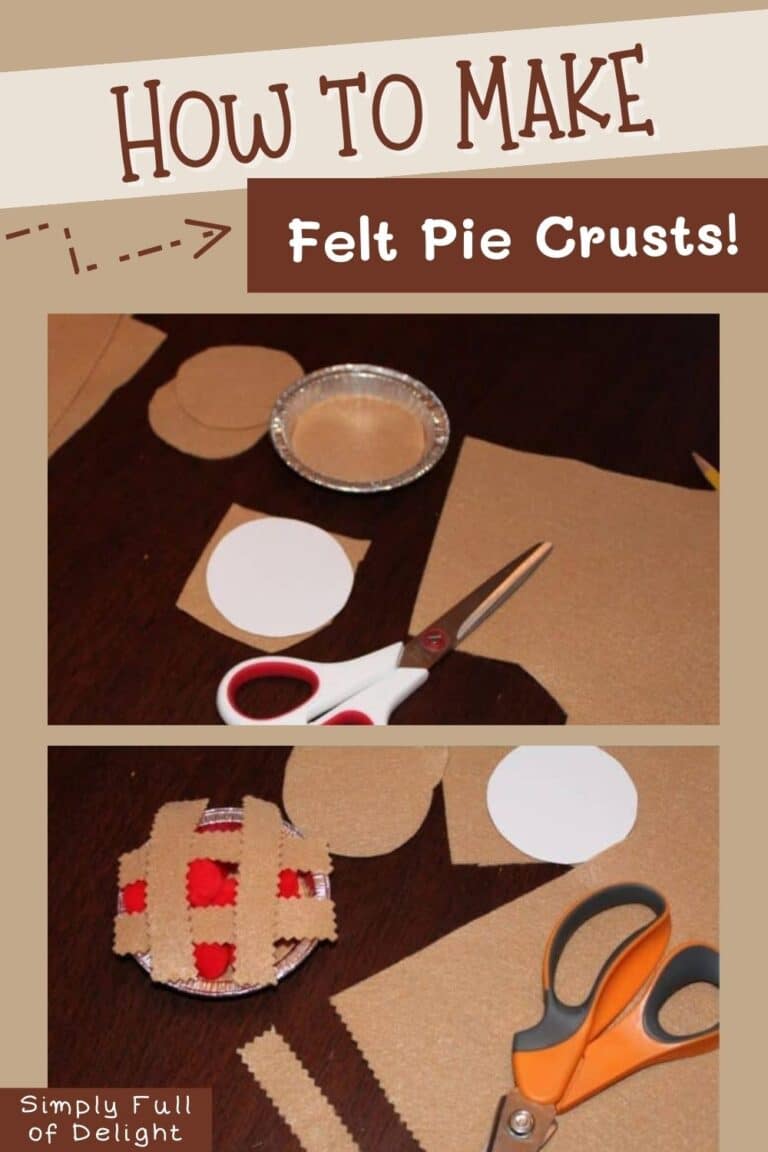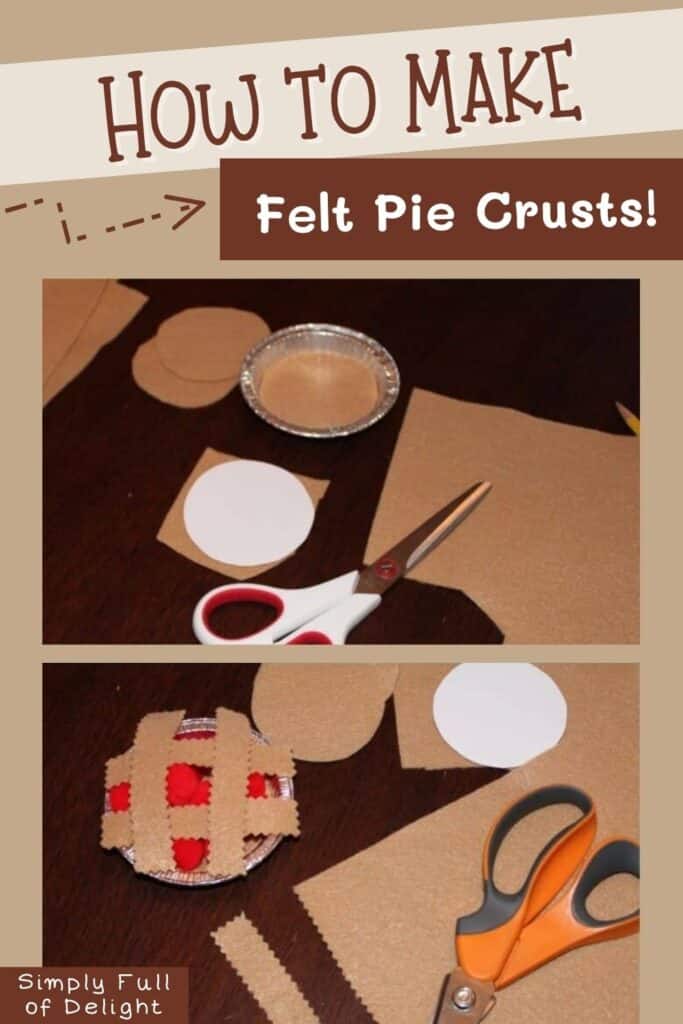 To do this, cut a small felt square from the larger felt piece. Place the pattern circle on top of it and cut around the circle.
I had 4 mini pie pans, so I made 4 brown circles to place in the bottom of each pan.
Once you have the bottom crusts of each pie, it's time to make the top crusts.
You can use pinking shears to make the adorable zigzag crust strips from brown felt. I made 4 strips for each pie.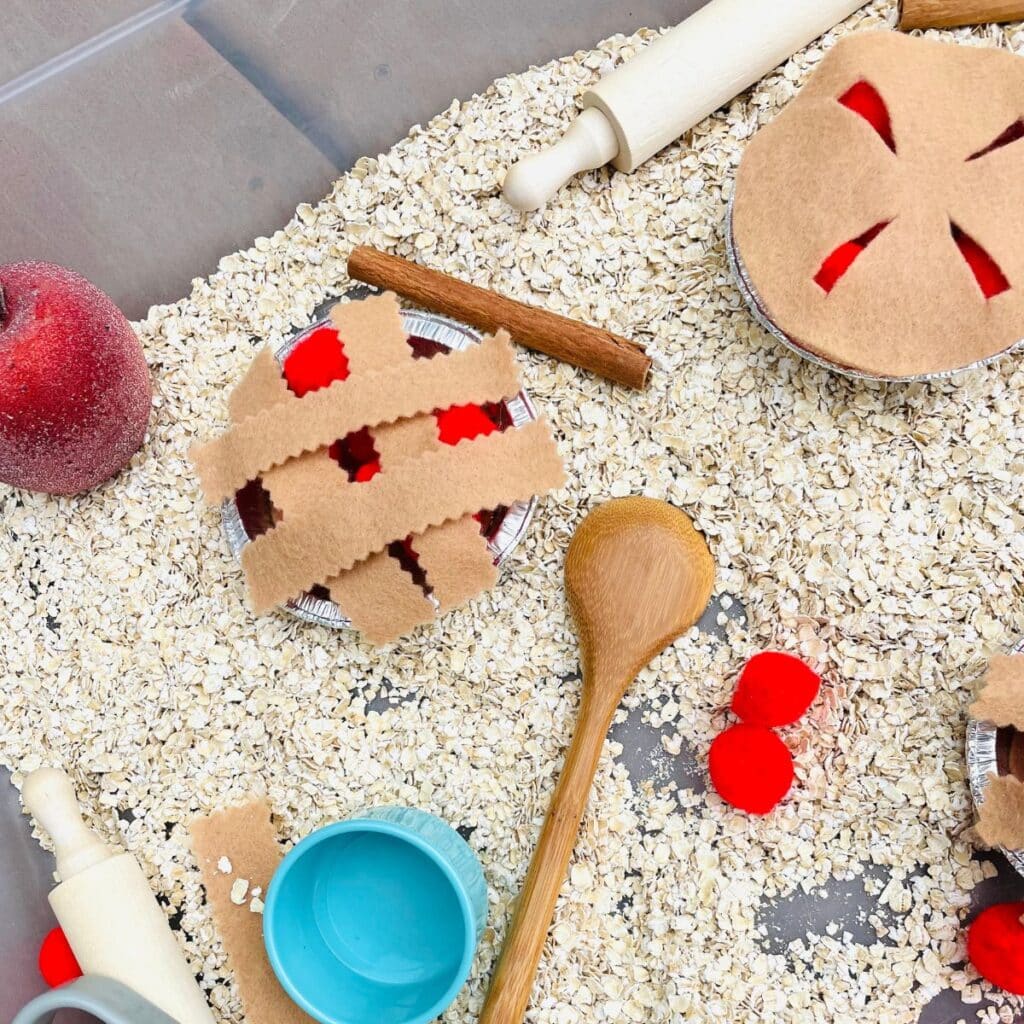 The crust strip length will depend on the size of your pan. I decided to make all of my crusts the same length to simplify the process.
I also made one "full crust cover". To do this, I flipped one of my mini pie pans over to trace the top of the circle onto cardstock. Then, I cut out the pattern and used it to cut a circle out of the brown felt.
Last, I folded the circle inward and snipped a few openings to make it look like an apple pie crust. If you want more inspiration, simply google pie crust images.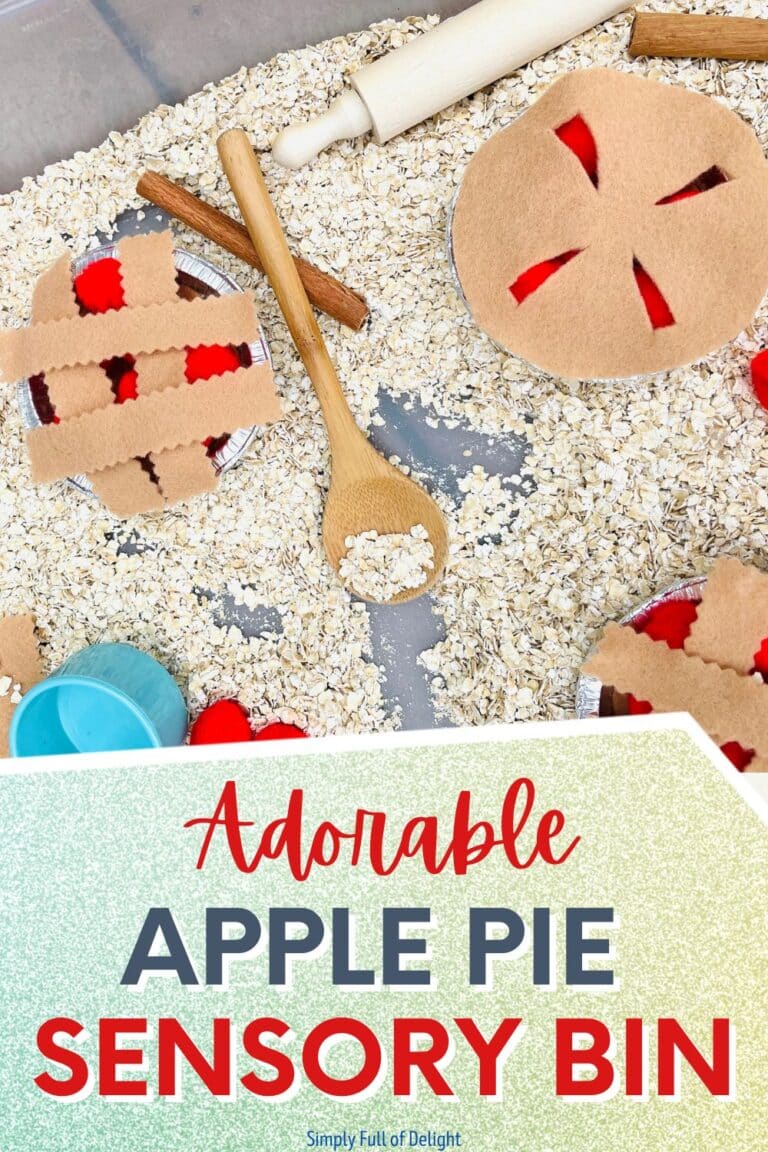 How to Make an Apple Pie Sensory Bin
First, pour the oatmeal into the sensory bin container. I usually try to cover the base of my sensory container with a thin layer of the sensory bin filler.
For me, this was just one pound of oats.
Next, add your red pom poms to look like apples. I also added some whole apples (pretend) as well as some cinnamon sticks to add to the imaginative play fun!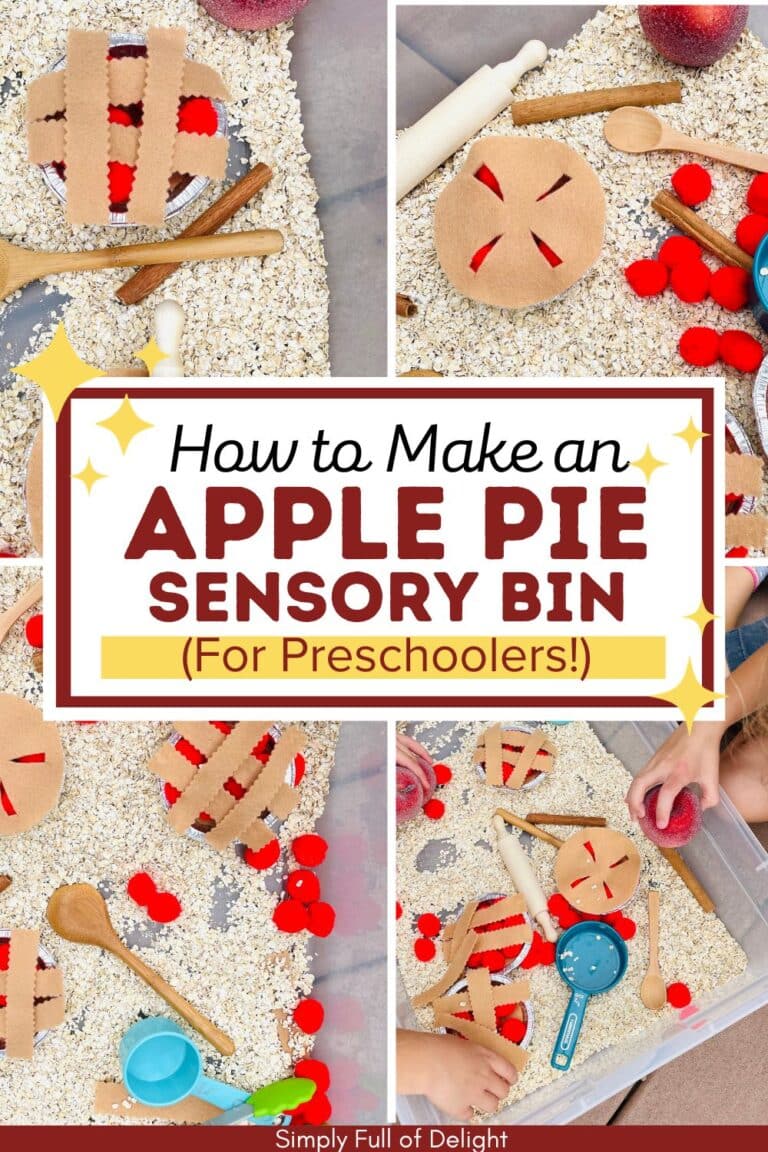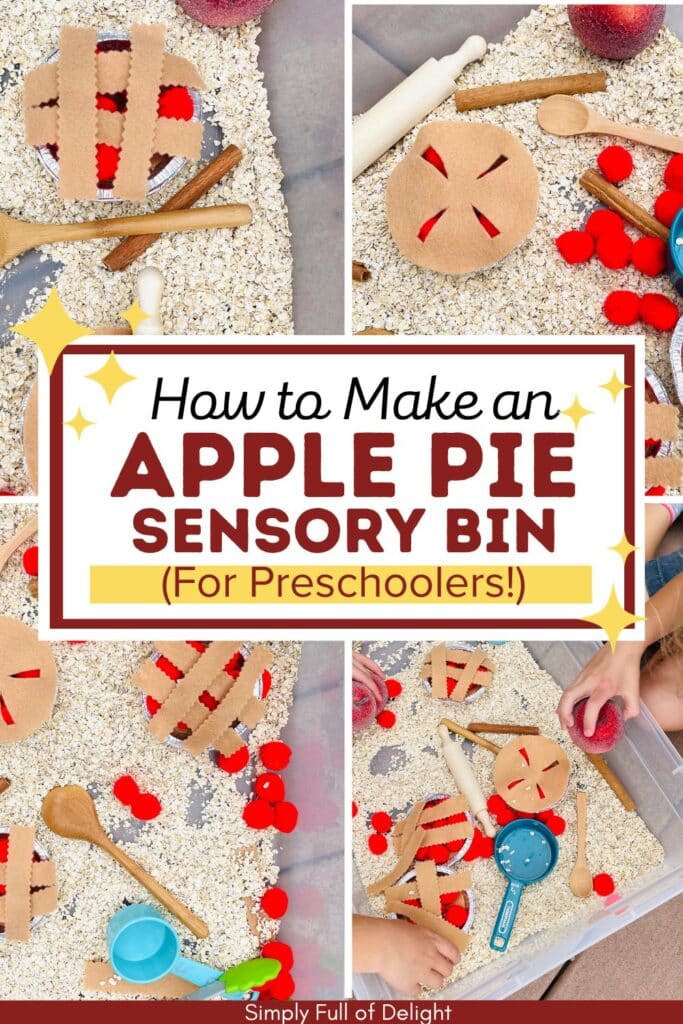 The cinnamon sticks add another dimension to the sensory play as the kids recognized immediately that they smell good and "just like cinnamon!"
Next, add the felt pie crusts and pie pans. You can also add mini rolling pin, a small wooden spoon, and measuring cups for scooping.
Kids love to have items to stir, pour, and scoop with. The mini rolling pin allows them to pretend like they are rolling out the crust.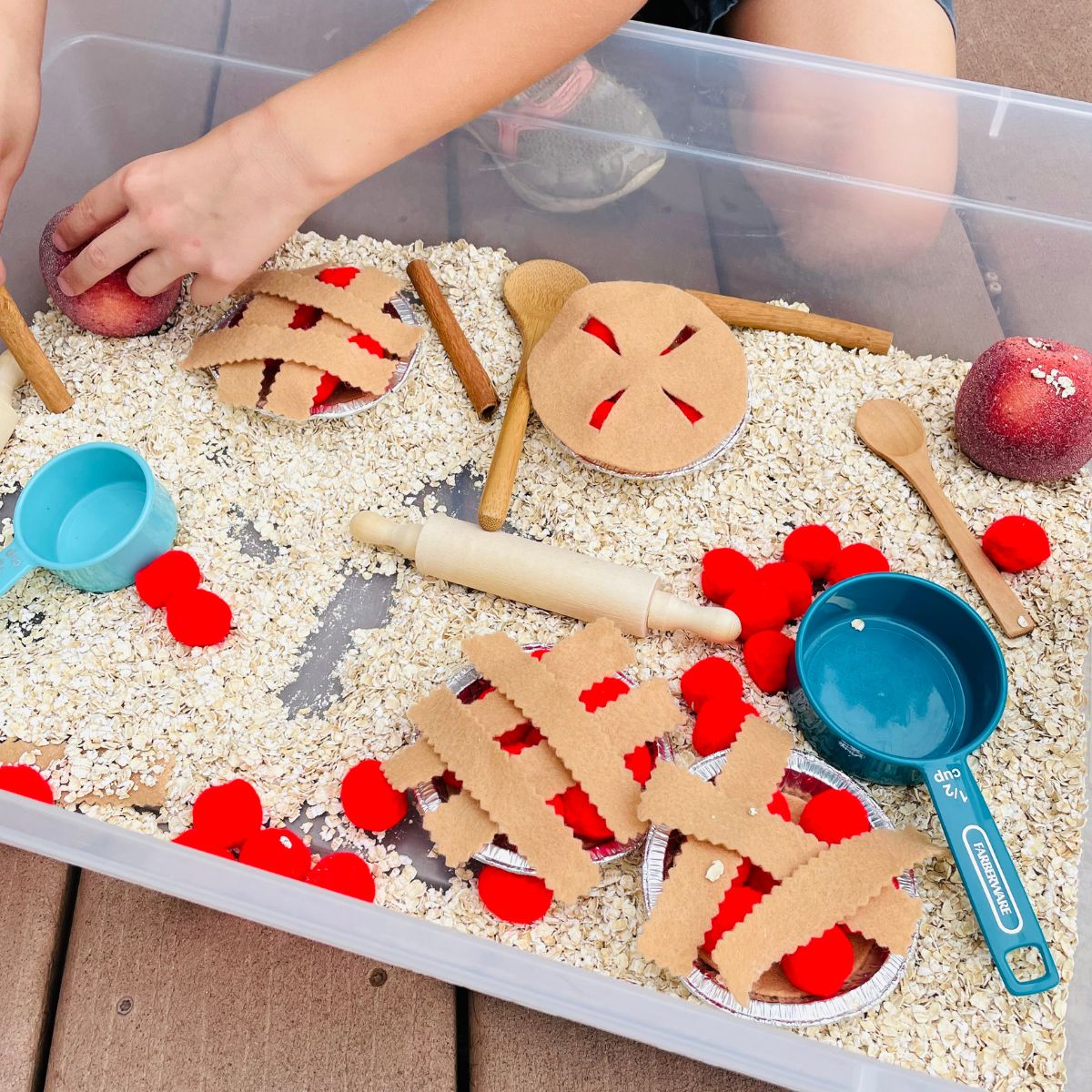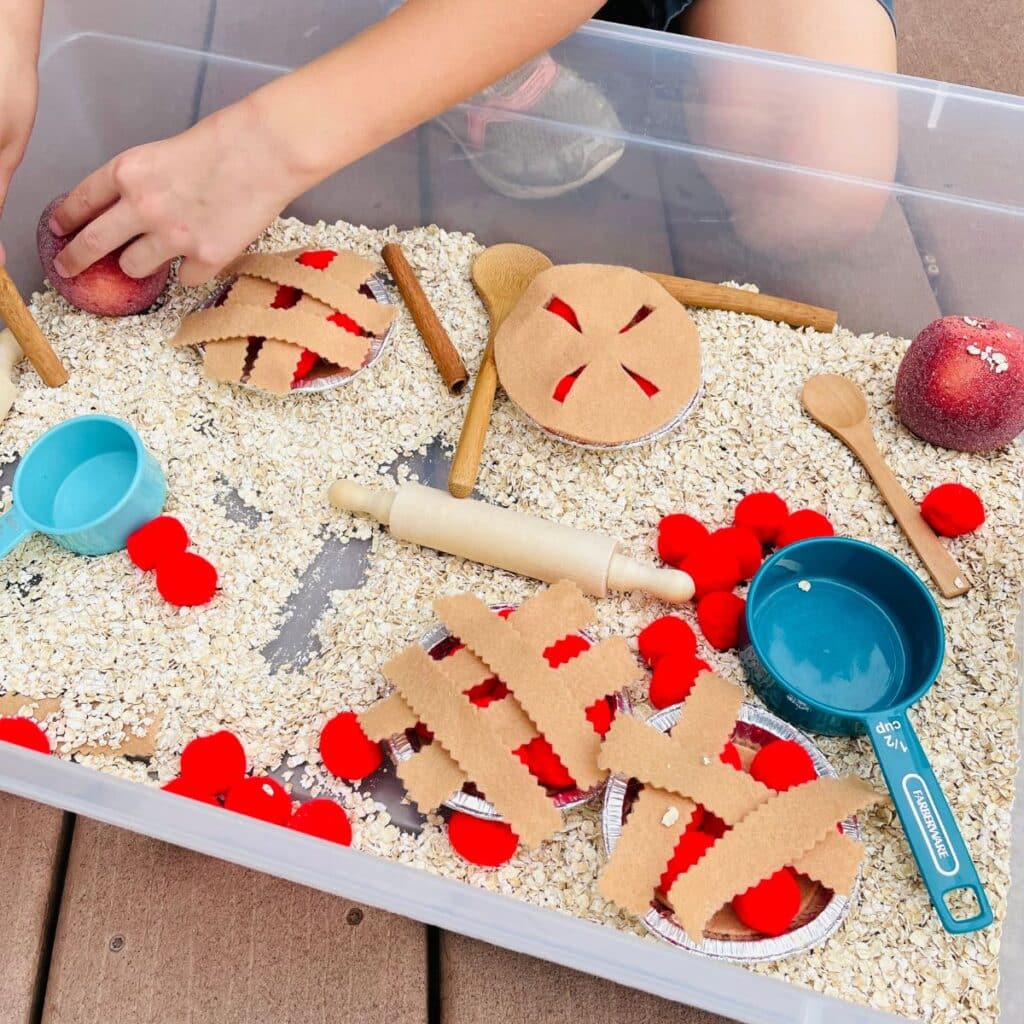 After I took the pictures, I remembered how much they loved to stir, so I added a small mixing bowl as well.
This apple pie themed sensory bin was a big hit with both my young children and my older kids. They spent days in pretend play creating their own apple pies.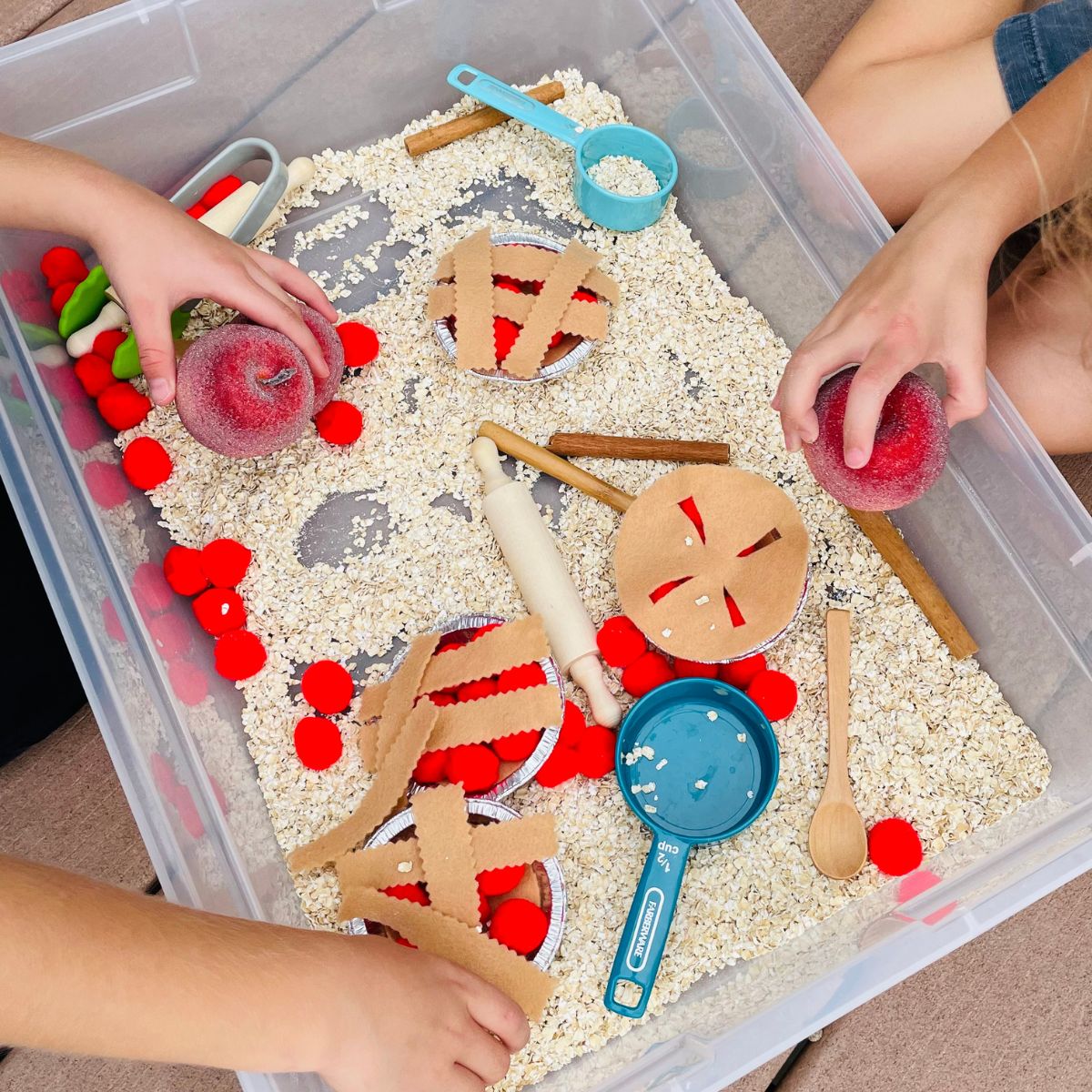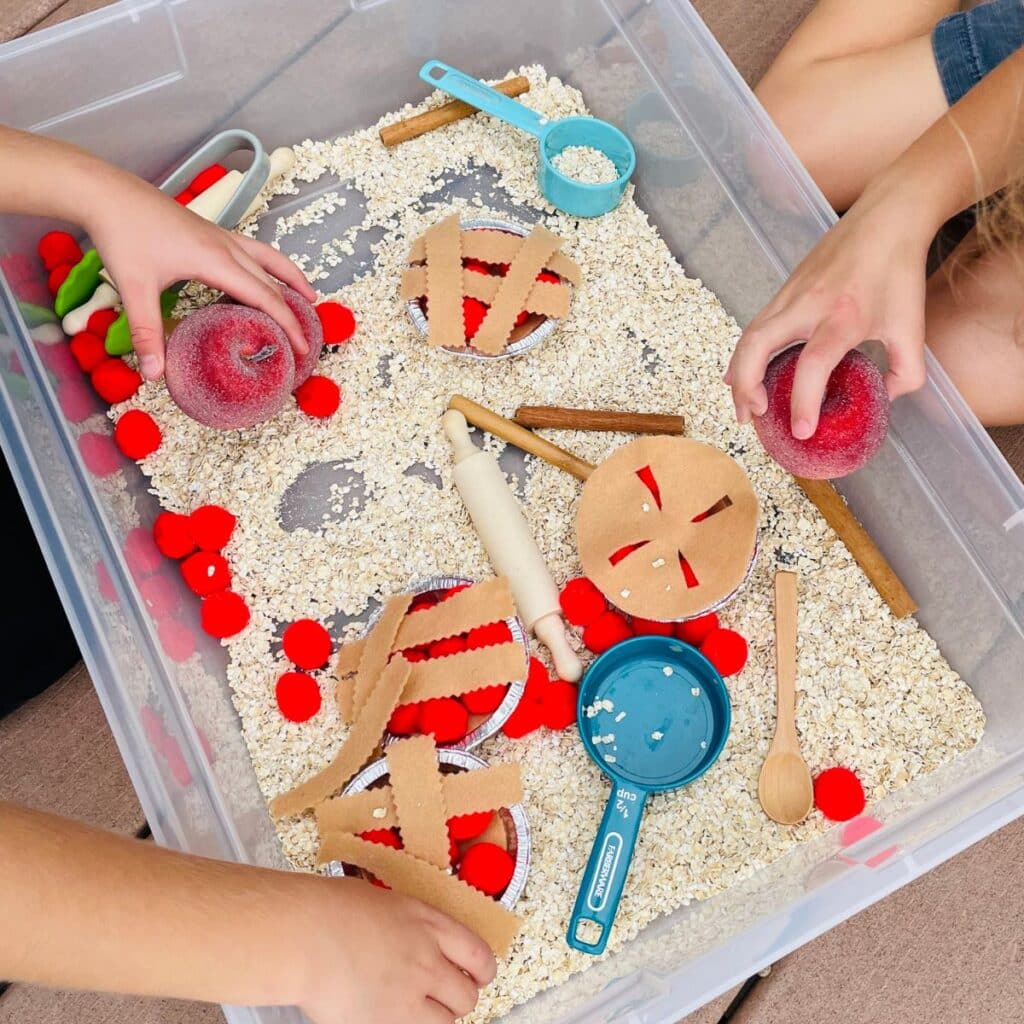 They had so much fun serving up delicious apple desserts and creating their own recipes.
If you want to extend the independent play, you can also make a recipe card set to show how many pom poms to add or how many scoops of oats, etc
Just a reminder: If you have small children who still put things in their mouths, you will want to stay away from choke hazards like pom poms, oats, small felt pieces, etc. You know your child best, so never give your child anything that is small enough to present a choke hazard.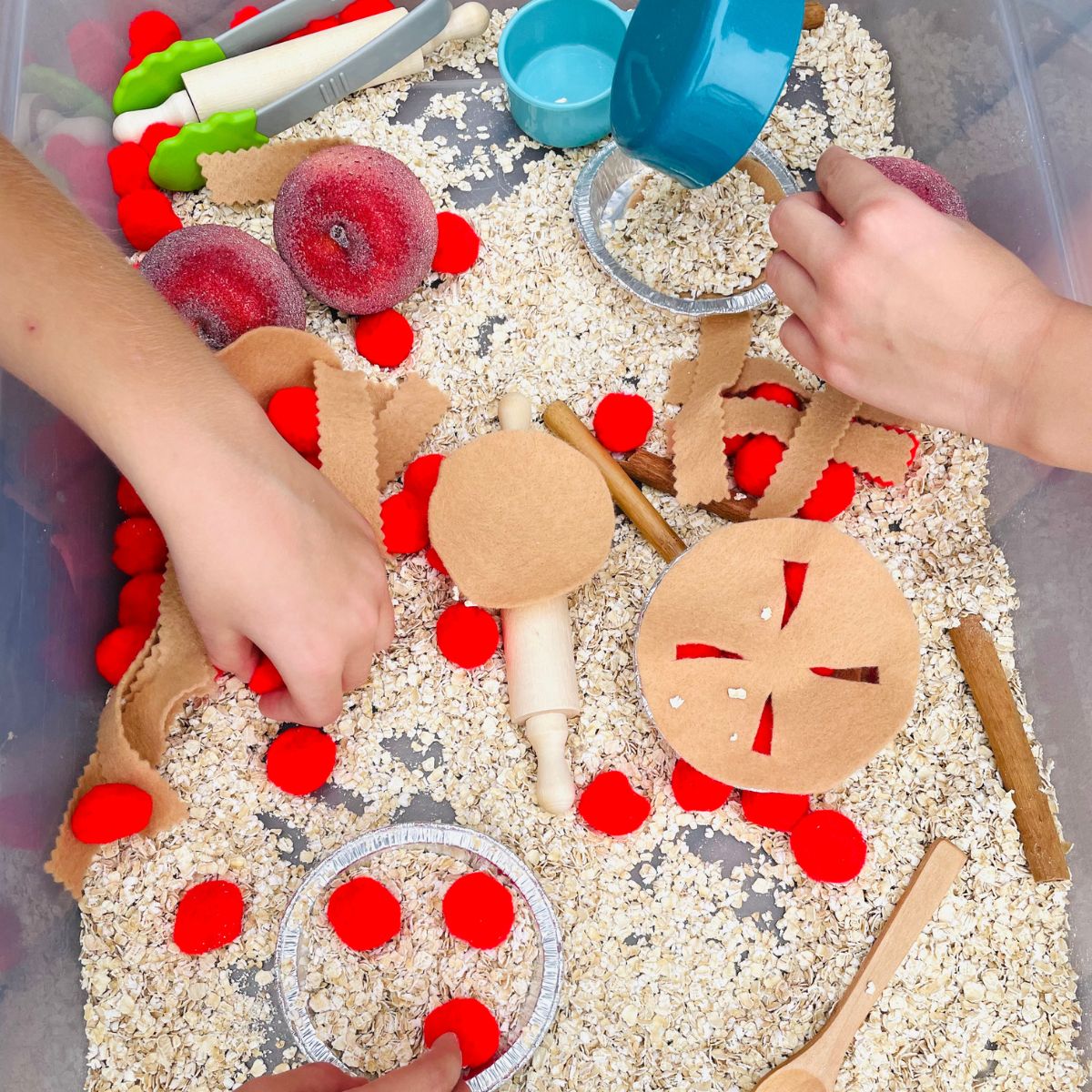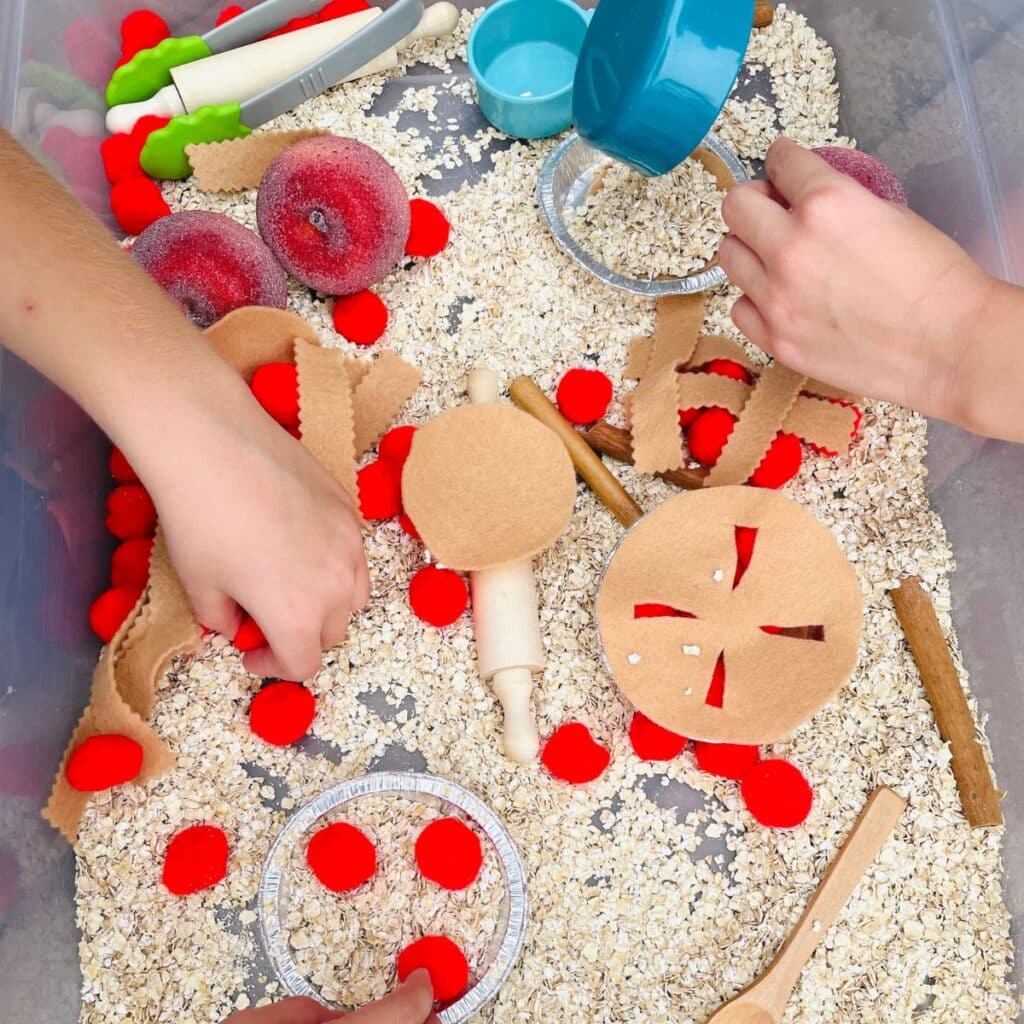 More Apple Preschool Activities
Looking for more fun Apple activities for kids?
This Marble Paint Apple Craft is perfect for your apple theme! Kids use marbles to paint on the free apple template. What a fun fall activity!
Check out this easy Apple Tree Craft. Kids can color or paint the tree and then dot the tree with paint for red apples! So easy and cute!
If you have little ones, this Apple Color Sorting Activity is fun! Little learners can enjoy fine motor practice with this easy activity.
Don't miss this Apple Basket Craft. Get ready for some apple stamping fun with this simple idea for your apple unit.
Lastly, you can find a big list of Apple Activities here. There's apple crafts, apple sensory play ideas, apple printables and more.
Love this simple apple sensory bin? Pin the image below to your Apple activity board on Pinterest.