With Independence Day just around the corner, I decided to put together a fun 4th of July Sensory bin!
What better way to celebrate America's birthday than with a fun red, white, and blue cupcake making sensory bin?!
Sensory bins are a great way for kids to learn fine motor skills and of course they are so much fun!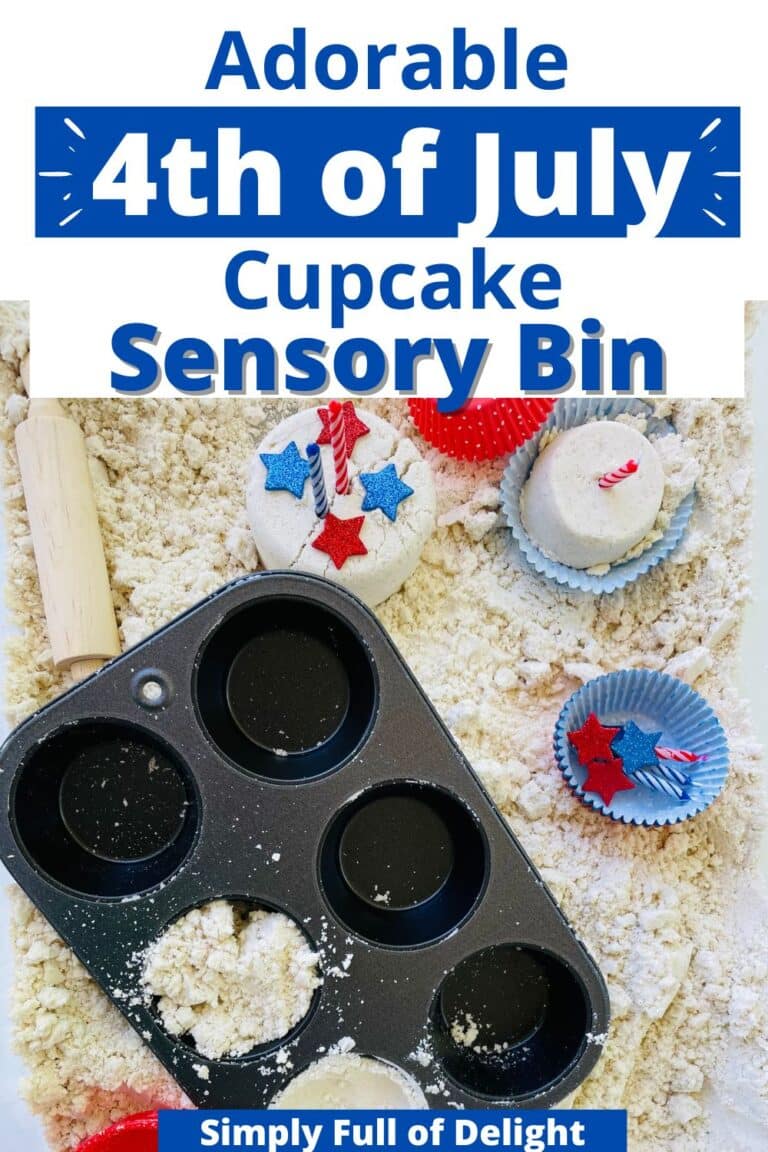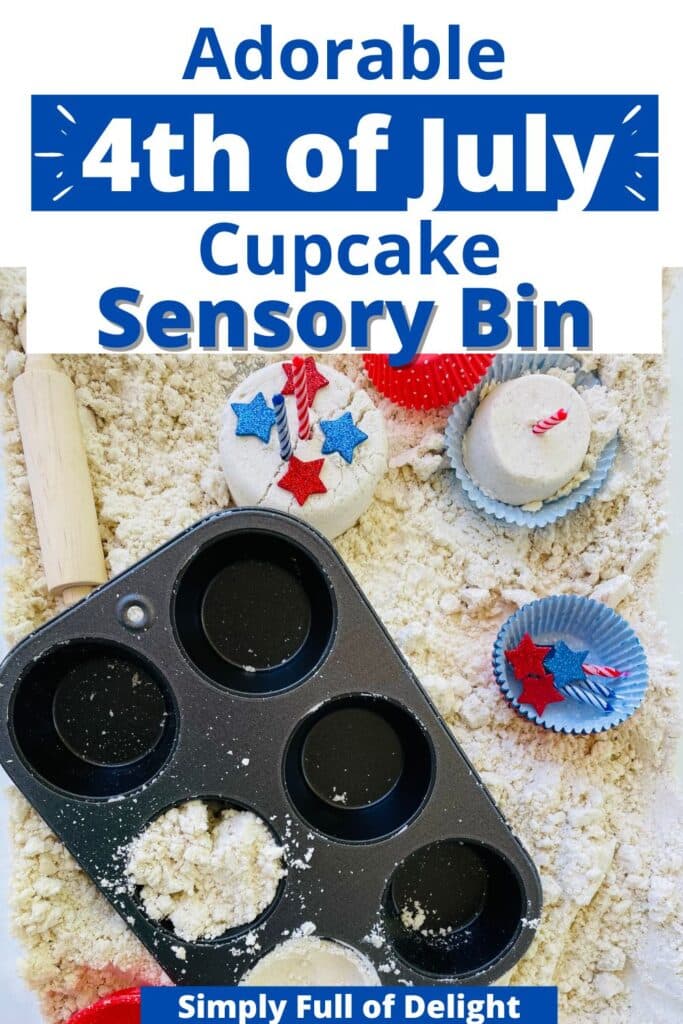 This patriotic sensory play idea would work for any patriotic holiday and of course it would make a fun sensory bin for your child's birthday as well!
If you are wondering what is sensory play? You might like to know….
What is a Sensory Bin?
A sensory bin is a tub or container that is filled with items that spark curiosity, prompt imaginative play, and stimulate a child's senses.
Many sensory kits have different themes like dinosaurs or farm, while others are holiday themed.
Sensory bins usually have a base filler for kids to scoop or pour. You could use beans, dry corn, play sand, water, moon sand, uncooked pasta or rice. The possibilities are endless!
You can find more ideas and a list of sensory bin filler ideas for your child here.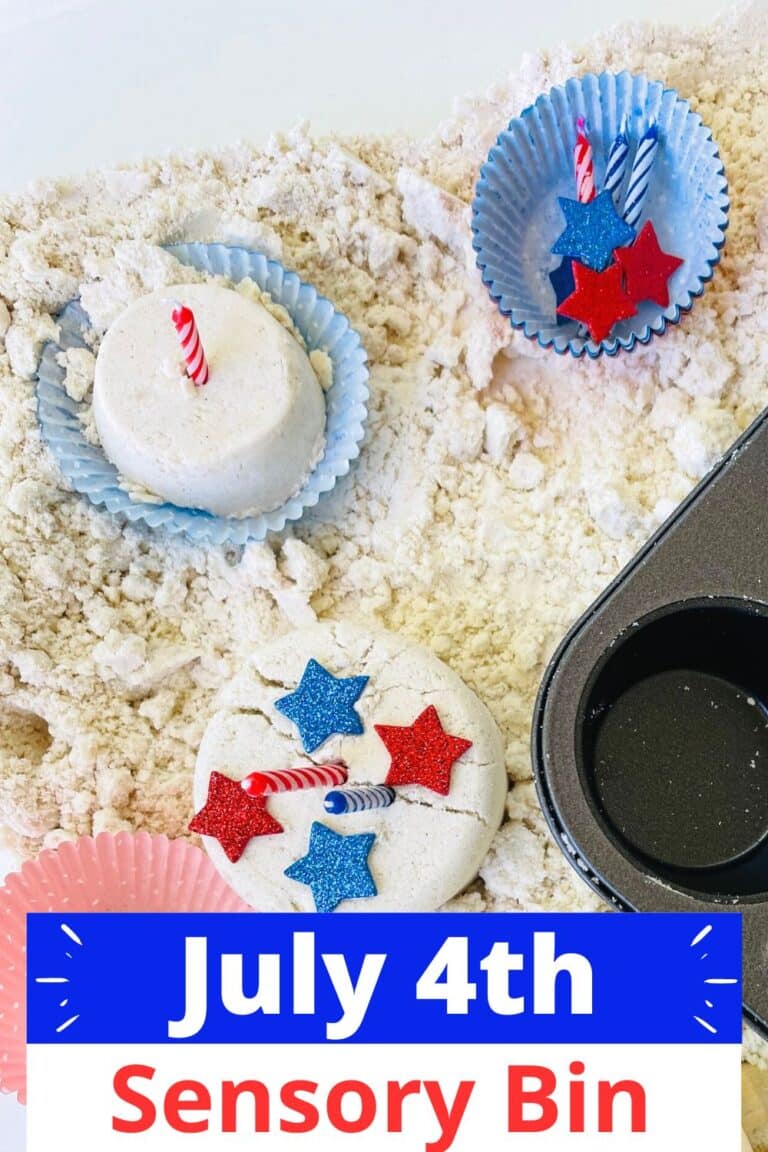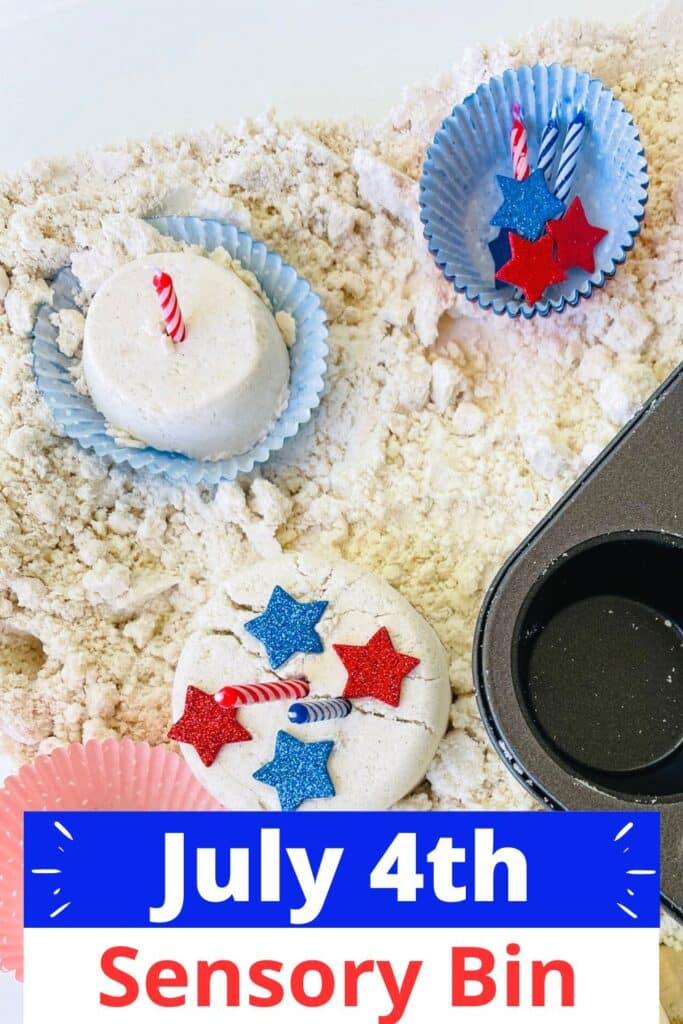 Benefits of Sensory Play
What are the benefits of sensory play for kids? Well, according to Good Start Learning, there's a ton!
Sensory play builds brain connections.
It encourages fine motor skills development and enhances language development.
It helps kids develop problem solving skills and think logically.
And bonus = Sensory play helps kids decompress and regulate stress.
There's a TON of great reasons to do sensory activities. And my favorite reason is…..that sensory play is lots of fun!
Sensory experiences have provided hours of imaginative play for my kids. As a mom of 4, I call that a HUGE win!
My older kids as well as my younger ones love playing in sensory bins.
Even my 12 year old loves certain sensory bins, playing alongside her younger siblings being creative and enjoying the different textures!
​Alright, now that I've thoroughly given my soap box talk about how great sensory play is….let's dive into this super fun moon sand 4th of July sensory play idea!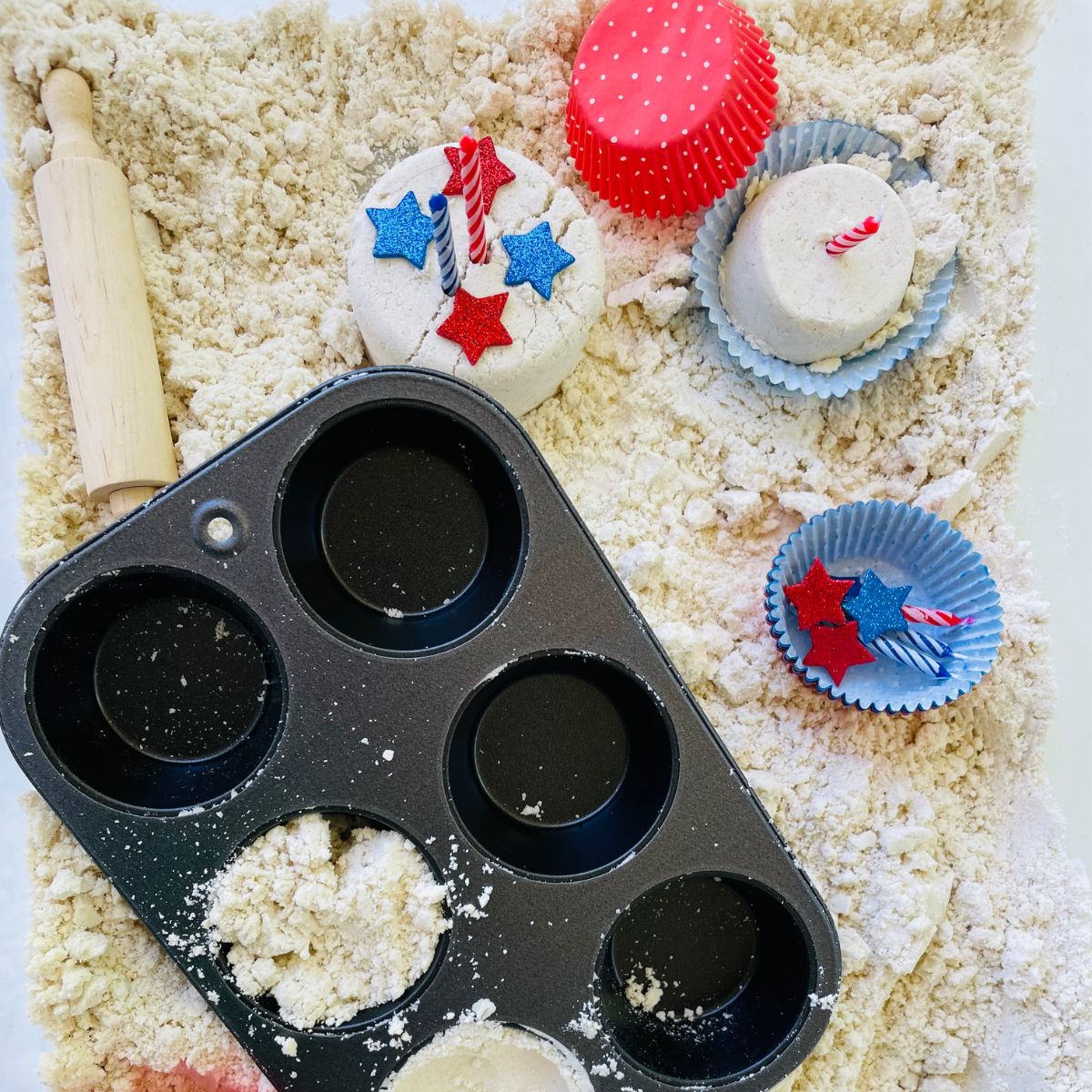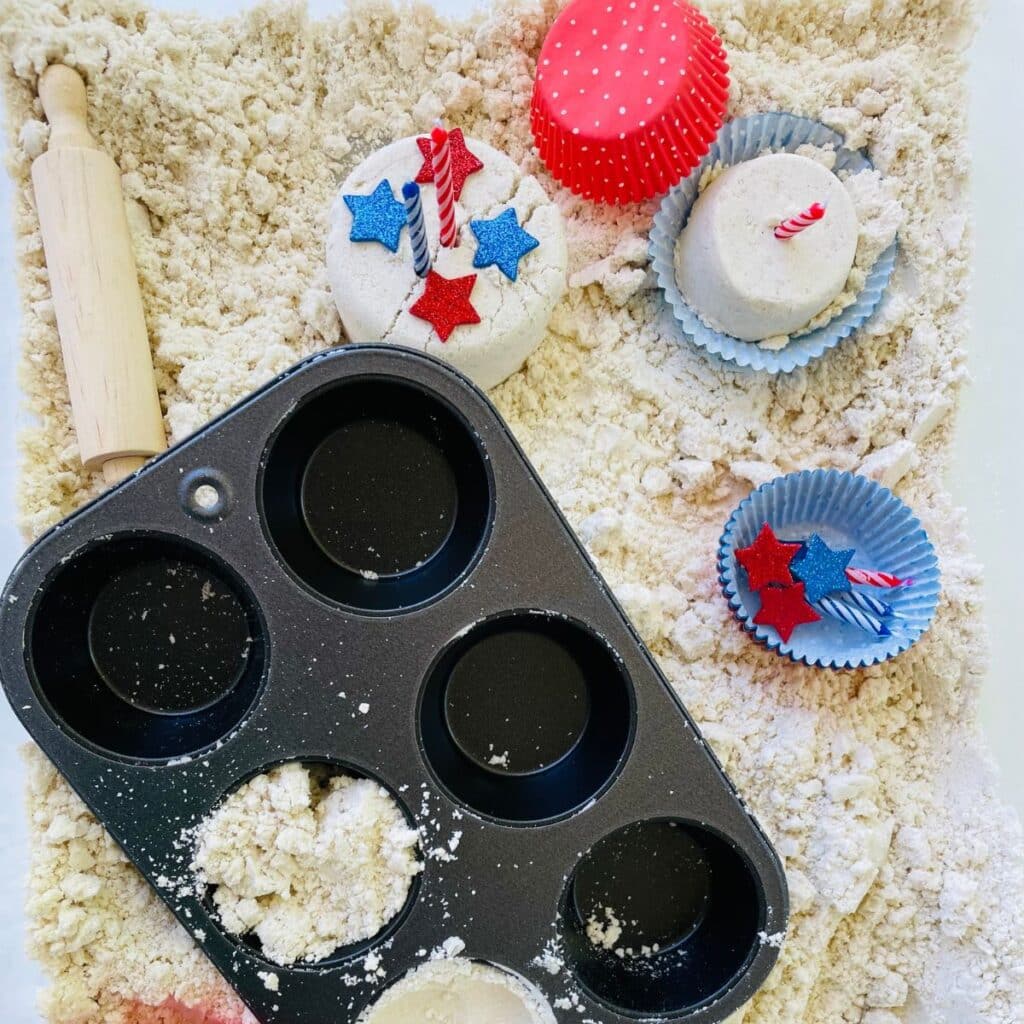 Supplies Needed for July 4th Sensory Bin
You will need the following items for this fun sensory bin:
** Disclaimer: As an Etsy associate and as an Amazon.com Associate, I may earn from qualifying purchases made by readers clicking my affiliate links at no extra cost to you.
– Sensory bin container – we used a large under the bed storage container – but any plastic tub will work.
– Patriotic Cupcake Liners – we used paper ones, but silicone muffin liners are much more durable!
– Patriotic colored birthday candles
– Red or blue measuring cups (to add to the patriotic color theme!)
– Paper plates in patriotic colors
– Wooden spoons/scoops or a mini rolling pin
– Patriotic colored stars (ours are foam stickers – we used red and blue stars)
– Moon Sand (You can find our simple 2 ingredient Moon Sand recipe here).
Optional: Mini American Flag Cupcake decorations, patriotic sprinkles, etc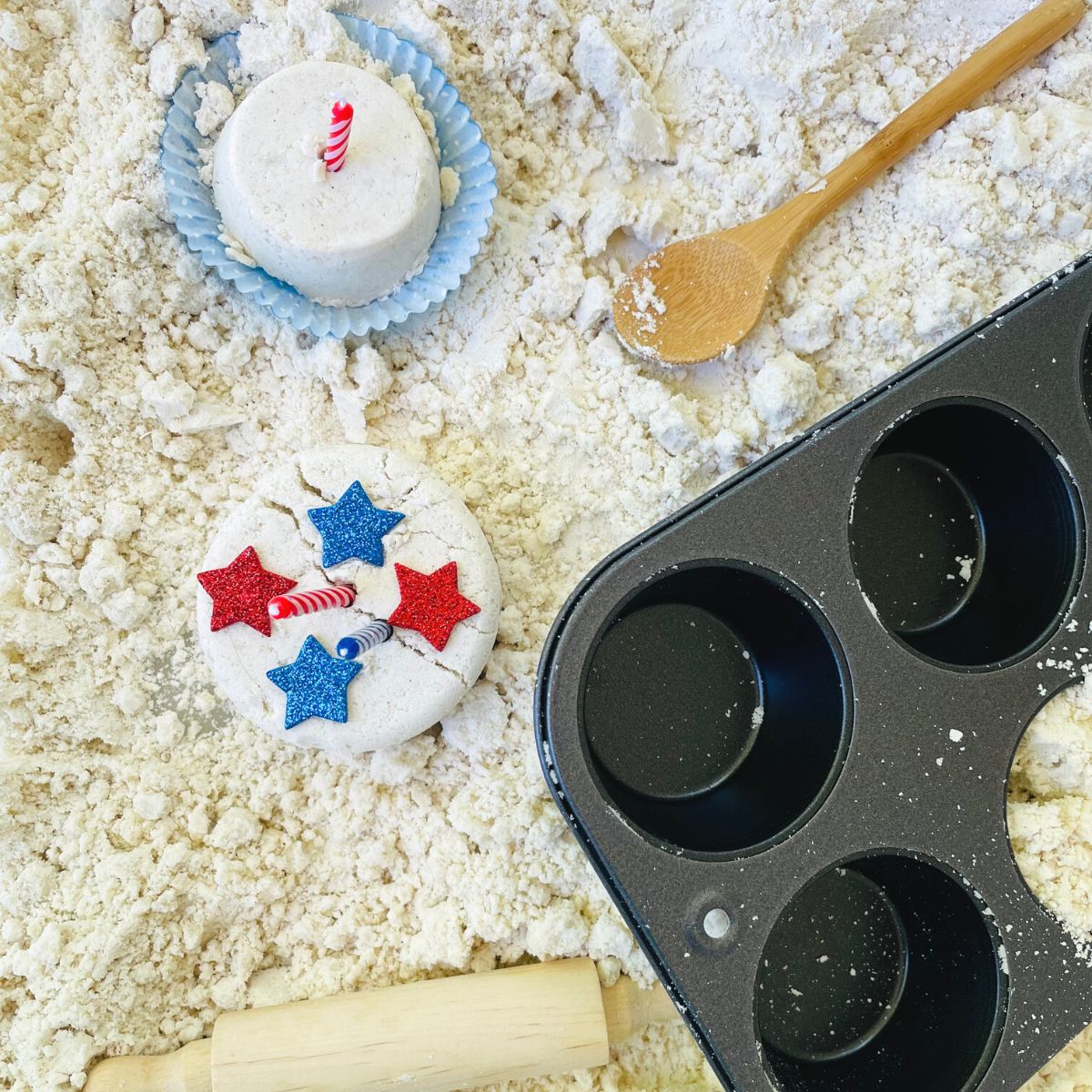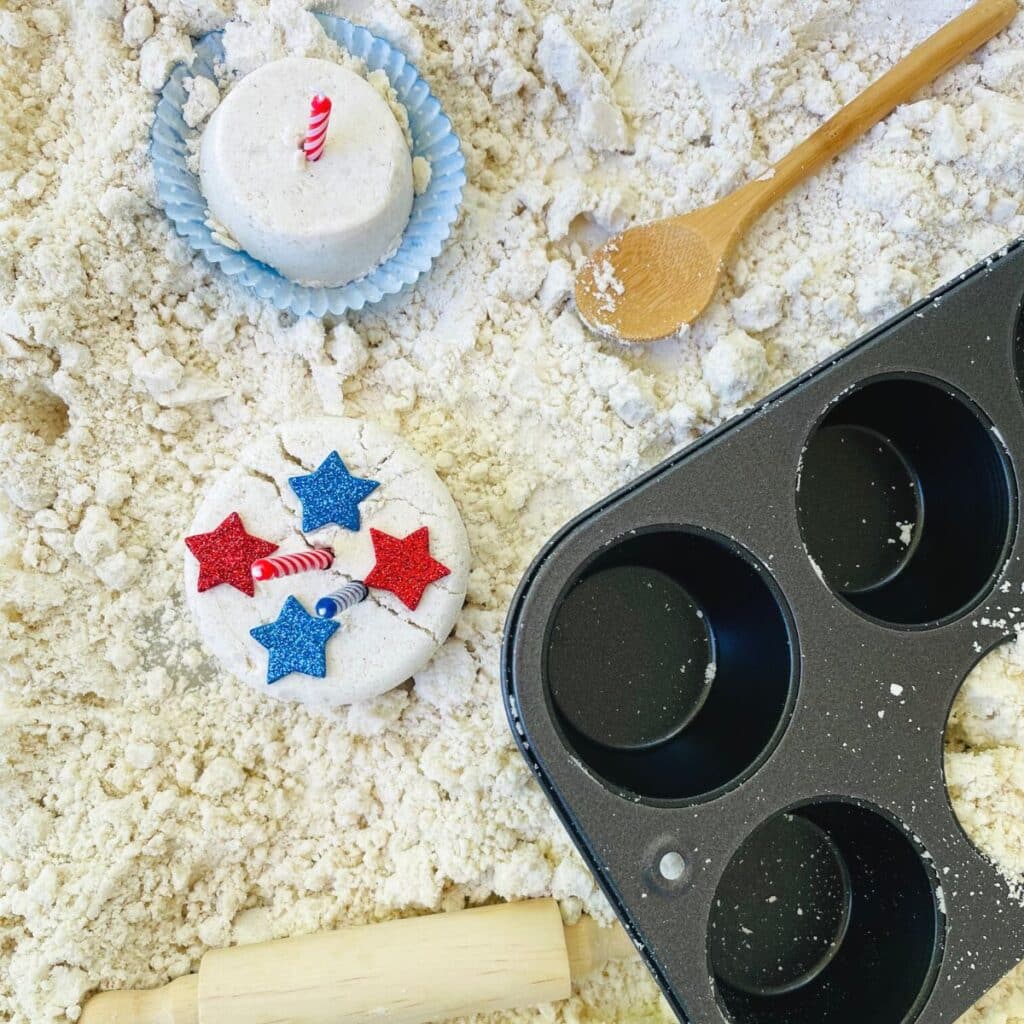 To add to the fun red, white, and blue theme of this Fourth of July Sensory Bin, I tried to stick to items that were in our patriotic color scheme.
You are welcome to add whatever makes sense to add to the fun!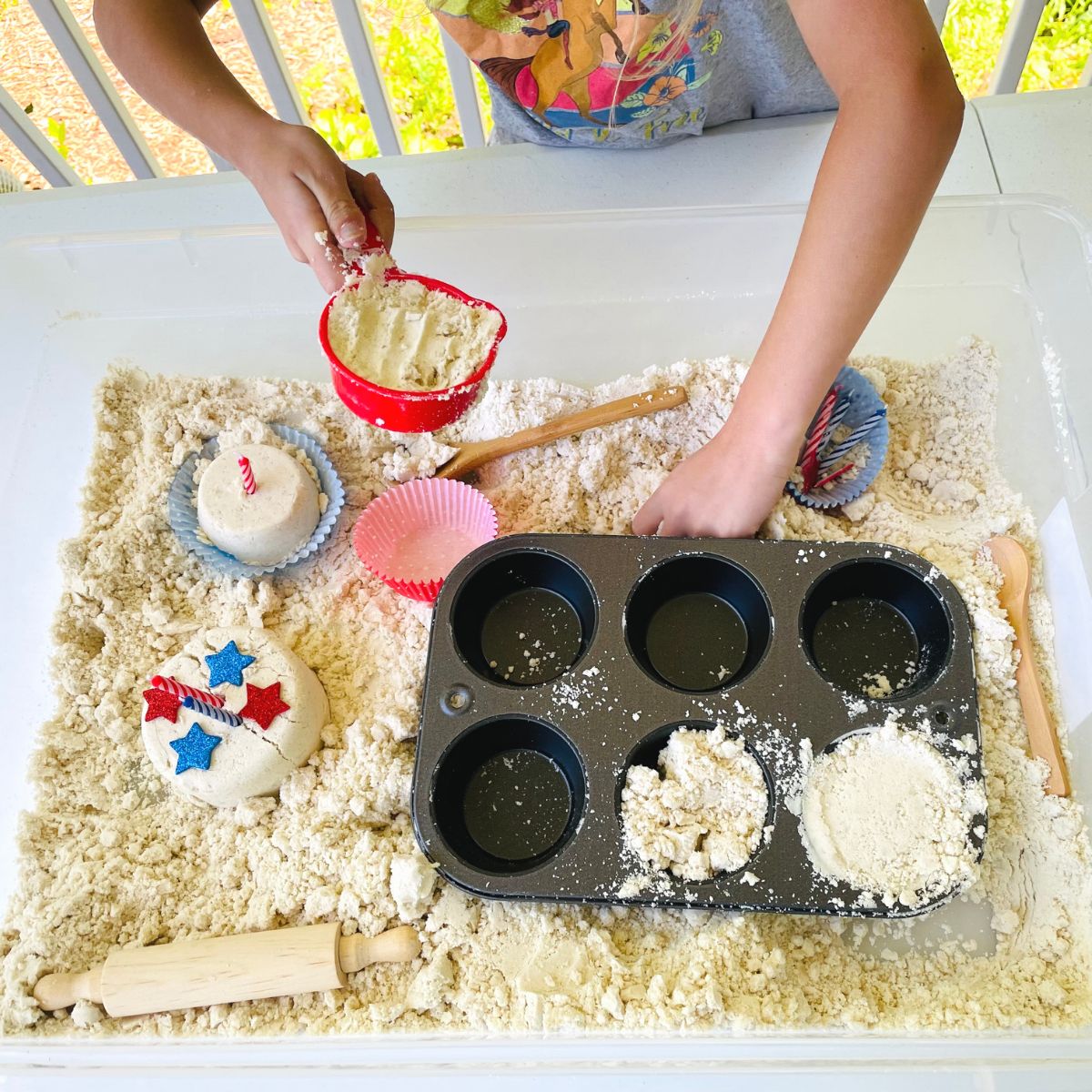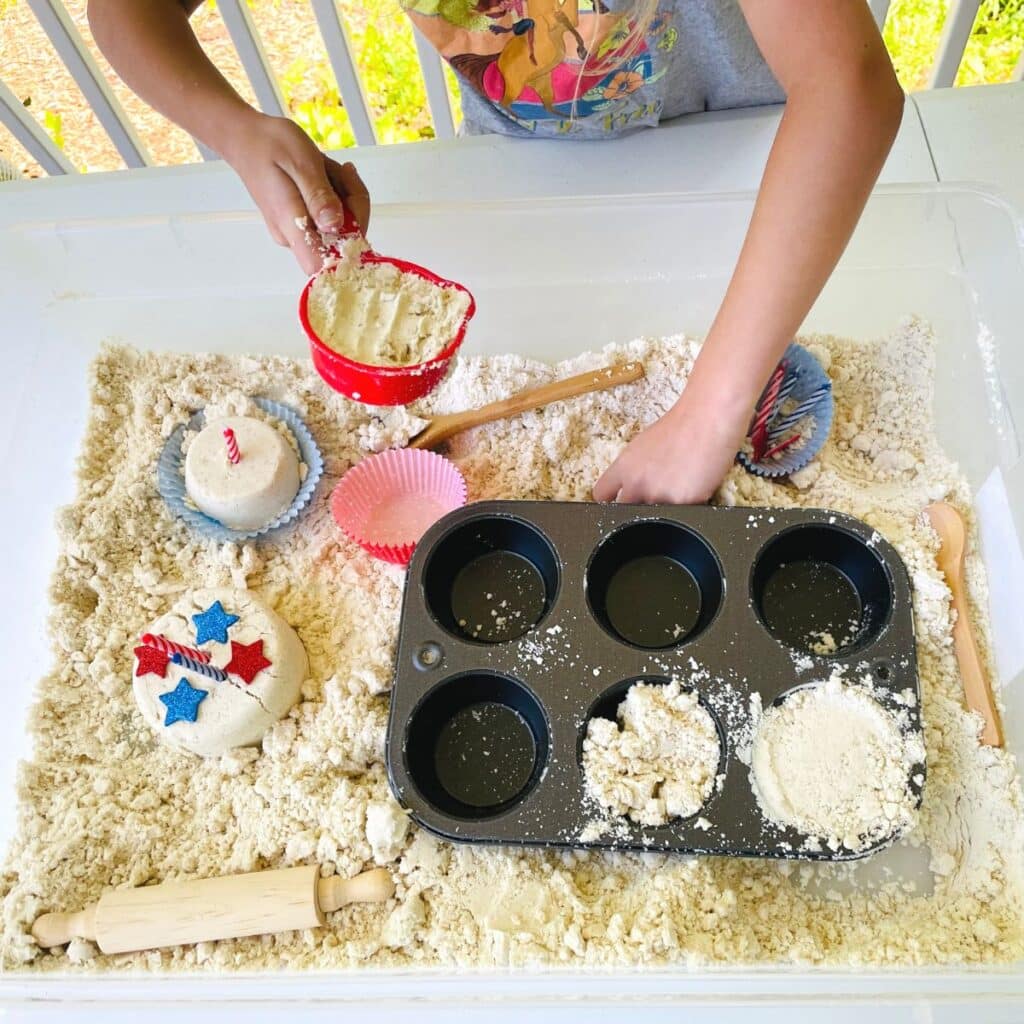 How to Make a 4th of July Sensory Bin
First grab your sensory bin. I recommend using a large under the bed storage container. It's nice to have a large area for kids to dig, scoop and play.
Ideally, the sides of the container are low so that kids can easily reach in to play.
Fill the bottom of your sensory bin with moon sand.
We like to use a simple 2 ingredient recipe that is an 8:1 ratio of flour to oil. We doubled the easy moon sand recipe for this large sensory bin, so ours is 16 cups of flour and 2 cups of oil.
Learn more details about how we made our gluten free moon sand recipe here.
Next, add your muffin pan, cupcake liners, birthday candles, and stars. Add measuring cups and wooden scoops for kids to mold and shape the moon sand.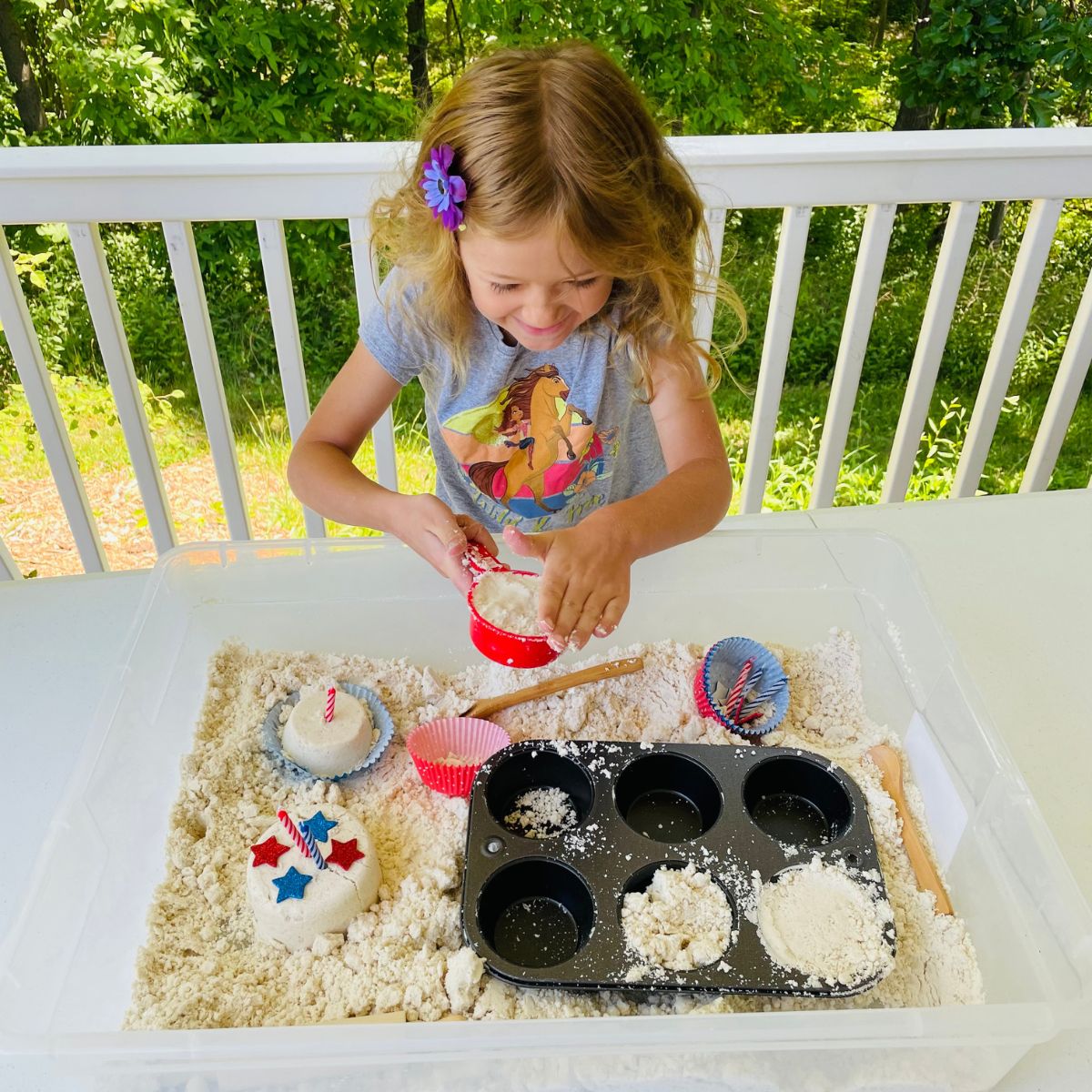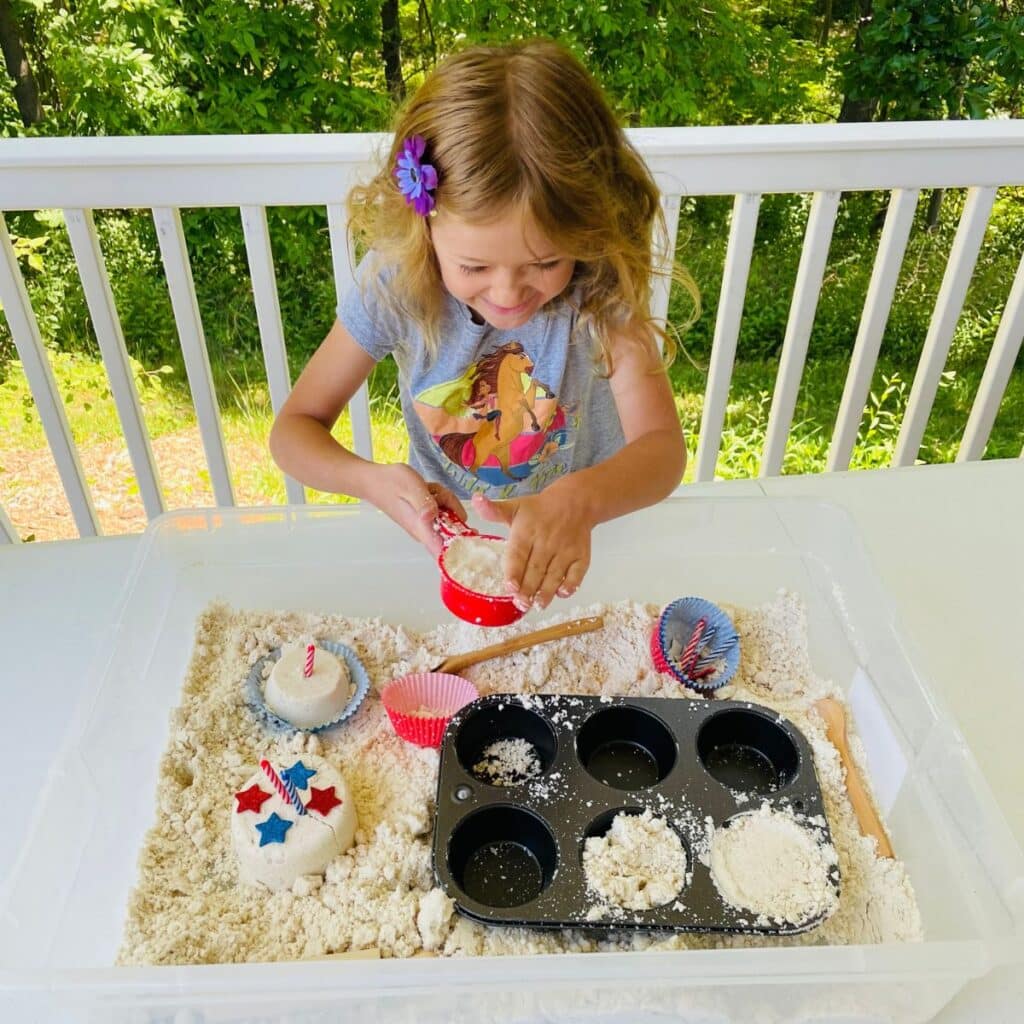 And…..can you believe it…..you're done! You've got your own sensory bin for Independence Day! What fun!
My kids loved this sensory activity.
My girls enjoyed forming the cakes and cupcakes, decorating them with stars and candles.
They had their own unique ways of making 4th of July cakes – it was fun to watch their creativity come alive!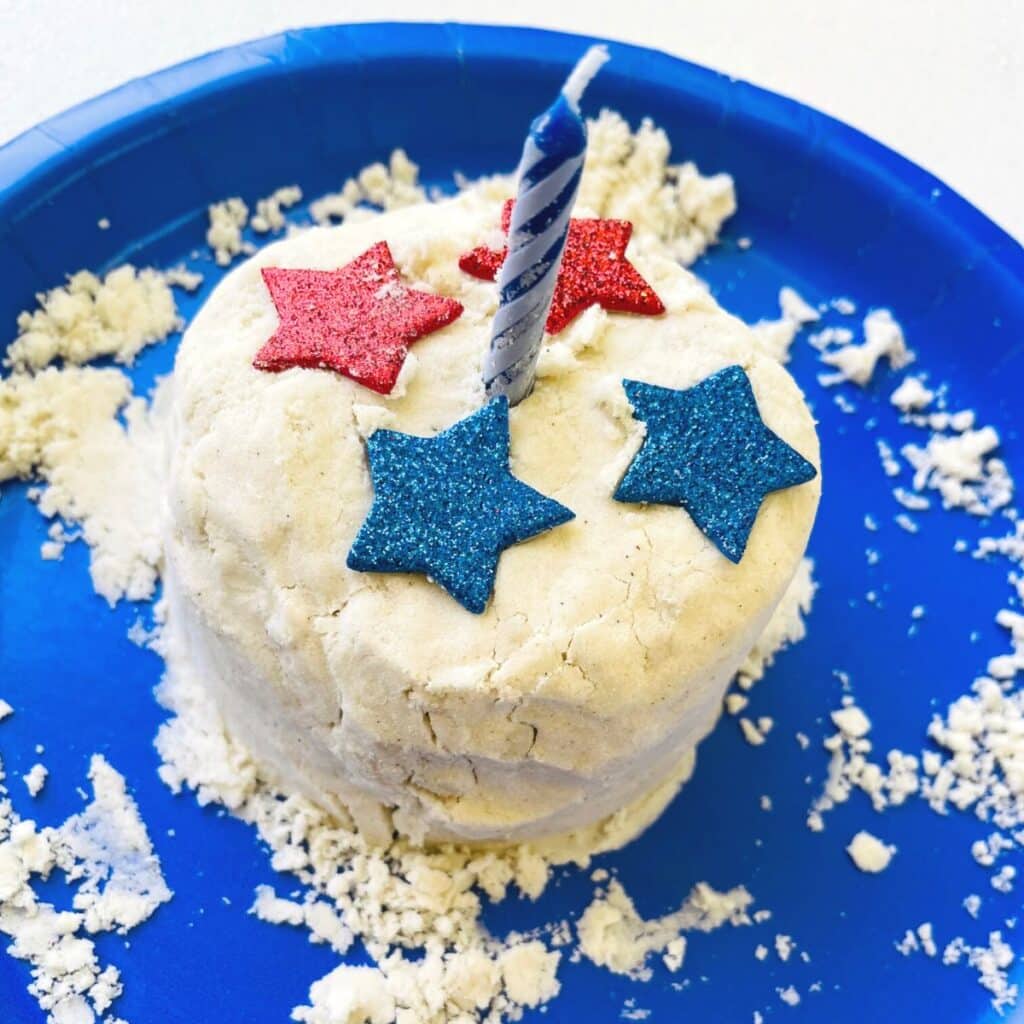 More Sensory Bin Activities
If your kids enjoyed this sensory experience, don't miss the other sensory bins on my site.
This Ocean Sensory Bin is perfect for the month of July! Kids can enjoy imaginative play and explore ocean creatures with this easy sensory tables idea!
You can find an easy Car Wash Sensory Bin here. This low-prep set up was a go-to activity at my house when my kids were young toddlers!
There's a fun Forest Themed Sensory Bin here. Kids will love all of the fun woodland creatures and natural elements in this sensory tub.
​If you need more summer ideas for sensory play, don't miss this Insect Sensory Bin. It's a great way to introduce kids to various types of bugs in a safe environment while helping kids with fine motor development.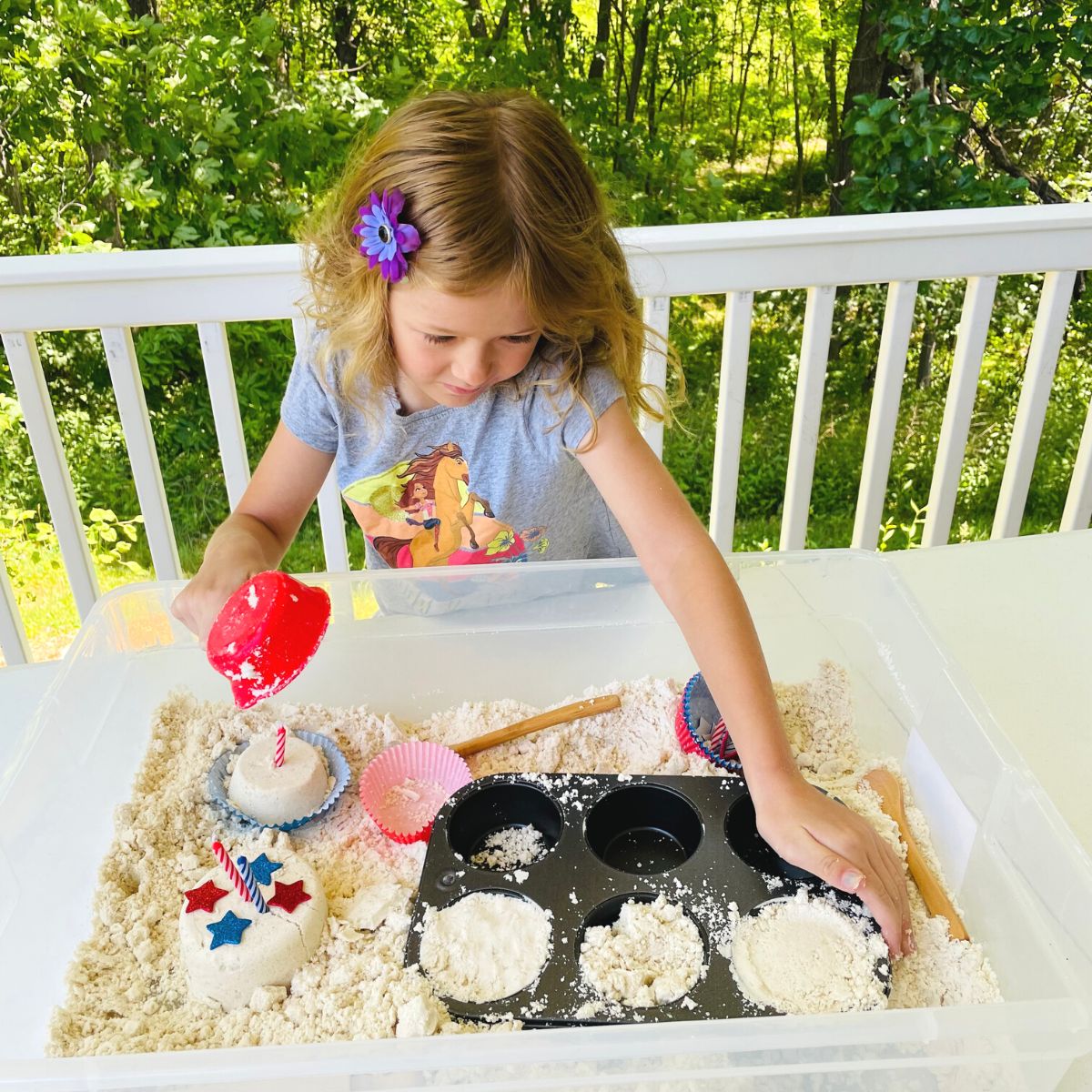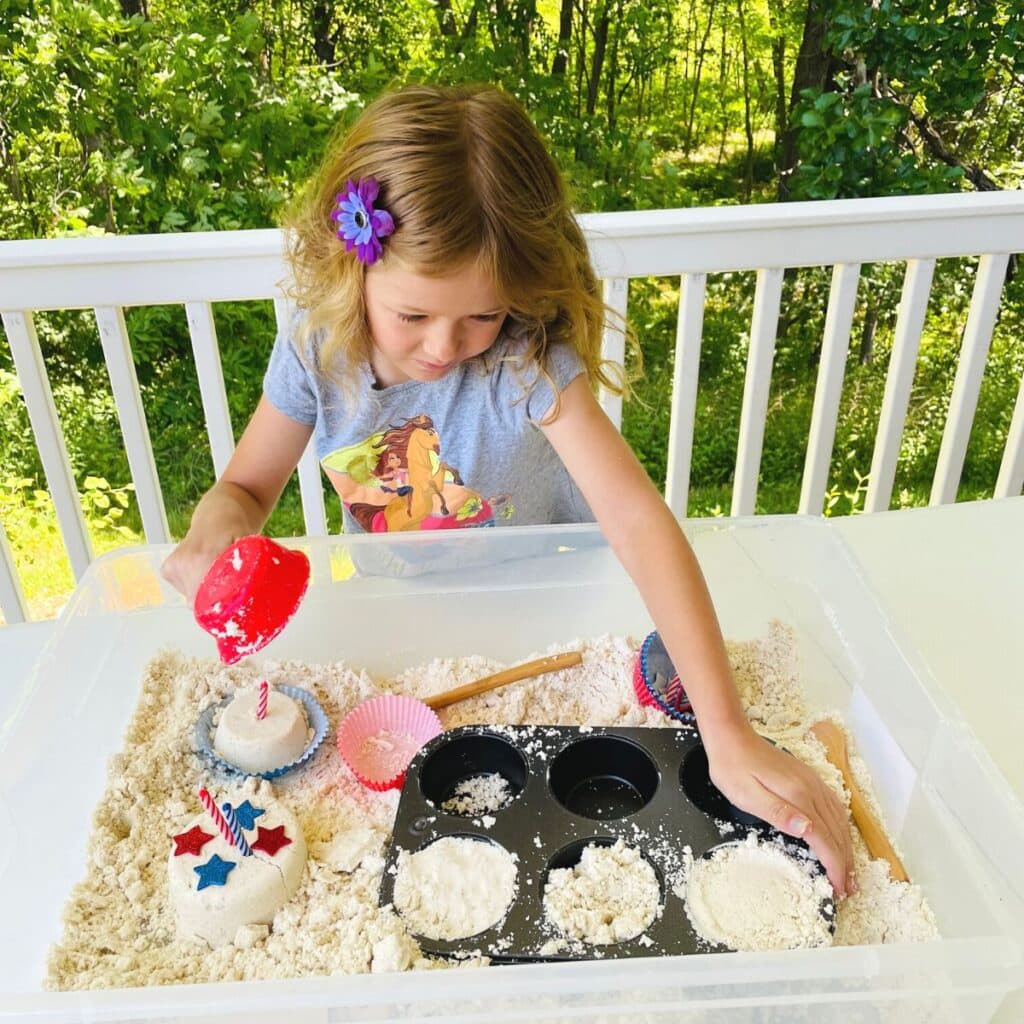 More 4th of July Activities
Looking for more Independence Day fun for young children?
There's a neat Handprint American Flag Craft here. This simple patriotic craft is super cute and easy for little ones! Such a fun idea for the 4th of July holiday or Memorial Day.
If your kids love to wear their creations, don't miss this fun printable Uncle Sam Hat craft! There's both a full color version and a Color your own hat version. So fun for the Fourth of July!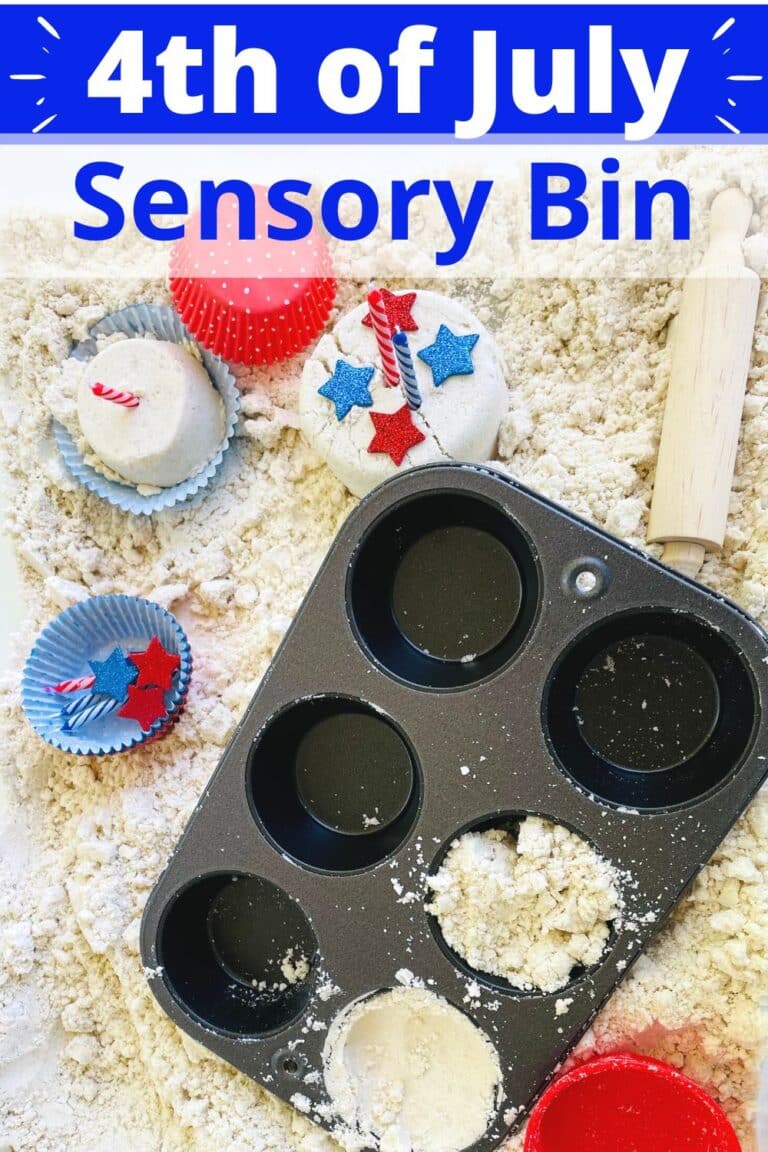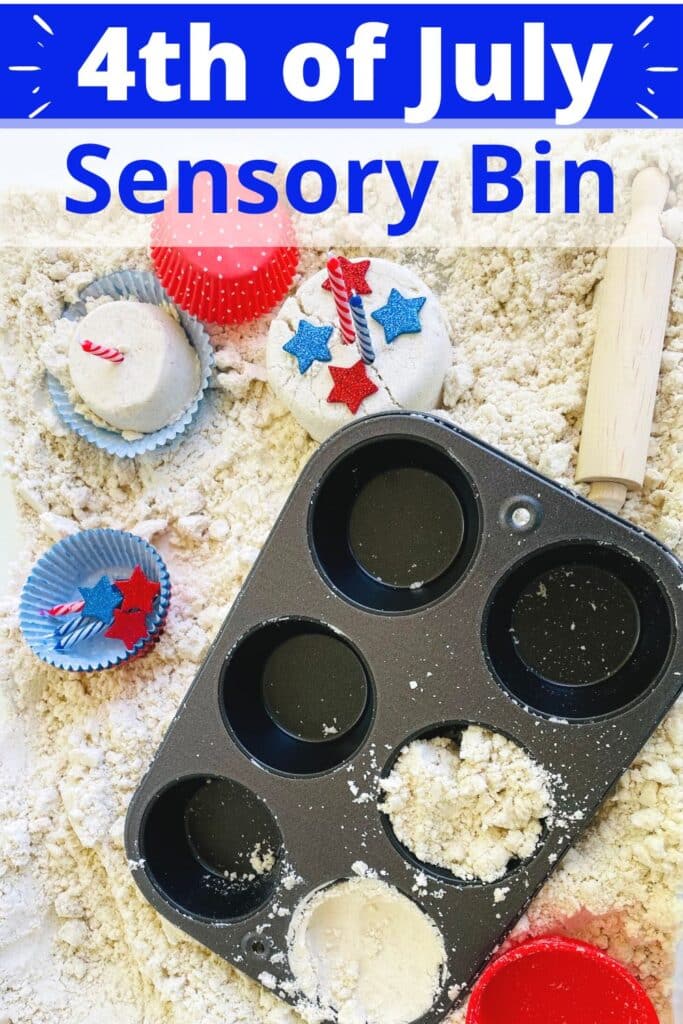 Kids can practice their number recognition math skills with this easy Color by Number American Flag. Such a fun activity that's great for kids preschool and up!
There's a fun Pineapple Stamping Fireworks craft here. This unique craft idea combines process art with a fun 4th of July fireworks theme. Perfect for kids of all ages!
Need an easy activity for your 4th of July Celebration? There's a free 4th of July Scavenger Hunt here. What a fun way to get the adults involved with the kids for some family fun!
You can also find some free July 4th Coloring pages here. These are perfect for the kids table at your backyard BBQ celebrations and family gatherings!
Want to save this fun 4th of July themed sensory bin for later? Pin the image below to your 4th of July Pinterest Board.