Looking for the perfect spring sensory play idea? Try this Insect Sensory Bin for Preschoolers!
This super easy sensory bin is great for teaching little ones about insects and bugs!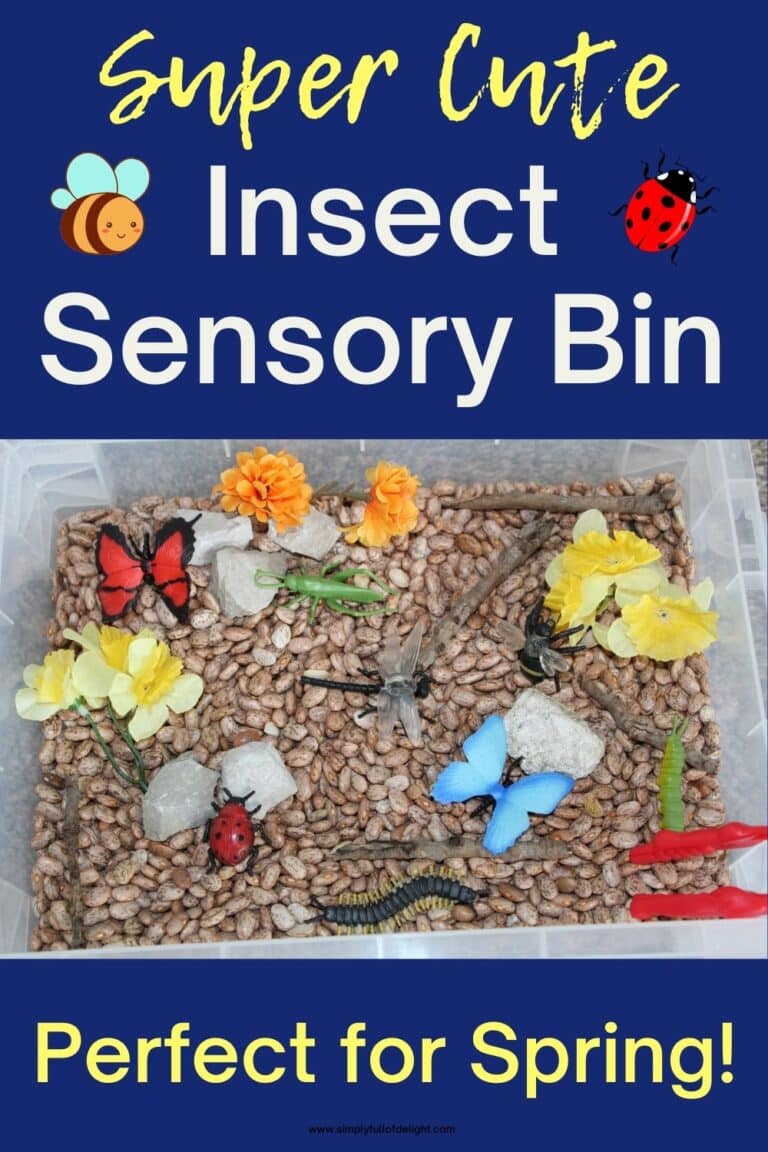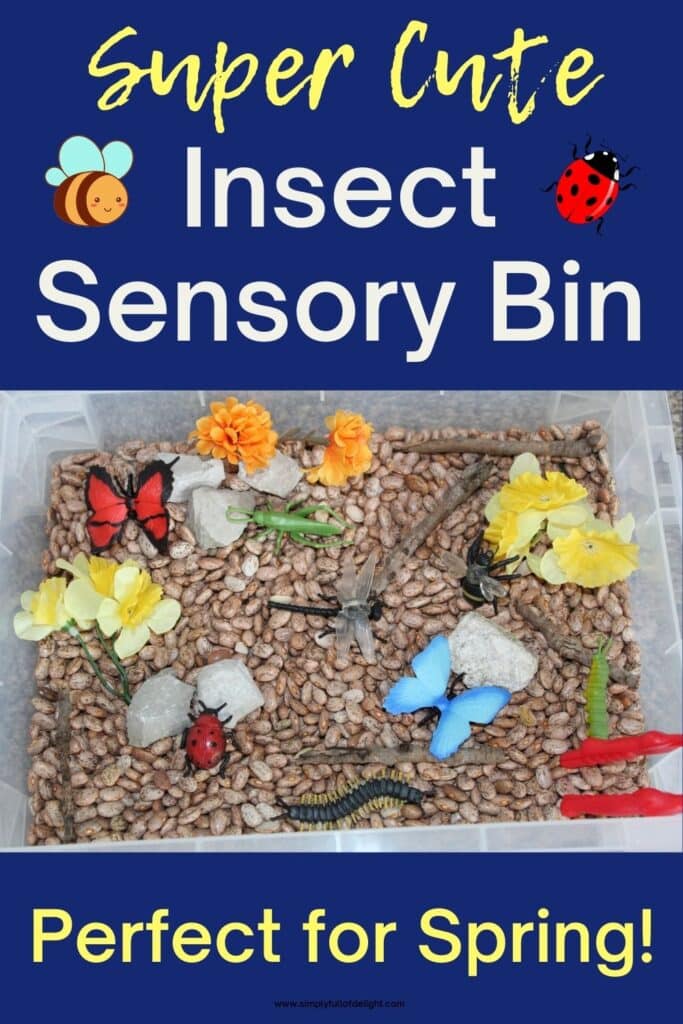 Little ones are often unsure of insects and bugs and we tend to see more of them as we enter into the spring season. Playing with this insect and bug sensory bin can help kids to become more familiar with insects and learn more about them, putting some of those fears to rest.
This insect sensory bin contains beans, items from nature, as well as toys as well. I hope your children enjoy this simple spring sensory bin!
What is a Sensory Bin?
A Sensory Bin is a box or bin that is filled with objects that foster imaginative play, awaken curiosity, and stimulate the senses.
Most sensory kits have a theme such as spring, winter, farm, jungle, dinosaur, etc.
Normally, a sensory bin filler may be water, sand, beans, dry corn, uncooked pasta or rice. Or, you can use paper grass, pom poms, or water beads. The possibilities are endless!
You can find more ideas for creating a simple sensory bin for your preschooler here.
The Benefits of Sensory Play
According to Very Well Family, sensory play is crucial because:
– It supports fine motor skill development for little hands.
– Sensory play helps build language skills.
– It helps kids regulate and destress.
– They are fantastic fun!
There's many reasons to do sensory bins. You can read about more benefits here.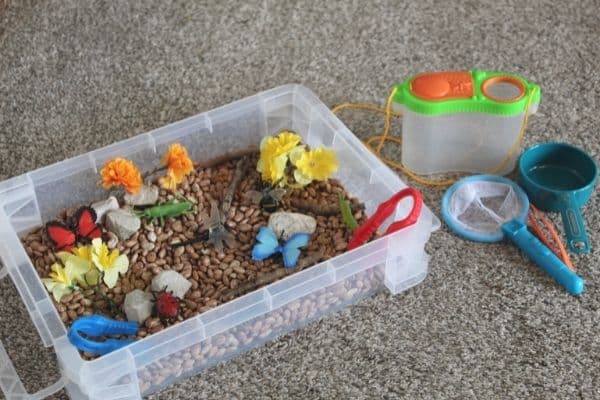 Supplies to make an Insect Sensory Bin
** Disclaimer: As an Amazon.com Associate, I earn from qualifying purchases made by readers clicking my links at no extra cost to you.
You will need the following items to make this spring insects and bugs sensory bin: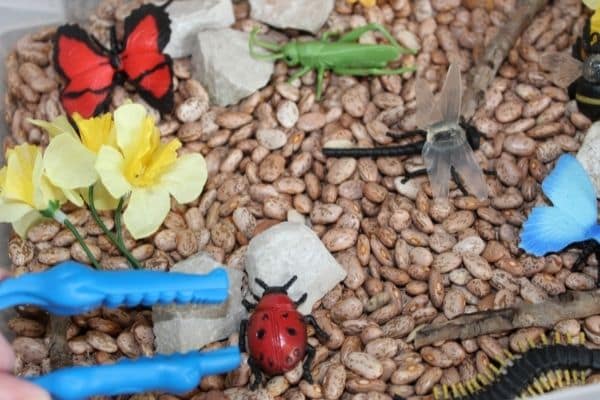 How to make an Insect and Bug Sensory Bin
Alright! Let's get started on this insect sensory play idea!
First, take your Sensory bin and fill it with Dried Pinto Beans. The amount of beans will depend on how large your sensory box is.
Next, add your flowers. Real flowers are lovely, but kids tend to tear them up pretty quickly. You can find really inexpensive fake flowers at Dollar Tree or any crafting store.
Note: You might need a pair of wire trimmers to cut your flowers down. The inside of fake flowers tends to be wire, so it can be difficult to cut without the proper tools.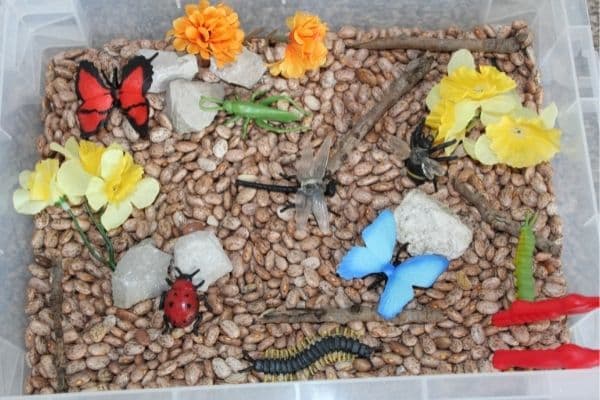 Now it's time to add your insects, rocks, and sticks.
Add your tweezers for picking up bugs and a magnifying glass for examining the insects. Also, I like to include something to scoop with. One of best ways to ensure that a sensory bin is engaging for kids is to add something to scoop.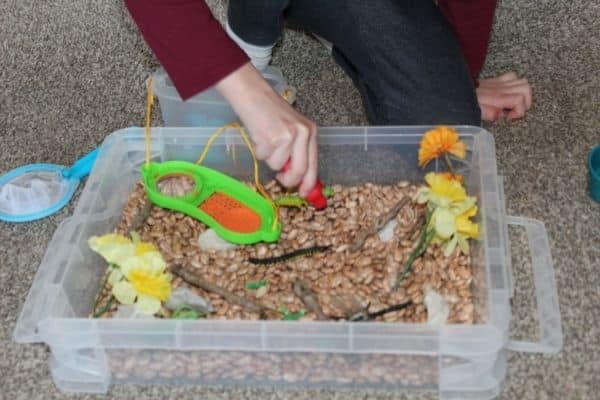 My little ones enjoyed scooping the insects up, hiding them under the "dirt" and picking bugs up carefully with tweezers.
You might like to include some bug identification cards or a book on insects for kids.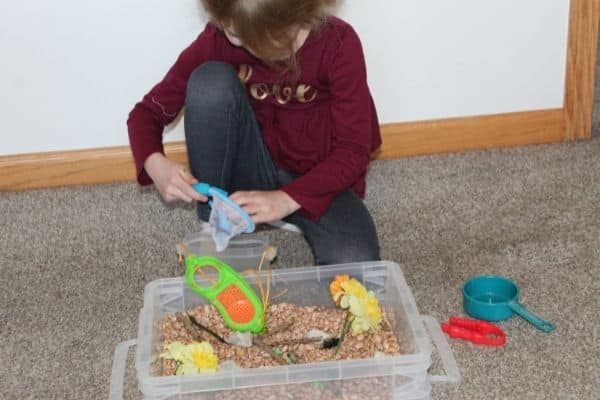 Premade Insect Sensory Bins from Etsy
If you are noticing that you don't have a lot of the materials needed for insect sensory activities, don't forget that you can find amazing premade sensory bins on Etsy! Sometimes, it just makes sense to buy the sensory bin already made!
Here's 2 of my favorite premade insect sensory activity sets: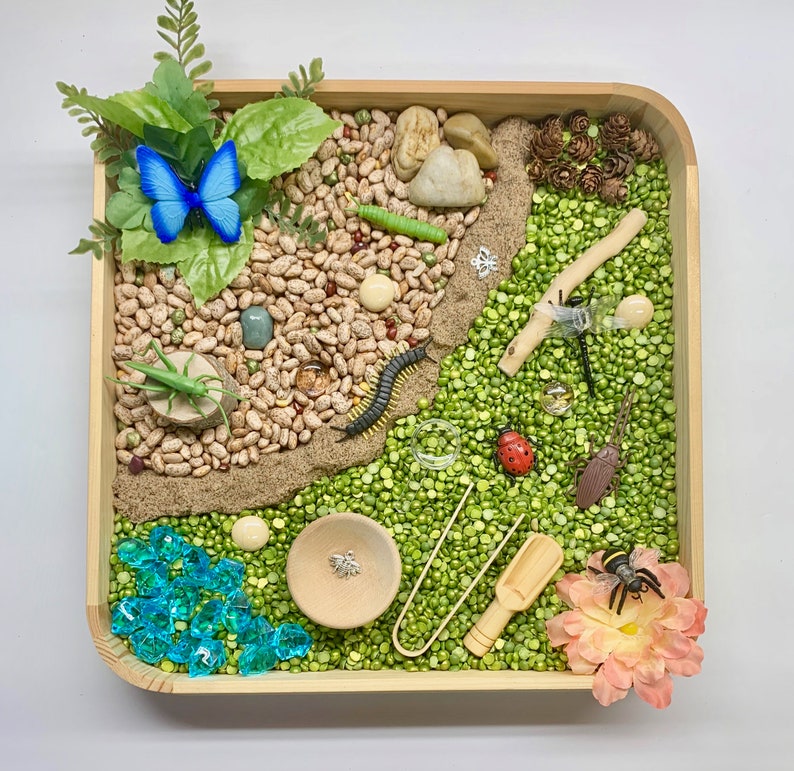 This Bug Lover Sensory Kit is by Play at Home Mom Co. on Etsy. This sensory bin activity kit contains the bean and seed filler base, kinetic sand, a mini wooden bowl, bamboo tongs, wooden scoop, 2 natural mini branches, 6 rubber insects, a variety of wooden butterflies, slices, flowers, and pinecones along with some other embellishments.
This sensory kit is a great way to skip the prep and start the play! What a great sensory experience!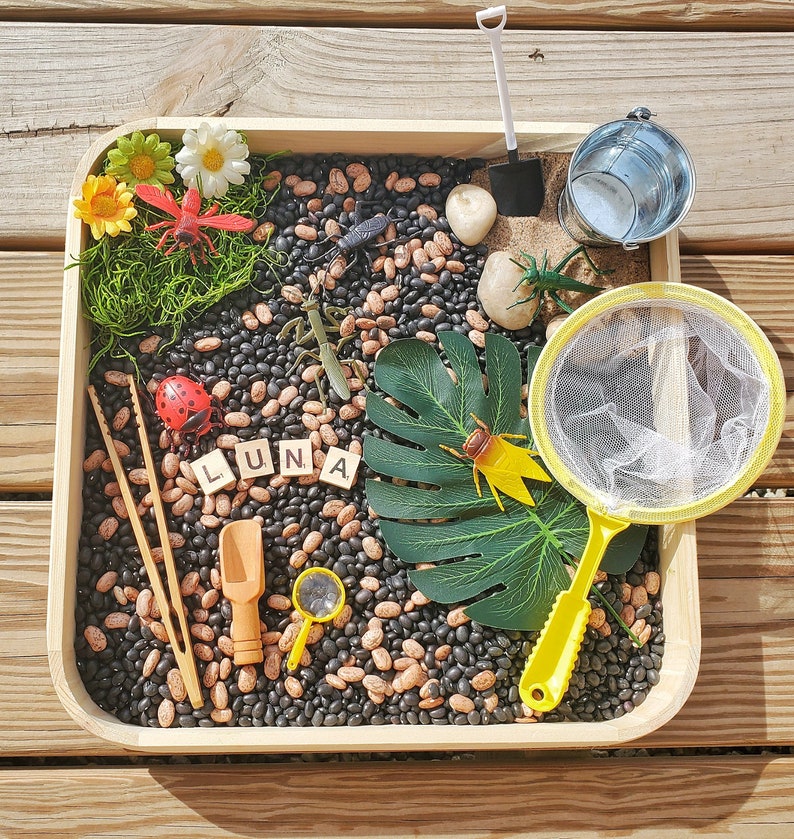 This Bugs in the Garden Sensory Kit is by Little Bee Sensory. This amazing set includes beans, kinetic sand, moss, 1 faux leaf, wooden scoop, wooden tongs, a mini magnifying glass, a bug catcher net, shovel, natural rocks, 6 assorted plastic bug toys, 3 faux flowers, 1 metal tin, and your child's name in scrabble tiles.
This premade bug sensory kit takes the work out of sensory bins and makes it 100% fun!
More Insect Activities for kids
If you'd like another sensory bin idea your little one will love this: a Vegetable and Flower Garden Sensory Bin. This spring sensory play idea combines the fun of planting flower pots with sensory fun!
Learning about Insects and want some more Insect Activities for kids?
You can find a Thumbprint Ladybug craft insect activity here.
There's also a Bee Thumbprint Craft as well as a Butterfly Fingerprint Craft here as well.
For a fast and easy craft idea for little ones, try this Paper Bee Craft. It has moveable wings!
Lastly, be sure to check out this adorable Symmetry Butterfly Craft! It is super easy with the free printable!
Happy Spring!
Save this idea for later by pinning the image below to Pinterest!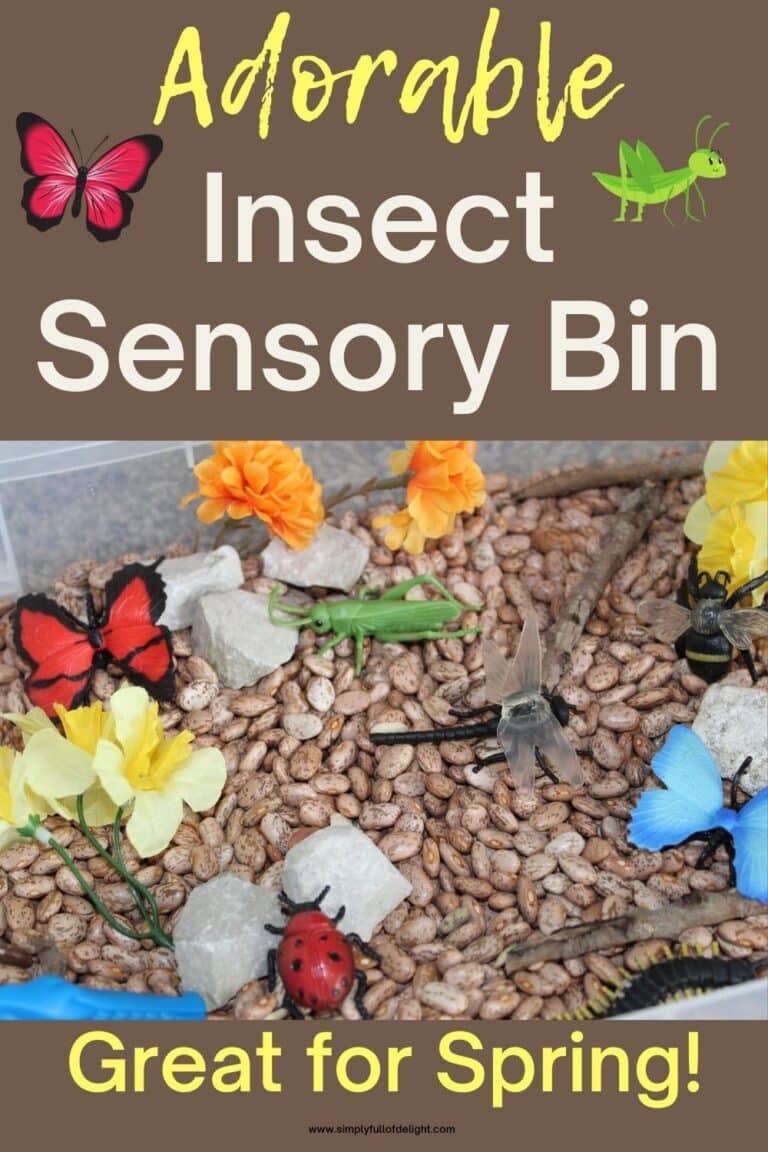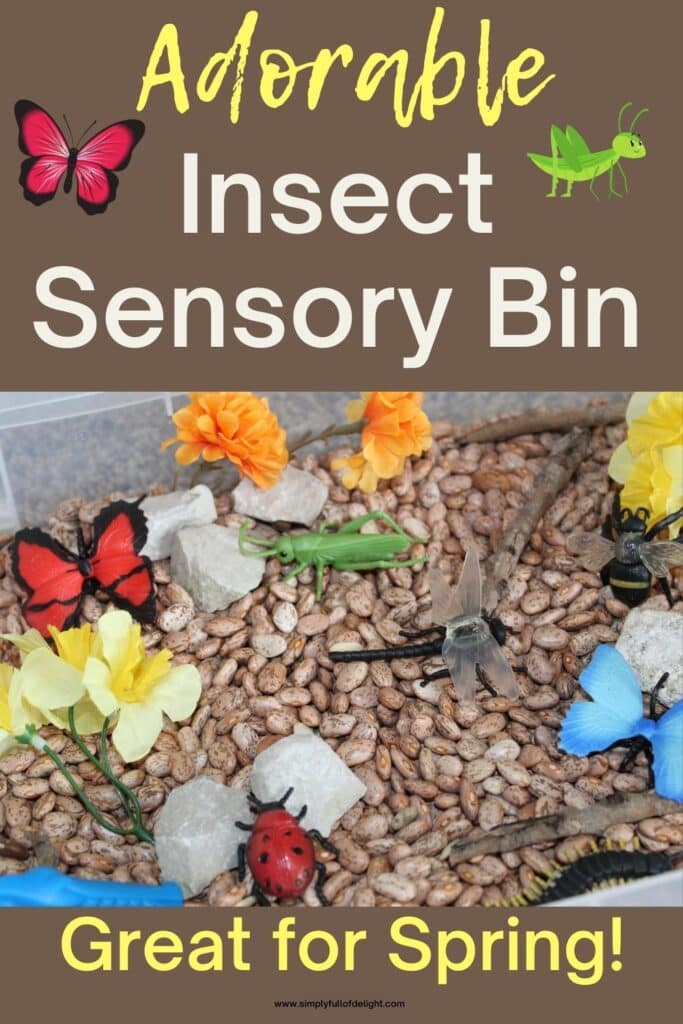 Related Posts