When your kids have cabin fever and there's no way you can go outside because of rain or mud, sensory bins are the solution when mama needs some down time! Here's 4 Easy Sensory Bins for Preschoolers!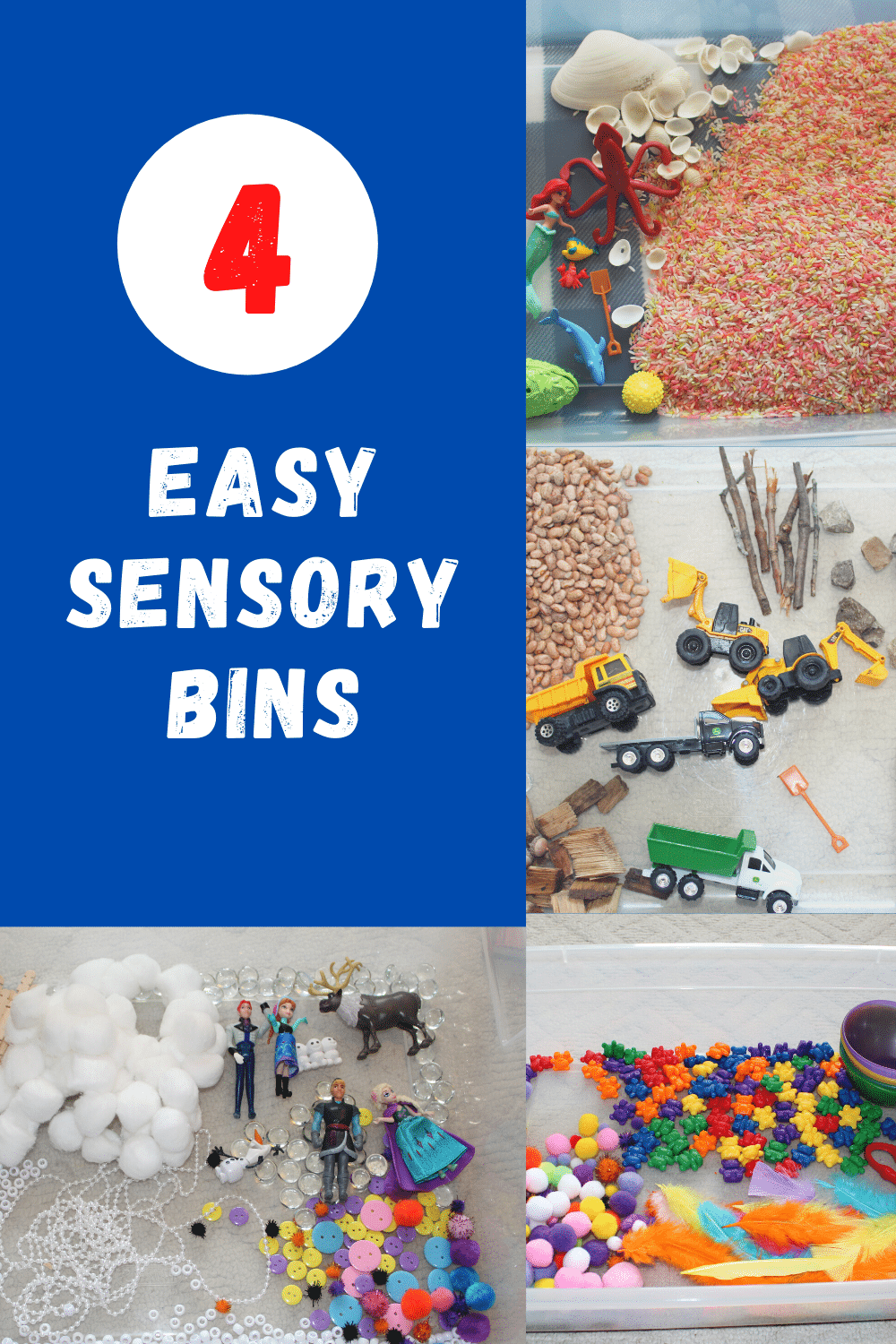 What are Sensory Bins?
A Sensory Bin is a large container filled with items that stimulate the senses and activate the imagination. There are countless possibilities of things to fill sensory bins!
A few items that are commonly used in sensory bins are: sand, water, rice, uncooked pasta, water beads, pom-poms, shredded paper, beans, dry corn, feathers, beads, buttons, packing peanuts, play doh, and seasonal items like plastic eggs for Easter or mini pumpkins for fall. Really, anything goes!
***Note: Choking hazard! If your children still put things in their mouths, I do not recommend these activities! ***
Disclosure: This post contains Amazon affiliate links. If you click on the link and purchase an item from Amazon, I will receive an affiliate commission.
1) Frozen Themed Sensory Bin
This first Sensory bin contains cotton balls, white beads, clear beads, textured popcicle sticks, pom poms, tiny white bead strands, flat vase gems, and buttons.
I simply added some of my children's favorite Frozen movie characters and they were immediately diving into the Frozen themed sensory bin to play!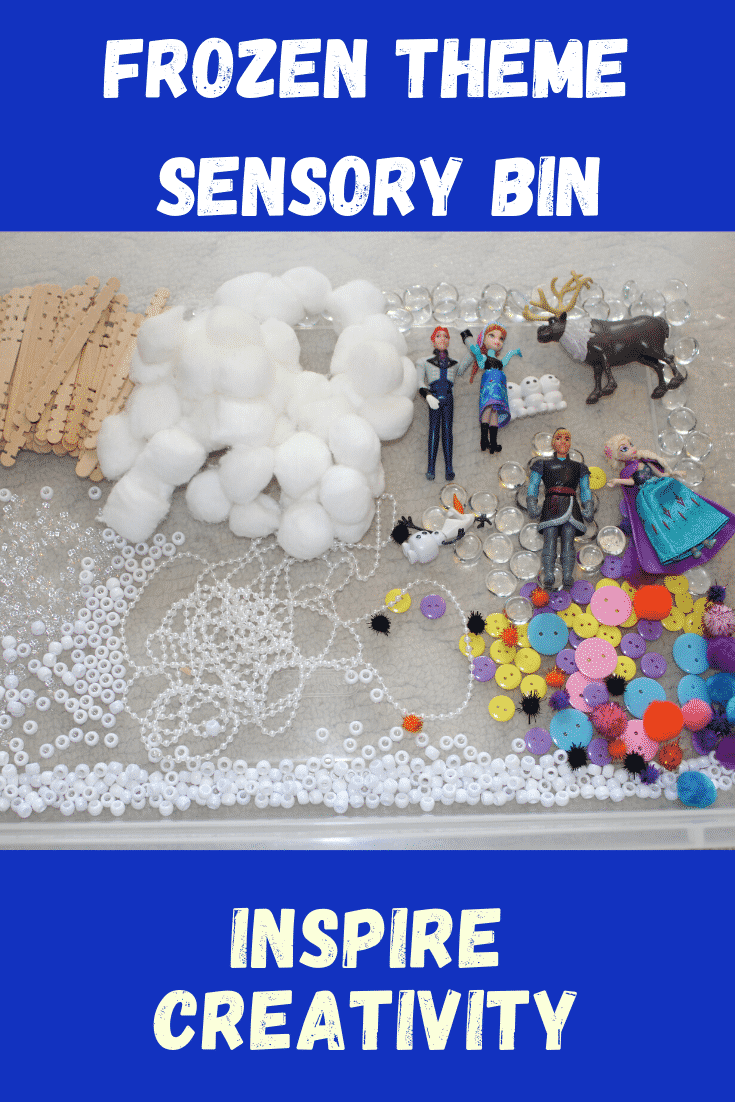 They had a "snow ball" fight, built popsicle stick houses, made a snow man, and of course engaged in pretend play with all of the characters.
A few notes: I literally raided my art supply bins to create this sensory bin, so remember, with sensory bins, anything goes!
I used an "under the bed" storage container, but you can use a water table or any other type of bin that your child can easily play in. I've even used pie carrier containers in the past!
Also, be sure to teach your child how to use the sensory bin. I forgot to explain the rules to our 3 year old and she immediately dumped the entire bin on the floor.
Make sure you tell the kids that they are to keep the supplies inside the bin, so that clean up is easy!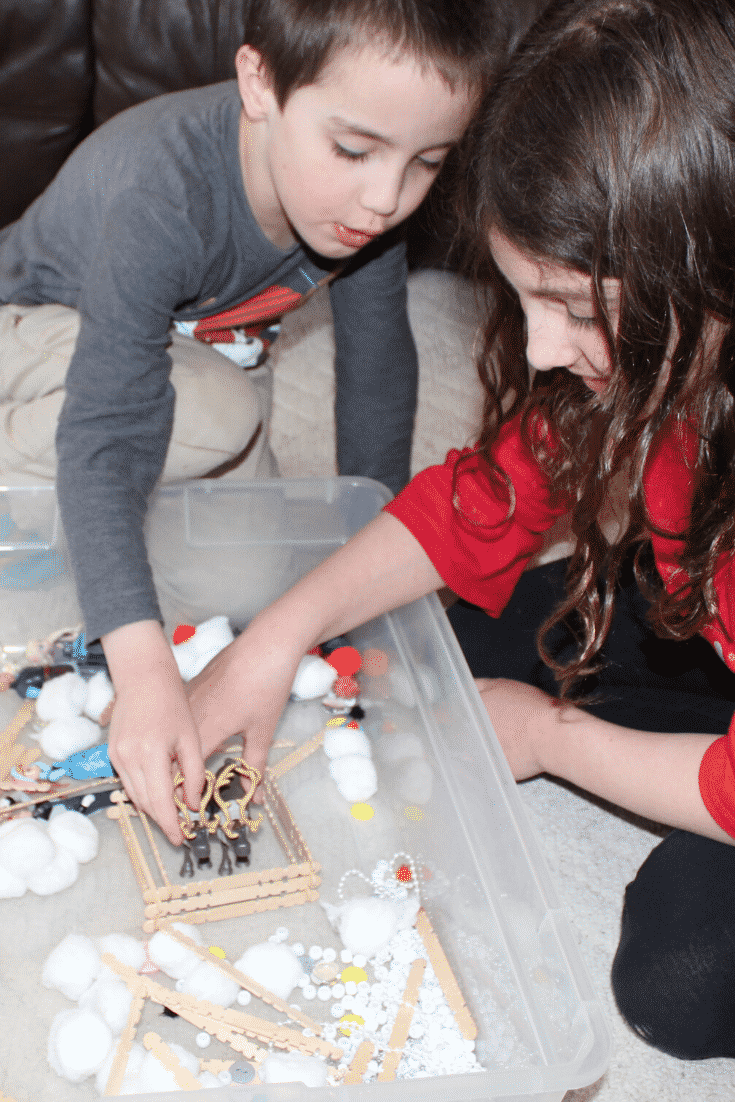 2) Ocean Themed Sensory Bin
I used colored rice, sea shells, items to scoop with, fish, beach themed items and characters from The Little Mermaid.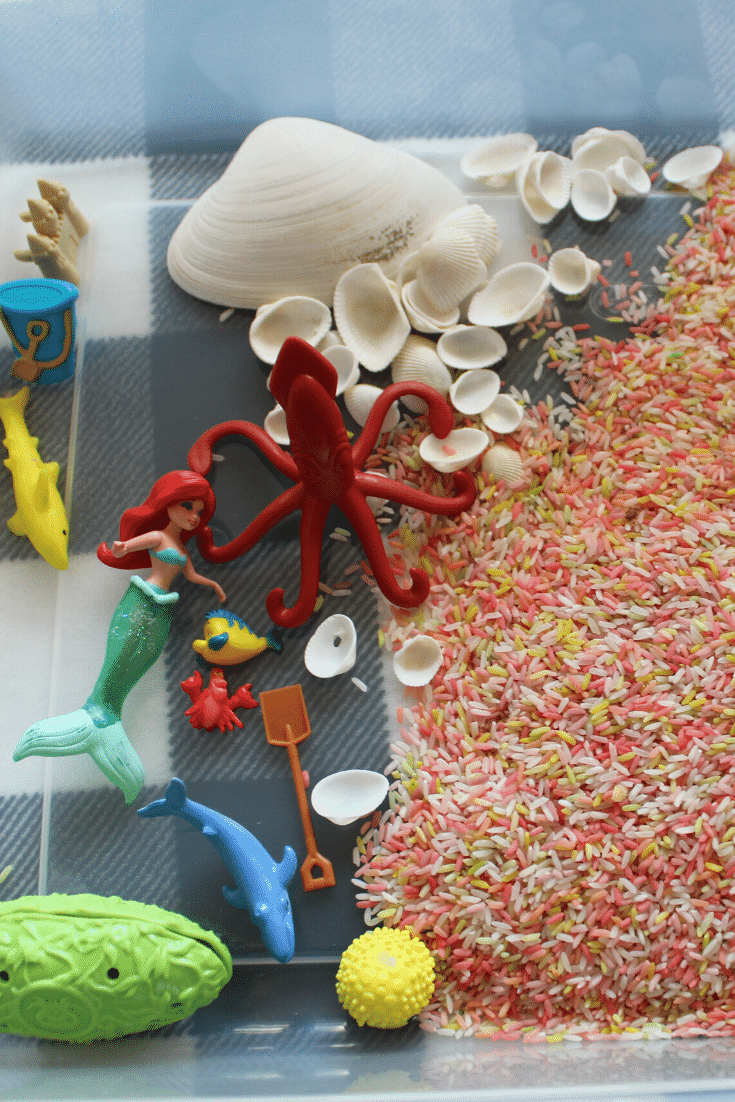 Of course plain colored rice works just fine, but if you are interested in creating colored rice, check out the instructions to create colored rice here.
We made our rainbow colored rice many years ago and the kids are still enjoying this same rice, years later. I store our sensory bin items inside giant freezer bags or plastic containers next to our art supplies.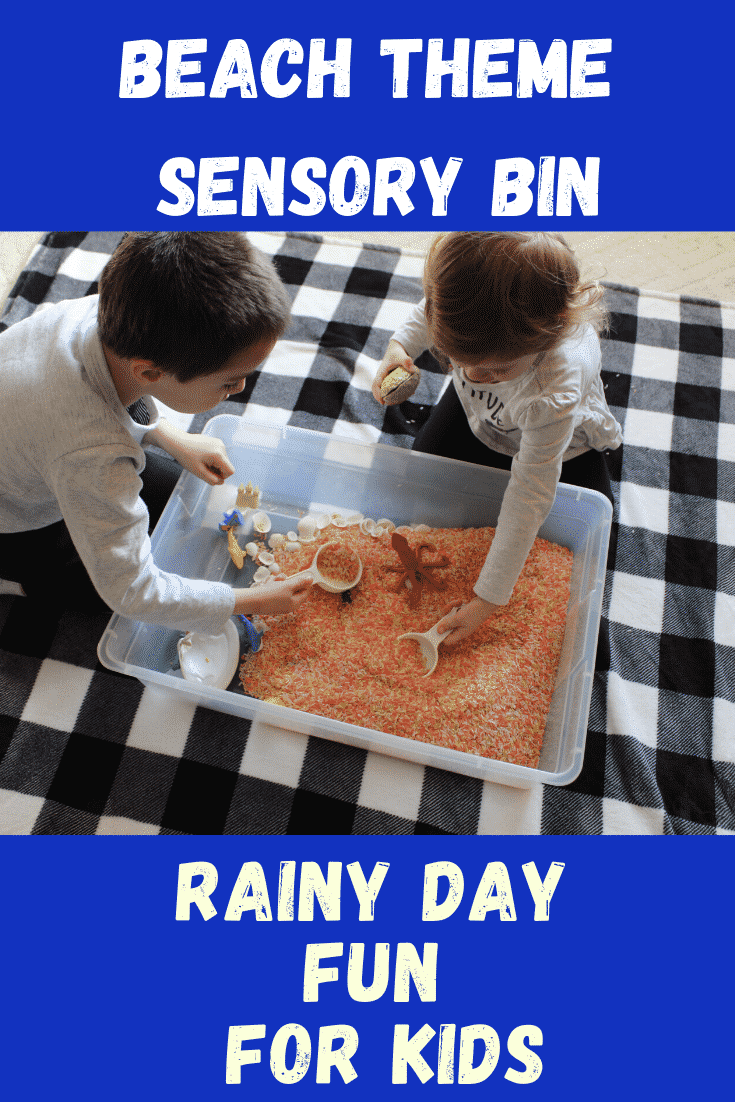 I like to place the rice sensory bins either on the kitchen floor or on top of something to collect the falling rice, like a plastic tablecloth or blanket.
In case you are wondering, rice, sand, and water are the messiest sensory bin materials.
Don't let a mess deter you, but definitely prepare.
I prefer that our kids do sand and water sensory bins outside. However in the winter, we have done water sensory bins on the kitchen floor with a towel underneath.
3) Construction Themed Sensory Bin
I used dry pinto beans, tiny shovels, construction vehicles, stones, wood chips, acorns, popsicle sticks, and real sticks to create this Construction themed Sensory Bin.
My son, who loves all things construction, especially enjoyed this sensory bin.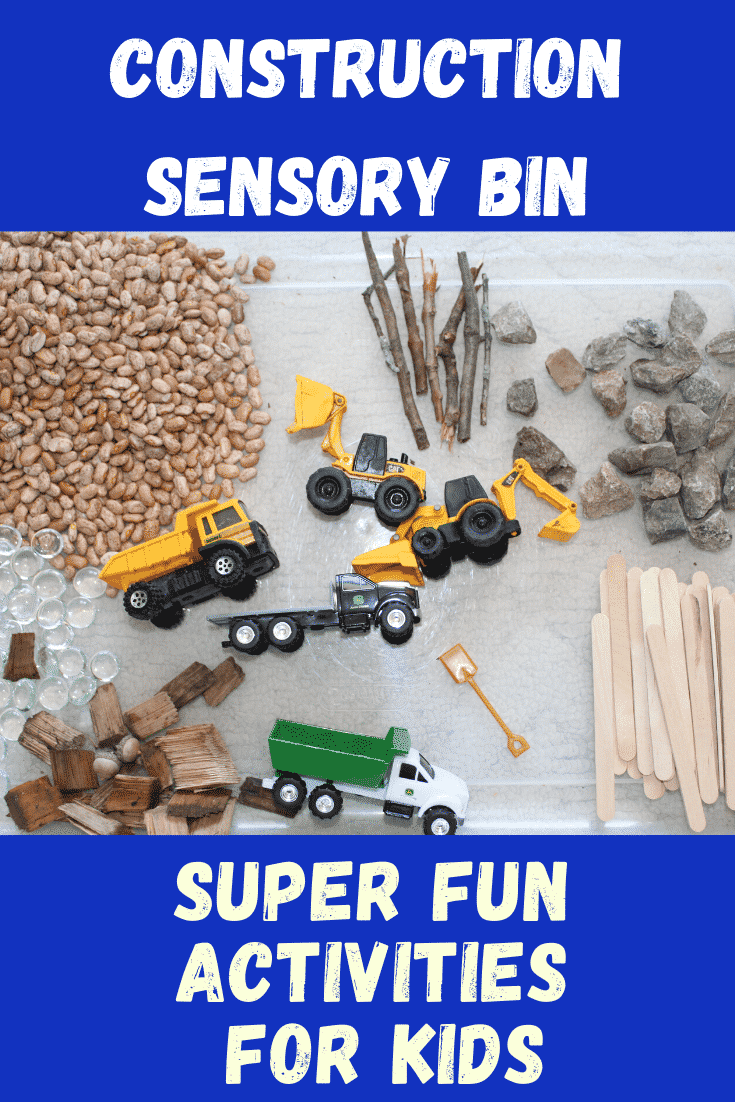 I think the key to easily creating a sensory bin is to collect items that fit a theme. Keep in mind that kids love to scoop, so it's always fun to have items that support that.
There's really no wrong way to put together a Sensory Bin. Just make sure it is age appropriate for your child and let your imagination run wild!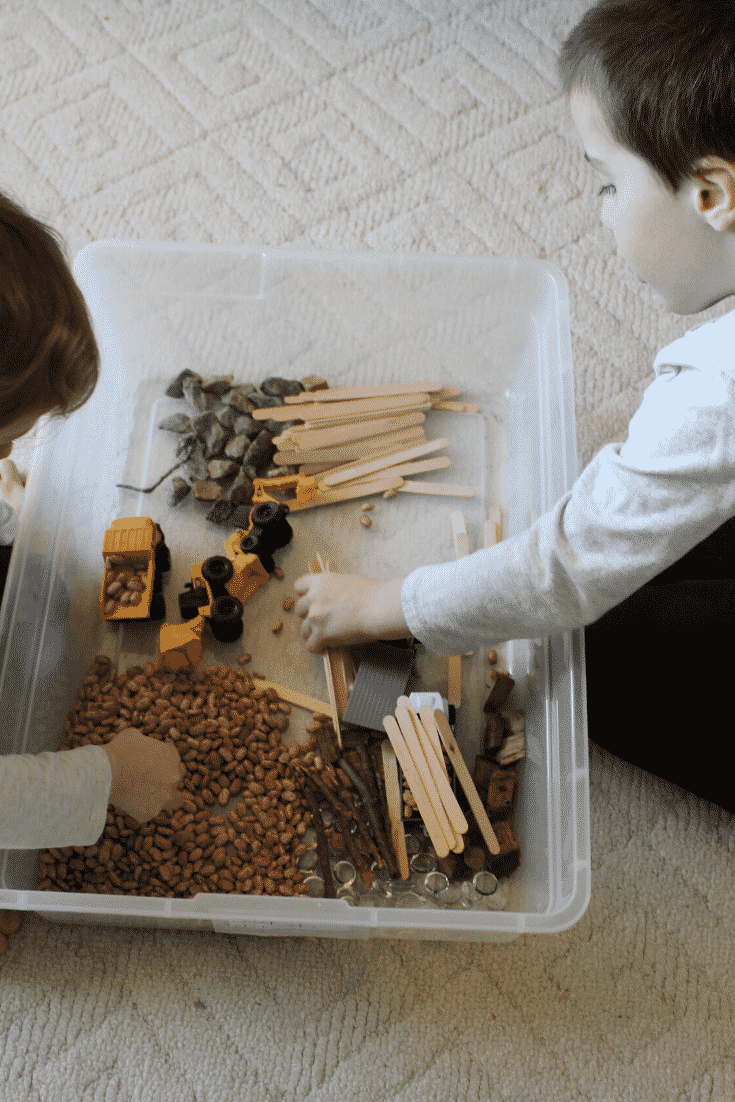 4) Teddy Bear Sorting Bin
This last Sensory Bin was the most simple. I took colored bears, tongs, colored bowls, feathers, and pom poms to create this bin.
My kids enjoyed sorting by colors, pretending to cook, and picking up various things with tongs. They loved this sensory bin and I loved the simplicity of it!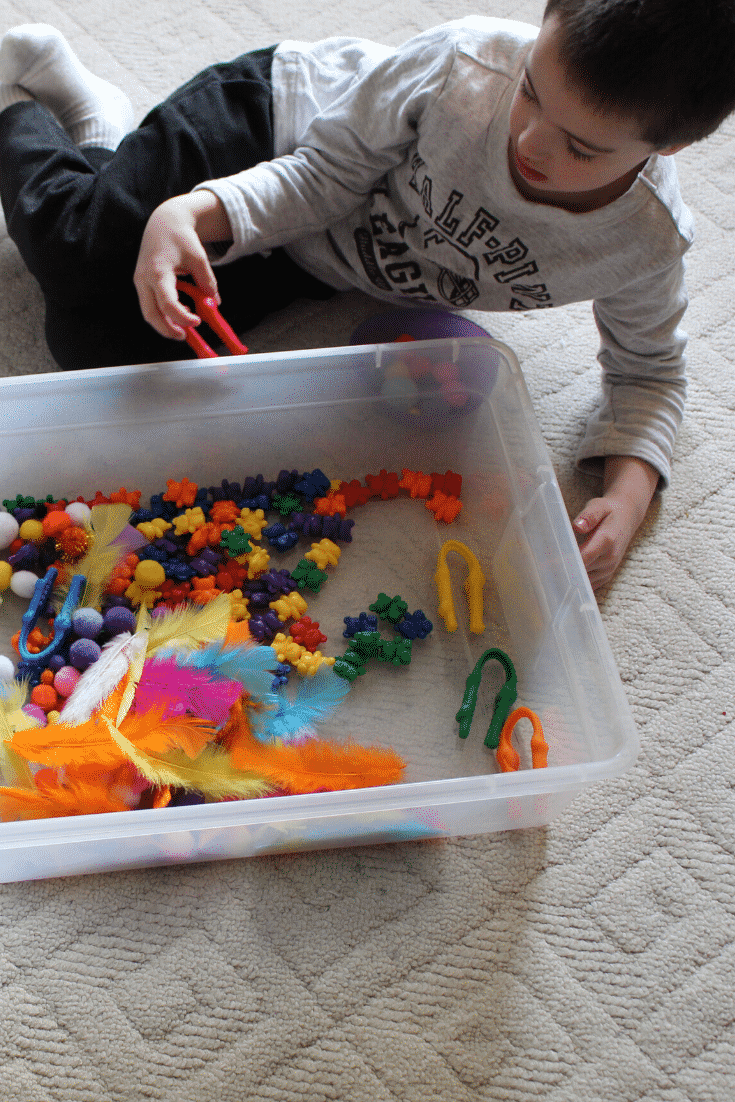 My favorite thing about Sensory Bins is that it keeps my kids occupied for a good long stretch and they really use their imaginations to create scenarios and scenes.
I love it when they create something completely new and different. It's amazing how engaging in sensory play activates ingenuity.
So, that's it! I hope you and your children enjoy creating some sensory bins in the near future.
Remember this activity when it is rainy outside and your kids are bouncing off the walls. You just might get a good stretch of peace and your children will delight you with their creativity!
Other Articles You Might Like:
13 Premade Sensory Bins: Our Etsy Favorites!
How to Create a Fall Sensory Bin
How to Make Colored Rice for Sensory Play