Sensory kits are an easy win at our house! We like to change up our sensory bins regularly. So, I often find myself looking at premade sensory kits for ideas.
The benefits of sensory play are huge, but the biggest draw for sensory play at our home is that it engages my kids for long stretches of time and helps my kids regulate and relax. Sensory items can help reduce anxiety and stress.
Naturally, you can take an idea and run with it and create your own sensory play experience, but curating the perfect sensory bin can take time. So, sometimes it's fun to grab a premade sensory kit!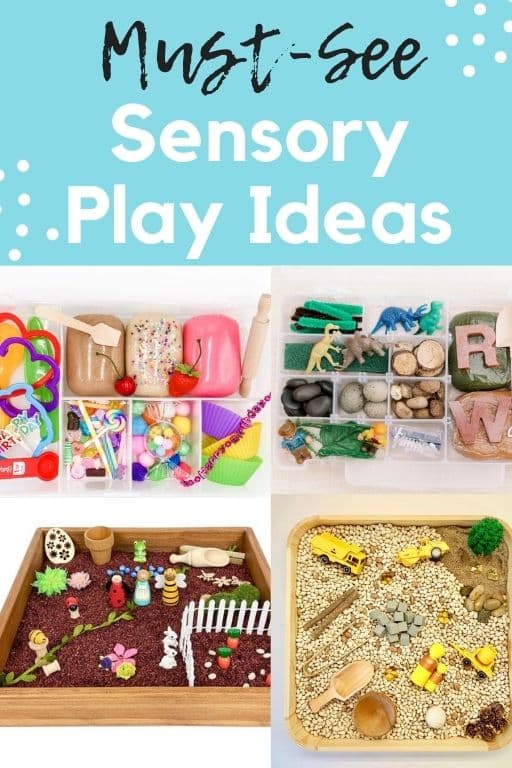 Why should you buy premade sensory bins & kits?
You might want to buy a premade sensory bin or kit because:
– It saves time! Skip hunting down all the individual pieces and coloring the rice/sand/beans. If you buy a kit, your child can start playing right away!
– Might be cheaper. Some items are only found in bulk, so you may save money by just buying what you need in a premade sensory kit!
– They make great gift ideas. If grandma is asking what the kids want for their birthdays, you can point them towards a premade sensory bin that your child will enjoy for hours.
– They have unique parts! Many pre made sensory bins have very unusual pieces that may be hard to find. Make things easier by buying the kit you love and getting exactly what you want!
Etsy Favorites: Premade Sensory Bins & Sensory Kits
Alright! Let's dive in and explore some amazing premade sensory bins and Etsy sensory play kits! Here's my favorite sensory bins for sale from Etsy!
1) Bakery Play Dough Sensory Kit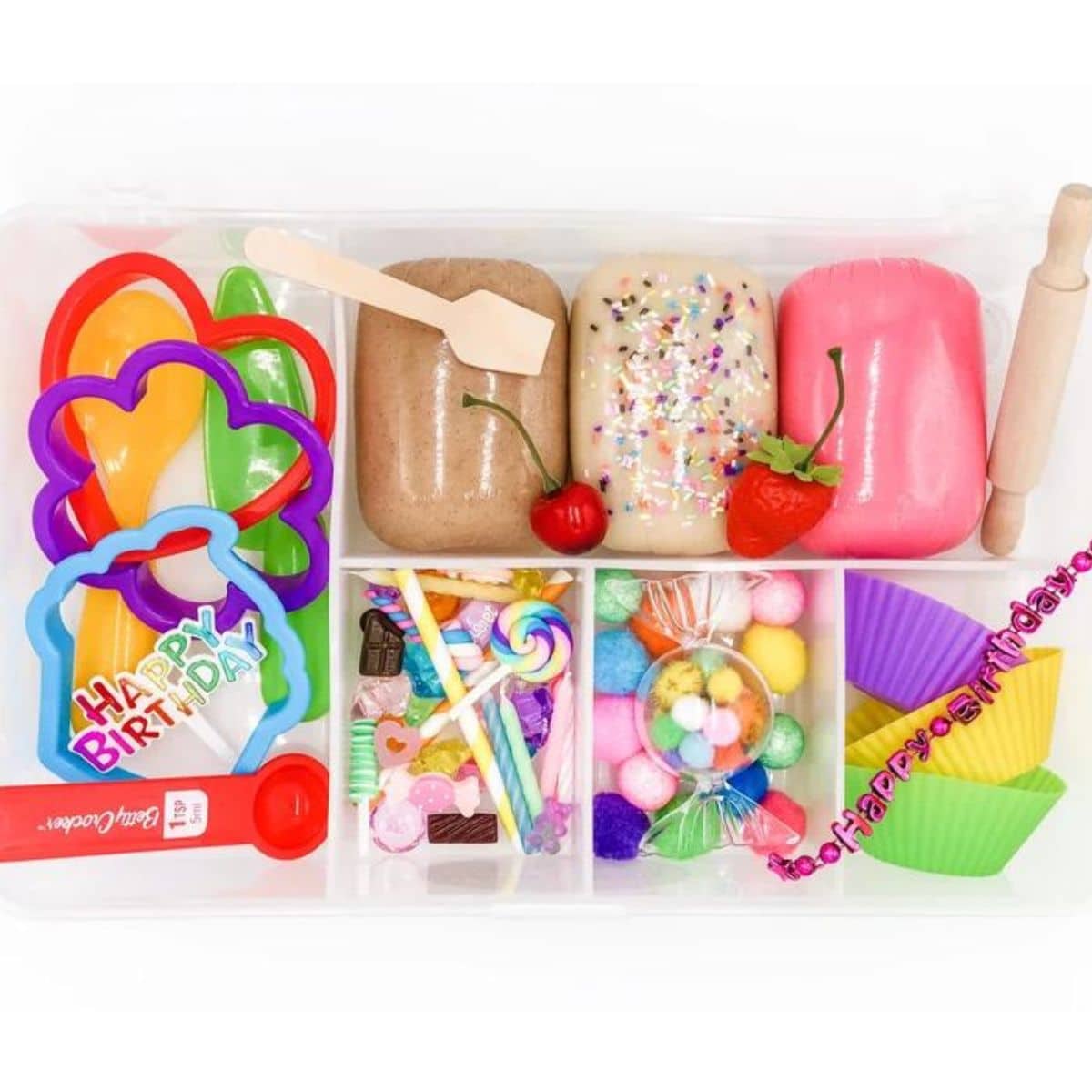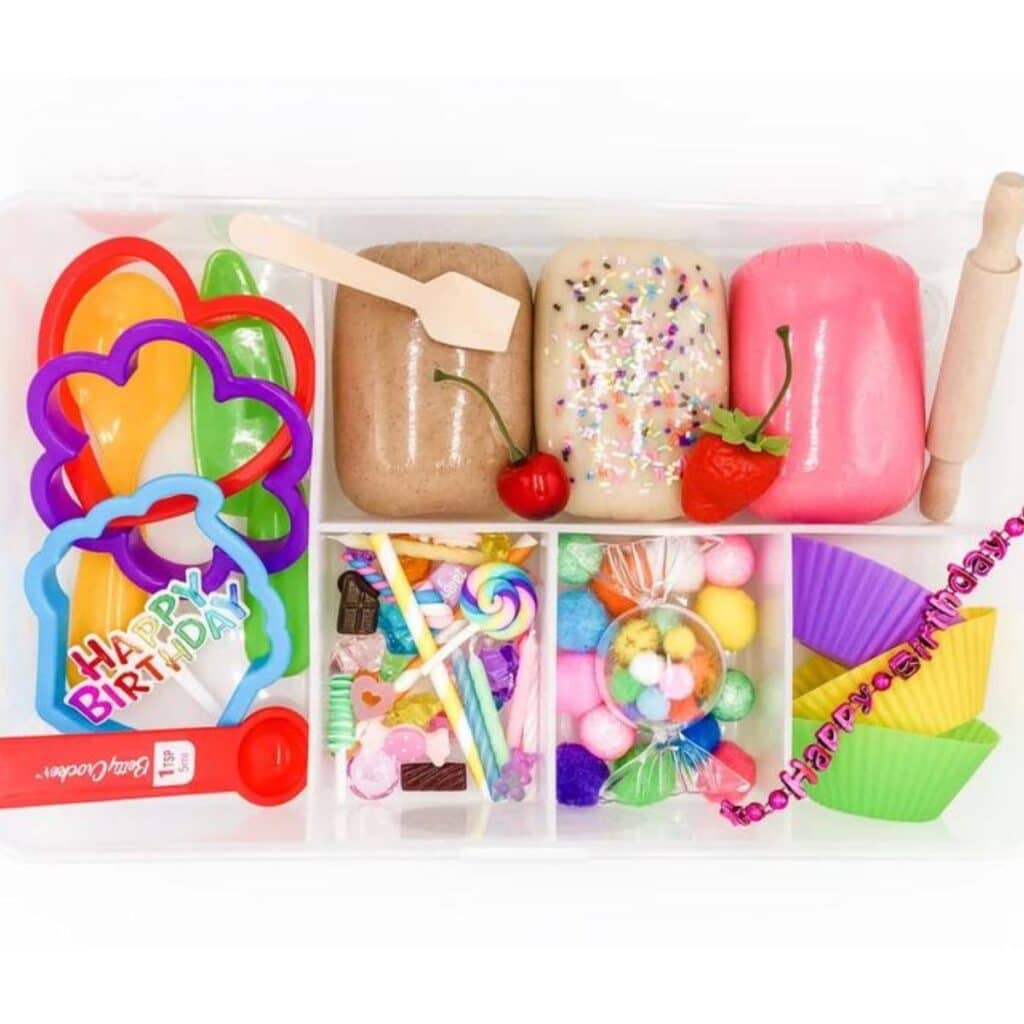 This Bakery Play Dough Sensory Kit is from Tinker Box Sensory on Etsy. This amazing kit contains different kinds of homemade scented play dough along with a rolling pin, birthday candles, and all kinds of accessories!
Your child will be busy for days creating cupcakes, cookies, and bakery treats! What a fun activity!
2) Construction Sensory Bin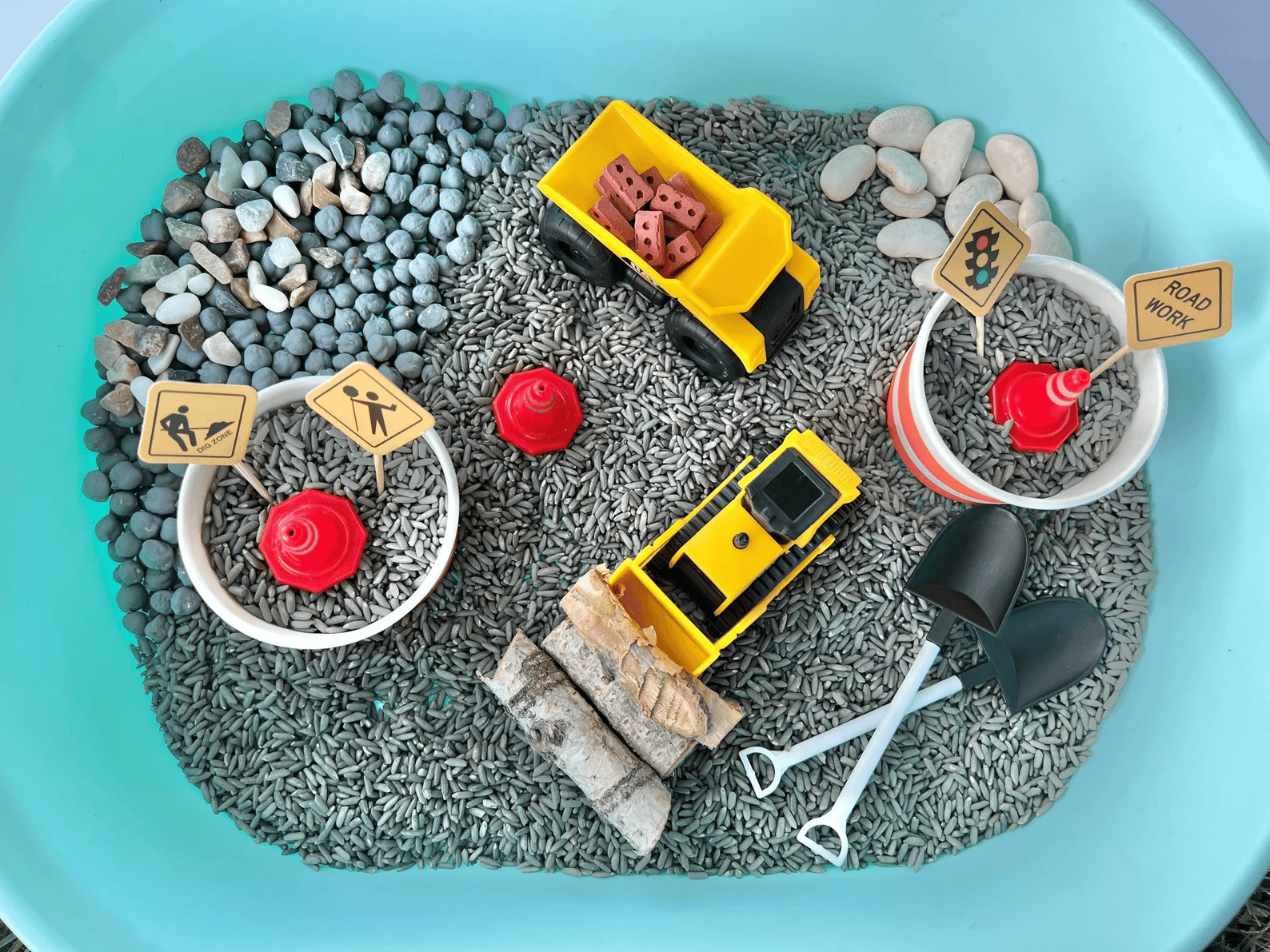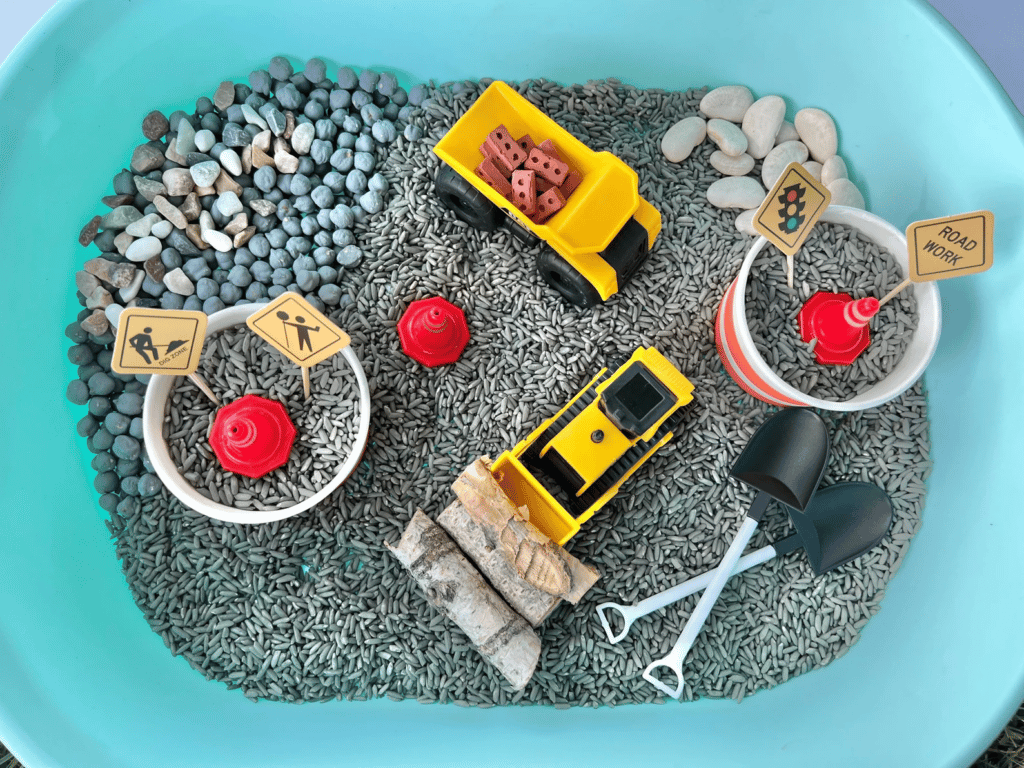 This Construction Site Sensory Bin is by Insta Play Sensory Play on Etsy. Your little one will love all of the textures in this sensory bin! This set has kinetic sand, beans, tongs, a scoop, bowl, hand painted figures and more. So many items in this sensory toy to spark the imagination!
3) Garden Sensory Bin – Premade Sensory Bins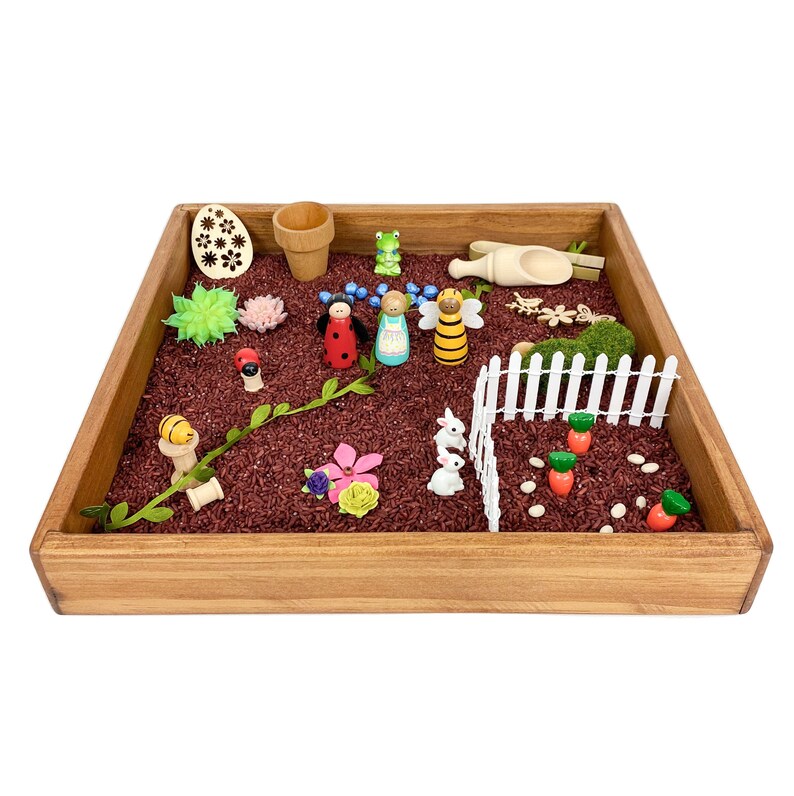 This Garden Sensory Bin is by Just Add Imagination Co on Etsy. Filled with rice, wooden figures, tongs, a scoop, and all sorts of small parts to encourage creativity, this set will be a hit! It's perfect for little ones learning about gardening and spring time!
4) Unicorn Sensory Play Set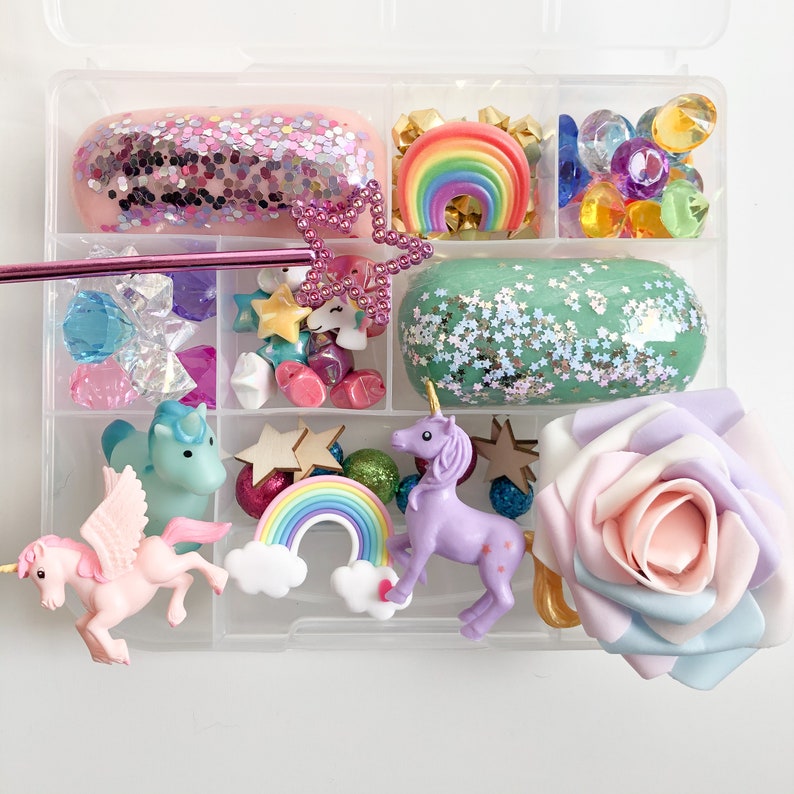 This Unicorn Sensory Play Kit is by Humble + Kind Co. on Etsy. Everything sparkles and shines with this amazing kit that is sure to enthrall your little unicorn fan! There's homemade scented playdough, unicorn figurines, gems, wooden stars and more. This sensory kit is sure to be a favorite!
5) Dinosaur Etsy Sensory Play Kit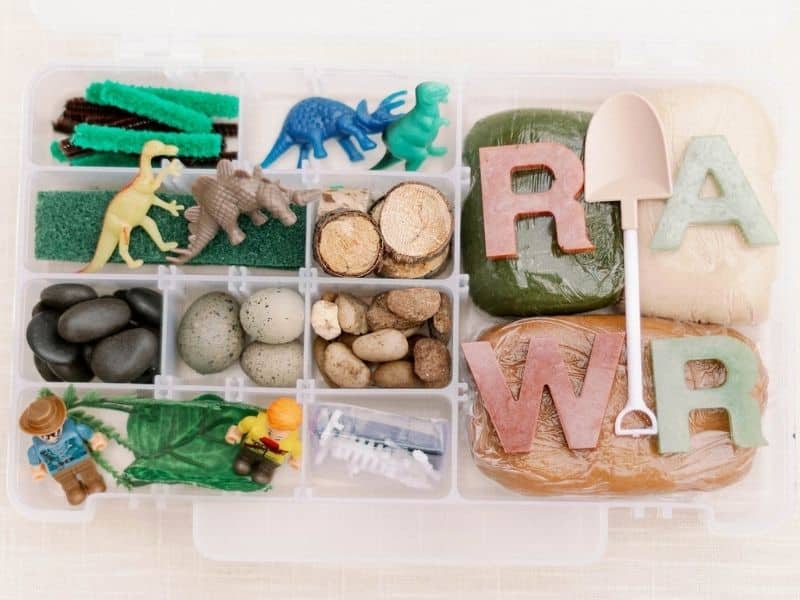 This Dinosaur Sensory Kit is by Playtivity Kits on Etsy. Your little dinosaur enthusiast will love this amazing sensory play experience!
This set comes with 3 colors of play dough, rocks, wood chips, "dino eggs," dinosaur figures, a shovel, and much more. This sensory play idea would be a hit with any child who loves dinos!
6) Beach Sensory Bin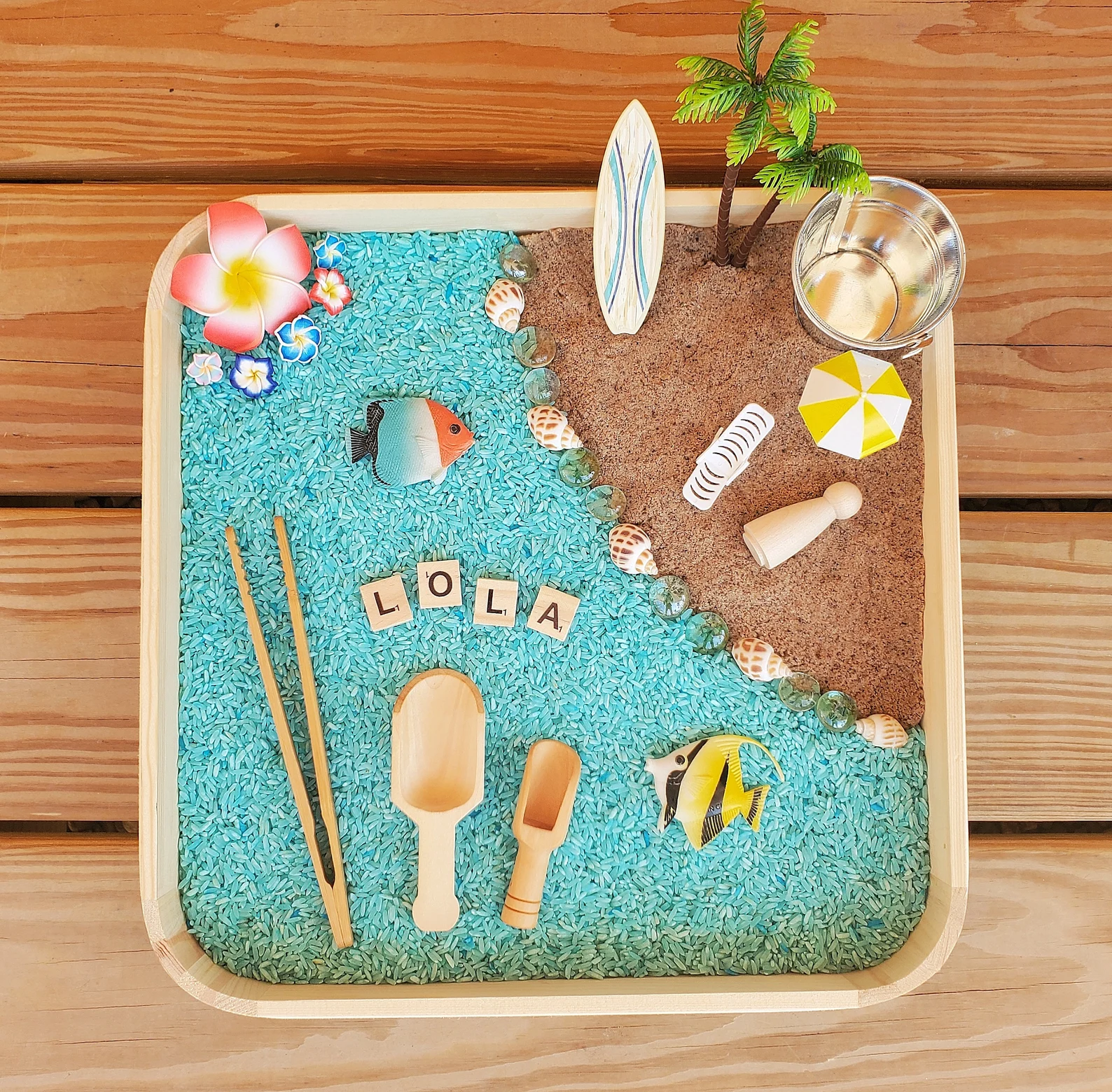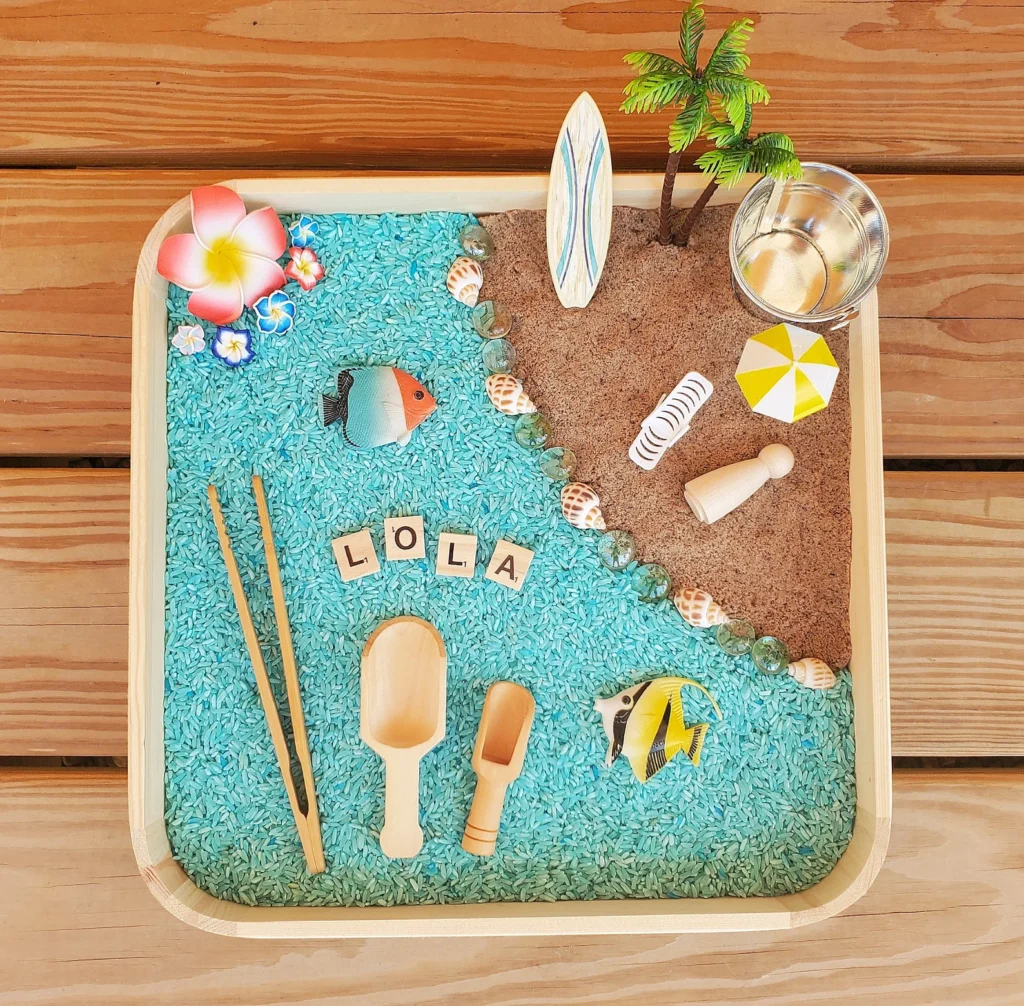 This Beach Sensory Bin is by Little Bee Sensory on Etsy. An ocean adventure awaits your little one with this amazing sensory bin! Your child will love all the different textures. This sensory kit comes with fish, shells, kinetic sand, dyed rice, wooden scoops, and tongs. Perfect for teaching little ones about the ocean!
7) Rainbow Water Bead Sensory Learning Kit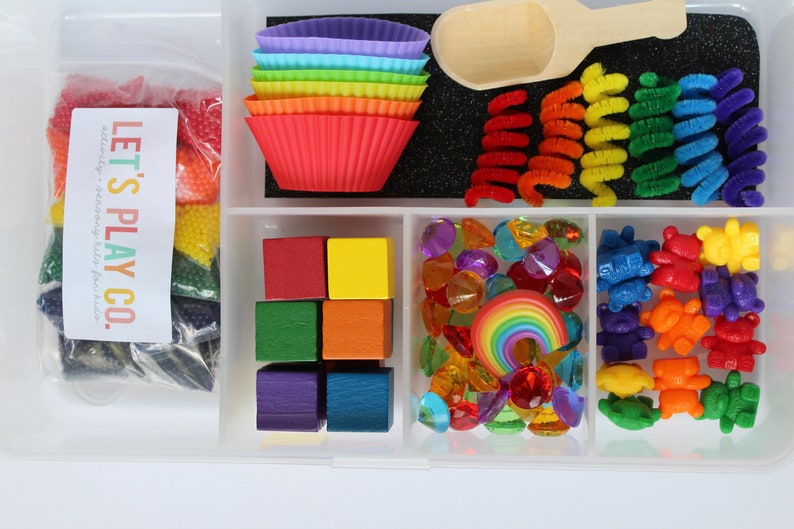 This Rainbow Water Bead Sensory Kit is by Let's Play Co. on Etsy. Filled with rainbow colored items like gems, wooden blocks, teddy bears, cupcake holders, and water beads, your kids will have a great time sorting colors and using their imaginations. If your child has never used water beads, they will be amazed by the texture!
8) Pirate Loose Parts Sensory Kit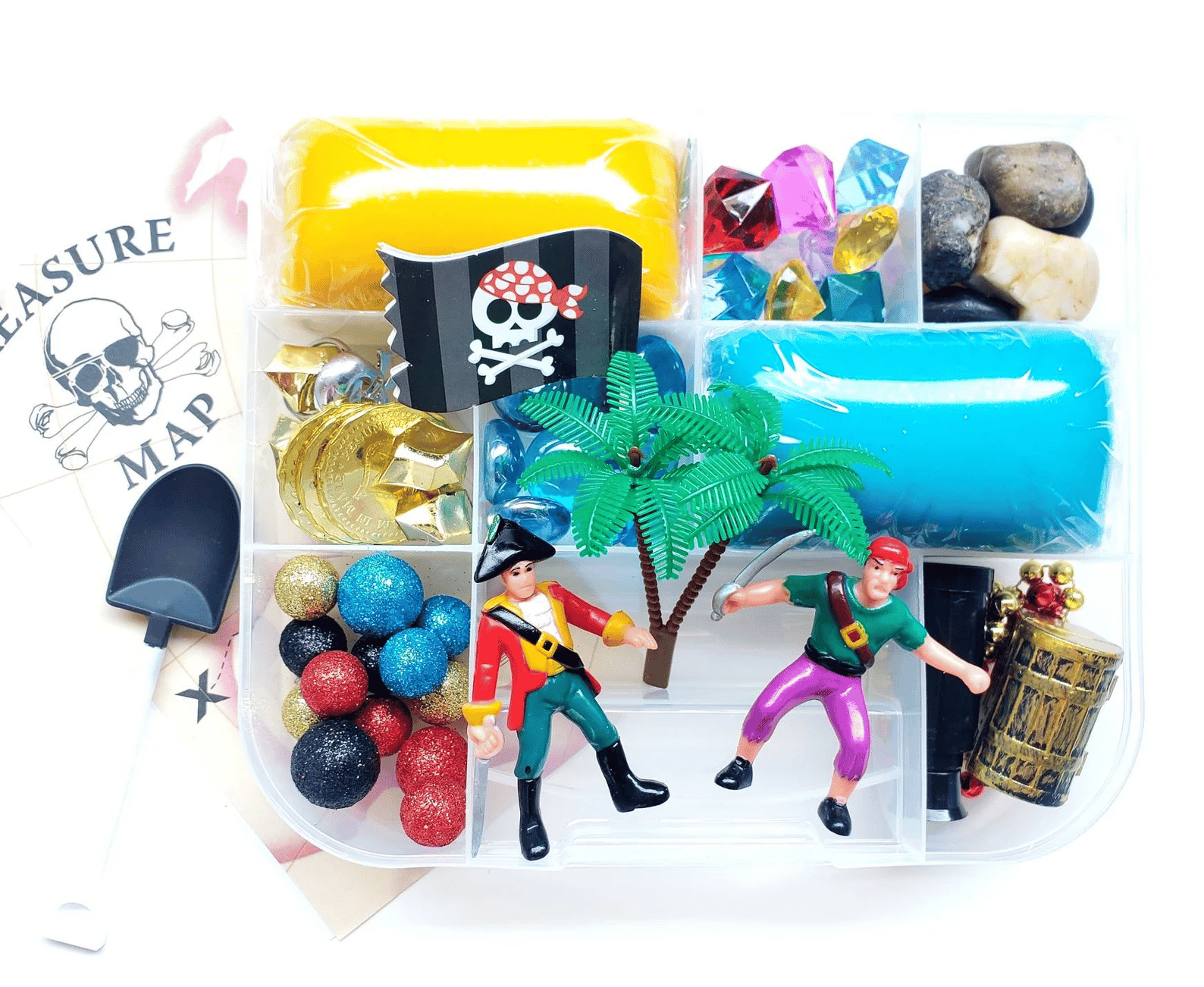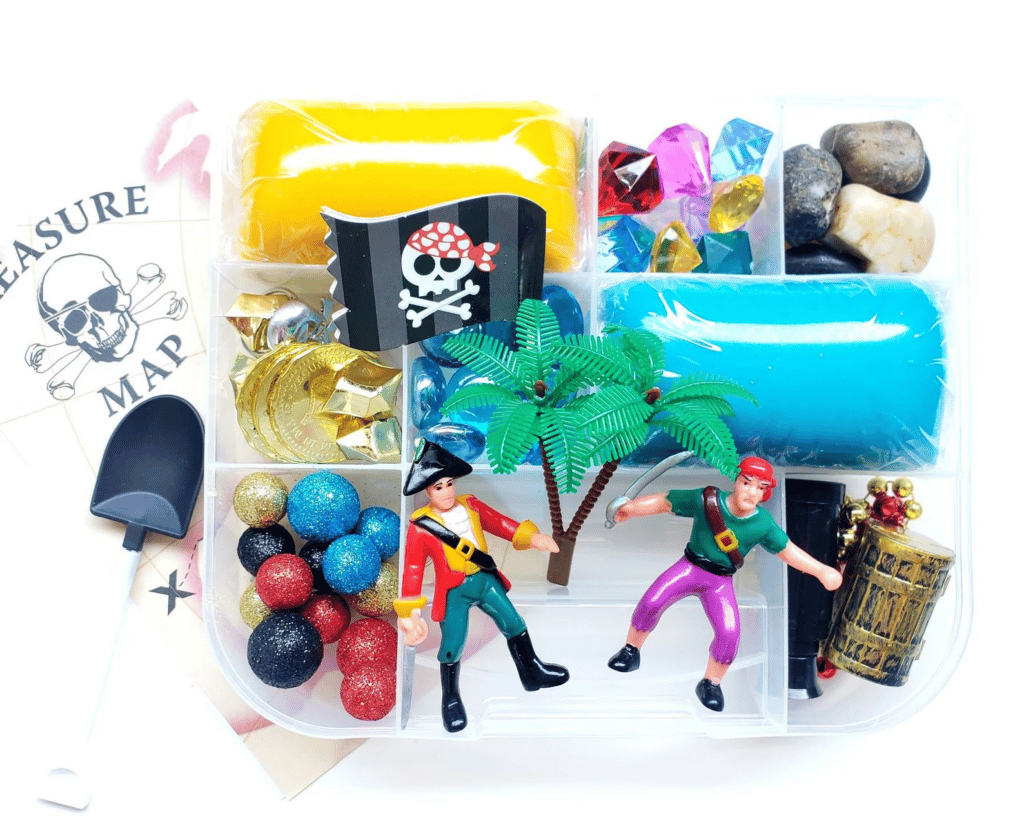 This Pirate Loose Parts Sensory Kit is by Kids World US on Etsy. This Tinker Tray is full of fun! There's pirate figures, gems, rocks, a spy glass, 3 treasure chests, a treasure map, a key, and many more cool objects.
Hours of fun dramatic play will be had with this sensory activities set.
9) Apple Pie Sensory Bin – Premade Sensory Bins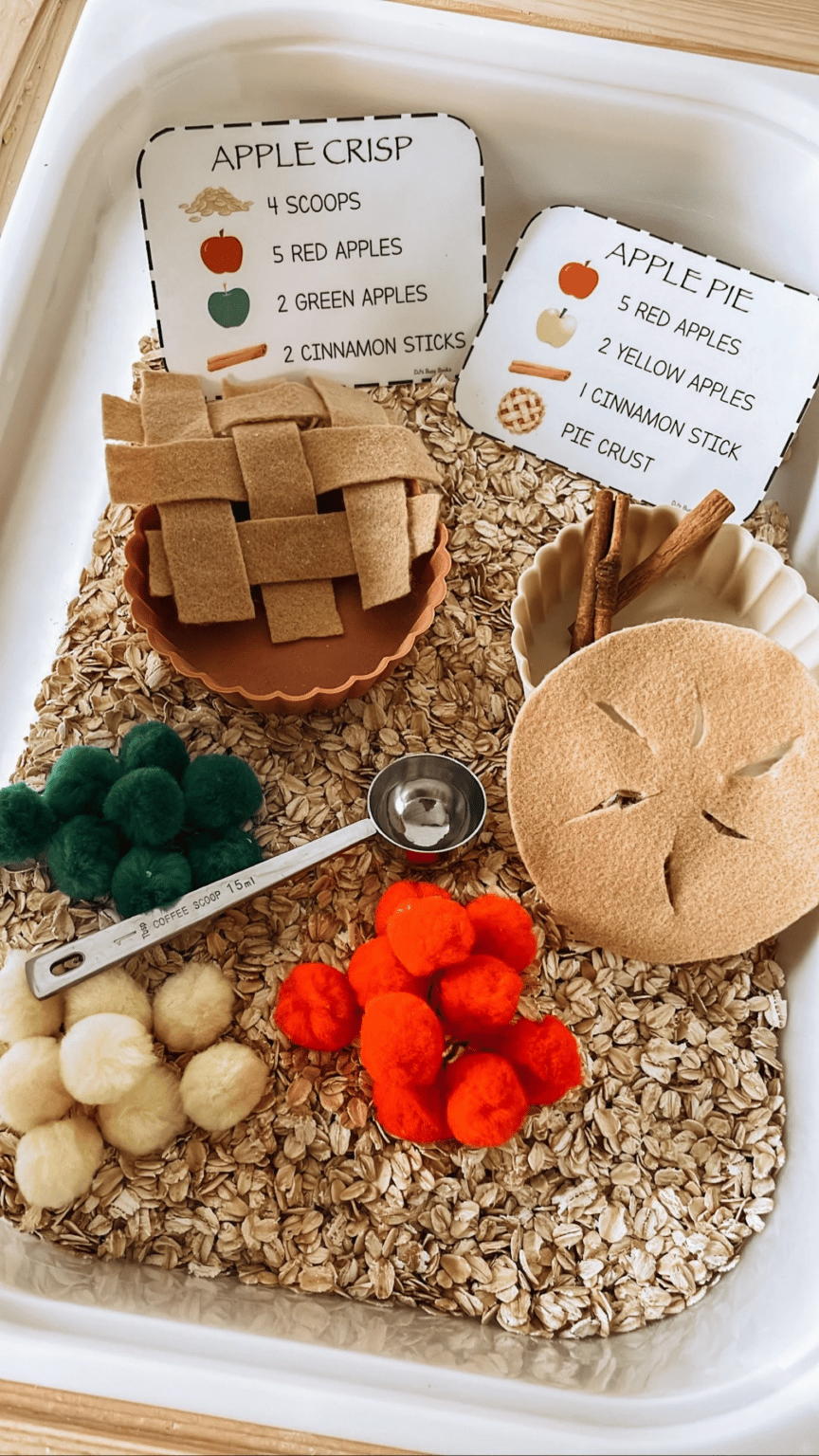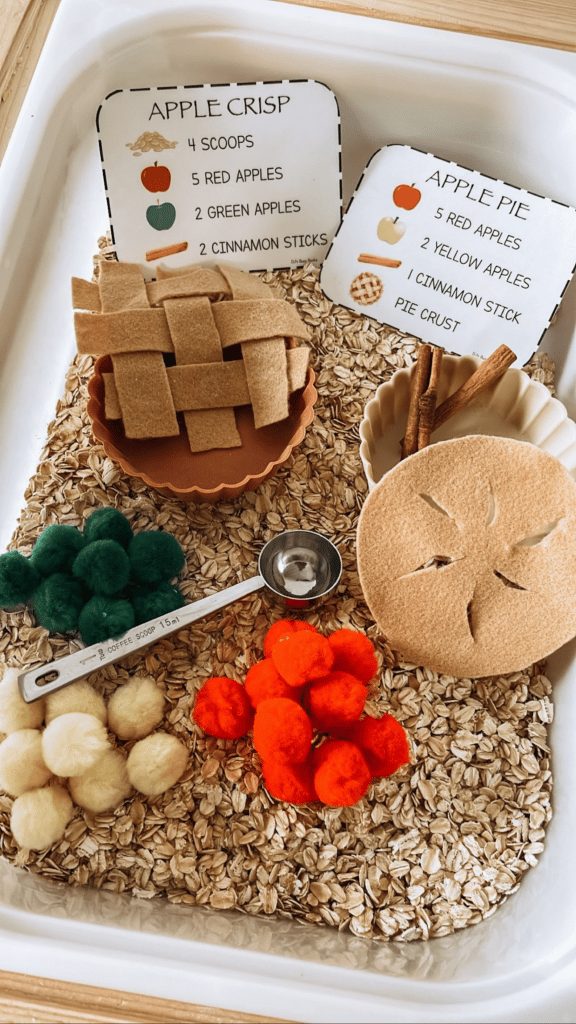 This Apple Pie Sensory Bin is by DJs Busy Books on Etsy. So much baking fun will be had with this amazing sensory play set! This set comes with oatmeal, pom poms, cinnamon sticks, cooking tools, and more!
The recipe cards really make this set outstanding as your child can follow different recipes to make apple pies. What fun young children would have with this sensory tub!
10) Space Sensory Kit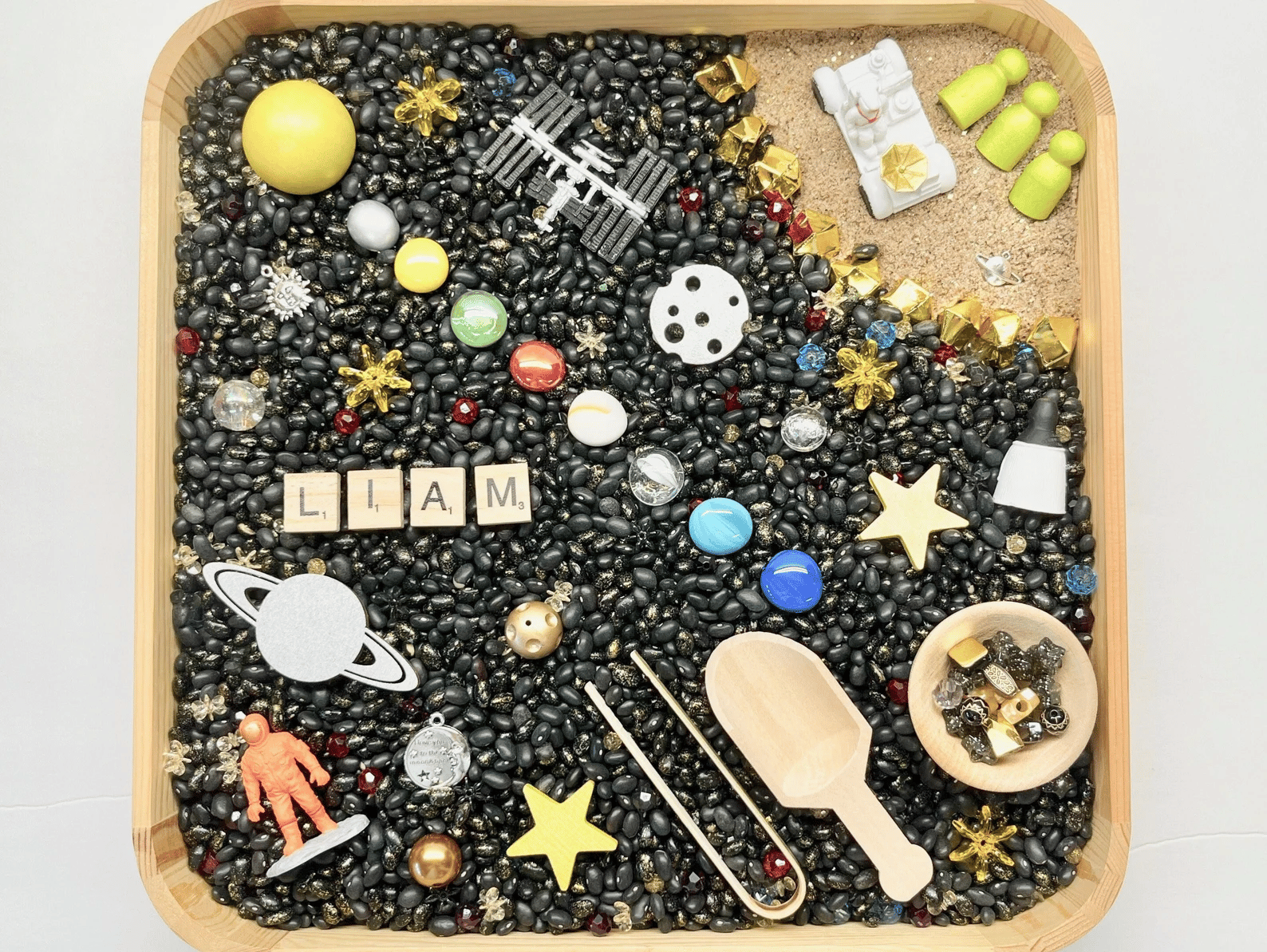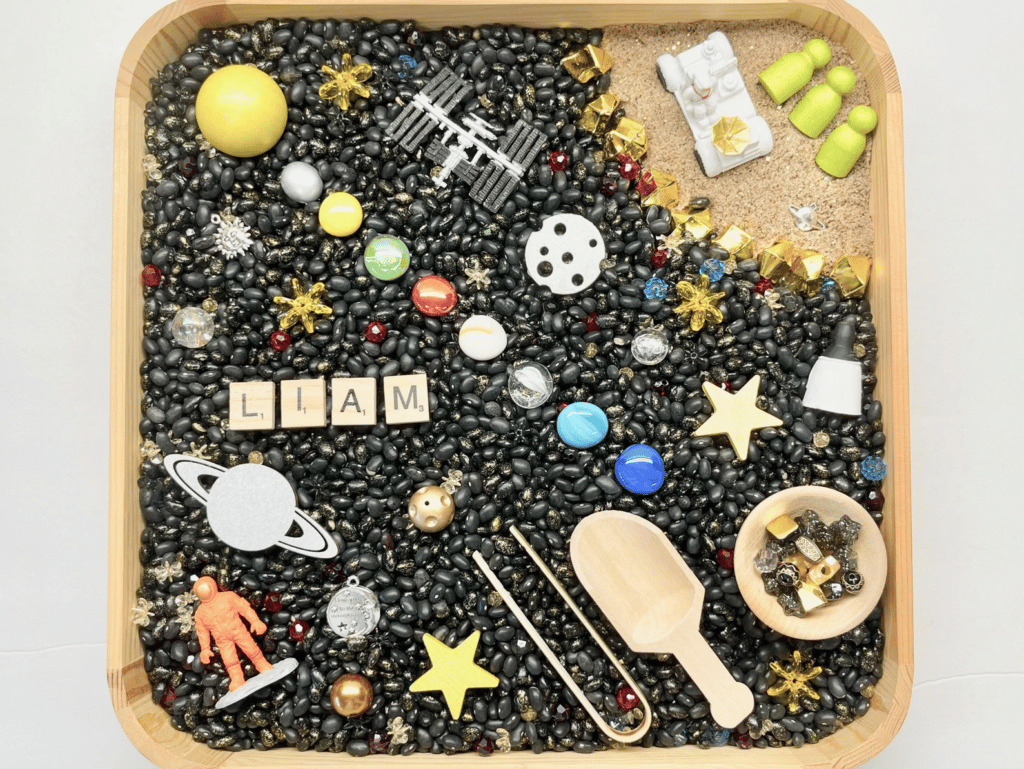 This Space Sensory Kit is by Ready Set Sensory on Etsy. Your little space enthusiast will love this sensory experience! There's beans, astronauts, wooden tongs and scoop, "planets," stars, and more! So many days of imaginative play in outer space are ahead!
11) Woodland Forest Sensory Bin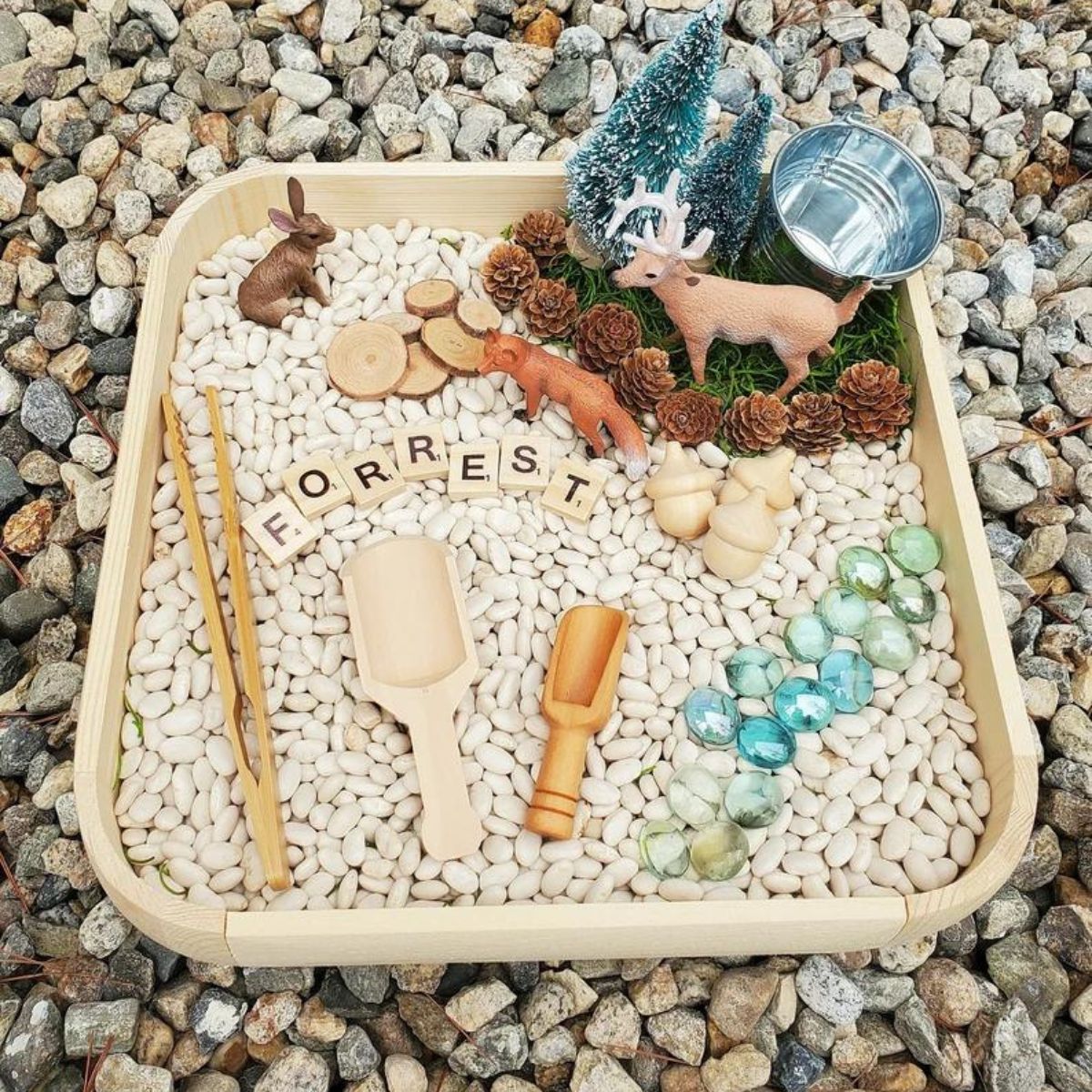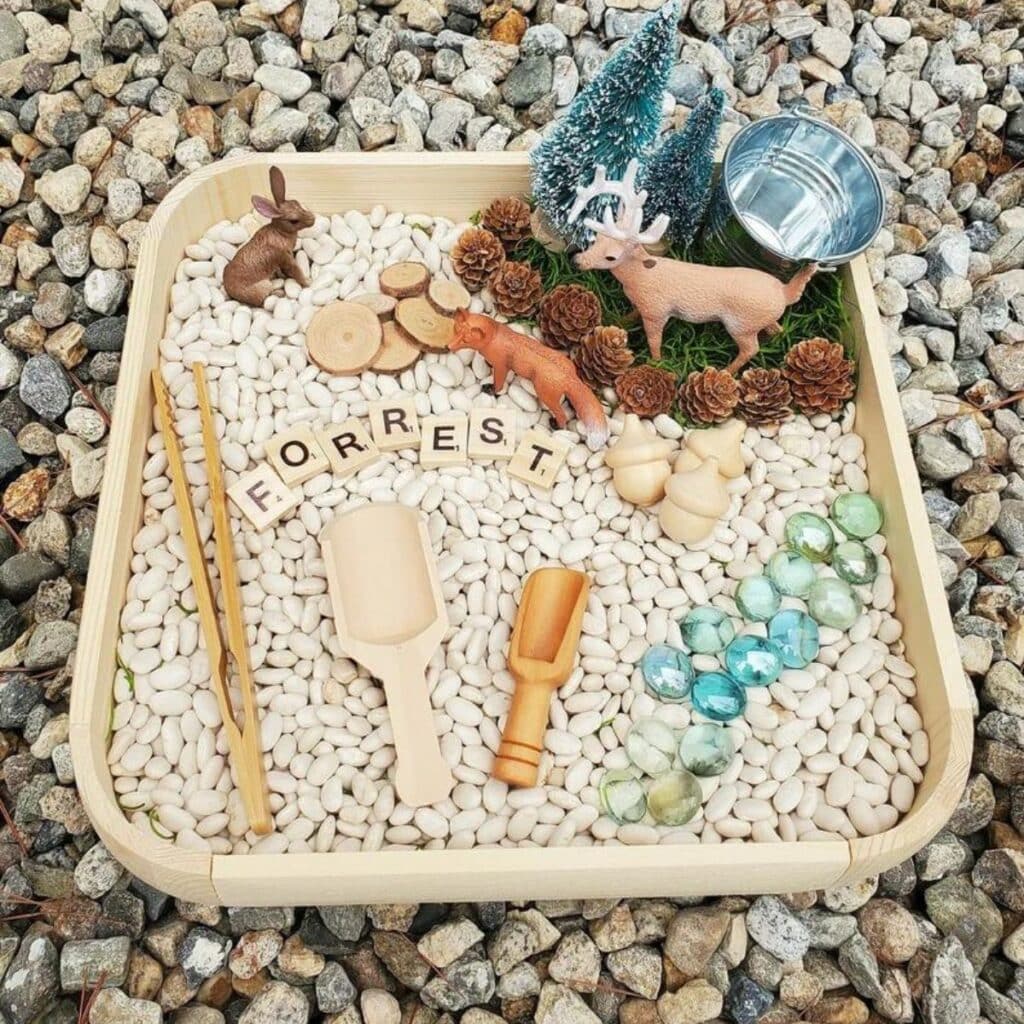 This Woodland Forest Sensory Bin is by Little Bee Sensory. This amazing set contains 3 woodland creatures, trees, wooden acorns, tongs, 2 scoops, beans and more. Kids will enjoy scooping the beans, setting up a forest scene and more. The set even includes letter tiles to spell your child's name!
What incredibly special sensory bin ideas!
12) Fairy Garden Themed Sensory Bin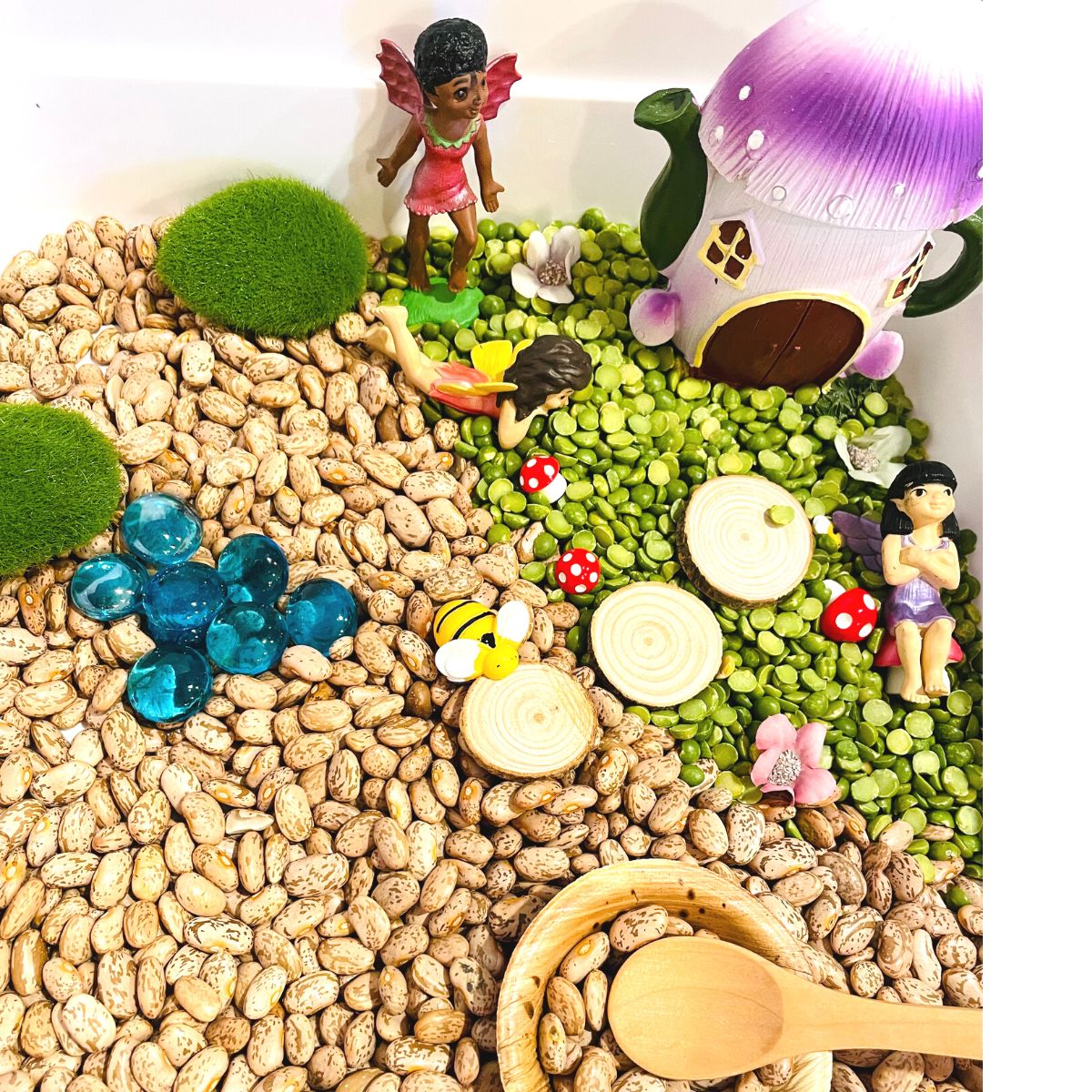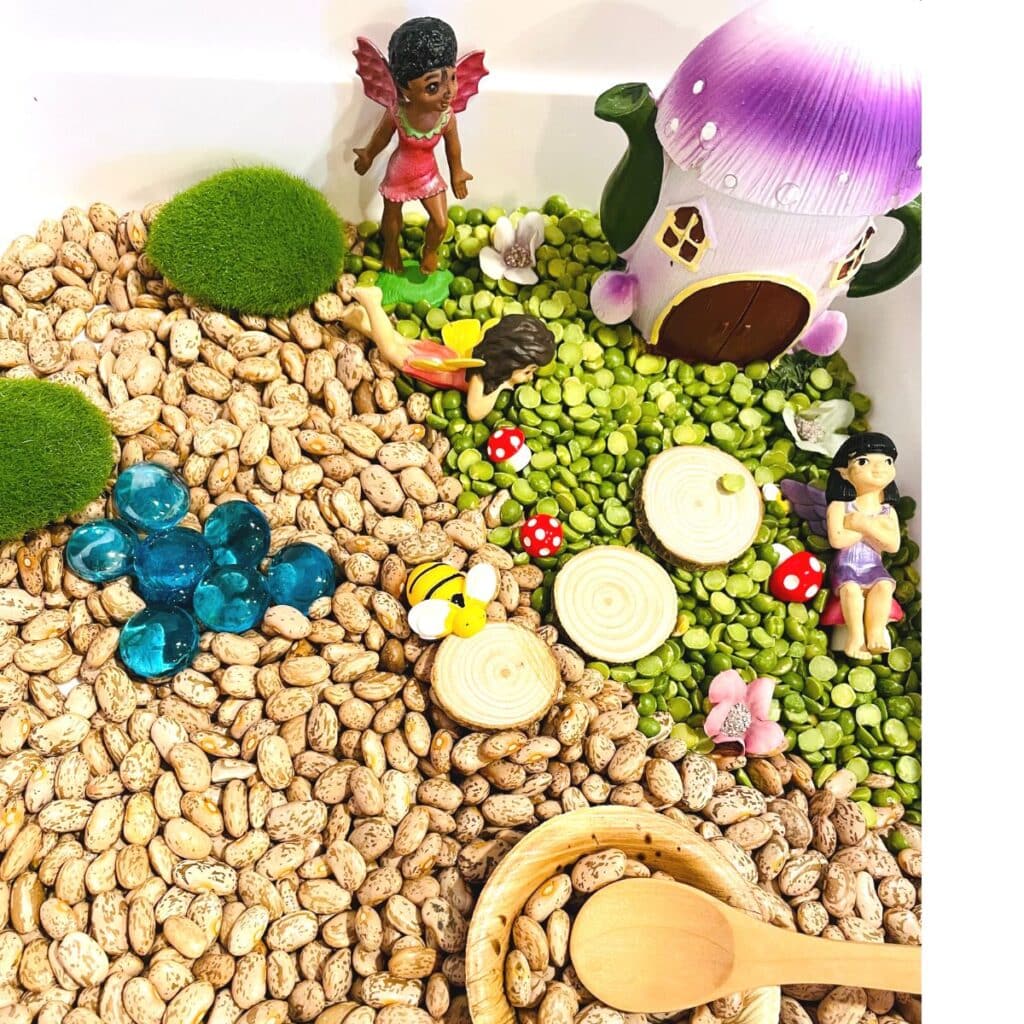 This Fairy Garden Sensory Kit is by Joyful Play on Etsy. If you have a fairy fan in your midst, this fairy sensory kit is perfect! This sweet set contains 2 kinds of sensory bin fillers, plenty of fairy figurines, a fairy garden house, and accessories.
This set is sure to be a quick favorite in your home with kids of all ages. Such a great sensory activity!
13) Farm Sensory Kit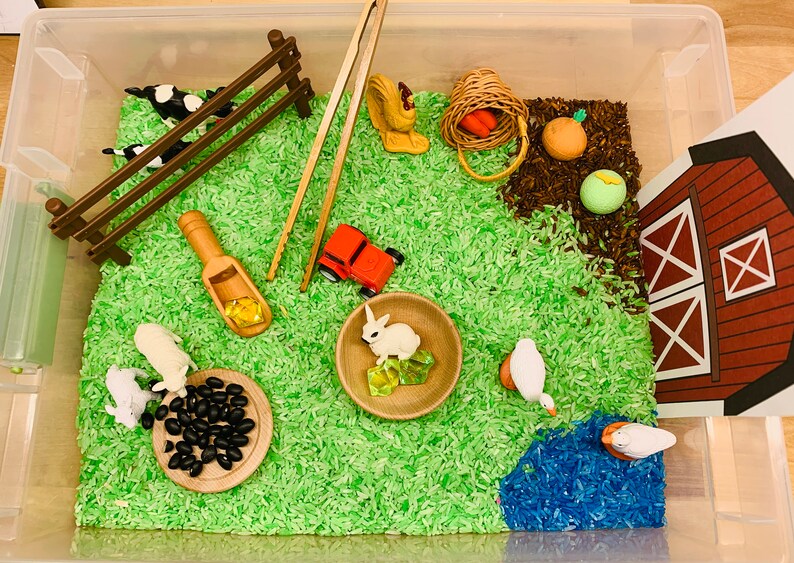 This adorable Farm Sensory Kit is by Sensory Gems. This Etsy sensory play kit comes tons of sensory materials. There's 3 colors of rice for a sensory bin filler, a wooden bowl, fences, a sensory tool wooden scoop, tongs, a tractor, 8 animals, and more.
Your little farmer will love setting up the farm and caring for the animals. What a great sensory play kit!
14) Mermaid Sensory Kit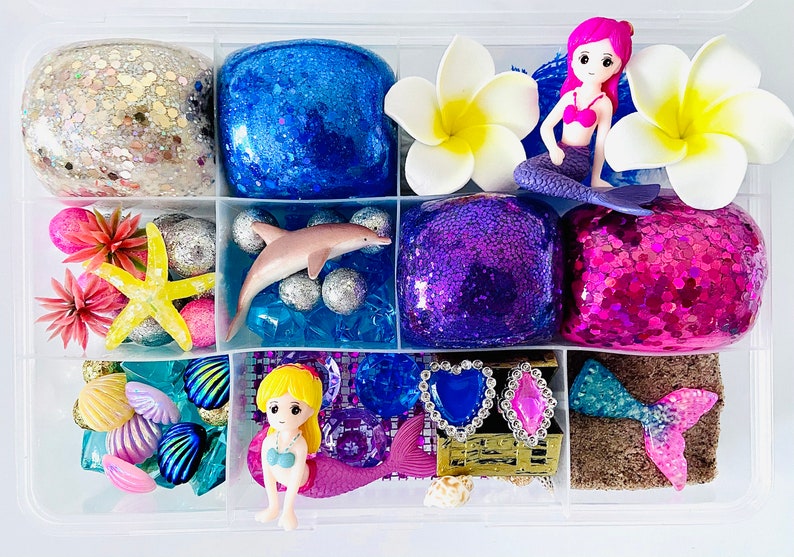 This incredible Mermaid Sensory Bin is by Happy Life Magic on Etsy. This sensory box contains 4 balls of homemade, taste safe play dough, shells, a starfish, a treasure chest, 2 mermaid figures, gems, and much more!
So many fun sensory toys to engage your child's imagination!
15) Rainbow Sensory Bin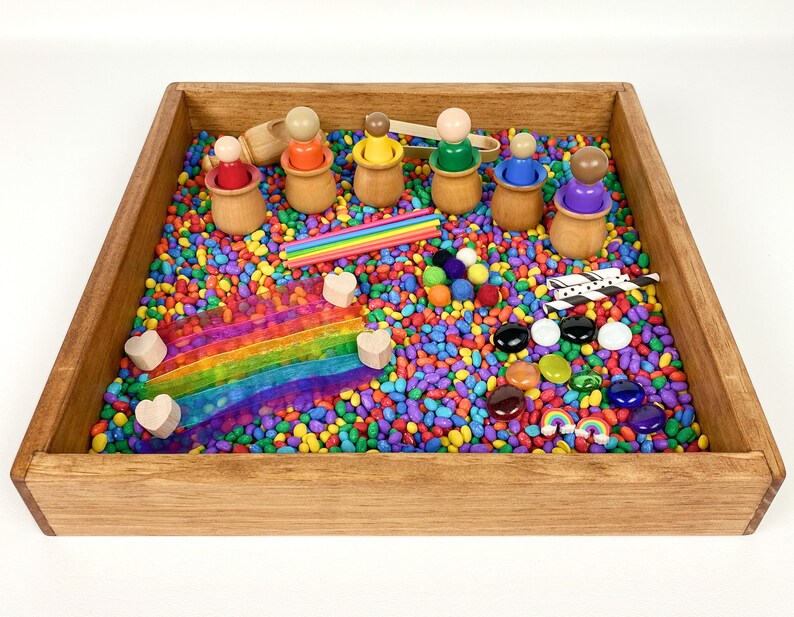 This Rainbow Sensory Bin is by Just Add Imagination Co. on Etsy. This gorgeous sensory bin play set includes rainbow colored dried beans, 6 wood cups, a wood scoop, tongs, and 6 wood peg dolls, and more.
Such a beautiful set that little hands will surely play with for hours!
16) Arctic Sensory Bin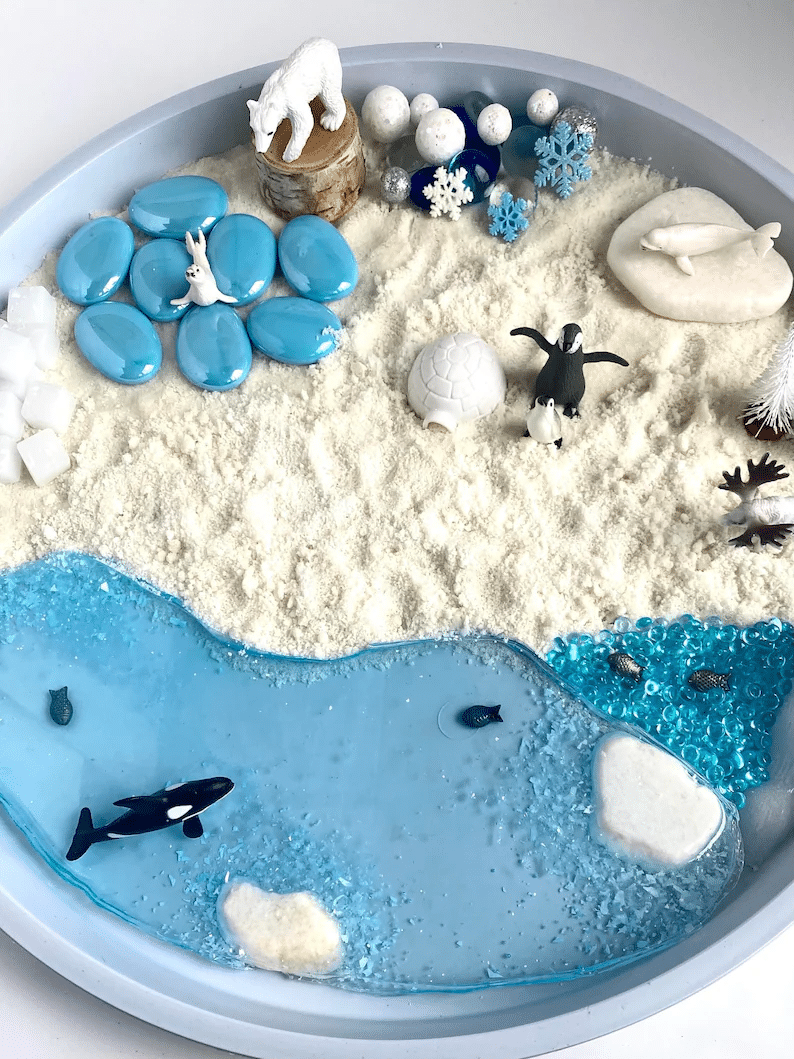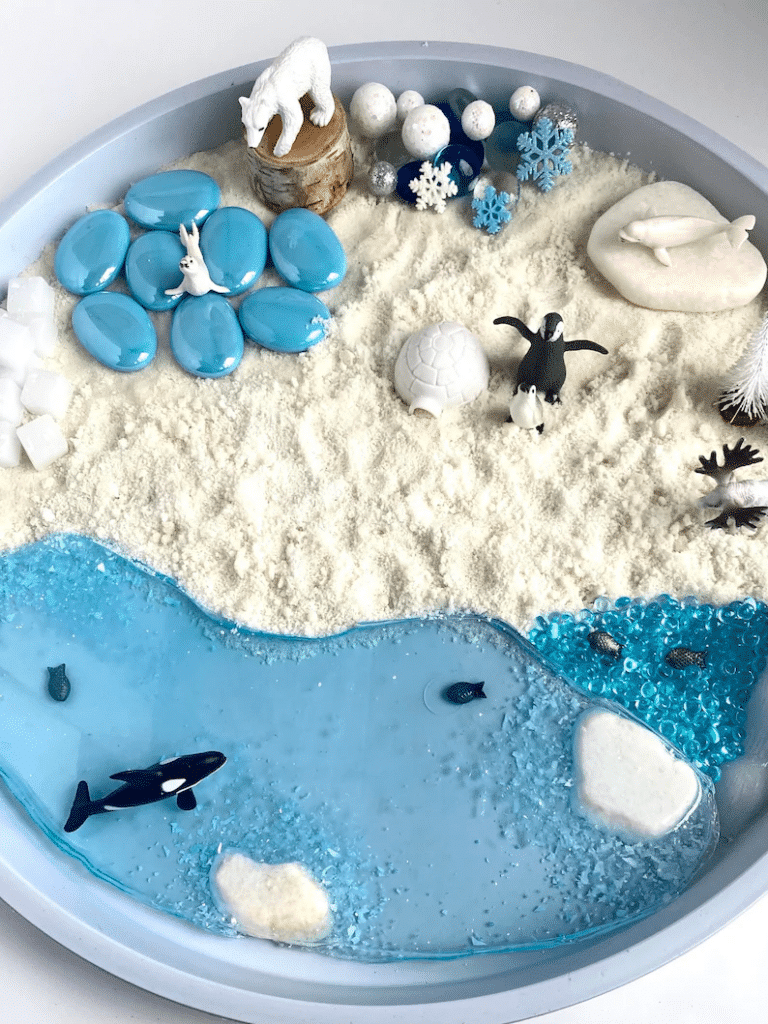 Check out this incredible Arctic Sensory Bin by OT Play with Purpose. Kids will dive into imaginative play with this amazing set.
There's a resin ocean with embedded fish and icebergs. So amazing and perfect for your winter Arctic theme.
17) Pond Sensory Kit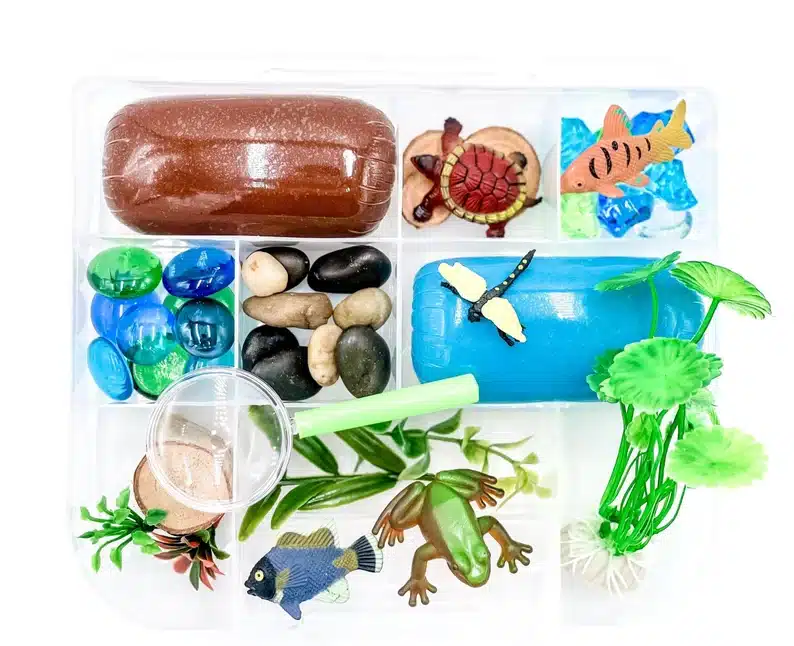 This cute Pond Sensory Kit is by Tinkerbox Sensory. Kids will love pretending to play at the pond with this fun sensory kit! There's playdough, plenty of pond creatures and little bits to add to the fun.
I hope you've found some amazing Premade Sensory Bins! There's so many amazing choices on Etsy.
If you want to check out the complete list of My Etsy Favorites: Sensory Bins, you can click here.
Also, within that Etsy Favorites page, you can find some related products and unique gift ideas for kids as well! I have a Etsy gift guide for Farm Gifts, Pirates, Unicorns, and Mermaids. Each of those lists also contain sensory bins for sale as well!
I hope you find something your children will love!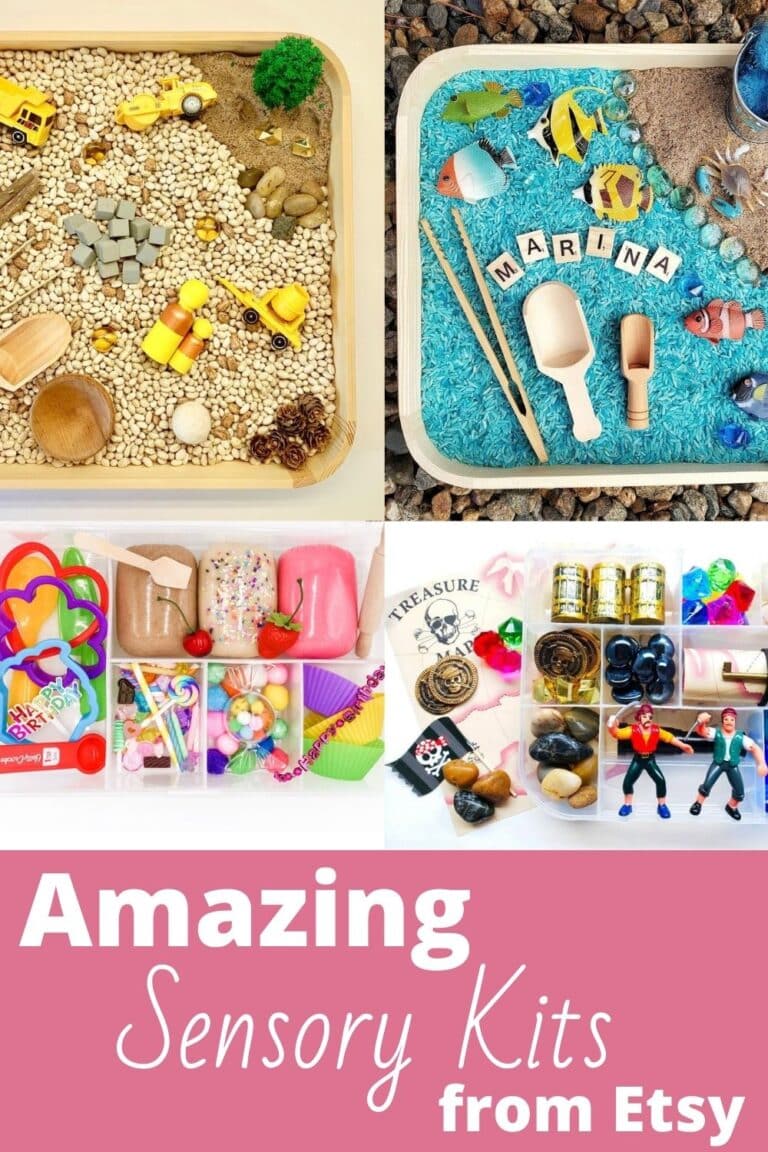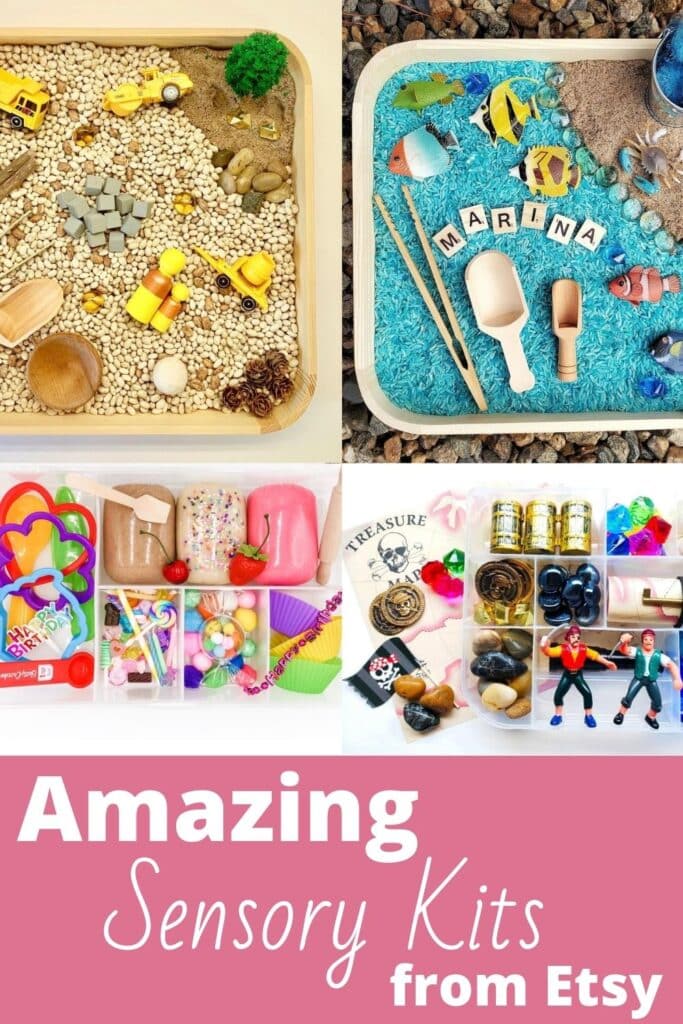 Related Posts