Here's a fun St. Patrick's Day Sensory Bin! Little ones will enjoy sorting by color in this rainbow fun filled Saint Patrick's Day sensory play idea.
St. Patrick's Day is coming up quick and with that in mind, I wanted to create a fun St. Patrick's Sensory Bin. Nothing says "St. Patty's Day" like shamrocks, rainbows, and pots of gold!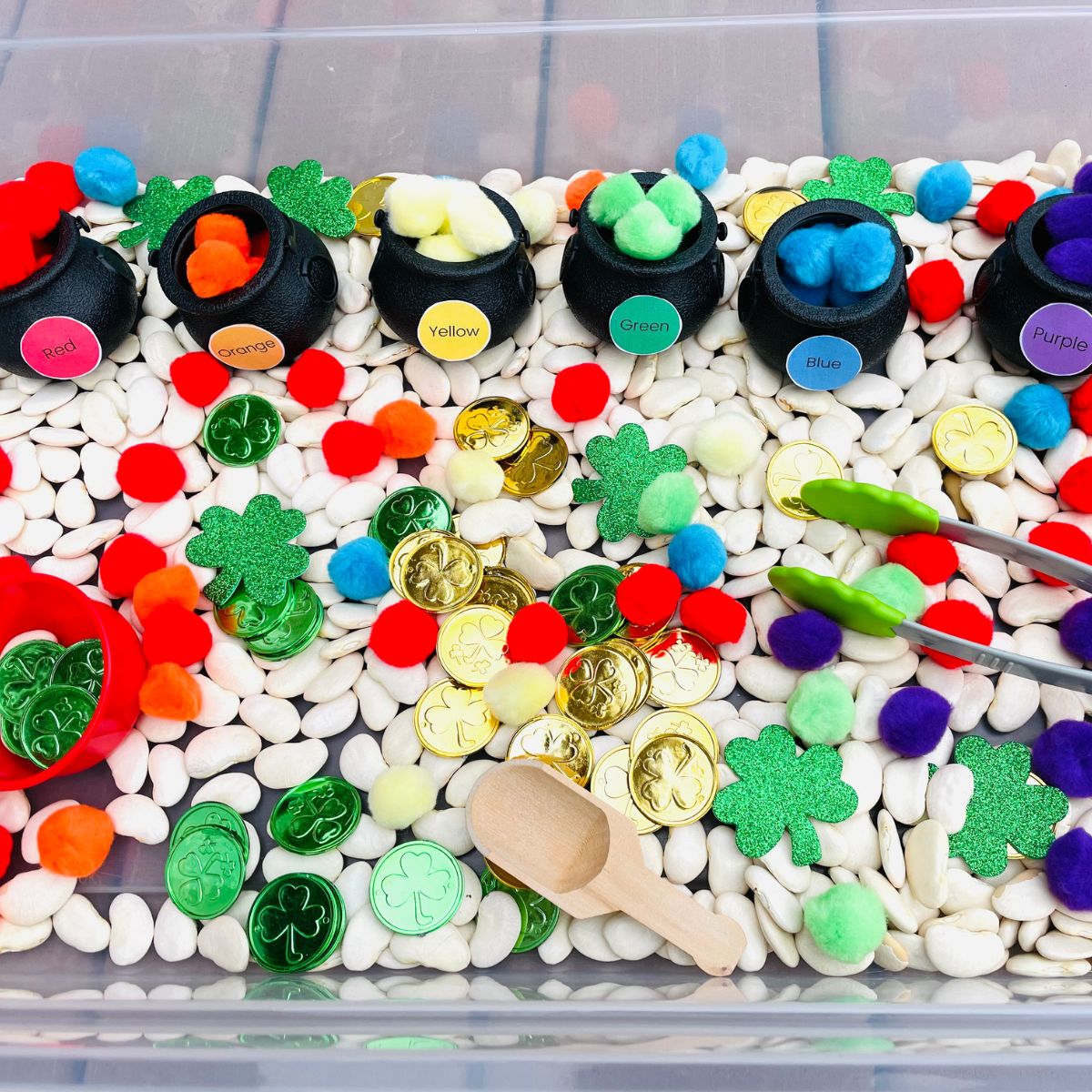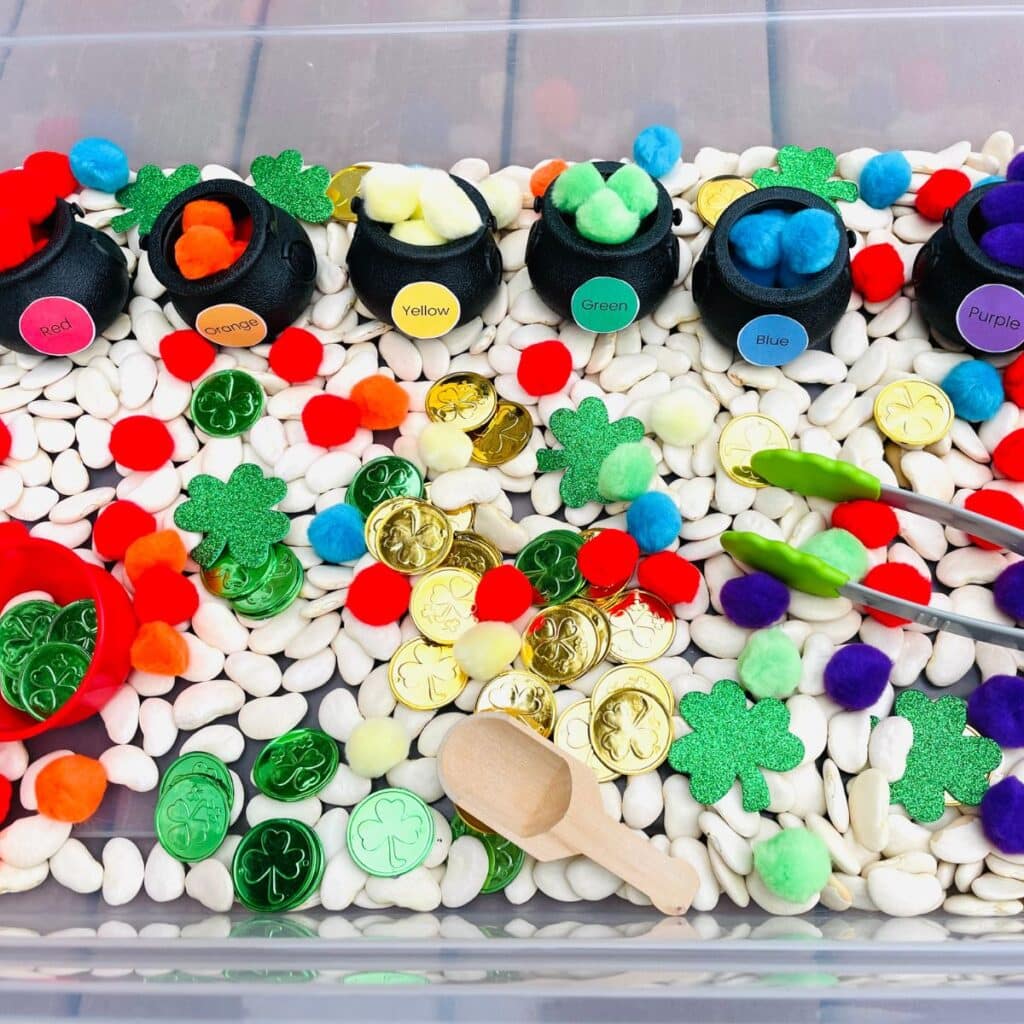 My kids enjoyed sorting the rainbow colored pom poms, placing them the black pots, and more. There's so much imaginative fun to be had with this St Patricks Day sensory bin!
We created our sensory bin with dry lima beans, but feel free to use whatever you have on hand. I am all about using and reusing items for sensory play!
These same white lima beans have been in our Space Sensory Bin, Pie Sensory play idea, Construction Sensory Bin, and Valentine's Day Chocolate Box sensory bin as well.
Absolutely use and reuse those sensory play materials!
Supplies Needed for St. Patrick's Day Sensory Bin
** Disclaimer: As an Etsy associate and as an Amazon.com Associate, I may earn from qualifying purchases made by readers clicking my affiliate links at no extra cost to you.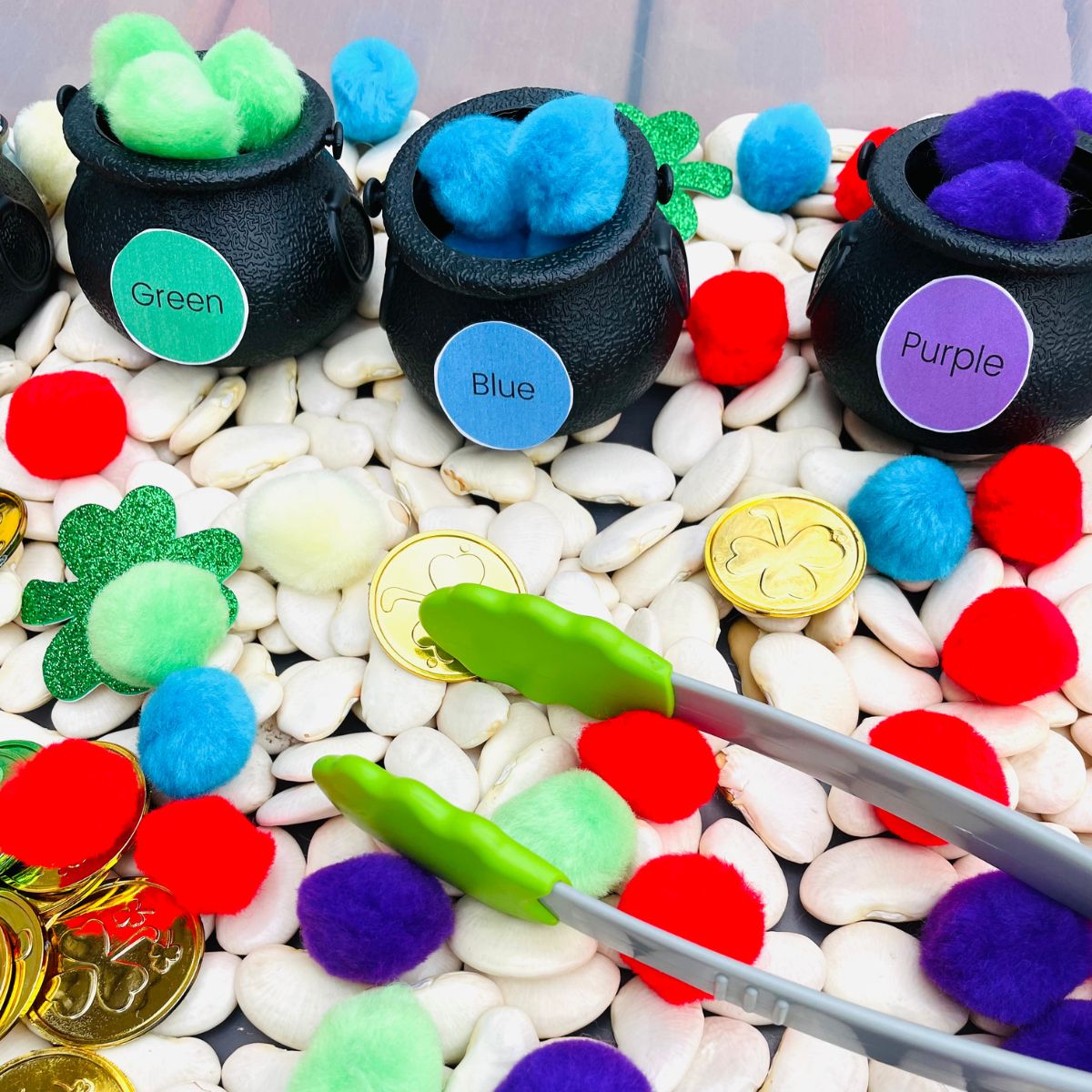 To make this easy St. Patrick's Day themed Sensory Bin you will need the following items:
Sensory bin or container – mine is a large under the bed storage container.
Pom poms – I used red, orange, yellow, green, blue, and purple
White dry Lima beans
Tongs (Our green tongs came from this play set and we also used a few of these tongs too!)
Black Pots for pots of gold. I bought mine at Hobby Lobby, but you can find a set here with gold coins too!
Shamrock Stickers (or you can use shamrock confetti)
Plastic Gold Coins – we bought ours locally, but you can find some here on Amazon.
Wooden scoop – Kids will enjoy scooping the beans and pom poms into the black pots.
Tape
Free Printable with Colors – you can download it instantly here:

Alright! Let's dive into this tutorial on how to make this St. Patricks Day sensory bin!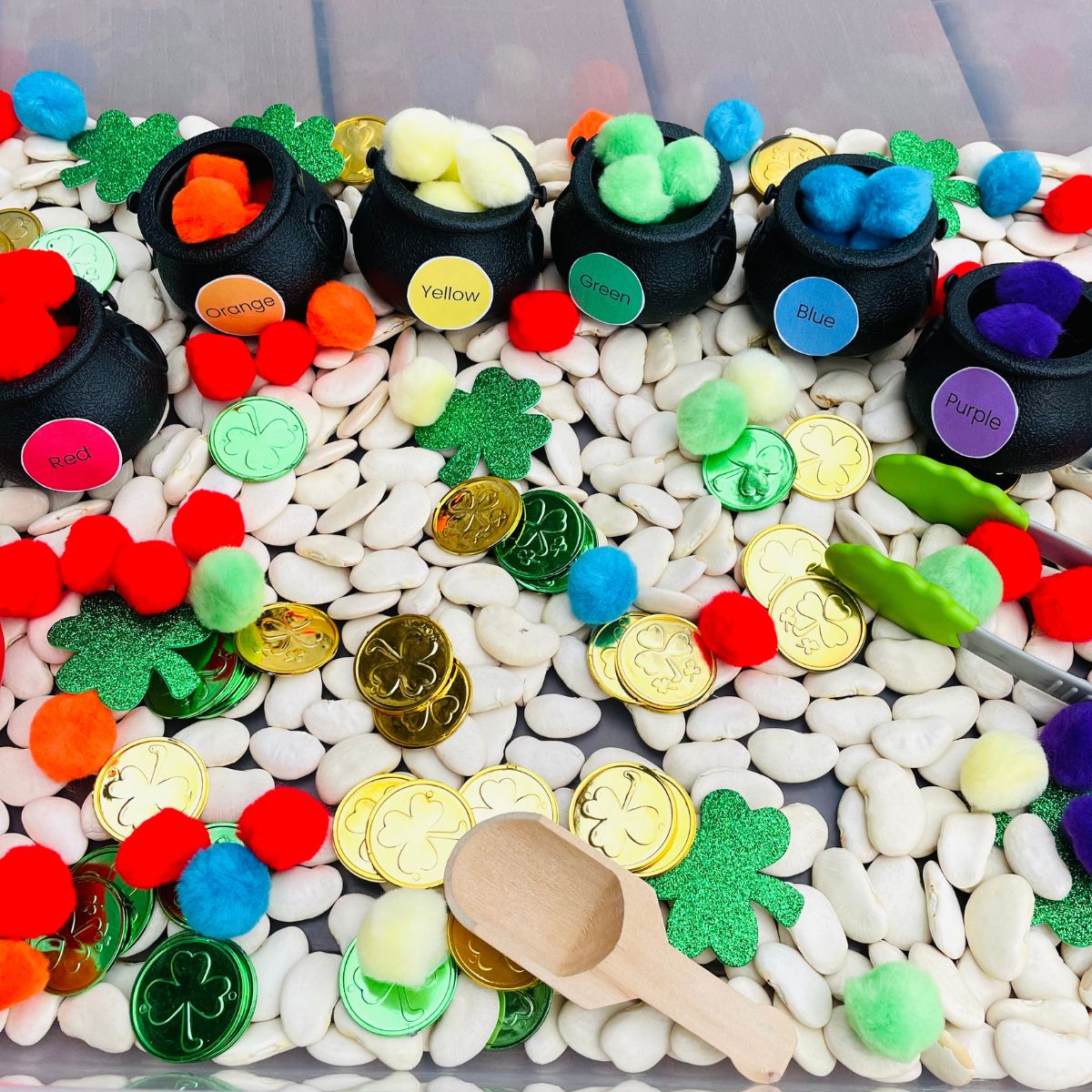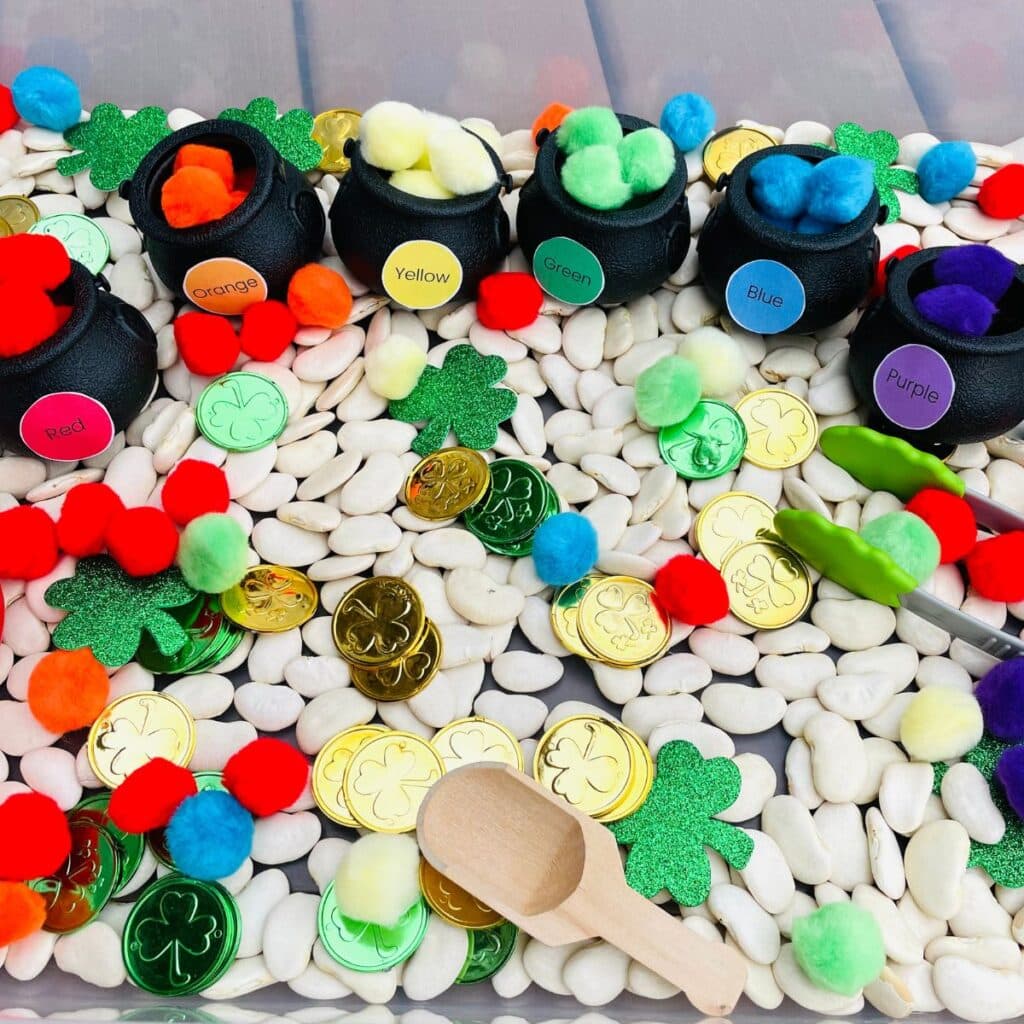 How to make a St. Patrick's Day Sensory Bin
First add your sensory bin filler. We are using white dry lima beans. You can absolutely use any type of bean or filler. I prefer the dry lima beans, because they are fun for kids to scoop and they are larger than regular beans so I find they are less messy.
The amount of beans you will need to fill the sensory tub will really depend on the size of your sensory table or sensory bin container. I like to have enough to cover the base of my container.
Next add your rainbow colored pom poms. For this color sort, you could absolutely use what you have on hand. I reused several colors from other sensory bins we've done in the past. I went with classic rainbow colors to go with our St. Patrick's Day theme.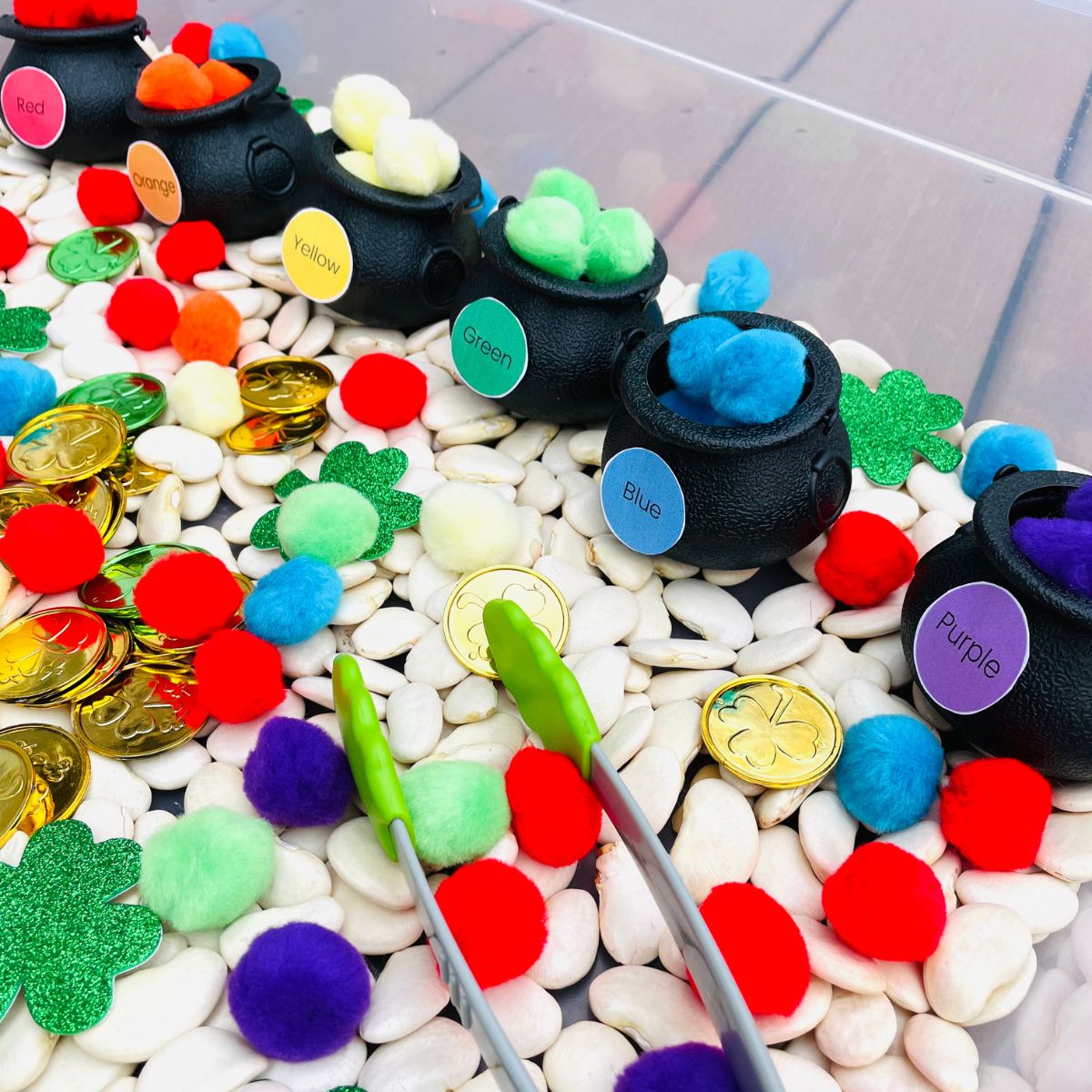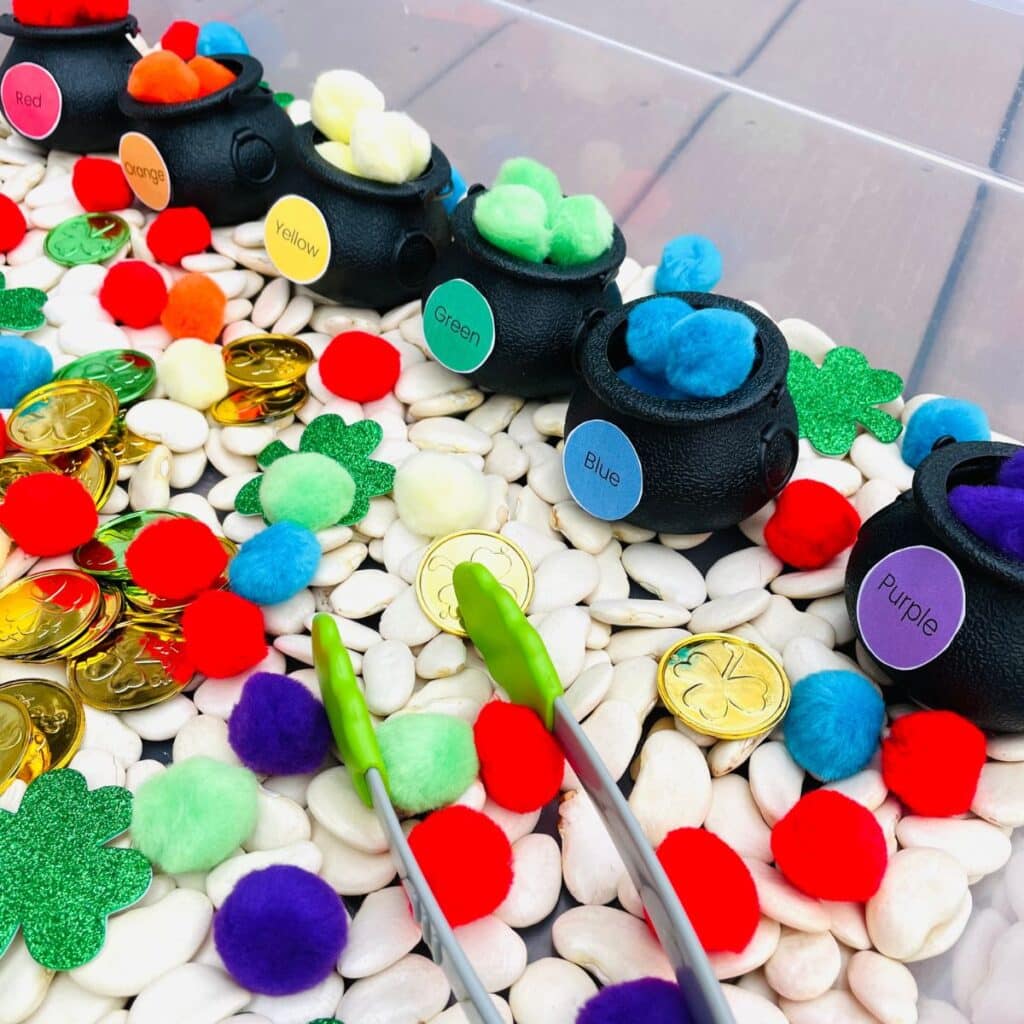 Now, you can add your black pots to act as the pots of gold. I created a simple color sorting printable that has circles in each color and the name of each corresponding color. You can grab that free printable in the supplies list up above.
I cut the color labels out and taped them onto my "pots of gold."
Additionally, to add to the fun, I put some gold coins and green coins into the sensory bin as well as some shamrocks. I used shamrock stickers, but you could also use confetti. To make the stickers not stick, I peel off the back and let them dry out until they are no longer sticky.
Now it's time to add your tongs and wooden scoop. Using kid tongs is great for fine motor skills development.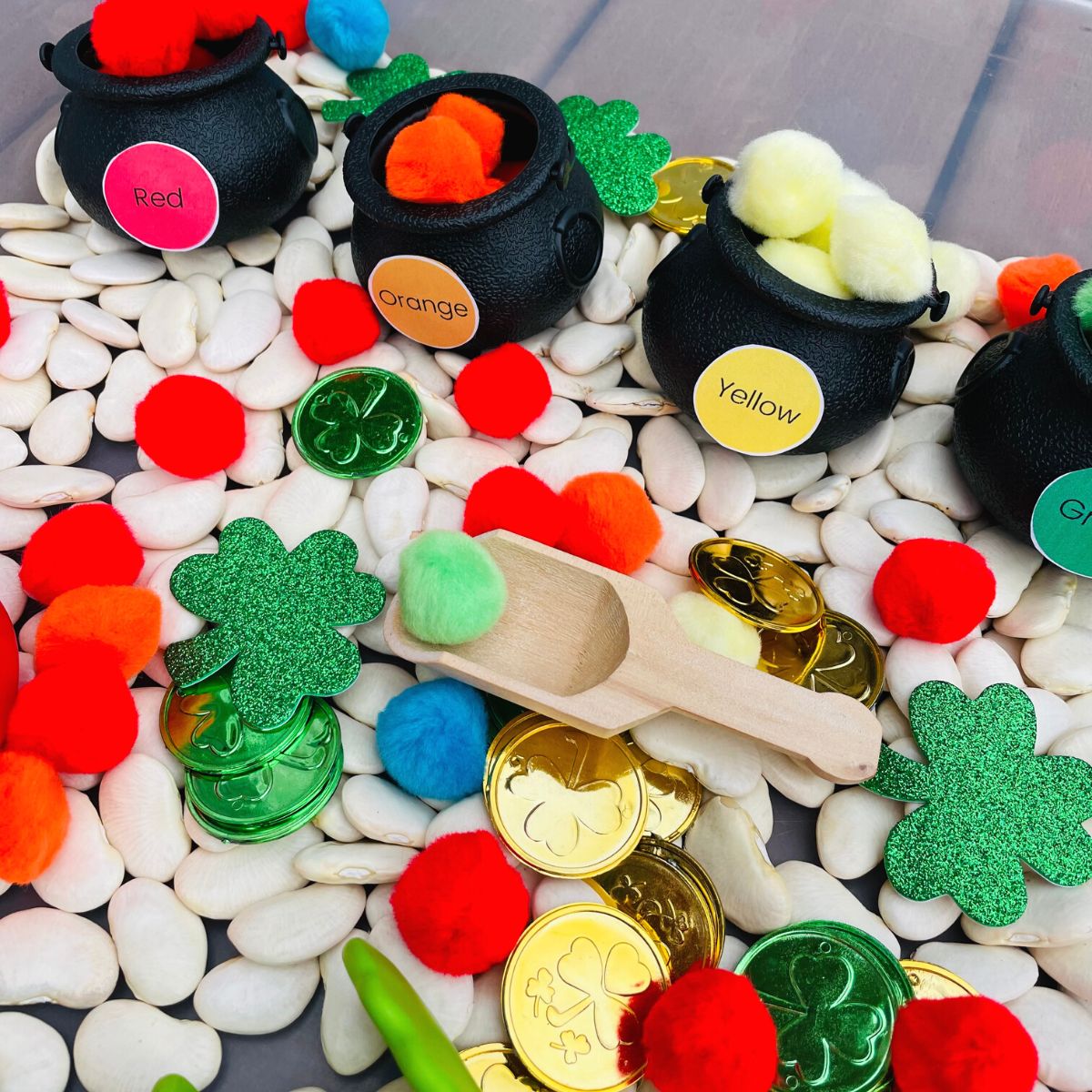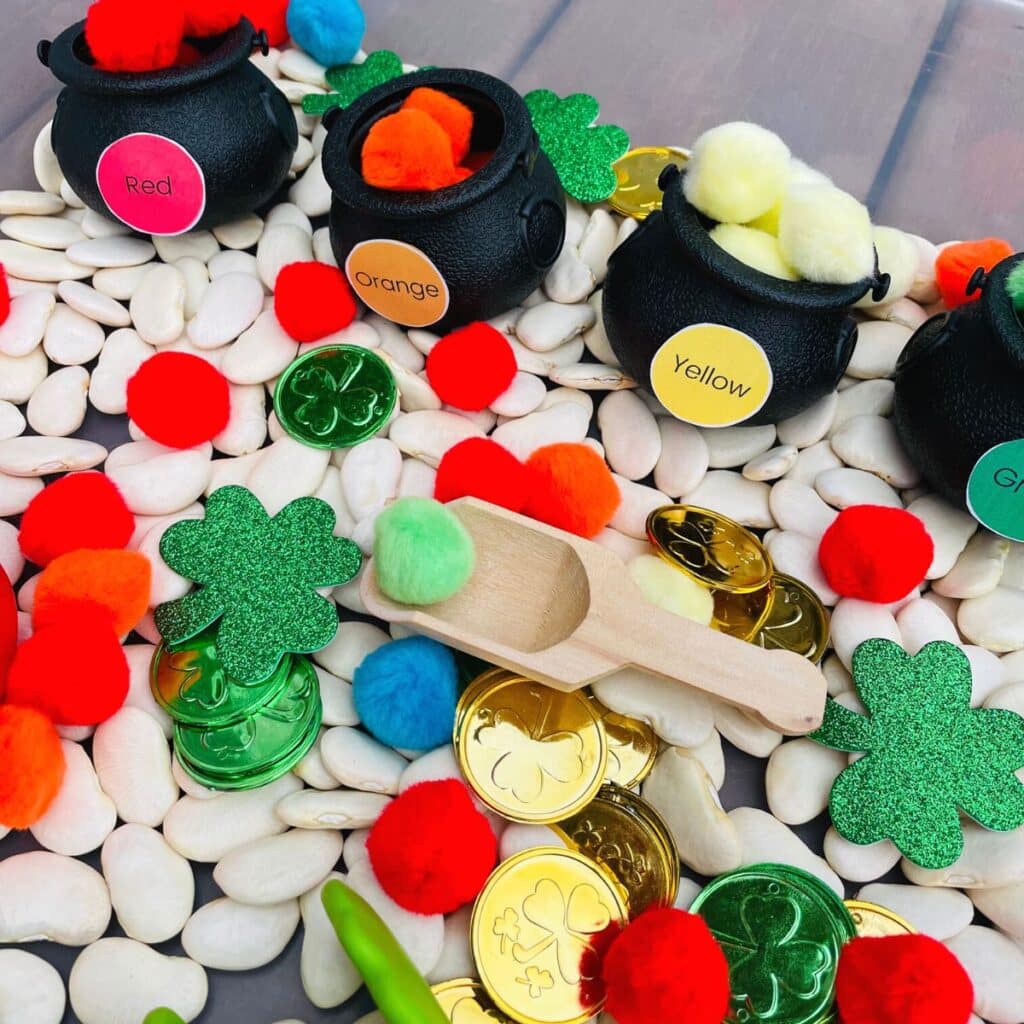 Always use kid friendly tongs (made for kids) because kitchen tongs can pinch a child's hand in between the closures. We *might* know that from experience!
Our green kid tongs came from a Grill set by Learning Resources. The other plastic tongs are also by Learning Resources as well.
Adding a simple wooden scoop can really add to the play. Kids will enjoy scooping up the beans and pom poms and placing them in the pots. Of course, it's always fun to create a pot of gold too.
My kids had hours of fun with this sensory bin activity. They always find different ways to play and have sensory fun that I didn't anticipate! They pretended to hide the leprechaun gold and had so much fun creating their own games with the different materials.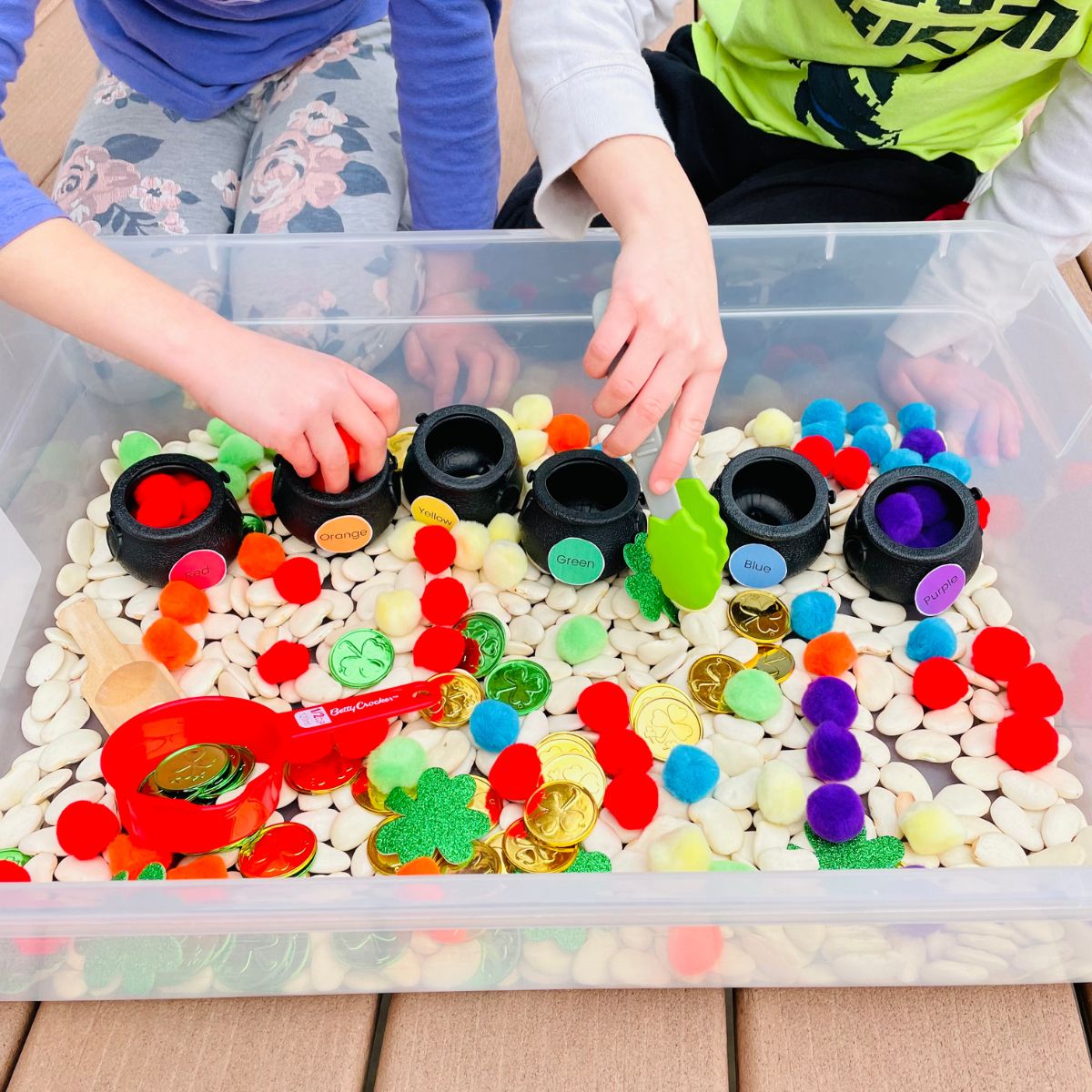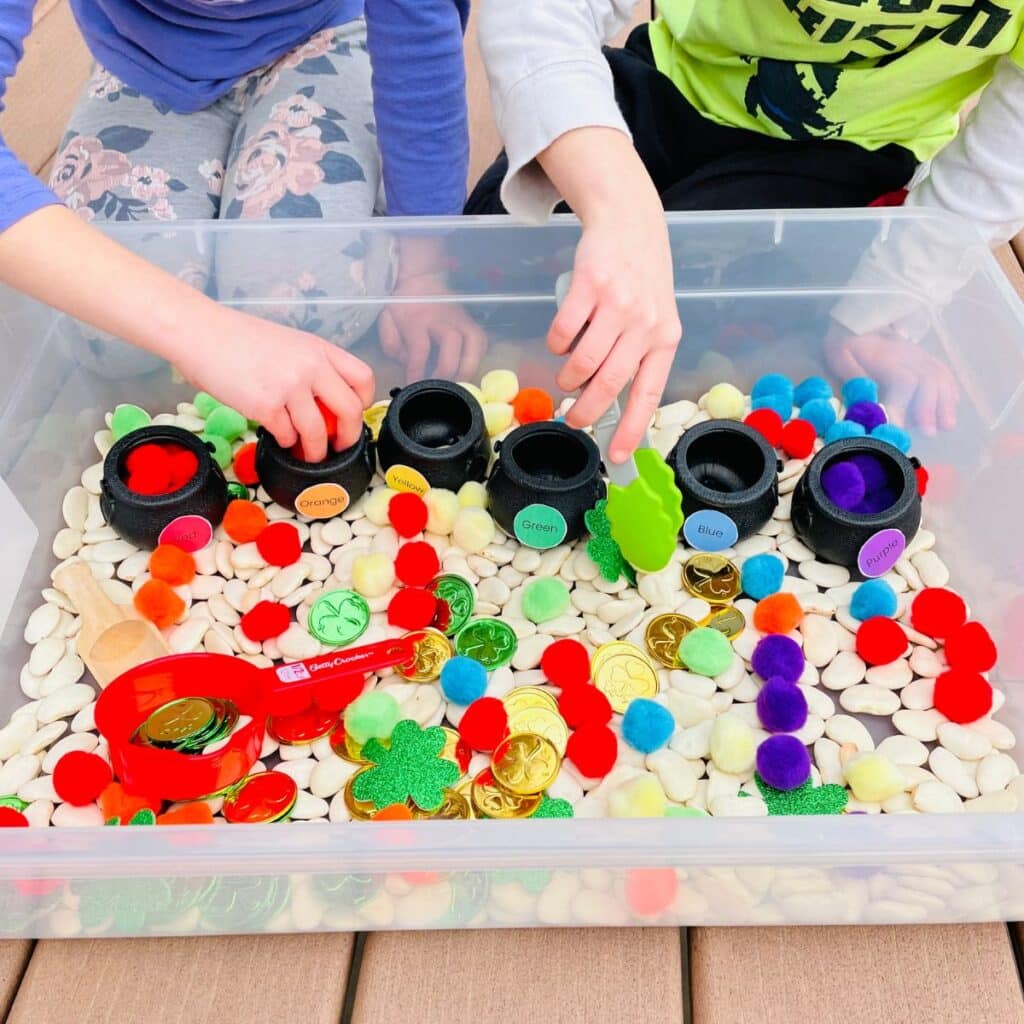 To extend the fun, you might like to add a bowl and wooden spoon for stirring. Or you could write "recipe cards" to have the kids add a certain number or color of pom poms to a bowl. So many fantastic fun angles of play!
This St. Patrick's Day sensory play activity is perfect for preschoolers, but older kids may enjoy it too!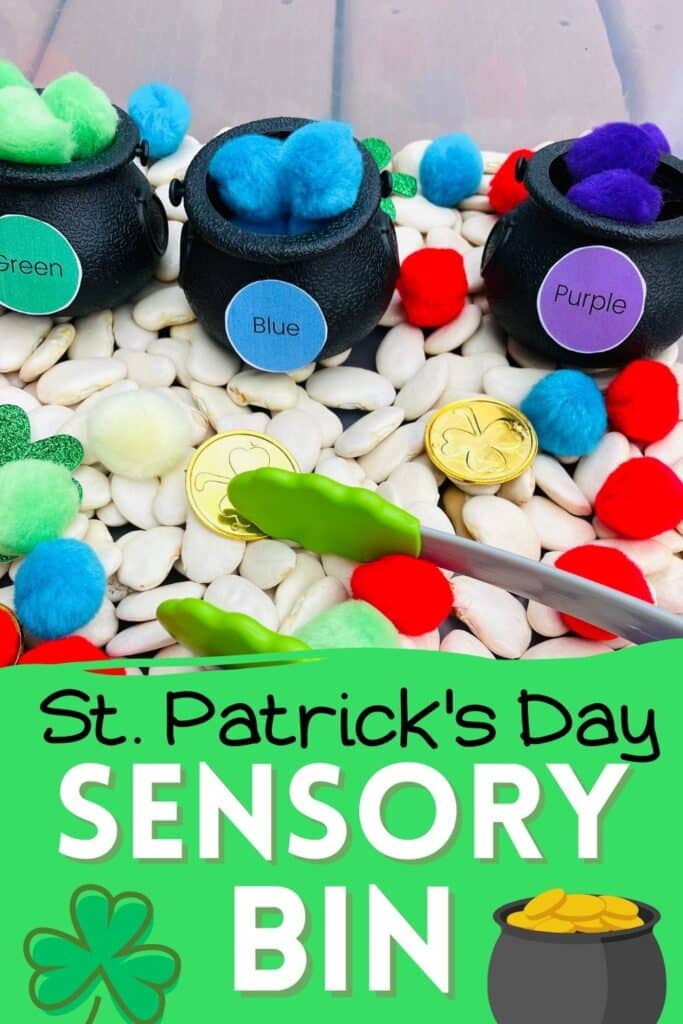 Benefits of Sensory Play
Kids love sensory play – but you might be wondering – what are the actual benefits of sensory bins? Sensory activities like this Saint Patricks Day sensory bin are great for fine motor practice.
Kids can use tongs or their fingers to pick up small objects. Developing fine motor skills is a key step toward learning to write.
Young children engage their senses with touching different textures and sensory play is great for sparking imaginative play.
Sensory bins encourage language skill development as kids talk to one another or you as they play.
And a huge perk I've noticed with my own kids – sensory play can help kids calm down and destress. Kids have big emotions and sensory play can really help kids relax.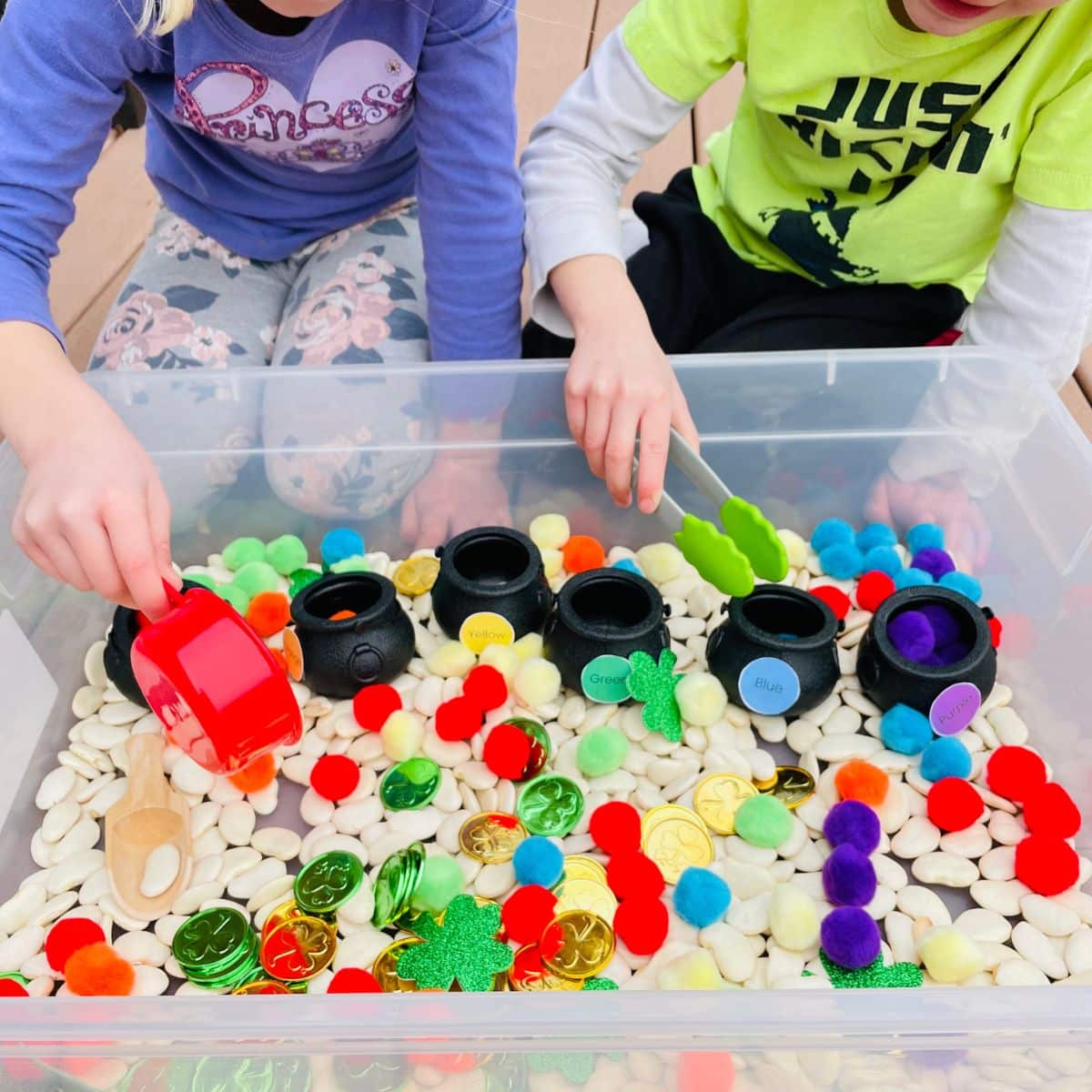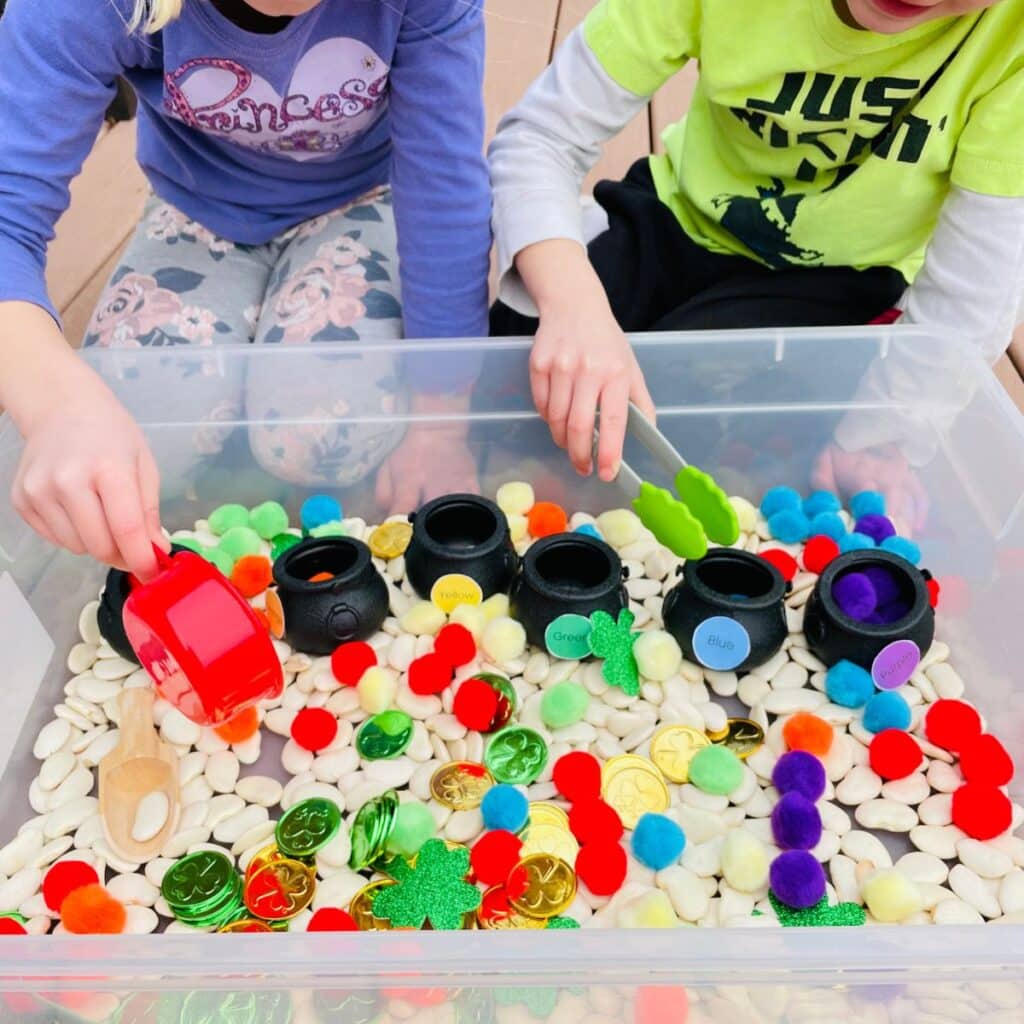 As you can see, sensory bins are not only fun, but super beneficial.
More Sensory Play Ideas
Looking for more Sensory Bin activities? There's plenty of fun sensory ideas on my blog!
This Alphabet Soup Sensory Bin uses items you probably already have at home! It's the perfect way to practice letter recognition and a great addition to your ABC activities.
This Construction Sensory Bin is a fun way to get kids engaged! Kids of all ages will enjoy scooping, digging, and building in this simple sensory bin.
Younger children will love this Car Wash sensory bin. It's quite possibly the easiest sensory bin ever! They will get wet… but oh will they have a ton of fun!
Want to learn how to make Rainbow rice for your sensory bin? This St. Patrick's Day bin would be super cool with green rice! Find the simple recipe here. It's a great way to make colored rice for all of your sensory play ideas.
Plus, don't miss this fun holiday Color Sorting Easter Sensory Bin. It's perfect for little hands. There's plastic eggs, buttons, paper shred and more. What a great idea for continuing the color sorting hands-on activities!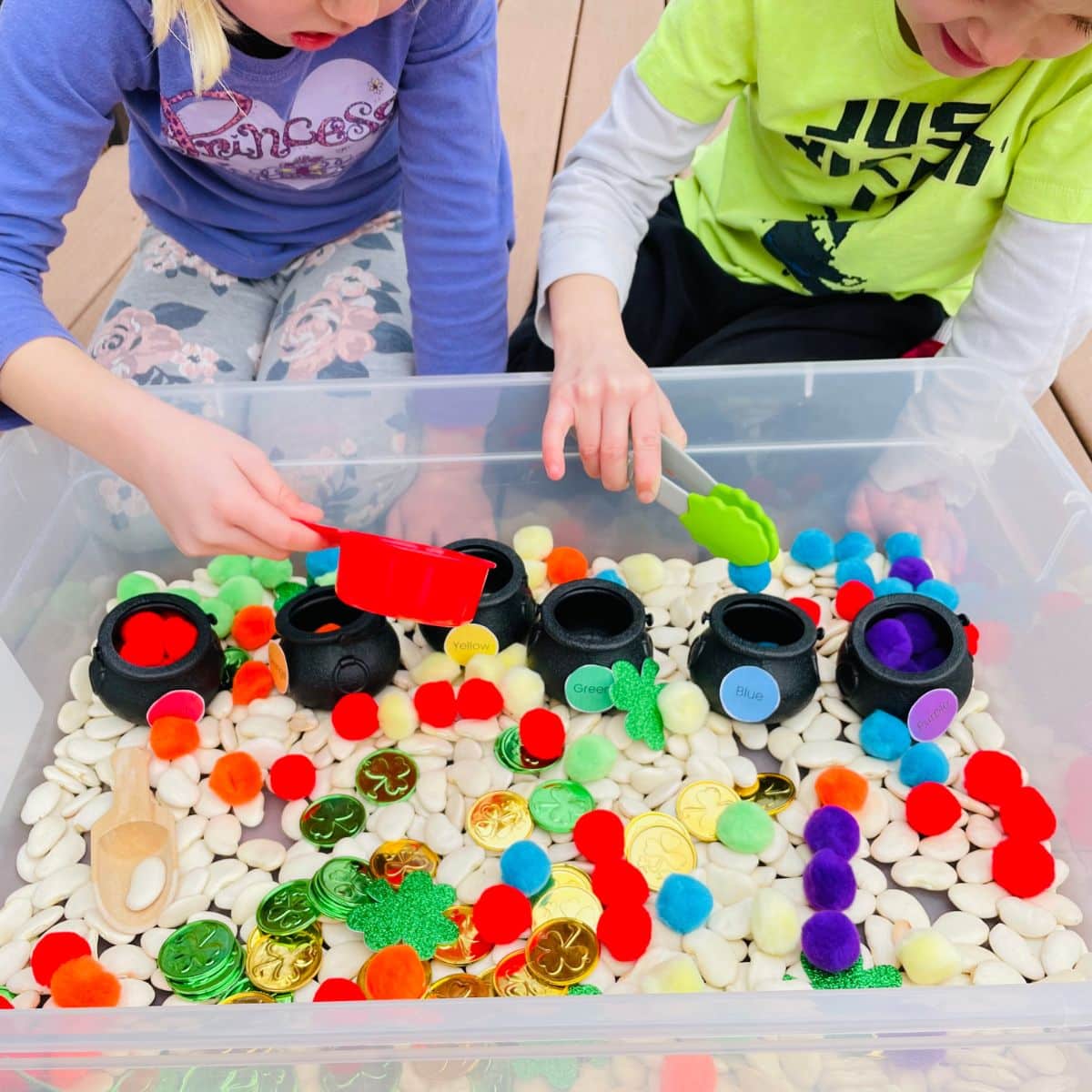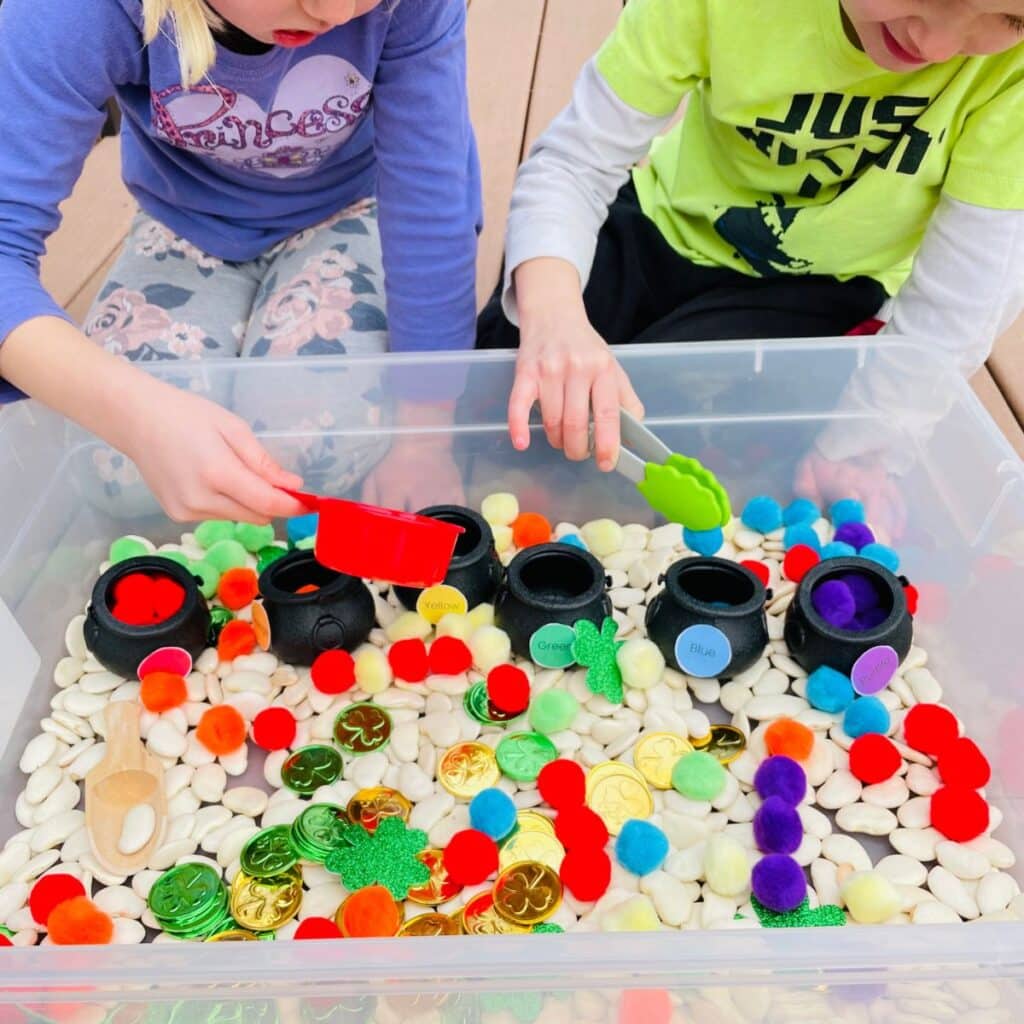 More St. Patrick's Day Activities for Kids
Looking for more St. Patrick's activities?
You can find a fun Shamrock Pepper Stamping Process Art idea here. It's so cute and perfect for St. Patrick's Day.
There's a cool Marble Paint Shamrock Craft here. Kids use marbles to paint unique designs on the free shamrock printable.
You can find 3 Free St. Patrick's Day Color by Number Pages here. These are great for practicing color word recognition and number recognition.
Plus don't miss this adorable DIY Leprechaun Hat Headband. Kids can create their very own St. Patrick's Day hat with the free printable.
Want to save these St Patrick's Day sensory bin ideas for later? Pin the image below to your sensory bin board on Pinterest!