Need a fun Preschool Halloween Sensory Bin? Check out this Easy Monster Stew Sensory play idea!
This simple Halloween sensory activity is perfect for little ones.
It encourages creativity and imaginative play and of course it helps children develop their fine motor skills in a fun way!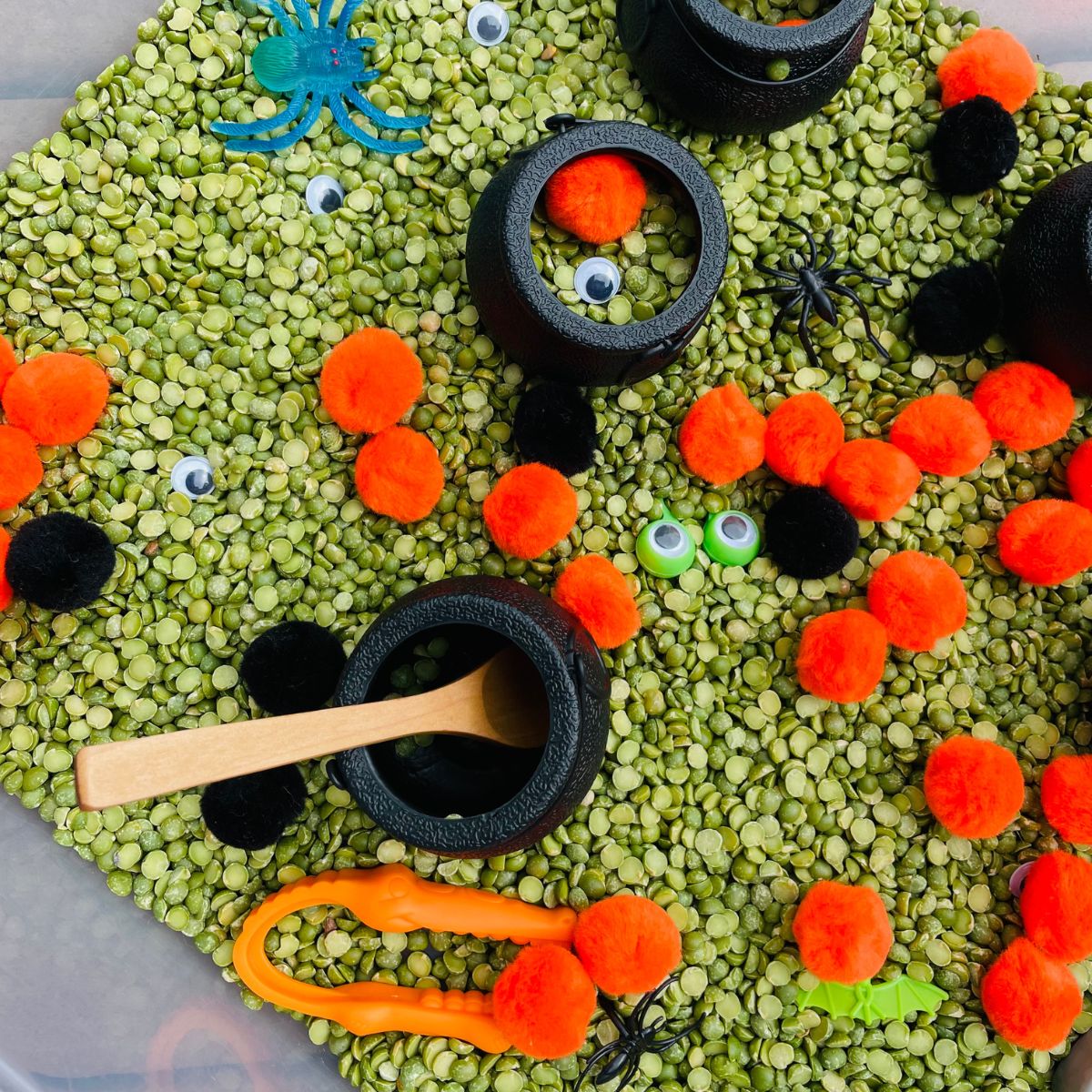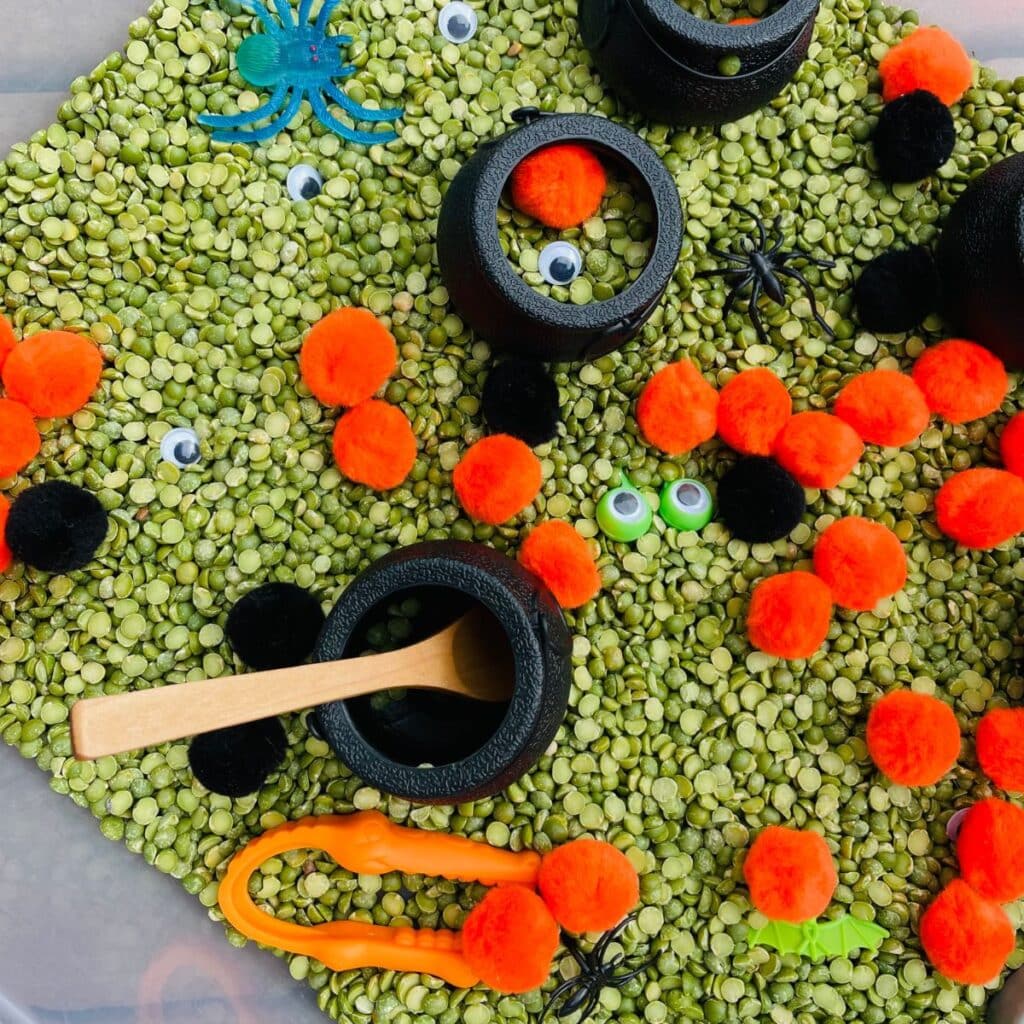 My kids loved this Monster Stew Halloween sensory play idea.
They had so much fun creating their own "recipes", digging into the different textures, and serving up concoctions fit for a monster's dinner. LOL
But first, if you are new to sensory play, you might like to know….
What is a Sensory Bin?
A Sensory Bin is container filled items that spark imaginative play and stimulate the senses.
Most sensory bins have a theme. We like to make one for learning units such as Ocean, Arctic Animals, Insects, Farm, etc.
It's also fun to make one for each holiday throughout the year as well!
Typically, sensory bins have a base filler for kids to stir, scoop, or pour.
Your base filler could be dry corn, play sand, beans, water, uncooked pasta or rice. There's so many possibilities.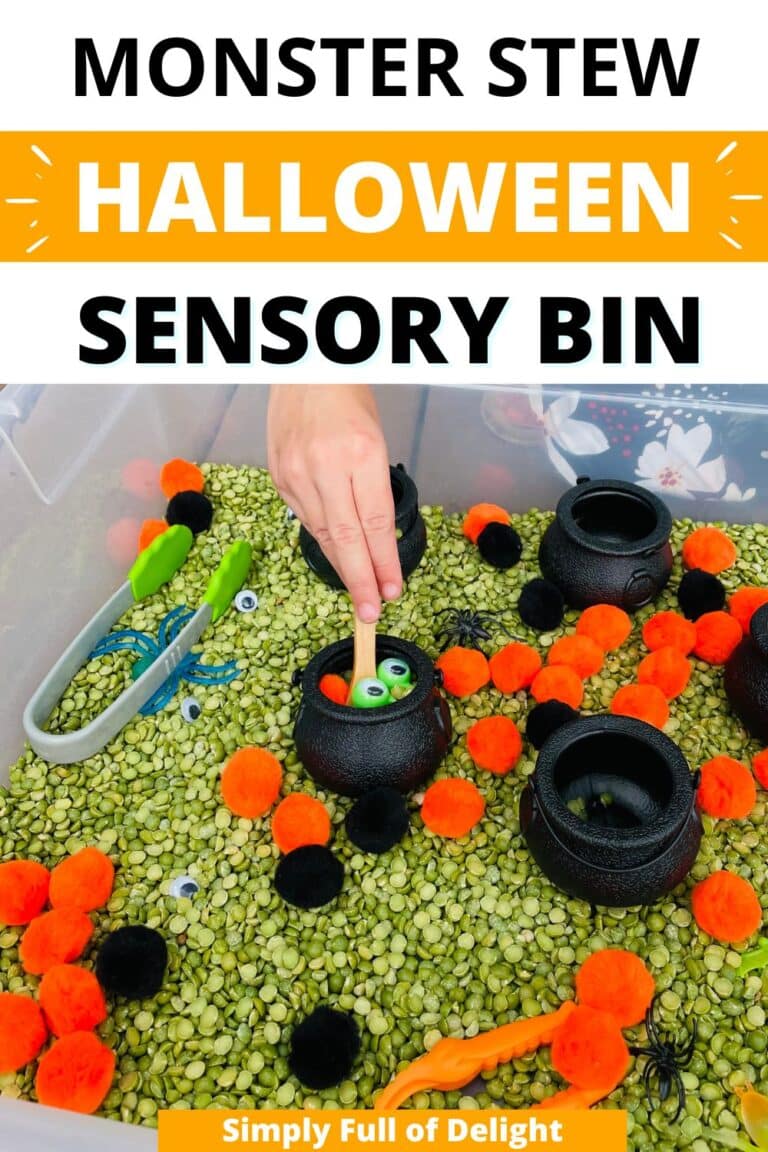 Benefits of Sensory Play
According to Good Start Learning, some of the amazing benefits of sensory play are:
Sensory play builds brain connections.
It encourages developments of fine motor skills and language.
It activates problem solving skills.
And amazingly, it helps kids destress and regulate.
There's so many terrific reasons to do sensory activities. And of course, sensory play is so much fun too!
Sensory experiences have provided hours of imaginative play for my kids.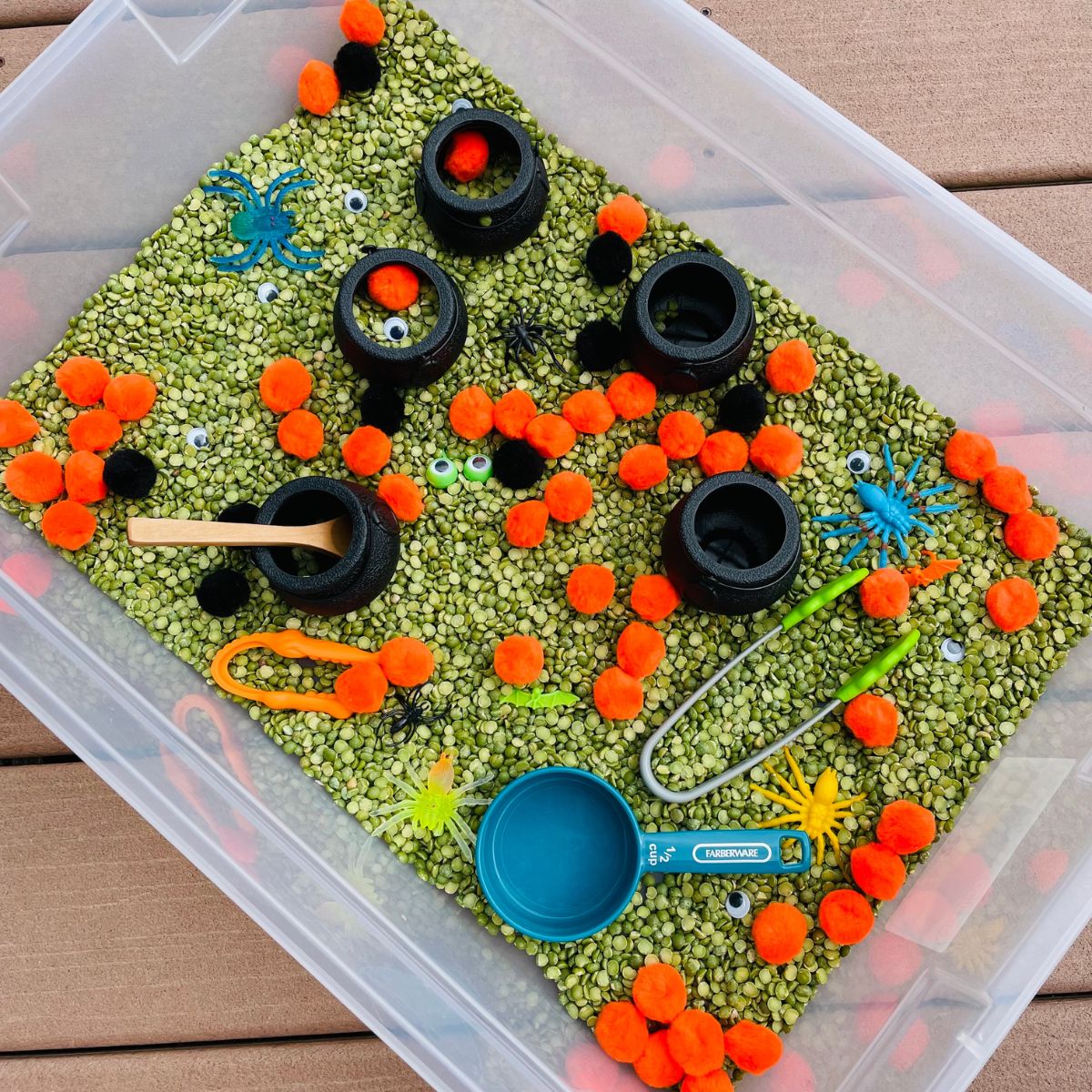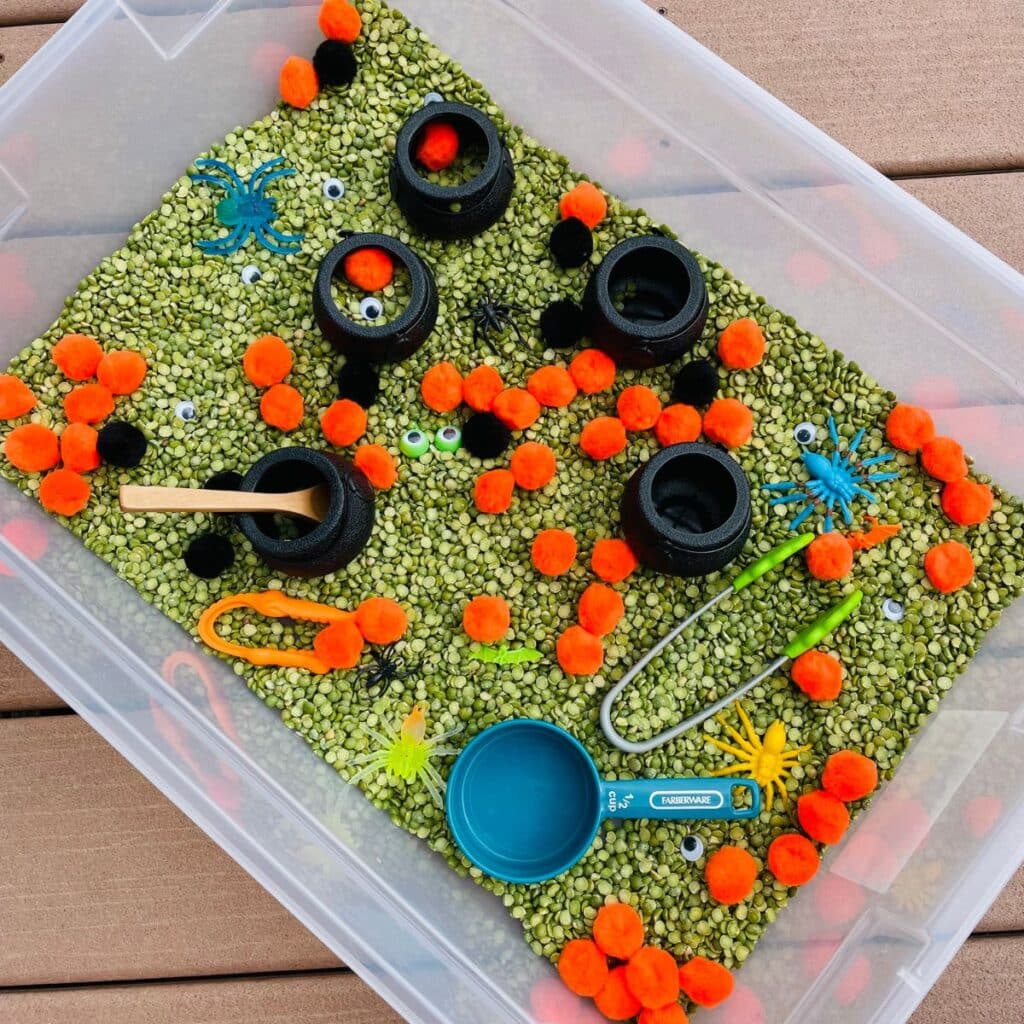 Supplies to make a Halloween Sensory Bin
** Disclaimer: As an Amazon.com Associate, I earn from qualifying purchases made by readers clicking my links at no extra cost to you.
You will need the following items to make this Halloween sensory bin:
Sensory bin or box – I like to use a large under the bed storage plastic container
Mini Black Cauldrons – we reused the plastic cauldrons from our St. Patrick's Day Sensory bin here.
Green Split Peas (we used several small bags to fill our large container)
Googly eyes
Plastic Spiders, bats, insects, etc.
Pom Poms (We used Halloween colors – orange and black)
Wooden Scoop or Spoons
Pair of Tongs
Measuring Cups for scooping
How to make an Easy Halloween Sensory Bin
Let's get starting making our Monster Stew Halloween sensory bin!
First, fill your sensory bin with green split peas. You could choose a different filler if you like, but I think Monster Stew calls for something green! LOL
Next, add a few pom poms. I decided to use orange and black pom poms for this Halloween sensory play activity.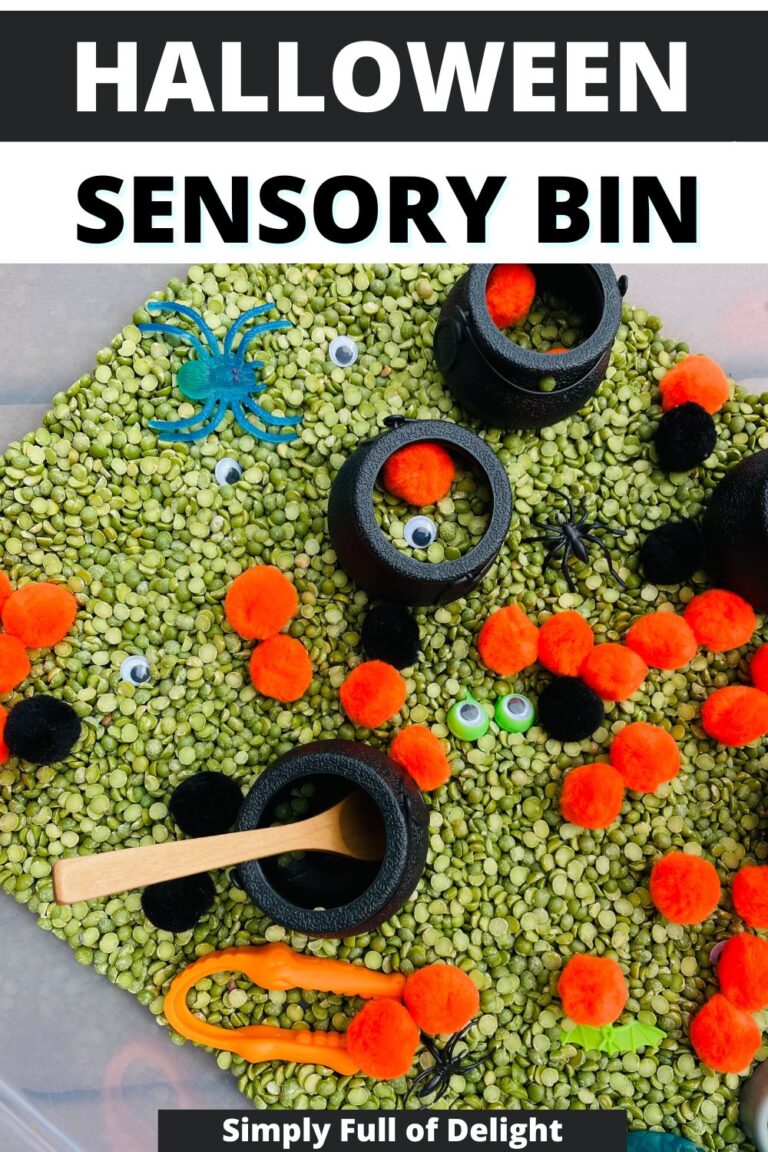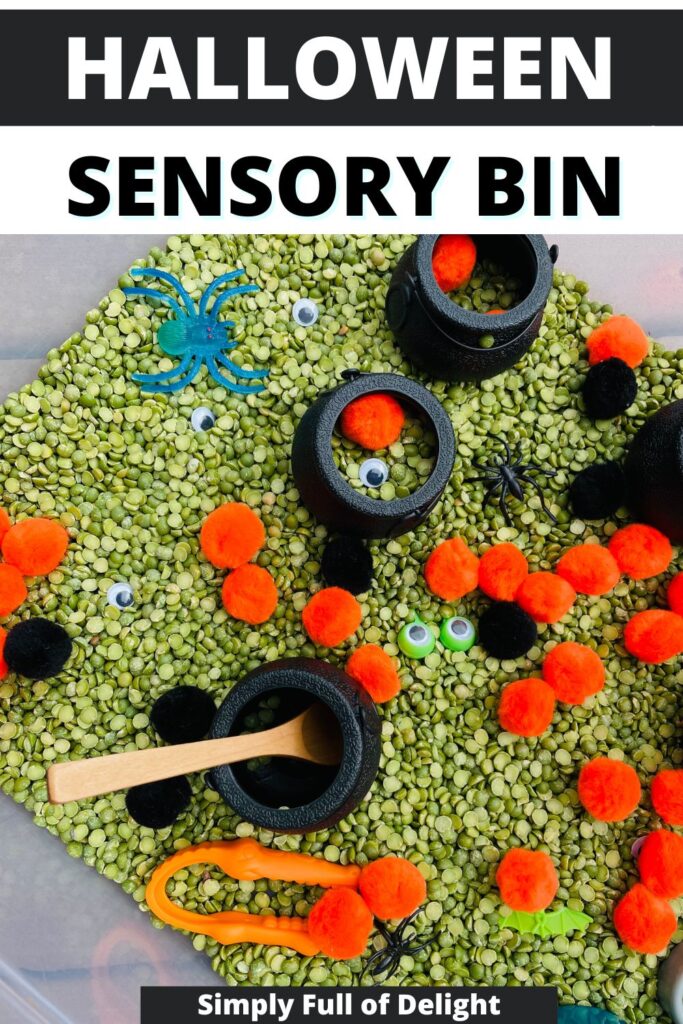 I also decided to add some fun googly eyes that we had on hand. It's always a good idea to add different textures and of course, don't you think that a Monster Stew recipe would call for eyeballs?
Next, I added some plastic black spiders, plastic bugs, black bat rings, and creepy insects that we had on hand. Some are just spider rings while others are plastic insects from our insect unit.
We are going for a "fun Halloween creepy" vibe here, so the more the merrier!
Then I added some mini cauldrons. Fun fact – these were the ones we used for St. Patrick's Day as our pots of gold! I love reusing sensory play items in different ways.
Last, I added some plastic measuring cups we always use for sensory play along with a set of kid tongs for picking up items.
I always recommend getting a set of kid tongs because regular kitchen tongs can pinch a child's skin between the spring mechanism. (We know this from experience! Ouch!)
My children enjoyed creating their own concoctions in each of the black cauldrons. So many fun creepy recipes were made!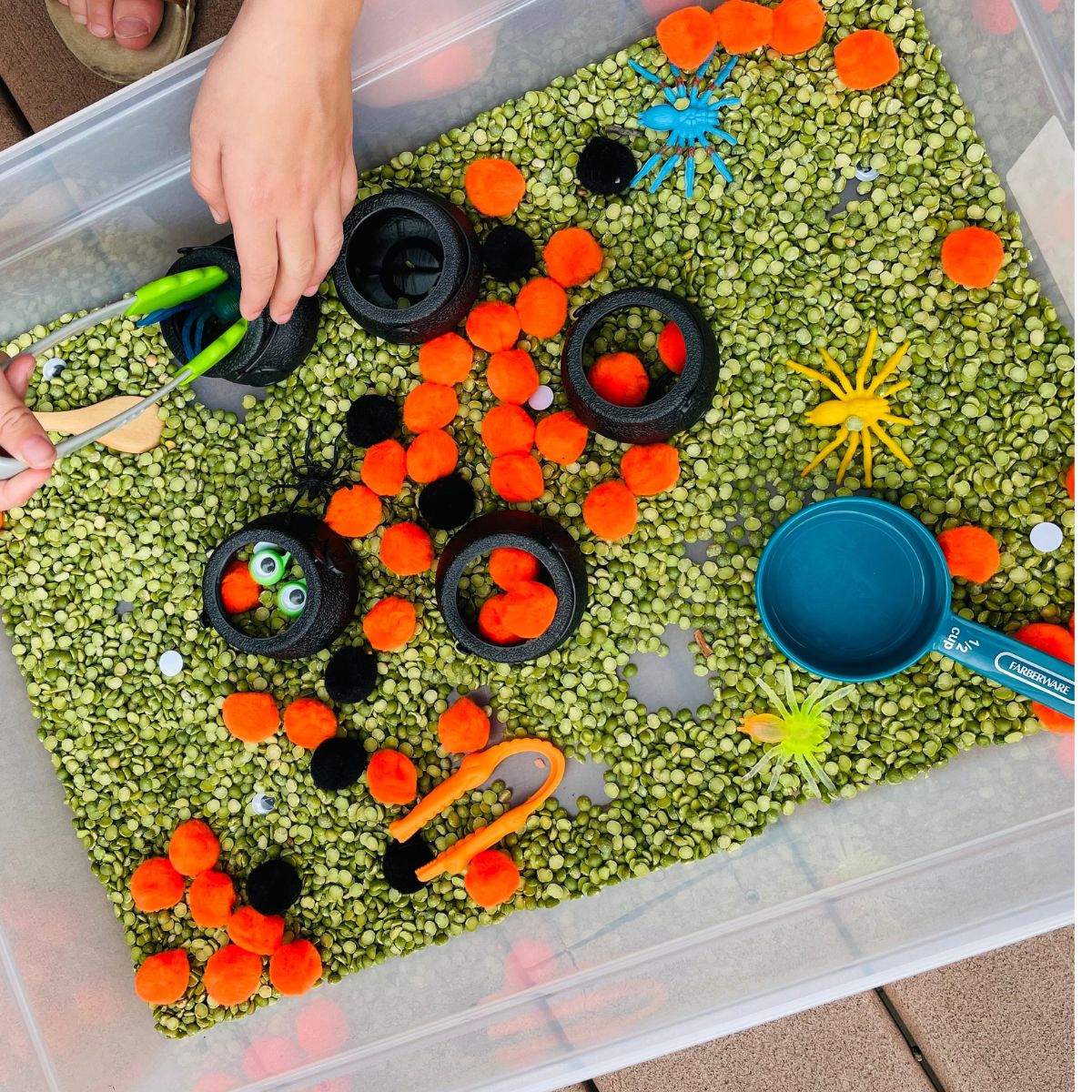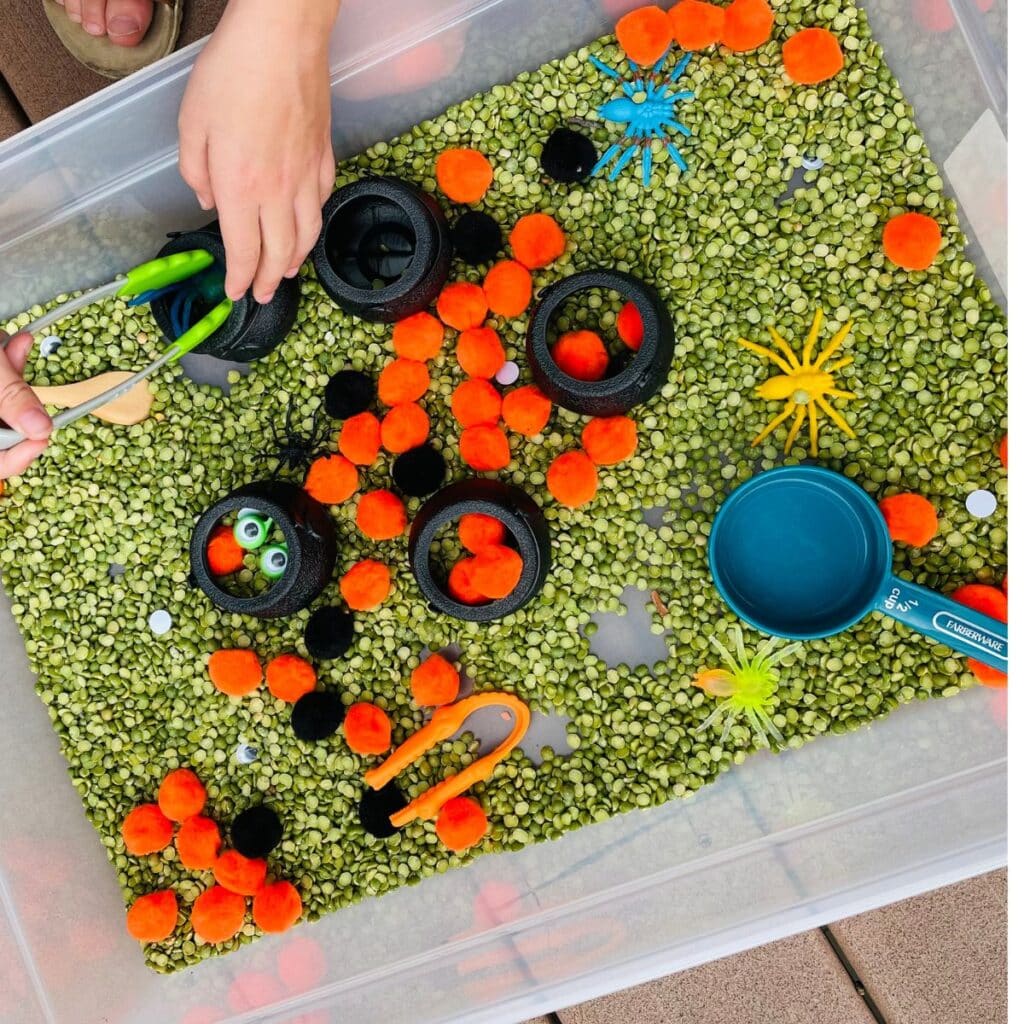 My kids LOVED this Halloween sensory bin – and I loved how engaged they were in play! There's nothing better than a great activity that keeps those little hands busy!
Add to the Fun
Want to extend the fantastic fun? Here's a few more ideas!
You could add sequins or beads
Instead of green split peas, you might like to try black beans for your sensory soup, or dye some white rice with food coloring to make orange rice.
We added some fake mini pumpkins as well as some acorns later in the week – to spice those Monster stew recipes up!
You might like to make recipe cards for kids to follow (like: 1 spider, 2 black pom poms, and 3 eyes)
Add more fun items to your Halloween themed sensory bin like a spider web, bouncy balls, or other fun sensory bin fillers from the dollar store.
Also, you could try to make this sensory bin with water – or colored water if you dare!
More Sensory Activities for Kids
Looking for more sensory play ideas? Here's some great sensory table ideas that will inspire creativity and imaginative play!
My kids love this Construction Sensory Bin. Kids will be busy all afternoon building, hauling, digging and more!
Does your child love woodland animals? There's a Forest Sensory Bin here that's full of natural items along with pretend woodland creatures.
Plus don't miss this giant list of Sensory Bin Ideas! There's over 25 Sensory play ideas for kids. Find the perfect sensory bin for each theme or season!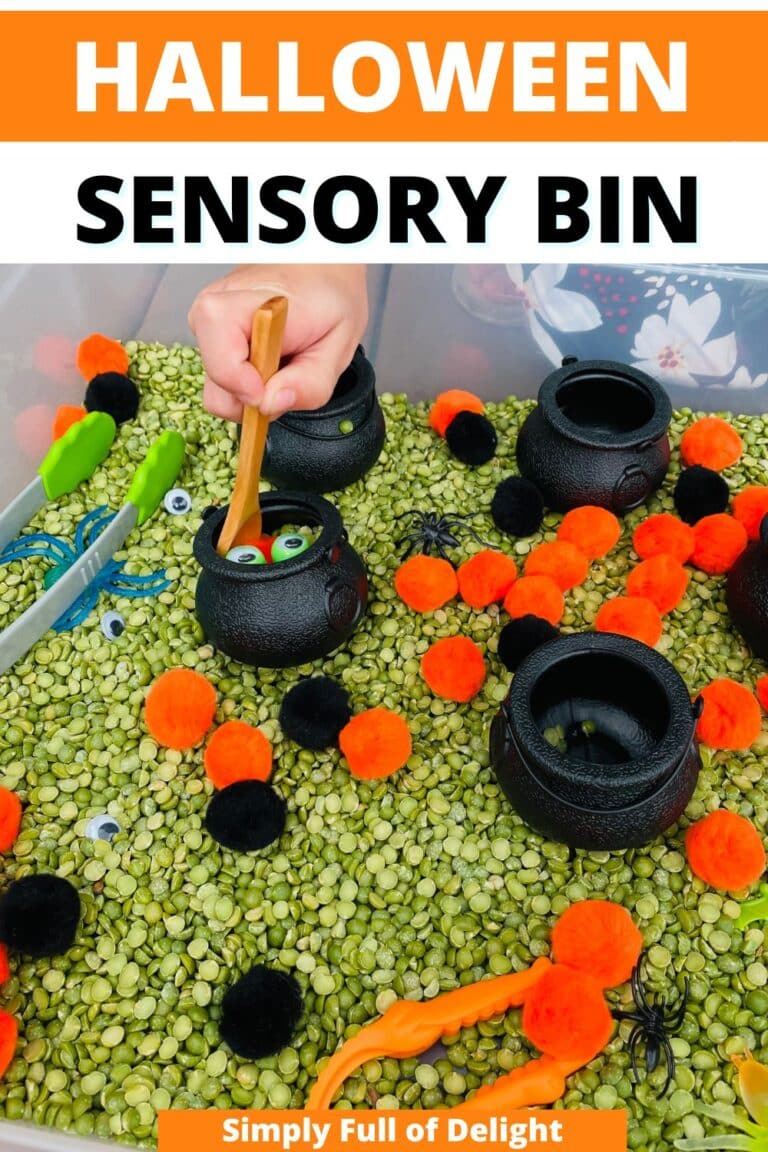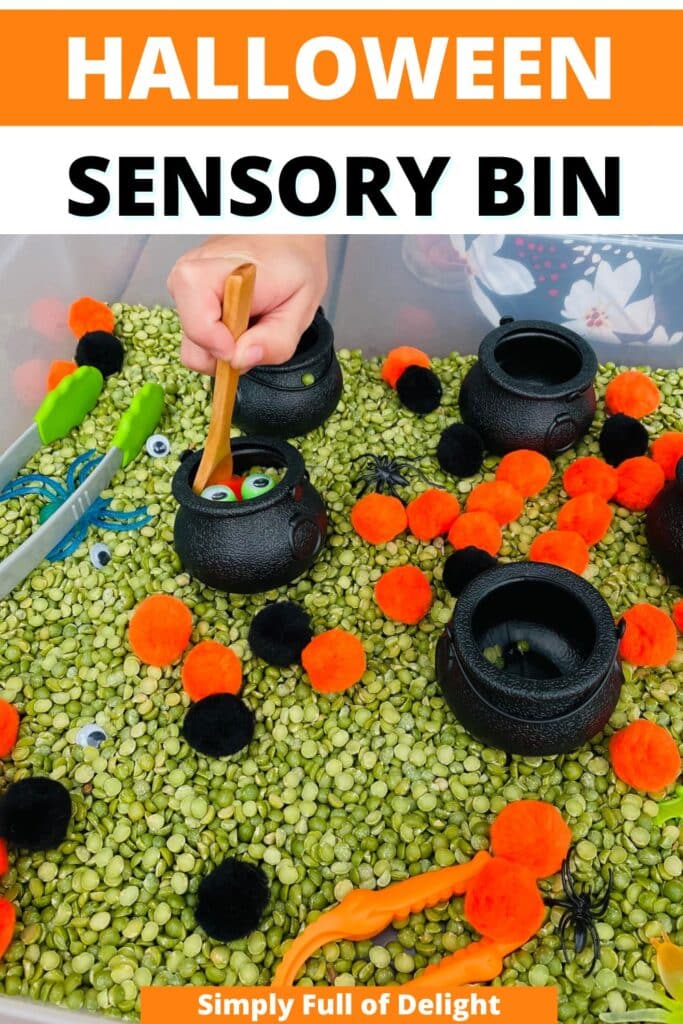 More Halloween Activities for Kids
Getting ready for Halloween?
Here's some fun activities that are perfect for Halloween season!
You can find an Easy Bat Craft here. Kids of all ages will enjoy painting with marbles in this easy craft idea.
There's a free printable Skeleton Craft here. Young children will enjoy decorating the skeleton template with colored sand. What fun!
There's tons of fun Mummy Craft ideas here. So many cute ways to make a Halloween mummy!
Want to save this simple Halloween sensory bin idea for later? Pin the image below to your Halloween preschool activities board on Pinterest.