Looking to make your own Sensory Bin? Here's How to Make Colored Rice for Sensory Play. It's so easy, you literally only need 3 ingredients and a bit of time to let it dry!
First, though, let's talk about why you might want to set up a Sensory Bin.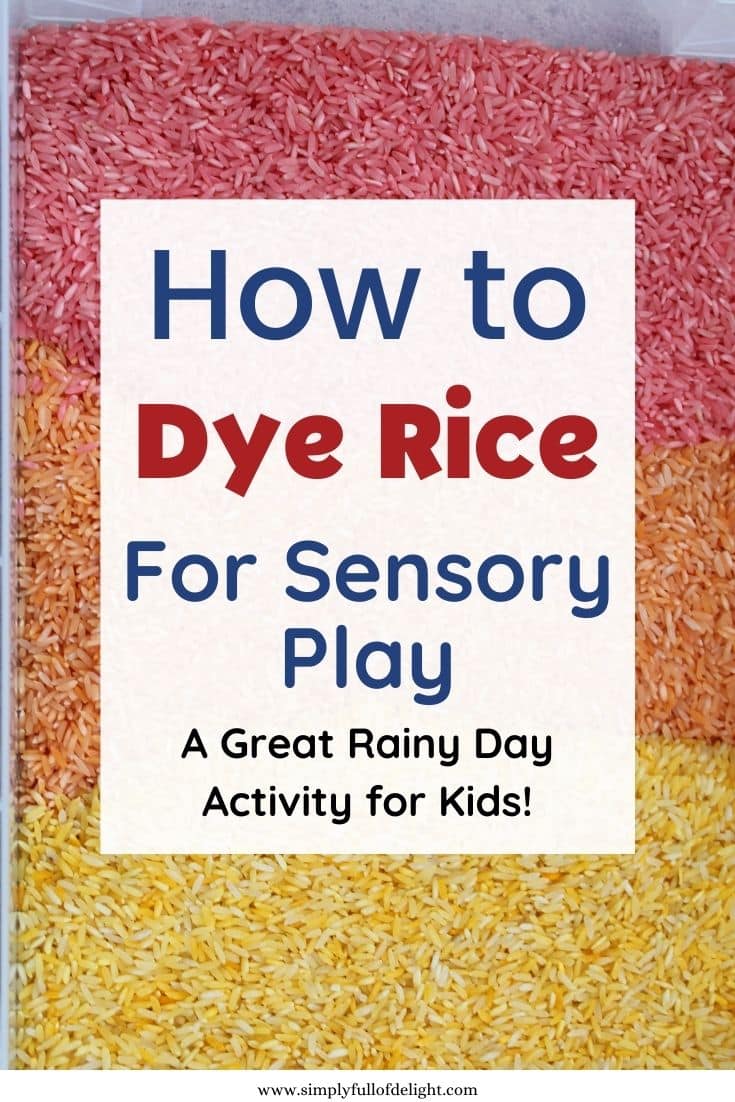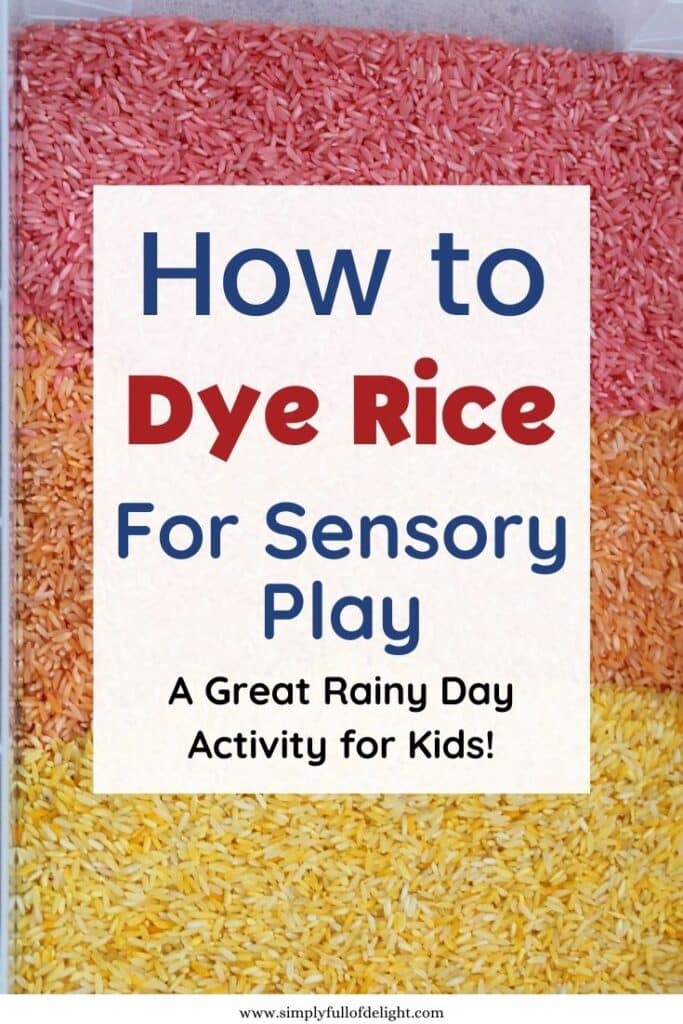 What is a Sensory Bin?
A Sensory Bin is a container filled with items that stimulate the senses and engage the imagination. Sensory bins can help cognitive growth, language development, critical thinking skills, and social skills.
They are great specifically for preschool age children because of their cognitive development, but children of all ages enjoy playing with sensory items!
As a mom of 4, I use sensory bins to keep my children engaged in play on rainy days. My kids play HARD and happily when we do sensory bins.
Here's some of the sensory bins we've made in the past. My son's favorite is the construction theme with beans!
Please note that children who still put things in their mouths should not play with sensory bins that contain small objects. You can still create a sensory bin for your child, but I would suggest using water and large items in the sensory bin instead of a smaller pieces like rice, beans or pasta that might pose a choking hazard.
Alright, we're ready to learn how to make colored rice!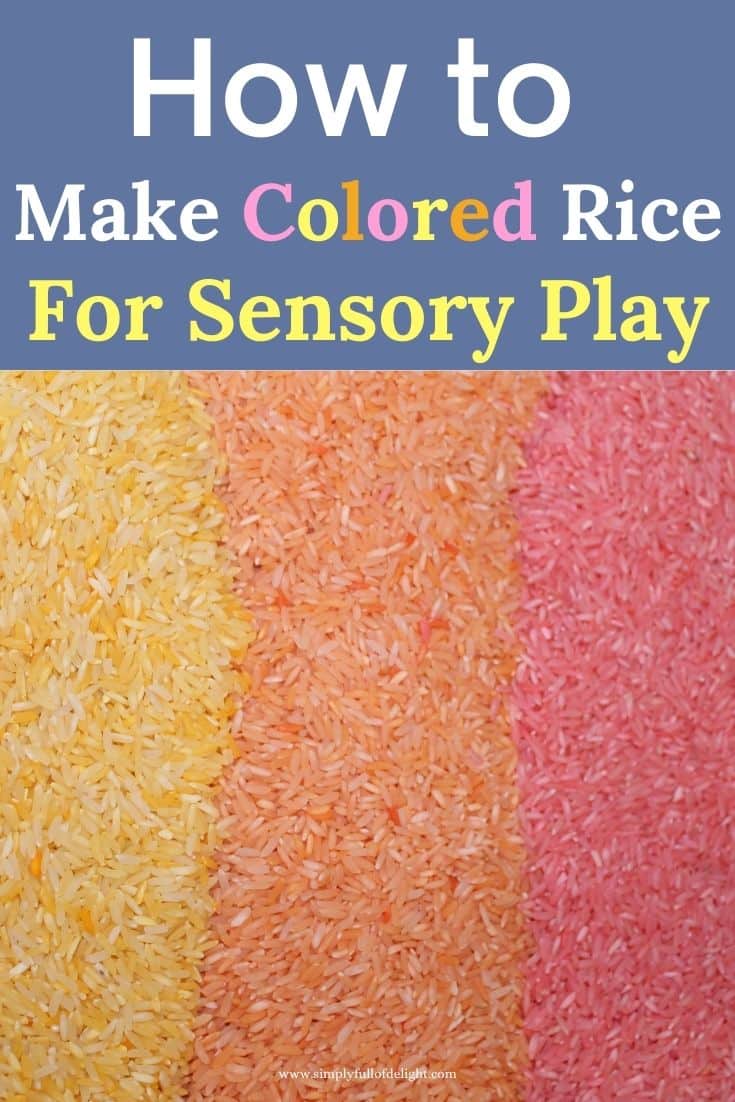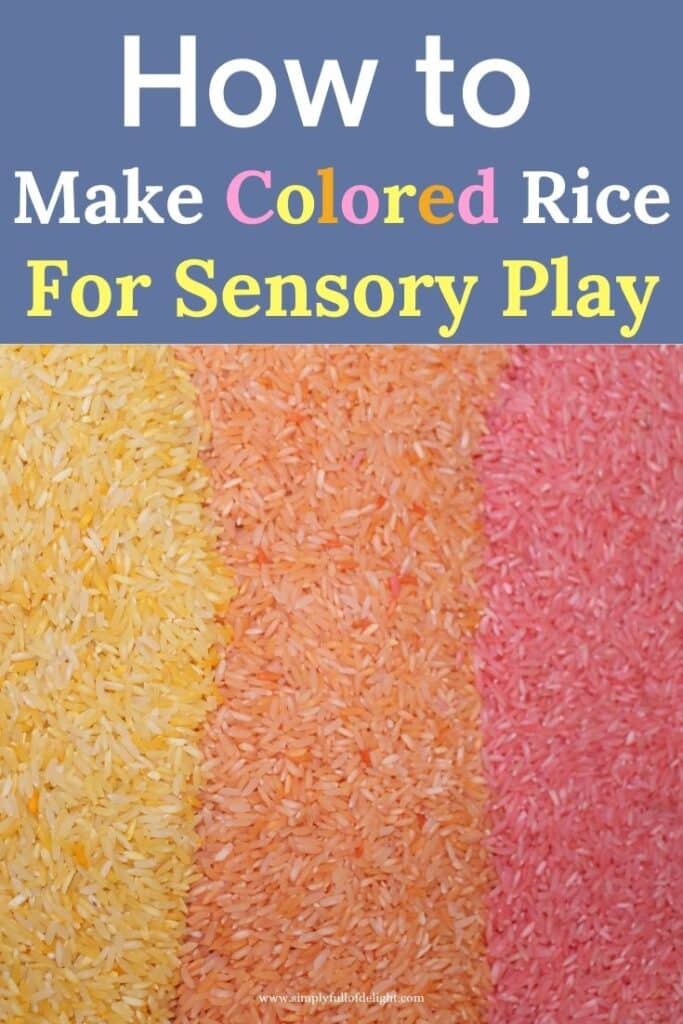 ** Disclaimer: As an Amazon.com Associate, I earn from qualifying purchases made by readers clicking my links at no extra cost to you.
How to Make Colored Rice for Sensory Play
First, you will want to decide on your colors! Rainbow is always fun, but just remember, the kids WILL mix the colors!
I recommend choosing 2-3 colors that go well with your theme. Today, we are making red, orange and yellow rice for a fall sensory bin.
You will need:
White Long Grain Rice
Vinegar
Other Supplies:
You'll need cookie sheets to help the rice dry quickly.
Paper Towels, parchment, or plastic wrap are helpful to protect the cookie sheets from the dye.
Lastly, grab some Gallon Size Ziplock Bags (or a container with a lid). I like to reuse ice cream buckets or cottage cheese containers, depending on how much rice I am making.
Let's start mixing!
First, add 2 cups of rice to your bag/container. Next add 2 teaspoons of vinegar and a few splashes of food coloring. The more coloring you add, the more vibrant your rice will be.
Next, place your paper towel/parchment onto the cookie sheet. Pour your rice onto the sheet in a thin layer and let it dry! It may take a few hours or you can place it outside for a more speedy drying session.
For my project today, I made 2 cups of each color, so my sensory bin has 6 total cups of rice.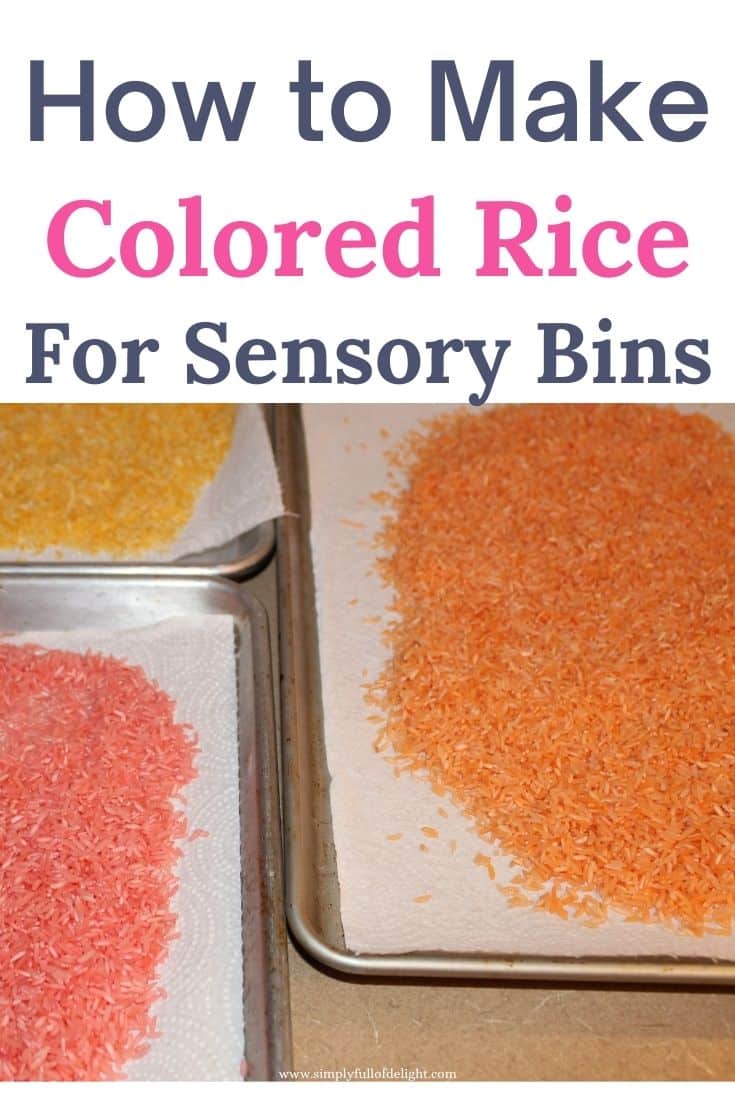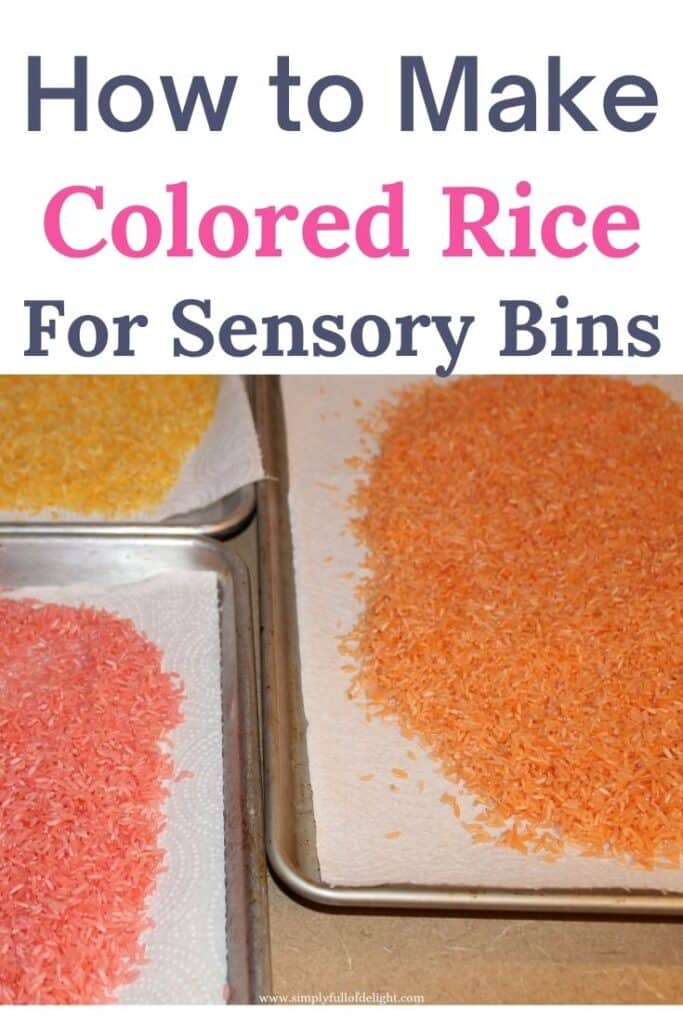 A few notes: You CAN use food coloring gel. Simply mix it with your vinegar before you add it to the rice. It's not quite as easy as liquid food dye, but it is doable.
You'll notice my red isn't as red as it could be. I didn't want to risk the color transferring to my kids' hands, but if you are a risk taker, go for it! LOL
That's it! So simple, right?
Now you are ready to add it to your sensory bin! Add scoops, measuring cups, bowls or toys and allow your child to dig, scoop, mix, and play.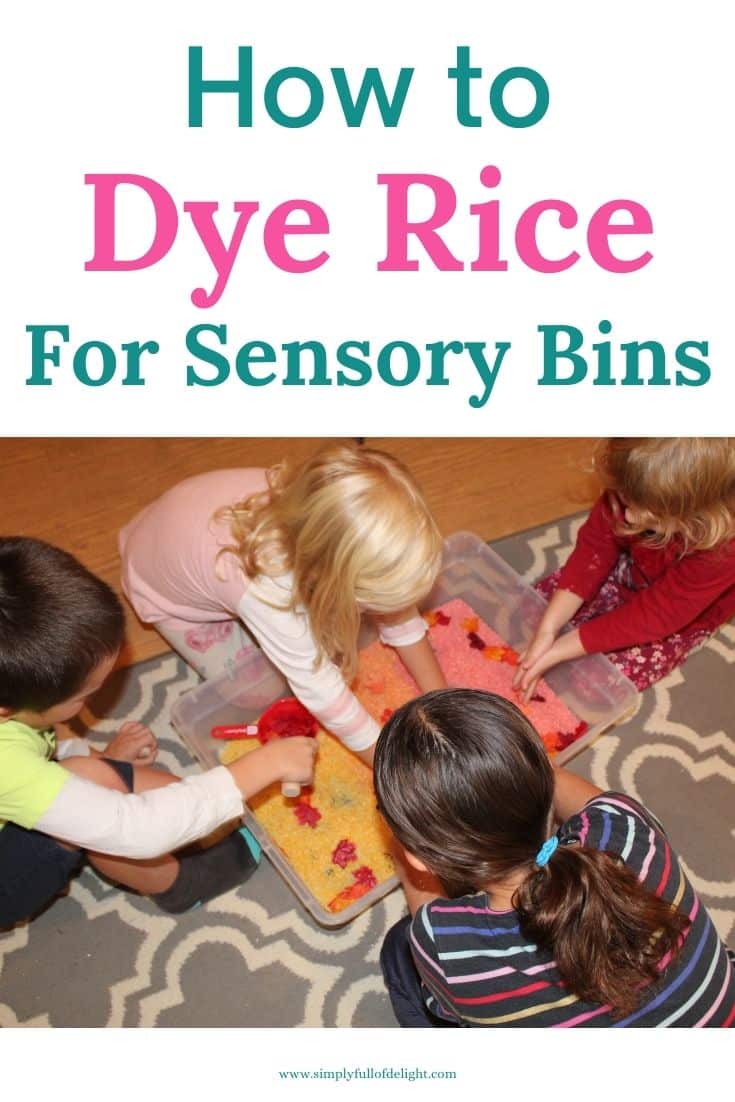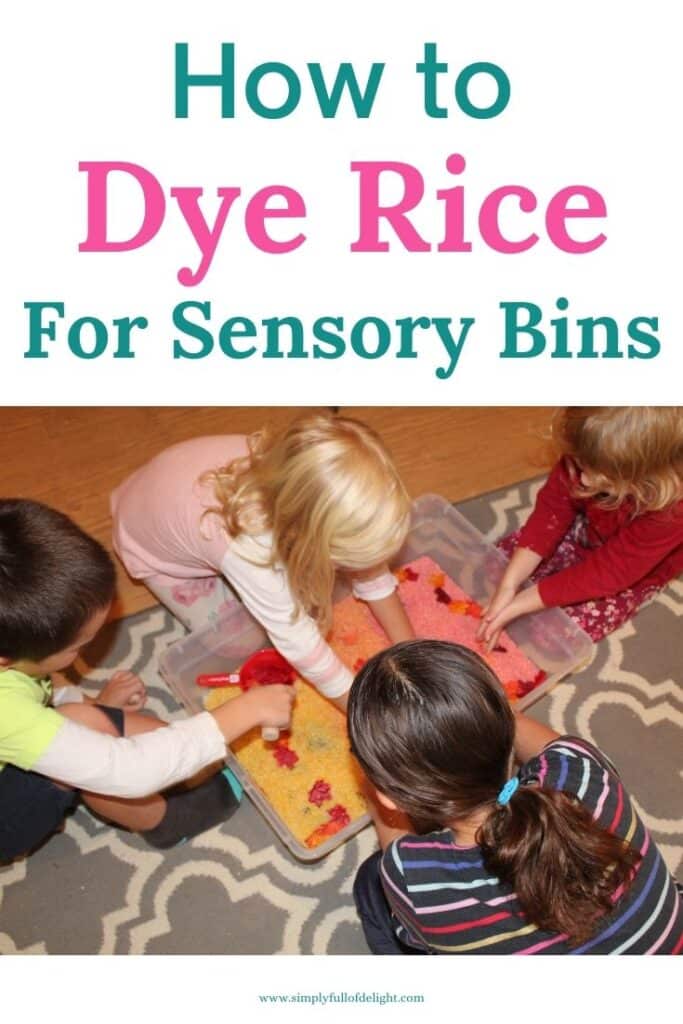 Clean up Tricks for Sensory Play
To make sensory bin clean up a little easier, I have 2 tricks.
One is that I place the sensory bin on top of a blanket, which collects the dropped rice. Then, when the children are done playing, I gather the ends of the blanket and pour the rice back into the container.
Another option is to place the bin on a floor that is easily swept and let the kids sweep up the mess afterwards with a mini broom.
How long does Sensory Bin Rice Last?
Sensory rice can be kept for years! Our family keeps ours in a gallon size Ziploc bag within an ice cream bucket. With rice, I always use 2 layers of protection because it would be a bit of a mess to clean up if the container fell. LOL
That's it friends! I hope this has helped answer How to Dye Rice for Sensory Play. Have fun and remember that this is a perfect rainy day activity. I'm all about screen free fun when we are stuck inside!
Drop me a comment below if you have any questions or remarks.
Other Articles you Might Enjoy:
4 Easy Sensory Bins for Preschoolers in 2020