Looking for some unique paper crafts for kids? Here's 21+ amazing ideas for fun crafts you can make out of paper!
Many of these craft ideas can be made with items you already have around the house. Most of them are quick and easy kids crafts, but there are a few that are a little more complex for the older kids!
These ideas come to you from over 20 different craft blogs! I asked my fellow bloggers for fun paper crafts for kids and boy, did they deliver. I guarantee you will find something amazing to create with your kids!
Here's 21+ Fun Crafts to Make from Paper.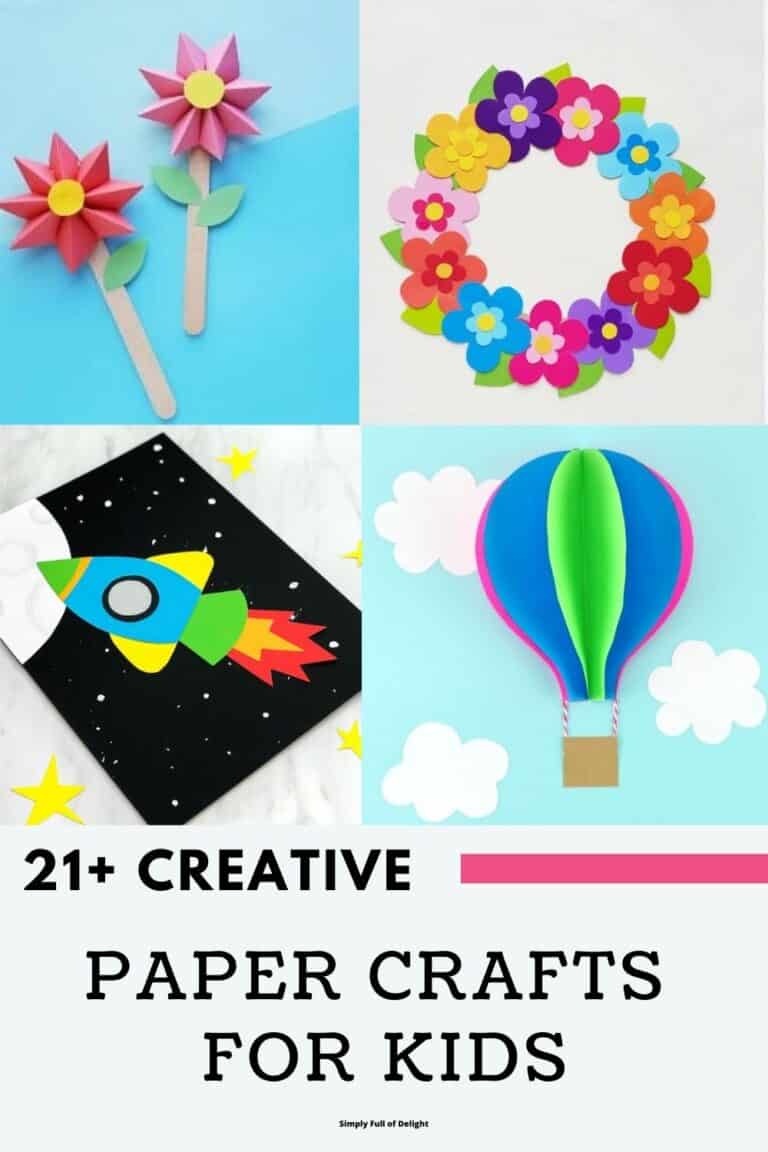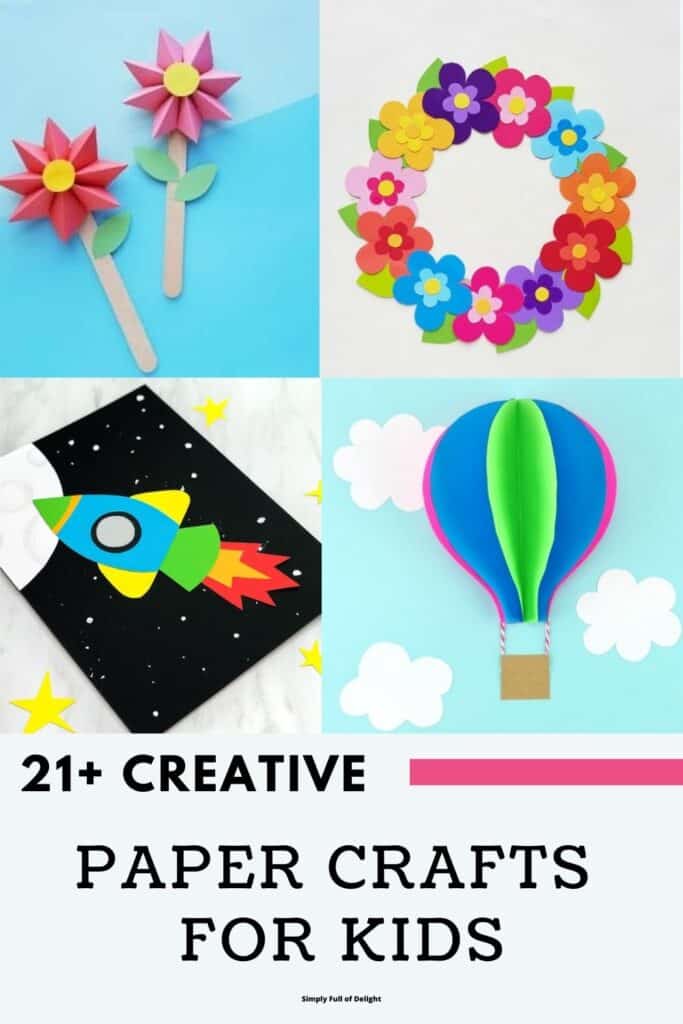 1) Paper Hot Air Balloon Craft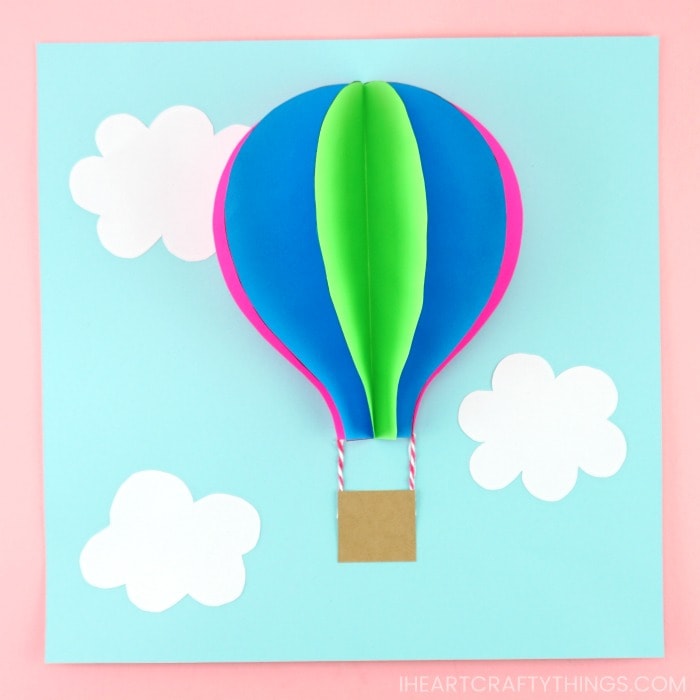 These adorable Paper Hot Air Balloons are by i heart Crafty Things. With the free template provided, you can easily create these amazing 3-D hot air balloons.
2) Simple Paper Craft Rocket
This Rocket Craft is by Simple Everyday Mom! Just a few simple supplies and you are on your way to a fun project that is out of this world!
3) Curled Paper Flower – Easy Kids Crafts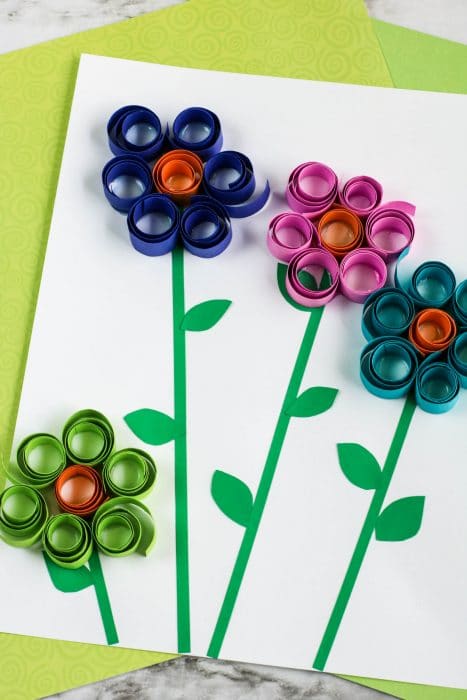 These Curled Paper Flowers are by Mom. Wife. Busy Life. This fun paper craft is perfect for spring and the cool 3-D effect will make it a quick favorite. I love simple paper crafts for kids!
4) Rocketship Craft – Arts and Crafts for kids
This Disney Inspired Rocketship Craft is by Grace, Giggles and Naptime. Have a blast with your kids painting, gluing and creating with this fun rocketship project!
5) Paper Flower Craft
These fantastic Paper Flowers are by Mombrite. With just a few basic supplies, you can create amazing 3-D flowers with your kids! These would be perfect for Mother's Day or celebrating spring!
6) Paper Weaving
This Paper Weaving craft is by Made with Happy. If you've ever wanted to teach your child how to do paper weaving, this amazing step by step tutorial will show you exactly what to do!
7) Paper Flower Wreath
This colorful Paper Flower Wreath is from Ottawa Mommy Club. With the free template to create both the flowers and the wreath circle, this project can be done independently by kids who can trace and cut!
8) Easy Unicorn Mask
This Easy Unicorn Mask craft is by Messy Little Monster. With the free template this craft comes together in a snap! It's sure to be loved by all unicorn fans. What a fun arts and crafts for kids idea!
9) Pig Cootie Catcher Craft
These adorable Pig Cootie Catchers are by Red Ted Art. If you remember making cootie catchers as a kid, you are going to love doing this project with your kids!
10) Paper Kite
These adorable Mary Poppins Inspired Paper Kites are by Desert Chica. Your children will love putting their creativity to work to decorate their kite!
11) Hexaflexagon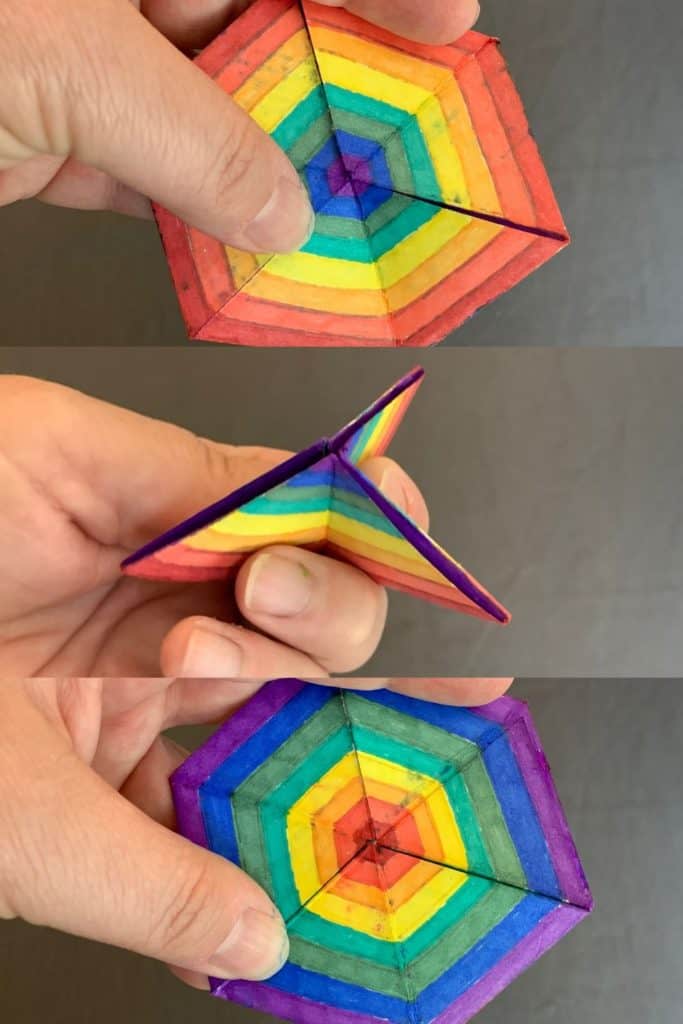 These amazing Hexaflexagons are by Chaotically Yours. Perfect for older kids, these geometric origami shapes fold over and over in the same direction infinitely. Be sure to watch the video to see how amazing these are. What a cool STEM activity!
12) Paper House
This adorable Paper House is by Two Kids and a Coupon. Little ones and older kids alike will enjoy creating these cute little houses. Maybe they will create an entire village!
13) Paper Ants
These self standing Paper Ants are by Simple Living Creative Learning. With the free template provided, these awesome little ants will come together easily! This is the perfect paper craft for younger and older kids!
14) Paper Hexagon Kaleidocycle
This amazing Paper Hexagon Kaleidocycle is by Artsy-Fartsy Mama. Made simple with the free printable template, this fun paper toy craft will be a quick favorite! Little ones may need help assembling, but will love coloring and playing with the finished Kaleidocycle.
15) Paper Picture Frames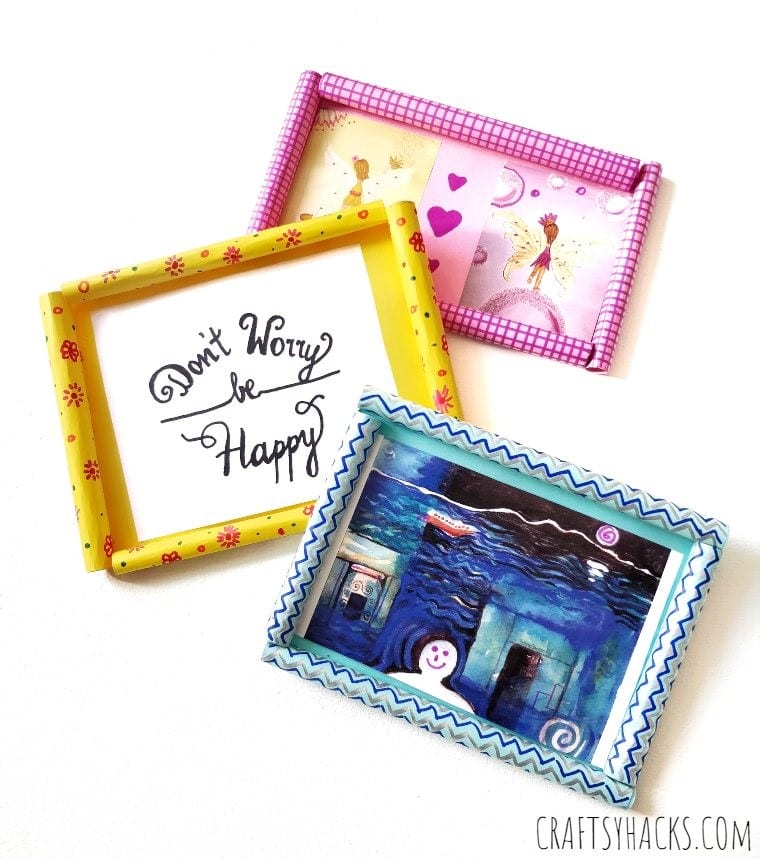 These Paper Picture Frames are from Craftsy Hacks. Perfect for art work or pictures, these 3-D frames are a fun way to display your child's art!
16) Easy Origami Jumping Frog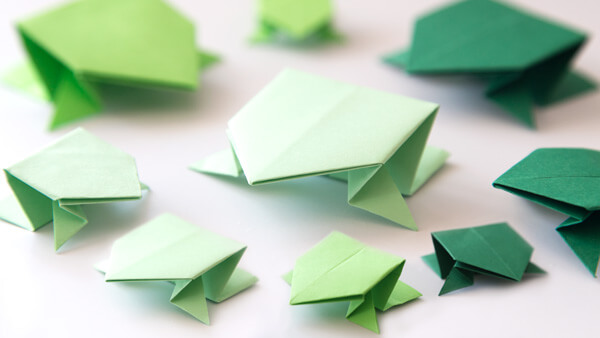 These Easy Origami Jumping Frogs are from The Printables Fairy. Perfect for Origami beginners, these little paper frogs come together quickly and they actually jump. What fun!
17) Paper Flowers
These beautiful DIY Paper Flowers are by The Flying Couponer. With just paper, scissors and glue, your child can create a lovely bouquet of paper flowers. These flowers would be perfect for Mother's Day or celebrating spring!
18) Origami Heart – Paper Crafts for Kids
These fun Origami Hearts are by One Crazy Mom. With just a sheet of paper and the step by step instructions, this simple craft comes together easily!
19) Tissue Paper Flowers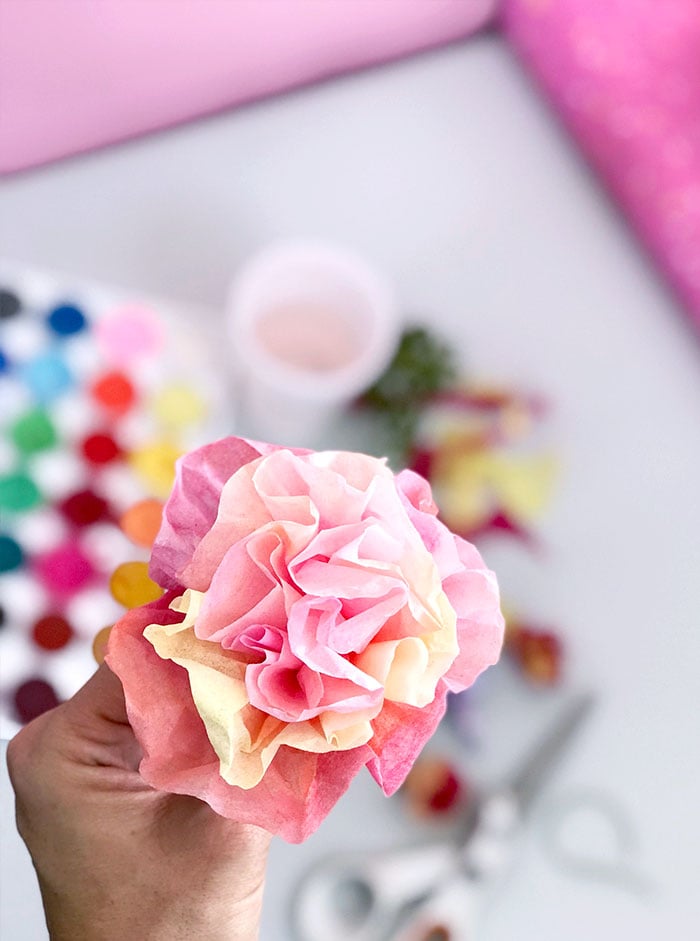 Beautiful and easy to make, these Tissue Paper Flowers by The Country Chic Cottage are great tissue paper crafts for kids! They are so fun and easy, your child will probably want to make a whole bouquet!
20) Coffee Filter Butterfly Craft
This Coffee Filter Butterfly Craft is by Honey & Lime. This is a great craft idea for young kids to celebrate spring or to go along with a book on butterflies! Either way, it's a fun and simple paper craft for kids!
21) Dog Paper Craft for Kids
This adorable Toy Story Inspired Dog Paper Craft by Seasonal Memories will delight your child! With a little help, your child can create this fun paper dog and then of course, play with it. What a great craft!
22) Cactus – Easy Paper Crafts for Kids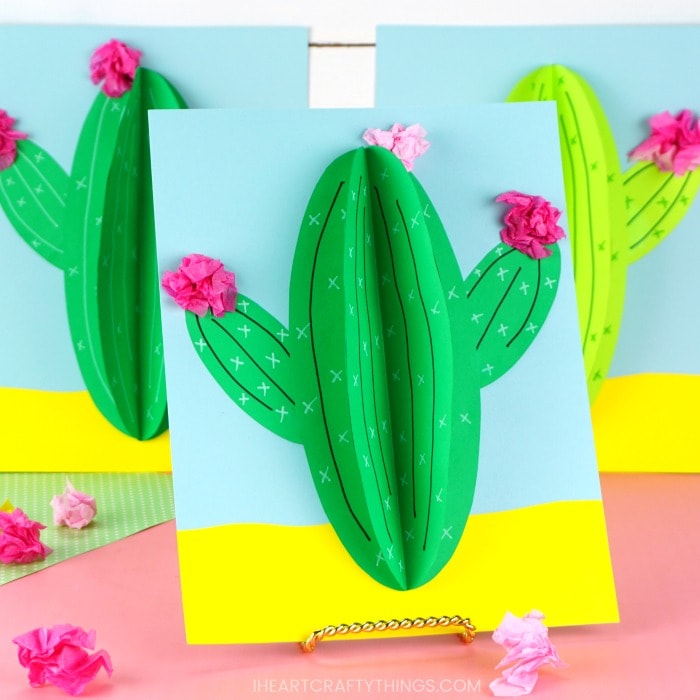 This beautiful Paper Cactus Craft is by i heart Crafty Things. There's a free template to help even the smallest crafters create the perfect cactus!
That's it! 21+ Paper Crafts for Kids! I hope you've found some fun ideas to do with your children.
I will be adding to this post from time to time, so be sure to check back for more amazing paper craft ideas! You can find more Kid Activities here.
Related Posts