Today we're talking about Painting with Balls. If you are looking for a fun Preschool Art and Science Idea, this Ball painting activity is guaranteed to be a hit!
You might have noticed, there's quite a handful of marble painting activities already on my blog. My kids absolutely adore marble painting!
This raised the question…what other fun balls could we paint with? It turns out, there's a LOT of options!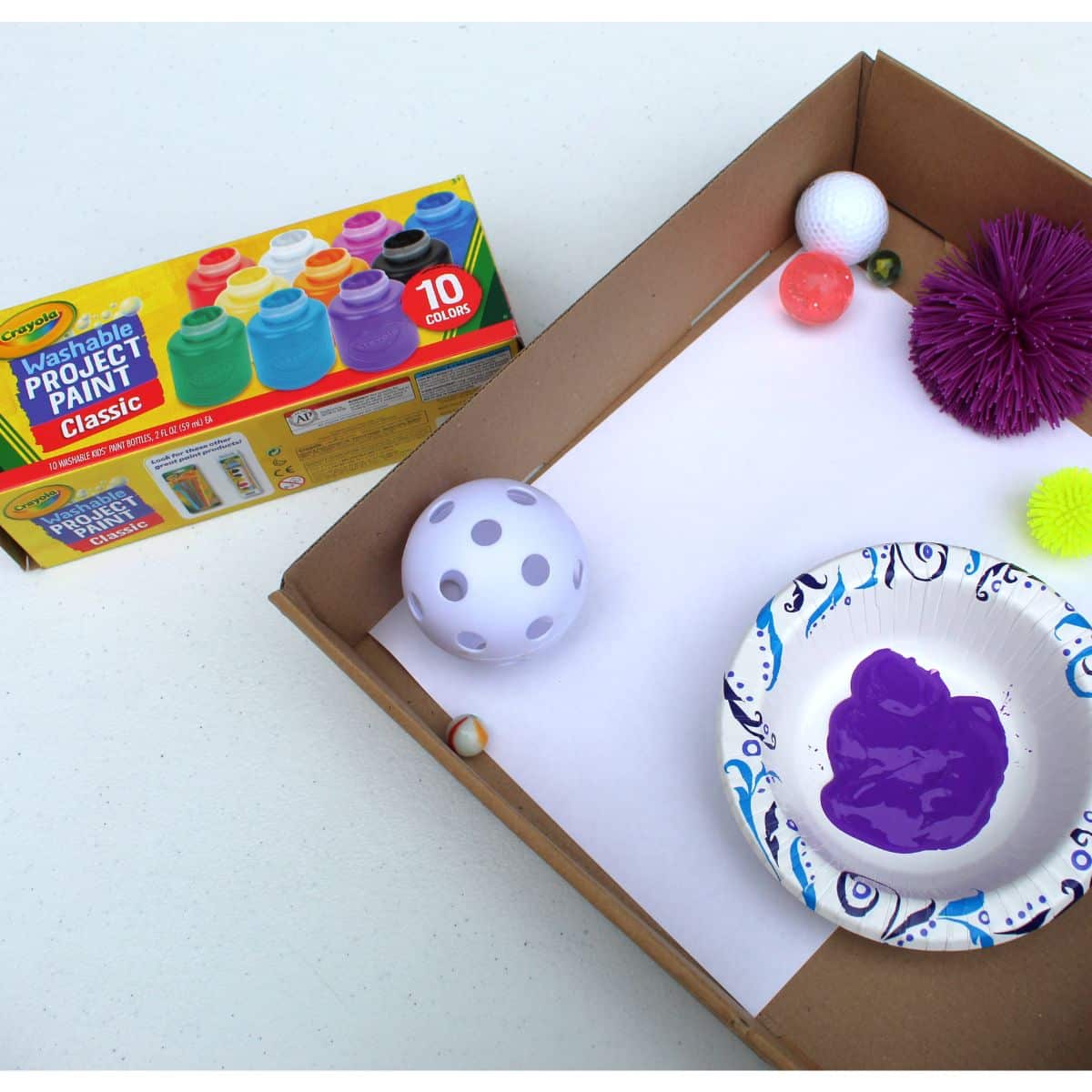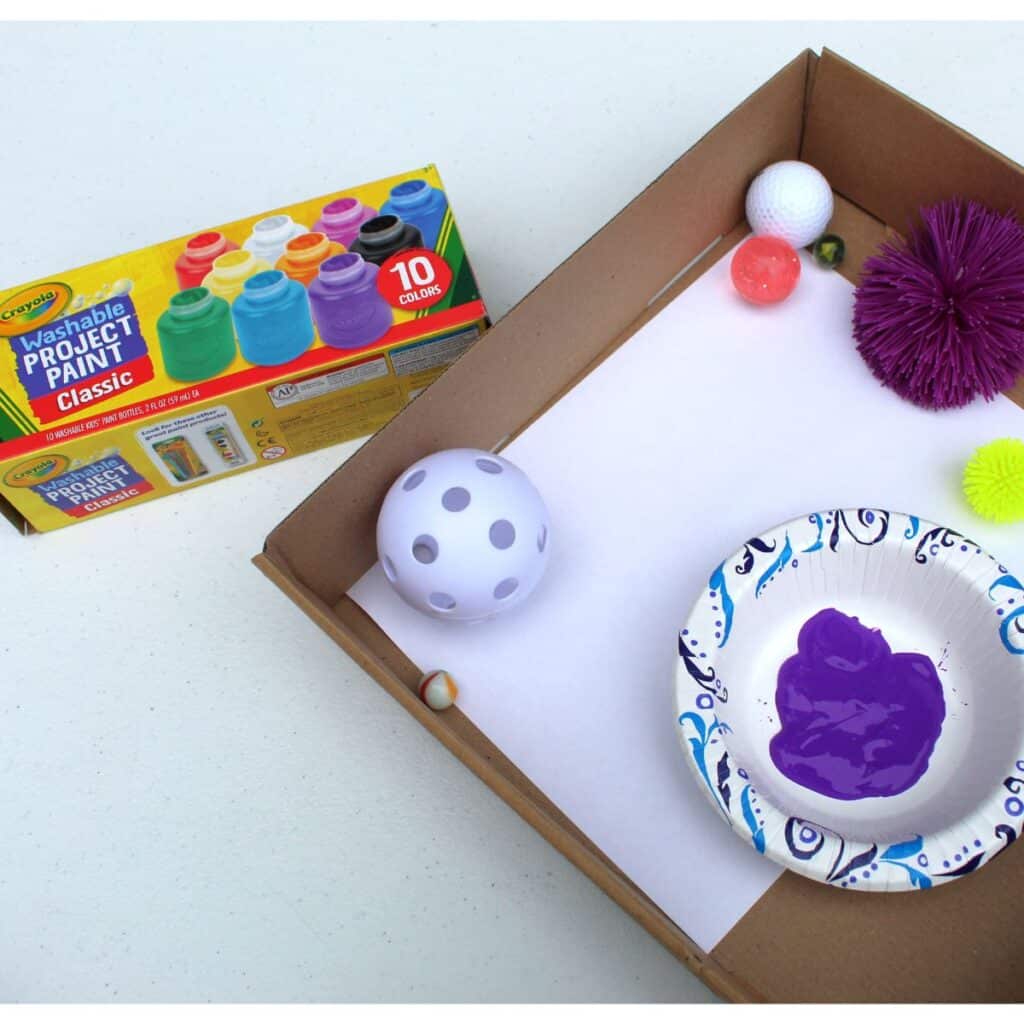 But first….
What are the Benefits of Painting with Balls?
According to Science World there's several benefits for painting with balls for preschoolers including:
practicing hand-eye coordination
developing observation skills
expressing their creativity
In addition, Scholastic says that ball painting activities help kids with:
fine-motor skills
gross-motor skills
discovering colors can combine to make new colors
Nice, right!?
Before we "bounce" into the activity, I want to introduce my eager assistant who REALLY enjoyed his part in this article…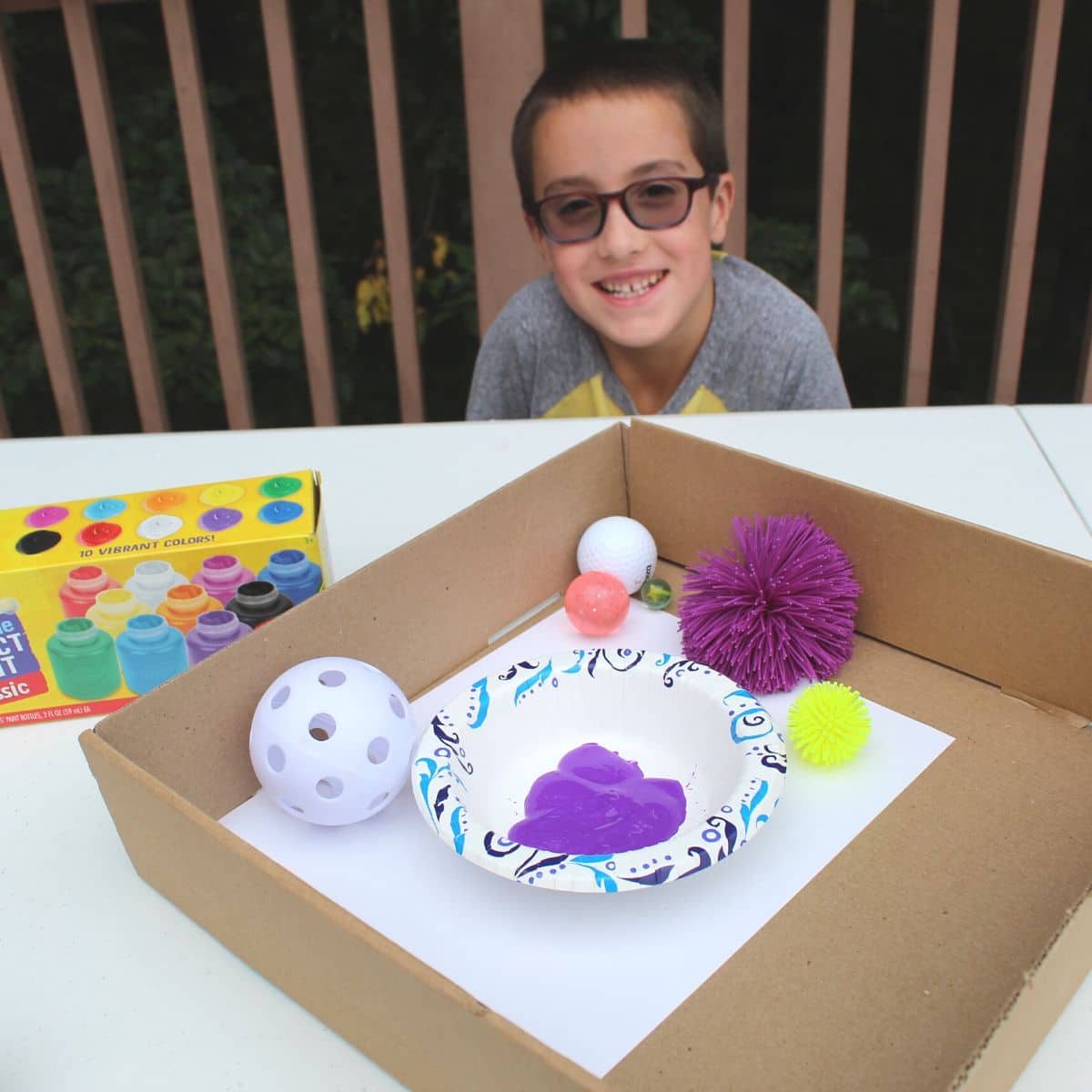 My son had some serious fun! (That's right….he had a ball!)
Alright! Let's dive into the activity. Here's some fun ways to paint with balls!
** Disclaimer: As an Etsy associate and as an Amazon.com Associate, I may earn from qualifying purchases made by readers clicking my affiliate links at no extra cost to you.
1) Marble Painting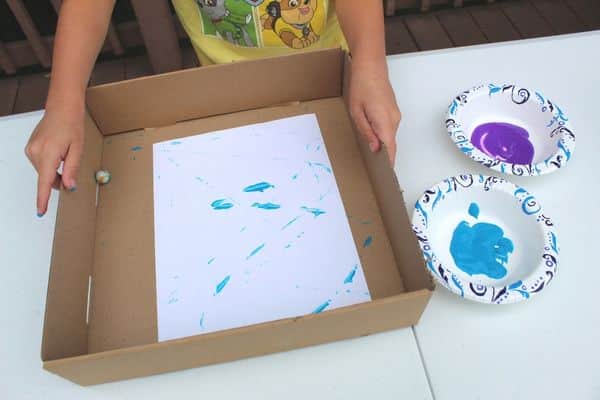 As I mentioned before, the painting balls activity we do most often is marble painting. I love the way the marble moves across the page and leaves fine line trail marks. It makes preschool art look so fancy and beautiful.
To do marble painting, all you need is a marble, a box that is big enough to hold your paper, but small enough to be manipulated easily by a child.
My favorite kind of box is the ones you can get at the store from the canned foods section. They have short sides and are small enough that kids can handle them easily.
(You can also cut a shipping box down to size!)
To marble paint, simply dip your marble into paint, then drop it into a box with paper inside. Let your child move the box from side to side creating paint trail marks on the paper.
Here's a bat marble paint craft we did for Halloween.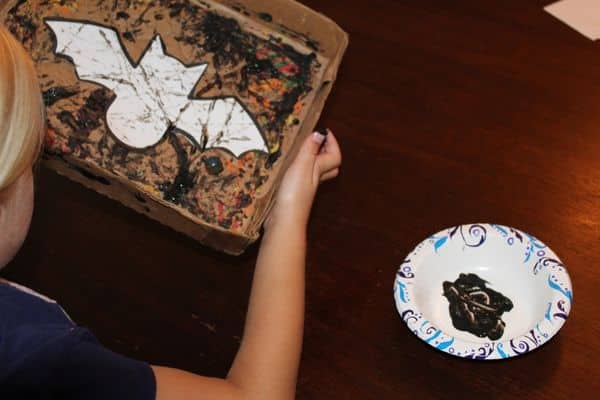 So easy and fun! You can check out our Marble Painting Bat Craft tutorial here.
2) Golf Ball Painting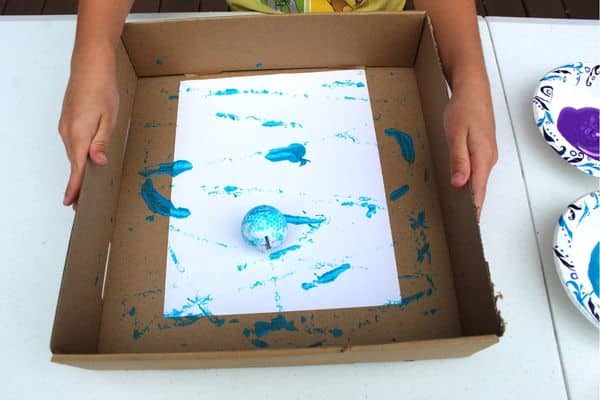 For painting with golf balls, simply substitute a golf ball for the marble. Dip the golf ball in paint and drop it in the box to roll across your paper.
This is a great opportunity to have kids make predictions. Ask questions like….will the golf balls move faster or slower than the marble did? Will the paint trail marks be bigger or smaller?
Then, of course, test it out! What a fun way to introduce basic scientific reasoning.
3) Wiffle Ball Painting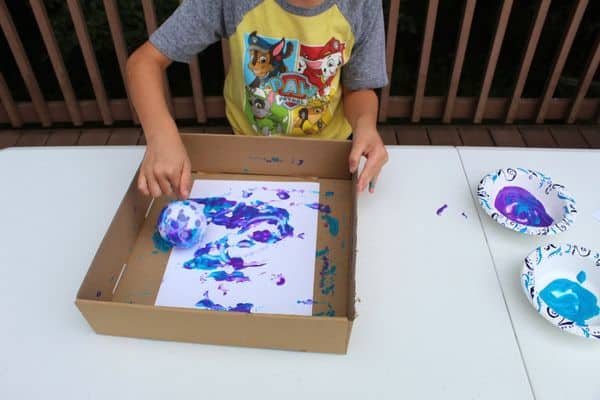 Wiffle ball painting gives kids the opportunity to try a few techniques.
One is simply stamping the ball onto the page to see what happens.
Of course they can try rolling it in a box (like marble painting) as well.
Ask questions like: Are the trail marks bigger or smaller than the marble ones?
Another idea is to simply use the wiffle ball any way they like, such as rubbing it across the page or making strokes as though they were writing.
4) Spike ball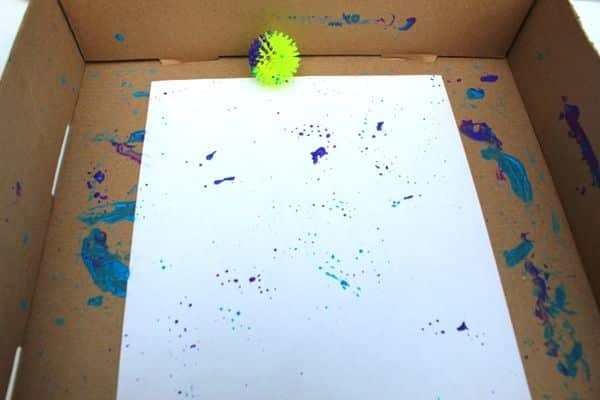 The Spike Ball moves differently than the other balls making it's own little pin point trail marks. Little ones might enjoy trying to paint the spiky ball (with a paint brush) before they send it rolling across the page.
My son simply dipped it in the paint bowl and sent it rolling across the page!
You might like to ask questions like: Will the spiky ball move faster or slower than the marble? Why?
After they make their predictions….find out if they are correct!
5) Painting with 2 Balls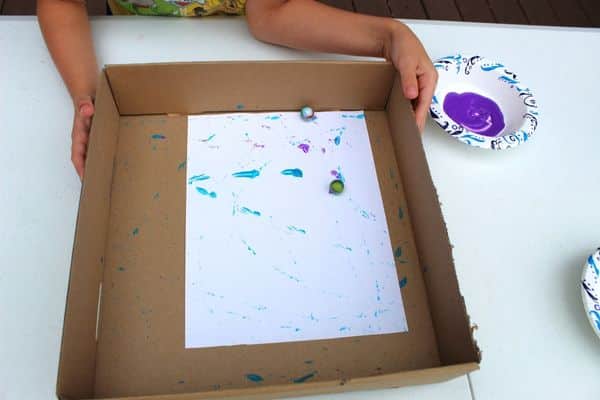 Adding a 2nd ball into the box adds both excitement and a bit more to handle.
We used 2 marbles, but this is also a great opportunity to use 2 different sized balls.
Painting with two balls is a great way for kids to see first hand which ball moves faster.
Continue to ask questions like: Will the spiky ball move faster than the marble? Will the wiffle ball move faster or slower than the spiky ball?
6) Use a Ramp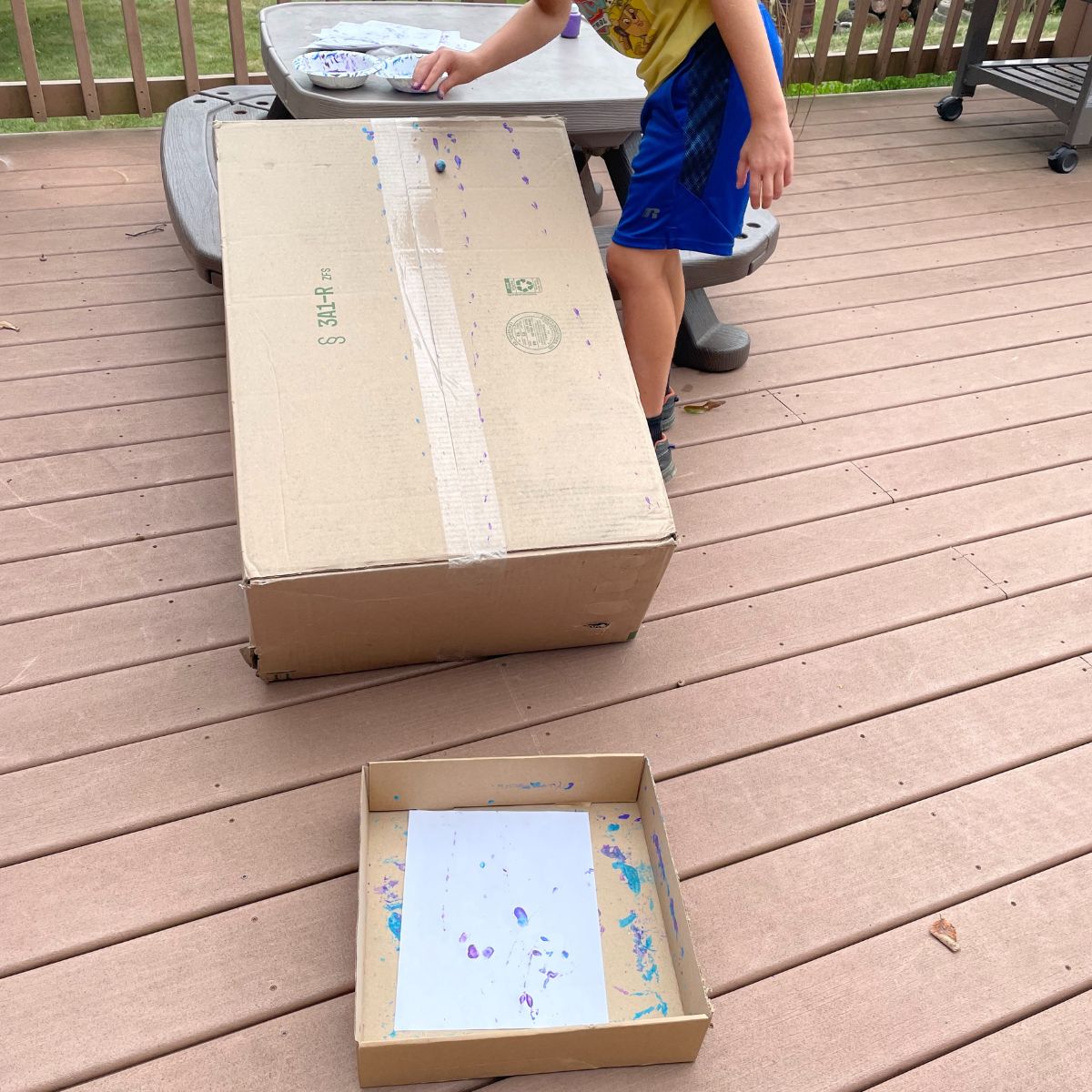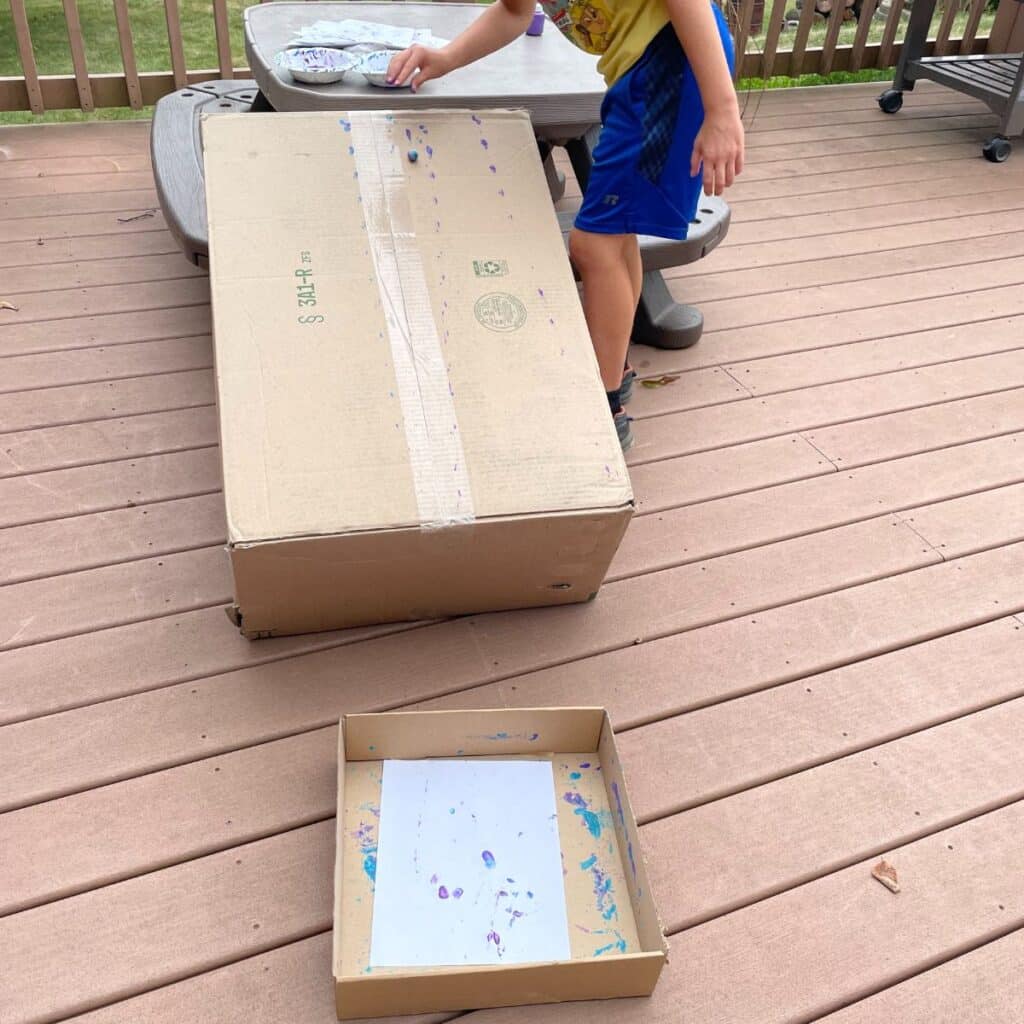 If you have a smaller group of kids, it can be fun to try a ramp! To do this, I recommend going outdoors.
Set up a simple ramp made of cardboard that drops either onto a large sheet of paper or into a large box with paper inside.
You'll want a stiff piece of cardboard that doesn't easily buckle for your ramp. We also noticed the bouncy ball was not well suited for this activity. (Ha!)
Kids will enjoy sending the various types of balls down the ramp to test speed!
Ask questions like: Will the marble go faster than the wiffle ball?
My son loved this one and continued to play and play…..
7) Cardboard Tube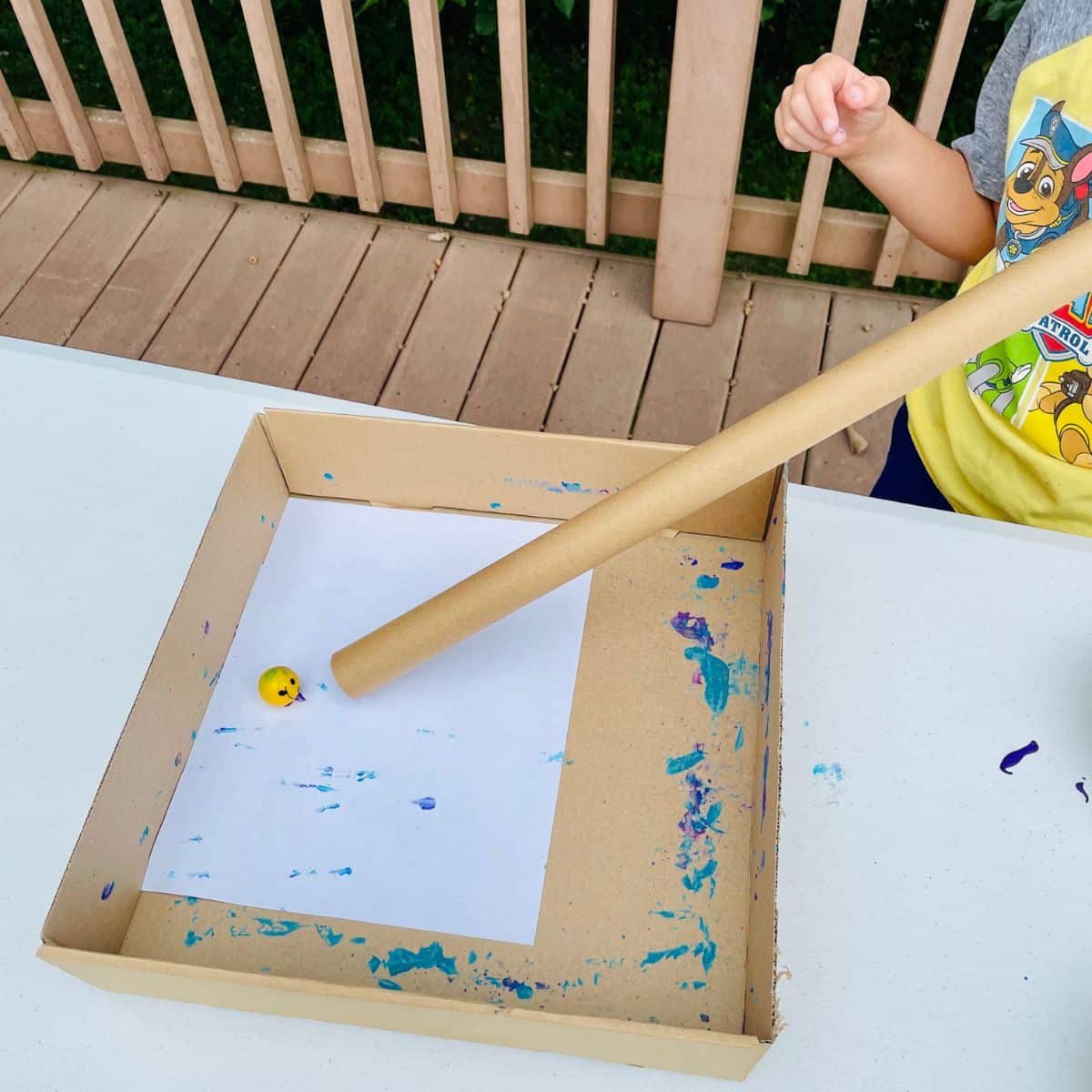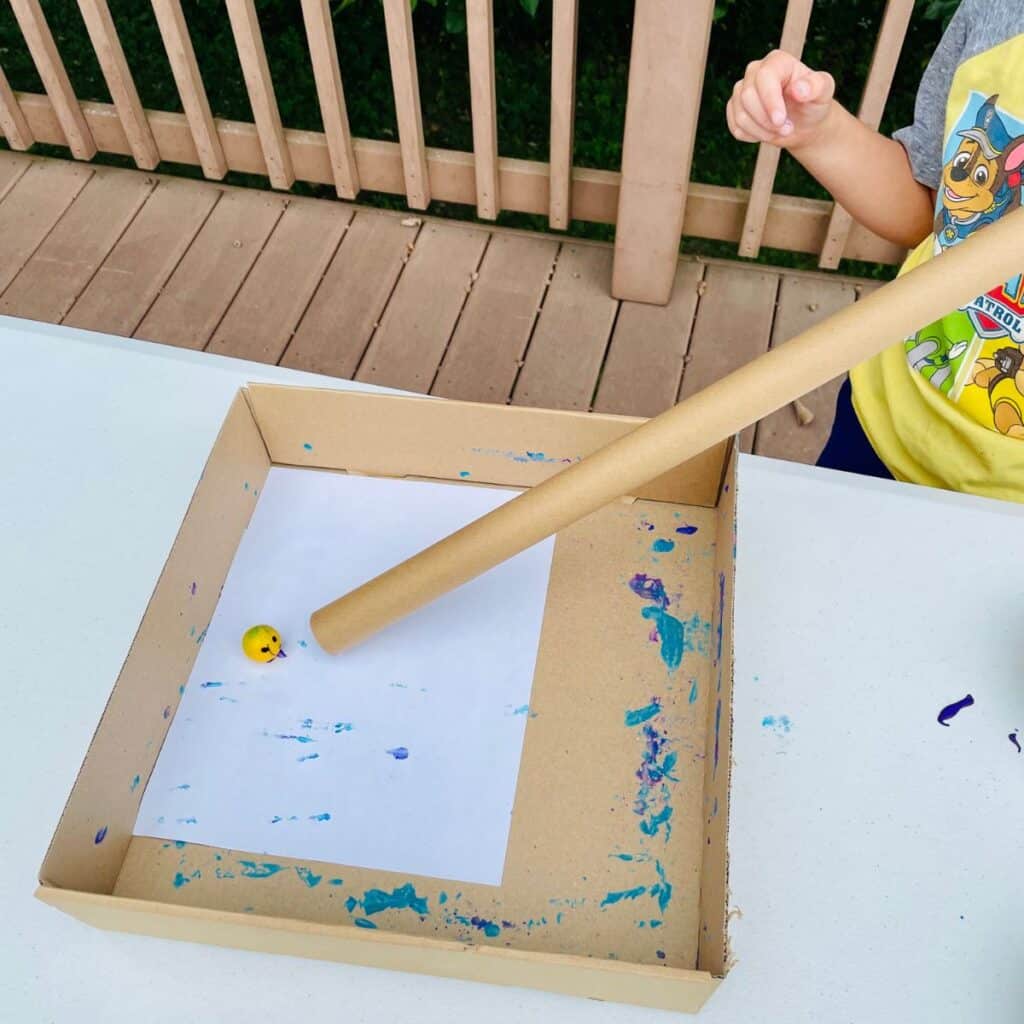 Another fun way to send your marbles rolling is through a cardboard tube (like from a wrapping paper roll).
This one was another hit with my son! He loved seeing the ball roll out the other side.
8) Bouncy Ball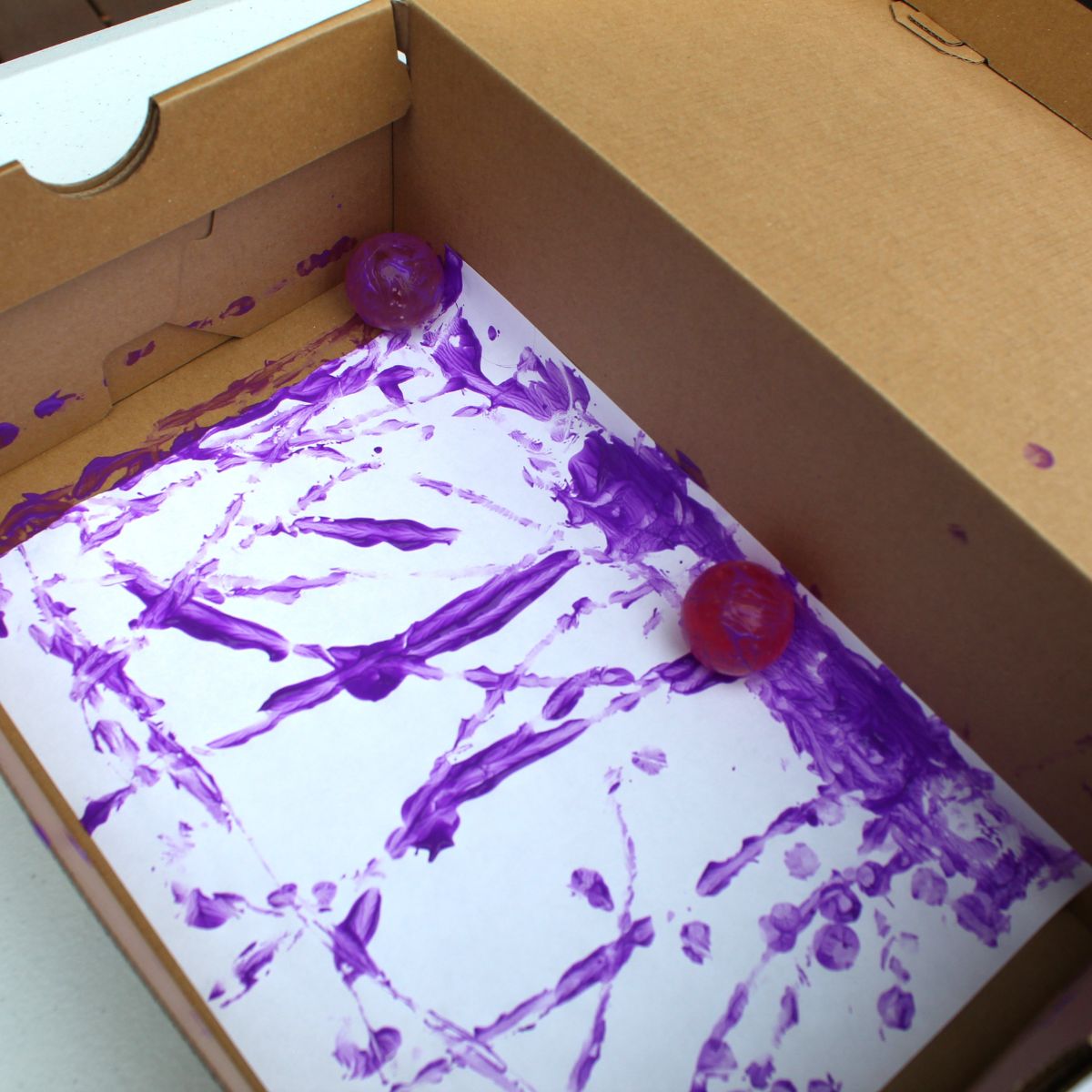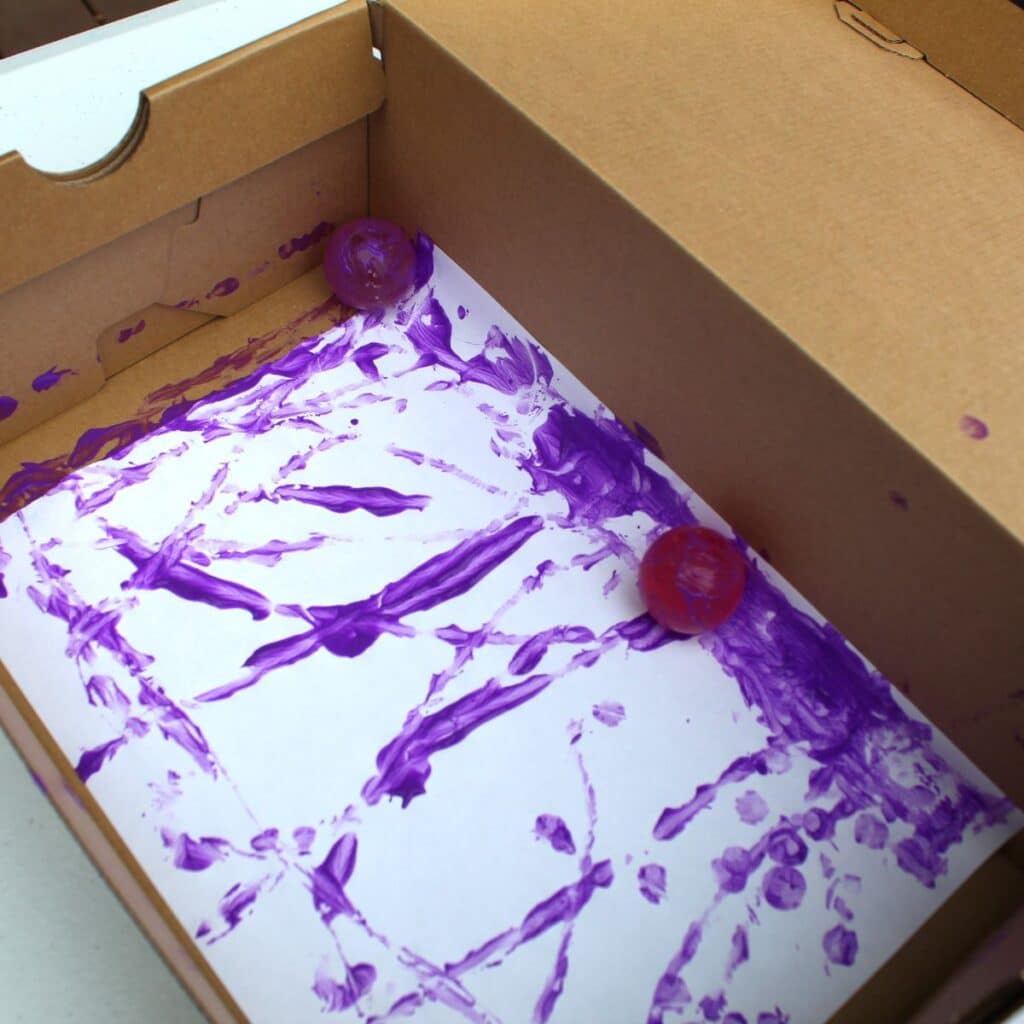 Another fun way to paint with balls is to use a Bouncy Ball. It can use used in place of a marble for marble painting.
Or you can try this:
Place your paper in a shoe box with a lid. Dip your bouncy ball into paint and place it inside the box.
With the lid secure, shake the box. Check out the cool patterns the ball made on your page.
9) Koosh Ball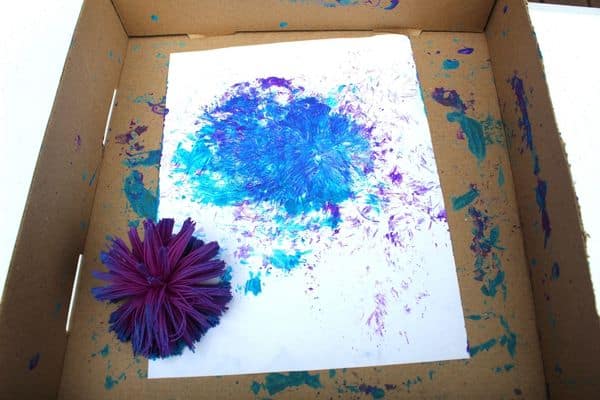 The Koosh Ball is a fun painting ball activity with a totally different outcome. Kids will love the cool patterns this crazy string ball creates.
My son enjoyed splattering the page with it. (It totally looked like fireworks!)
Then he mushed it and rolled it across the page. So many cool ways to paint with this ball. We will definitely be doing this one again for 4th of July or New Year's for a fireworks craft!
10) More Ideas for Ball Painting
There are a ton of fun ideas for ball painting. The ones listed above are just a few!
You can try using a variety of different types of balls. Consider using a dryer ball, tennis balls, or small playground balls. You can even try cotton balls.
There's cool sensory balls with different textures available. You can find a variety of balls on Amazon.
No matter what direction you choose, it's sure to be lots of fun! There's so many different ways to do this art activity for young kids.
Painting with Balls Video
Want to watch our painting with balls activity in action? Here's a quick video!
Can you tell we had a lot of fun?!
The Best Paint for Younger Children
I like to use Crayola Washable Project Paint for our ball painting. The colors are vibrant, it's washable, and it sticks nicely to the marble without being too runny.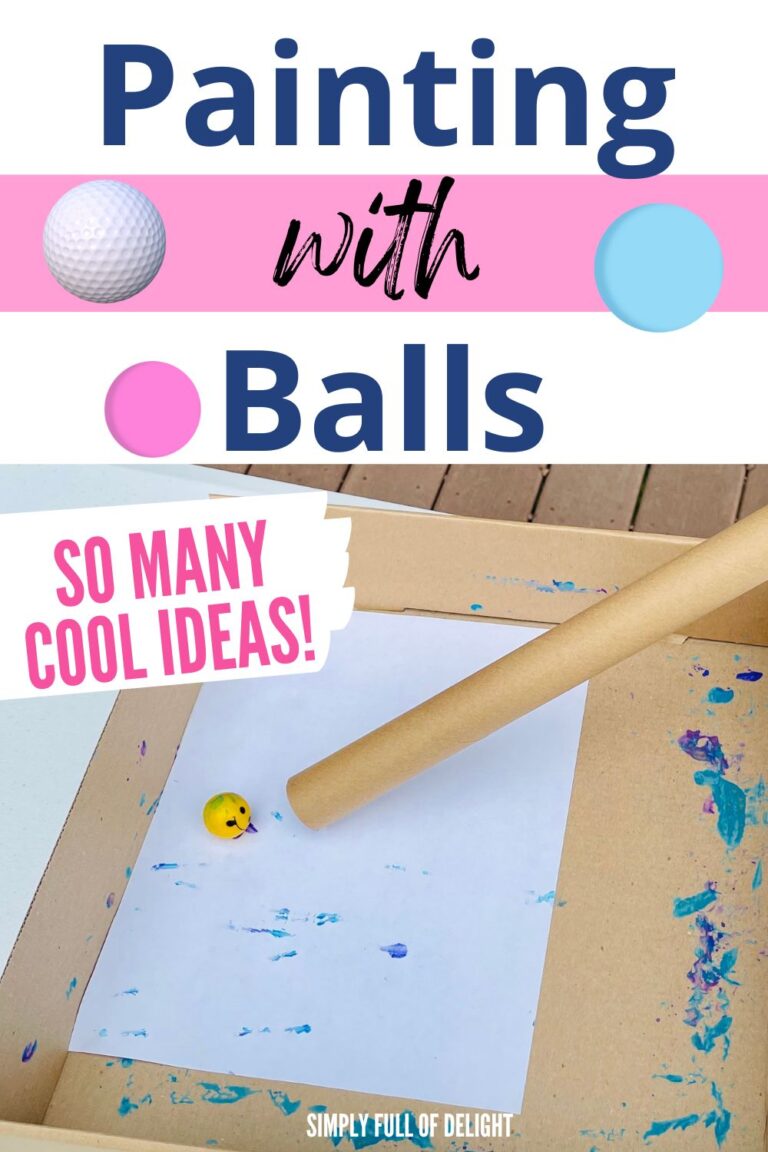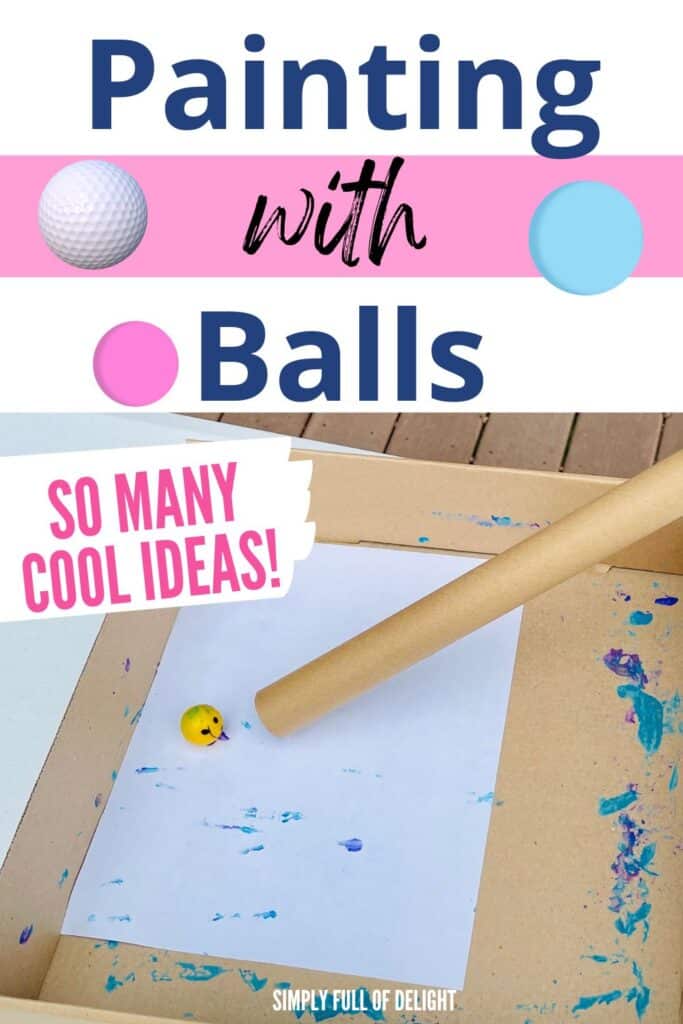 But basically, you can use any kind of washable tempera paint. You can pick cool colors for your seasonal project or let kids use their favorite color.
I usually have my kids dip the marble into a paint dish or bowl, but you could also squirt blobs of paint onto the piece of paper in the cardboard box and then add the ball.
Whichever way you do it, it's an easy activity and a lot of fun!
Free Templates for Painting with Balls
Ball painting often can be more of a process art project, but I love using it to create fun seasonal crafts as well.
If you'd like to have some free printable craft templates that are perfect for ball painting, check out these articles!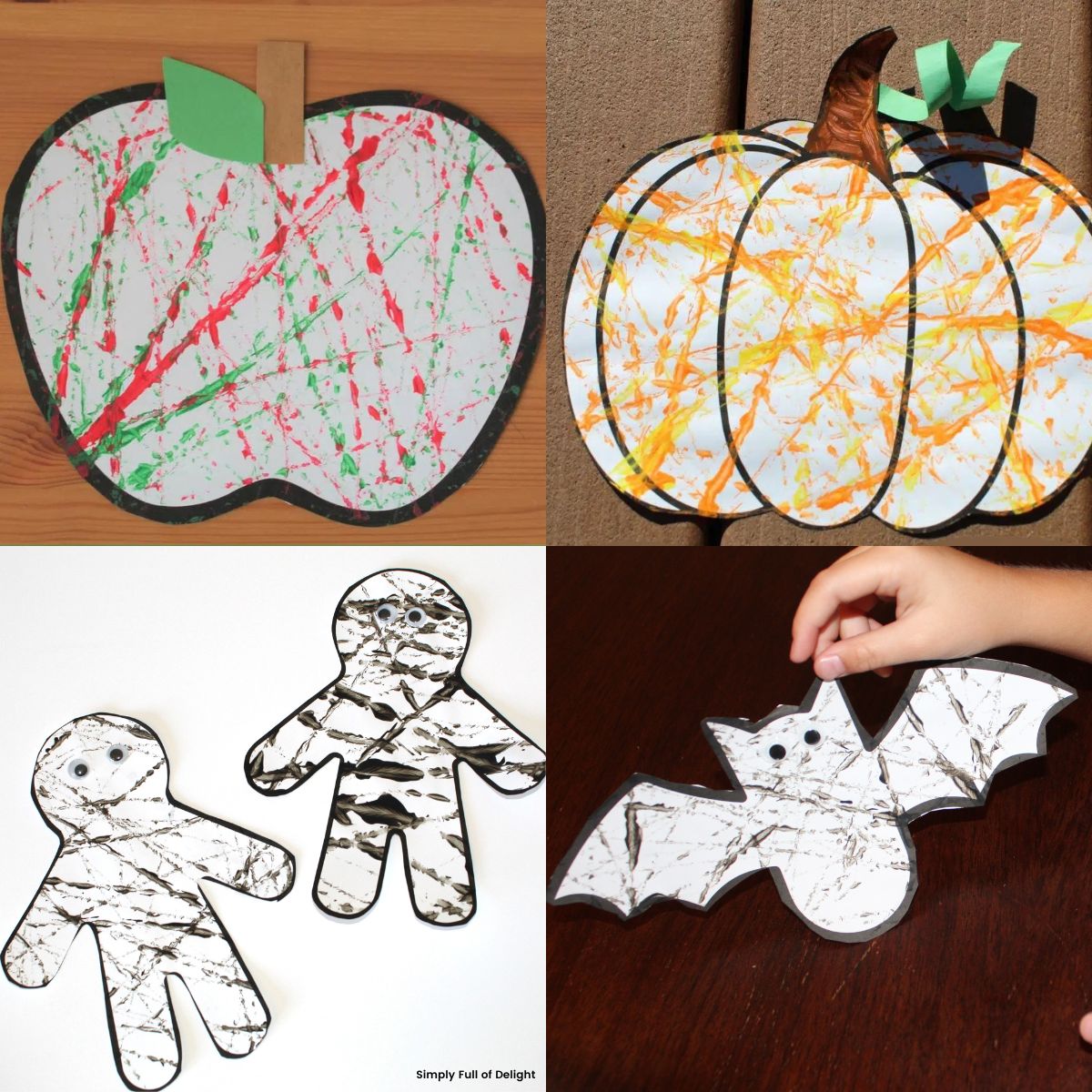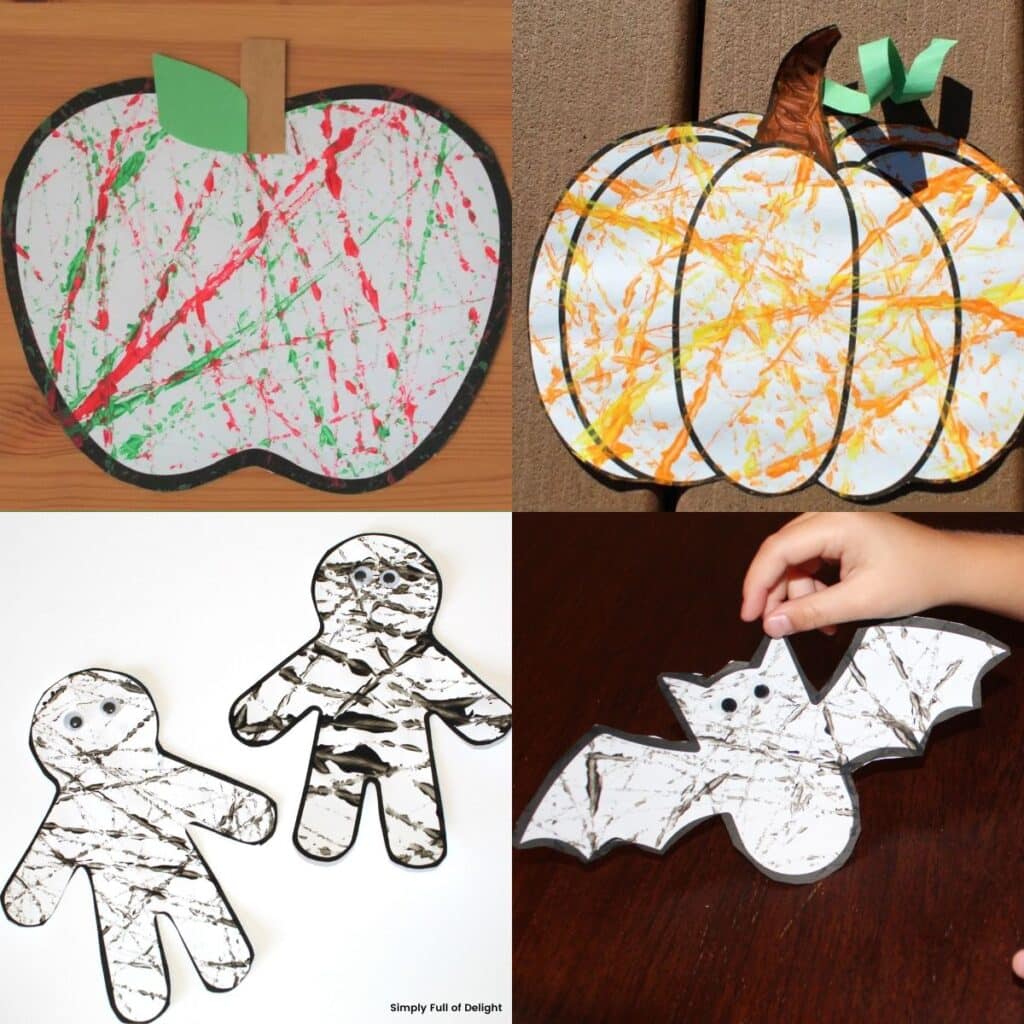 Pumpkin Marble Painting
This Pumpkin Marble Paint craft is a fun way to incorporate the fun of ball painting with a preschool fall craft. Get a free pumpkin template to make it super easy.
Apple Marble Paint Craft
Try this Marble Paint Apple craft idea during apple picking season or for the letter A. There's a free printable apple shape available.
Bat Marble Paint Craft
This Marble Paint Bat is perfect for Halloween or for the letter B. Grab the free bat template and enjoy some ball painting fun!
Marble Paint Mummy Craft
Grab the free mummy template to create this one of a kind Marble Paint Mummy craft. What a cute idea for Halloween!
Alright! I hope you've found some amazing ideas for painting with balls. Drop a comment below and let me know which ones you plan to try!