Planning a preschool farm theme or have a tractor loving kid? This Preschool Tractor Craft is so easy with the free printable.
Kids will have so much fun creating their very own paper tractor with moveable wheels! It's a simple craft with the free printable tractor template.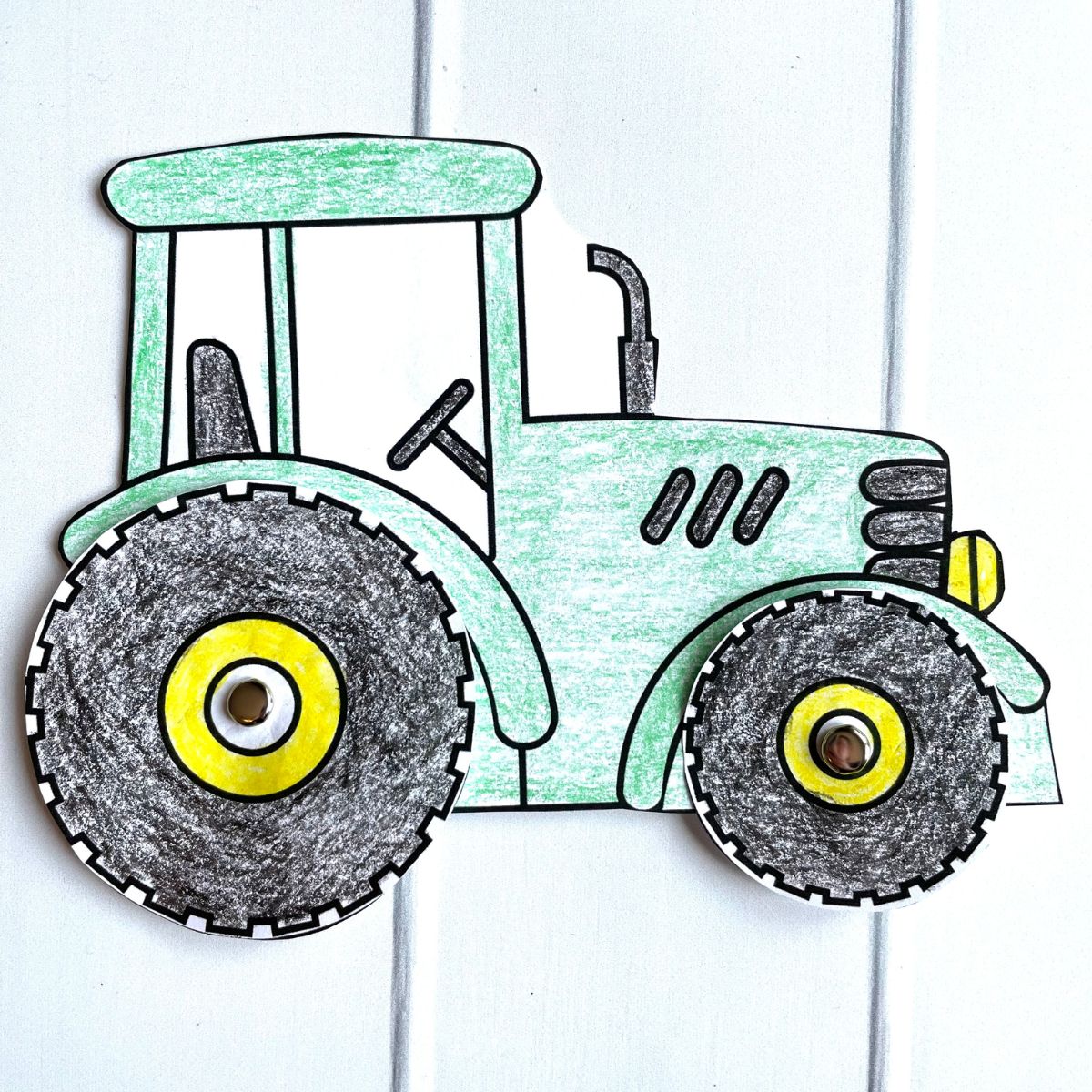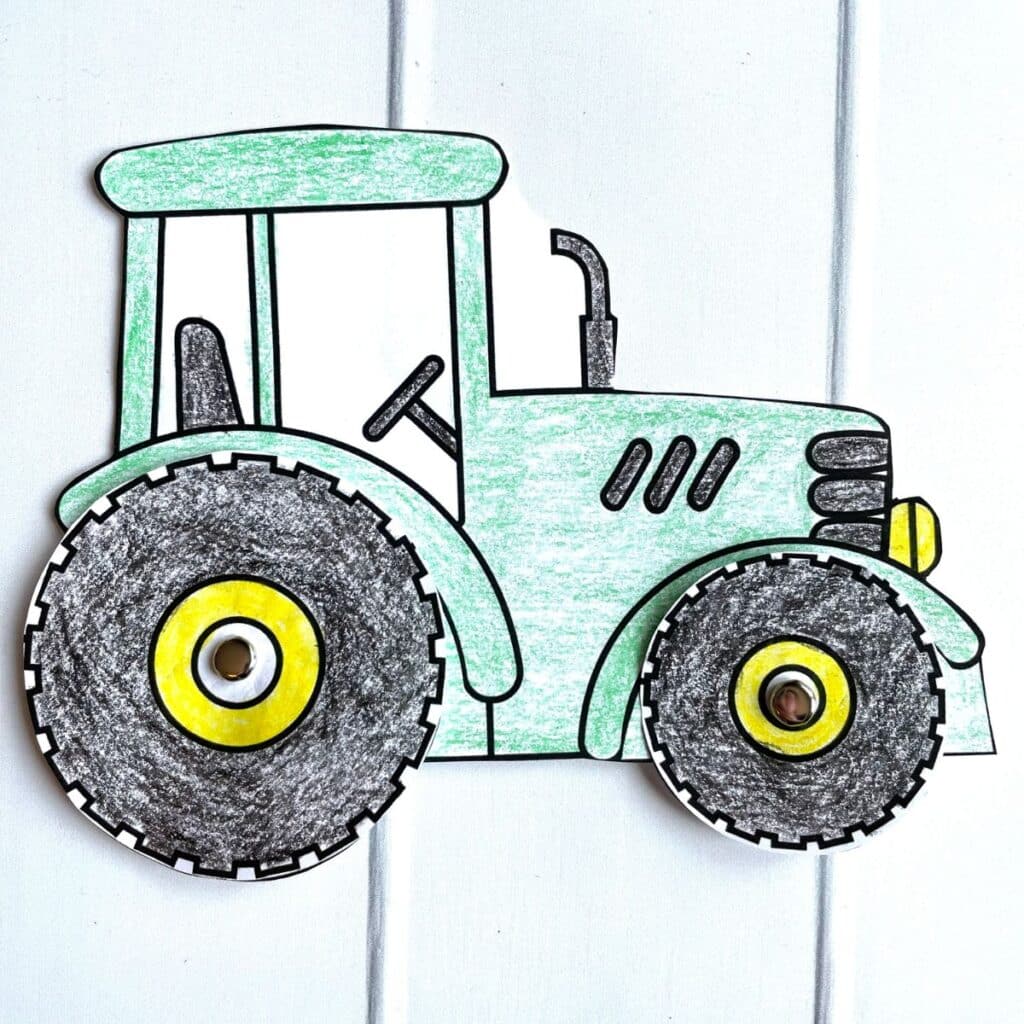 I grew up on a farm, so I've been wanting to do a preschool farm unit for a while now! My dad is an Illinois dairy farmer who also raises a variety of other farm animals and has lots of corn and soybean fields as well.
Also, my son is really into tractors, so I knew I had to make a fun tractor craft for my tractor loving boy!
In addition to this tractor paper craft, I've been slowly adding fun farm crafts and sensory play ideas to my blog. I'll link to those at the end of the article if you are interested in doing more fun farm activities!
This easy preschool tractor craft is a fun way for kids to practice scissor skills and of course, fine motor skills.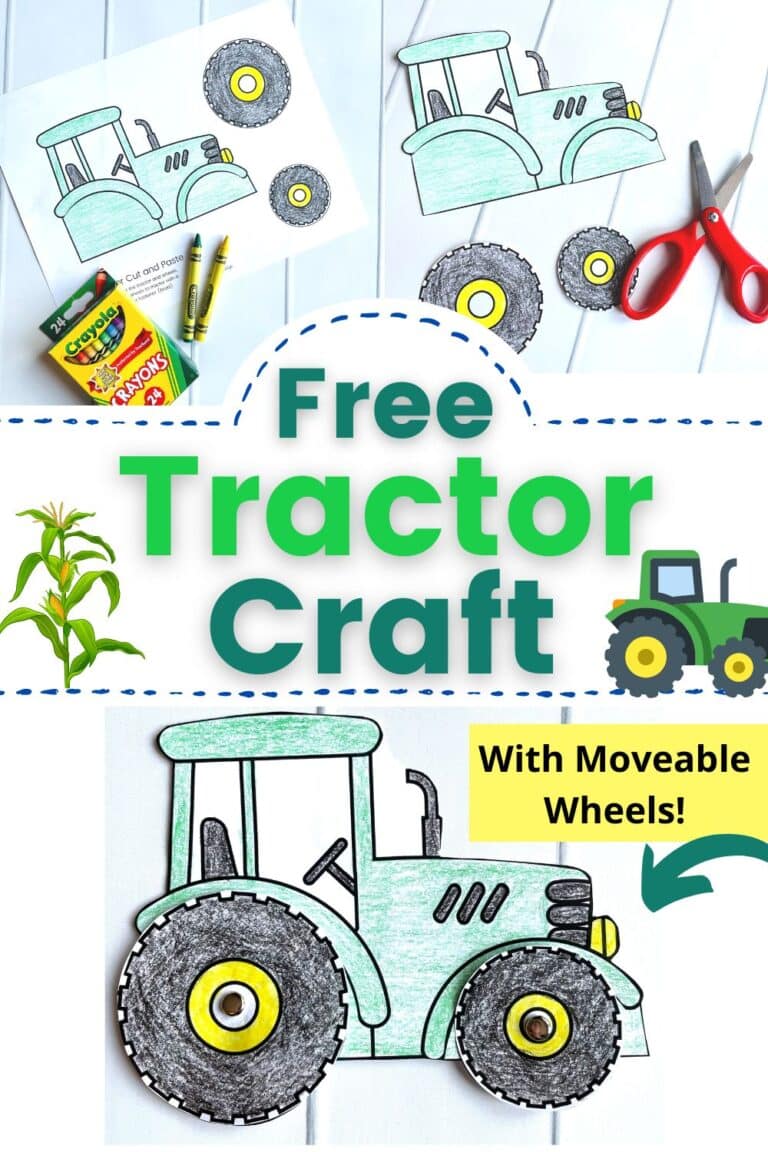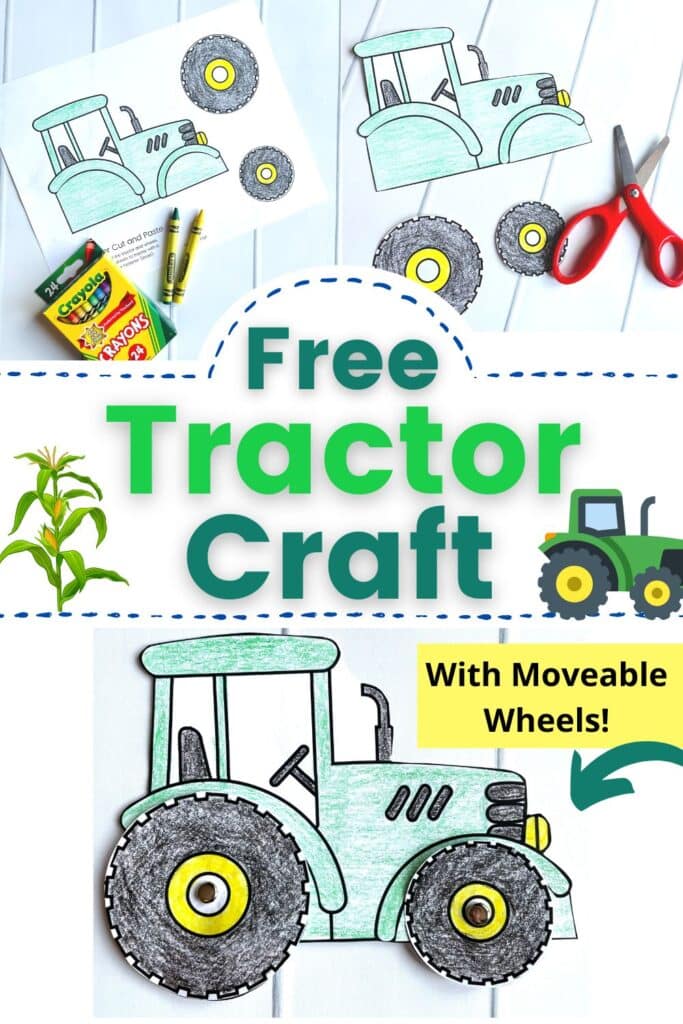 This tractor craft could be used for the Letter T, for transportation themes, or for a fun activity at a farm themed birthday party. It's also a fun craft activity for rainy days and could be incorporated into your harvest themed crafts.
Let's get started on this cute little tractor paper craft for kids!
** Disclaimer: As an Amazon.com Associate, I may earn from qualifying purchases made by readers clicking my affiliate links at no extra cost to you.
Supplies for Preschool Tractor Craft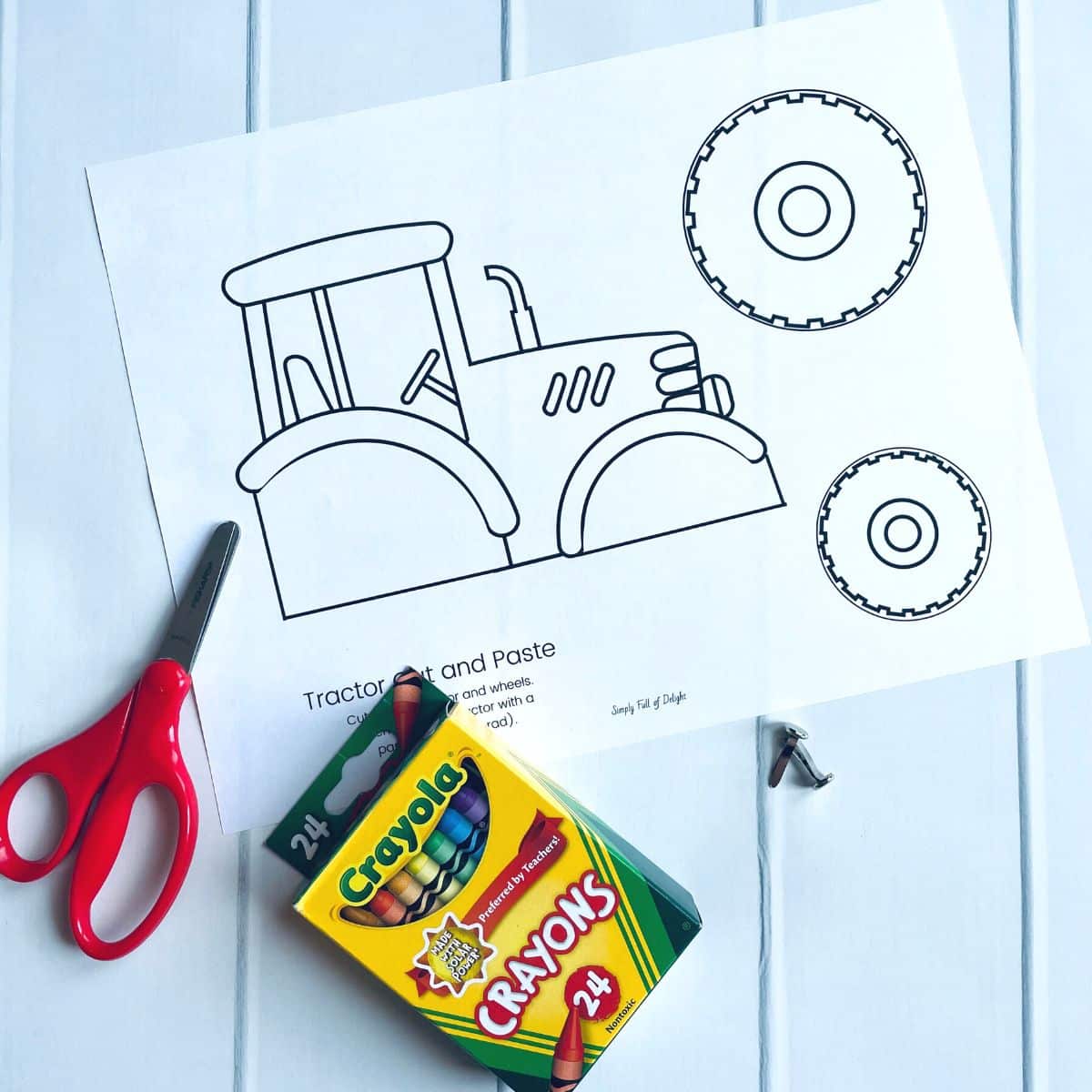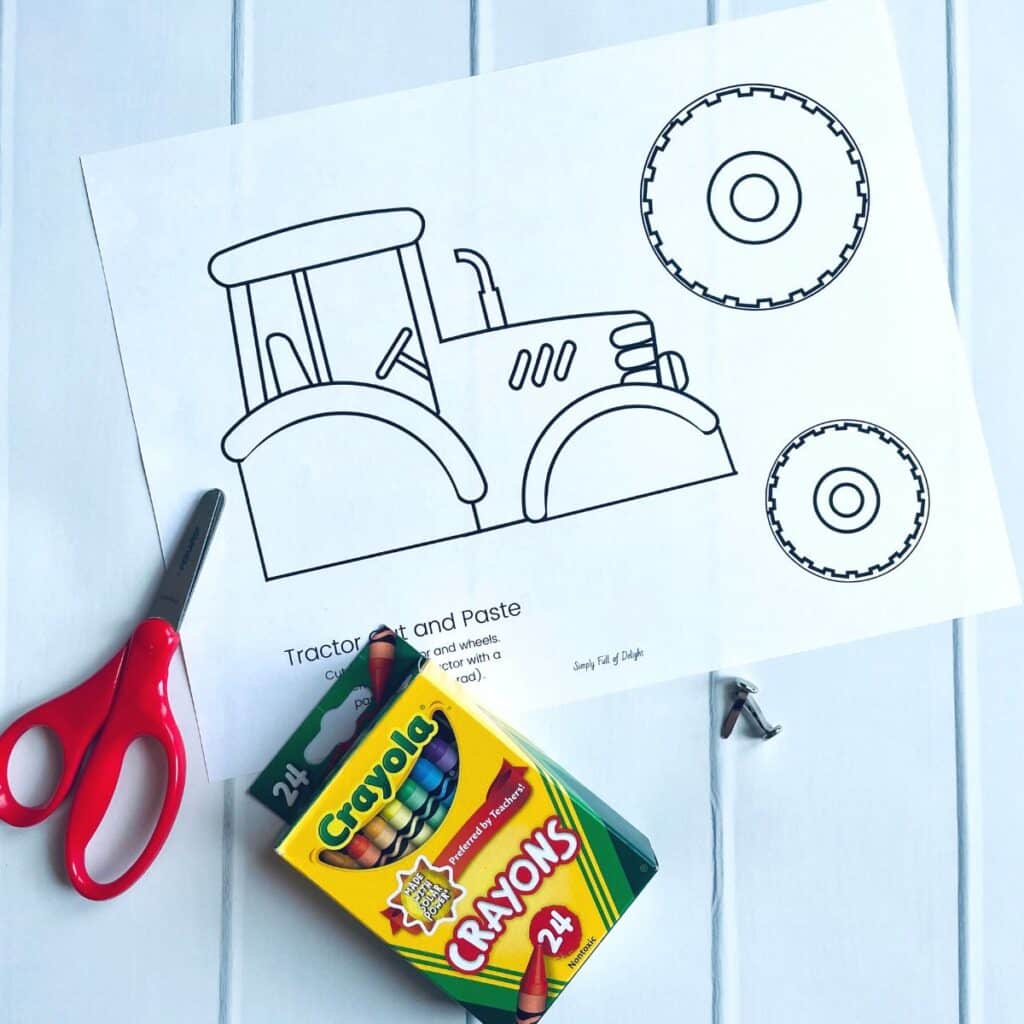 For this Tractor craft, you will need the following simple craft supplies:
Free Tractor Template PDF printed on white paper (You can access the digital file at the end of this tutorial)
Crayons (Crayola really are the BEST!)
Brads (otherwise known as paper fasteners) – You'll need 2 – one for each of the tractor wheels!
Child safe Scissors – Fiskars brand are the best!
Optional: Cardstock – You might like to print this project on white cardstock to make it more durable.
Also optional: glue stick – instead of a moveable tractor, you could skip the brads if you want to and glue the different pieces of the tractor together. It won't move, but it's still a cute tractor craft!
Let's get started on this preschool farm craft!
How to Make a Paper Tractor Craft
First, print out the tractor craft template. As I mentioned above, you can find the free printable tractor at the end of this tutorial.
You can print the tractor shape template on regular copy paper or you can use card stock to make it more durable.
(If you use cardstock – keep in mind it is harder to punch the paper fastener through, so you'll need something sharp, like a tack, to poke through first to make the hole for the paper fastener.)
Once you've printed your tractor template, it's time to color!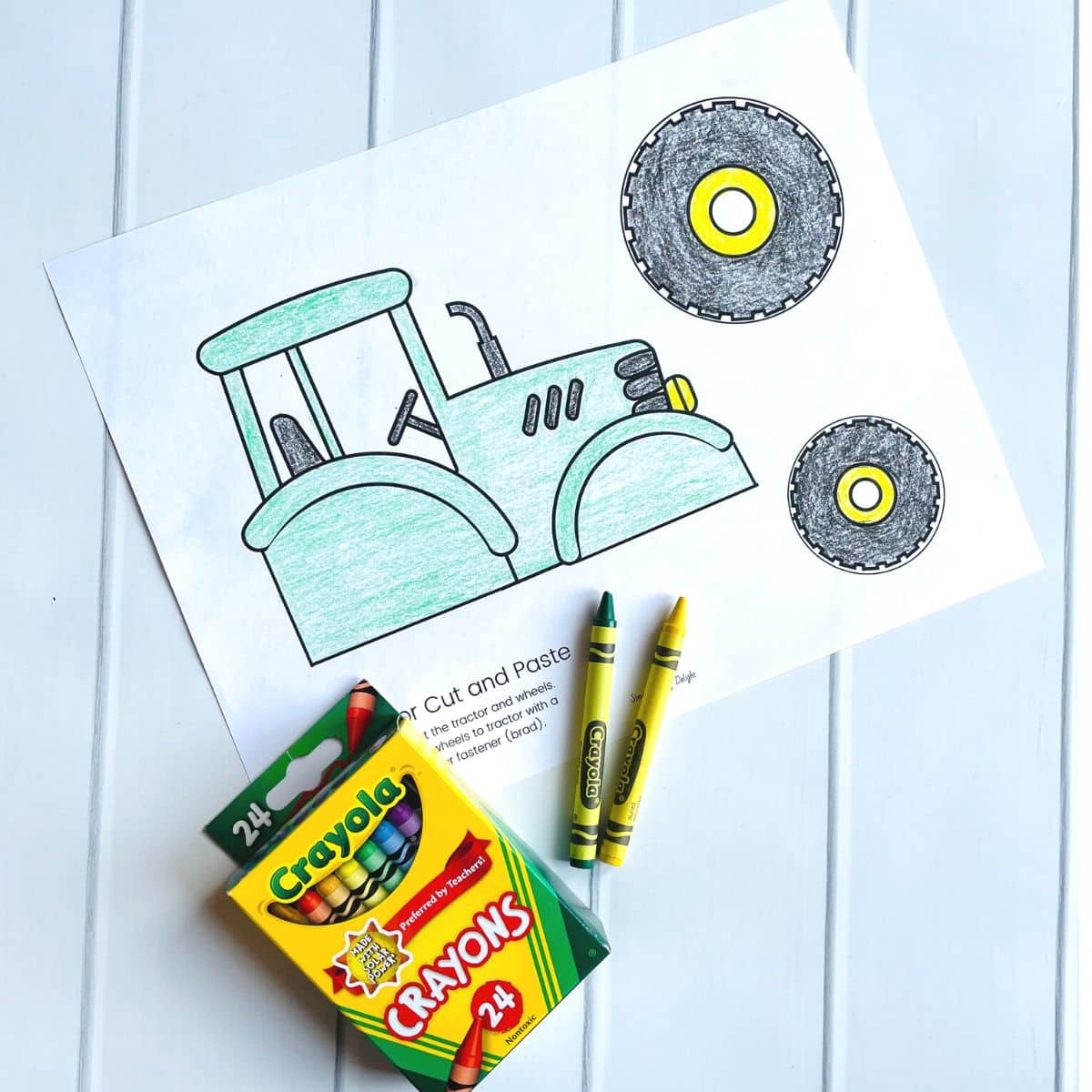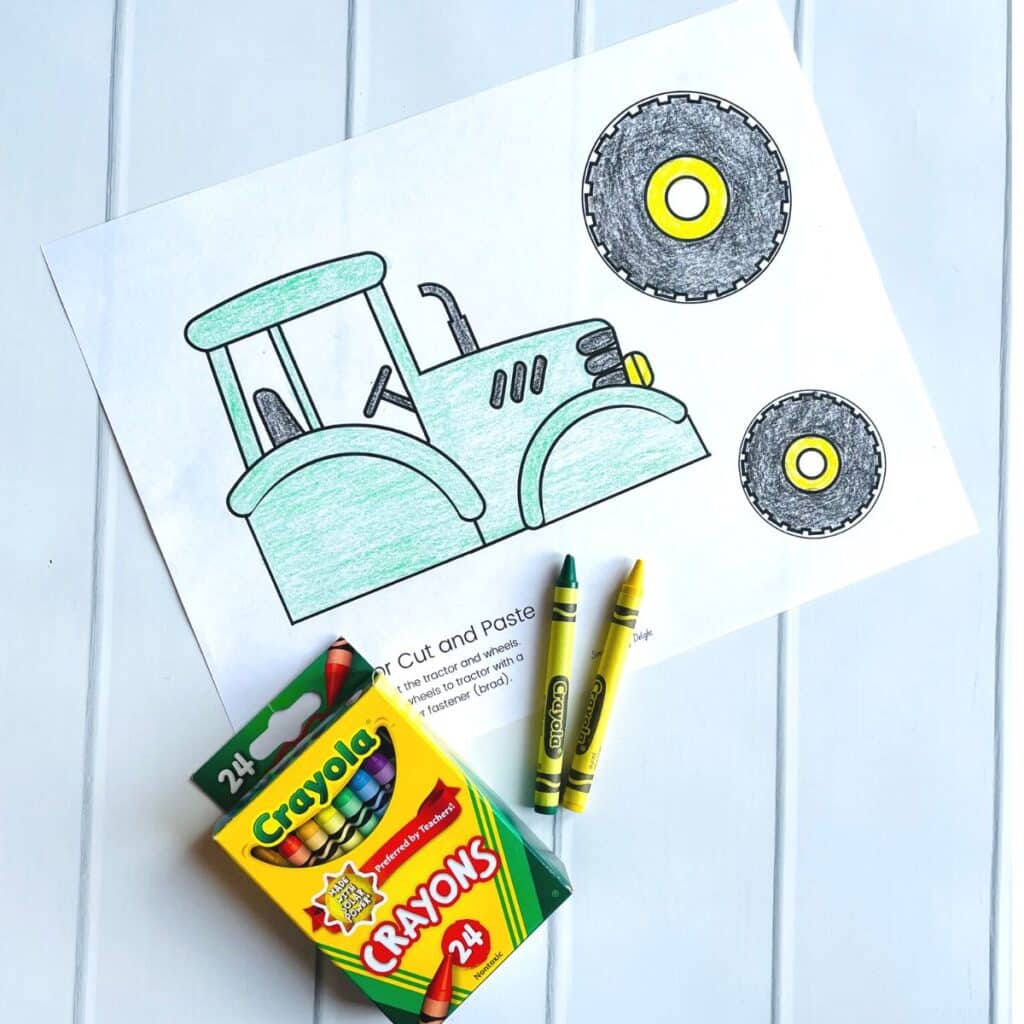 Did you know that coloring builds hand strength and helps kids practice pencil grip too?! I love it when kids can learn and build skills in a fun way!
Give your child crayons, markers, or colored pencils. I recommend crayons for younger children.
I love seeing how kids color their tractors.
Some children are very literal and want their own tractors to look just like the real thing while others will color the tractor their favorite colors!
Kids might also like to draw themselves inside the tractor's window. What fun!
Now, it's time to cut. Give your kids blunt tip child safe scissors. (We love the Fiskars brand).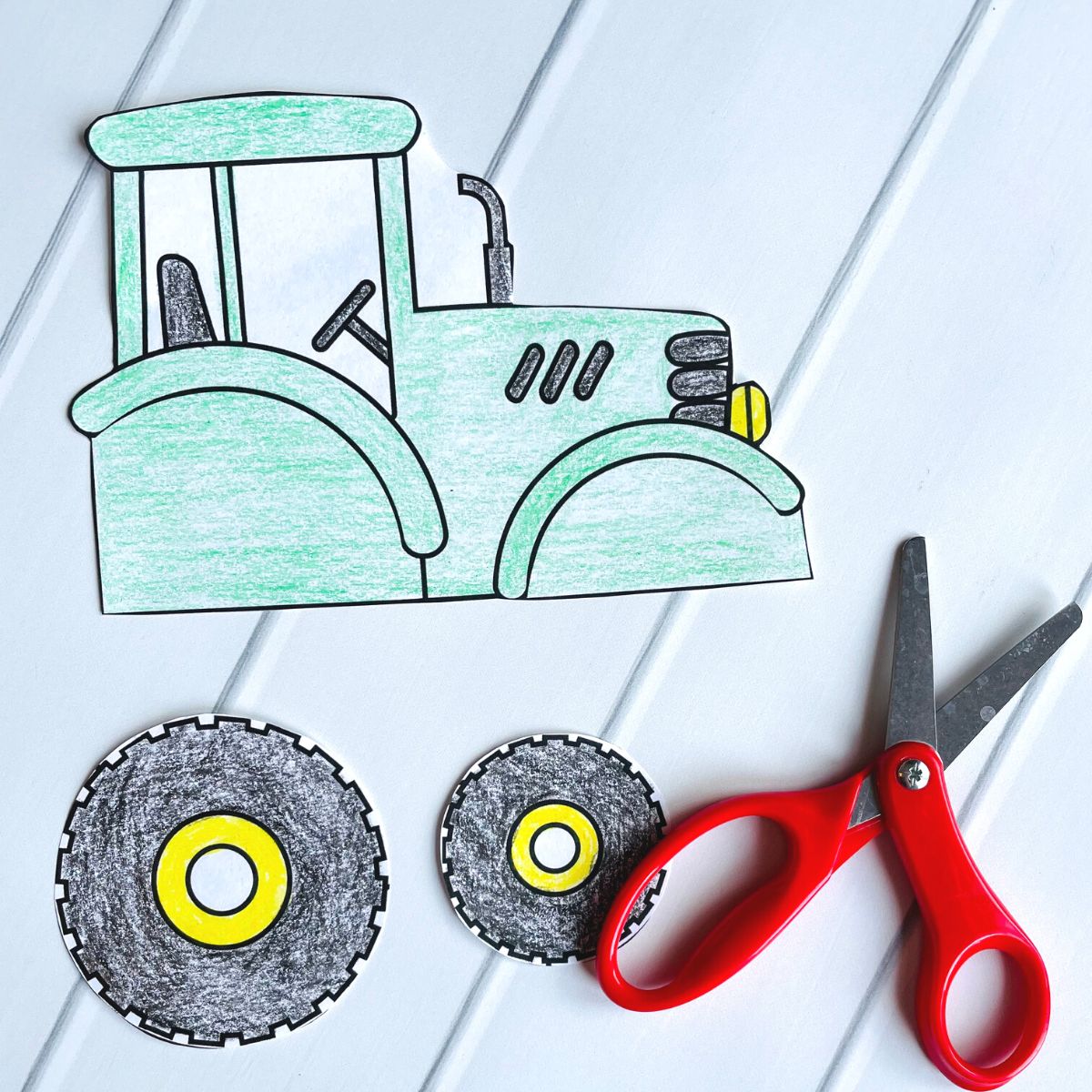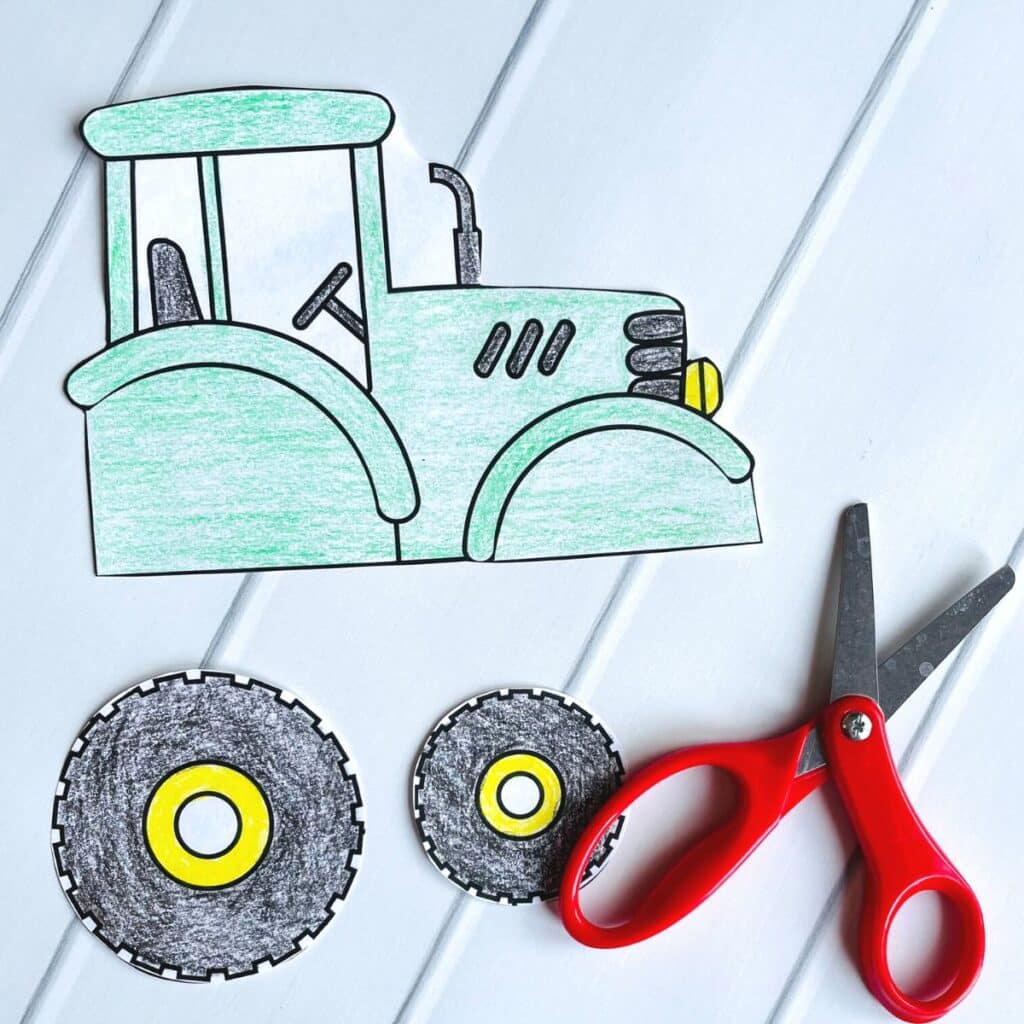 Have them cut out the tractor and the 2 wheels. I have placed a circle around the tractor wheels to make it easier for kids to cut around.
With the body of the tractor, I'd advice young children to not cut the narrow area between the exhaust pipe and the tractor cab.
I encouraged my kids to simply cut next to it and then cut upward to the top of the tractor from there, as it is super narrow.
Once they have cut out all 3 pieces, help the children attach the wheels to the tractor with a brad (paper fastener).
I poked the paper fastener through the middle of each wheel and then lined it up with where the wheel should be on the tractor. Then flatten the brad.
And…. you're finished! I hope your kids enjoy this adorable preschool farm craft as much as mine did!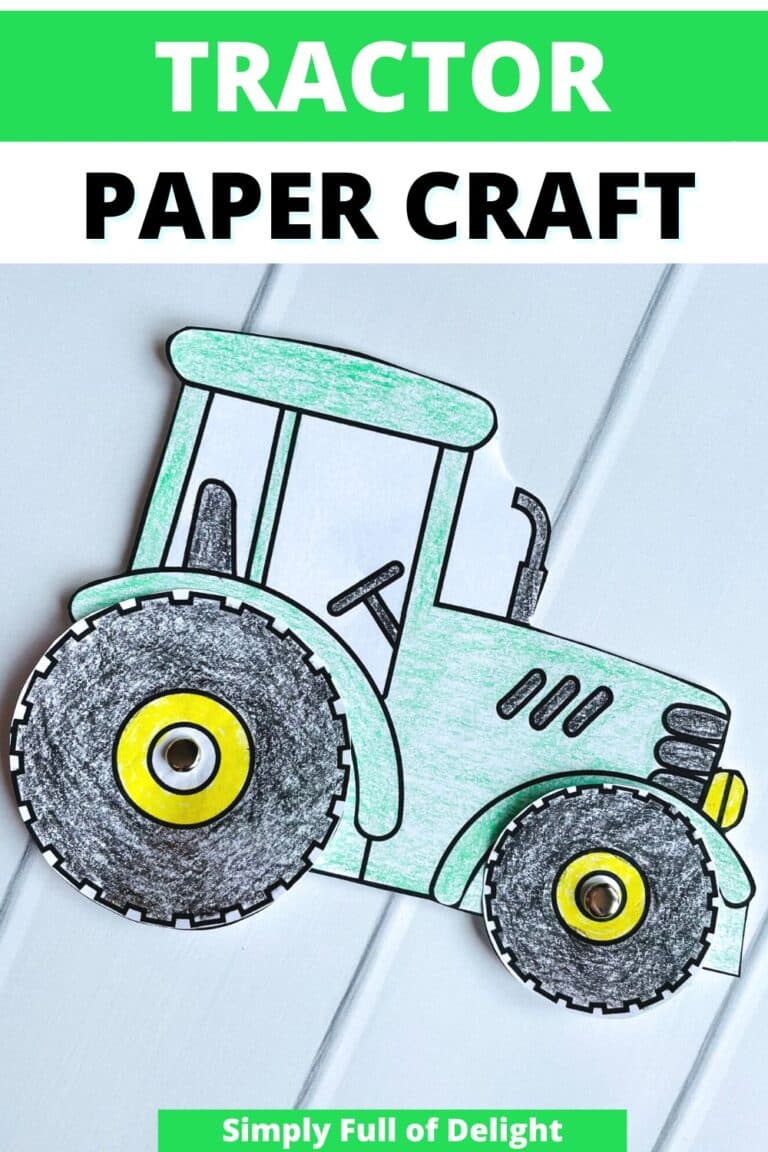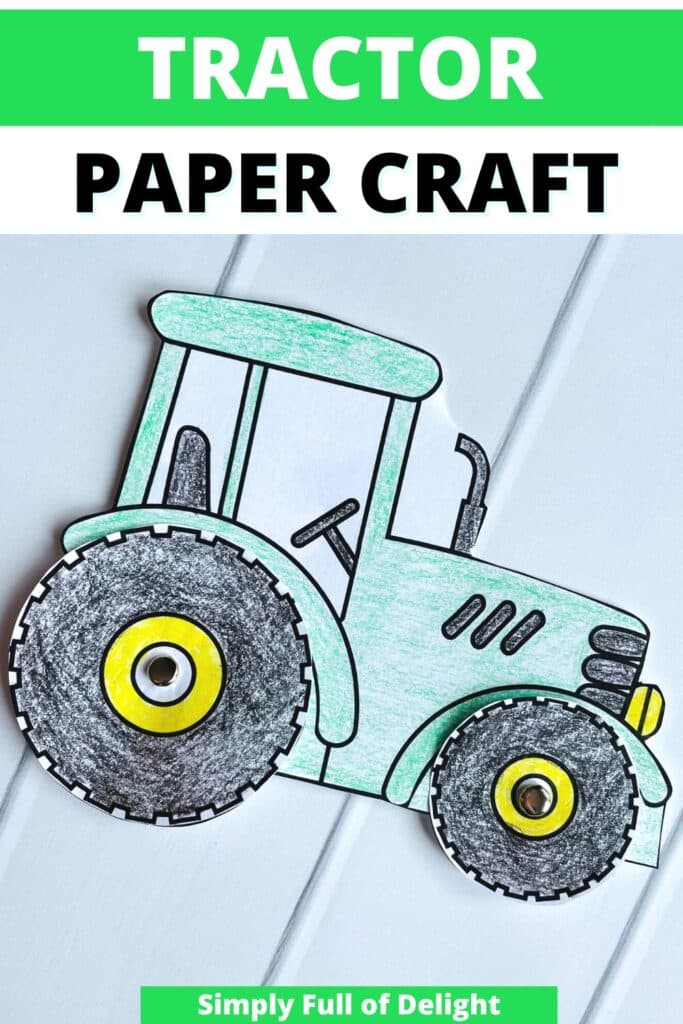 Grab the Free Tractor Paper Craft Template
Want to make this paper tractor craft? You can grab the free tractor craft template PDF directly below by clicking the black download button.
Free printable template:
More Preschool Farm Activities
Looking for more farm preschool activities and cute farm crafts for young kids to go along with these paper tractors?
You can find 3 Free Printable Tractor Coloring pages here. Perfect for your little farmer!
You can find a Free Printable Pig Puppet template here. Kids of all ages will enjoy coloring and cutting out this simple printable to create their own little pig puppets! (This template could also be glued to paper plates as well!)
There's also a cool Muddy Pig Craft here. Preschoolers and toddlers will enjoy painting with pudding to create a Muddy Pig!
Sheep loving kids will love this Cotton Ball Sheep Craft. It's super simple with the free printable sheep template.
This Farm Sensory Bin is a great addition to your farm lesson plans. Little kids will love experiencing farm life: pretending to feed the animals, driving the tractor and more in this farm themed activity set. Plus, you'll love that sensory play is great for fine motor skill development!
And if you have a Farm loving kid – don't miss my big Farm Gift Ideas list. So many fun farm gift ideas for your little farmers and John Deere fans.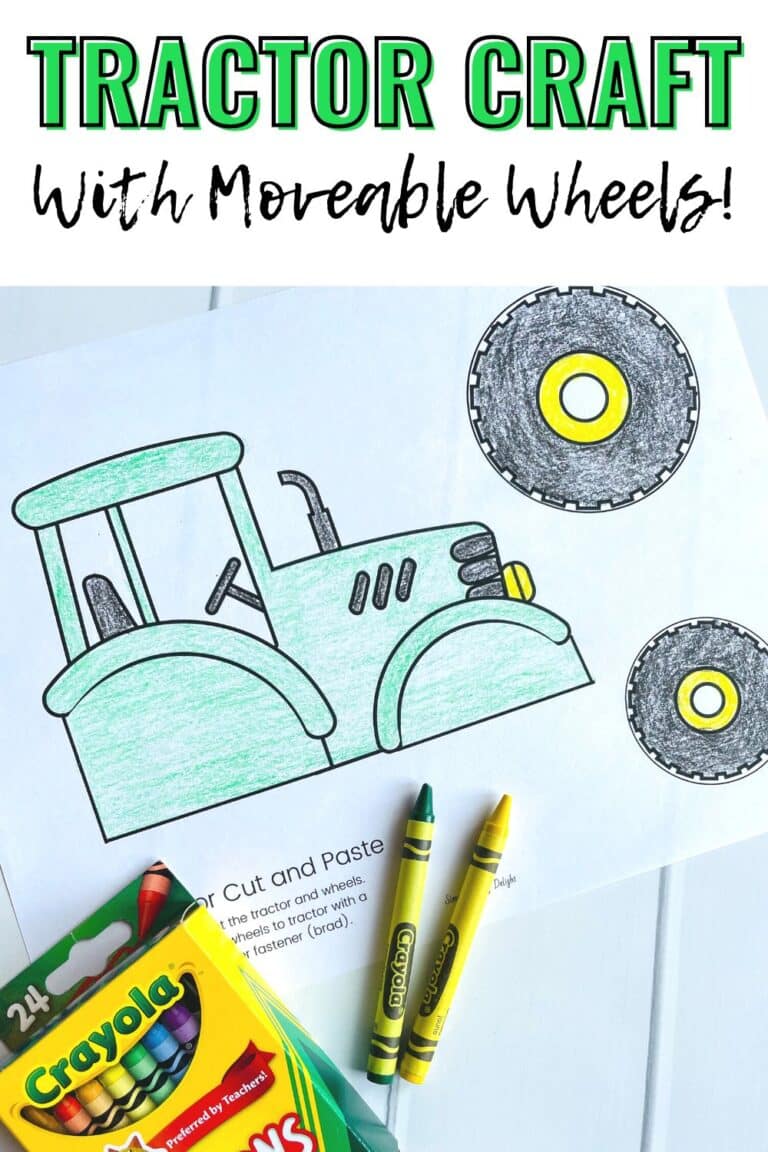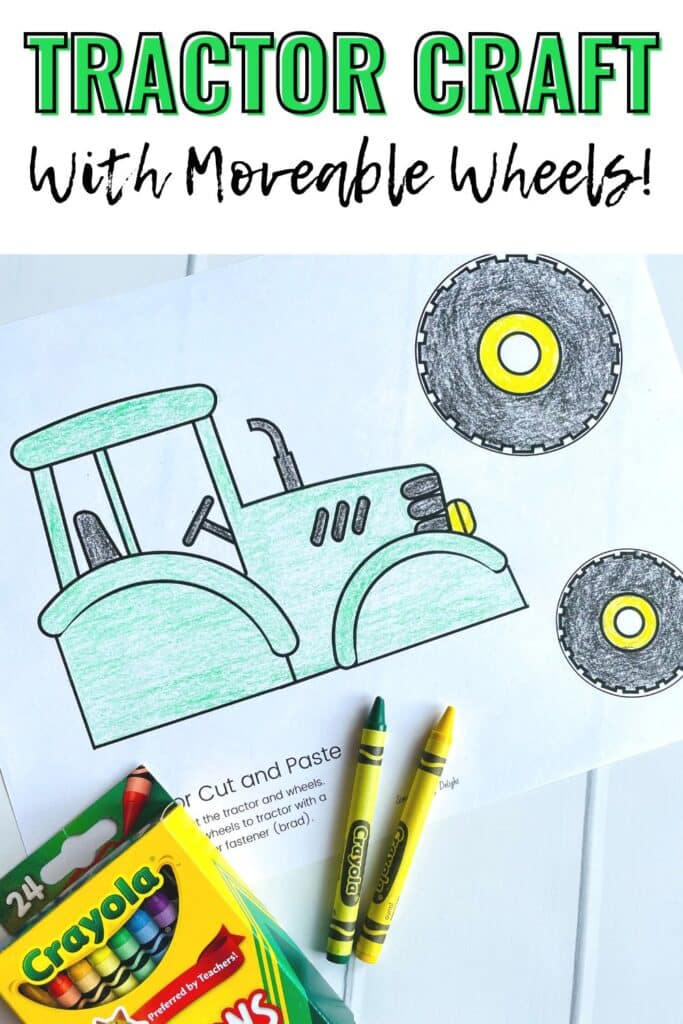 More Paper Crafts for Kids
Did your young children love the moveable parts on this tractor craft?
Here's more easy paper crafts with moving parts on my site: There's a Paper Ladybug here, a fun little Paper Squirrel, and a cute little Paper Bee Craft. You can also find a School Bus, a Thanksgiving Turkey, a Penguin, and a Paper Dinosaur here.
These simple crafts are lots of fun for little ones and a great way to practice cutting skills.
You can also find over 30 amazing Paper Craft ideas here. There's puppets, construction paper crafts, and a full list of all the moveable parts paper crafts as well!
Want to save this tractor paper craft idea for later? Pin the image below to your Preschool Farm ideas board on Pinterest!