Learn how to make a cute Unicorn Paper Bag Puppet with a free template!
Unicorns are pretty big in my household right now…and I'm guessing if you are reading this post, you have a unicorn loving child in your midst as well!
Here's a super easy unicorn craft for kids!
It works well younger kids (preschool and kindergarteners), but older kids who love unicorns will enjoy it too!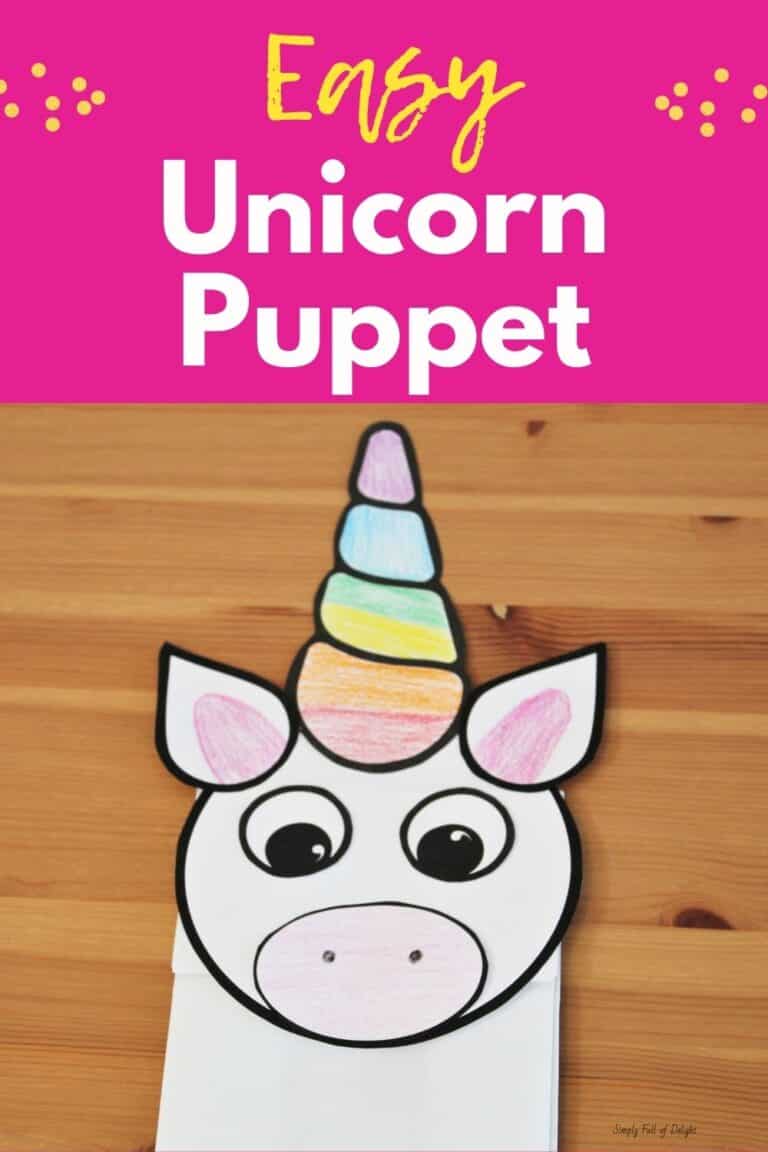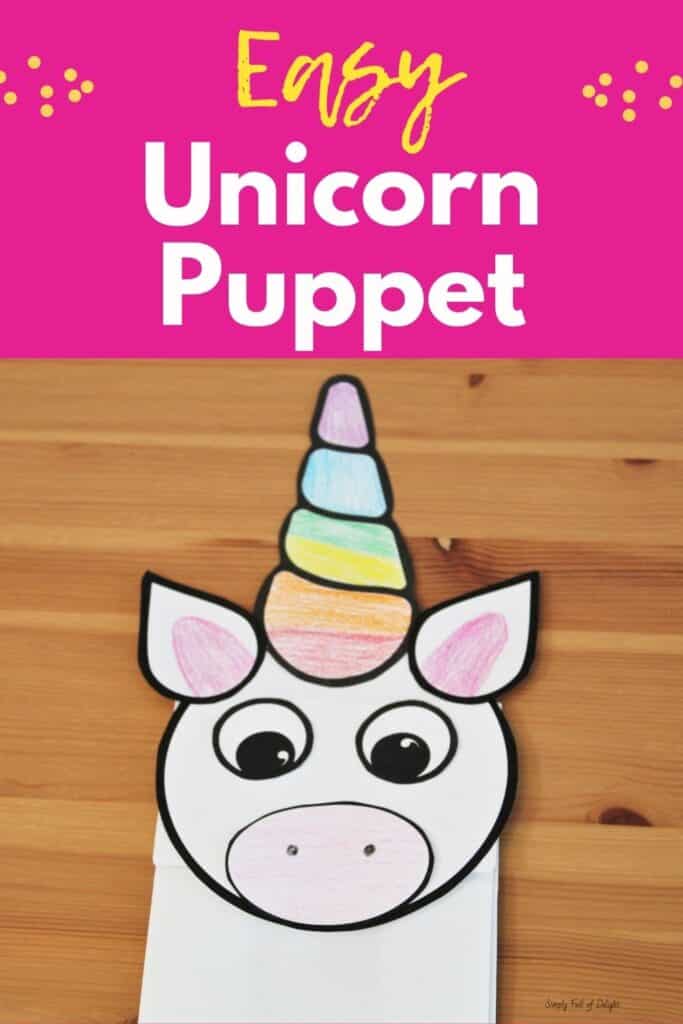 Let's get started on this magical unicorn craft!
Disclosure: As an Amazon Associate I earn from qualifying purchases at no additional cost to you.
Supplies needed for Unicorn Paper Bag Puppet
To make this easy peasy unicorn craft you will need:
– White paper bag (lunch sack size)
– The Free printable Unicorn Puppet template
– Crayons (or markers)
– Glue Stick or School Glue
– Scissors
– Optional: Colorful yarn (or strips of construction paper for the unicorn hair)
Alright! Let's get started on this fun craft for kids!
How to make a DIY Magical Unicorn Paper Bag Puppet
First, print out the unicorn puppet printable. Next, have your child color the unicorn template. Encourage them to use rainbow colors!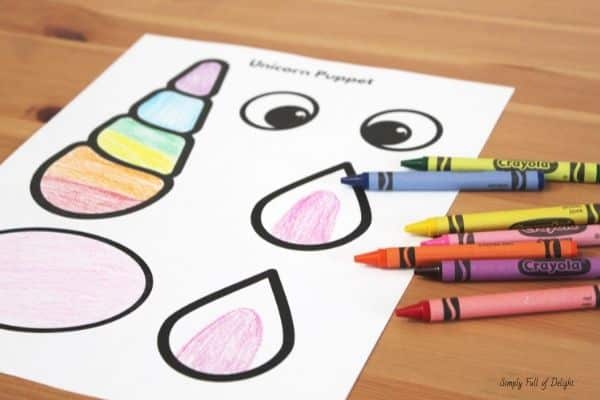 We left the eyes plain, but colored the inside of the ears pink, the unicorn horn rainbow colored and the nostril part pink.
Now provide your child with scissors (we prefer the Fiskar's blunt tip child safe scissors!)
Show your child the pieces that need to be cut out. Provide assistance with cutting as needed. Most children can cut this out by themselves at age 4. Kids 3 and under may need help.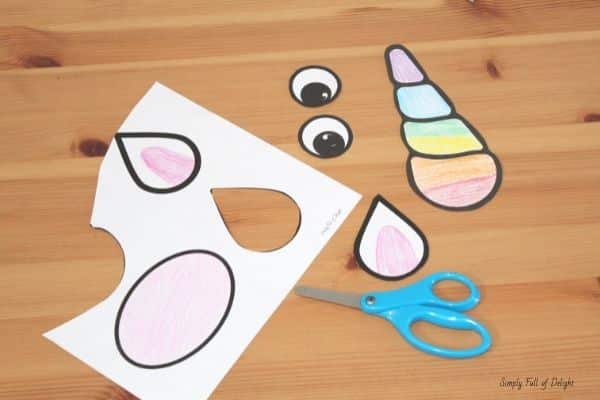 How to Assemble the Printable Unicorn Hand Puppet
Now it's time to assemble the unicorn puppet!
The unicorn face will be on the bottom flap of the bag, so that when it is finished, your child can place their hand in the bag to make the puppet move.
I like to encourage kids to lay out the pieces of the unicorn puppet template before they start to glue. This helps them get a sense of where things should be on the face.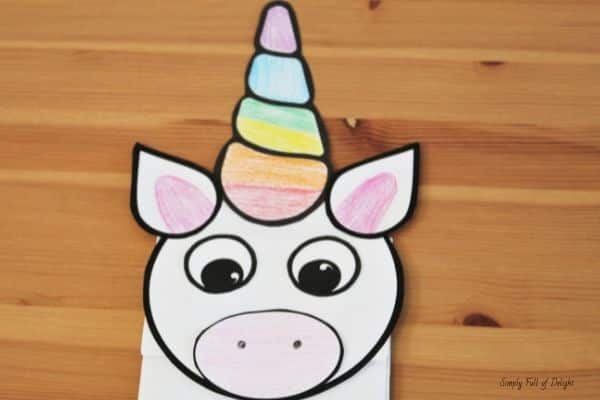 I laid out the large circle first, then added the pink nostril piece to the bottom. Next I centered the eyes and the unicorn horn. Last, I placed the ears on each side of the horn.
Once they have the unicorn face and horn the way they like, it's time to glue it down. I found that a glue stick was perfect for this project and makes it low-mess, but school glue will also work!
As I always tell my little ones, just a dab of glue will do!
Once the face is completed, you can optionally add hair to your puppet unicorn!
We chose to leave our unicorn paper bag puppet plain, but if you'd like you can use yarn for the hair, or alternatively, you could use strips of colored construction paper.
And….that's it! You now have a cute unicorn paper bag puppet!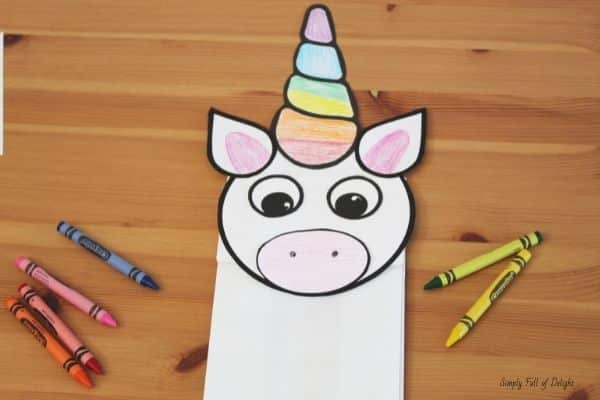 How to Print the Free Unicorn Puppet Template
Want to make this cute paper bag unicorn puppet? Grab the free printable unicorn puppet in my free Resource Library for my email subscribers.
Not a subscriber yet? No problem!
Enter your email in the blue box below to join my email subscriber list and gain instant access to the Resource library. You can get this free unicorn paper bag puppet template plus a ton of other free printables as well!
Already a subscriber? The password for the Resource Library is in nearly every email I send!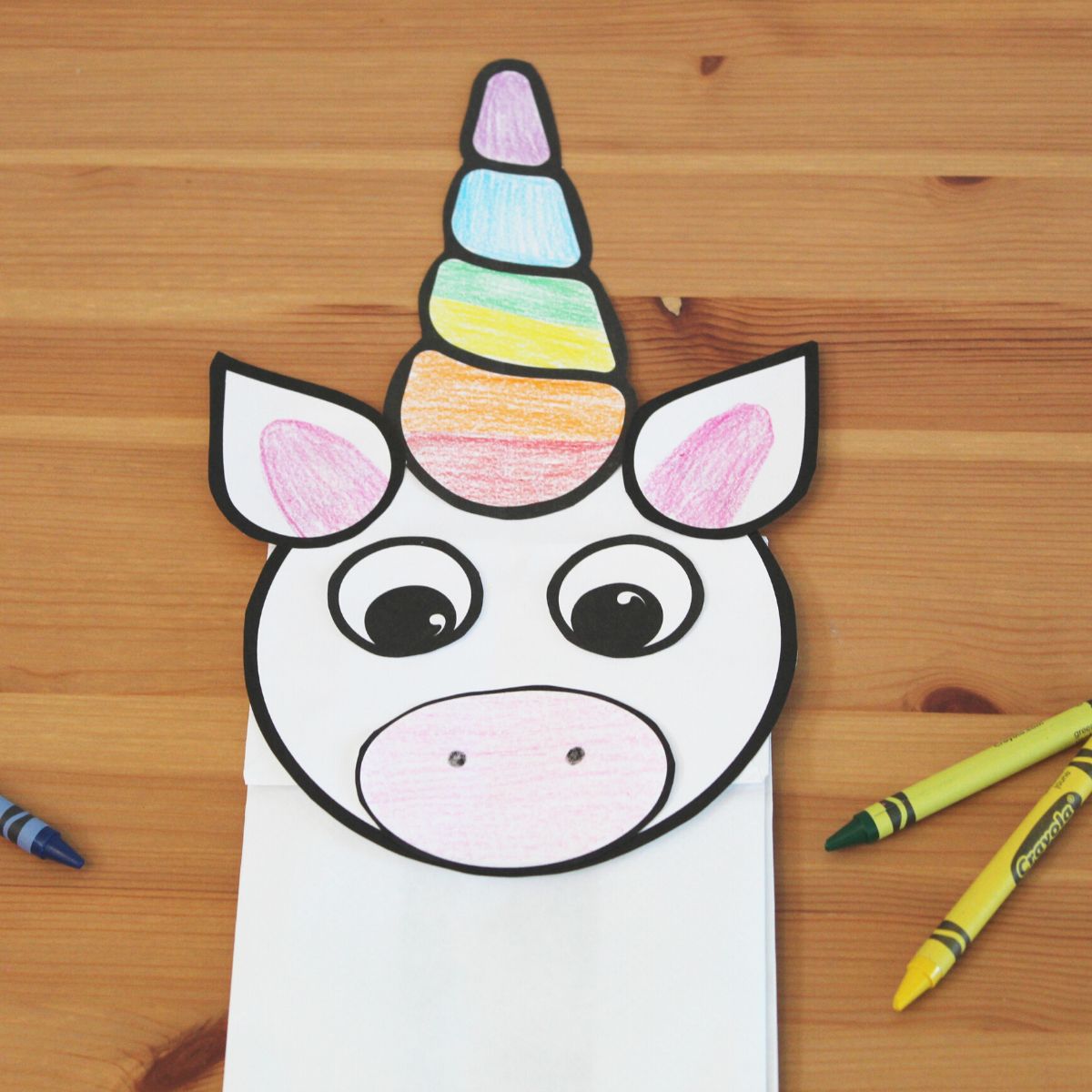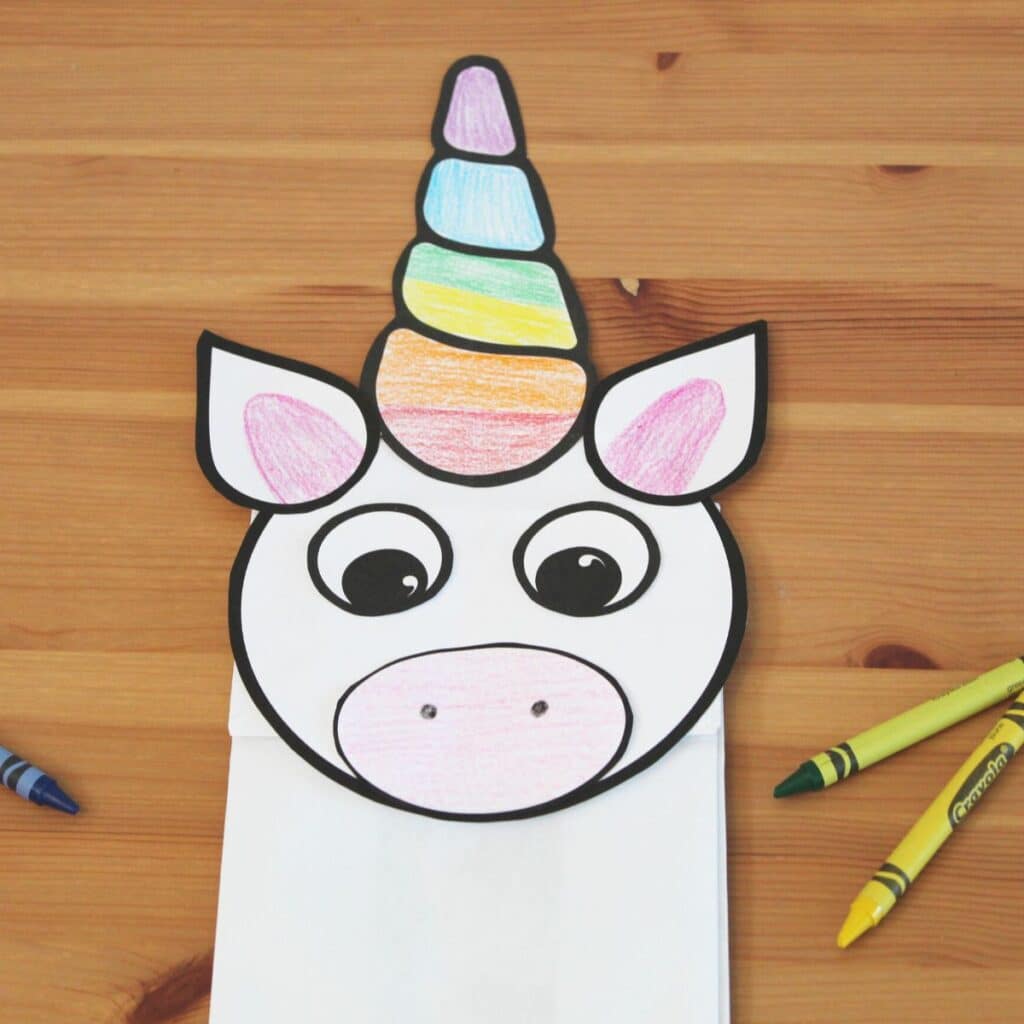 Other fun Unicorn Crafts and Activities
Looking for more magical craft ideas? You can find a bunch of unique Unicorn Craft ideas here.
You can find more fun paper bag puppets on my blog as well! There's a fun Paper Bag Pig Puppet here, which is great for Farm themes or Fairy Tale units.
In addition, you can find a Cat Paper Bag Puppet here, purrr-fect for Halloween or Pet themes.
There's 4 Free Unicorn Coloring pages here. So many cute unicorns including baby unicorns, rainbows with unicorns and more!
If you unicorn lover also loves mermaids, you can find some free Mermaid Coloring Pages here. These make a Great for a quiet time activity for kids!
Also, be sure to check out these Creative Craft Ideas for kids!
You can also find more fun activities for kids here on my blog! Want to save this idea for later? Pin the image below to save these Unicorn Paper Bag Puppets for later!