Today, I'm going to show you how to make an Uncle Sam Hat! This craft is super fast and easy! Kids of all ages will enjoy this Uncle Sam Hat Craft and you can be sure they will love showing off their patriotic hats!
This craft is perfect for setting up at your Independence Day backyard party. You don't need to worry about any mess as it's a simple cut and color project!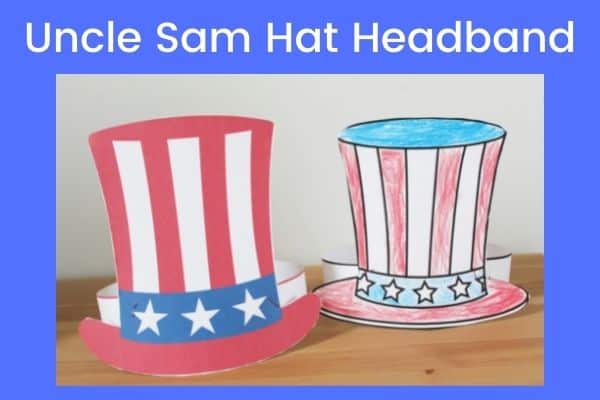 Before we dive into this fun kids craft, let's talk about Uncle Sam!
Who is Uncle Sam?
Chances are, your children might not know who Uncle Sam is. So here's some information you can share with them!
According to History.com, the United States was nicknamed Uncle Sam in 1813. During the War of 1812, a meat packer named Samuel Wilson from Troy, New York supplied barrels of beef to the United States Army. The barrels from Wilson were stamped with U.S. (for the United States) but soldier began to call the food "Uncle Sam's."
After newspapers picked up the story, the acceptance of the nickname and personification of the United States as Uncle Sam was born.
In the 1860s and 1870s, Thomas Nast made the image of Uncle Sam popular. Nast gave Sam a white beard and a stars and stripes suit. (Nast is also credited with creating the donkey and elephant as symbols of our major political parties. He also created the image of our modern Santa Claus).
The most famous image of Uncle Sam is on a World War I recruitment poster with the words "I Want You For The U.S. Army." James Montgomery Flagg created this image of Uncle Sam who is pointing right at the viewer, wearing a tall white top hat with a blue jacket.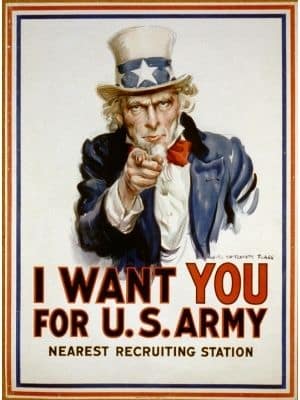 Does Uncle Sam's Hat have stripes?
If you are stunned by the image of Uncle Sam's plain white top hat with stars on the border, you are not alone.
Uncle Sam's image has evolved a lot over time. As Uncle Sam is a nickname for the United States, he is often pictured wearing stars and stripes in a variety of ways. Eventually, over time, his patriotic hat got even more patriotic with the addition of red stripes. Here's some interesting pictures of how the hat has been drawn and designed over the years.
Alright! Let's get started on this patriotic craft!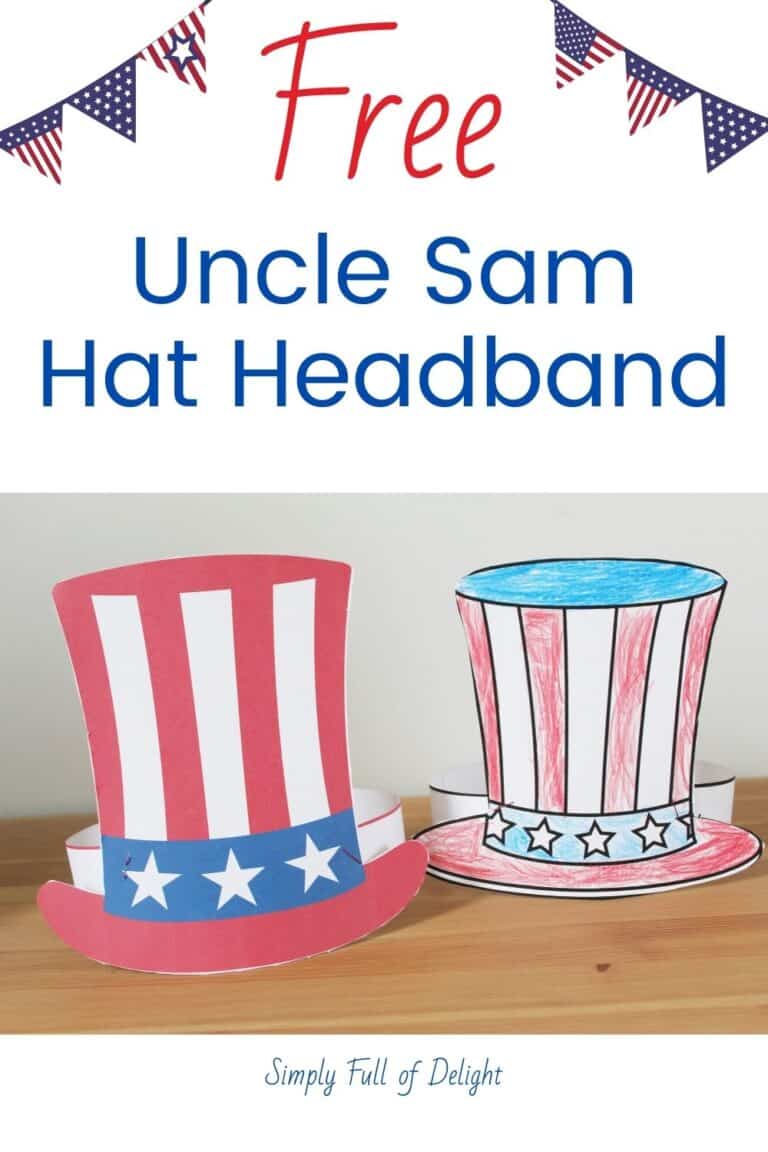 Supplies Needed for Uncle Sam Hat Craft:
– Uncle Sam Printable on Cardstock or white paper
– Crayons
– Scissors
– Stapler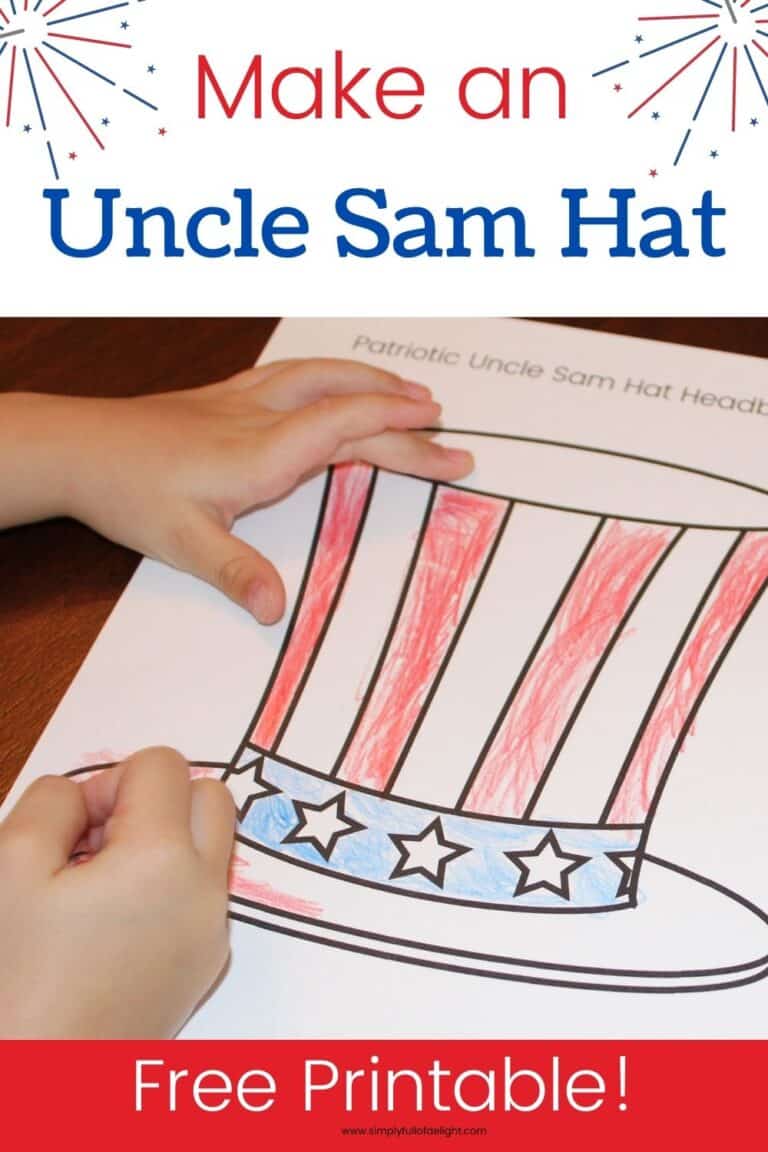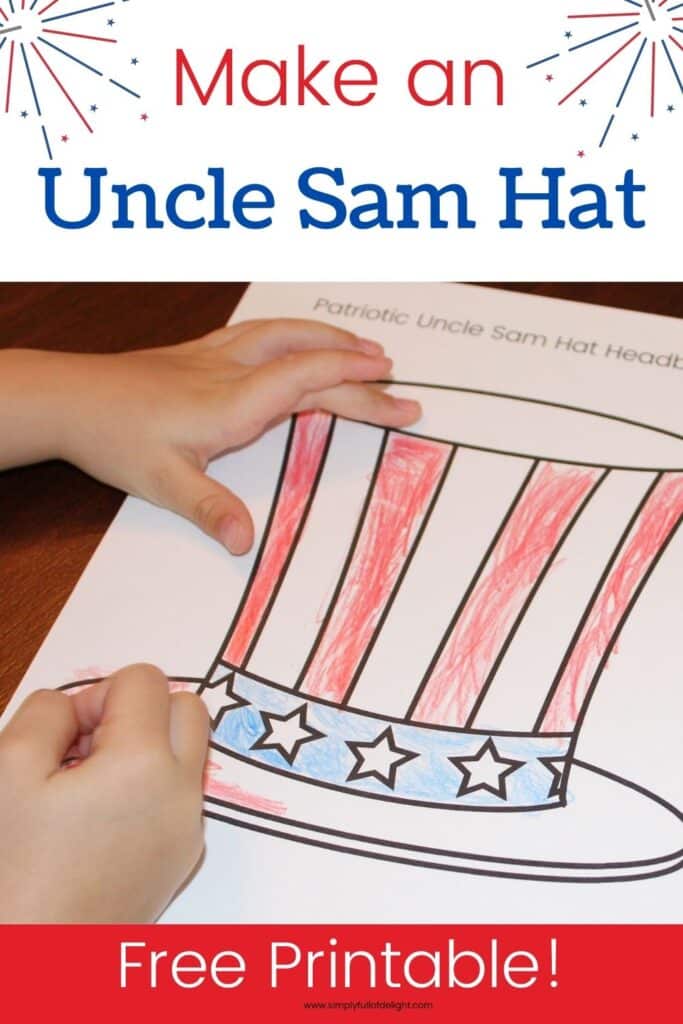 How to make an Uncle Sam Hat Headband
First, print out the Uncle Sam Hat template. I recommend printing on cardstock to make the hat headband more durable.
Next have your child color the hat. If you pick the full color version you can skip this step.
Now it's time to cut. Have your child cut out the hat and the rectangular strips to create the headband.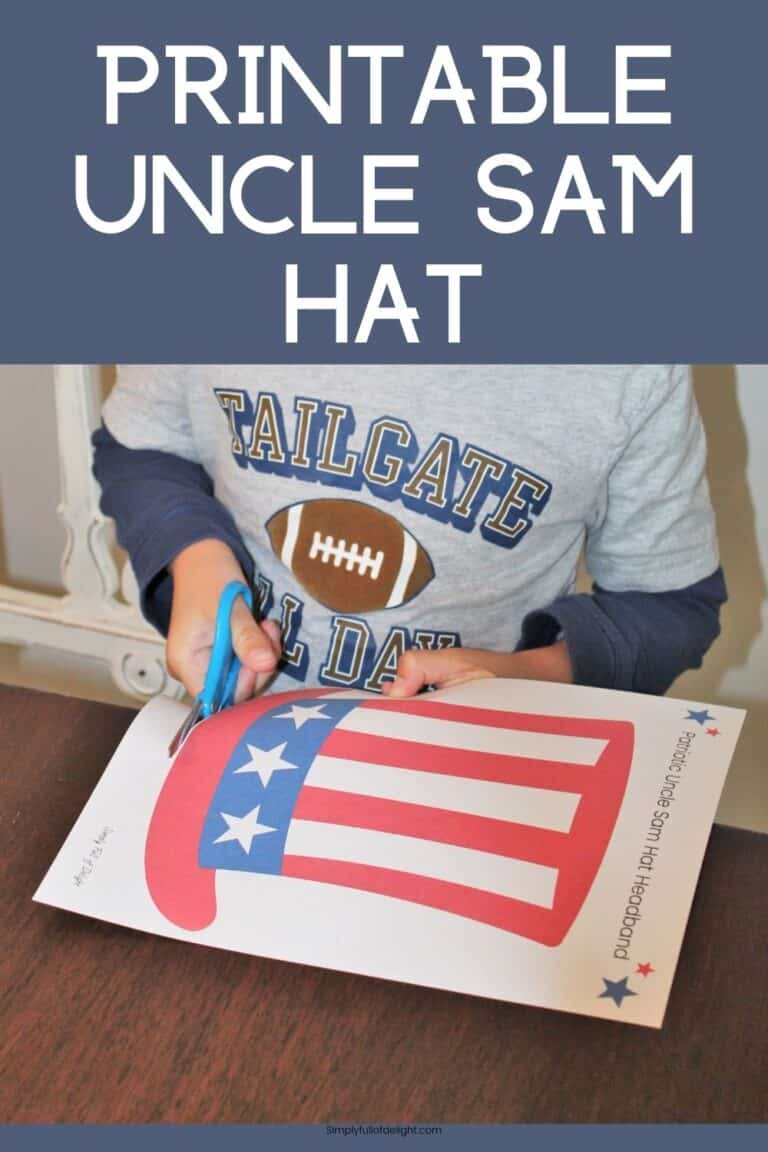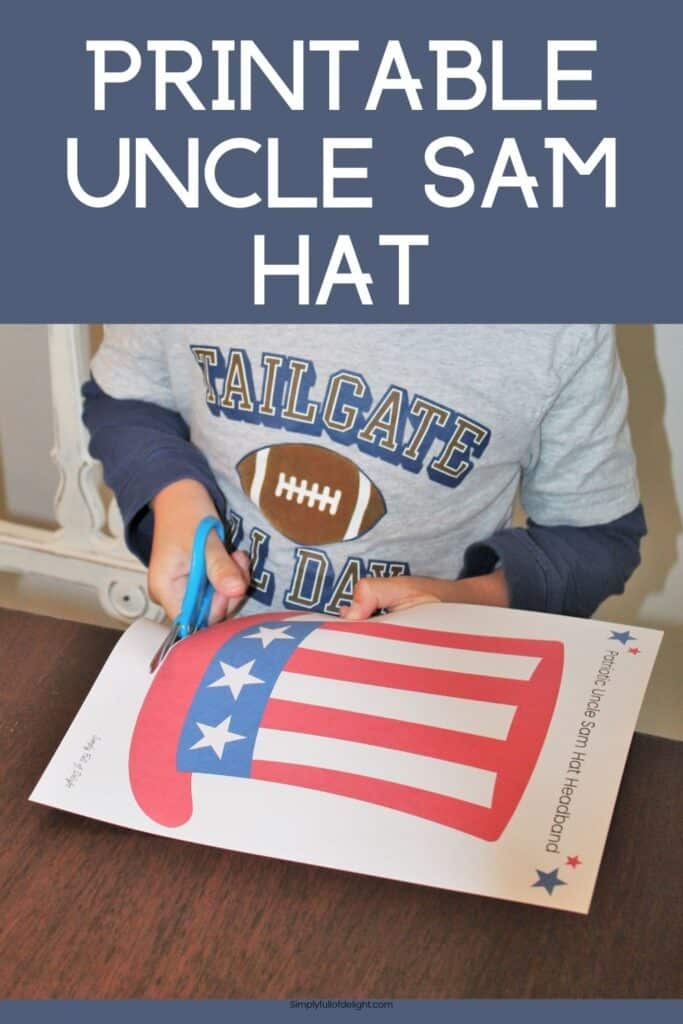 Help your child assemble the hat headband by stapling the strips together to fit around his/her head. You can cut off any excess from the strips that you don't need.
That's it! Your Uncle Sam Hat Headband is ready to wear!
This project is great for kids of all ages and a fun addition to any patriotic party or event. This Uncle Sam Hat is a fun craft for one of our many patriotic holidays including 4th of July, President's Day, Election Day, and more.
Feel free to use the template for your classroom if you are a teacher or use it at home with your kids or play group.
If you are looking for more Patriotic activities for kids, check out the Patriotic preschool activity pack in my Etsy shop!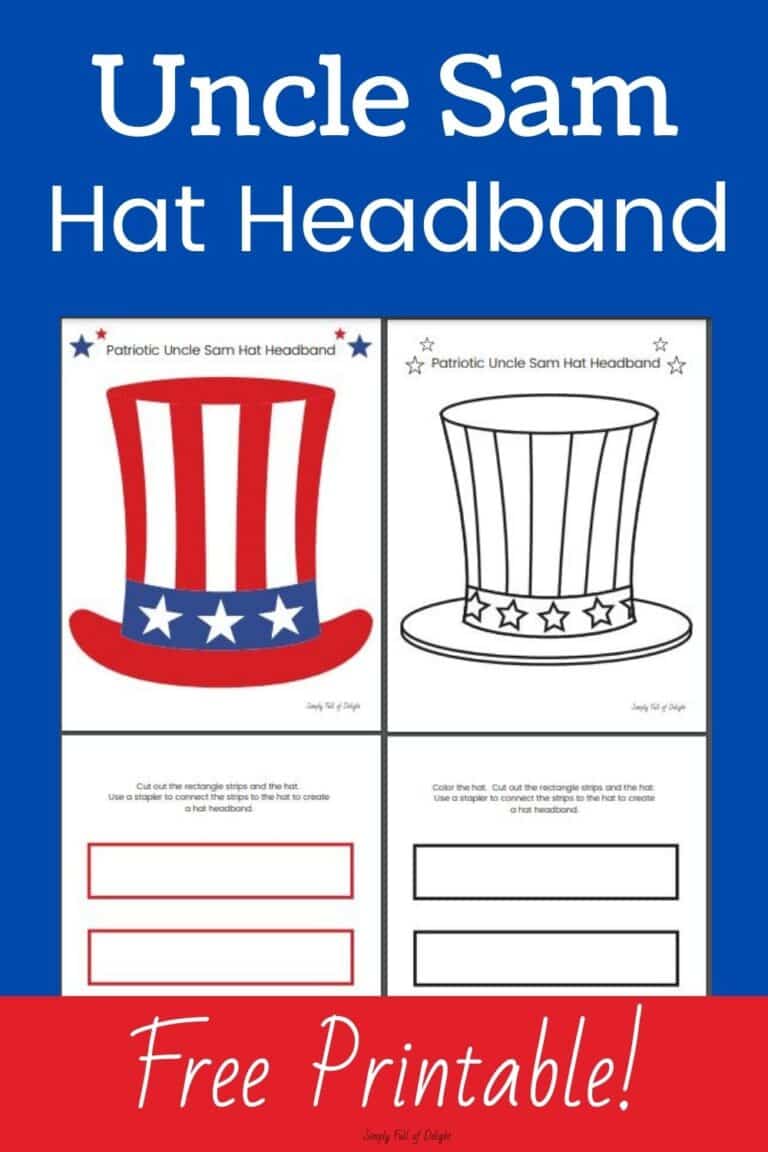 Uncle Sam Hat Printable Template
To Print Your Free Uncle Sam Hat Printable, Join My Email List below!
You will have instant access to this printable along with many others available to my subscribers in the Free Resource Library.
More Patriotic Crafts and Activities:
Love these Uncle Sam hat paper crowns? Here's some more patriotic craft project ideas and activities that are perfect for 4th of July, Presidents' Day, Memorial day craft ideas or just fun for a rainy day.
Check out this free printable Color by Number American Flag. Kids will have so much fun coloring this simple American flag printable.
Don't miss this free printable 4th of July Scavenger Hunt. It's a fun way to get everyone up and moving!
Love handprint art? Check out this Handprint American Flag Craft. It's SO cute!
There's a huge list of fun 4th of July activities for kids here. You'll find crafts, games, coloring pages and more!
You can also find a fun Fireworks Craft here – kids create firework prints by stamping a pineapple! What a fun Fourth of July party decoration for your bulletin board!
Plus, there's 3 free 4th of July Coloring pages here. Perfect for your Independence Day gatherings!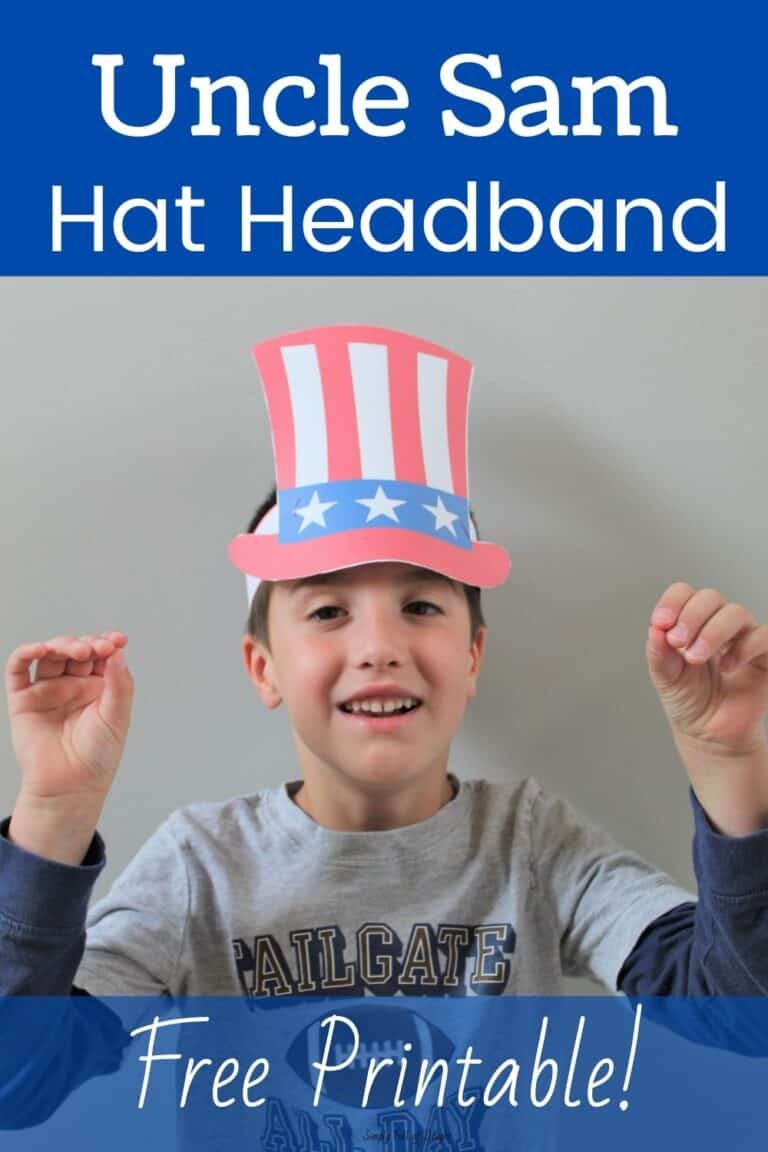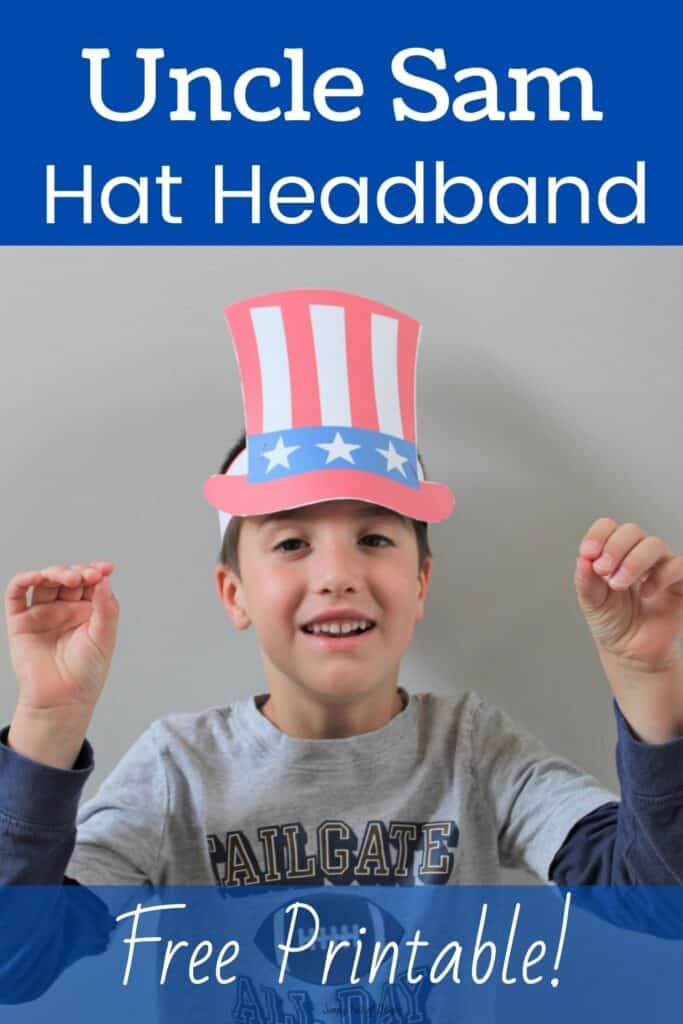 Related Posts