Here's a simple cat craft for kids! Make a paper bag cat puppet with this free cat template printable.
Cat crafts for kids come in handy quite a bit because you can use them at Halloween for a black cat or you can use them during a pet, farm, or animal theme.
And of course, cats are pretty popular in general with kids.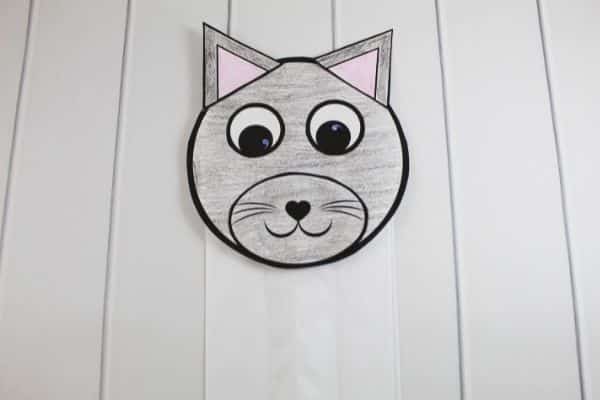 (My kids went cat crazy when our cat Cinnamon joined our family…they say he's absolutely purrr-fect!)
This cat paper bag puppet craft is perfect for younger kids (preschool and kindergarteners), but older kids who love cats will enjoy it too!
Let's get started on this easy cat craft for kids!
Disclosure: As an Amazon Associate I earn from qualifying purchases at no additional cost to you.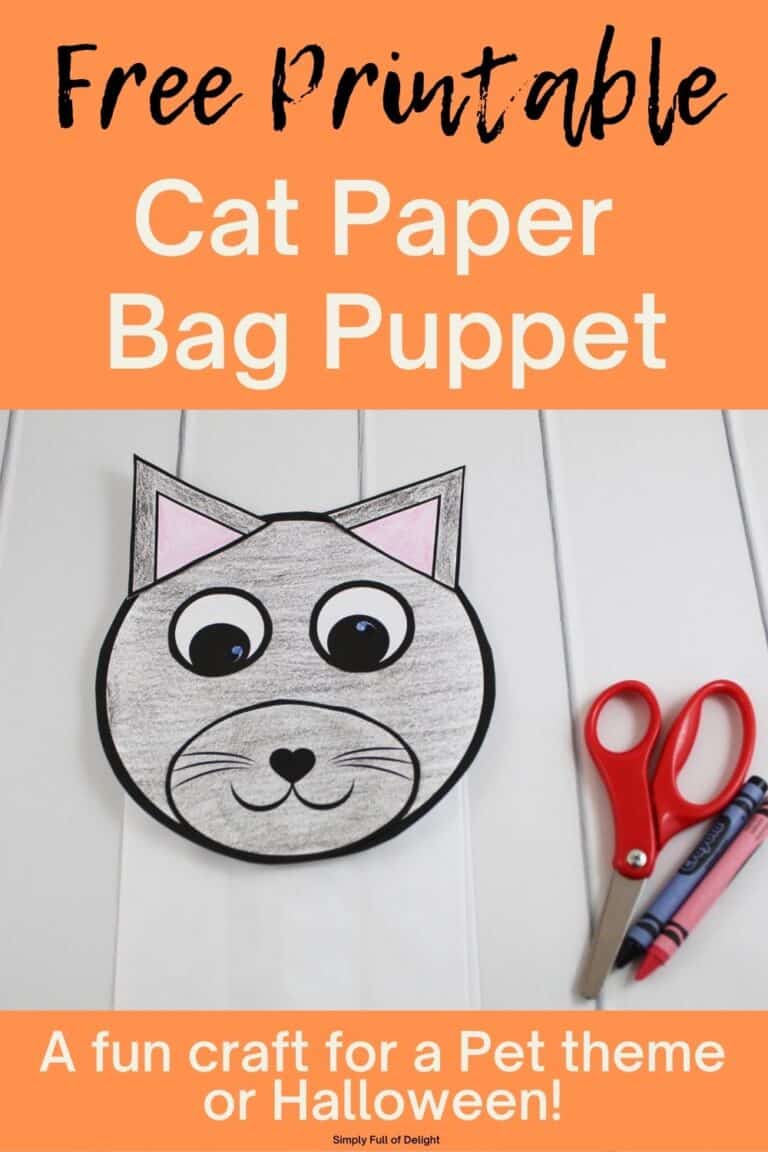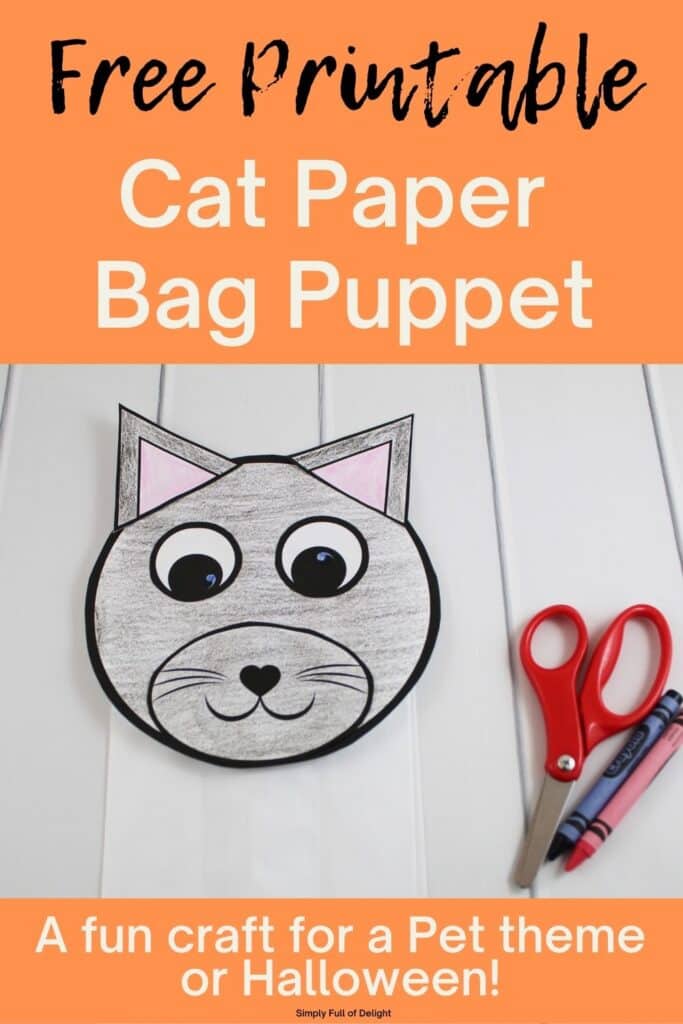 Supplies needed for Paper Bag Cat Puppet
To make this easy peasy cat craft you will need:
– White paper bag – lunch sack size (a brown paper bag works too)
– The Free Cat Template Printable
– Crayons (or markers)
– Glue Stick or School Glue
– Scissors
Ok! Let's begin making our paper bag cat puppet!
How to make a DIY Cat Paper Bag Puppet
First, print out the cat puppet printable.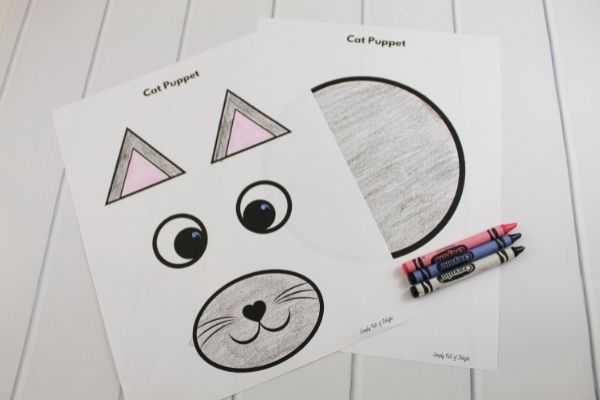 Next, have your kids color the cat template printable.
Depending on whether you are using this for Halloween or not, you might want to encourage them to color their cat black. Otherwise they can color the cat brown, orange, striped, or maybe even blue for Pete the Cat!
We left the eyes mostly plain except for a spark of blue in the corner of each eye. Then we colored the inside triangle of the ears pink and upper part of the ears black. The large circle, which is the face, we colored black, as well as the mouth.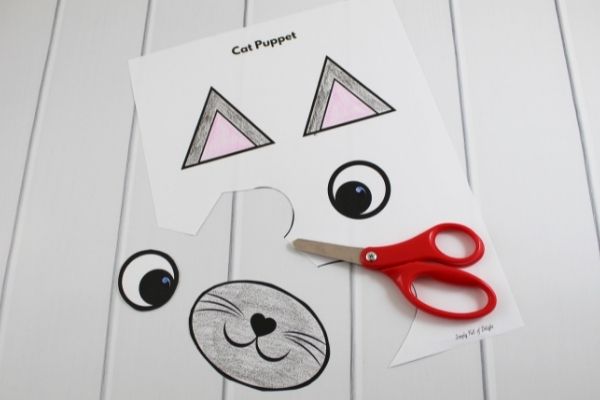 Provide your children with child safe scissors. We love Fiskar's blunt tip child safe scissors! They are the best for little hands!
Show your kids the pieces that need to be cut out. This cat template printable was created to make cutting out easy for little ones and to help younger kids practice those cutting skills.
Most kids ages 4 and up should be able to do this by themselves, if they have cut before. Younger kids may need some assistance with cutting.
How to make the Printable Cat Hand Puppet
Once your pieces are cut out, it's time to put together the cat paper bag puppet!
The cat face (the large circle) will be on the bottom flap of the bag.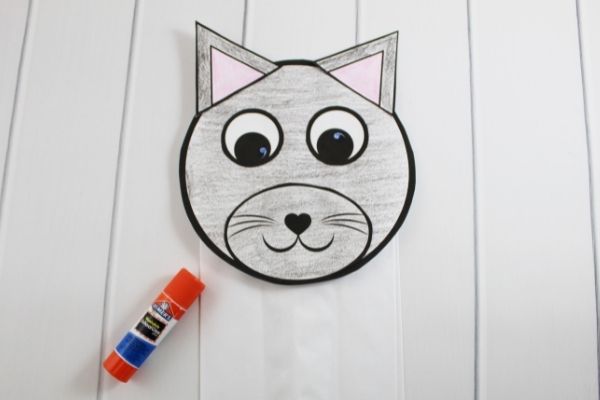 Next, have the kids lay out the pieces of the cat puppet template before they start to glue. This helps them figure out where things fit on the face.
So, on top of the large circle, we added the nose with mouth piece towards the bottom. Next we centered the eyes and added the triangle ears on top.
Once they have placed everything where it looks good, it's time to glue it down.
A glue stick is perfect for this project because it keeps the craft low-mess, but you can use school glue if you like.
Now, it's finished! You have a cute cat paper bag puppet! Time for a puppet show! Kids can place their hand inside the bag to make the puppet move.
What a fun craft that encourages pretend play!
Note: Want to make a Dr Seuss Cat in the Hat paper bag puppet? Simply add a striped hat with construction paper to the top of this cat puppet.
Also, if you would rather, you can glue the template to a paper plate to make a simple cat paper plate craft with your little one.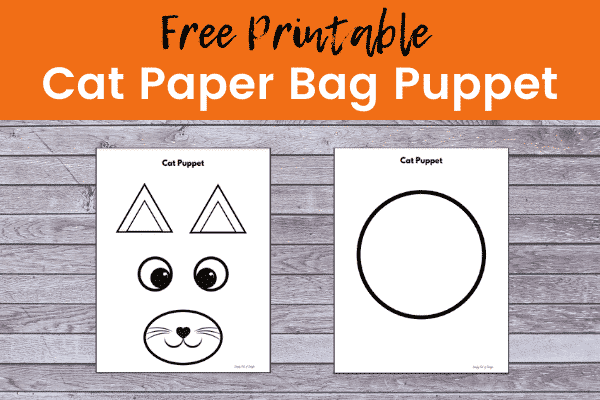 How to Print the Free Cat Template Printable
Ready to make this cute paper bag cat puppet? Grab the free printable cat puppet in my free Resource Library for my email subscribers.
Not an email subscriber yet? No worries!
Enter your email in the blue box below to join my email subscriber list. You will gain instant access to the Resource library. You can get this free paper bag cat puppet template plus a ton of other free printables as well!
More Puppets and Crafts for Kids
You can find more paper bag puppets for kids right here on my blog. There's an adorable Unicorn Puppet with free template here. Great for teaching the letter U and of course for unicorn loving kids!
Need the perfect craft for farm loving kids? Be sure to check out the fun Pig Paper Bag Puppet with free printable here.
Want more kids crafts ideas? Check out these Creative Paper Craft Ideas for kids!
You can also find more fun kids activities here on my blog!
Want to save this idea for later? Pin the image below