Looking for an easy preschool squirrel craft? Kids will love creating this moveable paper squirrel! All you need is the free printable and a few simple craft supplies.
This simple fall craft for kids is a great way to practice scissor skills and fine motor skills. Coloring is a great way to build hand strength and practice that pencil grip they will need for handwriting later!
Alright, let's dive into our easy preschool squirrel craft!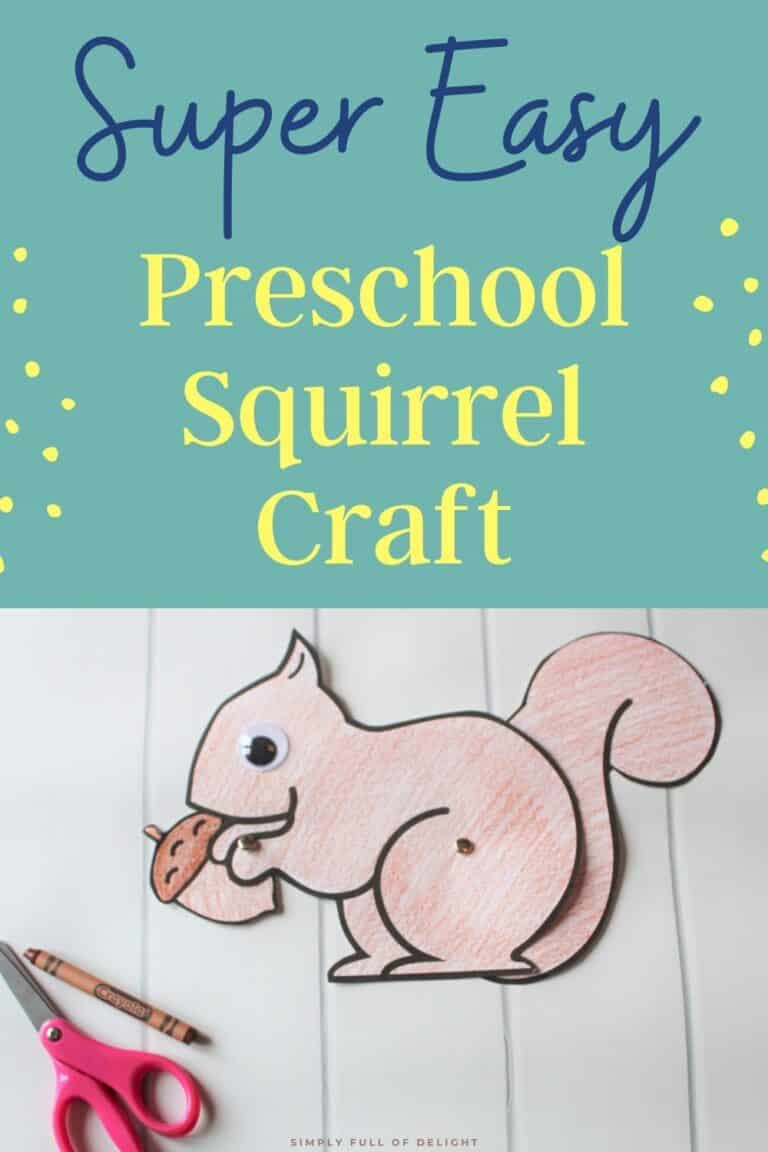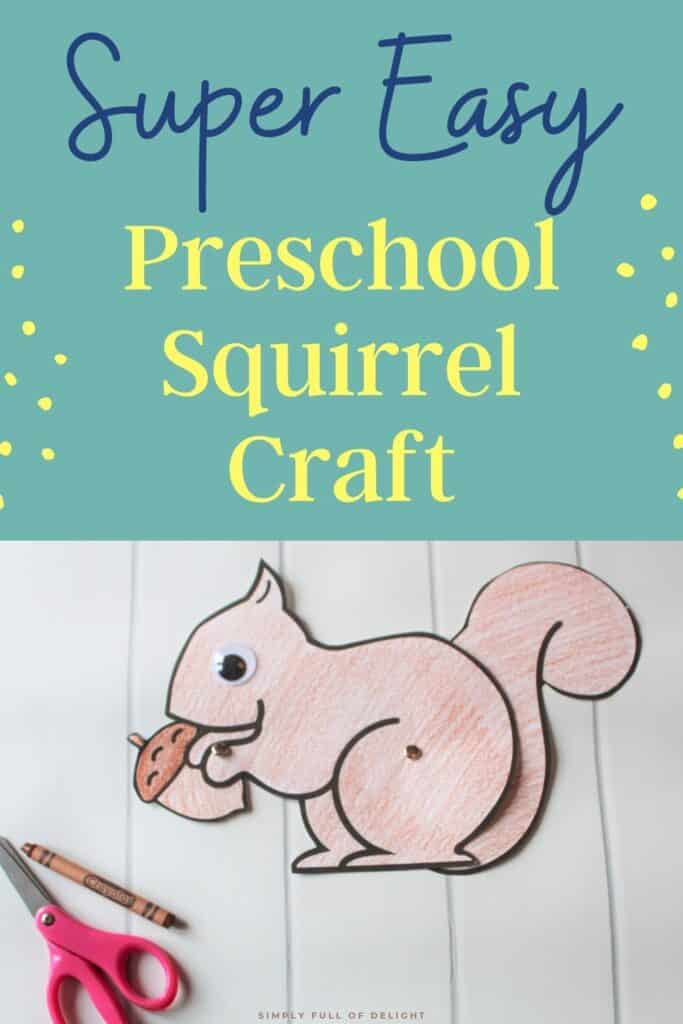 Paper Squirrel Craft
For this paper squirrel craft, you will need the following items:
** Disclaimer: As an Amazon.com Associate, I may earn from qualifying purchases made by readers clicking my links at no extra cost to you.
– The Free Squirrel PDF (You can access it in the free Resource Library, available to all of my email subscribers. Not on my email list? There's a form at the end of this article!)
– Brads (You will need 2 brads per squirrel).
– Child safe Scissors (I recommend Fiskars!)
– Elmer's Glue (if your googly eyes are not self-adhesive)
– Crayons
– Optional: Cardstock – You may wish to print this project on cardstock to make it more durable!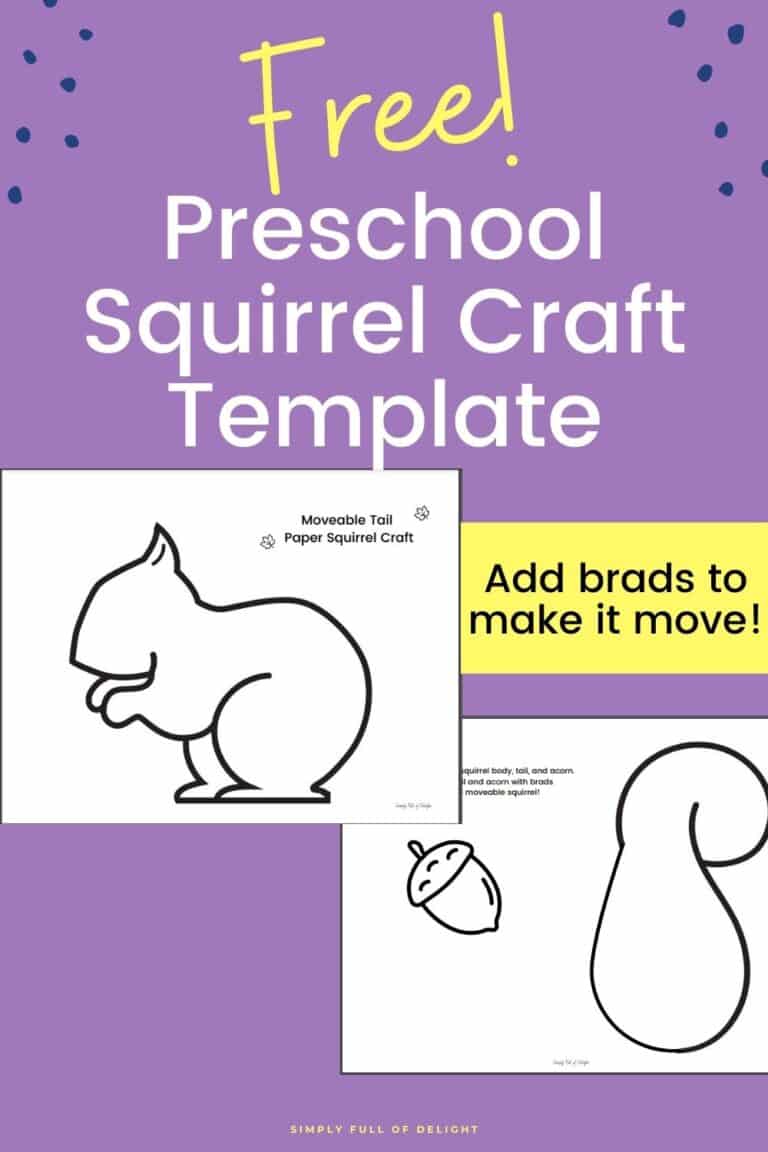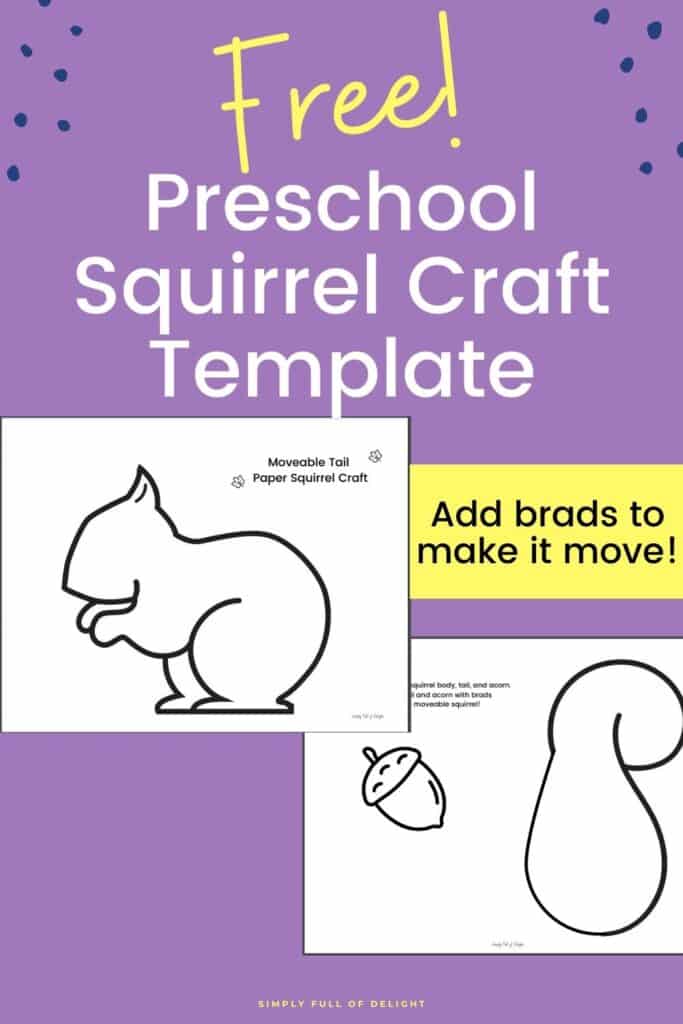 Preschool Squirrel Craft Instructions
First, print out the free squirrel craft template from the free Resource Library (free to my email subscribers! If you haven't joined yet, there's a blue box to join below!)
You might like to print this on cardstock to make it more durable!
Next, have your child color the squirrel with crayons. Have them also color the squirrel tail and the acorn as well.
Now, you're ready to cut. Provide your child with child-safe scissors and have them cut out all 3 pieces of the paper squirrel craft.
Once they have cut out the body, tail, and acorn, help them attach the pieces with a brad.
Now it's time to add a googly eye! If you attached the googly eye with glue, be sure to allow time to let it dry.
And that's it! All done! Kids will enjoy playing with their moveable squirrel craft.
This craft pairs well with books about squirrels. My personal favorite squirrel book is called Those Darn Squirrels. It's a silly book, but it will have you and your kids laughing the whole time. Be sure to also read Those Darn Squirrels Fly South.
Grab the Free Squirrel Craft Template
You can grab the free paper squirrel craft PDF in the free Resource Library which is available to my email subscribers. To Join my email list, simply type your email in the blue box directly below. You will gain instant access to all the free printables in my Resource Library including this easy Preschool Squirrel Craft!
More Fall Preschool Activities
If you enjoyed this fun fall preschool craft, be sure to check out these other fall activities for kids!
If you are looking for apple picking activities, I have a Color Sorting Apple Tree Activity here.
There's also a Marble Painting Apple Craft here.
If you love sensory bins, be sure to check out this fall sensory play idea.
You can find a cool Jack-O-Lantern cut and paste activity here, as well as a fun little pumpkin tractor activity.
For Halloween, there's free Monster Coloring Pages as well a printable Witch Hat Headband here.
I hope you enjoy this easy squirrel craft! Happy Autumn to you and yours!