Here's 48 amazingly easy Christmas Crafts for 4 Year Olds. Yes, tons of easy holiday crafts perfect for your preschooler!
With the holiday season quickly approaching, we are leaning into fun seasonal crafts. Today I am sharing some of the cutest, yet totally simple Christmas Crafts for Kids.
For this article, I asked fellow bloggers for preschool Christmas Craft ideas, and wow did they deliver! You'll find everything from reindeer to elves to Santa Claus himself. Let's dive in!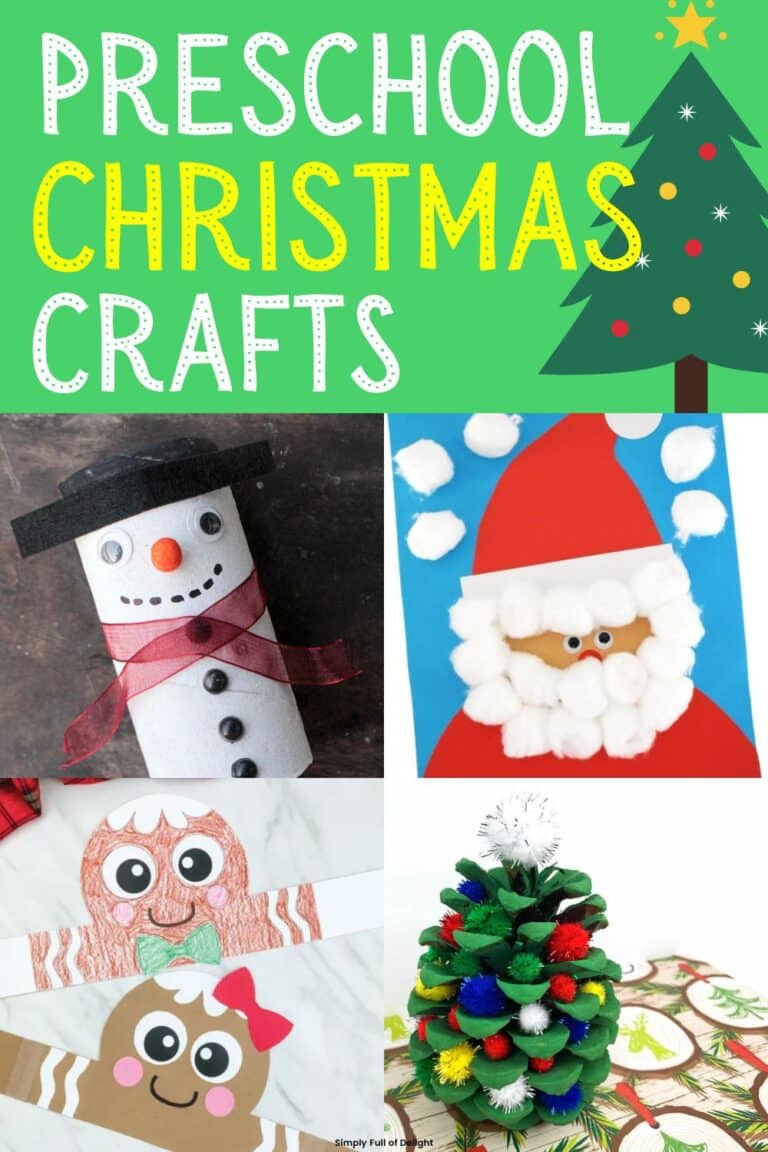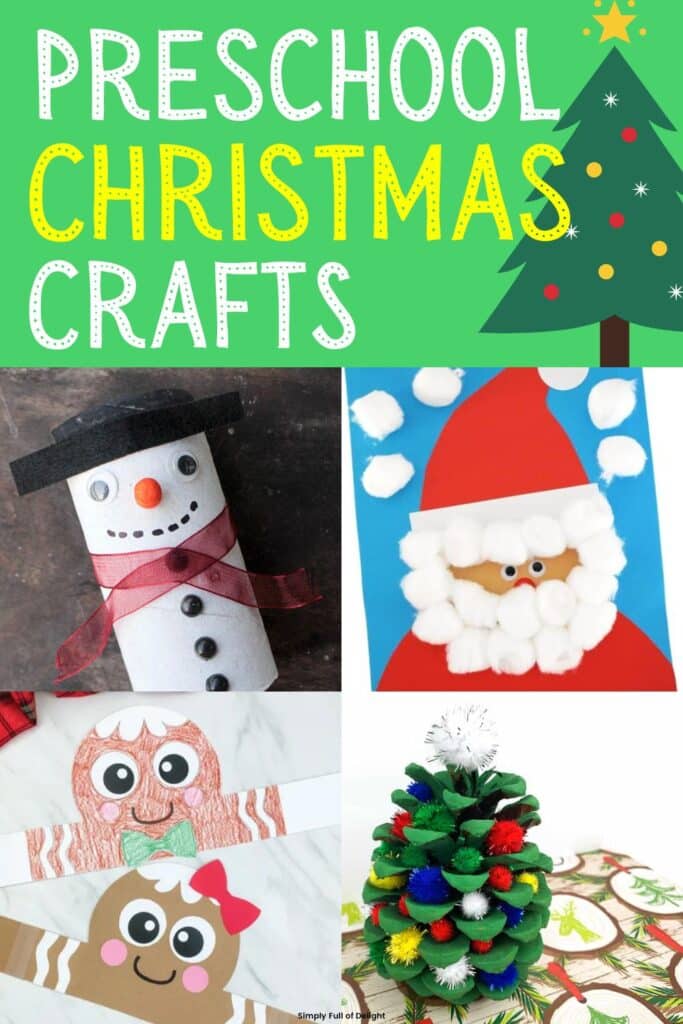 1) Santa Hat Headband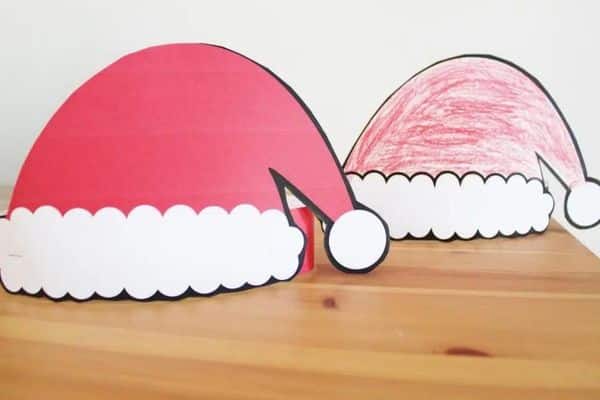 First up is this adorable and easy Santa Hat Headband from my blog Simply Full of Delight. This Christmas hat is perfect for your little ones to wear at holiday events. Choose from a full color version or a Color your Own! So much fun for kids of all ages!
2) Popsicle Stick Rudolph Craft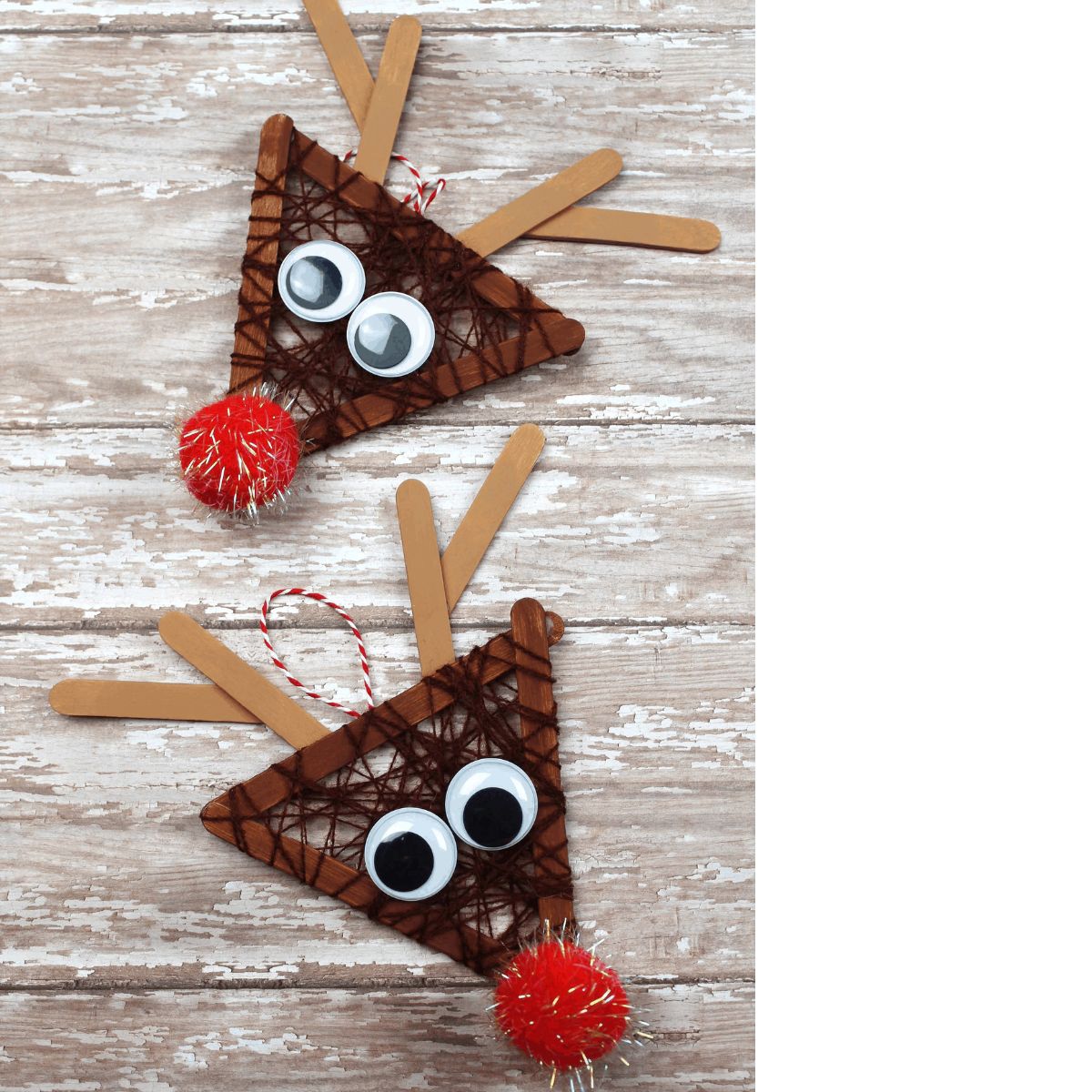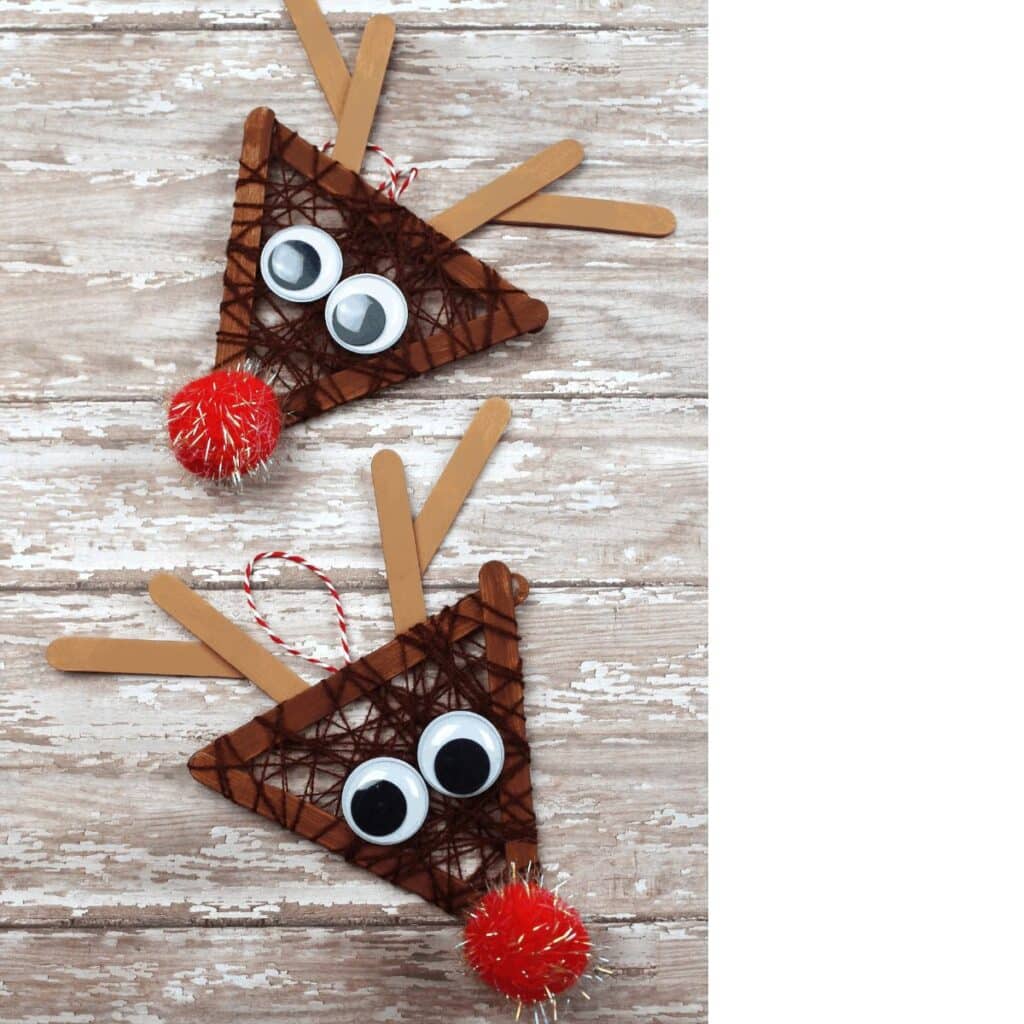 This Popsicle Stick Rudolph Craft is from The Inspiration Edit. Kids can create this adorable reindeer craft by wrapping brown yarn around popsicle sticks! This adorable reindeer will be enjoyed for years as an ornament on your Christmas tree. So cute!
3) Free Printable Christmas Glasses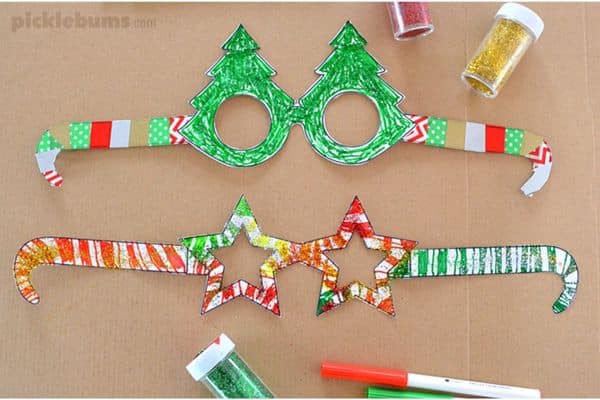 These awesome Free Printable Christmas Glasses are by Picklebums. Kids will love creating their very own holiday themed glasses to wear! Such a cute idea that is perfect for the kids' table at holiday gatherings.
4) Craft Stick Snowman Magnet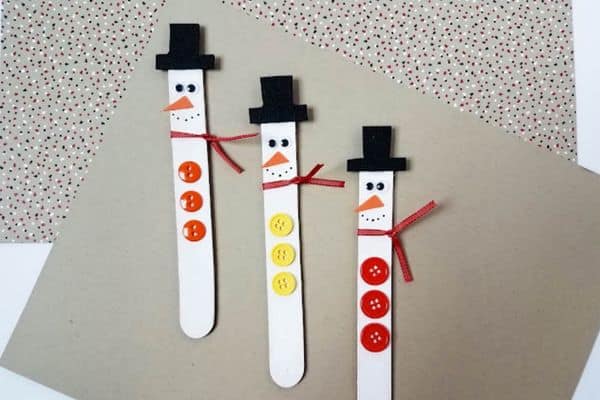 Check out this Craft Stick Snowman Magnet by Attachment Mummy. I love that you can display this craft all winter long….even after the holiday season has passed. Such a great idea!
5) Easy Toilet Paper Roll Snowman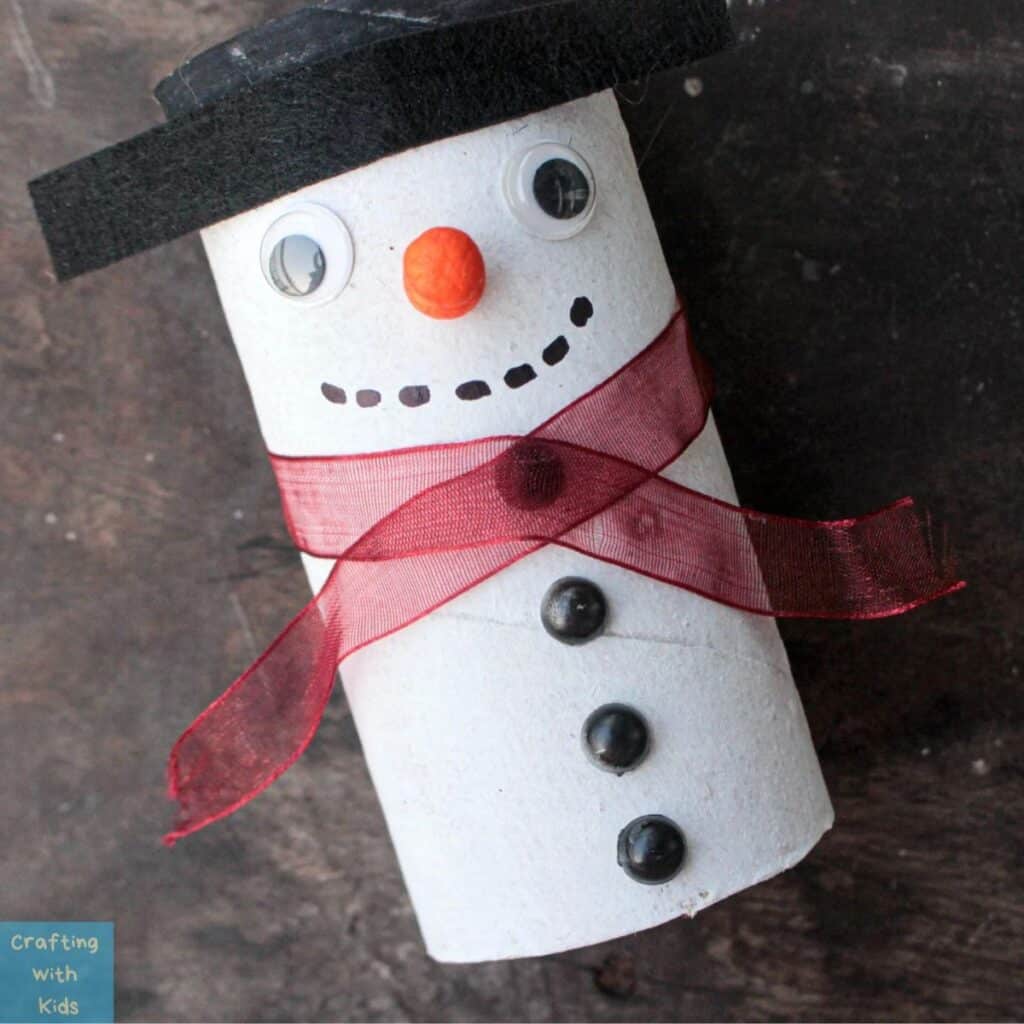 This Easy Toilet Paper Roll Snowman is by Crafting with Kids. Little kids will love building their own snowman from a few simple items. I love that this craft incorporates recycling!
6) Christmas Wreath Craft for Preschoolers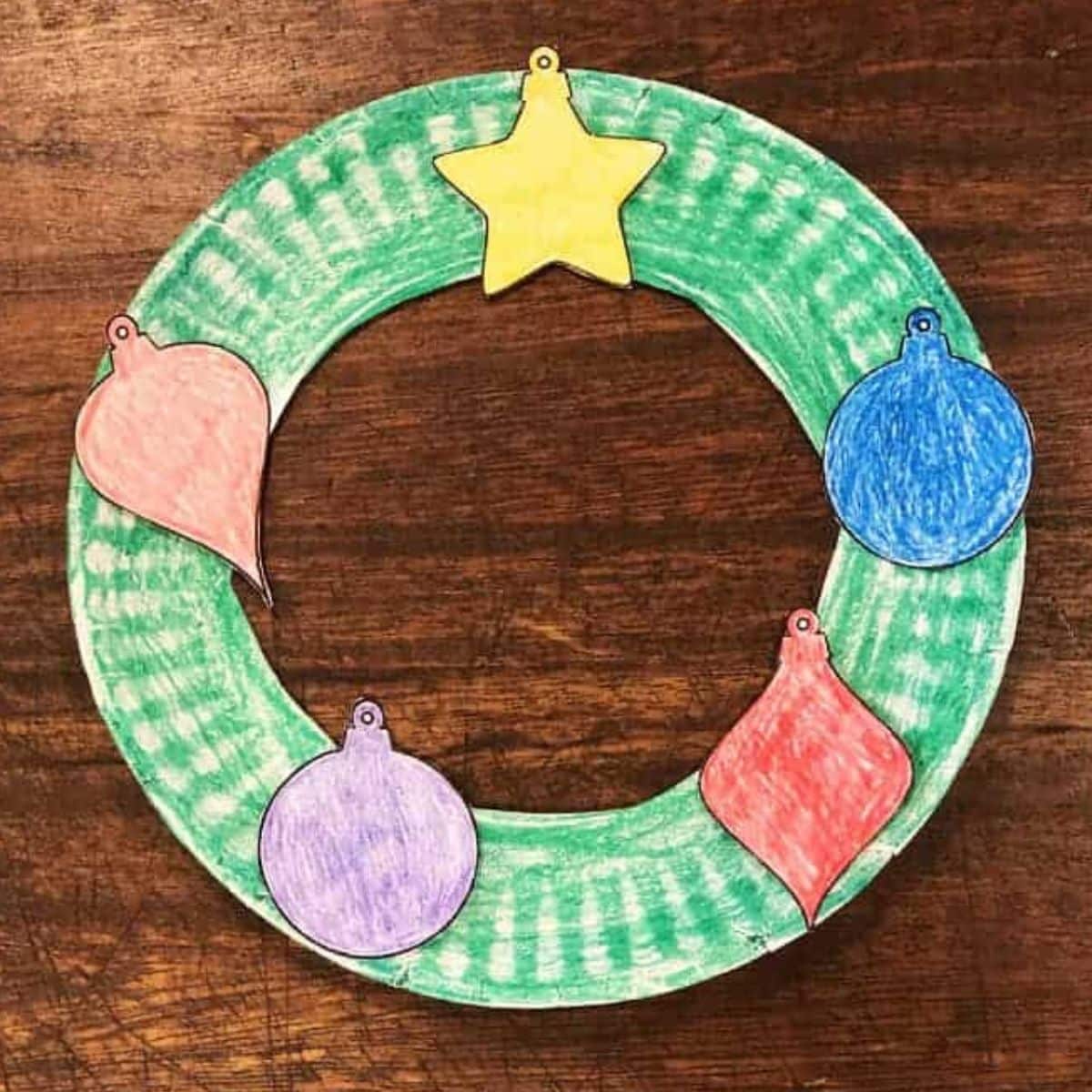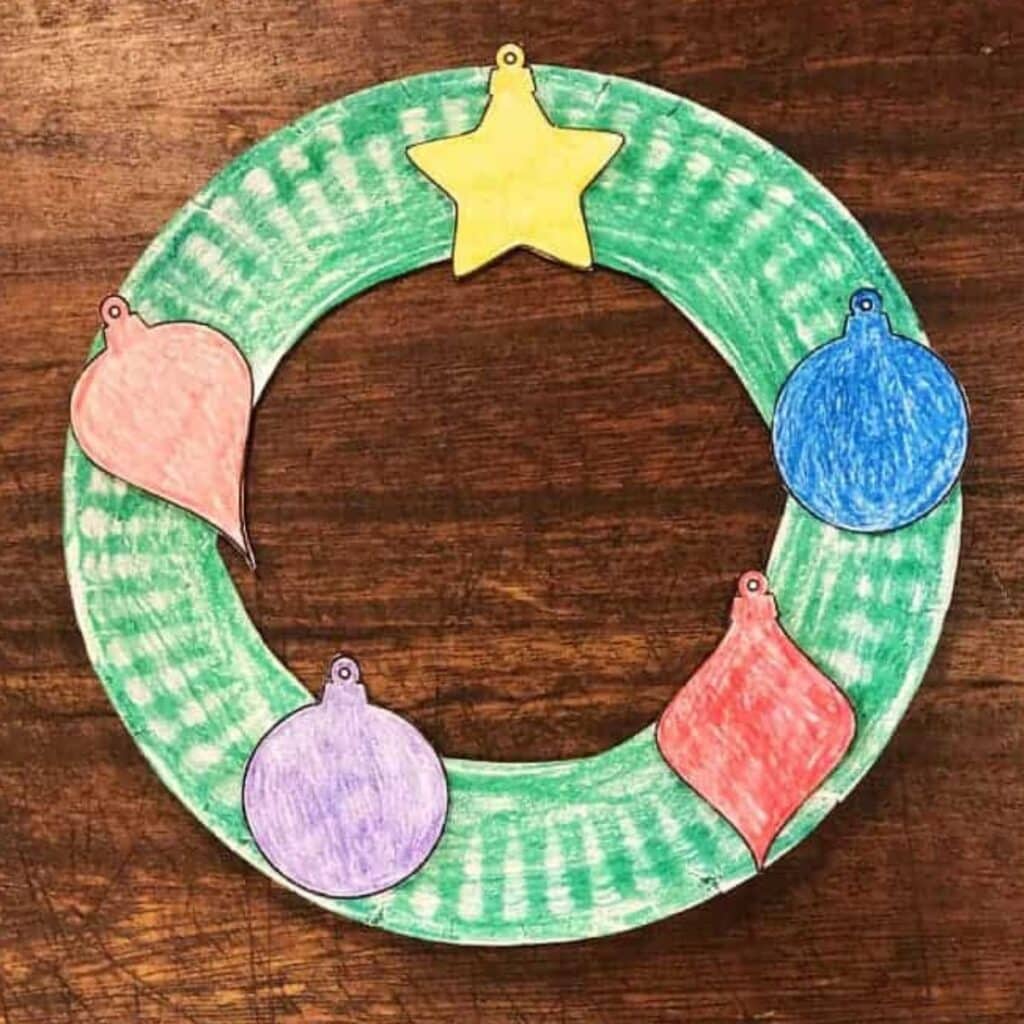 Make a Christmas Wreath Craft for Preschoolers with this tutorial from Two Pink Peonies. Kids can decorate their very own paper plate wreath with this free printable. Such an easy Christmas craft for little ones!
7) Paper Straw Christmas Tree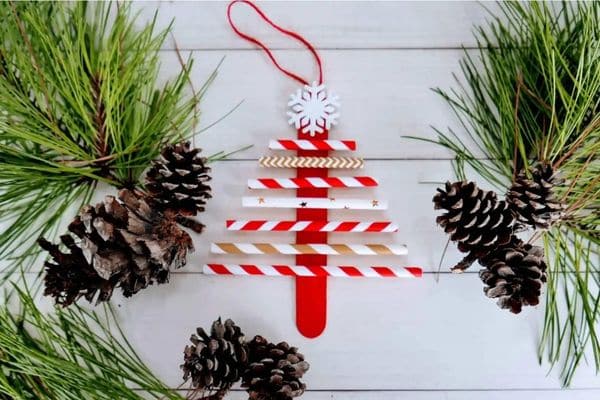 This Paper Straw Christmas Tree is from Made in a Pinch. This easy Christmas craft for kids is so simple and yet elegant. It's sure to be treasured for years as a Christmas ornament!
8) Pipe Cleaner Christmas Trees Craft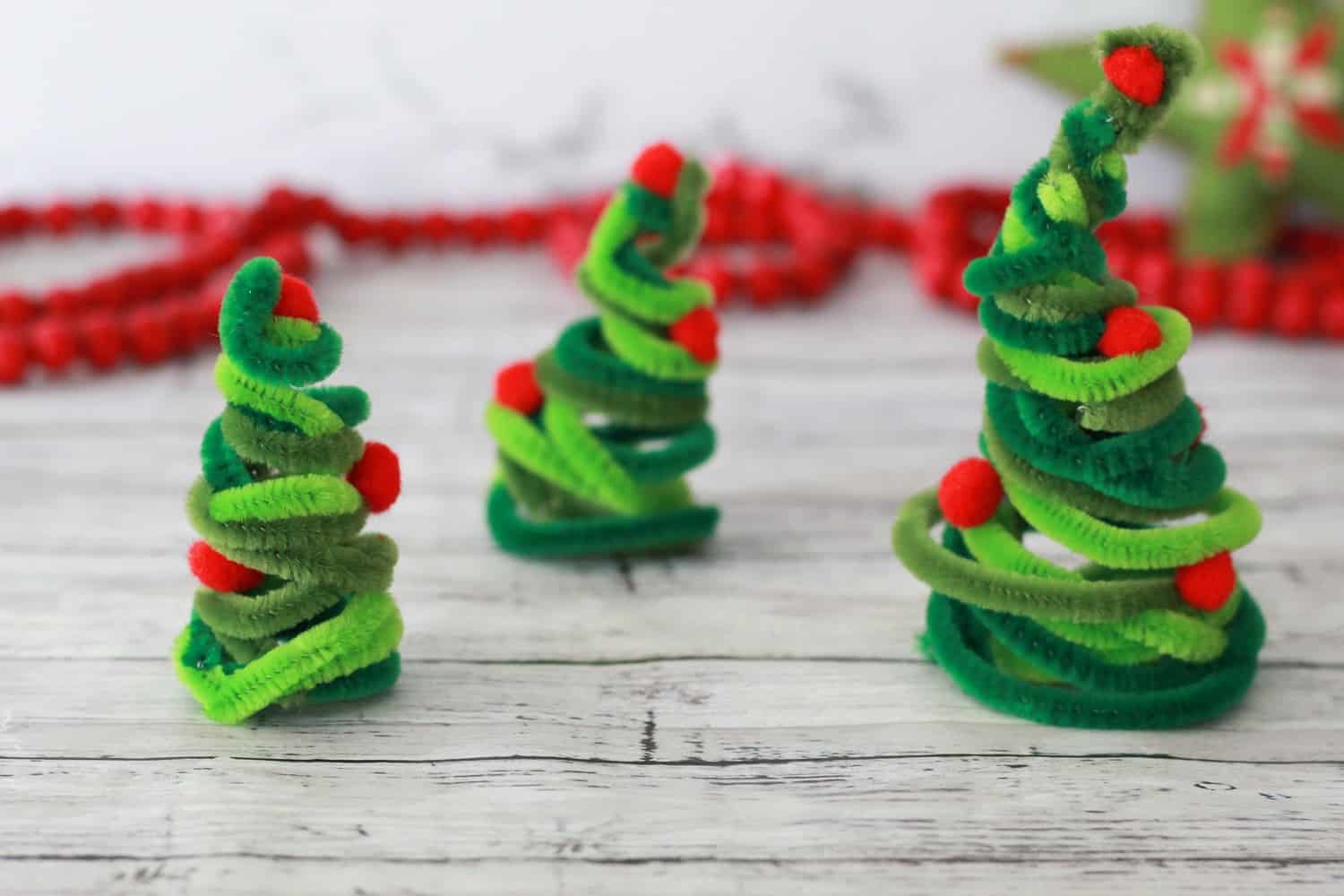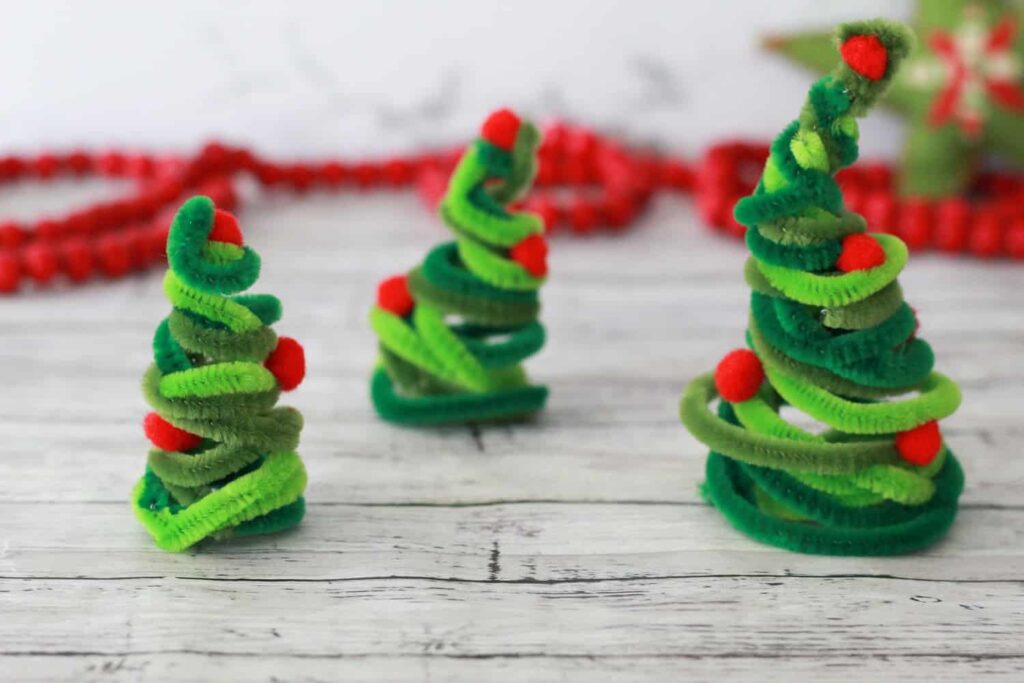 This Pipe Cleaner Christmas Tree Craft is by Two Kids and a Coupon. Wouldn't these tiny trees be so cute as a centerpiece at your holiday meal?! Such a fun idea that's totally doable for preschoolers.
9) Handprint Reindeer Craft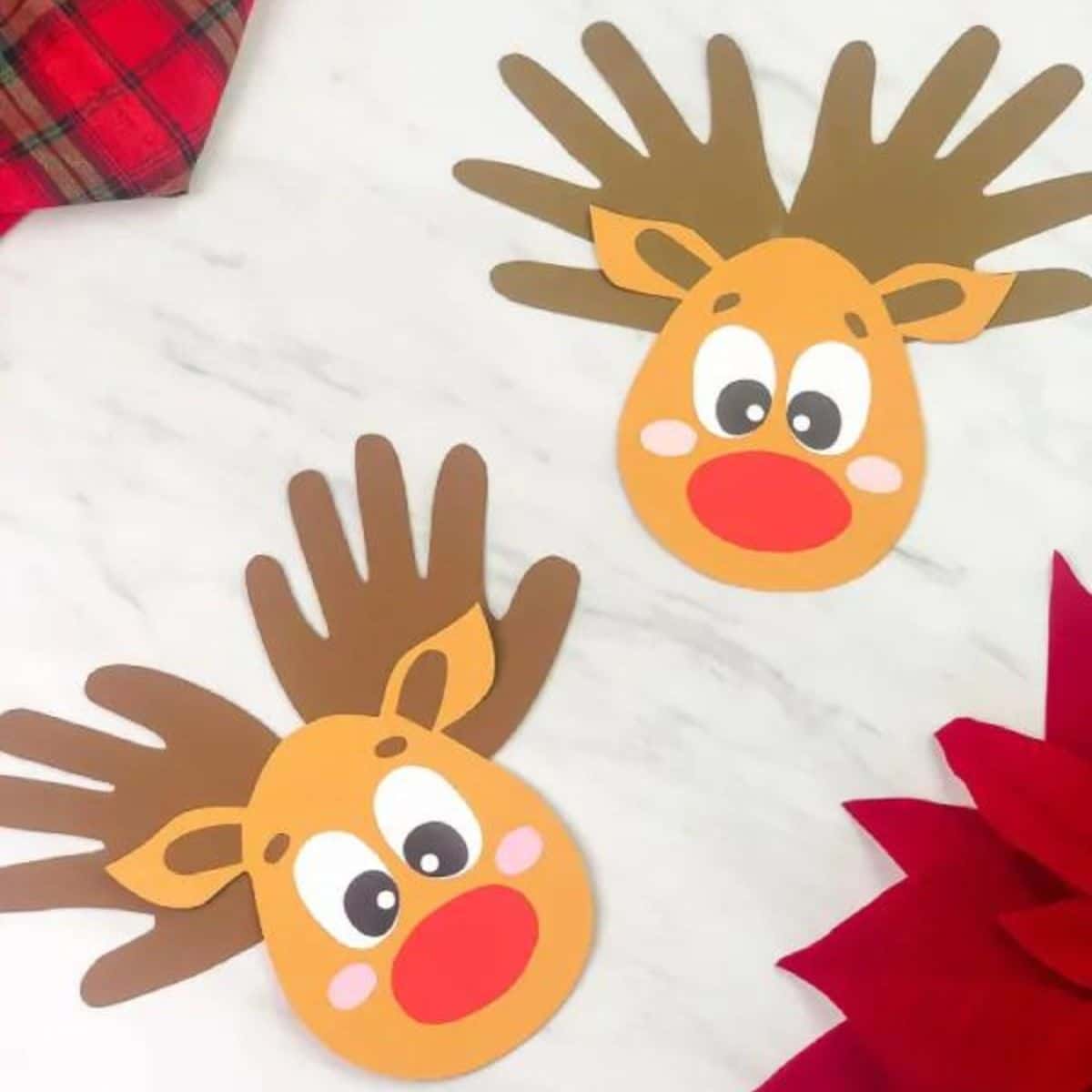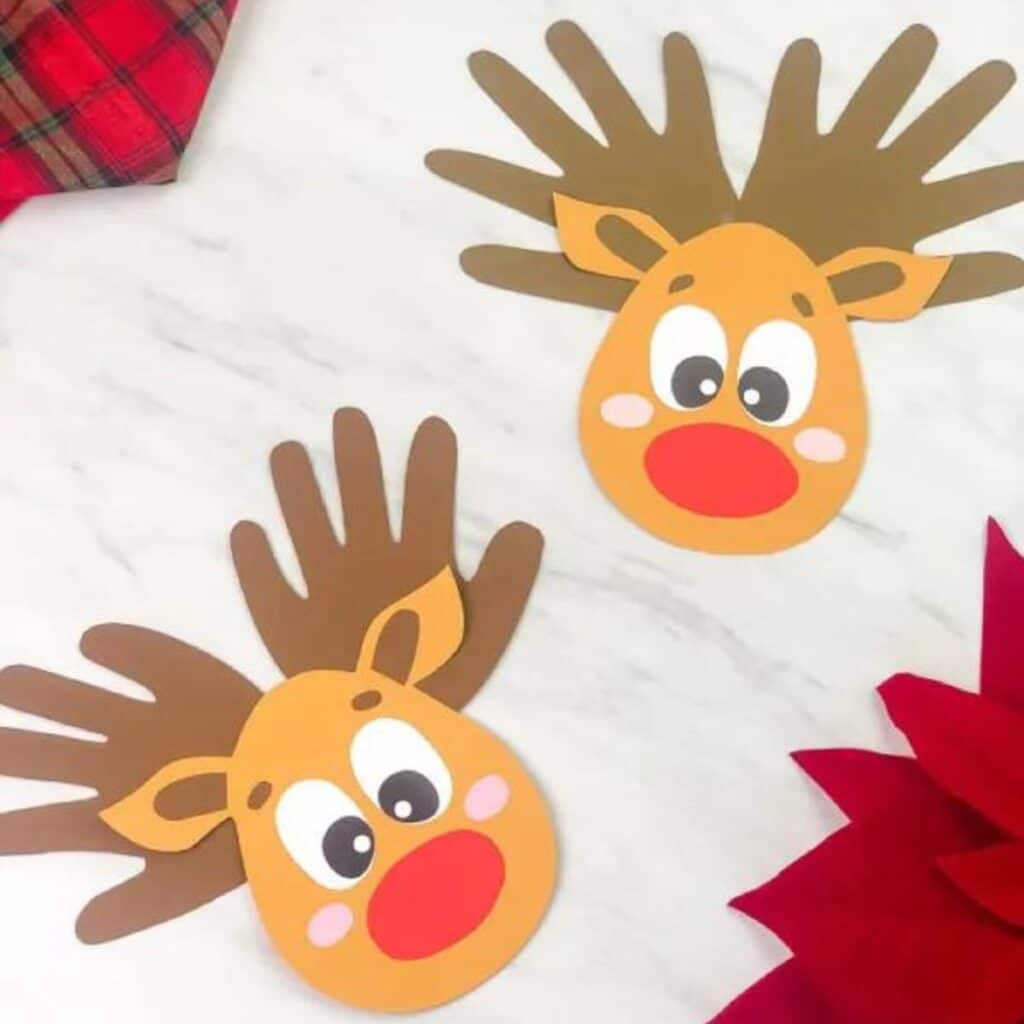 This cute Handprint Reindeer Craft is from Simple Everyday Mom. I love that it incorporates handprint art with a fun Christmas time theme! And parents (and teachers) are sure to love that this handprint craft is mess-free!
10) Printable Paper Christmas Crafts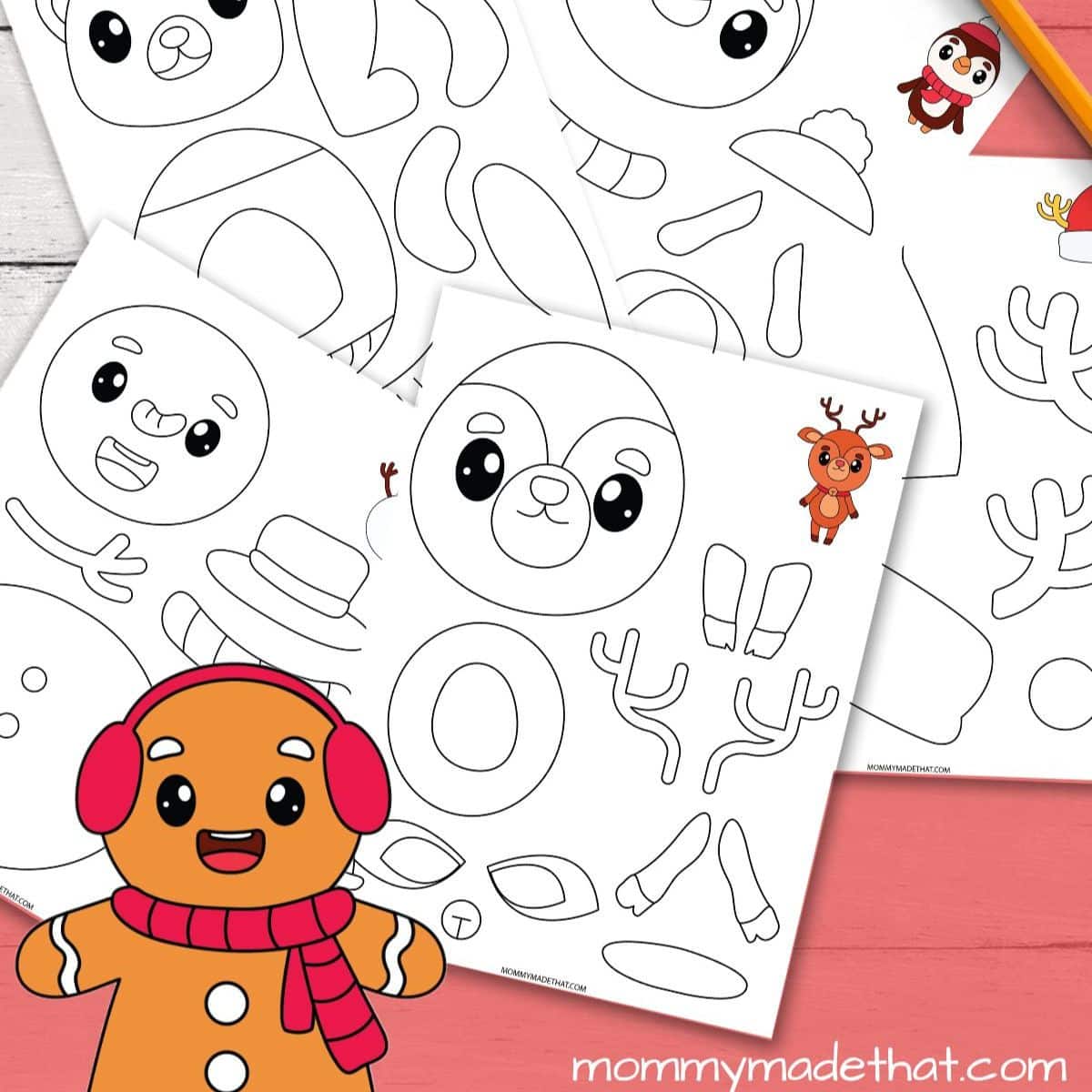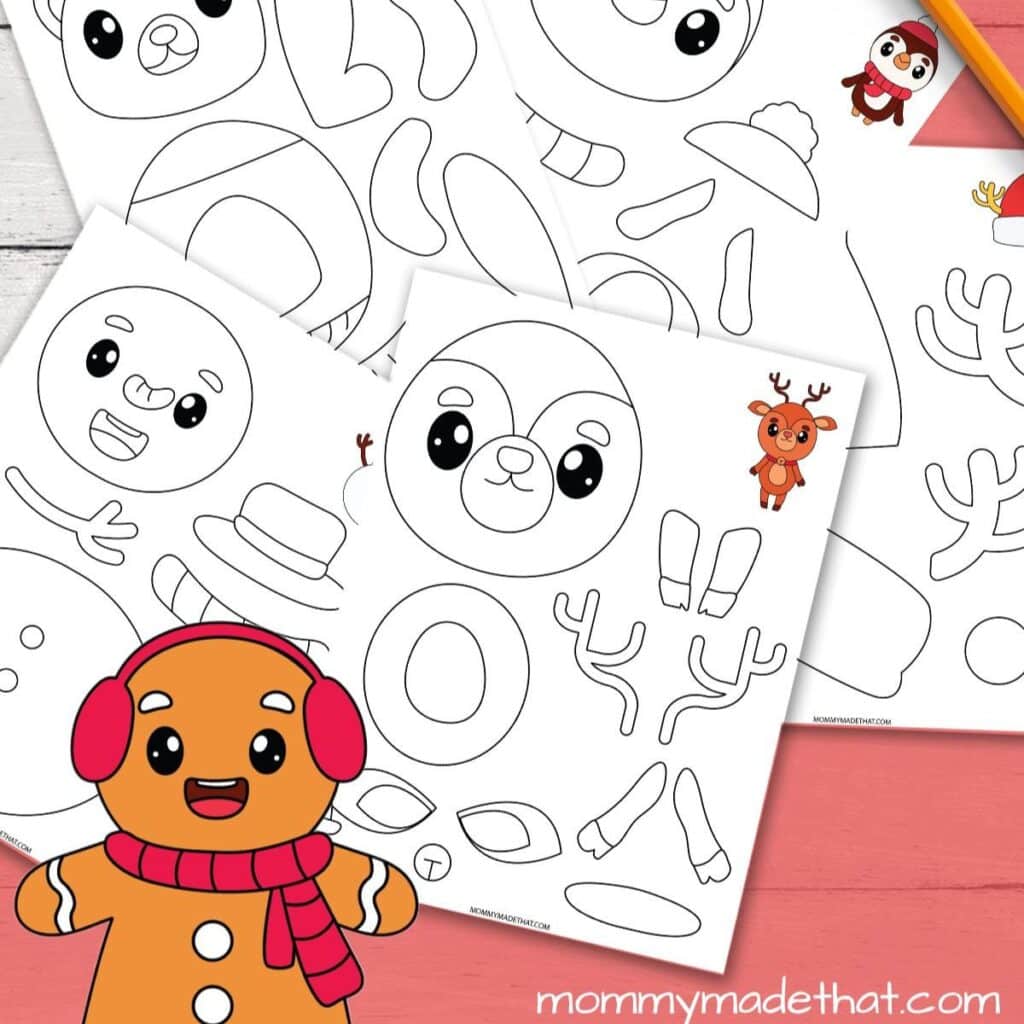 You can grab these fun Printable Paper Christmas Crafts over at Mommy Made That. There's a Snowman, Penguin, Santa Claus, Polar Bear, Gingerbread Man, Elf, Reindeer and some different Christmas hats. These printables are great for practicing scissor skills and of course, they are lots of fun!
11) Handprint Elf Craft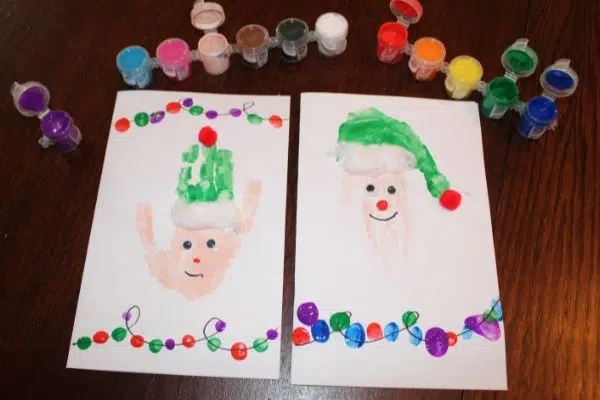 You can find this adorable Handprint Elf Craft here on my blog Simply Full of Delight. A child's handprint forms the face and hat of this elf. Then fingerprints are made to look like a string of Christmas Lights. I love that there is two different ways to make this craft and every elf is as unique as the child who created it!
12) Christmas Slime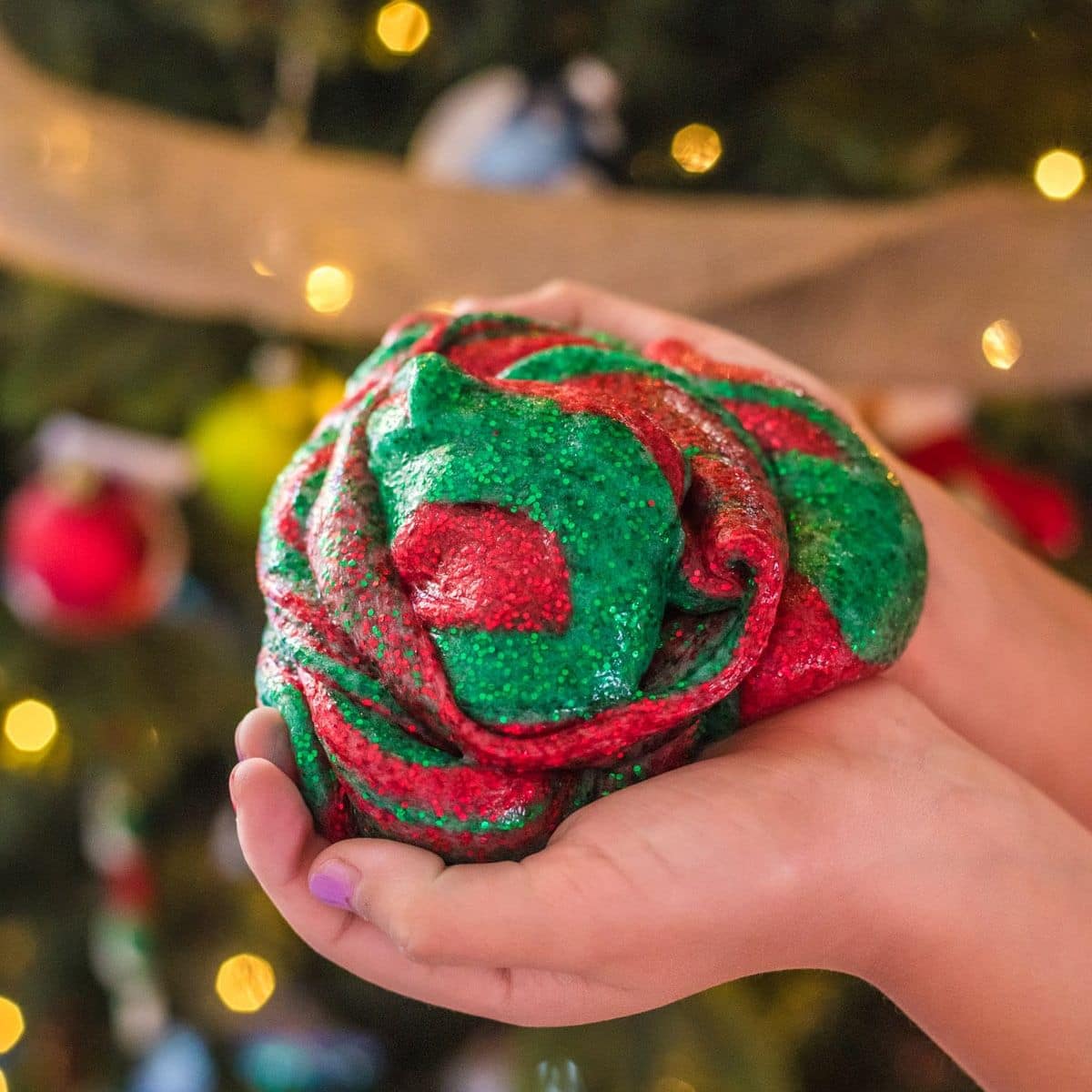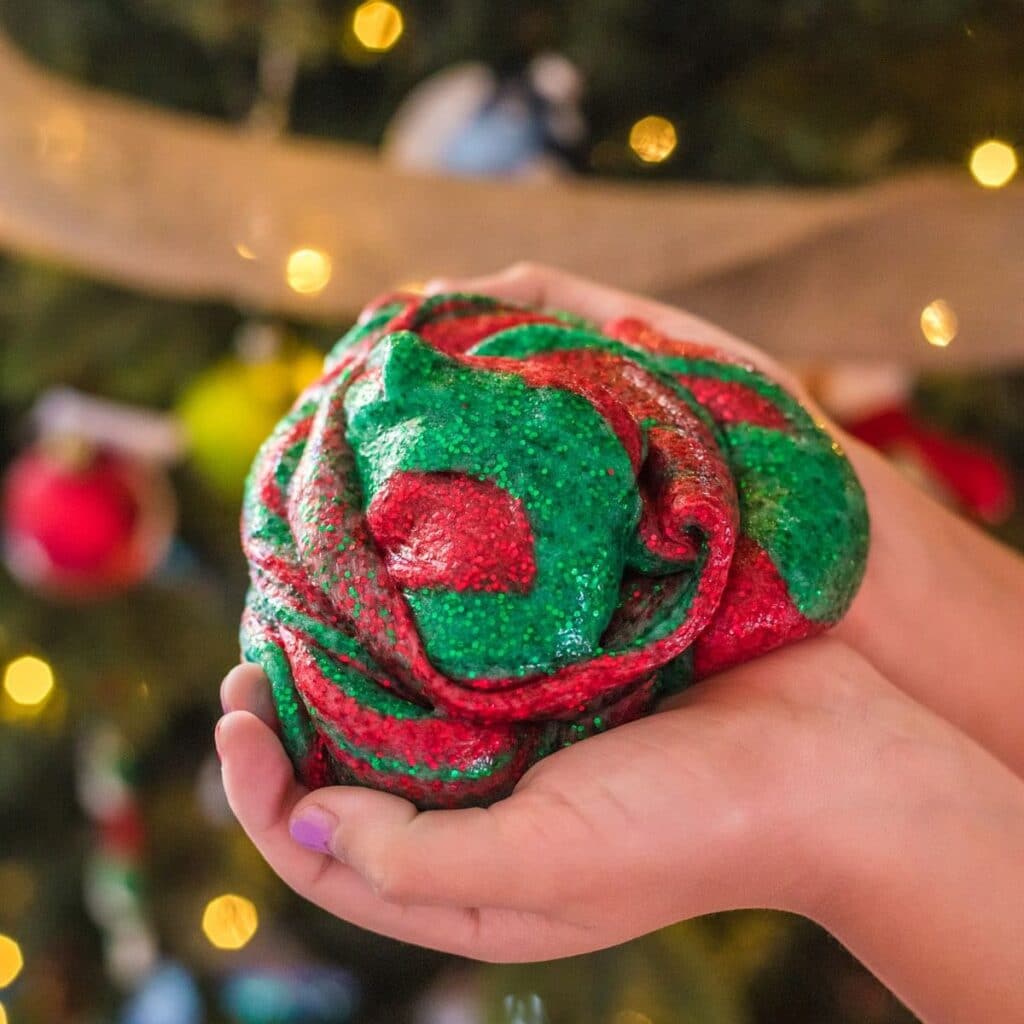 Older kids and young ones alike will enjoy this Christmas Slime from Crafts by Amanda. Check out that holiday sparkle! What a fun sensory play idea for the holiday season!
13) DIY Popsicle Stick Reindeer Ornaments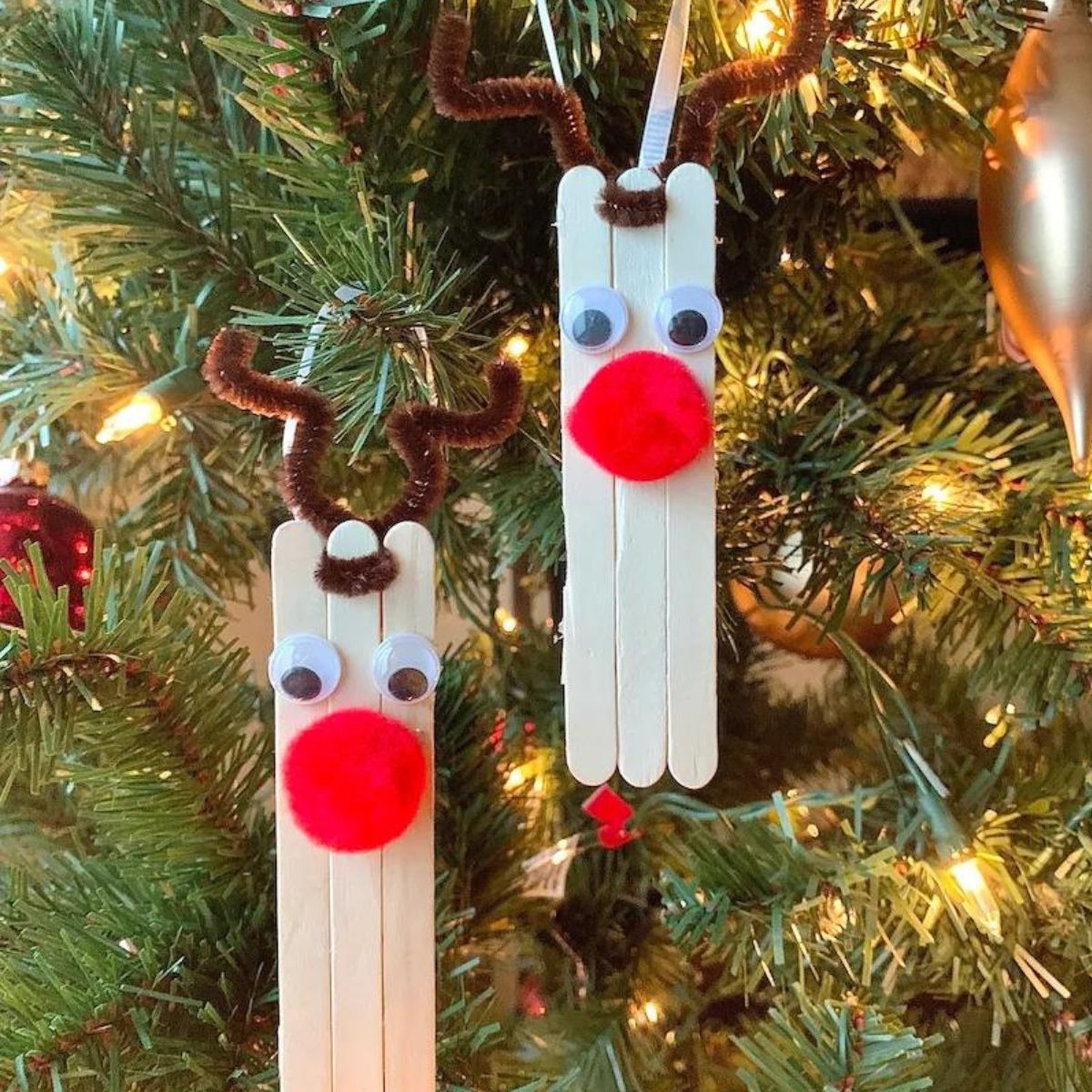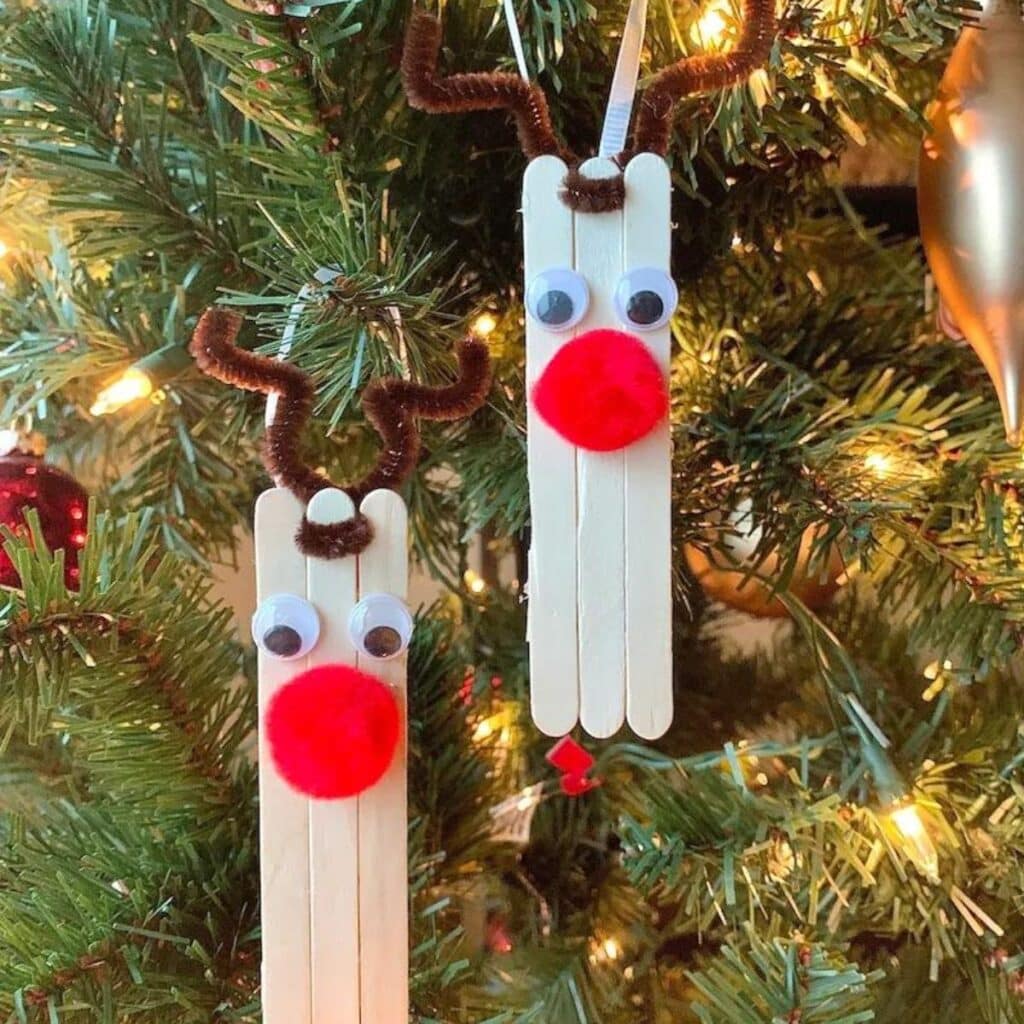 This Popsicle Stick Reindeer Ornament is from Honey & Lime. Super simple and yet so classic! Such a fun ornament for kids to enjoy hanging on the Christmas tree year after year.
14) Kid-made Wreath Ornament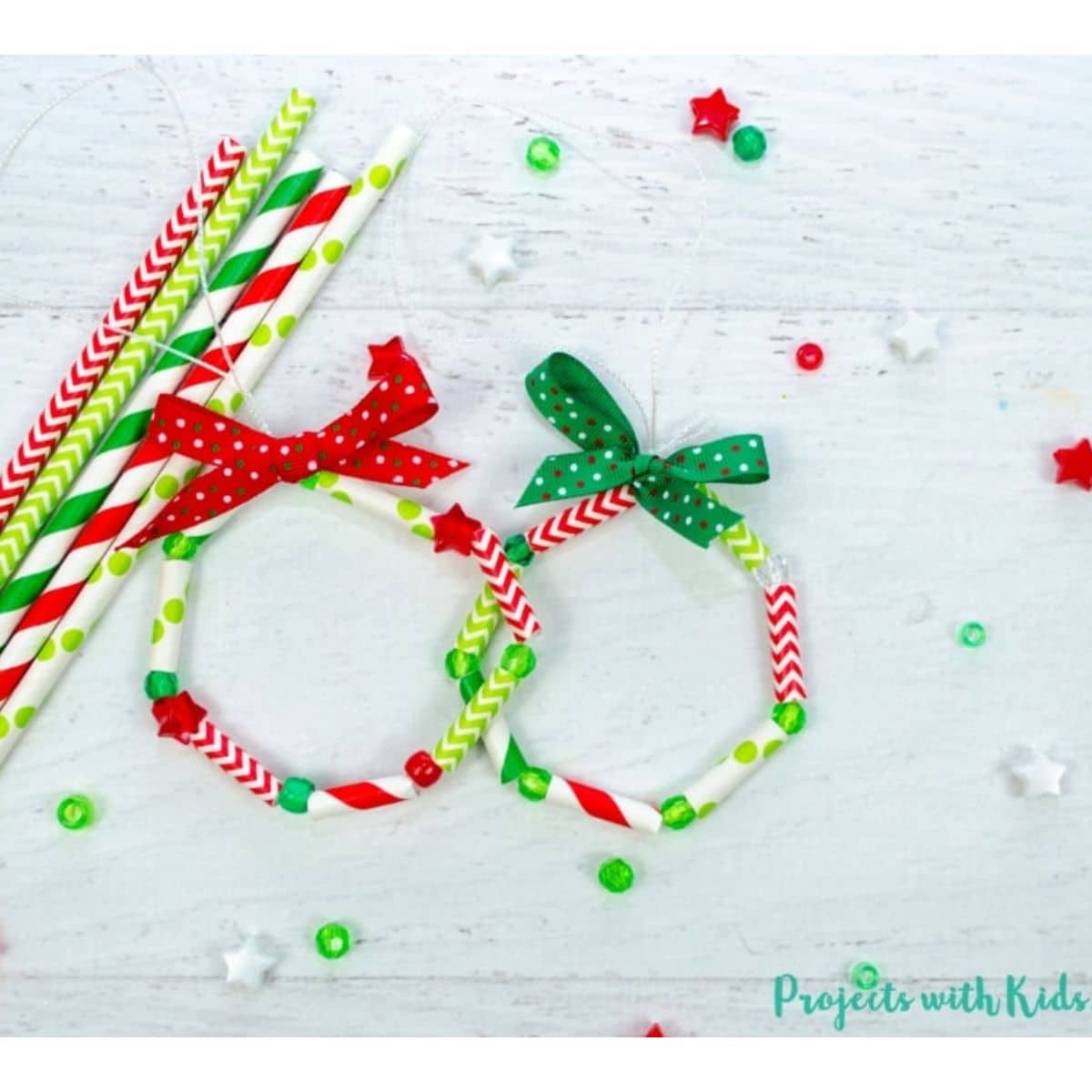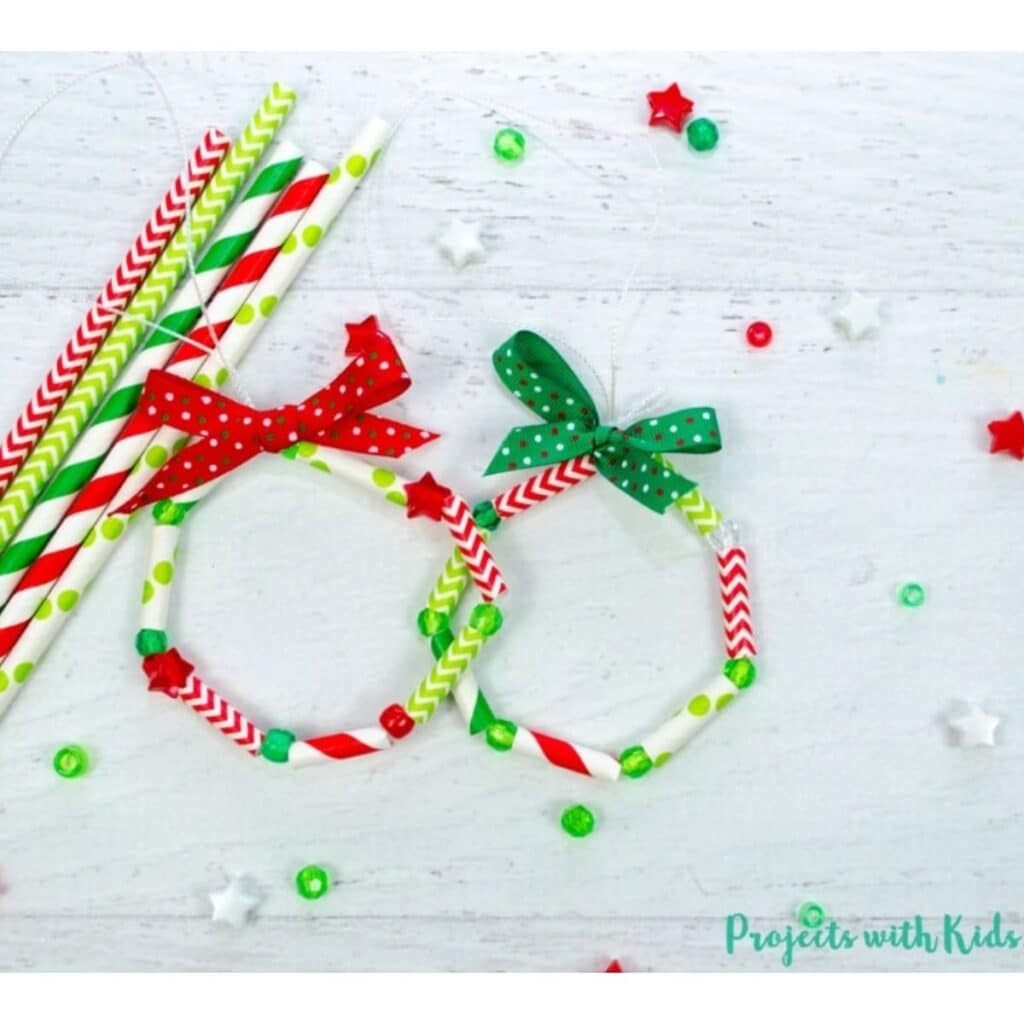 This adorable paper straw Kid-Made Wreath Ornament is by Projects with Kids. It's simple, it's classy and it's a kid-made ornament parents will be happy to hang on their tree!
15) Simple Snowman Craft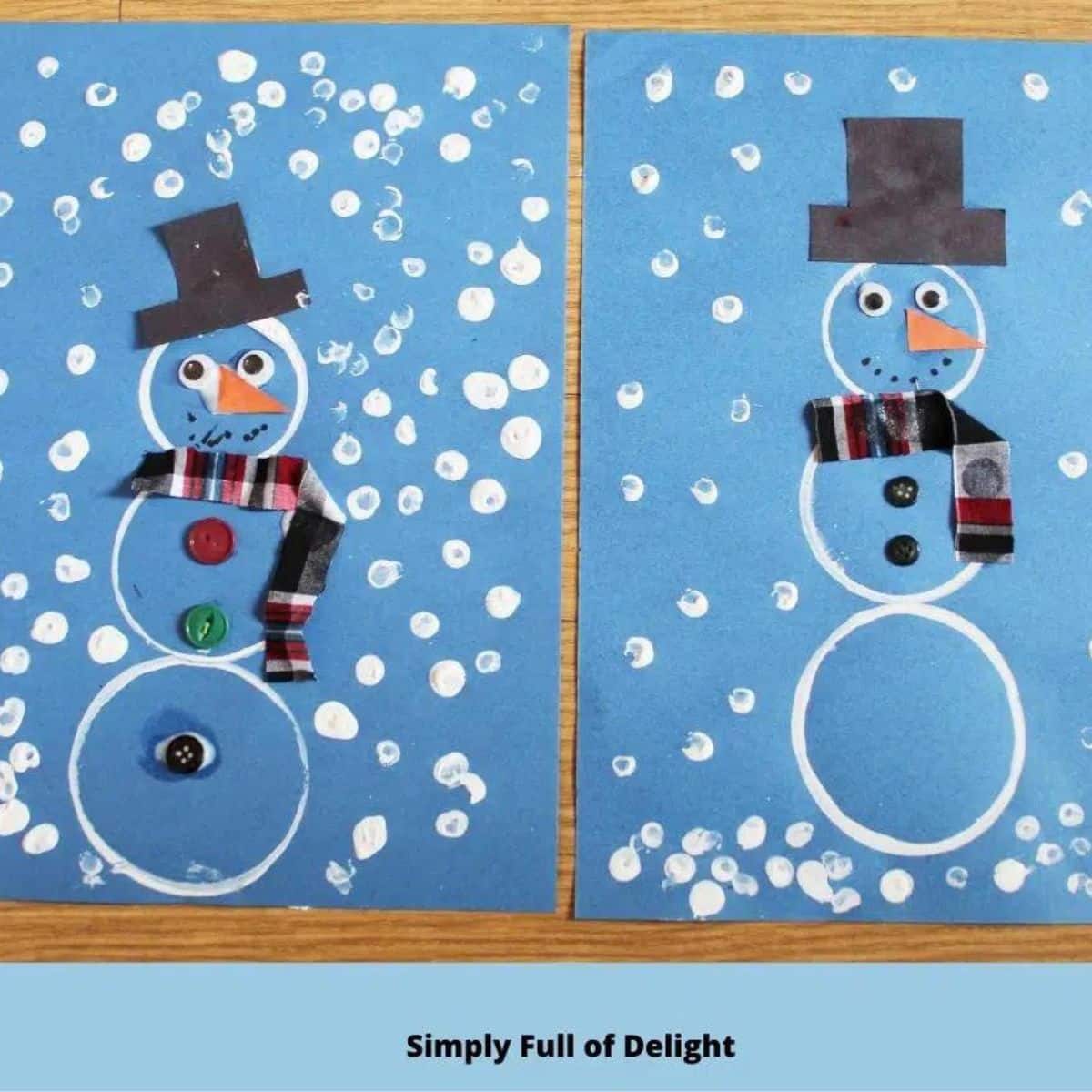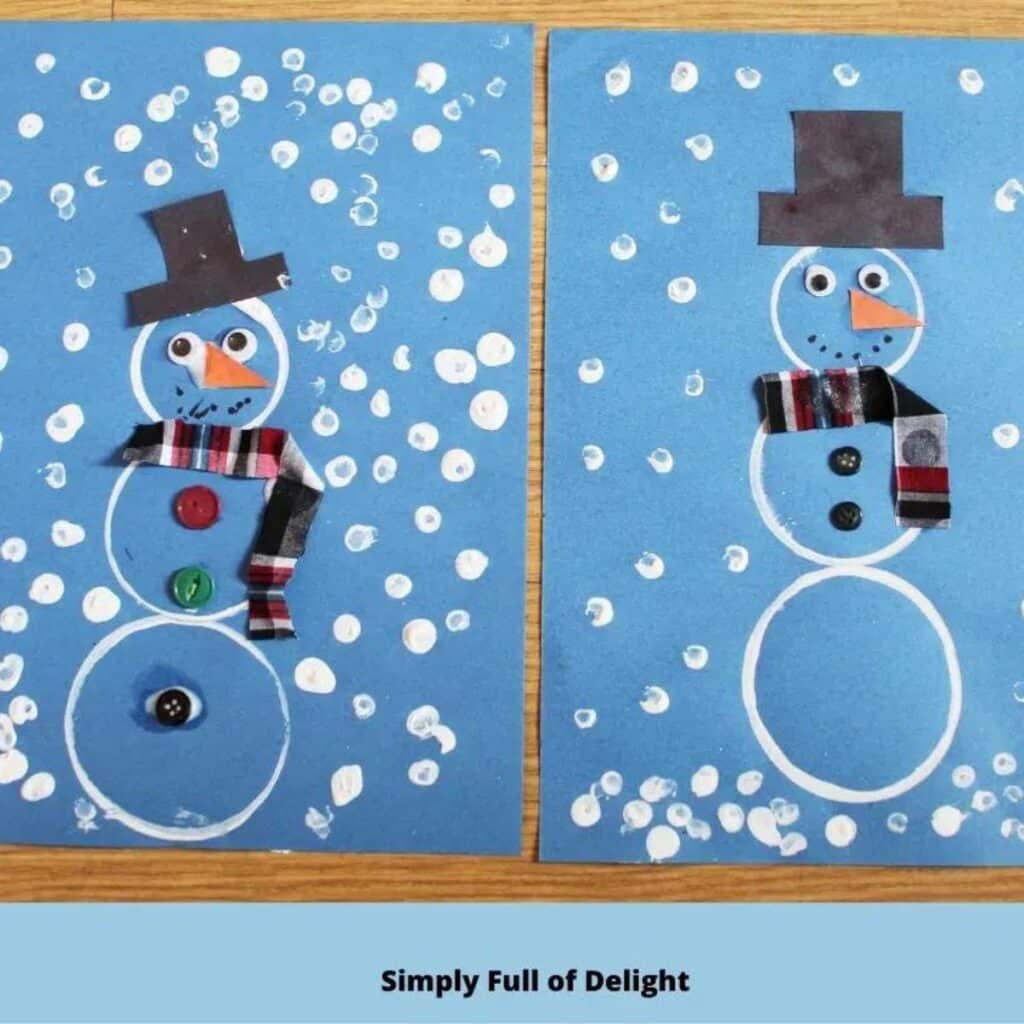 This Simple Snowman Craft is from my blog Simply Full of Delight. Kids use a cup to stamp paint for the circles of the snowman. I love that kids can use their creativity to decorate the snowman with various craft items. Such a fun easy snowman Christmas craft for 4 year olds!
16) Christmas Pasta Ornaments Craft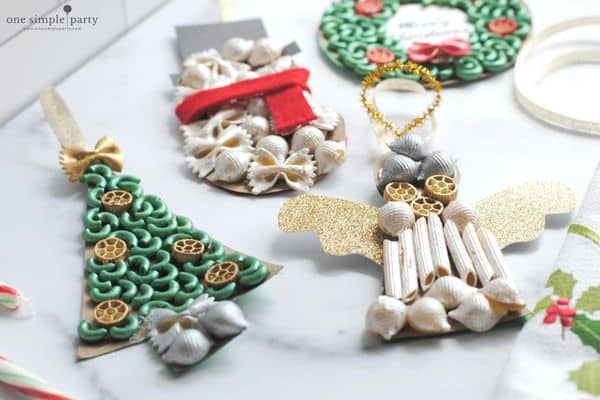 These cool Christmas Pasta Ornaments Crafts are by One Simple Party. I love the nostalgia of this Christmas craft. (Surely I'm not the only one who remembers making pasta crafts as a kid!)
Such a fun idea to create one of a kind ornaments with your kids!
17) Paper Plate Christmas Wreath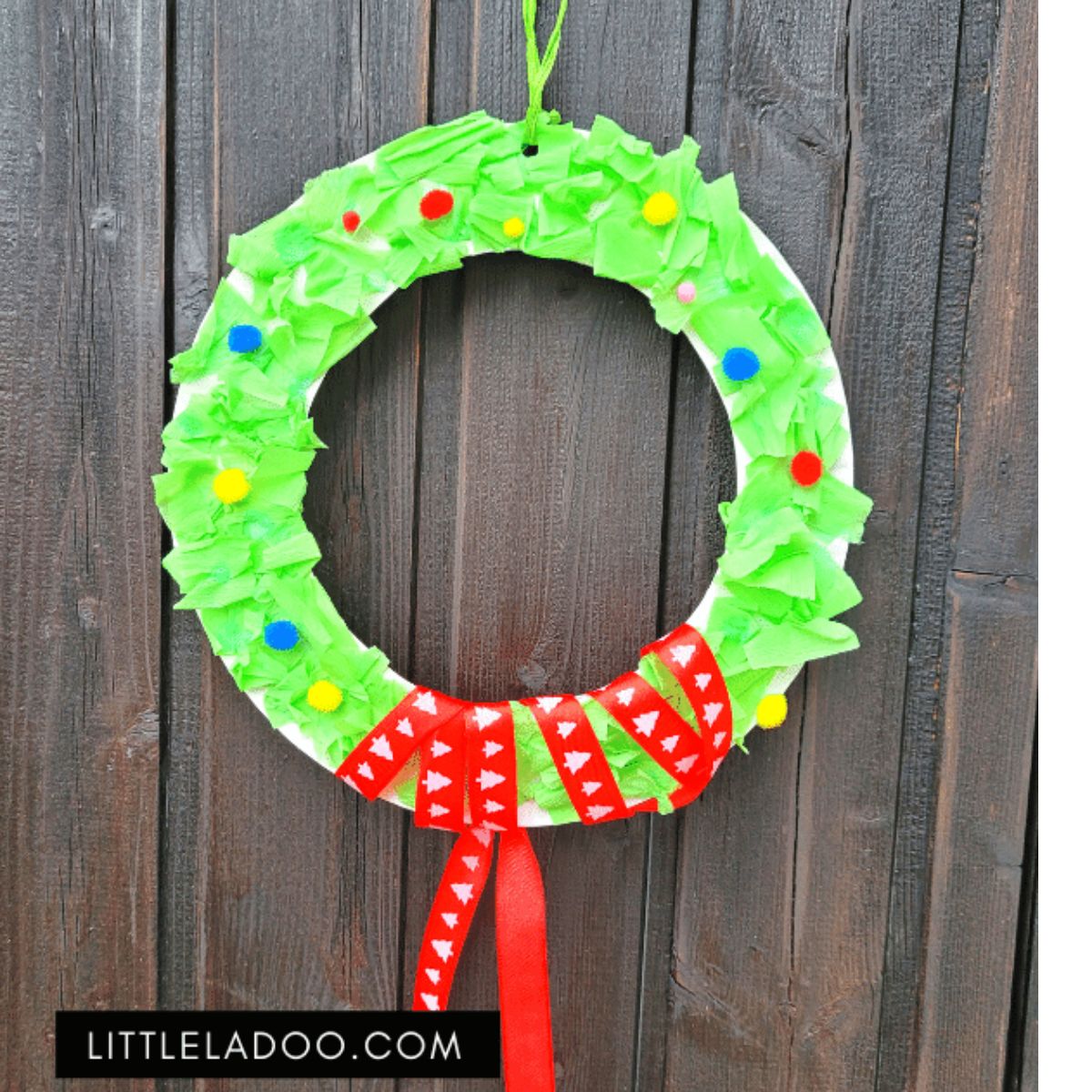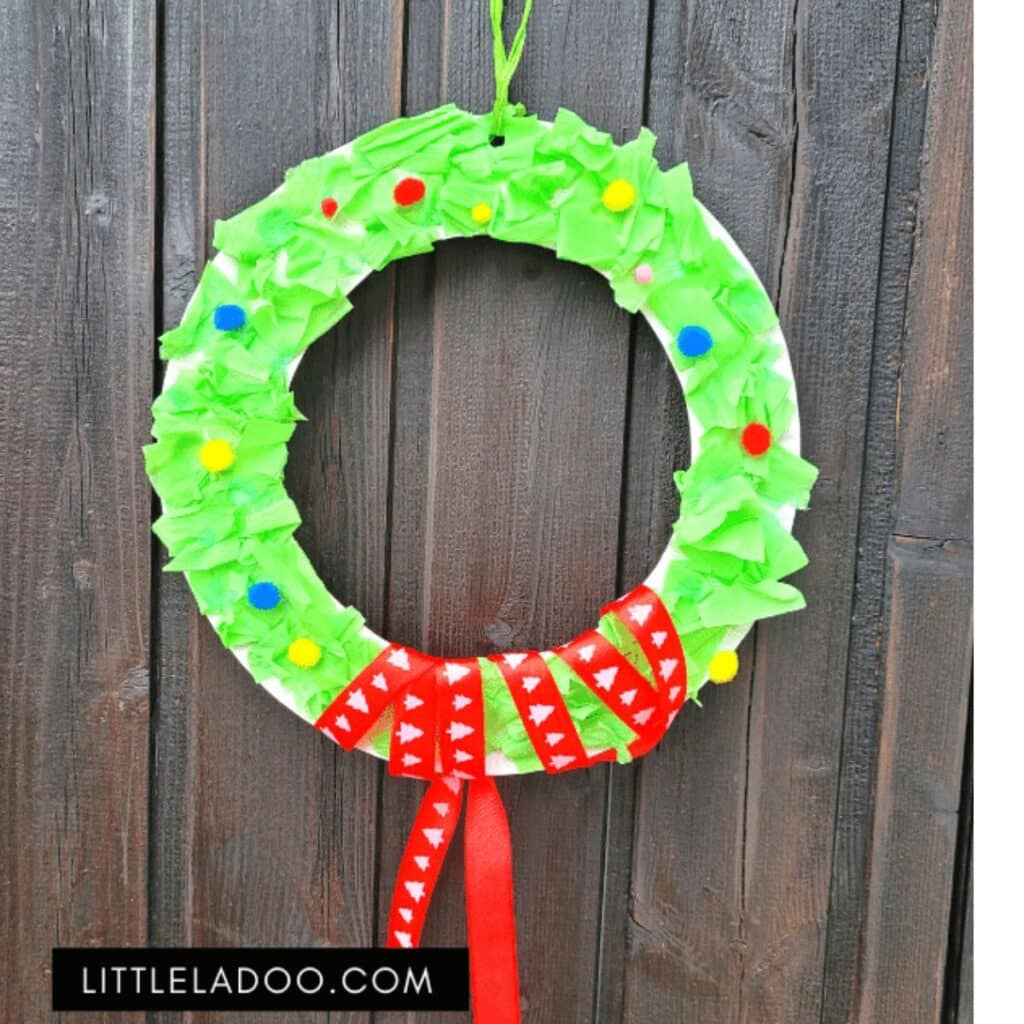 Make a Paper Plate Christmas Wreath over at Little Ladoo. This cute Christmas craft for 4 year olds just requires a few simple crafting supplies. I love the 3D effect of the pom poms. What fun!
18) Gingerbread Man Headband Craft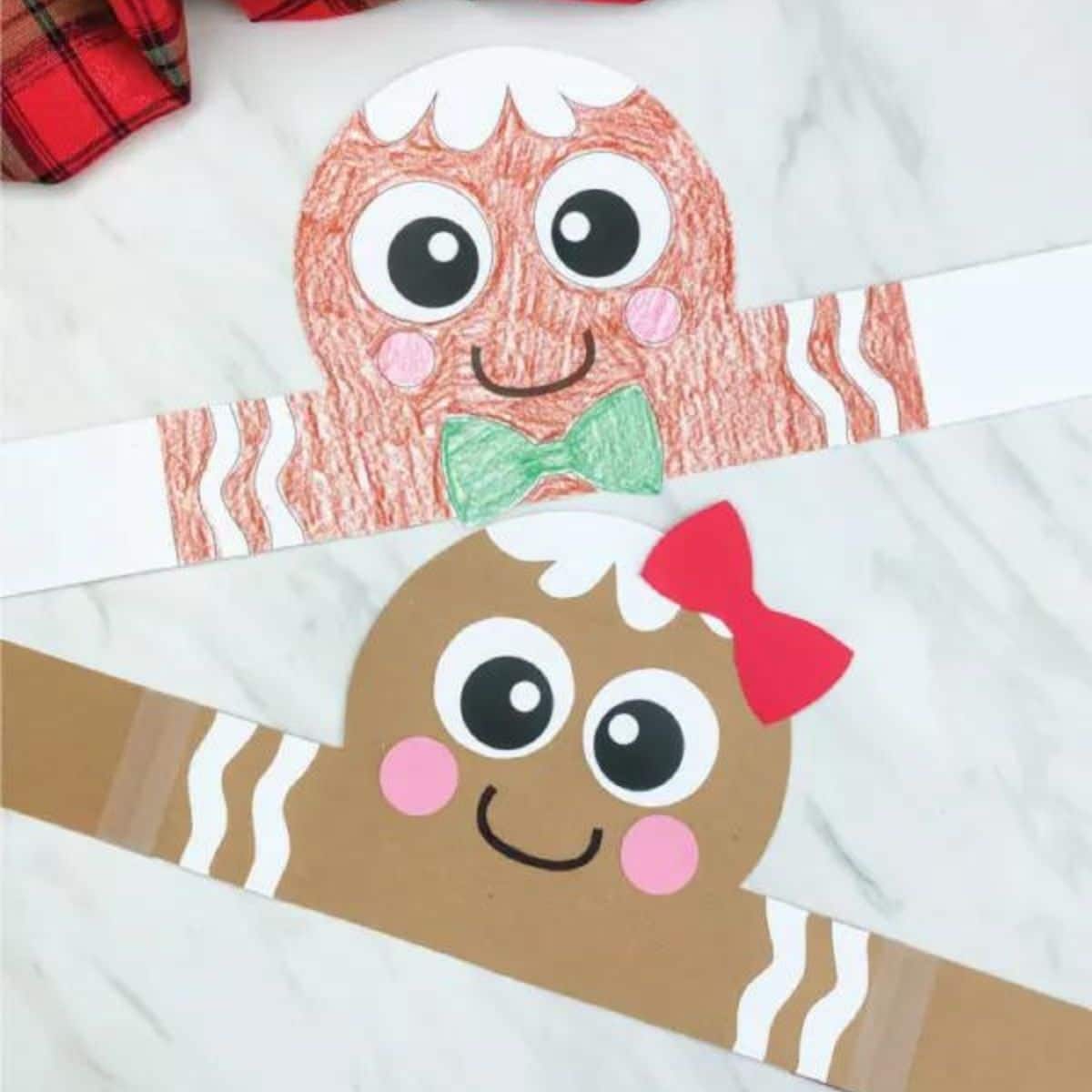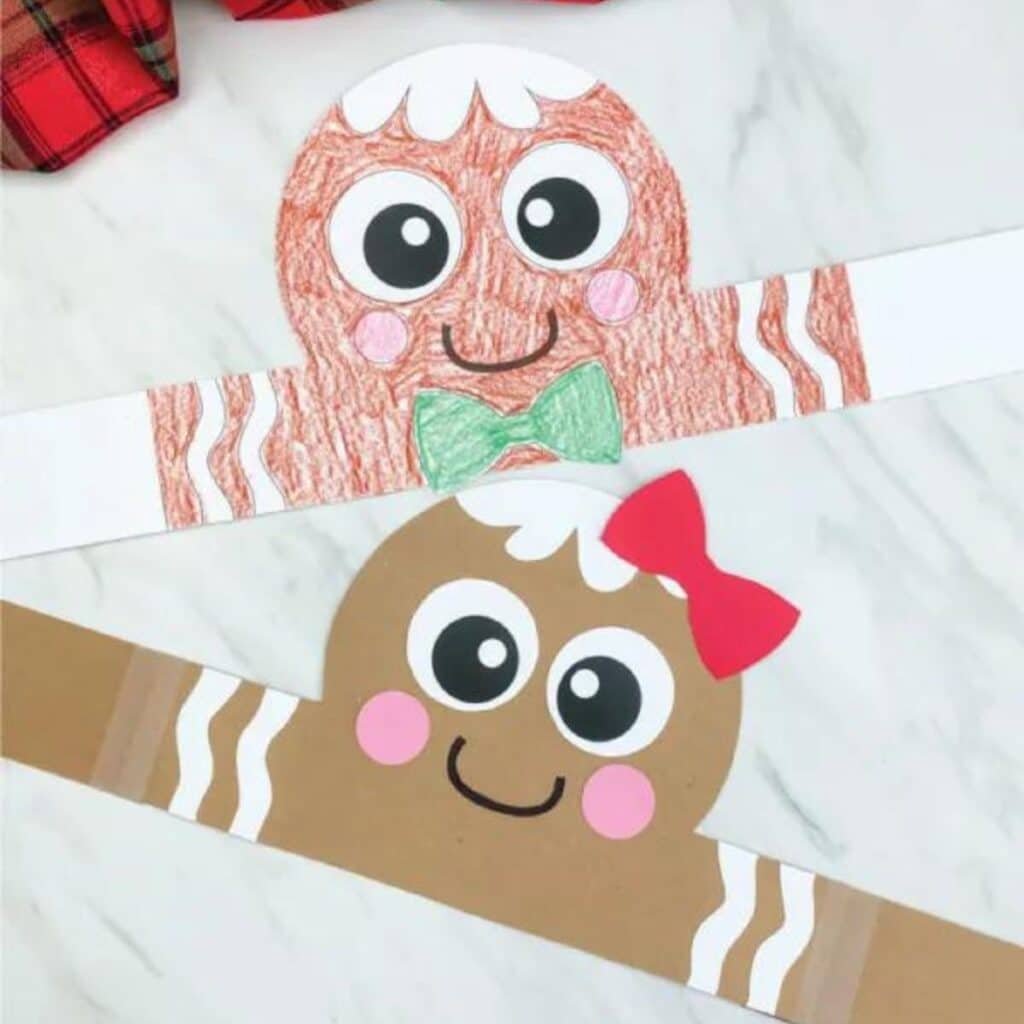 This Gingerbread Man Headband Craft is by Simple Everyday Mom. Kids will enjoy coloring the gingerbread man template and turning it into a wearable Christmas hat! There's options for both a colored version or a colored paper hat. So cute!
19) Cinnamon Salt Dough Ornaments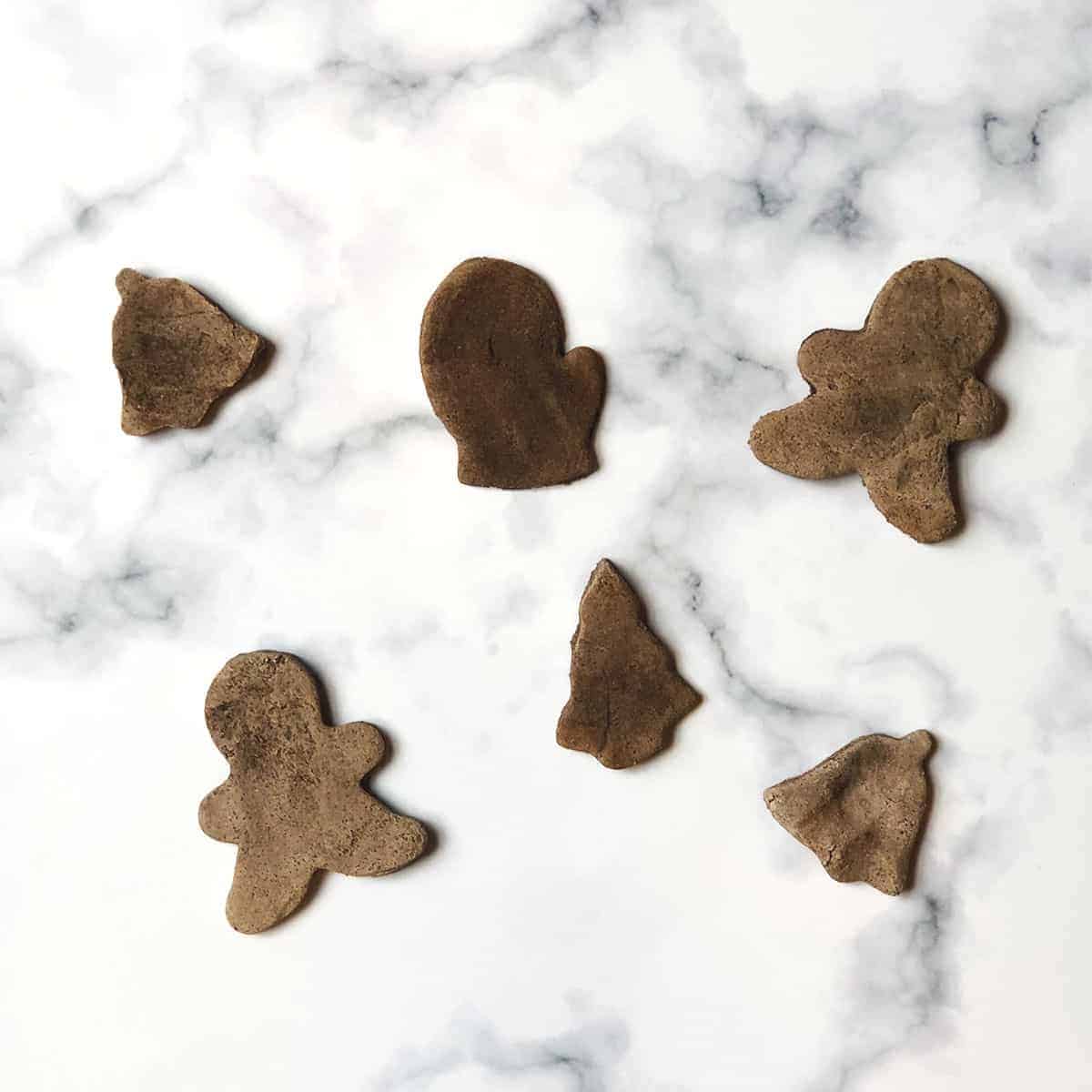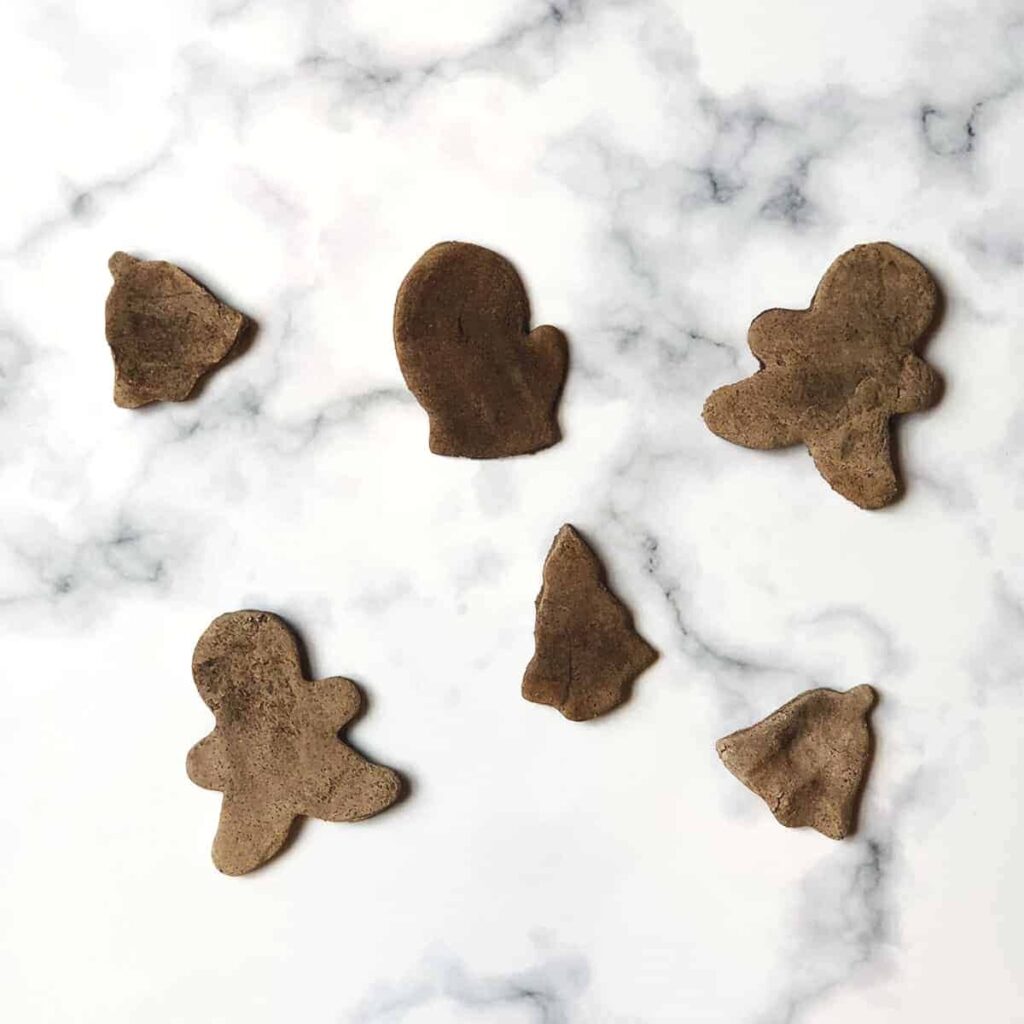 Can't you just imagine how good these smell?! These Cinnamon Salt Dough Ornaments are by Two Pink Peonies. Kids will love the process of making the dough, rolling it out and cutting out their very own salt dough ornaments. What a great idea for holiday fun!
20) Watercolor Resist DIY Snowflake Ornaments
These Watercolor Resist DIY Snowflake Ornaments are by Projects with Kids. Kids will love the way that their snowflake drawings show up after they watercolor paint them. Such a cool effect!
21) Handprint Christmas Ornaments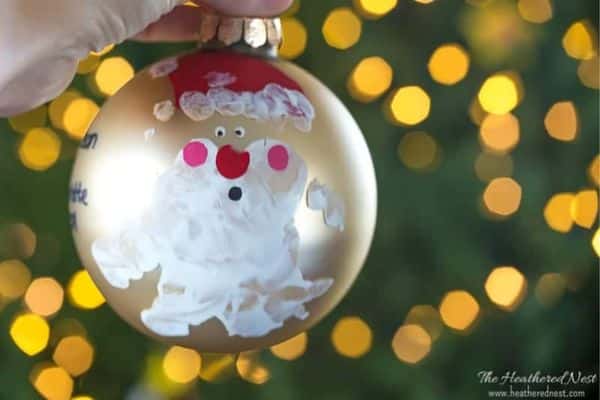 These Handprint Ornaments are by The Heathered Nest. Learn how to make a Santa, a reindeer, a snowman family or a Christmas tree ornament using your child's handprint. So many cute ideas to make memories you'll enjoy on the Christmas tree for years to come!
22) Cookie Sheet Christmas Craft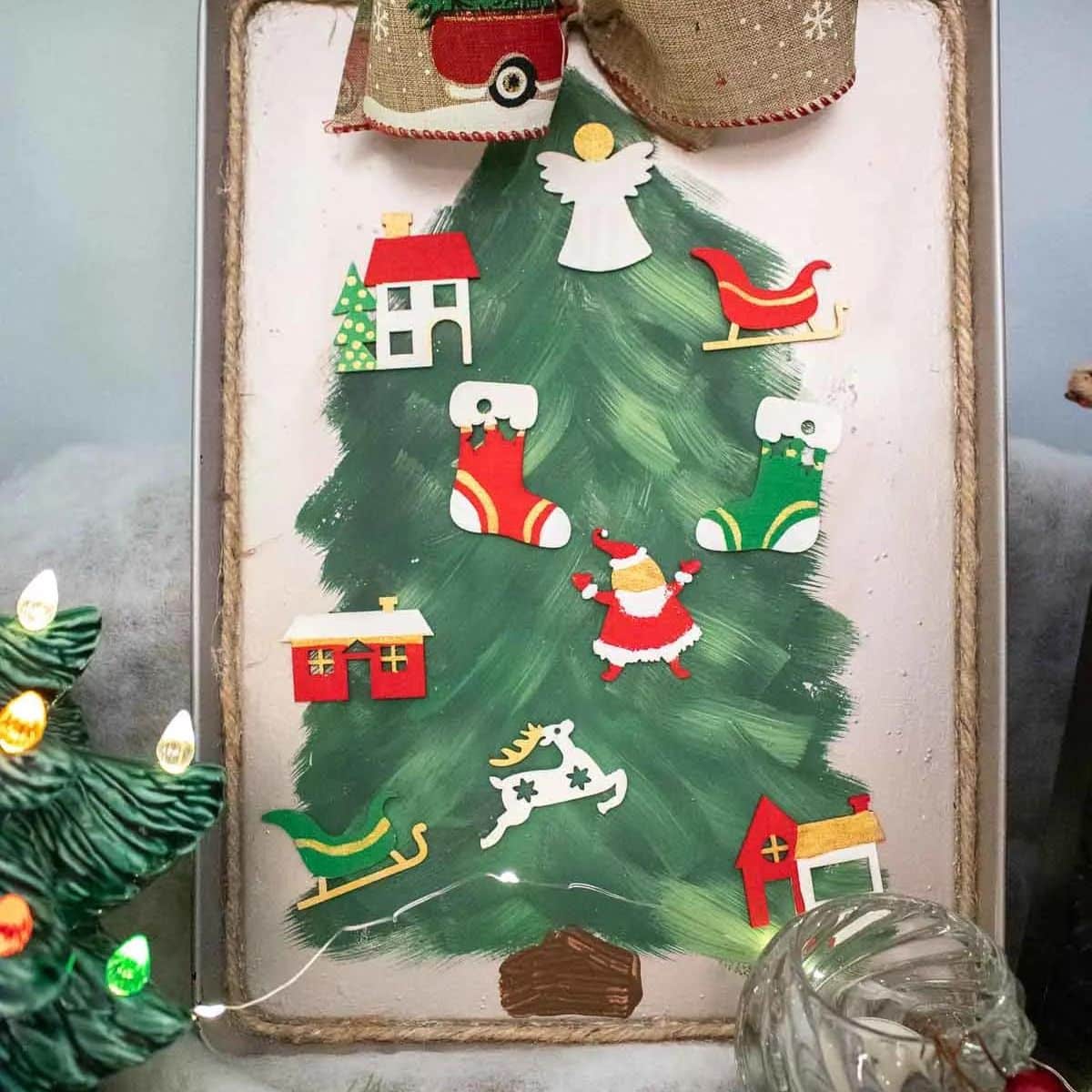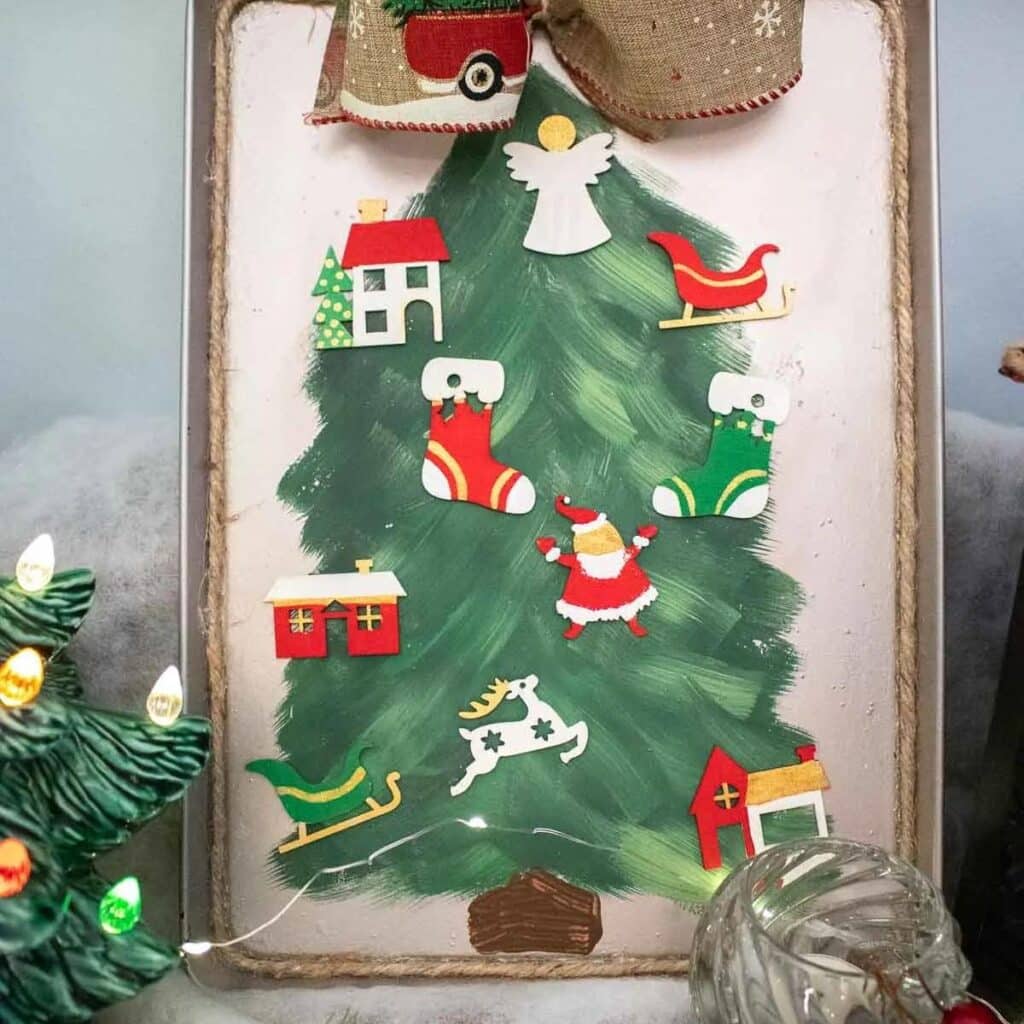 If you have an old unusable cookie sheet, be sure to check out this Cookie Sheet Christmas Craft is by Sustain My Craft Habit. With some help from an adult, kids can transform an old cookie sheet into a fun magnet play activity! What a great idea for repurposing!
23) Cotton Ball Santa Claus Craft for Toddlers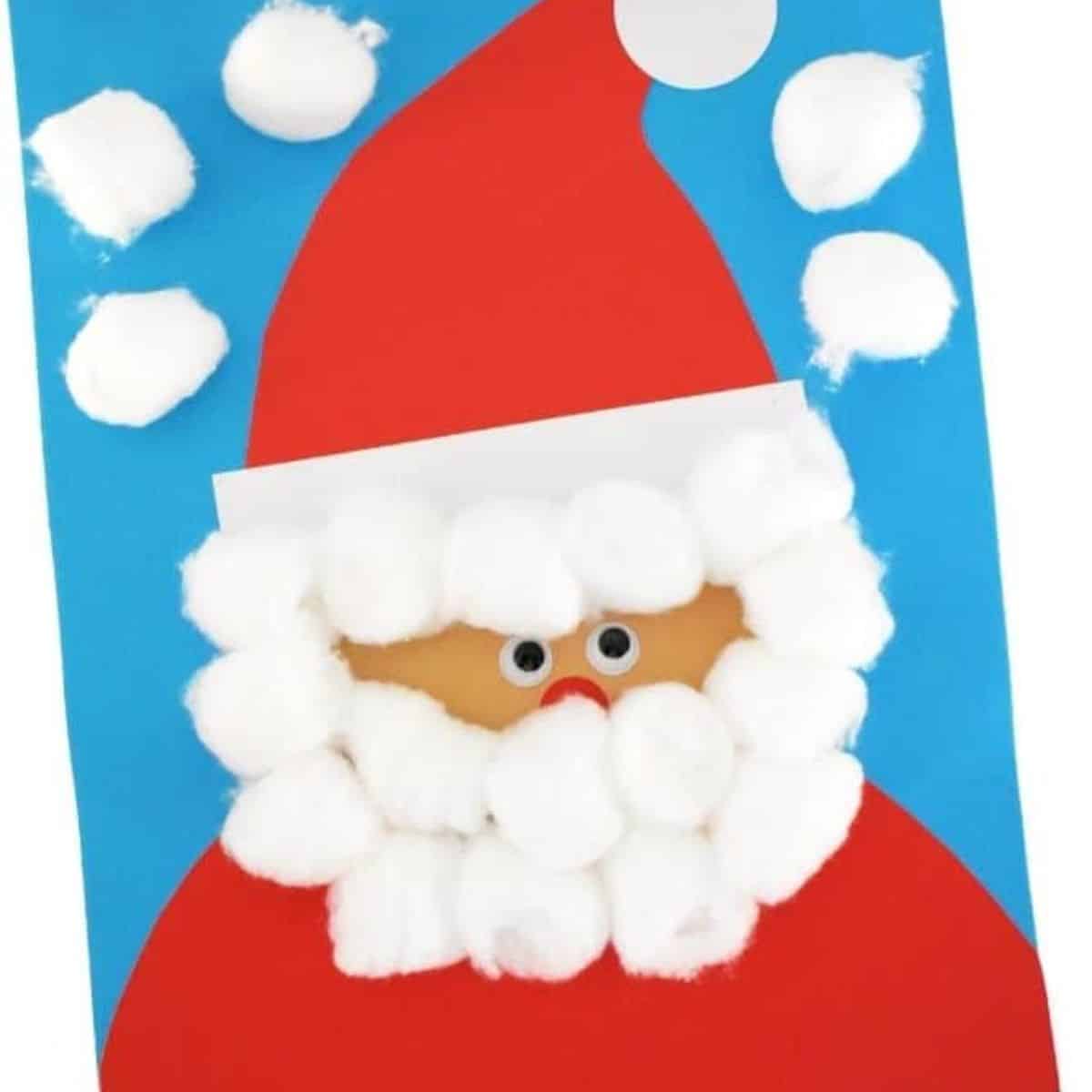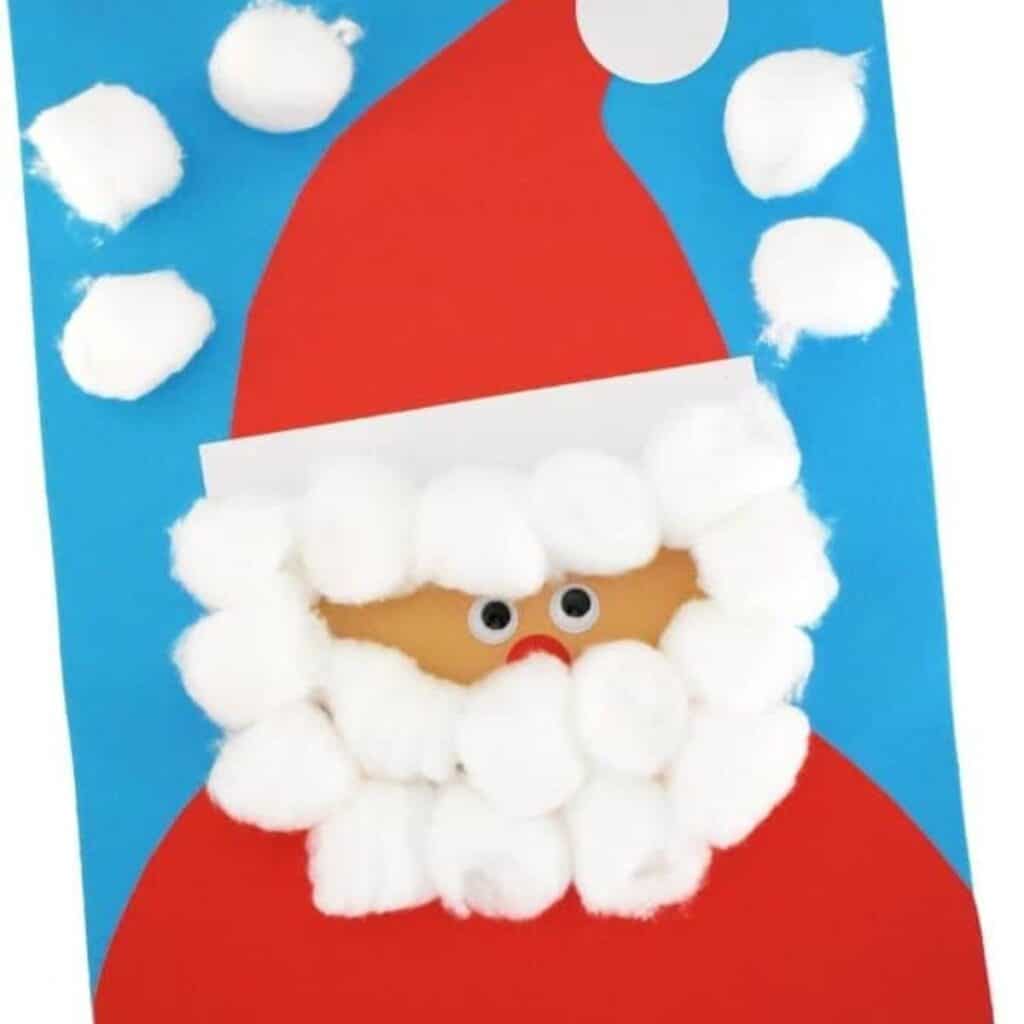 This Santa Claus Craft For Toddlers with Cotton Balls is by Journey to SAHM. Toddlers will love creating their own Santa. Such an easy craft with adorable results!
24) Handprint Angel Craft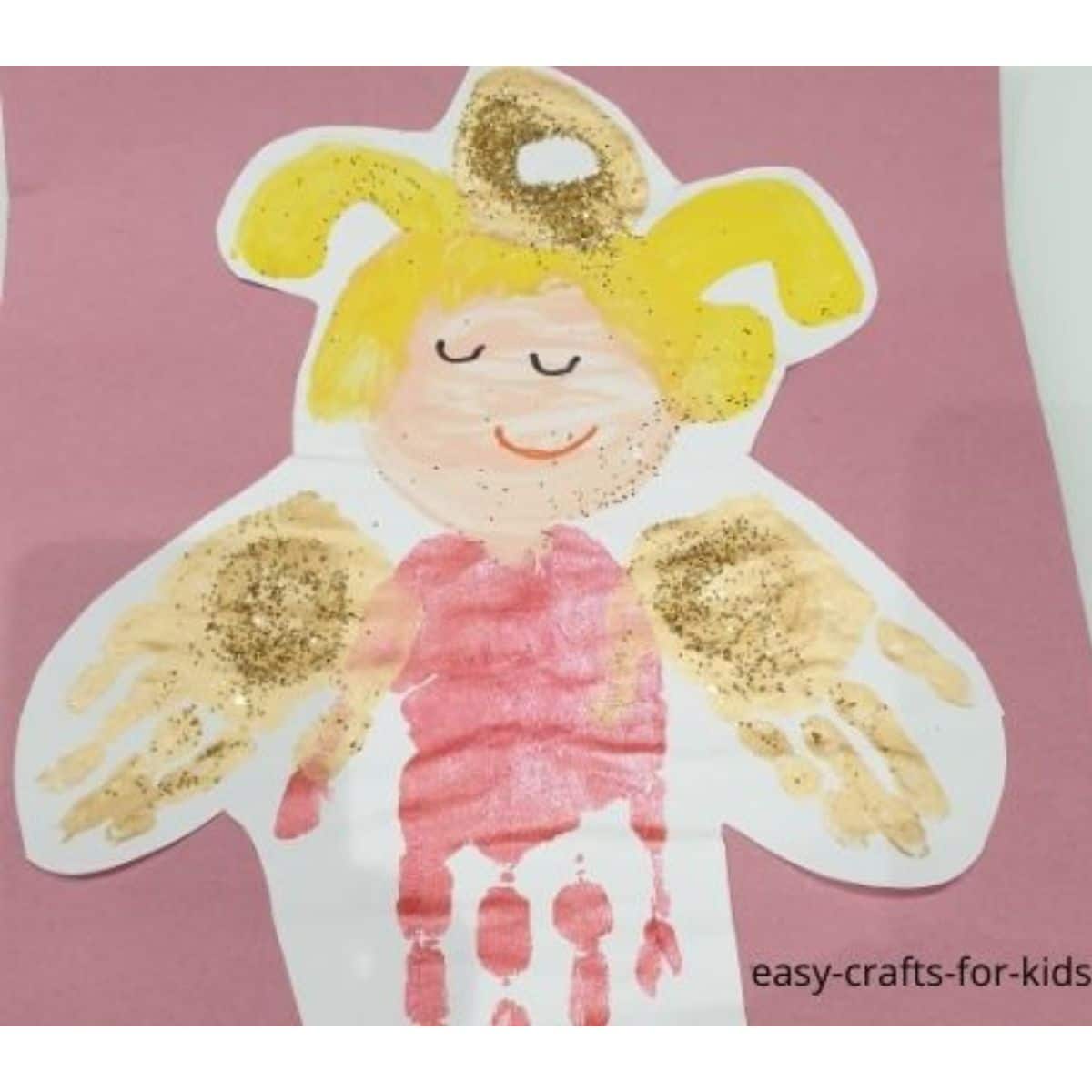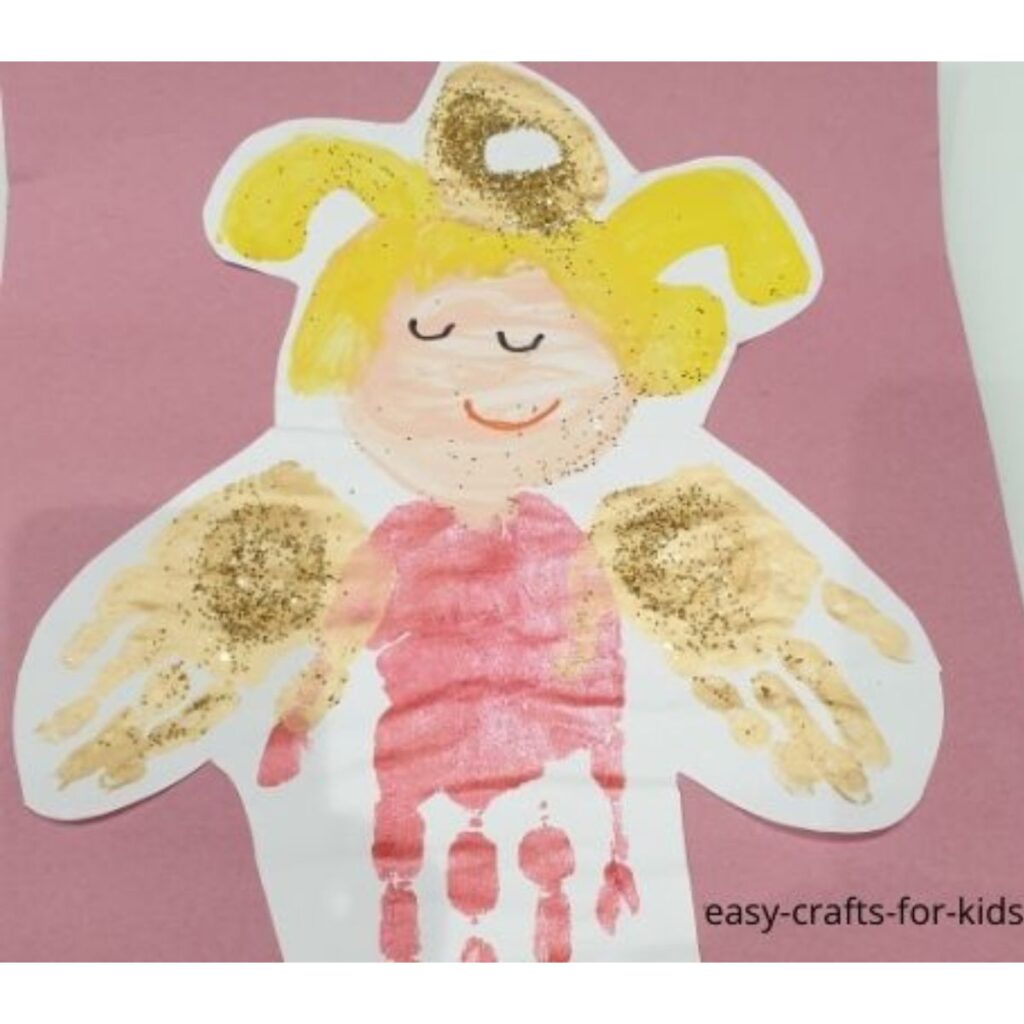 Don't you love this Handprint Angel Craft is from Easy Crafts for Kids? Such a cute craft that parents will treasure as it displays their child's adorable handprints!
25) Christmas Tree Craft Printable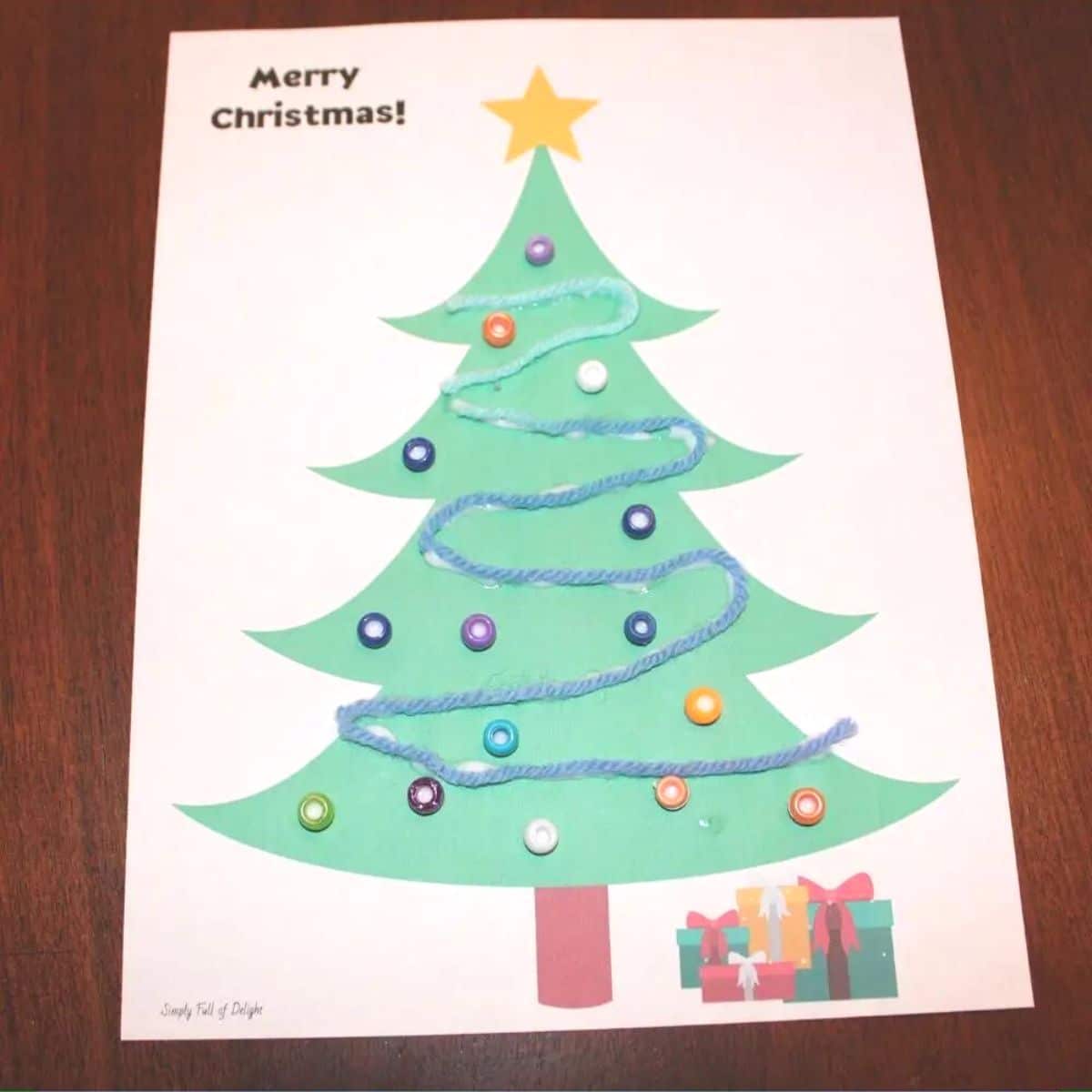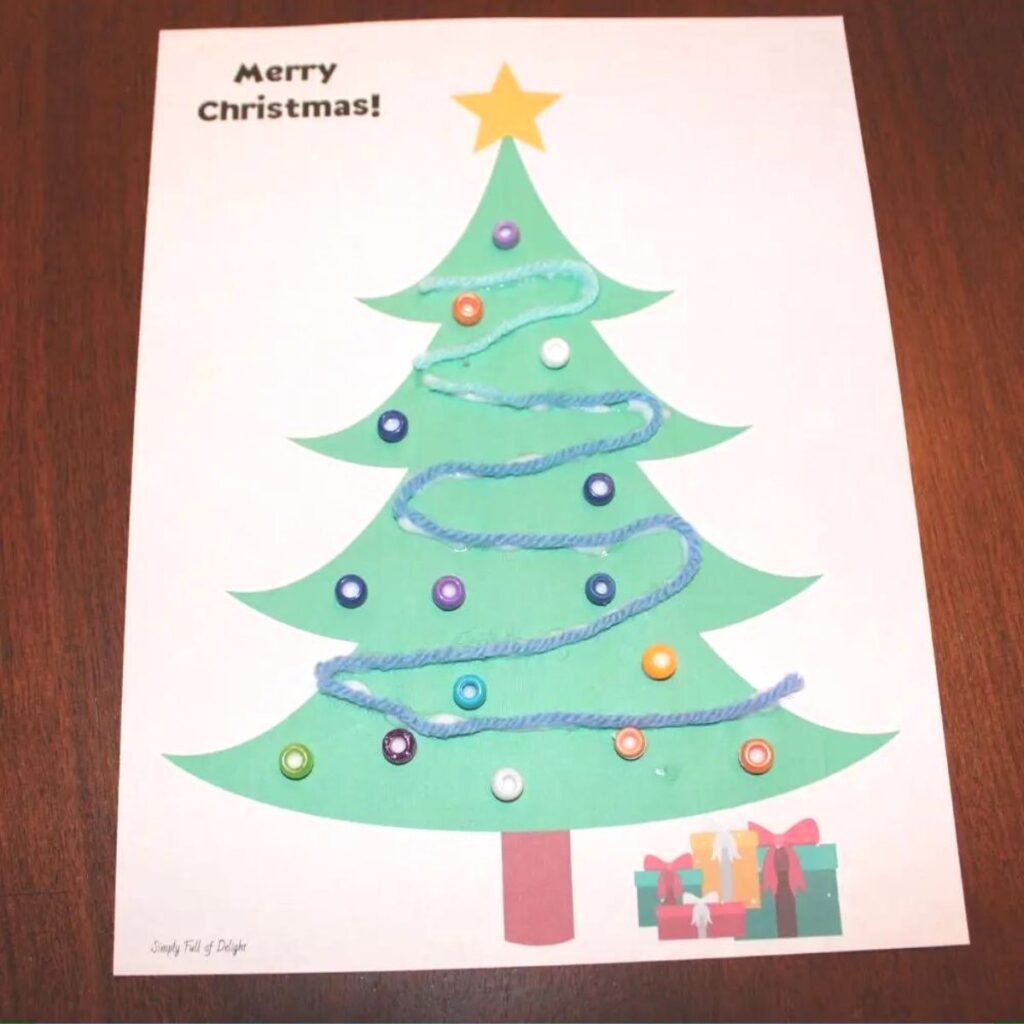 This Christmas Tree Preschool Craft is from my blog Simply Full of Delight. Using the free printable, kids can decorate a Christmas tree with various craft supplies. I love when my kids can let their creativity run wild!
26) Easy DIY Pom Pom Ornament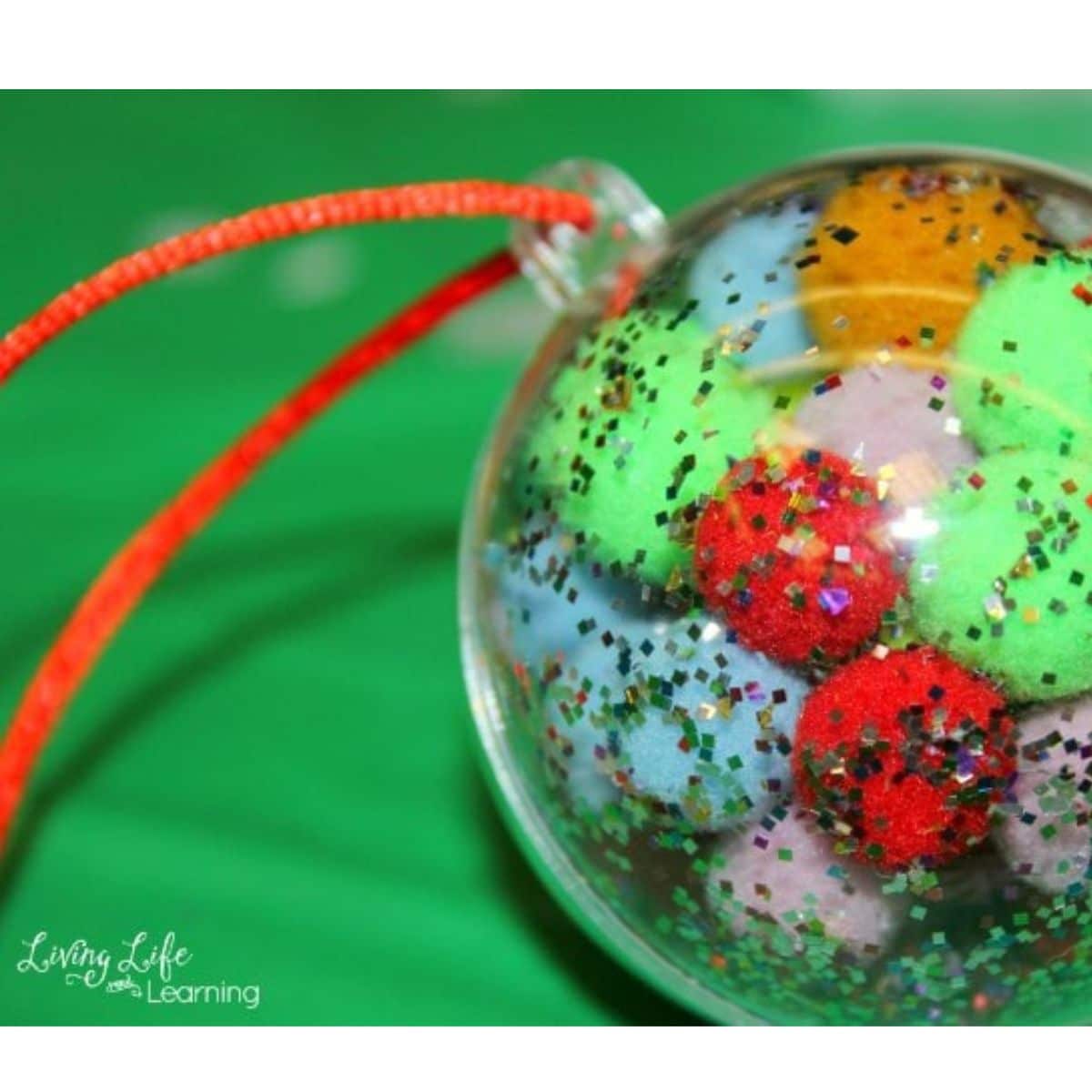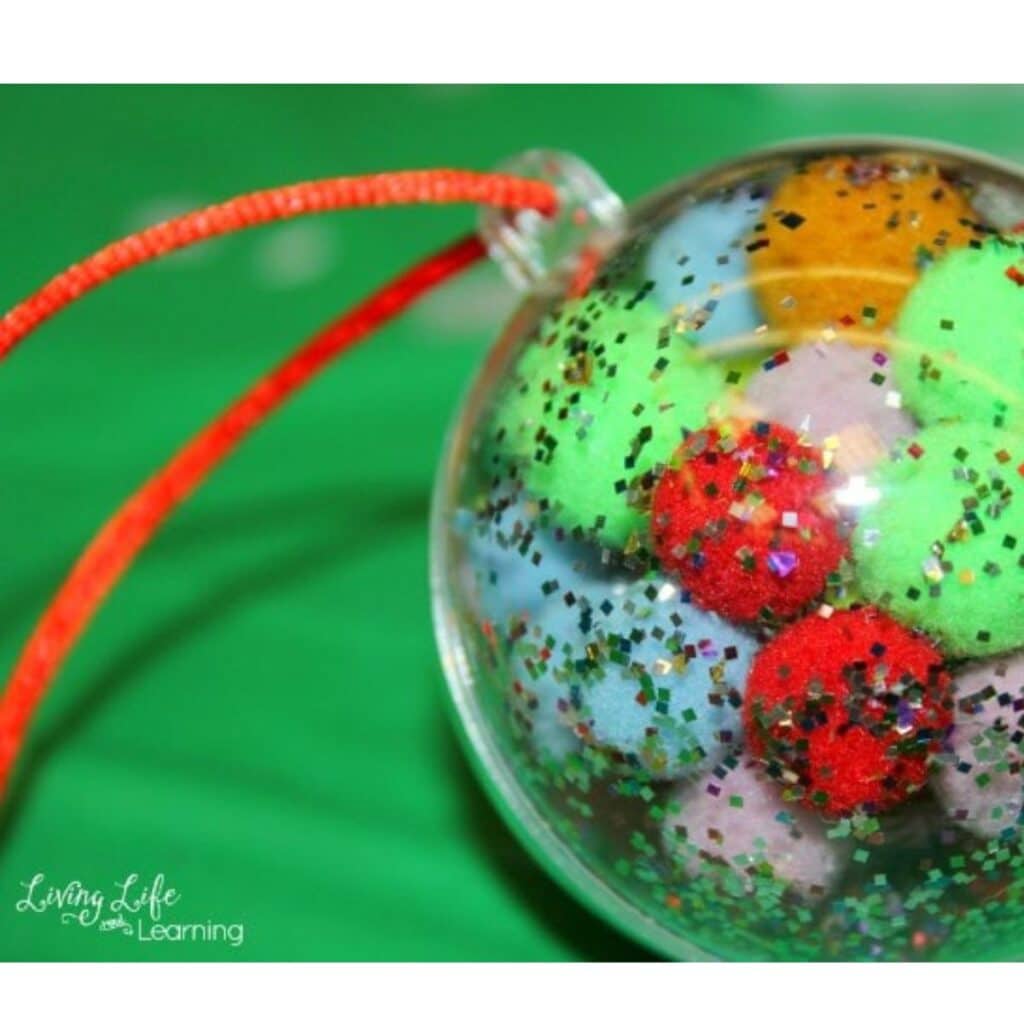 This Easy DIY Pom Pom Ornament is by Living Life & Learning. Kids can create a cool ornament to give to mom and dad with this super simple tutorial. Love it!
27) 3D Christmas Tree Craft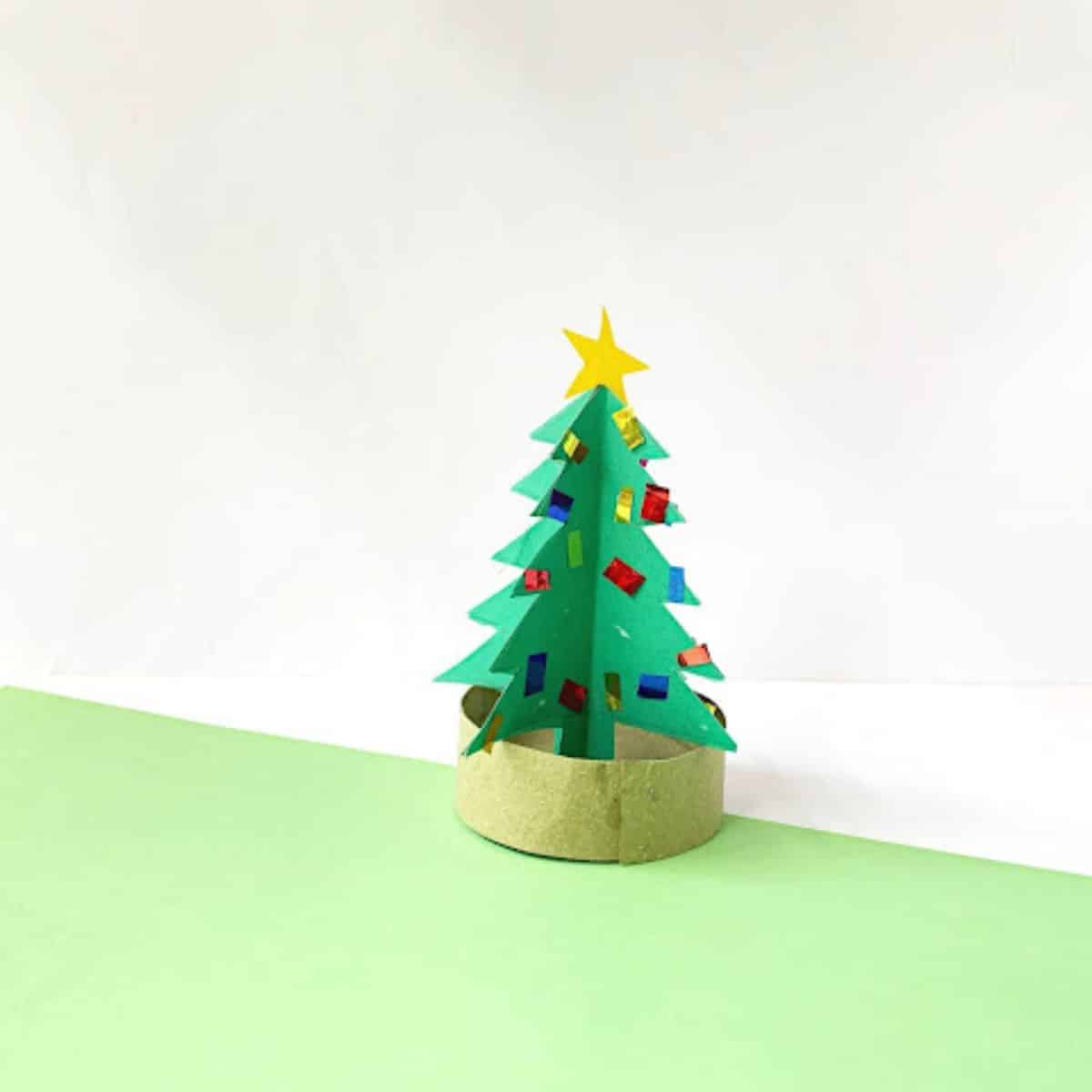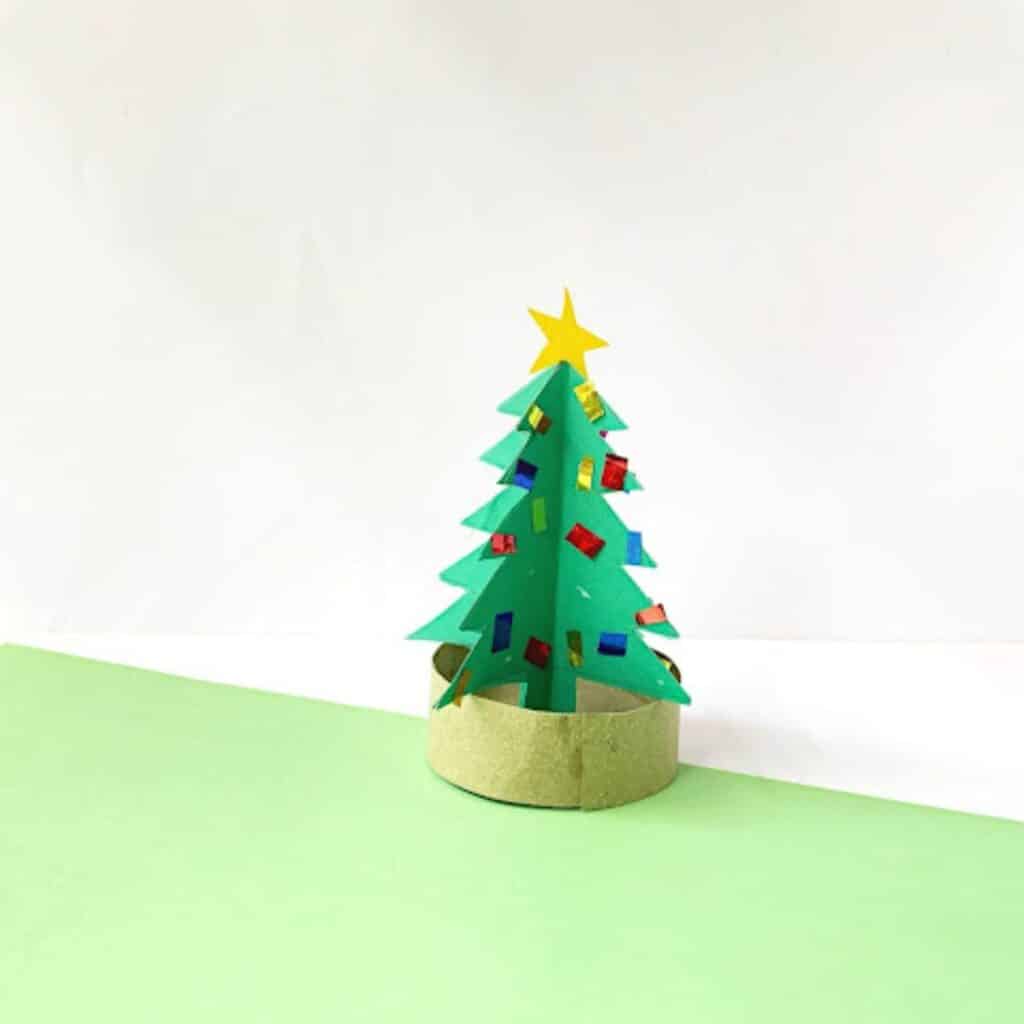 This 3D Christmas Tree Craft is by Attachment Mummy. Kids can create their very own paper tree to decorate using the free template. Such a fun Christmas craft idea!
28) Handprint Manger Craft For Kids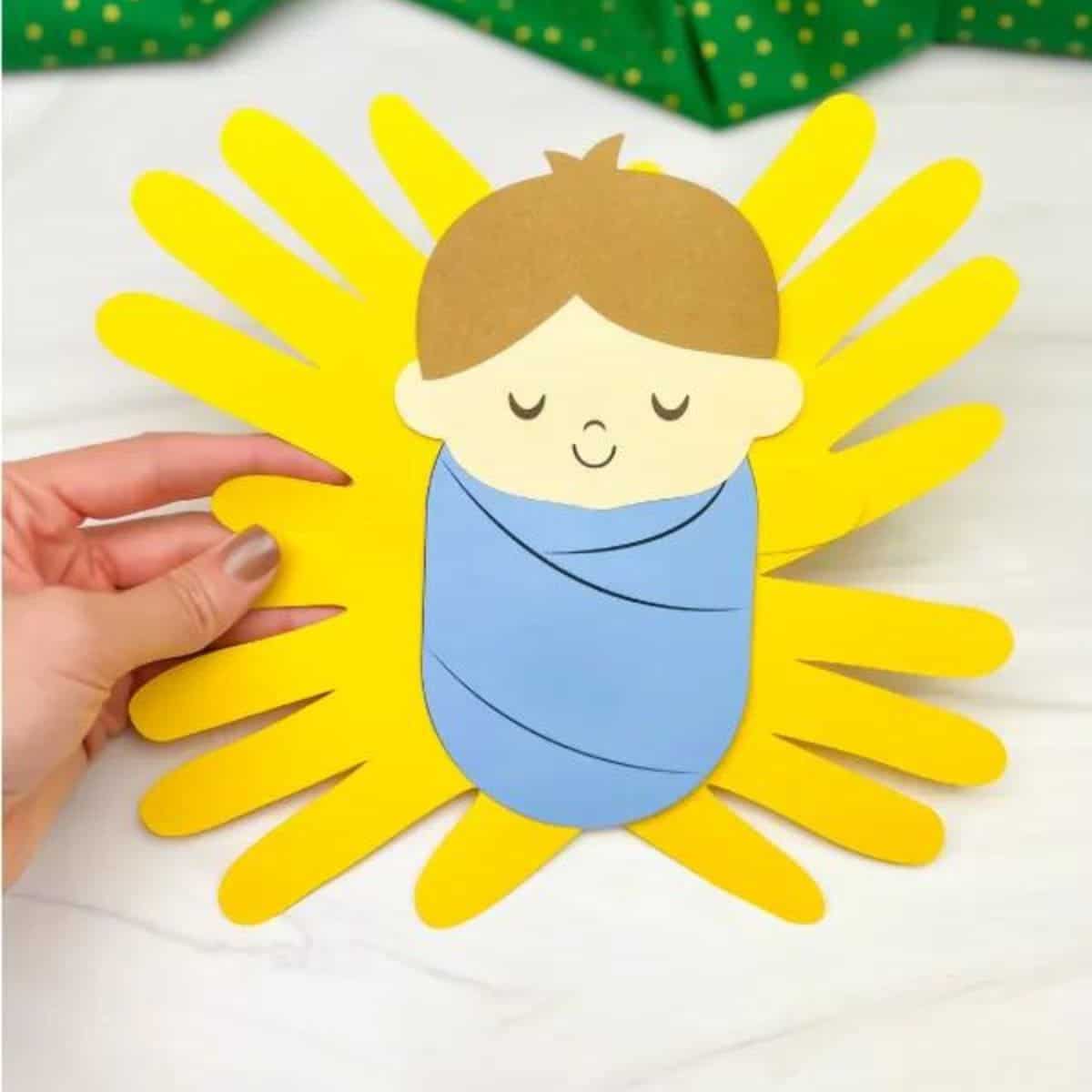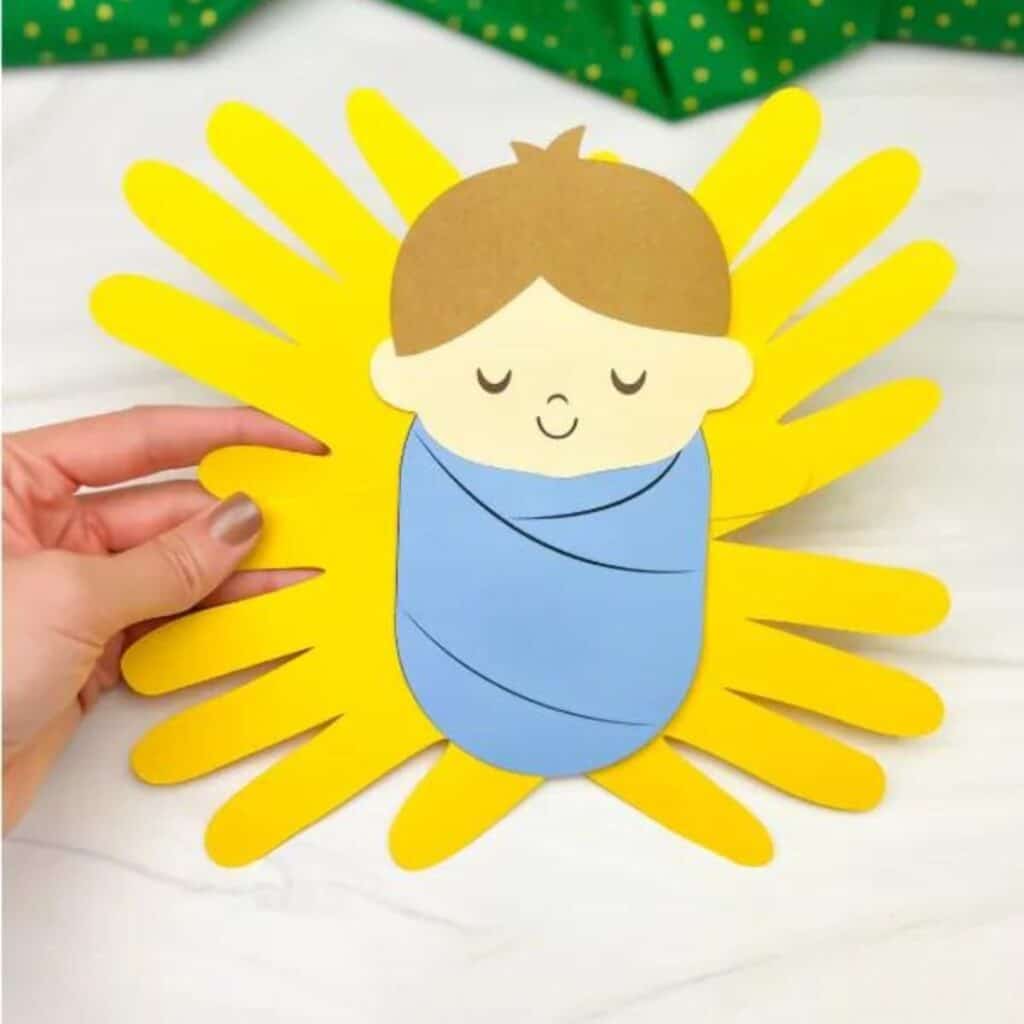 This adorable Handprint Manger Craft is by Simple Everyday Mom. If you need a fun Christmas craft for Sunday School, this Baby Jesus craft is perfect. It's adorable and super easy for little ones!
29) Homemade Cinnamon Ornaments (Gluten Free!)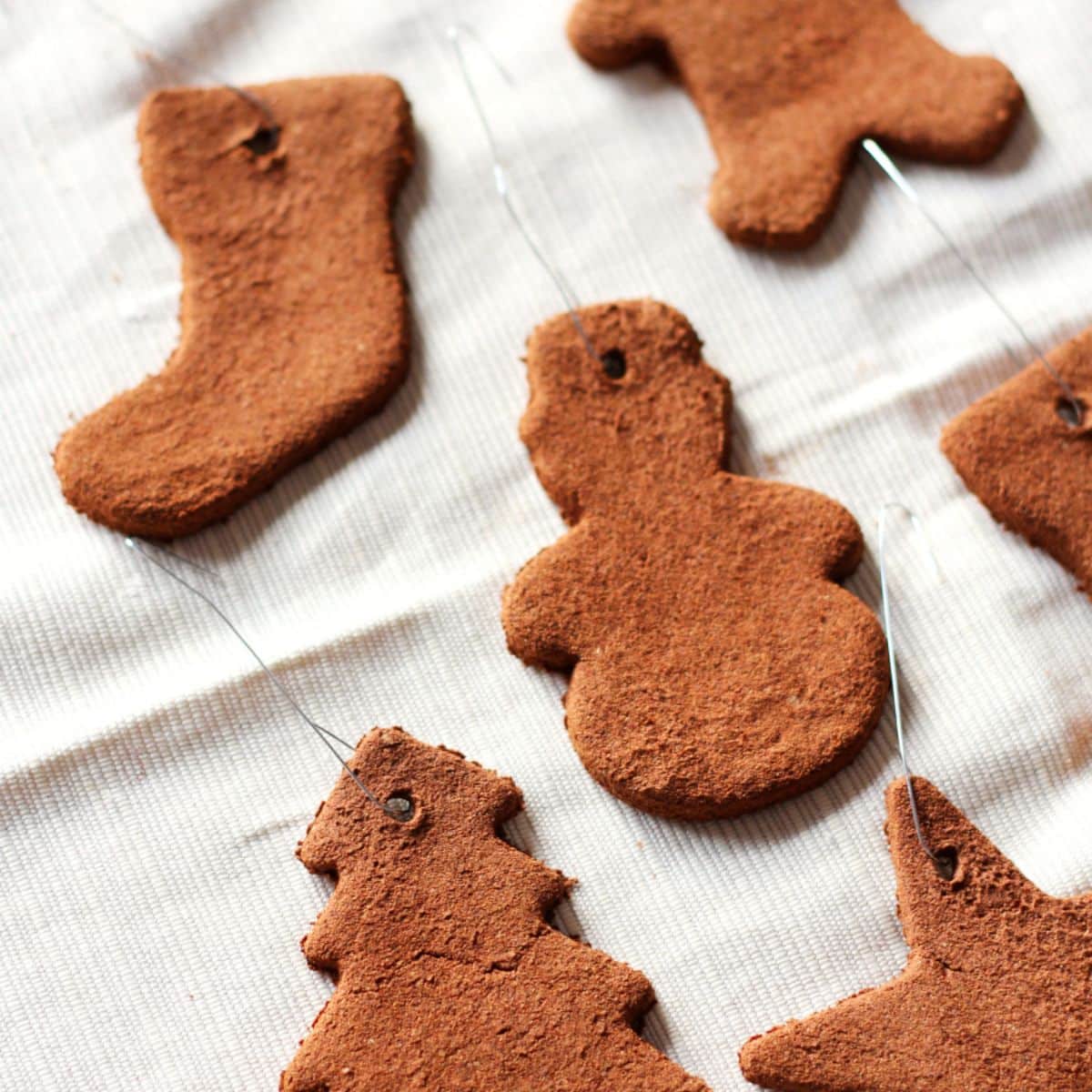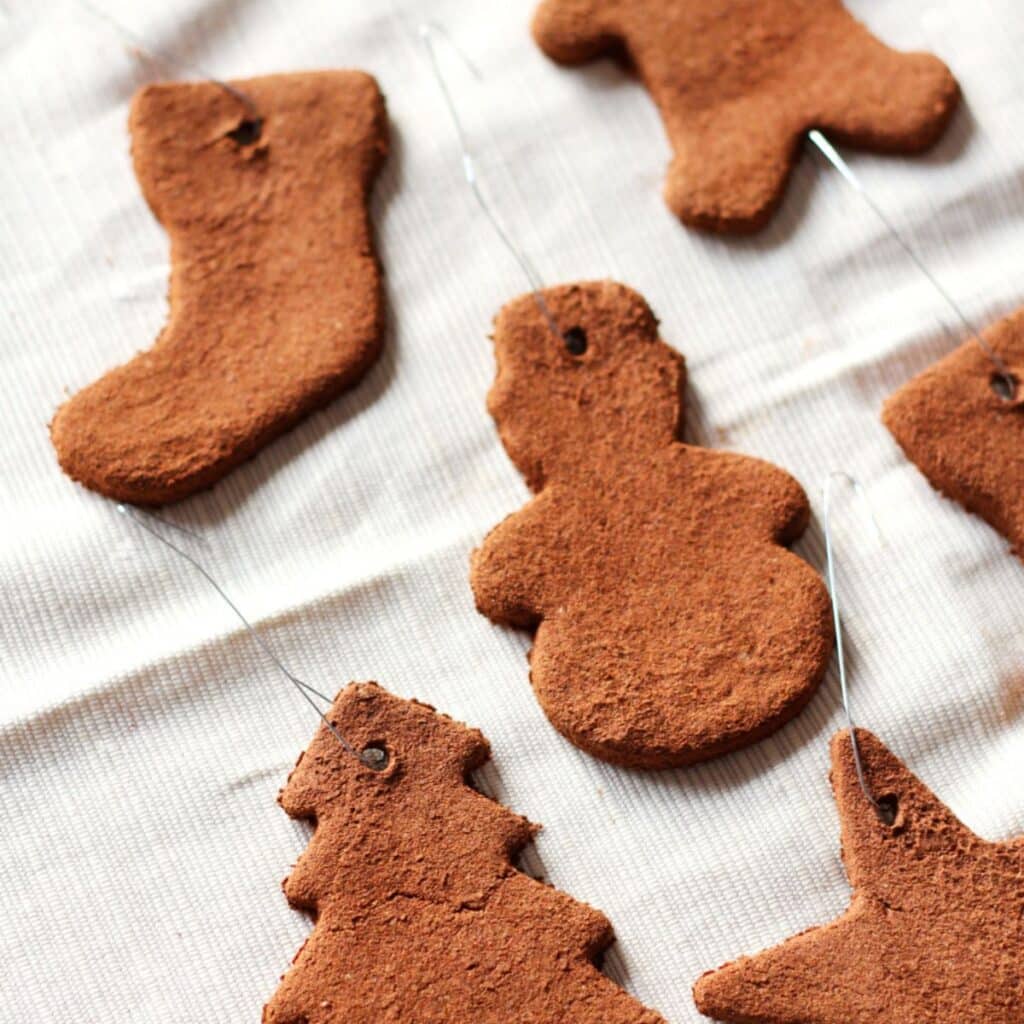 These awesome Homemade Cinnamon Ornaments are from Strength and Sunshine. Would you believe these ornaments only require 2 ingredients and are totally gluten free?! Perfect for families like mine with Celiac Disease.
30) Christmas Handprint Art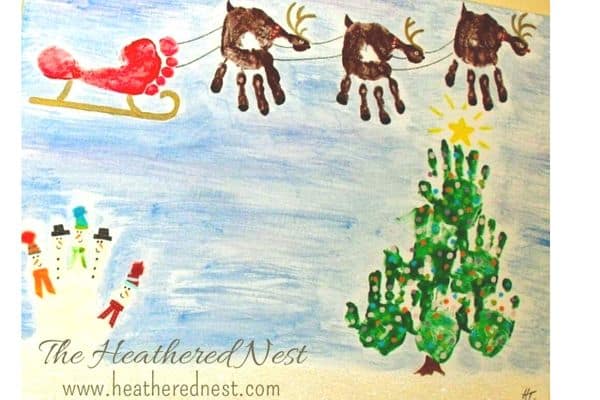 If you're looking for more Christmas Handprint Art Ideas, be sure to check out these ideas from The Heathered Nest. You'll find this cool Santa handprint art idea, plus several others including a manger scene.
31) Easy Gingerbread House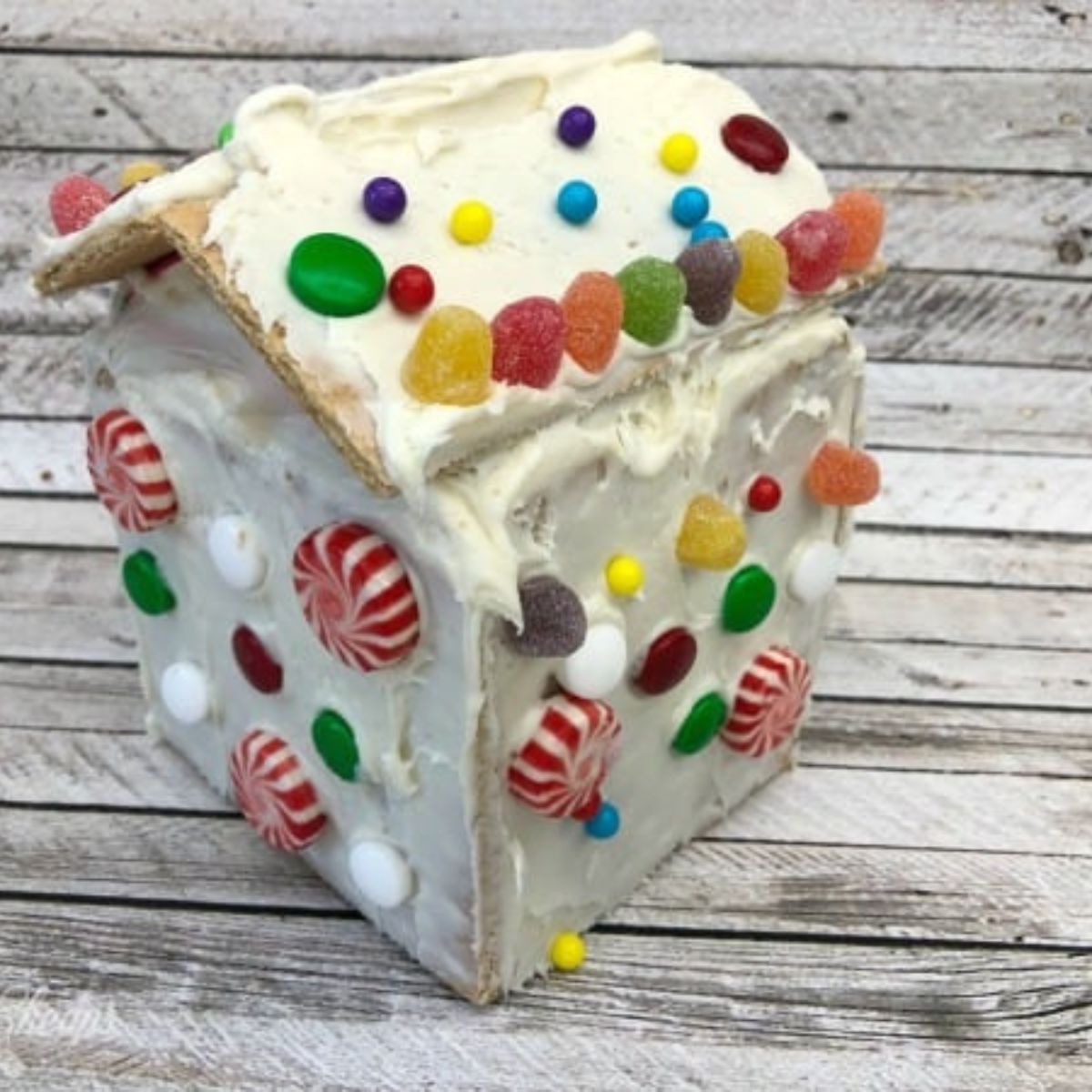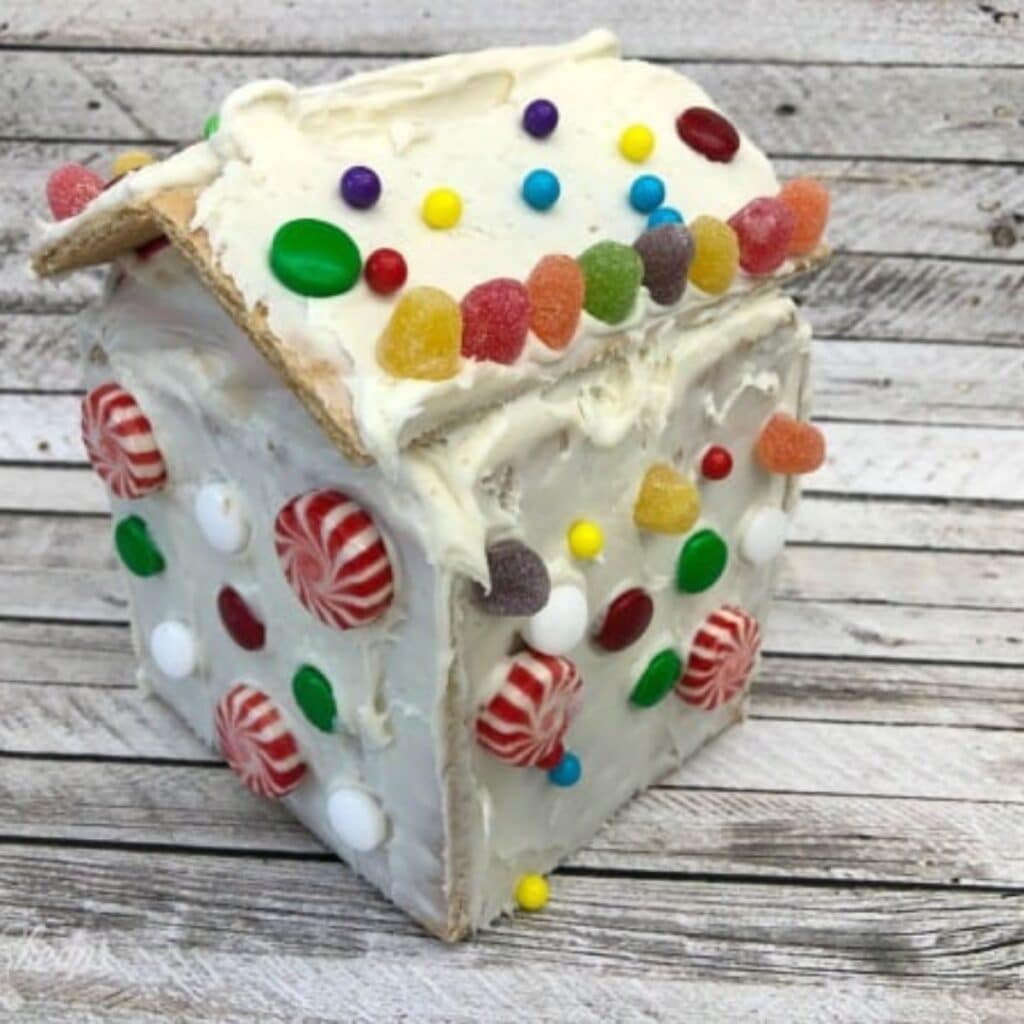 Learn how to make an Easy Gingerbread House over at Mama Cheaps. Adults will need to assist with the initial set-up, but little ones will love frosting and decorating these super simple gingerbread houses. What a fun tradition to start!
32) Fake Snow Sensory Play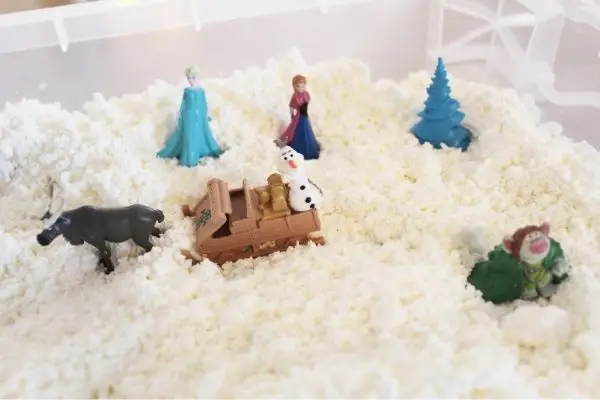 Little ones will love creating this Fake Snow! It's actually cool to the touch and so much fun to add to your sensory bin. Check out the Fake Snow recipe here on my blog Simply Full of Delight.
33) Paper Gingerbread Man Craft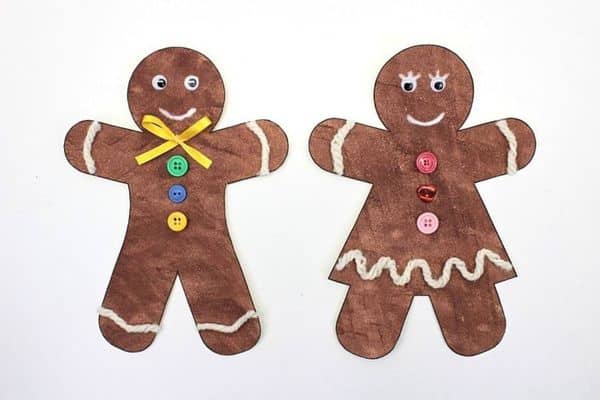 This Paper Gingerbread Man Craft is from The Craft-at-Home Family. Kids will enjoy decorating a paper gingerbread man with assorted craft items. Such a fun way to let their imaginations soar!
34) Pine Cone Christmas Tree
This Pine Cone Christmas Tree is from Two Kids and a Coupon. It's amazing what some creativity and acrylic paint can create!
35) Cardboard Christmas Tree Pasta Craft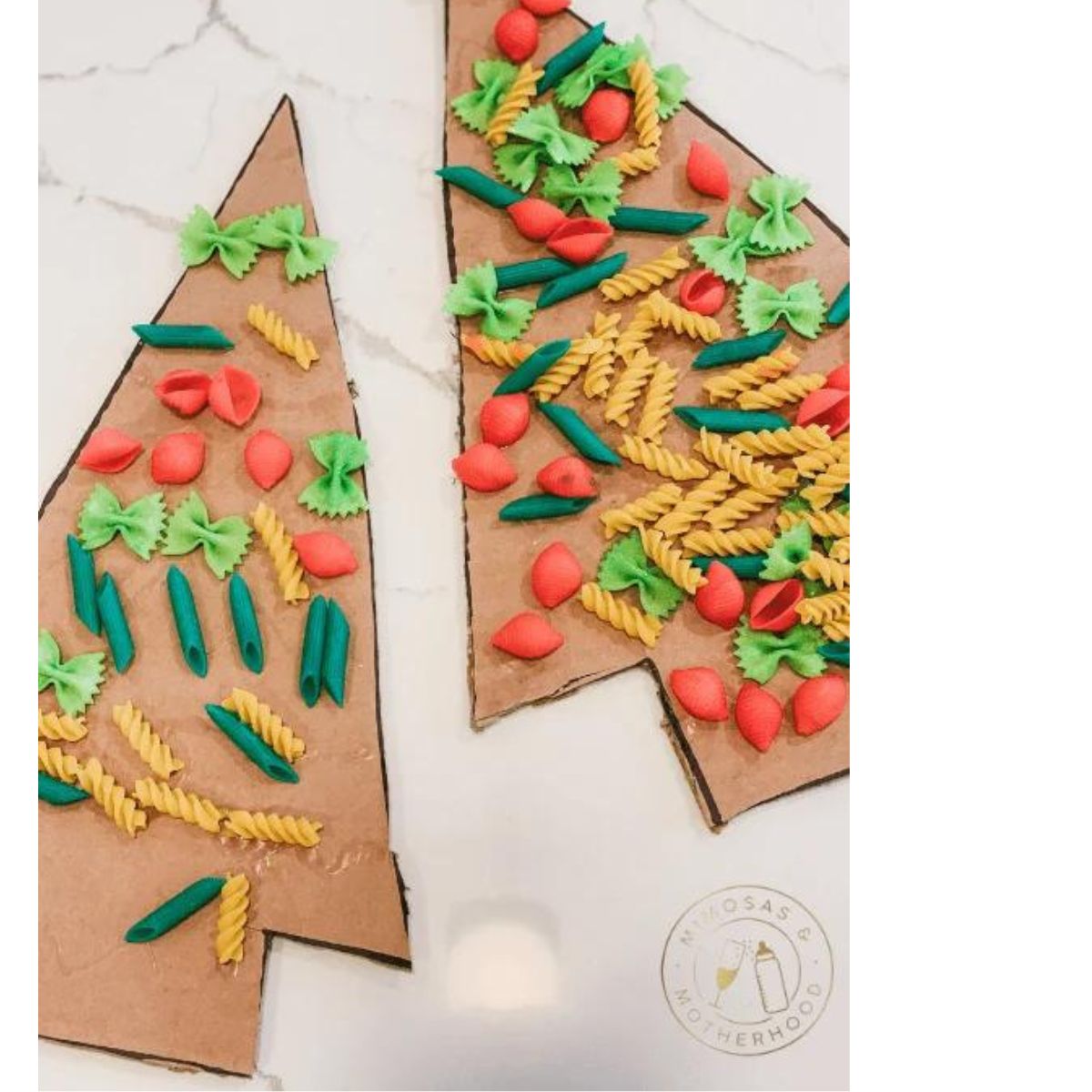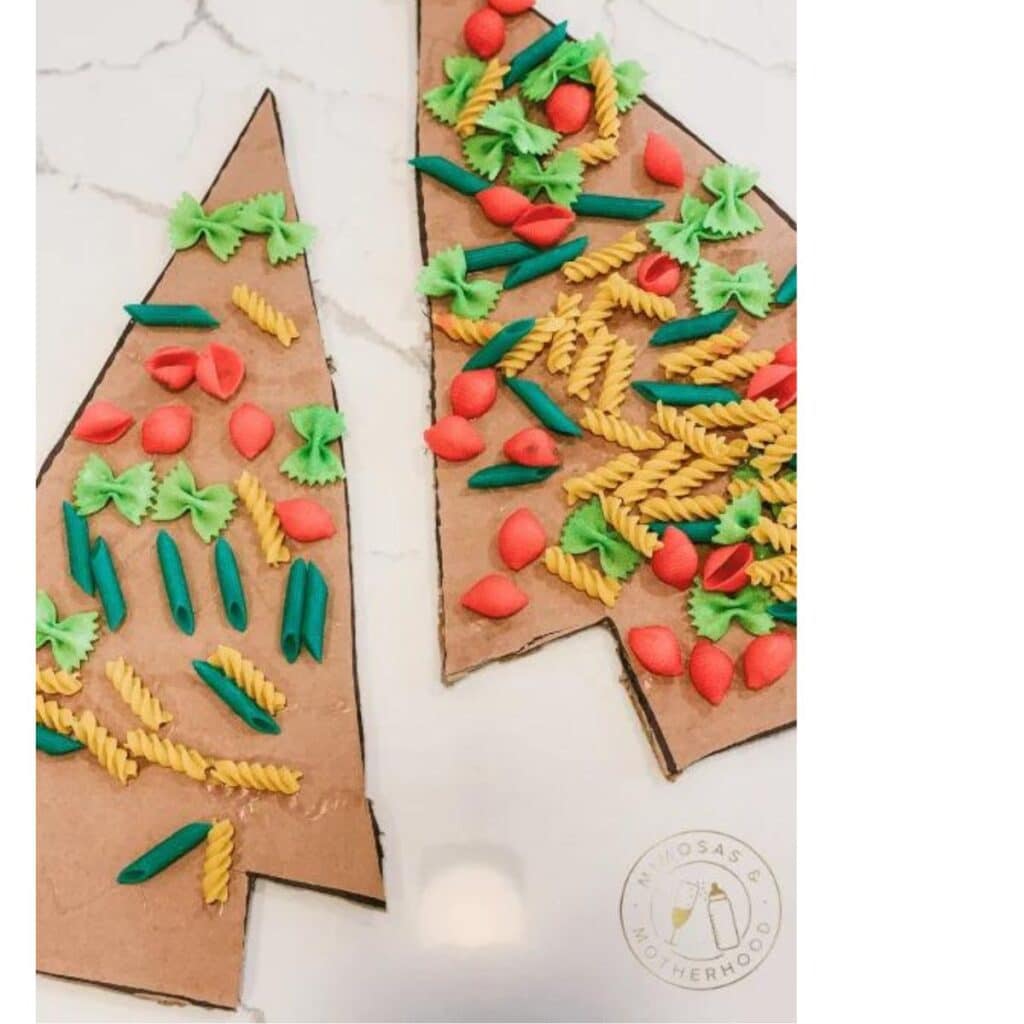 This Cardboard Christmas Tree Pasta Craft is by Mimosas & Motherhood. I love the simplicity of this project! Kids glue pasta to the shape of a Christmas tree. It's kind of like process art…with pasta!
36) Christmas Tree Tea Towel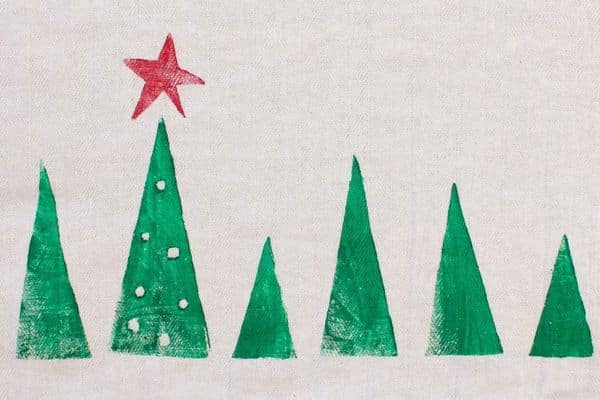 The adorable Christmas Tree Tea Towel is from Make & Do Crew. Kids can stamp green paint onto a kitchen towel to give it a festive touch! The finished product makes a wonderful gift for mom, dad or other family members! What fantastic fun for younger kids and older children alike!
37) Mason Jar Santa Handprint Craft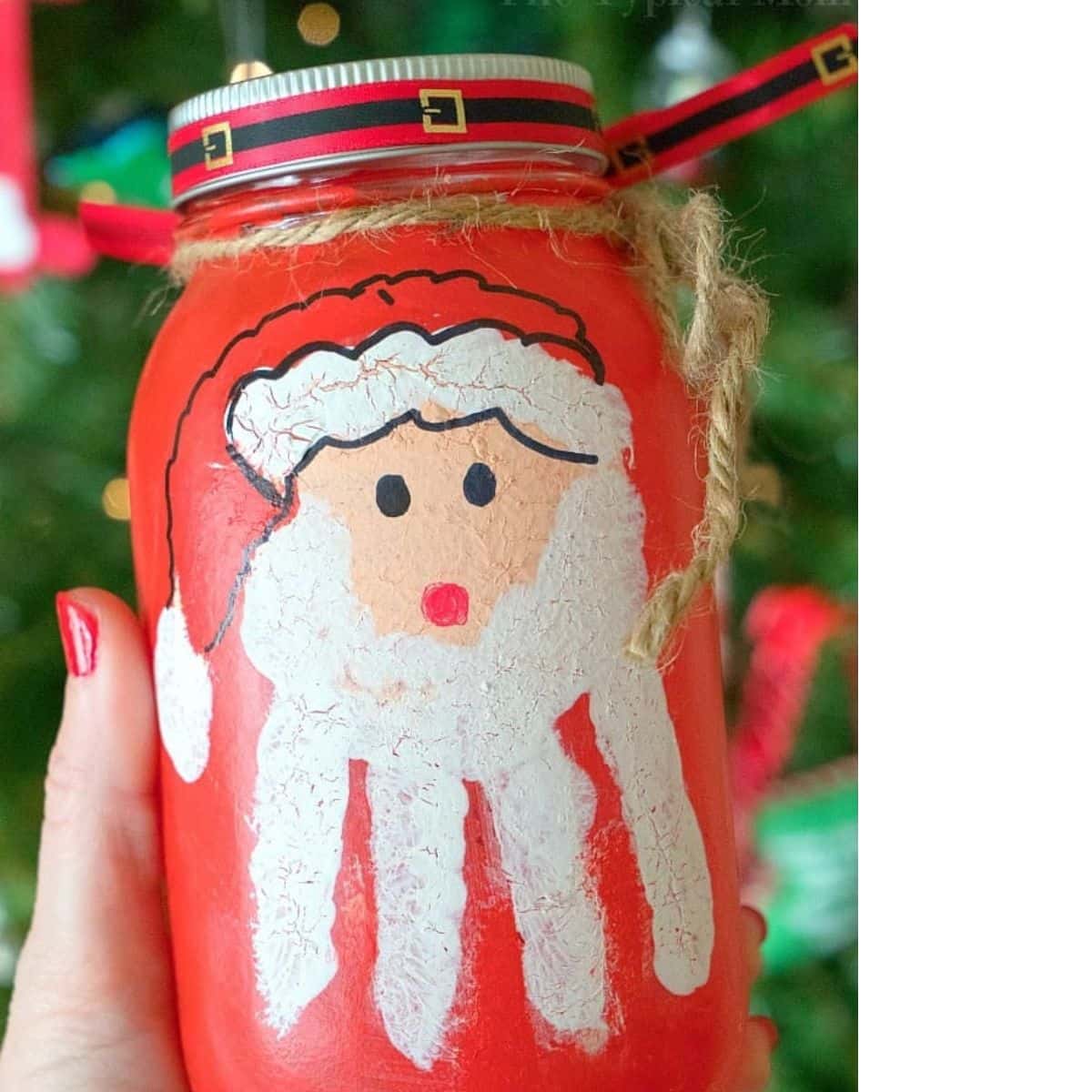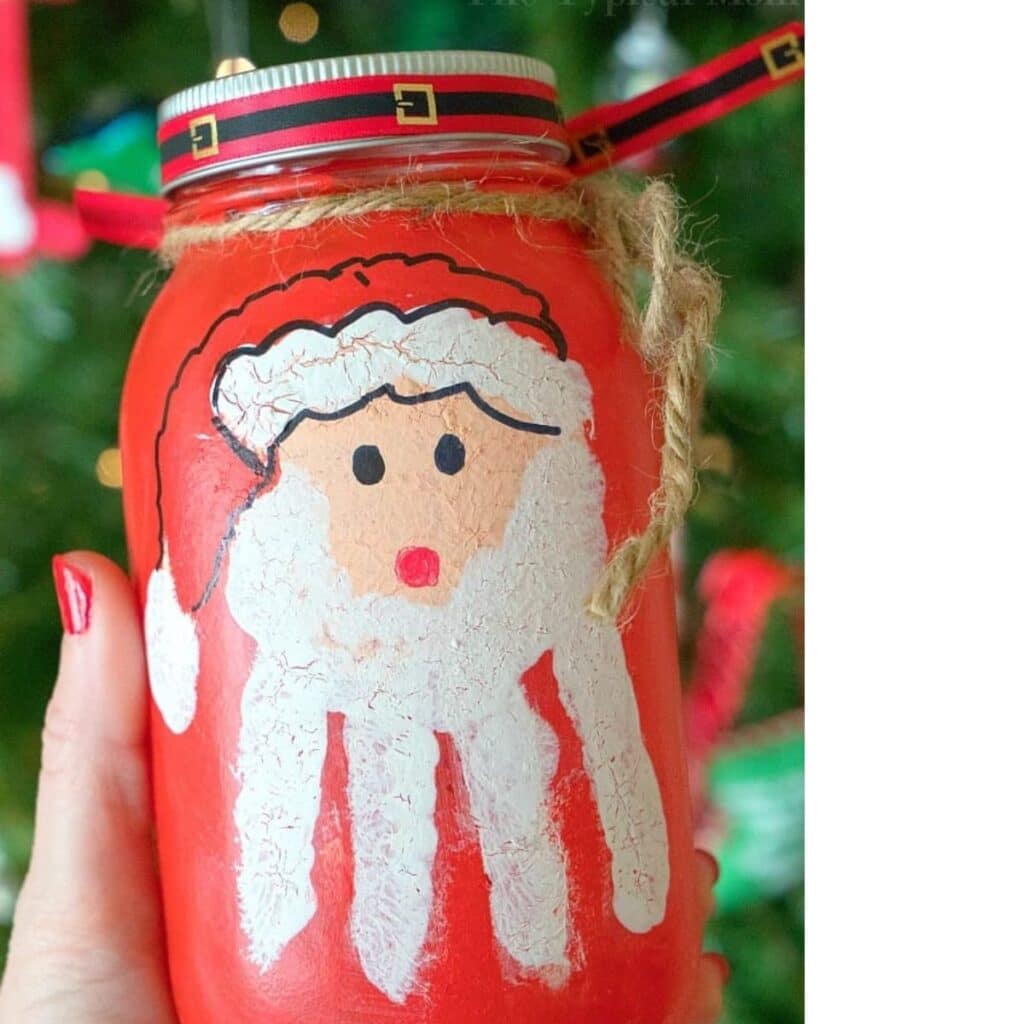 This Mason Jar Santa Handprint Craft is by The Typical Mom. Young children will need help with this great activity, but it's the perfect Christmas craft to work on together for some quality time for a fun craft to enjoy for years to come!
38) Folded Christmas Tree Card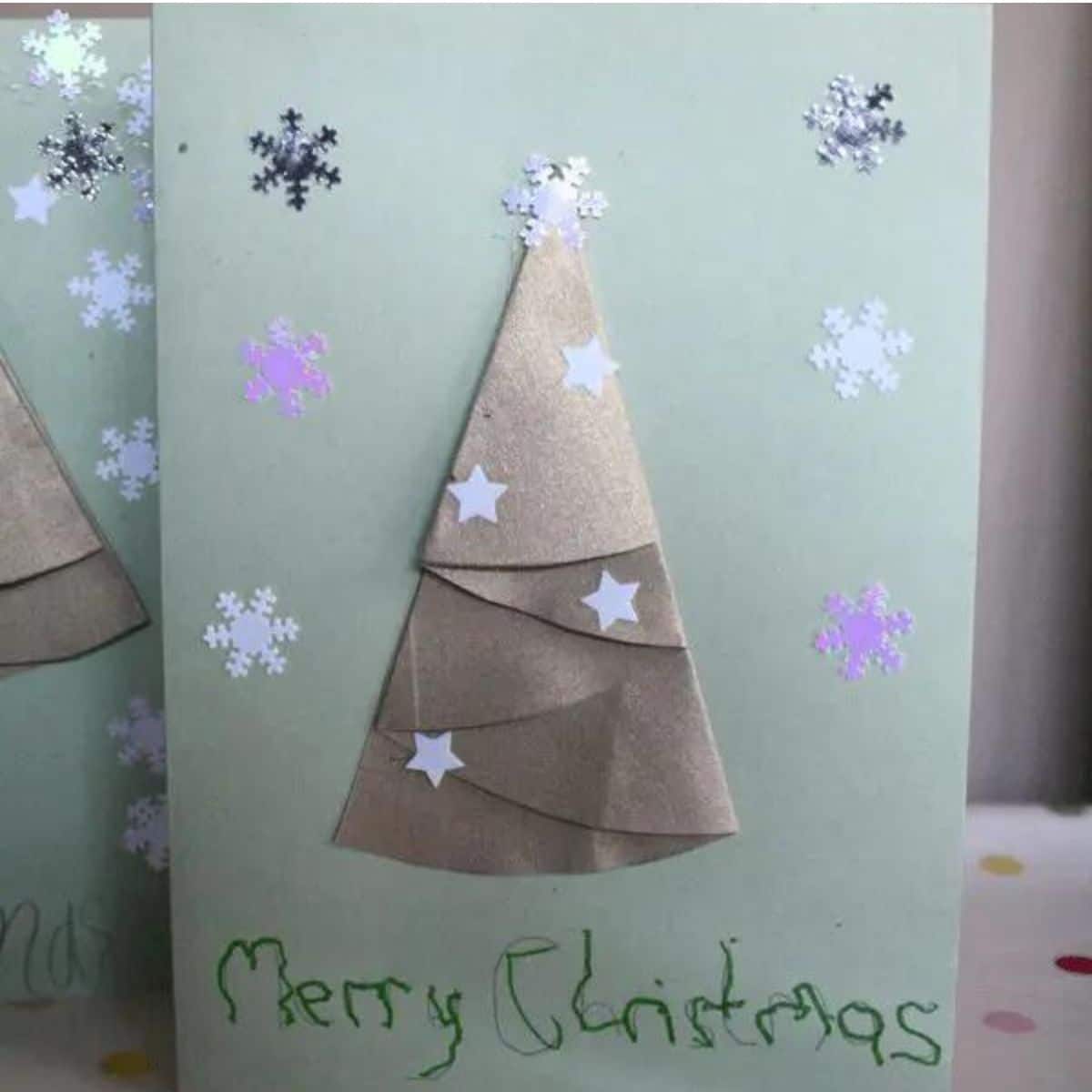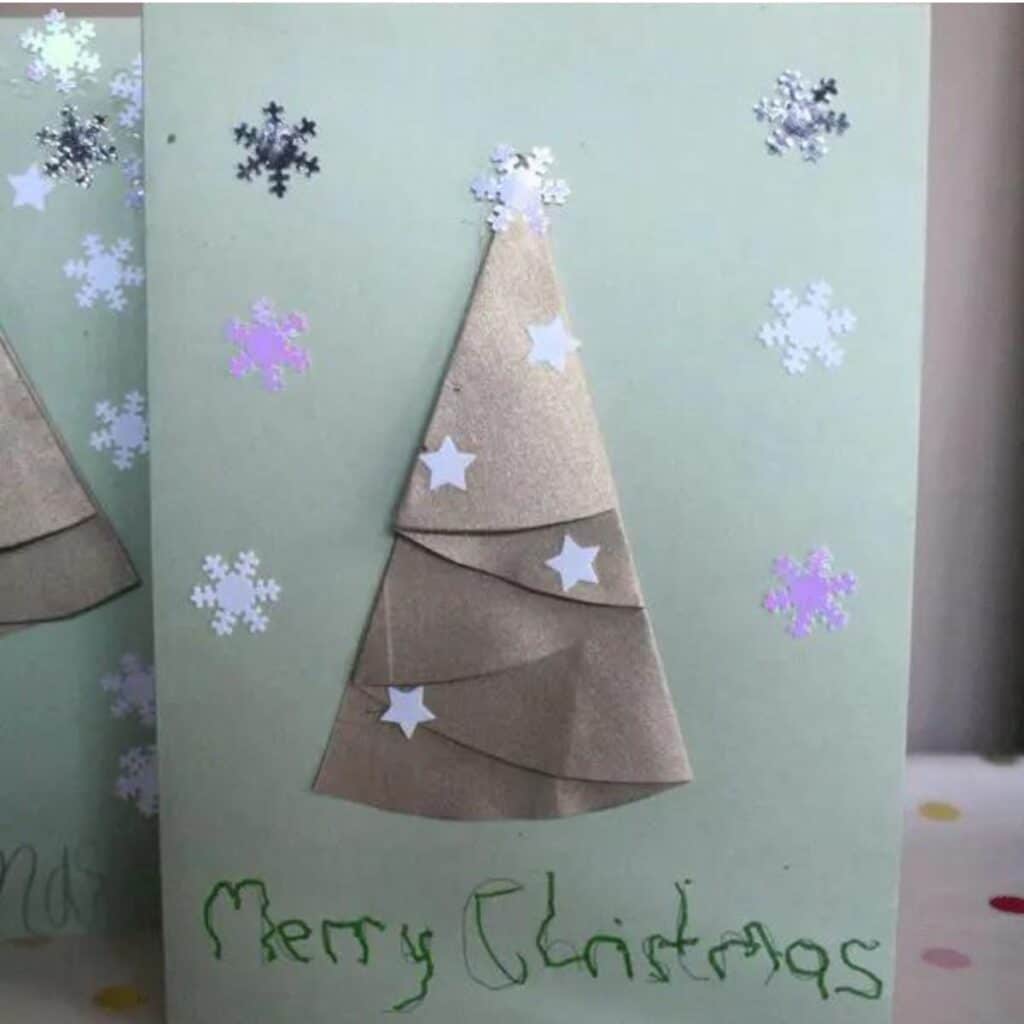 Check out this Folded Christmas Tree Card from Rainy Day Mum. What better way to get in the holiday spirit than creating handmade Christmas cards. This fun craft is great for young children, but the whole family might like to get in on this great craft!
39) Craft Stick Reindeer Craft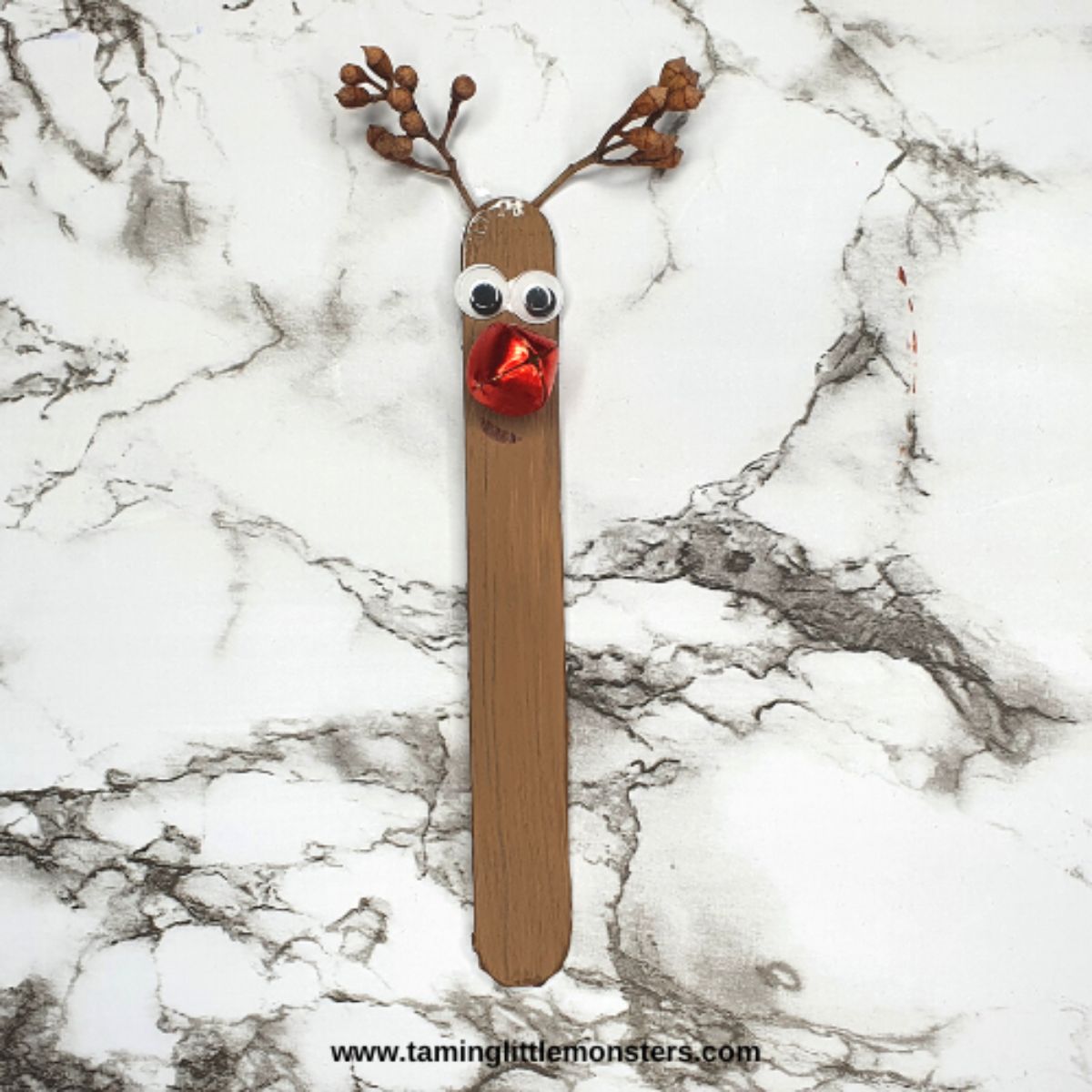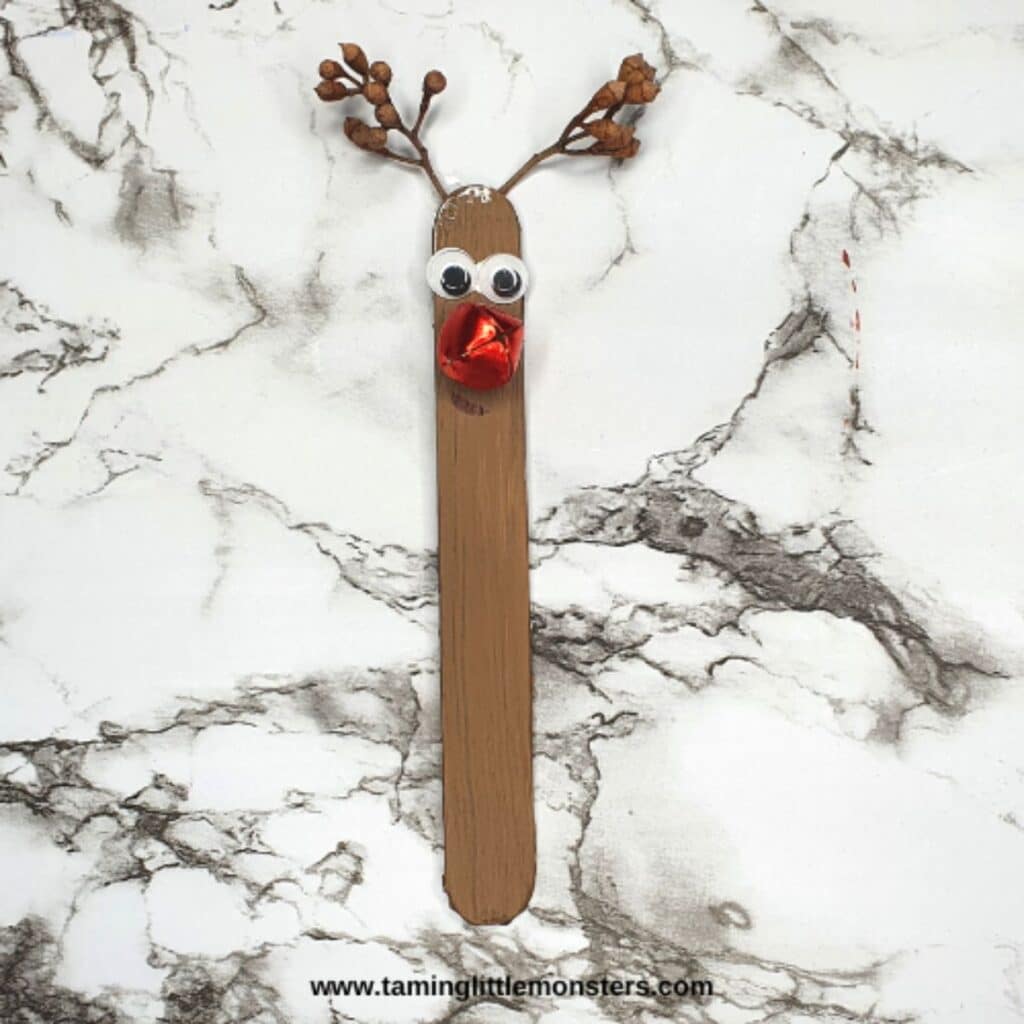 This Craft Stick Reindeer Craft is by Taming Little Monsters. I love the red nose on this adorable reindeer craft! Such fun ideas for preschool Christmas crafts!
40) Pretty Painted Rock Snowflakes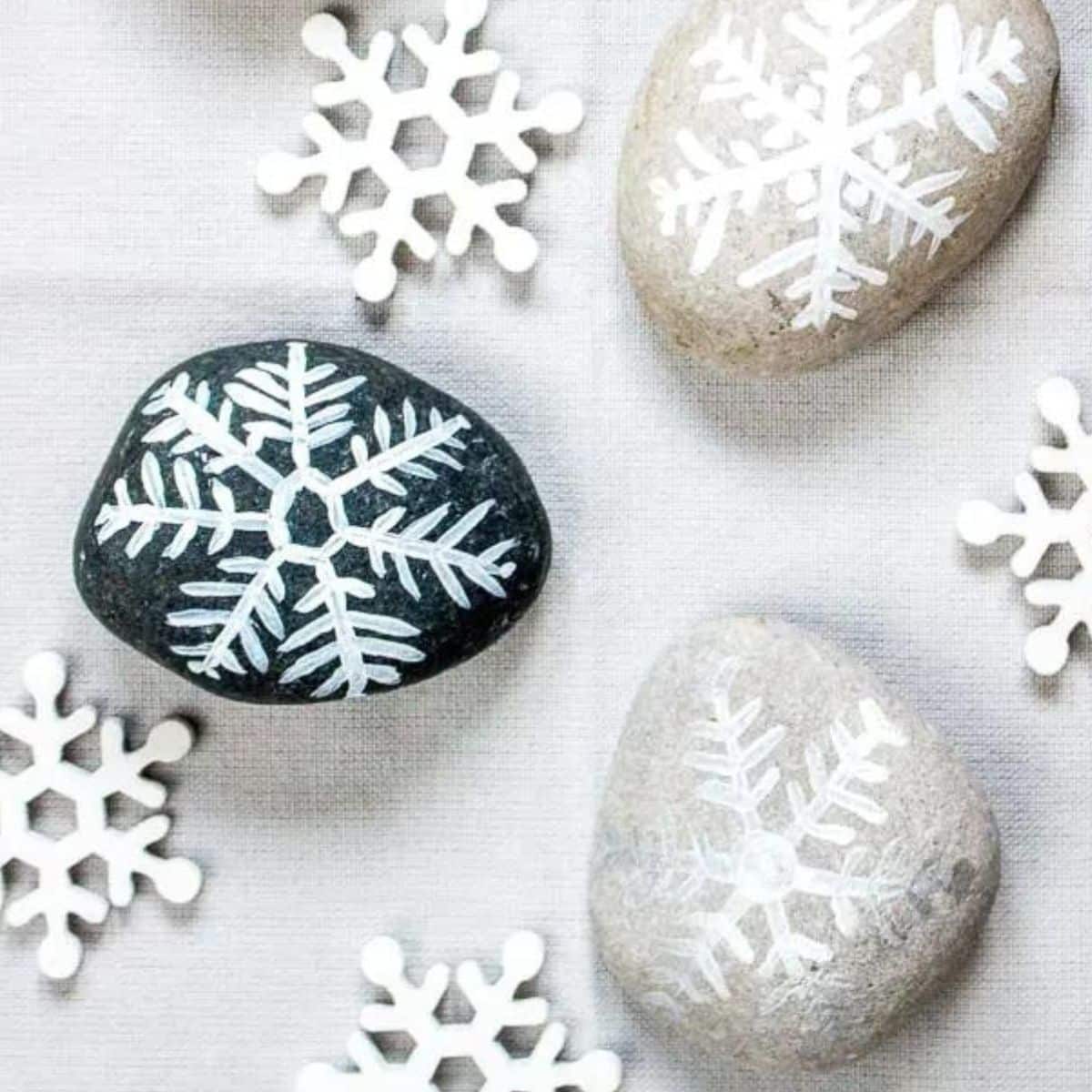 Check out these Pretty Painted Rock Snowflakes by Sustain My Craft Habit. I love that this holiday craft is open ended and suitable for younger children and older kids alike. What an easy way to get the whole family together for some fun!
41) Easy Mitten Craft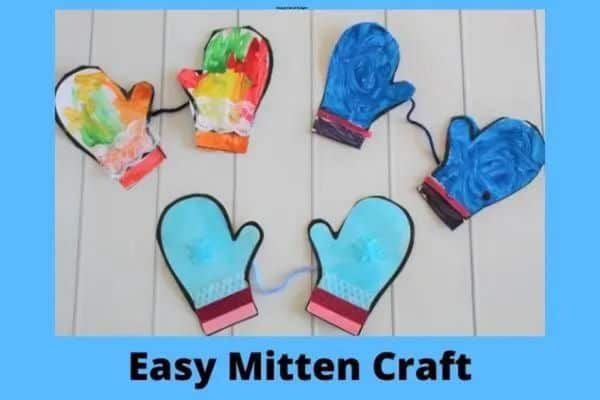 This Easy Mitten Craft is from my blog Simply Full of Delight. Kids can paint or color the free mitten printable and then decorate the mittens however they wish! Such an easy fun winter craft for kids!
42) Tissue Paper Ornament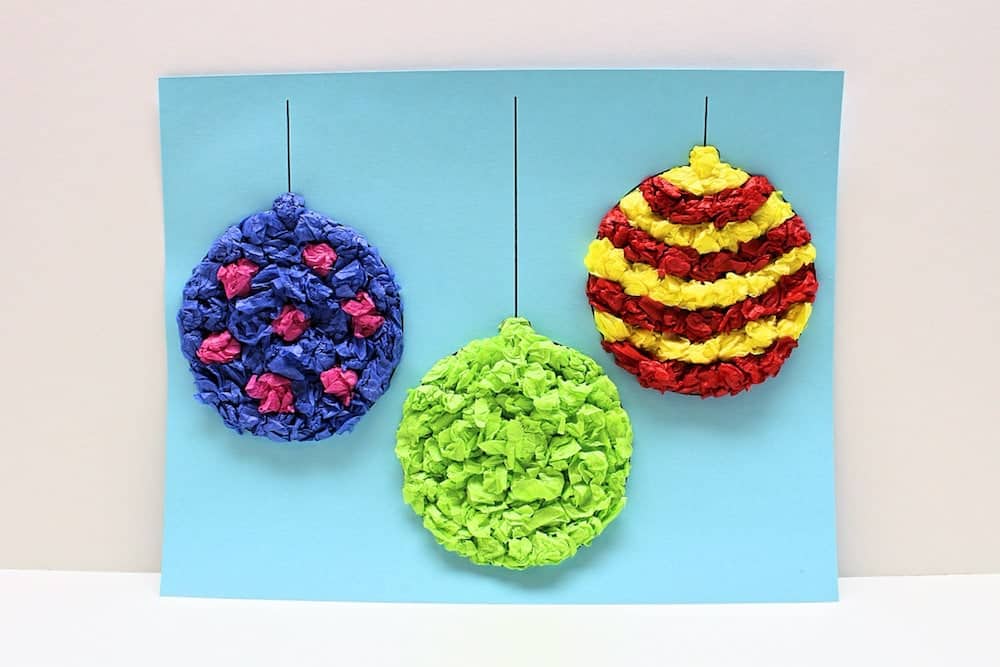 This Tissue Paper Ornament Craft is from The Craft-at-Home Family. The free ornament template makes it a super simple craft that's perfect for 4 year olds!
43) Fingerprint Christmas Ornaments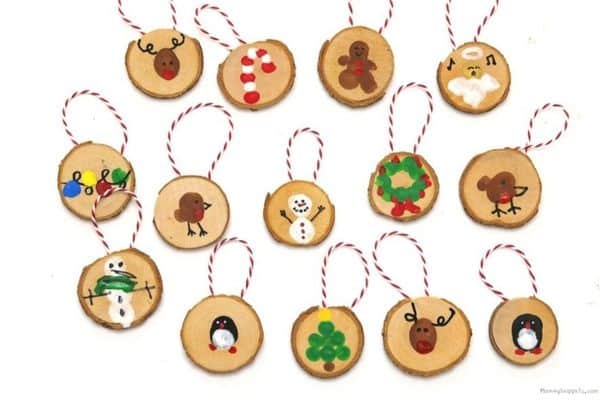 These Easy Fingerprint Christmas Ornaments are by Mommy Snippets. Parents will treasure these adorable handmade Christmas Ornaments for years. Such a sweet idea!
44) Easy Christmas Garland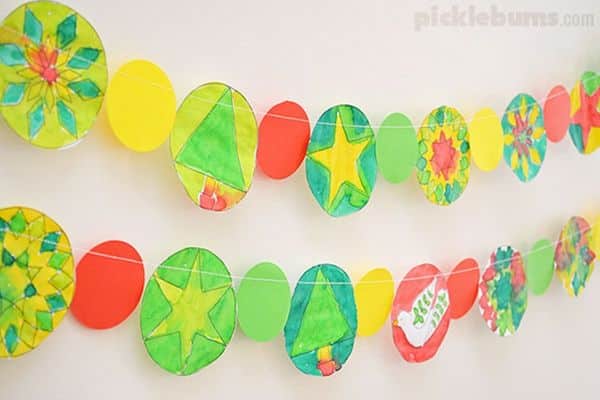 This Easy Christmas Garland is by Picklebums. Grab the free printable template and have your kids make a wonderful Christmas decoration you can enjoy all season long!
45) Ice Cream Cone Christmas Trees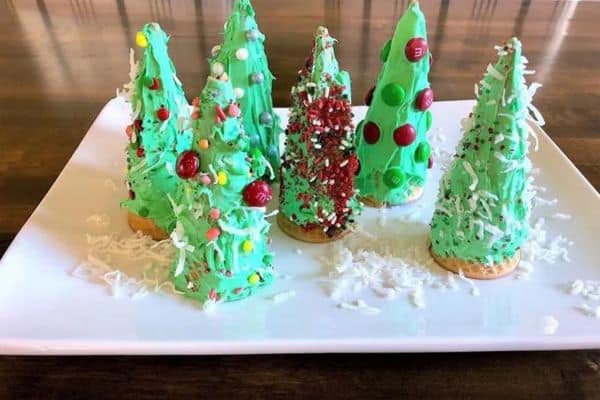 These Ice Cream Cone Christmas Trees are by Burlap & Blue. Kids of all ages will love this edible Christmas Craft. What fun!
46) Santa Sand Art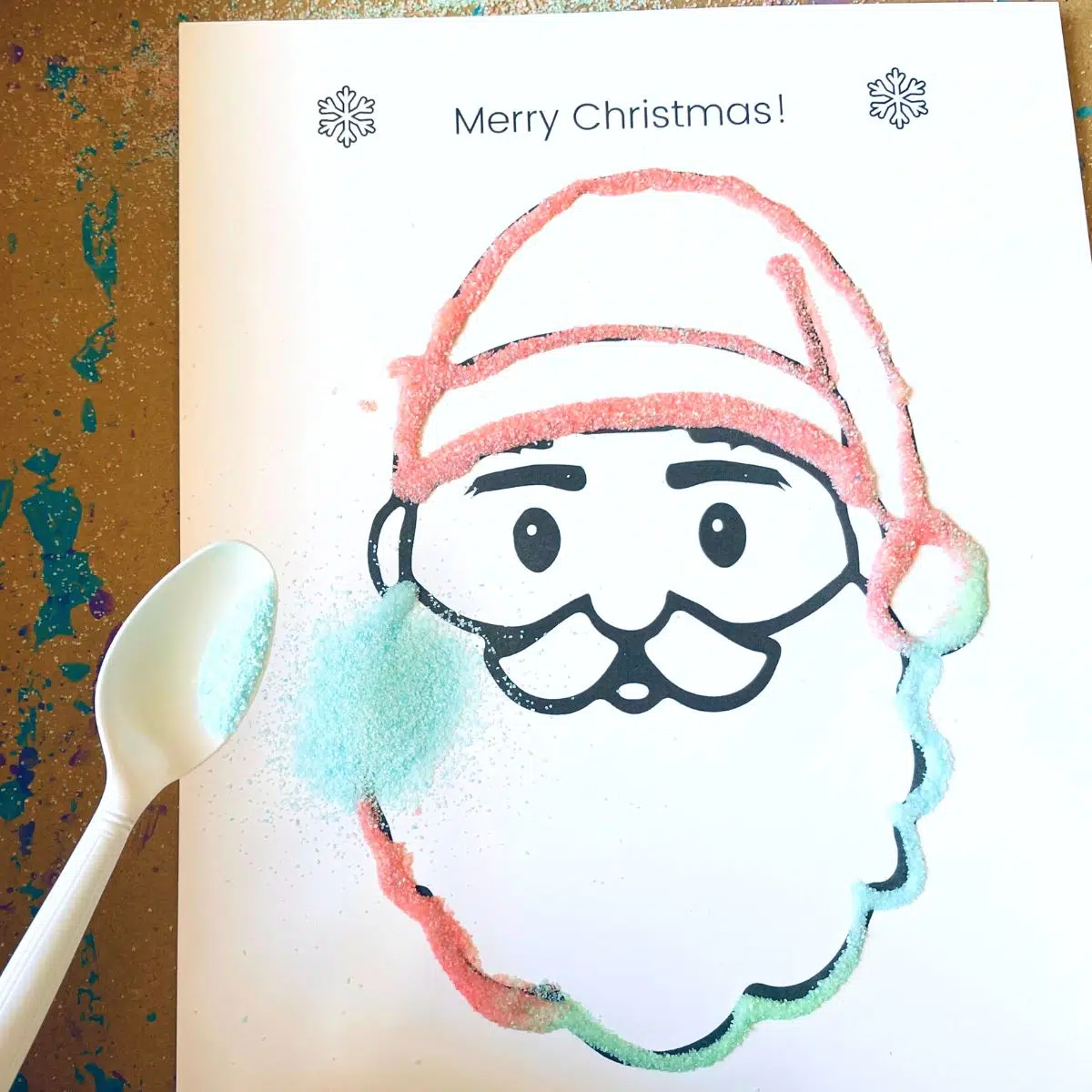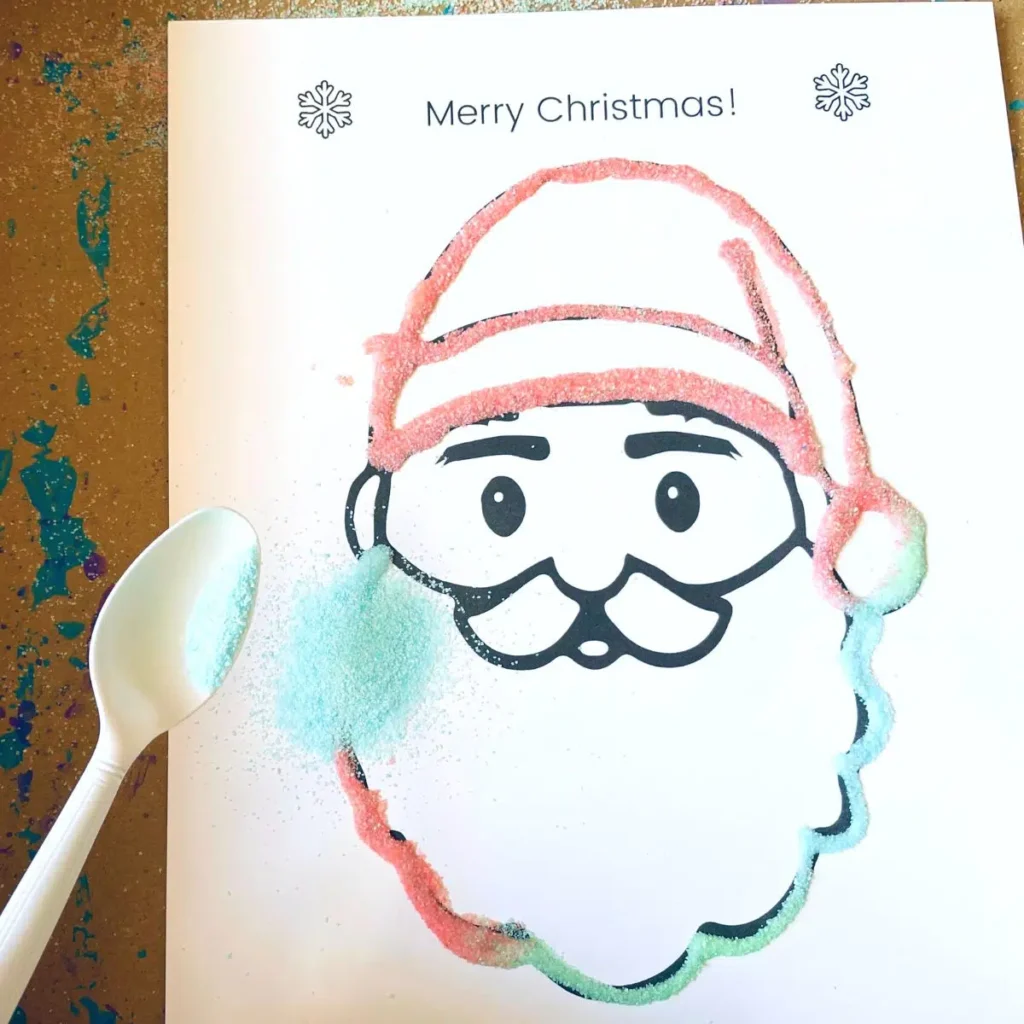 This Santa Sand Art is from my blog Simply Full of Delight. You can grab a free Santa face template to make this craft super simple for preschoolers! Just outline the face with glue and then add glitter or sand to make a one of a kind piece of holiday artwork!
47) Build a Snowman Printable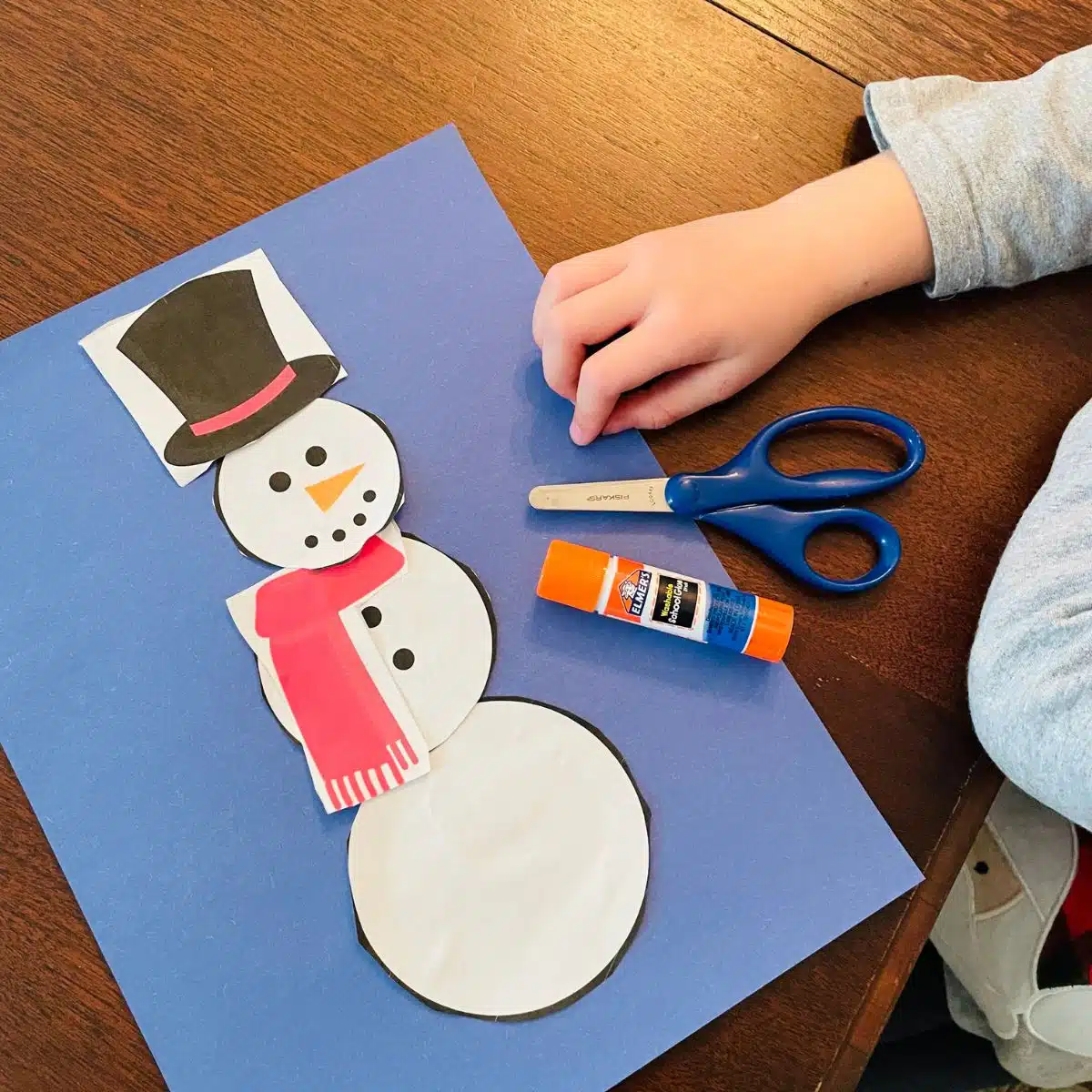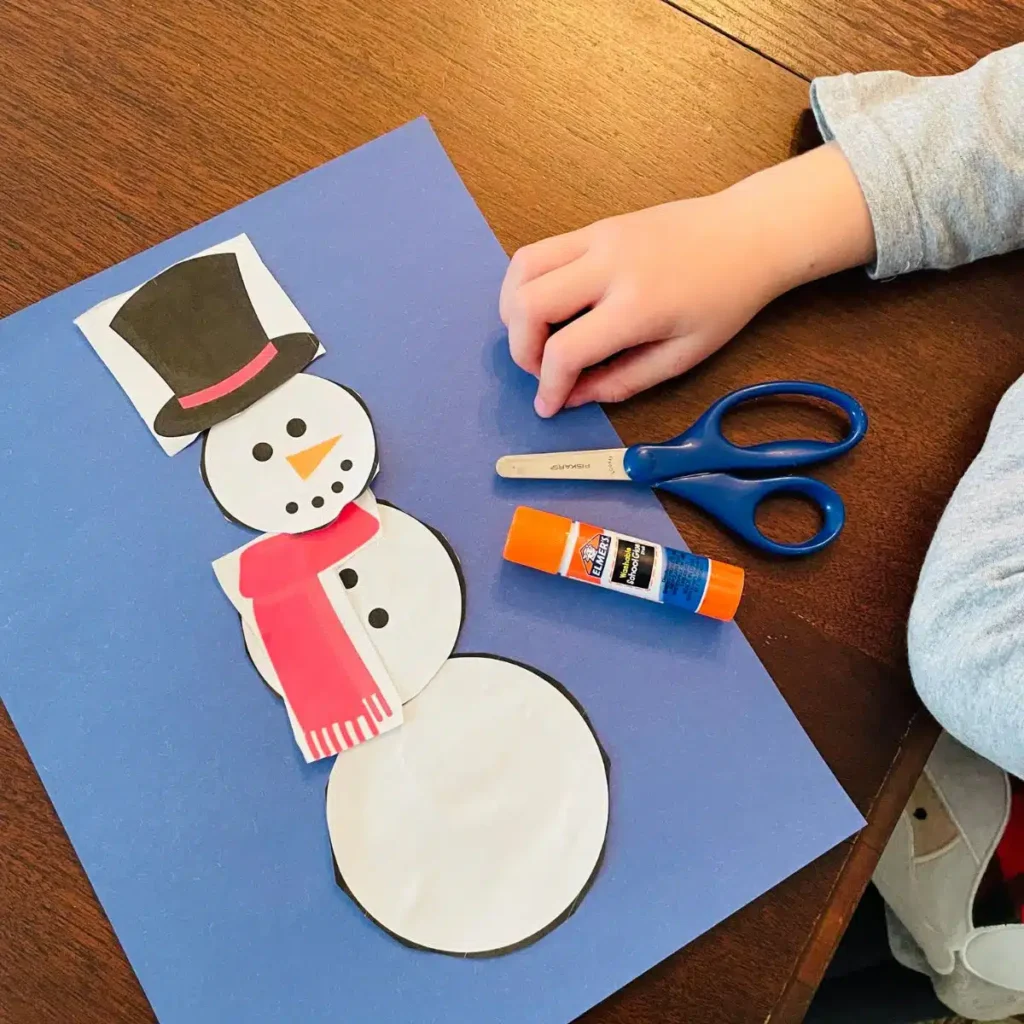 This super easy Build a Snowman Printable is also from my blog Simply Full of Delight. It's really simple, making it perfect for preschoolers! Kids cut out the pieces and then create a snowman. What fun!
48) Candy Cane Ornament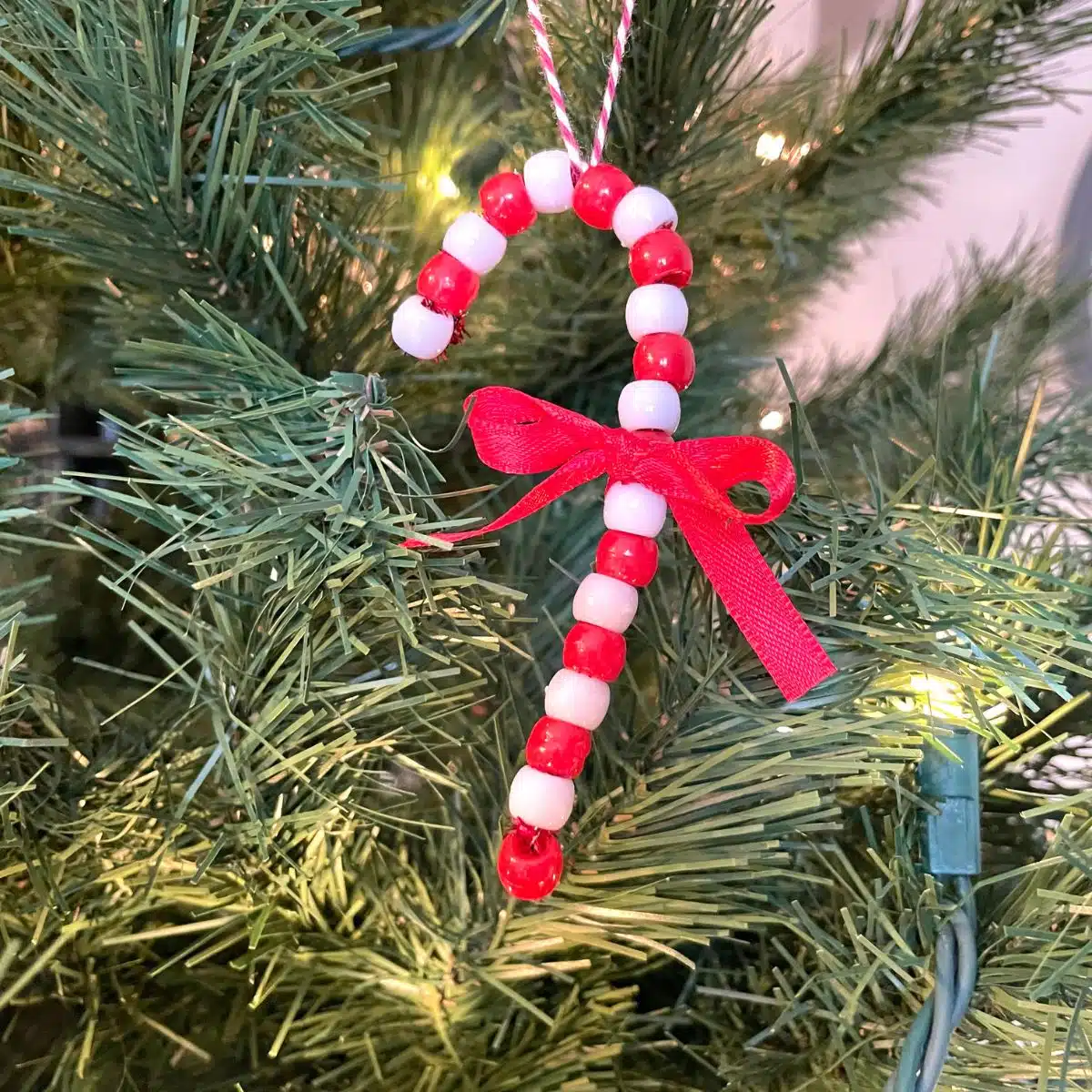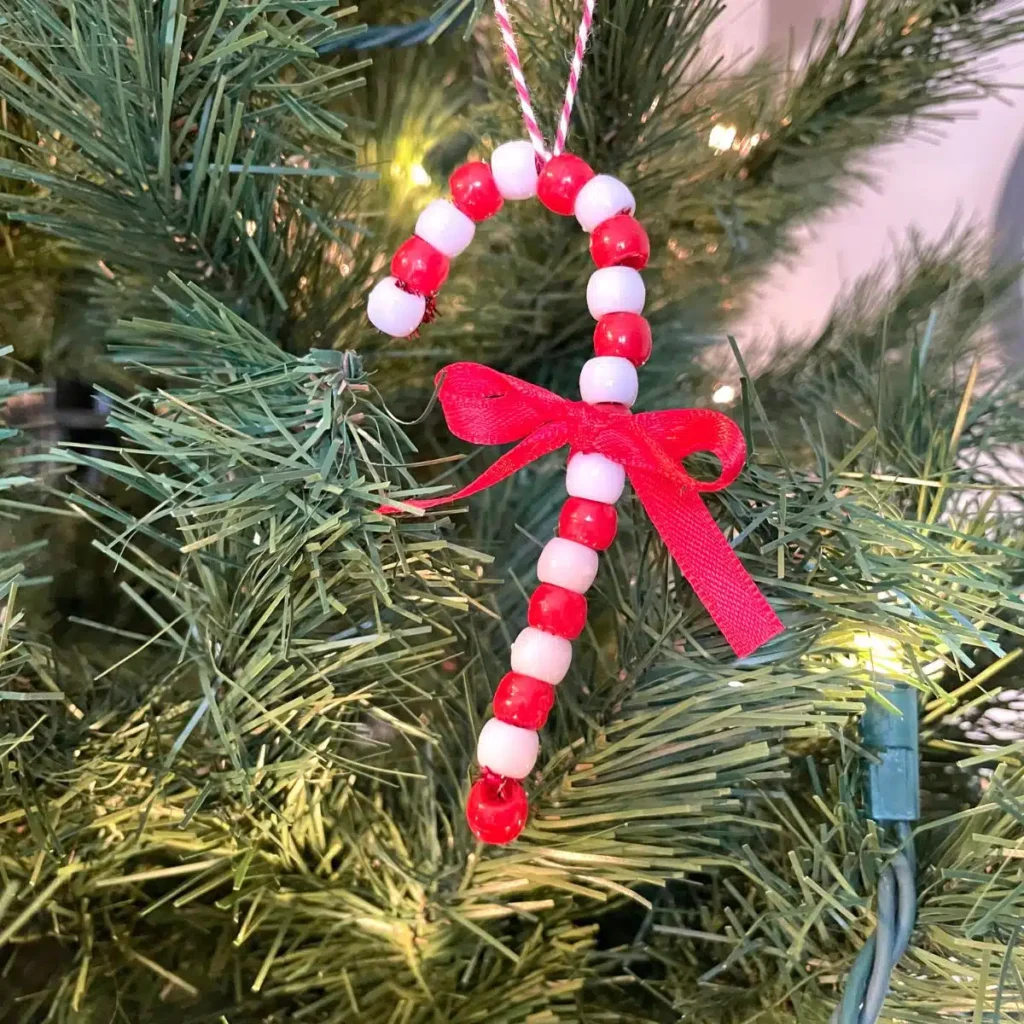 This Candy Cane Ornament from Simply Full of Delight is perfect for 4 year olds! All you need are a few simple craft supplies to make this adorable beaded Candy Cane Ornament that will be a keepsake for years to come.
And….that's it! I hope you have found some amazingly easy Christmas Crafts for 4 Year Olds. Be sure to save the image below to save these ideas to your Christmas Preschool Activities board on Pinterest.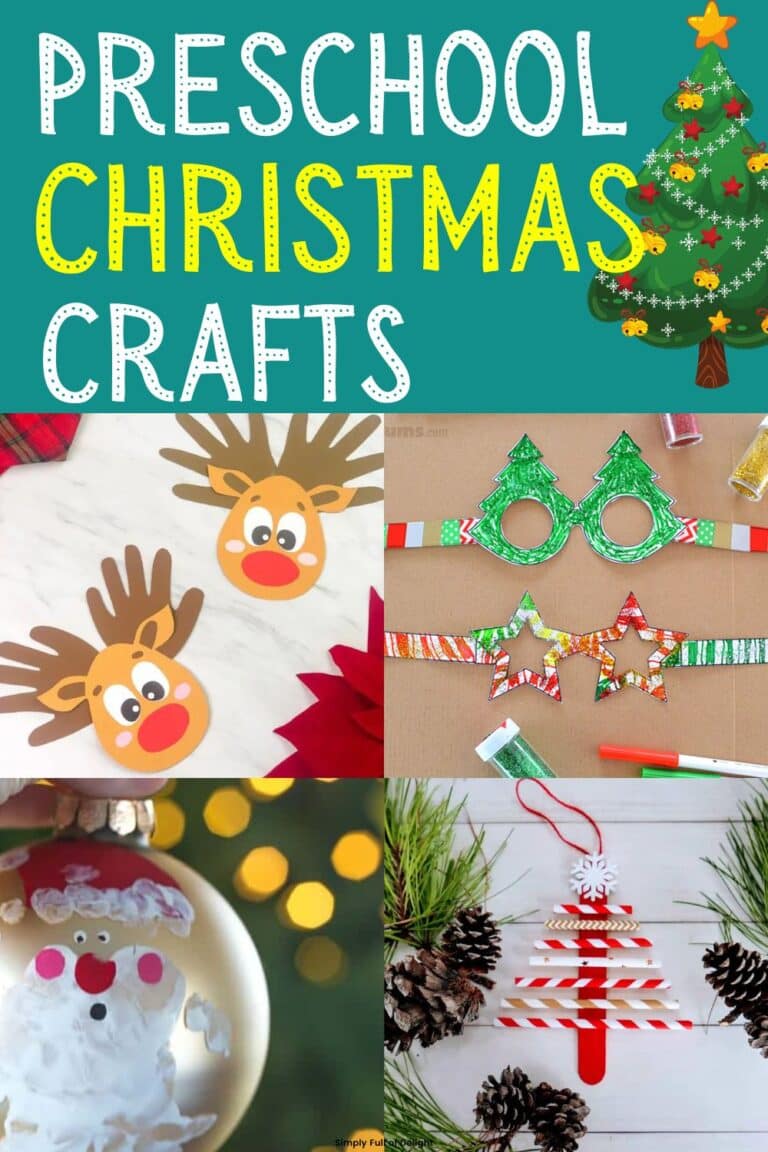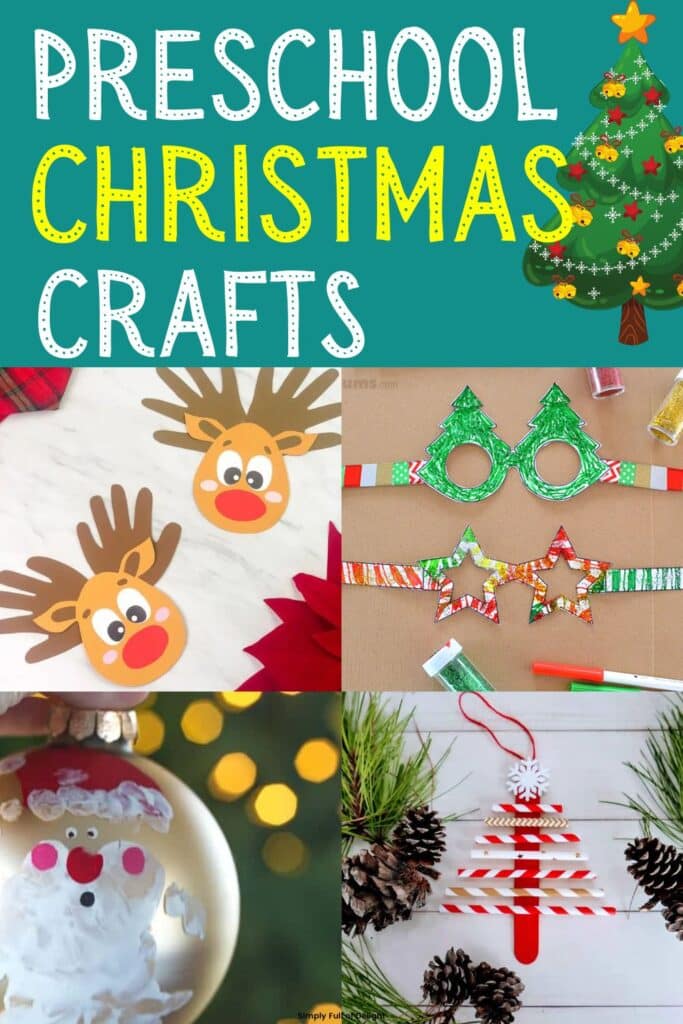 More Christmas Preschool Activities
Want More? Be sure to check out the free Christmas Coloring Pages for kids here. There's 3 adorable Christmas themed coloring sheets completely free.
You can also find some super fun Christmas Play Dough Mats in my Etsy shop here. Kids can complete each Christmas picture with play dough. What fun!
Plus there's a Christmas Preschool Learning pack here. Full of learning fun including cut and paste, tracing, patterns, number recognition and more!