Need a super easy Christmas Craft for Kids? This Bead Candy Cane Ornament DIY is perfect!
Somehow, I ended up as the room mother for my daughter's classroom this year. Honestly, it's been a lot of fun! Basically, I am in charge of organizing holiday parties.
My task this month, was to bring a simple craft to the classroom Christmas party, along with a game and treats. Needing something simple that didn't require glue or paint, I remembered this fun beaded candy cane ornament from when I was a kid and decided to give it a go!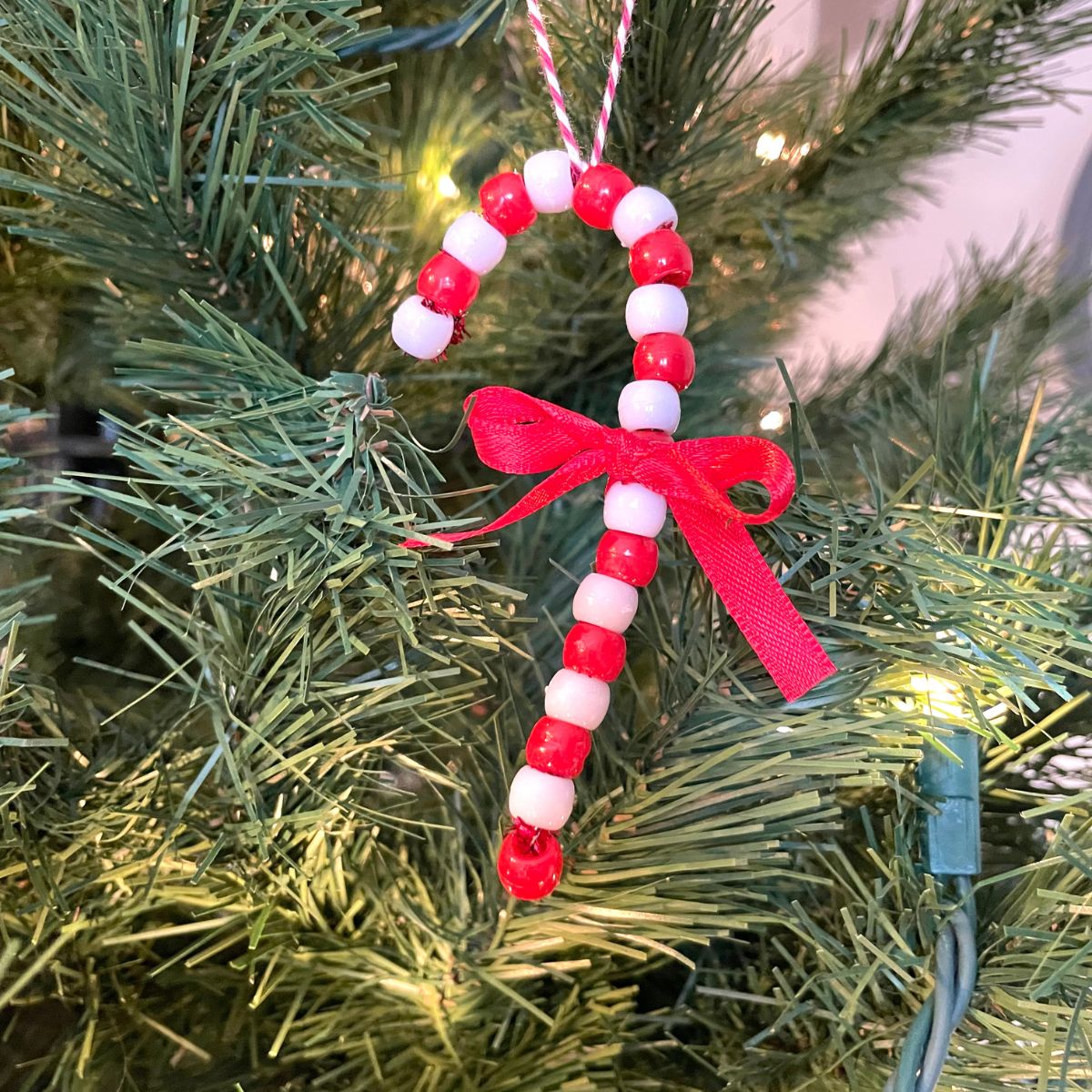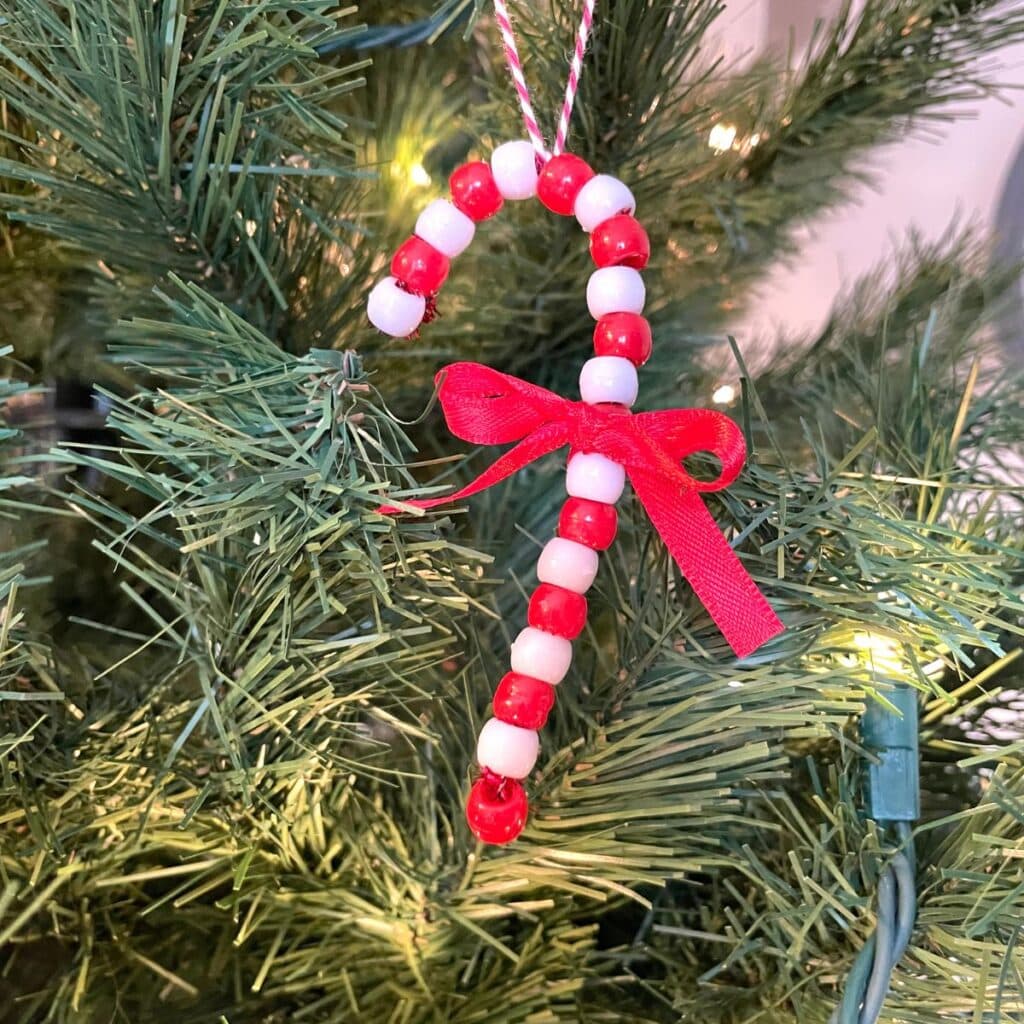 This pony bead candy cane ornament is great for classroom parties and events because kids can take it home immediately. I always try to avoid art projects with paint or glue that needs to dry at holiday parties. Kids and parents already have a lot to carry, without worrying about wet craft that needs to dry!
** Disclaimer: As an Etsy associate and as an Amazon.com Associate, I may earn from qualifying purchases made by readers clicking my affiliate links at no extra cost to you.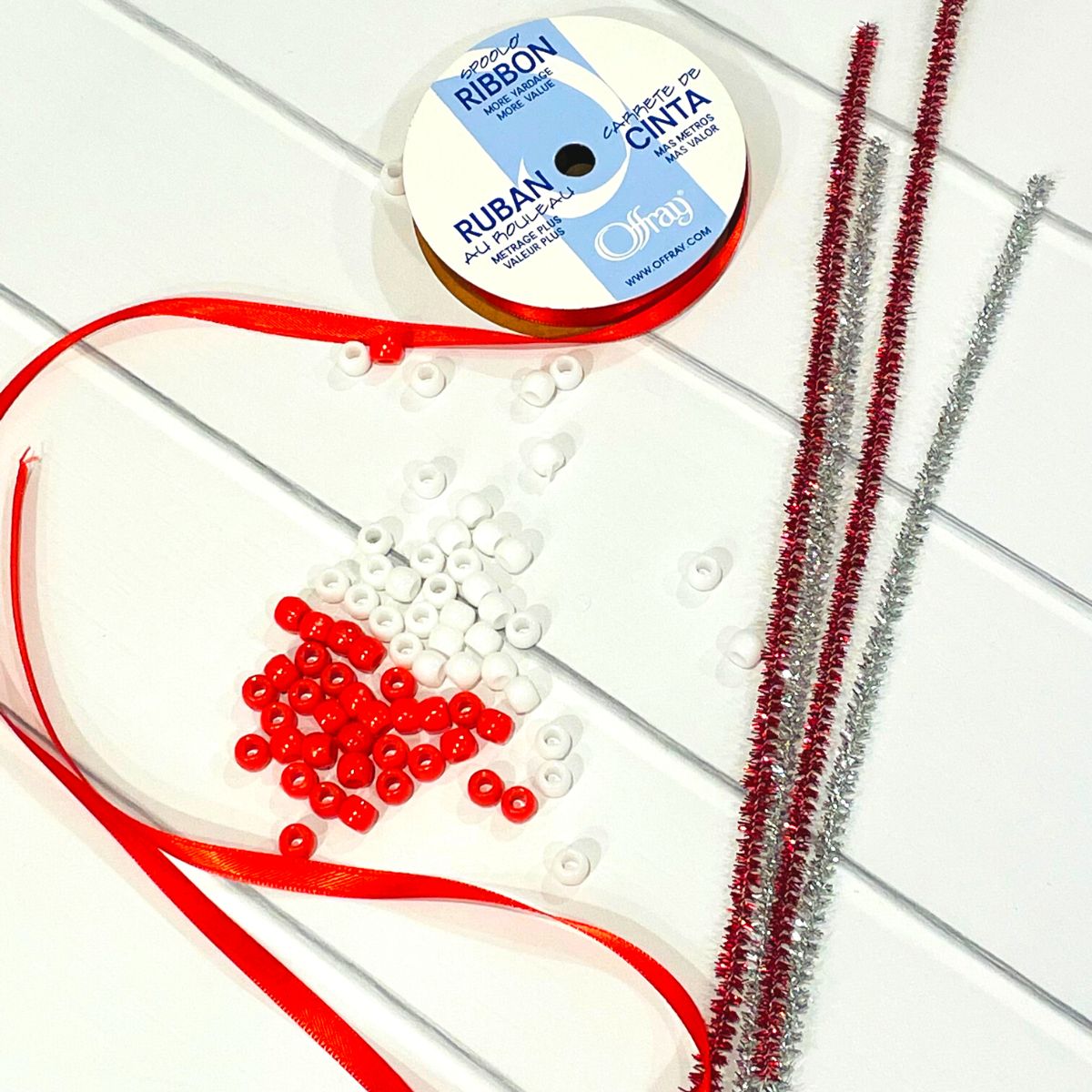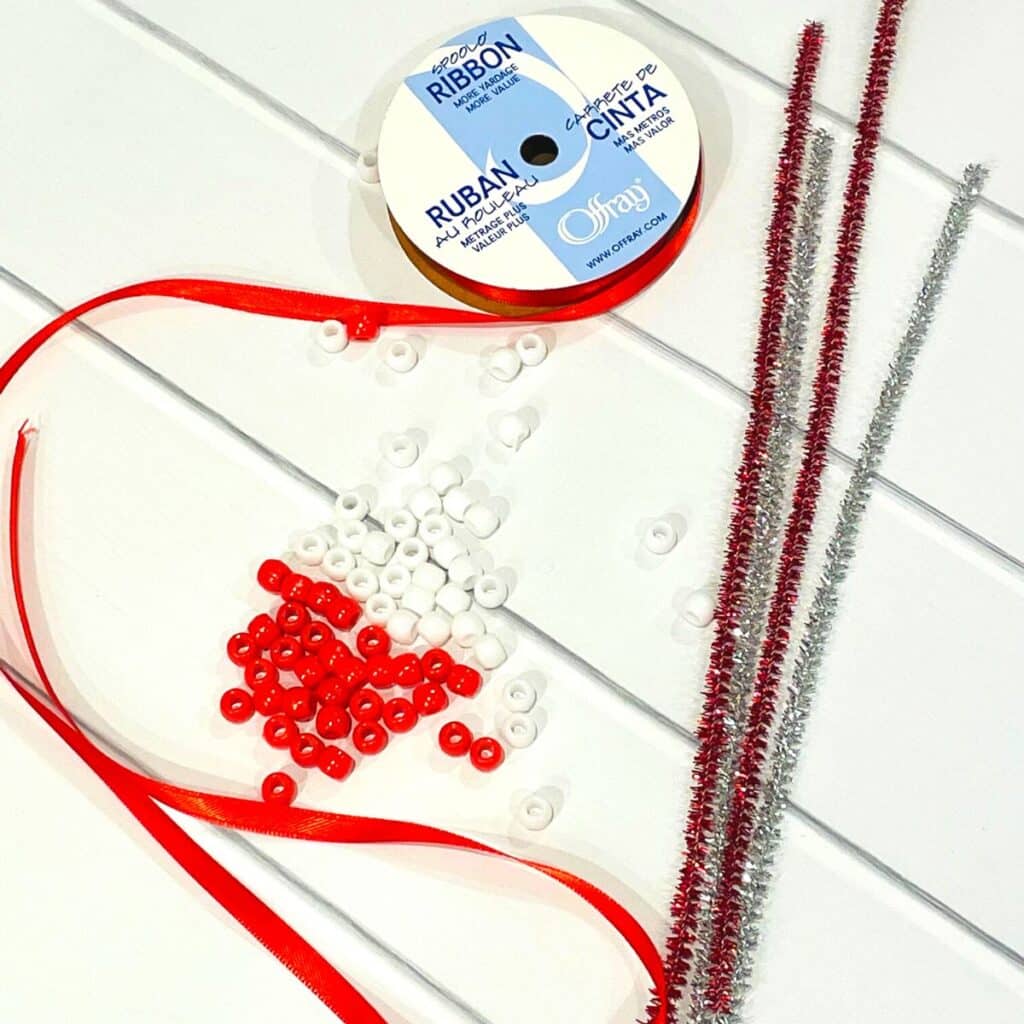 Supplies for Candy Cane Bead Craft
For this pipe cleaner candy canes with beads craft you will need the following craft supplies:
Once you have your supplies, let's get started on this Bead Candy Cane Ornament DIY.
How to Make a DIY Bead Candy Cane Ornament
First, cut your pipe cleaners in half. You only need 6 inches of pipe cleaner for this craft!
Next, add a red bead to the end of the pipe cleaner and fold the pipe cleaner around it to keep the bead in place.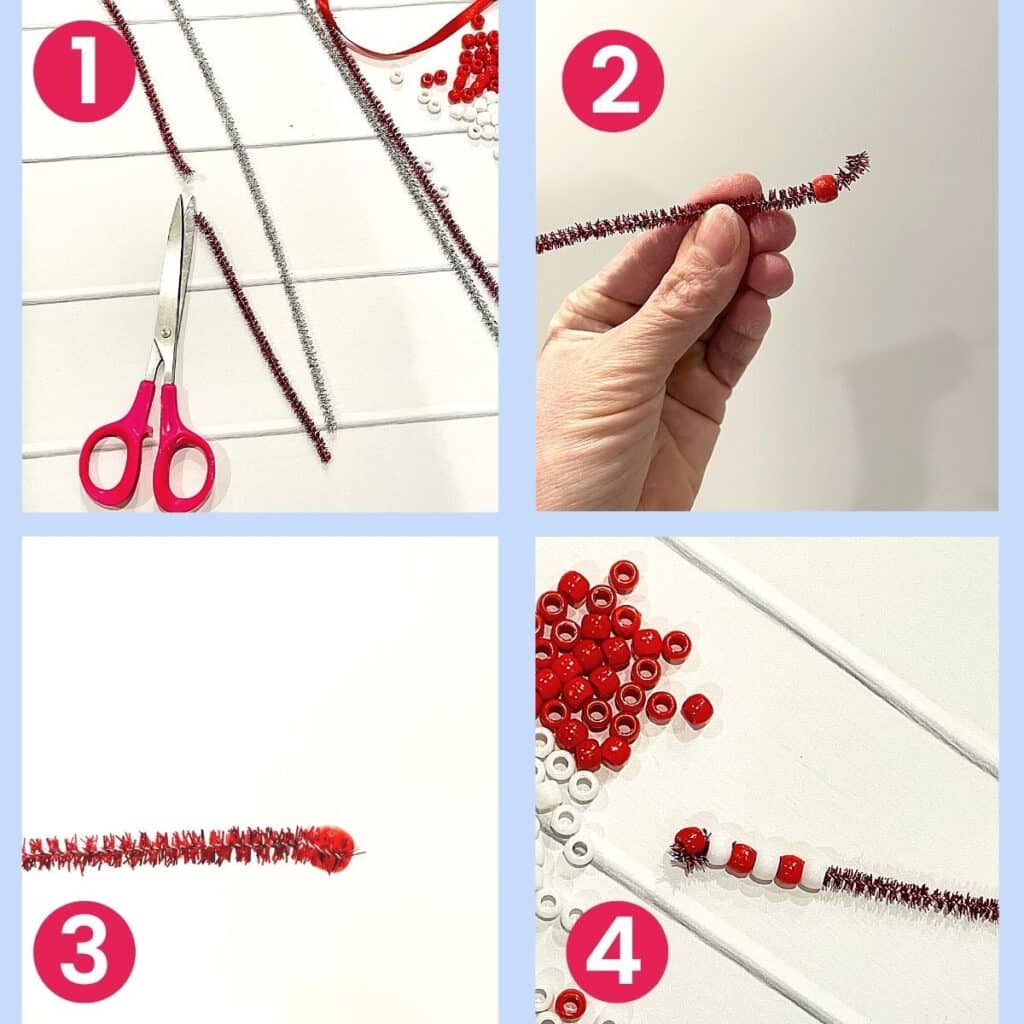 Alternating white and red, add the rest of the beads to create a red and white candy cane.
After adding the last bead, fold the pipe cleaner around to secure the beads. I like to loop the pipe cleaner into the bead if possible to hide the end of it, but that's not necessary.
Once the beads are secure on both ends, you can curve the candy stick into a candy cane. Next, we will add a string for hanging our ornament on the Christmas tree.
I cut about 5 inches of baker's twine for this. I chose to use Baker's Twine because it's not too thick, complements our craft, and is also durable for hanging.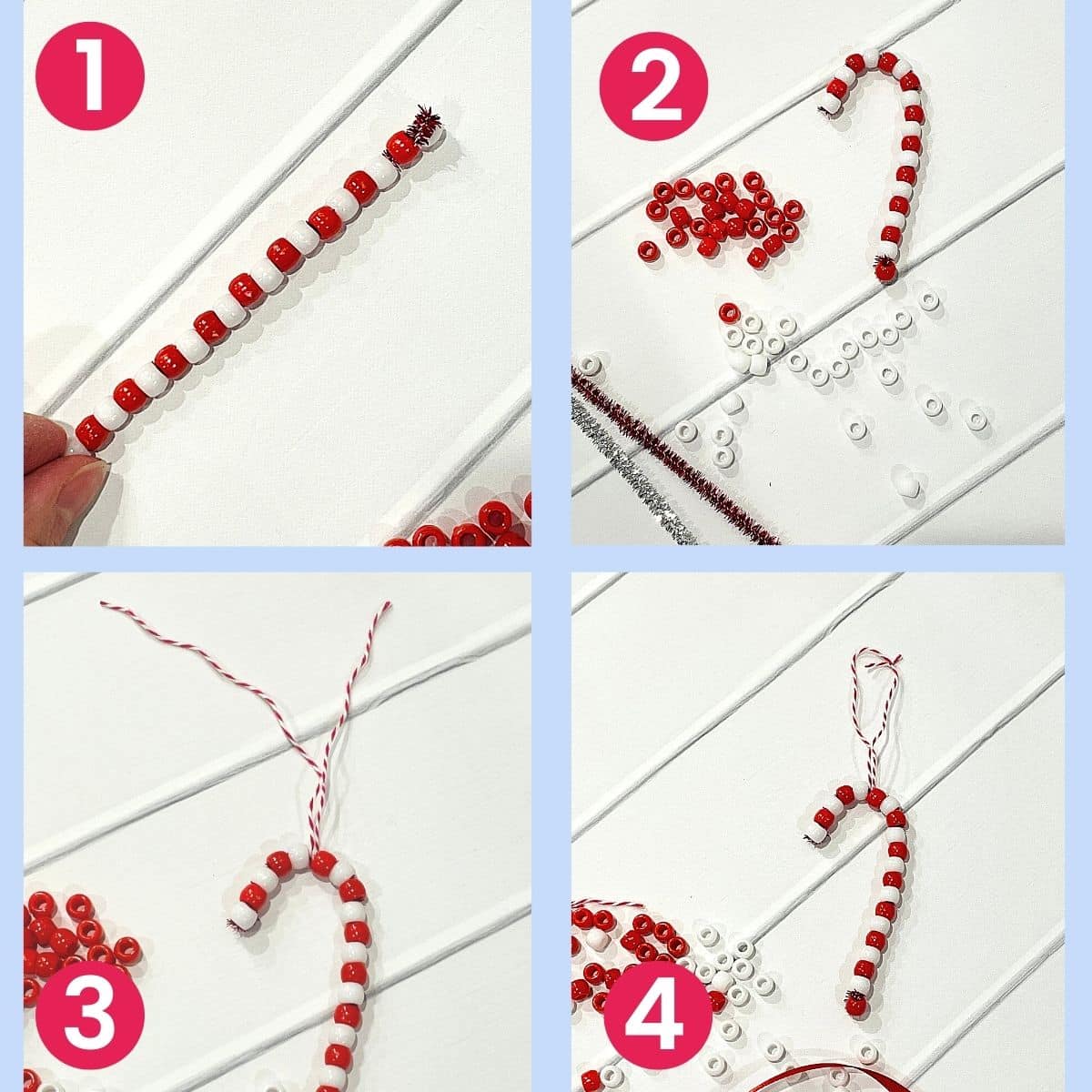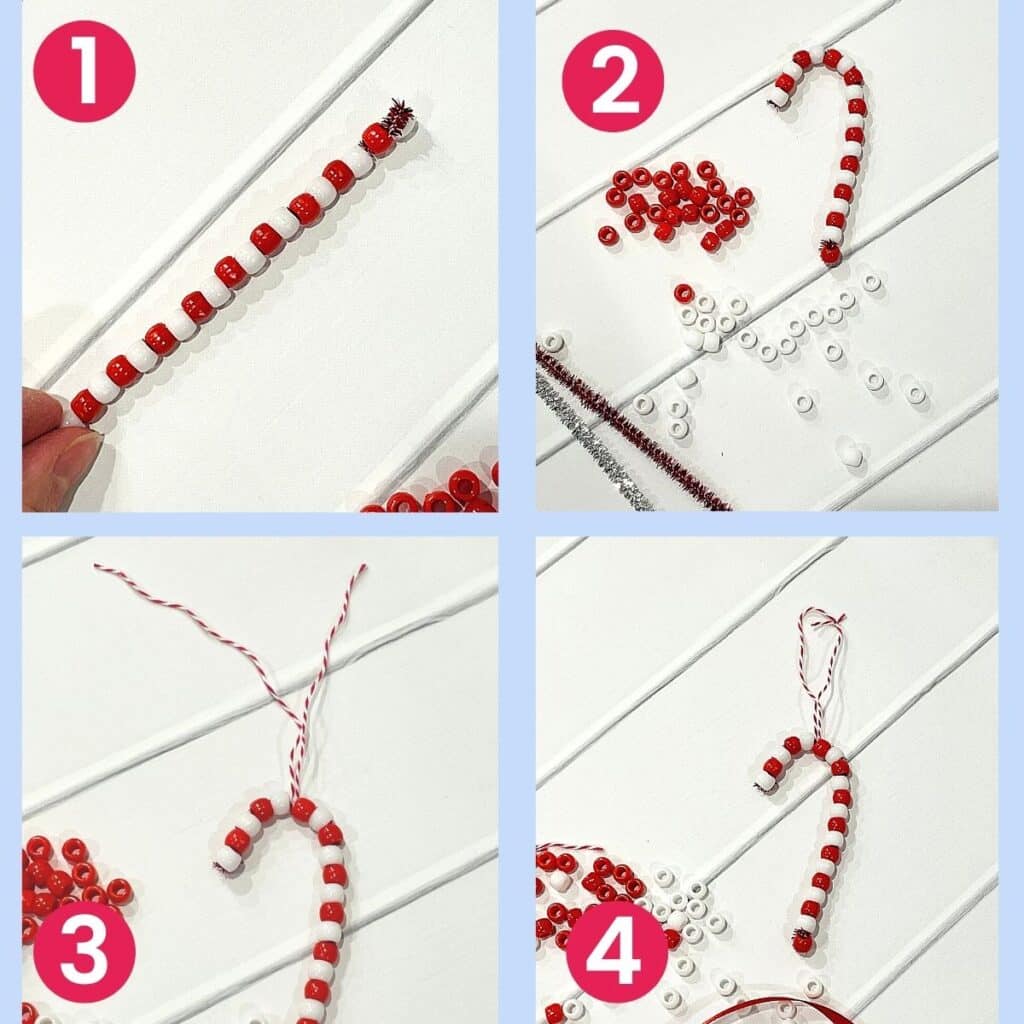 Tie your twine around the curve of your candy cane.
Then tie the twine into a circle. Perfect!
Next, if you like, add a red ribbon by tying the ribbon into a knot and then making a bow. So cute!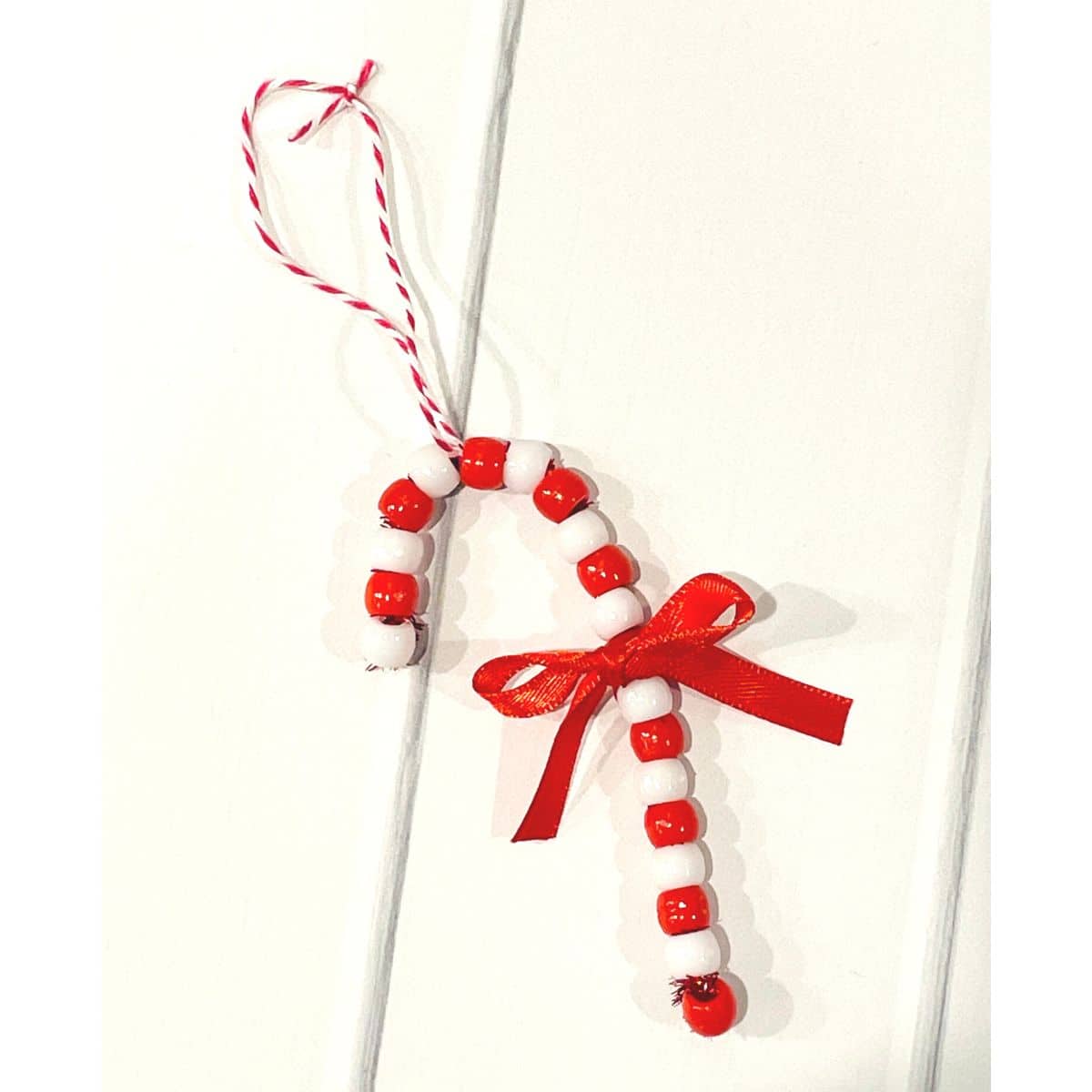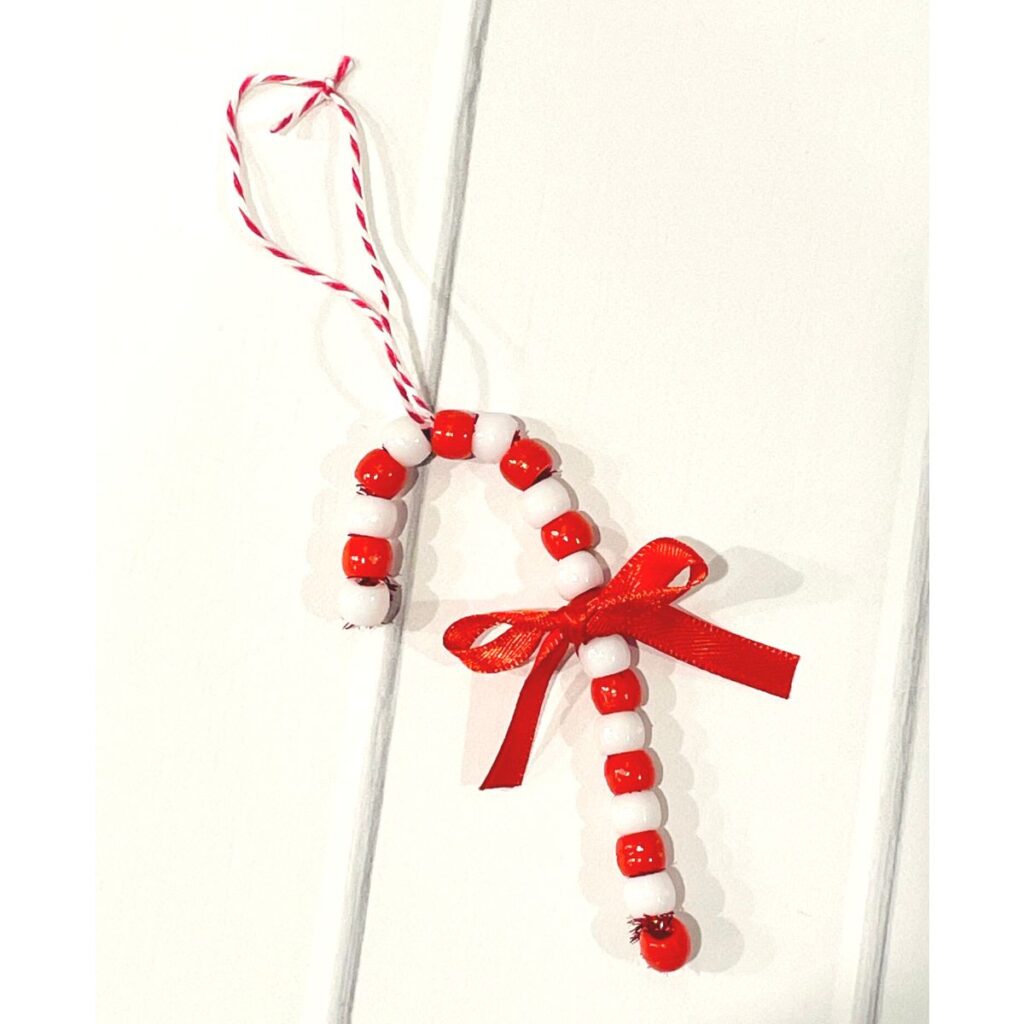 Now you are ready to hang up your Bead Candy Cane Ornament!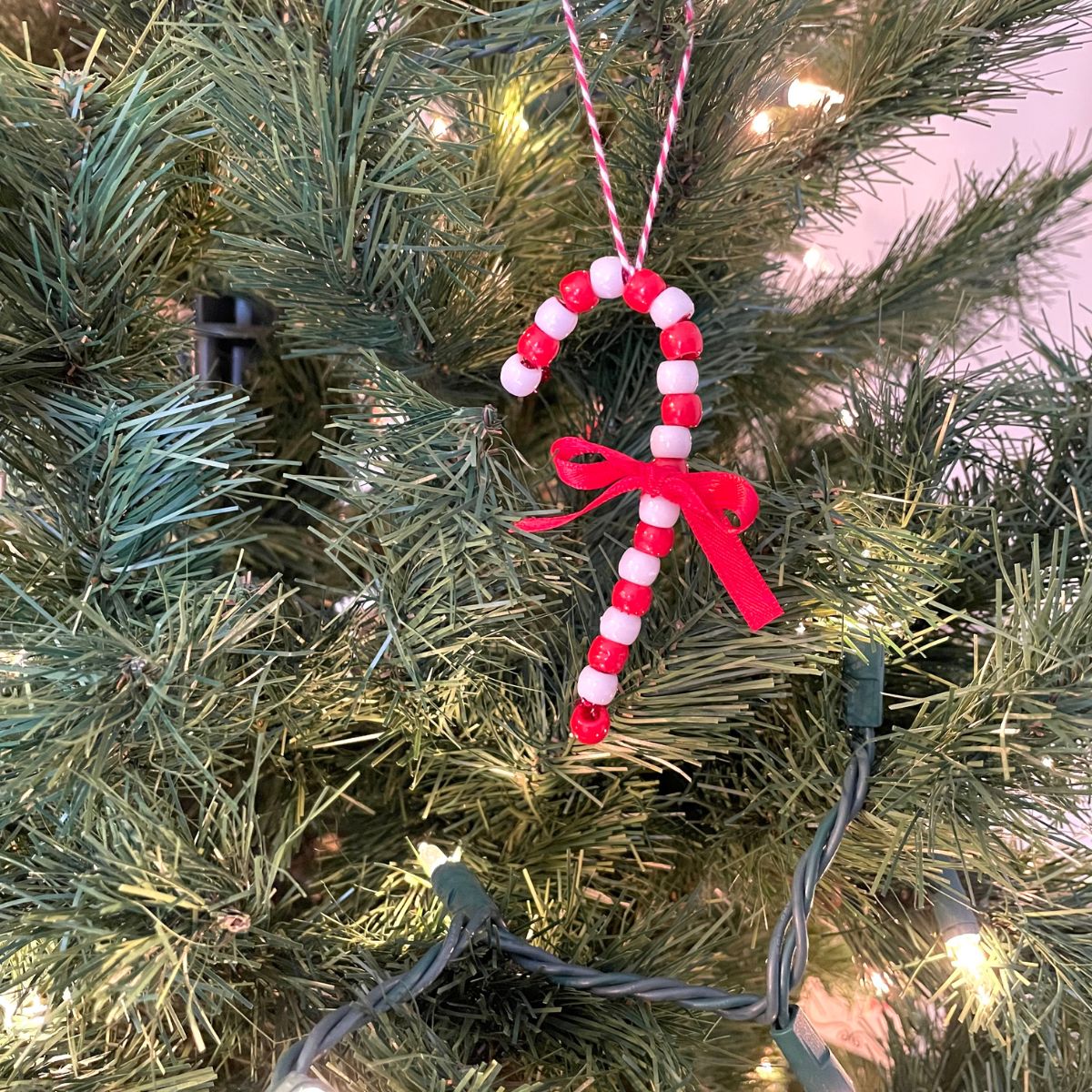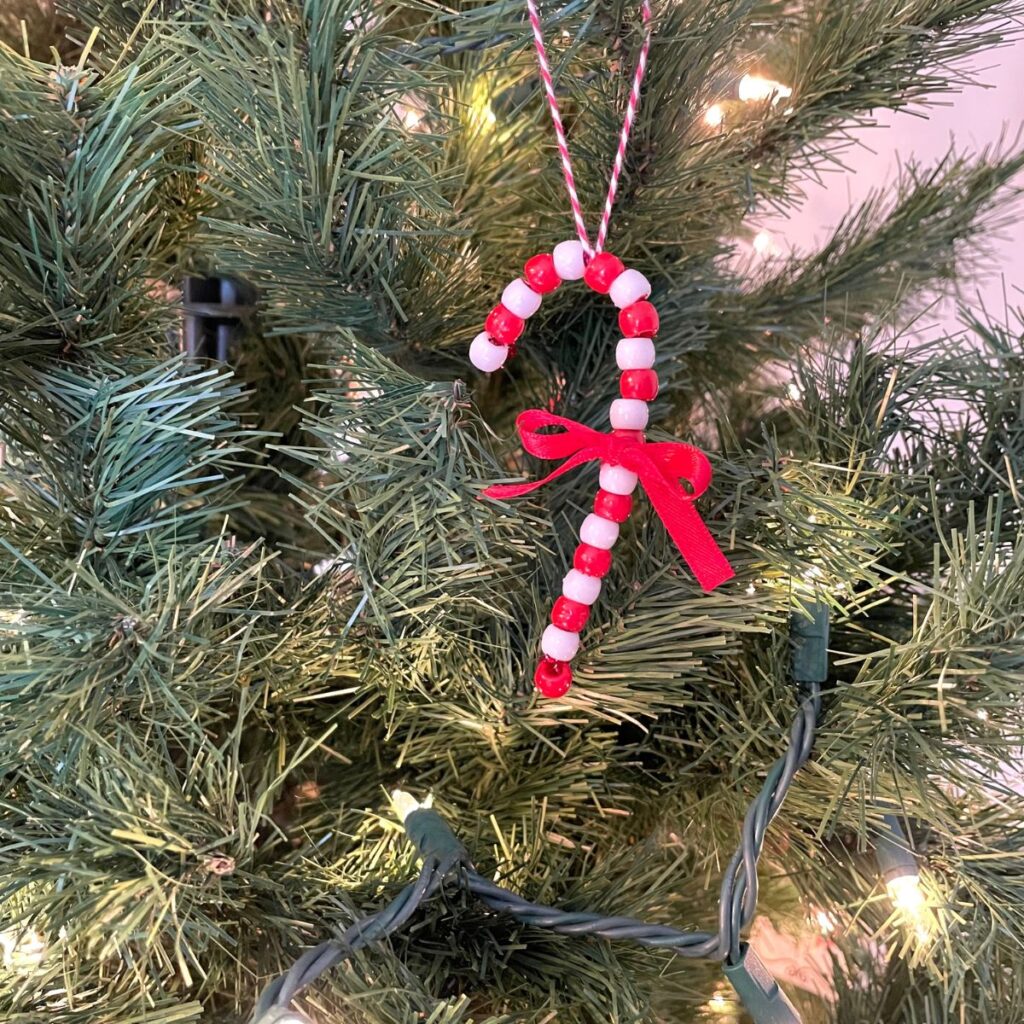 Tips for Preparing this Craft for a Classroom Party
To make this pipe cleaner candy cane ornaments craft a little easier for a Christmas classroom party, here's what I did:
Cut the pipe cleaner ahead of time. Add on the first bead for the kids.
Place the pipe cleaner with 9 red beads and 9 white beads inside a Ziploc sandwich bag.
Give each child a paper plate to keep the beads from rolling away.
Pre-cut the string so that you can easily grab a piece to tie to each ornament.
Pre-cut the ribbons – or skip the ribbon altogether (I skipped it for the classroom party!)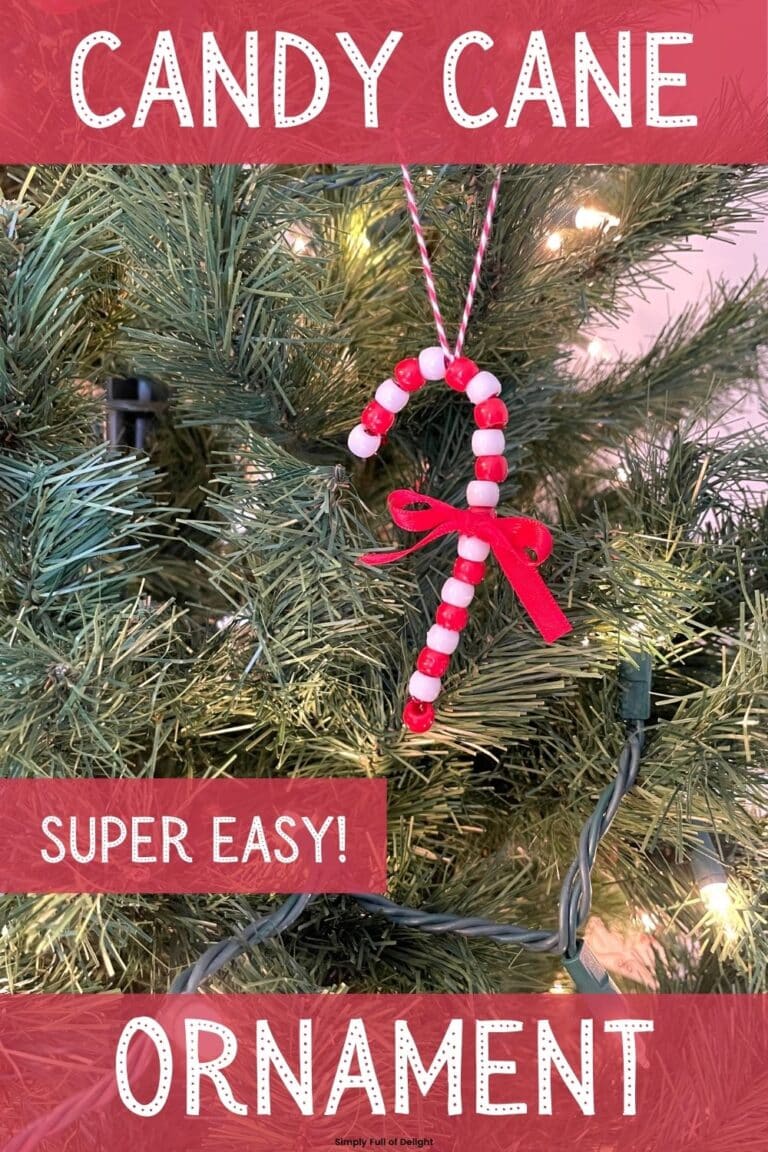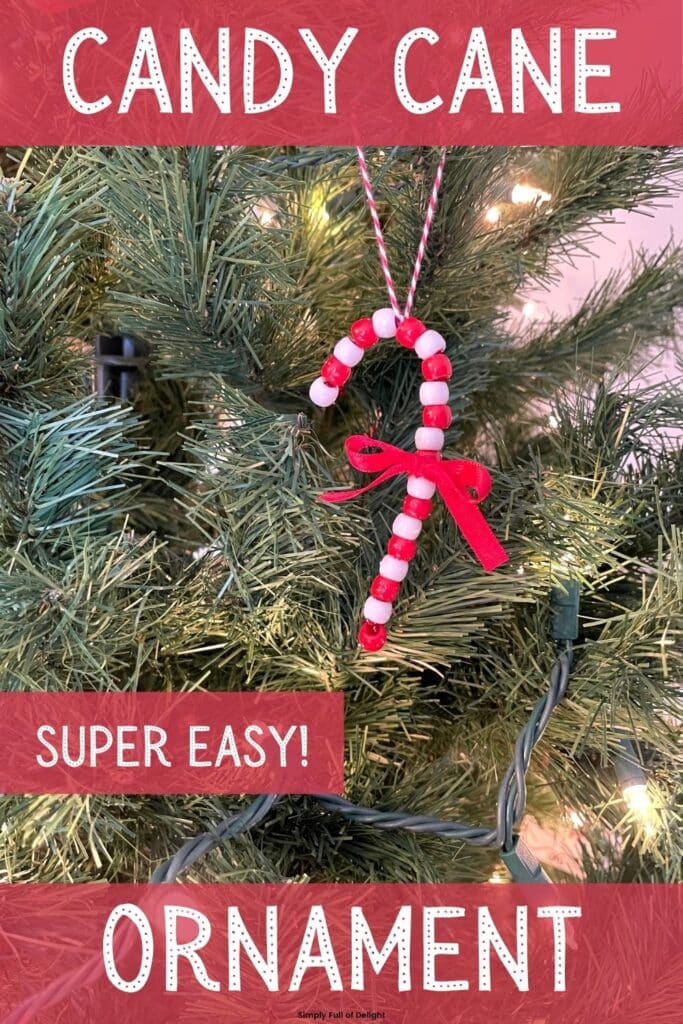 Other Ideas for this Candy Cane Craft
Here's a few more ideas to make this craft!
Allow kids to make their own pattern. Provide colors besides the typical red and white and let kids go crazy.
You could use red tri-beads for these easy candy cane ornaments. The tri-beads give this craft a different look and feel.
Tie a scrap of fabric around the candy cane, or use wooden beads to give it a rustic look.
You could use the beads and pipe cleaners to make wreath shapes.
More Christmas Classroom Party Ideas
Looking for more fun ideas for a classroom holiday party?
You can find over 45 Christmas Crafts for younger kids here. There's adorable Christmas Ornaments and fun holiday crafts that are perfect for little hands.
You can find a fun printable Santa Hat here. It's an easy craft that is so much fun! The best part is that kids can wear it when it's done!
There's also a big list of DIY Christmas Ornaments for Kids here. Lots of great ideas that would work for a classroom party!
If you have older kids, this How Many Words Can you Make from Merry Christmas is a fun way to entertain kids at a Christmas party. It's a fun word game that only requires a pencil and the free printable!
You can grab some free Gingerbread Man Christmas Coloring Pages here. Kids can practice fine motor skills with these fun coloring sheets!
There's also some free Christmas Puppy Coloring Pages here. Perfect for a quiet activity during the holiday season.
With some adjustments, this Snowman Ornament would also work for a classroom party. You would need to do some prep work ahead of time, but it's a fun option!
Don't miss this Christmas Scavenger Hunt in my Etsy shop. It's a fun game that gets kids up and moving! There's both a list of items to find and picture cards to hide, so it's perfect for a classroom party!
Want to save this Candy Cane Ornament for later? Pin the image below to your Christmas Crafts for kids board on Pinterest!