This Elf Handprint Christmas craft is an adorable way to wish your friends and family a Merry Christmas!
I've been looking at Christmas handprint craft ideas lately and I noticed that there were A LOT of Santa crafts out there, but not so many with an Elf as the star of the show! So, let's remedy that today with an Elf Kid Handprint Christmas Craft!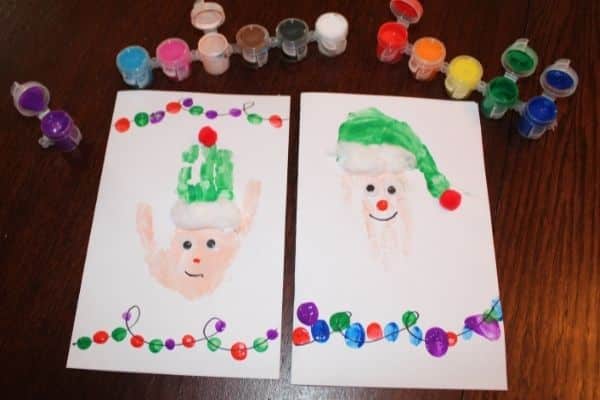 Disclosure: As an Amazon Associate I earn from qualifying purchases by readers clicking my links, at no additional cost to you.
My kids are BIG into elves.
Well, mostly just because there's one particular elf that visits our home each year…our elf Fred.
He's not your typical Elf on the Shelf.
Admittedly, I couldn't justify the cost of an Elf on the Shelf when my daughter was young, so we grabbed this sweet elf instead. He's really cute and super easy to pose (and a third of the cost!)
Fred the Elf comes every Christmas and is always making the kids laugh…doing things like: eating snacks and leaving a pile of wrappers, creating his own mini movie theatre, or sitting in the window sill of the highest window in our home. He often leaves our kids kindness challenges as well.
Yup, he's brought tons of laughter and smiles over the years. In fact, this morning, he was seen ziplining next to our pantry which sent our youngest into her own "zipline dance" of excitement.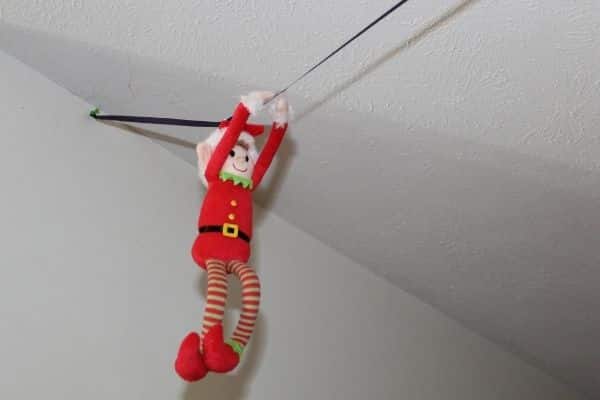 So, when I told my kids we were going to do a Christmas handprint elf craft, they were giddy with excitement!
We made our Elf Handprints into Christmas Cards, but this project could also be put on a mini canvas as a gift, on paper as a school project, or even made into an ornament. Have fun and get creative!
Supplies for the Elf Handprint Christmas Craft
To make this adorable Elf Handprint card you will need the following supplies:
– White paper (Cardstock or construction paper will make it more durable.)
– Washable paint (We used green, beige, and a variety of colors for the Christmas lights)
– Cotton balls (for the fuzzy hat trim)
– White School Glue
– Markers
– Paint brushes (1 for each color is handy)
– Paper Plate or cup (to set your dirty paintbrushes down)
– Wipes or paper towels (for clean-up)
How to make Elf Handprint Art
First, you need to fold the paper (or cardstock) into a card. I wanted a large card, so we folded our paper in half.
Next, it's time to paint! I grabbed a paint brush and painted my daughter's hand green and beige. You can do this 2 different ways.
1) Paint lower part of the hand green and the thumb green. Then paint the rest of the hand and fingers beige to make a finger faced elf with a green stocking hat.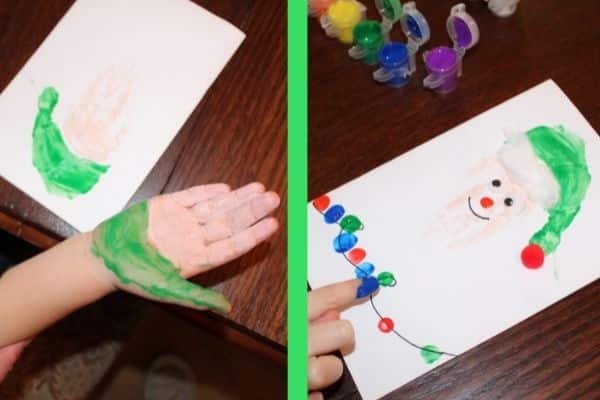 Or….
2) Paint the 2 outer fingers beige (to be ears) along with the hand to be the elf's face. Then paint the 3 fingers in the middle green to be a standing up elf hat.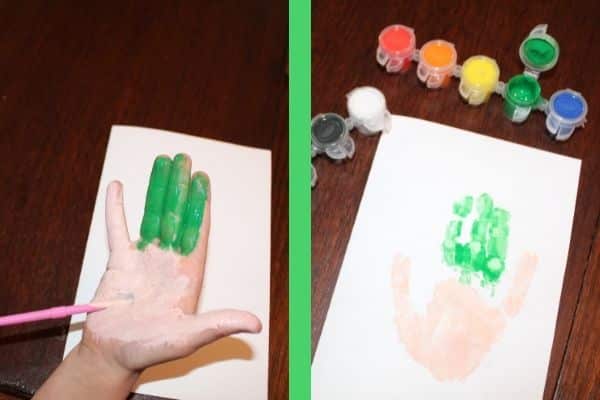 I think it's cute both ways and I love choices…. and giving kids choices when they do art!
Once you've painted the child's hand, help them press their painted hand onto their card, forming an elf handprint.
A few tips: Make sure you paint the hand generously, and press the child's hand down firmly on the paper, to get the perfect handprint.
Elf Handprint Christmas Cards
Now that we have the elf handprints it's time to decorate!
Pull off a little strip of cotton from a cotton ball and form it into line to go onto the hat. Using school glue, place it in between the elf's face and his green hat.
Next, glue a mini pom pom to the tip of the elf's hat. Add googly eyes to his face. We used a dab of red paint for the nose and drew on the smile with a marker.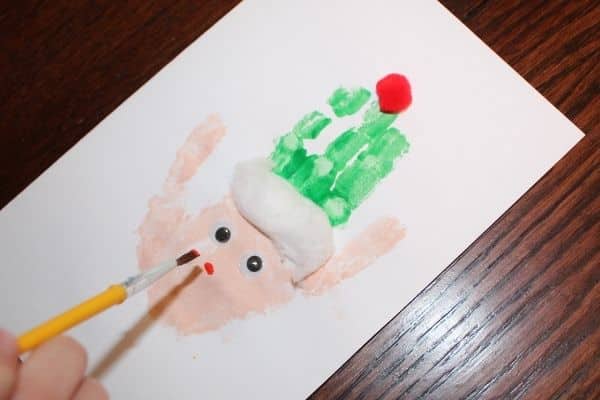 At this point, you could wait for the elf to dry. We went ahead and carefully worked around the wet paint of the elf.
With a marker, we added a swirl to the top and/or bottom of our card to act as Christmas lights.
Then, I let my kids dab their finger tips into paint and make finger print marks along the lines, creating multicolored Christmas lights. Aren't they adorable!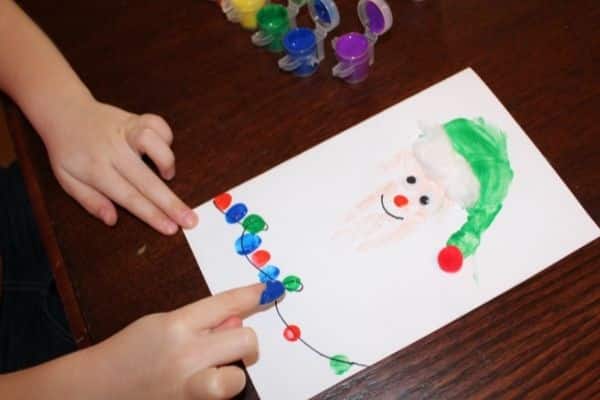 Now it's time to let your Elf handprint Christmas Cards dry!
Christmas Handprint Ideas
This elf craft could be used as a baby or toddler handprint Christmas craft. It could also be great for a preschool or kindergarten Christmas craft.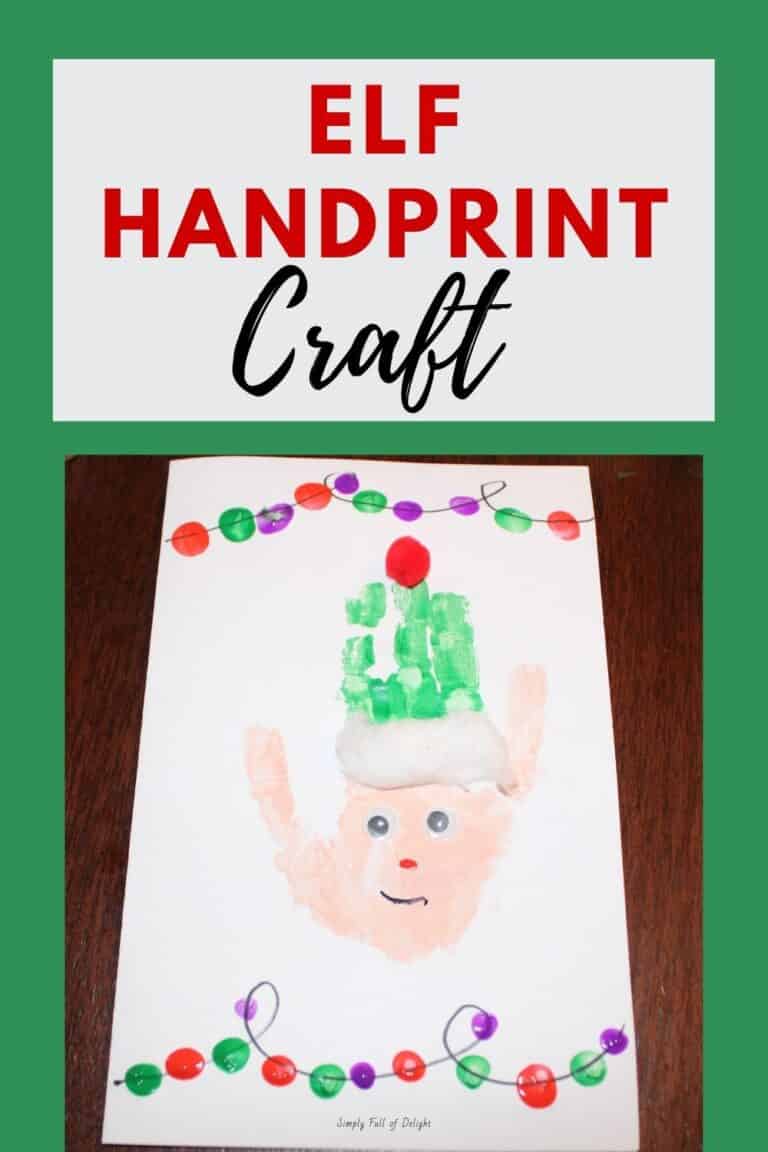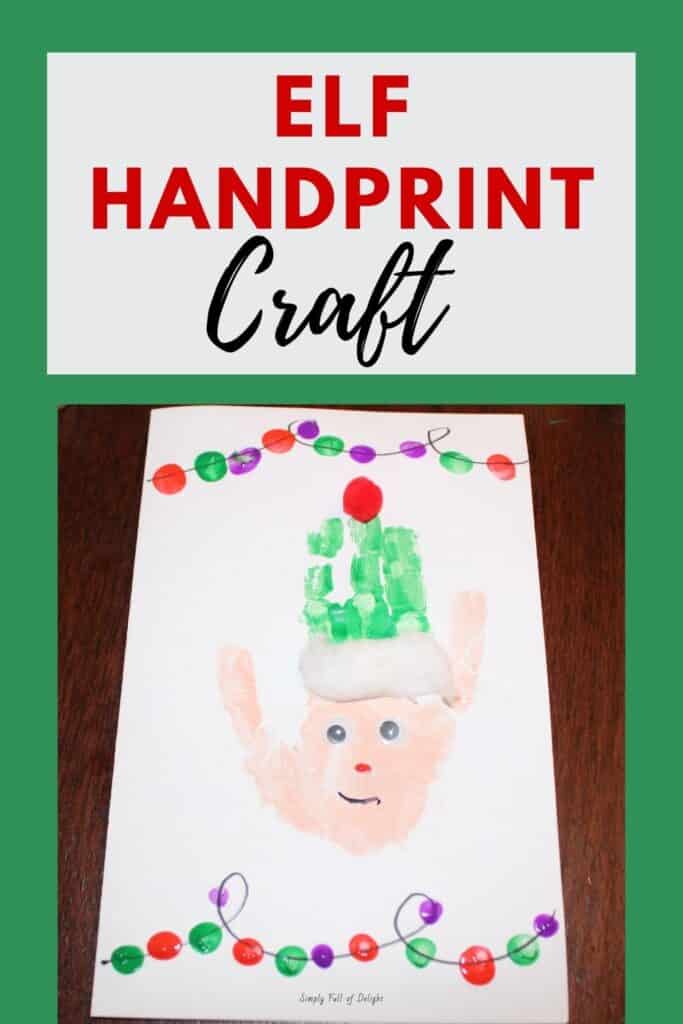 I think these would make excellent handprint Christmas gifts for parents, as well!
If you are looking for more Handprint Christmas card ideas, you can find some over at A Little Pinch of Perfect.
For more Christmas crafting fun ideas, there's some free printable Santa Hat Headbands here.
You can also find a fun set of free Christmas puppy coloring pages here.
I hope you enjoy these elf handprint crafts with your kids. Merry Christmas!