Looking for a fun way to teach the alphabet? Here's some free printable alphabet flash cards that are perfect for preschoolers!
We've been working on letter recognition with my youngest child lately, so it was only natural to create a fun set of free printable alphabet flash cards for kids.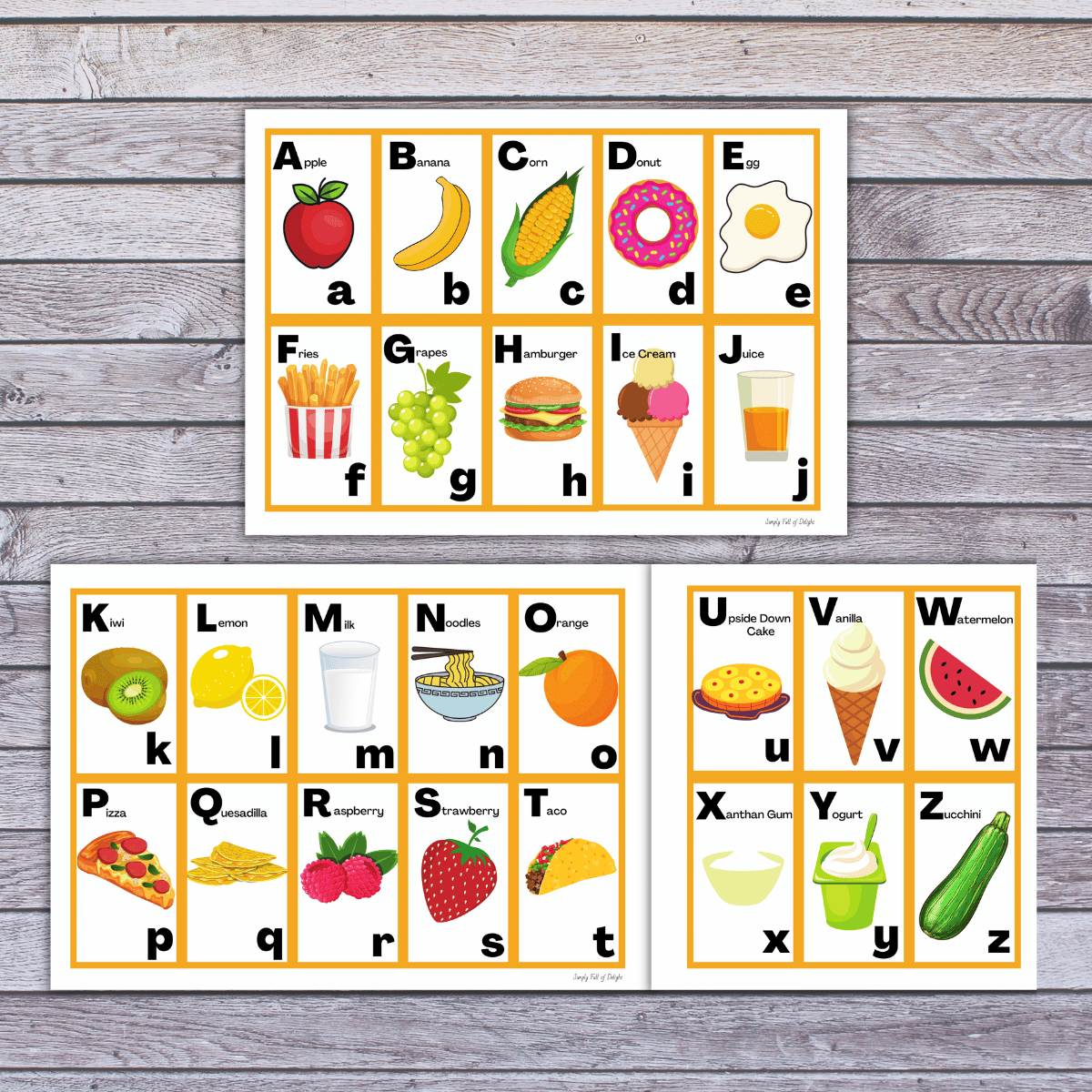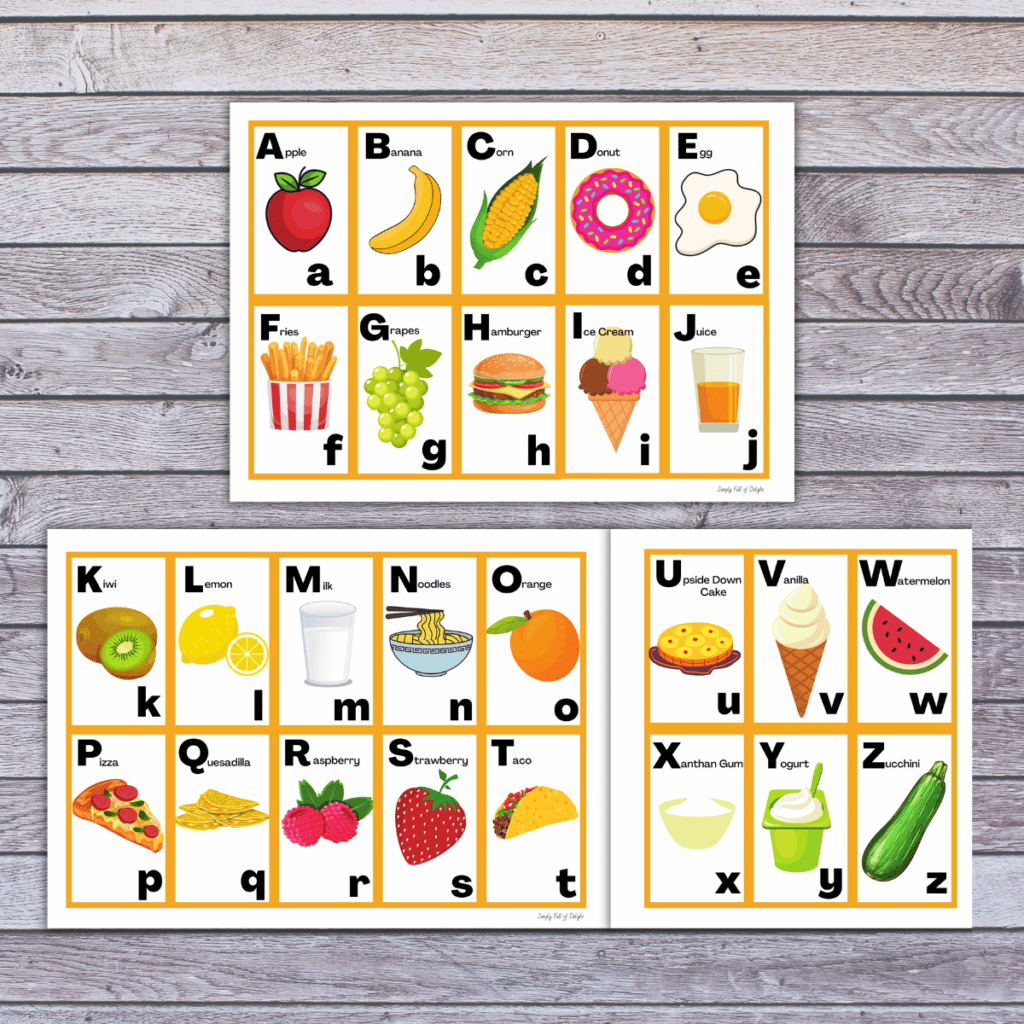 Learning letters is an important skill for preschoolers as it is a fundamental part of learning to read. Letter recognition is shortly followed by phonemic awareness, and then of course putting it altogether and sounding out simple words.
I hope these free abc flashcards will help your child with letter names, new vocabulary, and make learning fun!
How to use these Preschool Free Printable Alphabet Flash Cards
We like to use these free alphabet flashcards in a few different ways!
My kids enjoy lining them up in alphabetical order.
I find them handy to quiz my child on letters to see which ones she knows and which ones we need to practice more.
Kids like to organize the cards into other ways like favorite foods, food groups, or by color.
Turn your fabulous printable alphabet flashcard set into a memory game or an alphabet matching game by cutting the cards in half.
These A to Z flashcards are perfect for playing our Alphabet Soup game (an ABC sensory bin). In this game, kids draw an alphabet card and then look for that letter in the alphabet soup sensory bin. It's so much for preschool and kindergarten age kids!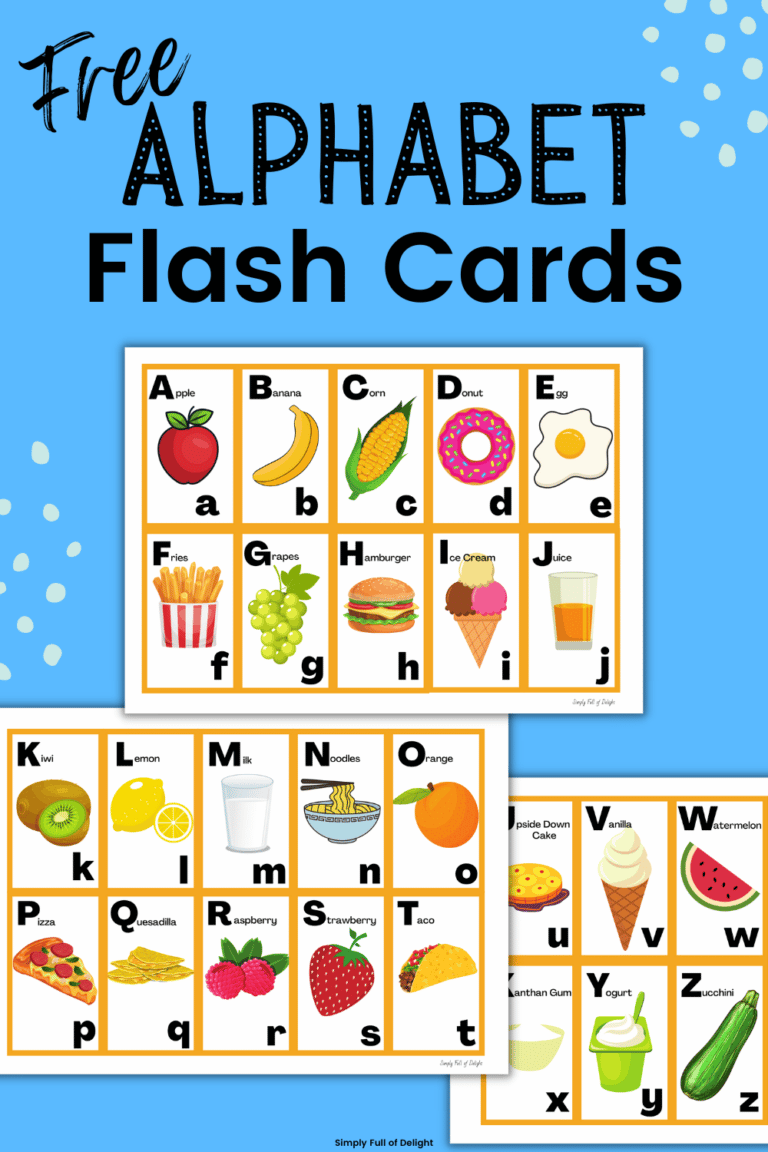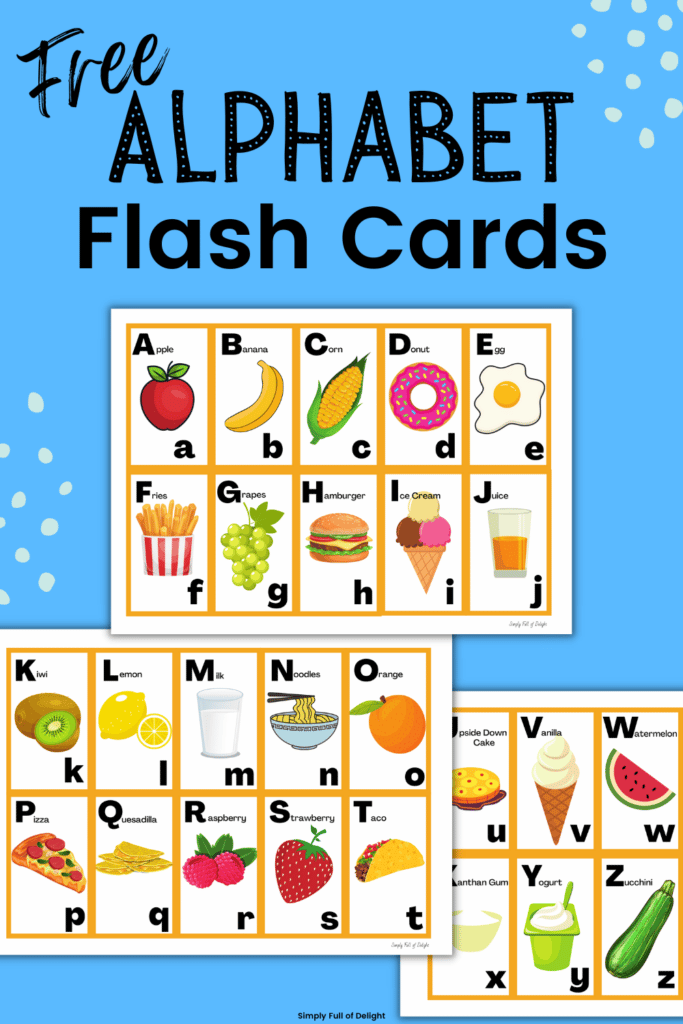 Free Printable Alphabet Flash Cards
I chose to create these free printable alphabet flash cards for kids with a food theme. It was fun to come up with a food for each letter and food is naturally engaging for kids. My kids were excited to see what food was on each ABC card and liked picking out their favorite foods. Each of these cards features both the Upper case and Lower case version of each letter, plus a food that starts with that letter, as well as simple words.
Most of the foods are very common, with A is for Apple, B for Banana, C for Corn, etc.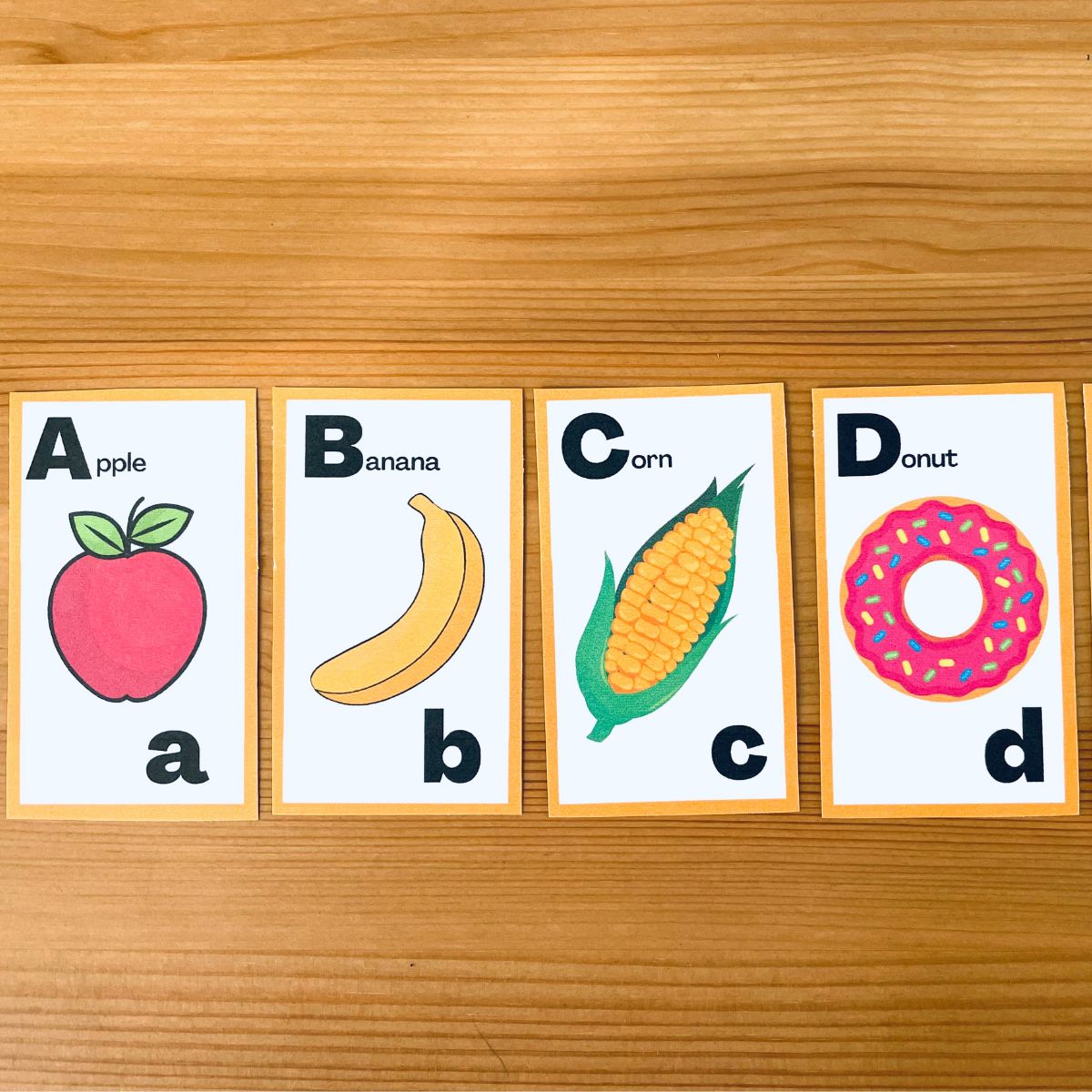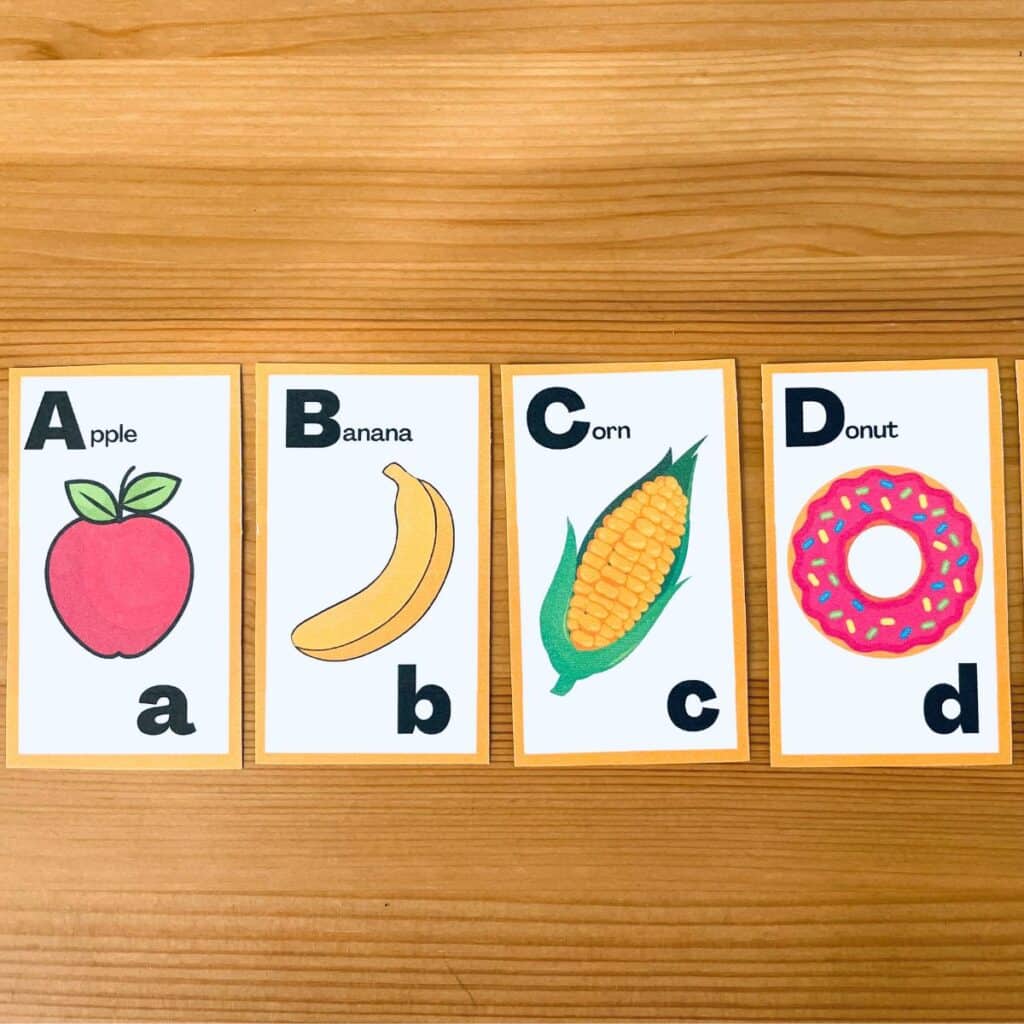 The exception is X, as not many foods begin with X. You can see my gluten free life coming out in this one with Xanthan Gum for X. Ha!
The first printable flashcard set page is letters a-j, the second page is letters k-t, and the last page has u-z.
The free printable alphabet flash cards upper and lower case can be used as flash cards or you can cut them in half to create a memory game.
To prepare these alphabet flash cards sets, simply print them on cardstock (for durability) and cut on the orange lines.
Downloadable Free Printable Alphabet Flash Cards
You can grab these a to z free printable alphabet flashcards by signing up for my email list! Just drop your email in the blue/gray box below. You will get instant access to this free printable alphabet flash cards pdf file plus tons of other amazing free printables in my Resource Library!
Letter flashcards aren't what you think of when you think of fun, but surprisingly my kids really enjoyed looking at the food pictures and sorting the cards out in various ways. I hope your kids enjoy these flash cards as much as mine did!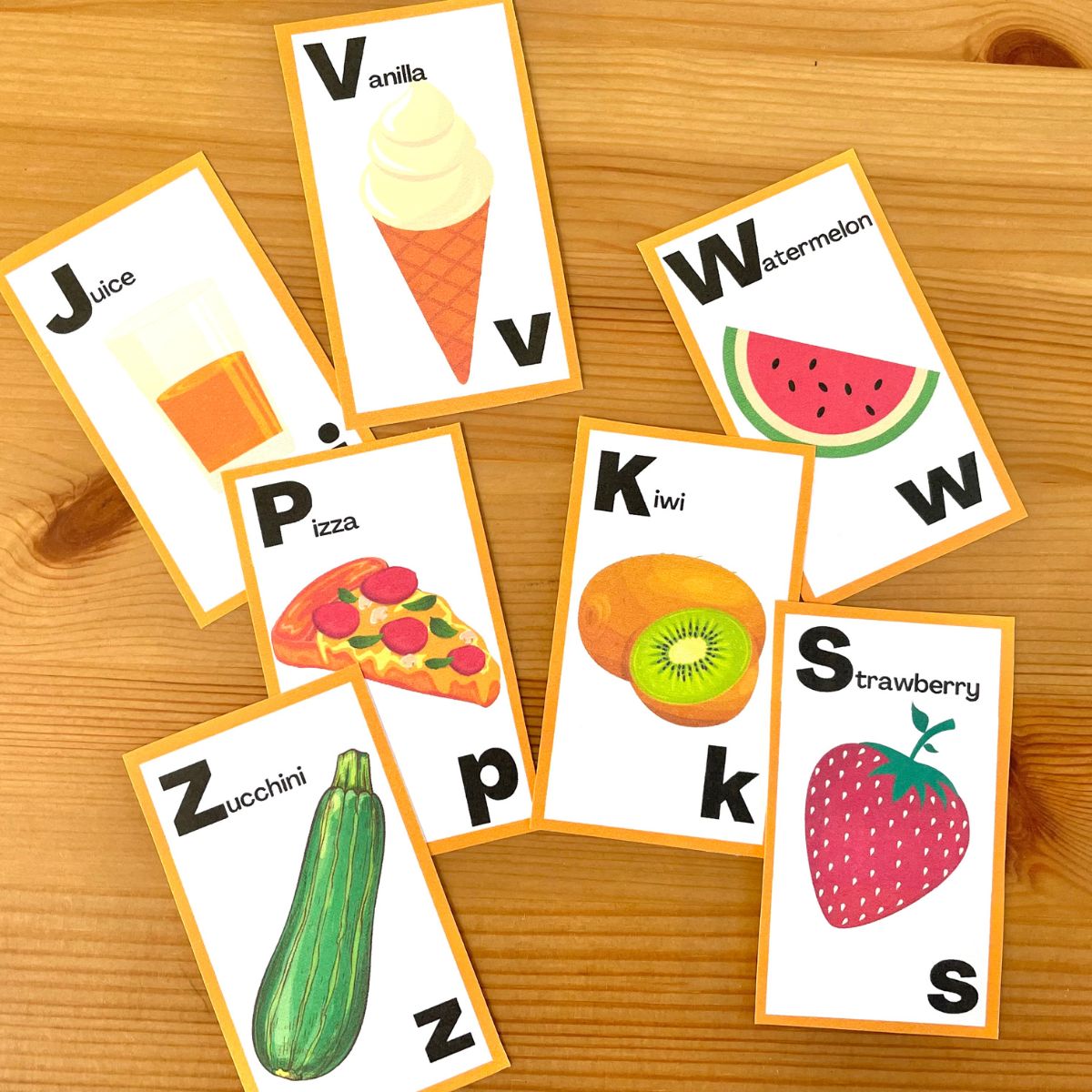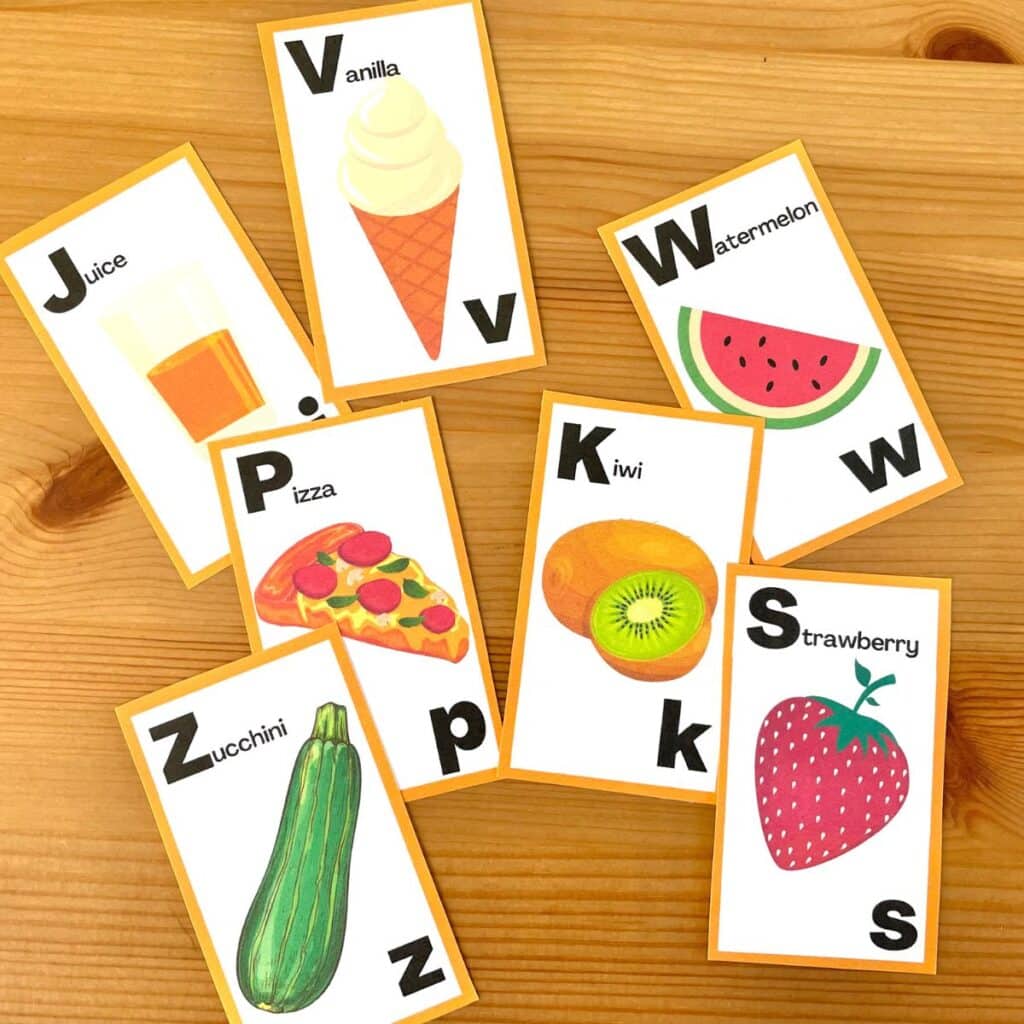 More Alphabet Activities
You can find a ton of other free alphabet resources to practice letter sounds, lowercase letters or just fun ways to learn the letters of the alphabet here on my blog. There's 20 Alphabet activities here that will encourage early learning including playdough mats, printables, games and more! Perfect for young children who are learning their letters!
You can find a fun ABC Soup sensory bin game here. My own children absolutely adore this game and it's the perfect use for your free printable flash cards.
Don't miss the best ABC books here for teaching letter recognition here. So many amazing fun alphabet books for teaching the different letters with basic words. Books are a great way to introduce the alphabet and quite possibly the best way to reinforce learning uppercase letters, lower case letters, and phonic sounds.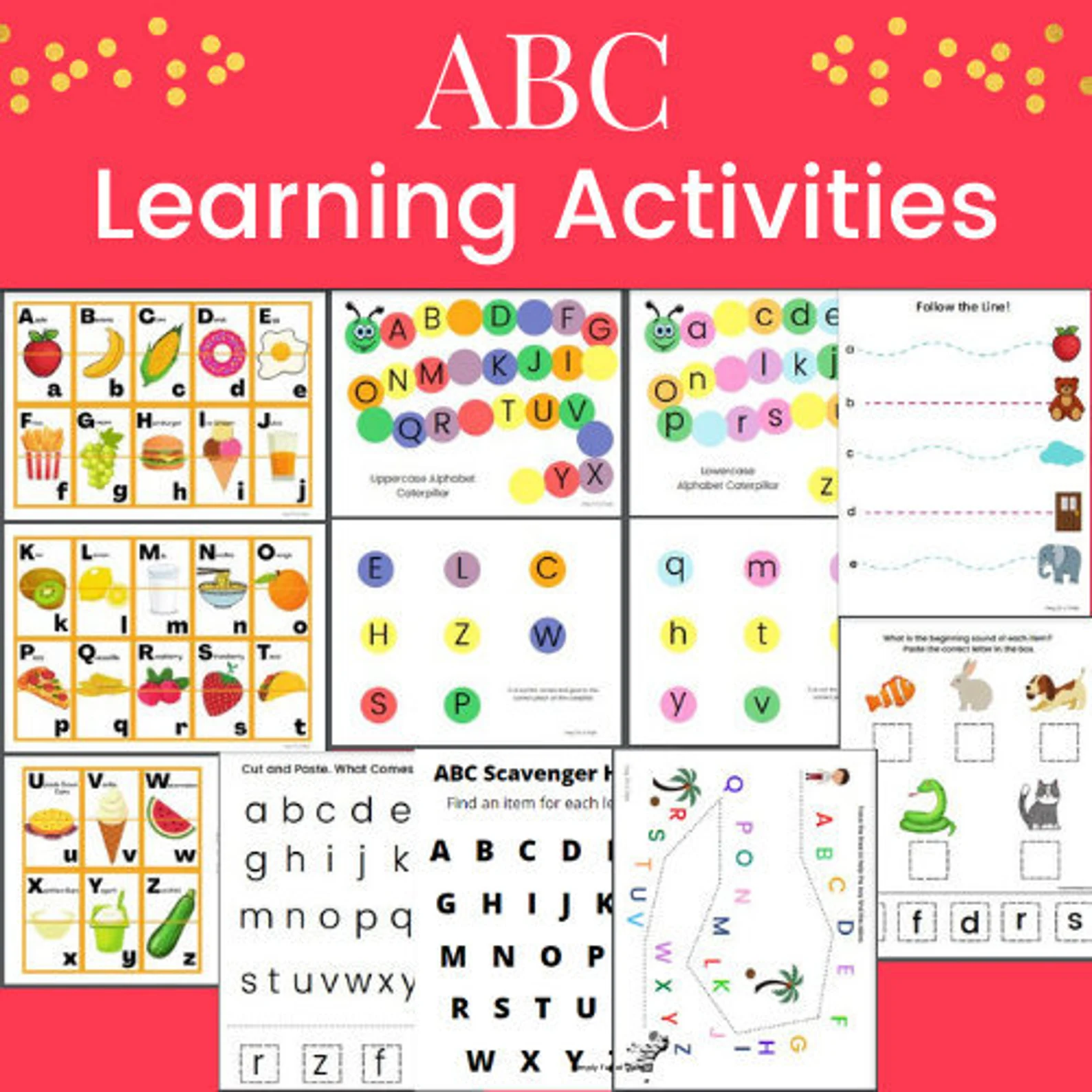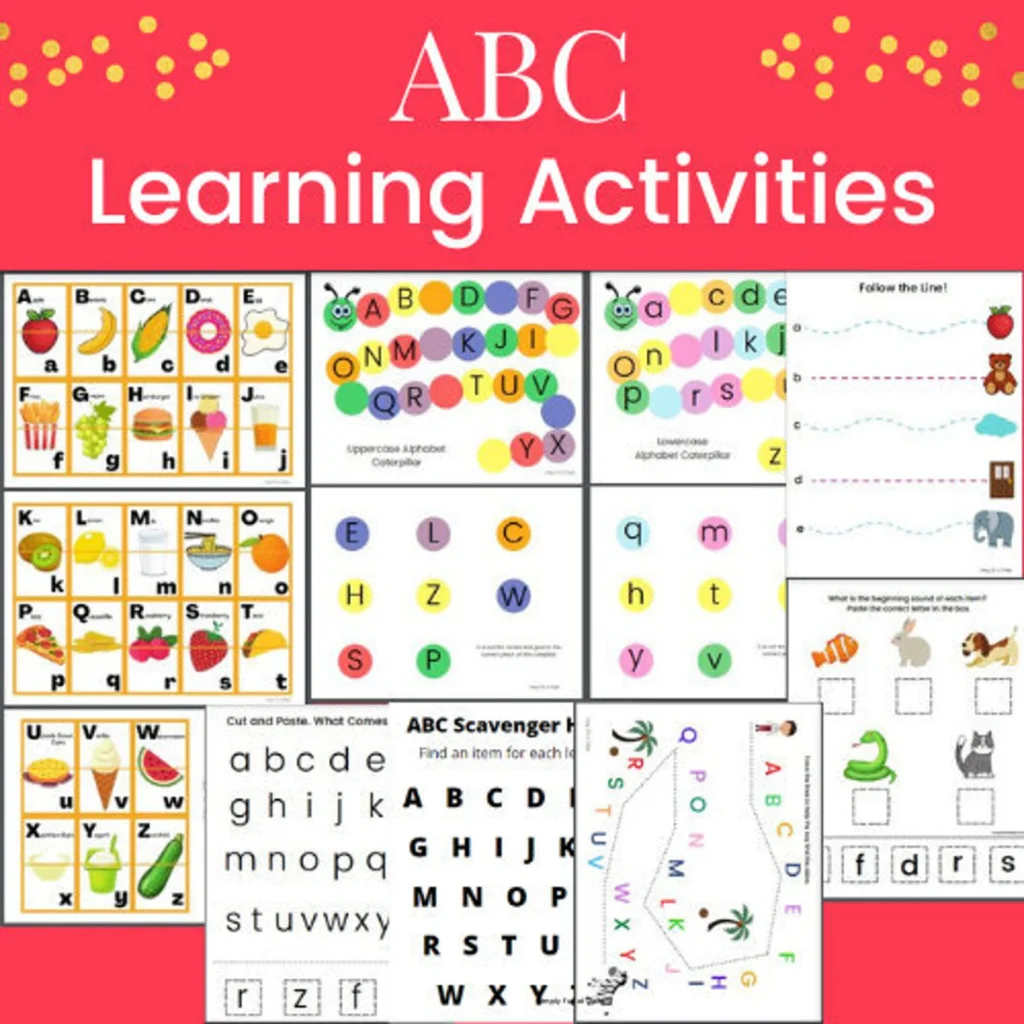 Need more fun activities focusing on the alphabet? Be sure to check out this Preschool Learning Alphabet set in my Etsy shop. There's capital letters activities as well as fun cut and paste activities to hold children's attention. Perfect for making your preschool learning lesson plans a little more simple.
Plus this set also includes the alphabet flash cards memory game version with lines that divide the uppercase and lower case letters. Just simply cut on the orange lines to create an alphabet matching game!
Want to save this article for later? Pin the image below to your preschool learning board on Pinterest.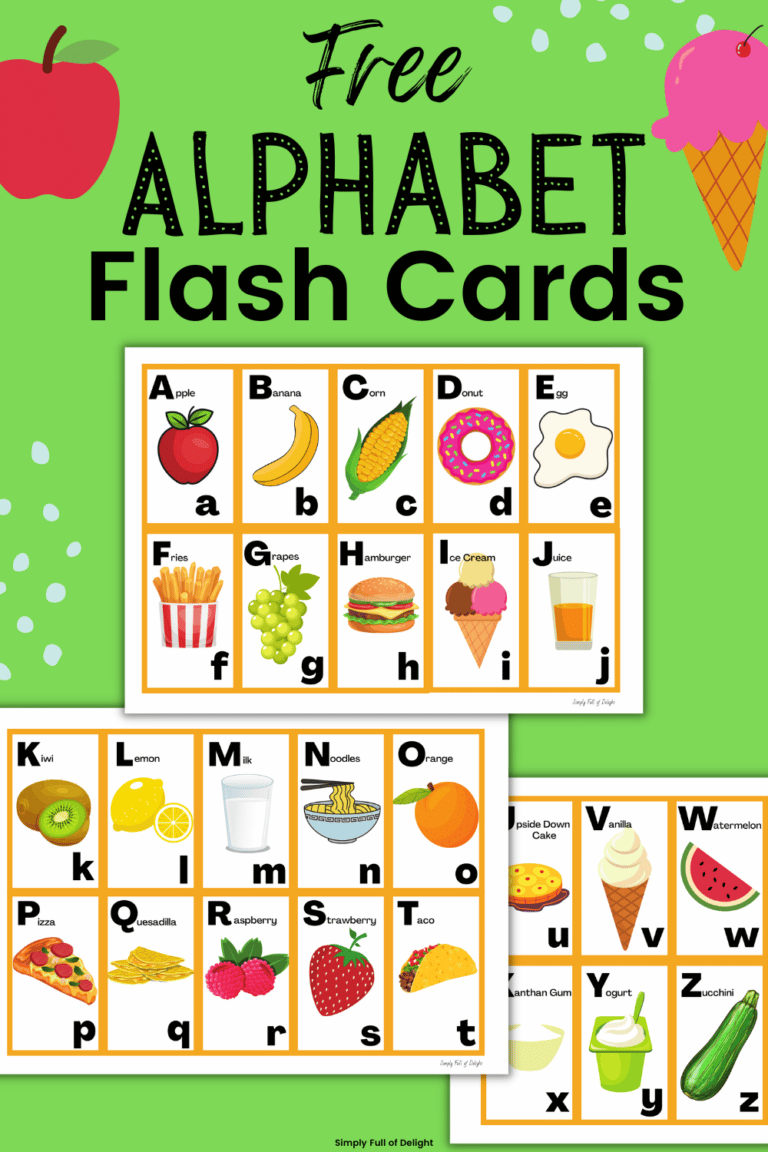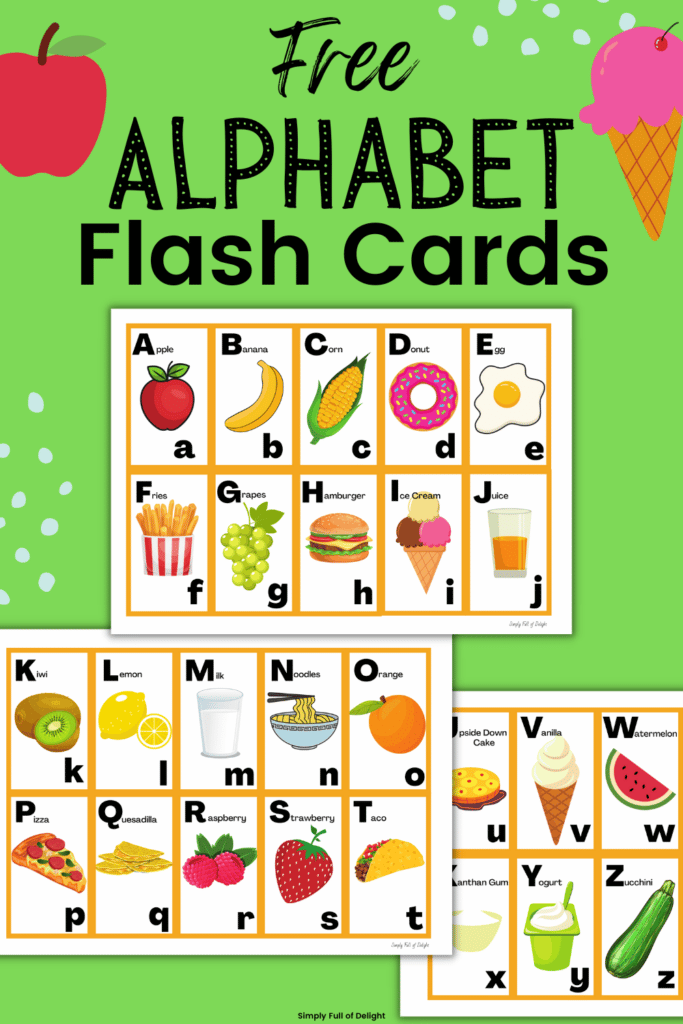 Related Posts