Looking for an easy Preschool Santa Craft? This Sand Art Santa is super simple with the free Santa Face Printable!
The Christmas season is one of my absolute favorites! We've been diving into crafts involving Santa, elves, reindeer, and Christmas trees lately. Little ones get so excited about the upcoming holiday season and doing seasonal crafts adds to the fun!
If you've never done sand art, you are in for a treat. Kids of all ages really enjoy the open ended creativity that sand art provides.
You can buy colored sand or you can make your own. We made some super easy DIY Colored Sand a couple of weeks ago and we've been using it in fun ideas ever since!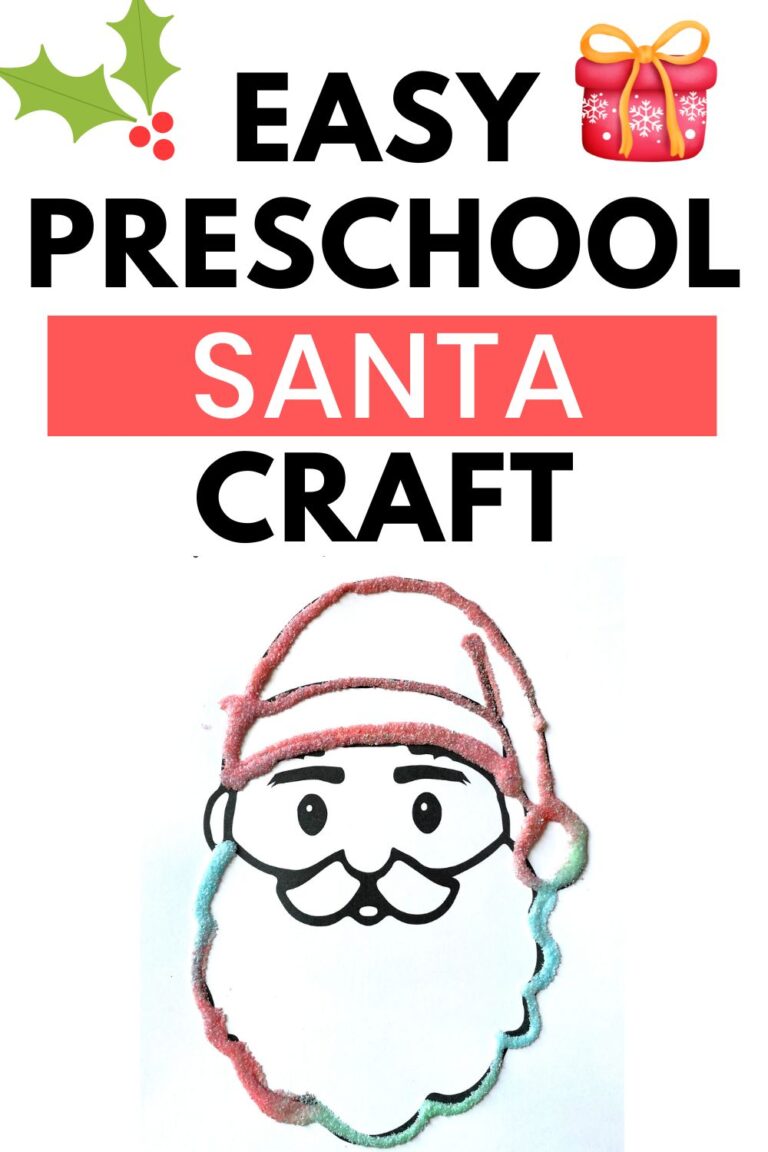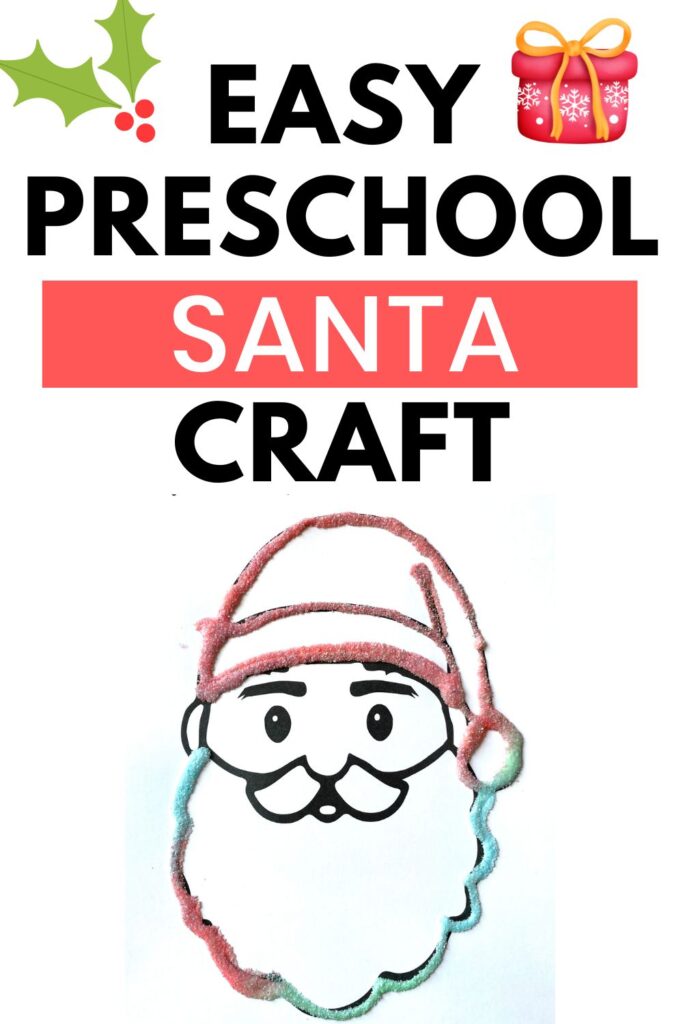 Alright, let's dive into our adorable easy Preschool Santa Craft!
** Disclaimer: As an Etsy associate and as an Amazon.com Associate, I may earn from qualifying purchases made by readers clicking my affiliate links at no extra cost to you.
Supplies for Preschool Santa Craft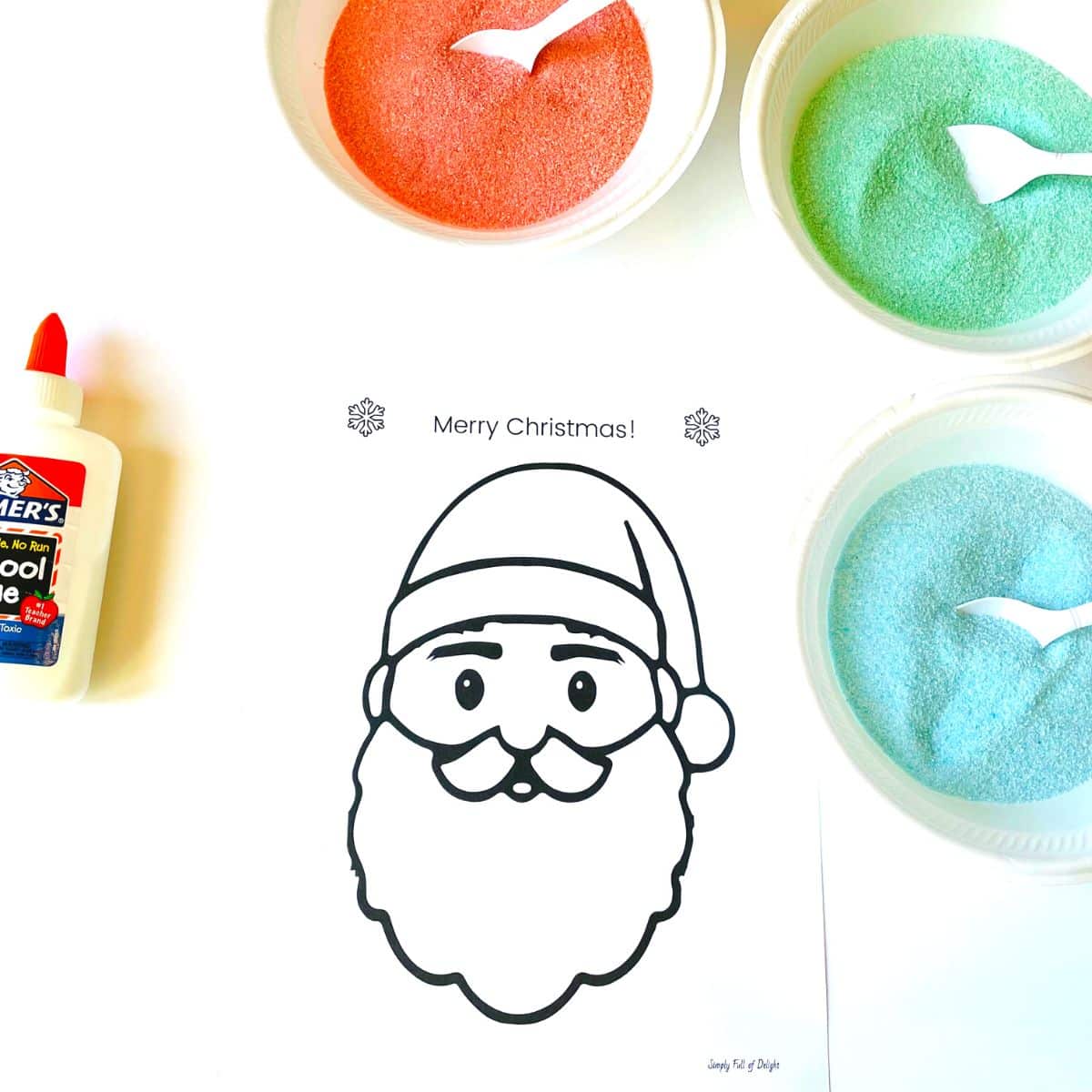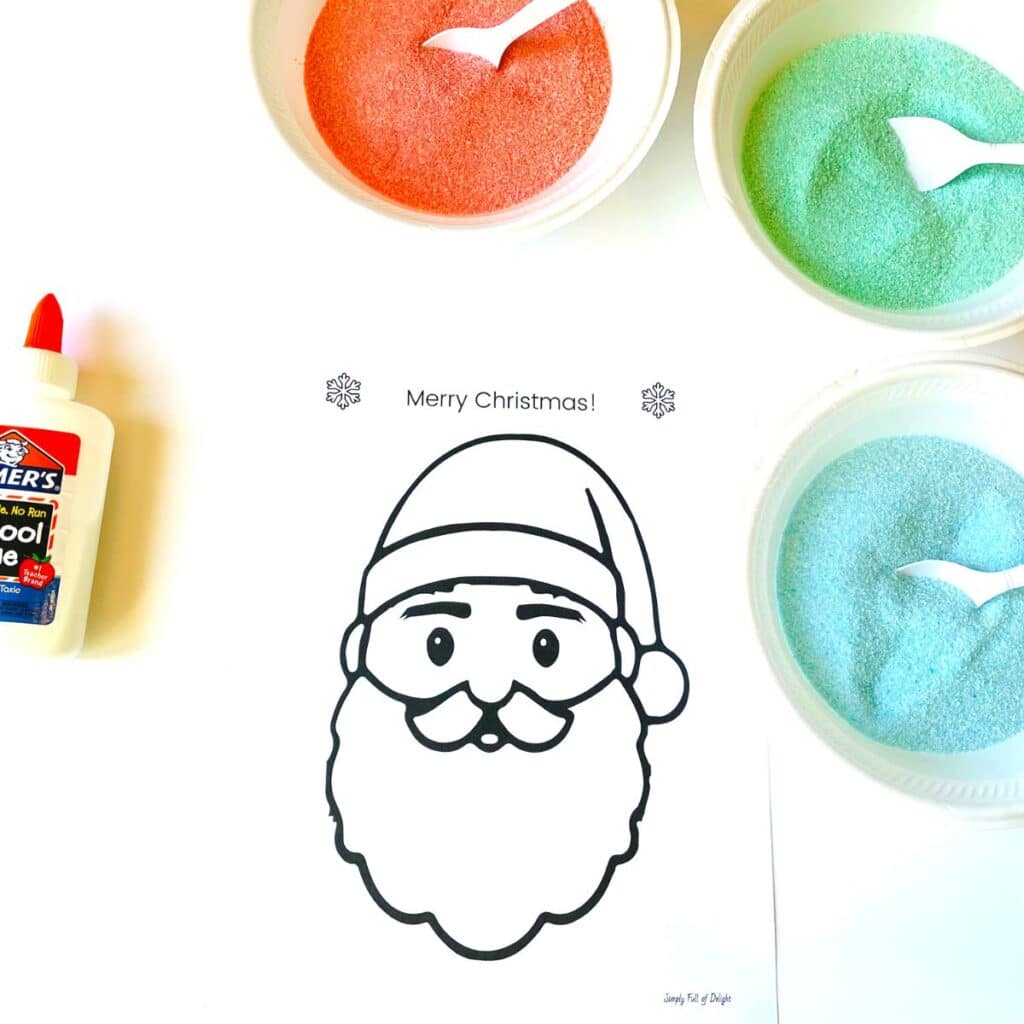 You will need the following supplies for this Preschool Santa Craft.
Free Santa Face Printable (you can download it near the bottom of this article)
White Cardstock (regular white paper will work, but it might buckle under the weight of the sand)
Elmer's School Glue – yes, regular glue works fine!
Colored Sand – You can buy Colored Sand here, or learn how to make your own DIY Colored Sand here.
Plastic Spoon
Bowls for the Colored Sand
Shallow box – A shipping box with the sides cut off works well for this, or you could get a small canned goods box from a local grocery store.
How to make this Easy Preschool Santa Craft
First, print out the Free Santa Face Printable on cardstock. I recommend cardstock for best results because it can support the weight of sand much better than regular paper.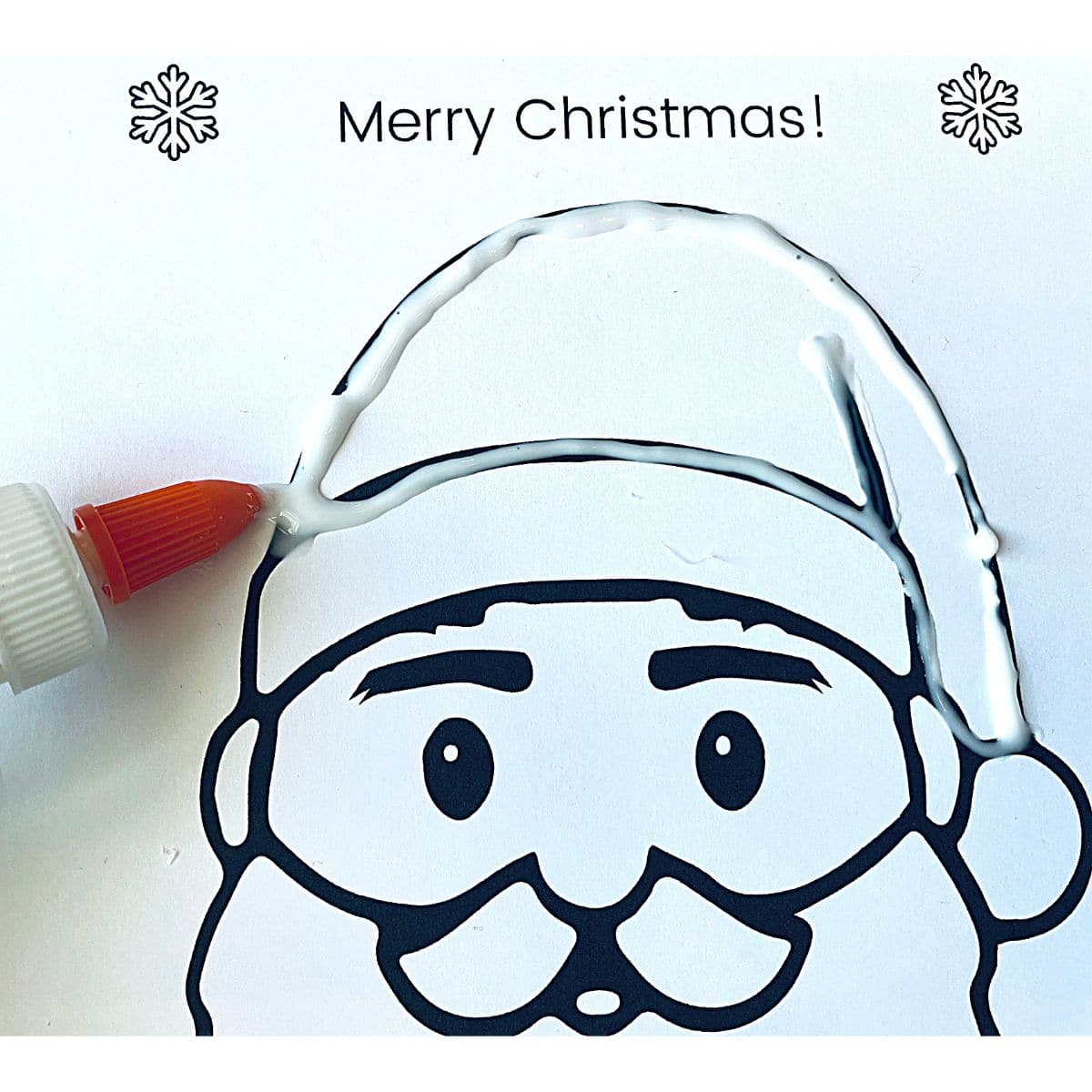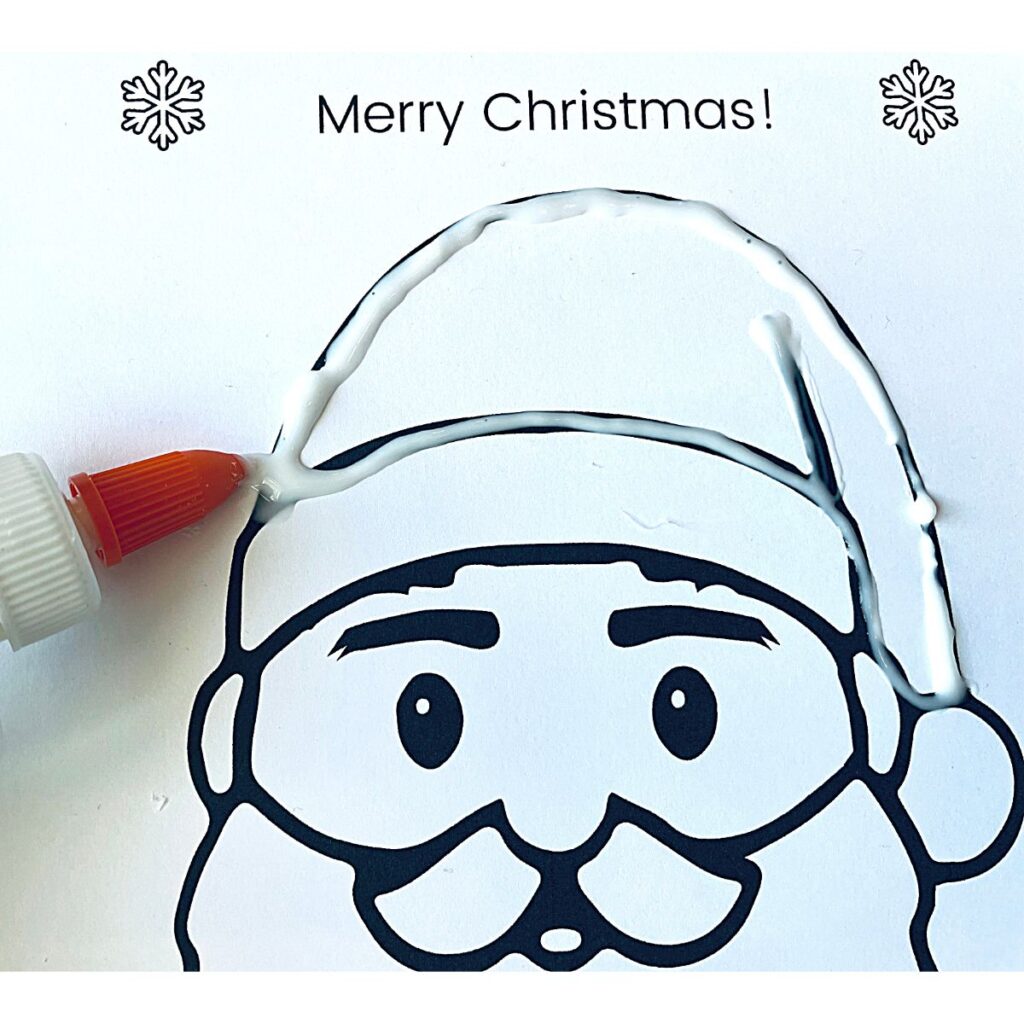 Next, have your child outline part of Santa with Elmer's School glue. We started by outlining the Santa hat with glue.
Now, place the Santa face paper inside your shallow box.
Using the spoon, have your child place a very small amount of sand over the glue.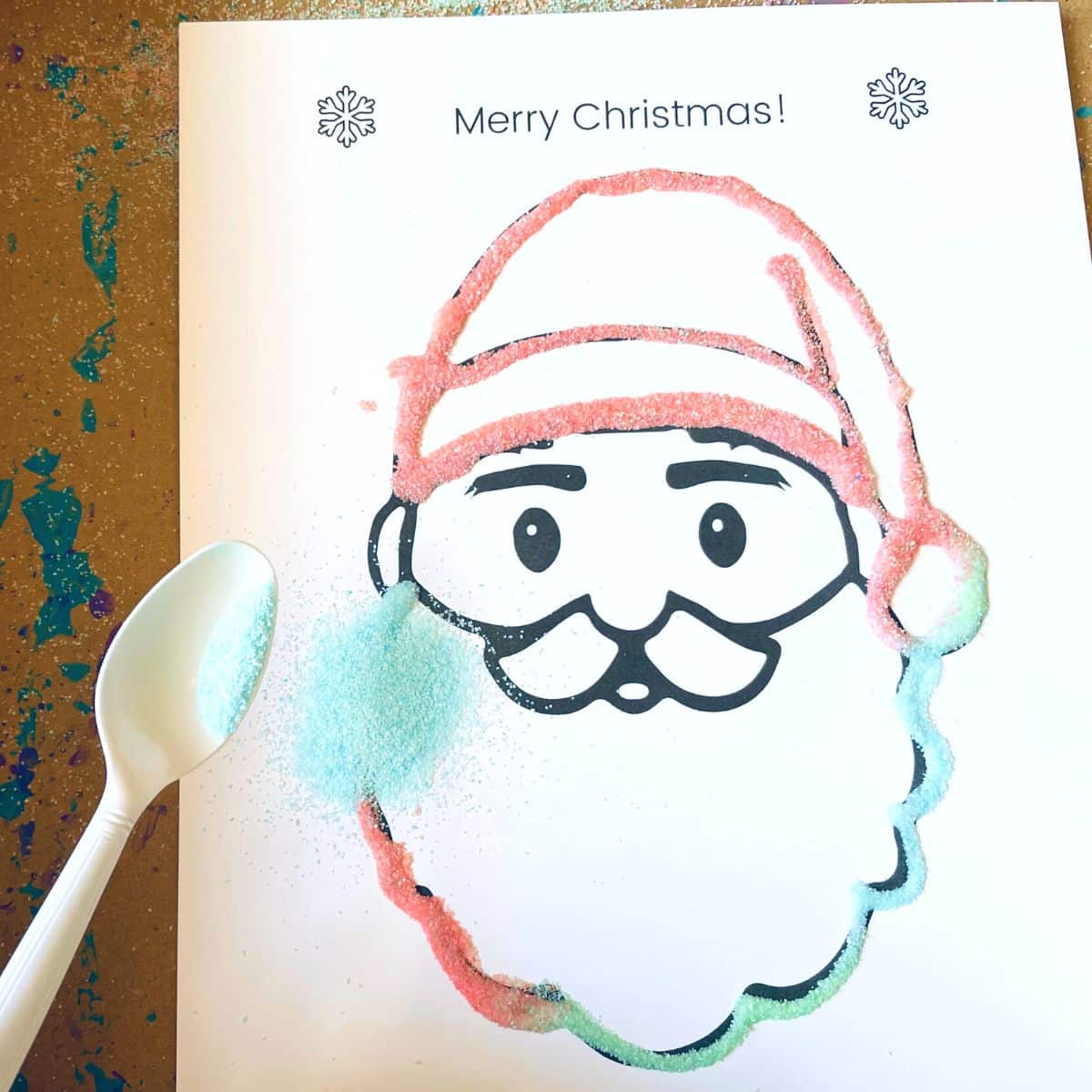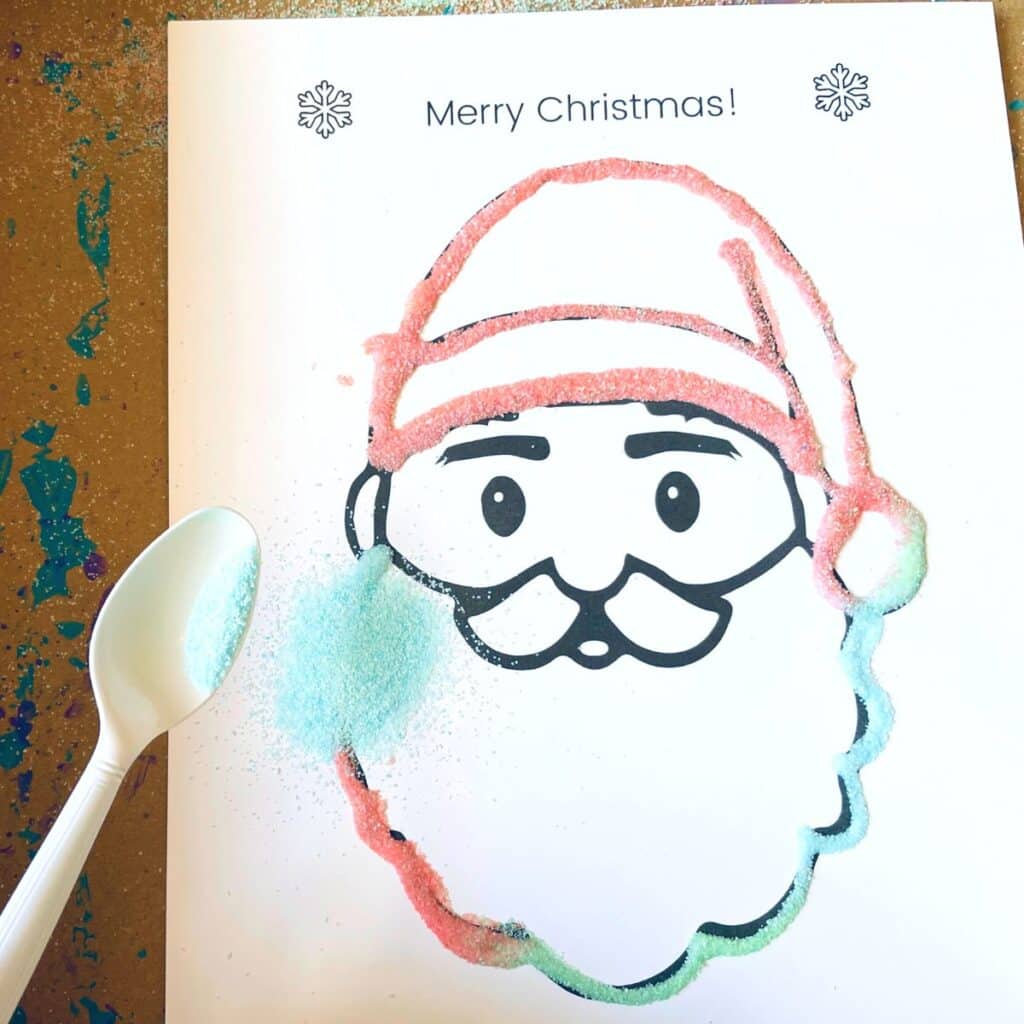 Then shake the excess off into the box.
Add more glue to the outline of the Santa Face Printable. Then again, place it in the shallow box.
Spoon more colored sand over the glue and shake off the excess carefully into the box.
Kids can repeat the process over and over until they have outlined the entire Santa Face Printable with colored sand. And….that's it! What an easy Santa craft!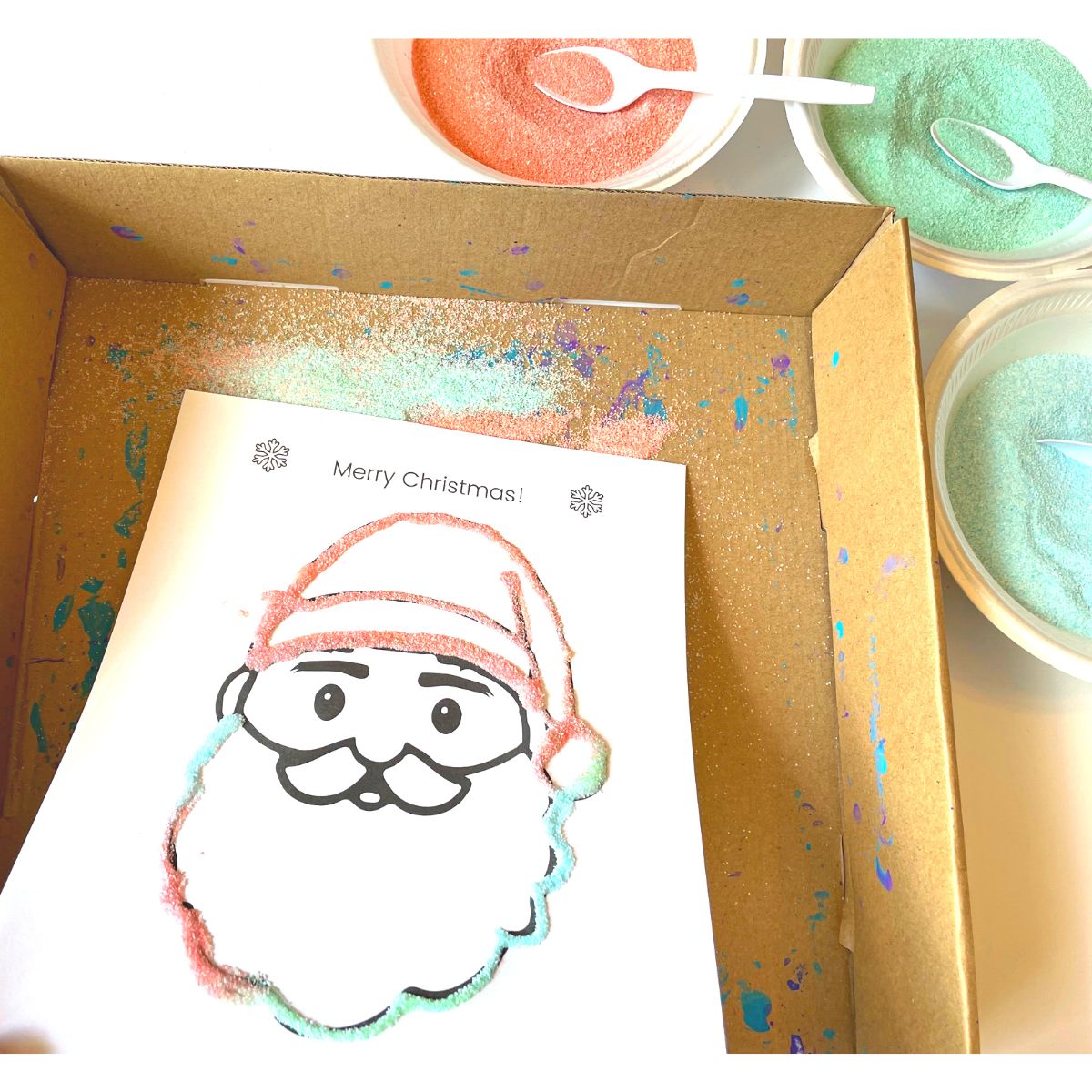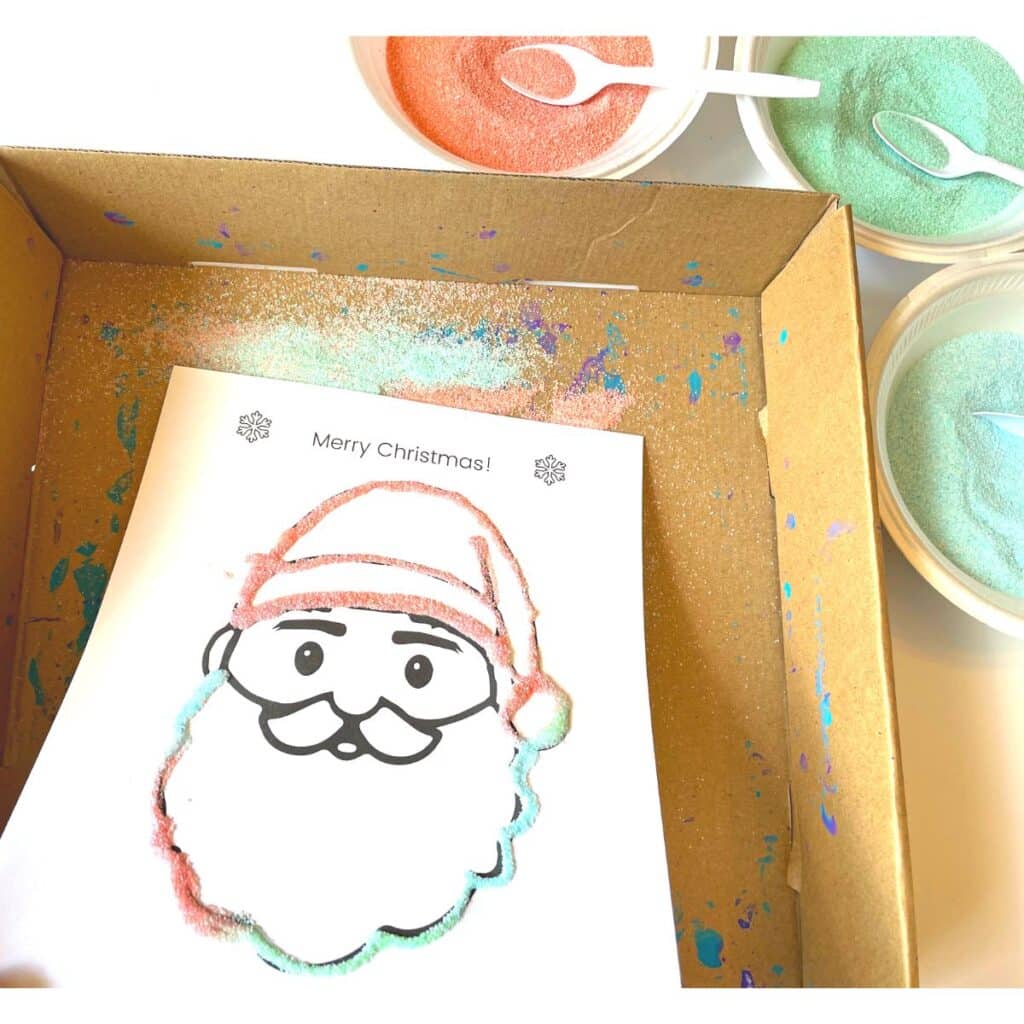 If your kids are older, you might find that they can easily pour the excess sand back into the bowl. If not, you might like to have an extra bowl on hand for your mixed colored sand.
Inevitably, some of the sand colors will mix. It's still totally usable and pretty so we don't toss it, we call it our rainbow sand!
Santa Preschool Craft Video
Here's a quick video to show you how to make this easy Santa preschool craft!
Alternate Ideas for this Easy Preschool Santa Craft
Here's a few ideas to change up this Preschool Santa Craft:
Younger children might enjoy coloring the Santa face and adding cotton balls to Santa's beard.
Older children might enjoy adding more sparkle by adding sequins to this fun Christmas craft project.
Use equal parts glue and shaving cream to create a Puffy paint for your art projects. This would look fantastic on Santa's beard to make it puff out and give it a cool texture that is so much fun!
Glitter could be used in place of the colored sand in this fun craft.
Tissue paper rolled into balls could be added to this free printable template to make fun Santa crafts that are perfect for little hands. You could use white tissue paper for the beard and red tissue paper for Santa's hat.
Add googly eyes to your Santa to make a fun Santa Claus.
Paint Santa's iconic white beard a different color using watercolor paints for an easy craft.
This free printable Santa Face could be used as Santa Playdough mats. Kids of any age will enjoy adding details to Santa's face with dough.
As you can see there's tons of adorable Santa crafts that can be made with this free printable! I hope you find the perfect idea for your preschool Christmas crafts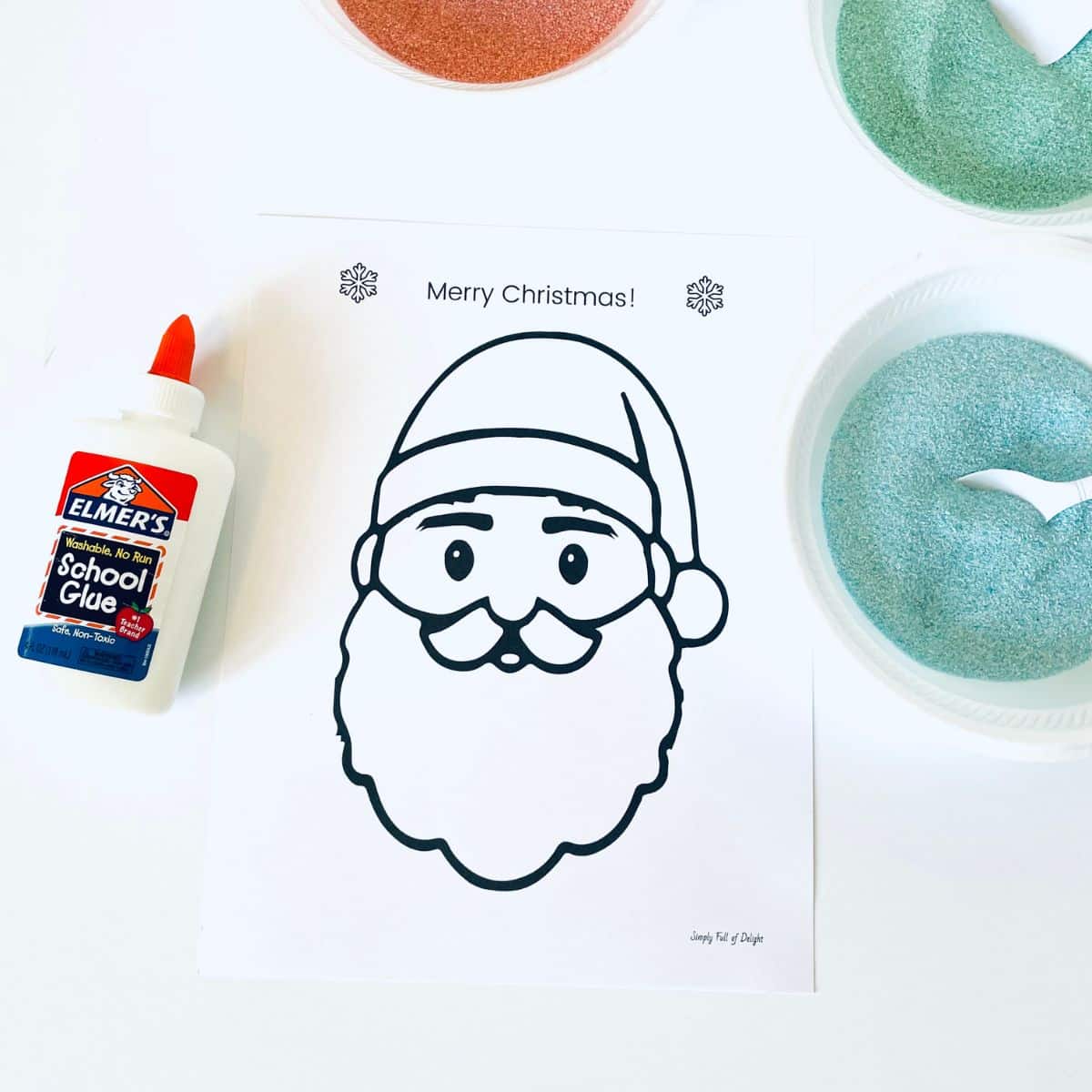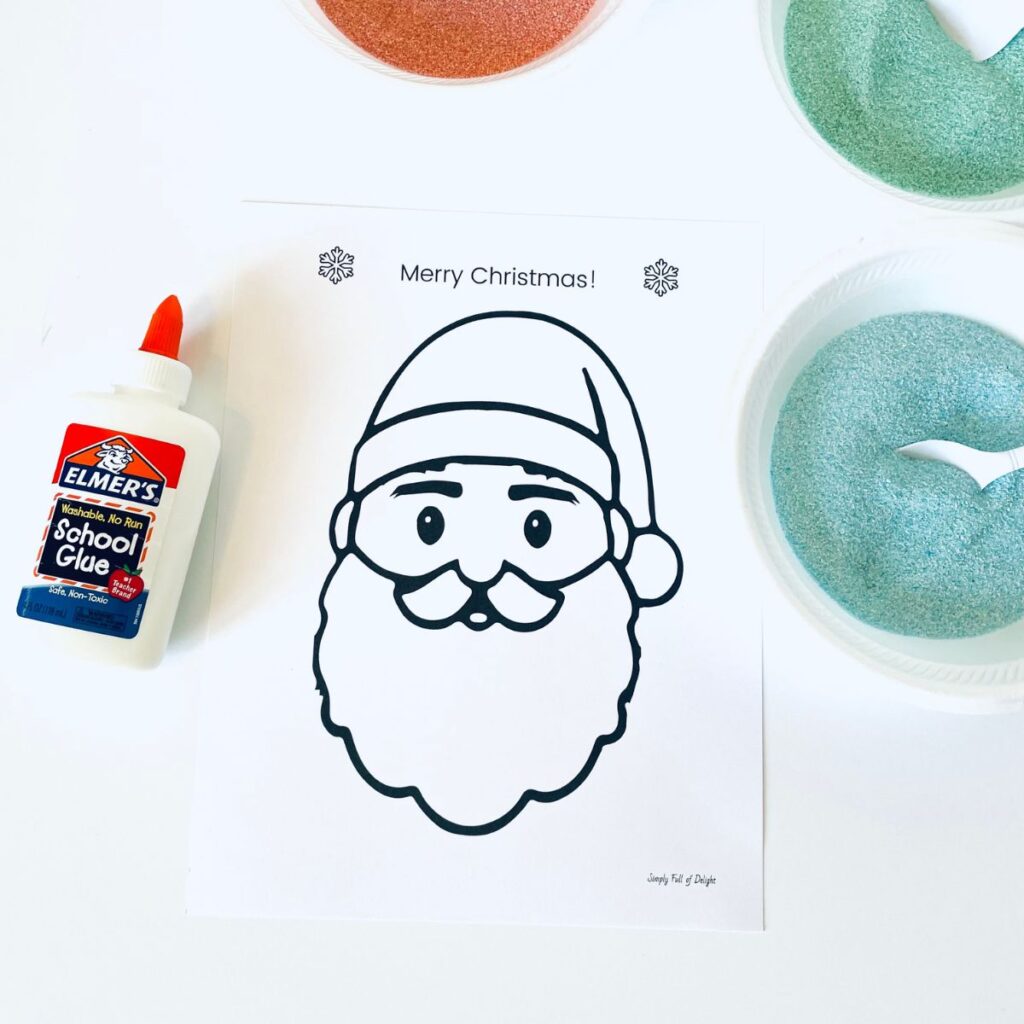 Get the Free Santa Face Printable
You can grab this Santa Claus template by downloading the pdf files below. This free printable Santa template can be used as Santa face coloring pages, making Christmas cards or other Christmas crafts for kids.
Download the free printable cute Santa face here by clicking the black button:
More Christmas Activities for Kids
You can find a fun Elf Handprint Craft here. It's a fun way to make keepsake Christmas craft using your child's handprints. There's two different versions to check out!
There's also a fun pom pom Pie Sensory Bin idea here. It's perfect for helping kids develop fine motor skills during the holiday season.
There's an easy Christmas Tree craft here. I love that this open-ended craft allows kids to use their creativity to design and decorate a Christmas tree printable with craft supplies and items around the house.
You can also grab some free printable Coloring Pages for Christmas here. These Puppy Christmas coloring sheets are great for kids of all ages! You'll find a puppy in a stocking, Santa Claus with a puppy, and a puppy with a Christmas tree.
This Printable Santa Hat is a super simple craft for little ones. Kids will enjoy coloring their own Santa hat and turning it into a Santa hat headband that they can actually wear! There's both a Color your own version and a Full Color version.
Lastly, don't miss these 45 amazingly Easy Christmas Crafts for Preschoolers! So many amazing ideas including ornaments, popsicle sticks art, paper plate crafts, handprint art and more! You'll find simple Santa crafts and amazingly adorable craft ideas to get the whole family into the Christmas spirit! Want to save this Easy Preschool Santa Craft with free Santa Face template for later?
Be sure to pin the image below to your Santa Activities board on Pinterest to save this great craft!