Looking for some Winter Learning fun? Here's some fun Winter Clothes activities for preschoolers!
It's finally Winter here in the Midwest!
We always are wearing our winter coats for at least a month before the calendar says it's officially winter here in Illinois.
But regardless of when those winter coats, scarves, mittens, hats, etc were put to good use, it's a great time to talk to little ones about why we dress warmly in the winter.
Today, I've put together some ideas for a preschool Winter Clothes theme.
There's a winter clothing coloring page, winter clothes game ideas, a few winter clothes story suggestions, as well as a mitten craft.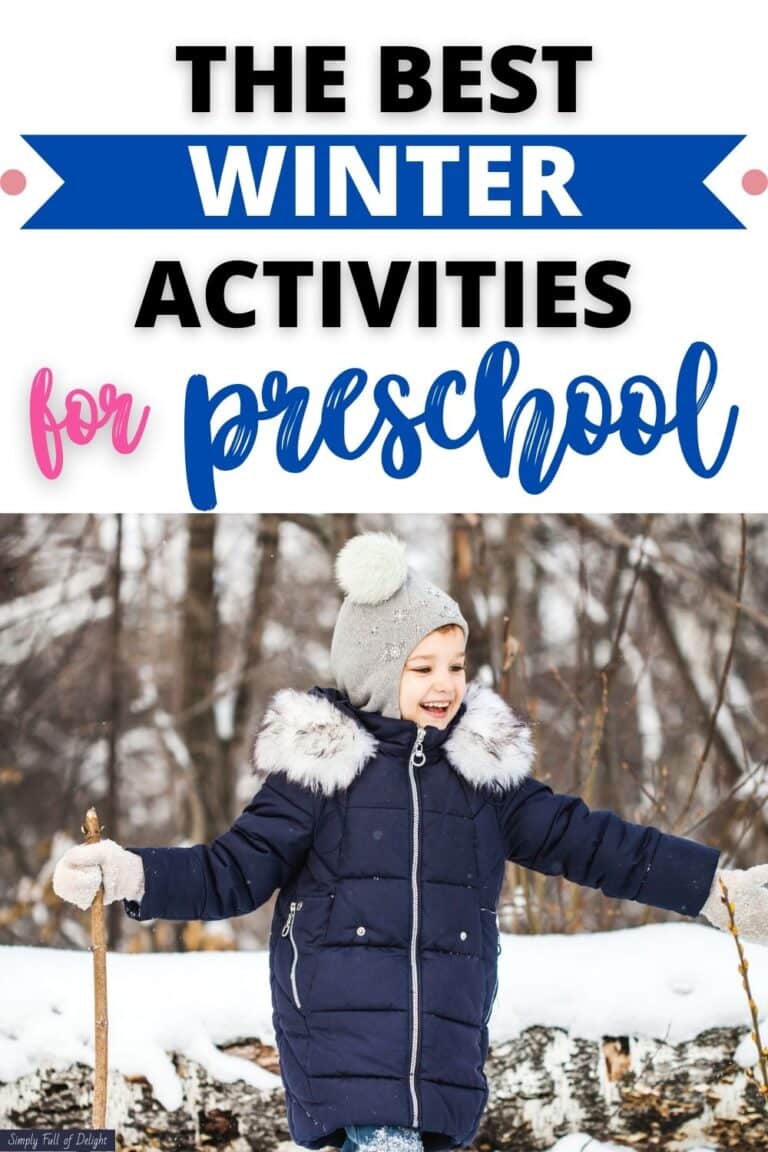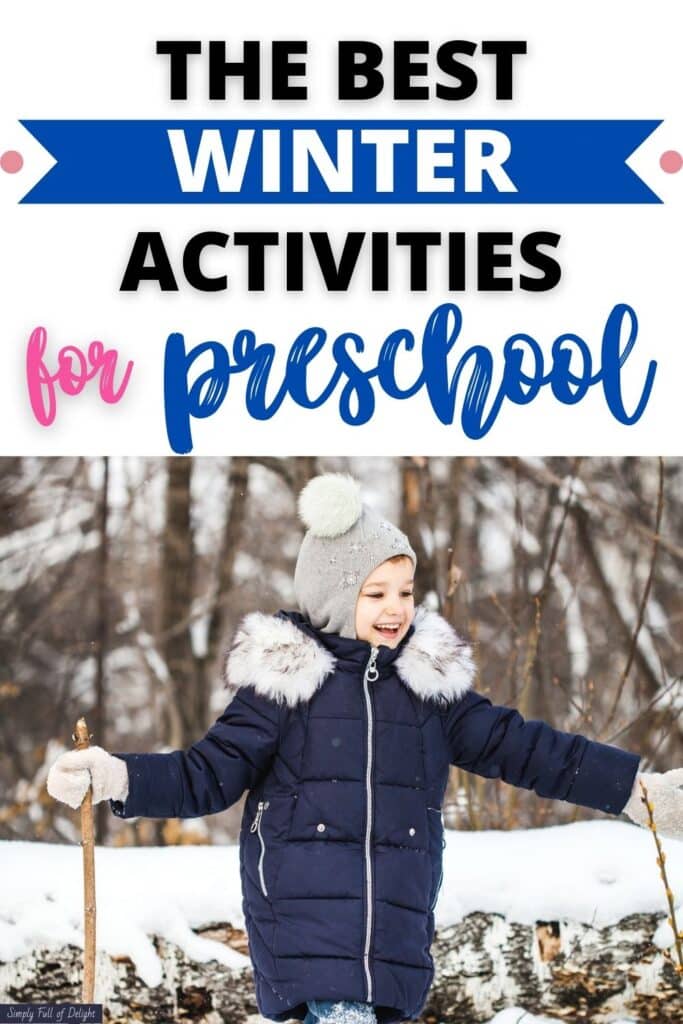 Let's dive in!
Winter Clothing Coloring Page
First up is this adorable free printable Winter Clothing Coloring page. This coloring sheet features a coat, snow pants, hat, scarf, mittens, ear muffs, boots and warm socks. Each item is labeled.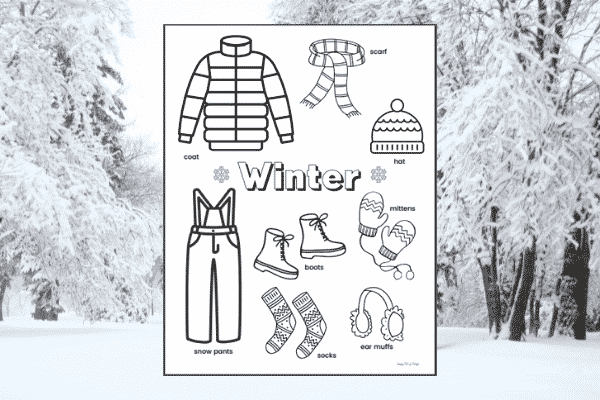 Kids can enjoy painting or coloring all of the winter clothing while becoming familiar with the vocabulary words. What a fun way to learn!
My kids loved coloring in the details on the socks and scarf. Coloring is a great way to develop those fine motor skills and of course, I love that it's an easy low prep activity for kids!
Disclosure: As an Etsy affiliate and as an Amazon Associate I earn from qualifying purchases by readers clicking my links, at no additional cost to you.
Winter Clothes Game – A Guessing Game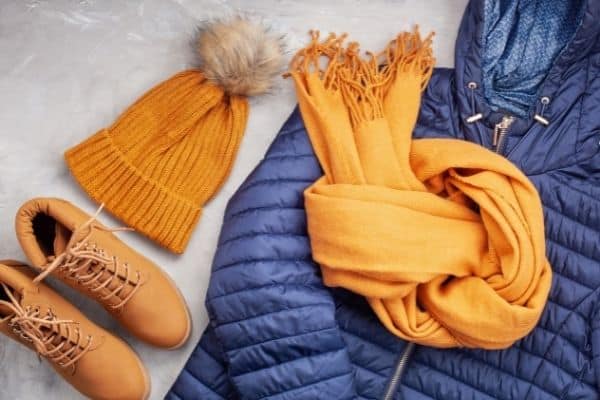 Check out this fun Winter Clothes Game! You will need a scarf, mittens, hat, ear muffs, boots, winter coat, and snow pants, as well as someone or something to wear the items.
To play, place the items in a pile. Have the kids identify the items by name.
Next, give the kids a clue for each item and when they guess correctly, you then dress person or stuffed animal with the winter item.
For example, you might say, "Bear's neck is feeling cold. What could she put on that would warm up her neck?" Answer: A scarf!
This is great for a winter circle time activity or you could do it in small groups.
Mitten Snowball Toss
This next winter clothes activity is another game! For this game, you need several pairs of mittens as well as some paper and a basket. Wad the paper up into "snowballs."
To play, have the kids put on the mittens. Then have them toss as many snowballs into the basket as they can.
You can make it into a relay race if you like. Or kids can work together against a timer. We did the timed version and my kids competed against the clock for 1 minute intervals to see how many they could get in the basket.
Either way you play, this is a sure fire way to get out some energy!
Mitten Match Challenge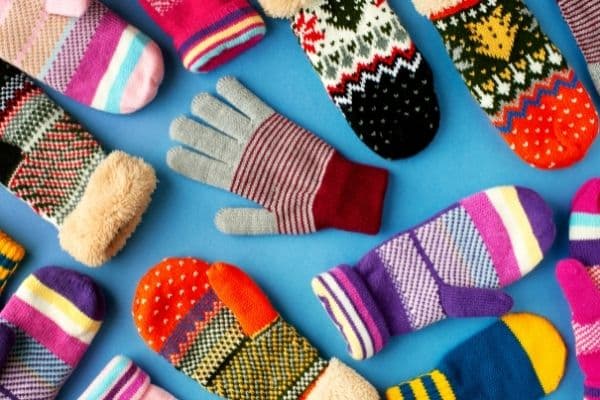 Kids can beat the timer to match a basket of mittens with their mates. This game is best when you have lots of mittens or gloves. I like to throw in a few mittens that don't have matches to really make them think!
Weather Bear Felt Board
A Weather Bear Dress Up Set is a great way to teach little ones about seasons and weather appropriate clothing. This adorable Weather Bear Set is by Jilly Poo Creations on Etsy.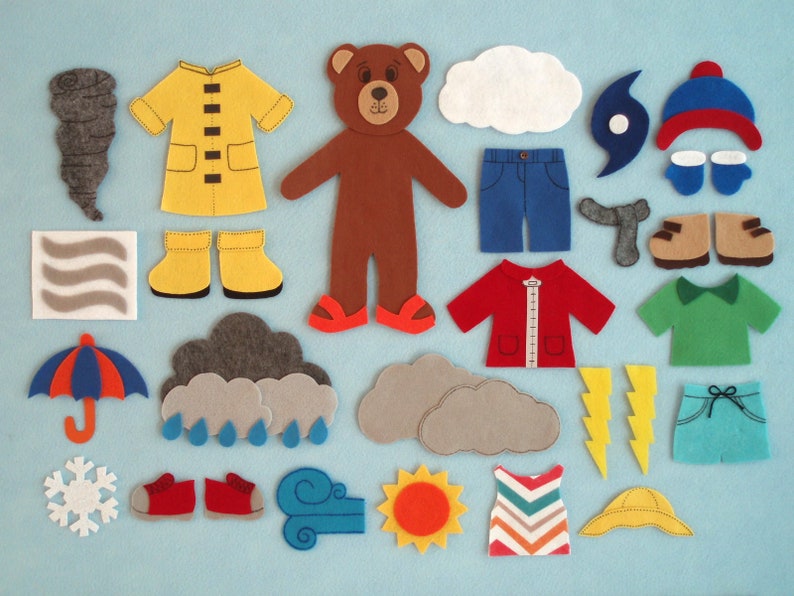 Kids can dress the bear with a coat, boots, hat, mittens, and scarf. This is an amazing high quality felt weather bear set.
If you would rather have a paper version, check out this Dress for the Weather set on Amazon.
Mitten Craft Idea
Love crafts? Here's a fun idea for a Winter Clothing craft!
Simply print out the free template and have kids color or paint it.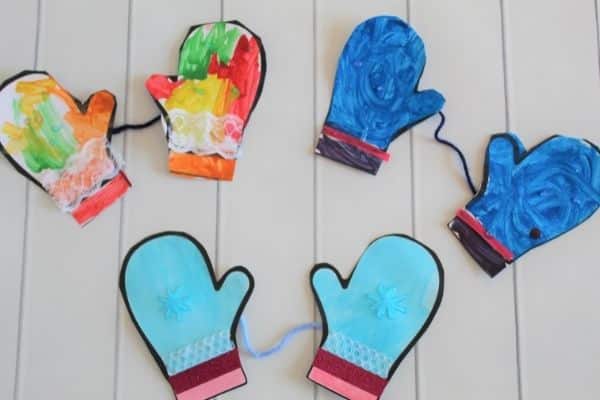 The mittens can be decorated with glitter glue, lace, sequins, washi tape or string. There's so many possibilities with this open-ended winter clothing craft. You can grab the free mitten template here.
This easy Mittens craft is a fun way to talk about winter clothing with kids. What a fantastic activity for a winter clothes theme for preschool!
Mitten Color By Number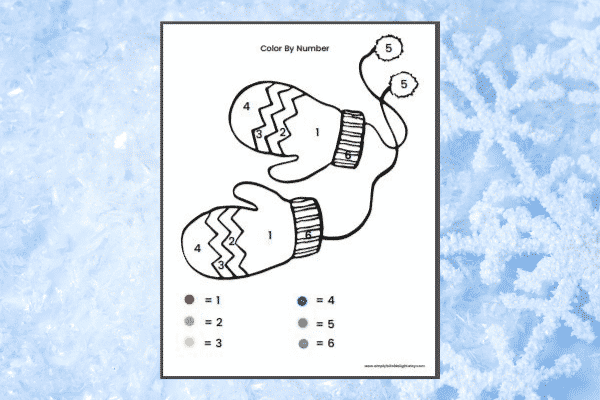 This simple Mitten Color by Number page is great for teaching kids number recognition and practicing following directions. No reading is necessary as colored dots are used instead of color words.
You can grab this Mitten Color by Number along with a whole set of preschool winter themed fun activities in my Etsy shop. There's pattern work, counting, tracing, scissor skills and more. Use coupon code MITTEN for 20% off.
Books about Winter Clothes
Reading stories about winter clothes can be a great learning activity! Here's a few of my favorite winter books that we own.
The Mitten by Jan Brett – This story is about a boy who loses one of his mittens in the snow. Animals walk by and see the mitten and each decides to climb in and join the others. The mitten stretches and stretches to accommodate all of the forest animals. It's a cute winter time story.
Froggy Gets Dressed by Jonathan London – This is perhaps the best book about showing each of the articles of winter clothing. In this winter story, Froggy wants to go play in the snow but he keeps forgetting to put items on, so his mother calls him back inside to get dressed with each thing. It a cute story that will have kids laughing by the end. Such a great story for a winter clothes theme for preschool.
The Three Little Kittens – This is the classic story of the 3 little kittens who lose their mittens. Great for talking about mittens and the transition to cold weather clothing!
That's it! I hope you've found some awesome Winter Clothes activities for preschoolers!
Be sure to pin the image below to save these ideas for later!