Need an easy Easter Craft for kids? Check out this Preschool Easter Egg Craft with free egg printable.
Easter is quickly approaching, so we've been busy doing all kinds adorable Easter crafts and activities. Some of our favorites have been this Yarn Carrot Craft and of course this Easter Symmetry Egg.
Since marble painting is always a hit with my kids, we decided to add a Marble Paint Easter Egg craft to the fun!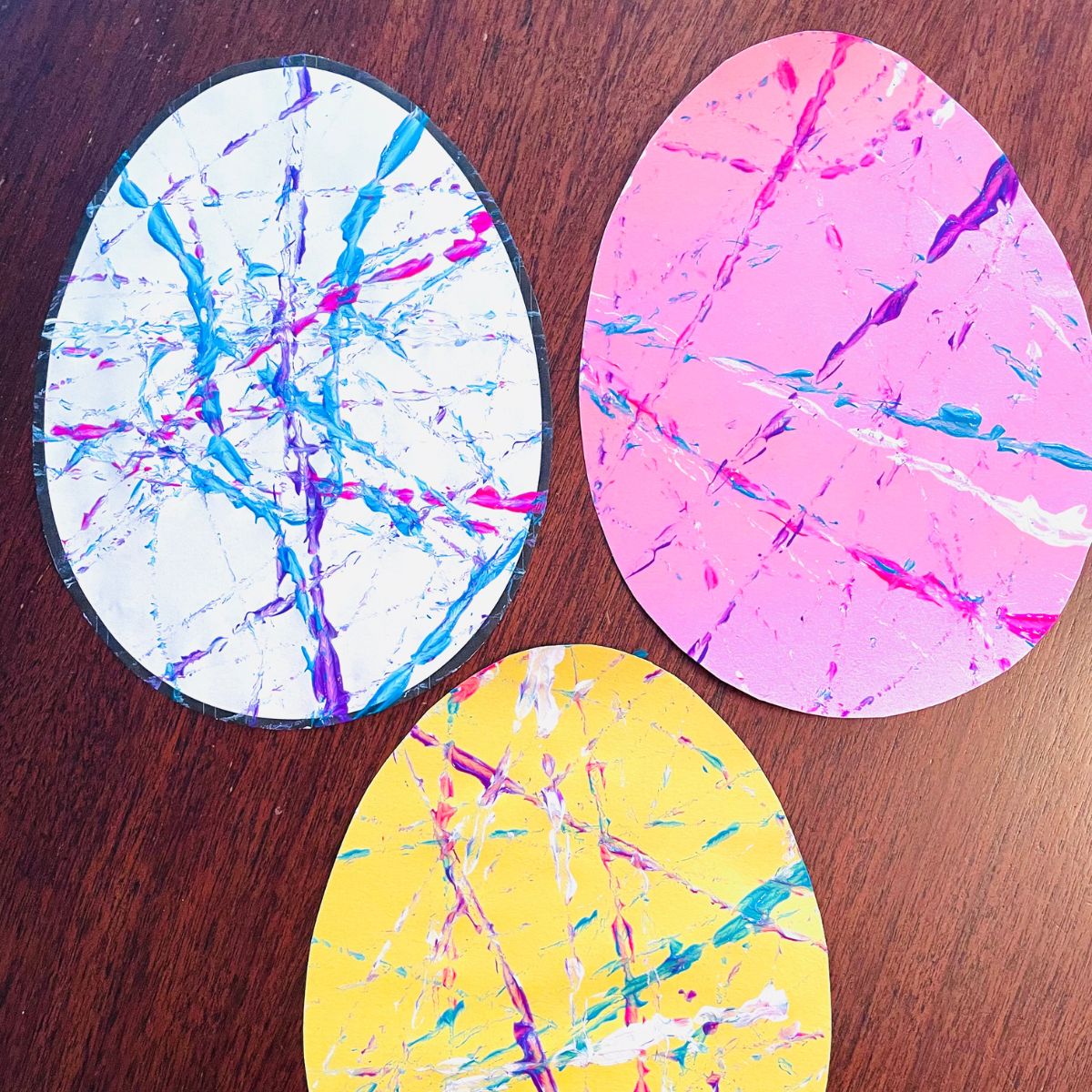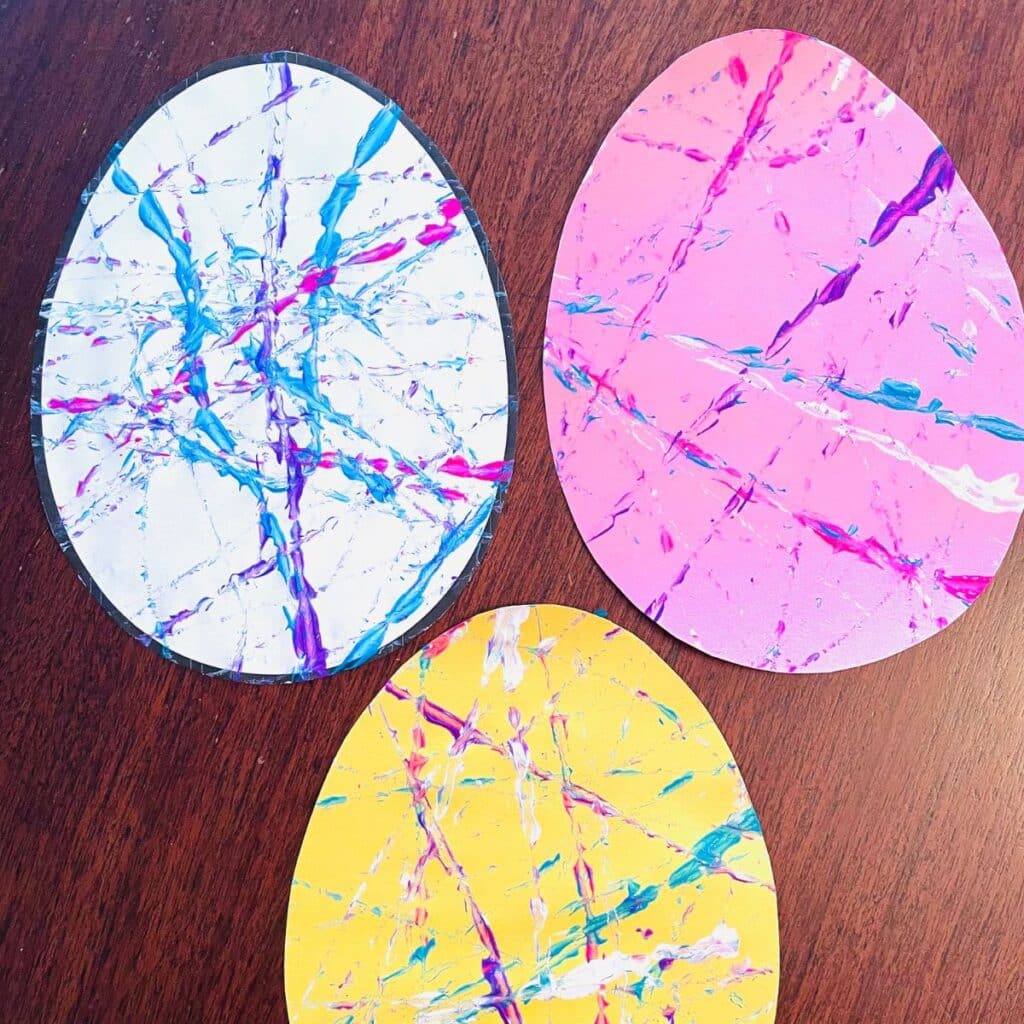 This Easter Marble Painting Craft with free Easter egg printable is a great way to celebrate Easter with your preschoolers and kindergarteners!
If you have been looking for an easy Easter craft idea that is great for little hands, you'll love this! I find that marble painting is easy for younger children and it always turns out adorable!
Before we dive into the craft, let's talk about why marble painting is a beneficial activity for kids.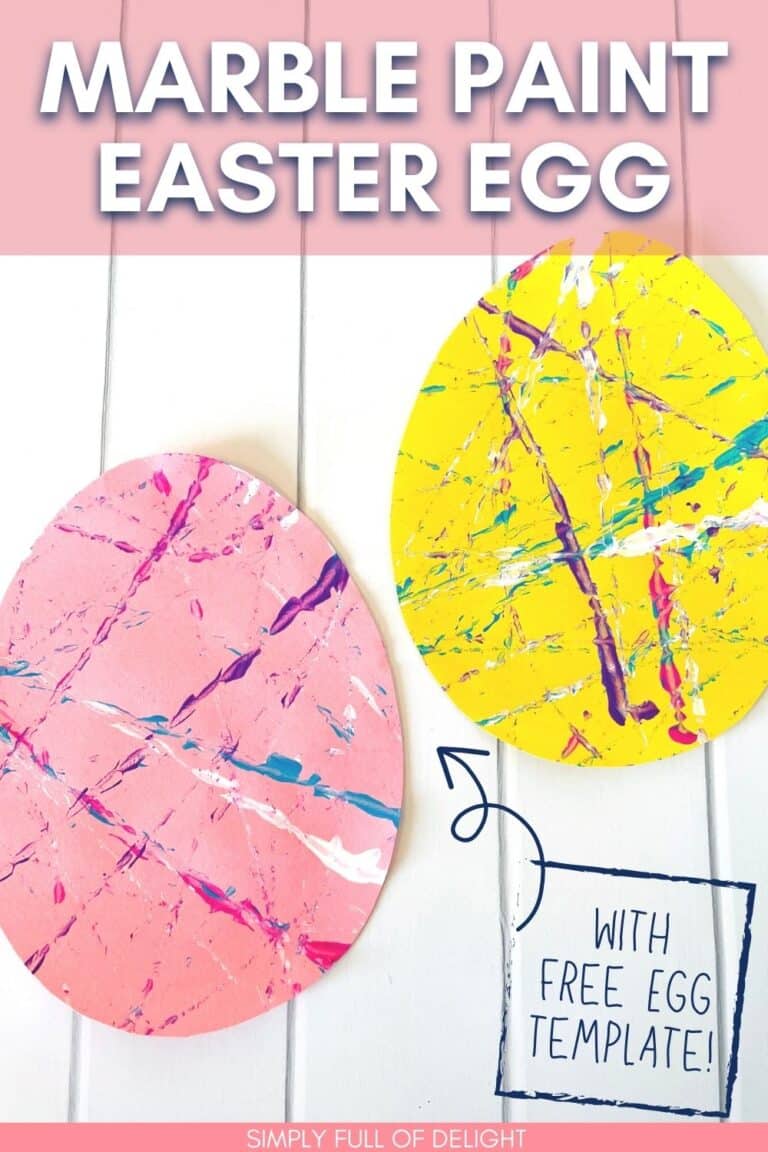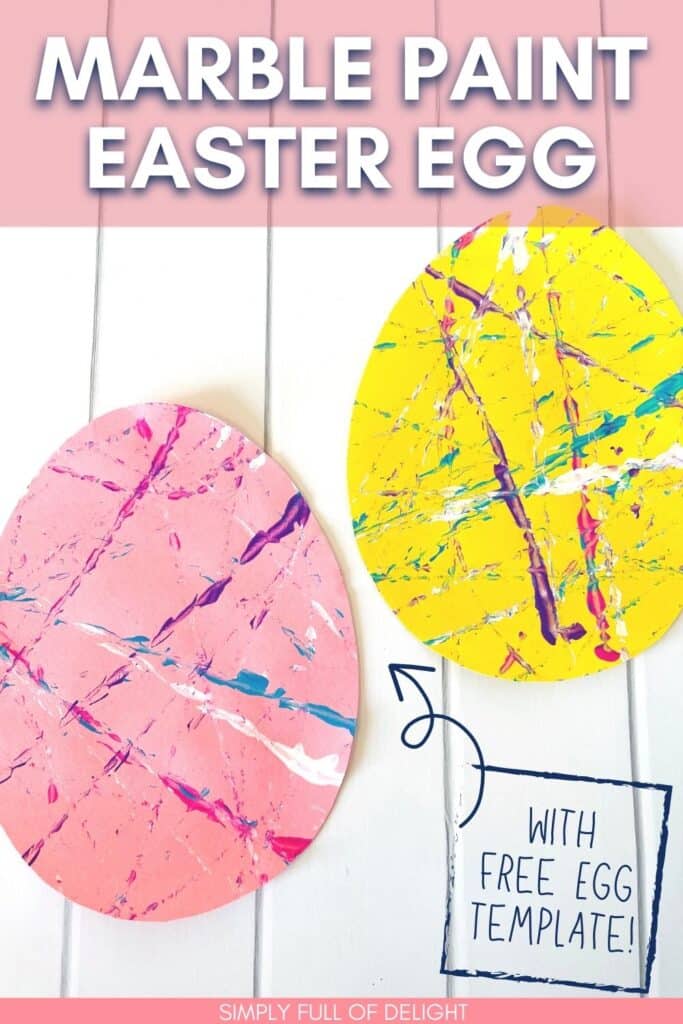 What are the benefits of Marble Painting?
Science World says that marble painting helps kids with hand eye coordination, fine motor skills and practicing observation skills.
For me, marble painting is a favorite because it's so much fun and you always get great looking results.
(This is one craft you can count on actually turning out like the pictures! LOL No Pinterest fails here!)
Marble painting can also be used as a process art activity, because kids are totally in control of the outcome of their craft. You can direct them as little or as much as you want.
Okay! Let's get started on our Marble Paint Easter Egg!
** Disclaimer: As an Amazon.com Associate, I earn from qualifying purchases made by readers clicking my affiliate links at no extra cost to you.
Supplies for Preschool Easter Egg Craft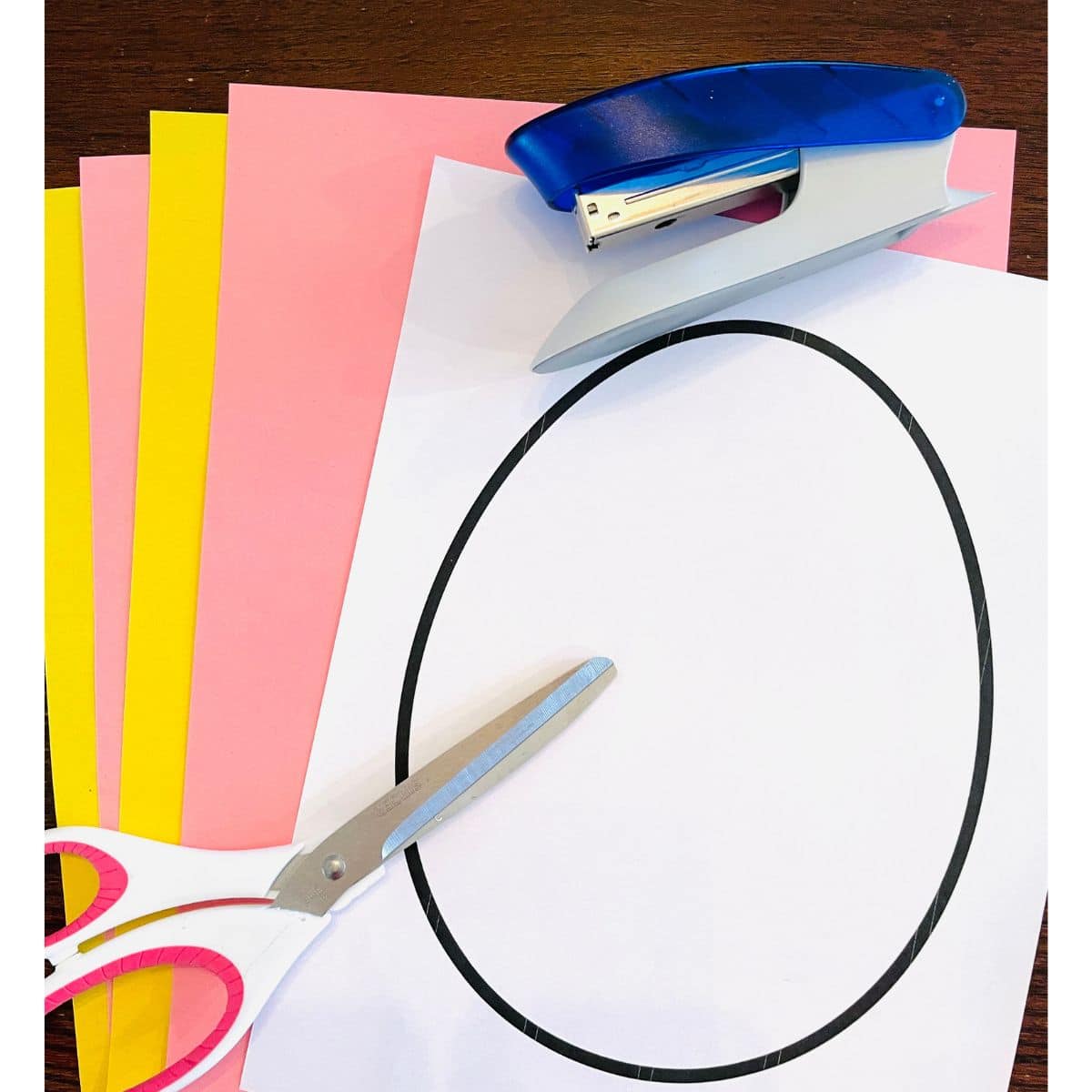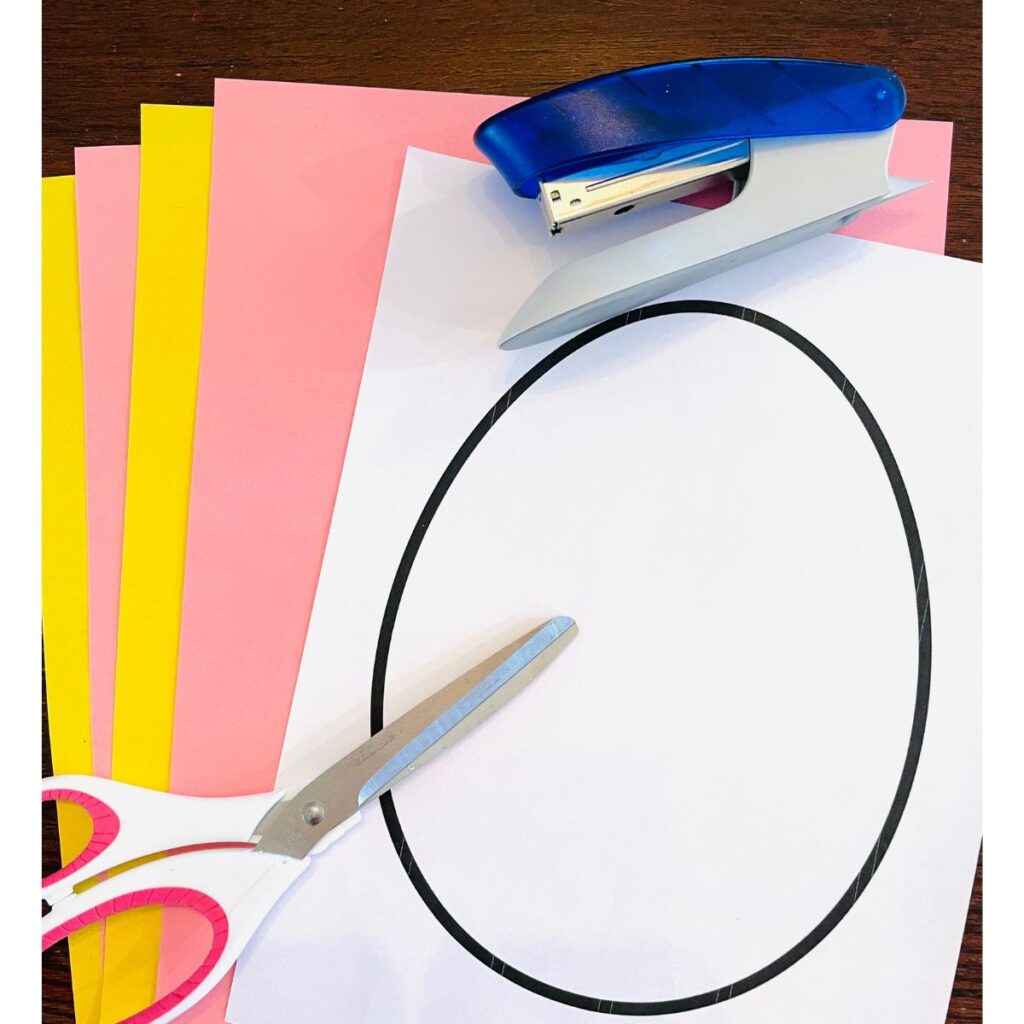 For this Preschool Easter Egg craft you will need the following craft supplies:
– A printed copy of the free egg printable template – it's at the end of this tutorial (alternatively, if you have artistic skill, you can freehand draw or freehand cut out the egg shape!)
– White paper – Feel free to try other colors of construction paper like pink, yellow, light green, light blue – You know, pastel Easter colors! Card stock will also work as well.
– Washable Kids Paint in a variety of colors (We love this paint from Crayola)
– Stapler
– Scissors
– A few Marbles (you can try other small balls as well!)
– Bowl or paper plate for paint – or an egg carton works really well for this too!
– A Box that isn't too deep or too shallow. A child needs to be able to maneuver it easily. You could cut a large box down to be more shallow or use an old rectangular cake pan.
– Baby Wipes or Paper Towels – for potential messy situations!
Let's get started on our Marble Paint Easter Eggs!
How to Make an Easy Marble Paint Easter Egg Craft
First, print out the Free Egg Printable template. The template is at the end of the instructions under the heading Grab the free printable egg!
The template is just a basic large egg shape. If you are good at drawing, feel free to skip the template and freehand draw an egg shape.
To make multiple paper Easter Eggs to paint, you have a few choices.
You could:
– Print the template on a white piece of paper (or colored paper) and have the kids each cut their own out.
Or…..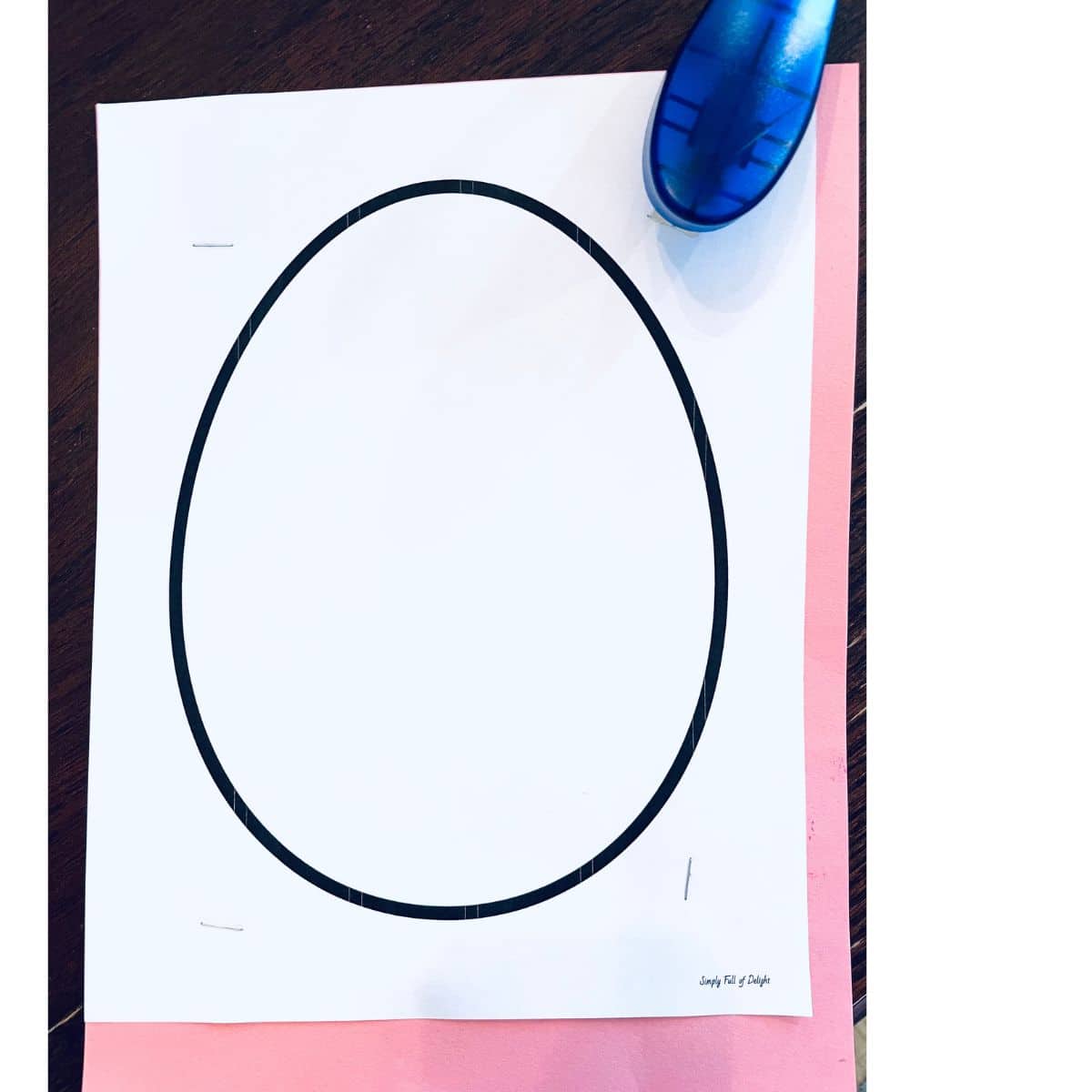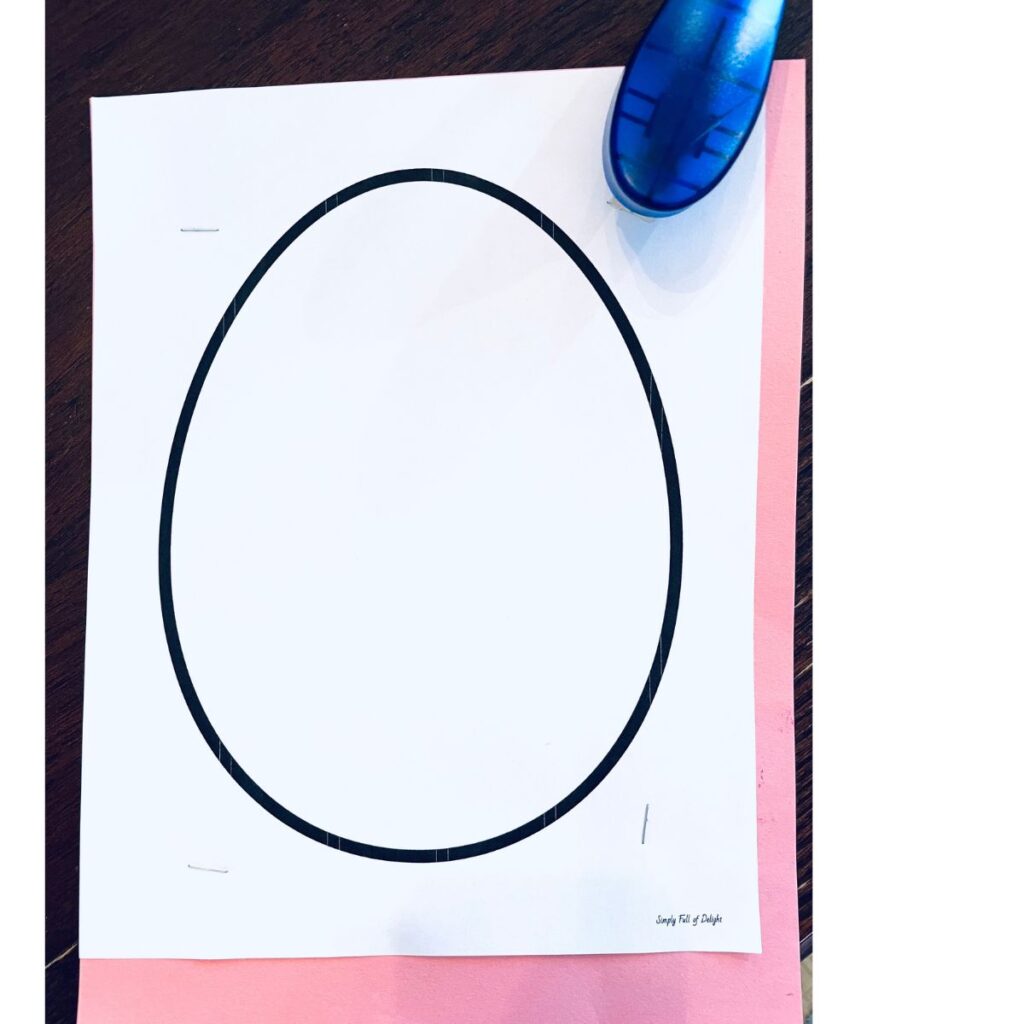 – Print the egg template and place it on top of a stack of construction paper. Staple it around the edges to hold the stack of paper in place. Then cut it out, cutting through the whole stack of paper.
I usually can cut 4 extras with the template. It depends on how sharp your scissors are!
And like magic, you can cut multiple Easter Eggs at the same time by doing this!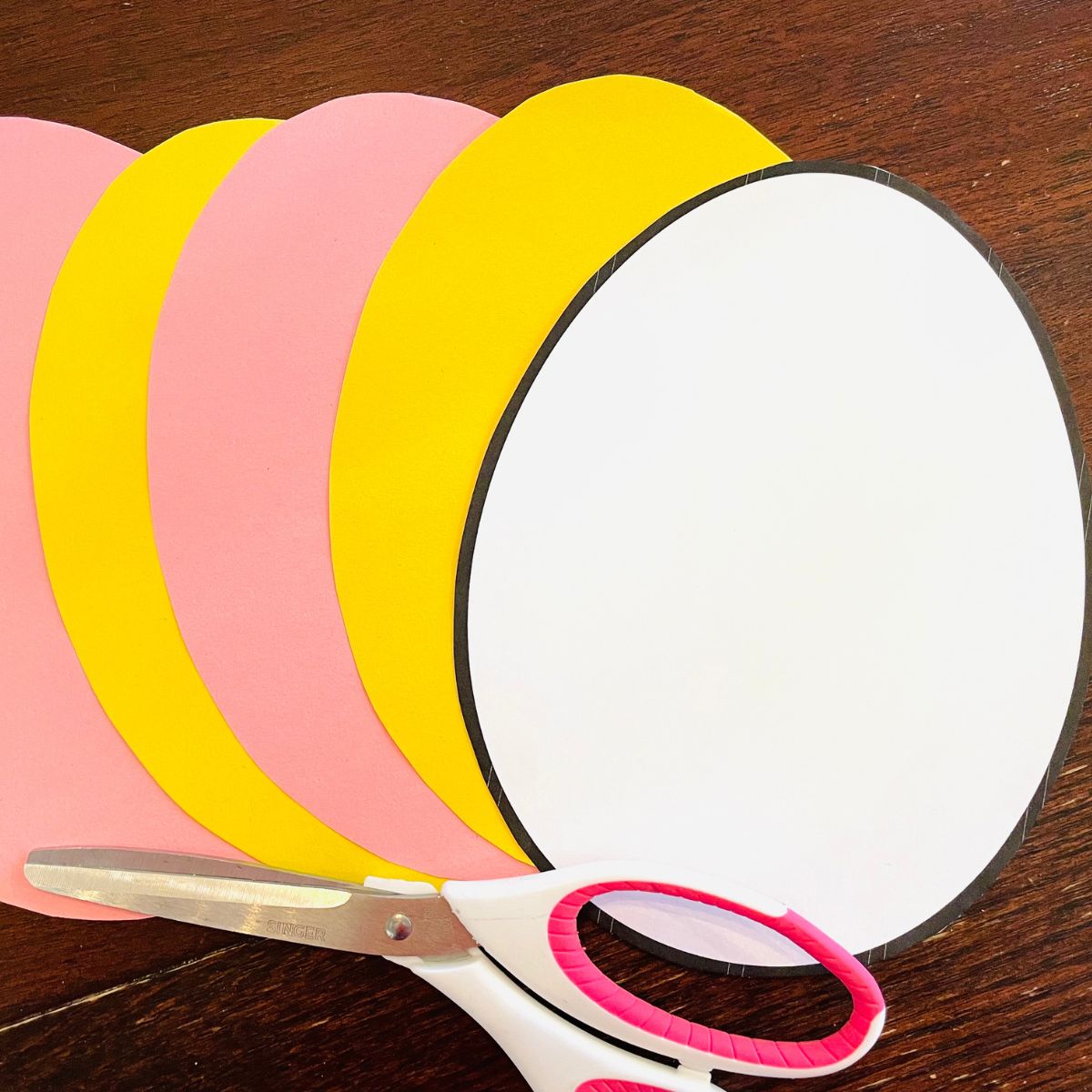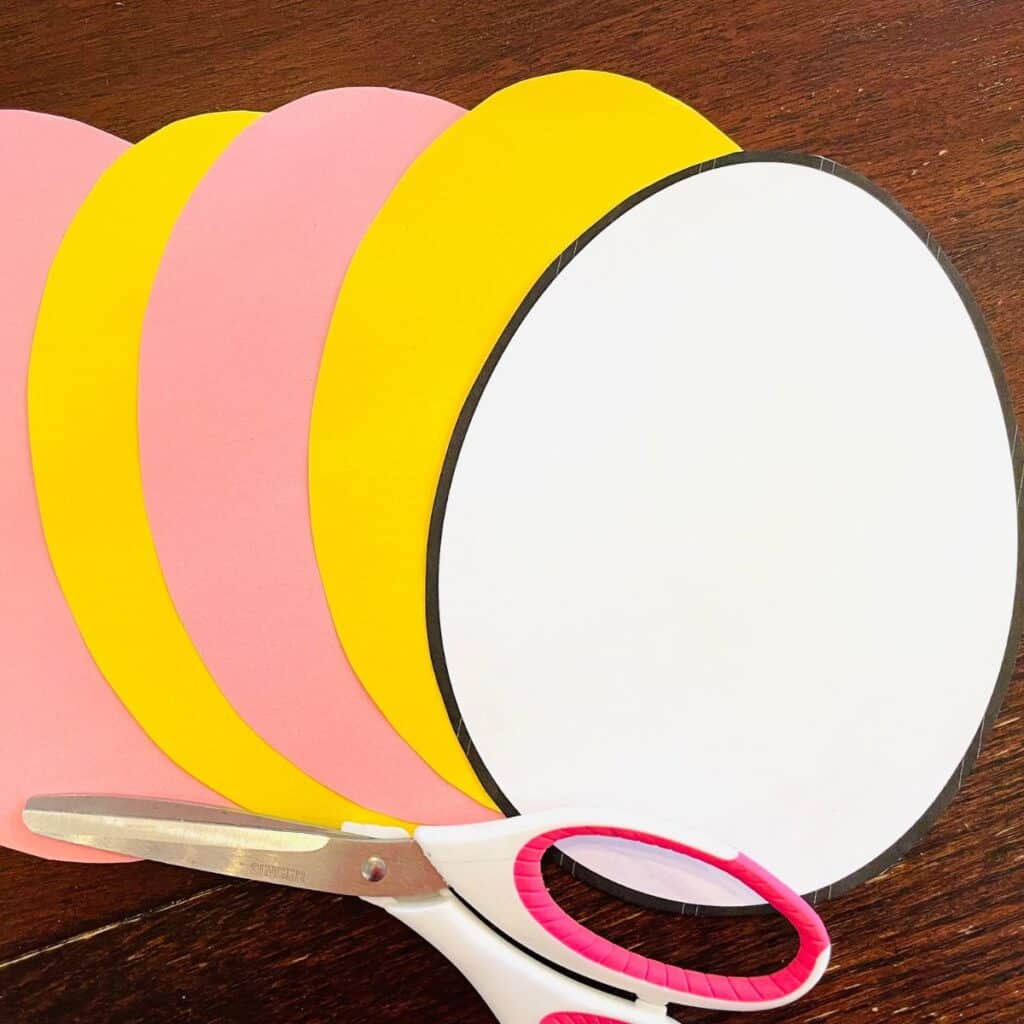 Easter Egg Marble Painting
Put the free egg printable in your shallow box. Then, put a little bit of paint into the bowl or plate.
I usually offer several different colors of paint and place it onto a paper plate.
You might like to do traditional Easter color combinations like pastels. Of course, it's totally up to you! We chose to use purple, pink, bright blue, and white.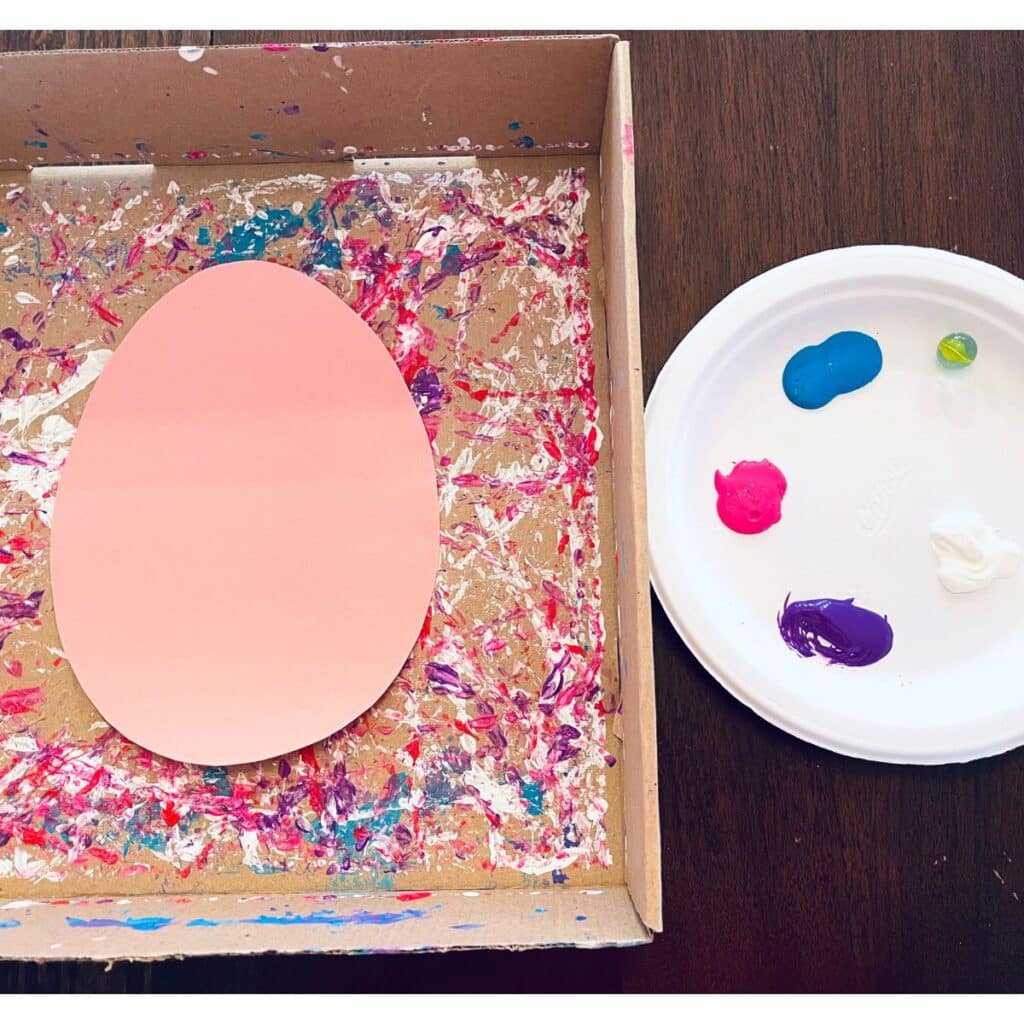 Keep in mind that you might want to avoid offering colors that will turn brown when mixed. The paint colors will naturally mix a little as the kids try the different colors and dip their marble (and fingers) in and out of the paint.
Next, place a marble into the paint. Then put the paint covered marble into the shallow box.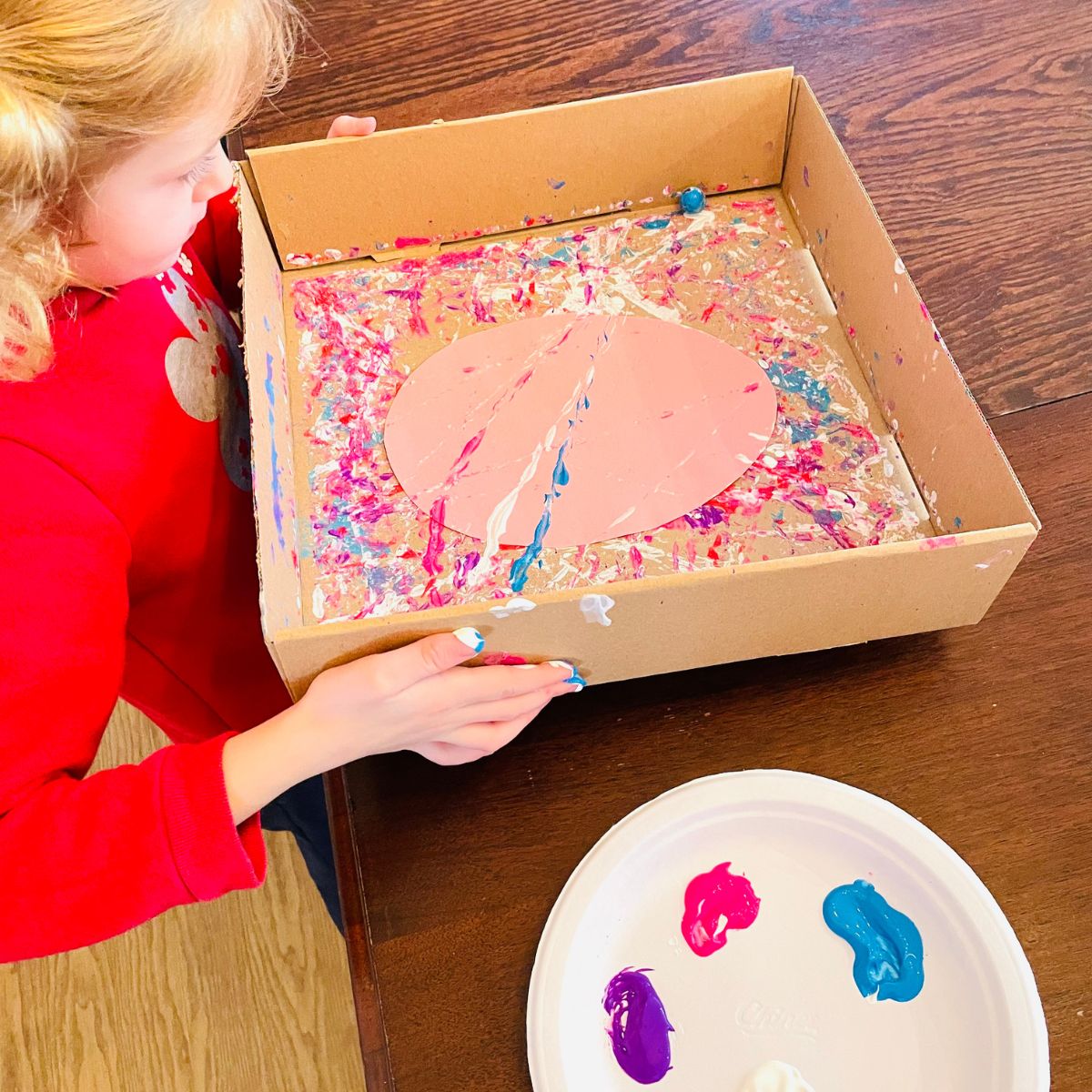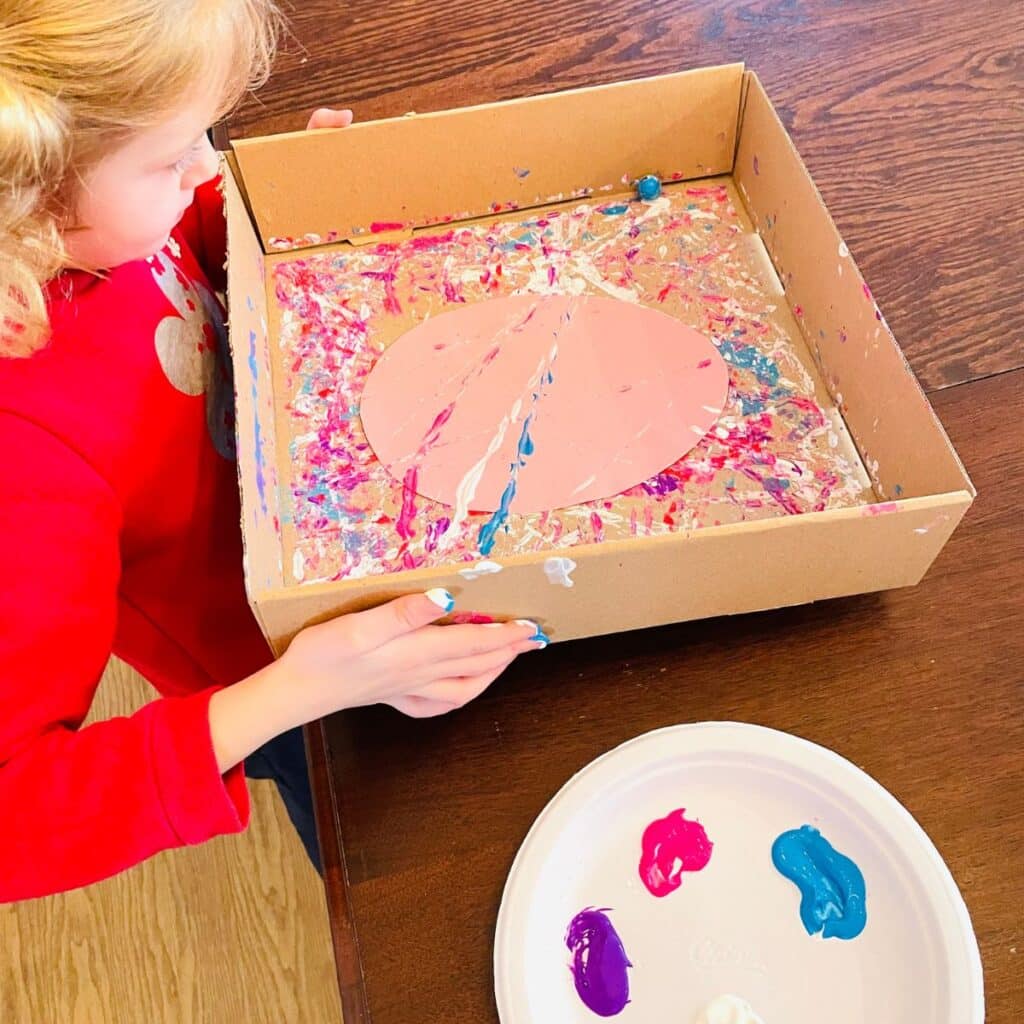 Sometimes I like to have them place the paint covered marble to the side (not on the egg) to avoid big splashes of paint on the egg, but that's just my preference.
Demonstrate how to hold the box and tilt it to make the marble move. Then let your child try! Little ones will observe how tilting the box makes the marble move around leaving marble paint trail marks on the Easter egg printable.
If you are feeling adventurous, you can try some different sizes or types of balls. There's some fun ideas for Ball Painting here. (We tried everything from spikey balls to wiffle balls!)
We used a regular size marble for this paper egg craft, but of course, you might like a different ball better.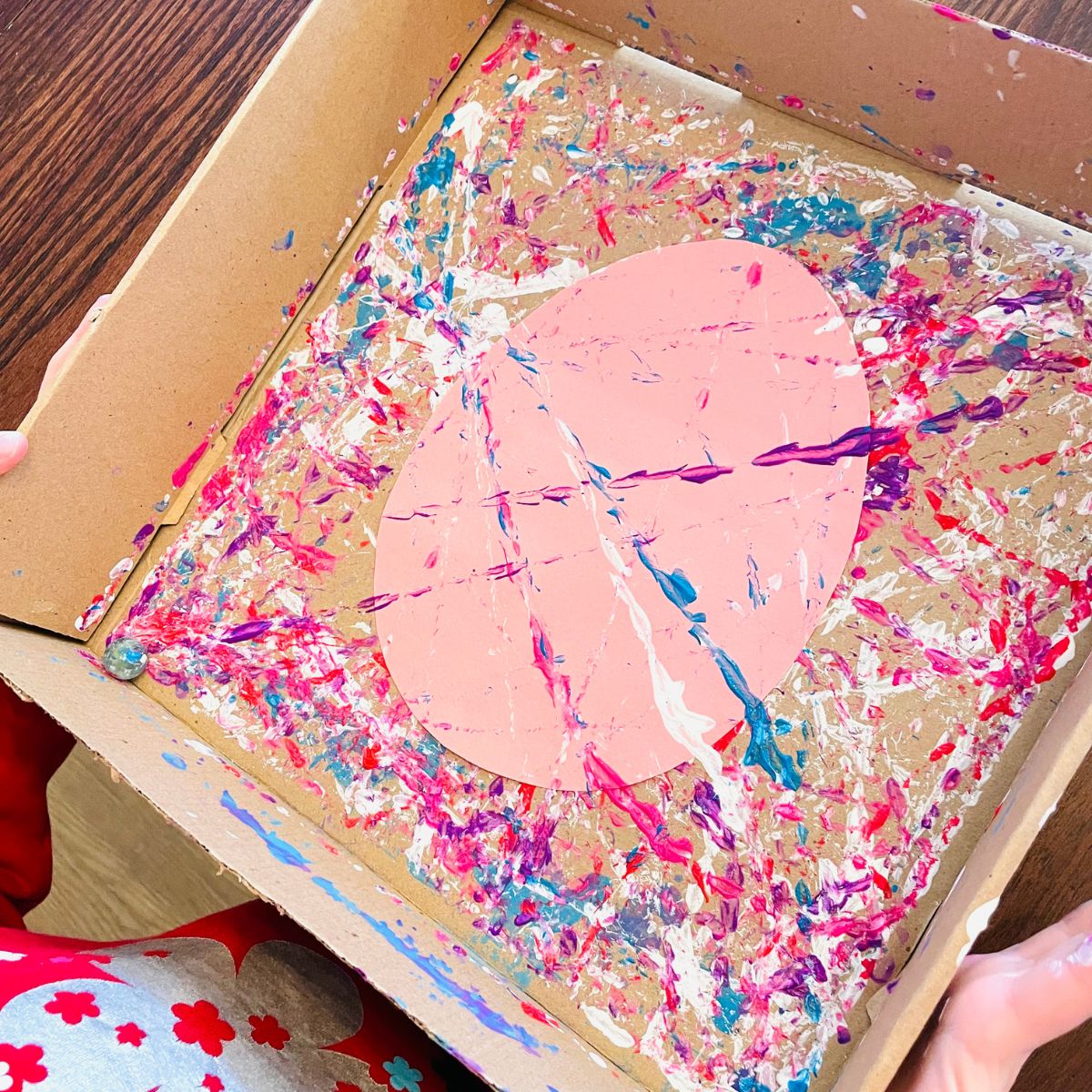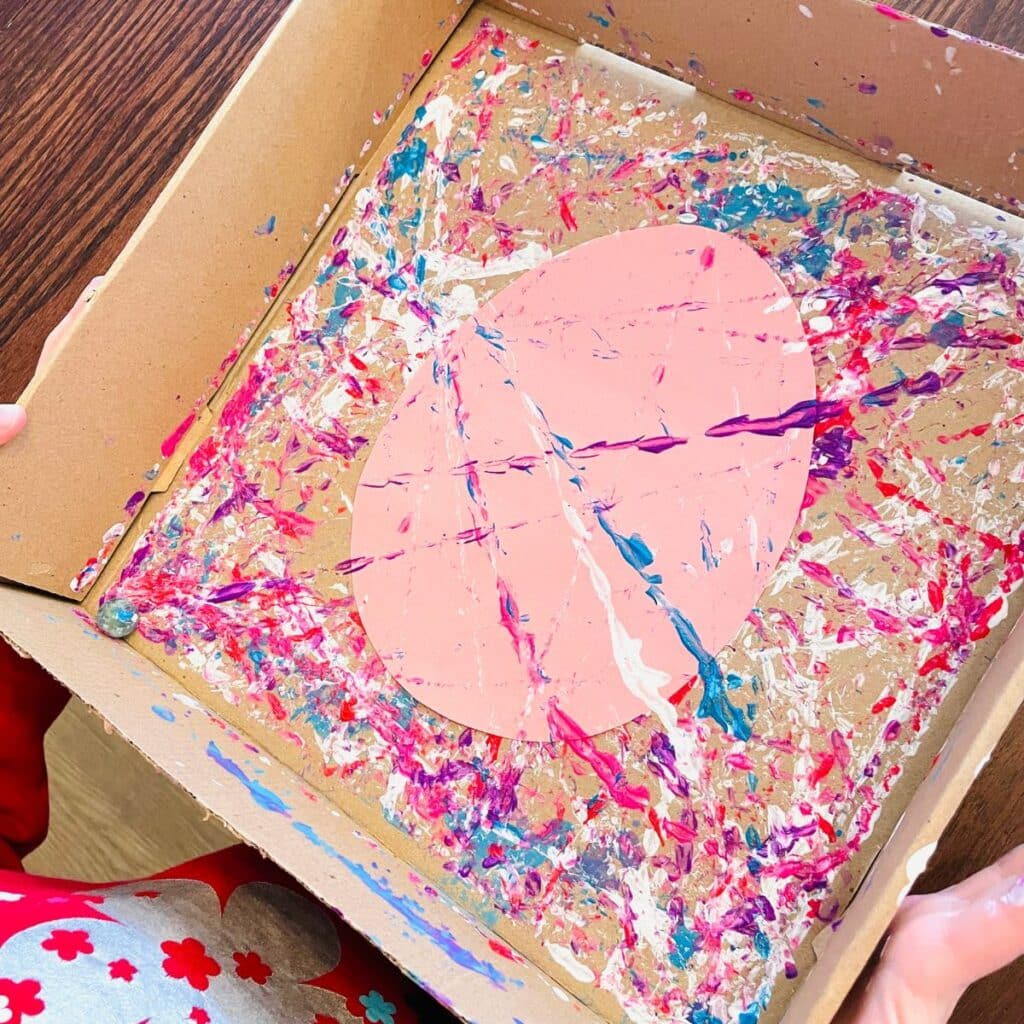 And….that's it! What a fun Easter Egg craft for preschool!
These Marble Paint Easter eggs would look great on a bulletin board or kids might enjoy writing simple messages on them to give out as Easter cards.
Grab the free Easter Egg Printable PDF!
To get the free egg template printables for this preschool marble painting Easter Egg craft, click the download button below to grab your free printable Easter egg templates pdf file. You'll instantly get the big egg shape template to make this fun marbled egg craft!
Free large egg template: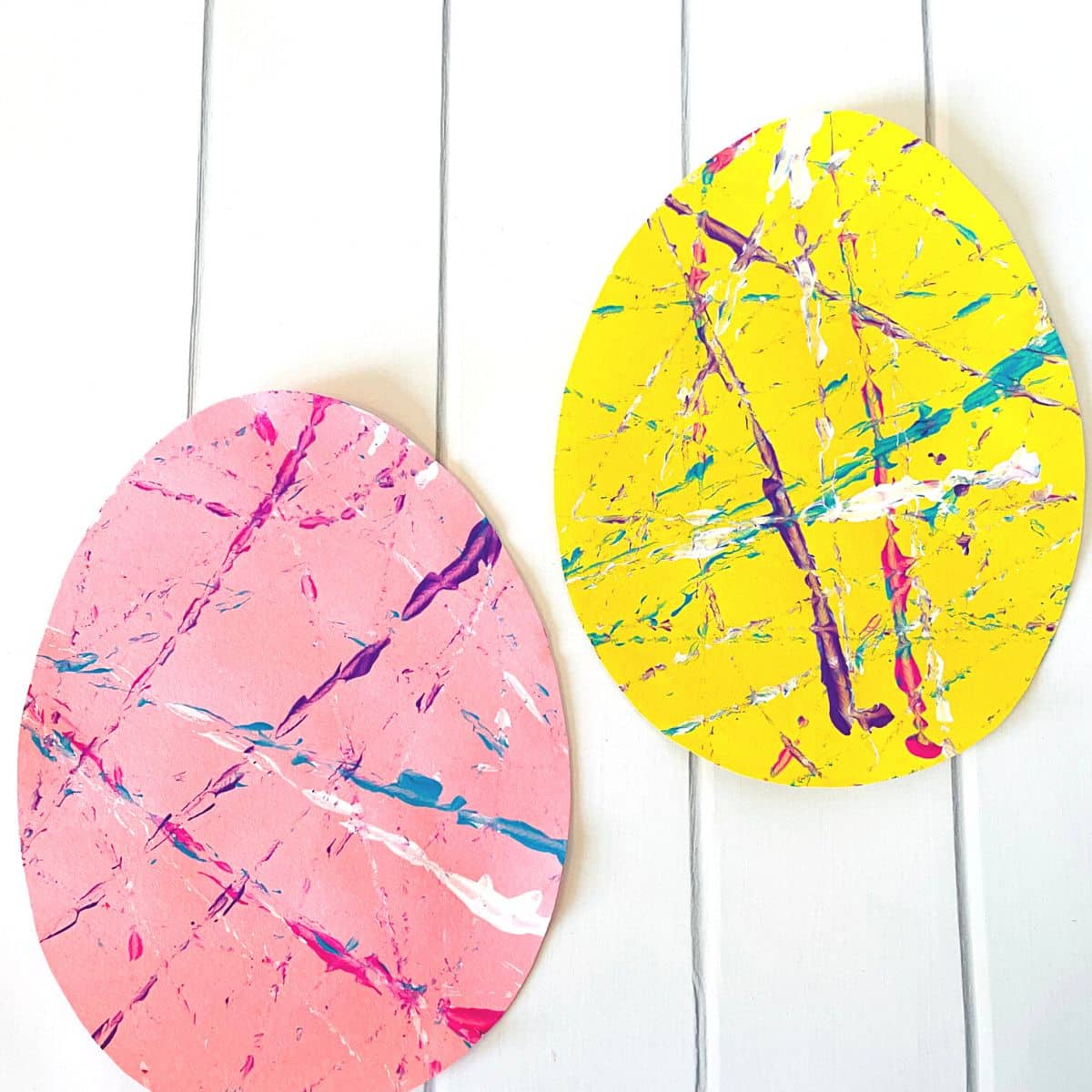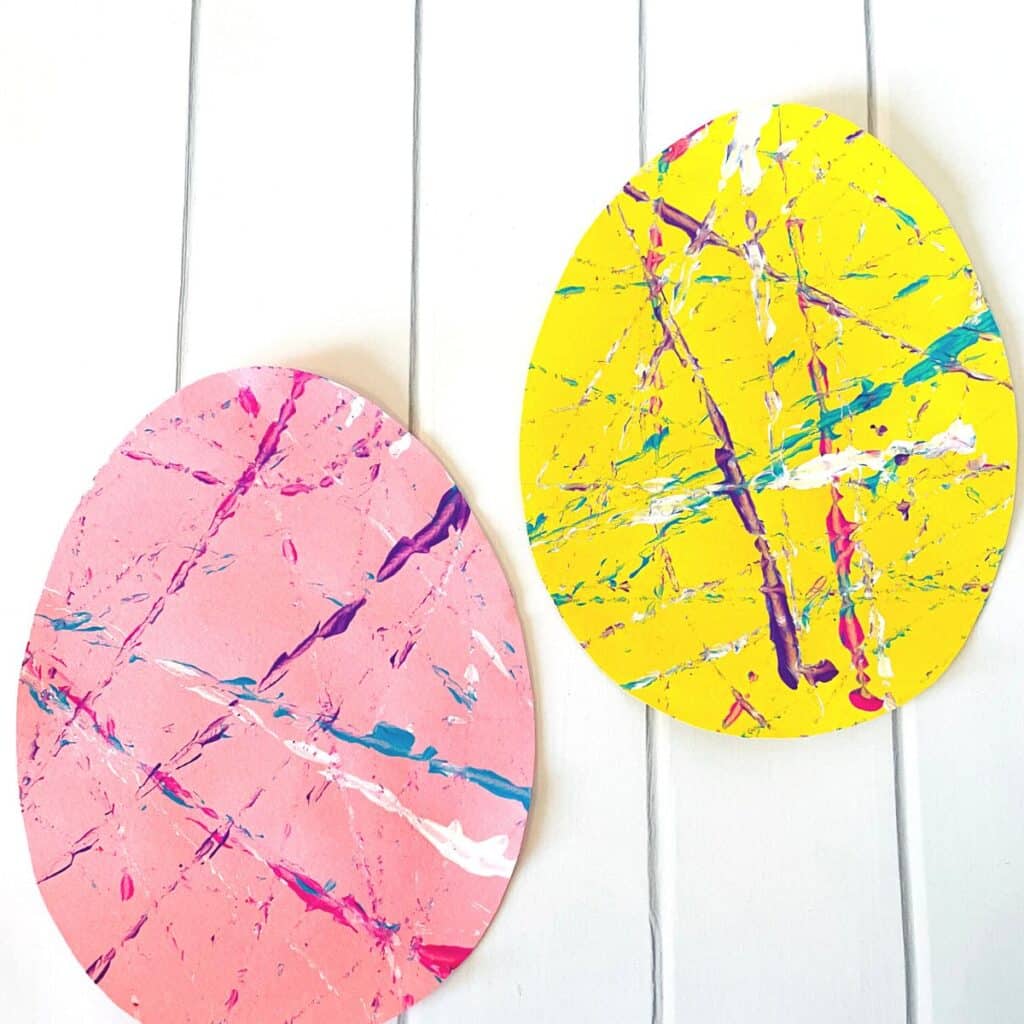 These free egg templates can also be used for other easy Easter crafts as well.
You might like to make an egg garland, egg symmetry crafts, use it as a coloring page, or decorate with glitter or fabric!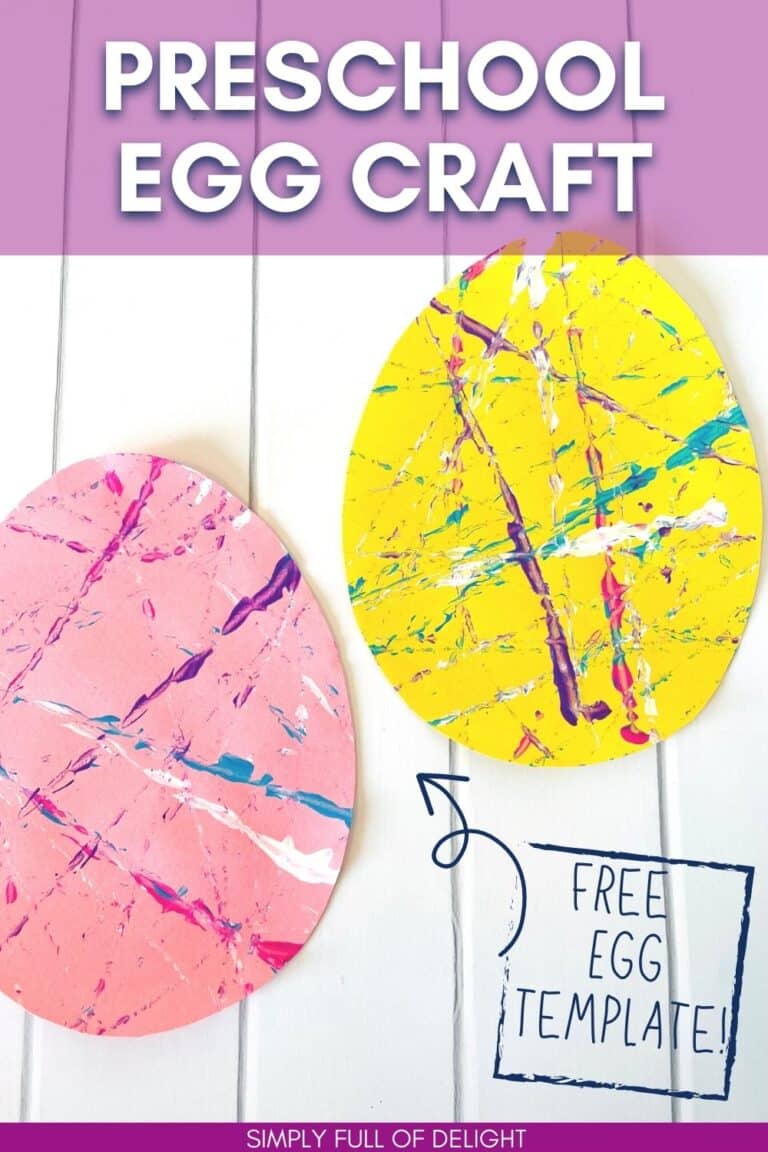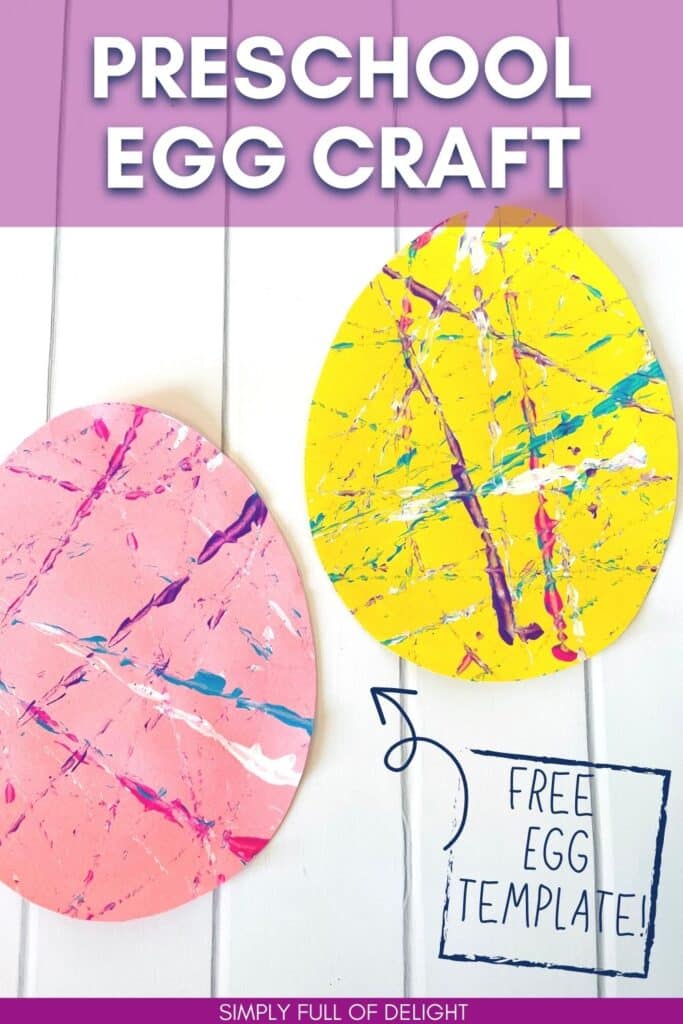 More Marble Painting Crafts
Did you enjoy Marble Painting? We love it!
For more Marble Painting ideas (and free printables to go with them) check out these Marble Paint ideas from my blog Simply Full of Delight!
This Apple Marble Paint Craft is too cute! It's the perfect craft for the Letter A, back to school season and of course, apple picking season.
For harvest season, you can find a cute Marble Painting Pumpkin Craft here. I love that this one can be used for teaching about gardening, farm, or autumn! If you wanted, you could even add details to make it into a jack-o-lantern.
There's a marble paint Halloween Bat and a Marble Paint Mummy for some spooky Halloween fun. (You must see that bat! SO cute!)
I absolutely adore these Snow Covered Marble Paint Winter Trees. They are one of my favorite easy preschool crafts for winter and make an adorable bulletin board display – or cute cards/gift tags!
And of course, there's a cute Valentine's Day Marble Paint Heart here.
Plus there's a Planet Earth Marble Paint Craft here that's perfect for Earth Day!
You can find lots of ideas for painting with balls here. Find a new art idea today!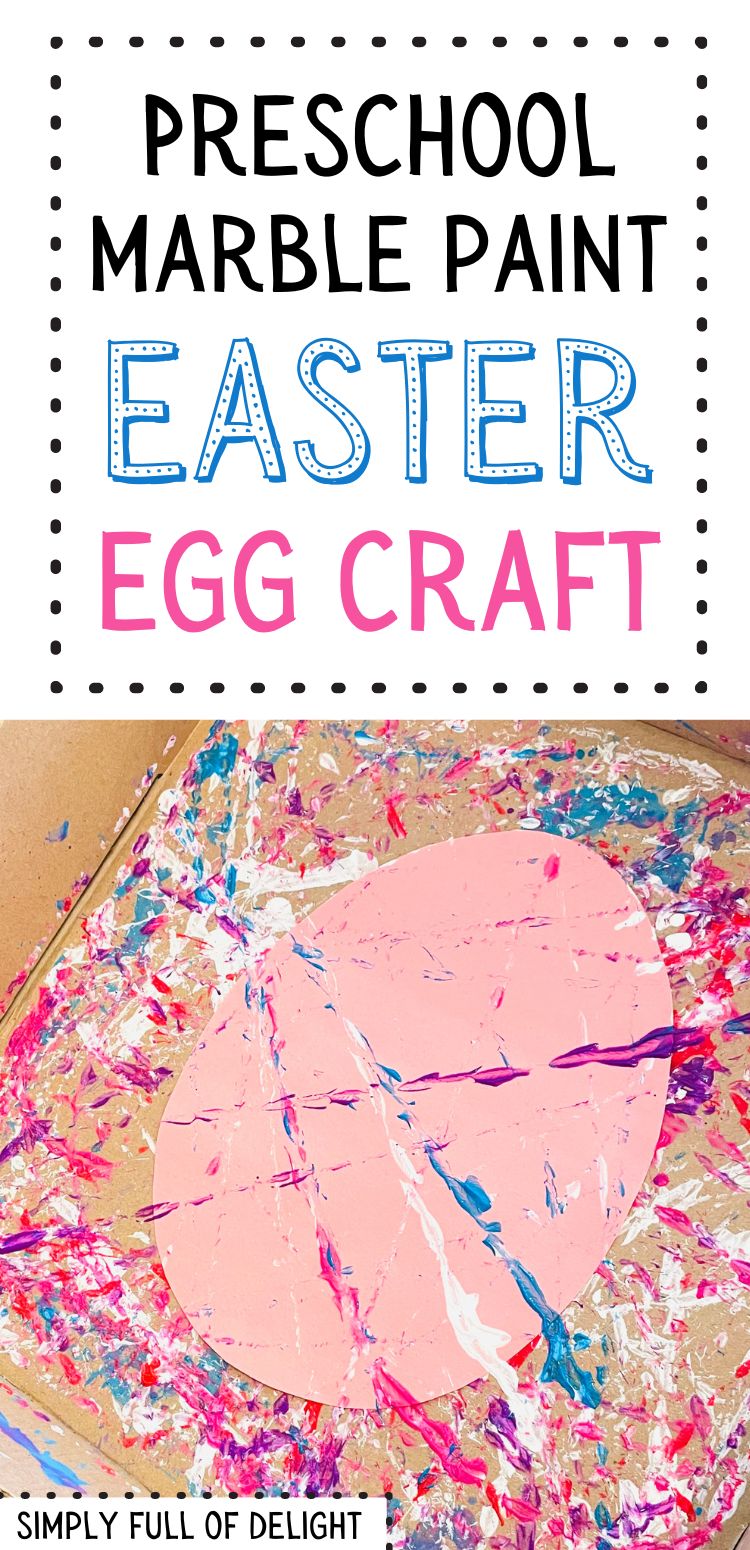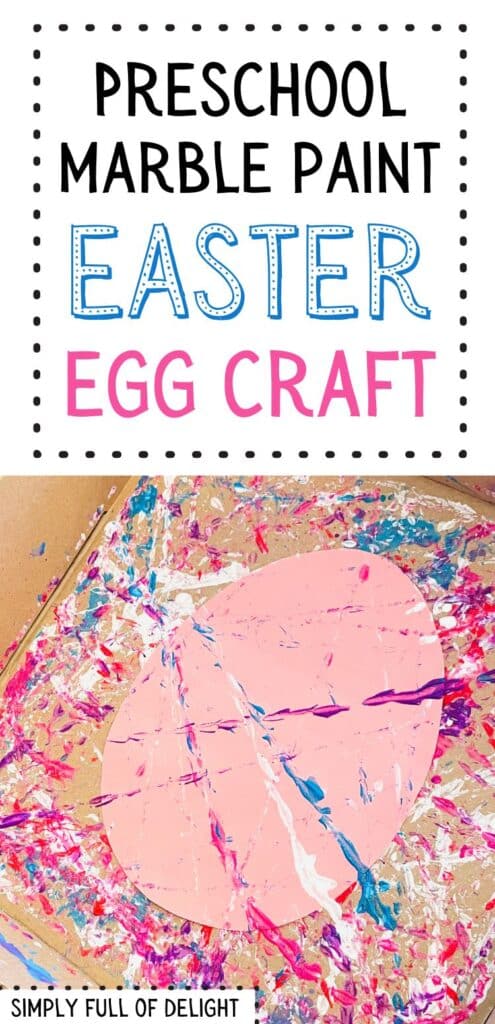 More Preschool Easter Activities
Need more fun Easter crafts for kids?
You can find some fun Easter Bunny Crafts here. With just a few simple supplies, kids can make a cute torn paper Easter bunnies! So cute!
There's some free coloring pages and activity sheets that are perfect for the Easter season here. Kids of all ages will enjoy the I Spy pages, coloring sheets, and more!
This DIY Easter Banner is fun for older kids. Simply color, cut, and thread the fun Easter decoration together. It's so cute and such a fun craft!
Little kids will love this Easter Sensory Bin. Plastic Easter Eggs, paper grass, little bunnies, and more all come together in this color sorting sensory activity for young kids. What a fun Easter activity!
There's an Easter Egg Symmetry Craft here. Young children can paint half of the egg, then they fold the paper to make a symmetrical print on the other side. Such a simple craft that is sure to bring joy!
Don't miss this cool Carrot Stamping Craft. It's perfect for this time of year and an easy craft that also works for a farm theme or nutrition.
You can find a Yarn Wrapped Carrot that make cute Easter Crafts here. It's a beautiful craft that kids will be so proud of! It only requires some basic craft supplies and it's the perfect way to fill an Easter basket decoration.
And of course there's a huge list of simple Easter Crafts here including great ideas like paper plate Easter baskets, Easter Egg Potato stamps, Easter chicks, and cool cardboard Easter egg nature crafts. Such simple Easter craft ideas that are perfect for preschool.
Want to save this preschool Easter Egg art activity for later? Pin the image of this Easter Egg art project to your fun preschool Easter activities Pinterest board!