Looking for a fun and unusual preschool carrot craft? Try these adorable yarn wrapped carrots with the free carrot template! Perfect for a preschool Easter craft or a preschool garden theme!
All you need for these cute yarn carrots is some cardboard from your recycling bin, some yarn, tape, and glue!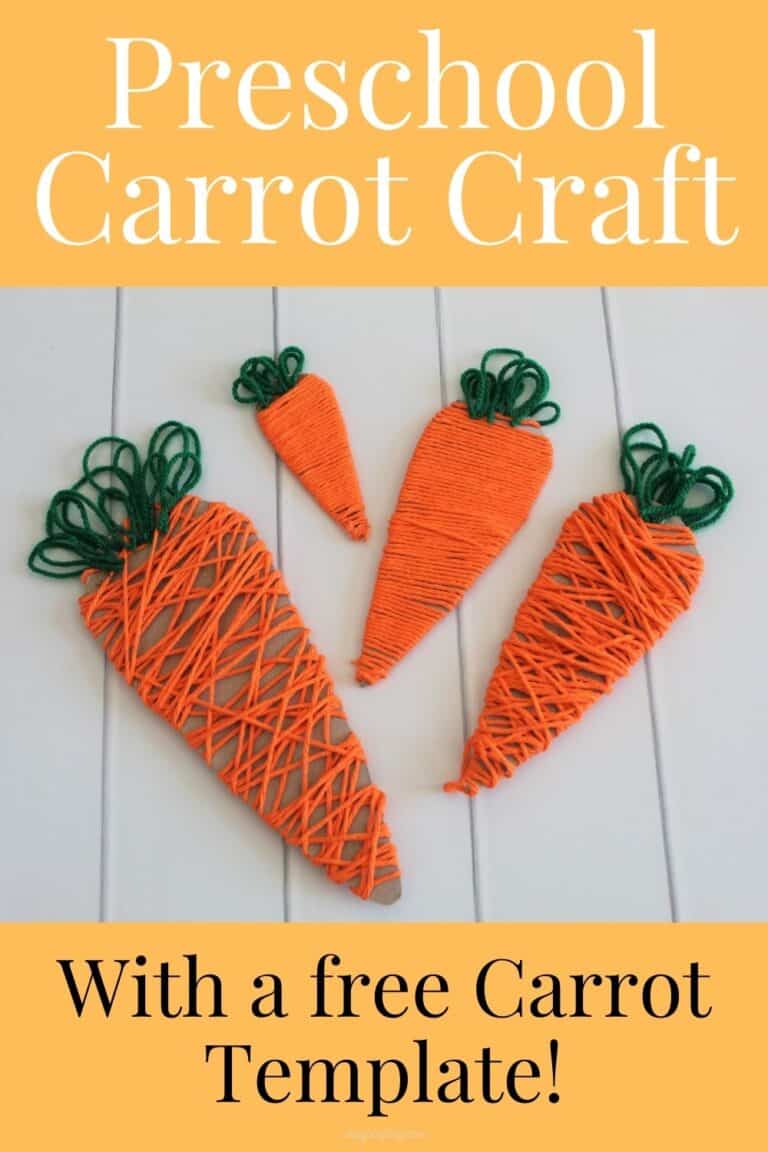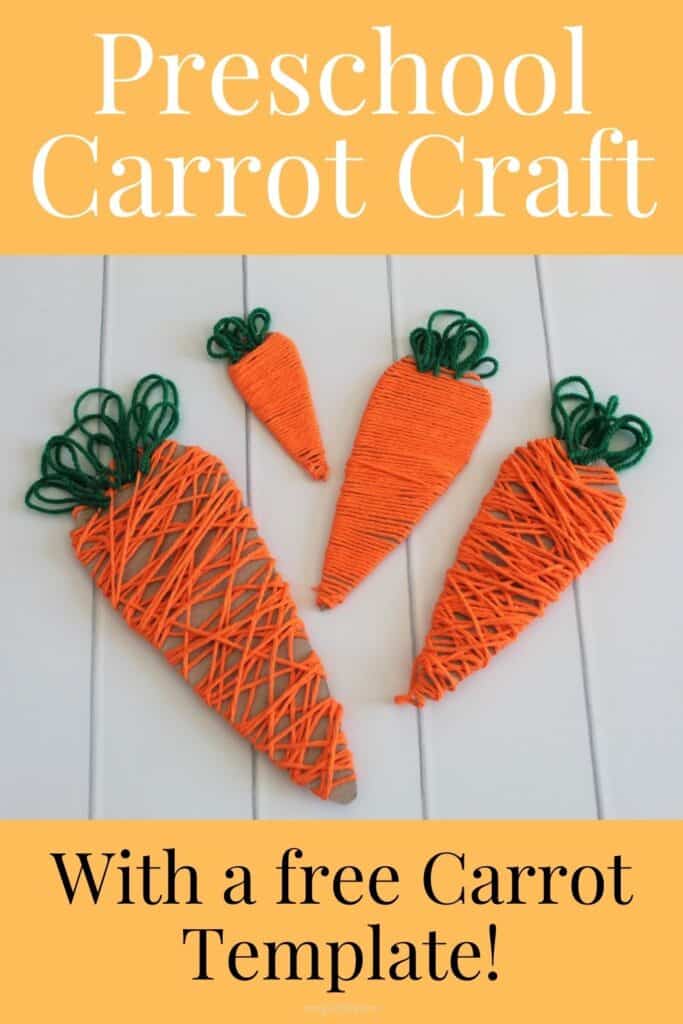 ** Disclaimer: As an Amazon.com Associate, I earn from qualifying purchases made by readers clicking my affiliate links at no extra cost to you.
Supplies for this Preschool Carrot Craft:
– Cardboard – You can use a cereal box or other cardboard from your recycle bin. Or you can use cardstock if you recently recycled!
– Scissors
– Pencil
-Yarn (both orange yarn and green yarn), alternatively you could use ribbon
-Free Carrot Template (Found at the end of this article).
How to Make Yarn Wrapped Carrots:
First, print our your carrot template. Cut out the template.
Place the template on top of your cardboard and trace around the carrot shape. Cut out the cardboard carrot you just traced.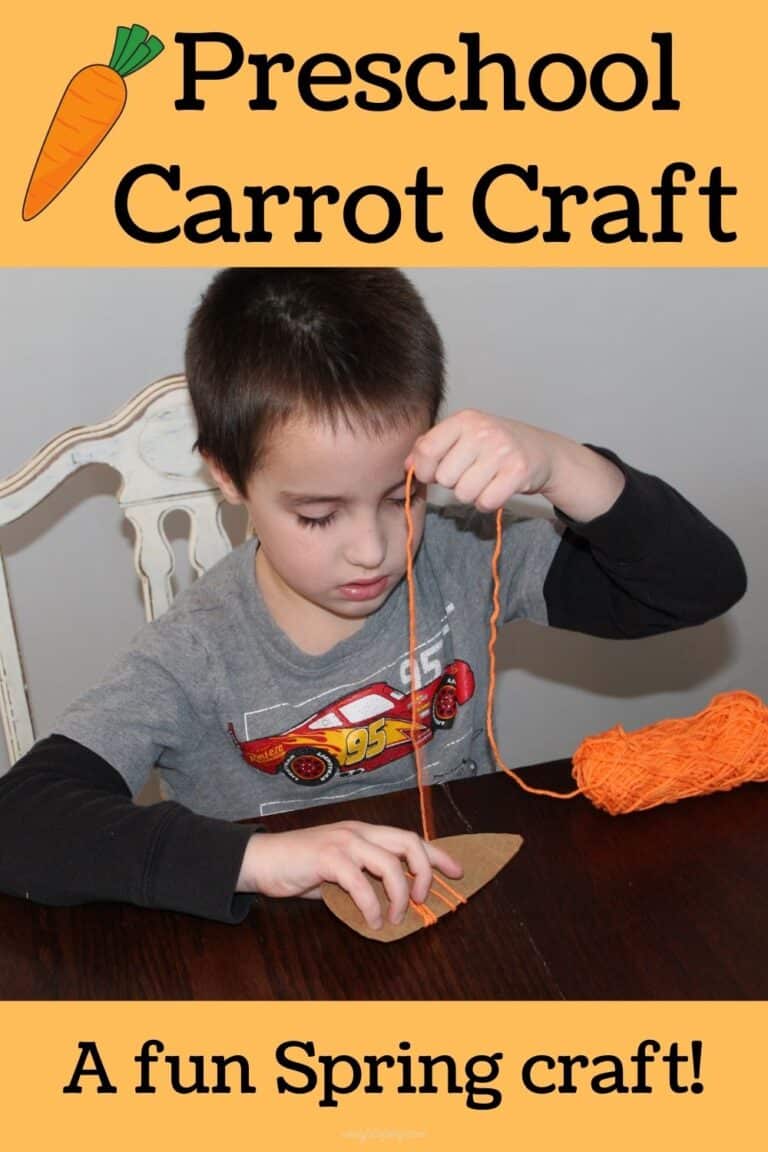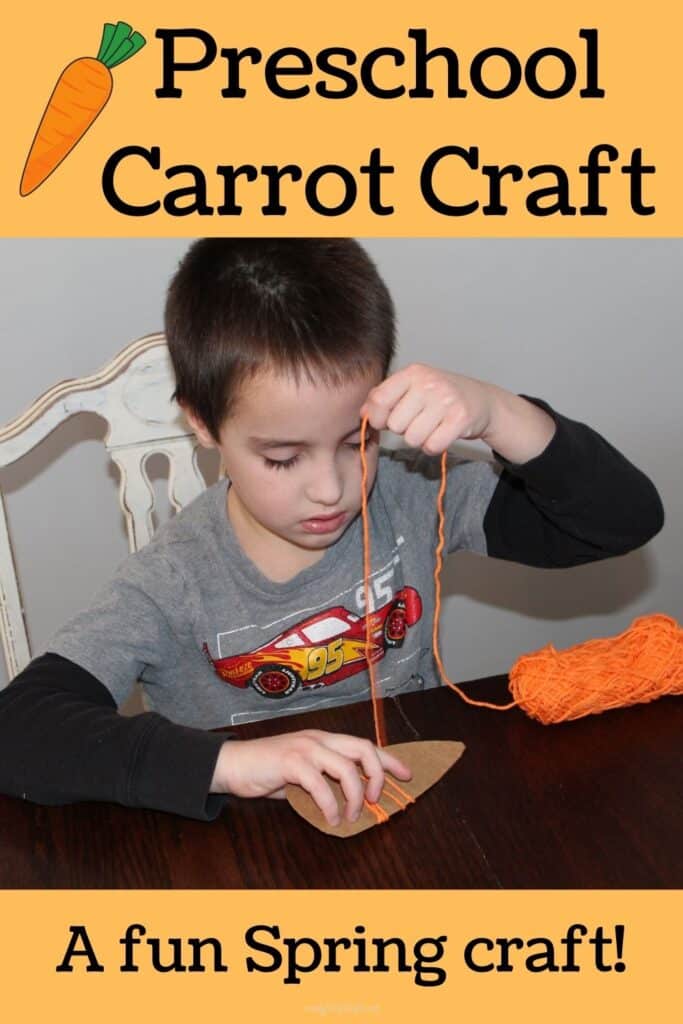 Next, tape the beginning of your orange yarn to the back of your carrot. Now, wrap the carrot with the orange yarn.
I like to start on the right side and move to the left.
Add a bit of glue here and there to help it keep its place. Glue the final piece down.
Finally, it's time to create the green carrot tops. Cut some small green yarn pieces. We varied ours in size from 3 inches to 6 inches. Loop the green yarn and glue to the top of the carrot. Alternatively, you can tape the loops to the back. We did a little of both to achieve the look we wanted for the carrot tops.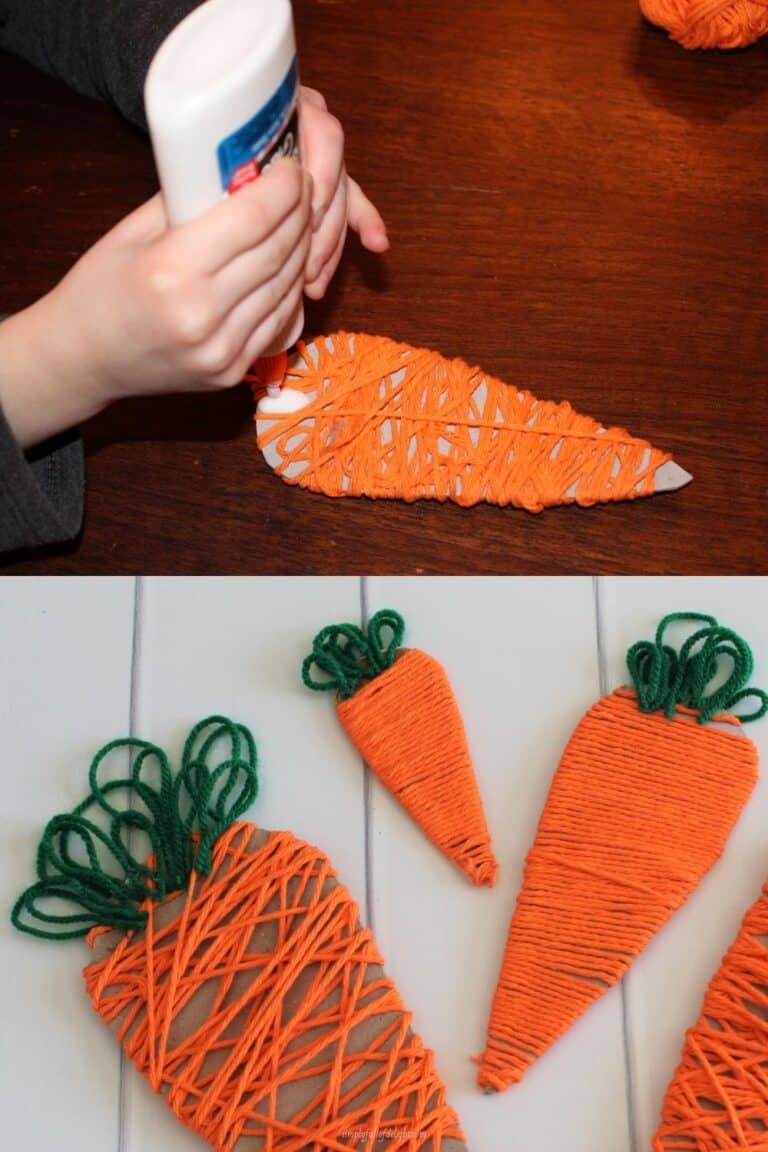 That's it! A fast and easy preschool carrot craft!
Ideas for Displaying your Preschool Carrot Craft
These carrots could be displayed as part of an Easter themed bulletin board with bunnies. (Be sure to check out this paper Easter Bunny Craft).
Or, you could use them as part of a vegetable garden theme placed halfway hidden below some brown construction paper "garden soil" holes or in a wheelbarrow "freshly picked" from the garden.
In addition, they could be used during a nutrition unit, when you talk about vegetables and healthy food.
Whichever way you use them, they are sure to bring some smiles from your preschoolers!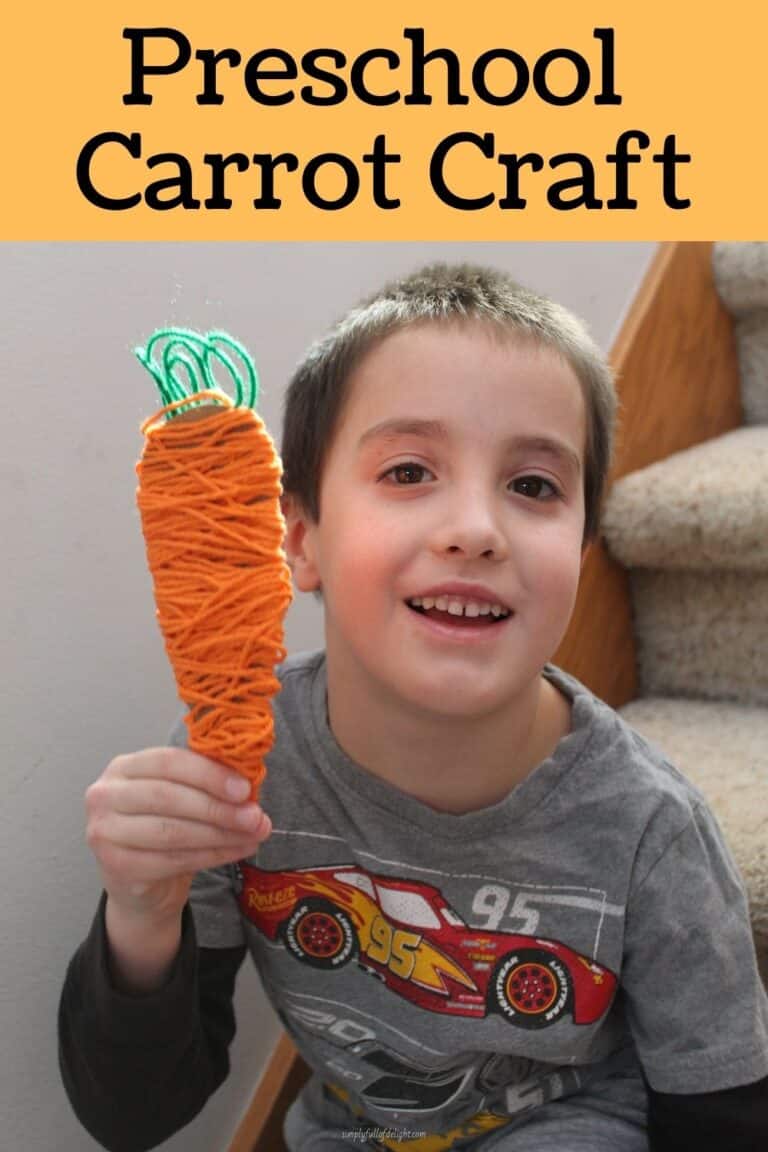 Books to go with this Preschool Carrot Craft
These carrots would pair wonderfully with the book The Carrot Seed by Ruth Krauss. This story is about a boy who is told his carrot seed won't grow, but he is persistent with taking care of it despite what everyone says. His persistence pays off in the end!
If you aren't familiar with The Carrot Seed you can find it here:
Alternatively, you could use one of the many Bunny themed books seen here. Many are perfect for an Easter theme.
One of my personal favorite children's books about gardening, bunnies, and carrots is Muncha! Muncha! Muncha! by Candace Fleming.
It's about an old man who plants a garden but each night, a group of bunnies comes and eats his vegetables, so every day he builds something new to keep them out. It's a funny story that my kids adore with a sweet ending about sharing.
More Spring Preschool Activities
If you are looking for more Spring themed Preschool Activities, be sure to check out my Spring Preschool Learning Pack on Etsy. There's 9 super fun activities, perfect for school, homeschool, and daycare.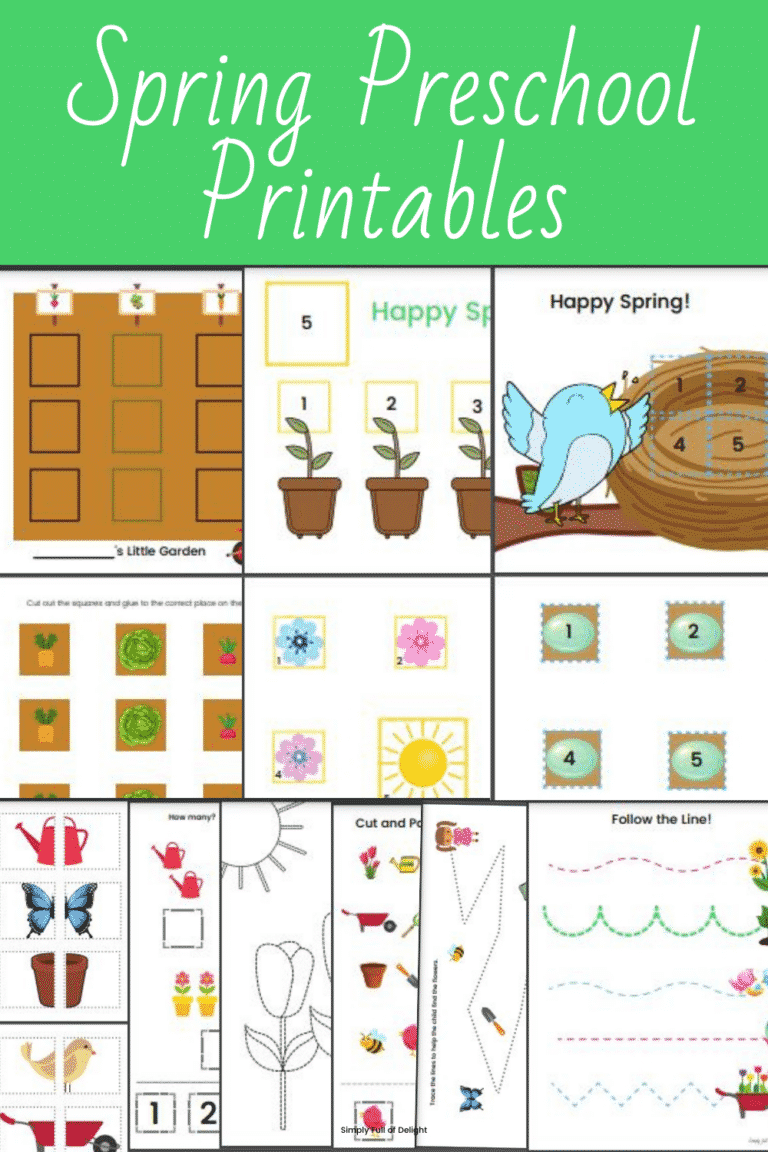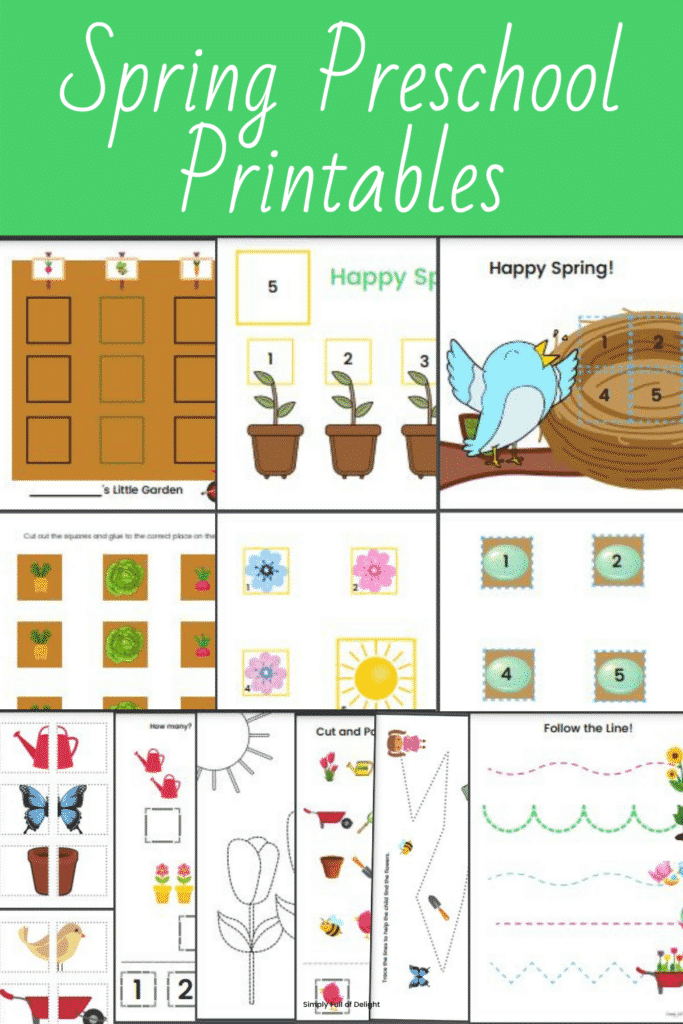 The activities can be printed out for your own child or printed and laminated for use by multiple children in a school setting. You can check the Spring Preschool Learning Pack here. And as a thank you for visiting my blog you can get 20% off! Simply use coupon code: CARROT on any purchase!
Free Carrot Template
Alright, and as promised here is the Free Carrot Template!
You can use these printable templates as carrot stencils for this yarn carrot craft or you can find other creative ways to use it as well. These carrot printables can be colored, painted, or used for your own carrot craft ideas too!
Ready to print the template? Simply click the download button below to grab the digital file for the free printable carrot templates and get started making your yarn wrapped carrots!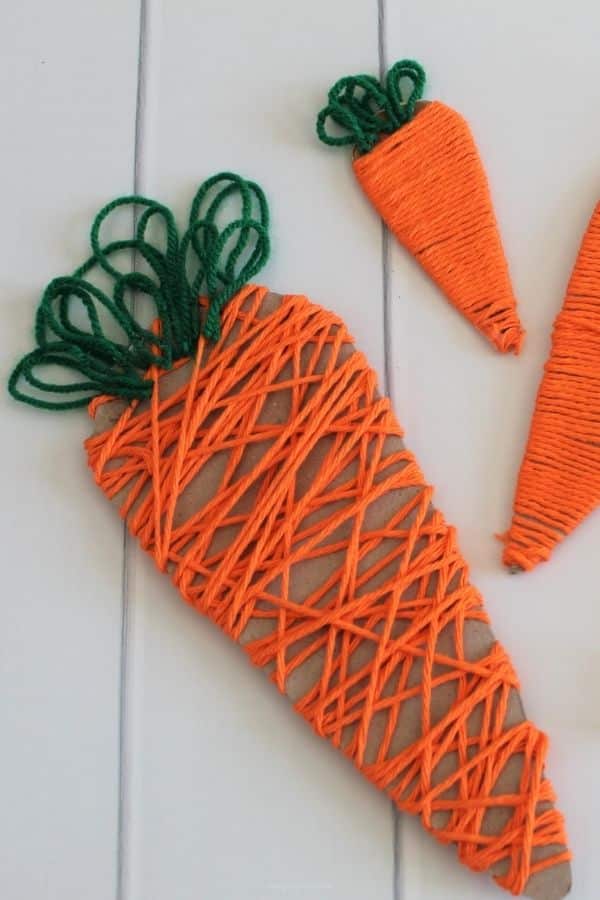 More Easter Crafts & Activities
Kids will love coloring and creating their own Happy Easter Banner. So much fun! You can find the free templates for the Printable Easter Banner here.
You can find amazing Easter Basket Fillers here in this article on Easter Gifts for Kids.
There's a really fun Easter Egg Symmetry Craft here. You can grab the Free Egg Template to make it super easy!
Want another carrot craft? Check out this Carrot Stamping craft for kids. The carrot shapes are made with actual carrots and the carrot top is a fork print. It's too cute!
There's also some I Spy activities and Free Easter Coloring Sheets here. You'll find bunny coloring pages, Easter eggs, and more! Perfect for building fine motor skills in a fun way!
Plus, don't miss this adorable Marble Paint Easter Egg Craft. It's an easy craft with the free egg template that's perfect for toddlers and preschoolers.