Looking for an Easy Paper Mummy Craft for kids? Check out this Marble Painting Preschool Mummy Craft! It's super easy with the free printable Mummy template!
With Halloween coming up quick, we've been enjoying some fun Halloween crafts for kids! We've enjoyed making Witch hat headbands and Black Cat puppets.
It seemed like the perfect time to add a creative mummy craft to our Halloween craft ideas. This marble paint mummy craft is the perfect way to celebrate a spooky holiday in a not TOO spooky way for little ones.
If you have been looking for a fun mummy craft idea that is great for little hands, this is a great diy mummy kids craft for young ones!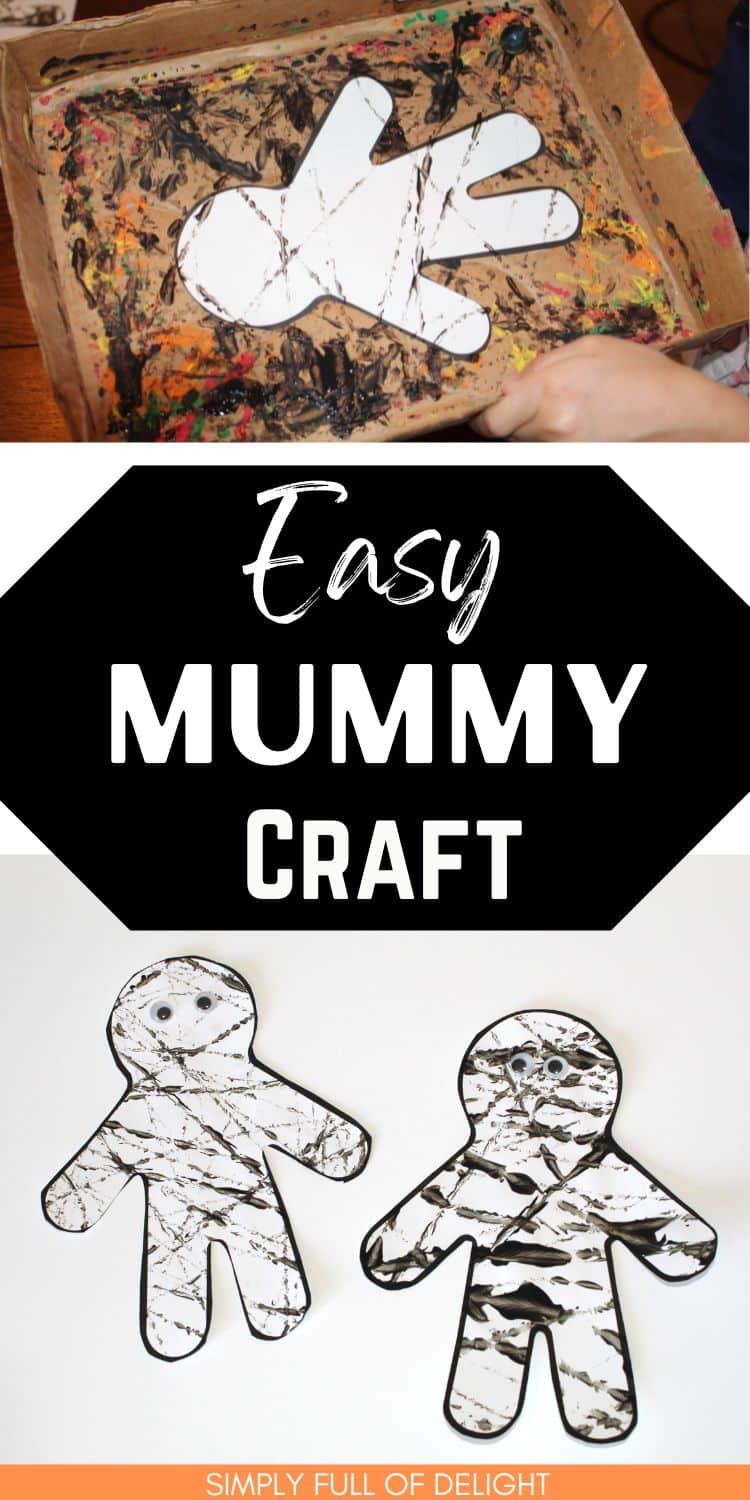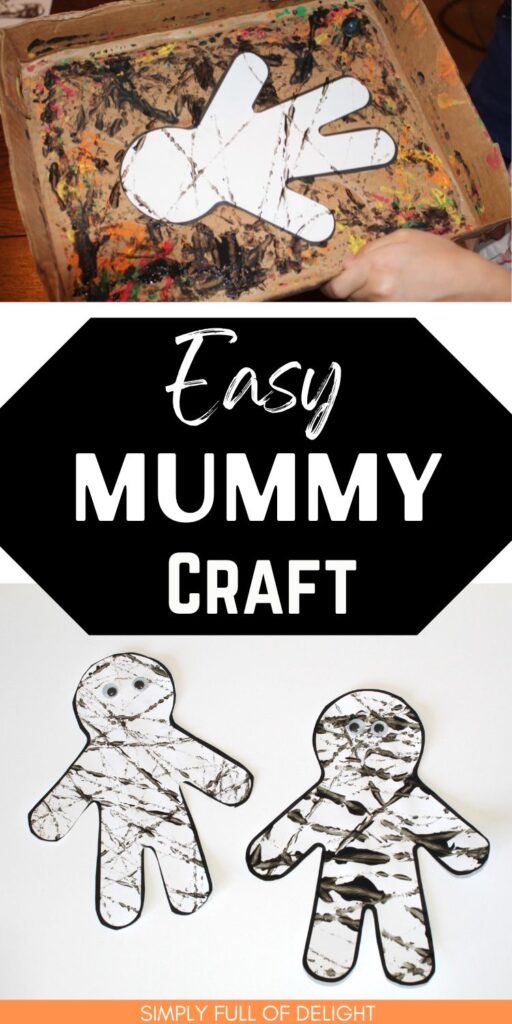 Painting with marbles is super easy for little ones and you'll love how cute this mummy craft turns out!
What are the benefits of Marble Painting?
Science World says that Marble Painting allows little ones to practice their hand eye coordination, fine motor skills, and observation skills.
I love that it's a fun way for kids of all ages to be creative and little ones find it exciting.
Marble painting is definitely a favorite in our household! Plus, the finished craft is always so cool looking!
Alright! Let's get started on our marble painting Easy Paper Mummy Craft for kids!
** Disclaimer: As an Amazon.com Associate, I earn from qualifying purchases made by readers clicking my links at no extra cost to you.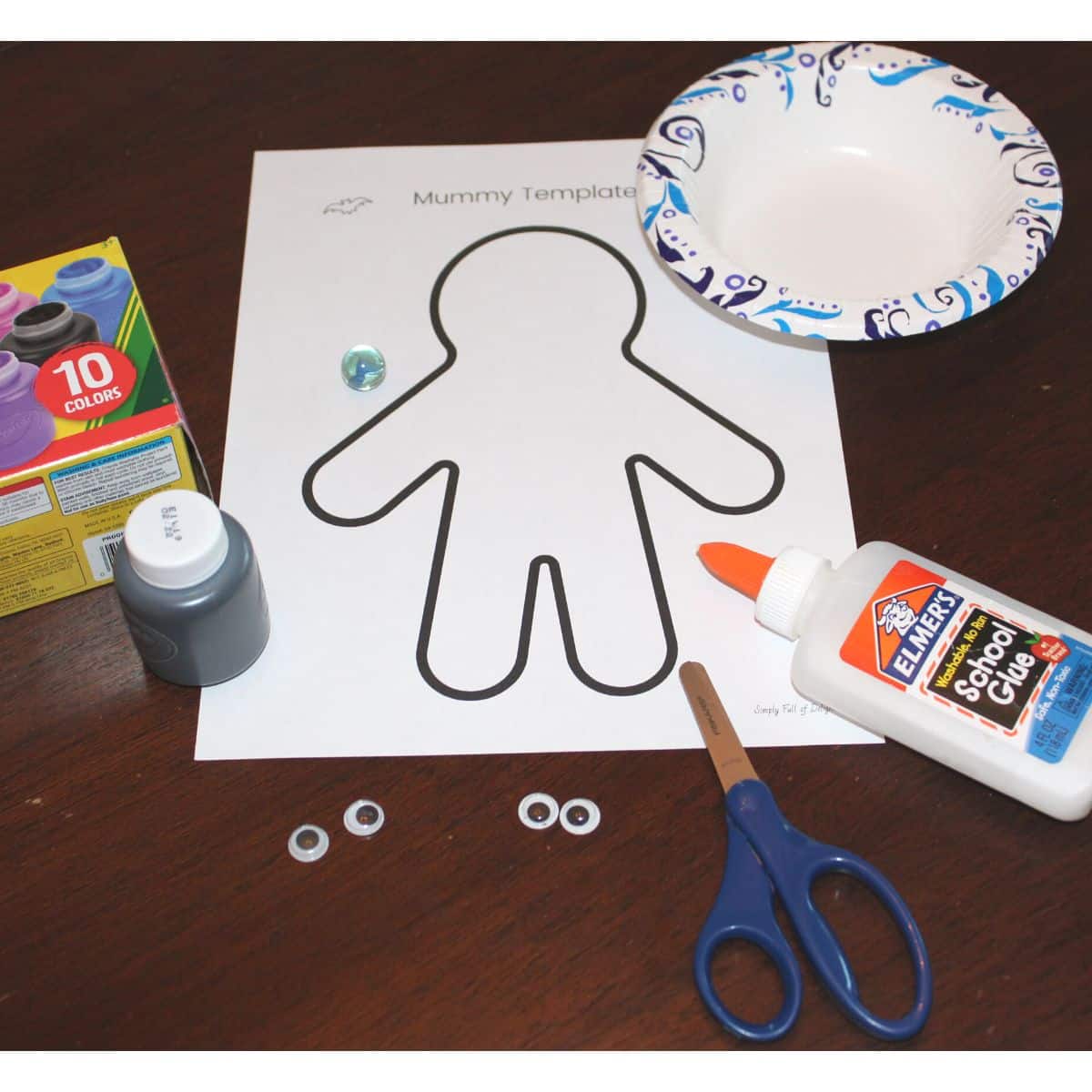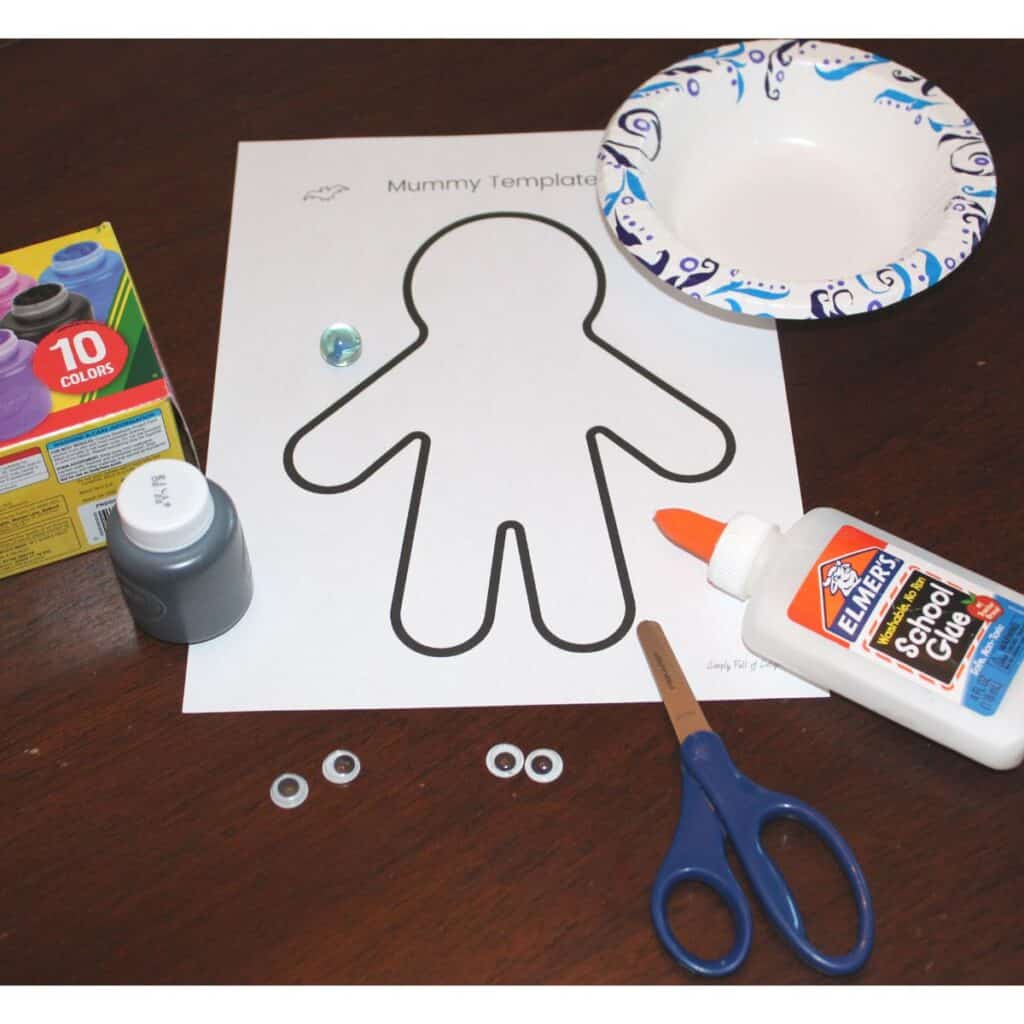 Supplies for Preschool Mummy Craft
For this mummy craft you will need:
A printed copy of the mummy template on white paper (I highly recommend printing on cardstock)
Black Washable Kids Paint (We love this paint from Crayola)
A few Marbles ( you might also like to experiment with small balls of different sizes.)
Kid Safe Scissors (we love the Fiskars Blunt tips scissors the best)
Bowl for Paint (or paper plates also work)
Googly eyes (we choose to use a medium size wiggly eye)
A Box that isn't too shallow or too deep, that a child can maneuver easily. We used a box from the canned goods section from a local store.)
Baby Wipes or Paper Towels – in case things get a little messy!
Let's start these cute mummies!
How to Make an Easy Mummy Craft
Here's a video of the process…or just simply read on!
First, print out the mummy craft template.
My template is just a basic mummy shape.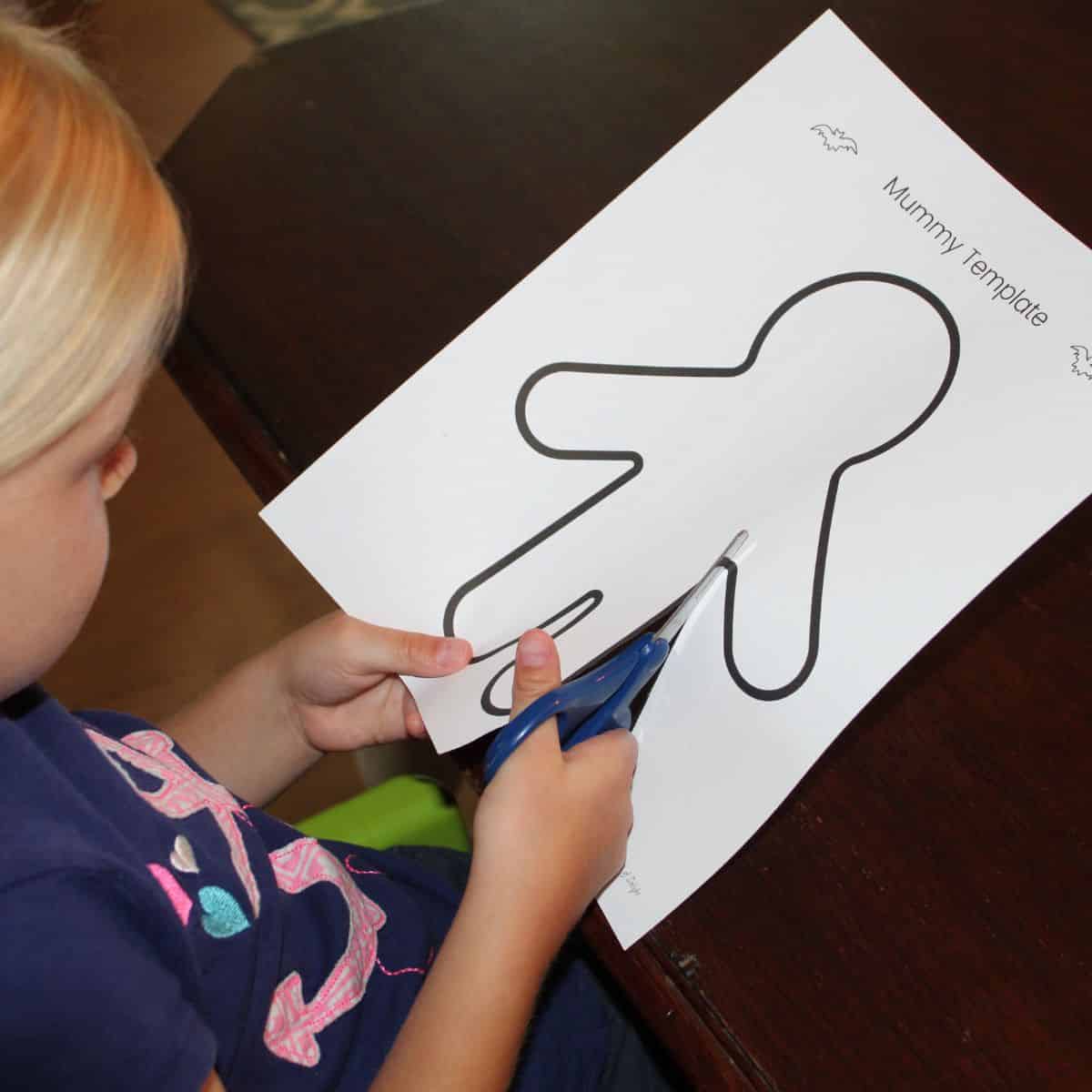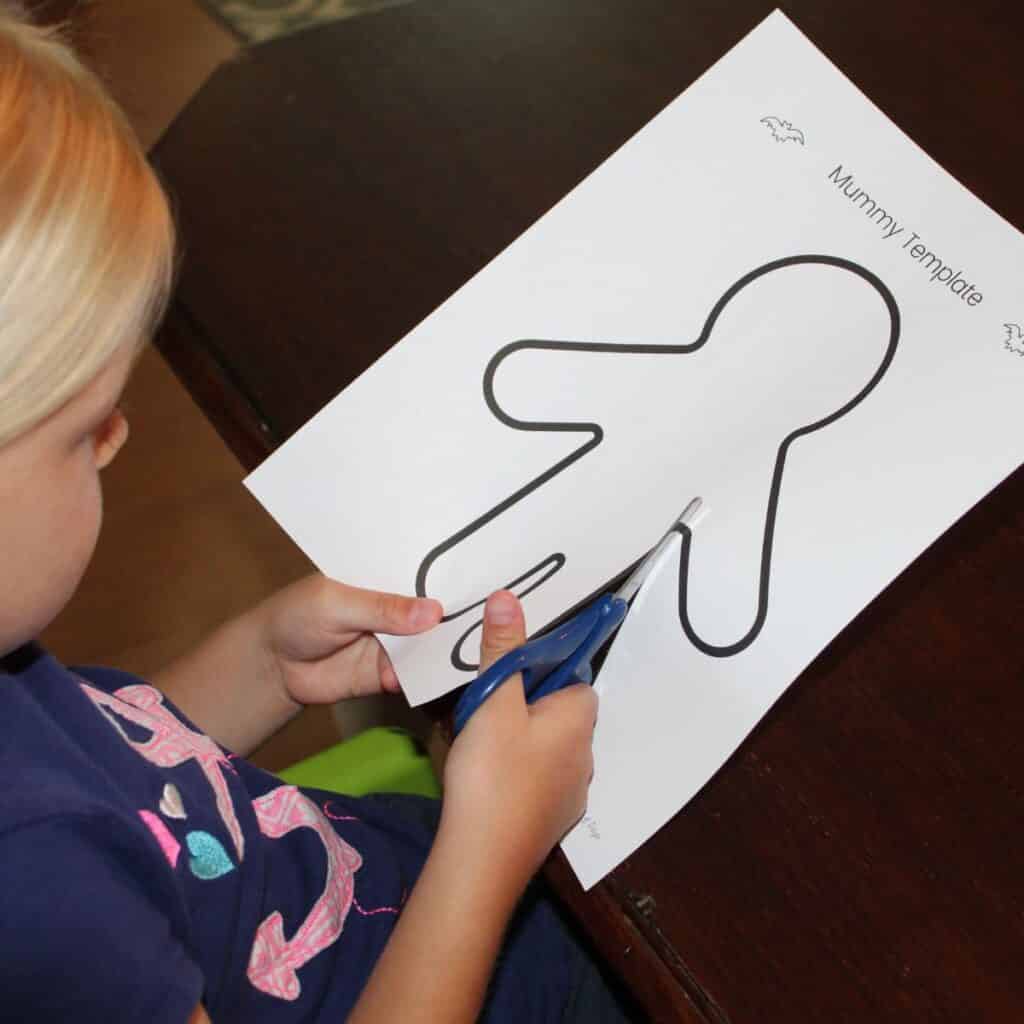 I find that crafts are simplified when I use a template, so I created this simple mummy pattern for you.
You can grab the outline of a mummy template in my Resource library for my email subscribers.
I recommend printing the template on cardstock to make it more sturdy, but regular paper will work just fine.
Next, it's time for your little ones to practice their scissor skills!
With child safe scissors, have your child cut out the mummy template.
Older preschoolers won't have much trouble cutting out this simple template, but if you have younger children, they may need a little help.
If you are doing this in a classroom setting, this is a great time to have the kids write their name on the back of the mummy!
Now it's time to marble paint our preschool mummy craft!
Marble Painting a Mummy Craft – Preschool
Place the mummy template in the shallow box. Pour a little bit of black paint into the bowl.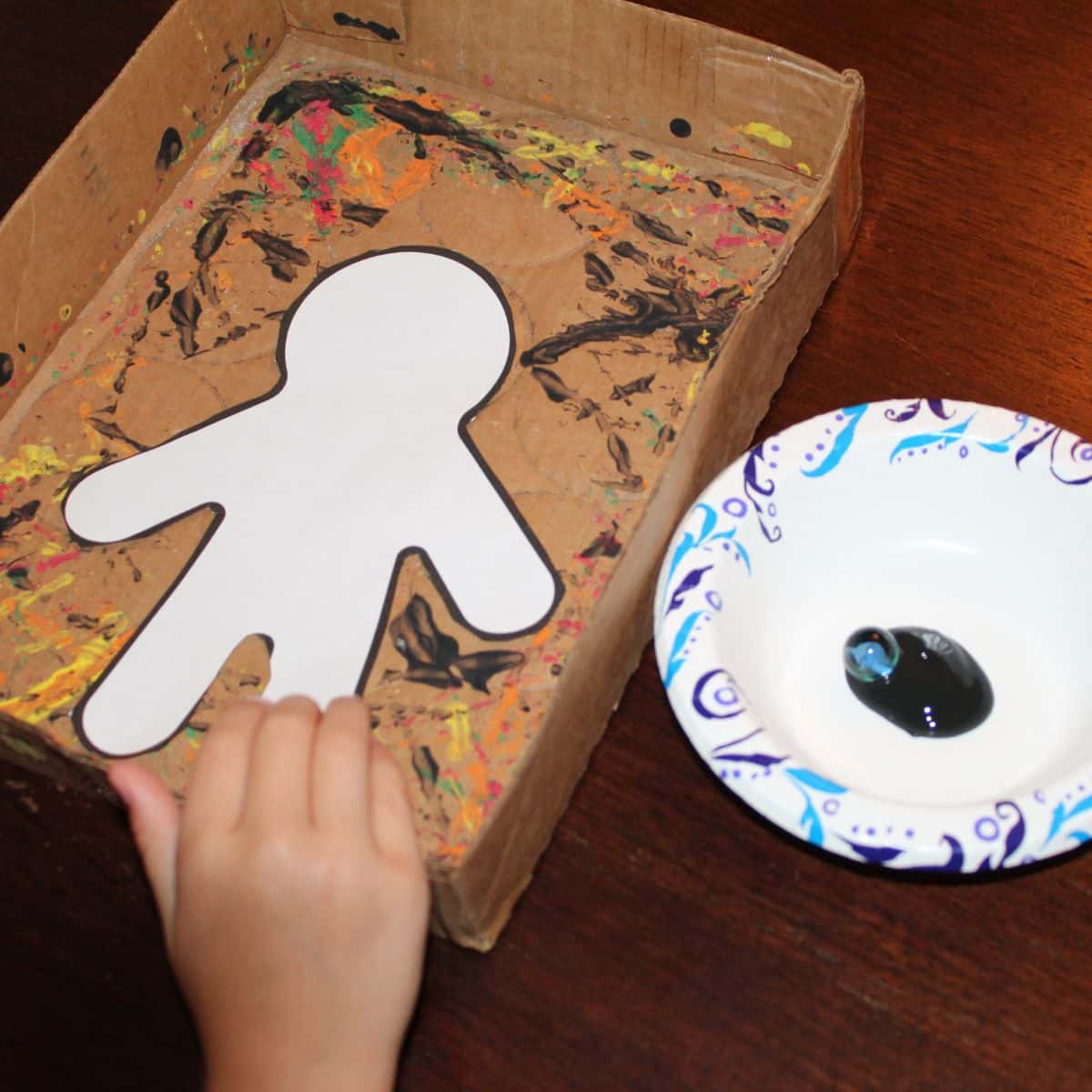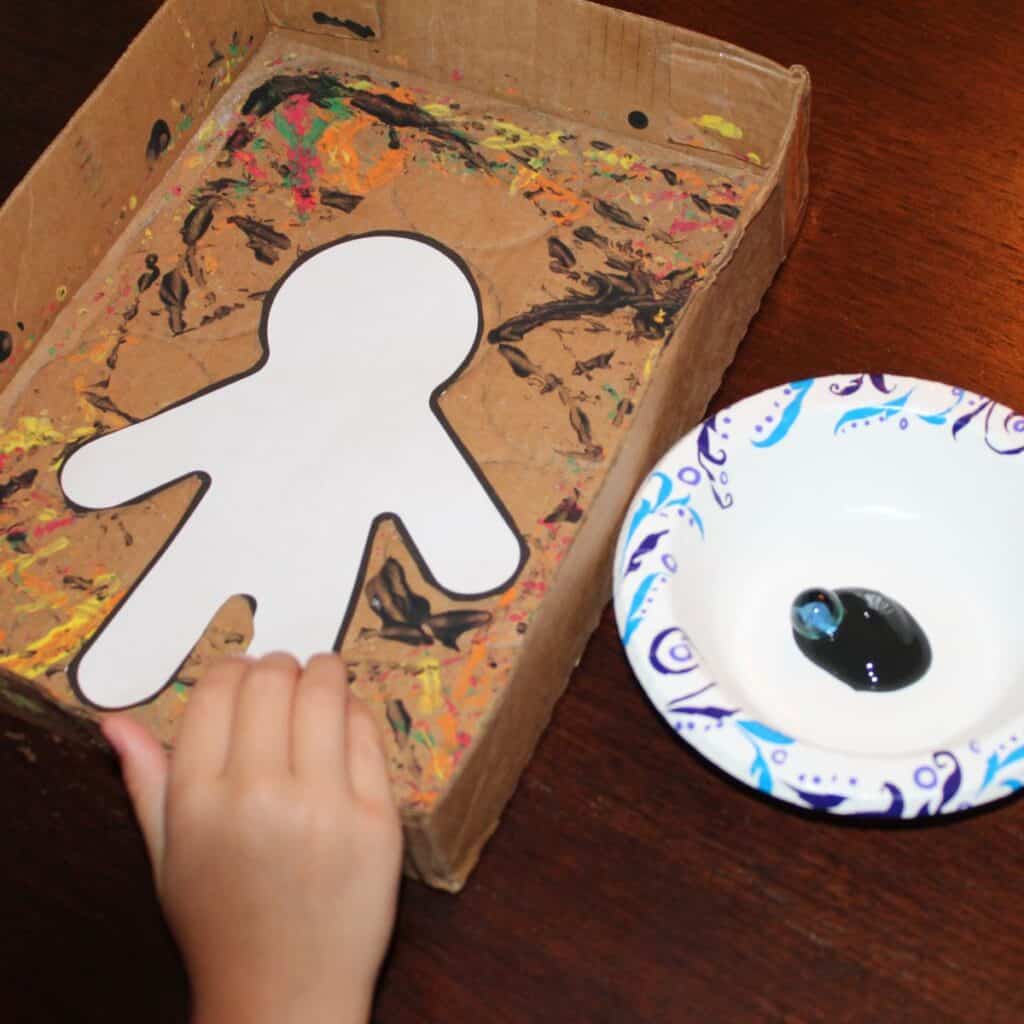 Have your child roll the marble into the paint and then pick up the paint covered marble and place it into the shallow box.
I like to have them place the paint covered marble to the side (not on the mummy) to avoid big splotches of paint on the actual mummy, but that's totally up to you!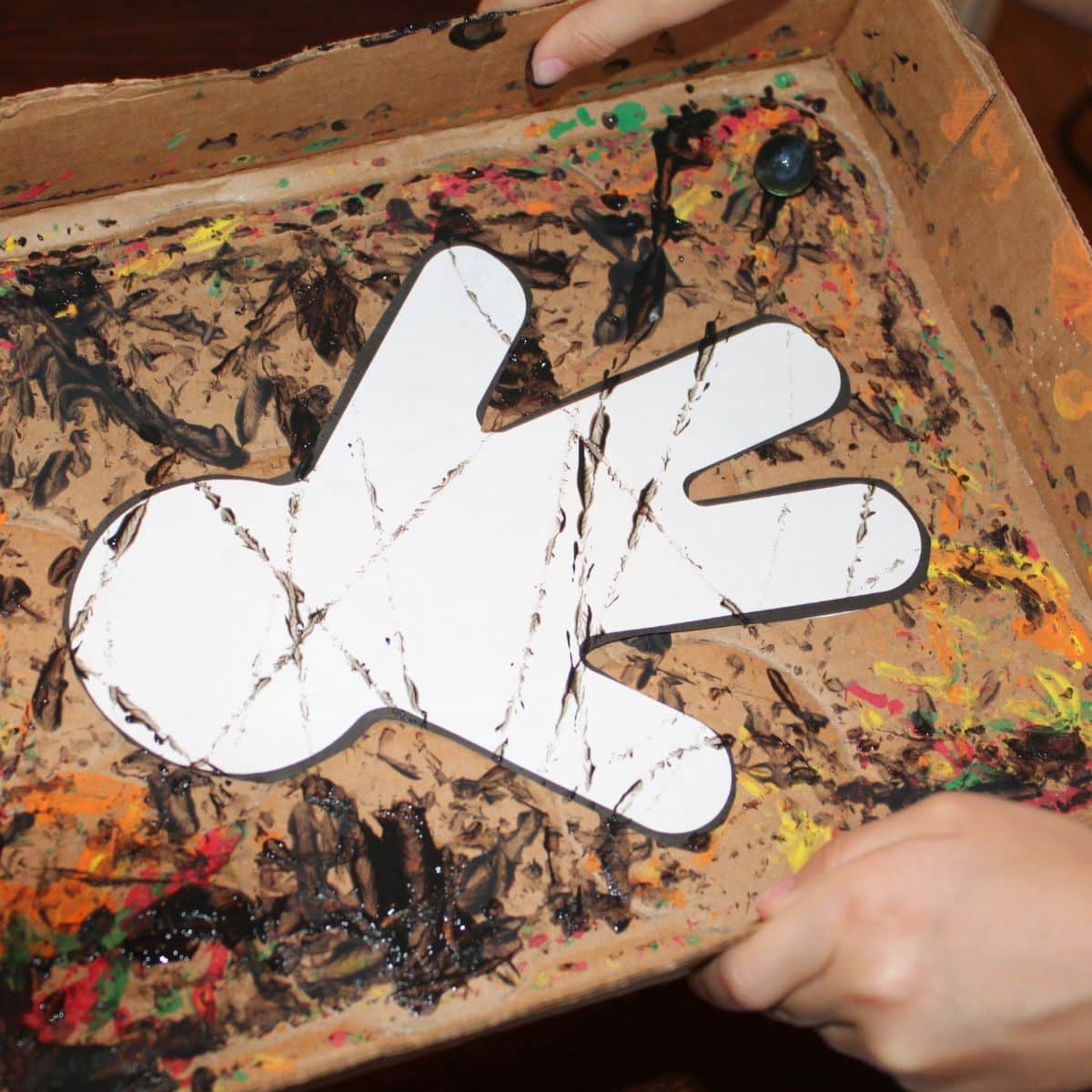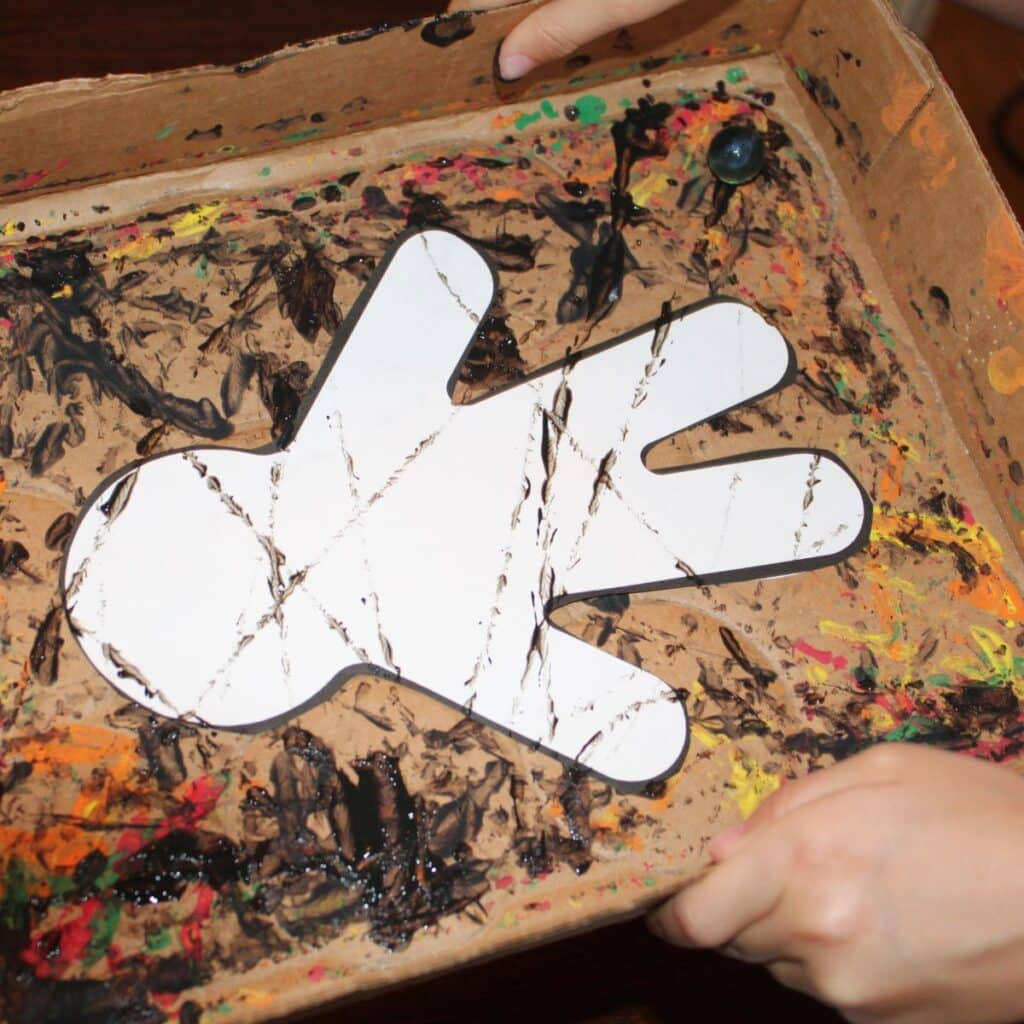 With the child holding the box, show them how to move the box up and down and side to side and observe how this makes the marble travel inside the box leaving marble trail marks on the mummy template.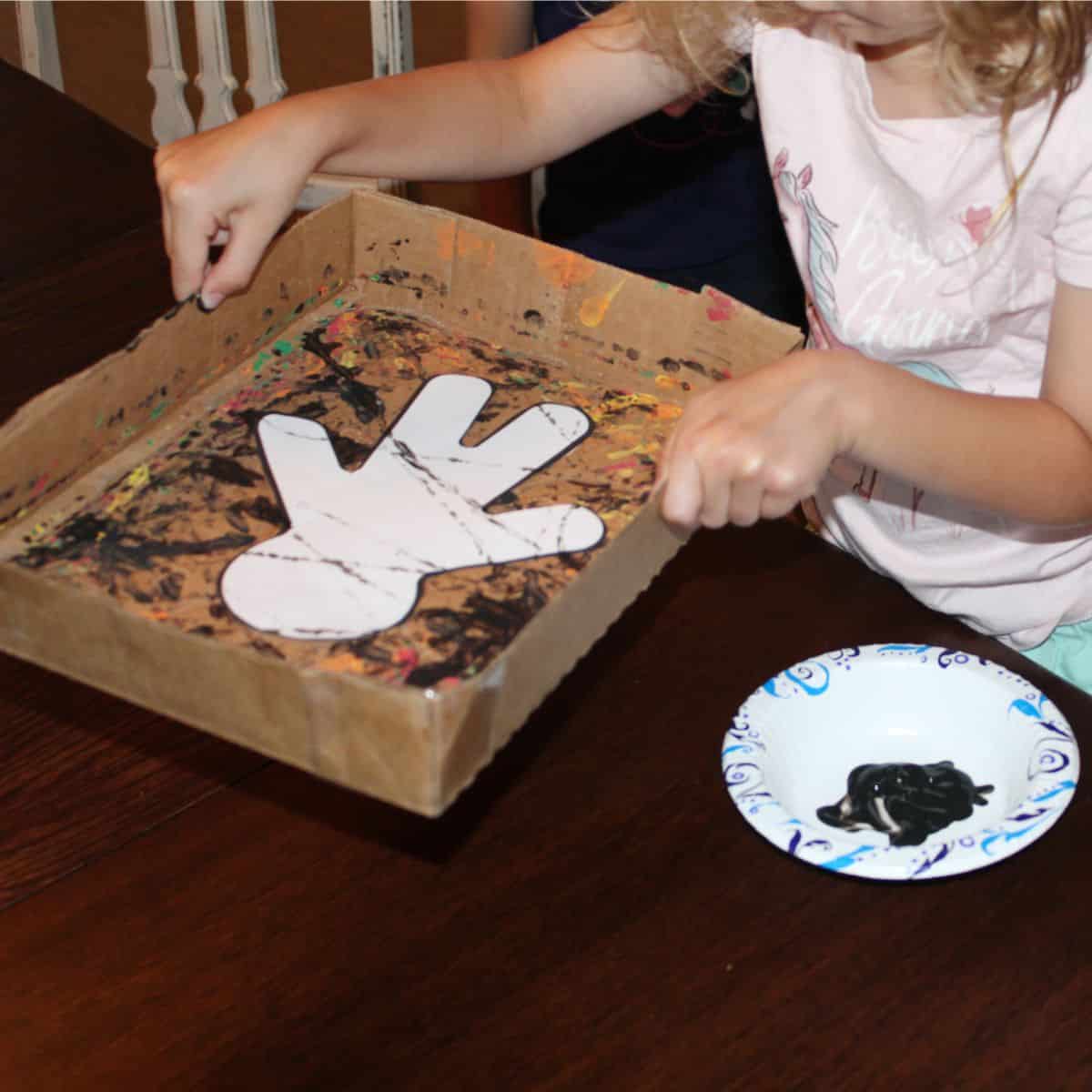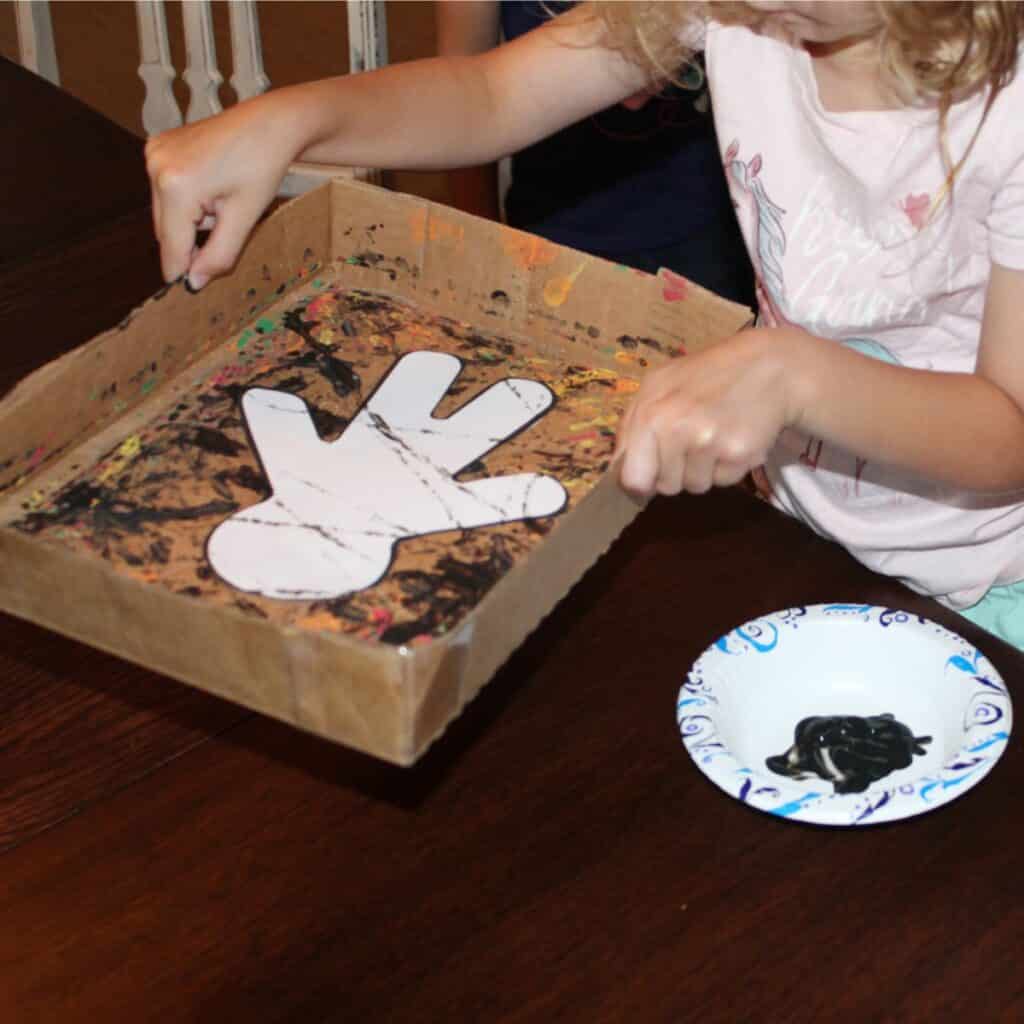 You might like to let your child experiment with different sized marbles or small balls.
I think the mummy looks best when there's a good amount of black paint marble trails on it.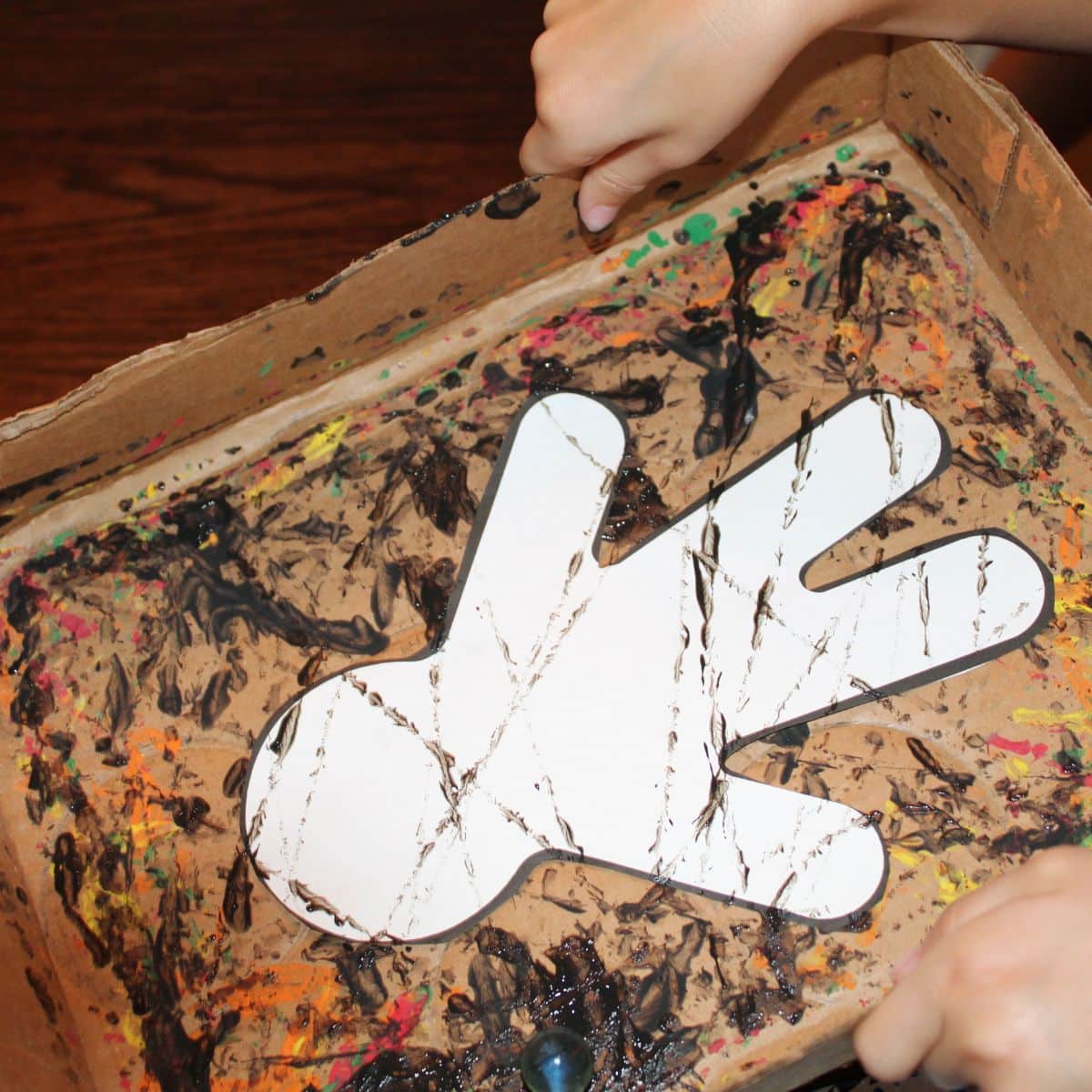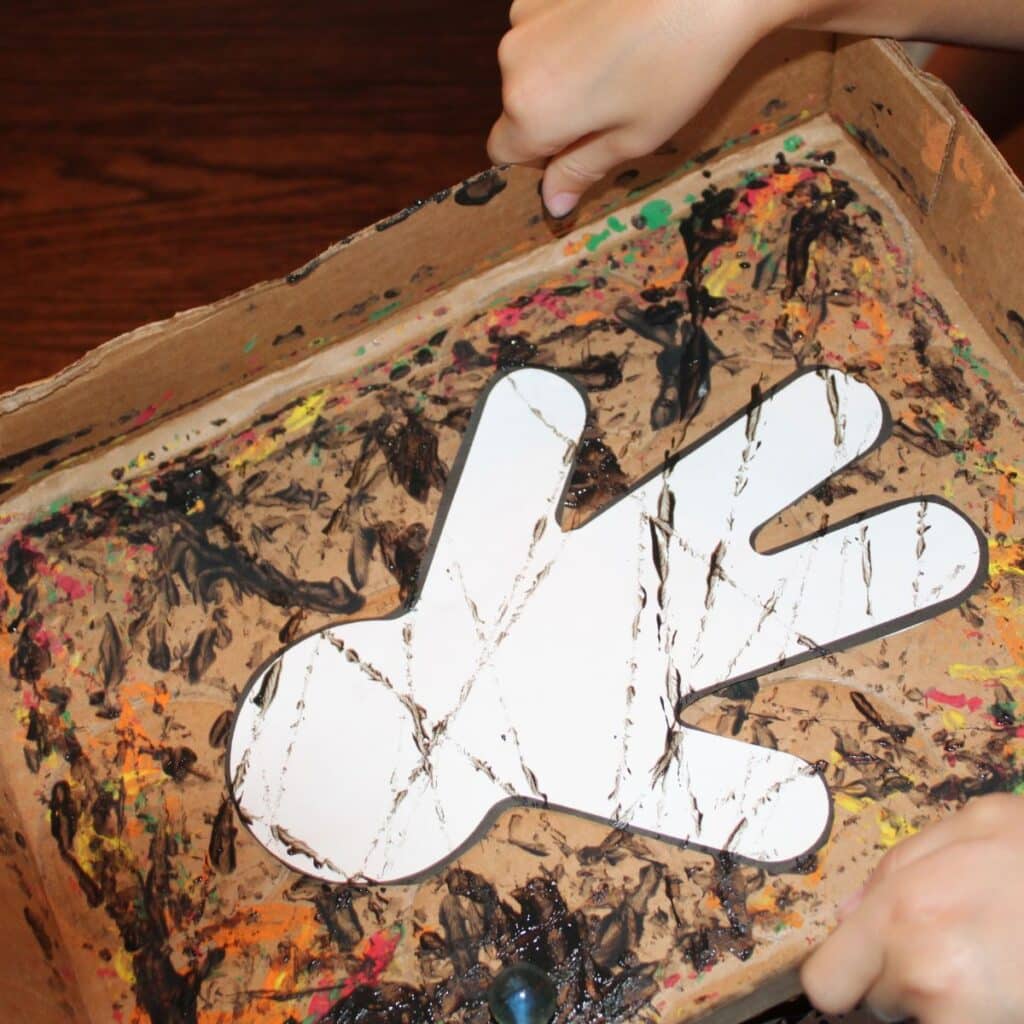 We used a regular size marble, but we also tested a bouncy ball as well, for fun. I think I personally liked the marble results the best.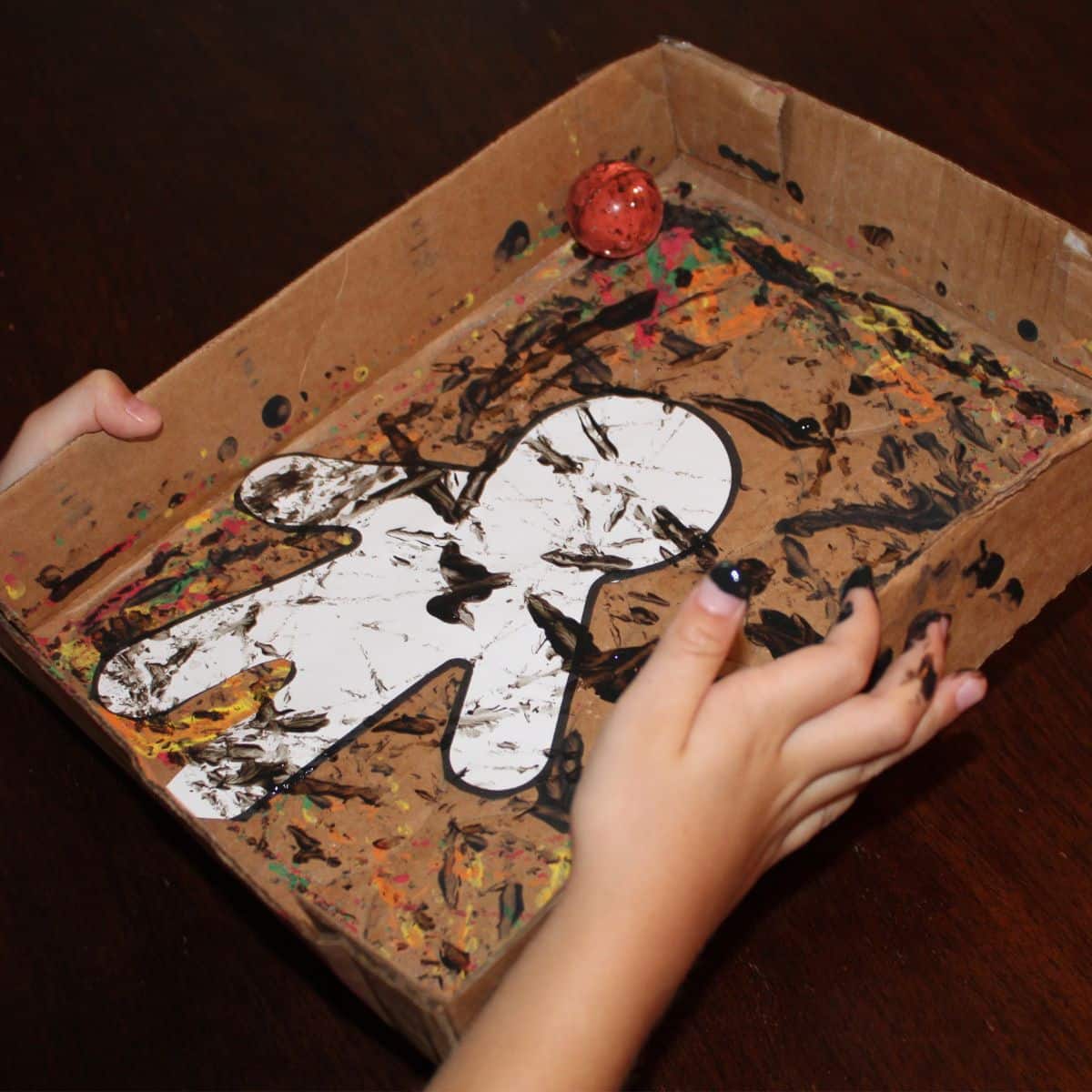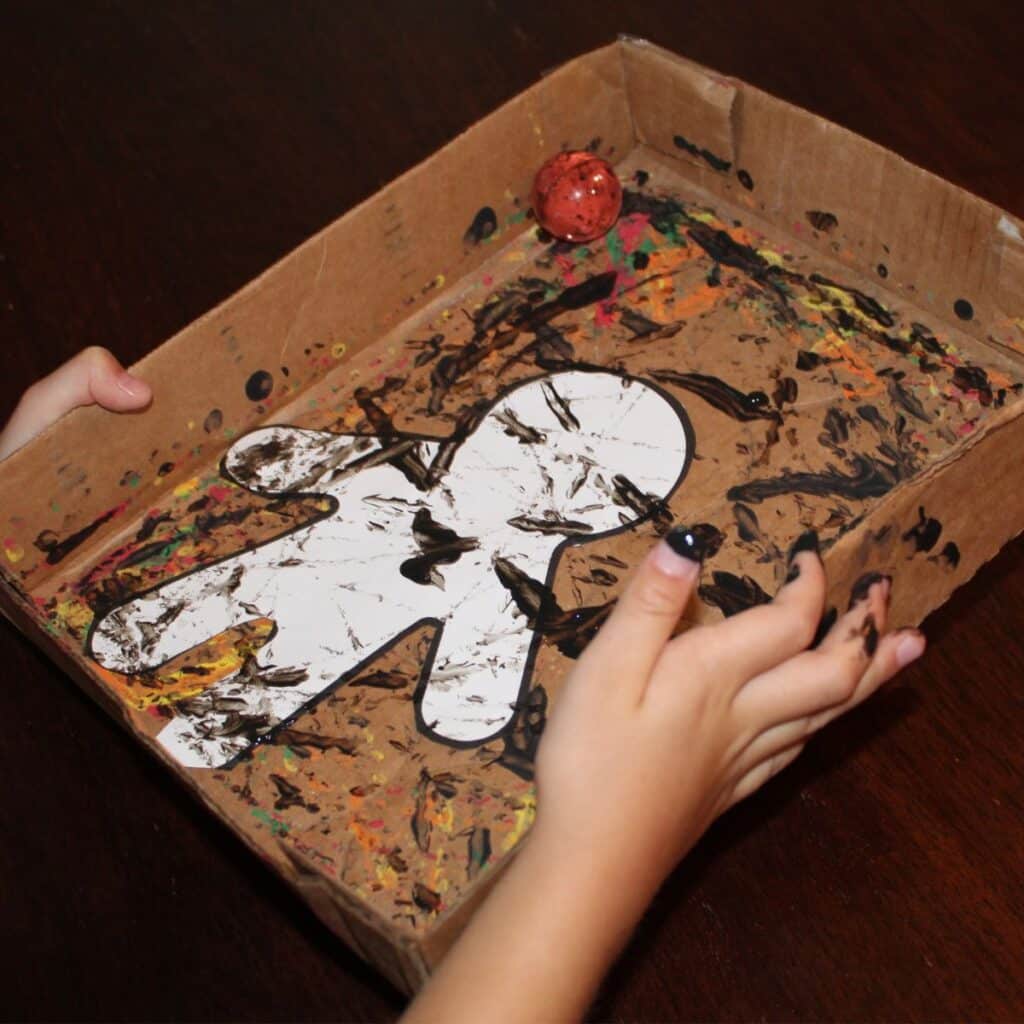 (Have baby wipes or paper towels nearby just in case!)
Set aside the mummy preschool craft to dry.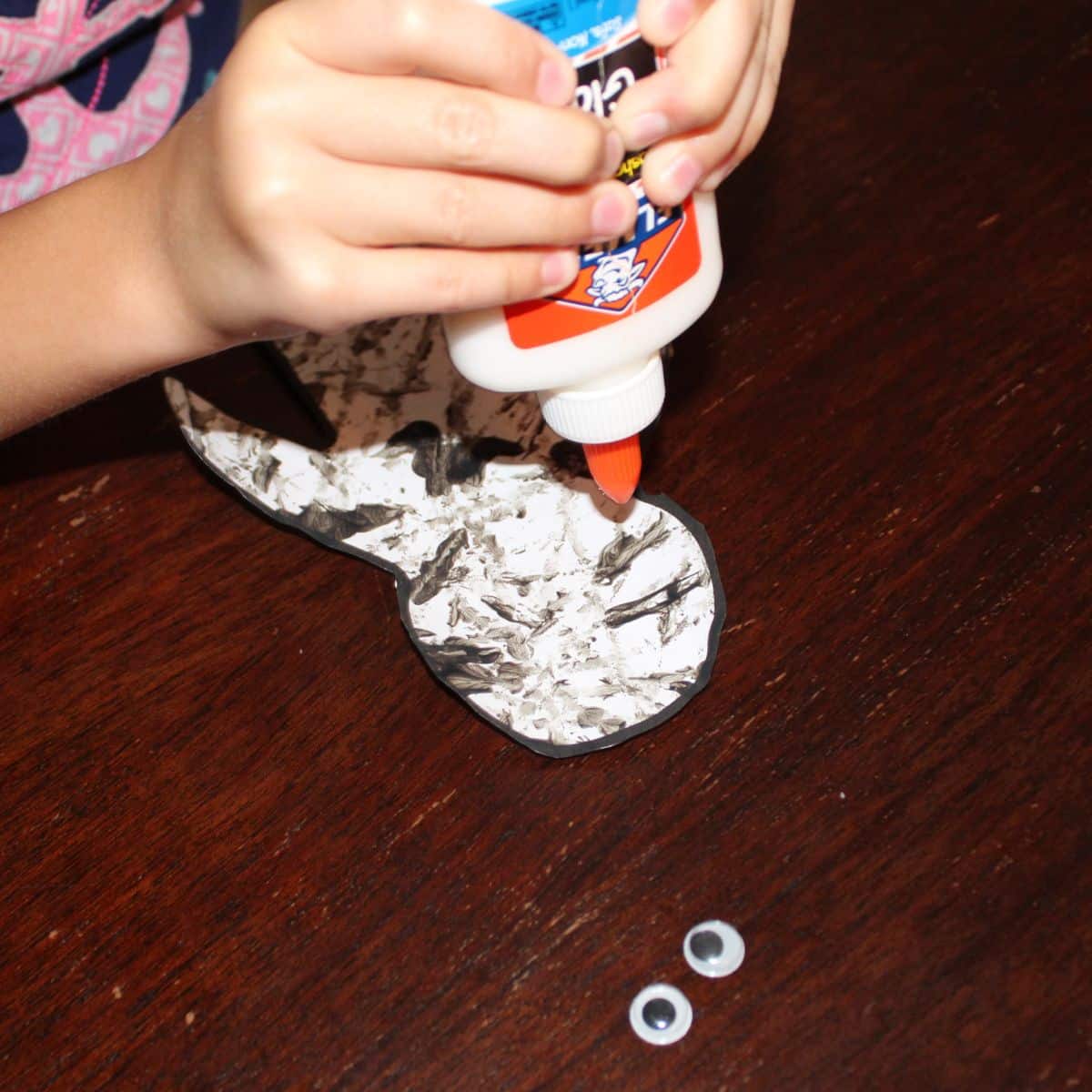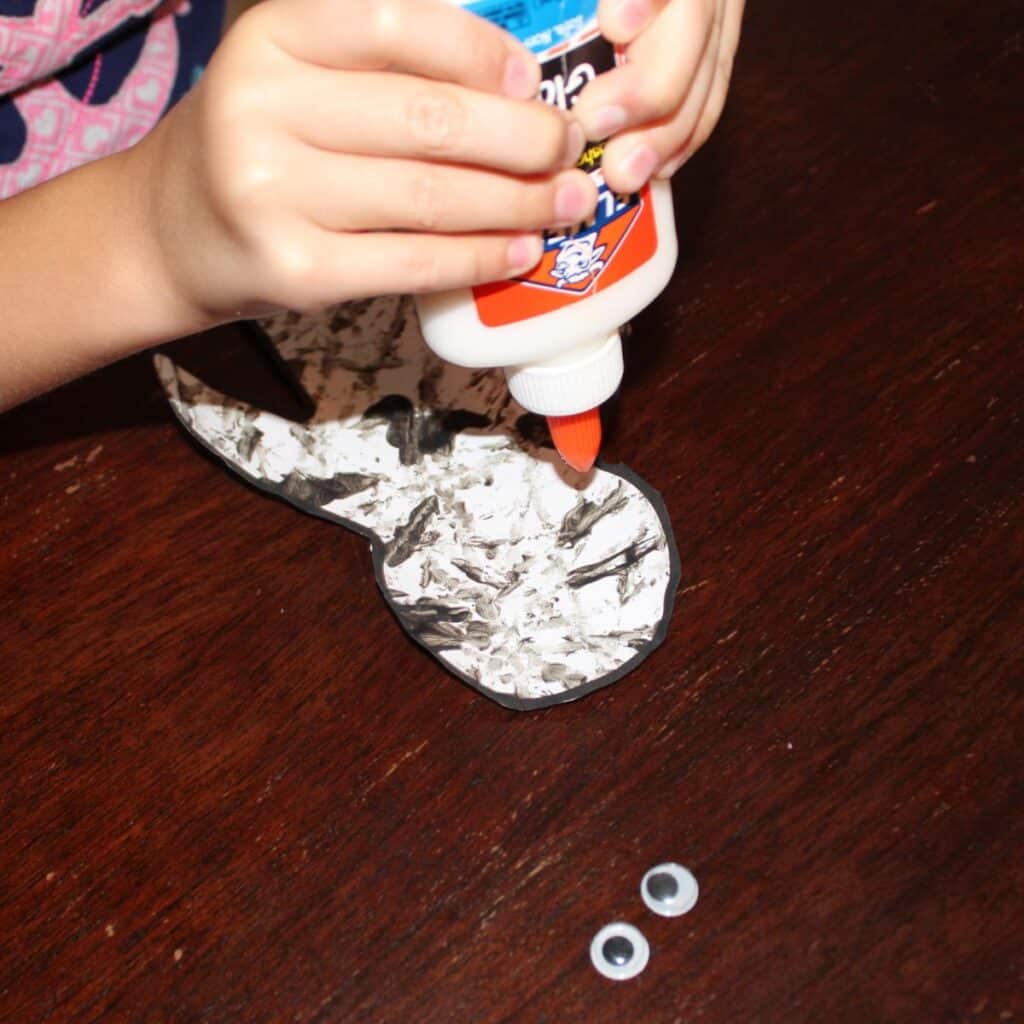 When it is dry, kids can glue on the mummy's eyes. All you need to do is glue a set of googly eyes to the head of the mummy using Elmer's glue.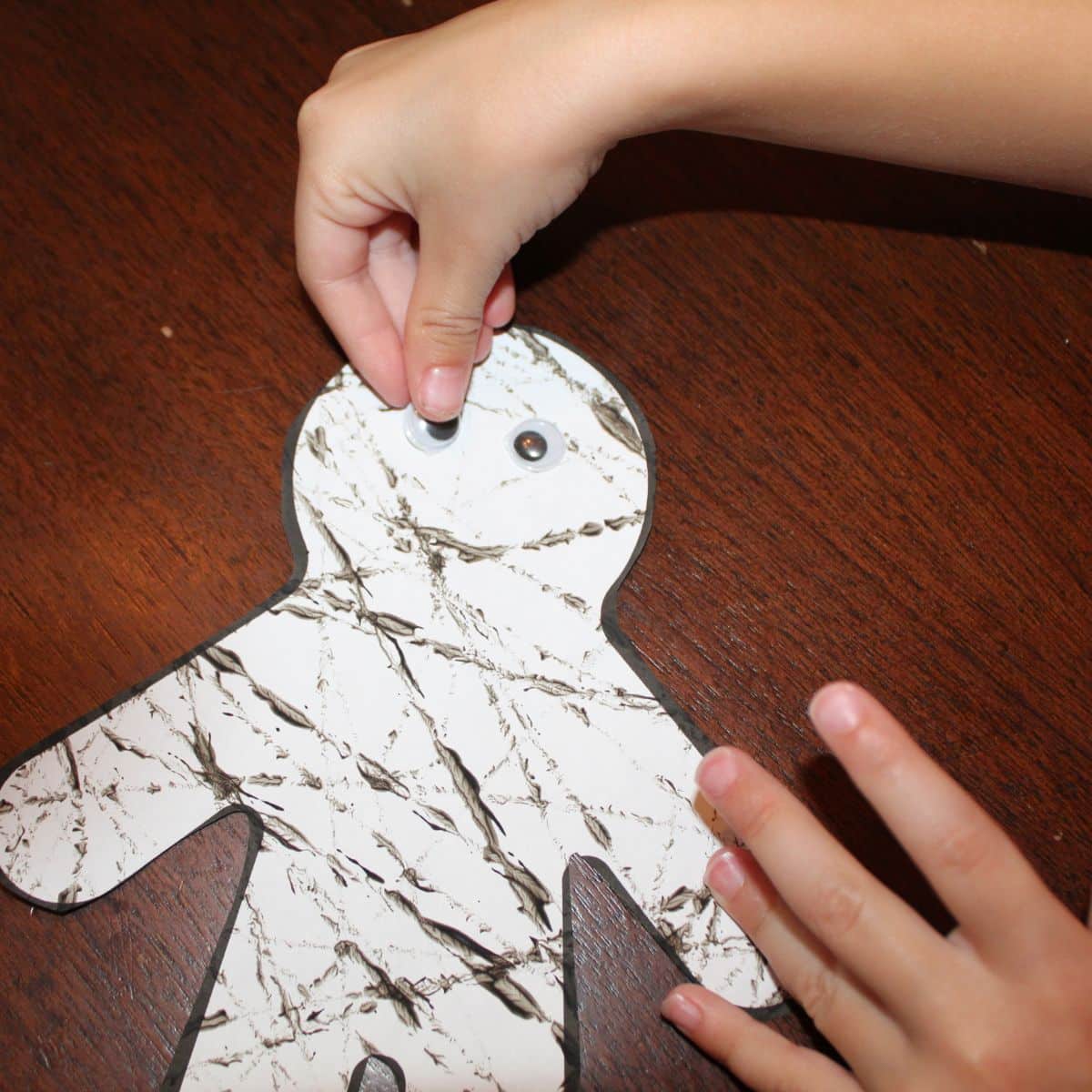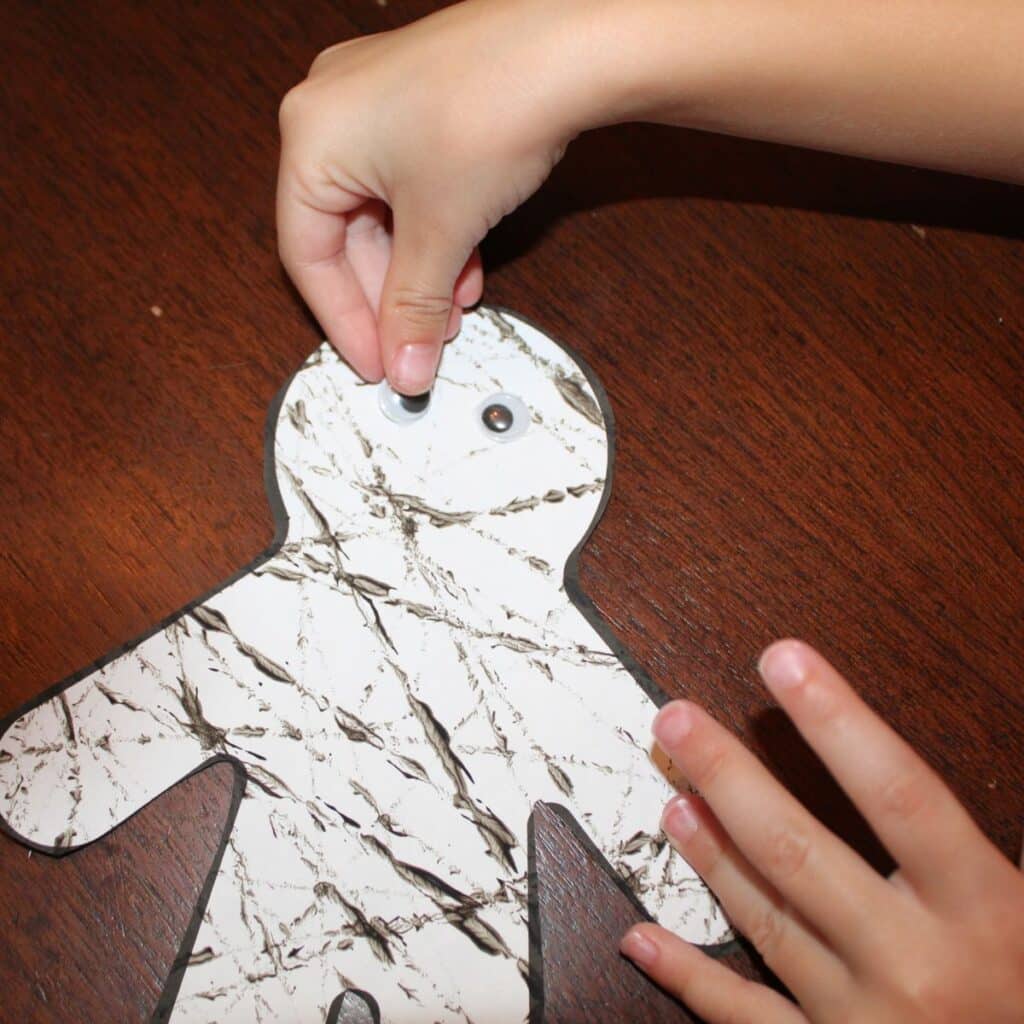 And….that's it! Easy peasy!
I hope you and your child enjoy making this easy Mummy Craft for preschool!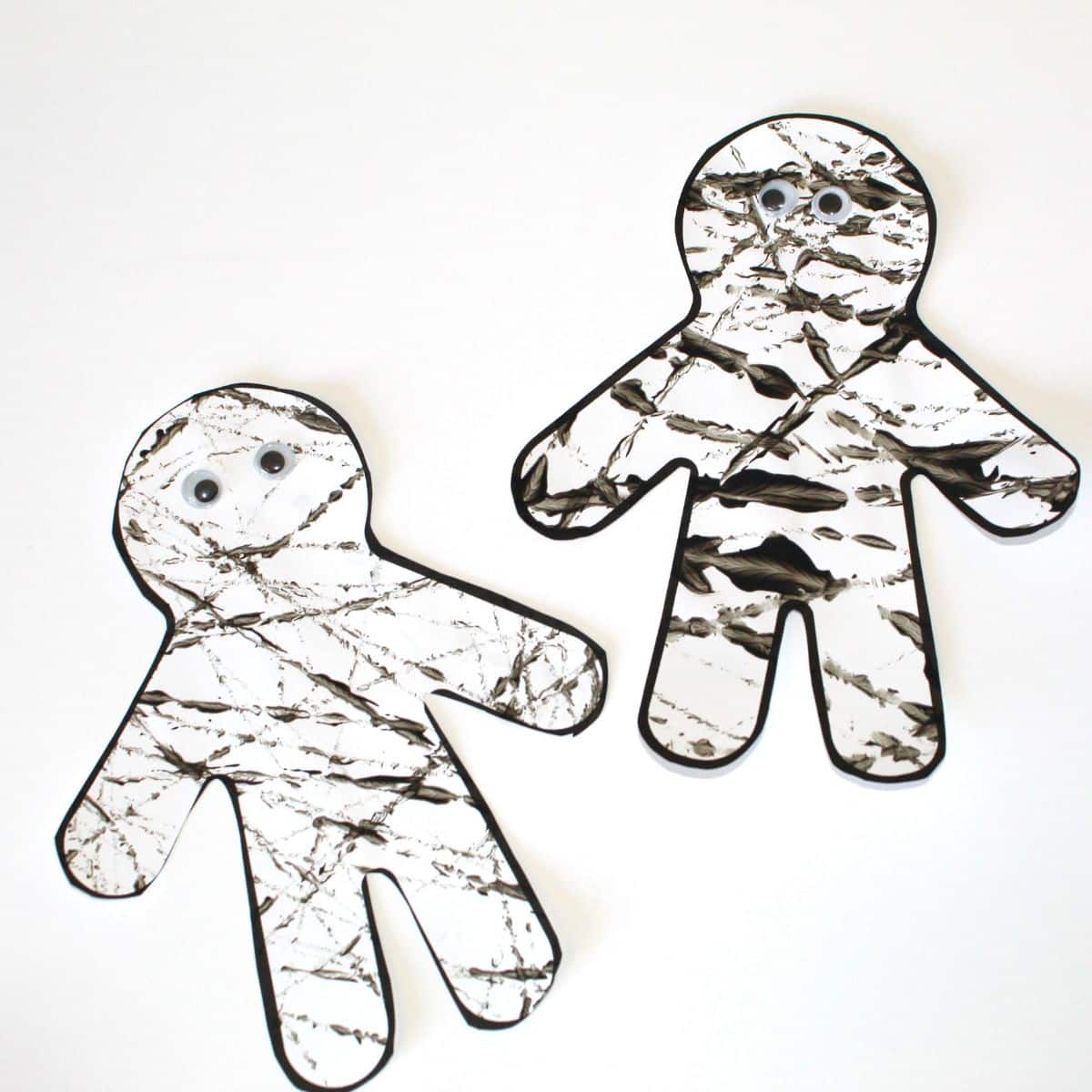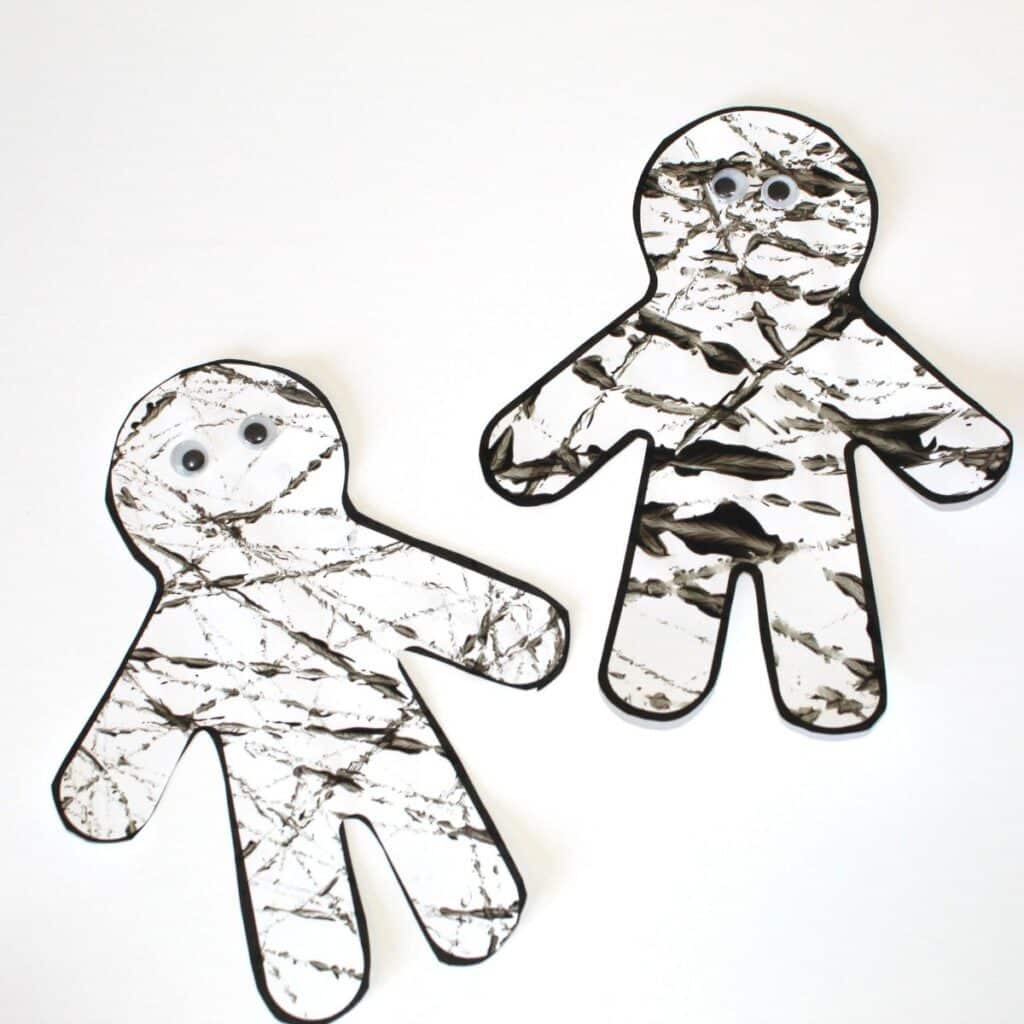 You might find it fun to do this craft at Halloween parties.
These simple craft mummies also make cute Halloween decoration ideas.
Grab the free Printable Mummy Craft Template PDF!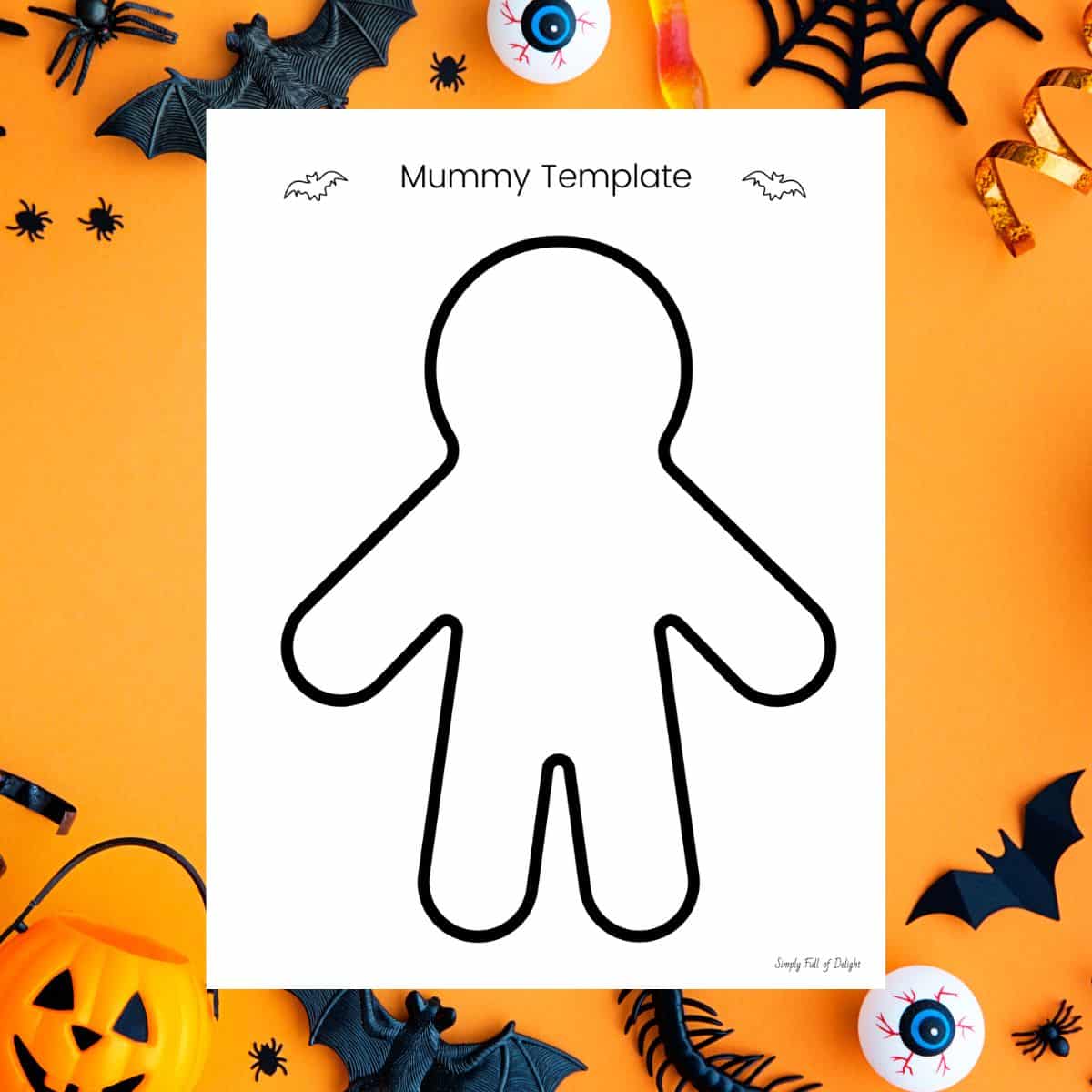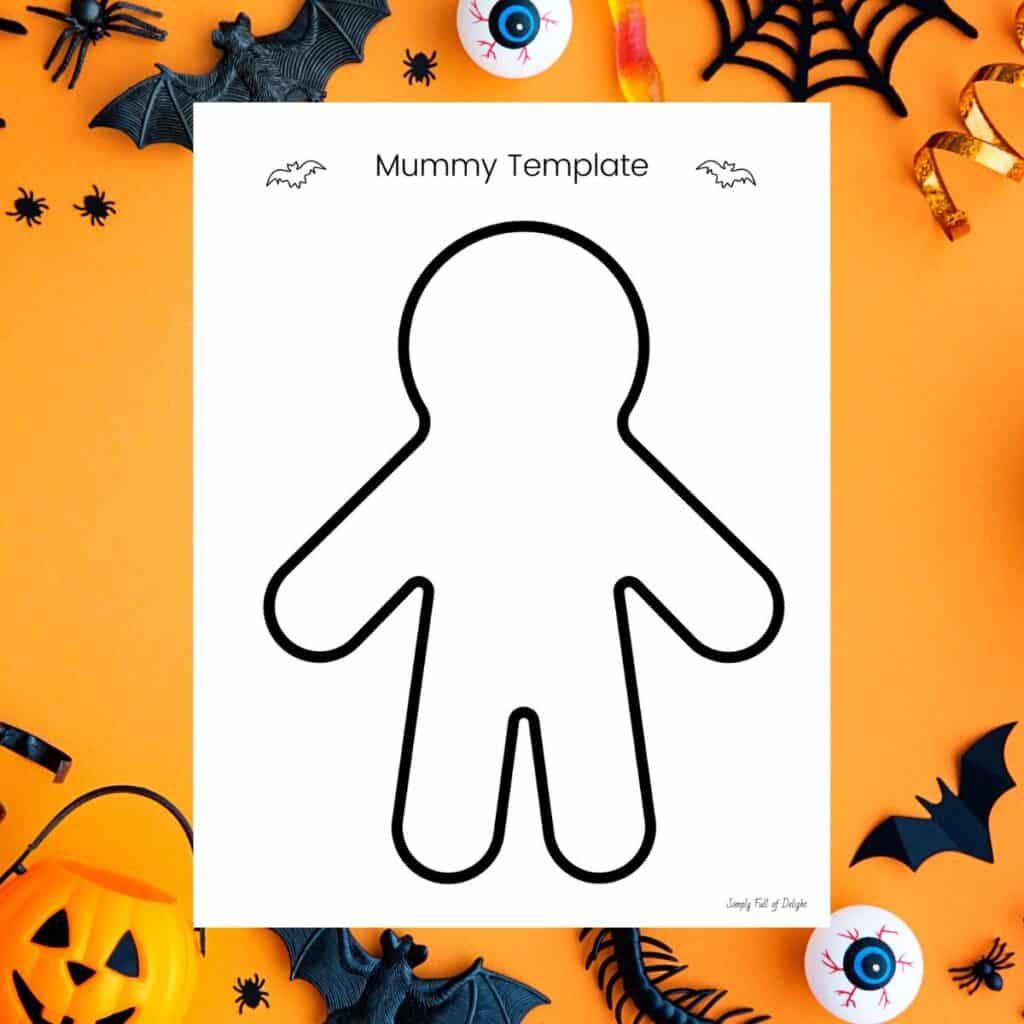 To grab the free printable template for this preschool Mummy craft, simply drop your email in the gray and blue box directly below. You will receive instant access to my Resource Library where you can get this free printable along with many other free printables.
More Marble Painting Fall Crafts
Love Marble Painting? Me too!
Be sure to check out this cute Marble Painting Pumpkin Craft. It's perfect for both fall and Halloween!
You can also find an adorable Apple Marble Paint Craft here. We love to do this one during apple season and it also works great for back to school season or the letter A!
There's a Halloween Bat Marble Painting Craft here that pairs perfectly with the Mummy!
Plus you can find tons of ideas for painting with balls here. So many cool ideas for painting with kids!
More Preschool Halloween Activities
Need more Halloween fun activities for kids?
You can find some free printable Halloween Dot to Dot pages here. There's a witch hat, a ghost, a bat, and a pumpkin. They are super simple and perfect for preschoolers!
You can find tons of Halloween mummy crafts here that are so much fun for kids. You'll find fun projects for both older kids and fun family crafts as well.
Need an easy craft? There's a cool Jack-O-Lantern cut and paste activity here, as well as a fun cut and paste pumpkin tractor activity.
You can find some fun free printable Monster Coloring Pages here, including a Create your Own Monster page. My kids love that activity!
If you need an easy Halloween craft this printable Witch Hat Headband is perfect. It's a fun craft that kids will enjoy creating and wearing at your Halloween party.
You can also find a 5 Little Pumpkins Poem printables set here that is lots of fun for little kids.
Happy Halloween!
Want to save this preschool mummy craft for later? Pin the image below of this cute mummy craft to your Pinterest board!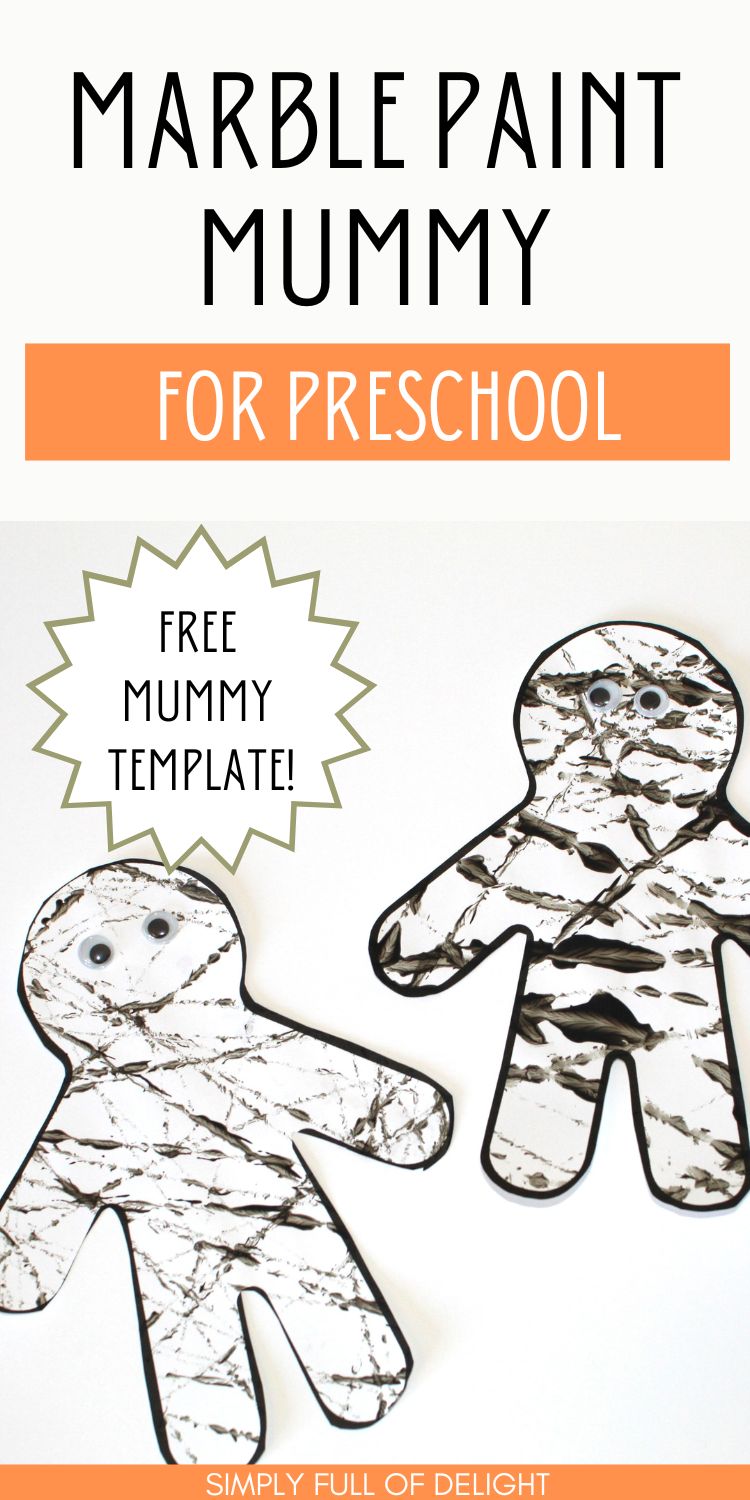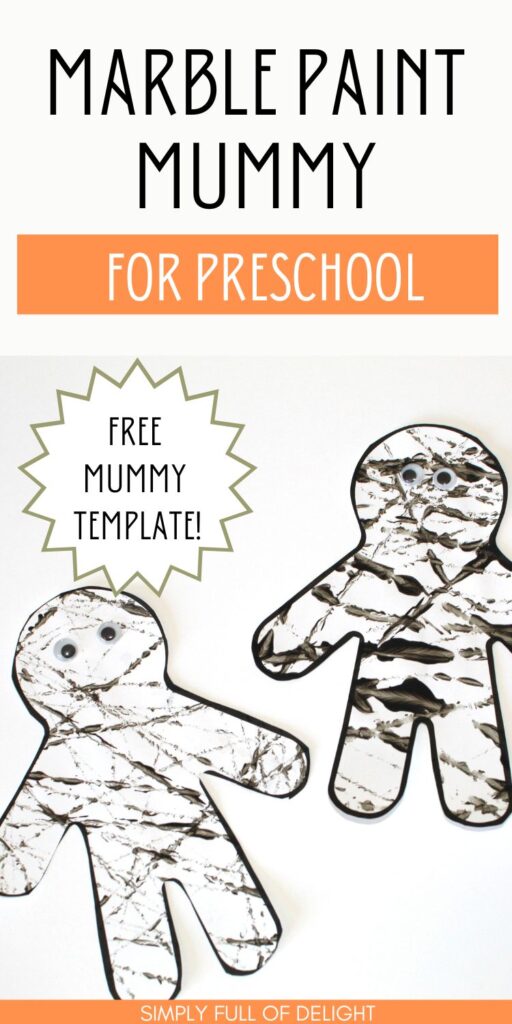 Halloween Family Fun
Looking for more Halloween fun?
Be sure to check out this Halloween Scavenger Hunt in my Etsy shop.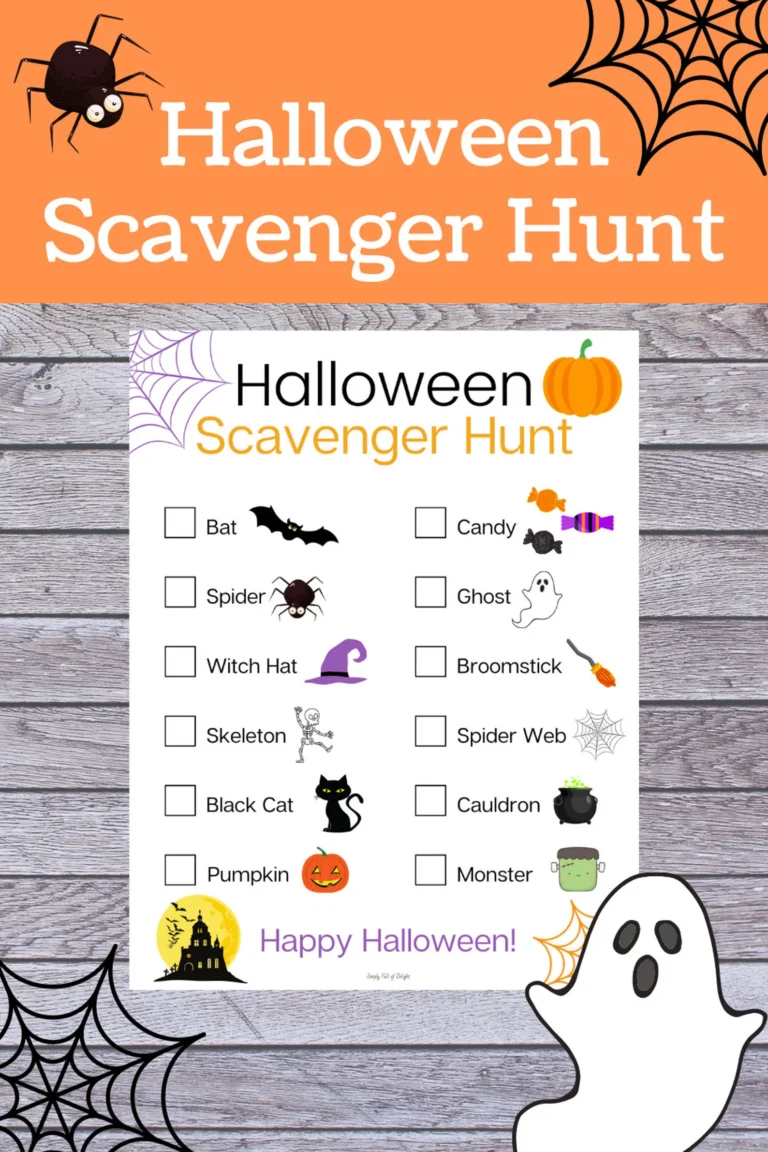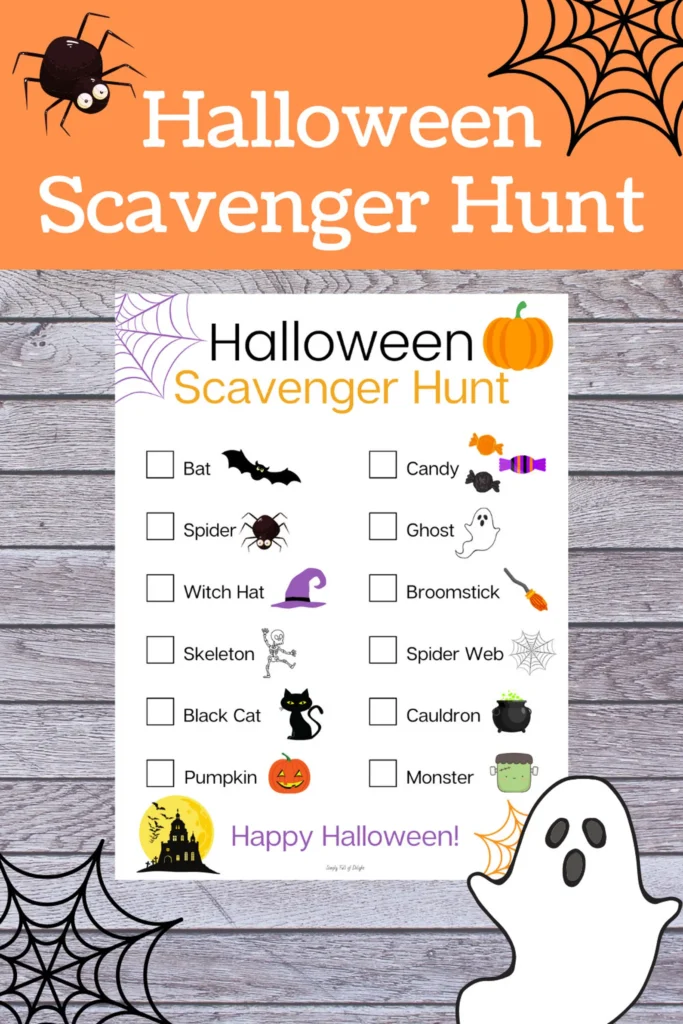 Get the whole family together and go on a hunt for the spooky items on the checklist. Some of the items include finding a bat, spider, ghost, and broom stick.
Perfect for walking in your neighborhood or driving around town. What a great way to enjoy some family fun!
You can grab your Halloween Scavenger Hunt here.
Plus, for a spooky fun bonus, use the coupon code MUMMY for 10% off your order! Happy Halloween!