Looking for a unique pumpkin activity for preschool? Try this Marble Painting Easy Preschool Pumpkin Craft!
My kids have been enjoying these cool fall days filled with bike riding, pumpkin picking, and crafty morning projects like this easy pumpkin craft!
If you have been looking for a fun pumpkin craft idea that is great for little hands, this is a great pumpkin kids craft for young ones!
Kids will love the process of painting with marbles and you'll love how adorable and easy this pumpkin craft is!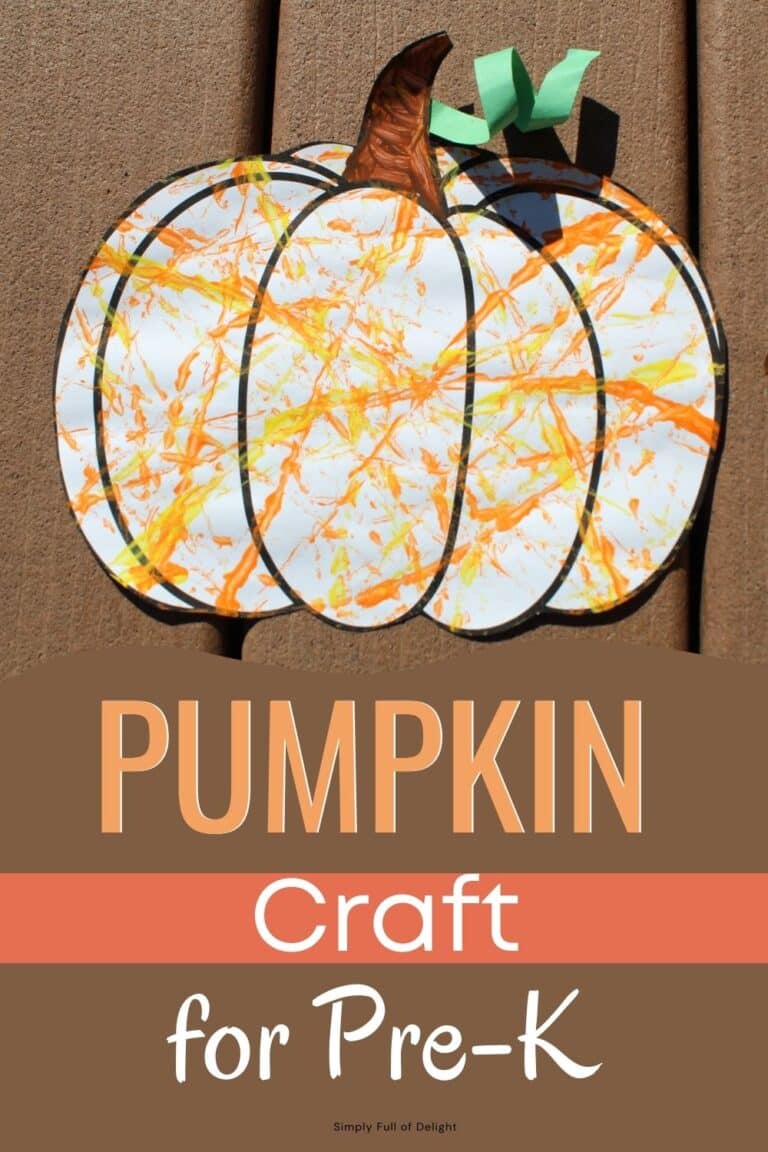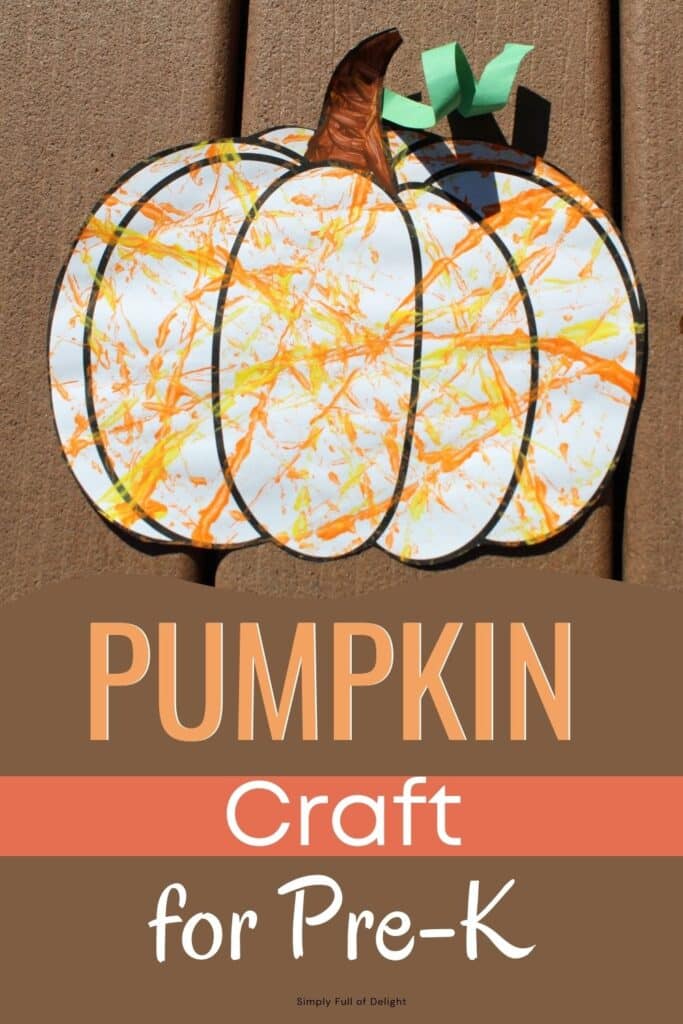 But first….
Why is Marble Painting Good for Kids?
According to Science World, Marble Painting helps kids practice hand eye coordination and observation skills. It's also an awesome way to let kids express their creativity.
Alright! Let's dive into our marble painting easy preschool pumpkin craft!
** Disclaimer: As an Amazon.com Associate, I earn from qualifying purchases made by readers clicking my links at no extra cost to you.
Supplies for Marble Painting Easy Preschool Pumpkin Craft
For this craft you will need:
– A printed copy of the Pumpkin template (I highly recommend printing on cardstock)
– Washable Kids Paint (We love this paint from Crayola)
– Bowl for Paint
– A paint brush (to paint the stem)
– A Box that isn't too shallow or too deep, that a child can maneuver easily. We used a box from the canned goods section from a local store.)
– Green Construction paper to make a vine. (You could also use a green pipe cleaner!)
– Elmer's Glue – or A Glue Stick or Tape (to attach your green vine)
– Baby Wipes or Paper Towels – in case things get a little messy!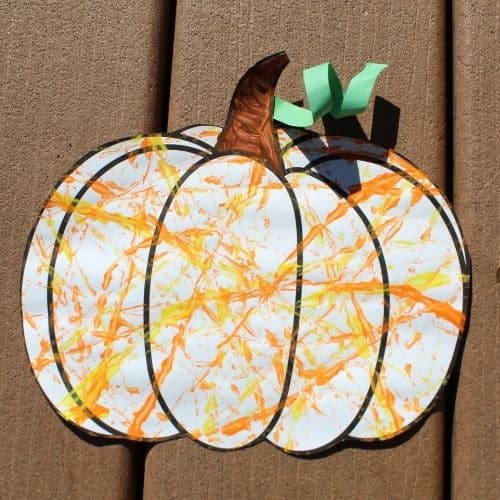 How to Marble Paint a Pumpkin
First, print out the pumpkin craft template. I highly recommend printing on cardstock to make it more sturdy, but regular copy paper will work as well.
Next, it's time to practice those scissor skills! With blunt tip child safe scissors, have your child cut the pumpkin out. We like the Fiskars brand! My 4 year old didn't have any trouble cutting this pumpkin template out, but if you have younger children, they may need assistance.
It's time to paint!
Put the pumpkin template in the box. Pour a bit of paint into the bowl. We chose to use orange and yellow paint. Place a marble in each color of paint.
Let your child choose a paint color to start with. Have them roll the marble into the paint and then pick up the paint covered marble and place it into the box.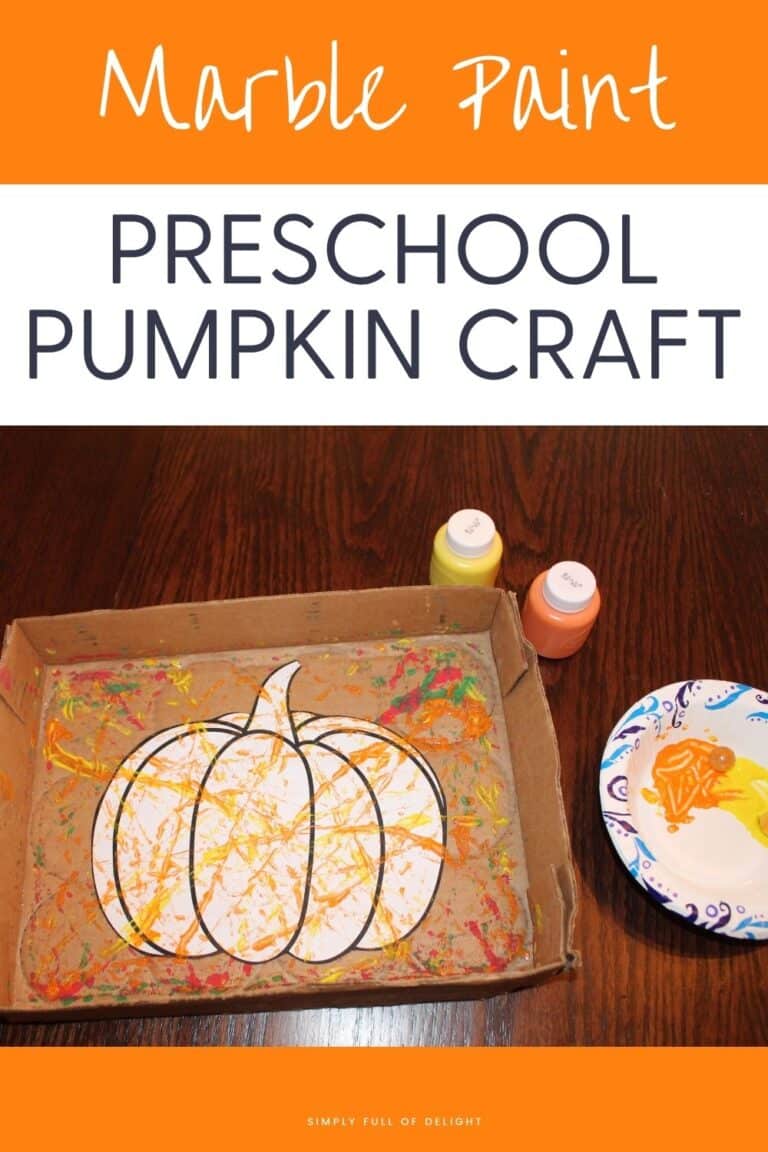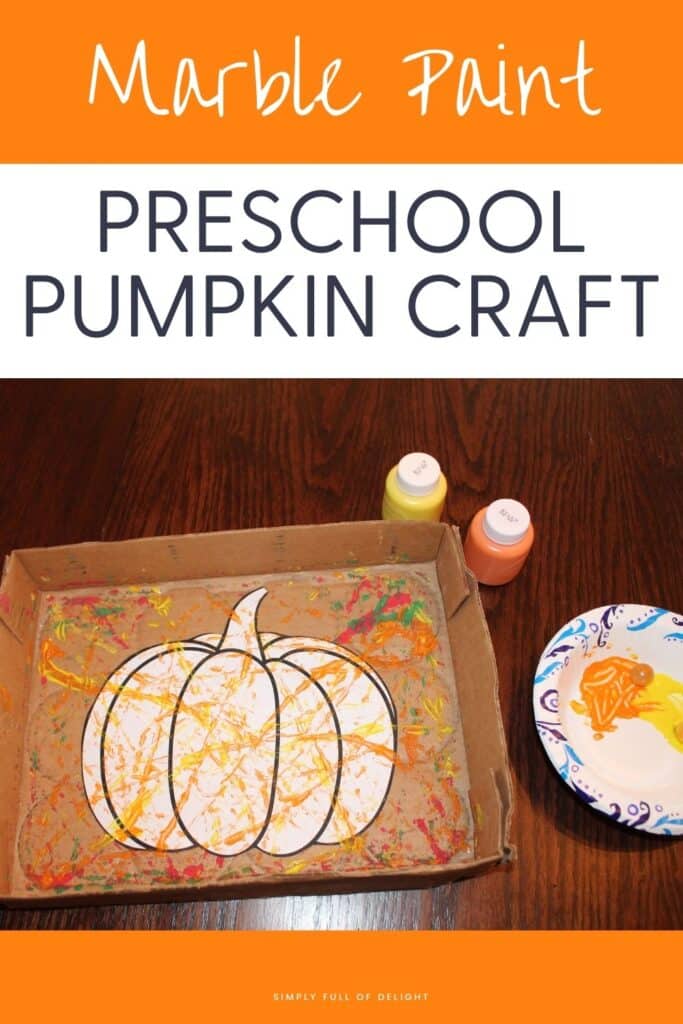 Marble Painting with Pre-K
We always place it to the side (not on our page right away to avoid big blotches of color). But that's up to you and your preferences!
With the child holding the box, show them how to move the box up and down and side to side and observe how this makes the marble travel inside the box leaving marble trail marks on the pumpkin template.
Let them switch colors and continue to make designs on the pumpkin.
***You might prefer to transfer the paint covered marbles with a dipping spoon. We just used our hands and washed up afterwards. (Having baby wipes or paper towels nearby is advisable in case of messes.)
Once your child is finished marble painting, give them a little brown paint to paint the stem. Alternatively, you could use brown construction paper to glue to the stem.
Allow the pumpkin craft time to dry.
When it is dry, you can add a vine to the top of your pumpkin for a splash of color! We used construction paper for ours. We just cut a long thin strip of green paper and then curled it by rolling it up with our fingers. Then, we taped it to the back of the pumpkin near the stem.
(If your child has trouble getting the green paper to curl, try rolling it around a pencil.)
Alternatively, a green pipe cleaner would also make an adorable vine for your preschool pumpkin craft! And….that's it! Easy peasy!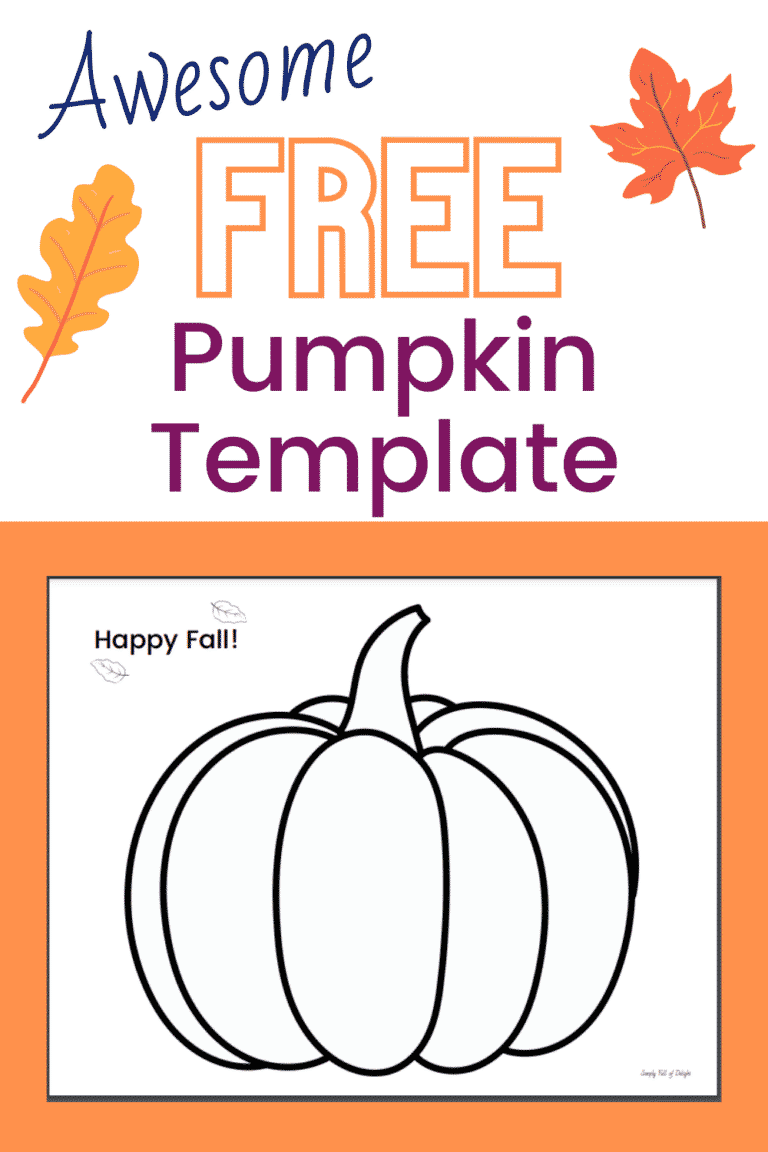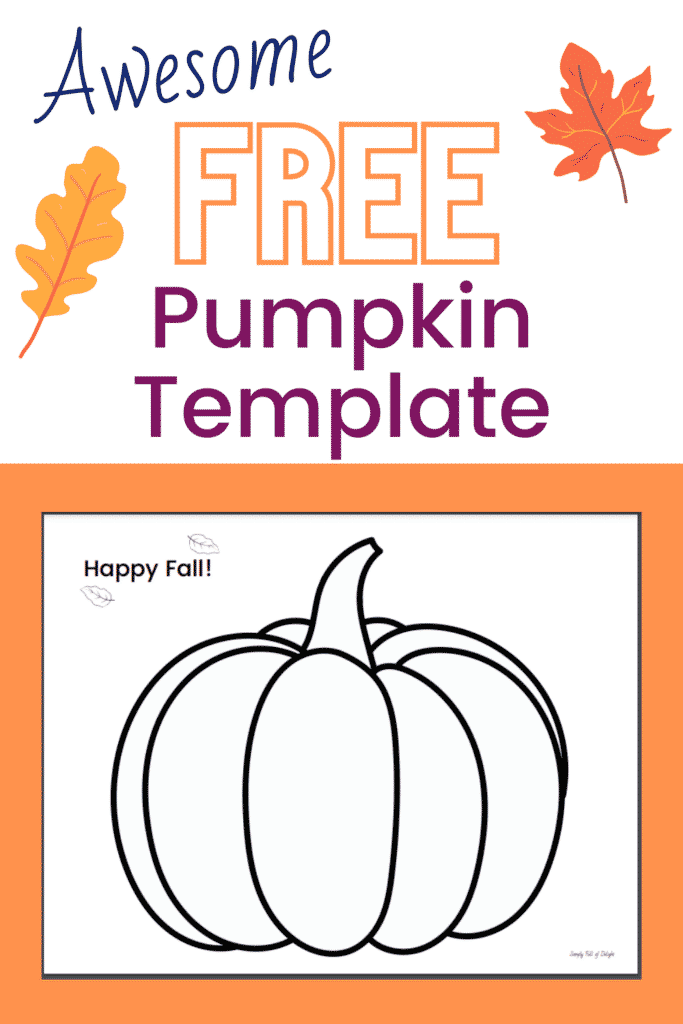 I hope you and your child enjoy making this pumpkin activity for preschool! For more ideas on Painting with Balls – check out the Ultimate List here!
Grab the free Printable Pumpkin Craft Template PDF!
To grab the free printable pumpkin craft template click the download button below to instantly grab this free pumpkin template.
More Fall Preschool Activities
Looking for more fall craft ideas and preschool pumpkin theme learning fun?
You can find an adorable preschool Squirrel Craft here. I love easy paper crafts like this one!
There's a cool Pilgrim hat Headband here for Thanksgiving celebrations.
For apple picking fun, there's a Color Sorting Apple Tree Activity here.
You can find a Marble Painting Apple Craft here. There's also a fun Mummy Marble Paint Craft idea here as well.
If your kids love sensory bins, check out this fall sensory play idea.
There's a cool Jack-O-Lantern cut and paste activity here, as well as an adorable little pumpkin tractor activity for your preschooler. The pumpkin shape template could be laminated to be used as a pumpkin playdough mat as well!
For Halloween crafts and activities, there's free Monster Coloring Pages as well a printable Witch Hat Headband here.
Happy Fall Y'all!