Looking for an unique apple craft to celebrate apple picking season? Try this Marble Painting for Preschoolers Apple Craft! It's a fun craft idea for kids!
I love that this apple craft is fast and easy. It also gives little ones a chance to practice their scissor skills, if you like!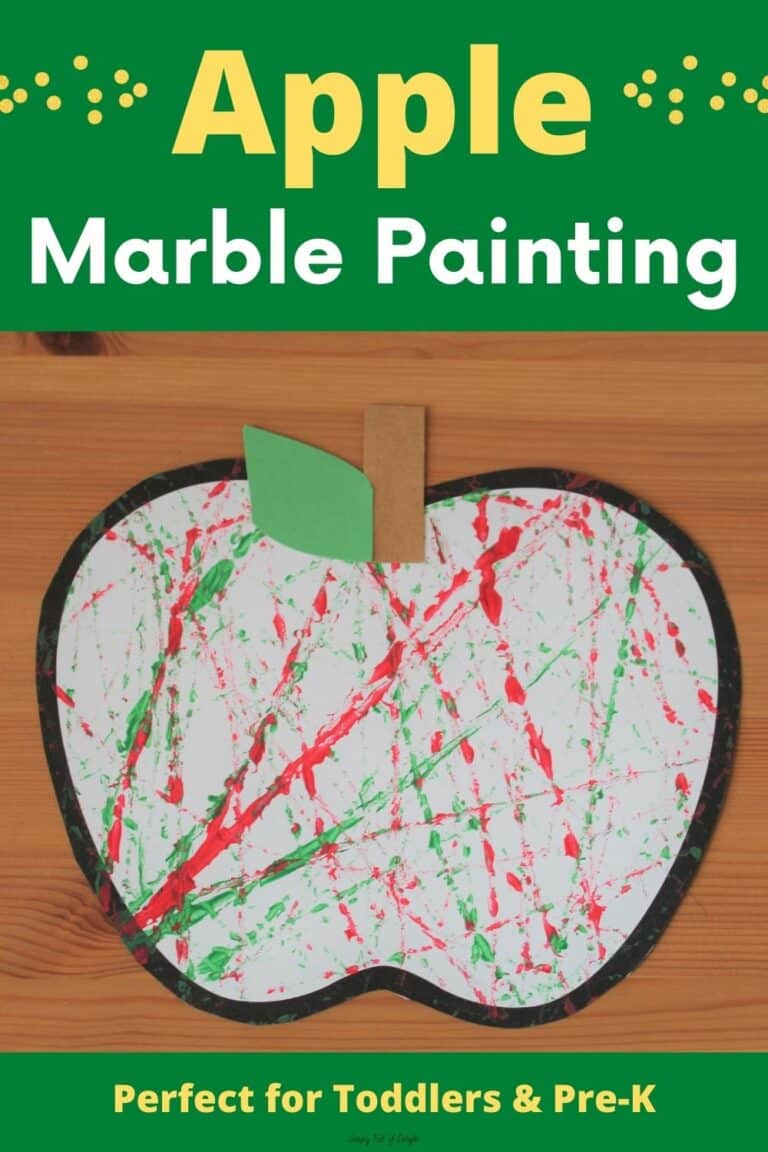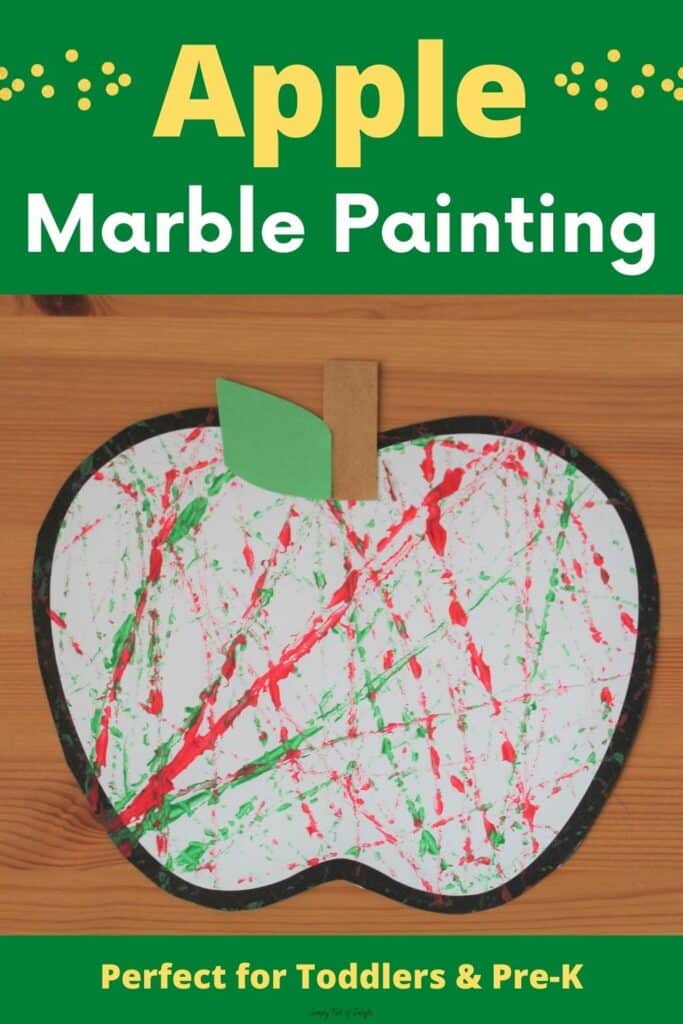 But first, let's talk about….
What are the Benefits of Marble Painting for Preschoolers?
According to Life Over C's, Marble Painting is great for developing fine motor skills. Kids can express themselves and develop creativity with this project while practicing hand eye coordination as they move the marbles around their page.
Alright! Let's get started on our marble painting for preschoolers apple craft!
** Disclaimer: As an Amazon.com Associate, I earn from qualifying purchases made by readers clicking my links at no extra cost to you.
Supplies for Marble Painting Apple Craft
For this project you will need:
– A printed copy of the Large Apple template (I recommend printing on cardstock)
– Washable Kids Paint (I like this paint from Crayola)
– Bowl for Paint
– A Box that isn't too shallow or too deep, that your child can maneuver easily. You could use a 24 pack soda box cut down a bit or an Amazon box. (Or maybe you'll score a box from the canned goods section at Walmart like we did! LOL)
– Brown and Green Construction paper to make a stem and leaf (alternatively you could use a fake flower leaf).
– Elmer's Glue – or A Glue Stick
– Baby Wipes or Paper Towels nearby – Because this could get a little messy!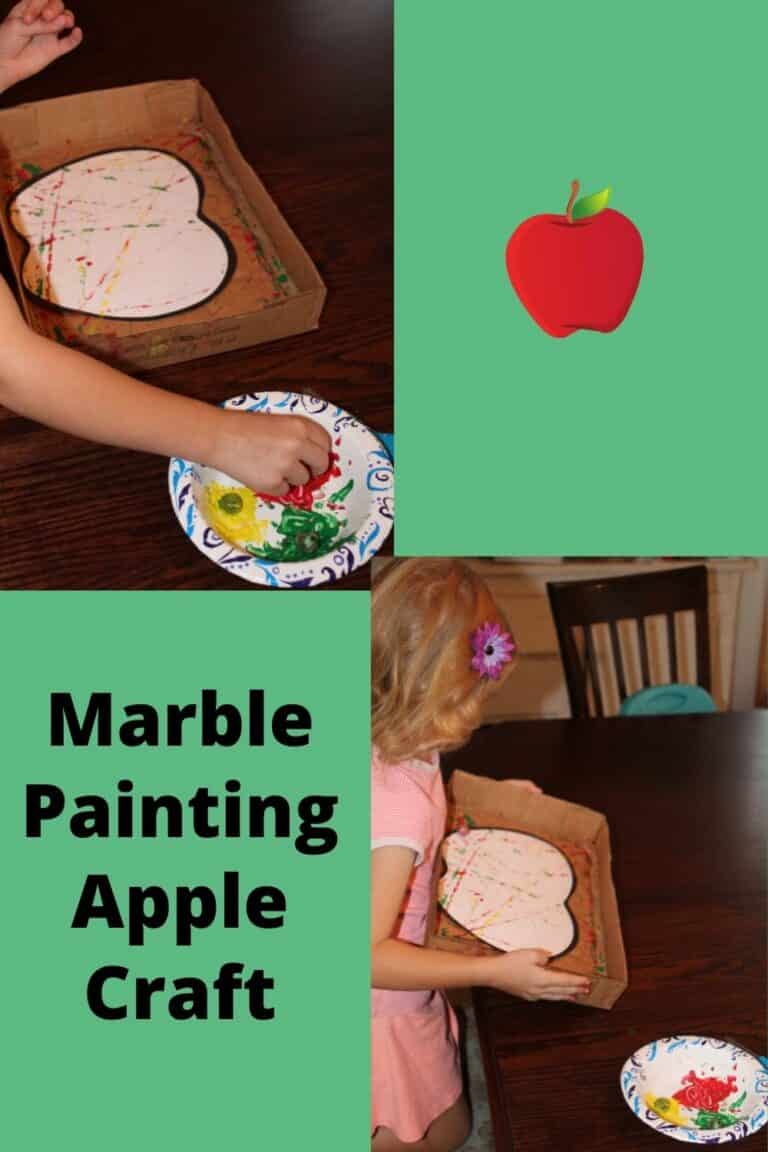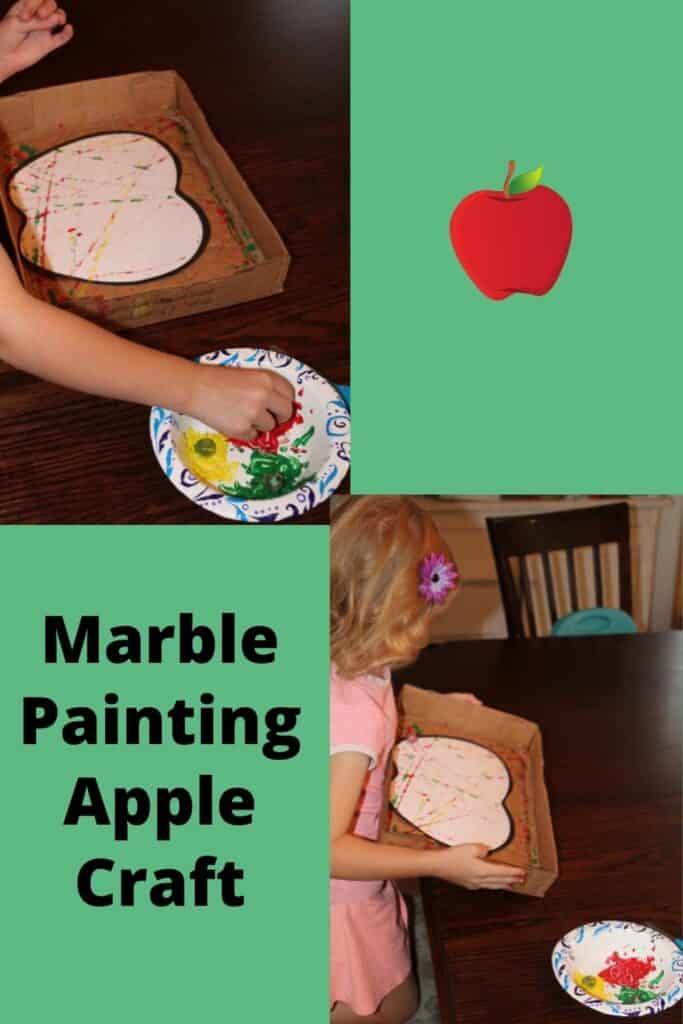 How to Marble Paint an Apple
First, print out a copy of the apple craft printable. I recommend printing on cardstock to make it more sturdy, but regular paper will work as well.
Next, provide your child with blunt tip child safe scissors. We love the Fiskars brand! Have your child cut the apple out. My 4 year old was able to cut out this apple, but if your child is a little younger they may need some help.
Now, place the apple printable in the box. Pour a little paint into the bowl. We chose to use green, red, and yellow paint. Place a marble in each color.
Let your child choose a paint color to start with. Place the paint covered marble into the box.
Have your child hold the box and allow them to move the box up and down and side to side, making the marble travel inside the box leaving marble trail marks on the apple template.
Let them choose another color and continue to make a design on the apple printable. If they want to use all 3 colors, that's fine, or it looks great with just 2 colors as well.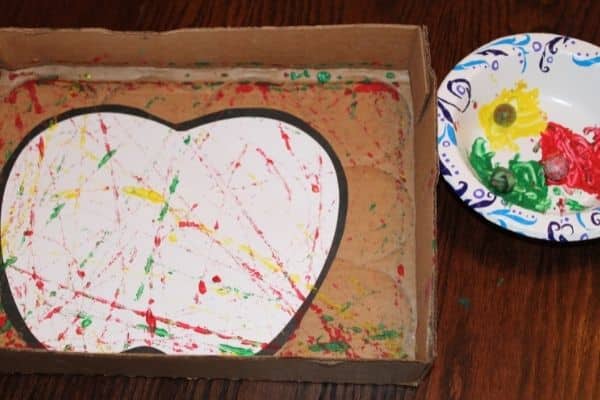 (You might want something to transfer the paint covered marbles with, like a dipping spoon. We just used our hands and had baby wipes and paper towels nearby for any unexpected messes.)
Once they are finished painting, let the apple pictures dry.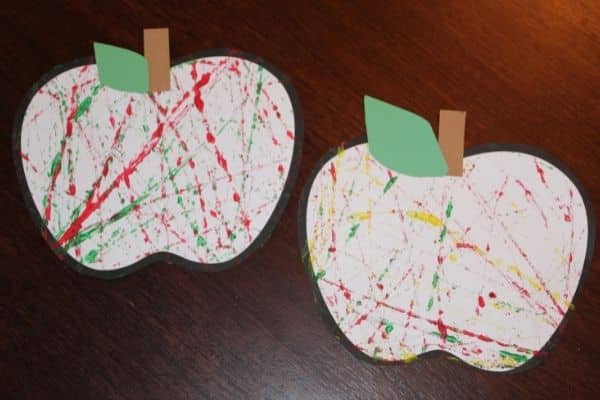 After the apple crafts are dry your child can cut out a stem and a leaf from construction paper to glue onto their apple craft. I just free handed a brown rectangle for the stem and a rounded diamond shape for the leaf!
Now it's finished! How cute is that apple craft!
I hope you and your child enjoy making this marble painting for preschoolers apple craft!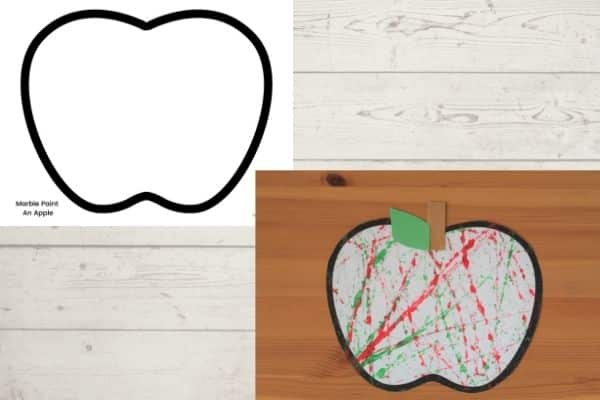 Grab the free Printable Apple Template PDF!
To get the free printable apple craft template simply drop your email in the blue box below. You will receive instant access to my Resource Library where you can get this free printable along with many other free printables for parents and kids!
Join my email list below to unlock the freebies!
If you enjoyed this activity be sure to check out the Ultimate List of Painting with Balls Activities!
If you are looking for more apple themed printables, I have a Color Sorting Apple Tree Activity here. There's a fun apple stamping craft here.
You can also find some more apple themed crafts in this article.
Happy Apple Picking Season!