Looking for a fun planet Earth craft? This Marble Paint Preschool Earth Craft is fast and easy with the free printable.
With Earth Day quickly approaching, we decided to do this fun little craft. Marble painting crafts are a favorite of mine because they are simple and of course they always turn out cute!
Earth Day is the perfect opportunity to talk to little ones about being kind to our planet. It's a great time to discuss recycling, reusing, and loving on our beautiful planet Earth.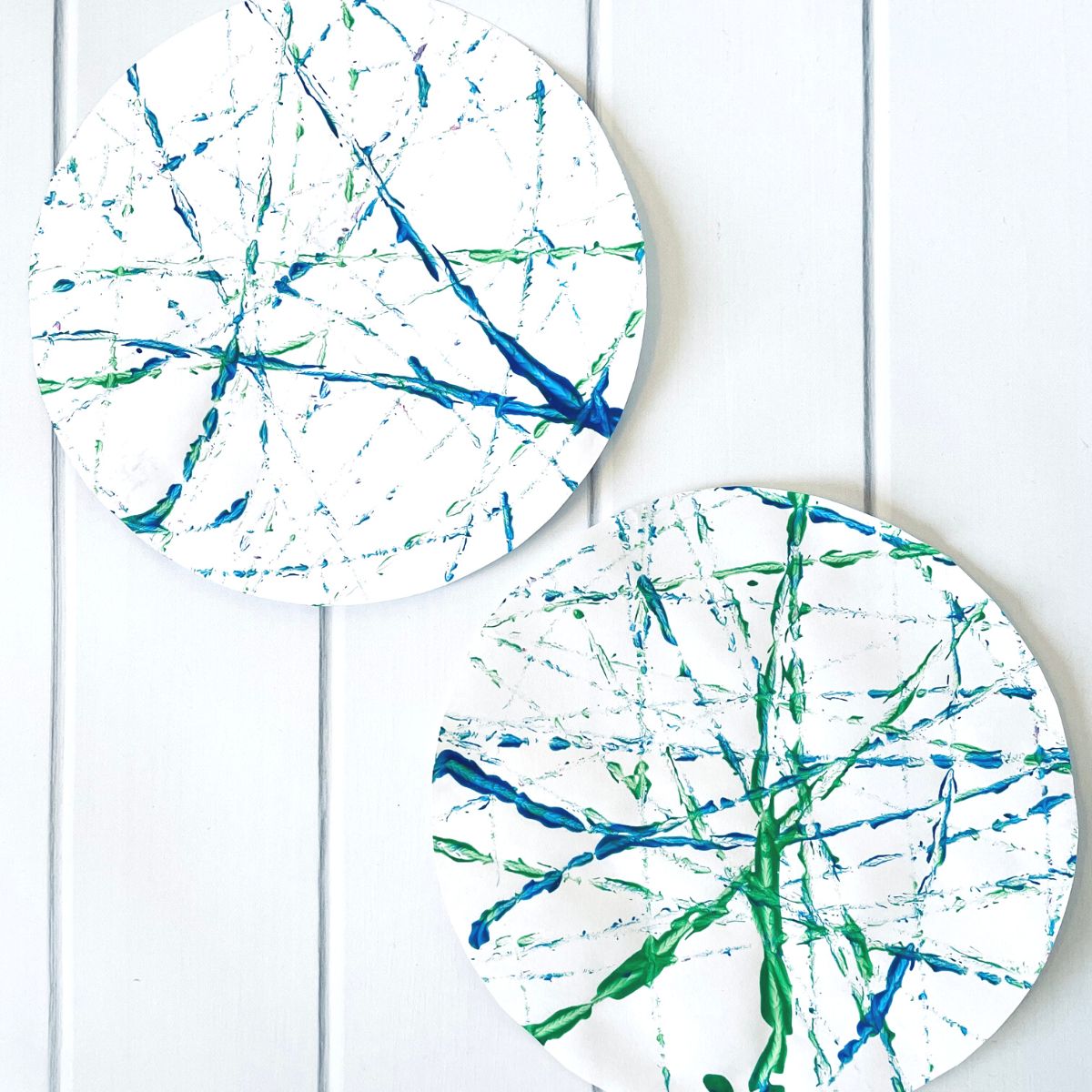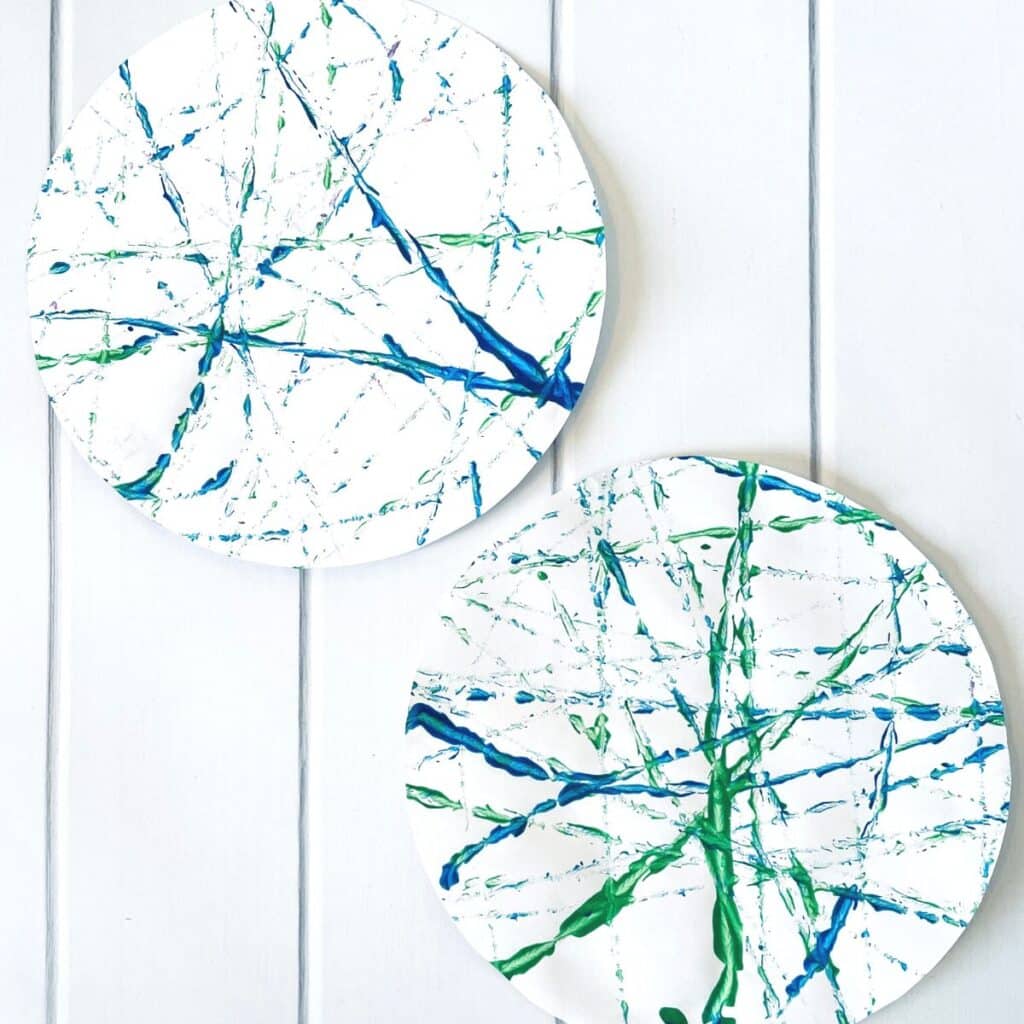 This Marble Painting Earth craft is perfect for sparking conversations to preschoolers and kindergarteners about our planet.
Before we dive into our planet earth craft craft tutorial, let's talk about why marble painting is beneficial to preschoolers.
Are there benefits to Marble Painting?
According to Science World, marble painting is a great way to help kids develop observation skills, hand eye coordination, and fine motor skills.
Marble art is a favorite in our house because kids can be creative, it's super easy to set up, and the craft always looks lovely!
Alright! Let's get started on our Marble Paint Earth Craft.
** Disclaimer: As an Amazon.com Associate, I earn from qualifying purchases made by readers clicking my affiliate links at no extra cost to you.
Supplies for Marble Paint Preschool Earth Craft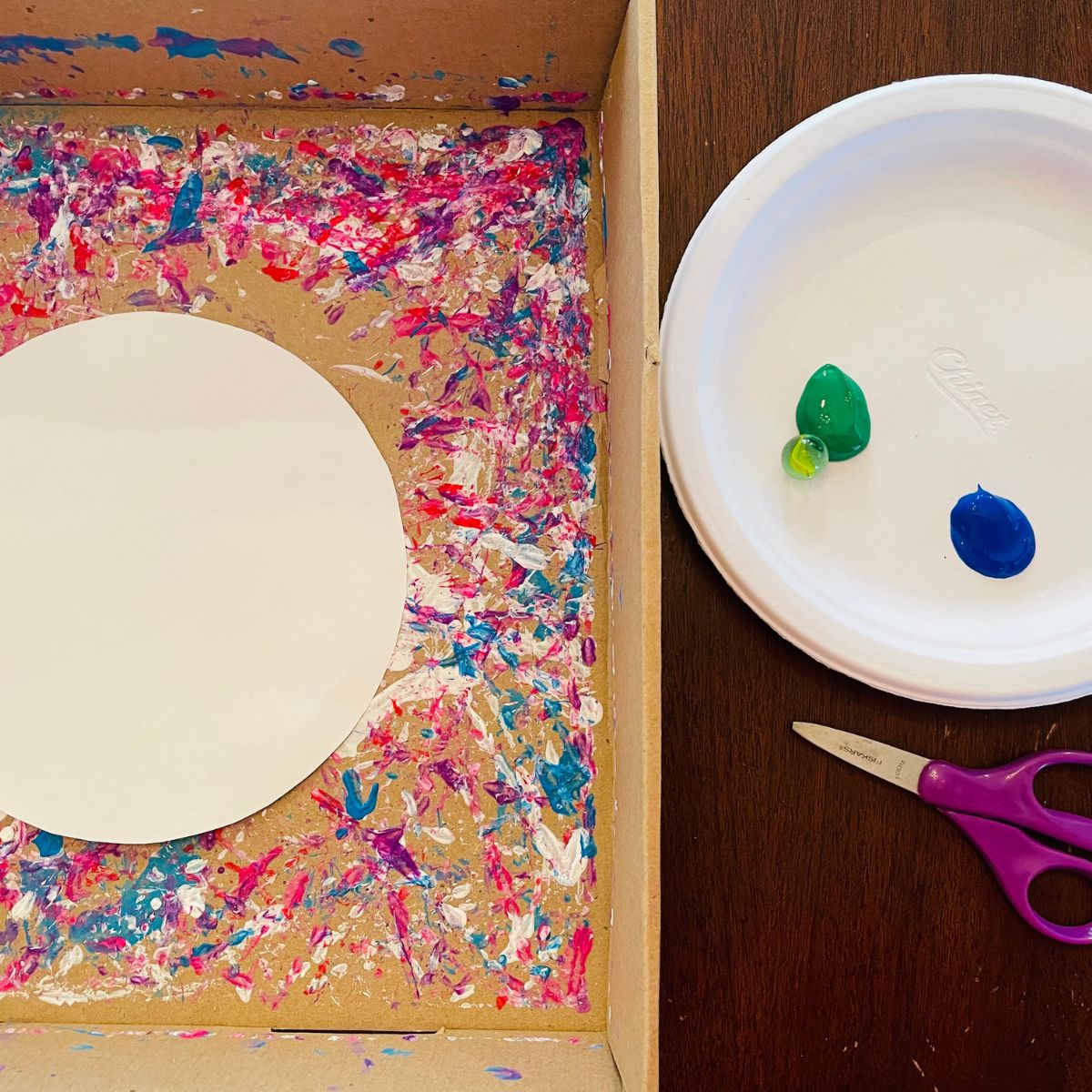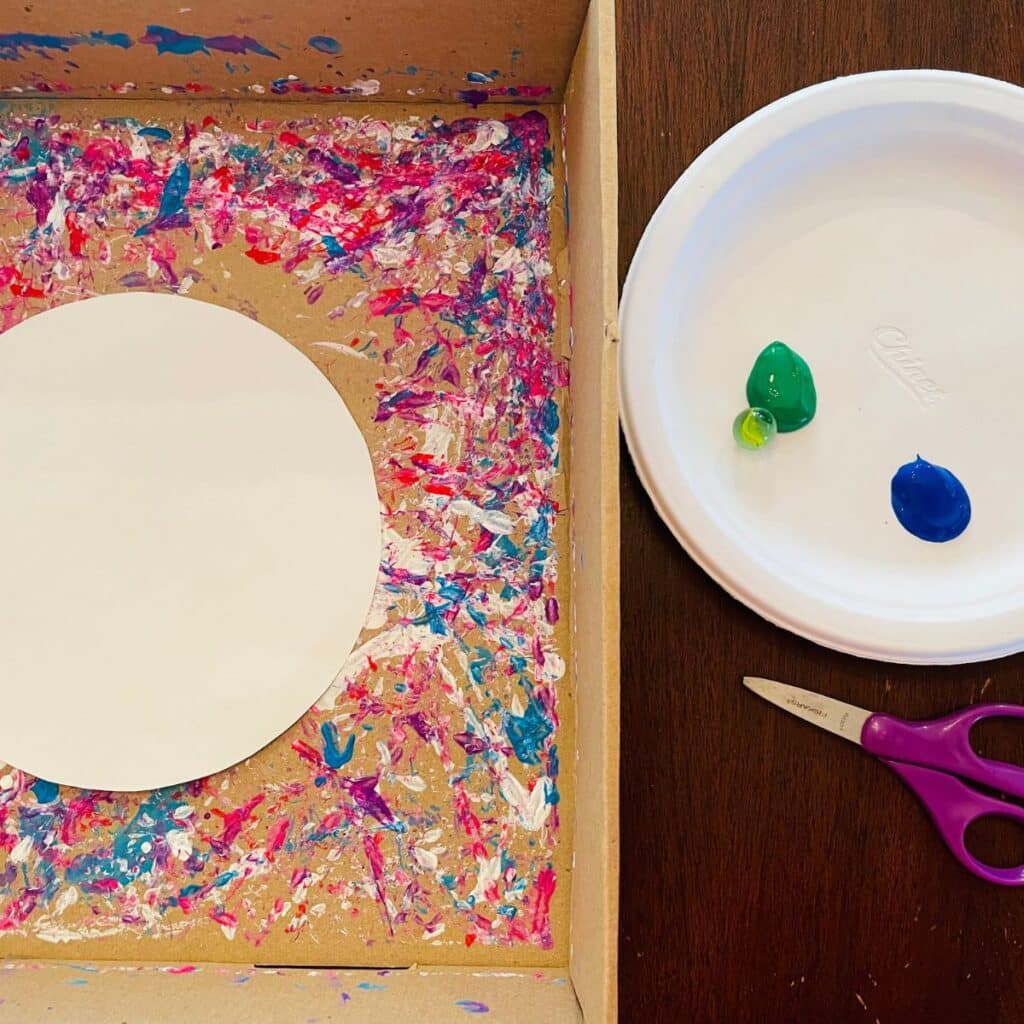 For this Preschool Earth craft you will need the following craft supplies:
– A printed copy of the free Earth printable template (or simply trace around any circular object).
– White paper – A fun alternative is using blue construction paper – after all 71% of the Earth is covered in water!
– Washable Kids Paint – we used blue and green paint (We love this paint from Crayola)
– Scissors
– Stapler
– Marbles (you might like to try other types of balls as well!)
– Paper plate for paint – or an egg carton works well for this too!
– A Box that isn't too shallow or too deep. A child should be able to move and maneuver the box easily.
– Baby Wipes or Paper Towels – for those messy situations!
Let's get started on our Marble Paint Preschool Earth Day craft!
How to Make an Easy Earth Day Craft
First, print out the Free Earth Printable template. (I've provided the Earth template for you at the end of the craft tutorial under the heading Grab the Free Printable!)
The template is just a basic circle shape. Alternatively, you could use a bowl or another circular object as your stencil.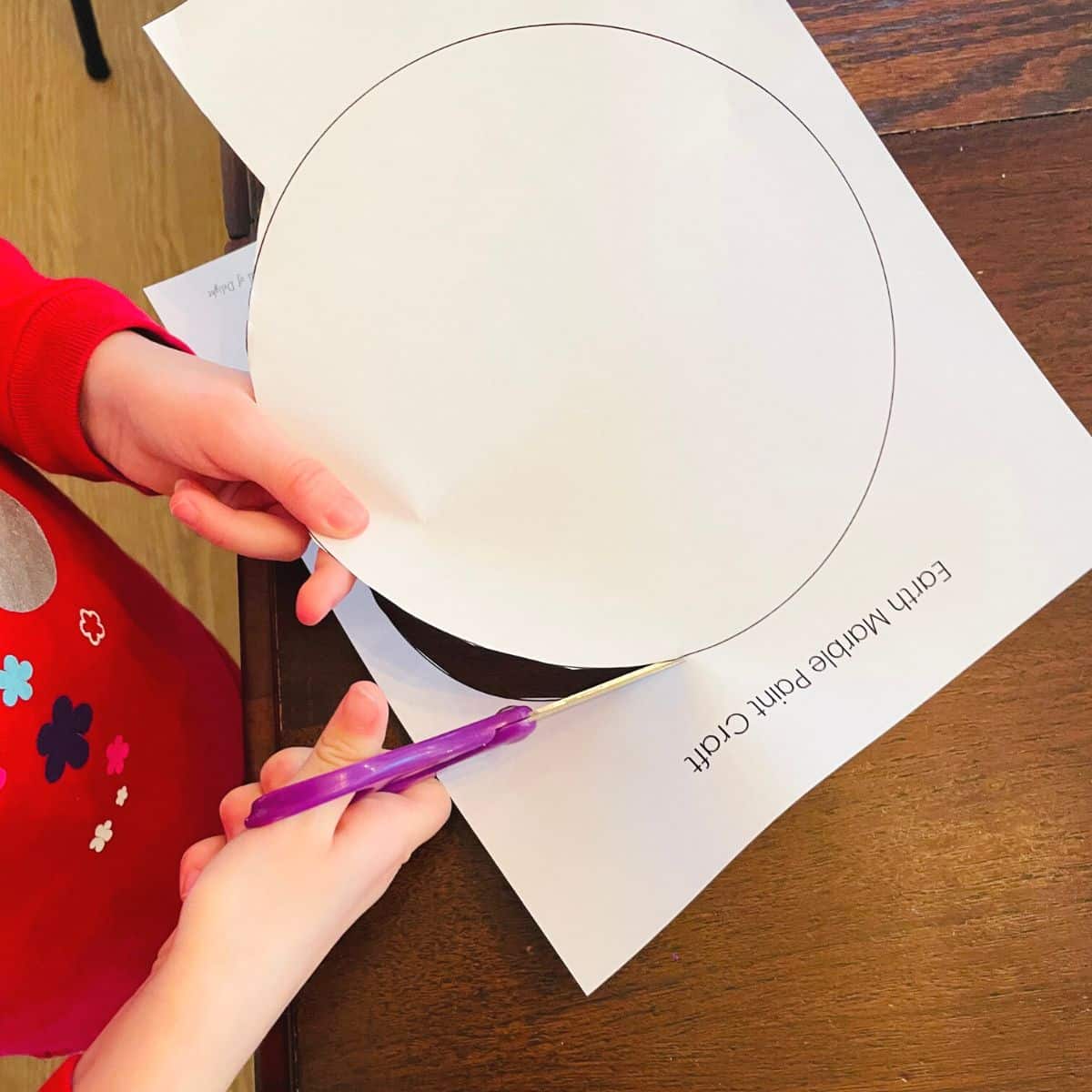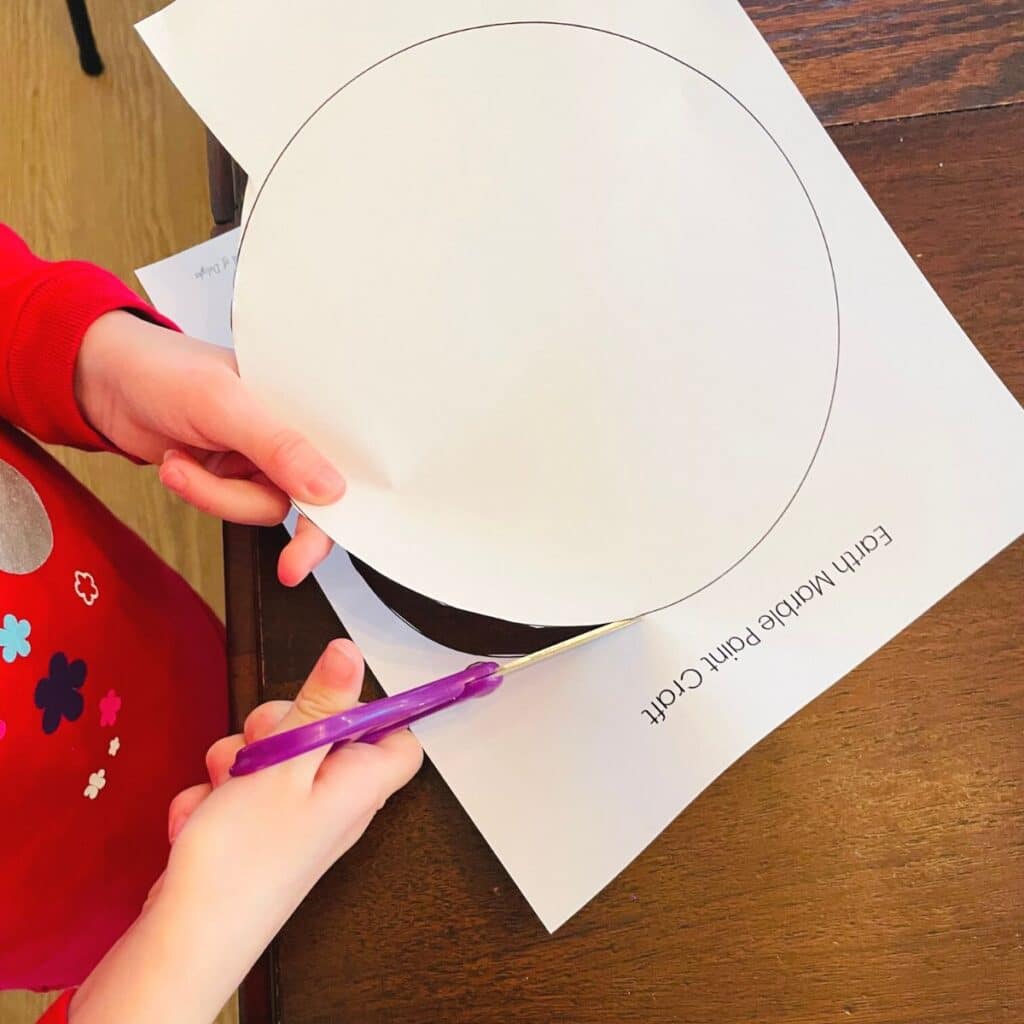 To make your circle templates you have a few choices.
You could:
– Print the template on a white piece of paper and have the kids each cut their own out. (This might be the perfect time for practicing fine motor skills!)
Or….
– Print the Earth template and place it on top of a stack of white or blue paper.
Staple the stack of paper together, to hold it in place…. and then cut it out. You can cut multiple circles at the same time by doing this!
Once you have your Earth circle templates ready, it's time to paint with marbles!
Marble Painting Preschool Earth Craft
Put the free Earth printable in your shallow box. Next, put a little bit of paint onto the plate. We used blue and green paint to represent land and water.
Show your kids how to roll the marble into the paint and then pick up the paint covered marble and place it into the shallow box.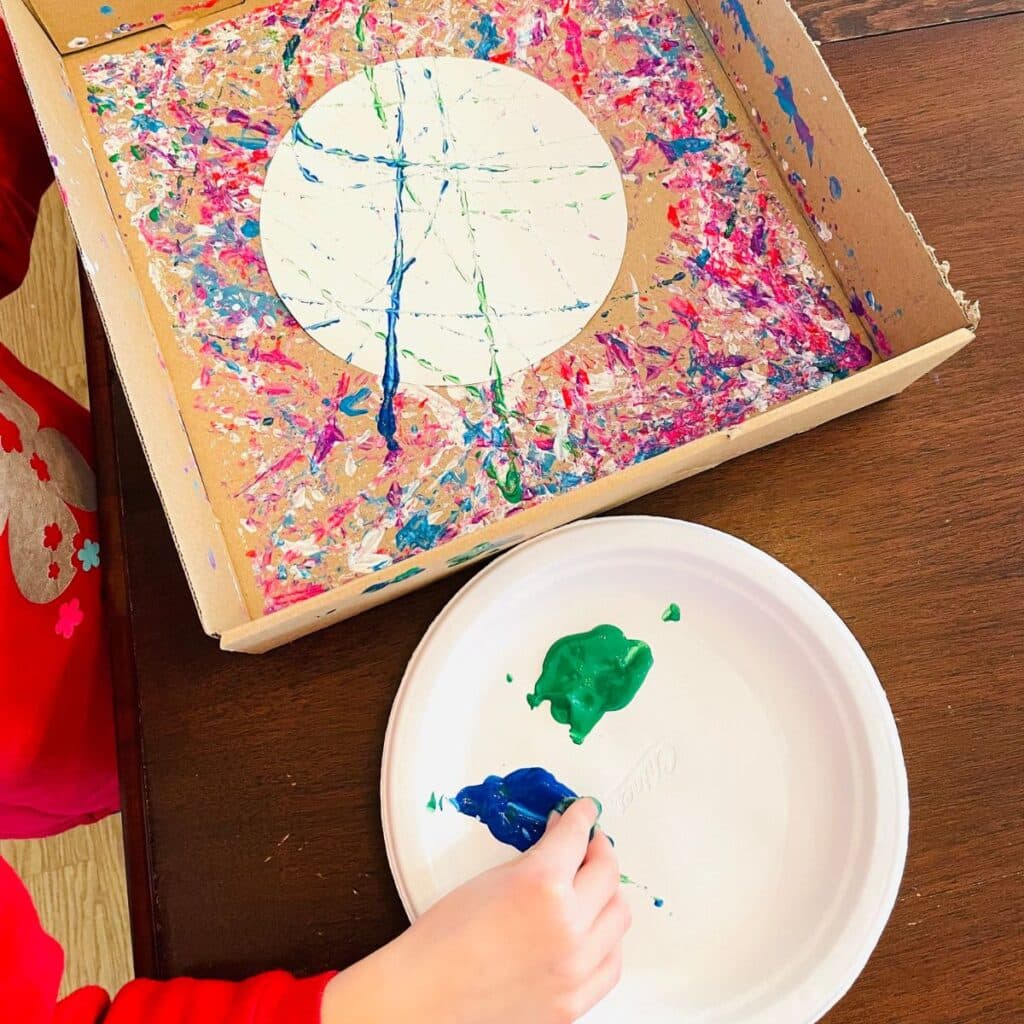 I often like to have them place the paint covered marble to the side (not directly onto the template) to avoid big splashes of paint on the craft, but that's just my preference.
Have a child hold the box, and show them how to move the box to make the marble move. Little ones will observe how this makes the marble travel around inside the box. As the marble moves it leaves paint trail marks on the Earth printable.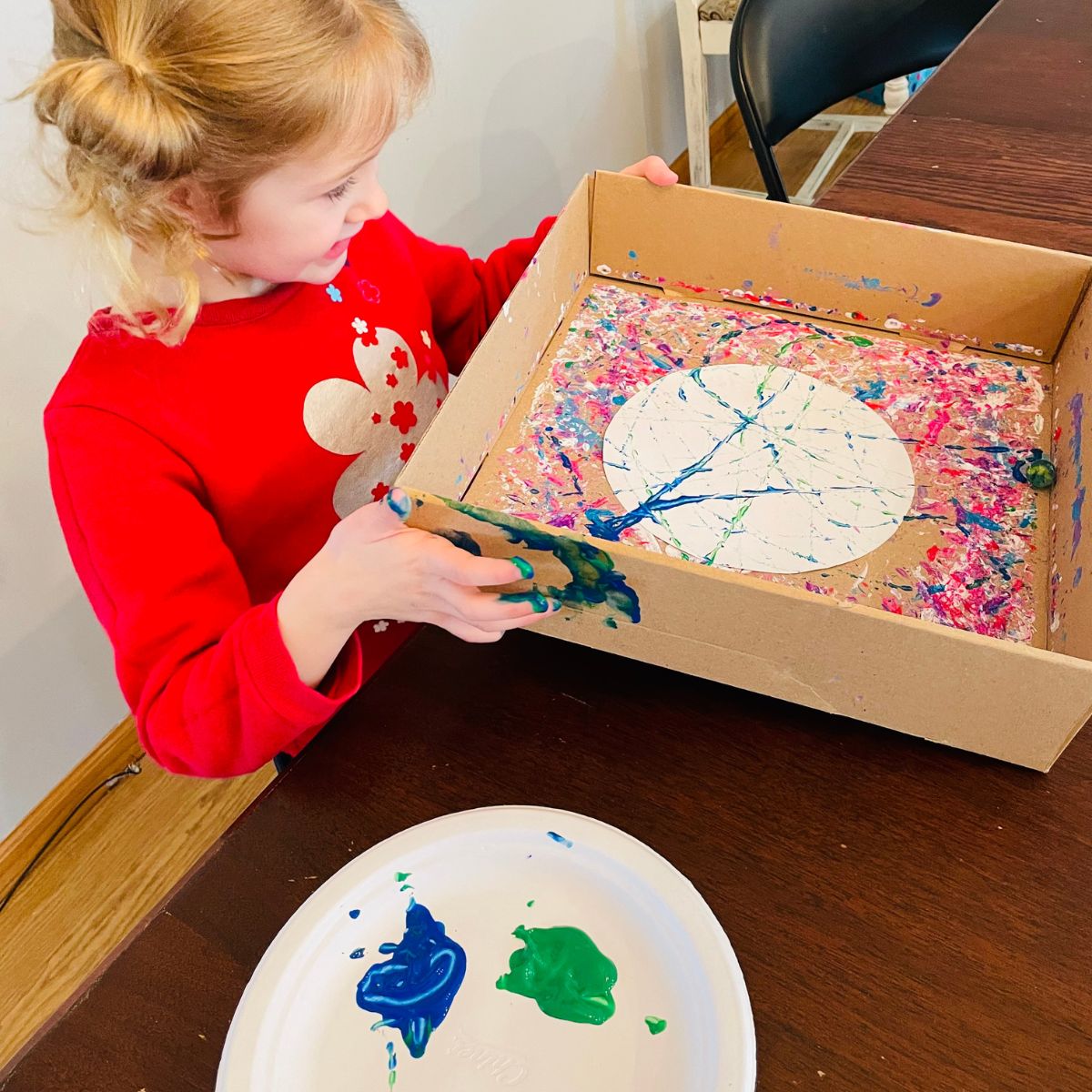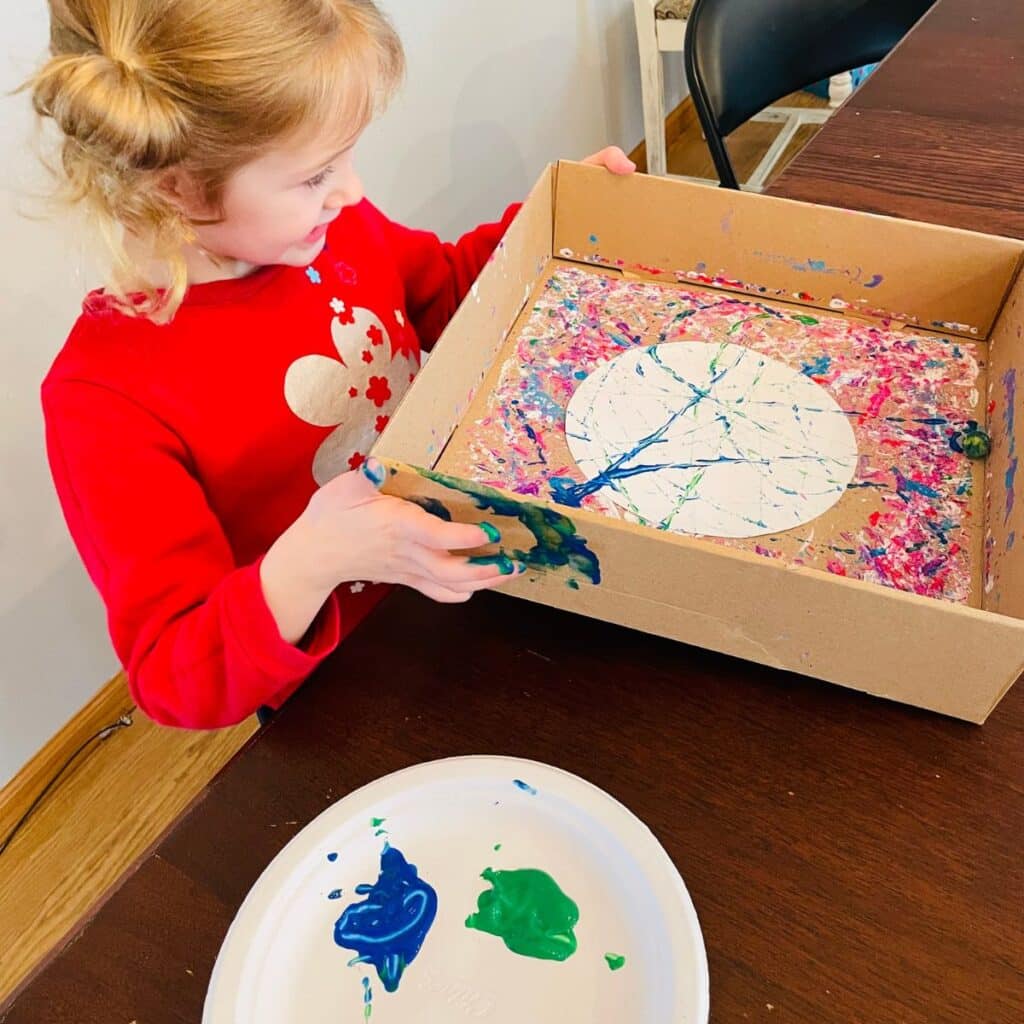 We used a regular size marble for this paper Earth craft, but you might like to try a different ball. Check out tons of ideas for painting with balls here.
Once the Earth printable is covered nicely with paint, or the child decides it's perfect…it's finished and ready to dry!
I hope your children enjoy this Marble Paint Earth craft for preschool! These simple Earth Day Crafts would look great displayed on a bulletin board or they could be used as cards to share with family and friends!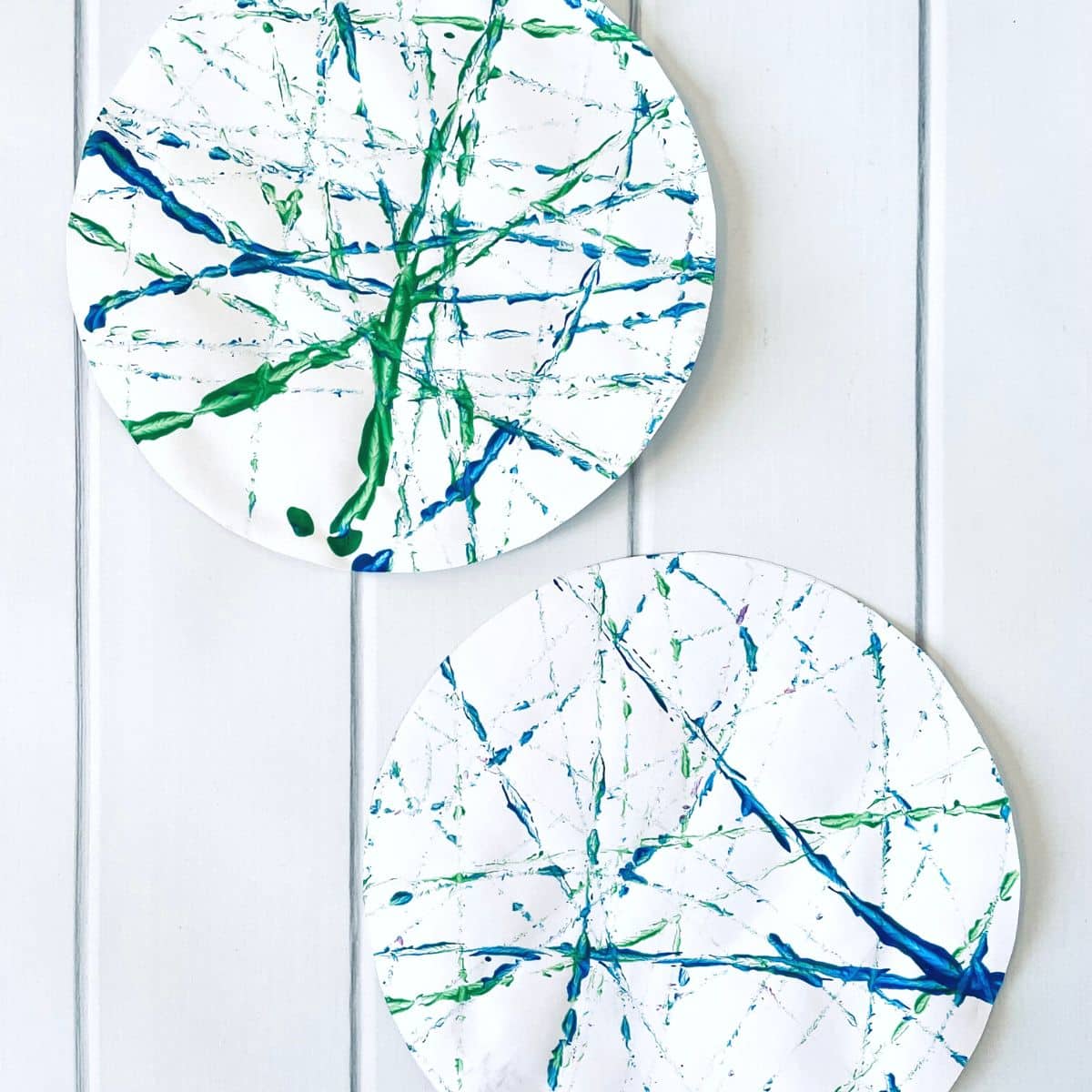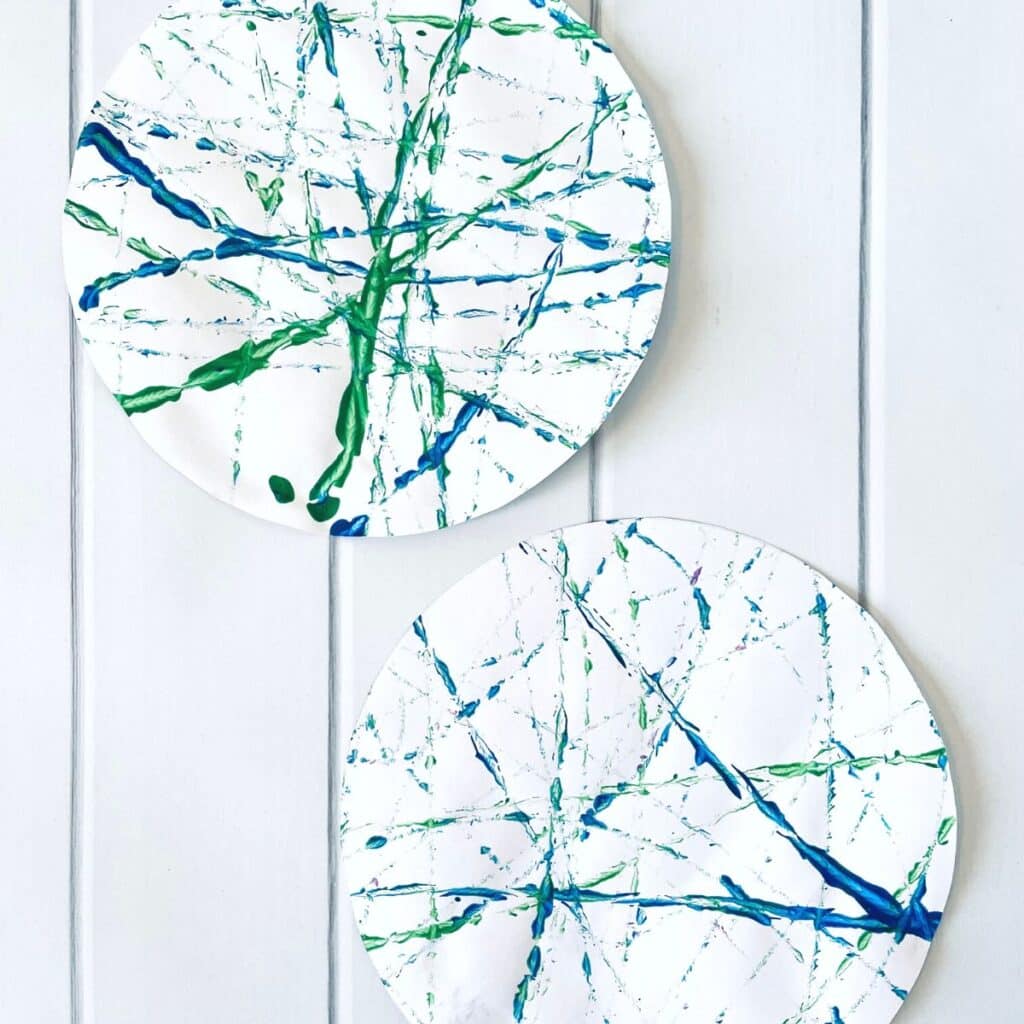 Grab the free Earth Printable PDF!
To grab the free Earth template printables for this preschool marble painting Earth Day craft, simply click the black download button below. You'll instantly get the free printable Earth templates pdf file.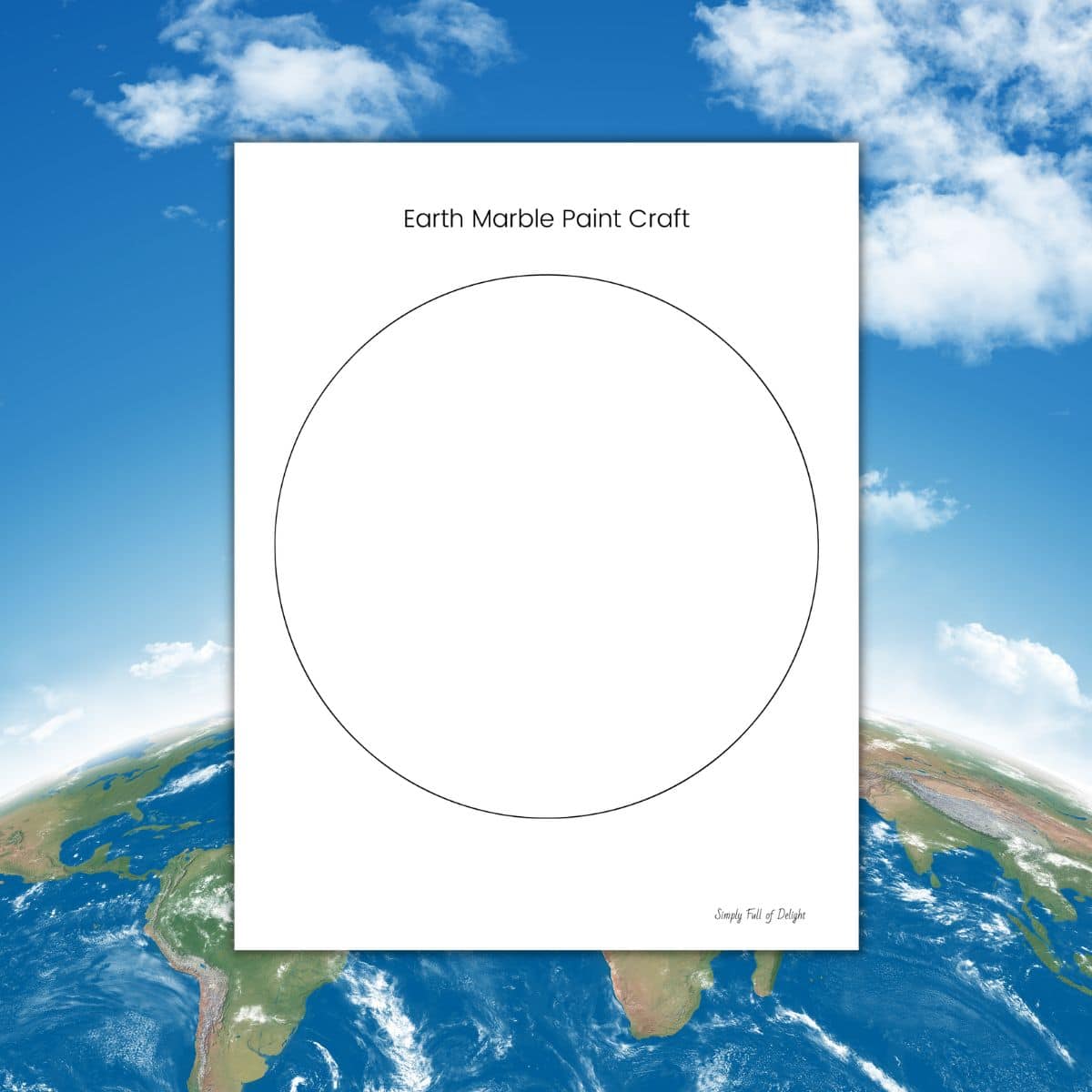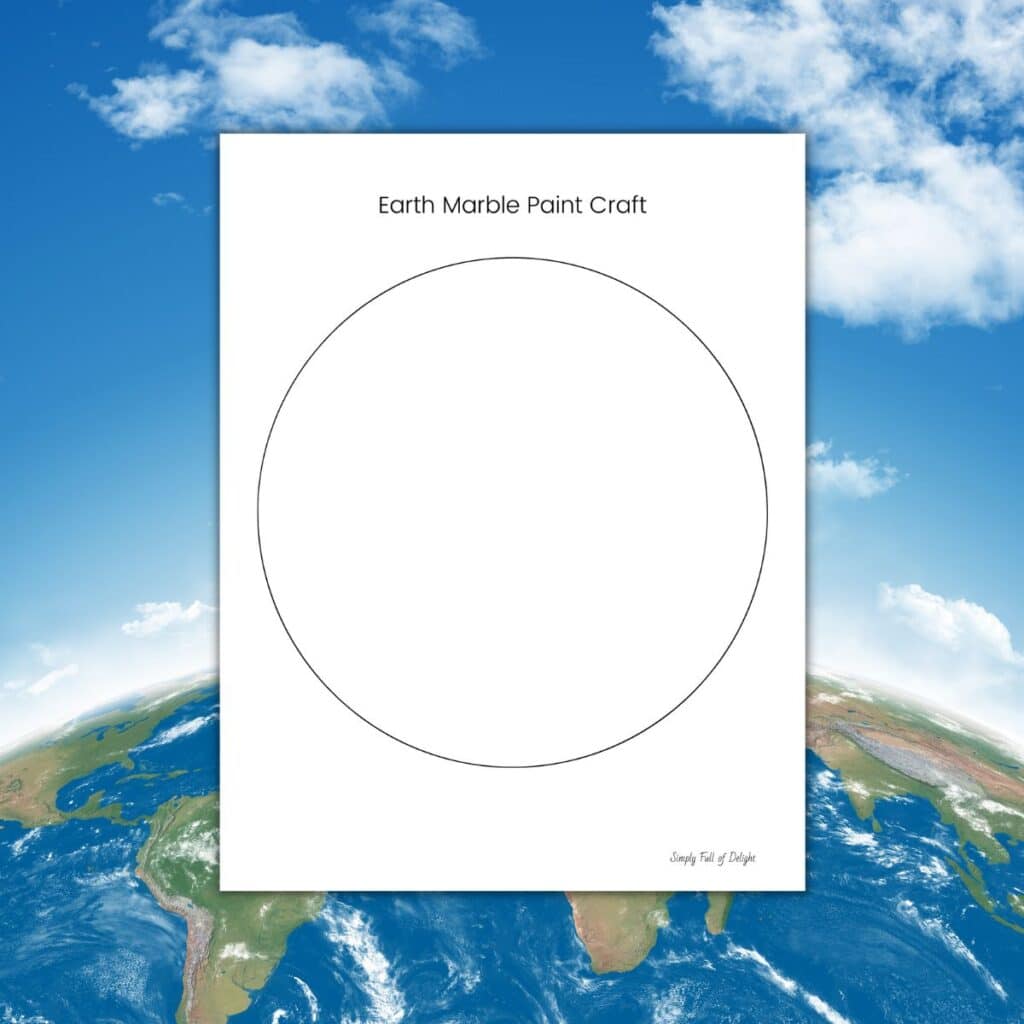 Free large Earth template:
I hope you enjoy this lovely Earth Day craft! It's the perfect Earth Day craft for little hands.
More Marble Painting Crafts
Do you enjoy Marble Painting? Me too! Nothing like some simple crafts for younger children!
For more Marble Painting fun crafts (and free templates) check out these Marble Painting ideas on my blog.
You'll find a cute Marble Painting Pumpkin Craft here that's great for younger kids.
The Apple Marble Paint craft here is perfect for back to school, apple picking season, or learning about the letter A!
You'll find a marble painting Halloween Bat and a Marble Paint Mummy for Halloween. More cute….less spooky!
And don't miss these adorable Snow Covered Marble Paint Winter Trees! The different colors make a beautiful bulletin board display.
There's a lovely Marble Paint Heart craft here – perfect for Valentine's Day!
There's also some Marble Paint Easter Eggs here as well as a Marble Painting Shamrock Craft here.
You can find lots of ideas for painting with balls here. Find a new art idea today!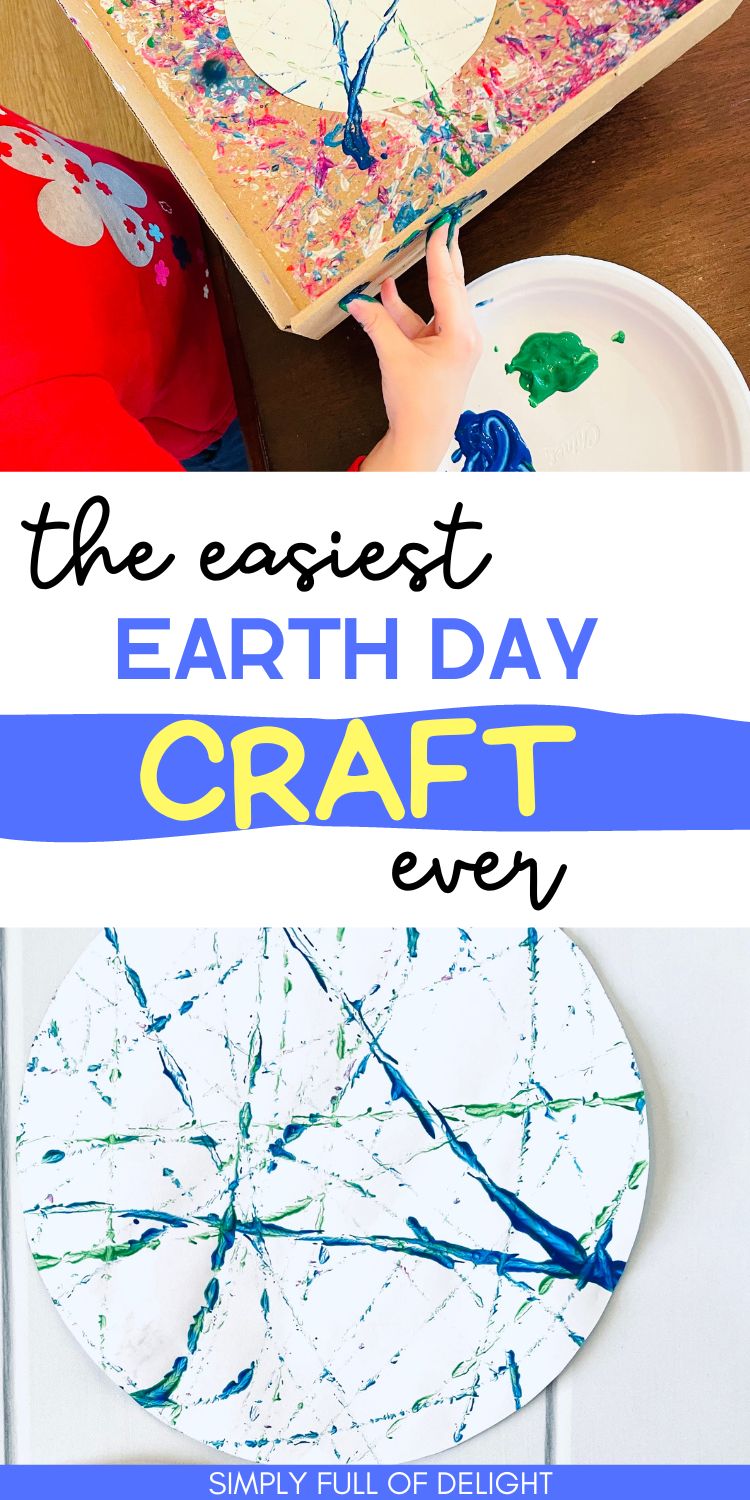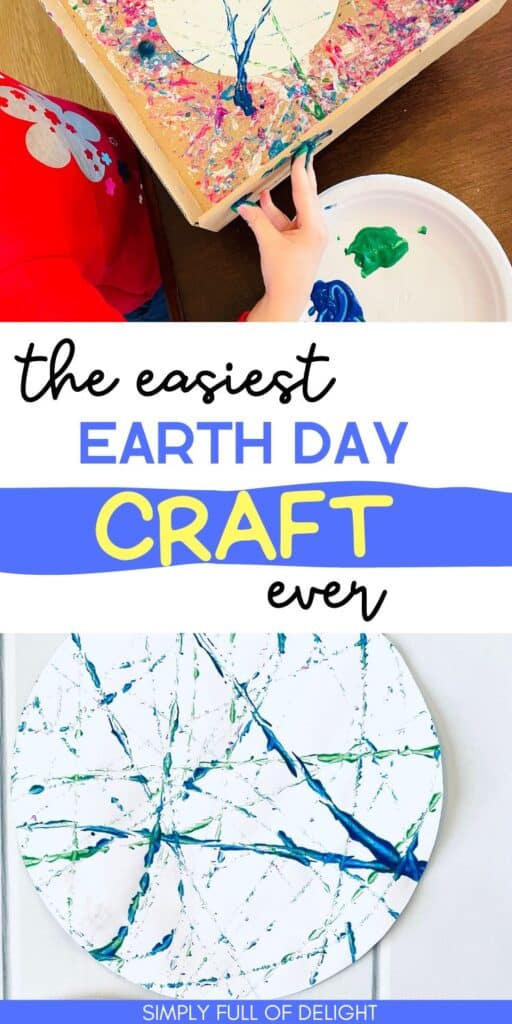 More Preschool Earth Day Activities
Need more fun Earth Day activities for kids?
There's 4 Free Printable Earth Day Coloring pages here. Great for kids of all ages these coloring sheets make a fast and easy Earth Day activity. It's the perfect way to teach kids how to take care of our planet.
There's a free printable Earth Day Hat Headband here. It makes the perfect art activity for preschoolers to talk about taking care of our planet!
You can also find some great Earth Day Craft ideas and Activities here. There's Mother Earth sensory activities, paper plate crafts, and earth day tissue paper art. Plus, you'll find coffee filter earth craft ideas, writing prompts, a puffy paint earth day craft, and more easy crafts for young children. You are sure to find some new favorite Earth Day crafts.
Also, don't miss this fun Space Sensory Bin. When talking about our wonderful planet, it's a great opportunity to teach kids a little about space as well. This fun Sensory bin lets kids explore rockets, astronauts, in a fun way.
Want to save this preschool Marble paint Earth art activity for later? Pin the image of this Earth Day art project to your Pinterest board!