Looking for a unique Spring Craft for Kids? This Carrot Stamping for Kids is the perfect Preschool Easter Carrot Craft!
We had a ton of fun this past March with our Shamrock Pepper Stamping and then again with our summer time Lemon Stamping art which made us wonder what else we could stamp with!?
Maybe…. carrots?
We gave it a try and this Carrot Stamping for Kids turned out so incredibly cute!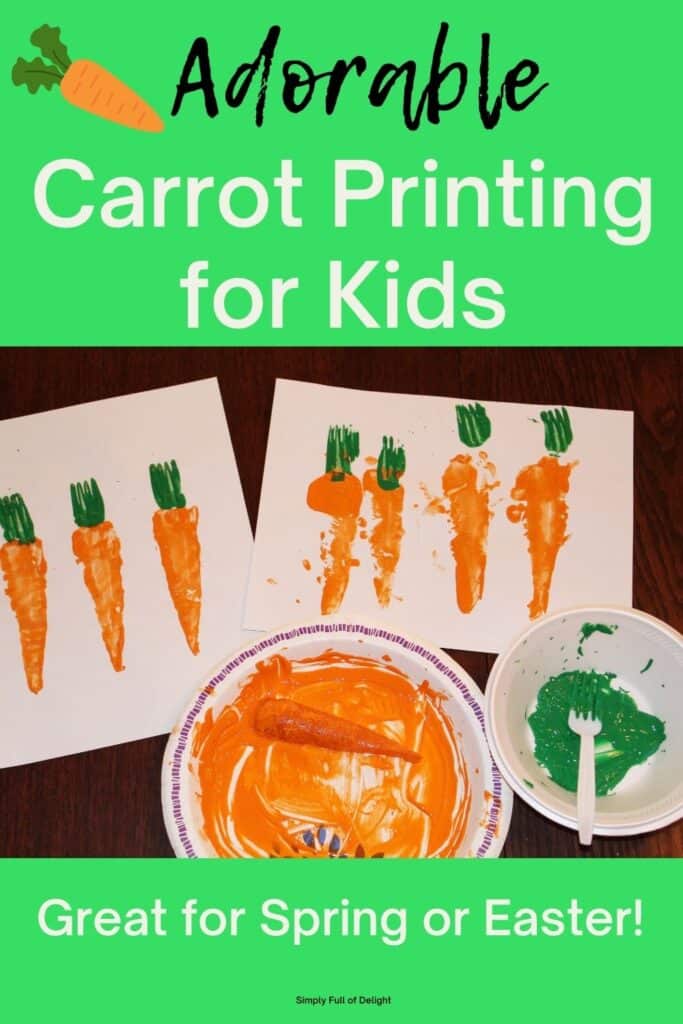 I love that it could be used at Easter time, as a alternative to all those Bunny Crafts and Easter Eggs. At the same time, it could definitely work as a preschool Garden themed craft or even be used when you do a Farm theme.
These adorable carrot prints would look great on Easter or Spring time cards to friends and family.
This is a cute carrot craft for preschool, kindergarten, and lower elementary grades. You really only need a carrot or two depending on the size of your class. Kids can take turns stamping with the carrot and then adding the adorable fork print carrot top.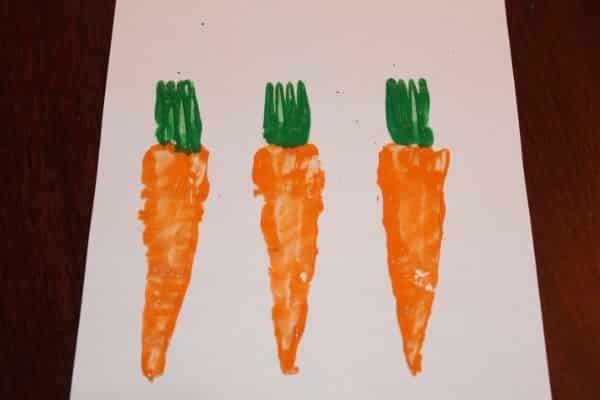 Let's get started on this unique Vegetable Stamping for Kids!
Disclosure: As an Amazon Associate I earn from qualifying purchases at no additional cost to you.
Supplies Needed for Carrot Stamping Craft
– Orange and Green Paint (we love this washable paint by Crayola)
– Large Paper plates – to hold the paint
– A Carrot (cut lengthwise and trimmed down as suggested below)
– Plastic Fork
– Paper – We used white construction paper, but copy paper works great too. Or, you could use a larger size of paper to add to the fun as well!
– Paint Smocks (to keep those clothes clean!)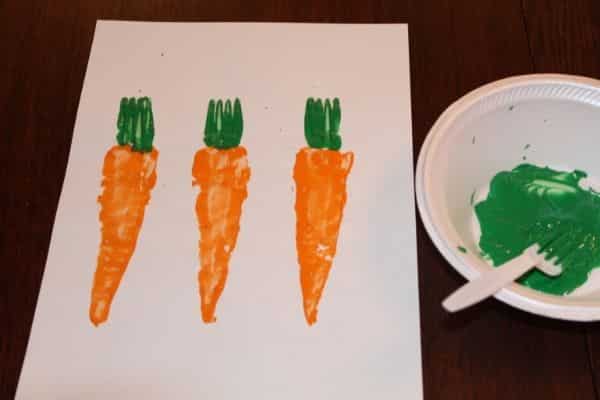 How to do Carrot Stamping for Kids
First, cover your work space with a plastic tablecloth to keep the mess at bay. If your child is young, have them wear a smock to protect their clothing. Carrot Painting can be messy!
I choose a whole carrot that was less odd in shape (more typical carrot shaped!) Carefully, I cut it lengthwise and then shortened it by cutting off the last few inches. I reshaped it with my knife, giving it a nice triangular shape with a pointy tip.
(You could definitely just cut it lengthwise, but when we tried using a long carrot, it didn't give the "carrot stamp shape" that I was hoping for. Reshaping the carrot gives it more of a definitive carrot look).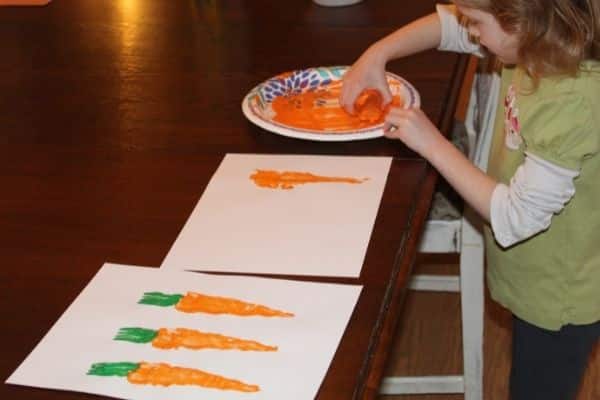 Next, take the orange paint and pour a generous amount onto the paper plate.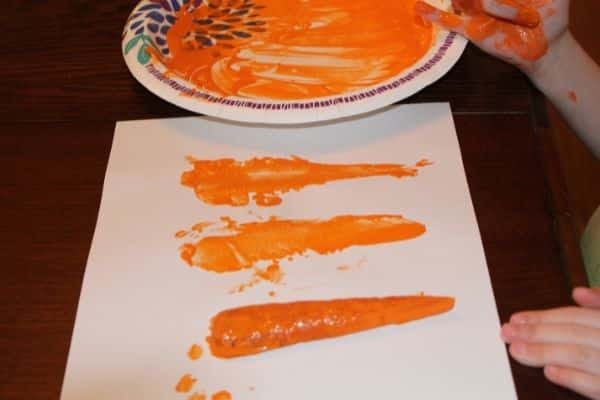 Show the kids how to dip the flat side of the carrot into the paint, then stamp it firmly onto the paper, leaving a print of the carrot.
It's a little messy, so you might want to have baby wipes nearby.
After your child has made a row of carrot prints, it's time to add the carrot tops! Pour some green paint onto a paper plate (or a bowl).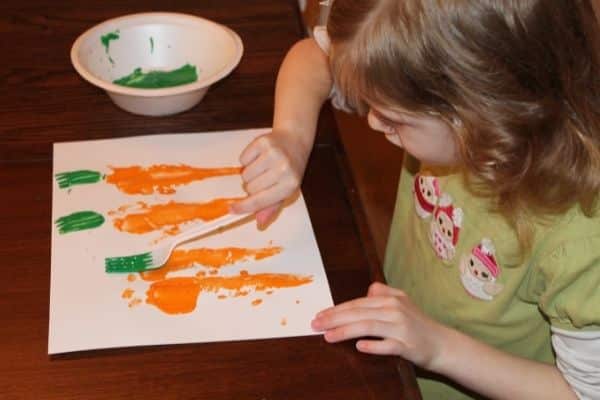 Place your plastic fork into the paint, and then stamp it on top of each carrot print. This preschool carrot craft is easy peasy and oh so cute!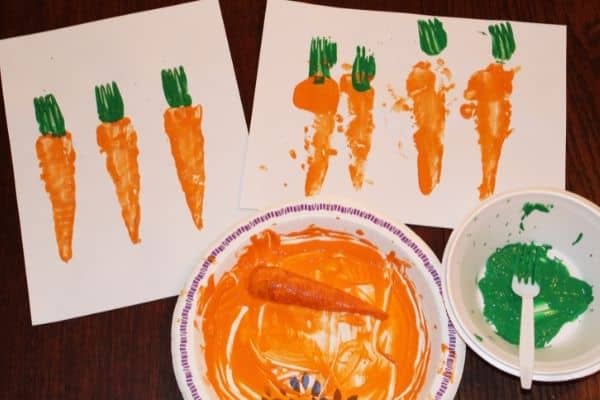 More Spring & Easter Activities for Kids
I hope you enjoy this simple preschool carrot craft for kids!
Looking for more carrot craft ideas? Check out this Yarn Wrapped Carrot Craft (with free carrot template). It's so adorable!
There's also a simple Paper Tear Easter Bunny craft here.
You can find a super easy Symmetry Easter Egg Craft here.
There's an adorable Spring Preschool Activities set here in my Etsy shop! Tons of fun including a matching game, cut and paste activities, tracing and more! Be sure to check out the garden cut and paste – SO CUTE!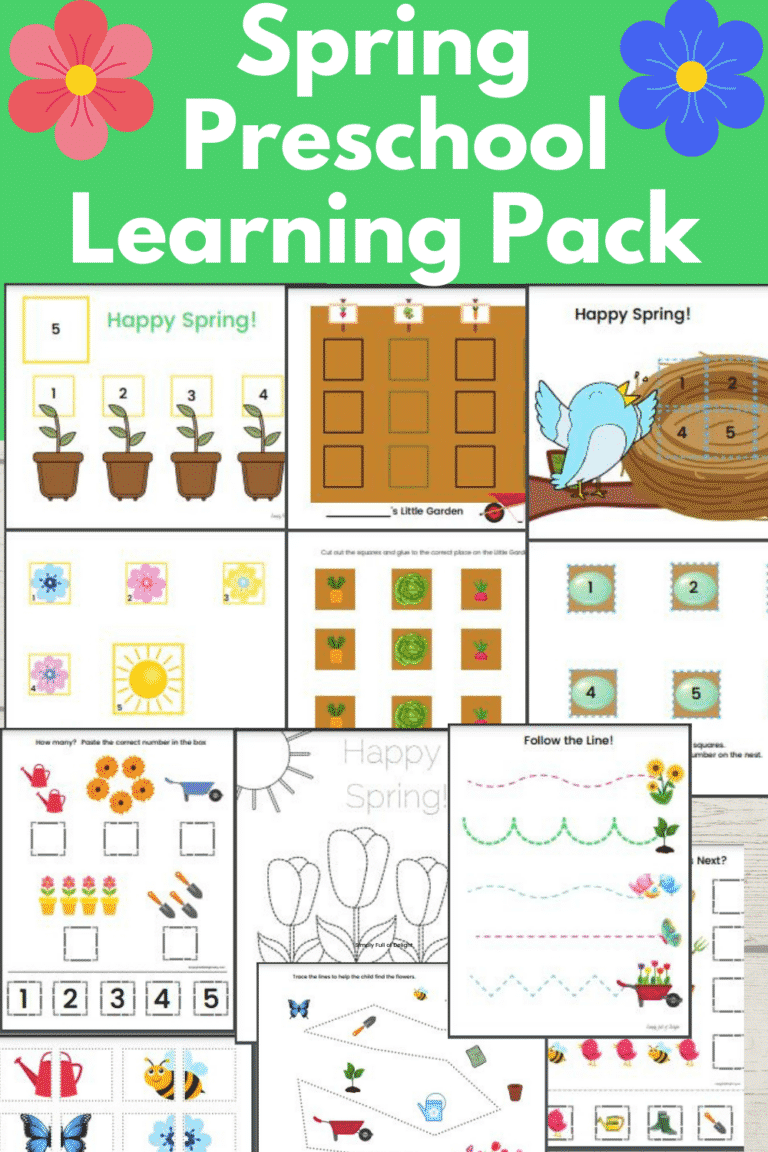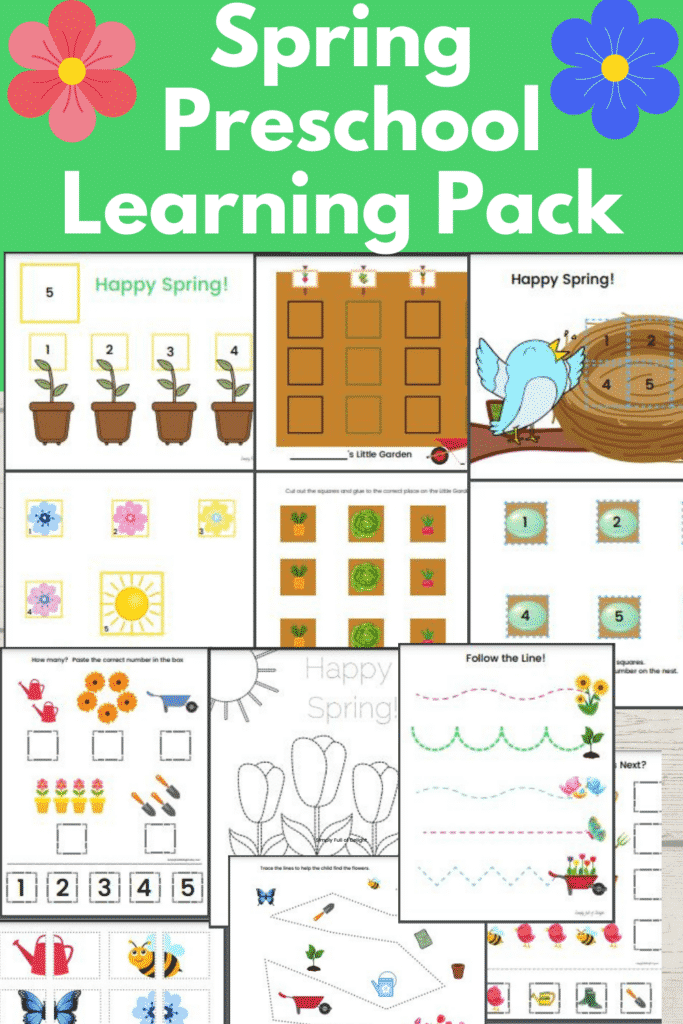 Want to save this idea for later? Pin the image below to your Spring Crafts Pinterest Board!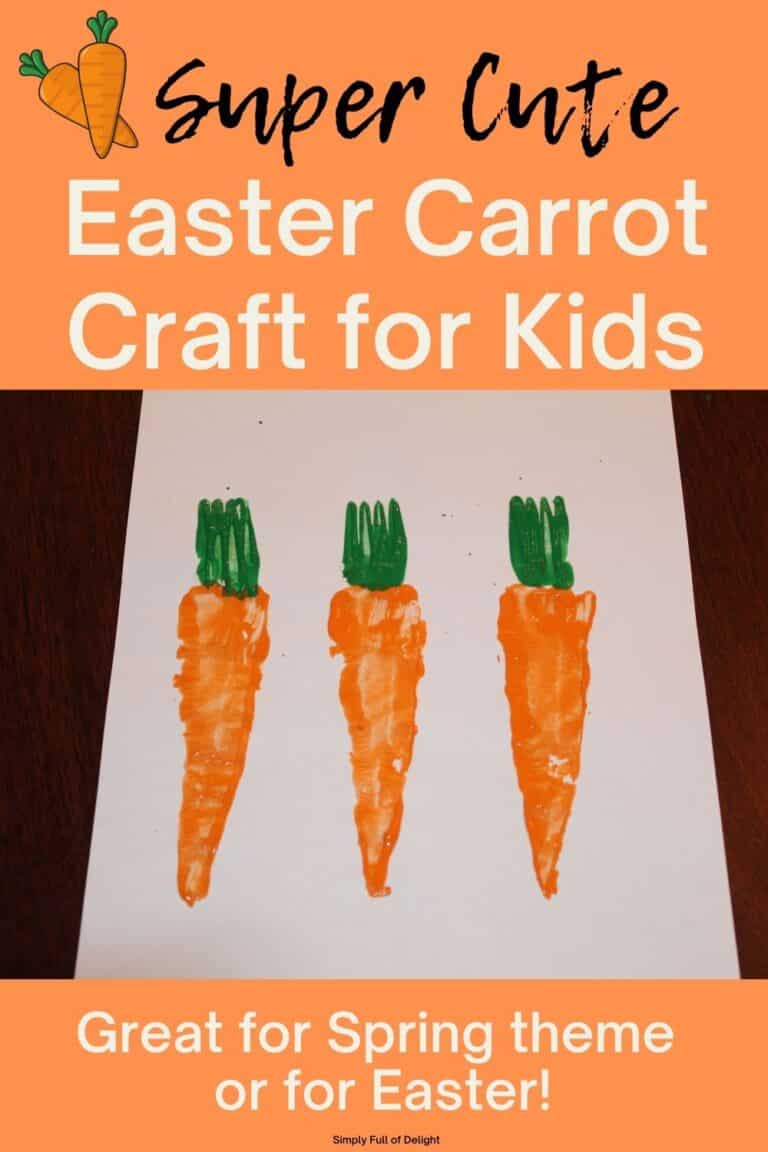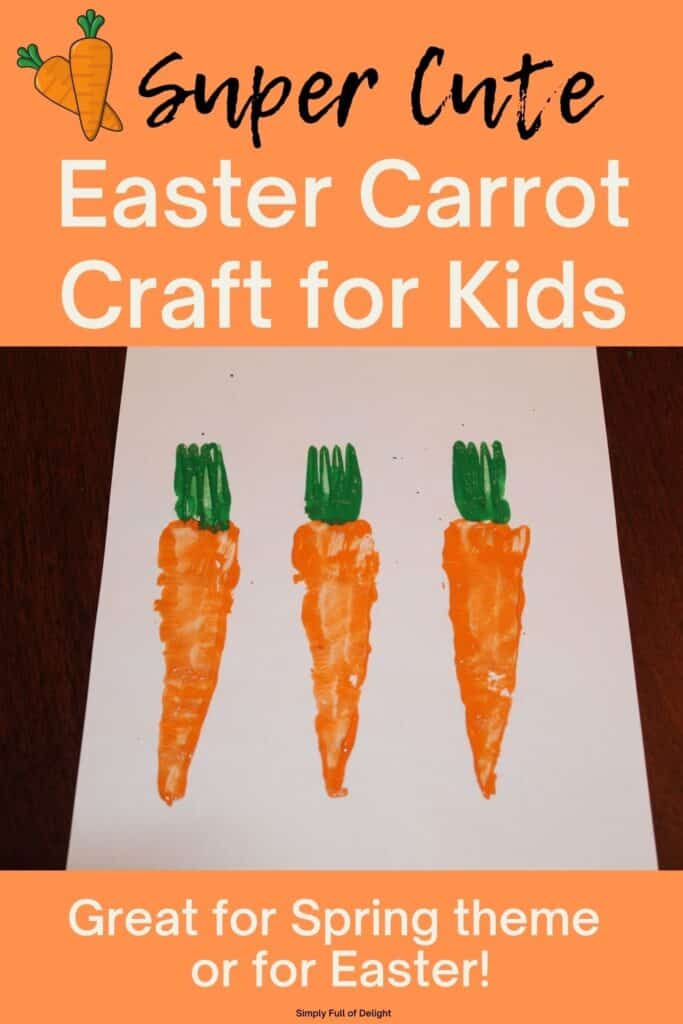 Related Posts