Need some awesome Screen Free Activities for Kids? Here's 50 amazing ideas that will keep your little ones happy and busy!
Not only are these screen free ideas fun, but many are educational.
I'm not a strict "zero screen time" mom. Rather, as a mom of 4, I've found that limiting screen time has been highly beneficial to my kids.
I've seen first hand that too much screen time can lead to grumpiness, while other times it causes a "bouncing off the walls" type of behavior.
But most importantly, too much screen time can lead to some serious health problems down the road. (You can read more about that here).
This screen free activities list is meant for kids ages 3-12. Some of these ideas will work for younger children and others will be great for older kids as well. Be sure to check out my list of 40 Screen Free Activities for Tweens and Teens as well.
Let's dive in! Here's the list of 50 Awesome Screen Free Activities for Kids!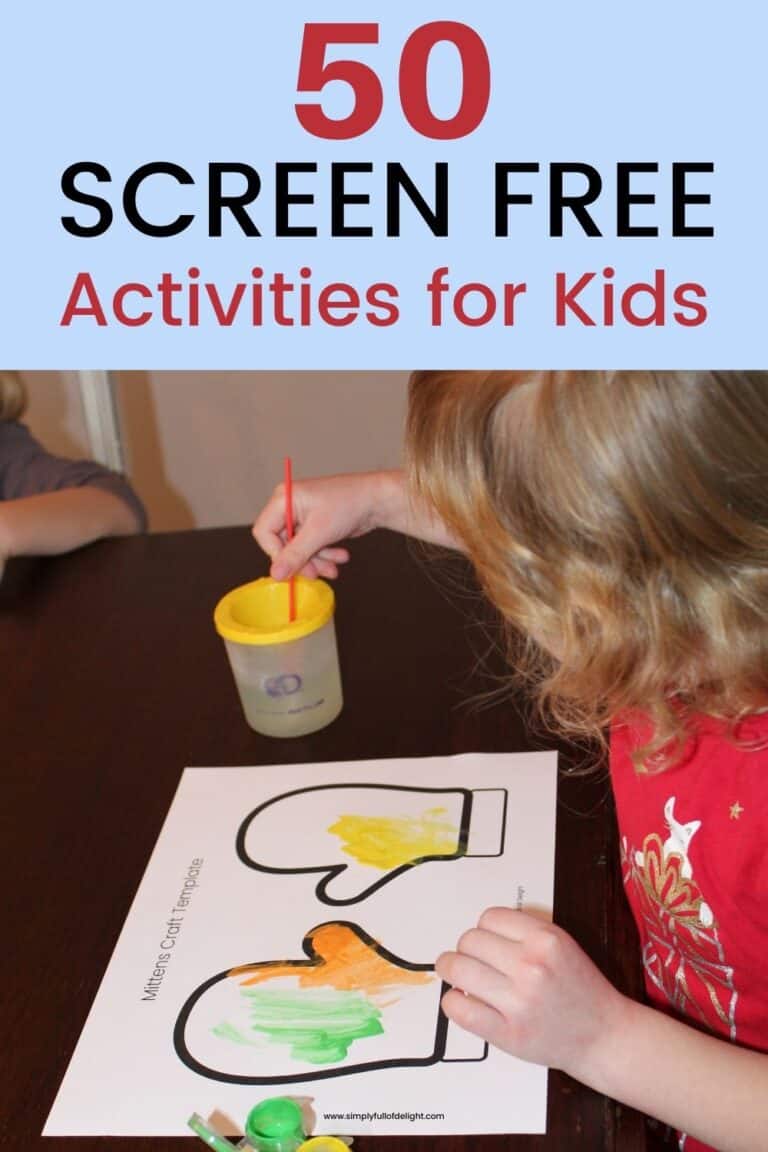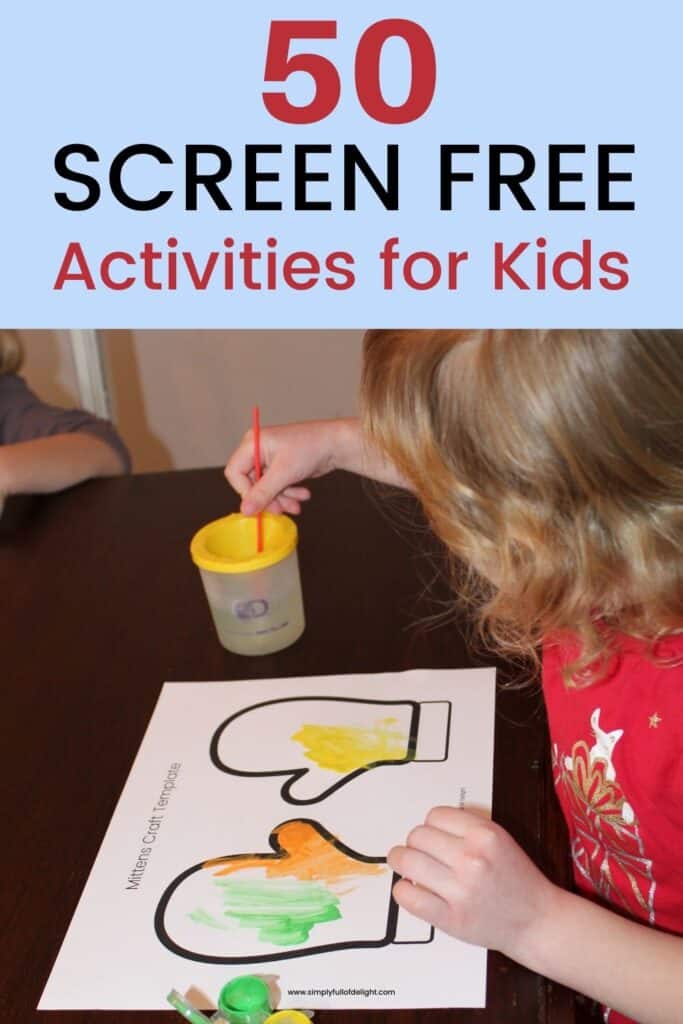 *** Disclaimer: As an Amazon Associate I earn from qualifying purchases, at no additional cost to you.
Arts & Crafts – Indoor Screen Free Activities for Kids
1) Jewelry Making – Provide your child with beads and string and allow them to create necklaces and bracelets! Even the littlest friends can join in on the fun with these lacing beads.
2) Painting – There's so many fun ways to paint. Kids can use a simple water color set, paint brush pens, Do-a-Dot markers, or little pots of paint. Grab some free printable painting pages here.
3) Create a T-shirt – Grab a plain t-shirt and allow your child to use fabric paint or fabric markers to decorate it. Don't forget to put some cardboard inside the shirt to keep the design from bleeding through to back! If you are feeling adventurous try a tie-dye kit!
4) Rock Painting – Rock painting has become big in the past few years! All you need are rocks, a paint brush and some water proof paint!
5) Cut and Paste Activities – Great for fine motor skills and keeping kids busy, cut and paste activities are a hit in my house. You can find tons of fun ones here in my Etsy Shop.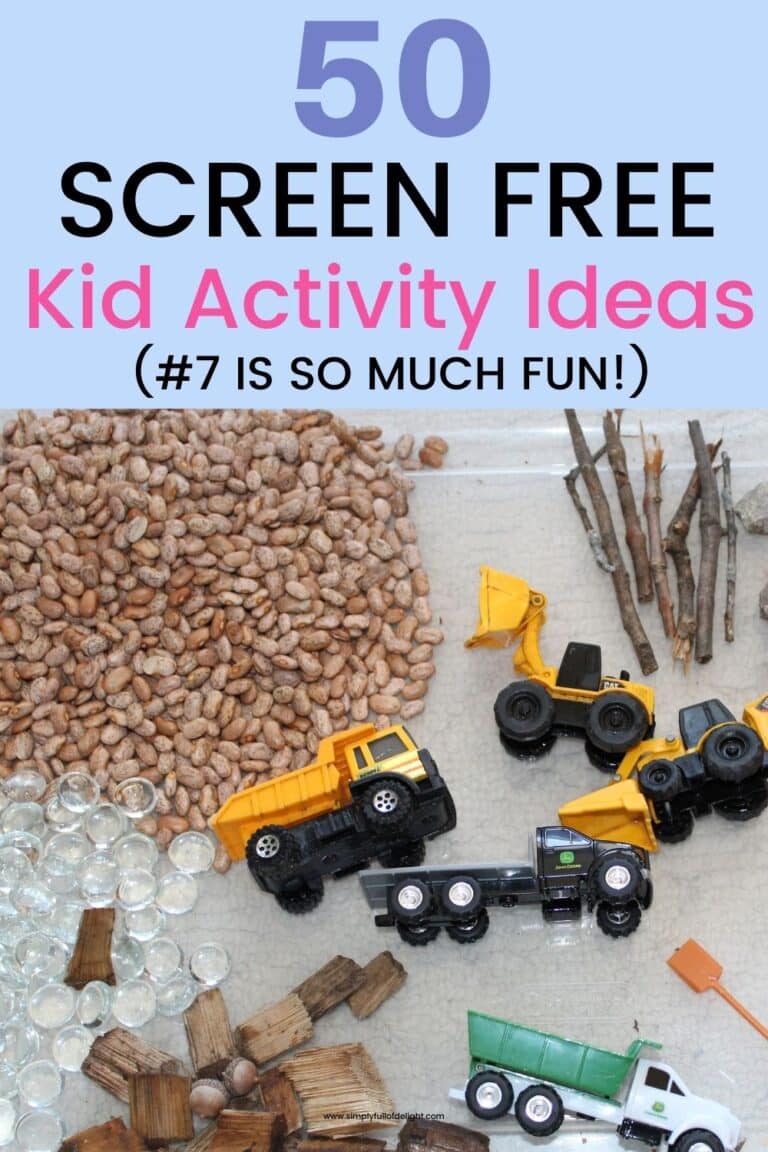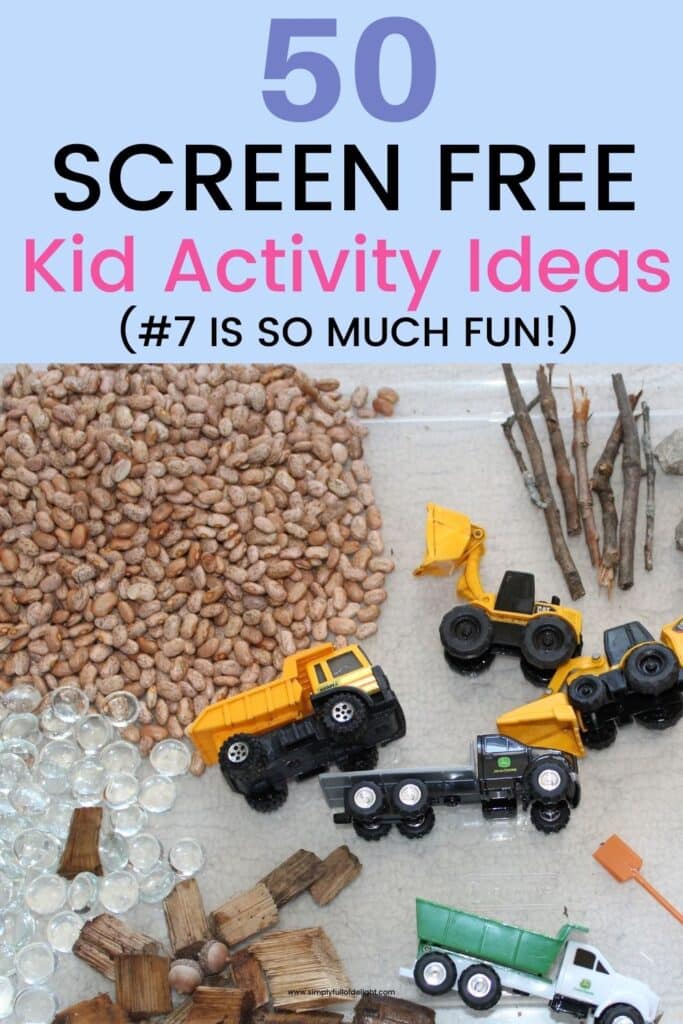 Sensory Play Ideas
6) Kinetic Sand – This amazing sand sticks to itself and has a neat oozing property to it. It will keep your kids engaged in play for long time. Kinetic Sand is similar to play dough, but less messy! I keep ours in a sensory bin on the floor. My kids love to use this ice cream set with it. Here's 15 of the Best Kinetic Sand Ideas to extend the fun.
7) Sensory bins – Grab a tote and fill it with dry beans, colored rice or pasta. Add objects to dig, pour, and play. If you'd like more ideas for creating a bin, check out these 4 sensory bin ideas.
8) Fake Snow – This fun recipe for fake snow will keep your child engaged in play and using their imagination. With only 2 ingredients, it's simple to make and so much fun!
9) Playdough mats – Print out these free playdough mats to engage your child in dough play. Each one prompts creativity and fun! For more playdough mats, visit my Etsy shop!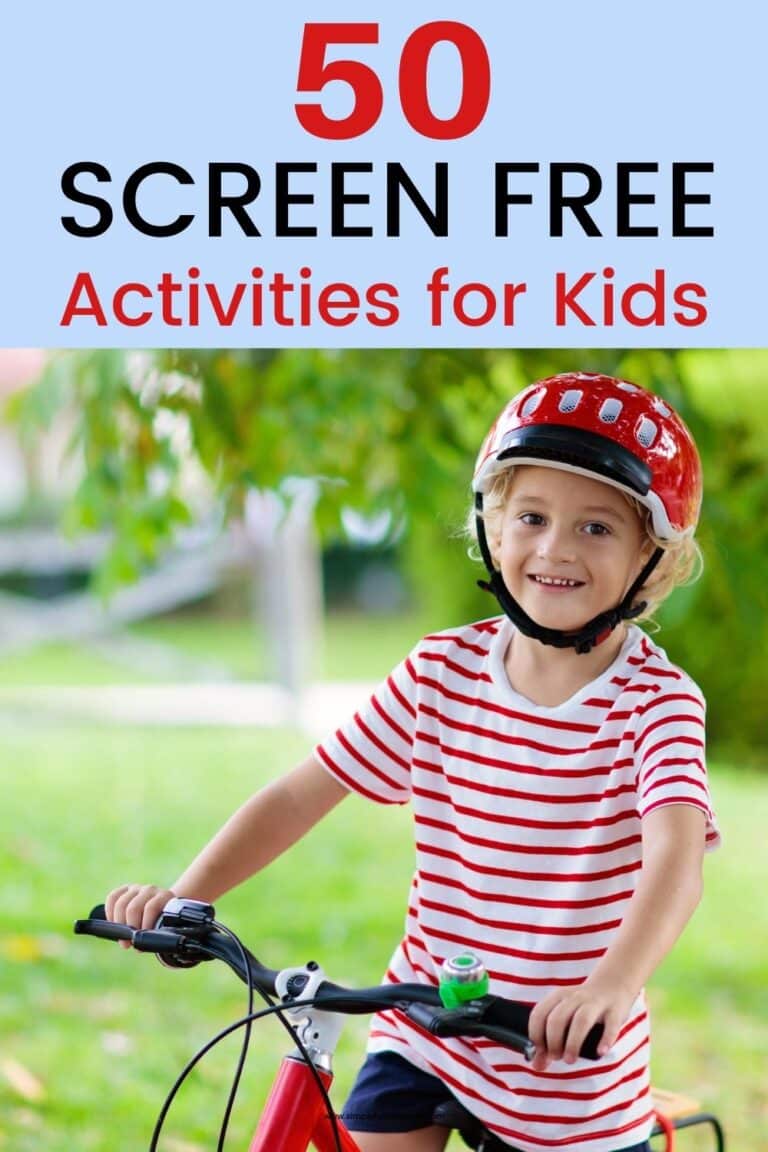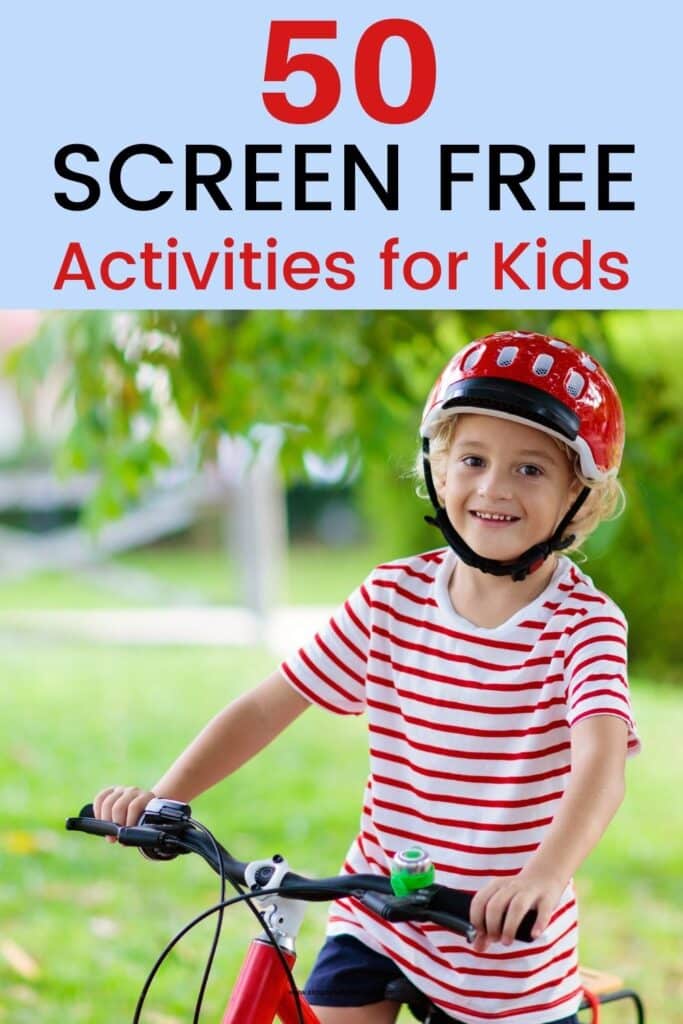 Outdoor Screen Free Activities for Kids
10) Fairy garden – Provide your child with the materials to build a fairy garden and watch their creativity come alive! Find items from around the house to build a cute little fairy community, or grab what you need in a convenient fairy garden set.
11) Stomp rockets – Great for encouraging outdoor play, these stomp rockets are kid powered and so much fun! All they need to do is attach the rocket and stomp on the launcher to watch the rocket soar up!
12) Archery – This is a great way to keep kids engaged in outdoor play while improving motor skills! My kids love this wooden archery set by From Jennifer on Etsy. I love that it's kid-safe and high quality.
13) Bikes/Trikes – Get your kids outside and moving on a bike or trike! See if there is a bike trail nearby that your family could enjoy together.
14) Playhouse – If you have a play house outside, provide your child with some furnishings like plates or bowls to "cook." Consider allowing toy tools outside for "fixing" things and hammering.
15) Water table or Sand Table – Bring the sensory play outside with a water table or sand table! Perfect for those days when you just can't make it to the park or a pool!
16) Chalk – Have an artist in the house? Take the fun outside with sidewalk chalk! You could create an obstacle course, a town, roads for bikes to follow and more!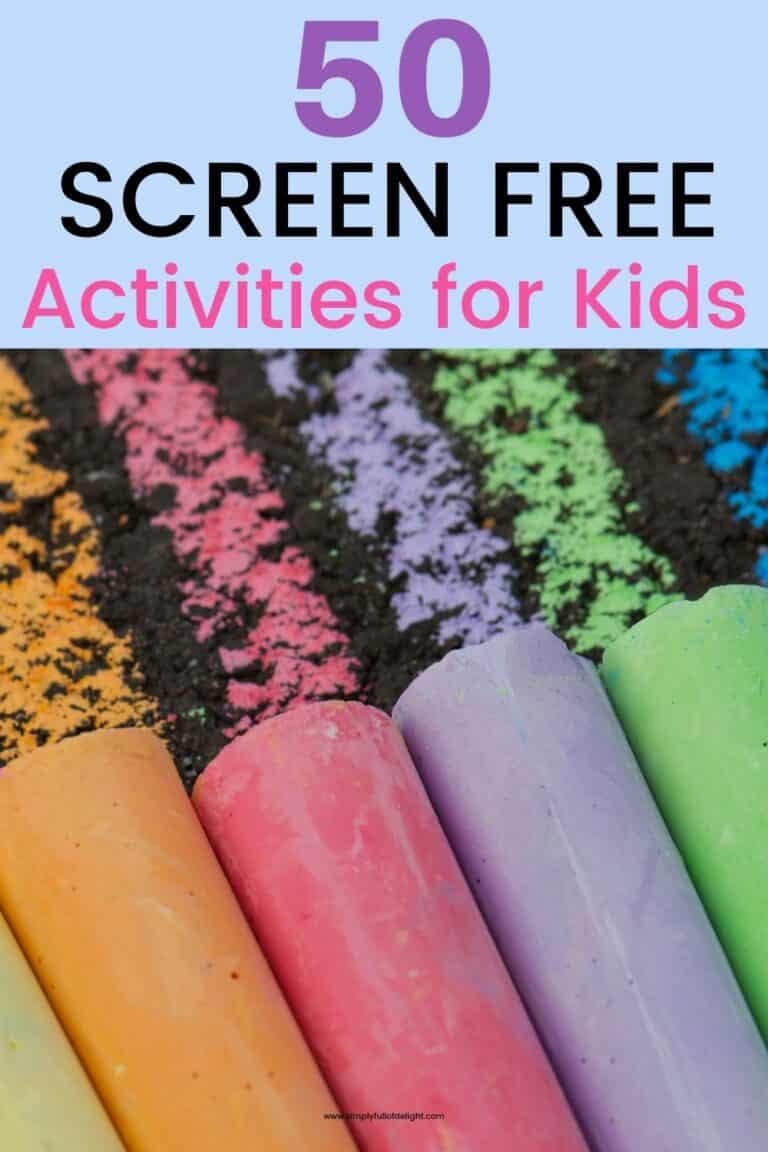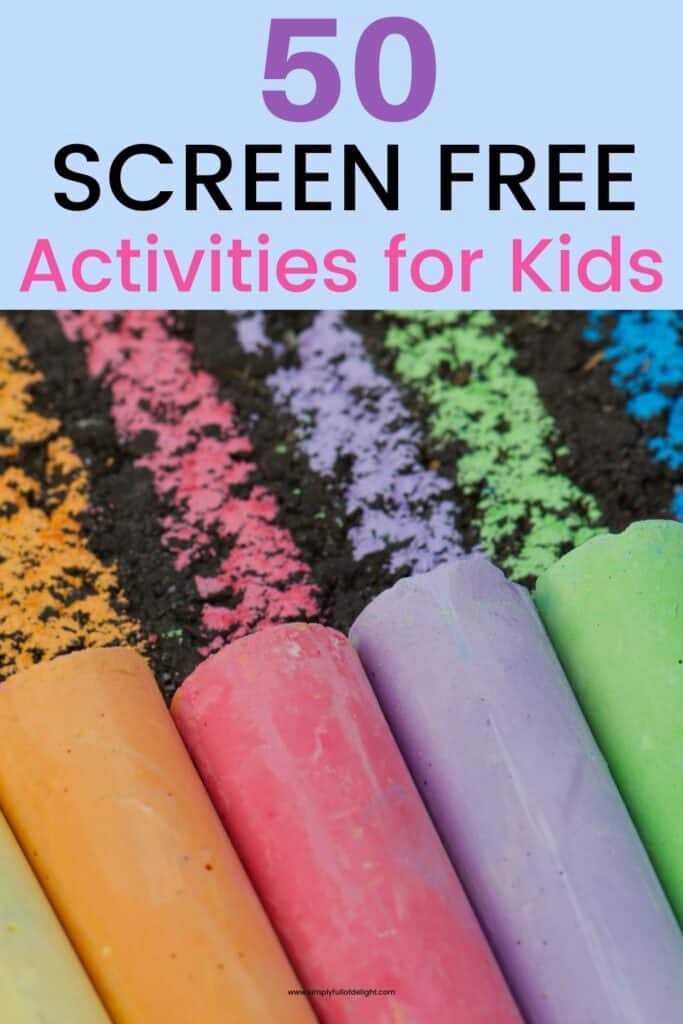 More Outdoor Screen Free Fun
17) Hand Kite or Parachute – Get your child up and running with a Hand Kite or Parachute! They will love seeing their toy flying in the wind. Alternatively, find a safe place and fly a kite with your child.
18) Bubbles – Every kid loves bubbles! Go old school with a simple jar of bubbles or have fun with one of these motorized bubble makers!
19) Obstacle Course – Create an obstacle course with items from around the house or check out these Ninja Warrior ideas. Challenge your child to a race and see who can complete the obstacle course in the least amount of time!
20) Wheelbarrow – Kids love to fill wheelbarrows and haul them around the yard. Provide a toy shovel and your child will be busy for days!
21) Nature Walk – Explore the outdoors together as a family on a nature walk. For additional fun on your walk, check out this free Outdoor Scavenger Hunt.
22) Paint with water or spray bottle – Sometimes all you need is a little water to liven things up! My kids like to walk around with a spray bottle and water flowers, trees, and more. With bowl of water and a paint brush, kids can "paint" the sidewalk!
23) Drive an R/C Car – An outdoor R/C Car is a fun activity for kids! Just make sure to set boundaries and rules.
24) Sports – Playing basketball, football, soccer, and other sports are a great way to get your child up and moving! Not only will they get some great exercise, but they will develop skills.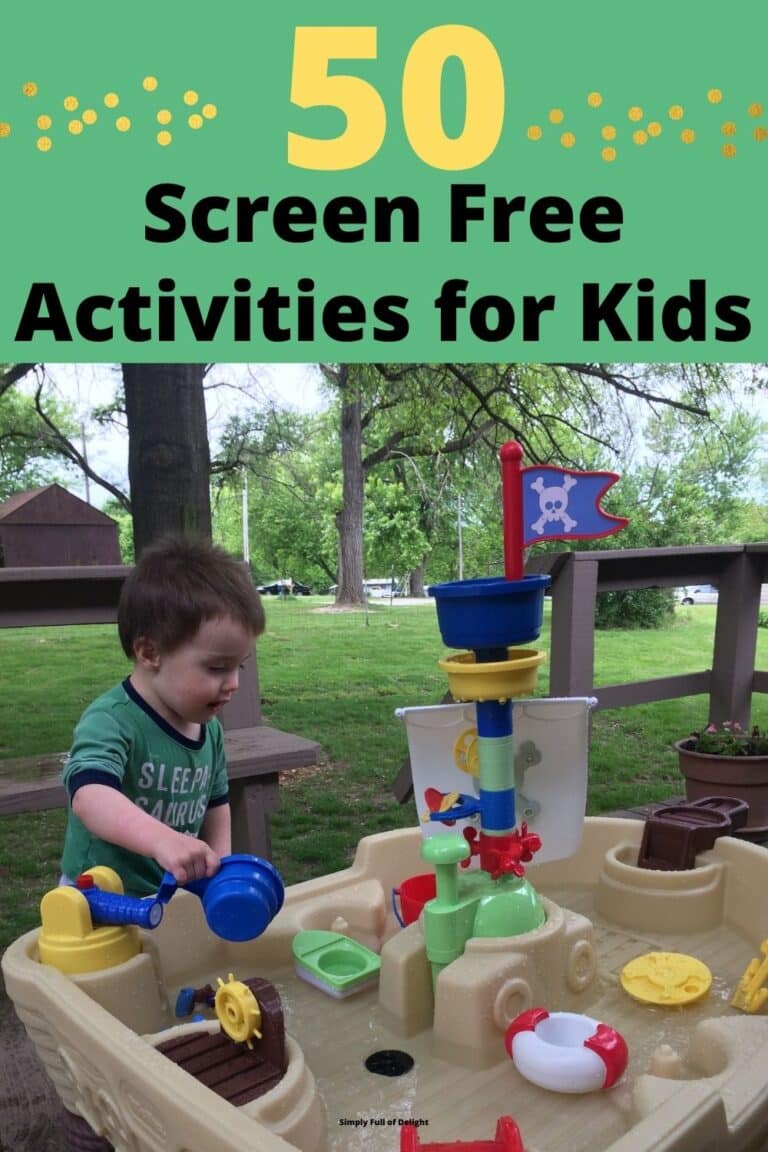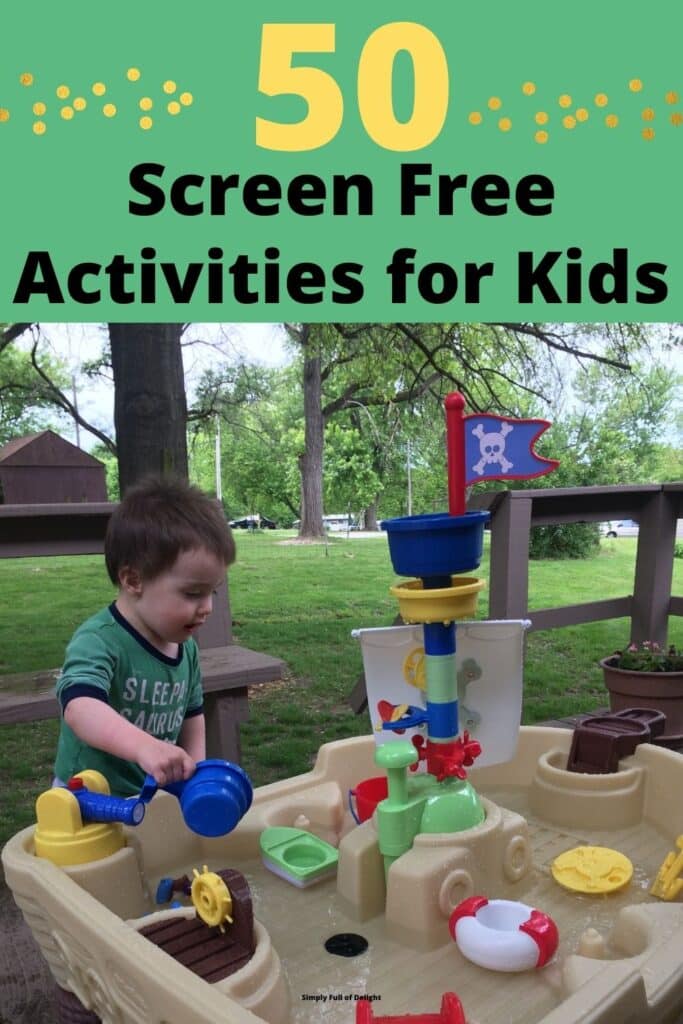 Indoor Play
25) Board Games – A great way to spend time with your kids or keep kids busy is with board games! Here's a list of my family's favorite preschool board games, (which also can be played without the help of an adult!) Also, here's our family's 12 favorite older kid/adult board games.
26) Dress Up – All of my kids ages 10 and under love dressing up. Provide your kids with some of your old clothing or some special dress up clothing and let them use their imaginations!
27) Puzzles – My kids have been puzzle obsessed since they were 2. We love the floor puzzles by Melissa and Doug as well as these amazing puzzles from Ravensburger.
28) Water Wow – These amazing color with water books are reusable. Every time the picture dries your child can do it again. My kids love doing these at home and on the go!
29) Reading – Reading is a great activity for kids of all ages. Visit a local library for some new books to spark your child's love for reading and check out this List of Funny Books my family recommends!
30) Build a Fort or Tent – Kids love building tents! It doesn't have to be complicated. Sheets and chairs can make a great tent. For a super simple tent, drape a sheet over a table!
31) Pretend Food – Playing "cook" is a game that rarely gets old! Mix it up by providing something new for their little kitchen. This Soup set is one of our family's favorites!
32) Tea Party – Set a blanket on your floor, along with a tea set and crackers. Allow your child to practice pouring. We usually use water for this activity and the blanket is there to help catch the spills!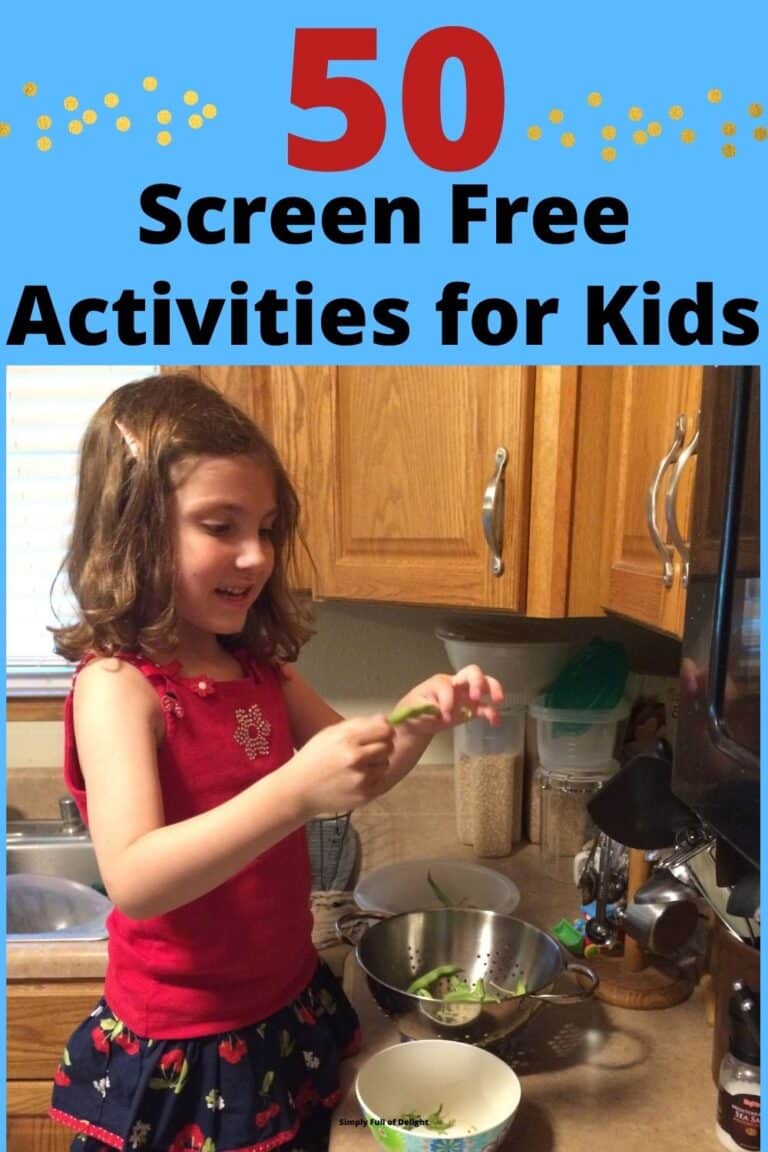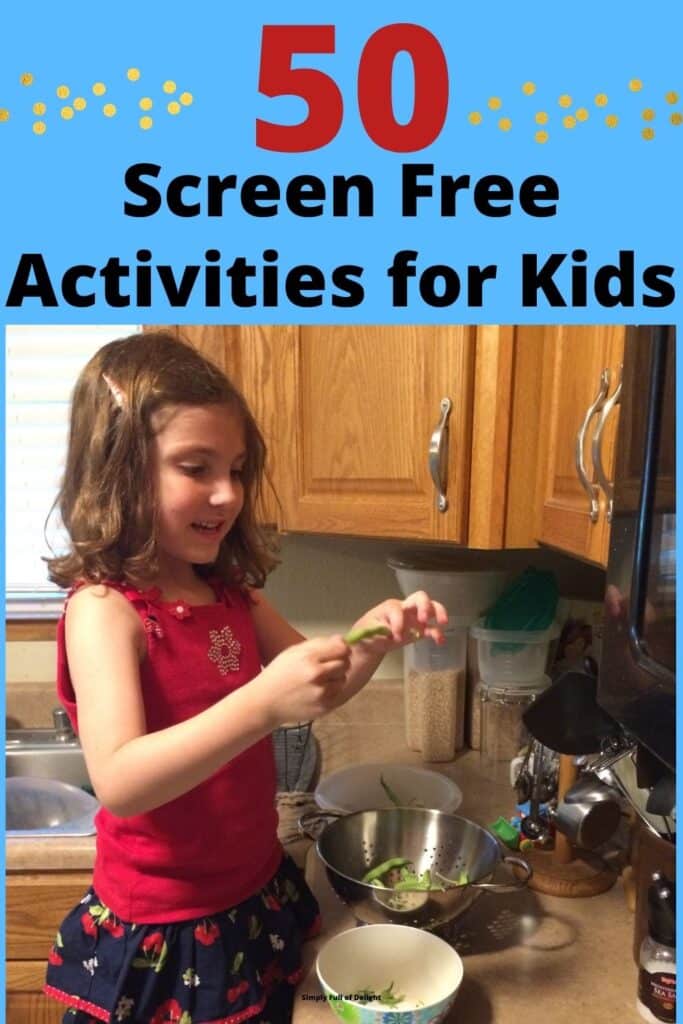 Kitchen Fun – Screen Free Activities for Kids
33) Baking – Invite your child (or children one at at time) to help you bake cookies or another treat. It's never to soon to start those kitchen skills!
34) Popcicles – If you have a capable child, making pudding or pudding popcicles is an easy afternoon project! My kids love chocolate pudding popcicles.
35) Kabobs – Making fruit kabobs or kabobs to be grilled is a great way to introduce your child to helping in the kitchen.
36) Kid Cookbook – Find an amazing kids' cookbook and allow your child to plan a meal and help prepare it!
37) Cake Decorating – Provide your child with the proper tools for cake decorating and something to practice on! Developing this skill is an amazing way to both have fun and learn something valuable!
Volunteer Work
38) Yard Work – Teach your child the pride of a job well done. Make picking up sticks or raking the leaves an activity you do together. Reward your hard worker with a special drink afterwards.
39) Make Cards for Elderly – Provide fun drawing materials, paper, and stickers to help your child create a card for an elderly friend or neighbor.
40) Write to a Soldier – Help your child bring a smile to a soldier's face with an encouraging letter. Find more details about where to send letters here.
41) Gather Donations – Show your child how to go through old clothing and toys to donate. Talk about how their donations can help others as well as how it benefits their own room.
Music Time
42) Dance party – Turn up the music and have a dance party with your kids! This is a great way to burn some energy and have fun.
43) Make an instrument – Provide your child with materials to make a drum set or an instrument that makes noise when you shake it.
44) Make a Parade – Already have some instruments? Have the kids join together to make a parade! Too noisy? Have the parade march outside!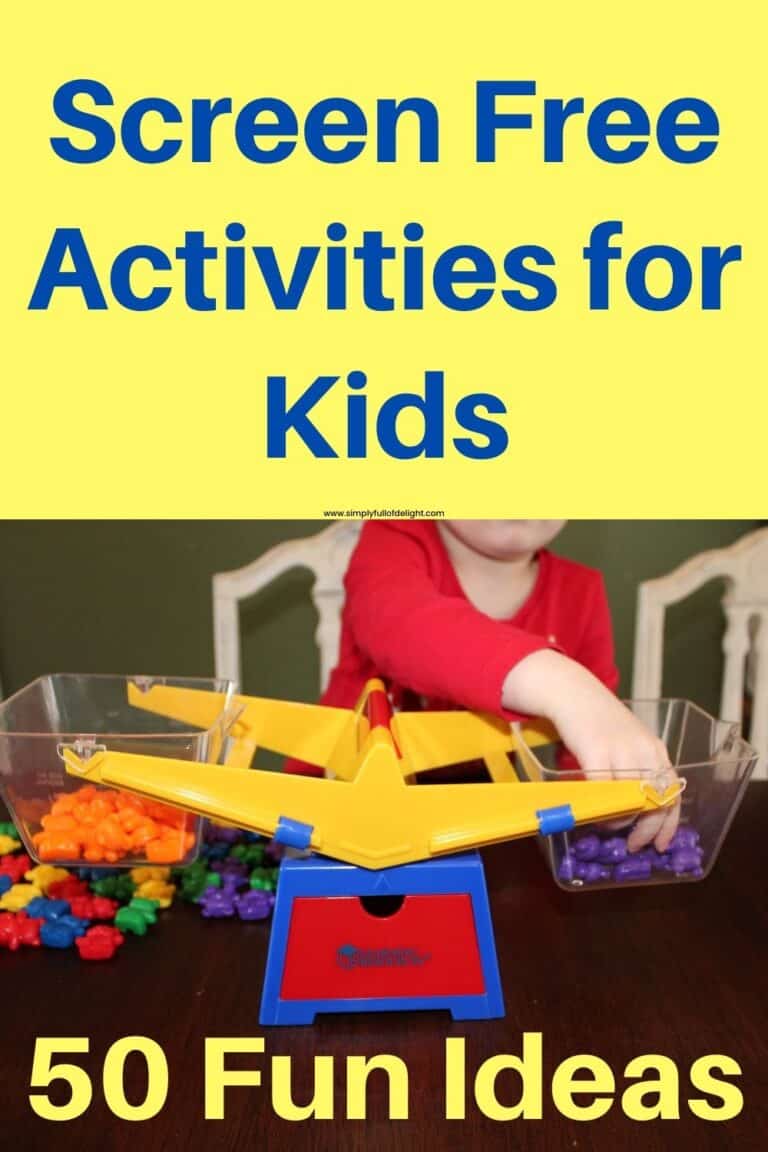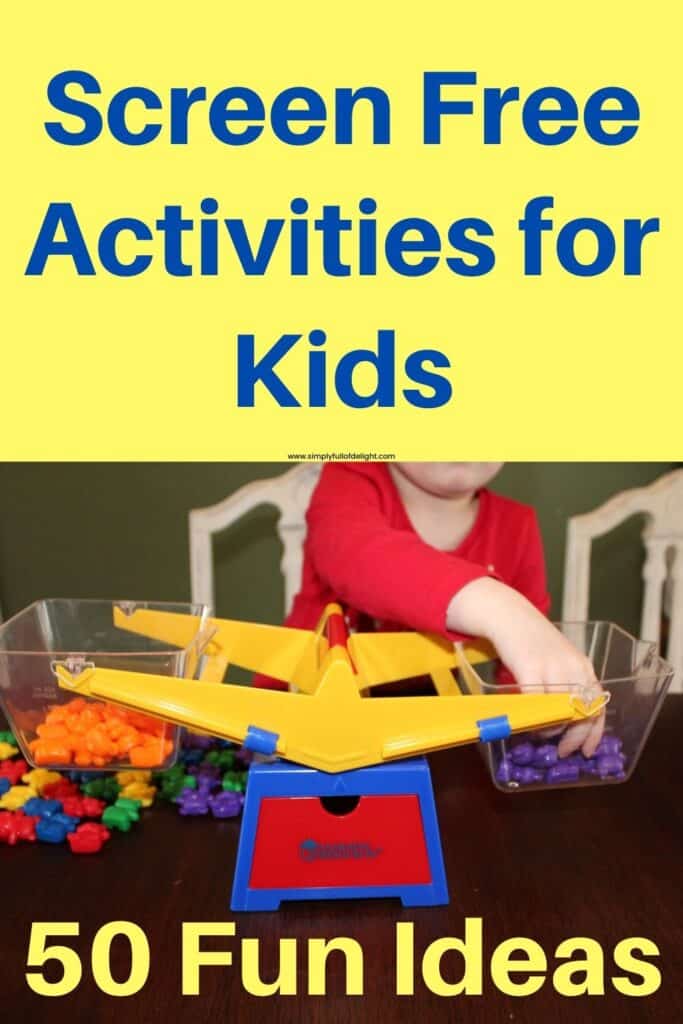 STEM Activities
45) Science experiments – Budding scientist in the family? Provide your child with the materials to do some simple science experiments.
46) Build with Legos – Encourage your child to build a specific item or follow their imagination as they build with Lego blocks. If you have little ones, try Duplos, which are Legos for younger kids!
47) Create a Marble Run – Help your child develop spatial reasoning and logic by building a marble run. Perfect for keeping kids busy AND teaching them valuable skills!
48) Magformers – Build your child's logic, spatial reasoning, and imagination with these amazing magnetic tiles. My kids can't get enough of Magformers, as they love building 3D objects like balls, towers, and animals.
49) Balance – Help your child understand estimation and measurement with a simple child friendly balance. Not only is it a great learning tool, but it's super fun!
50) Building Blocks – Put your child's creativity to the test building contraptions with these Keva blocks. They will love building with these simple blocks and testing their creations.
More Screen Free Fun
I hope you found some awesome Screen Free Activities for Kids! Looking for more screen free family fun?
You can find some fun free printable Would you Rather Questions here. Perfect for engaging kids in conversation and of course, laughing together.
If you love Funny Questions, be sure to check out this list of 400+ Funny Questions to Ask Kids.
If you are planning to travel soon, be sure to check out the Best Toys for Road trips. Tons of amazing screen free activities to keep your kids busy!
Related Posts