Today I'm talking about the 13 best games for preschoolers!  When it's a rainy day, or you need a quiet time activity, it's time to pull out the board games!  
When I made this list, I literally pulled our family's favorite preschool games out of our game closet.
I'm only recommending games we actually own and LOVE.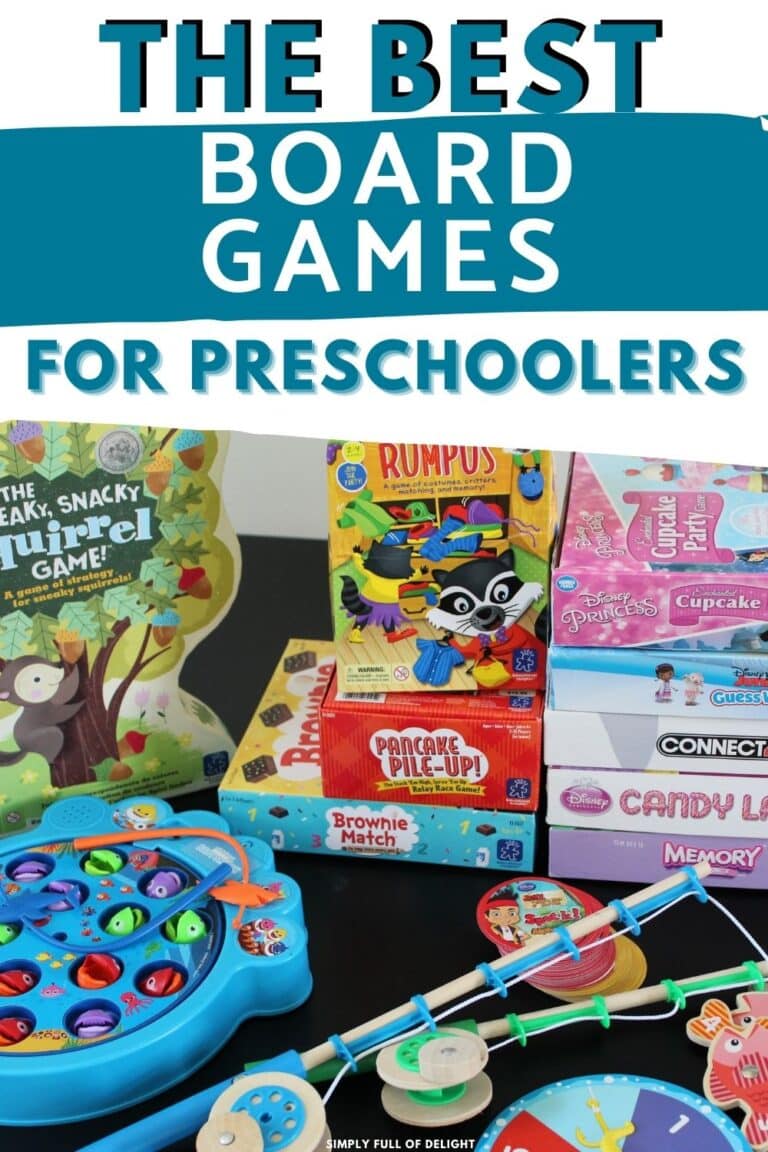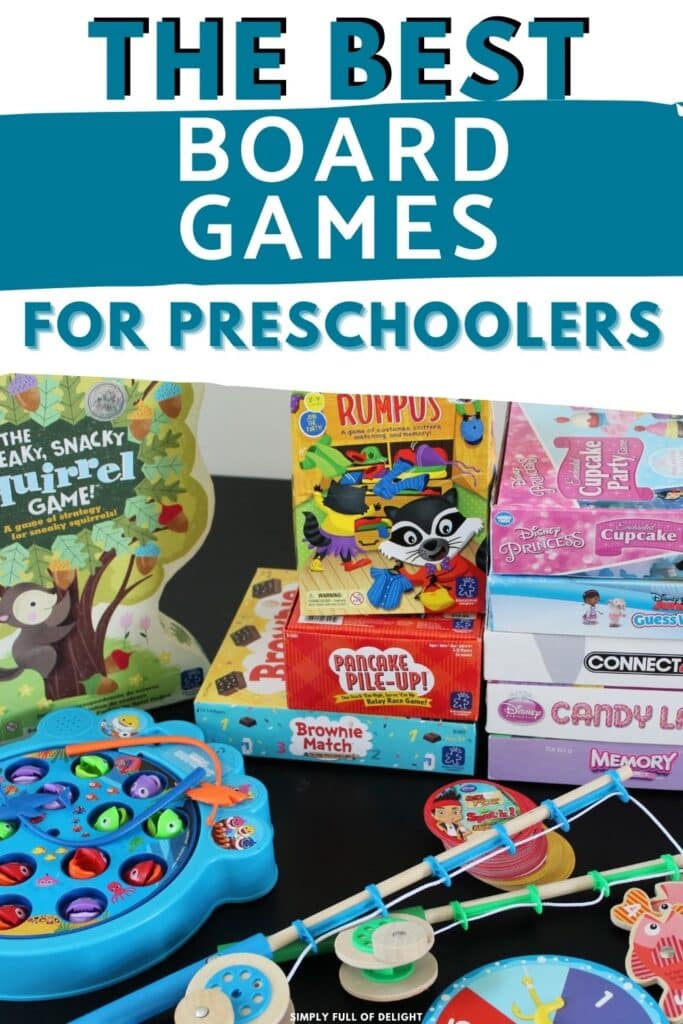 And yes, that means we own some games that didn't make the cut.
The qualifications for an excellent preschool game are that the game holds a child's attention, it can grow with them (meaning they still enjoy it after the preschool age), and that they can possibly play a version of it independently. (Let's face it, many times adults or older kids aren't available to play the game).
These recommendations are for preschoolers, however all of these games are still appealing to my 10 year old as well. So, you aren't just investing in the preschool years…but several years of use!
I would say that preschoolers are defined as 3-5 year olds. These games are not for children who still put things in their mouths. Be mindful of small pieces that could be choking hazards.
Ok! Let's talk about some amazing preschool board games!
The Best Preschool Board Games:
*** Disclaimer: As an Etsy and an Amazon.com Associate, I earn from qualifying purchases made by readers clicking my links, at no extra cost to you. ***
1) Raccoon Rumpus
Raccoon Rumpus is a great game for kids. It's fairly easy for little ones to understand as it doesn't require reading and children are rolling a dice and then finding a corresponding outfit for their raccoon. Winning doesn't take strategy, but rather your preschooler could win with the luck of the roll!
My little ones also love to play Raccoon Rumpus on their own, by simply dressing and undressing the raccoons.
This is definitely a game that has had a lot of use in our home and a great way to keep young kids busy!!
2) Pancake Pile-Up

Pancake Pile-Up is another great game that kids can play in two different ways. To play the game competitively, players race against each other relay-race style to flip the correct pancake onto their stack.
My little ones like to look at the game cards and build a pancake stack that looks like the card as a quiet time activity.
This game is played constantly in our home!
3) Brownie Match – best games for preschoolers
Brownie Match is a matching game that has young children using spatulas to flip brownies to find the matching numbers.
This game is excellent for building memory skills and learning numbers. My kids love that the pieces look just like brownies!
4) Memory Game
This Memory is one of those classic memory games you probably remember from childhood where you flip over all the cards and take turns flipping 2 and trying to find a match.
I would suggest that when your child is first learning the game, use just a few cards. As they improve, add a few more until they are able to play with the whole set.
You can find many different character/themed versions of Memory here. As a parent, this is one of my favorite card games to play with my kids!
5) Enchanted Cupcake Party Game
Enchanted Cupcake Party Game is a fun game for kids 3 and up. There are cupcake "recipe" cards and kids can play against the clock or solo and have fun building cupcakes.
My younger kids love this game. They rarely play according to the rules…they just really love creating cupcakes! LOL
6) Candy Land
Candy Land is another classic board game that you will enjoy playing with your child! You can buy a princess version, a retro version, or the updated Candy Land game.
Candy Land teaches color recognition, counting, and beginner board game skills. I love that my 4 year old and my 10 year old have an equal opportunity to win!
7) Sneaky Snacky Squirrel Game
The Sneaky Snacky Squirrel Game is a fun game that teaches kids fine motor skills, colors, and a bit of strategy. To play, you spin the spinner and pick up the corresponding colored acorn with the squirrel pinchers to place in your tree stump. The first person to fill their tree stump wins.
This is one of our favorite board games because the game pieces are high quality and it's just plain fun!
Plus it's a fun way to practice hand-eye coordination and little hands can practice their pincher/grasping with the pincher tool. I love educational games that teach important skills in a fun way!
8) Connect 4 – best games for preschoolers
Connect 4 is a classic game of placing plastic coins in slots and trying to get 4 of the same color in a row while your opponent tries to do the same and block you from winning.
My littlest ones love to place the coins in the holes, without actually playing against anyone. When we do play as a family, I love that they are getting exposure to early strategic thinking.
9) Guess Who
Guess Who centers around asking questions to gain clues to figure out which person your opponent has chosen.
Kids learn excellent deductive skills through this game and it also hones their ability to think outside the box. You can find many different versions of this game including a Star Wars version.
10) Catch & Count Magnetic Fishing Game
This Melissa and Doug Catch & Count Magnetic Fishing Game is perfect for preschoolers. First your child spins the spinner and gets a number and color. Using the fishing poles, they fish for the corresponding number on the wooden fish.
This game is a hit with all my kids! That's probably an understatement since we love it so much we own 2 sets!
11) Spot-It
Spot-It is a fast paced game that helps kids develop attention to detail, speech, and fine motor skills. To play 2 cards are flipped and the players have to find which animal/item is on both cards.
You can find find many different Character or themed versions of Spot-It here. This is the perfect game to pop in your bag to take along while you are on the go!
12) Let's Go Fishin' Game
This Let's Go Fishin' Game is perfect for little ones who are learning fine motor skills. All you have to do is turn it on and the fish circle while opening and closing their mouths. Your child uses a fishing pole to try to catch them! Even my oldest child still enjoys fishing with the little ones!
And I saved the best game for last!
13) Sleeping Queens
We just got this new game a few month ago and it's been a favorite for family game night. Sleeping Queens is a beginner strategy game that is fun for the whole family. Even younger players will quickly catch on to the easy rules of this game.
It's so much fun and simple enough that little kids can play with older children.  That's a huge win in our family!
There you have it! 13 of the Best Board Games for Preschool!
A Few Tips on Board Games with Preschoolers:
❤ Always store your board games where the kids can't access them alone. This will minimize missing pieces.
❤ Only allow them to get out one game at a time, to lower the risk losing pieces.
❤ Use gallon size plastic bags to hold small pieces while in storage. (This also works well with puzzles).
❤ Lastly, a perk to storing games out of reach, is that children will play longer each time the game is out, because it feels "new" to them.
I hope you have found some new games to enjoy with your little ones! What preschool games do your kids enjoy?
More Fun for Kids
Looking for more fun – be sure to check out these amazing ideas for Screen Free Summer Fun. Great ideas for those days when the kids are looking for new ideas for fun!
Check out these 12 of the Best Board Games if you have Older Kids or are looking for some fun new board games for Adults.
Also, don't miss these free Printable Roads for Kids. Another fun idea for quiet time fun!
Want to save these best games for preschoolers list for later? Pin the Image below!