Looking for some awesome free Scavenger Hunts for Kids?
If your family is anything like mine, you are looking for some fun activities to keep your kids busy!
Two of our family's favorite activities are scavenger hunts and painting.
I've created some scavenger hunts for you to print off for your kids as well as some fun summer coloring sheets that your kids can paint or color!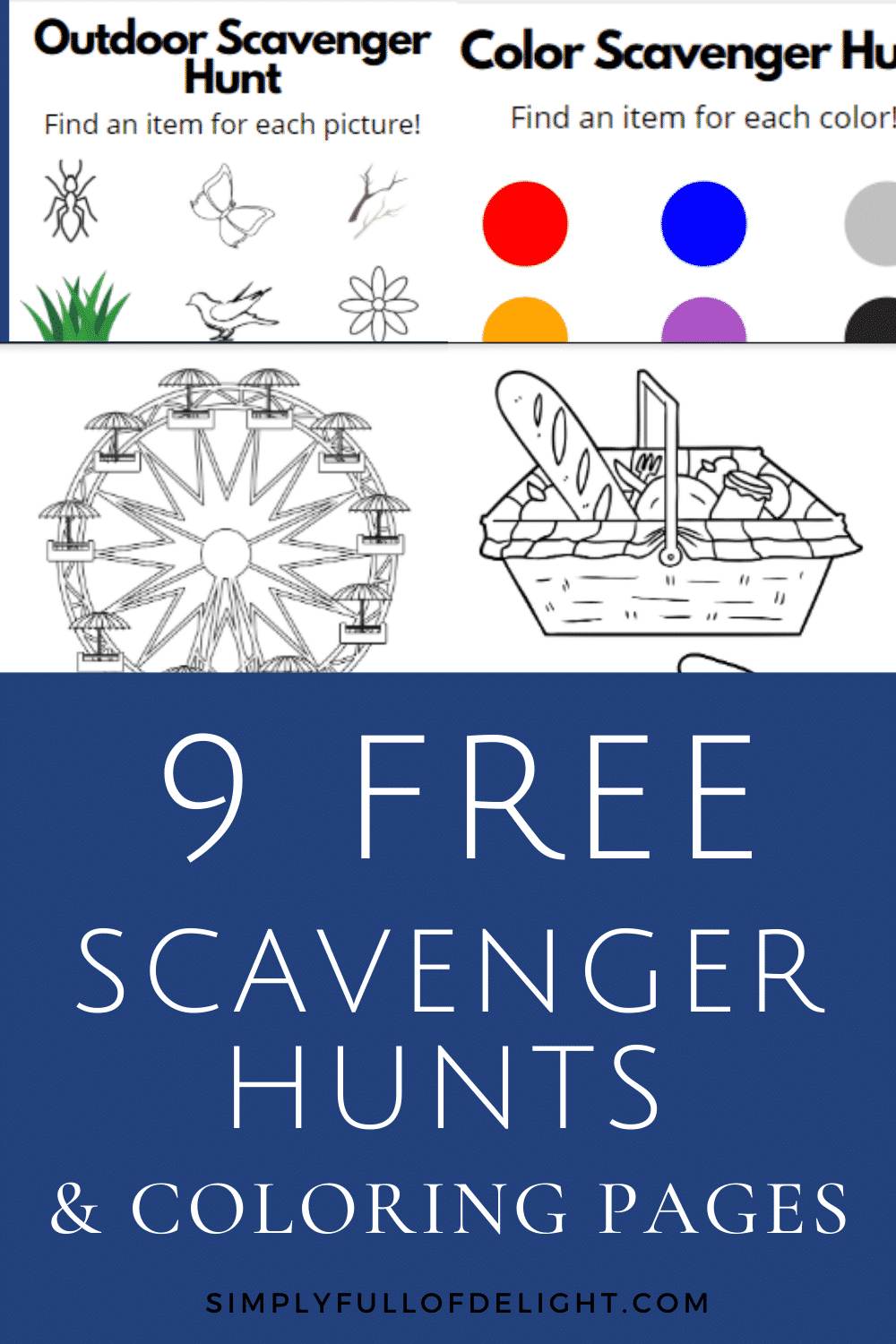 I've included all of these free fun items in my Resource Library.
Simply follow the directions at the end of this post to print your free copies!
1) Color Scavenger Hunt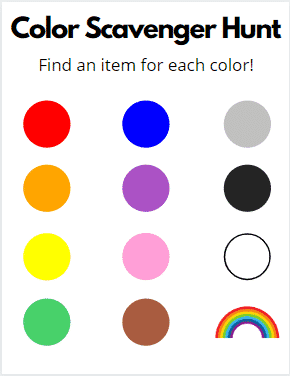 This Color Scavenger Hunt can be played both indoors or outdoors!
The simple instructions are to find an object for each of the colors.
So, your child might find a red toy block for the color red.
Or, a blue bath toy for the color blue.
The rainbow space was created for something that either is lots of colors OR rainbow colored!
If you have older kids, turn it into a race!
2) Outdoor Scavenger Hunt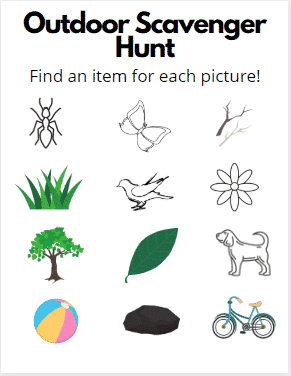 This Outdoor Scavenger Hunt is a fun way to get kids outside and into nature.
Simply print out the hunt and have your child find the items.
Kids need to find a bug, grass, tree, ball, butterfly, leaf, rock, twig, flower, animal, and a bicycle.
You can modify the list according to your backyard!
If you have older kids, you can challenge them to race each other OR work as a team and beat the clock!
3) Alphabet Scavenger Hunt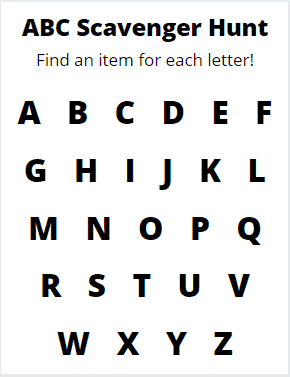 The Alphabet Scavenger Hunt challenges kids to find objects that begin with each of the 26 letters of the alphabet.
Another way to play would be to find items that END with each letter of the alphabet.
Your child might enjoy cutting the letters out first and then arranging the items next to their letter, or they might like to simply mark off each letter as they complete it.
Either way, it's an activity that is both fun and educational!
4) 5 Senses Scavenger Hunt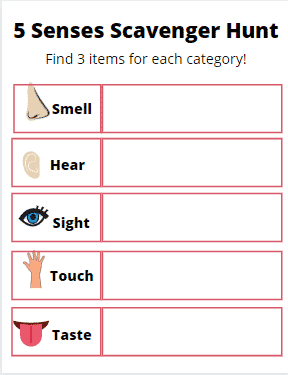 This Five Senses Scavenger Hunt is perfect for children of all ages.
Your child needs to find 3 items for each of the 5 senses.
For example with smell, they could find a flower or a food.
Older kids can write their items down in the box.
It makes a great introduction to the 5 senses for little ones or a fun activity for older kids to complete on their own.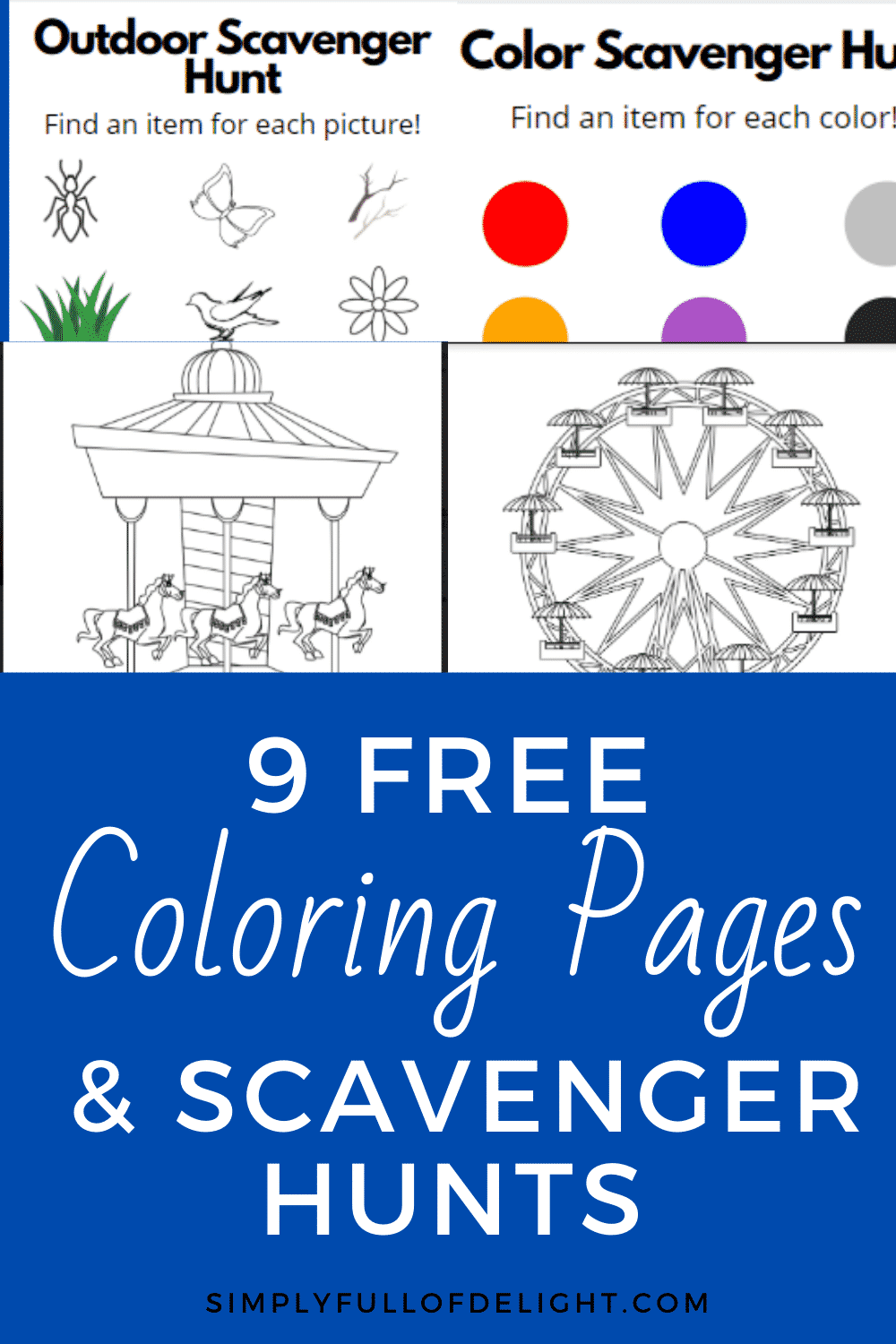 Summer Coloring/Painting Pages
Disclosure: This post contains Amazon affiliate links. If you click on the link and purchase an item, I receive an affiliate commission.
As a bonus, I've also included some fun summer time coloring pages!
My 4 kids ages 2-9 enjoy painting pages with watercolor paint sets, but you could also use markers, crayons, colored pencils, or these paints.
5) Beach Coloring Page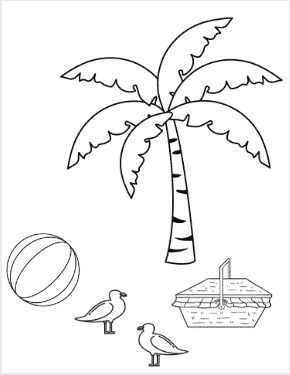 Let your kids use their creativity to color this beach scene.
Use it as a story prompt about a day at the beach or an extension to this Curious George book.
6) A Day at the Park Coloring Page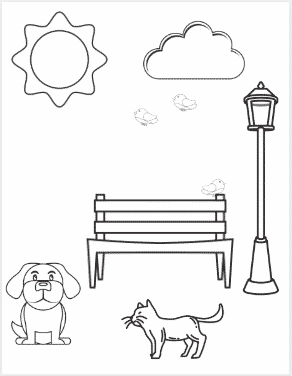 This Day at the Park coloring sheet is perfect for kids who love animals and going to the park!
An extension activity could be writing a story about a day at the park, or simply talking about their favorite things to do at the park.
7) Picnic Basket Coloring Page
This coloring sheet is a picnic basket.
My kids love to color food, so this is a fun sheet that fuels their imagination.
You could plan a picnic in conjunction with this.
Picnics don't have to be complicated.
It can be as simple as a blanket on your living room floor with water and crackers!
8) County Fair Carousel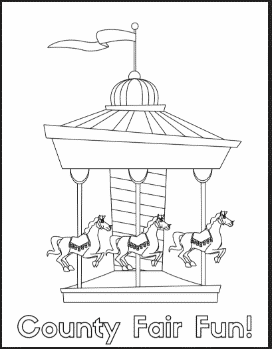 9) County Fair Ferris Wheel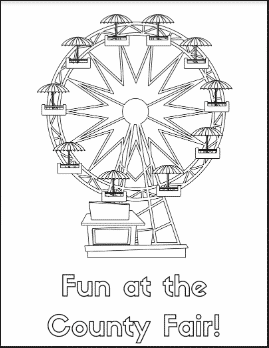 These last two coloring pages bring the excitement of the County Fair to your home.
My kids talk about the County Fair year round.
They love to reminisce about all the rides, the animals, the projects, and all the fun!
I hope you have found some fun scavenger hunts for kids and coloring sheets for your kids to enjoy!
I hope these printables lead to some serious family fun!
To access these free scavenger hunt pages and coloring sheets, enter your email in the box below!
You will receive a password instantly to unlock the Resource Library which is free to all of my subscribers!
Other Articles You Might Enjoy:
How to Survive Working From Home with Kids
Screen Free Activities for Tweens and Teens