Planning a Disney Vacation? Here's the Ultimate Disney Packing List.
Not sure what to pack for Disney World? We've got you covered!
I love Disney. It truly is the happiest place on Earth. I love the joy it brings to my kids and the way that all of the rides have storylines.
There's just nothing quite like the magic that Disney is able to create.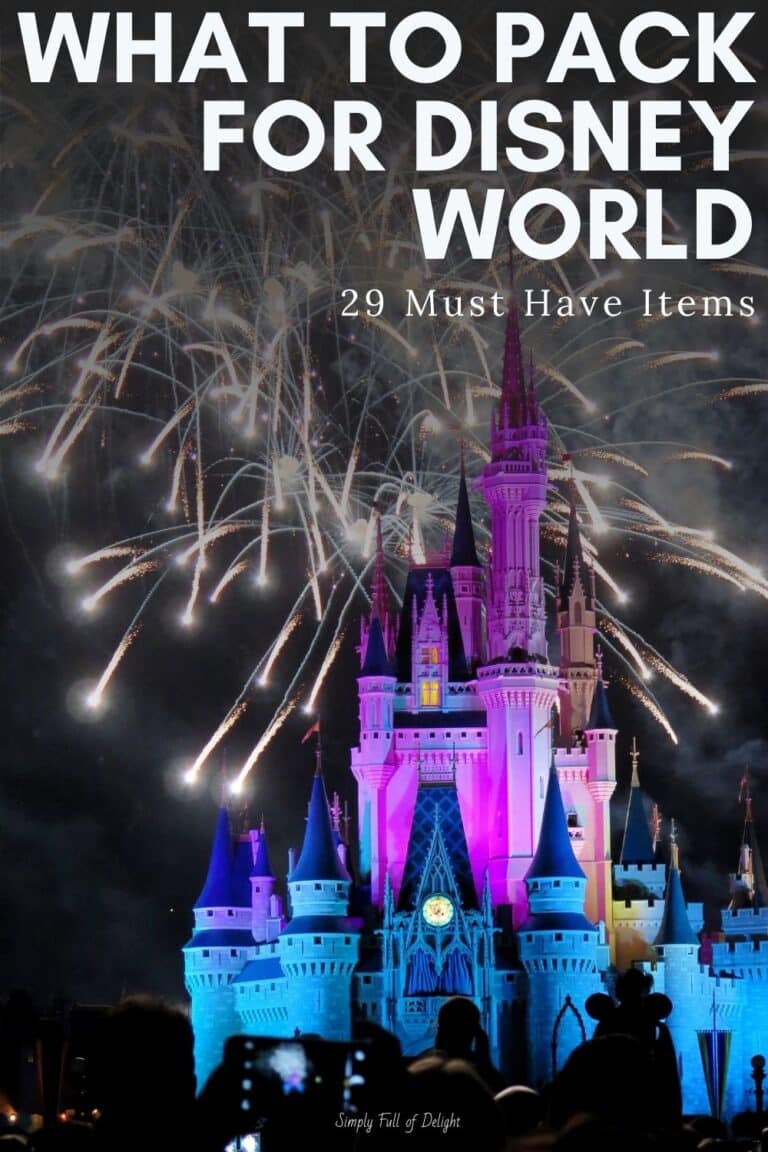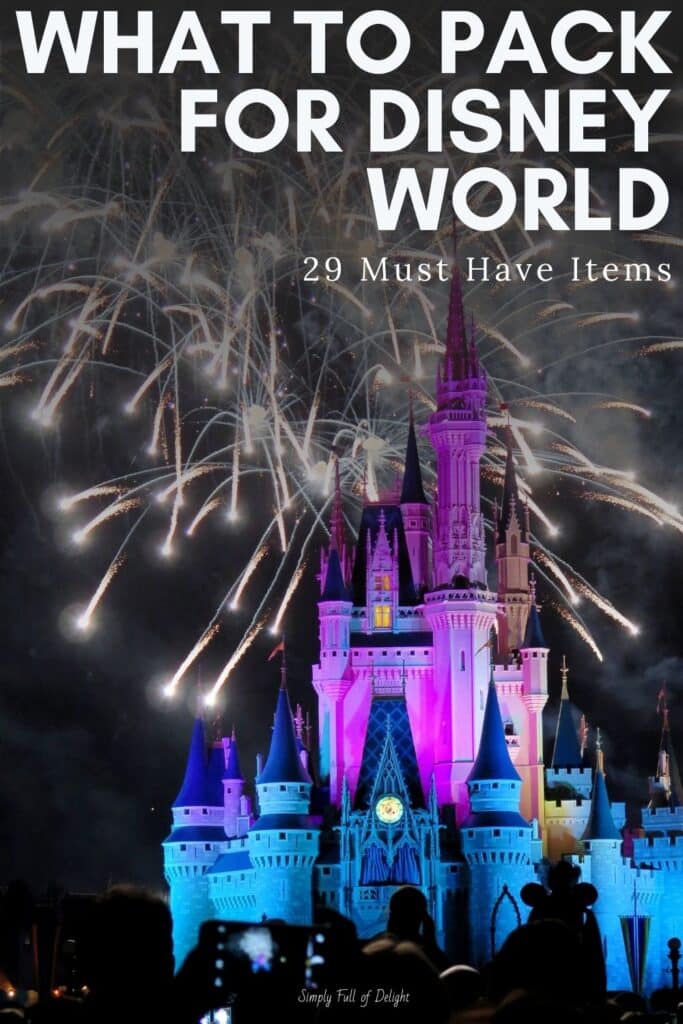 *** Disclaimer: As an Amazon Associate I earn from qualifying purchases, at no additional cost to you.
If you've never been to Disney, or you just need a little help remembering what to pack, here's a helpful Disney Packing List for families.
This Disney World packing list is a "no nonsense" list. No fluff. (I'm not going to try to sell you a $40 water bottle!)
These are the items my family actually uses on our Disney trips.
1) Ponchos
Florida weather is notoriously ever changing. In fact, many days, you will find yourself in the rain at some point. No worries though, as the rain rarely sticks around for long.
If you don't want to have to buy an overpriced Disney parks poncho, it's best to come prepared! My family buys a big pack of ponchos every time we head to Disney.
These ponchos can often be used more than once, but it's a good idea to bring extra along, just in case one rips or we find ourselves not wanting to carry along a wet poncho all day long.
2) Autograph Books and Pens
If your kids are excited to meet some characters, it's super smart to bring along an autograph book and pen! We often buy a cheap notebook from a local store with a Disney character on the front to serve as our autograph book.
This Autograph Book is also a really great option you can order from Amazon.
3) Glow Sticks
When sun goes down at Disney, you will see tons of kids wearing Glow stick necklaces, bracelets, and all kids of fun glow-in-the-dark gear. To avoid super expensive purchases in the park, grab a big pack of glow sticks ahead of time.
I also found that a pack of glow stick bracelets kept my kids entertained really well while we waited for a fireworks show. They had the best time linking all the bracelets into one big chain and then interlinking them as well. It's nice to have duel purpose items in your bag!
4) Lightweight Backpack
Speaking of your bag, I recommend bringing a lightweight backpack into the parks. Buy a park bag that is comfortable to wear all day, but easy enough to take off on rides.
I don't recommend a string backpack, as those can really dig into your arms after a long day. We use this hiking backpack.
5) Snacks
There's nothing more refreshing to a child than a snack. When I think of essential items snacks rank high! Bringing your own snacks can save not just a little bit of cash….but a lot!
Plus, it's so handy to grab a quick snack out of your bag in a long line.
It helps pass the time more quickly and revives those tired hangry kids.
We like to pack a variety of granola bars, protein bars, dried fruit, string cheese, jerky, trail mix, fresh fruit and chips. It's nice to have a few options to place in your bag each morning.
A family of 4 could easily spend $20- $30 dollars for just a snack in the parks, so packing a snack is a great idea if you are budget conscious.
6) Small Collapsible Cooler
Following on the heels of packing snacks, you should also bring at least one drink into the park. Drinks can be heavy, so my family usually only packs one per person. It's just enough to get us through the morning and then we buy a drink at lunch time.
As Florida temperatures are usually quite warm, that drink won't stay cold for long, so pack it in a collapsible cooler or a kid's lunch box. You'll want a lightweight cooler that is big enough to hold a few drinks.
Reminder: Disney does not allow dry ice or loose ice in coolers.
Be sure to pack your drinks in containers that you don't mind tossing. I am normally all about using a refillable water bottle, but not at Disney.
Our family has found that it's best to not worry about losing a reusable water bottle or having to carry the extra weight in your bag all day long.
7) Sunscreen
This one is probably a no brainer, as Florida is "the Sunshine State" but it's definitely worth mentioning.
Be sure to apply sunscreen every morning and reapply when needed. A bad sunburn could definitely put a damper on the rest of your Disney vacation. It just might be the most important thing you pack!
8) Ziploc Bags
This one might seem strange but Ziploc bags are SO handy when you are on vacation.
Want to split a bag of chips between your kids? Use a Ziploc sandwich bag. Need something to keep your phone or camera dry on a potentially wet ride? Grab a gallon side Ziploc bag.
9) Portable Phone Charger
Nothing will drain your cell phone's battery faster than a Disney vacation.
Taking pictures, keeping up with wait times on the Disney App and grabbing Genie+ Lightning Lane passes are just a few ways that will have your phone's battery complaining.
We like to use a portable phone charger. Be sure to pack a charging cord too!
10) Copy of your Itinerary
I love to keep a printed copy of our daily itinerary with us each day. That way, even if our technology fails us, we can still remember the times of our lunch reservations or other important times.
11) Disney Movies
This one is for the Road Trippers. You are probably already going to bring some movies for the car ride. Be sure to bring a few Disney movies with you!
Not only will it bring a little Disney magic to your road trip, but your kids will be better prepared to meet some of the Disney Characters.
Having a little Disney education will also help them enjoy some of the rides a little more on your magical vacation.
12) Comfortable Walking Shoes
You are about to do a LOT of walking. More walking than you can imagine. So, be sure to wear really comfortable shoes.
It's nice to have 2 different pairs of shoes with you so that if one gets soaked in the rain or on one of the water rides, you have a backup. Or if one pair starts to give you a blister, you can switch to the other pair.
Sneakers are great, but also consider bringing a comfortable sandal, like Birkenstock sandals. I have two pairs of these and trust me when I say these sandals won't let you down. They are so comfy!
If you do buy new shoes be sure to give yourself some time before your trip to break them in. Disney is not the time to break in a new pair of shoes. With so much walking, you need to bring some trusty favorites.
13) Souvenirs
I know it sounds crazy, but I often bring my kids souvenirs that I bought ahead of time.
Souvenirs can both eat up your budget and waste precious time that you might rather use differently. Plus, you can usually find similar options locally or online for half the price of a souvenir in the park.
14) Breakfast
We always stop by a store before we check in at our hotel to buy items for quick breakfasts. If you are a rope-drop type of family, (ie. You get to the park early to get on the rides while the lines are short) you will want quick breakfast options in your arsenal.
We like to buy yogurt, cereal, milk, granola bars, protein bars, etc. We also bring along things like cups, spoons, and bowls for a quick bowl of cereal in the hotel room.
Many of the Disney budget hotels have a mini fridge and coffee maker, but no microwave. Check to see what your hotel offers.
15) Trash Bags
I can't stand putting dirty laundry inside our luggage! Our workaround for that is to simply pack a few trash bags. As we use laundry, we place it in the trash bag, within a suitcase.
You'll want to make sure everything is completely dry. You don't want to deal with any problems due to moisture!
16) Compact Umbrellas
Be sure to bring at least two small umbrellas. We don't bring our umbrellas into the parks every day, but it's nice to have them just in case a day or evening has a rainy forecast. Ponchos are great, but umbrellas give you better coverage.
17) Sunglasses
Be sure to bring sunglasses for the whole family! They make all that Florida sun much more enjoyable.
Be sure to pack backup sunglasses as well. I notice after a full day of wearing sunglasses that they can start to hurt my ears. Having a different pair to wear the next day can really help!
18) Baby Wipes
As a mom of small children, I always bring along a small pack of baby wipes or just grab a few and place them in a plastic sandwich bag. It's nice to have something to wipe young kids faces after meals or if you happen to get a cold treat that drips as it melts.
19) Mole Skin
I have to admit this Dr. Scholl's Mole Skin ALWAYS goes in my Disney luggage, but we thankfully haven't had to use it yet. Basically, if your shoes rub your wrong, you can use this to cover your blisters and the shoe won't rub it anymore.
I pack it as a "better safe than sorry" item. (Don't forget to pack scissors so you can cut it to size!)
20) Swimsuits & Gear
You might not initially plan on going swimming while at Disney as there is SO much to do, but packing a swimsuit is smart. It gives you options for those days when your family just needs a little break in the afternoon.
My family often plans an "off day" in our week, where we don't go to the parks, but instead visit a beach, the hotel pool, or you could check out one of the many Disney water parks like Blizzard Beach.
Having an "off day" can help you refuel, relax, and enjoy your vacation in the most magical place a little more.
Another great reason to have your swimsuits with you is Kali River Rapids. If you plan to ride this incredibly fun water ride in Animal Kingdom, you might want to dress your little ones in rashguards and swimwear (or quick drying clothing).
I can handle being wet for a little while but my littles ones get cranky if they are wet for too long.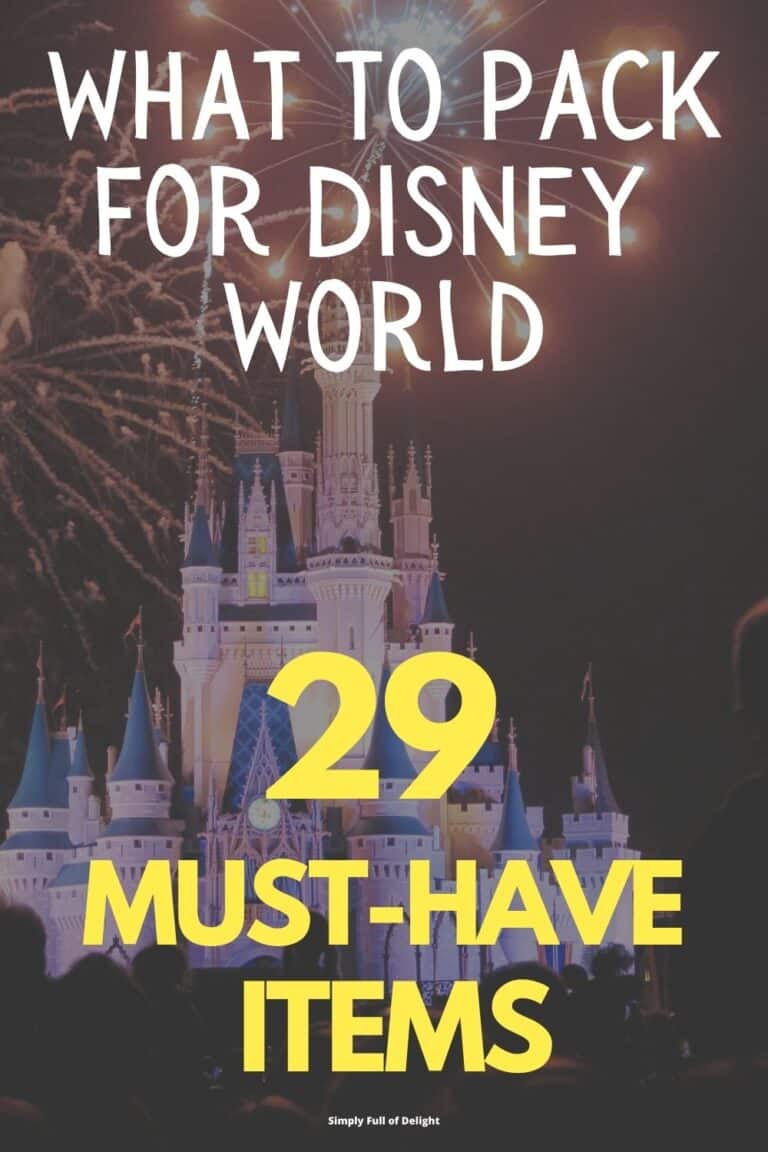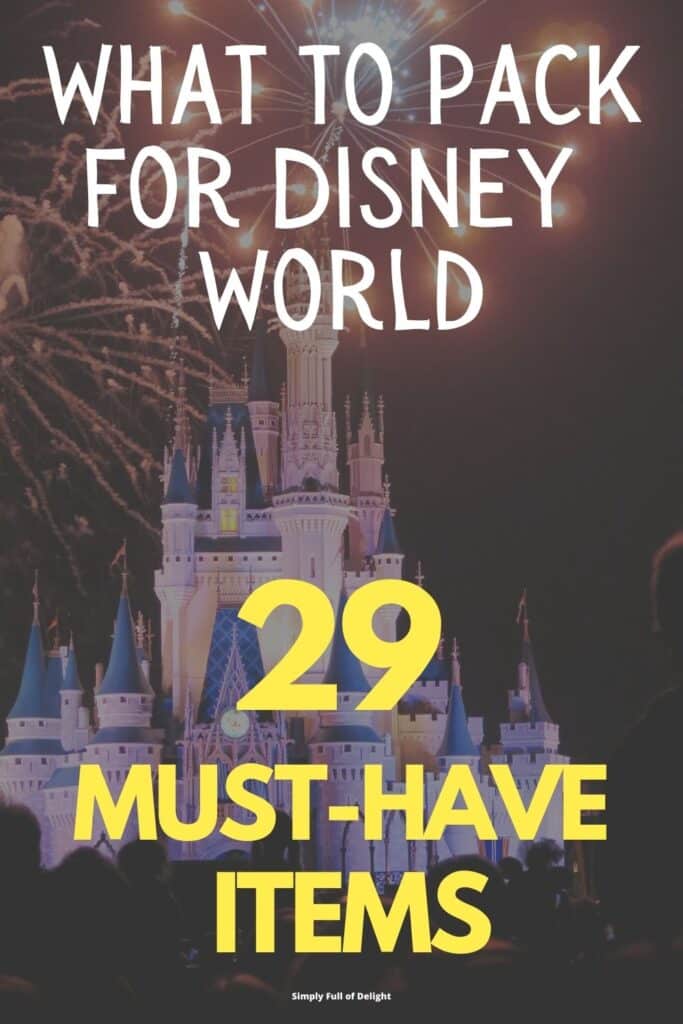 21) Extra Undergarments
Be sure to pack extra socks and underwear for everyone. If you get caught in the rain or ride a water ride and get soaked, you will be grateful for the extras back at your hotel.
With that in mind, I also recommend packing extra outfits for kids AND adults, just in case something happens and you need to change before heading out to enjoy your evening plans.
22) Band-Aids
Sure, you could obtain one at the park's First Aid Station, but you will lose valuable vacation time walking across the park to get there. Our family prefers to pop a few band-aids in our bag for those minor injuries.
23) Nail Clippers
It's inevitable. Hangnails always happen at the most inconvenient time. Be sure to pack a pair of nail clippers to keep back at the hotel.
24) Medicine Bag
Pack headache medicine, antacids, prescription medications, and anything else you might need in a medicine bag. The last thing you want to do on your vacation is make a mid-week run to a store.
We usually just keep these items back at our Disney World hotel.
25) Map of Disney World
You can print out a map of the park before you arrive or you can grab a map at the front gate. Either way, your children will have a great time mapping out their vacation.
26) Extras of Necessities
My daughter often loses one of her contact lenses at the most inconvenient moment. And well, it's happened to me too. To avoid not having something you really need, like contacts, but sure to pack a few extras in your bag.
27) Gatorade
Our family doesn't drink Gatorade on a regular basis, but having it along on your Disney vacation is a smart way to get your kids to drink more. It's important to keep them hydrated in the Florida heat and this is an easy solution.
28) Hats
With all of the time you will spend outdoors, wearing a hat is a smart way to keep cool at Disney. Be sure to bring one that fits your head well and won't fly off on a ride. Or choose a hat you can safely tuck in your bag when you get on a ride.
29) Weather Appropriate Gear
Look up Orlando's weather to get a feel for what it will be like when you are there.
Be sure to pack weather appropriate gear for the season that you visit. Winter time in Florida can be chilly, so you'll need a coat, hat and gloves. Summer time is obscenely hot, so you'll need to wear shorts and t-shirts.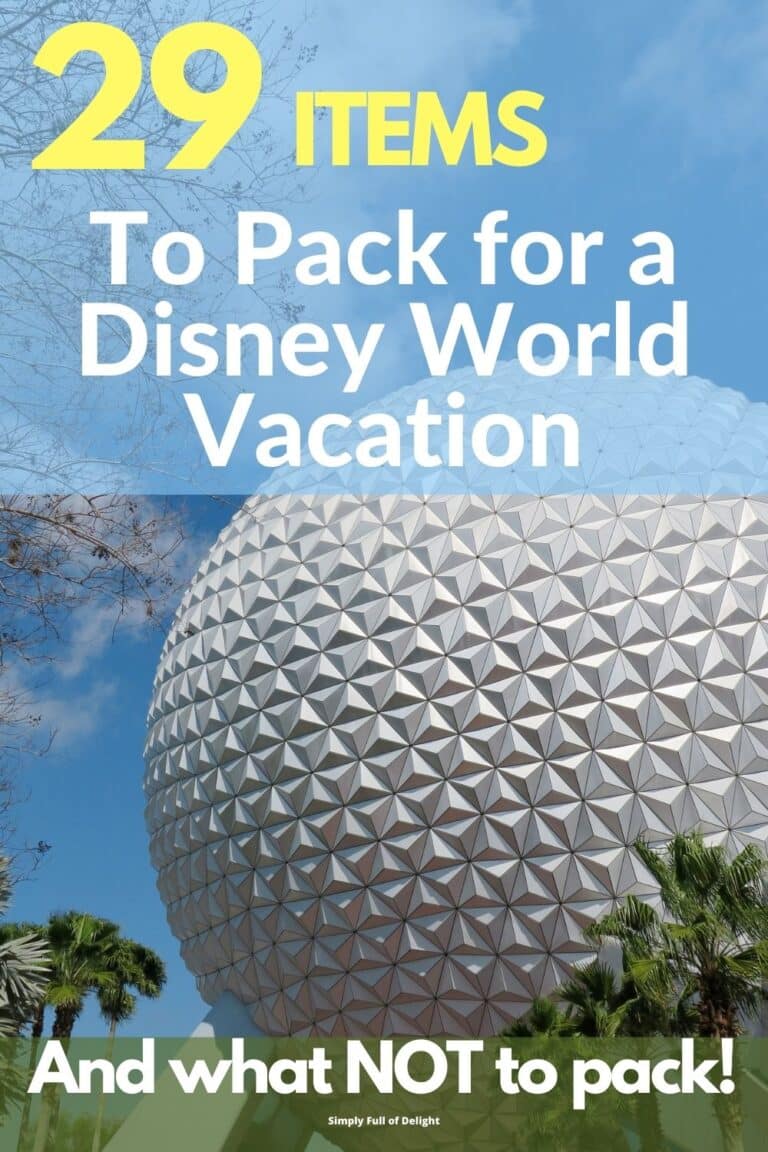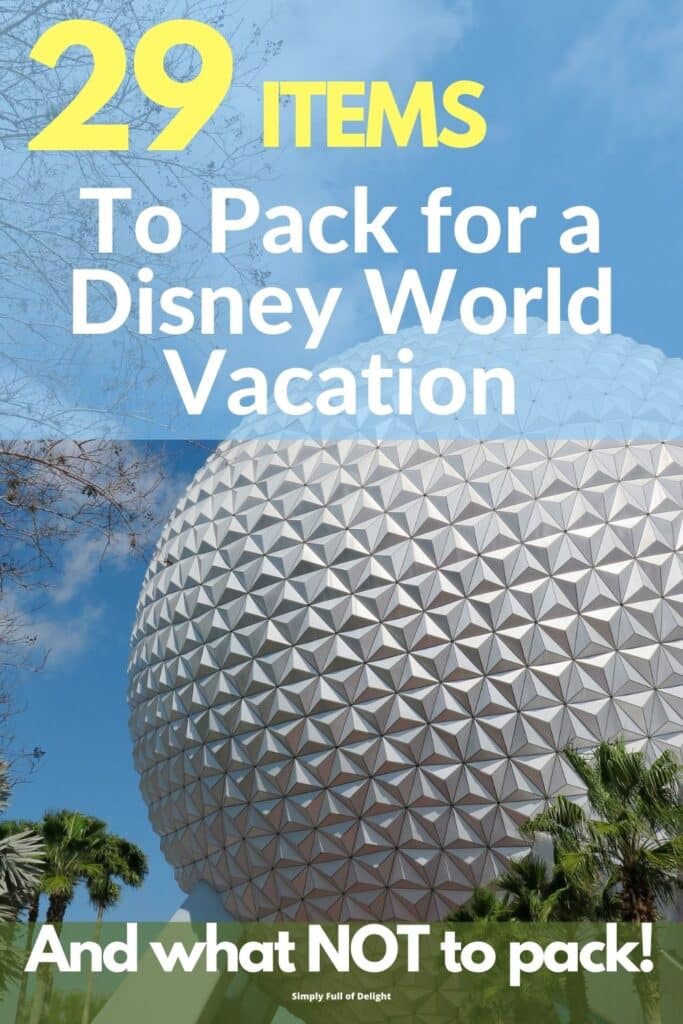 What NOT to Pack
1) Stroller – If your kids are 4 or older, you are better off without one. Having a stroller along can really slow you down as you have to park it everywhere you go.
Theft can also happen when you leave strollers parked outside of attractions, so if you can make do without a stroller, I recommend leaving it at home.
2) New Shoes – Break in your new shoes before your trip. Disney is not the place to do it. There is so much walking and new shoes could give you blisters before the day is over. Leave the new shoes at home or break them in before your trip. Your feet will thank you.
3) Flip Flops – I love flip flops, but there's a time and a place for these. Disney is not the place.
4) String backpack – The strings will cut into your arms over the course of a day. Leave the string backpacks at home and invest in a comfortable lightweight backpack.
5) Prohibited Items – Disney has rules about what is allowed in the park. Strollers and backpacks have to be within certain size restrictions. Selfie sticks, pepper spray, pocket knives, whistles, noise makers, drones, and shoes with wheels are just a few of the items not allowed on the property. Be sure to check out the whole list here on the Disney website.
What to Pack for Disney World
I hope this Ultimate Disney World Packing list has helped you weed out some of the things you don't really need and helped you create a packing list of the items that you actually do need. Are you driving to Disney? Be sure to check out the Best toys for Road Trips here.
Do you have some necessities that weren't on the list? Drop me a comment below!
Have a great trip to Disney!
Check out these other Disney Articles:
Find the best Shows at Disney here, along with the 2 you should skip and not waste your precious Disney vacation time.
If you are gluten free like me, before you pack your own food, be sure to check out the Best Gluten Free Foods at Disney World and of course don't miss the Best Gluten Free Disney World Restaurants either!
Related Posts