Planning a road trip? Here's 35 of the Best Toys for Road Trips. Find amazing toys and activities that will help keep your kids engaged without hours of screen time.
As a mom of 4, I know that taking a road trip with kids is no easy feat.
No matter how old your kids are, it's nice to have some new ideas to keep your kids busy on long car rides!
Today, I'm sharing ideas from my own experience that keep kids engaged.
No one wants to bring a ton of extra stuff in the car, so I tried to make sure this list didn't have large objects.
In addition, road trip toys are ideally quiet to not annoy the driver and not too messy either.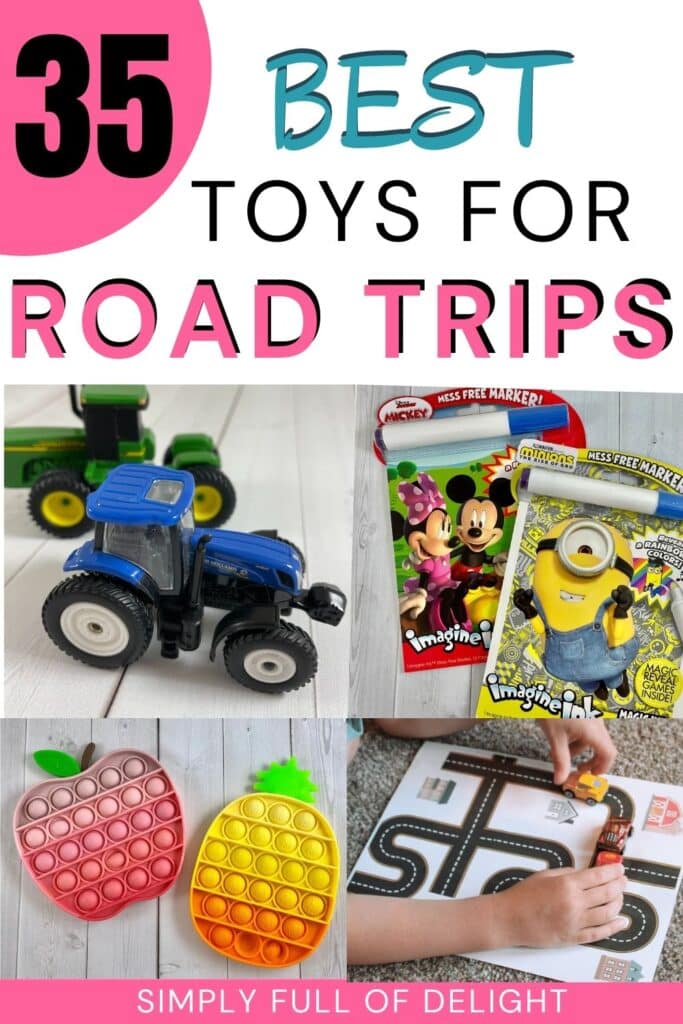 I'm a mom. I'm on your side and I'm not going to tell you to bring something I wouldn't bring myself!
Alright! Let's dive in to the GOOD stuff! Here's 35 of the best travel toys for kids.
** Disclaimer: As an Etsy associate and as an Amazon.com Associate, I may earn from qualifying purchases made by readers clicking my affiliate links at no extra cost to you.
1) Melissa and Doug Wipe Off Activity Games
These Melissa and Doug Wipe off Activity Game books are spiral bound books with double-sided pages. Each book has 16-17 different games to play over and over on long road trips.
Each activity pad includes 2 different-colored dry-erase markers with erasers. What an amazing travel activity for your older kids!
2) Water Wow toys
Water Wow activity pads are great travel toys for young children. I think I own every single Water Wow toy that has been invented. They really are THAT good! The basic concept is a "pen" you can fill with water. Kids color with the water to reveal the pictures in the book.
The regular ones are great, but the Deluxe version pictured above comes with a fun magnifying glass that reveals even more fun pictures which adds to the fun. Water wows are definitely one of our favorite travel toys. You can find tons of cool options for Water Wows here.
3) Make a Face Activity
These Melissa and Doug Make a Face activity pads are so COOL. Kids can create faces for the animals or people in the book with cling-on pieces. These are perfect for kids who don't put things in their mouths. My girls adore these!
4) Magnetic Game
This ThinkFun Minecraft Magnetic Travel Puzzle Logic Game is perfect for 7 year olds and older. Kids will enjoy trying to figure out the logic puzzles with the clues they are given. This can keep kids busy on a long trip for a very long time!
Magnetic Games are the perfect activity for kids in the car as it can keep them doing something fun and reduces the risk of lost pieces.
5) Color Wonder
Crayola Color Wonder marker sets are great because kids can color without coloring on themselves.
Color wonder markers only work on the paper they come with (and not on your kids' clothing or seat!) You can find tons of great themes, bright colors, and characters. My kids think these are the best thing ever! We've used them on car trips, quiet time in the hotel room, and on a long flight.
6) Magnetic Puzzles
These magnetic puzzles by Melissa and Doug are so much fun! The puzzles stick to the board to make on-the-go play possible! These are relatively new in the past year…so sometimes they can be elusive, so if you find one, grab it!
7) Look & Find
Highlights Hidden Pictures books can be a great way to pass time on a trip! Kids will enjoy the Look & Find pictures and being able to mark the ones they find.
8) Wikki Stixs
Kids can build all kinds of cool things with these Wikki Stix. There's cards with inspiration included, but kids will enjoy using their creativity to come up with their own ideas as well.
9) Sticker Books
Sticker Books are always a great addition to your travel bag. The one pictured above is for preschoolers, but older kids might enjoy this Disney themed sticker book.
10) Small toy cars with printable roads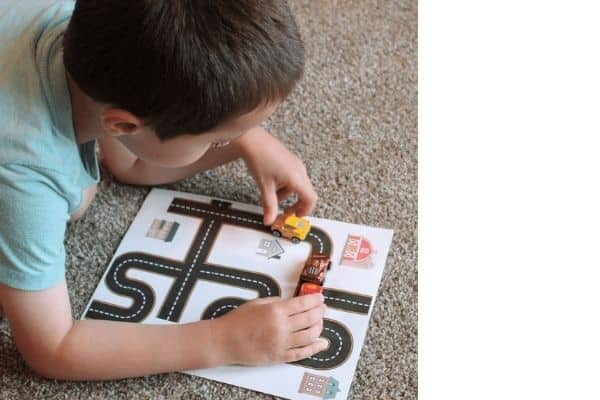 Here's a fun activity for when you are on the go! You can get free printable roads and train tracks here on my blog.
Perfect for driving mini Thomas the trains or these cute mini Pixar Cars.
11) Puffy Sticker Set
This Melissa & Doug Puffy Sticker Set is sure to be a favorite! Kids will enjoy setting up the scenes with these delightfully puffy reusuable stickers.
My 6 year old son's favorite is this vehicles themed set….he won't let his sisters touch it!
12) Mad Libs
Mad Libs are a great travel activity for kids! Kids need to be able to identify adjectives, verbs, etc. so it's for your older kiddos, but so very much fun for the whole family to listen to the result.
13) Pop Fidget Toys
I haven't met a kid yet who wasn't enthralled by Pop Fidget toys. Some brands are louder than others, so I always suggest this brand if you want a quieter car ride with very busy kids!
14) Stuffed Animal
We always pack along a stuffed animal for each kid. It's great for imaginative play for little hands AND promotes a coziness for catching a quick nap.
15) Accessories for Stuffed Animal
I will often pack accessories for our stuffed animals for my youngest child. She likes to pretend to feed her stuffed animal and take care of him. We often pack pretend food, spoon, bowl, bottle, bib, and a mini doll diaper. These are great toddler toys that provide plenty of play time.
16) Schylling Nee-Doh
This cool Schylling Nee-Doh changes color as you play with it. Nee-doh is a bit like a stress ball that you can smush, pull, squish, etc. It always returns to its original shape. A fun little thing to add to your travel bag to keep kids engaged.
17) A favorite toy – Tractors
Packing a favorite toy, like this John Deere Tractor set, is always a good idea. My son doesn't go anywhere without his tractors. We always pack a few trucks or tractors in our bag to keep him engaged and allow for a bit of pretend play.
18) Polly Pocket
My girls who are 4 and up love these. Polly Pockets are perfect for travel because they are tiny worlds with very few pieces that lend themselves to great imaginative play in the back seat.
19) Lift the Flap books
We always packed a few Lift the Flap books when our kids were babies and toddlers. These books engage small children without an adult needing to read the words and keep them busy lifting flaps. On the same note, touch and feel books are great too!
20) Magnetic Tins
Magnetic Story telling tins contain tiny magnetic pieces to engage children in pretend play and story telling. If your child enjoys imaginative play, definitely try one of these! You can find lots of different characters and themes.
21) Lacing Cards
Lacing cards are an easy activity to pack! Kids use the string to poke through each hole on the object to "sew" around it. It doesn't have to be done perfectly and little ones enjoy the challenge. Plus, it's great for developing fine motor skills and hand-eye coordination!
22) Scratch Art
Scratch Art is a favorite with my kids (4 and up). The younger ones like to scratch off the entire thing to reveal the picture while my oldest child loves to draw designs. Be aware that there is a small mess with these as they are scratching off black film, but all in all, we love these for travel.
23) Reusable Stickers
Melissa and Doug Restickable stickers are perfect for travel. Kids can place stickers on each page and rearrange them as much as they like as they are reusable. You can find some fun Paw Patrol ones here.
24) Create a Face sticker pad
These Create a Face sticker pads are another great option. Kids use stickers to create faces on the people/animals/silly food. This brand's sticker pads are normal sized, so they fit nicely in your child's bag. (Note: Melissa and Doug makes some of these, but they are oversized and not great for travel.)
25) Magnetic Dress up dolls
These Magnetic Dress up Dolls are other cool option. Kids can add clothing, hats, accessories to the people. This set is nice because it comes in a carrying case.
26) Toy Tools
A Plastic Tool set can be great for travel! My son went through a phase where he loved tools, so we would pack plastic tools in his travel bag.
No hammers or loud things, just a plastic screwdriver, some pretend pliers, a few nuts/bolts to screw and unscrew. What fun!
Bring some of your child's favorite toys on the family road trip to keep little kids busy and having fun on a long journey.
27) Melissa and Doug Tape activity book
This Melissa and Doug Tape Activity is great for travel. Perfect for kids who are old enough to rip tape off of a roll. Kids are invited to complete pictures in the book with the colored tape provided.
28) Folding Water Doodle Board
If you kid loves Water Wow, this Water Doodle board will be a hit! This provides more open ended water coloring and drawing. This is one of my son's favorites!
29) Mini Etch a Sketch
This Mini Etch a Sketch is perfect for travel! Etch a Sketch has been around so many years, it's a classic. And for good reason! Kids will enjoy using the knobs to twist and turn the line to create artwork.
If you'd rather have the full size version, you can find it here.
30) Travel Size MagnaDoodle
A Travel Size MagnaDoodle is another great travel toy for kids! Kids will enjoy using the pen to draw on the board and then clearing the board and drawing some more! Such a classic fun toy for kids!
31) Stretchy Fidget Toys
These Stretchy Fidget Toys are a fun way to keep kids busy. Kids of all ages will enjoy stretching, pulling, and squeezing the cool fidget toy.
32) Finger Puppets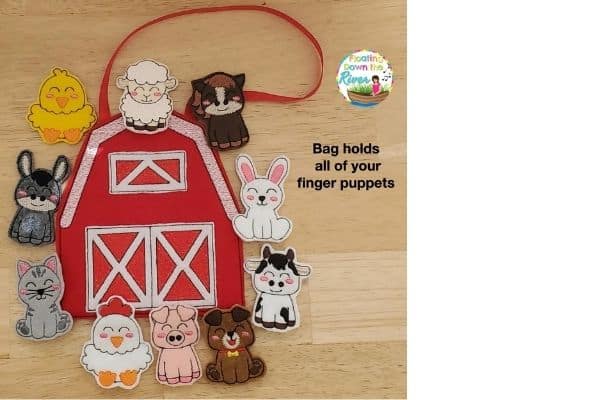 Finger Puppets are a fun way to pass the time! This Farm theme Finger Puppet Set is by Etsy shop Floating Down the River. This set comes with all the farm animals needed to put on a great puppet show. You even get a cute barn bag to hold all the animals. So much fun!
33) Scavenger Hunt Printable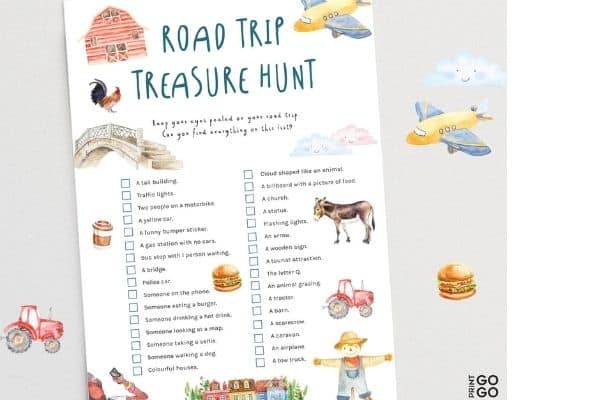 This Road Trip Treasure Hunt Printable from Print Go Go on Etsy is perfect for road trips. Keep kids busy looking for all of the items on the list including a statue, a tractor, a bridge and more!
34) Imagine Ink
Imagine Ink Coloring Pads are perfect for keeping kids busy. From my own personal experience, these books keep kids engaged for a long time.
That's why I keep buying them! Each book comes with one mess free marker that ONLY works with the book. It won't mark on your child.
As kids color with the marker, it reveals the pictures. It's NOT reusable, but your little artist will be engaged by these and you will love them for car travel. Be sure to grab one for your next trip!
35) Busy Books
If you child loves imaginative play, they will love these My Busy Books. Each book has plenty of characters, a small story, and a fold-out play mat. (The play mat is too big for car play, but the characters are perfect!) You can find other options including Mickey, Princesses, and movie themes here.
I hope you've enjoyed this list of 35 Best toys for road trips!
Let's go over what not to bring:
What Not to Bring on a Road Trip:
Cookie Sheet: I've seen people suggest bringing a cookie sheet to do magnetics on. I've done this and it's a super bad idea for multiple reasons: The sun shines off of it making reflections in the car, it takes up SO much room, and it can be quite loud and annoying.
Car Seat Tray table: Other people will tell you to bring a car seat tray table. Realistically, kids don't need or want those. I know this because I have 2 lap tables sitting in my basement right now that have only been used ONE time.
They are great if you have plenty of room in the car, but otherwise they are too bulky and take up tons of space when not in use. If you have 1 kid, it might be perfect, but with multiple kids? Nope. No space for that! Plus, kids usually have to be buckled into them for them to work (and many kids don't like this!)
Large Wooden toys – This is a safety hazard because if a child throws it, it could seriously hurt someone. Plus they just take up too much room in the car.
I hope you find the right toys for your long car journey and have an amazing family vacation! Keep in mind, you don't need all of these road trip toys, but a few new toys in the mix of your travel bag can definitely help!
Good luck and Happy Travels!
If you are looking for more family fun be sure to check out these Funny Questions to Ask Kids. Great for bonding with your child and of course, providing plenty of laughs!
Taking a family vacation to Disney? Be sure to check out these Must-Have items for Disney World.
Pin the image below to save these ideas for later!